MXA'S WEEKEND NEWS ROUND-UP: A LITTLE NEW, A LITTLE OLD, A LITTLE BLUE AND LOTS OF GOLD
• IT'S THEME NIGHT AT THE SUPERCROSS RACES…DRESS APPROPRIATELY

AMA Supercross has announced that the 2024 Suprcross season will be kicked off with specialty-themed races . For example, round 3 in San Diego, will play host to a 50th anniversary retro themed night. Race teams, athletes, and industry partners will be encouraged to run historical graphics from past decades on their bikes and race gear to celebrate the eras that helped shape Supercross into what it is today.
Round 7 at AT&T Stadium in Arlington, Texas, will host Military Appreciation night, honoring the past and present members of the U.S. Military. As seen in previous years, race teams, athletes and sponsors will continue to fly military-inspired graphics across their bikes and gear to honor those who serve or served.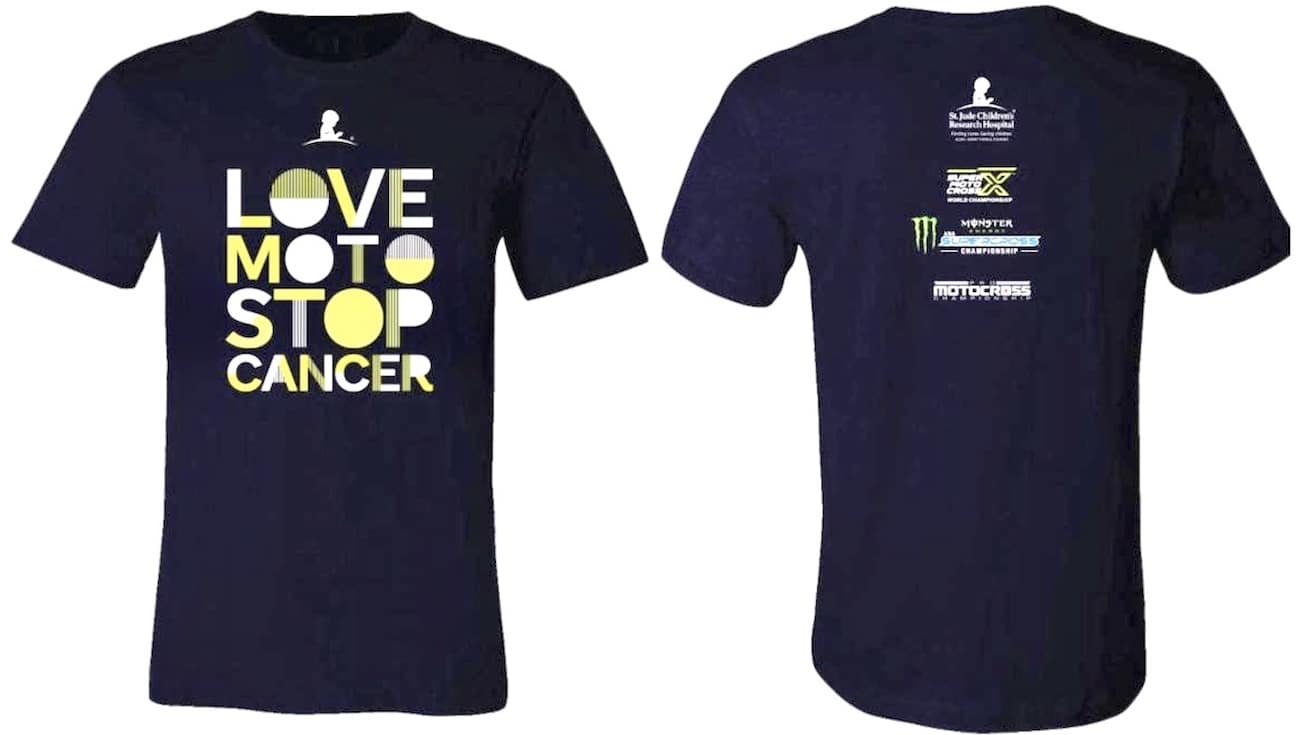 Round 14 at Nissan Stadium in Nashville, Tennessee, will see the return of the annual "Love Moto Stop Cancer" race, honoring the kids at St. Jude Children's Research Hospital, this honorary race, encourages teams, athletes, and industry partners to showcase St. Jude patient-inspired artwork across bike graphics and race gear. These items are then donated into the annual Supercross-St. Jude auction, an initiative that raised over $130,000 in 2023 alone.
• MXA VIDEO TEST: 2024 KAWASAKI KX450 FOUR-STROKE
• ALIAS MX GEAR RESURFACES AS A BICYCLE CLOTHING COMPANY
The once popular Alias motocross gear company's website has recently turned in a bicycle clothing company with a limited product line of bib shorts. The website hints that they are still in the motocross gear business, but doesn't show any MX gear offerings. Alias is now located in Portsmouth, New Hampshire.
Alias was started by No Fear's Jeff Surwall and was worn by the Geico Honda team. The brand changed hands, but couldn't maintain the momentum that is had under Surwall's guidance. To see their product line go to www.aliasmx.com.
• MIKE BROWN SIGNS ON WITH TEAM TRIUMPH
Mike Brown wants to race a 450 National in 2024, most likely Budds Creek or Washougal, but Triumph doesn't have a 450 yet. Mike would be 52 years old by then.
51-year-old Mike Brown, who is coming off of World Vet Championship wins in the Over-50 Pro class,  Pasha Over-50 125 Pro class (not to mention a fourth in the Pasha Over-30 125 Pro class), announced that he has signed a deal to join the Triumph effort for 2024. The surprise is that Mike isn't being signed to race the bikes or to be a test rider, but instead will be the team trainer for its two-man 250 team. At 51 years old Mike is as fitter than most 20 year olds, as proven by his grueling schedule at the World Vet, where he was on the track constantly during the four different classes that he raced. Triumph would be smart to give Mike a Triumph 250 and let him race all of his normal schedule of high-profile races.
• EVERYONE IS TALKING ABOUT TRIUMPH, BUT BETA IS COMING TO THE 450 CLASS
The 2024 Beta RX450 has been hidden away, it has been racing the 450 World Championship for several years. Now it ready to be produced in large numberr.
The new 2024 Beta RX450 is officially here after four years of development. The prototype RX450 has been raced in the MXGP 450 championship since 2021, and now they're ready to go into production with Colt Nichols and Benny Bloss racing them in the 2024 Supercross series. The new Beta RX450 will be available in December and retail for $10,999.
"THIS WEEK IN MXA WITH JOSH MOSIMAN:" WHAT'S MARV GOT UP HIS SLEEVE?
• 10TH ANNUAL KURT CASELLI RIDE DAY ON SATURDAY, DECEMBER 2 AT PALA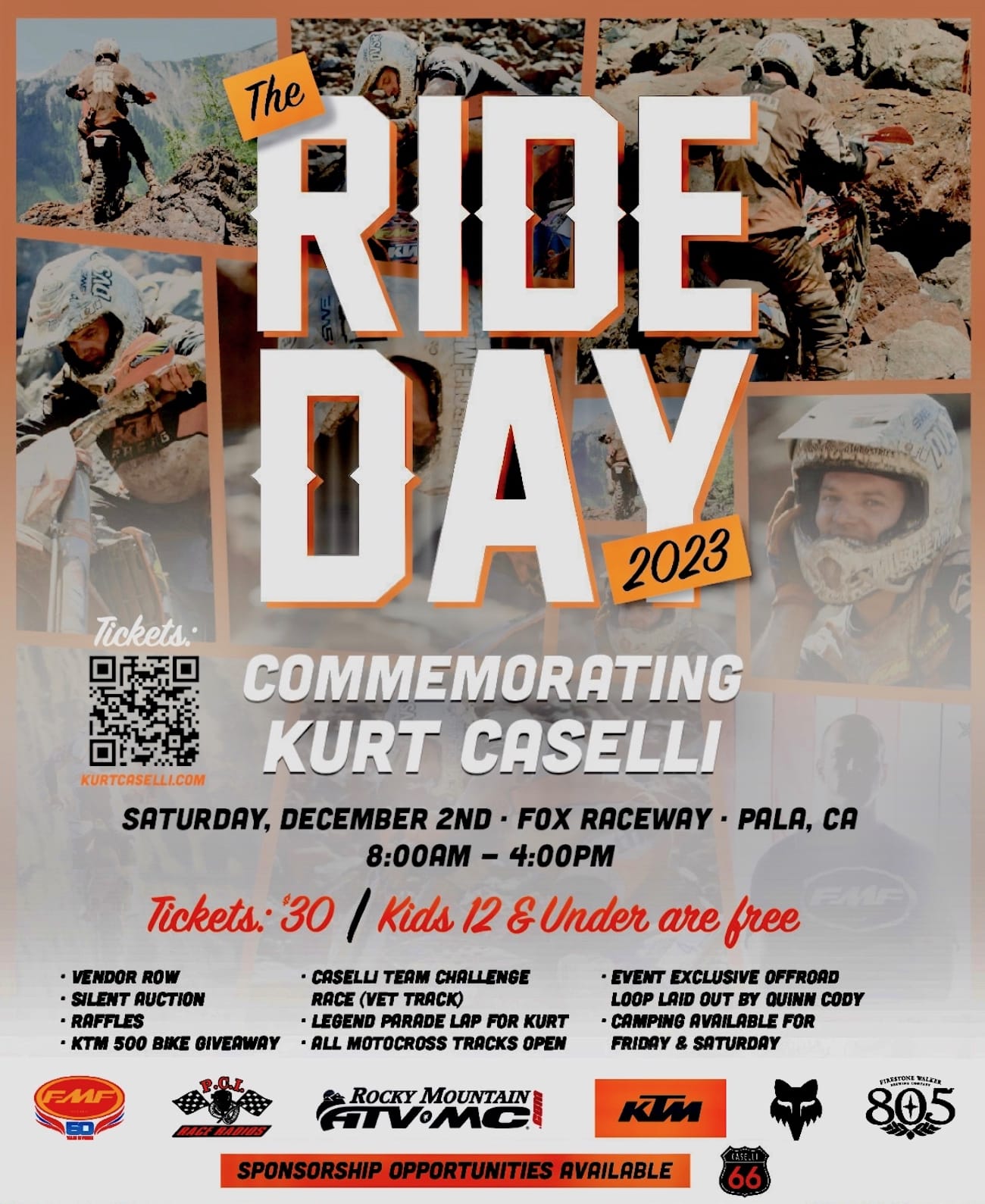 The 2023 Kurt Caselli Ride Day will be held on Saturday, December 2, from 8:00 a.m. to 4:00 p.m. at Pala Raceway. It is hosted by The Kurt Caselli Foundation and you can secure online tickets and recieve a $10 Rocky Mountain ATV/MC Credit and a free commemorative event T-shirt from presenting sponsors Rocky Mountain ATV/MC & FMF Racing. Early birds may also snag a RMATVMC swag bag! You can get you early tickets by
Clicking Here
.
• MXA VIDEO: TROY LEE'S EDISON DYE LIFETIME ACHIEVEMENT VIDEO
• THE GREATEST DEAL IN MOTOCROSS! SUBSCRIBE TO MXA & GET $25 ROCKY MOUNTAIN CREDIT & A YEAR OF MX FUN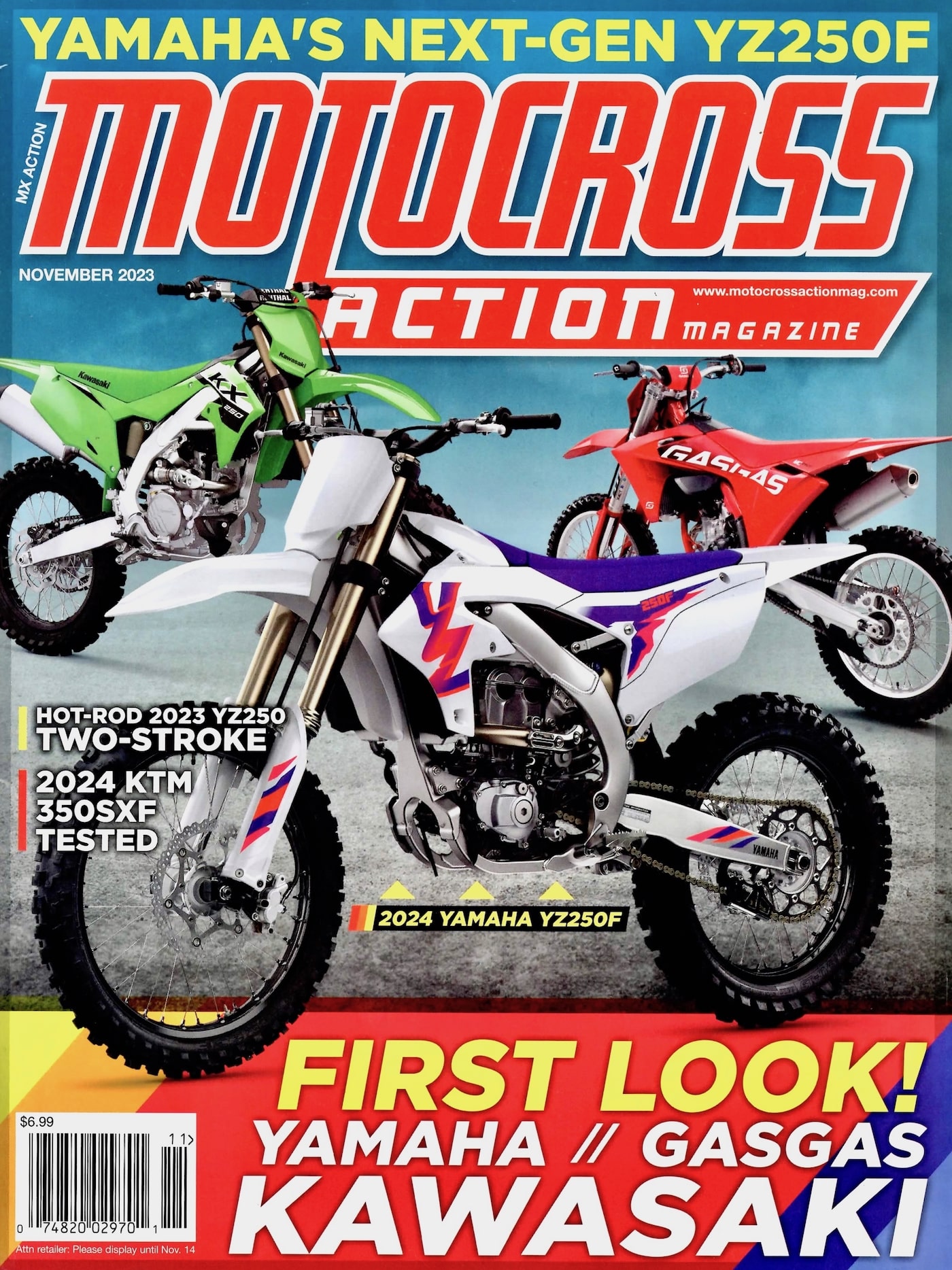 Did you know that you can subscribe to MXA at absolutely no cost to you—because when you subscribe you receive a Rocky Mountain ATV/MC credit for $25 towards anything in their massive inventory. Plus, you will get all the content in the 12 monthly issues of Motocross Action magazine delivered to your home by a uniformed U.S. government employee. Don't miss any more four-stroke tests, two-stroke tests, retro tests, race coverage, new tech or product tests….most of which never appear on the internet. And, don't forget, the $25 credit from Rocky Mountain ATV/MC that will more than cover the cost of your subscription. To subscribe call (800) 767-0345 or Click Here 
• COULDN'T GO TO THE WORLD VET? SEE IT HERE AND HEAR IT NOW
• WHAT IT WAS LIKE TO RIDE RICKY CARMICHAEL'S 1998 SPLITFIRE KX125?

Editor's note: We sometimes get misty-eyed thinking about past bikes we loved, as well as ones that should remain forgotten. We decided to take you on a trip down memory lane with bike tests that got filed away and forgotten in the MXA archives. We love reminiscing over a piece of moto history. Here is our 1998 test of Ricky Carmichael's Pro Circuit/SplitFire Kawasaki KX125 two-stroke—straight out of the pages of a 25-year-old magazine.
What makes Ricky Carmichael the champion he is? Is it his natural talent, training program, parents, Johnny O' or his Team SplitFire KX125? No one knows for sure, but when Pro Circuit's Mitch Payton offered us the opportunity to spend a day riding Ricky's full-race 1998 Kawasaki KX125, we were determined to solve one piece of the puzzle.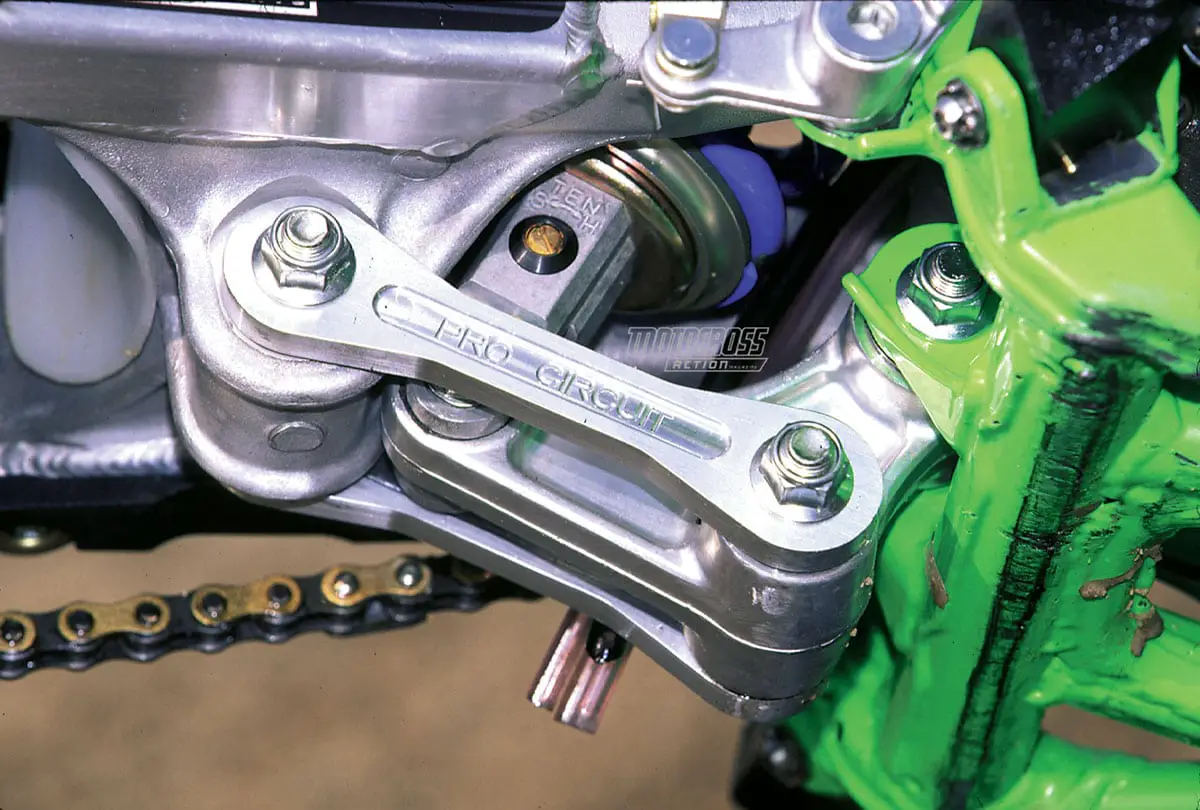 It's no secret that Ricky Carmichael has taken the motocross world by storm. He won the 1997 AMA 125 National Championship straight out of the amateur ranks and is such an odds-on favorite to win the 125 East Supercross crown this season that many riders are ducking him. He has a reputation as the hardest-training, most-determined old-school racer of the last five years. The MXA wrecking crew wanted to know what kind of bike a hammerhead like RC really rides. What better way to find out than by riding it?
Being little in size (not in status), Ricky never bought into the high-bar hype. He likes his bars centered over the triple clamps. Why does Ricky choose to be close to normal? Because if he ran his bars as high as Button, Bradshaw, Ferry and the rest of the crew instead of his head being positioned over the triple clamps, half of his body would be dangling out front.
CARMICHAEL'S THROTTLE, LIKE ALMOST ALL PROFESSIONALLY PREPARED RACERS' TWISTERS, IS  LIGHT, BUTTERY SMOOTH AND NEARLY ELASTIC.
Team SplitFire usually swaps the stock Kawasaki clutch lever (and perch) for a Honda CR unit, but not on Carmichael's bike. Ricky has ridden Kawasakis his entire life and has adapted to the KX's dead feel compared to the sudden action of the Honda lever geometry (the other riders on the Pro Circuit team like the CR action better).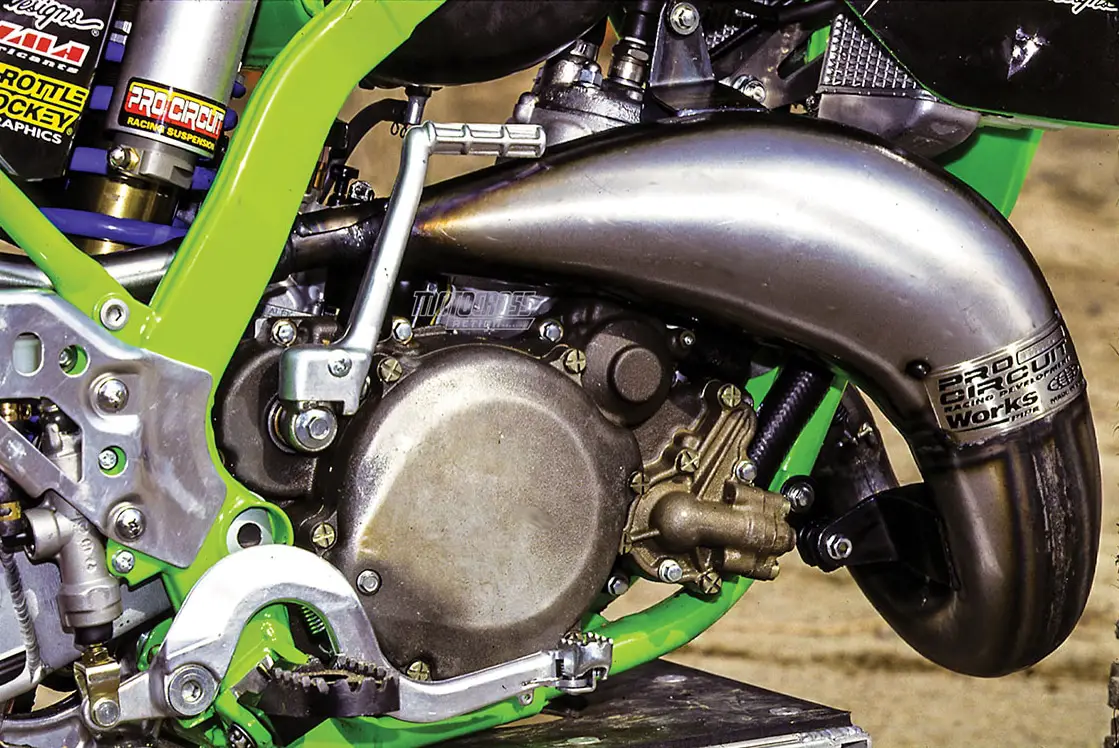 Carmichael's throttle, like almost all professionally prepared racers' twisters, is light, buttery smooth and nearly elastic. It snaps on and off with ease' thanks to constant maintenance by his mechanic Chad Watts and a Pro Circuit aluminum throttle barrel.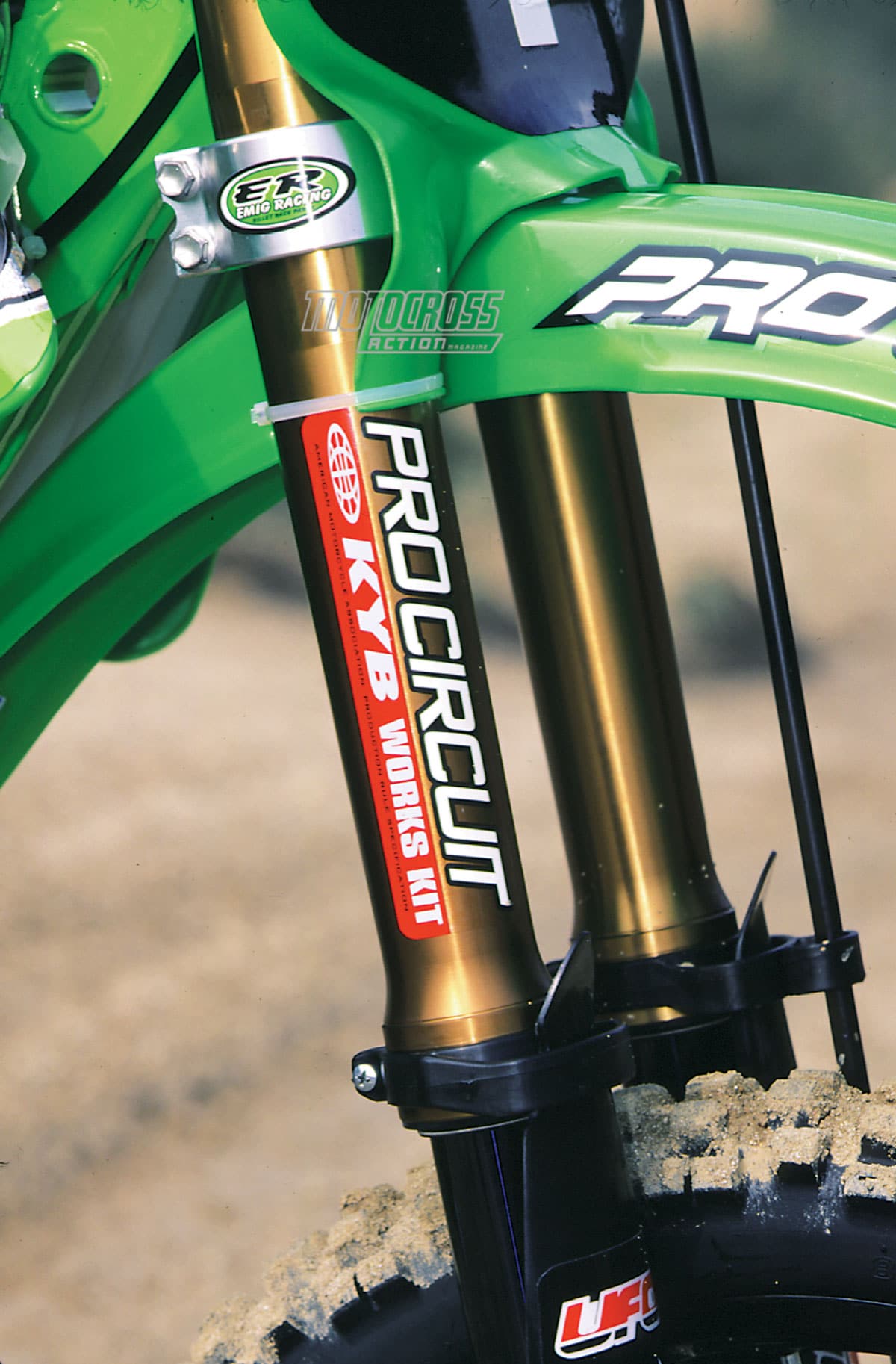 Other notable changes to the controls on Carmichael's KX125 are Pro Circuit titanium footpegs and a works steel shifter. The footpegs are no larger than the stock Kawasaki's, so they function more as weight-savers and eye-catchers than anything else. The stock aluminum shifter is changed for a works steel unit simply for strength. Nobody likes to lose a race because of a bent shifter' Carmichael included.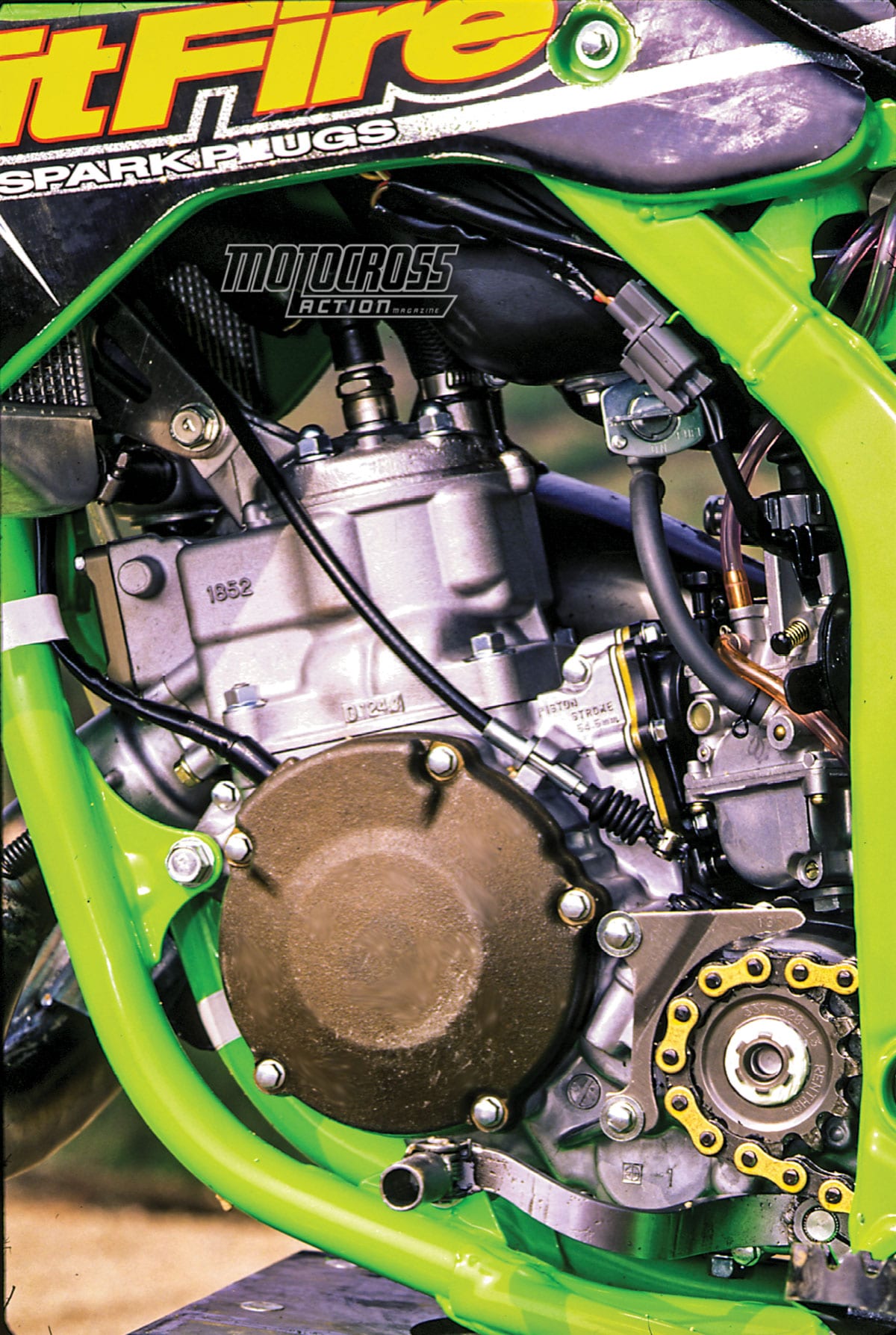 WHERE ELSE DOES RICKY DIFFER FROM HIS TEAMMATES?
Carmichael, like the rest of his SplitFire teammates, runs Braking's big rotors on both ends of his bike, but the choice of master cylinder is the subject of some controversy. The rest of the team prefers a Honda master cylinder mated to the Kawasaki caliper. Not Ricky. He believes that the Kawasaki master cylinder puts out enough pounds per square inch of braking pressure to handle his stopping chores. He centers his attention on the brake line. The stock line flexes, which creates a mushy feel. So, Ricky runs a braided, stainless steel line from Fastline. Actually, the MXA test crew thought that Ricky's brakes were as powerful as the ones his teammates use.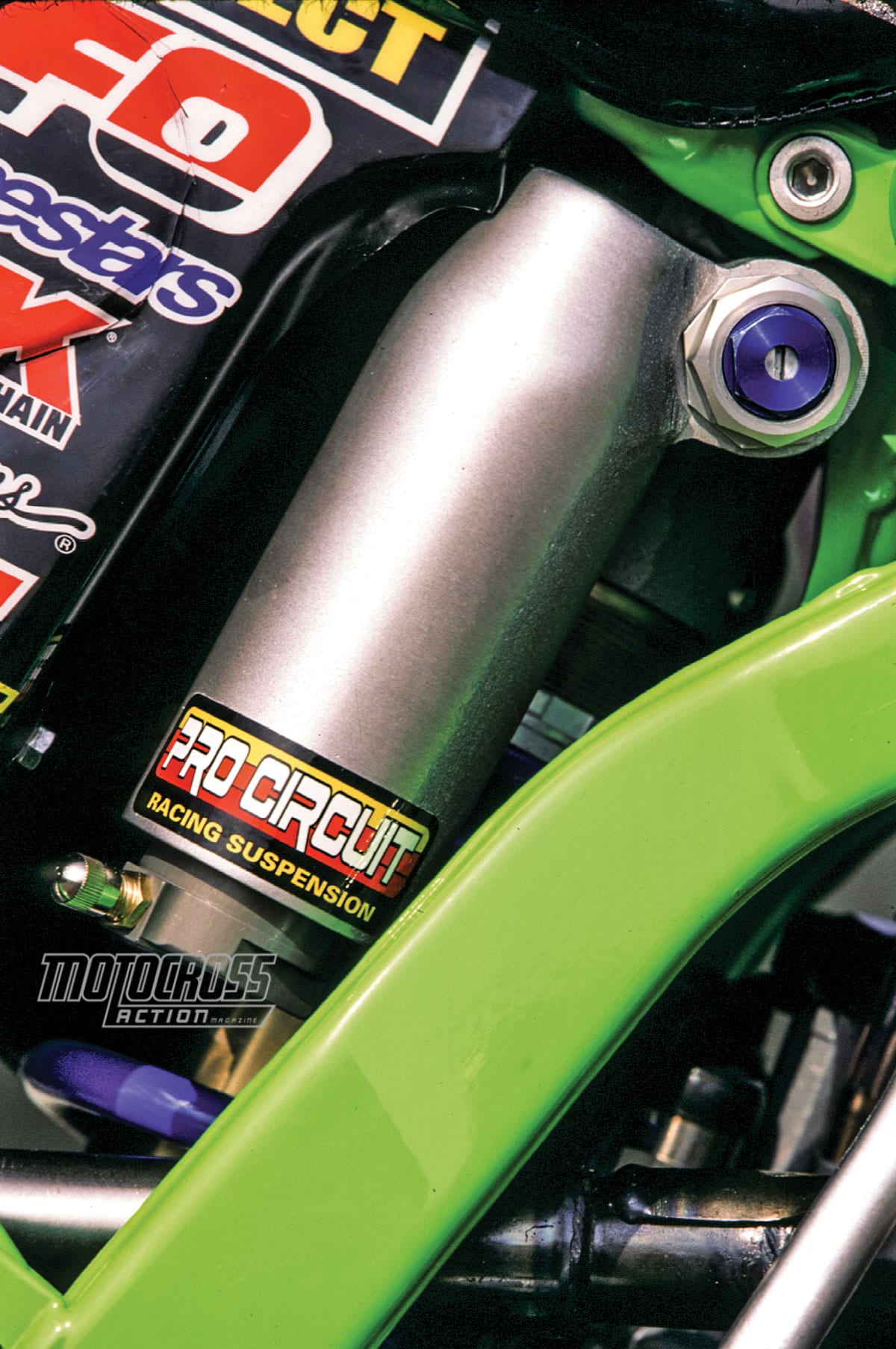 WHAT ABOUT RICKY'S WORKS SUSPENSION?
If you thought that the AMA had banned works suspension in the 125 class, you are right—and wrong! The factories have discovered a loophole. Ricky Carmichael has works Kayaba forks on his KX125, but to get around the rule, Kayaba claims that they are kit forks that anyone can buy (for more than $3500). We doubt that Kayaba would sell a set to anyone not on a factory team, but go ahead and try.
Carmichael and SplitFire aren't the only teams using "rule-bender" suspension. Team Primal Impulse/Suzuki uses upside-down Showa kit forks. Team FMF/Honda takes the stock Kayaba forks off its CR125s and replaces them with upside-down Showa kit forks (available from Factory Connection).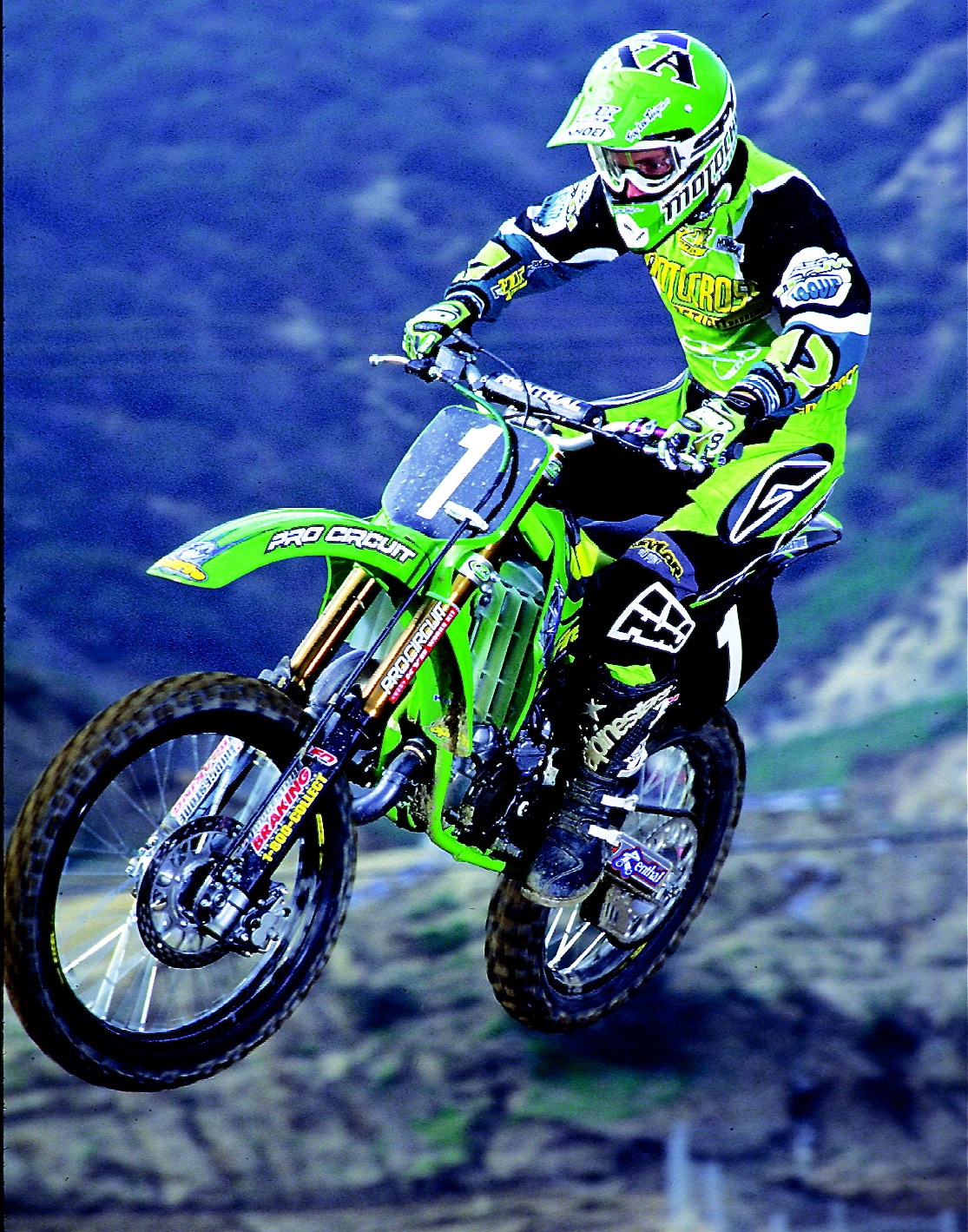 SO HOW DID RICKY'S SUSPENSION FEEL?
Very stiff. Starting with Ricky's standard compression setting of 8 clicks out, we had to turn the clicker all the way out to get the forks to move. We expected Supercross suspension, but what's funny is that Pro Circuit's suspension guru, Bones, had just finished telling us earlier in the week about how Carmichael did his fastest lap times at the Kawasaki Supercross track after they had forgotten to stiffen Ricky's suspension back up (they had softened the suspension for the Perris Winter Supercross).
Carmichael's rear shock is a semi-works part just like the front forks. Unlike the stock KX125 shock, Carmichael's Kayaba features high- and low-speed compression adjustments. Although the shock is stiff, it was actually usable on an outdoor track.
HOW DOES RICKY'S ENGINE WORK?
Fast. It is fast and hard to ride. Fast and demanding. Fast, but only if you ride it fast—and we mean very fast. Pro Circuit has built Carmichael the ultimate midrange engine. How fast this midrange engine is can be measured by how hard it pulls on your arms when you burst out of the corner exits. Burst doesn't really do justice to the 250-type hit that Carmichael's KX125 delivers.
Did we like the engine? That depends. At the beginning of a moto, we wouldn't have wanted any other engine. When we were fresh, we could keep the KX125 percolating, grab fresh gears and keep it on the pipe; however, midway through a moto, we weren't as happy.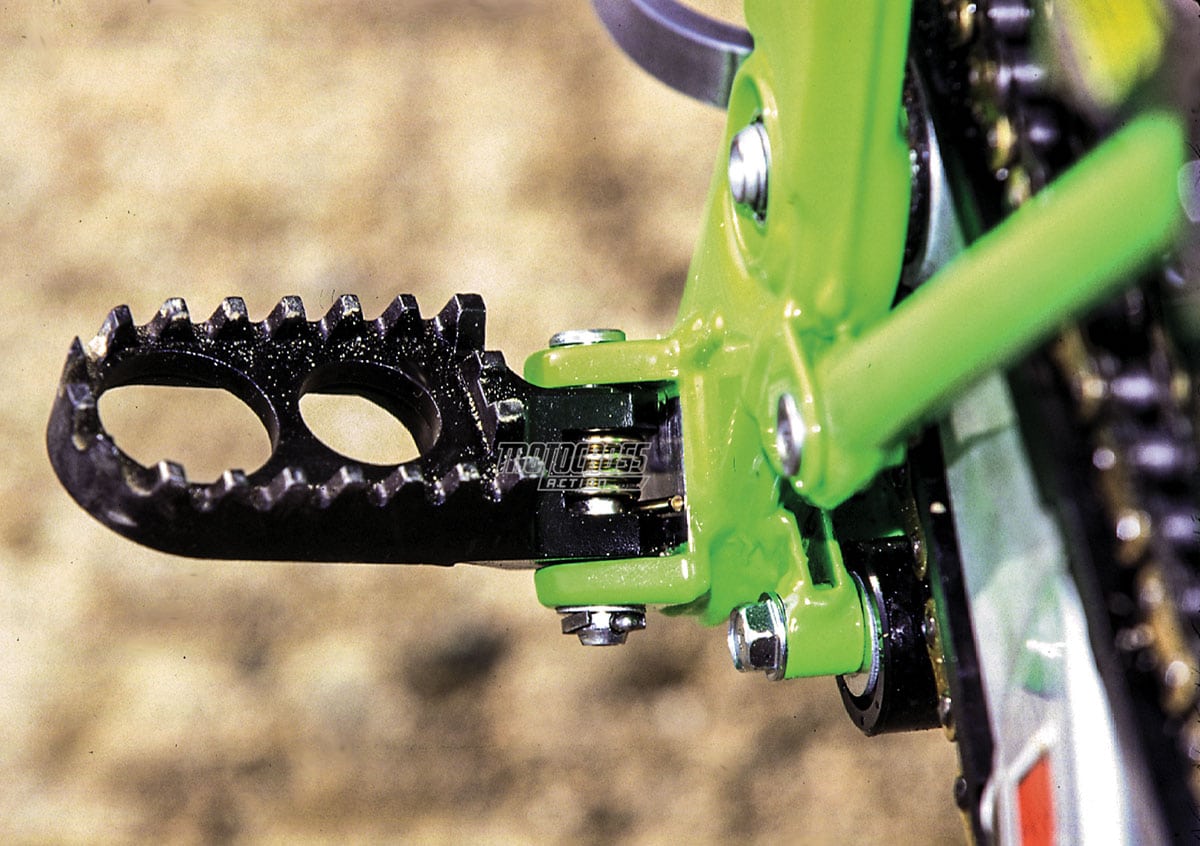 By that time we had started to get tired and sloppy. This is not the kind of engine that rewards laziness. If we shifted a little too early, it would fall off the pipe. There was no transitional low-end to bring it back up. We had to fan the clutch to get back into the middle. By the last couple of laps of the moto, we were wishing for a broader powerband. Face it, you have to ride as fast as RC to make this engine work, and we don't; and we're pretty sure you don't, either.
WHY IS THE ENGINE PERFECT FOR RICKY?
Ever wonder why Carmichael always looks like he's charging and putting forth tons of effort? Because that's how you have to ride his bike. Carmichael's engine shines when you ride it exactly like he does. Carry your speed through the turns. Get on the gas early. Lead with your face, and never give an inch. It is a Pro-only engine. Anyone with less than great concentration and excellent physical shape would have problems keeping Ricky's engine on the pipe. You have to ride Ricky's engine hard. It demands it. Face it, you can't take John Force's Funny Car down to 7-Eleven for a Slurpee and you can't trail-ride on RC's Team SplitFire Kawasaki KX125).
We rode Ricky's outdoor bike last year, and while it was pipey, fast and a handful, we don't remember it having a powerband this focused. Every test rider believed that Ricky's power and powerband were a testament to how fast he is. Mere mortals cannot ride his bike.
IN PAST YEARS, RICKY HAD HIS FORKS SHORTENED, TUBES SLID UP IN THE TRIPLE CLAMPS, SUBFRAME LOWERED AND FOOTPEGS RAISED TO COMPENSATE FOR HIS HEIGHT (OR LACK THEREOF).
What is is like to ride Ricky's bike? An experience. From first glance, you know Carmichael's bike is exceptional. The engine looks more like magnesium than aluminum. The black rims ooze attitude. The silencer's tone is pure evil. In past years, Ricky had his forks shortened, tubes slid up in the triple clamps, subframe lowered and footpegs raised to compensate for his height (or lack thereof). For 1998, the Pro Circuit SplitFire team isn't making any stature modifications. Everything is standard height.
When you ride the AMA 125 National Champion's bike, you get that same stable, solid feel that all Kawasaki KX125s have, but Carmichael's bike adds to that equation with sharper turning (thanks to Emig Racing triple clamps and Pro Circuit pull-rods), better shifting (thanks to a taller first gear), stronger brakes (thanks to bigger rotors and stainless steel brake lines) and a ripping engine (thanks to a Pro Circuit pipe, porting, short silencer and lots of Mitch Payton magic inside the engine).
WOULD WE WANT TO RACE CARMICHAEL'S KX125?
You bet we would! Who wouldn't? There is one major caveat, though; we'd need a few months to get in the kind of shape that Ricky Carmichael is in to be able to use his powerband to to its fullest potential.
• THE MXA WRECKING CREW AT THE INDIAN DUNES 46 YEARS AGO

In 1977 the MXA test riders wore team uniforms, leather boots, open face helmets and were a lot younger. This photo was shot at Indian Dunes during a Suzuki teat.
In the front row is Kurt Evans, Pete Maly and the late Al Baker. In the back row is Paul "Baz" Boudreau, Jody Weisel, Cherry Stockton and mechanic Alan Hahn. We lost Al as a result of an airplane crash, the "Baz" left MXA in 1978 to become a catholic priest, Kurt Evans went on to a career as a artist and cartoonist, Pete Maly was MXA's first test rider back in 1973 (and he 'd do it again now if we asked him), Cherry Stockton was a member of MXA's Women's motocross team and Alan Hahn was the factory Suzuki mechanic sent along to cure any of our RM125 ills. Jody is the only one of these test riders to still be at Motocross Action. If you could get him to talk he could tell some fabulous stories, but he's not a talker.
• 2024 NATIONAL GRAND PRIX CHAMPIONSHIP (NGPC) SCHEDULE

For more info go to www.ngpc.com
• MXA'S 2024 BIKE TEST VIDEO COLLECTION: MORE ADDED EACH WEEK
The MXA wrecking crew has been living with the new 2024 motocross bikes for several months; we have raced then, dynoed them, weighed them and ran the tires off of them. All to provide the loyal MXA reader with what he needs to know before putting down his hard-earned dough. And, once we have learned all there is to know about the 2024 bikes, we write an indepth magazine article for Motocross Action to go along with the video 250 shootout below. It is a double whammy of info—the first after the first full day of riding and the second after several months of racing. Below are all of the 2024 bikes we have completed the videos on.
MXA VIDEO TEST: 2024 MXA 250 SHOOTOUT
MXA VIDEO TEST: 2024 HUSQVARNA FC250 FOUR-STROKE
MXA VIDEO TEST: 2024 YAMAHA YZ250F FOUR-STROKE
MXA VIDEO TEST: 2024 HONDA CRF250 FOUR-STROKE
MXA VIDEO TEST: 2024 KTM 250SXF FOUR-STROKE
MXA VIDEO TEST: 2024 KAWASAKI KX250 FOUR-STROKE
MXA VIDEO TEST: 2024 KTM 450SXF FOUR-STROKE
MXA VIDEO TEST: 2024 HUSQVARNA FC450 FOUR-STROKE

MXA VIDEO TEST: 2024 HONDA CRF450 FOUR-STROKE
MXA VIDEO TEST: 2024 KTM 300SX FUEL-INECTED TWO-STROKE

WE RIDE KEN ROCZEN'S SUZUKI RM-Z450
• THOR MINI O'S PRESENTED BY PRO CIRCUIT START TOMORROW
For more info go to www.unlimitedsportsmx.com
• THE 2024 AMA ARENACROSS SERIES STARTS THIS WEEKEND 

For more info go to www.arenacrossusa.com
• THE FUTURE IS NOW: 2024 RACE SCHEDULES & WHAT'S LEFT IN 2023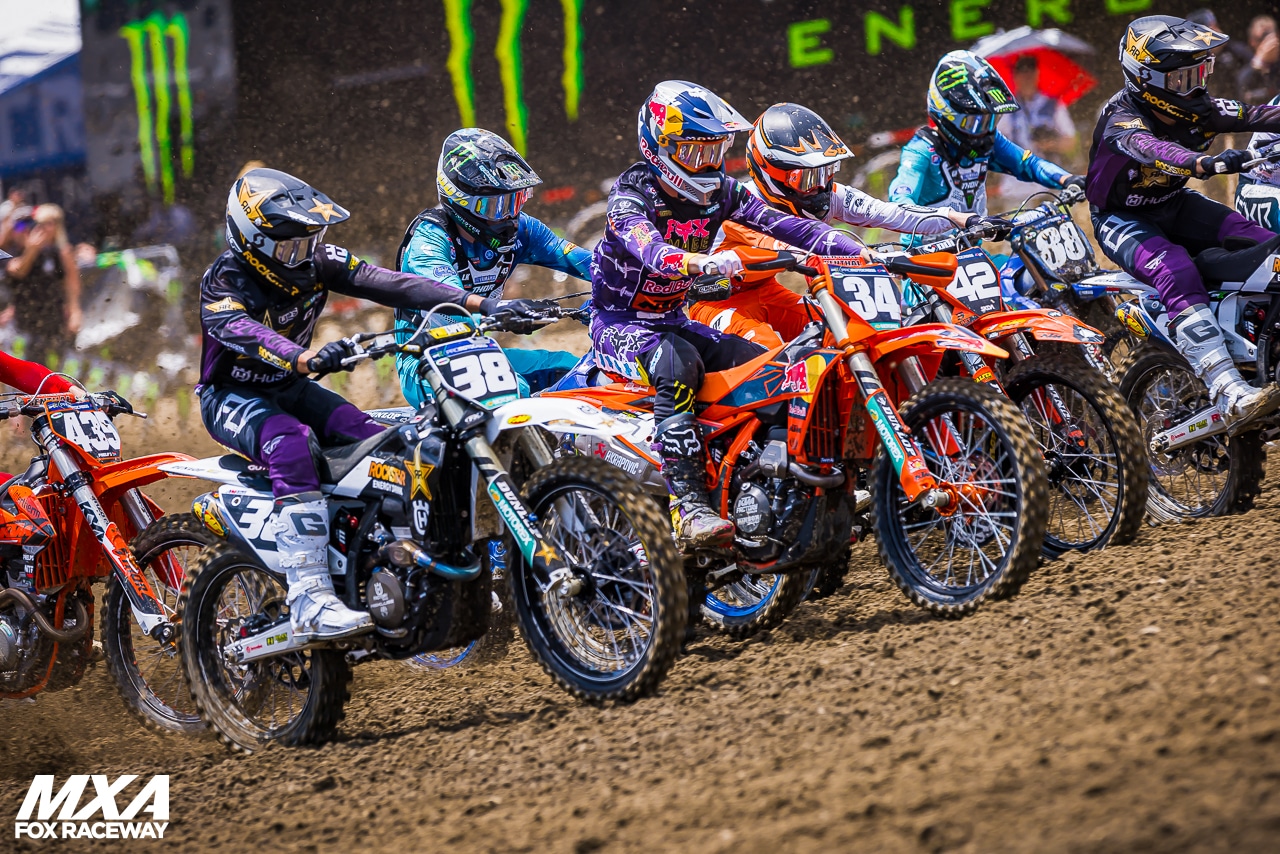 2024 AMA SUPERCROSS CHAMPIONSHIP
Jan. 6…Anaheim, CA
Jan. 13…San Francisco, CA
Jan. 20…San Diego, CA
Jan. 27, Anaheim, CA
Feb. 3…Detroit, MI
Feb. 10…Glendale, AZ
Feb. 24…Arlington, TX
Mar. 2…Daytona Beach, FL
Mar. 9…Birmingham, AL
Mar. 16…Indianapolis, IN
Mar. 23…Seattle, WA
Mar. 30…St. Louis, MO
Apr. 13…Foxborough, MA
Apr. 20…Nashville, TN
Apr. 27…Philadelphia, PA
May 4…Denver, CO
May 11…Salt Lake City, UT
2024 AMA NATIONAL MOTOCROSS CHAMPIONSHIP
May 25…Pala, CA
June 1…Hangtown, CA
June 8…Thunder Valley, CO
June 15…Mount Morris, PA
June 29…Southwick, MA
July 6…Red Bud, MI
July 13…Millville, MN
July 20…Washougal, WA
August 10…Unadilla, NY
August 17…Budds Creek, MD
August 24…Crawfordsville, IN
2024 2023 FIM WORLD MOTOCROSS CHAMPIONSHIP
Mar. 10…Argentina
Mar. 24…TBA
Apr. 7…Sardinia
Apr. 14…Italy #1
May 5…Portugal
May 7…Spain
May 12…Spain
May 19…France
Jun. 2…Germany
Jun. 9…Latvia
June 16… TBA
June 30…Indonesia #1
July 7…Indonesia #2
July 21…Czech Republic
July. 28..Belgium
Aug. 11…Sweden
Aug. 18…Holland
Aug 25……Switzerland
Sept. 15…TBA
Sept. 29….Italy #3
2024 MOTOCROSS DES NATION
Oct. 6…Matterley Basion, UK
2024 AMA ARENACROSS CHAMPIONSHIP
Nov.11-18…Madison, Wi
Dec.1-2…Boise, ID, NY
Jan. 5-6…Loveland, CO
Jan.12-13…Grand Island, NE
Jan. 19-20…Guthrie, OK
Jan. 26-27….Guthrie, OK
Feb. 2-3…Prescott, AZ
Feb. 9-10…TBA
Feb. 23-24…Mesquite, TX
Feb. 2-Mar.1…Daytona Beach, FL
Mar. 8…Fayetteville, NC
Mar. 15…Salem, VA
Mar. 22-23…Denver, CO
Mar. 29…Las Vegas, NV
2024 WORCS CHAMPIONSHIP
Jan. 5-7…Taft, CA
Jan. 26-28…Glen Helen, CA
Feb 23-25…Marysville, CA
Mar. 15-17…Lake Havasu, AZ
Apr. 12-14…Blythe, CA
May 17-19…Cedar City, UT
Sept. 6-7…Glen Helen, CA
Oct. 4-6…Mesquite, NV
Nov. 1-3…Primm, NV
2024 DUTCH MASTERS OF MOTOCROSS CHAMPIONSHIP
Mar. 17…Harfsen
Apr. 04…Oldebroek
Apr. 21…Markelo
2024 ADAC MX MASTERS
Apr. 21…Princely Drehna
Apr. 28th…Dreetz
May 26…Vellahn
Jun. 23…Bielstein
July 14,…Tensfeld
Aug. 4…Gaildorf
Sept, 1…TBA
Sept. 22…Holzgerlingen
2023 WORLD SUPERCROSS CHAMPIONSHIP
Nov. 24-25…Melbourne, Australia
2023 AMA ENDUROCROSS CHAMPIONSHIP
Oct. 7…Everett, WA
Oct. 21…Prescott Valley, AZ
Oct. 27-28…Idaho Falls, ID
Nov. 11…Redmond, OR
Nov. 18…Reno, NV
3BROS 24 HOURS OF GLEN HELEN
Oct. 28…Glen Helen, CA
2023 WORLD VET MOTOCROSS CHAMPIONSHIP
Nov. 3-5…Glen Helen, CA
2023 THOR/PRO CIRCUIT MINI O'S
Nov. 18-26…Alachua County, Fl
2023 PARIS SUPERCROSS
Nov. 18-26…Paris, Fra
2023 RED BULL DAY IN THE DIRT
Nov. 24-26…Glen Helen, CA
2023 "SATURDAY AT THE GLEN" SCHEDULE
Nov. 18…Winter Series #3 (National track)
Dec. 9…Winter Series #4 (Arroyo Vet track)
Dec. 16…Winter Series #5 (National track)
• GET MXA AND DIRT BIKE SUBSCRIPTION AND SAVE MONEY—NOT TO MENTION THE $50 ROCKY MOUNTAIN E-GIFT CARD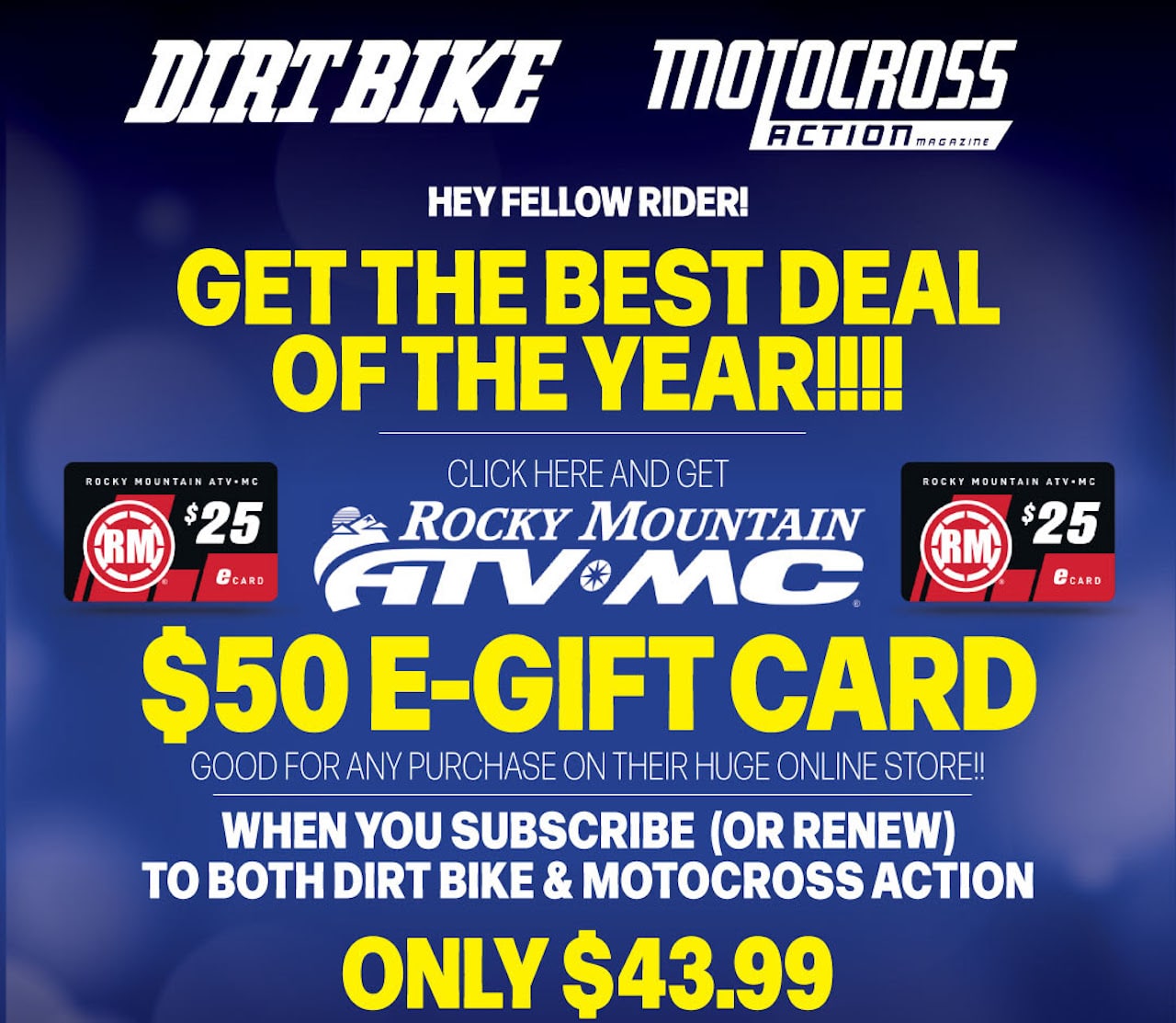 You can't afford not to subscribe, because when you order a subscription, Rocky Mountain ATV/MC sends you a $25 gift credit to use on anything you want from their massive selection. Plus, subscribers to MXA can also choose to get the digital mag on their iPhone, iPad, Kindle or Android by going to the Apple Store, Amazon or Google Play. Even better, you can subscribe to Motocross Action and Dirt Bike for one low price and get a $50 E-Gift card—plus you get the awesome print edition delivered to your house by a uniformed employee of the U.S. Government. Do we have to mention the $25 Rocky Mountain ATV/MC gift card again? That gift means that your subscription balances out as free, free, free! You can't lose on this deal? Call (800) 767-0345 or Click Here
• MXA YOUTUBE CHANNEL | HIT THAT SUBSCRIBE BUTTON
The MXA wrecking crew is everything moto related. Check out our MXA YouTube channel for bike reviews, Supercross coverage, rider interviews and much more. And don't forget to hit that subscribe button.
• TALK MOTO WITH ON MXA'S FACEBOOK GROUP CHAT