MXA'S WEEKEND NEWS ROUND-UP: A SLIGHTLY FASTER HUSKY 250, THE COTTON CONNECTION & MORE
HUSQVARNA MOTORCYCLES MOTO3 ROAD RACE BIKE
Husqvarna FR250 GP.
Husqvarna Motorcycles has announced their return to international road racing and the FIM World Championship Grand Prix Moto3 class, where they will officially support the Max Racing Team. Owned by four-time 250cc World Champion Max Biaggi, who secured no fewer than 42 GP victories during an illustrious career, and under the management of experienced German former-racer Peter Ottl, the team will field Romano Fenati and Alonso Lopez in the 2020 season on the new Husqvarna FR250 GP.
The Moto3 class replaced the outgoing 125cc category in 2012 and is restricted to single-cylinder 250cc four-stroke machines. In 2014 Husqvarna Motorcycles secured Moto3 class podium finishes, stepping away from the series at the end of 2015. With a rich heritage in road racing, Husqvarna Motorcycles' return to the hotly contested Moto3 category mirrors the brand's wider expansion into the global street motorcycle market.
Husky raced the Moto3 class in 2014 and 2015 before dropping out, but they are back in 2020.
The experienced Romano Fenati finished the 2017 Moto3 World Championship as runner-up, showing himself to be a rider capable of delivering strong, season-long performances. During his time as a Moto3 campaigner Fenati has earned 11 GP victories, 24 podiums and four pole positions. Alonso Lopez, at just 17 years old, is also keen to make his mark on the Moto3 series. 2020 will be the young Spaniard's third year in the class having made his debut in 2018, claiming a recent third-place result at the Thai Grand Prix. He has shown he is more than capable of fighting for top results. Moto3 World Championship kicks off in Qatar on March 8th.
HIRED, MOVED, REINSTATED & BACK IN BUSINESS


The silly season is long over, but not every rider was through with the yearly game of musical chairs. Here are some of the riders who signed on the dotted line late in the year
THOMAS COVINGTON HEADS ACROSS THE POND
Thomas Covington didn't have a good year in America. In fact, he had a terrible year.
American Thomas Covington spent a frustrating year on the AMA circuit in 2019 and has decided to return to the Grand Prix circuit where he had four 250 GP wins and 16 podiums. Covington has aged out of the 250GP class, but will join the Gebben Van Venrooy Yamaha team for the 450 GPs. He will be teammates Alessandro Lupino and Calvin Vlaanderen (who is also moving to the 450 class for the first time).
JGRMX: BETTER LATE THAN NEVER
Joey Savatgy wil race for JGR.
The Joe Gibbs Racing team finally announced that they will race the 2020 Supercross and outdoor season on Suzukis with Joey Savatgy and Alex Martin. Joey Savatgy was on the Monster Energy Kawasaki team in 2019 as Eli Tomac's teammate, but he only had a one-year contract and got bumped by the signing of Adam Cianciarulo. Joey had to wait for the Joe Gibbs deal to be finalized. On the other hand, Alex Martin still had a year to go on his two-year Joe Gibbs contract, but even he was unsure if JGR would find the sponsor they needed to contest the 2020 season. We are glad to see JGR finally announced a team, even if it was late.
BROC TICKLE HAS TO WAIT SOME MORE
Broc Tickle finally gets to come back after a seriously mismanaged FIM drug test.
Broc Tickle still has time to serve on his FIM drug violation suspension. Tickle will be allow to race again on February 15 at the Tampa Supercross. His controversial FIM suspension cost him his Factory KTM ride and most of the 2018-2019 season. Since he can't race until Tampa, Brock will miss the first six rounds of the 2020 AMA Supercross series.
MITCH EVANS GETS A NEW TEAMMATE
Mitch Evans (43) gets a new teammate—some guy named Tim Gajser.
Australian 250 Grand Prix racer Mitch Evans, who finished 11th overall in the 2019 250 World Championship (even though he was injured for one-third of the series), was the surprise pick to be named Tim Gajser's Honda teammate for the 2020 FIM 450 World Championship. At 21 years old, Evans does have 450 experience, having finished second in the 2018 Australian 450 National Championships.
JUSTIN HILL & MALCOLM STEWART AT MOTOCONCEPTS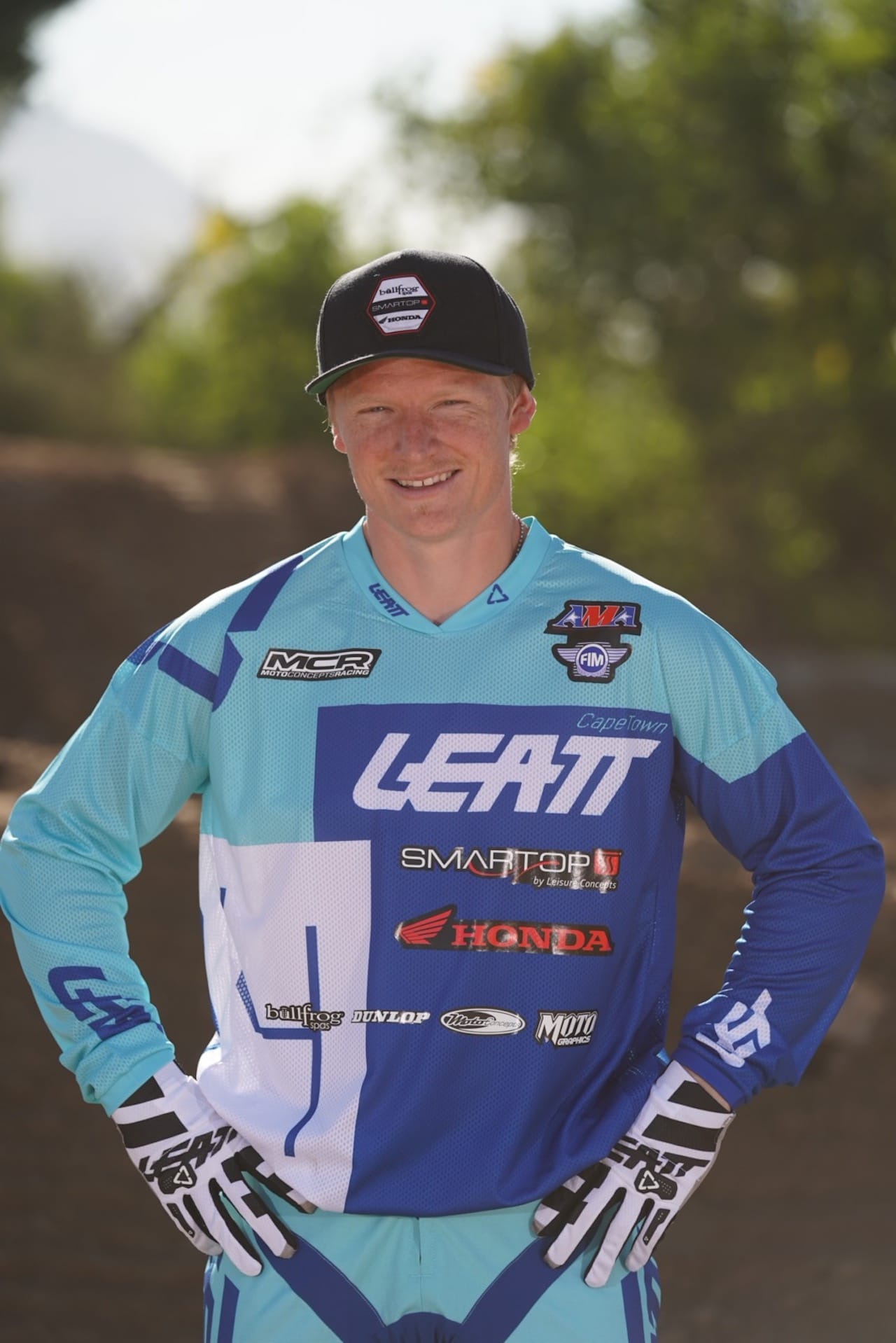 Justin Hill is the traveling man as he seems to move from team to team every other year.
Malcolm Stewart must wonder why he has such a hard time getting signed each season. It might have something to do with taking 7 months off from May until the following January. For 2020 Malcolm appears to have settled in at the MotoConcept's Honda team. Malcolm will be joined by Justin Hill, who was let go from the JGR team, in favor of Joey Savatgy. MotoConcept's star rider, Justin Brayton moved over to the HRC Honda team to be Ken Roczen's teammate for Supercross only.
2020 MOTOCROSS ACTION 450 FOUR-STROKE SHOOTOUT

RED GAERNE SG12'S ARE ON THE WAY

Keep checking the Gaerne USA website to get yours.
MXA AD OF THE WEEK: DO YOU REMEMBER THE COTTON COBRA?

Before Pabatco imported Hodakas from Japan they imported Cottons from Great Britain. Cotton's were powered by 250cc Villiers Starmaker engines with an Amal Monobloc carb. In 1961 Cotton entered the British scrambles market. The 1961 Cotton Cougar was raced by British greats Bryan "Badger" Goss and John Draper. Alhough the Cottons were similar in many ways to Greeves and DOT motorcycles, several features quickly distinguished the Cotton Cougars. For one, the Villiers engines were set back and down in the frame and used the lightest tubing available. Match this with the beefy Armstrong leading-link front fork and you had a very different, if not ugly motorcycle.
Below is what a restored Cotton Cobra looks like in living color.
EKS BRAND SPONSORSHIP SUBMISSION IS OPEN!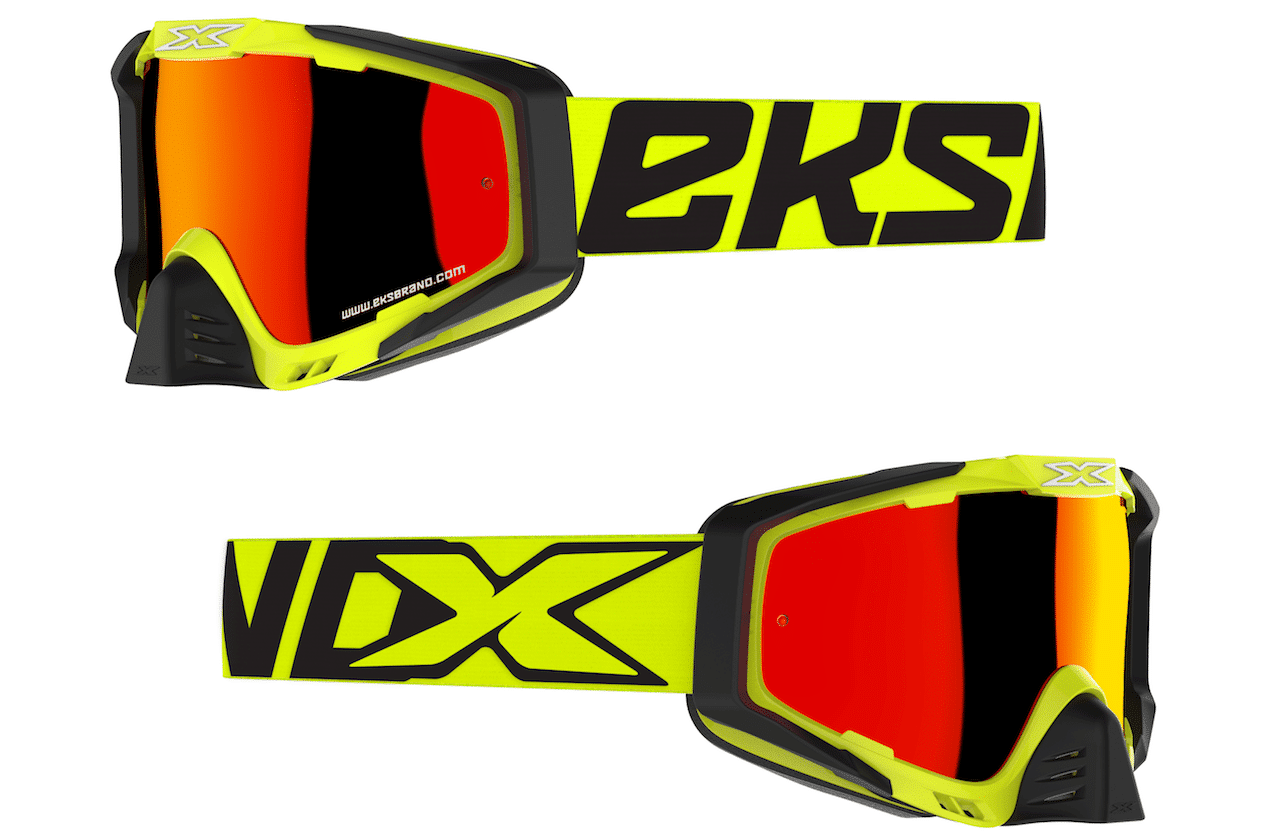 The EKS Brand Rider Support Program is in its 10th year and is actively looking for riders to be a part of the program. Support levels range from C class riders all the way up through National level racers. The program is open to riders of all disciplines including, Motocross, Supercross, Off-Road, Flat Track, Hill Climb, Supermoto, Speedway, Endurocross, Trials, ATV, Mountain bike BMX, Snowsports, and all action sport athletes. Join the likes of 2019 racers Chris Blose, Alex Ray, Kyle Chisholm, Adam Eticknap, Vince Friese, Kyle Cunningham, Henry Miller, John Short, Ben Lemay, Brandon Hartranft, Jacob Hayes, Grant Baylor, Russell Bobbit, Gary Sutherlin and Ricky Brabec,
Click on www.eksbrand.com and go to "contact us" or send a small resume to [email protected]. Note: If you were on the EKS Brand team last year, please specify the program you were on in your resume.
YOU DO THE MATH! SUBSCRIBE TO MXA & GET A $25 CHAPARRAL GIFT CARD
If you subscribed to Motocross Action,  you could be spending your gift money at Chaparral right now.
If you subscribe to MXA you can get the mag on your iPhone, iPad, Kindle or Android by going to the Apple Store, Amazon or Google Play or in a digital version. Even better you can subscribe to Motocross Action and get a $25 Chaparral gift card to spend on whatever motorcycle parts or products you need. And the awesome print edition will be delivered to your house by a uniformed employee of the U.S. Government. You can call (800) 767-0345 or Click Here (or on the box at the bottom of this page).
MXA PRODUCT SPOTLIGHT: PRO CIRCUIT 2020 YAMAHA YZ450F EXHAUST SYSTEMS


Pro Circuit is excited to announce the T-6 and Ti-6 line of exhaust systems are available for the 2020 YZ450F model. Proudly designed and manufactured in the USA, the new line of exhaust systems for the YZ450F continues with improved performance Yamaha riders have come to know. Whether you choose to bolt on a Ti-6 Pro Titanium Exhaust System or the T-6 Stainless Steel Slip-On Silencer, Pro Circuit has the performance exhaust you're looking for.
TI-6 PRO TITANIUM

The Ti-6 Pro Titanium Exhaust System is designed for the AMA Pro racer competing in AMA/Monster Energy Supercross or the Lucas Oil Pro Motocross Championship series. Engineered to meet strict AMA/FIM sound regulations, the Ti-6 Pro system provides superior performance while complying with the series' sound regulations. The Ti-6 Pro exhaust system is constructed from high-grade titanium throughout with a carbon fiber end-cap for a factory look. Top pro level teams look to Pro Circuit for products that win. Retail price: $1118.21.
TI-6 TITANIUM

The Ti-6 Titanium Exhaust System is designed for both closed-course and off-road racers. It's the ideal system for AMA Amateur events or any rider or racer looking for winning performance, legendary durability and a professional look. The Pro Circuit Ti-6 System is equipped with a removable USFS approved spark arrestor, making it easy to alternate between off-road and closed-course racing. Retail price: $1118.21.
T-6 STAINLESS STEEL

The T-6 Stainless Steel Exhaust System is designed for both closed-course and off-road competition. Constructed from high strength stainless steel and aluminum, the T-6 offers the same improved performance as our Ti-6 System. The T-6 System is a great way for riders or racers looking for winning performance, legendary durability and a professional look but at a lower price. In addition, the T-6 System is equipped with a removable USFS approved spark arrestor making it easy to alternate between off-road and closed-course racing.Retail price: $850.46
THE T-6 STAINLESS STEEL SLIP-ON

The T-6 Stainless Steel Slip-On Silencer is for riders looking for an inexpensive, easy-to-install, durable performance
silencer that can bolt right onto their stock head pipe. The T-6 Slip-On is constructed of stainless steel and high -quality aluminum for increased durability. The T-6 Slip-On is a great option for any rider looking for an increase in performance on a small budget. A removable USFS approved spark arrestor is included to make it easier to alternate between off-road and closed-course racing.Retail price: $488.21. For more information go to www.procircuit.com
BAD NEWS FOR ELECTRIC BIKES AT THE ISLE OF MAN TT…AND EVERYWHERE ELSE

The Mugen Shinden Hachi.
The Isle of Man's Department of Enterprise says in a press release that it has become "increasingly challenging" to run the electric TT Zero class and to find competitors for it. Apart from the Mugen Shinden electric team, the list of entered riders is so small that the Isle of Man's Department of Enterprise is going to place a moratorium on the electric bike race for the next two years. Only factory-level entries could really compete at the TT Zero race in any meaningful way—so privateer or small manufacturers entrants didn't show up. Electric bikes should not compete against internal combustion bikes, in motocross, road race, enduro or flat track, until they show that they can fill up a complete field by themselves. The Isle of Man TT has been most important electric motorcycle racing event in the world, but that title will switch to the FIM's MotoE World Cup. The Isle of Man held the TT Zero race for ten years—maybe it will be back in 2022—if they can find a full field.
SOCAL RACING VACATIONS WITH DENNIS STAPLETON: RIDE GLEN HELEN, CAHUILLA CREEK, PALA, PERRIS & MORE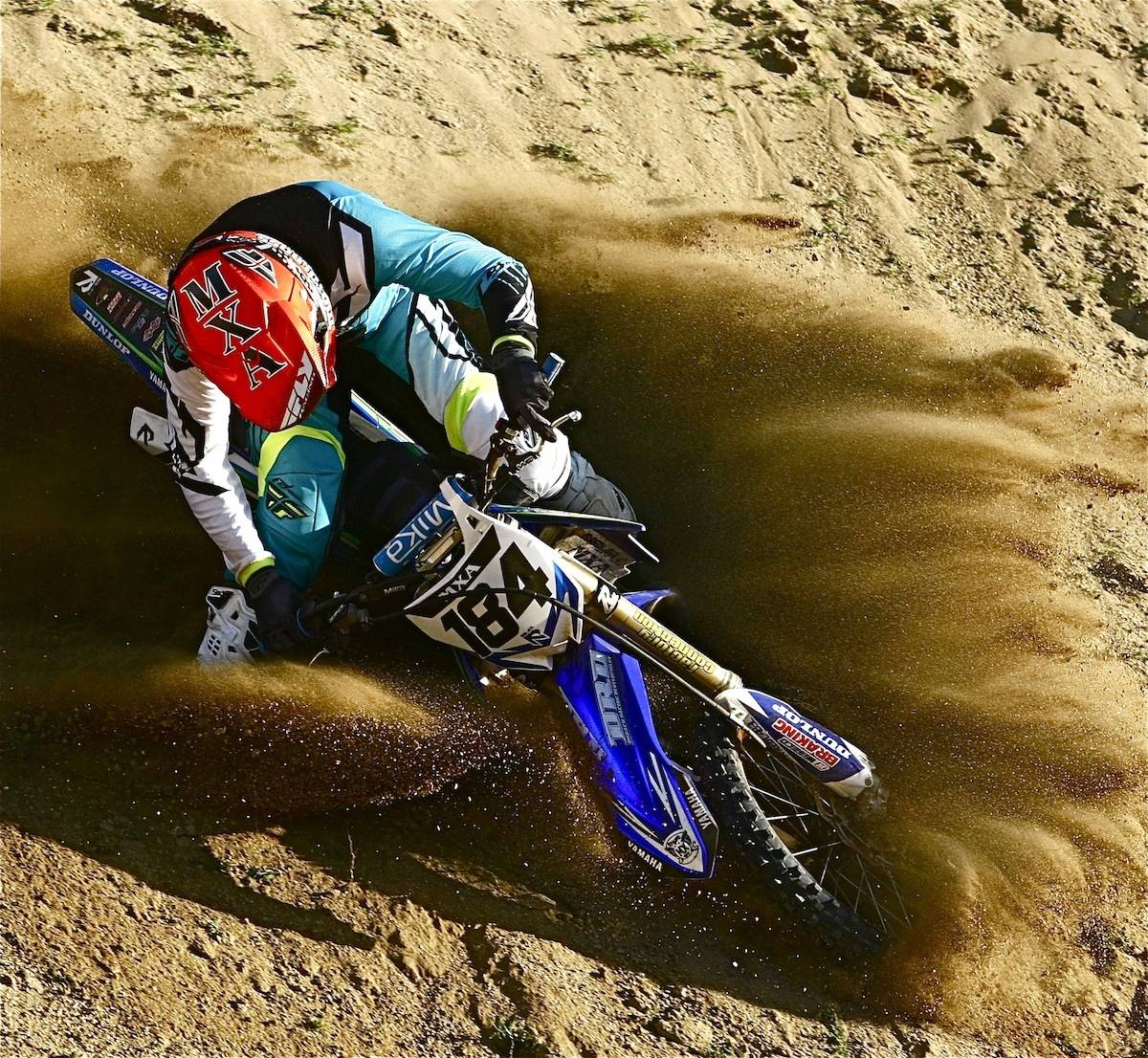 Dennis Stapleton doing what he does every day of the week — let him make your dreams come true.
In his spare time, when he's not testing with MXA, racing in a foreign country, going to Japan or helping many of his motocross buddies, Dennis has the time to open up his house, garage, bikes and mechanics to help riders who would like to come to SoCal on a motocross vacation. He offers full service to all of the Southern California tracks for racers or for play riders. Whether you want to rent a bike, move in for a week, race at Glen Helen or take motocross lessons—this is one-stop shopping.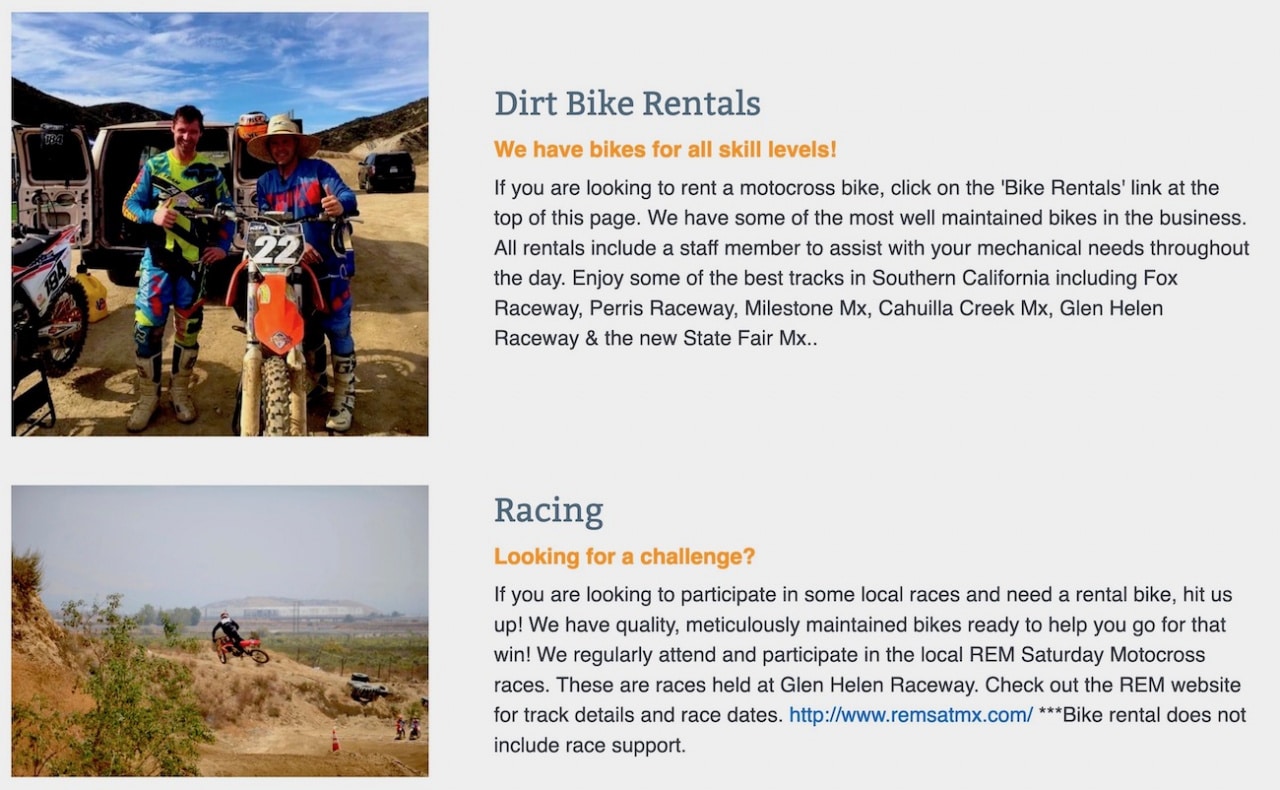 If you're coming out to Southern California and need a rental bike, check out KnobbyShop South/StapoMX for all your rental needs. They offer Motocross Vacations, bike rentals and motocross lessons. Just send them an email ([email protected]). If you'd like to live the SoCal lifestyle for a day, a weekend, a week, a month or three months, visit Dennis' website at www.knobbyshopsouth.org for more details!
WHAT DID YOU WANT WHEN YOU WERE A KID? OSET BIKES CAN MAKE YOUR KID'S DREAM COME TRUE
Looking for a Christmas gift for Junior? OSET has slashed the price of its 12.5 range of electric off-road motorcycles for kids ages 3-5. The 12.5 Racing and Eco range are the perfect entry-level motorcycle that's ideal for beginners and back yard riders age 3-5 who want to experience a real motorcycle with all the benefits that come with being electric such as ease of maintenance, very low running costs, no hot parts and being virtually silent. Customers can enjoy healthy discounts of up to $100 off the bike's while the stock lasts. Customers should visit www.osetbikes.com/us/ to find their local OSET dealer or to earn more about the full range of OSET Electric Motorcycles for kids.
WHAT'S LEFT ON THE 2019 RACE CALENDAR
2019 AUSTRALIAN SUPERCROSS CHAMPIONSHIP
Nov. 16…………………………..Auckland, New Zealand
Nov. 30…………………………..Melbourne, Victoria
MARTY TRIPES BIG-3 TWO-STROKE SERIES
Nov. 16…………………………..Glen Helen, CA
2019 WORCS OFF-ROAD CHAMPIONSHIP
Nov. 22-24……………………….Primm, NV
2019 DAY IN THE DIRT 22
Nov. 28-Dec. 1……………..Glen Helen, CA 
7TH ANNUAL KURT CASELLI RIDE DAY
Dec. 14…………………………..Glen Helen, CA
OLD SCHOOL SCRAMBLES SEASON FINALE
Dec. 21-22…………………………..Glen Helen, CA
MXA PRODUCT SPOTLIGHT: POLISPORT PHANTOM PRO CHEST PROTECTOR
Polisport has released its new Phantom chest protector. The new Phantom Pro brings the best of the phantom line, comfort and adaptability to the body shape, with the upgraded homologation to chest protection. Complying with EN1621-3:2018 (Chest – Type A) and EN1621-2:2014 (Central Back – 1) this protection matches current FIM Body Protection rules to be usable in all FIM races.
The Phantom Pro is Neck Brace friendly, slim and adaptable to the body of the rider and has thermoformed shoulder padding for a perfect fit.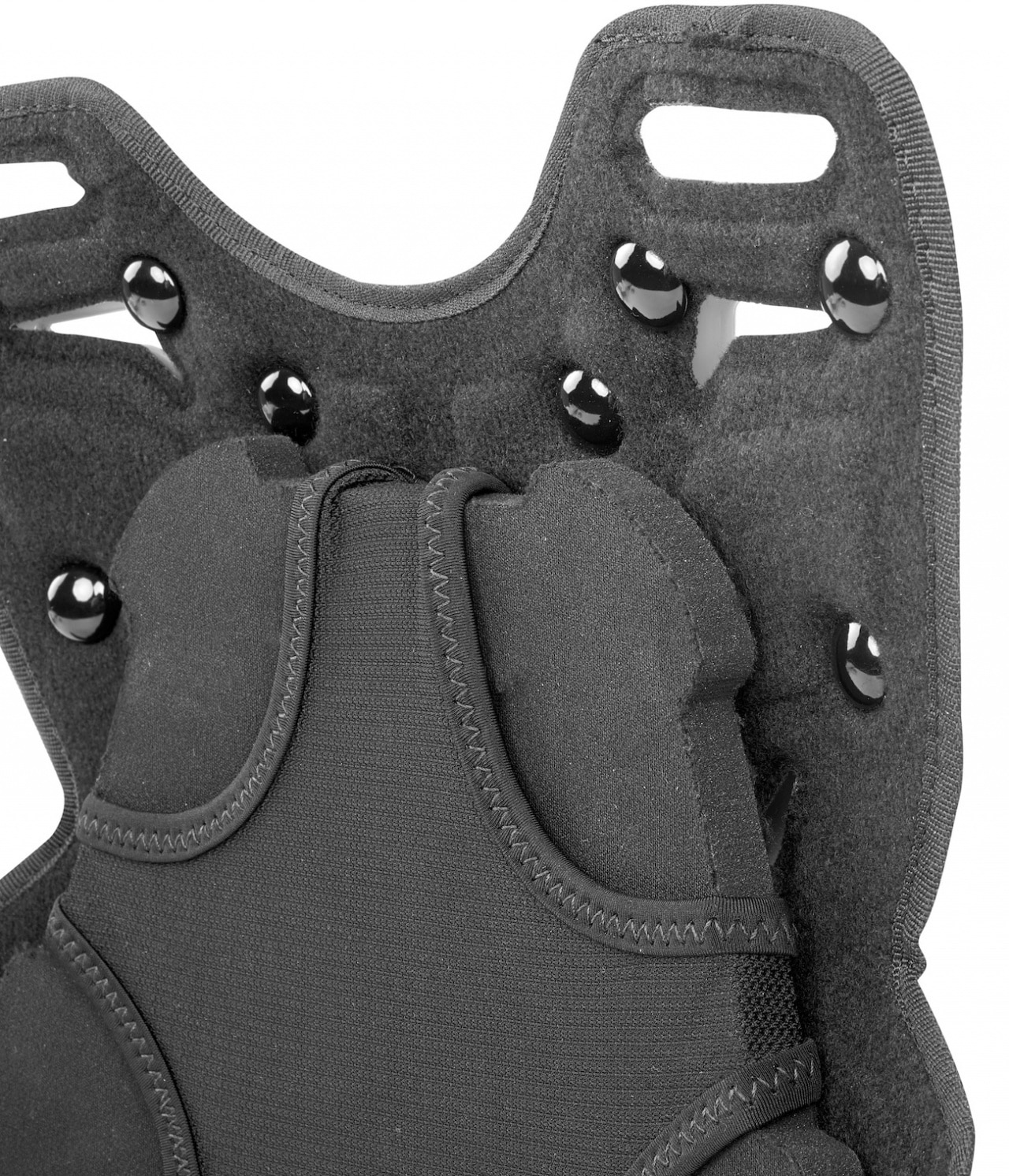 With the high impact-resistant plastic and the soft impact deflecting padding, Phantom Pro has the perfect blend between comfort and protection. Available in the stylish Nardo-Grey color. For more info on Polisport products Click Here.
REM "VROOOOM CROSS" COMING ON SATURDAY, NOVEMBER 16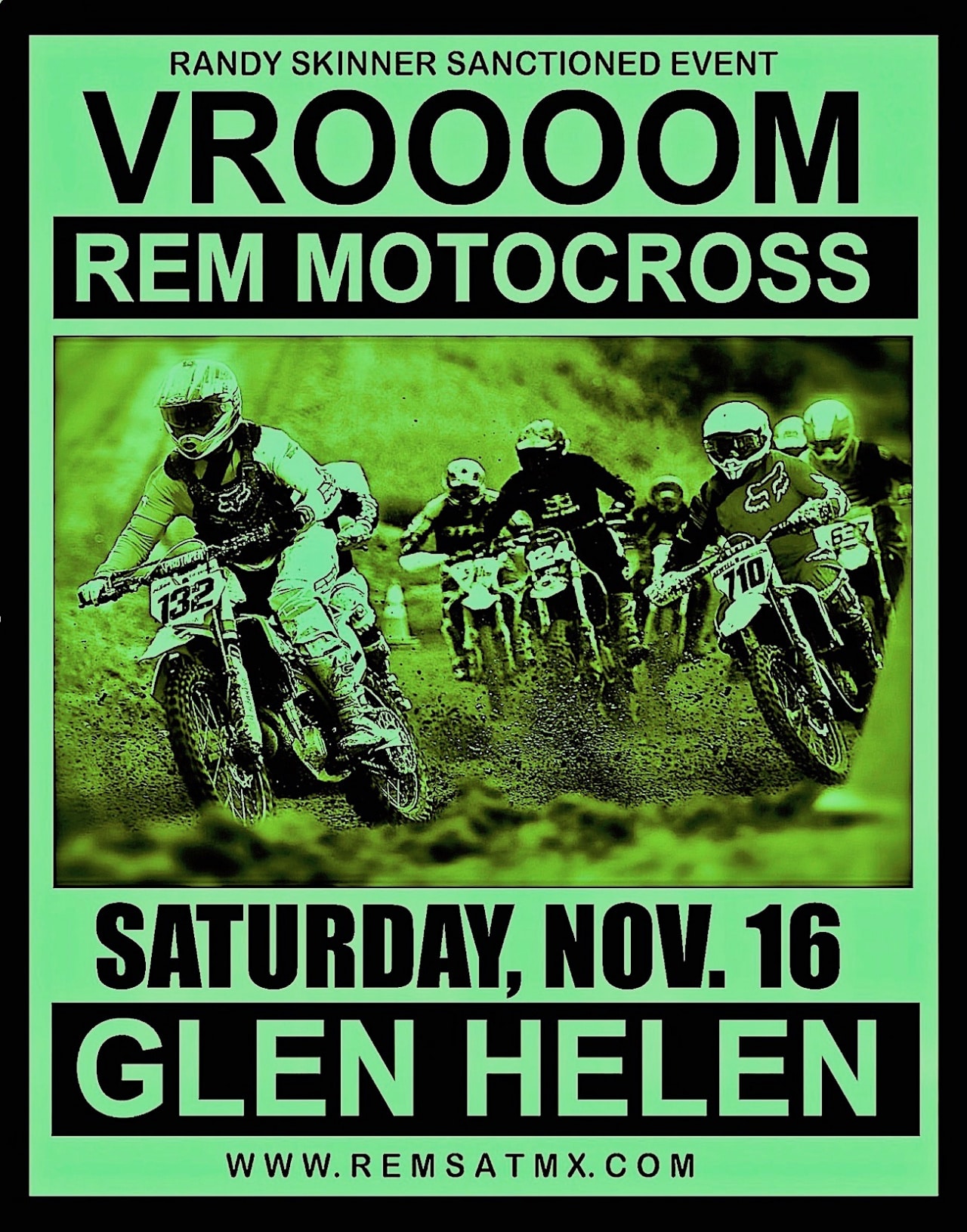 For more info go to www.remsatmx.com
CAMPREV WINTER EVENT AT FLORIDA'S DREAMLAND ON NOV. 20-22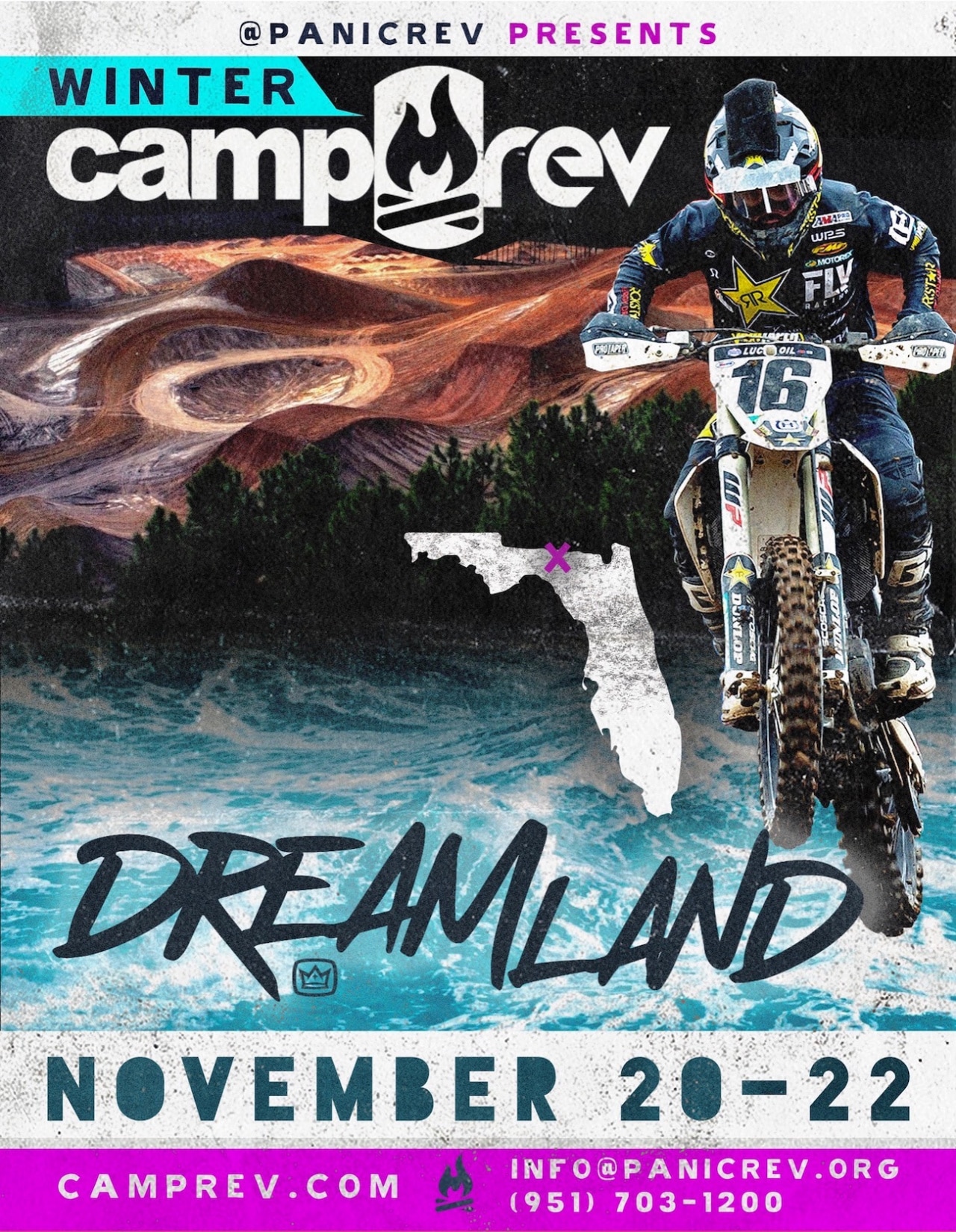 It is going to be a great great time in Florida at CampRev. For more info go to www.camprev.com.
7TH ANNUAL KURT CASELLI RIDE DAY AT PALA ON DEC. 14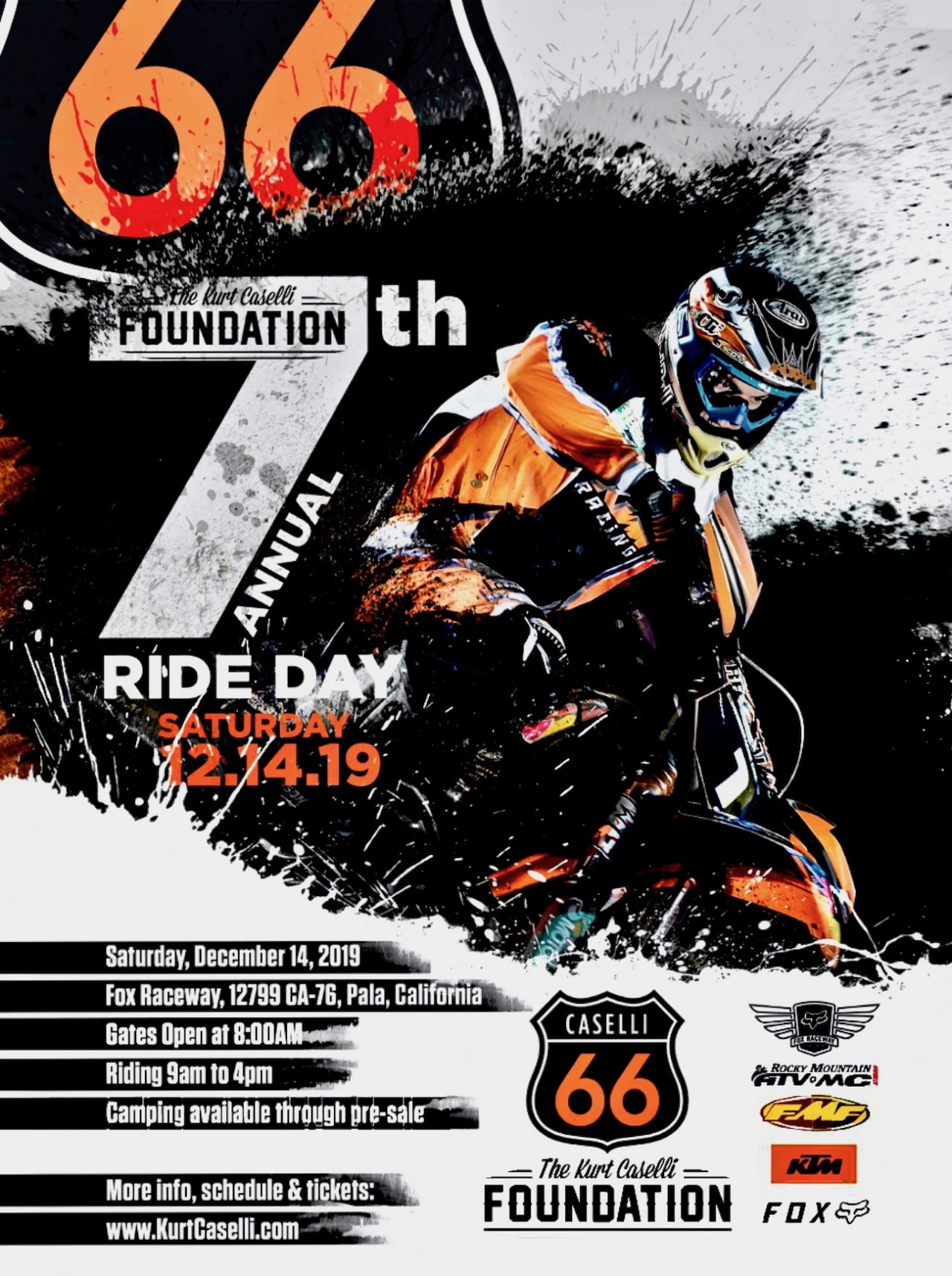 At Pala Raceway from 9:00 a.m. to 4:00 p.m. on December 14. For more info go to www.kurtcaselli.com
THIRD ANNUAL DISTRICT 37 REUNION (FROM HOPETOWN TO ASCOT) ON DECEMBER 15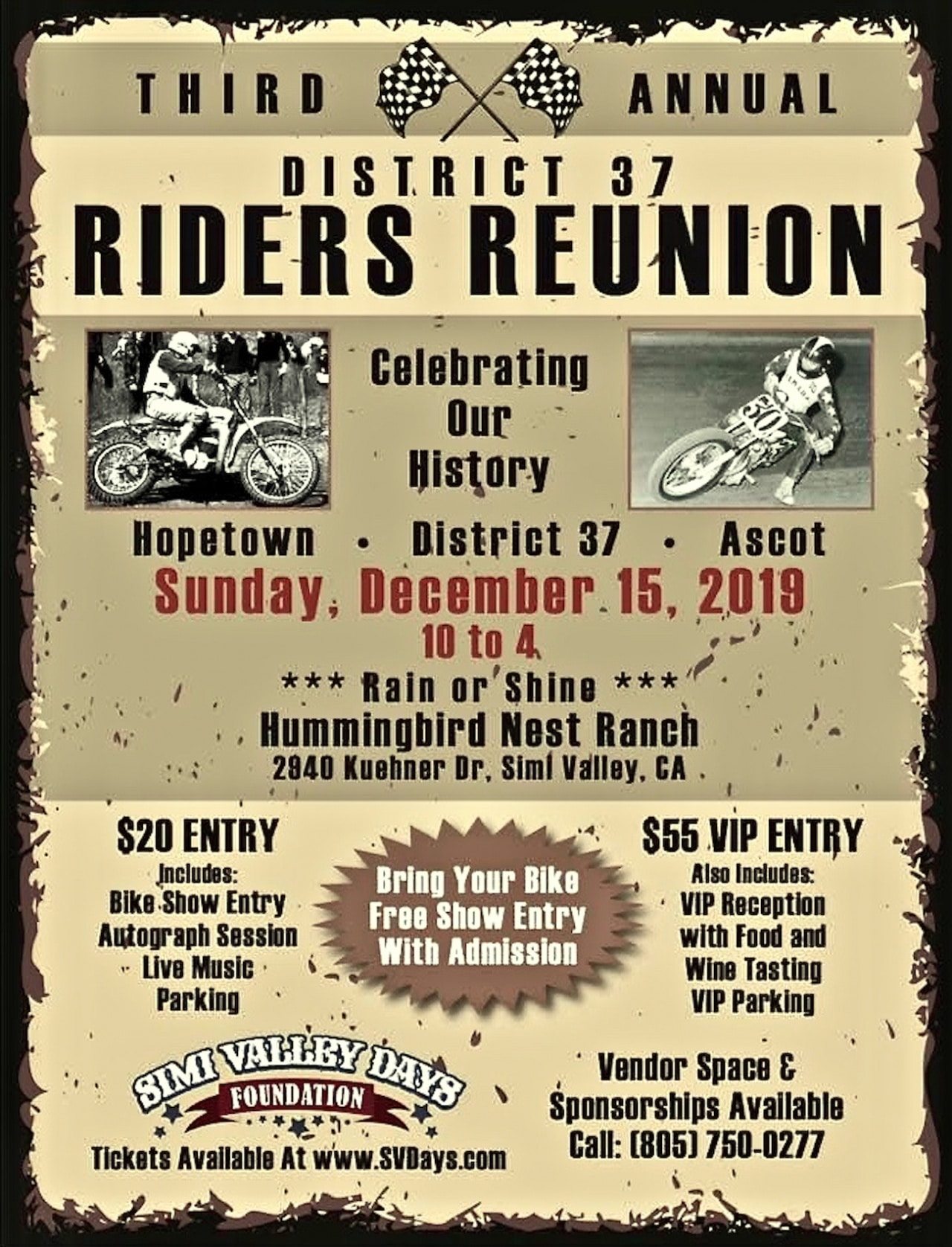 For more info go to www.SVDays.com.
LAST OLD SCHOOL SCRAMBLES OF 2019 ON DEC. 21-22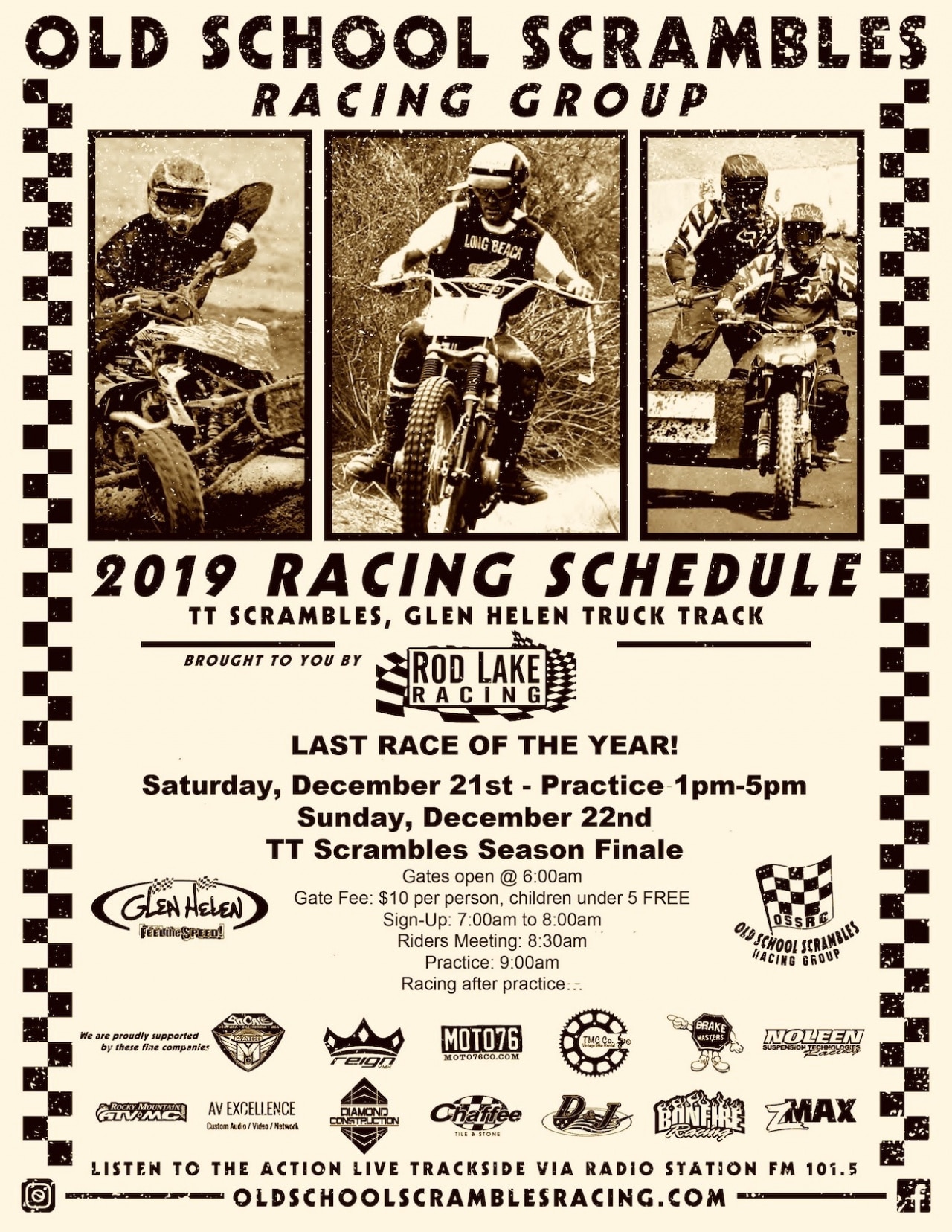 For more info go to www.oldschoolscramblesracing.com
LOOKING AHEAD! THE 2020 RACE CALENDAR


2020 AMA SUPERCROSS
Jan. 4…Anaheim, CA
Jan. 11…St. Louis, MO
Jan. 18 …Anaheim, CA
Jan. 25…Glendale, AZ
Feb. 1…Oakland, CA
Feb. 8…San Diego, CA
Feb. 15…Tampa, FL
Feb. 22… Arlington, TX
Feb. 29… Atlanta, GA
Mar. 7…Daytona Beach, FL
Mar. 14…Indianapolis, IN
Mar. 21…Detroit, MI
Mar. 28…Seattle, WA
Apr. 4…Denver, CO
Apr. 18…Foxborough, MA
Apr. 25…Las Vegas, NV
May 2…Salt Lake City, UT
2020 AMA ARENACROSS CHAMPIONSHIP
Jan. 3-4…Loveland, CO
Jan. 11…Hobbs, NM
Jan. 24-25…Oklahoma City, OK
Jan. 31-Feb. 1… Denver, CO
Feb. 7-8…Reno NV
Feb. 28-29…Salt Lake City, UT
Mar. 7… Amarillo, TX
2020 AMA NATIONAL CHAMPIONSHIP
May 16…..Hangtown, CA
May 23…..Pala, CA
May 30….Thunder Valley, CO
Jun. 6……Jacksonville, FL
June 20…Mt. Morris, PA
June 27…Southwick, MA
July 4……Red Bud, MI
July 18….Millville, MN
July 25….Washougal, WA
Aug. 15…Unadilla, NY
Aug. 22…Budds Creek, MD
Aug. 29…Crawfordsville, IN
2020 FIM MOTOCROSS WORLD CHAMPIONSHIP
Mar. 1…Great Britain
Mar.8…Holland
Mar. 22…Argentina
Apr. 5…Italy #1
Apr. 19…Spain
Apr. 26…Portugal
May 10…France
May 17…Italy #2
May 24…Germany
June 7…Russia
June 14…Latvia
June 28…Jakarta, Indonesia
July 5…Palembang, Indonesia
July 26…Czech Republic
Aug. 2…Belgium
Aug. 16…Sweden
Aug. 23…Finland
Sept. 6.…Turkey
Sept. 13…China
Sept. 20…Italy #3
2020 FIM MOTOCROSS DES NATIONS
Sept. 27.…Ernee, France
2020 WORCS OFF-ROAD CHAMPIONSHIP
Jan. 12…Primm, NV
Feb. 23…Taft, CA
Mar. 22… Havasu, AZ
Apr. 19…Blythe, CA
May 3…Las Vegas, NV
May 30…Hurricane, UT
July 19…Prineville, OR
Sept. 20…Glen Helen, CA
Oct. 25…Cahuilla, CA
Nov. 15…Primm, NV
2020 WORCS SPRINT ENDURO
Feb. 25…Taft, CA
May 24… Mesquite, NV
July 25…Prineville, OR
Sept. 26…Glen Helen, CA
Oct. 31…Cahuilla, CA
2020 MICHELIN BRITISH NATIONAL CHAMPIONSHIP
Mar. 22…Fatcat MotoParc
Apr. 19…Desertmartin, Ireland
Apr. 26…Hawkstone Park
July 5…Canada Heights
Aug. 9…Landrake
Sept. 6t…Cusses Gorse
2020 ACU BRITISH NATIONAL CHAMPIONSHIP
Apr. 12…Lyng
May 3…Foxhill
May 31…Blaxhall
June 21…Deertmartin, Ireland
July 12…Culham
Aug. 30 Landrake
2020 AUSTRALIAN NATIONAL CHAMPIONSHIP
Mar. 22…New South Wales
April 4-5…Victoria
May 3… Victoria
May 24…Queensland
June 28…Queensland
July 25-26…New South Wales
Aug. 22-23…Queensland
2020 AUSTRALIAN SUPERCROSS CHAMPIONSHIP
Oct. 3 …Western Australia
Oct. 17… South Australia
Oct. 31…Queensland
Nov. 7 …New South Wales
Nov. 14…TBA
Nov. 28…Victoria
2020 ADAC GERMAN NATIONAL CHAMPIONSHIP
Apr. 13…Fürstlich Drehna
May 3…Mölln
May 31…Möggers, Austria
June 21…Aichwald
July 12…Holzgerlingen
July 19…Tensfeld
Aug. 30…Bielstein
Sept.13…Gaildorf
2020 FIM JUNIOR WORLD CHAMPIONSHIP
Aug. 8-9…Megalopolis, Greece
MXA YOUTUBE CHANNEL | HIT THAT SUBSCRIBE BUTTON

The MXA wrecking crew is everything moto related. Check out our MXA YouTube channel for bike reviews, Supercross coverage, rider interviews and much more. And don't forgot to hit that subscribe button.
FOLLOW MXA ON TWITTER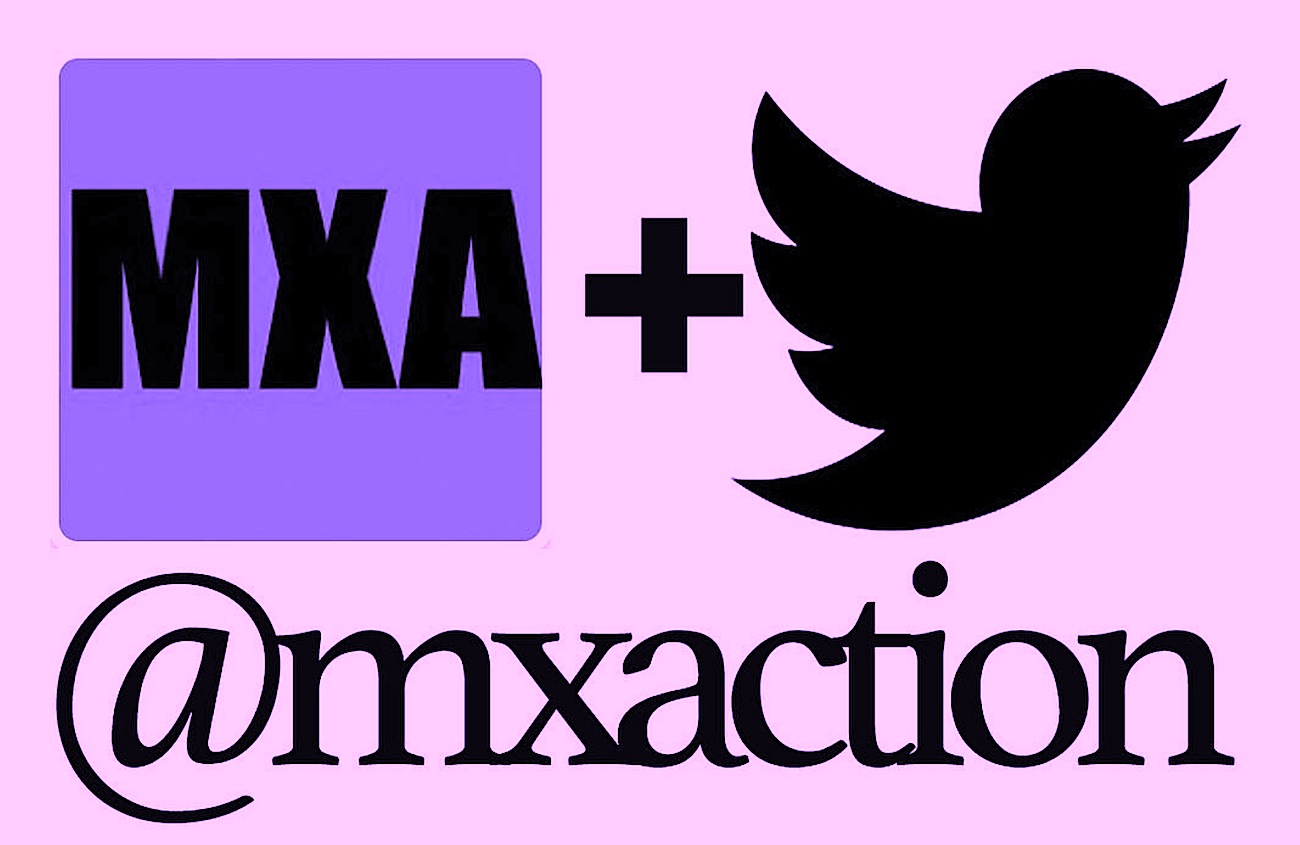 Follow us to see fresh content every day at www.twitter.com/MXAction or on twitter at "MXAction."
TALK MOTO WITH ON MXA'S FACEBOOK GROUP CHAT


We love everything moto and want to bring all moto junkies together into one place to share their two cents, ideas, photos, bike fixes, bike problems and much more. To check it out first you must need to or already have a Facebook account. If you don't, it isn't much work and you could even have an alias so nobody knows it is you. To join click HERE. After you request to join we will accept your request shortly after.
Photos: Brian Converse, Honda, Husqvarna, Daryl Ecklund, Jody Weisel MXA, KTM, Debbi Tamietti, Oset