RUMORS, GOSSIP & UNFOUNDED TRUTHS: ALL THE NEWS THAT FITS INTO A TIGHT RIGHT
• 2023 KAWASAKI KX250 "FIRST RIDE" VIDEO VIEWS BY MEDIA OUTLET
Below are the official YouTube 2023 KX250 viewer numbers for MXA, Dirt Bike, Swap, Vital and Racer X as of Wednesday, October 19, 2022
• MXA VIDEO: 2023 KAWASAKI KX250 VIDEO TEST
• OWYHEE MOTORCYCLE CLUB GETS ON THE NATIONAL REGISTER OF HISTORICAL PLACES
From Idaho News 6: The Owyhee Motorcycle Club has provided motocross and dirt bike riders with a track to race at in the Boise foothills since 1940. This past week the club received an impressive honor becoming the first motorcycle club in the nation to earn the designation of being listed on the National Register of Historical Places.
"Amazing," said Rodney Reynolds of the Owyhee Motorcycle Club. "I'm sorry I get a little choked up because this place is really amazing to us and it is pretty much the longest continually running motorcycle club in the country." Rodney Reynolds father raced here, Rodney grew up racing and he credits the club with keeping him out of trouble and Rodney's son Gerry races motocross too.
Family bonds and history run deep at the club, 50 years ago Gary Jones became the first American to beat the Europeans in a race and it happened on this track, I've met several AMA Hall of Famers at the track and the club was inspired by the Firebird Raceway south of Emmett who got listed on the National Register of Historical Places in 2019.
Scott New from Firebird drag strip provided the blueprint for the Owyhee Motorcycle Club and after a three-year process this non-profit got listed on the National Register of Historical Places. The Owyhee Motorcycle club is still on their original 80-acres of land, but the club has some costly erosion repairs needed in their future to protect the area.
"The urban sprawl is coming and we are hoping it's one way to protect the facilities so it is here for generations to come," said Rodney Reynolds.
• MXA VIDEO: MXA VIDEO: 2023 HUSQVARNA FC250 VIDEO TEST
• MXA PRODUCT SPOTLIGHT: LIMITED EDITION RED/PINK SIDI CROSSFIRE 3 SRS BOOTS
The new Limited Edition Crossfire 3 SRS boot combines of two colors from the same chromatic scale with a pink upper and a red lower. The Crossfire 3 SRS is known for its technological details , such as the Hyper Extension Block, Flex System, Micro adjustable buckles, replaceable PU inner protector plate with molded rubber insert and Dovetail sole is designed to ensure perfect adherence to the bike and terrain for excellent safety and comfort. An enduro-specific version is also available. For more info go to www.motonation.com.
• MXA VIDEO: 2023 SUZUKI RM-Z250 TEST RIDE
• FORGOTTEN MOTOCROSS TECH: THE TWO-WHEEL DRIVE 2004 YAMAHA WR450F 2-TRAC

The hydraulic hoses run down the front of the fork leg and then back into two fittings on the hub.
Motocross history is filled with creative ideas that were heralded as ground-breaking, some were abandoned, others stupid and a few were truly innovative. Do you remember Ohlins' hydraulic two-wheel-drive Yamaha 2-Trac.
Ohlins dedicated 15 years and a large chunk of its R&D budget from 1992 to 2007 into perfecting two-wheel-drive motorcycles—both off-road, rally and street. Ohlins' management even convinced Yamaha, who owned Ohlins at the time, to commit to manufacturing a small test run of 445 Yamaha WR450F 2-Tracs for sale in 2004.
Yamaha put the 2-Trac in production in 2004, but it didn't sell well enough to get a return engagement.
Obviously, the much newer Christini two-wheel-drive bike is still in production, but Ohlins didn't want to rely on shafts and chains to get power to the front wheel. Instead, Ohlins designed a hydraulic system that forced an incompressible fluid through flexible tubes from a countershaft-driven pump to a small, front hub-mounted hydraulic motor.
Front wheel roost.
The big plus of driving the front wheel with hydraulic pressure was that the system could be fit on a conventional bike without any major redesign, because only the two flexible hydraulic hoses had to be routed from the pump to the front wheel. The front hub had sensors in it that signaled when the rear wheel was spinning freely, and that is when the 2-Trac's front-wheel drive kicked in.
Because the pump was driven from the gearbox's countershaft sprocket, the front wheel could never turn faster than the rear, so it wouldn't spin. But, if the rear tire started to spin, the pump would run faster, which would increase the hydraulic pressure and therefore the amount of power going to the front wheel. It is not, in the truest sense, an all-wheel-drive system.
The hydraulic lines powered the front wheel.
Ohlins used the system in Paris-Dakar-style rallies with some success and even built a Yamaha R1 prototype to test its feasibility on a street bike. Unfortunately, Yamaha lost interest in the concept when the WR450F 2-Trac was a sales failure.
• MXA'S JOSH MOSIMAN TAKES YOU DOWN THE RED BULL STRAIGHT RHYTHM TRACK
• MXA CRASH OF THE WEEK: RUNNING OUT OF ROOM
Jake Keiffer (147) tried to shoot the gap on the outside of Ryan Cirocco (47), but hit the berm a little too hard in this Debbi Tamietti sequence shot.
Jake's Yamaha kicked to the left and flipped him over the bars.
Jake landed flat on his back of the other side of the berm that bit him in the first place. Kudoes to Ryan Cirocco (47) for never flinching an inch.
• MXA VIDEO: 2023 HUSQVARNA TC250 FUEL-INJECTED TWO-STROKE TEST
• COMING SOON, IF YOU THINK 12 MONTHS IS SOON: THE RETURN TO THE LOS ANGELES COLISEUM 
Supercross will return to the Los Angeles Memorial Coliseum for the first time since 1998 when it hosts the final round of the 2023 SuperMotocross Playoffs on October 14, 2023.
• MXA VIDEO:2023 KAWASAKI KX450 TEST
• "SATURDAY AT THE GLEN" WILL BE BACK THIS SATURDAY AT GLEN HELEN
For more info go towww.glenhelen.com
• MXA VIDEO: NO MUSIC, NO VOICE OVER, JUST A KX500 & A CR500 RAW
• 2023 AMA NATIONAL MOTOCROSS RACE SCHEDULE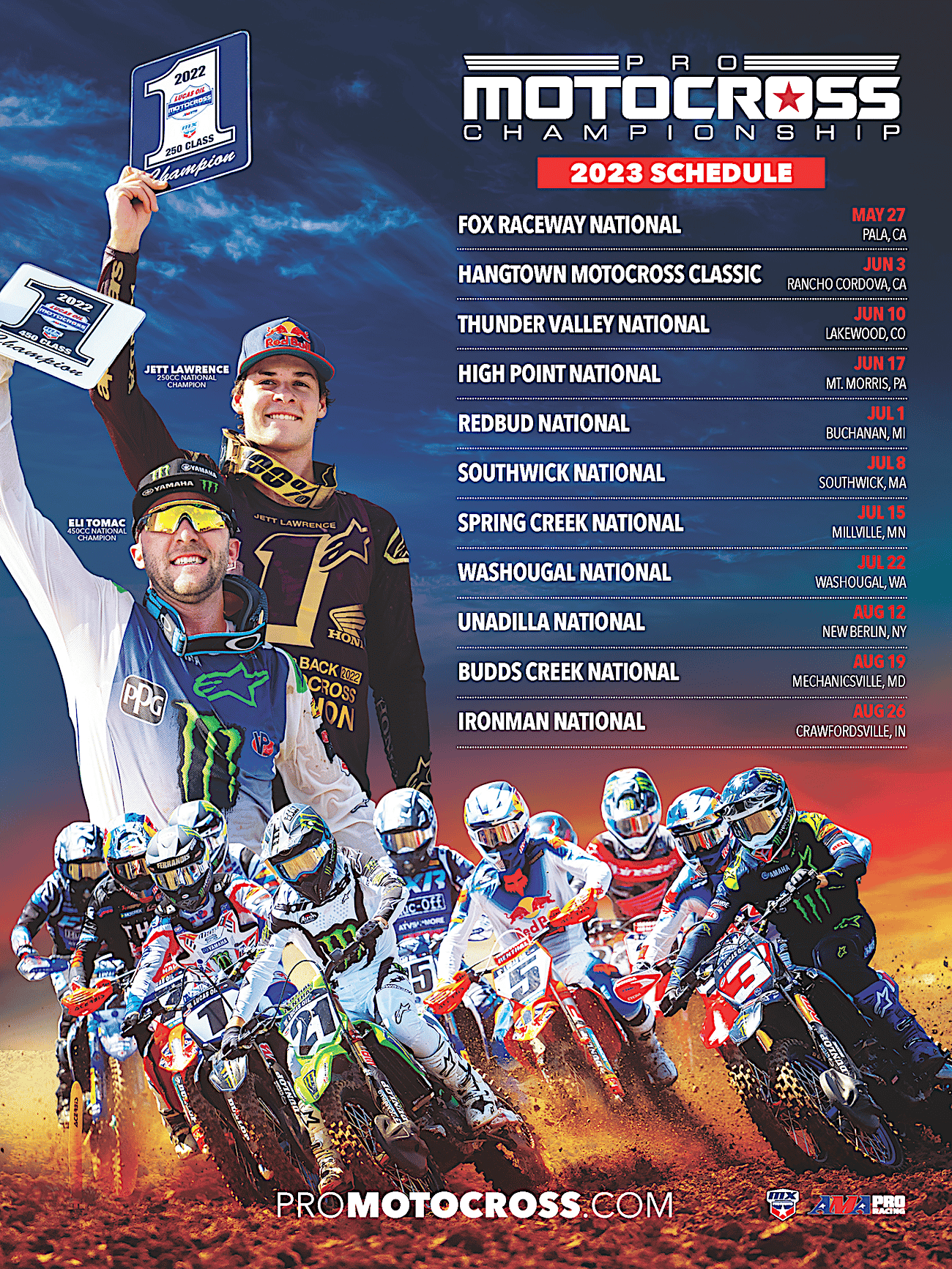 • MXA VIDEO: 2023 GASGAS MC350F TEST
2023 AMA SUPERCROSS RACE SCHEDULE
• MXA VIDEO: 2023 KTM 450SXF TEST
• FIM WORLD MOTOCROSS CHAMPIONSHIP RACE SCHEDULE
• MXA VIDEO: FIRST LOOK AT WHAT'S NEW ON THE 2023 YAMAHA YZ450F
• THE NOVEMBER 2022 ISSUE OF MXA IS OUT! SUBSCRIBE AND YOU WON'T MISS ANYTHING
On The Cover: The all-new 2023 Yamaha YZ450F graces the cover of MXA, along with the 2023 Honda CRF450 50th Anniversary test.
Did you know that you can subscribe to MXA at virtually no cost to you—because when you subscribe you receive a Rocky Mountain ATV/MC credit for $25 towards anything in their massive inventory. Plus, you will get all the content in the 12 monthly issues of Motocross Action magazine—from four-stroke tests, two-stroke tests, retro tests, race coverage, new tech to product tests….most of which never appear on the internet. And, don't forget, that $25 credit from Rocky Mountain ATV/MC that will more than cover the cost of your subscription. To subscribe call (800) 767-0345 or Click Here
• MXA VIDEO: 2023 KTM FREERIDE ELECTRIC TRAIL BIKE TEST
• THE 2022 WORLD VET MOTOCROSS CHAMPIONSHIP RACE INFO: A TWO-DAY THREE-MOTO FORMAT
<strong• MXA VIDEO:2023 GASGAS MC450F TEST
• BIKES YOU'VE NEVER SEEN BEFORE: RUSSIAN-MADE IZH K-16 350 CROSS
This is a very late 1986 K-16.
Izh (Izhstalzavod) is a Russian motorcycles brand of that was founded in the city of Izhevsk in 1929. It wasn't the first attempt to build a Russian-made motorcycle. That would have been the 1914-1918 "Duks" built in Moscow and Riga, but the Duks were not very good, so in 1929 a commission of Soviet experts of the "Presidium of the Supreme Council of the National Economy of the USSR" ordered that the Izhmash armory be converted into a large motorcycle factory.
Note the kickstarter and shift lever sharing the same shaft layout—ala CZ.
Izhevsk was considered the most suitable place for a motorcycle manufacturing facility since there was a full range of industrial production in the city, from steel smelting to the manufacture of complex machine tools, plus the workers had the necessary qualifications and there were no difficulties in the supply of raw materials. On the basis of a Kalashnikov rifle factory located on Bazarnaya Street in Izhevsk, the construction of the Experimental Motorcycle Plant was approved
Let's skip over the next 55 years of utilitarian Izh street bikes to get the the Izh K-16 Cross. In production, in various forms, from 1973 to 1986, the Izh K-16 Cross was equipped with a 350cc Izh-PS, air-cooled, two-stroke engine. Powered by a 36mm Jikov carb, it produced a claimed 36 horsepower. A Motoplat ignition insured consistent spark at high rpm.
The frame is similar in design to a CZ 380, because that was the only readily available dirt bike in Russia at the time to copy. The front fork offered 8 inches of travel, but it wasn't uncommon to have the Russian forks replaced by CZ forks. The rear suspension used DeCarbon gas hydraulic shocks with remote reservoirs.  The overall design was kept simple and it weighed 250 pounds (thanks to a lot of steel parts and very little aluminum). Sadly, the Izh K-16 Cross was not popular in Russia, where the riders preferred CZs and hard-to-get Japanese brands. Although there were plans to export the K-16 to European countries and perhaps the USA, few made it across the ocean to be seen in any numbers. In 1986 the plant was closed down and the K-16 was forgotten.
• MXA VIDEO: 2023 KTM 300SX FUEL-INJECTED TWO-STROKE TEST
• THE FINAL 2022 WORCS RACE IS ON NOV. 4-6 IN PRIMM, NEVADA
• MXA VIDEO: 2023 GASGAS MC250 VIDEO TEST
• MXA AD OF THE WEEK—IF THIS WEEK WAS IN 1965
Jeff Smith on a BSA 441 won the 1965 FIM 500 World Motocross Champion (to go with his 1964 World Championship).
• MXA VIDEO: 2023 HONDA CRF450 VIDEO TEST
• OLD SCHOOL SCRAMBLES "OKTOBERFAST GRAND PRIX" THIS SUNDAY AT GLEN HELEN
For more information go to www.oktoberfast.com
• "SATURDAY AT THE GLEN" WORLD VET CHAMPIONSHIP WARM-UP RACE ON OCT.29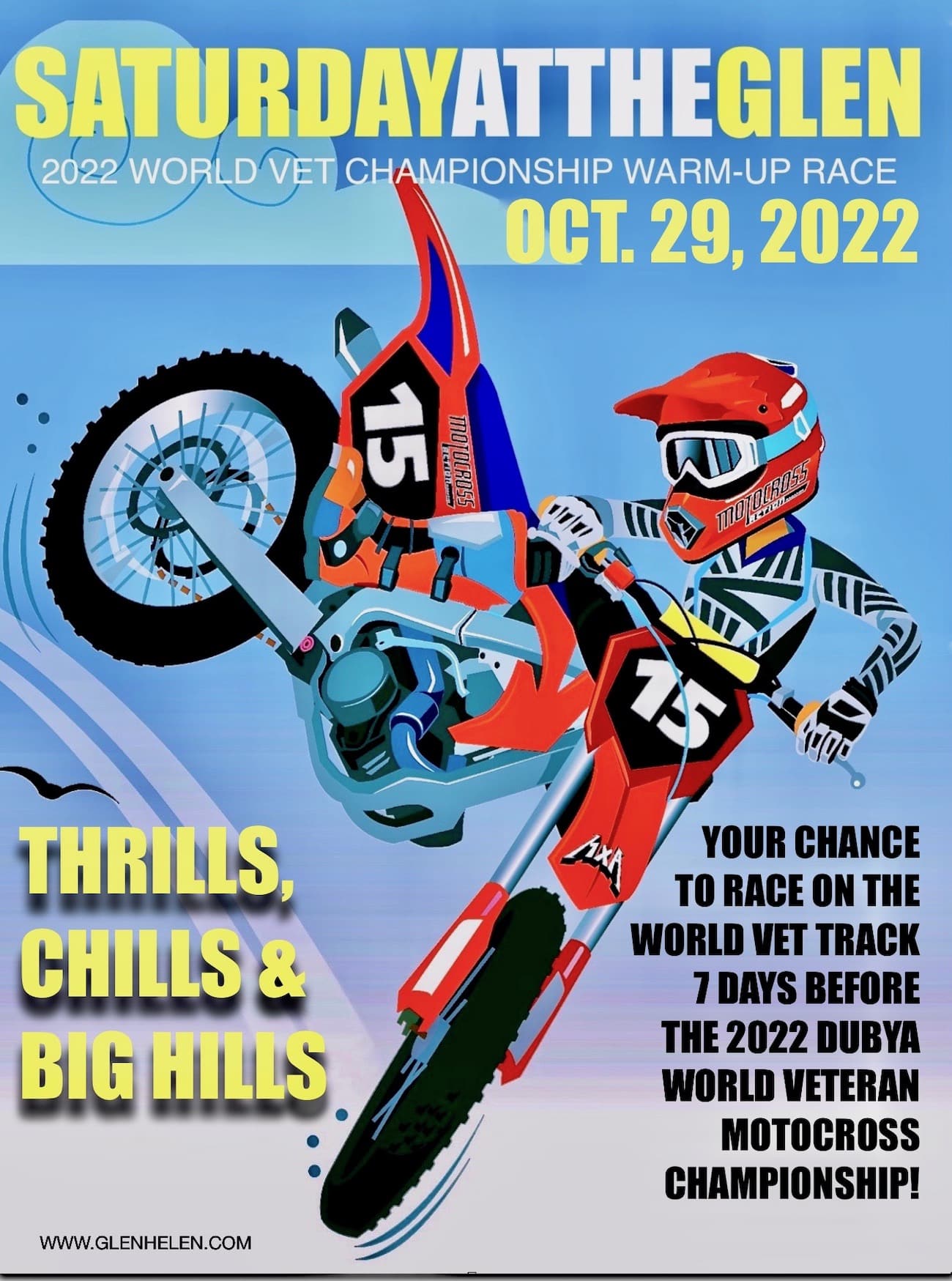 The track layout will be the same as what the riders will face at the 38th Annual Dubya World Vet Motocross Championships on Nov. 5-6. The pre-entry is $30 per class and $25 for youth classes. Post Entries on the day of the race will be $40 and $30 for youth classes. The gate fee is $10 per person. This race is a great opportunity to get some laps in before the Dubya World Vet Championships! For more info go to www.glenhelen.com
• $13,000 PASHA 125 PRO TWO-STROKE CLASSES AT THE WORLD VET ON NOV. 5-6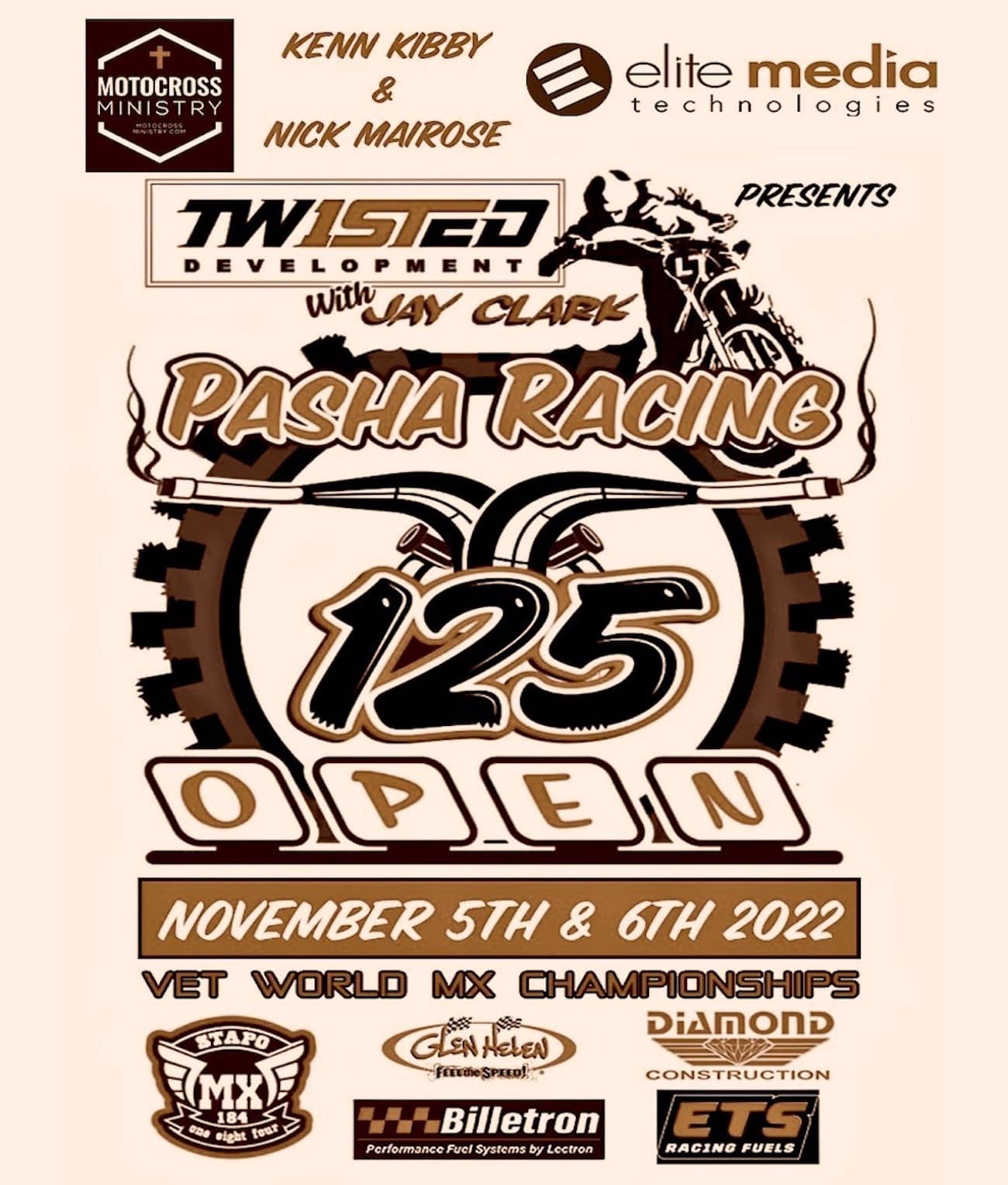 There will be an Over-30 125 Pro class on Saturday, November 5, that pays first, second and third and an Over-50 125 Pro class on Sunday, November 6, that pays first through fifth — with two motos on each day. For more info go to www.glenhelen.com.
• 2022 DUBYA USA WORLD VET MOTOCROSS CHAMPIONSHIP ON NOV. 5-6
For more info go www.glenhelen.com.
• 10TH ANNUAL KURT CASELLI RIDE DAY AT DEC. 3 AT PALA
The Kurt Caselli Foundation will host its 10th Annual Kurt Caselli Ride Day presented by Rocky Mountain ATV/MC, FMF and KTM on Saturday, December 3d, 2022 at Fox Raceway in Pala, California.
•2022 FIRE & POLICE ELSINORE GRAND PRIX ON TUESDAY, DEC. 6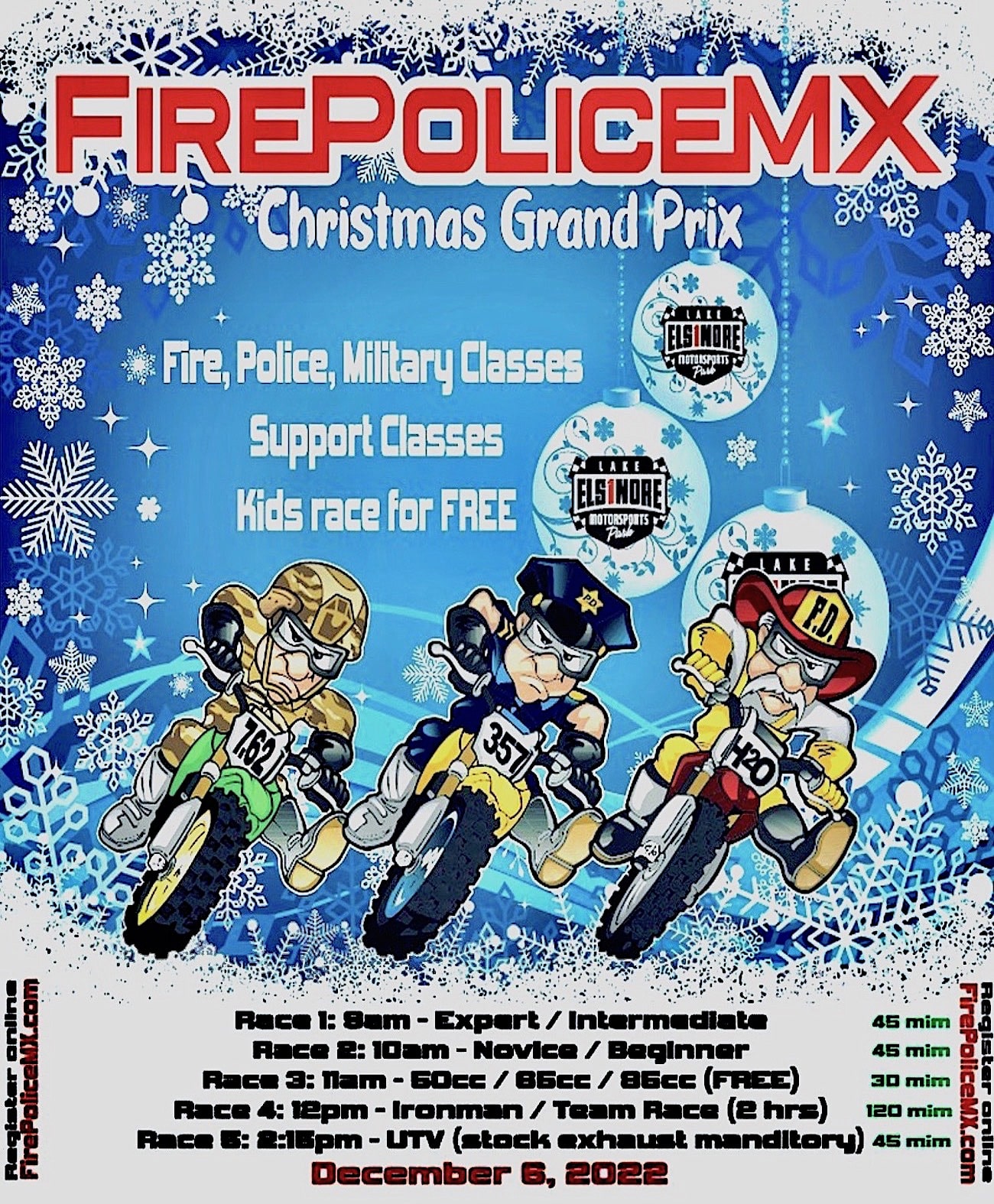 For more information or to sign-up go to www.firepolicemx.com
• HOW SMART DO YOU HAVE TO BE TO SUBSCRIBE TO MXA? YOU SUBSCRIBE AND GET A $25 ROCKY MOUNTAIN GIFT CREDIT—SEEMS SIMPLE

You can't afford not to subscribe, because when you order a subscription, Rocky Mountain ATV/MC sends you a $25 gift credit to use on anything you want from their massive selection. Plus, subscribers to MXA can also choose to get the digital mag on their iPhone, iPad, Kindle or Android by going to the Apple Store, Amazon or Google Play or in a digital version. Even better, you can subscribe to Motocross Action and get the awesome print edition delivered to your house by a uniformed employee of the U.S. Government. Do we have to mention the $25 Rocky Mountain ATV/MC gift card again? You can't lose on this deal? Call (800) 767-0345 or Click Here
• 2023 SOBOBA TRAIL RIDE WILL BE ON FEBRUARY 26, 2023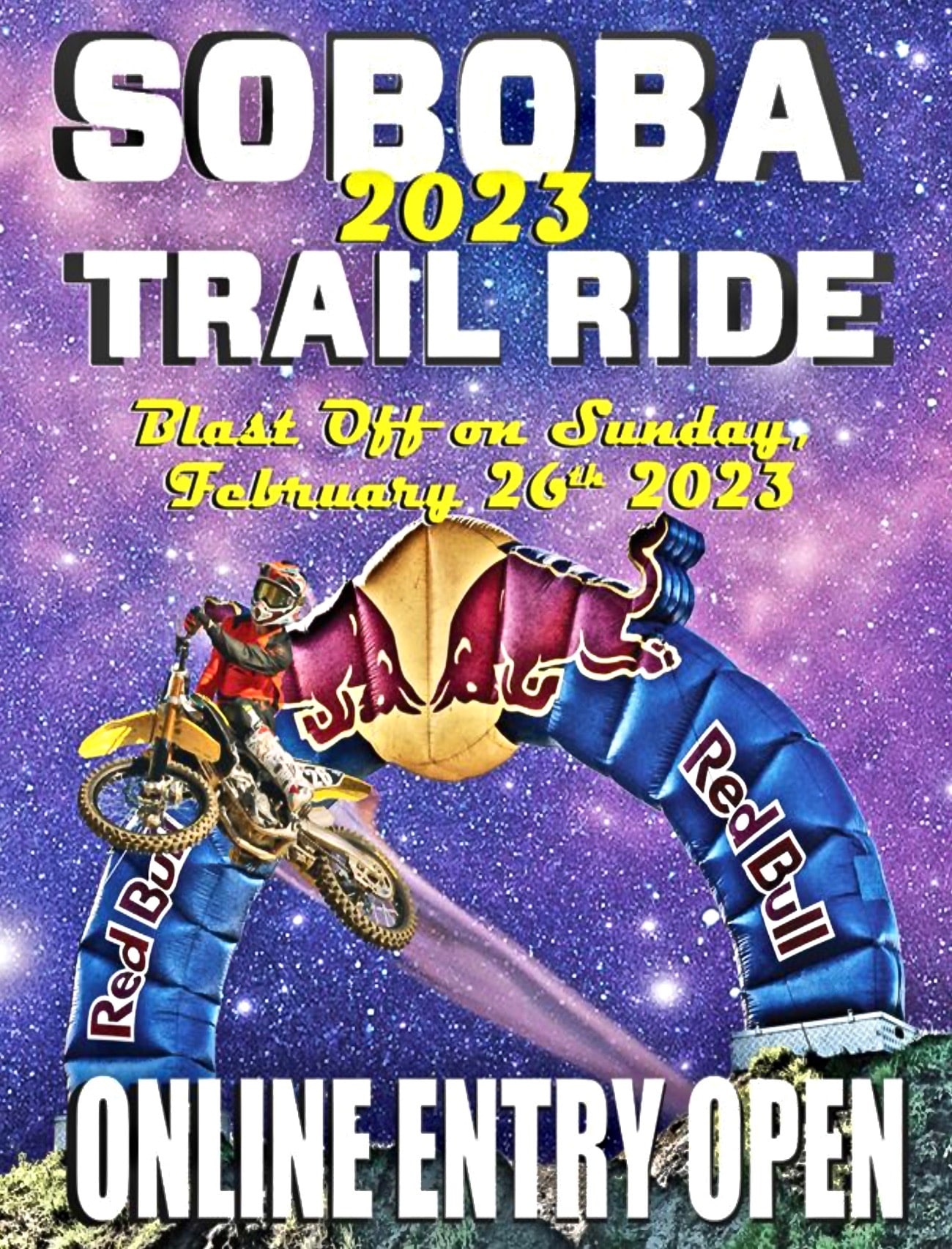 For more info go to www.sobobarides.biz/home
•  THE REMAINING RACES OF THE 2022 SEASON
The 2022 World Vet Motocross Championship is shaping up to be a barn burner, as lots of former motocross stars, including Jeremy McGrath, are lining up to win the Over-30, Over-40, Over-50, Over-60, Over-70, Over-80 titles…and the Over-30 Pasha 125 Pro and Over-50 Pasha 125 Pro two-stroke events (with a $13,000 purse).
2022 AMA ENDUROCROSS SERIES SCHEDULE
Sept. 17…Salt Lake City,UT
Sept. 24…Redmond, OR
Oct. 1…Denver, CO
Oct. 22…Prescott Valley, AZ
Nov 5…Boise, ID
Nov. 19…Reno, NV
2022 SATURDAY AT THE GLEN RACE SCHEDULE
Apr. 2…Spring Series #1
Apr. 23…Spring Series #2
Apr. 30…Spring Series #3
May 7…Spring Series #4
May 14…Spring Series #5 (National Track)
June 11…Summer Series #1
June 25…Summer Series #2
July 9…Summer Series #3
July 30…Summer Series #5
Aug. 13…Summer Series #6  & Pasha 125 Open (National Track)
Aug. 27…..Fall Series #1
Sept. 10…Fall Series #2
Sept. 17…Fall Series #3
Oct. 1…Fall Series #4 & Pasha 125 Open (National Track)
Oct. 15…Fall Series #5
Oct. 22…Fall Series #6
Oct. 29…World Vet Warm-Up (National Track)
Nov. 5-6…Dubya World Vet Championship (National Track)
Nov. 12..Winter Series #1
Nov. 19…Winter Series #2
Dec. 3…Winter Series #3
Dec. 10…Winter Series #4 (National Track)
2022 WORCS OFF-ROAD SCHEDULE
JJan. 21-23…Primm, NV
Feb. 18-20…Glen Helen, CA
Mar. 11-13…Lake Havasu City, AZ
Apr. 8-10…Taft, CA
Apr. 29-May 1…Las Vegas, NV
May 27-29…Cedar City, UT
Sept. 16-18…Preston, ID
Oct. 14-16…Mesquite, NV
Nov 4-6…Primm, NV
2022 AUSTRALIAN SUPERCROSS CHAMPIONSHIP
Oct. 21…Melbourne, Vic
Oct. 29…Adelaide, SA
Nov. 26…Newcastle, NSW
Dec. 3…Wagga Wagga, NSW
2022 MOTOCROSS DES NATIONS
Sept. 25… Red Bud, MI
2022 WORLD VET MOTOCROSS CHAMPIONSHIP
Nov. 5-6…Glen Helen, CA
2022 PARIS SUPERCROSS
Nov. 12-13… Paris, France
•  LOOKING TO THE FUTURE: THE 2023 RACE SCHEDULES
2023 AMA SUPERCROSS CHAMPIONSHIP
Jan. 7…Anaheim, CA
Jan. 14…Oakland, CA
Jan. 21…San Diego, CA
Jan. 28…Anaheim, CA
Feb. 4…Houston, TX
Feb. 11…Tampa, FL
Feb. 25…Arlington, TX
Mar. 4…Daytona Beach, FL
Mar. 11…Indianapolis, IN, MI
Mar. 18…Detroit, MI
Mar. 25…Seattle, WA
Apr. 8…Glendale AZ
Apr. 15…Atlanta, GA
Apr. 22…East Rutherford, NJ
Apr. 29…Nashville, TN
May 6…Denver, CO
May 13…Salt Lake City, UT
2023 SUPERMOTOCROSS PLAYOFF SCHEDULE
Sept. 9…TBA
Date TBA…TBA
Oct. 14: Los Angeles, CA
2023 AMA ARENACROSS CHAMPIONSHIP
Nov. 18, 2022…Albany, GA
Nov. 25, 2022…Albany, NY
Jan. 6…Loveland, CO
Jan.13…Prescott, AZ
Jan. 20…Guthrie, OK
Jan. 27….Guthrie, OK
Feb. 3…Reno, NV
Feb. 10…Denver, CO
Feb. 24…Hobbs, NM
Mar. 3…Amarillo, TX
Mar. 10…Tulsa, OK
Mar. 17…Salem, VA
Mar. 24…Little Rock, AR
Mar. 31…Lexington, KY
2023 2023 FIM WORLD MOTOCROSS CHAMPIONSHIP
Mar. 12…Argentina
Mar. 26…TBA
Apr. 10…TBA
Apr. 16…Italy
Apr. 30…Portugal
May 7…Spain
May 21…France
Jun. 4…Latvia
Jun. 11…Germany
Jun. 25…Indonesia
July 2…Indonesia
July 16…Czech Rep.
July 23…Belgium
Aug. 6…Finland
Aug. 13…Sweden
Aug. 20…Holland
Sept. 3…Turkey
Sept. 17…Vietnam
Oct. 1…TBA
Oct. 15…England
2023 AMA NATIONAL MOTOCROSS CHAMPIONSHIP
May 27…Pala, CA
June 3…Hangtown, CA
June 10…Thunder Valley, CO
June 17…Mt. Morris, PA
July 1…Red Bud, MI
July 8…Southwick, MA
July 15…Millville, MN
July 22…Washougal, WA
Aug. 11…Unadilla, NY
Aug. 19…Budds Creek, MD
Aug. 26…Crawfordsville, IN
2013 MOTOCROSS DES NATIONS
Oct. 22…Ernee, France
• MXA YOUTUBE CHANNEL | HIT THAT SUBSCRIBE BUTTON

The MXA wrecking crew is everything moto related. Check out our MXA YouTube channel for bike reviews, Supercross coverage, rider interviews and much more. And don't forget to hit that subscribe button.