MXA'S WEEKEND NEWS ROUND-UP: BEFORE THE CALENDAR RUNS OUT, LET'S SHOOT FOR THE FENCES
• LOOKING TO THE FUTURE: THE 2023 RACE SCHEDULES
2023 AMA SUPERCROSS CHAMPIONSHIP
Jan. 7…Anaheim, CA
Jan. 14…Oakland, CA
Jan. 21…San Diego, CA
Jan. 28…Anaheim, CA
Feb. 4…Houston, TX
Feb. 11…Tampa, FL
Feb. 25…Arlington, TX
Mar. 4…Daytona Beach, FL
Mar. 11…Indianapolis, IN, MI
Mar. 18…Detroit, MI
Mar. 25…Seattle, WA
Apr. 8…Glendale AZ
Apr. 15…Atlanta, GA
Apr. 22…East Rutherford, NJ
Apr. 29…Nashville, TN
May 6…Denver, CO
May 13…Salt Lake City, UT
2023 SUPERMOTOCROSS PLAYOFF SCHEDULE
Sept. 9…TBA
Date TBA…TBA
Oct. 14: Los Angeles, CA
2023 AMA ARENACROSS CHAMPIONSHIP
Nov. 18, 2022…Albany, GA
Nov. 25, 2022…Albany, NY
Jan. 6…Loveland, CO
Jan.13…Prescott, AZ
Jan. 20…Guthrie, OK
Jan. 27….Guthrie, OK
Feb. 3…Reno, NV
Feb. 10…Denver, CO
Feb. 24…Hobbs, NM
Mar. 3…Amarillo, TX
Mar. 10…Tulsa, OK
Mar. 17…Salem, VA
Mar. 24…Little Rock, AR
Mar. 31…Lexington, KY
2023 2023 FIM WORLD MOTOCROSS CHAMPIONSHIP
Mar. 12…Argentina
Mar. 26…TBA
Apr. 10…TBA
Apr. 16…Italy
Apr. 30…Portugal
May 7…Spain
May 21…France
Jun. 4…Latvia
Jun. 11…Germany
Jun. 25…Indonesia
July 2…Indonesia
July 16…Czech Rep.
July 23…Belgium
Aug. 6…Finland
Aug. 13…Sweden
Aug. 20…Holland
Sept. 3…Turkey
Sept. 17…Vietnam
Oct. 1…TBA
Oct. 15…England
2023 AMA NATIONAL MOTOCROSS CHAMPIONSHIP
May 27…Pala, CA
June 3…Hangtown, CA
June 10…Thunder Valley, CO
June 17…Mt. Morris, PA
July 1…Red Bud, MI
July 8…Southwick, MA
July 15…Millville, MN
July 22…Washougal, WA
Aug. 11…Unadilla, NY
Aug. 19…Budds Creek, MD
Aug. 26…Crawfordsville, IN
2023 WORLD SUPERCROSS CHAMPIONSHIP
July 1…Birmingham, England
July 22….Lyon-Décines, France
Sept. 30…TBD (Southeast Asia)
Oct. 14…Dusseldorf, Germany
Oct. 28…Vancouver, Canada
Nov. 24-25…Melbourne, Australia
2023 "SATURDAY AT THE GLEN" SCHEDULE
Jan. 14…Winter Series #1 (Arroyo vet track)
Jan.. 28…Winter Series #2 (National track)
Feb. 3…Winter Series #3 (Arroyo vet track)
Feb. 11…Winter Series #4 (Arroyo vet track)
Feb. 25…Winter Series #5 (National track)
Mar. 11…Spring Series #1 (Arroyo vet track)
Mar. 25…Spring Series #2 (Arroyo vet track)
Apr. 15…Spring Series #3 (Arroyo vet track)
Apr. 22…Spring Series #4 (Arroyo vet track)
May 13…Spring Series #5 (National track)
June 1…Summer Series #1 (Arroyo vet track)
June 17…Summer Series #2 (Arroyo vet track)
June 24…Summer Series #3 (Arroyo vet track)
July 15…Summer Series #4 (Arroyo vet track)
July 29….Summer Series #5 (National track)
Aug.19…Fall Series #1 (Arroyo vet track)
Aug. 26…Fall Series #2 (Arroyo vet track)
Sept. 16…Fall Series #3 (Arroyo vet track)
Sept. 23…Fall Series #4 (Arroyo vet track)
Sept. 30…Fall Series #5 (National track)
Oct. 24…Winter Series #1 (Arroyo vet track)
Oct. 28…Winter Series #2 (National track)
Nov.3-5…World Vet Championship (National track)
Nov. 19..Winter Series #3 (Arroyo vet track)
Dec. 2…Winter Series #4 (Arroyo vet track)
Dec. 9…Winter Series #5 (Arroyo vet track)
2023 VET MOTOCROSS DES NATIONS
Aug. 24-28…Foxhill, GB
2023 MOTOCROSS DES NATIONS
Oct. 22…Ernee, France
2023 WORLD VET MOTOCROSS CHAMPIONSHIP
Nov. 3-5…Glen Helen, CA
2023 RED BULL DAY IN THE DIRT
Nov. 24-26…Glen Helen, CA
• MXA VIDEO: DECIPHERING THE SEVEN BIKE 2023 250 FOUR-STROKE SHOOTOUT
• MAX LEE NAMED RED BULL GASGAS FACTORY TEAM MANAGER
23-year-old Max Lee will be the youngest team manager of a factory team when he leads the GasGas team of Pierce Brown, Michael Mosiman and Justin Barcia during the 2023 AMA Supercross season. Max is the son of team owner Troy Lee and is a skilled motocross racer in his own right. Max grew up in and around the Troy Lee Honda, KTM and GasGas teams and has a wealth of knowledge.
• MXA VIDEO: THE SURPRISE WINNER OF MXA'S 2023 125 TWO-STROKE SHOOTOUT

• ABSOLUTELY THE LAST RACE OF 2022! GLEN HELEN'S NEW YEAR'S EVE GP  & KYLE YARNELL MEMORIAL TEAM RACE ON DECEMBER 31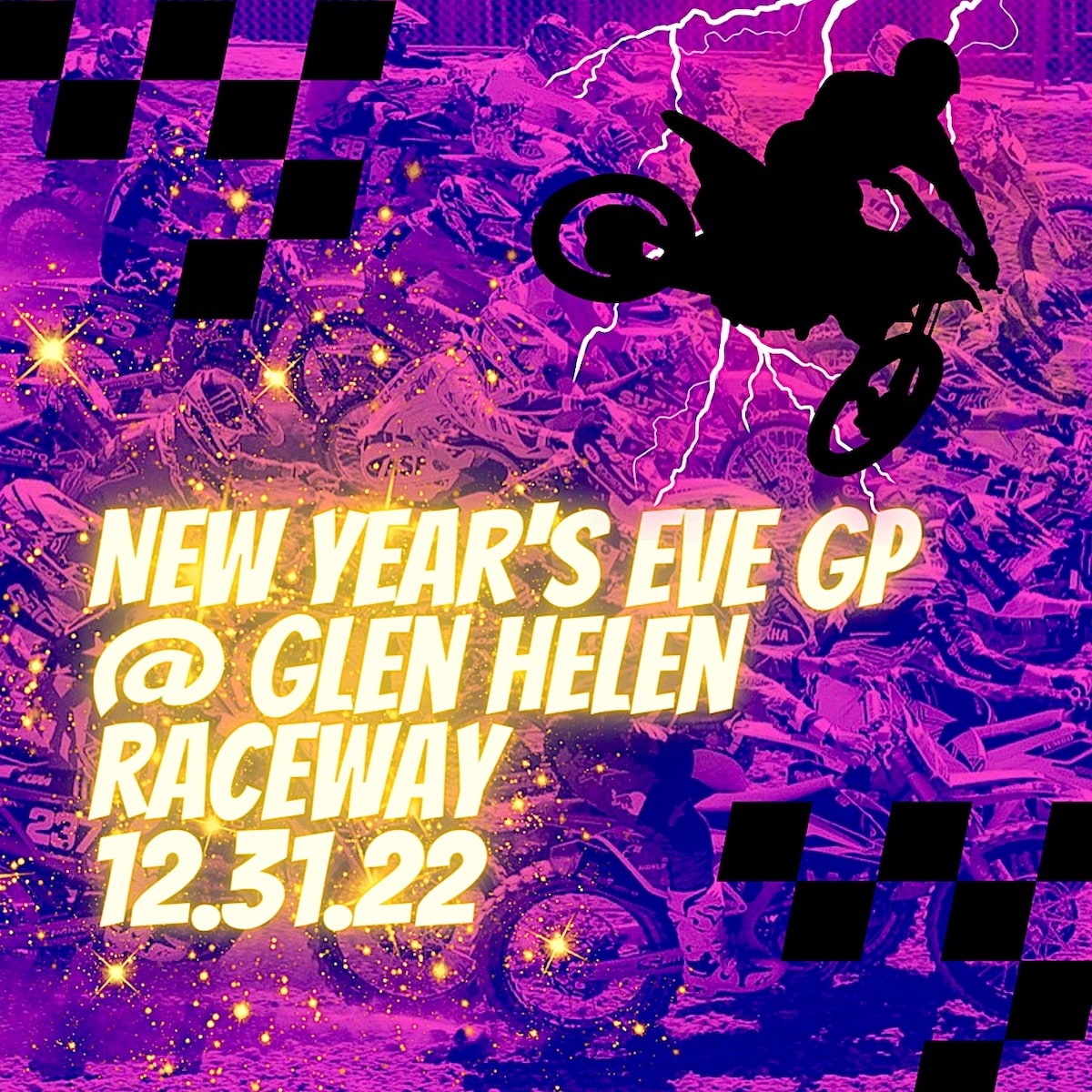 For more information or to sign-up go to www.glenhelen.com
• DIDN'T MAKE IT TO THE 2022 WORLD VET CHAMPIONSHIP? SEE THE TRACK IN ALL ITS GLORY
• CLASSIC MOTOCROSS PHOTOS: BODY ENGLISH FROM A SWEDE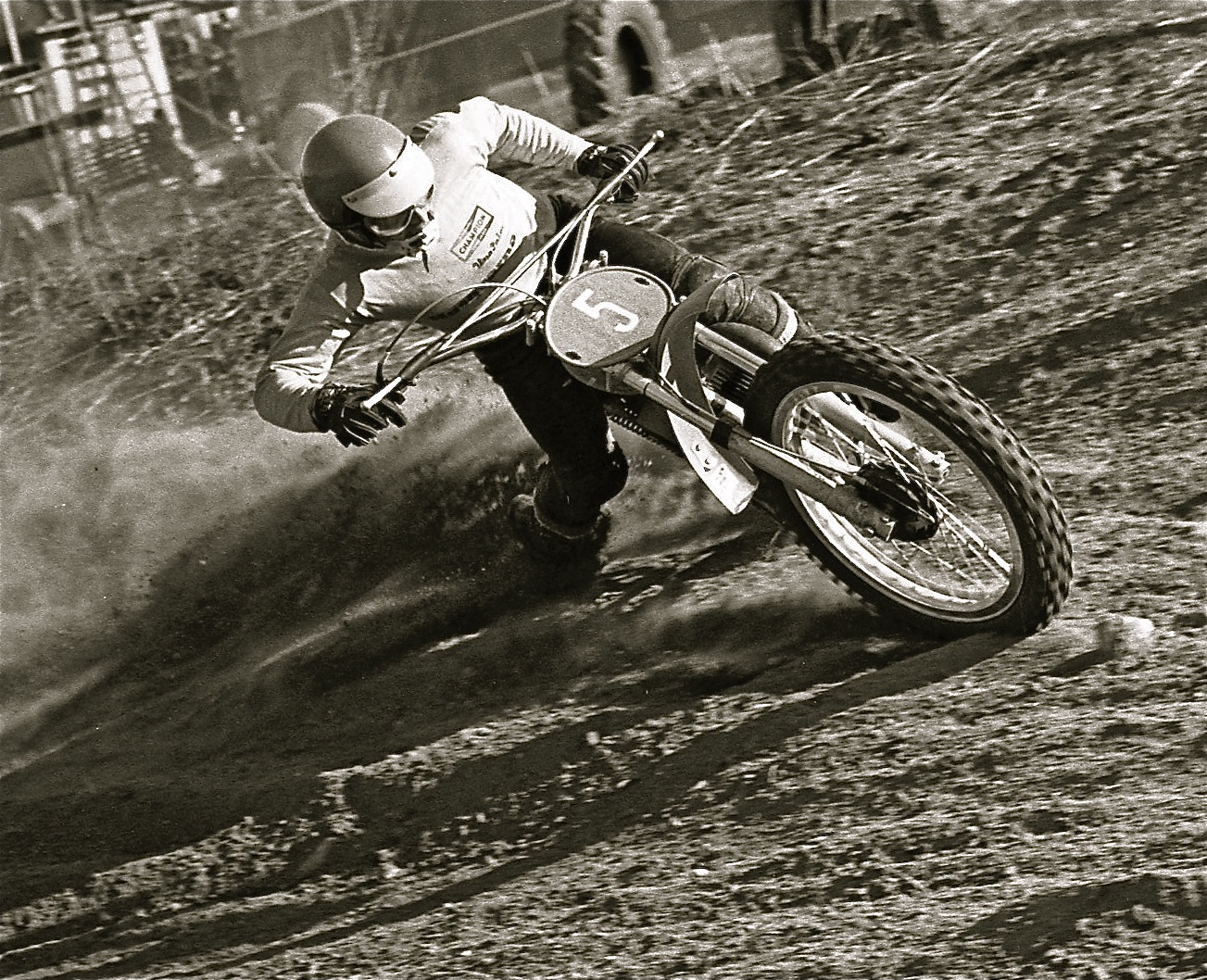 The late Uno Palm sliding his Husqvarna up a steeply banked corner. Watch out for that rock Uno! Photo: Justyn Norek
• PASHA 150 TWO-STROKE SHOOTOUT: THERE'S FAST & THEN THERE'S FAST
• BACKYARD DESIGNS ANNOUNCES A PRICE DROP FOR CUSTOM YOUTH GRAPHICS!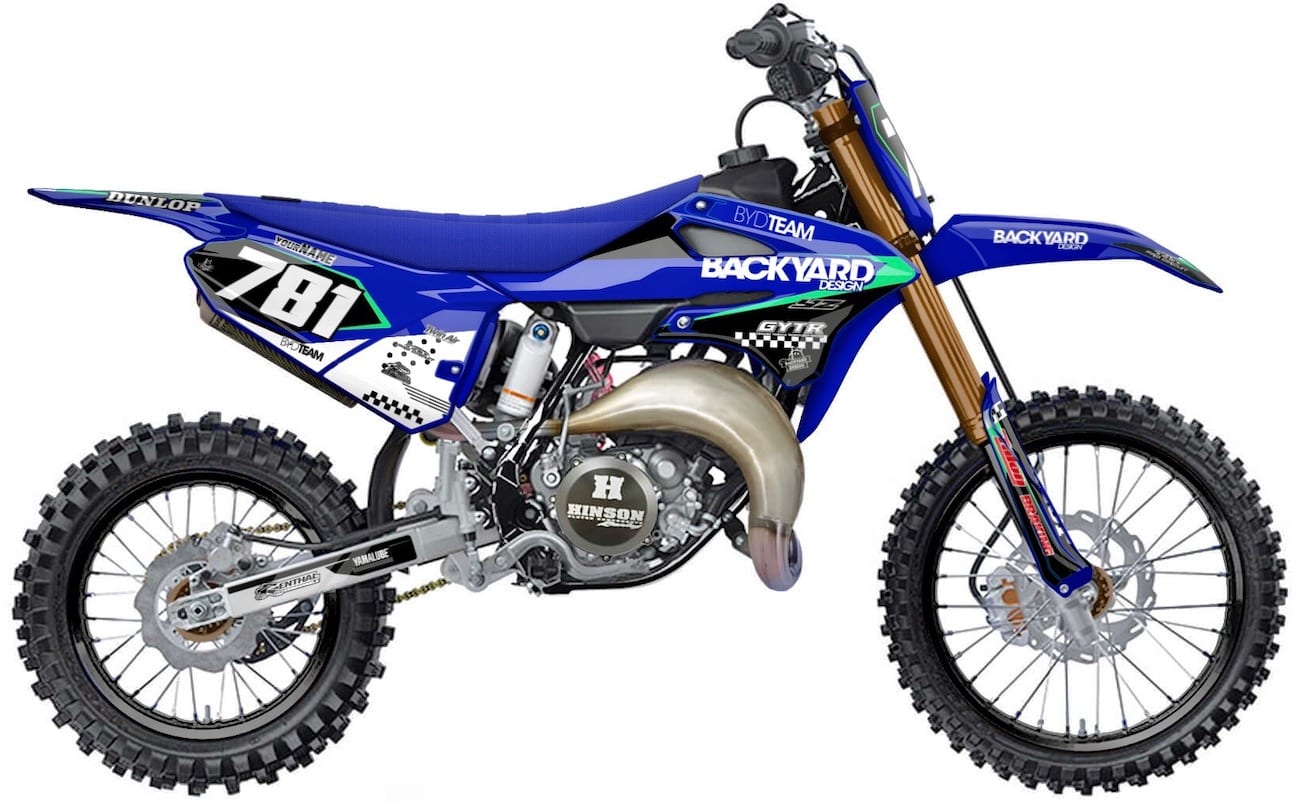 Press release: Since everything is getting more and more expensive, Backyard Design has decided to go a different path and reduce the prices of their graphics for all the youth bikes, pit bikes and helmet wraps. With the price drop you get the chance to get fully creative in their online configurator and get a full set of custom graphics for your 85cc bike starting at $149.90, the 65cc kits at $129.90 and the 50cc kits at $99.90.
If you're still riding with a solid color helmet? Don't be that guy! Stand out from the crowd with a custom Backyard Designs helmet wrap starting at $99.90.No one likes applying graphics but BYD makes it a lot easier for you. With their included graphic applying tool and the in house made templates your bike will look fresher than ever. For more info go to www.backyarddesigns.com.
• 2023 SUPERCROSS BROAD CAST SCHEDULE: IT ALL PEACOCK, ALL THE TIME


There are a few races you can see on TV for free, and reruns on CNBC, but it's Peacock, Peacock,Peacock, Peacock, Peacock, Peacock, Peacock, Peacock…
• THIS WEEK IN MXA WITH JOSH MOSIMAN: WHO'S BETTER BROTHER? 
• MXA TEAM TESTED: EKS BRAND LUCID GOGGLES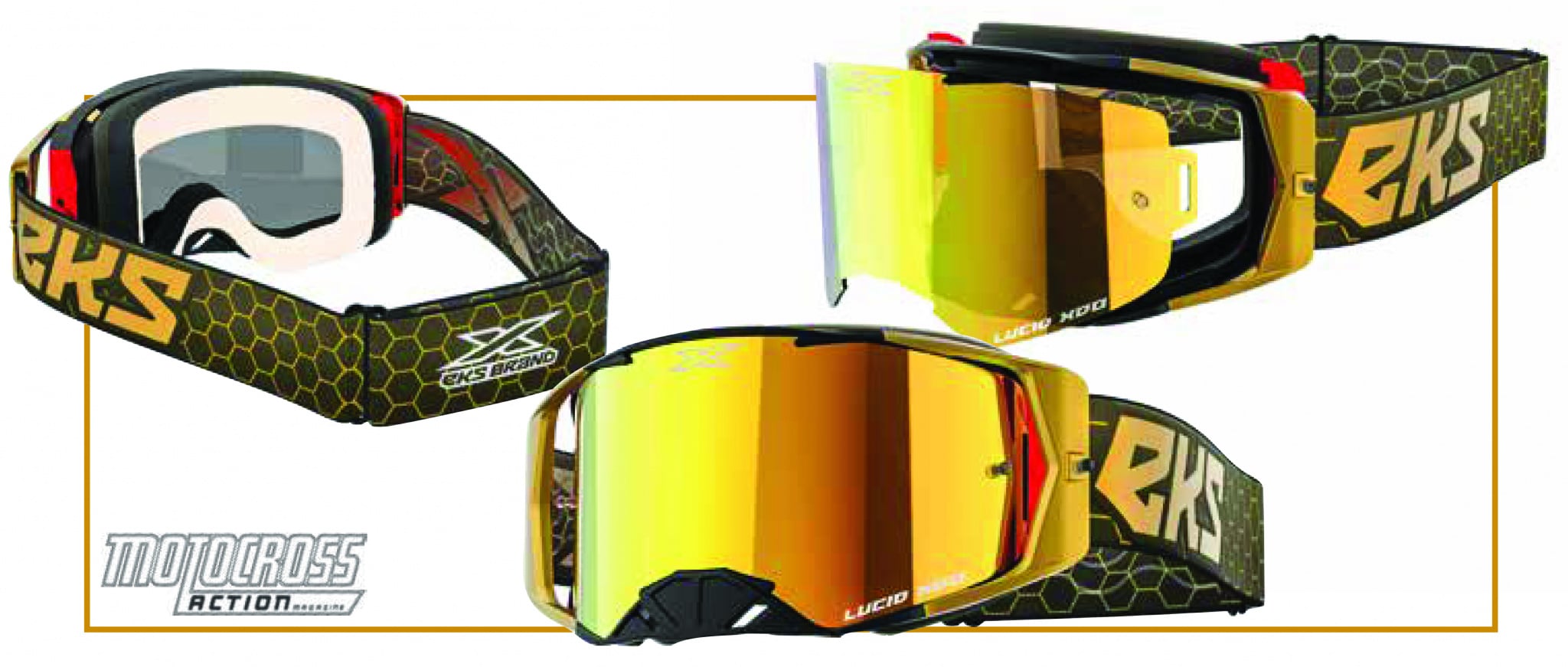 After five years of development, EKS Brand's Lucid goggle is here to provide clear vision and ultimate goggle function for the most demanding situations of motocross and off-road racing. With over 35 years of experience in the goggle business, EKS Brand is a family owned and operated goggle company that specializes in top-level quality at a reasonable price point.
Lens. The new Extreme Definition Optics (XDO) Lucid lenses are pre-curved, injection-molded, polycarbonate lenses that have greatly improved optical clarity over traditional flat lenses. The pre-curved lens is durable, impact-resistant, and is available in nine different tints and colors. The Lucid lens also has an anti-fog coating built into the plastic that makes it easier to clean and helps prevent dust from sticking to the inner goggle. Note: Refrain from cleaning any goggle lens with Windex, as polycarbonate is a strong material, but it's not designed to be used with any glass cleaner.
Auburn Afterburner lens. Similar to the Oakley Prizm lens that was designed to enhance contrast so you can see terrain in better detail, EKS Brand's optional Auburn Afterburner lens uses a special three-color tint to boost vision even further than with the XDO lens. The Auburn Afterburner lens uses a rose, grey and persimmon tint to enhance light on a cloudy day and brighten up shadows while also providing protection against harsh light. This technology originated in the skiing industry where cloudy days, bright reflections off snow and shadows are an everyday reality.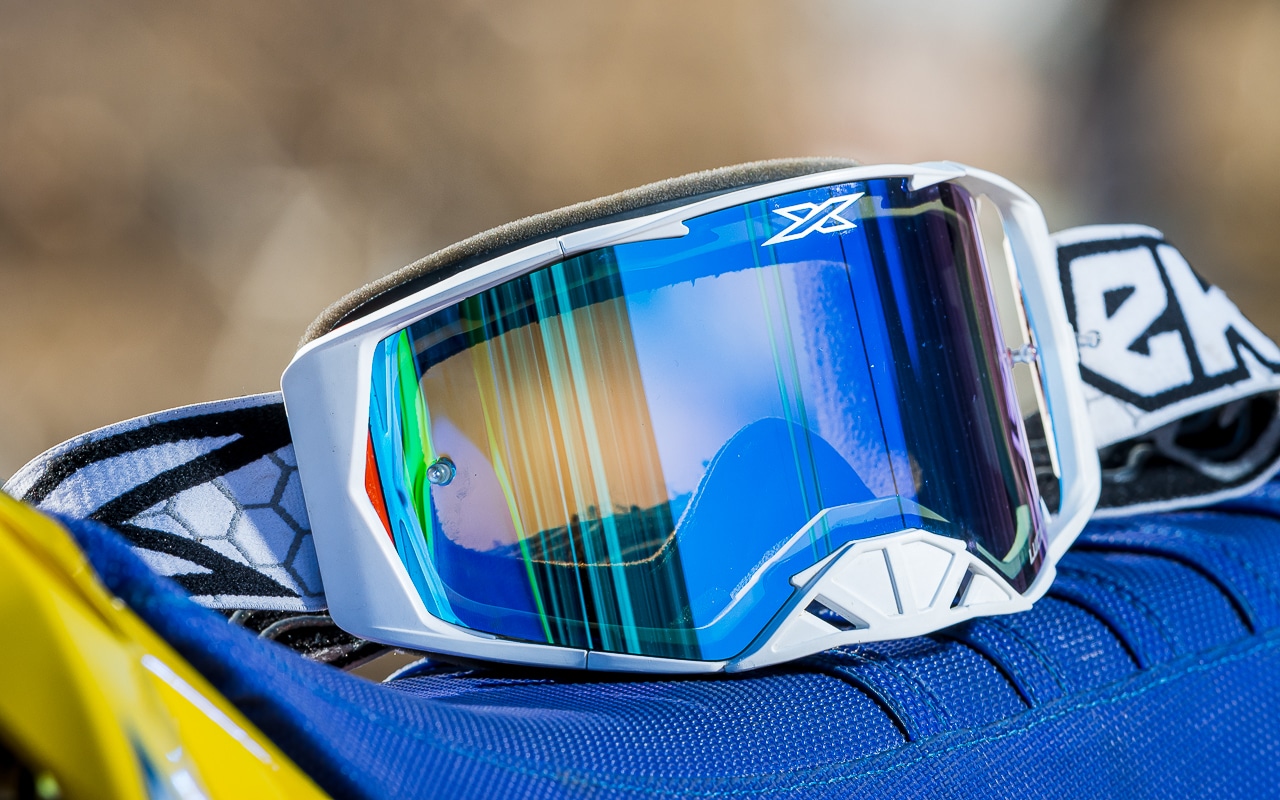 Frame. The Lucid goggle is made with a stiff outer frame and a soft inner frame. The stiff outer frame is necessary for holding the thicker and heavier injection-molded lens. The soft inner frame works with added leverage from outriggers to help the goggle's foam seal to your face. Plus, the outriggers move the strap away from the goggle, allowing more airflow into the side vents. The frame features a removable nose guard and an impressively simple quick-change lens tab.
Foam. EKS Brand tested many shapes and styles of face foam before landing on a wide, 17-mm-thick, four-layer face foam. Unlike most other face foams that are flat, the Lucid foam is 3D-molded and pre-shaped to fit your face for optimal comfort.
Tear-offs. The EKS Brand Lucid goggle can be used with standard tear-offs and stacks of  seven laminate tear-offs. The number of tear-offs MXA test riders use varies. In long motos where heavy roost is likely, they run up to 21 tear-offs in three stacks of seven laminates. Other less-picky testers use two to three standard tear-offs per race. Our testers liked the EKS Brand tear-offs and appreciated the integrated tear-off posts on the left outrigger, which made installing tear-offs easier.
Performance. We assigned our pickiest goggle testers to the EKS Brand Lucid goggle test. After racing in the Lucid goggles, there were three highlights that stuck out: First, the goggle's ability to keep sweat off the inner lens is impressive. There was still some splash, but the 20mm foam and inner sweat channel directed most of the sweat away from the eyes and lens. Second, the injection-molded Extreme Definition Optics (XDO) lens was  clearer than a traditional lens, even with multiple tear-offs over it. The Auburn Afterburner lens was an instant MXA favorite for any riding condition, because it helped define rocks and bumps more distinctly in the shadows. Third, the Wavelatch quick-change lens system made changing lenses easy.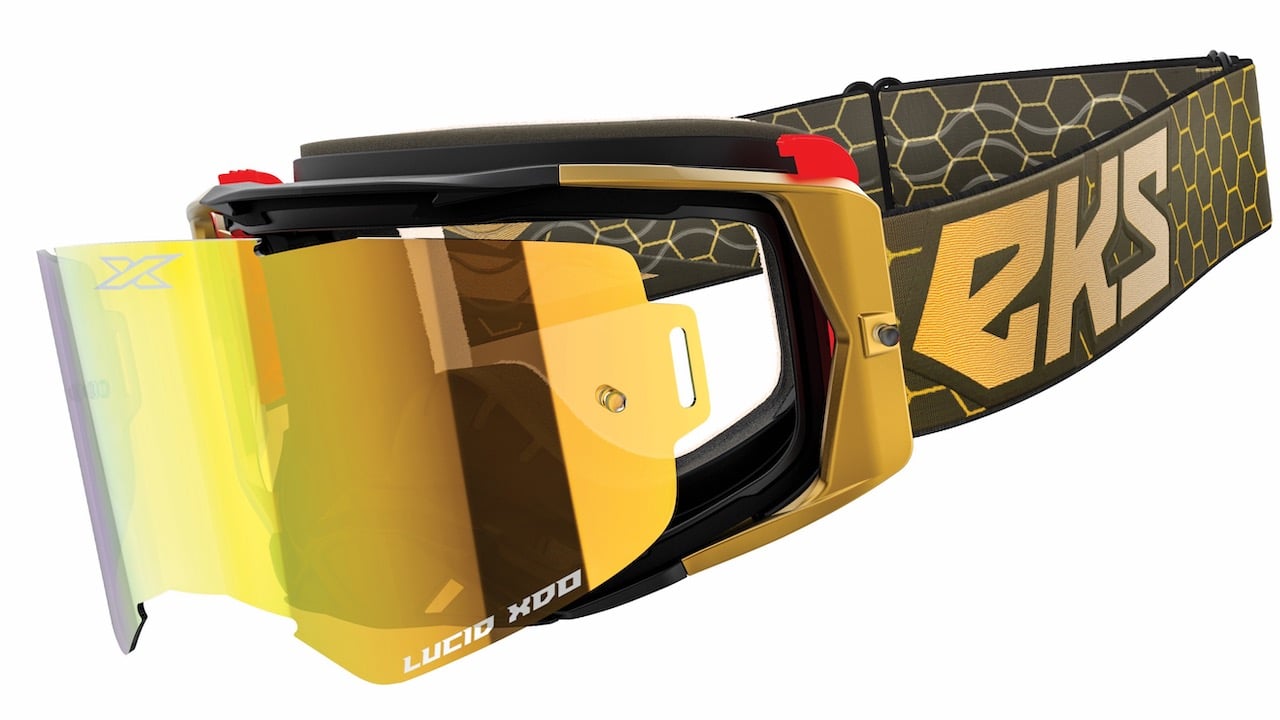 Digits. $99.00 (clear lens), $25.00 (replacement lenses)— www.eksbrand.com or (818) 706-1700.
MXA RATING: The rigid frame scared us initially; however, once we wore the goggles on the track, our worries disappeared as it conformed to our face. Plus, the injection-molded, pre-curved lens was noticeably better than any flat lens. We could see without distortion. This goggle battles with the best in the business in quality and beats them in price.
• MXA VIDEO: 2023 KAWASAKI KX250 VIDEO TEST
• MXA PRODUCT SPOTLIGHT: TWO NEW MXA T-SHIRTS
MXA METALLICA LOGO T-SHIRT—$30.00
It's time to rock on with this structured, durable and soft tee. Available in black, charcoal, agave and gold. Click Here to order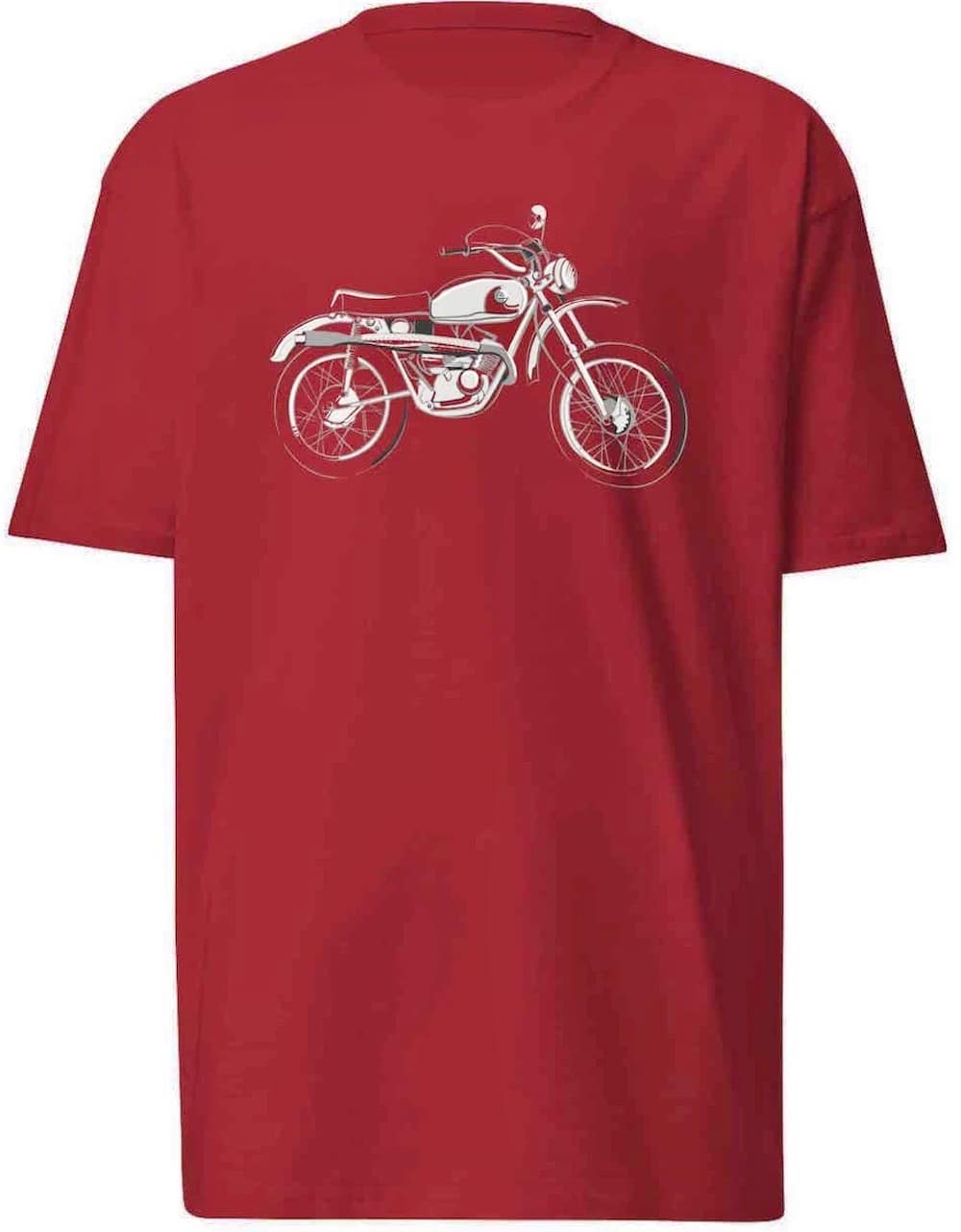 1971 HODAKA SUPER RAT HEAVYWEIGHT T-SHIRT—$30.00
Ring-spun cotton material with a soft and durable fit and a classic Hodaka image. Available in black, brick red (shown), charcoal and gold. Click Here to order.
• MXA VIDEO: 2023 GASGAS MC450F VIDEO TEST
• MXA TEAM TESTED: GAERNE SG-12 BOOTS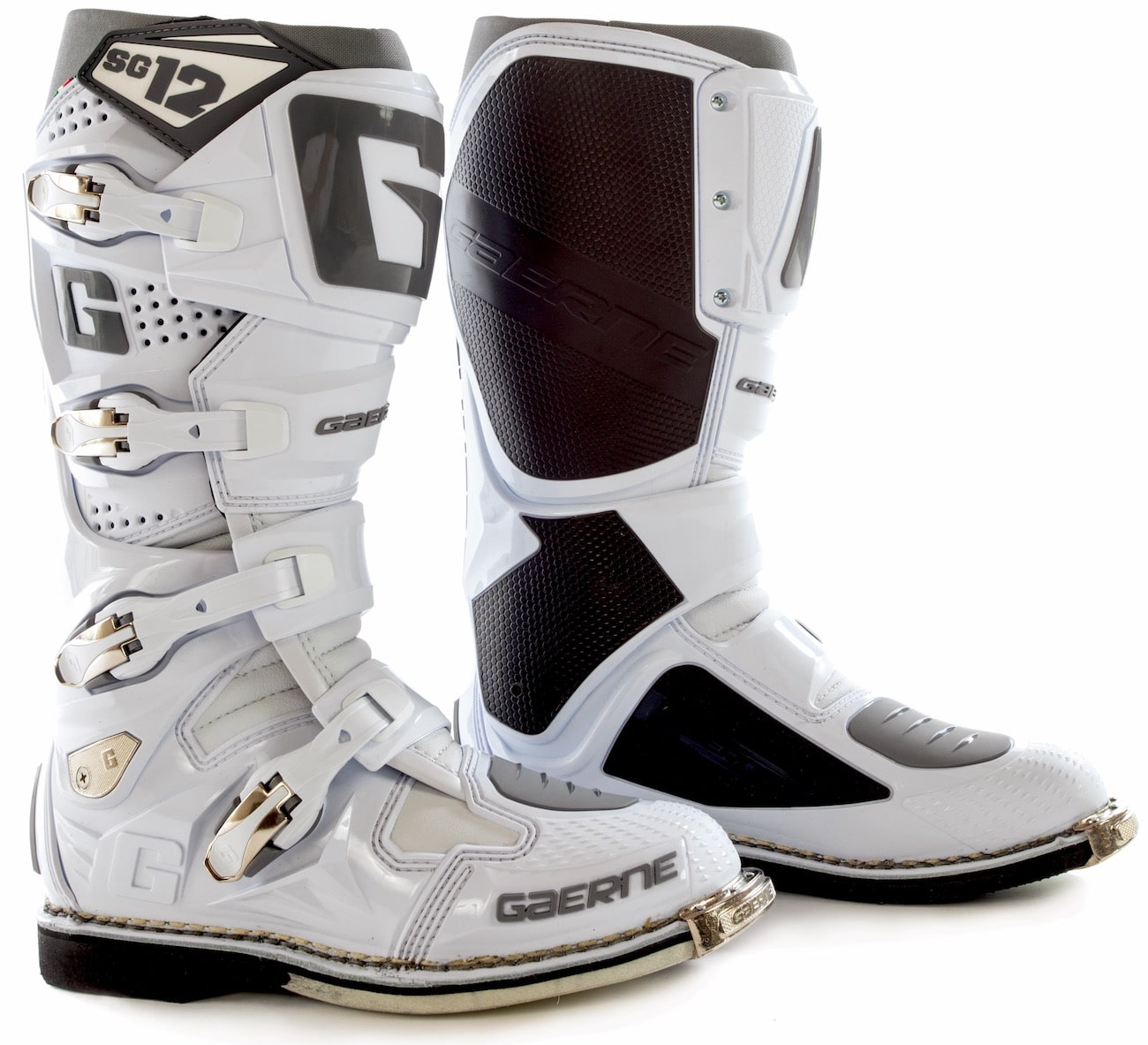 The Gaerne SG-12 is an Italian-built boot that has been a staple in the motocross industry since 2010 when it was introduced at the Vegas Supercross. We last tested the SG-12 in 2016 when the toe box was made slimmer. Since then, there have been a few internal changes that we want to talk about.
Refinements. The Gaerne SG-12 has been refined close to perfection over the years. Gaerne boots have never fit the Italian-made, slim-foot narrative. They have always offered a bigger toe box with more room than their Italian competition. In 2016–2017 Gaerne narrowed the overly broad toe box to increase feel for the rider when shifting and braking. Since then, five noteworthy changes have been made. (1) Gaerne slimmed down the inner foot area and added a durable insert in the arch for improved rider feel. If you are worried about the slimmer fit, don't be. We haven't found anyone with wide enough feet to complain. We have only had great feedback about the change. To compare, these boots still offer more room than what an Alpinestars Tech 10 has. (2) The rubber composite of the sole has been upgraded to an even more durable material to offset the increasing use of incredibly sharp footpegs. (3) The inner composition of the memory cell foam has been refreshed for improved comfort. (D) The plastic in the pivot has been beefed up for greater support. (4) Many new solid colors, such as red and blue, have been added to the SG-12 line.
Break-in. We will say the SG-12 boot takes longer to break in than the average boot due to the extreme support that it offers.
Support. The SG-12's thermoplastic exterior provides solid impact protection. A dual-stage pivot system offers solid lateral support while maintaining freedom of movement. The heel cups absorb shock in the event of slamming your foot. The steel toe cap seems dated at times, although there is no better way to add safety during an impact.
Buckles. We love the SG-12 buckles because they are easy to actuate, simple and reliable. The buckle straps offer enough room for most size legs, but those with large calves may not have enough adjustment. Luckily, the shin plate is adjustable and can be extended for more room.
Performance. This is the most durable boot in the MXA arsenal. It is built for a hardcore racer. The sole lasts longer. The white doesn't fade as fast, and the entire boot itself lasts longer than any boot we have ever tested. The interior of the SG-12 is plush and inviting. The flat panels that contact the frame are covered in tacky rubber for exceptional grip. As a bonus, the rubber prevents a hot four-stroke head pipe from cooking your legs. This boot isn't for everyone. The boot is overkill for low-level riders. We suggest Gaerne's Fastback or GX-1 boot if this is you.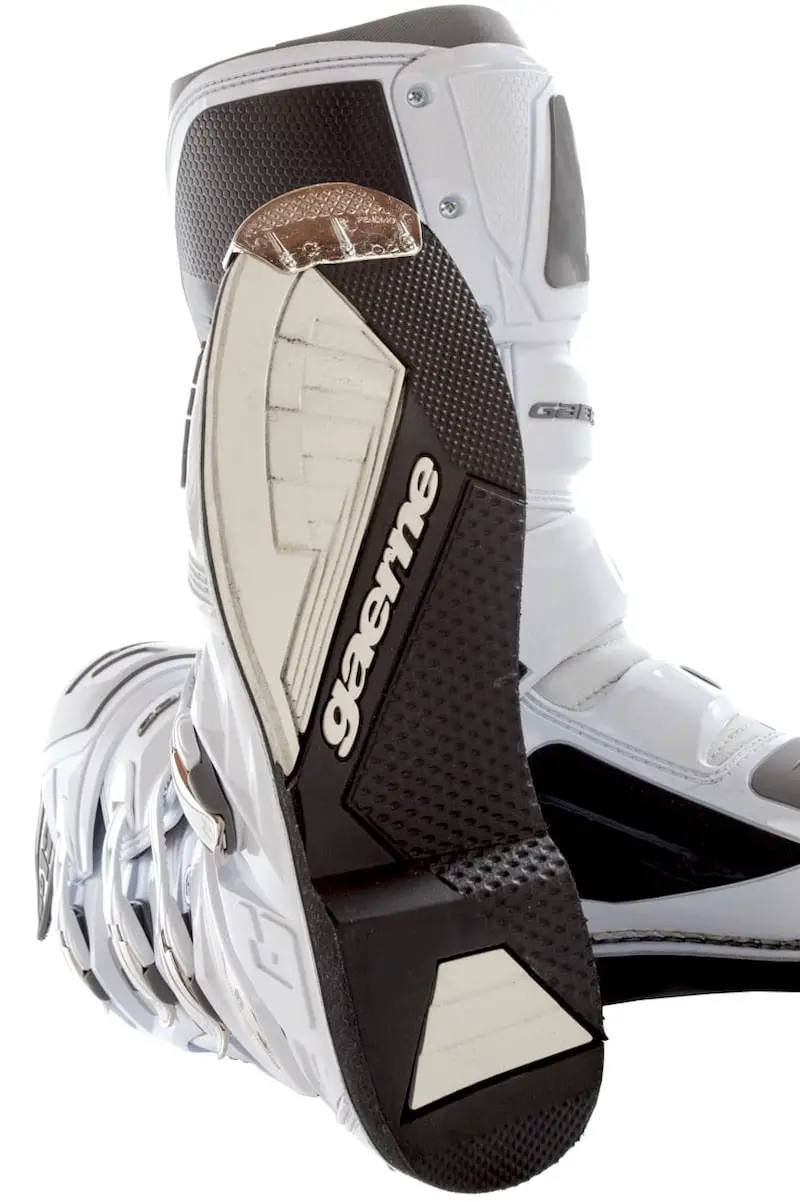 DIGITS?$579.99 (white and black), $599.99 (color models)— www.gaerneusa.com or (661) 257-3386.
MXA RATING: Yes, this boot is on the high end of the price range, but you get what you pay for. It will outlast any boot you compare it with. The Gaerne SG-12 is worth its weight in gold for racers.
• MXA VIDEO: 2023 SUZUKI RM-Z250 VIDEO TEST
• TEN THINGS YOU NEED TO KNOW ABOUT DIRT BIKE STANDS
(1) Bike stands. Even the simplest motorcycle accessories need a special formula to make them work right. A stand with a platform that is too big will look sloppy, and one that is too small will be harder to put your bike onto and easier for your bike to fall off of. Bike stands aren't the most important accessory in the pits, but you might be surprised by how many variations there are.
(2) Wedges. Most bikes don't sit perfectly level when on a stand, especially KTMs and Hondas. The bottom frame rails pitch the bike forward or backward. A wedge used in the correct spot will raise both wheels off the ground so you can easily spin them when tightening spokes and sprocket bolts, lubing the chain, washing the bike, or filling up the tires. Works Connection's stand retails for $159.95, and, for an additional $24.95, you can buy a wedge that bolts onto the stand. The Factory Effex V1 stand costs $89.95, and there is a bolt-on wedge that retails for $14.95.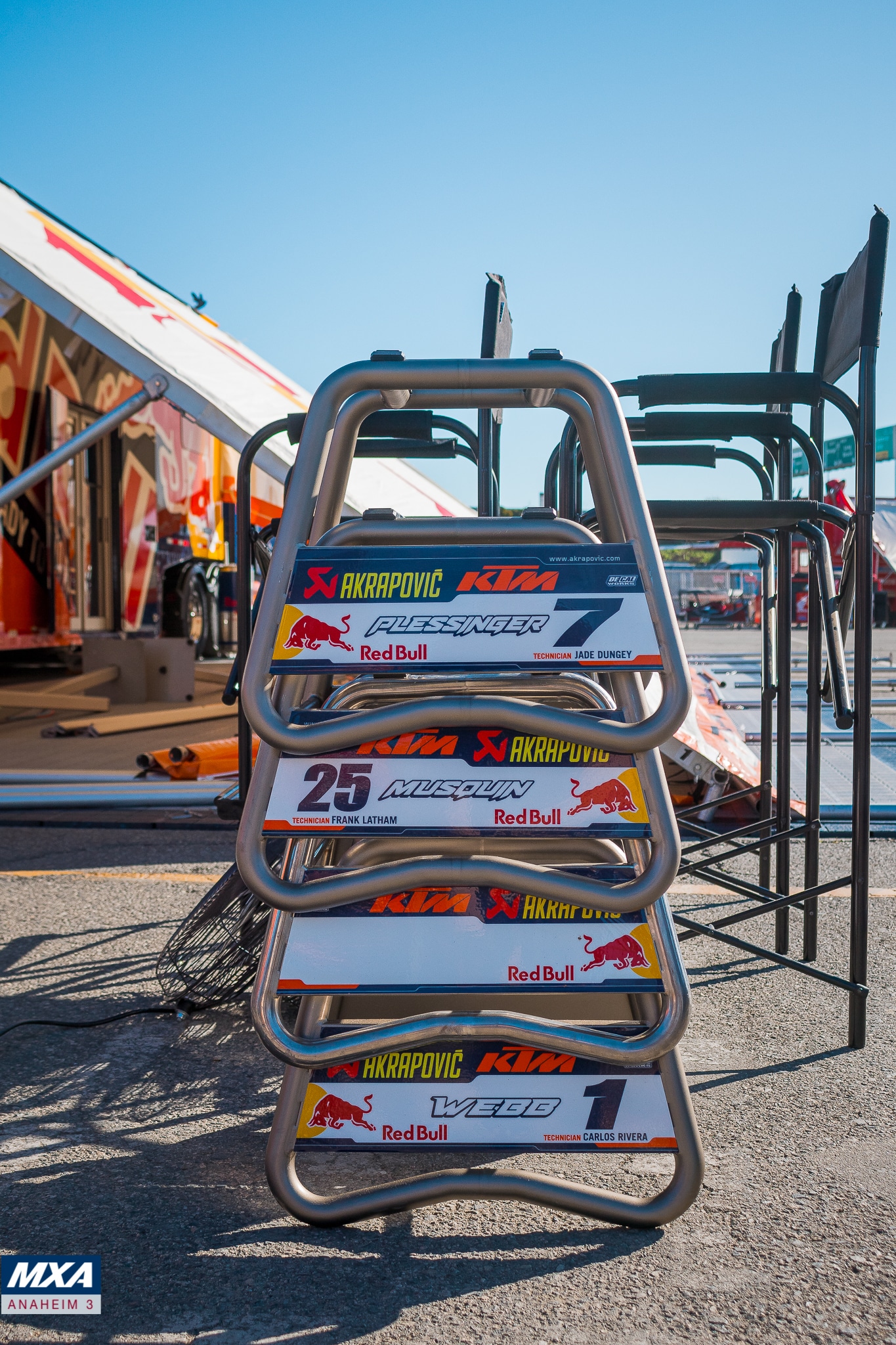 (3) Open top. You might have noticed the Red Bull KTM team uses stands that don't have a platform on top; instead, they have two rails for balancing the bike. Factory KTM doesn't sell these stands, but Moose Racing makes an M-1 stand that you can buy for $99.95. Instead of using a wedge to level out your bike, you simply move it forward or backward to position your bike on the two rails in a way that raises both wheels off the ground.
(4) Adjustable. Risk Racing's A.T.S. Magnetic stand is one of the most advanced stands on the market. It has two CNC aluminum turnbuckles built into the frame that allow you to angle the platform and level out your bike. Additionally, the magnetic aspect of this stand means that you can stick your loose nuts, bolts and tools to the side of the stand to keep them organized.
(5) Foldable. In transit, bike stands take up valuable space in the truck or van. Polisport came out with the first foldable bike stand made entirely out of plastic, retailing for $80.00. It folds up and takes up a fraction of the space in your truck. One con with plastic, though, is that it can break if abused. Enduro Engineering came out with a foldable aluminum stand that lasts much longer, but it currently has a price tag of $249.95.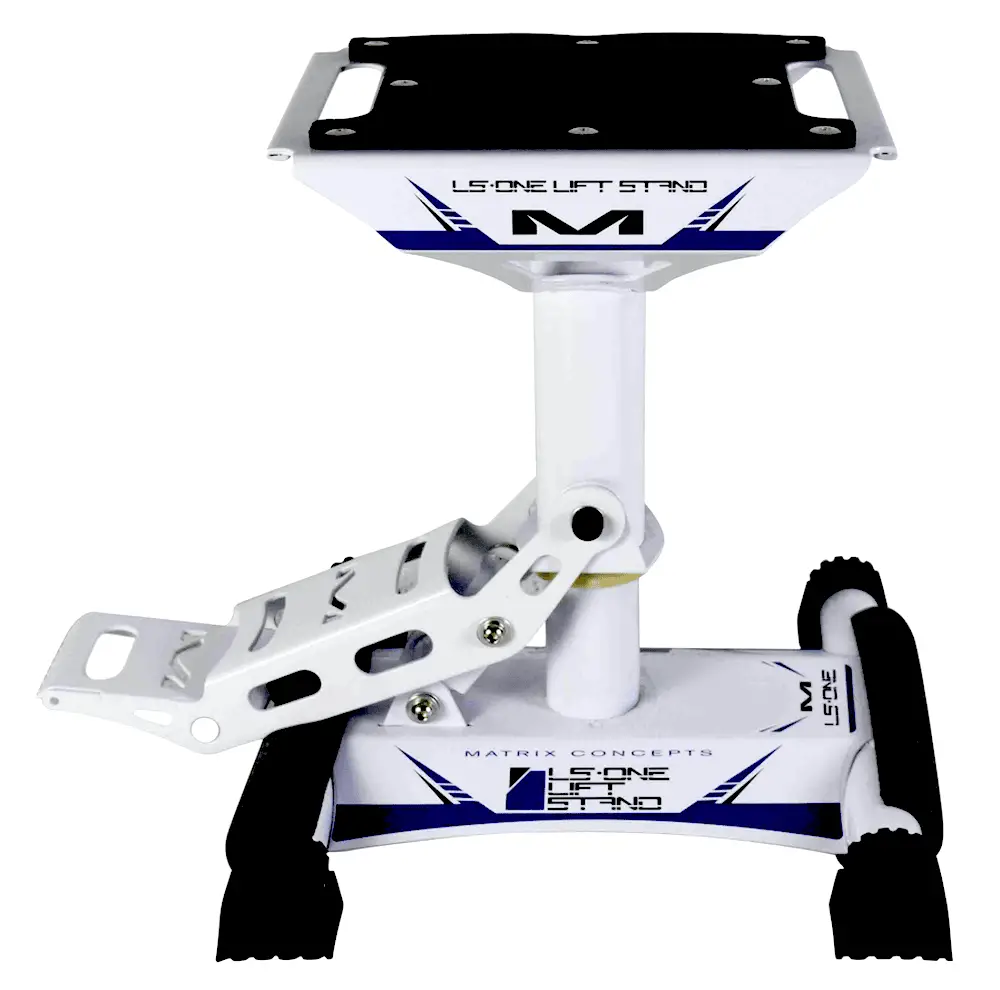 (6) Push-up. Kick-up stands are very popular for riders who are too small to lift their bike on the stand and for Vet riders who are riddled with injuries and prefer to save their energy and strength to actually ride their bikes instead of taking them on and off the stand. These stands aren't the friendliest for transporting. Watch your fingers when loading and unloading out of the truck. The Matrix LS-One Lift Stand is very stable and lifts the bike with ease.
(7) Electric. Electric bike stands were made for the most experienced riders who've coined the slogan, "Work smarter, not harder." Like push-up stands, they are bulky and not ideal for transport, but they are essential for many riders who would rather risk an injury on the track than in the pits. Even though they've been out of business for a while, MXA still uses the original Power Lift electric stands regularly, and we're counting down the days until we get the updated Matrix Concept Power Lift stand.
(8) Ride on. Risk Racing makes a stand that you can roll your bike onto and lift the stand into place with a foot lever. At $169.99, it isn't as easy to use as an electric stand, and it requires a little bit of technique, but once you figure it out, it will save you, especially if you deal with back or shoulder pain. Simply roll your bike onto the stand, and as the front wheel rolls onto the front lip, it will propel the stand upward. Then, step on the foot lever to lift the bike off the ground. This stand is too big and bulky to carry to and from the track, but the MXA wrecking crew always keeps two of these in the wash bay by Jody's barn.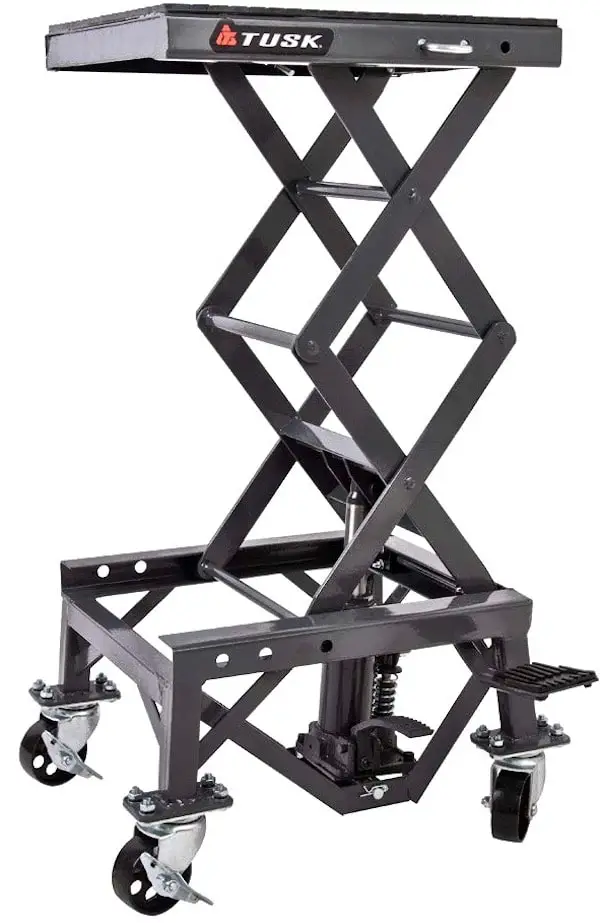 The Tusk Scissor Lift stand is sold by Rocky Mountain ATV/MC.  
(9) Scissor lift. The scissor-lift stand is best for mechanics who are constantly working on bikes. These stands are heavy, bulky, and not meant to transport to and from the track. But, they'll save your back when your bike needs some TLC.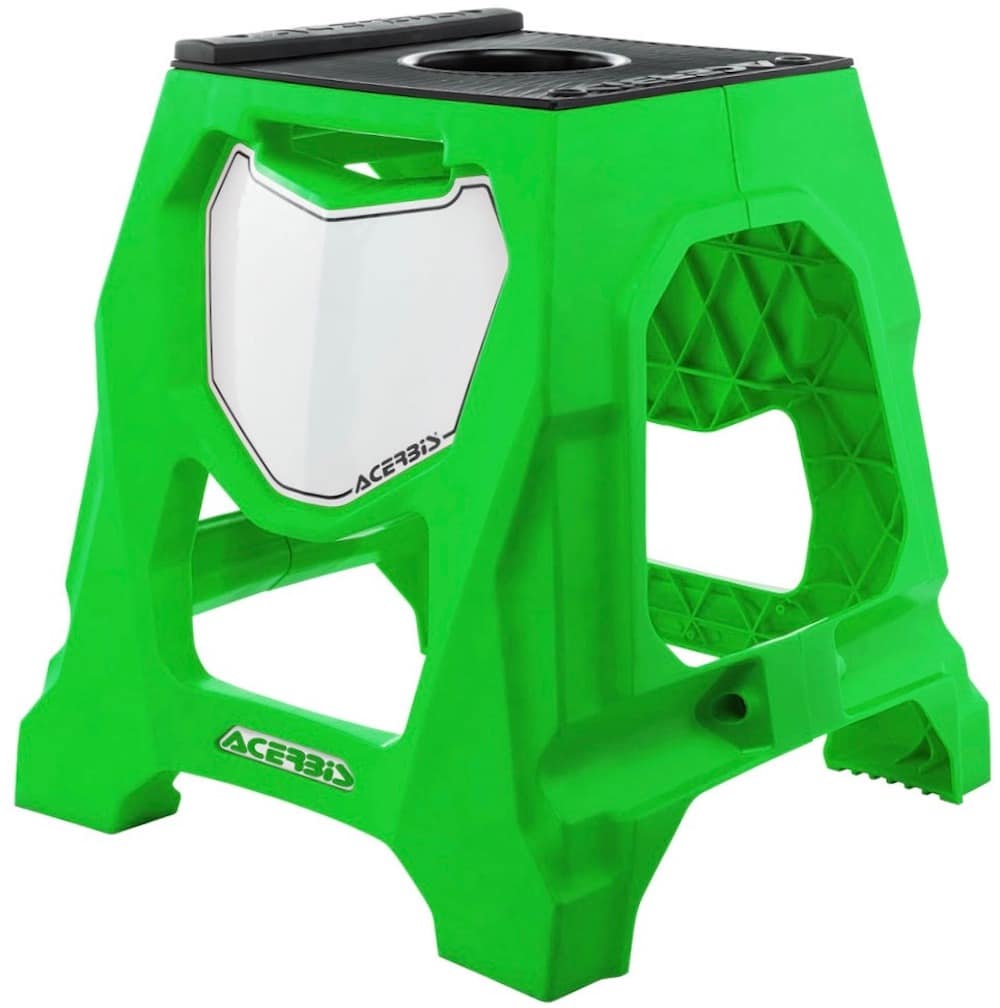 (10) Marketing. Most stands have a logo panel on the side that allows riders to install stickers or graphics. For $99.95, the Acerbis 711 bike stand is the king of marketing, as it features number plates on two sides of the stand, allowing riders to promote their name, number and/or sponsors in the pits. The Acerbis stands also come with a small, built-in, removable wedge to level out your bike. One squawk with the Acerbis stands is that the top platform is slippery.
MXA VIDEO: 2023 KTM 300SX FUEL-INJECTED TWO-STROKE VIDEO TEST
• MXA'S AD OF THE WEEK: DO YOU REMEMBER RS TAICHI GEAR?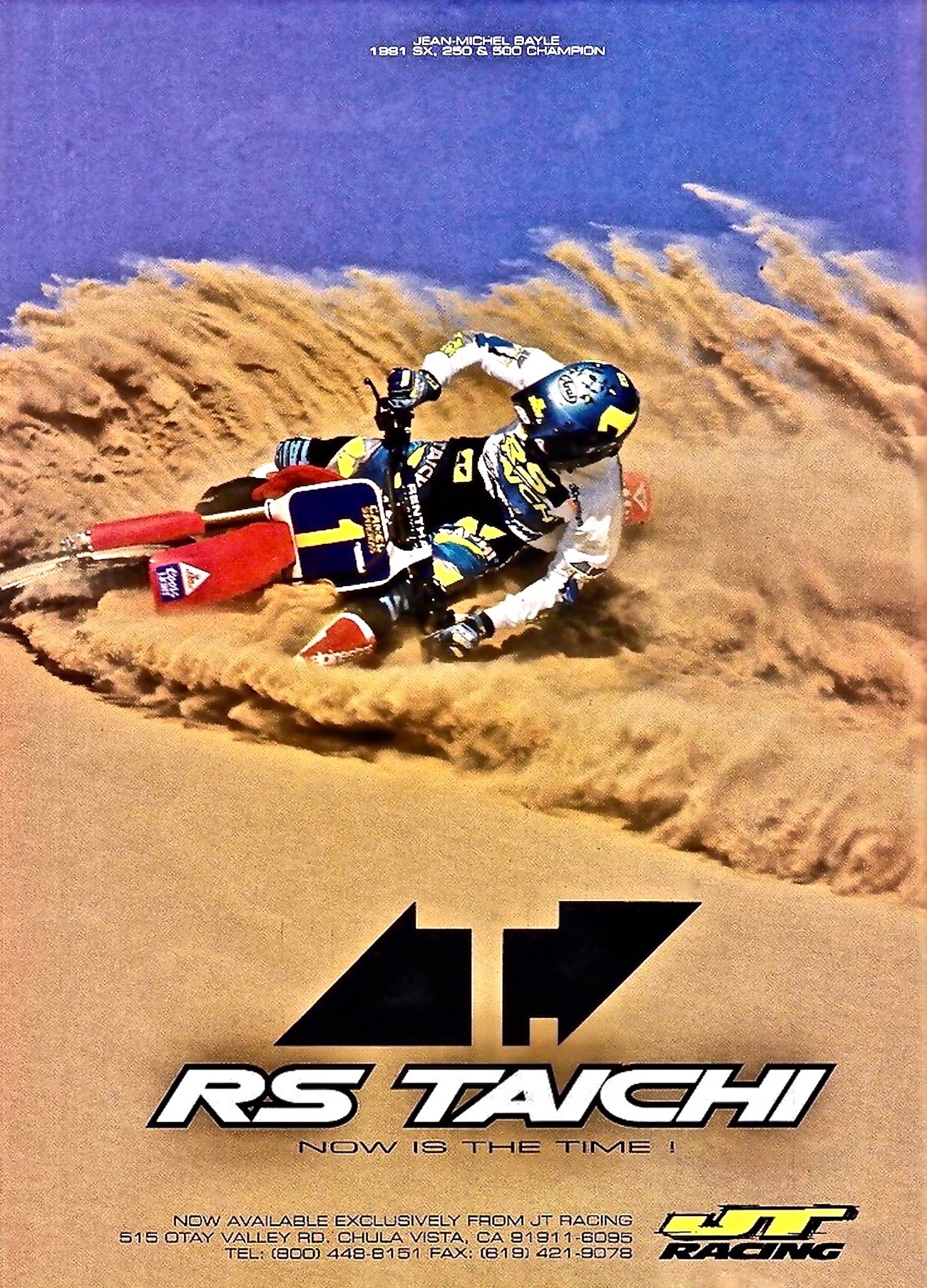 Back in the early 1990s lots of racers were clamoring to get the unobtainable RS Taichi brand of motocross gear. Made in Japan, its desirability was largely based on its unavailability. JT Racing decided to capitalize on the RS Taichi craze and import the gear and sponsor Jean Michel Bayle to wear it. Unfortunately the craze died a quick and painless death in short order.
• MXA VIDEO: 2023 HUSQVARNA FC250 VIDEO TEST
• NEW RULES: 2023 WORLD VET CUP OF NATIONS RULES UPDATE
Glen Helen Raceway would like to thank everyone that participated in the 2022 World Vet Cup of Nations. It was a huge success and we even witnessed tears of joy on the podium. This special race, designed to highlight all of the nations that are represented at the World Vet Championship—it it required three riders from the same country on each World Vet Cup team. Unfortunately, when the Covid-19 pandemic hit and borders were closed around the world, the rules were loosened o allow a foreign, passport-holding rider to borrow available riders to fill out that countries team. But, Glen Helen wants the Vet Cup of Nations to return to its original concept starting with the 2023 race.
While the race is fresh in our minds, we would like to share the newly race! Our hope is to keep the international "spirit" of this race alive and well to ensure it remains a prestigious race for many years to come.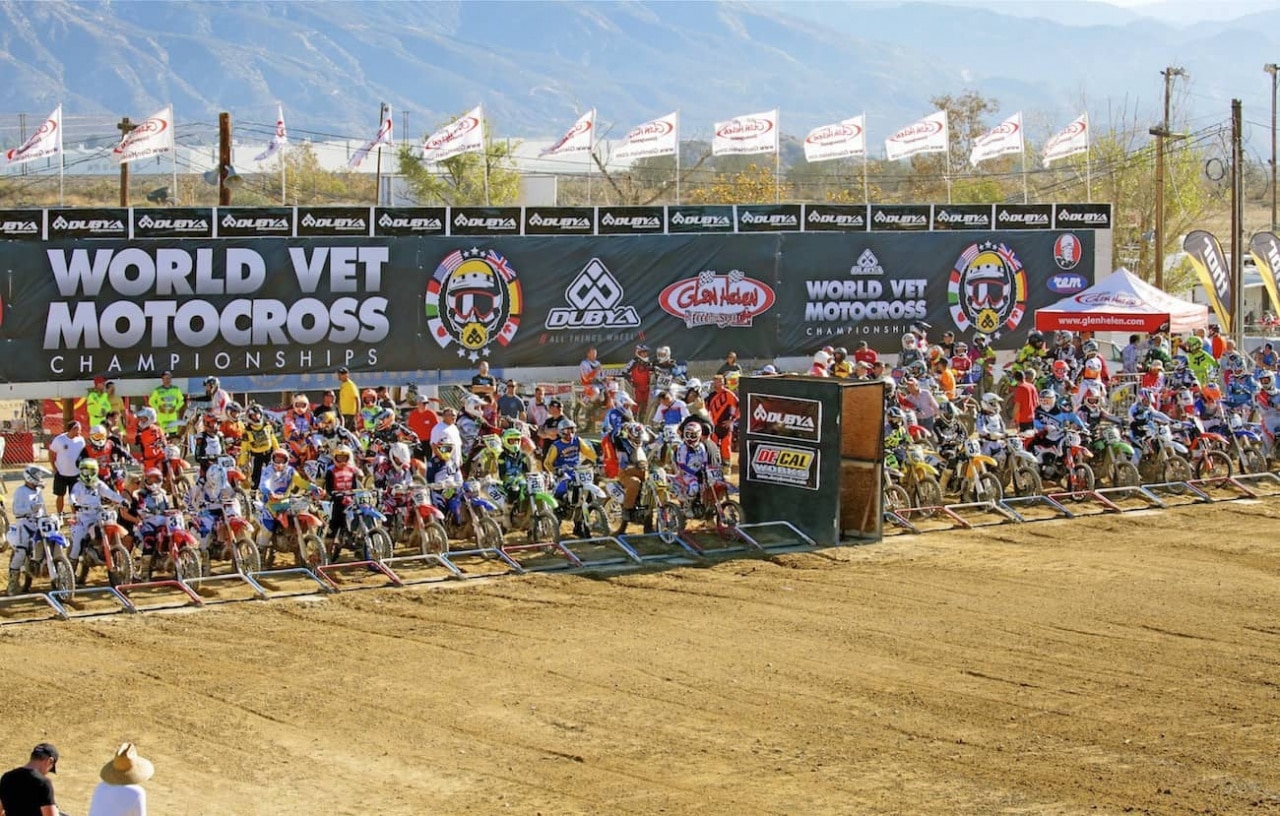 HERE ARE THE UPDATED RULES FOR THE 2023 WORLD VET CUP OF NATIONS
(1) Passports or birth certificates: To be deemed a valid representative of a country, the rider must possess and present an official birth certificate or passport from the country being represented.
(2) Filling a spot: All three riders should be from the country they are representing, however, in special circumstances, a minimum of two riders on the team must meet criteria of rule #1. If 1 of the riders is not from the country they are representing or cannot provide an official birth certificate or passport, there will be a 5-point penalty assessed to your overall finish points for each moto.
(3) Scoring system: World Vet Cup racing consists of two motos, The first motot is on Saturday and the second moto is on Sunday. Points are scored based on the finishing positions within each age group. A country whose team finished 1st in the 30+, 1st in the 40+ and 1st in the 50+ would have a team total of 3 points for that day's motos. The country team with the lowest score of both days combined will be the overall World Vet Cup of Nations Championship team.
(4) Class ages: Each national team will consist of three riders who meet the age requirements to participate in the 30+, 40+, and 50+ classes. Any rider over 30 years of age can fill the 30+ spot on the team. Only riders 40 and over -50can fill the 40+ spot on the team and only riders over 50 can fill the 50+ spot on the team. Paradoxically, riders over 50 can fill spots in the Over-30, Over-40 and Over-50 classes.
(5) Race bibs. Country race bibs will be provided to each rider of the country being represented. Failure to wear your bib will result in a 5-point penalty for your team.
It is best to start forming your national team as soon as possible, with back-up riders if necessary. Each nations is allowed to field as many as three separate teams! World Vet Cup of Nation application forms will be made available in June of 2023. Don't delay.
• MXA VIDEO: 2023 SUZUKI RM-Z450 VIDEO TEST
• 2023 AMA SUPERCROSS RACE SCHEDULE
• MXA VIDEO: 2023 YAMAHA YZ450F VIDEO TEST
• 2023 WORLD SUPERCROSS (WSX) DATES ANNOUNCED—ALL SIX OF THEM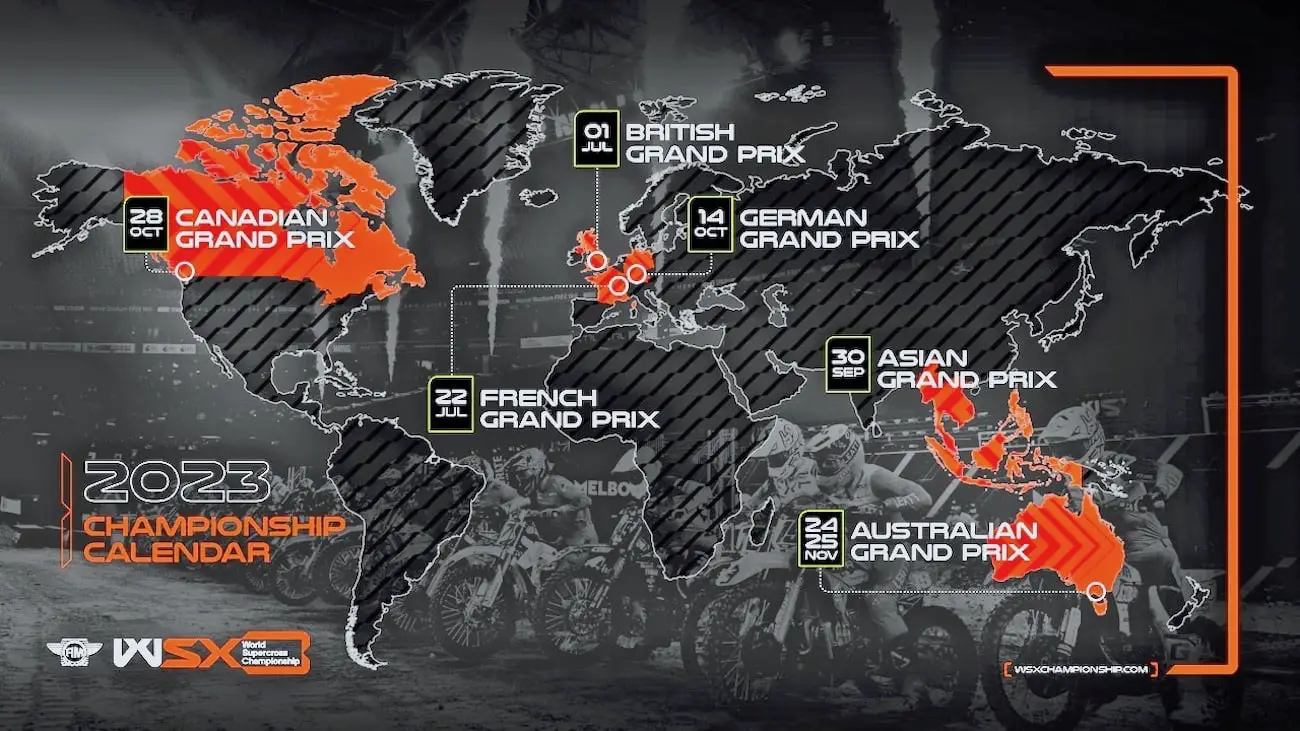 The 2023 FIM World Supercross Championship (WSX) will be six races long with events in France, Germany, Canada, Australia, England and round is Southeast Asia to be announced at a later date. It is not the blockbuster race schedule that everyone expected to compete agaisntt he 17-round AMA Supercross Championship. The WSX does not start until saftet eh AMA serie sis over, and in fact, WSX starts after four AMA outdoor Nationals have been concluded. There are two dates with the 2023 AMA Nationals: July 1 versus Red Bud and July 22 versus Washougal, but there could be conflicts between the AMA SuperMotocross Playoffs in September and October because SuperMotocross has only confirmed one date for their three-race play-offs and it it is on the same day as the Dusseeldorf, Germay WSX round.
2023 WORLD SUPERCROSS CHAMPIONSHIP SCHEDULE
July 1…Birmingham, England
July 22….Lyon-Décines, France
Sept. 30…TBD (Southeast Asia)
Oct. 14…Dusseldorf, Germany
Oct. 28…Vancouver, Canada
Nov. 24-25…Melbourne, Australia
• MXA VIDEO: WE TEST THE 2023 KTM 250SXF
• 2023 FIM WORLD MOTOCROSS CHAMPIONSHIP RACE SCHEDULE
• 2023 AMA NATIONAL MOTOCROSS RACE SCHEDULE 
• MXA VIDEO: 2023 KAWASAKI KX450 VIDEO TEST
• 2023 SOBOBA TRAIL RIDE WILL BE ON FEBRUARY 26, 2023
For more info go to www.sobobarides.biz/home
• HOW SMART DO YOU HAVE TO BE TO SUBSCRIBE TO MXA? YOU SUBSCRIBE AND GET A $25 ROCKY MOUNTAIN GIFT CREDIT—SEEMS SIMPLE

You can't afford not to subscribe, because when you order a subscription, Rocky Mountain ATV/MC sends you a $25 gift credit to use on anything you want from their massive selection. Plus, subscribers to MXA can also choose to get the digital mag on their iPhone, iPad, Kindle or Android by going to the Apple Store, Amazon or Google Play or in a digital version. Even better, you can subscribe to Motocross Action and get the awesome print edition delivered to your house by a uniformed employee of the U.S. Government. Do we have to mention the $25 Rocky Mountain ATV/MC gift card again? You can't lose on this deal? Call (800) 767-0345 or Click Here
• MXA YOUTUBE CHANNEL | HIT THAT SUBSCRIBE BUTTON
The MXA wrecking crew is everything moto related. Check out our MXA YouTube channel for bike reviews, Supercross coverage, rider interviews and much more. And don't forget to hit that subscribe button.
• TALK MOTO WITH ON MXA'S FACEBOOK GROUP CHAT