MXA'S WEEKEND NEWS ROUND-UP: CHAD IS BACK, SUPERCROSS' GAMBLE & MXGP TROUBLES
CHAD REED IS COMING BACK TO FINISH OUT THE 2020 SUPERCROSS SERIES…ON A KTM 450SXF
This is a classic Chad Reed photo by Brian Converse from earlier this year. Chad may be jumping the jump, but his muffler insert is bailing out.
MXA has history with Chad  Reed. A few year ago, we lent him a box-stock KTM 450SXF and a full-race version when he was trying to decide what to do after his last factory gig disappeared. Chad rode the two MXA bikes at Glen Helen in a secret test and liked the KTM. He wanted to make a deal to race KTMs, but when he told Roger DeCoster that he had to race with Showa suspension. Roger told him that for them to sponsor him he'd have to run WP Cone Valves, after all KTM owned WP and couldn't see putting a high-profile rider on a bike with someone else's suspension on it. Chad decided to buy Honda CRF450s and had a successful run on Hondas, before switching to Kawasaki and then Team Yamaha and then to a privateer Husqvarna for a season. In the 2020 AMA Supercross series, he raced Hondas from Mountain Motorsports.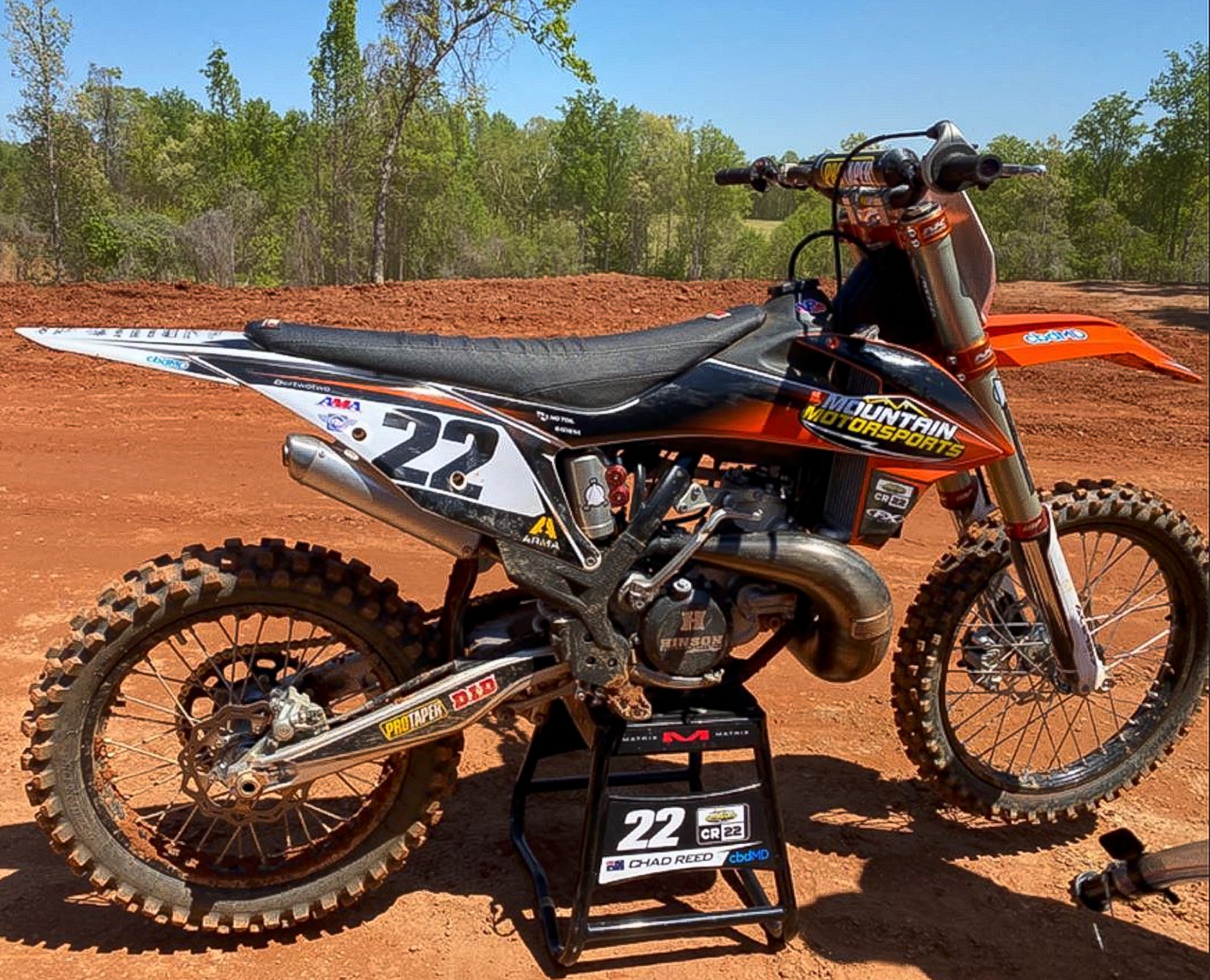 Chad didn't just decide to race a KTM 450SXF to finish out this Supercross season, he also bought a KTM 250SX two-stroke to play on.
But, when the 2020 AMA Supercross series starts back up (either in May or in September), Chad will be racing a KTM 450SXF. How do we know? We lent our box-stock 2020 KTM 450SXF to Chad's team so that he could have a special exhaust system made for his race bike. When Chad actually races the KTM in an AMA Supercross, he will have raced a Yamaha, Kawasaki, Suzuki, Honda, Husqvarna and KTM in AMA Pro races. If he wanted to race in 2021, he could extend that brand streak by racing a Gas Gas.
ARE YOU READY FOR FRIDAY NIGHT AND MONDAY NIGHT SUPERCROSS?
If the tentative May restart fails to come to fruition, the promoters always have September and October. But stadiums, even one stadium, will be hard to find when every other sports goes looking for places to play in the fall.
As you have most likely read, there is a tentative plan to resume the 2020 Supercross series, by holding seven races over three weeks in May at State Farm Stadium in Glendale, Arizona (although the track layouts would be redesigned on a weekly basis). The plan is for these races to be held on Friday nights and Monday nights, starting on May 15. There will be no spectators in attendance—and the teams will have to cut back on race personnel (as will Feld, the AMA and the TV crews).
Fridays & Mondays?  Why are the races being held on Fridays and Mondays instead of Saturdays and Sundays? It is assumed that those are the only consistently available time-slots for a three-hour live TV show (Supercross had to abandon its Saturday slots when the coronavirus forced the cancellation of the last seven rounds of the 2020 Supercross series).
Why the rush? Under its contracts with the series sponsors, Feld could lose millions of dollars in prorated sponsorship money that would have to be returned to sponsors, if they didn't complete all 17 rounds.
What can go wrong? If Arizona doesn't maintain its downward trend in coronavirus cases for the 14 days leading up to May 15, the events would have to be pushed back until Arizona has 14 straight days of no virus growth (and Arizona had a spike on Thursday, April 23). Additionally, there is always the danger of cases of Covid-19 breaking out in the ranks of riders, mechanics or TV crews. In this case the Supercross promoters would have to make some hard decisions. Plus, Arizona politicians or the CDC could step in to nix the deal.
On a side note: If the proposed Supercross season pushes into June, MX Sports might have to cancel the Florida National currently scheduled on June 13 at WW Ranch in Jacksonville, Florida—which would make Mt. Morris the first AMA National on June 20. The first open weekends to reschedule Jacksonville would be August 1st or August 8th (or as the final race the 2020 AMA National season, following Pala—around September 12th).
Obviously, this tentative deal to restart the 2020 Supercross series before the 2020 AMA Nationals starts is fraught with peril, so let's not bank our mental health on it happening.
GODSPEED! JOE BOLGER (1930-2020)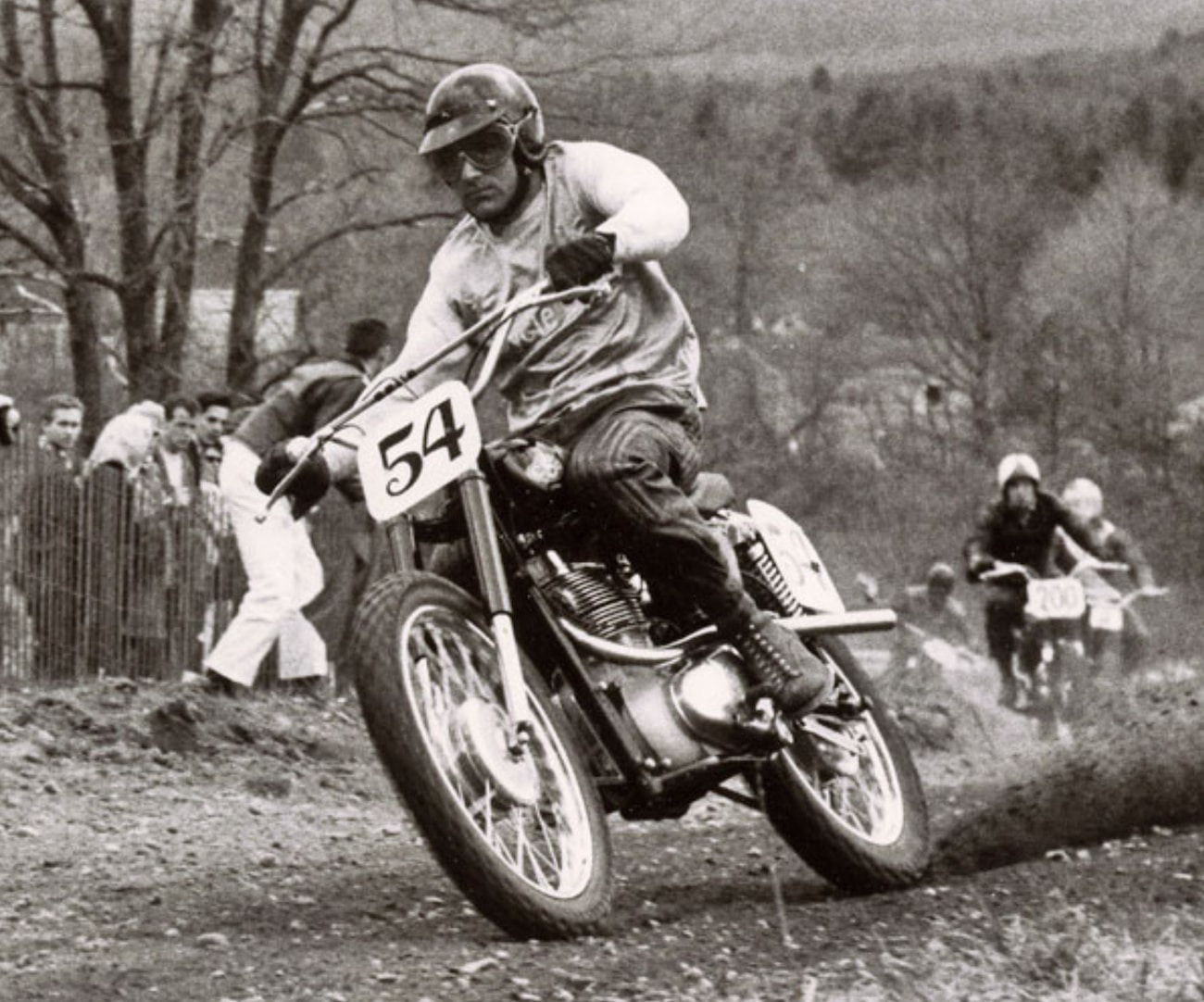 Joe Bolger in action  during his dominant New England scrambles days on a ESO 500. Photo: Norman Brady

Joe Bolger passed away on, April 21, 2020, from complications resulting from a fall at his Barre, Massachusetts, home. Joe was born in Charlottestown, Prince Edward Island, Canada ,and was 90 years old at his passing. Although a Canadian citizen, Bolger served in the U.S. Army from 1951 through 1953 and was stationed in Germany and France. He was a multi-time New England Scrambles Champion and the 1959 Canadian 250 National Champion.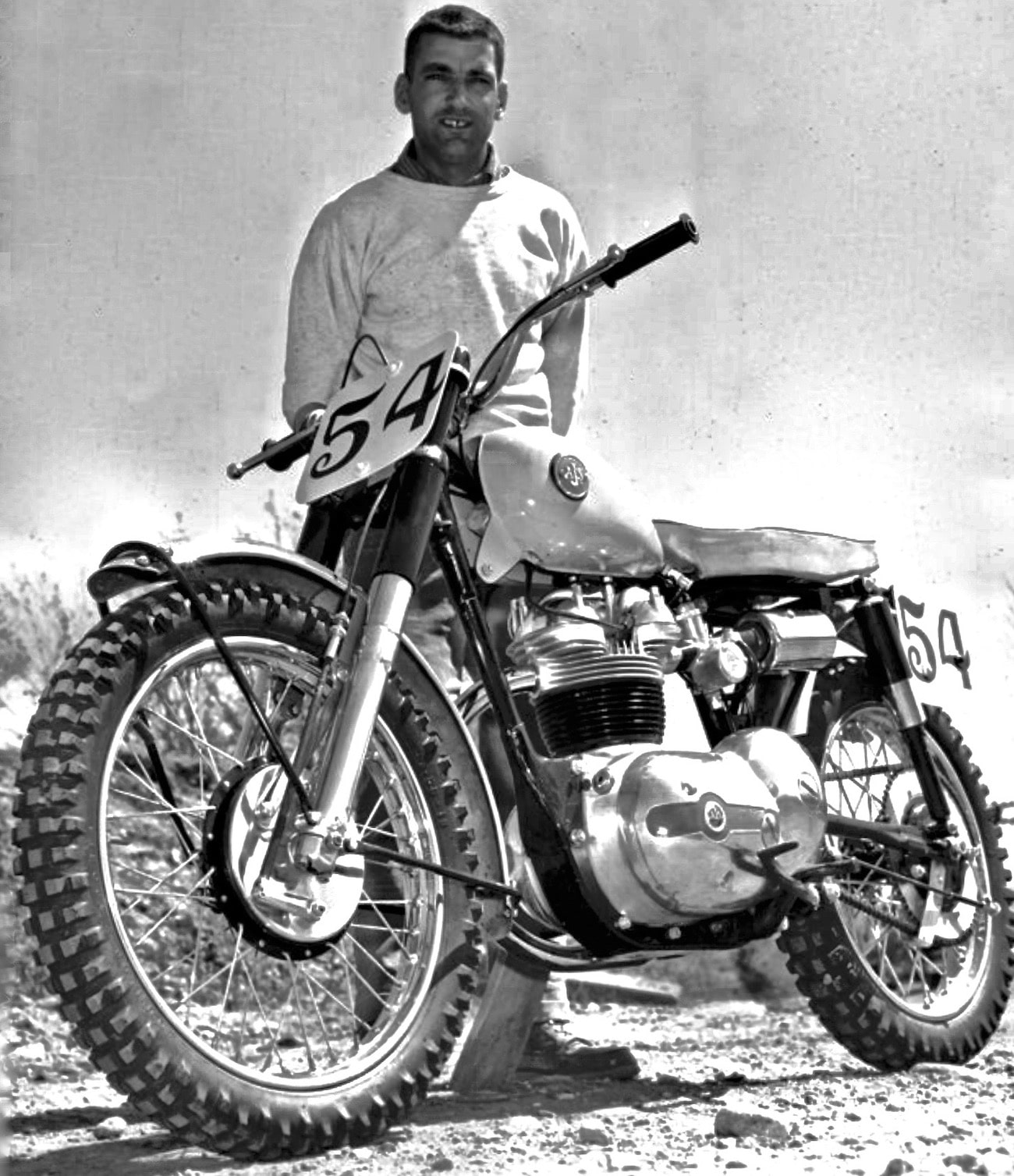 A young Joe Bolger with his AJS four-stroke. Photo: Norman Brady
As Bolger became more involved in motorcycling at a sporting level, he began to use his self-taught engineering skills to improve his racing motorcycles, and became a partner in a Yamaha, Honda, Triumph, BMW, and Kawasaki dealership. But his real love was in fabricating better working components for motocross bikes.
1975 Ossa BLT Phantom. Photo: Dan Gilkison

"Other riders would see these parts on my bikes, and they would ask where they could buy them," Joe said. "Soon I was building enough special foot pegs, motor mounts, lightweight wheels, and other parts that Motocross Engineers began to offer them through its catalog. With my bikes, I tried all manner of crazy things. Many of those 'improvements' weren't improvements at all, but I was always experimenting and fooling around with bikes. I had a good time working with them – and of course the older and slower I got, the more desperately I modified my motorcycles to offset what nature was doing to me."

Thanks to eccentric rocker arm, which was linked to the swingarm via adjustable pull rods, Joe Bolger's suspension system increased the travel without needing longer trarvel shocks.
Joe demonstrates the movement of the BLT linkage.
He gained national prominence in 1975 when Ossa introduced an Ossa with Joe Bolger's innovative rising rate rear suspension system—boasting more than eight inches of rear suspension travel. In a 2017 MXA article, we wrote "The first true-to-life linkage-activated shock system was designed by New England inventor Joe Bolger. Bolger had devised a dual pull-rod and rocker arm system that activated shocks mounted on each side of an Ossa's airbox. Joe's design was brilliant. The linkage lessened the load on the shock, positioned the shocks in a stronger area of the frame, allowed the carburetor a straight shot at the engine, was easier to reach and positioned the weight in the central mass area of the frame. Bolger's suspension system appeared on approximately limited-edition motocross, off-road and trials versions of Ossa BLT in 1975-1978."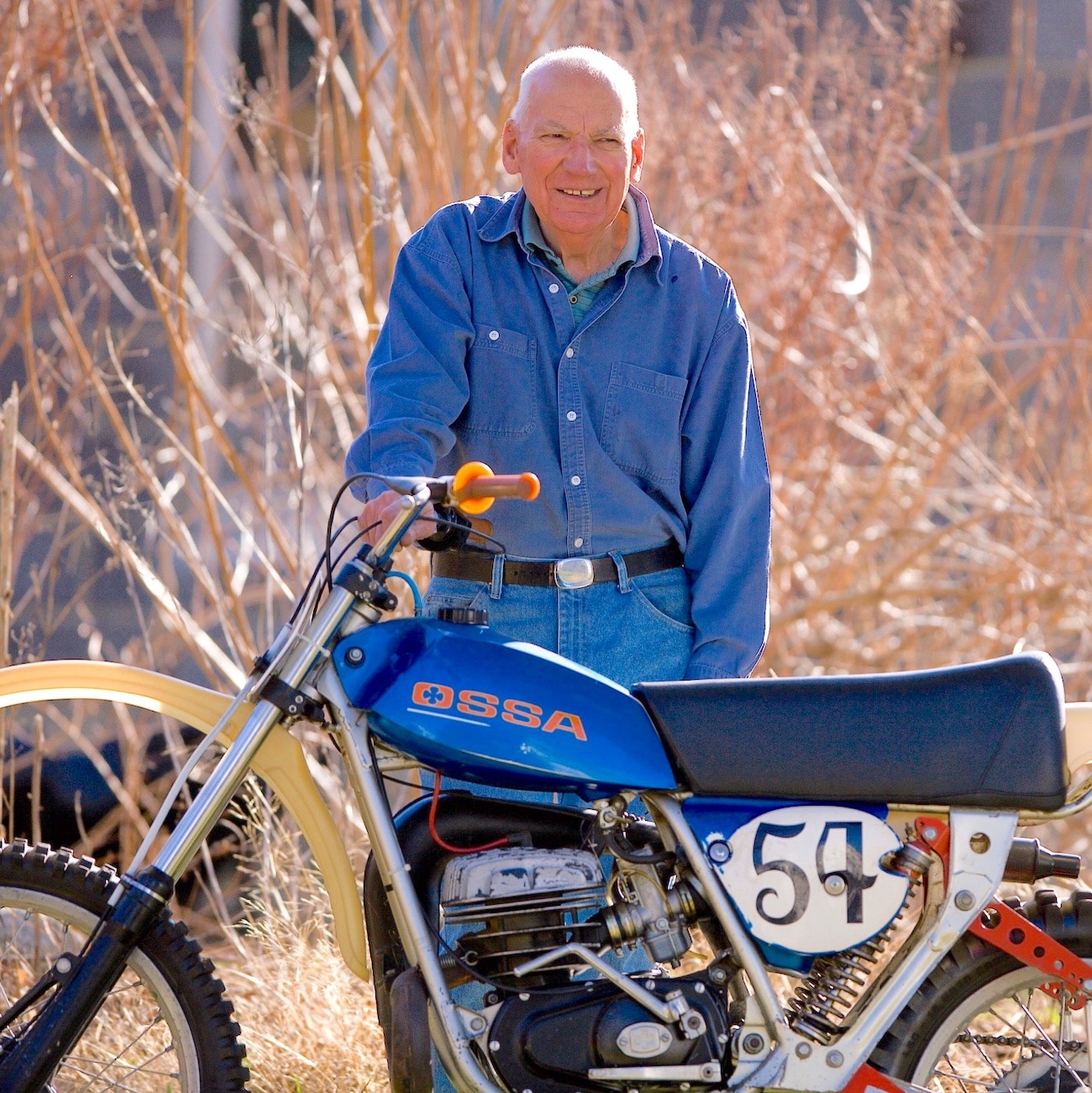 Joe  Bolger and his 1975 Ossa. Photo: NESC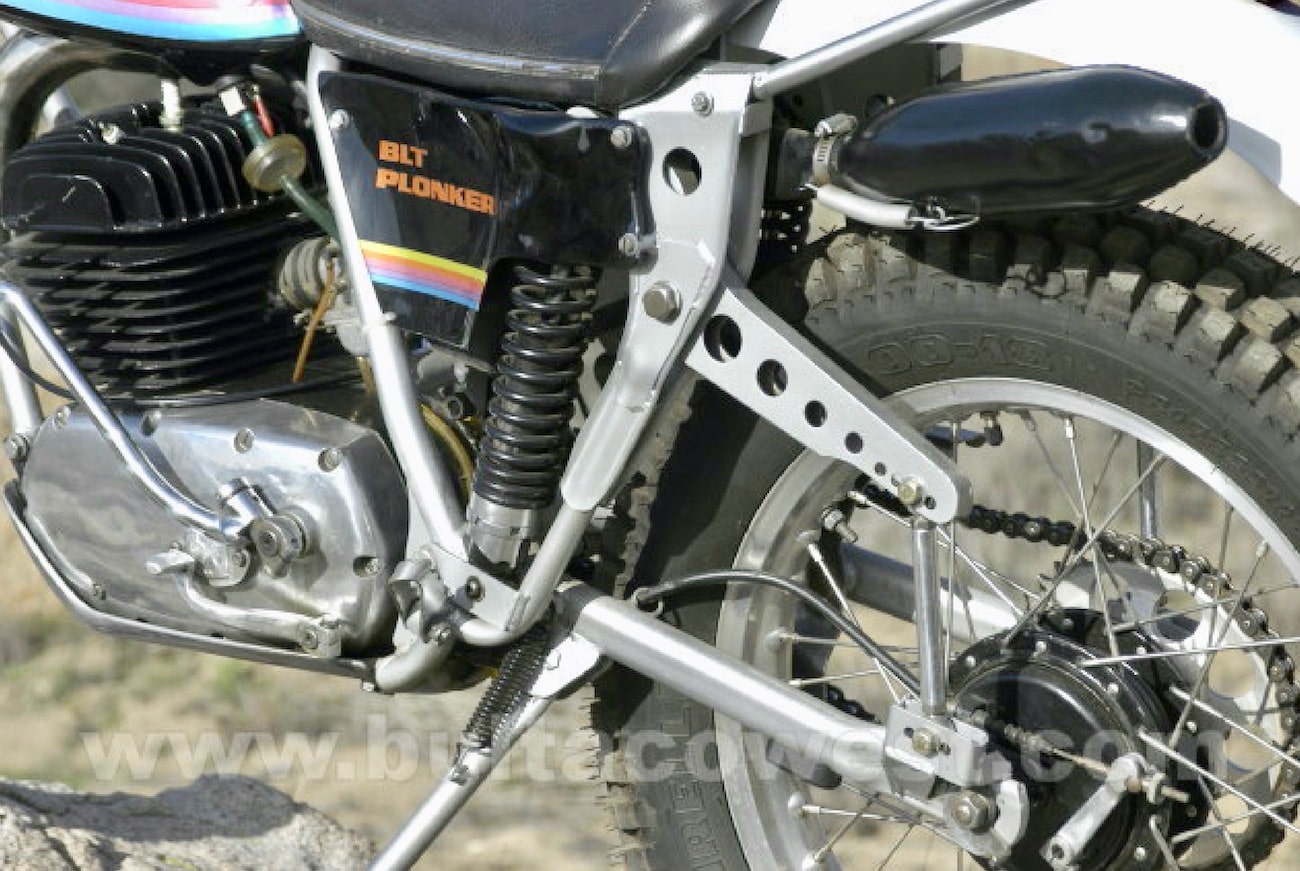 The BLT-equipped Ossa Plonker trials and trail bike.
Joe Bolger was inducted in the inducted into the AMA Hall of Fame in 2004.
BREAKING NEWS! GLEN HELEN RACEWAY IS NOW OPEN FOR PRACTICE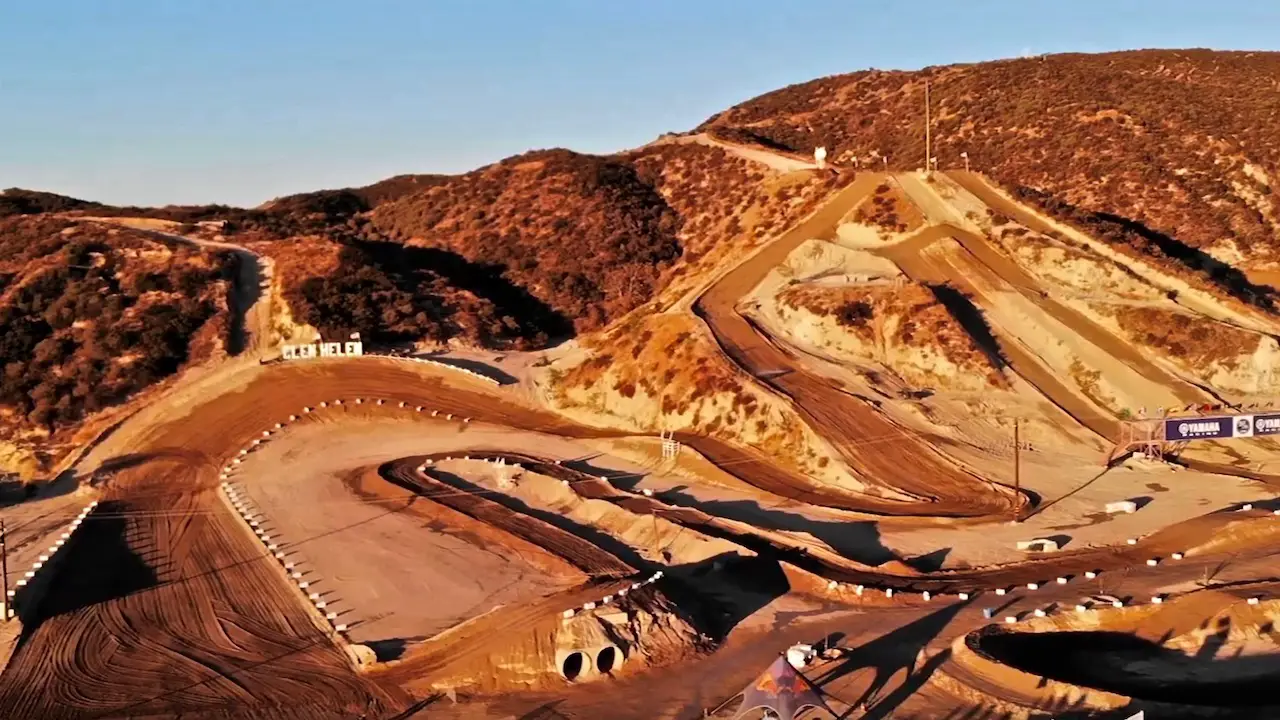 Who wants to ride without having to drive out into the desert or sneak into a vacant lot ?
From Glen Helen: "We received the best phone call today! The San Bernardino County Regional Parks Department reached out to us and told us we can open for practice. We couldn't be more excited to share the news with you as I'm sure you can't wait to get back on your bike and ride. We will also be giving away the "I've Already Got My Mask" stickers to everyone through the gate (while supplies last).
WE WILL ALSO BE OPENING WITH NEW PRACTICE DAYS AND TIMES:
Saturday: 8am to 4pm
Sunday: 9am to dusk
Tuesday: 8am to dusk
Thursday: 8am to dusk
Only 75 riders are allowed in the park at any time. Once somebody leaves, the next rider can come in.
GLEN HELEN RACEWAY's NEW SOCIAL DISTANCING REQUIREMENTS
(1) No spectators, photographers, and/or trainers allowed. Riders under 18 may have a single parent/guardian with them.
(2) All attendees must wear face protection during attendance when not wearing a helmet.
(3) No high-risk persons allowed (as determined by health department).
(4) Anyone experiencing COVID-19 symptoms is not allowed.
(5) Attendees must park vehicles at least 10 feet apart and maintain at least 6 feet between each other at all times inside the park.
(6) Maximum number of attendees is 75 at any given time.
(7) No events or group activities allowed.
(8) Bathrooms will be open and available to 1 person at a time. Both have hand wash stations. Bathrooms will be sanitized periodically to maintain cleanliness.
(9) All bleachers and seating areas are closed.
(10) Obey all of these guidelines if you want to keep riding areas and tracks open.
For more info go to www.glenhelen.com
MORE MXGP RACES IN TROUBLE: LET'S HOPE THEY GET IT DONE BEFORE IT SNOWS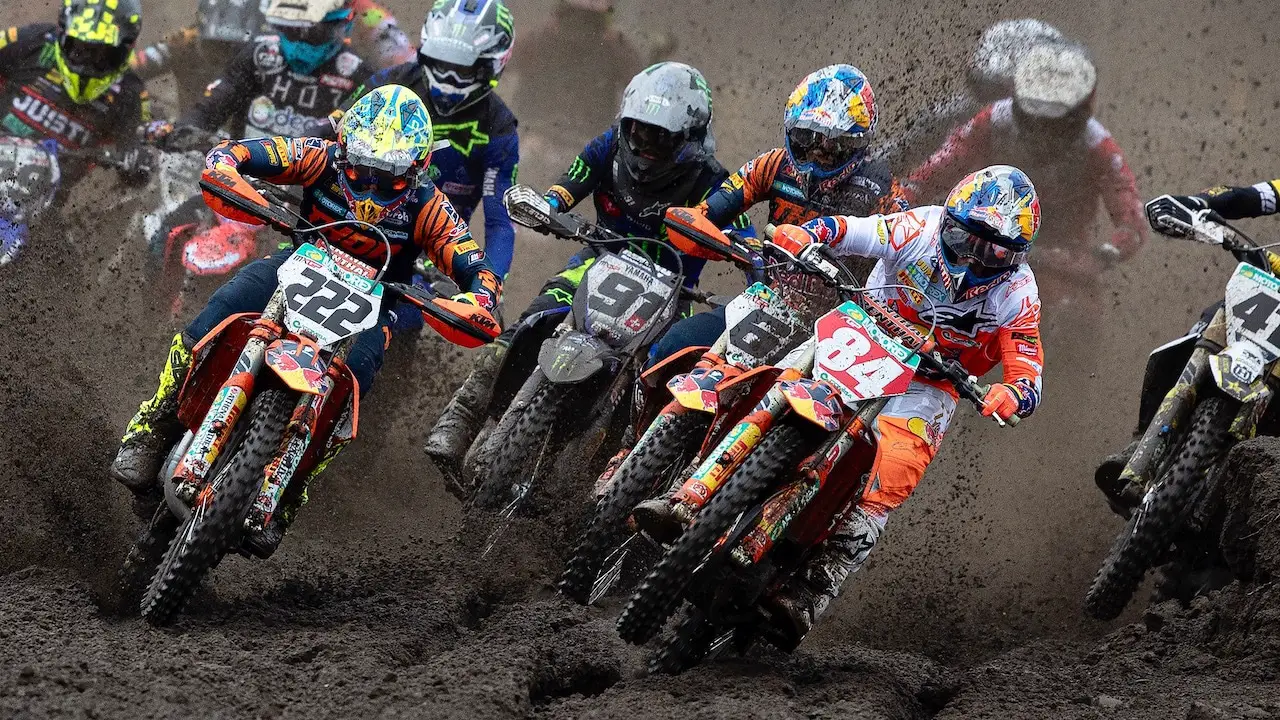 The Dutch Grand Prix back in March may have been a little muddy, but at least they got to hold it.

According to European news report, Germany and Belgium have banned any mass gatherings or sporting events until August 31, 2020, while Holland's Prime Minister, Mark Rutte, announced on Tuesday that no sport will take place in the Netherlands until September 1, 2020—at the soonest.
A casual glance at the "many times" revised FIM World Motocross Championship schedule reveals that the German MXGP is on August 9 and Belgian GP is on August 2 and unless the governments change their policies, both of these races will have to be canceled or rescheduled. As for Holland, they held their home Grand Prix back on March 8, 2020—and were one of only two countries to get their GPs in before the coronavirus ban. But, in what is big news to Dutch motocross fans, the fabulous Zwarte Cross race (July 16-July 19) does fall inside the banned dates.
Currently as many as 9 Grands Prix have been moved until after the Motocross des Nations, which has traditionally been the final motocross race of the GP season. Those fall race are  Italy; Spain;  Portgual;  Indonesia #1; Indonesia #2; Argentina; France; Belgium; Germany. If 2020 MXGPseason  is quickly becoming a Fall/Winter series that could stretch into December.
THE LATEST 2020 WORLD MOTOCROSS CHAMPIONSHIP SCHEDULE
Mar. 1…Matterley, Great Britain (Held)
Mar. 8…Valkenswaard, Holland (Held)
July 5…Russia, Orlyonok,
July 12…Kegums, Latvia
July 19…Maggiora, Italy
July 26…Loket, Czech Republic
Aug. 16…Uddevalla, Sweden
Aug. 23…KymiRing, Finland
Sept. 6.…Afyonkarahisar, Turkey
Sept. 13…Shanghai, China
Sept. 20…Imola, Italy
Oct. 4…Trentino, Italy
Oct. 11..Arroyomolinos, Spain
Oct. 18…Agueda, Portgual
Nov. 1…Jakarta, Indonesia
Nov. 8…TBA, Indonesia
Nov. 22…Neuquen, Argentina
TBA…St. Jean d'Angely, France
TBA…Lommel, Belgium
TBA…Teutschenthal, Germany
THE RAW SOUND OF MXA'S 2003 KAWASAKI KX125 PROJECT BIKES
SELVARAJ NARAYANA AWARDED THE AMA "DUD PERKINS LIFETIME ACHIEVEMENT AWARD"
Roger DeCoster has known Selvaraj since the days when Sel worked for the Maico factory in Germany.
The American Motorcyclist Association Board of Directors has selected Selvaraj Narayana for its highest 2020 national award. The Dud Perkins Lifetime Achievement award recognize outstanding contributions in the world of motorcycling. Selvaraj Narayana is the Executive Director of KTM North America. According to the AMA, Selvaraj's "involvement in motorcycle competition began five decades ago, and his successful career at KTM has included leadership roles in virtually every aspect of the company's international business: parts and accessories, apparel, dealer development, sales and service. Narayana also has served on the Motorcycle Industry Council Board of Directors and the Motorcycle Safety Foundation Board of Trustees. He received the MIC Chairman's Award 2008 and the Mickey Thompson Award of Excellence in 2009.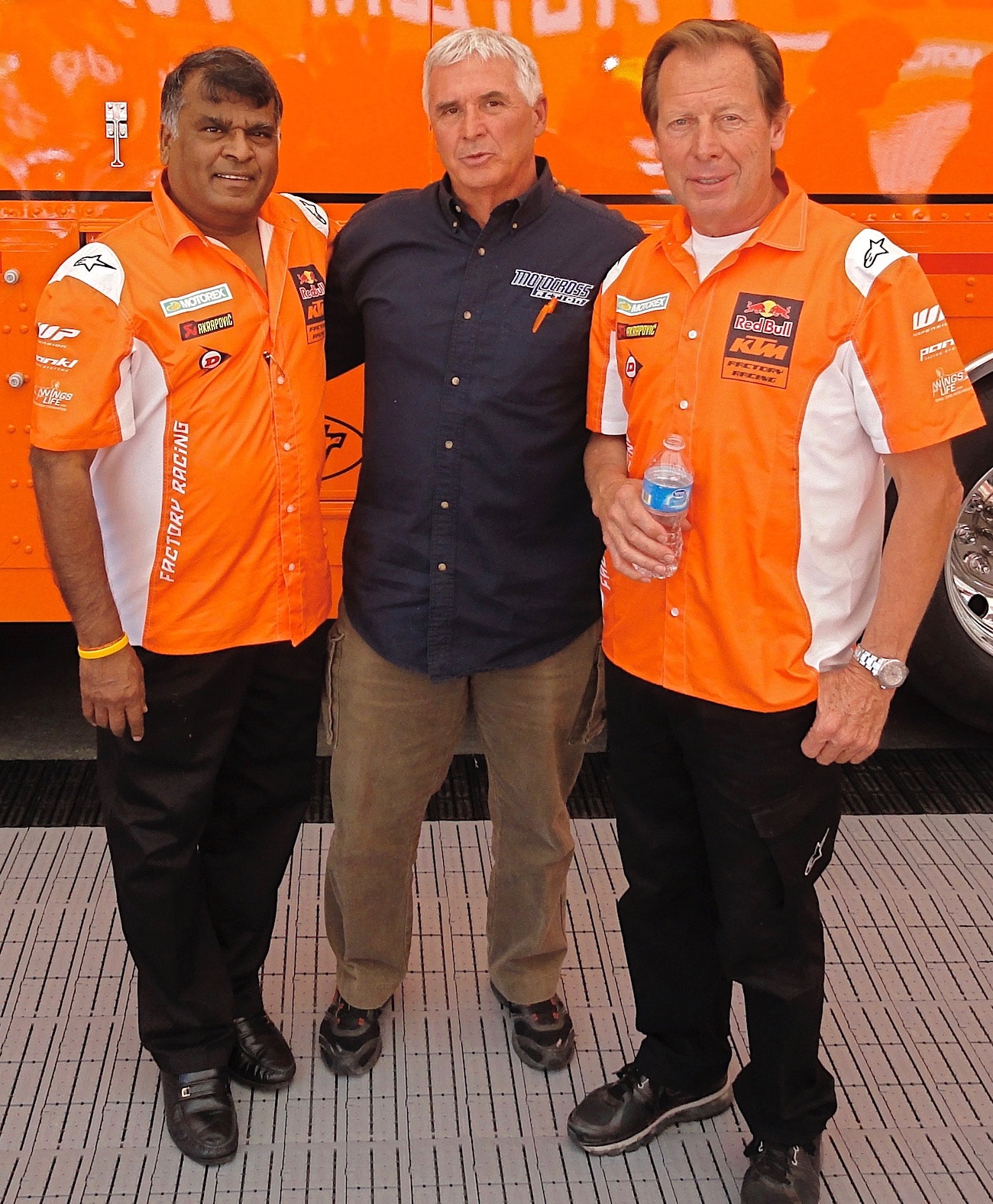 There aren't very many meetings of three guys from Good Old Days who are still working in the industry—old friends Selvaraj Narayana, Jody Weisel and Roger DeCoster have beat the odds.
"It is a great honor to receive such a prestigious award," said Selvaraj Narayana, best known in the industry as Sel, "This means lot to me. I joined the AMA in 1969. It was my longtime dream to be involved in the motorcycle industry. My dream came true, and it's been my goal to serve the industry with passion. "Thanks to the AMA for creating such a great organization. I am proud to be a Lifetime Member."
BORED AT HOME? TRY FREE ACCESS TO MXA DIGITAL EDITIONS FOR FREE, FREE FREE, FREE FREE FREE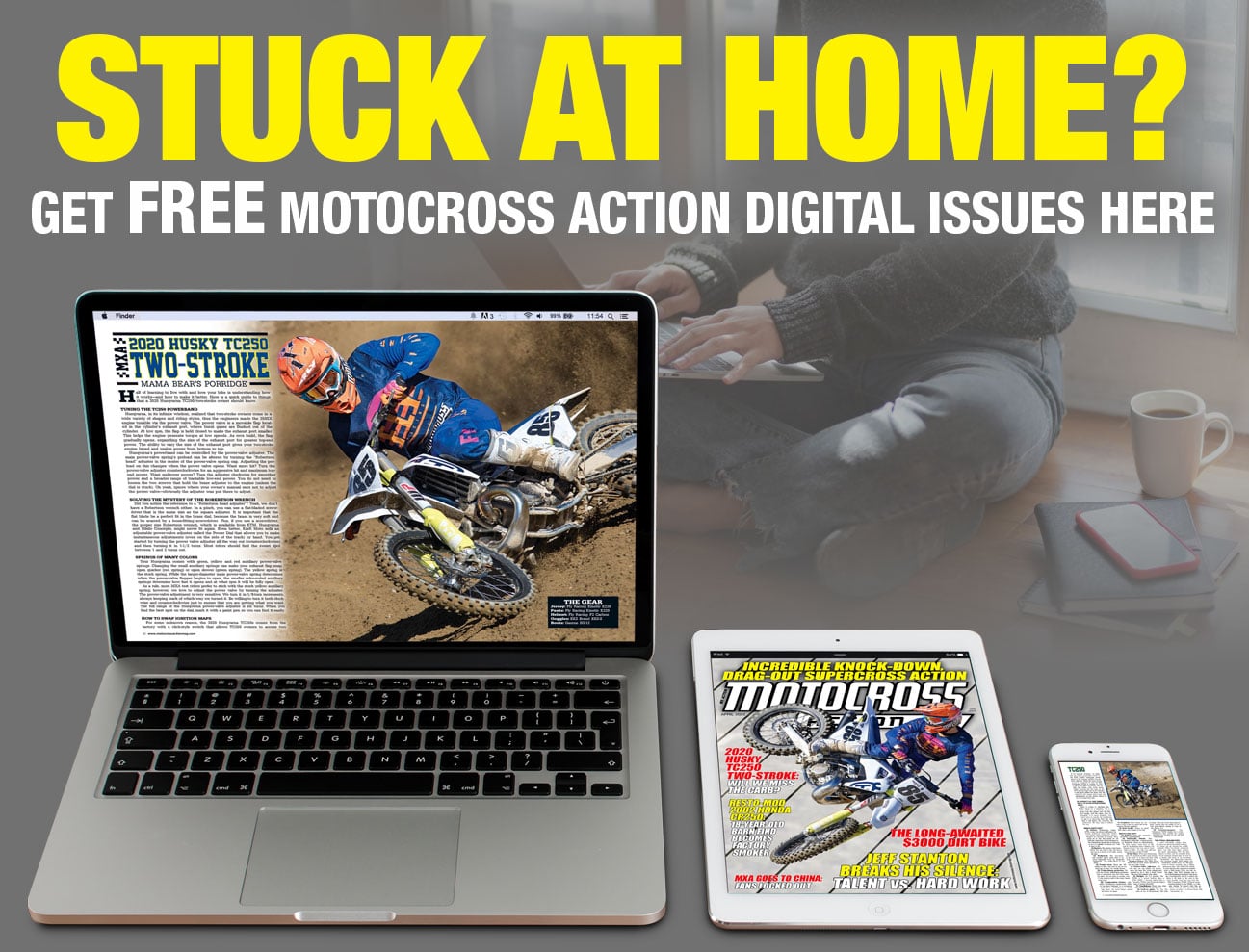 Click here or on the above photo to get your free digital issues.
MXA PRODUCT SPOTLIGHT: WORKS CONNECTION RACING ACCESSORIES
WORKS CONNECTION UMBRELLA
Protecting yourself from UV rays or rain is as simple as pushing a button with the Works Connection Umbrella and its 'One Touch' auto opening design. It features an 8-rib nylon canopy, durable fiberglass 'carbon-like weave' shaft, One-Touch automatic open, 52-inch arch, Protective travel/storage sleeve and foam grip handle. There are four large 24" x 6" Works Connection logos adorn the black and red panels with Works Connection logos circling the perimeter  The retail price is $29.95 www.worksconnection.com or (530) 642-9488.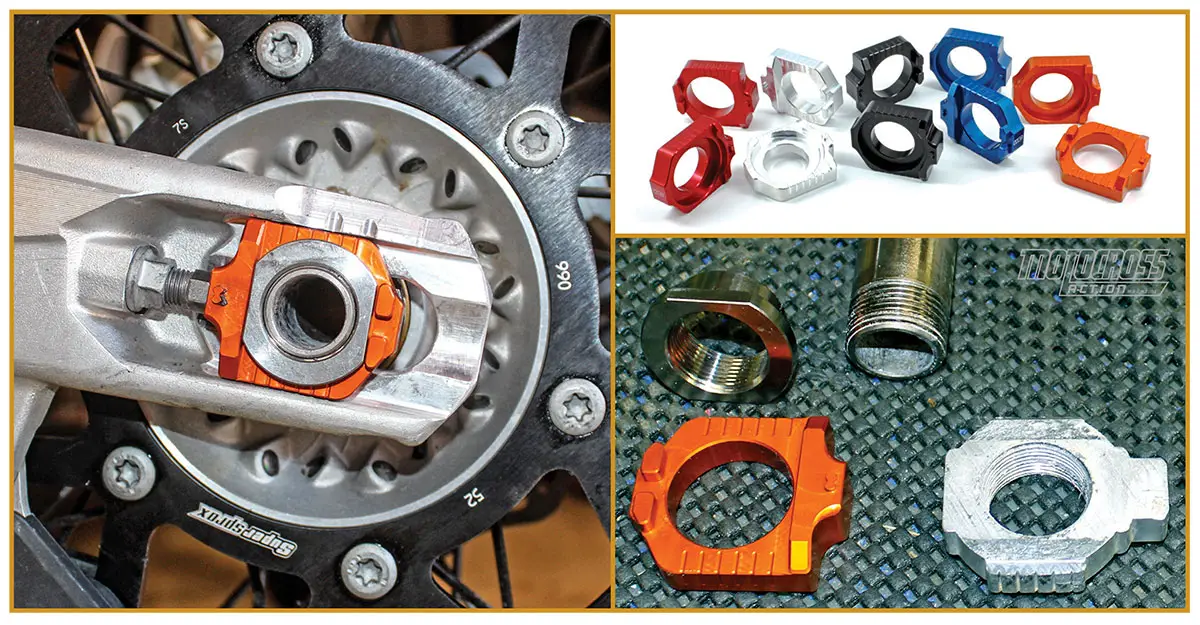 WORKS CONNECTION KTM/HUSKY ELITE AXLE BLOCK KIT

KTM's right-side axle block is threaded onto the rear axle. Japanese-built bikes have a flange on one end of the axle and a threaded nut face on the other end. The KTM system makes the threaded-on axle block serve as both an axle block and an axle nut. This may have seemed like a good idea at the factory, but it has some limitations. The KTM factory team did not think it was a good idea to bond the axle block to the rear axle. The solidly linked axle/axle block combo didn't allow the axle to move freely under a load, and it locked the axle and swingarm together into an overly rigid single unit. Thus, the KTM factory bikes use a Japanese-style rear axle and specially machined aluminum axle block. Works Connection has made a kit that allows local racers to do the same thing while using the stock axle.  Retail price is $89.95 at www.worksconnection.com  or (530) 642-9488.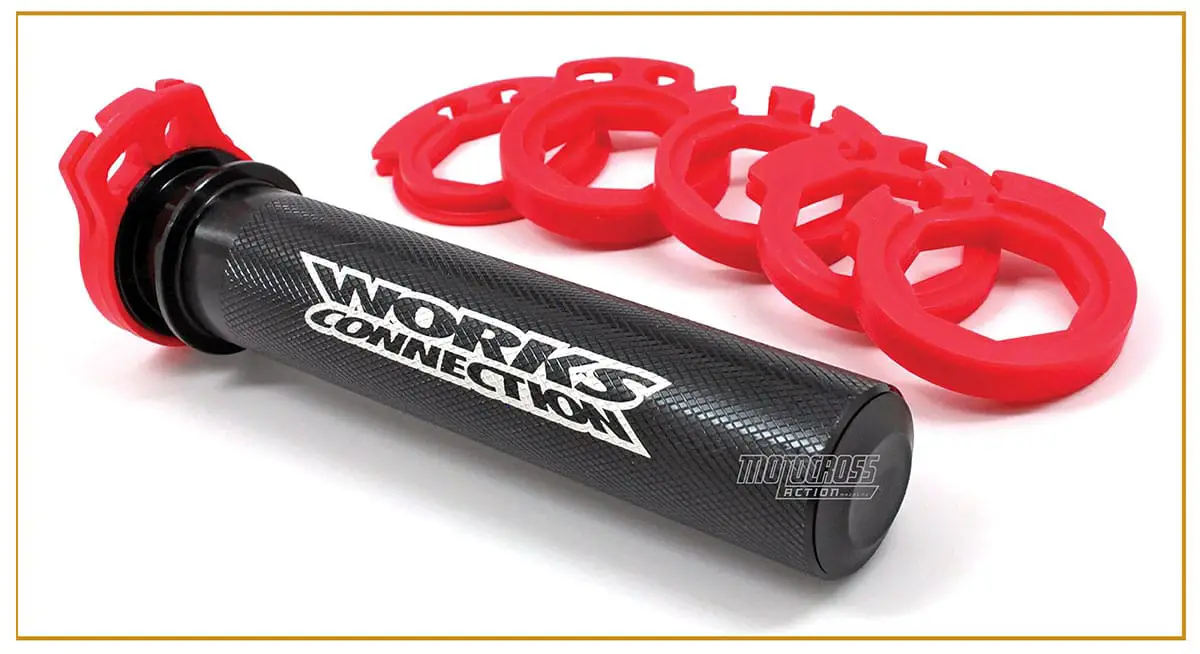 WORKS CONNECTION ELITE THROTTLE TUBE
Works Connection combined the best ideas about throttle tube design into one package. First, there is nothing unique about a CNC-machined 6061-T6 aluminum throttle tube. Every factory bike or high-end project bike uses an aluminum tube for durability. Second, the is trend to use multiple snap-on cams to fit different machines. Third, the Elite throttle tube has a ball bearing mounted internally to lessen drag. Hallelujah! It is smoother, turns easier, especially at small incremental movements, snaps back with authority and works with all brands of grips. Retail price is $69.95 at www.worksconnection.com or (530) 642-9488.
WORKS CONNECTION NO AIR LOSS ADAPTOR
Works Connection's No Air Loss Adaptor ensures the air pressure you set in your air forks is the air pressure you get. When you set the air pressure on your air forks, there is always the possibility of losing air when you disconnect the pump. This is especially disastrous on high-pressure air forks because even a small burp of air from the Schrader valve translates into a lot of air. Works Connection's No Air Loss Adaptor has a rubber seal inside that insures that the adaptor does not lose contact with the Schrader valve until its plunger is completely extended. That means that when you unscrew the No Air Loss Adaptor, the fork seals itself before the adaptor is completely removed. Additionally, the adaptor has a very small capacity so that its internal volume is restricted. Retail price is $29.95 at  www.worksconnection.com or (800) 349-1475.
WORKS CONNECTION KTM 450SXF/HUSQVARNA FC450 TITAN SKID PLATE
Here to ward off impacts and help prevent damage to your '19-'20 KTM 450SX-F / XC-F or '19-'20 Husqvarna FC450 is the Works Connection Titan Skid Plate. Injection-molded using strong and durable Bronzed Titanium plastic with a design that incorporates protection for the frame rails, engine cases and full-length center case. Engineered with a reliable mounting system that includes use of the stock mount points on the frame for quick, easy installation and removal.  Retail price is $89.95 at  www.worksconnection.com  or (800) 349-1475.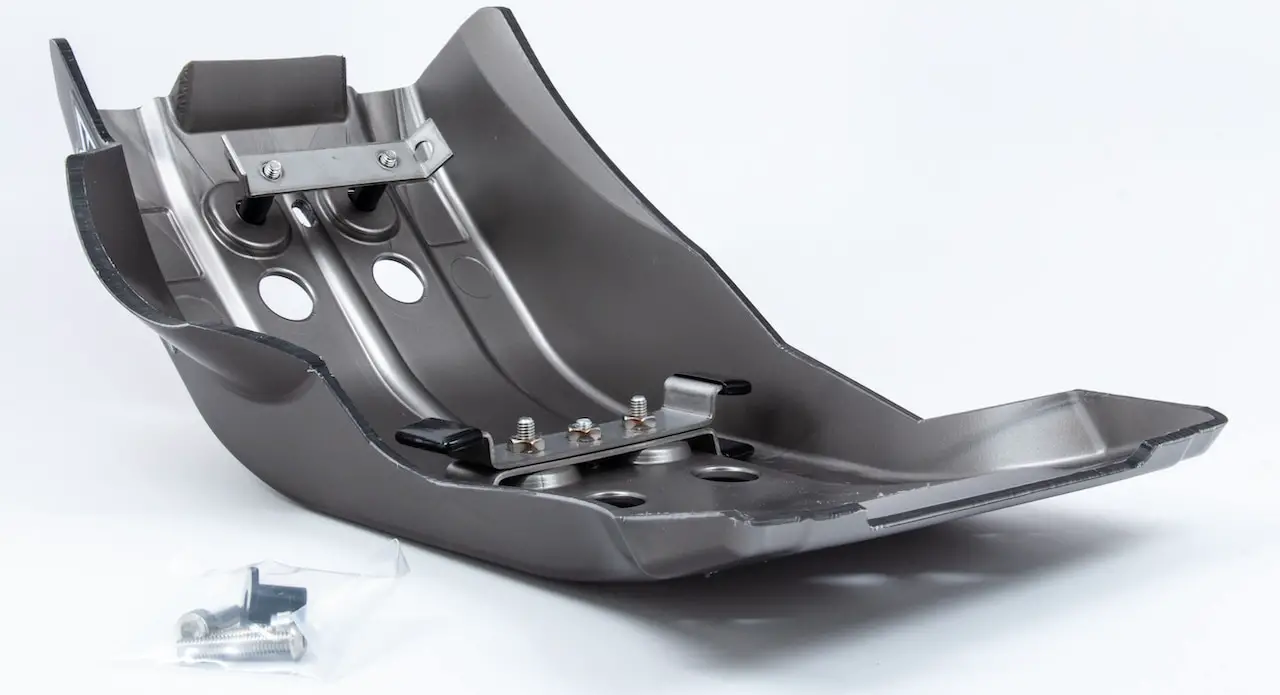 HAVE YOU SEEN THE MAY 2020 ISSUE OF MXA? IT'S BIG, IT'S BOLD, IT'S COLORFUL AND IT'S 16 INCHES WIDE

Aren't you tired of looking at awesome motocross photography on the tiny little screen of an iPhone, while holding it at odd angles to figure out what you're looking at.  Get the real deal and see those giant spread photos at 11-inches by 16-inches and live a little.
If you subscribe to MXA you can get the mag on your iPhone, iPad, Kindle or Android by going to the Apple Store, Amazon or Google Play or in a digital version. Even better you can subscribe to Motocross Action and get the awesome print edition delivered to your house by a uniformed employee of the U.S. Government. You can call (800) 767-0345 or Click Here (or on the box at the bottom of this page) to subscribe.
THE BIKE TESTS INSIDE THE MAY 2020 ISSUE OF MXA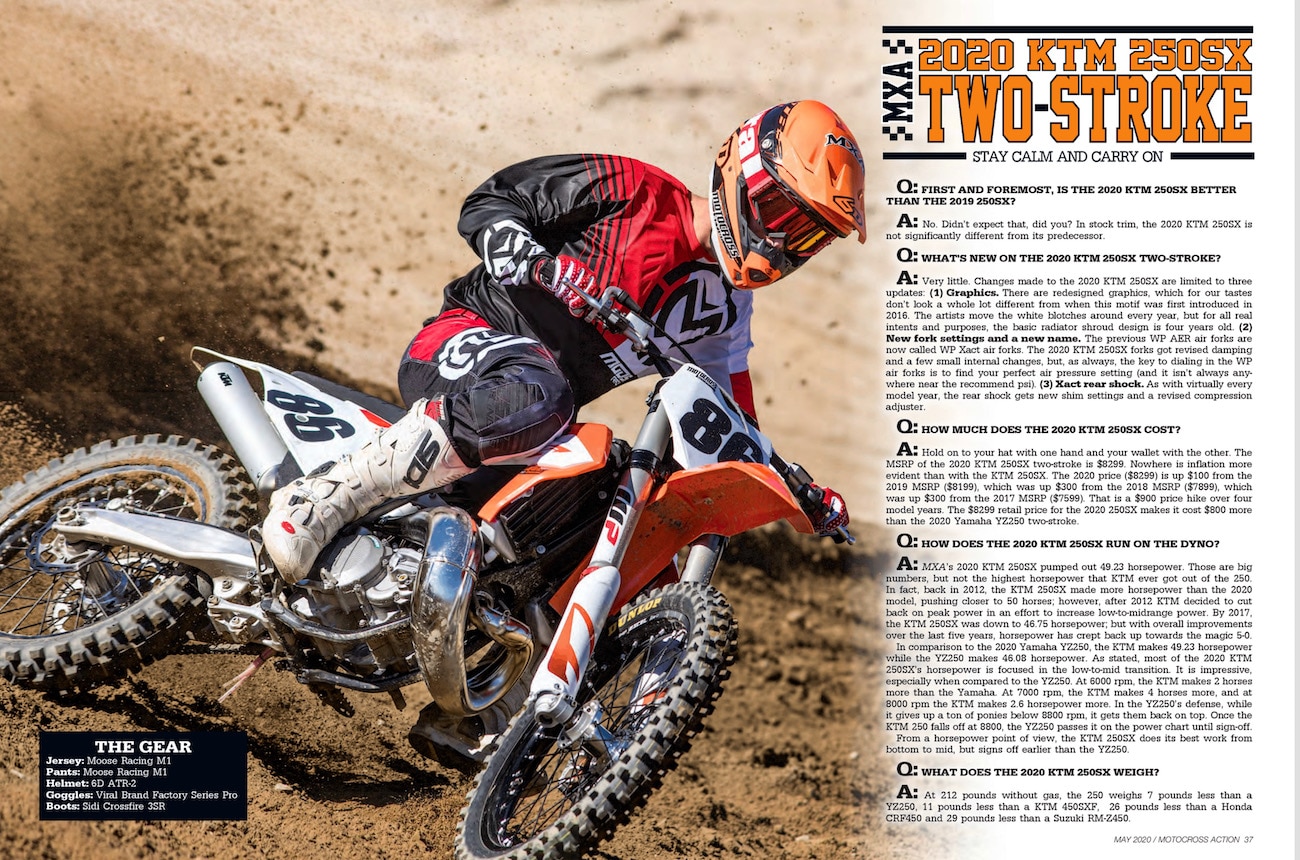 Looking for a new 250cc two-stroke? Can't decide between a KTM, Yamaha  or Husky. Let us break the tie for you with a detailed and informative test of the 2020 KTM 250SX. We answer questions you never thought of asking.
MXA's Daryl Ecklund and Josh Mosiman got lessons from two FIM World Sidecar Championship racers before even attempting the stupid things they eventually did. The $20,00 WSP-framed TM 600cc four-stroke-powered Grand Prix sidecar was a thrill ride.
In the March 2020 issue of MXA we got our hands on Cooper Webb's KTM 300SX two-stroke. We liked it so much that we suggested that perhaps KTM should give it to us. They laughed. But, we got the last laugh because we built a do-it-yourself replica using readily available parts. Believe it or not, it was as good a bike as Coops.
MXA takes you back to when Cole Seely was racing Honda CRF250's for the TLD team. This is the actual test of his 2011 race bike.
You may remember Carson Brown from the glory days of pit bike racing. Now, Carson is all grown up and racing the AMA circuit. We took his JMC Husqvarna FC250 to a Supercross track and put it through its paces. See the video below.
And you didn't think we were going to let Carson get away without riding his 190cc Daytona-powered, hand-built, aluminum-framed, BBR pit bike. Carson believes that pit bike racing can make a comeback and you'll believe it once you see what this bike is all about.
MXA VIDEO: WE RIDE CARSON BROWN'S JMC HUSQVARNA FC250

VP RACING FUELS INTRODUCES HAND SANITIZER FOR THE MOTORCYCLE INDUSTRY
VP Racing Fuels, Inc., a global leader in performance fuels, lubricants, and additives, today announced the launch of VP Hand Sanitizer to support the needs of commercial businesses, retailers, and race tracks. "In response to the COVID-19 crisis and requests from customers, we've expanded our product lines to include a top-quality 80% alcohol antiseptic product," said Alan Cerwick, VP's President and CEO. "This step is part of VP's commitment to helping our customers and channel partners protect their employees and the general public."
VP Racing Fuels has a reputation for quality and performance, and VP Hand Sanitizer was developed and packaged to satisfy the immediate needs of retailers, industry, racers, race enthusiasts, and general consumers. VP Hand Sanitizer is available in a variety of container sizes, including 32-ounce, 1-gallon, and 5-gallon packaging, as well as 54-gallon drums and 325-gallon totes. For more information contact VP at (844) 331-6478 or [email protected]
BIKES YOU'VE NEVER SEEN BEFORE: FUEL-INJECTED MOTO VILLA FV125 TWO-STROKE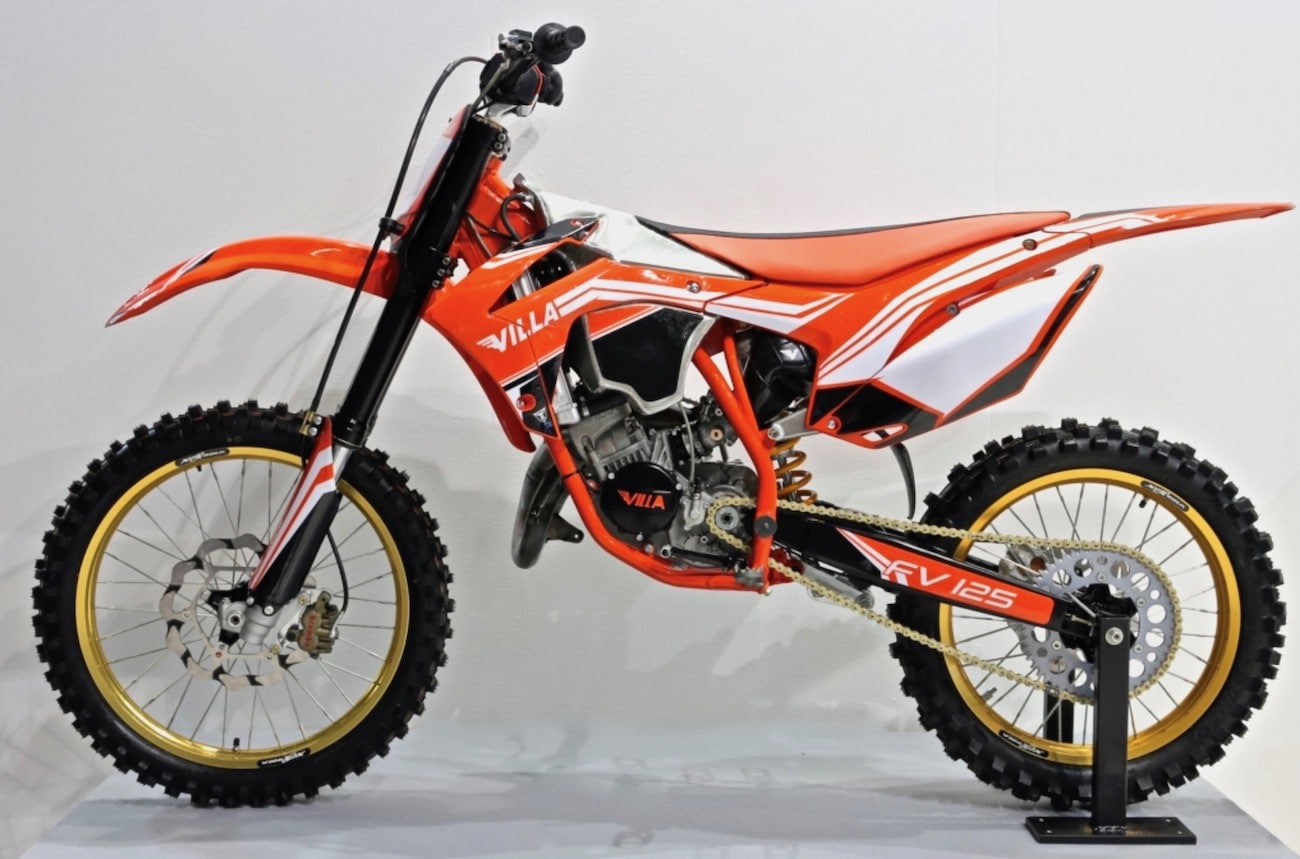 Originally shown at the Milan Show back in 2018, the Moto Villa 125FV is being resurrected in honor of Francesco Villa (FV) who passed away two months ago.

The "FV" in the Moto Villa FV125 name stands for Francesco Villa, a famous Italian builder with a long track record of accomplishments at Ducati , Montesa and when he and his World Road Racing brother Walter decided to build their own motorcycles. The two brothers were Italian icons of racing and Moto Villa would like to produce the FV125 in their honor.
Walter died at the age of 58 of a heart attack in 2002. Francesco kept the family's racing heritage alive with a series of special race bikes, but in 2012 sold Moto Villa to the Bivio family. In 2019 Francesco opened a permanent museum dedicated to the history of Moto Villa. However,  in February of 2020 Francesco Villa passed away at the age of 87.
If you look at the throttle body, you will see the EFI nozzle's T-fitting angled towards the cylinder. Note that there are no fuel lines on the injector.

The FV125 was introduced at the Milan Show in 2018 and it was reported that it would see limited production by May of 2020. It would be great if it was, but that isn't the track record of one-off Italian prototypes. It's been sitting the Moto Villa race shop since it's debut at the Milan show in 2018, but maybe, just maybe…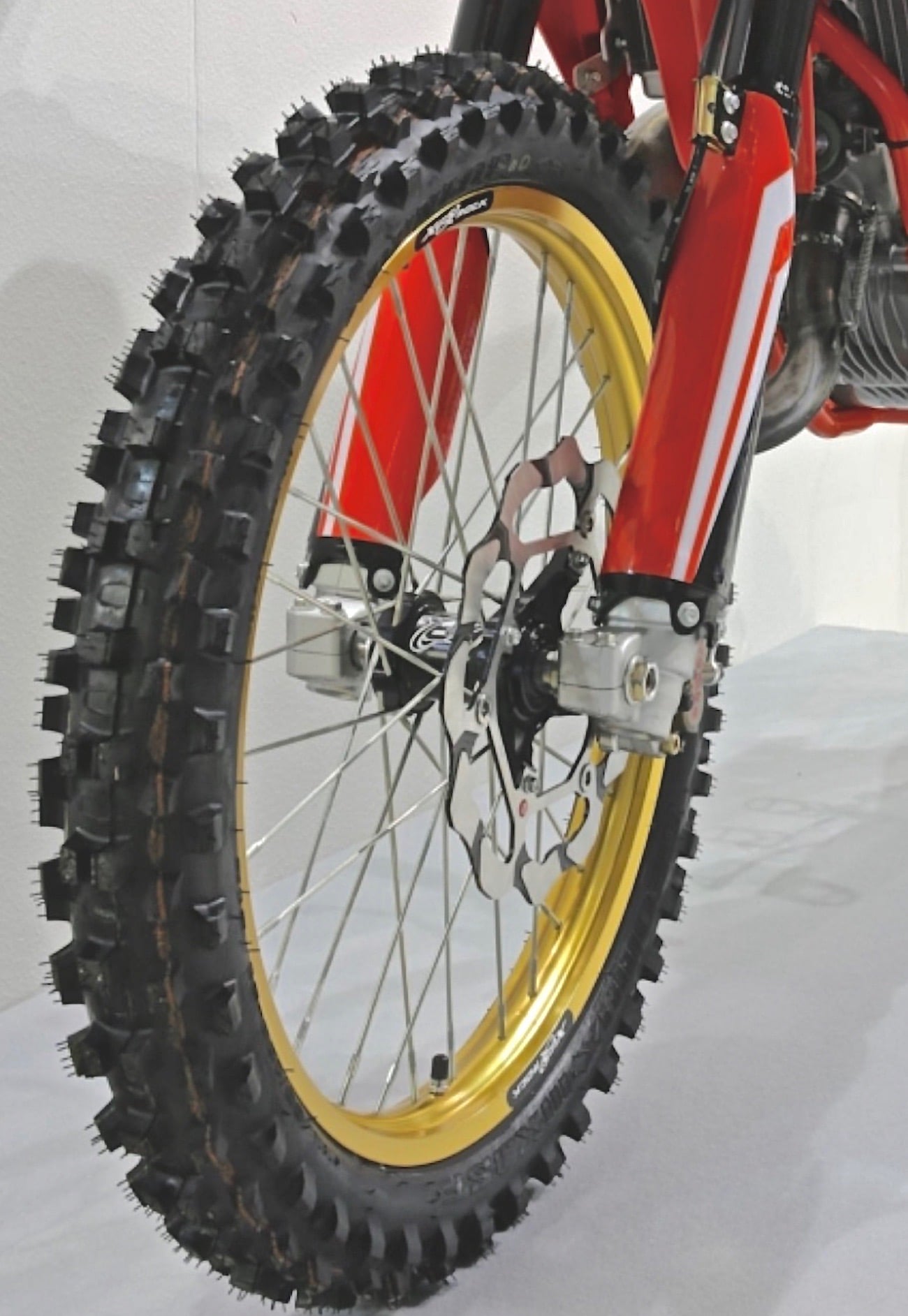 The wheels on the  FV125 are from X2R Rock wheels. Note the there are no spoke nipples on the wheels.
The components include a 48m Kayaba fork with a 300mm stroke, an Ohlins TTX Flow shock absorber, 270mm and 240mm Braking Wave rotors, Brembo calipers, X2R Rock racing wheels, nipple-less spokes, 28mm  handlebar, Brembo hydraulic master cylinders and the Domino grips.
This 1983 Moto Villa 250MCA has a very works Honda look to it.
The 1984 Moto Villa 495MCA was piloted by Tony Elias. No, not the MotoGP and Moto America road racer Toni Elias, but his father Toni, Sr.
THE LATEST 2020 AMA NATIONAL SCHEDULE
Hangtown canceled their AMA National out of an abundance of caution over the coronavirus pandemic, but when the AMA schedule was restructured, Hangtown was not on the new 2020 AMA National  schedule—even though it seemed appropriate for the longest running AMA National to be given a new date.
The AMA 2020 AMA Nationals will no longer have any races in May of 2020. With Hangtown dropping completely out of the series and the schedule shuffled, the first AMA National is scheduled for Florida on June 13.
MXSports press release: "In response to the evolving health crisis surrounding the COVID-19 coronavirus, MX Sports Pro Racing has officially announced an amended event schedule for the 2020 season of the Lucas Oil Pro Motocross Championship, sanctioned by AMA Pro Racing. Under this revised championship calendar, the 49th season of the world's most prestigious off-road motorcycle racing series will commence on Saturday, June 13, beginning with the Florida National from Jacksonville's WW Ranch Motocross Park."
However, the June 13 date is in some jeopardy as even MX Sports has said that it could be moved if need be.
REVISED 2020 AMA NATIONAL CHAMPIONSHIP
May 16…Hangtown, CA (Canceled)
June 13…Jacksonville, FL (Rescheduled from June 6)
June 20…Mt. Morris, PA
June 27…Southwick, MA
July…Red Bud, MI
July 11….Thunder Valley, CO (Rescheduled from May 30)
July 18…Millville, MN
July 25….Washougal, WA
Aug. 15…Unadilla, NY
Aug. 22…Budds Creek, MD
Aug. 29…Crawfordsville, IN
Sept. 5…Pala, CA ( Rescheduled from May 23)
MXA PHOTO OF THE WEEK: FACE MASKS ARE MANDATORY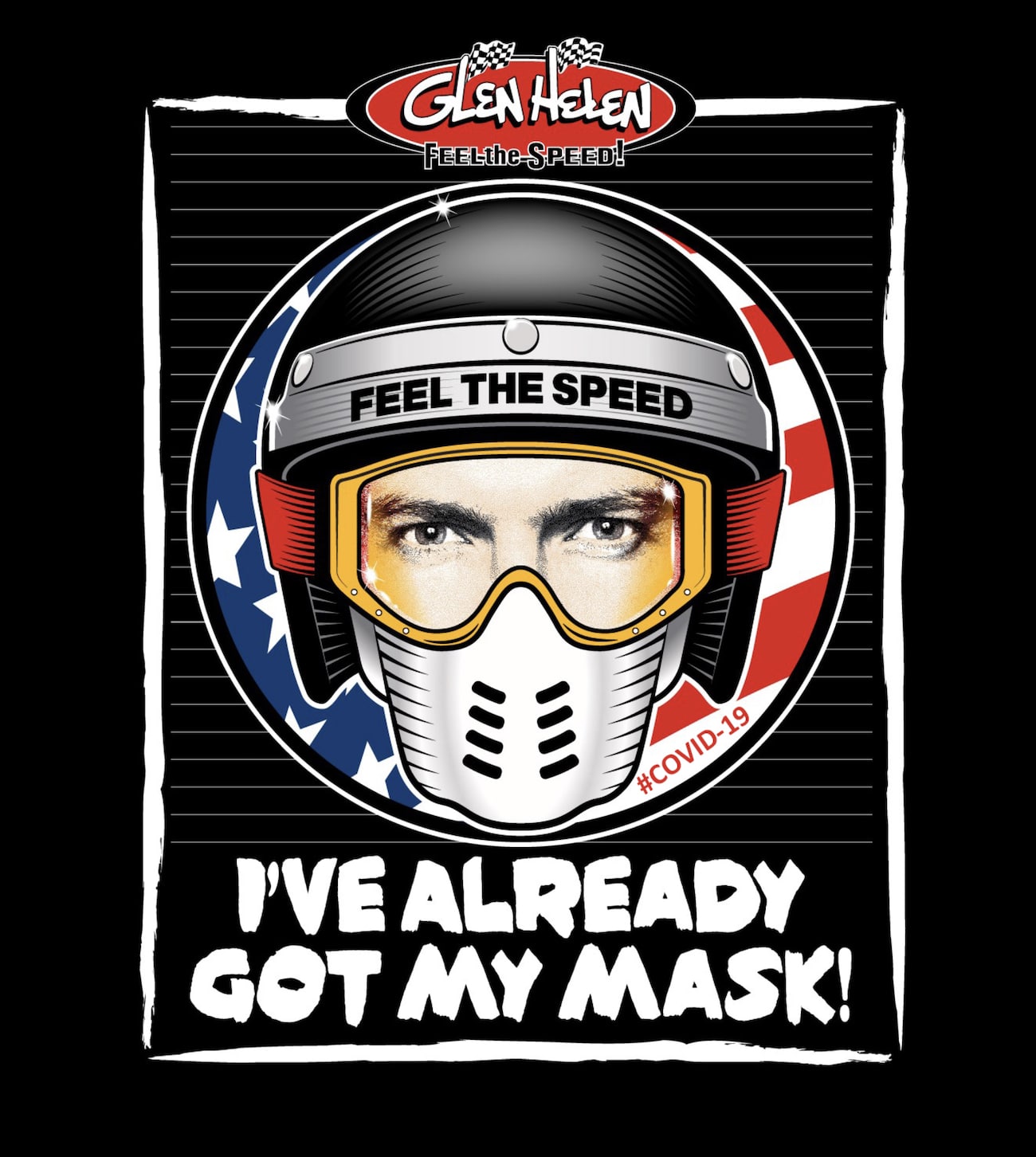 THE NOW DEFUNCT 2020 AMA SUPERCROSS SCHEDULE
The first 10 races of the 2020 AMA Supercross series will count, but the following seven were canceled. The Supercross promoters have a tentative plan to complete the missing 7 races at one stadium over a three-week period.

REVISED 2020 AMA SUPERCROSS CHAMPIONSHIP
Jan. 4…Anaheim, CA (Held)
Jan. 11…St. Louis, MO (Held)
Jan. 18 …Anaheim, CA (Held)
Jan. 25…Glendale, AZ (Held)
Feb. 1…Oakland, CA (Held)
Feb. 8…San Diego, CA (Held)
Feb. 15…Tampa, FL (Held)
Feb. 22… Arlington, TX (Held)
Feb. 29… Atlanta, GA (Held)
Mar. 7…Daytona Beach, FL (Held)
Mar. 14…Indianapolis, IN (Canceled)
Mar. 21…Detroit, MI (Canceled)
Mar. 28…Seattle, WA (Canceled)
Apr. 4…Denver, CO (Canceled)
Apr. 18…Foxborough, MA (Canceled)
Apr. 25…Las Vegas, NV (Canceled)
May 2…Salt Lake City, UT (Canceled)
EVERY 2020 AMA SUPERCROSS WINNER AT A GLANCE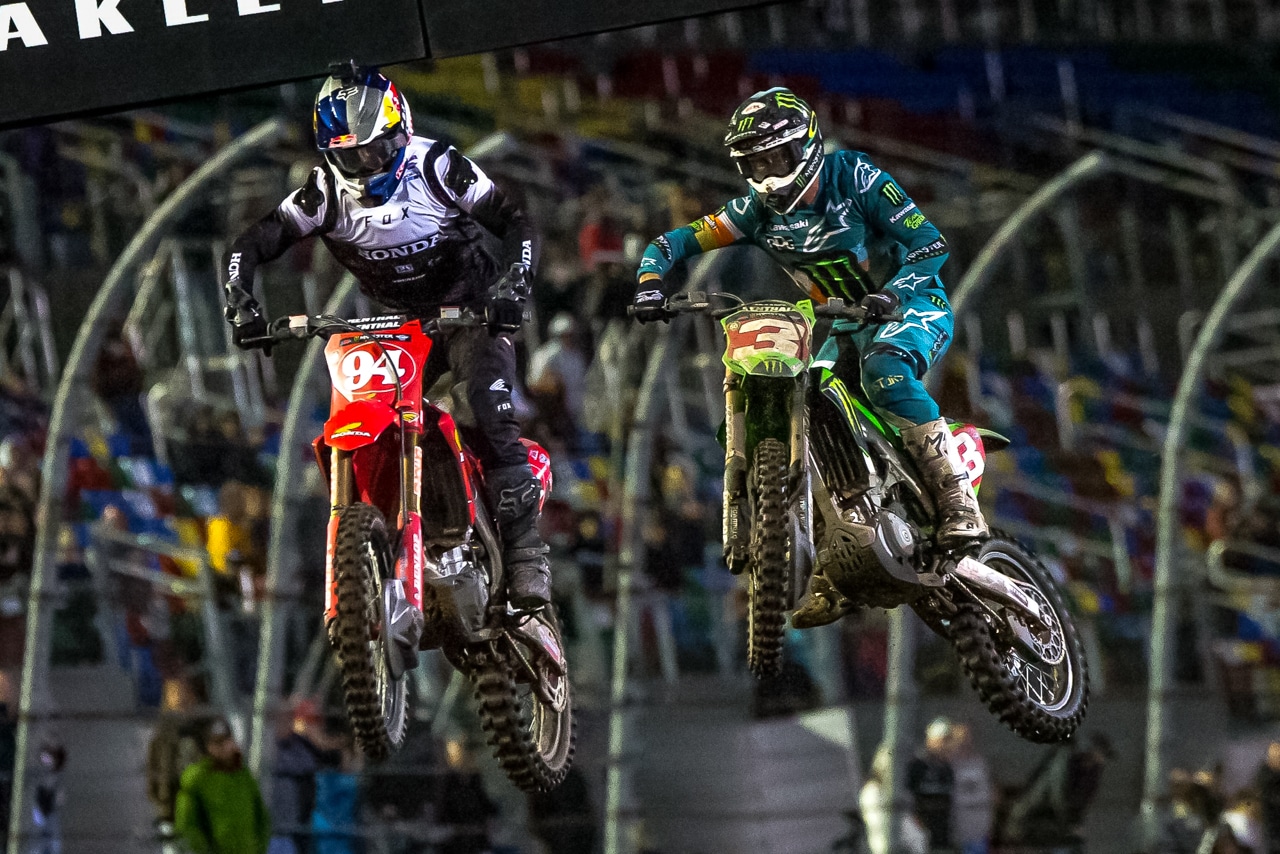 If they actually get back to holding events after the AMA Nationals, which most likely will be scheduled for September and October, it will be a Tomac (3) versus Roczen (94) showdown.
Venue                                        450                                    250
1. Anaheim 1………….Justin Barcia………..Justin Cooper
2. St. Louis………………Ken Roczen…………..Austin Forkner
3. Anaheim 2………….Eli Tomac………………Dylan Ferrandis
4. Glendale…………….Ken Roczen…………..Austin Forkner
5. Oakland……………..Eli Tomac……………….Dylan Ferrandis
6. San Diego…………..Cooper Webb……….Dylan Ferrandis
7. Tampa…………………Eli Tomac……………….Shane McElrath
8. Arlington……………Eli Tomac……………….Chase Sexton
9. Atlanta………………Ken Roczen…………….Chase Sexton
10. Daytona………….Eli Tomac………………..Garrett Marchbanks
11. Indianapolis……Canceled
12. Detroit…………….Canceled
13. Seattle…………….Canceled
14. Denver…………….Canceled
15. Foxborough……Canceled
16. Las Vegas………..Canceled
17. Salt Lake City….Canceled
450 Points leader…Eli Tomac
250 West points leader…Dylan Ferrandis
250 East points leader…Chase Sexton
MXA PRODUCT SPOTLIGHT: PRO CIRCUIT HIGH-COMPRESSION PISTON KIT FOR THE 2020 CRF250
Pro Circuit's goal is to offer customers the highest quality performance parts available and the 2020 CRF250 high-compression piston meets the requirements. Manufactured by JE Pistons to our exact specifications, Pro Circuit pistons are forged from high-quality aerospace aluminum alloy using advanced CNC-machined technologies. The result is a significant gain in low-end torque and high-RPM performance. Pro Circuit high-compression piston kits are designed for superior performance in either stock or modified engines and is a must-have engine component for the serious 2020 CRF250 racer. Piston comes with a coated wrist pin. The retail price is $425.00 at www.procircuit.com
CLASSIC MOTOCROSS ADS: 1967 MAICO 360 SCRAMBLER

Hold on to your hat because the 1967 Maico 360 Scramble punched out 32 horsepower at a 6000 rpm peak.
MXA PRODUCT SPOTLIGHT: MOTION PRO GASKET SCRAPER

When performing engine maintenance, replacing gaskets is required. Aged gasket material or adhesives can be stubborn and hard to remove without potential damage to the mating engine component surfaces. The Gasket Scraper is equipped to handle this task with ease, the ergonomic billet aluminum handle paired with precision slant cut blades provides users a comfortable approach for removing gasket material.  The included brass blade helps eliminate gouging or cutting into precision engine surfaces. Brass is softer than aluminum, eliminating the concern of potential component damage. The Gasket scraper also includes a slant cut steel blade for tougher jobs and material, the steel blade is secured in the storage slot of the Gasket Scraper handle. To swap out the blades, grab a 2mm hex wrench and simply select the blade needed.The retail price is $29.99 at  www.motionpro.com or (650) 594-9600.
REVISED & UPDATED 2020 WORCS OFF-ROAD SCHEDULE


Although the WORCS Off-Road series completed their first two rounds back in January and February, the rest of their 2020 race schedule has been moved back and the dates and places altered. For example, the May 3rd Lake Havasu round has been moved to May 31st. The April 9th Blythe round moved to October 25th; The July 19th Prineville, Oregon, round has been canceled; The September 20th Glen Helen round stays the same (But it would be a doubleheader); The May 31st Mesquite, Nevada, round is now on October 10th; And, finally the November 15th Primm, Nevada, round was been moved back to December 6th.
Obviously, many of these dates are subject to change based on local and federal health mandates. For more information go to www.worcsracing.com
REVISED 2020 WORCS OFF-ROAD CHAMPIONSHIP
Jan. 26…Primm, NV (Held)
Feb. 23…Taft, CA (Held)
May 31…Mesquite, NV
June 14…Las Vegas, NV
Sept. 20…Glen Helen, CA
Sept. 27…Cahuilla Creek, CA
Oct. 25…Blythe, CA
Nov. 15 …Primm, NV
Dec. 6…Havasu, AZ