MXA WEEKEND NEWS ROUND-UP: CHANGING OF THE GUARD
Click on images to enlarge
• WHAT'S NEW ON THE EVE OF THE OUTDOOR SERIES

With Ryan Dungey out of the picture, Eli Tomac (3) is the undisputed favorite to win the 2017 AMA 450 National Championship.
Rocky Mountain KTM's Davi Millsaps will skip the 450 Nationals to have his wrists operated on. Davi hasn't raced the AMA Nationals since 2012.

Martin Davalos will move to the 450 class at Hangtown. Davalos has been a 250 rider for 12 years, but has limited 450 experience. This is his chance to shine on the Rockstar FC450.
Michael Mosiman will make his AMA Pro debut at Hangtown in the 250 class. He will be replacing Martin Davalos on the Rockstar Husqvarna team.
Christian Craig (48) will move from the Geico Honda 250 team to the Factory HRC Honda team as Ken Roczen's replacement for the AMA 450 Nationals. Few remember that Christian Craig started as a 450 rider and raced his first 450 National on a YZ450F in 2009. Christian has raced the 450 Nationals in 2009, 2011, 2102 and 2014—plus two Supercross races as in fill-in in 2017. His best 450 National finish was a 5th.

Chad Reed will not be racing the Nationals. His deal with Yamaha for 2017 was for Supercross-only. Will be be back at Team Yamaha in 2018? That's up in the air, but sources says they if they re-sign him it won't be for his results, but for his popularity with the fans.
What will Ryan Dungey be doing during the AMA Nationals. Fishing, relaxing, sleeping in, gaining weight and selling stuff at www.ryandungey.com.
• WHAT THE MXA WRECKING CREW IS UP TO THIS WEEKEND
The MXA wrecking crew had to split up this weekend. We had three distinctly cool things to do that took place thousands and hundreds of miles apart. Daryl Ecklund flew to Austria to ride the KTM 250 TPI fuel-injected bike at Erzberg. This is a photo of the cutaway KTM fuel-injected 250XC-W TPI engine.
MXA sent three Pro test riders to the Hangtown to race the 125 two-stroke Dream Race. All three — Dennis Stapleton (above), Justin Muscutt and Brian Medeiros — were accepted to the invitation-only 125 Dream race and all three qualified for the Glen Helen 250/Open Two-Stroke Challenge race by making the top 20 at the MTA World Two-Stroke Championship Pro class in April.
Jody Weisel (24) never wants to go anywhere to watch other people race — if it means that he can't race himself. So, he volunteered to stay at home to test forks (by racing with them at Glen Helen). Plus, he has lots of official duties revolving around the Glen Helen 250/450 National track before next week.
• MXA INTERVIEW: JEREMY ALBRECHT ON JGR & THE NATIONALS
Jeremy Albrecht.
THE AMA NATIONALS KICK OFF THIS WEEKEND AT HANGTOWN. WHAT'S THE STATUS ON EACH OF THE JGRMX SUZUKI TEAM RIDERS? Matt Bisceglia will be riding for the first time on Thursday. He's excited to get back started. Weston Peick has been riding for three weeks. He's feeling pretty good. Last week I saw him ride at Glen Helen in California, and he's doing better than expected. Weston obviously won't be 100% as far as fitness when the gate drops this weekend at Hangtown, but he's feeling up to the challenge. Kyle Cunningham is excited to have a deal for the Nationals. He'll be riding in the 250 class. Kyle did well in Supercross as a fill-in, and since Bisceglia isn't ready to be firing at the first round we'll have Cunningham on board for the full series. Justin Barcia is back home training at Millsaps Training Facility, and apparently he's been riding a bunch. I haven't seen him ride lately, but when he was up here in North Carolina a while ago he looked really impressive. Justin usually picks it up during the outdoor series, so I'm excited to see what he can do starting this weekend.
REPORTS ARE THAT WESTON PEICK HAS BEEN LOGGING THE MOST LAPS AT THE SoCAL PRACTICE TRACKS. THAT'S A GOOD SIGN. I was happy to see how well he was riding when I was out in California last week. The guy has only been on the bike for a short time after being sidelined for three months. It's nice knowing that Weston wants to race, even if he's not 100%. Matt Bisceglia wants to race, as well, but he's been out even longer than Peick has. Matt is coming back from two injuries. For Weston, he's dealing with blisters on his hands and things like that. Peick is actually a month ahead of schedule from what doctors first thought, so he's happy about that. I'm excited that he's going to be at the first round.

IS JUSTIN BARCIA FIRED UP TO SCORE TOP RESULTS? Justin is capable of winning races and being on the podium, but like any sport, it's very tough at this level. The mental game plays into it a lot. The Supercross season hasn't gone, the last few years, how any of us would have thought. There was definitely bad luck with some things going wrong, but that's part of racing. It's how you bounce back from the adversity that makes you stronger. Justin has bounced back from worse deals than this, so I feel like he can succeed. I noticed that every Supercross round where it was rutty and technical, like Seattle and Daytona, he rode his best. Watching him ride outdoors during our test session was impressive. So, yes, we're expecting Justin to be like he has been every other year, if not better. I'm excited to see the riders on the Suzuki race bikes. Everyone knows how well the bikes handle. Outdoors, where you really notice a difference in motorcycle performance, we should have the advantage.
Kyle Cunningham.
RECAP THE JGR SUZUKI TEAM FOR HANGTOWN. Right now it's Justin Barcia and Weston Peick in the 450 class, and Kyle Cunningham in the 250 class. Matt Bisceglia is shooting for High Point, so then we'll have two 450 guys and two 250 guys. The strange thing is that I haven't had four guys on the team for very long this season. Once Phil Nicoletti is ready to come back I'll have to figure something out, but the way our season has been going I'm taking things week by week.
HOW HAS THE RELATIONSHIP WITH SUZUKI BEEN? It's been remarkable. Suzuki has been incredibly helpful and supportive. The same can be said for Yoshimura. We put the team deal together late in the year, and a lot of people had to jump through hoops. They put in the extra work to make it happen, and I'm fortunate for their efforts. Even the guys on our team had to log the hard hours, because they were ready to go racing with what we had. Initially it was hard on everyone, but long term this is the right direction for us. We are happy with where things are headed. Obviously, we wish our results were better. Fortunately, Suzuki understands how the sport is. There are other teams that in some ways have had things worse off. That's how it goes. We've done the best job we could with fill-in guys.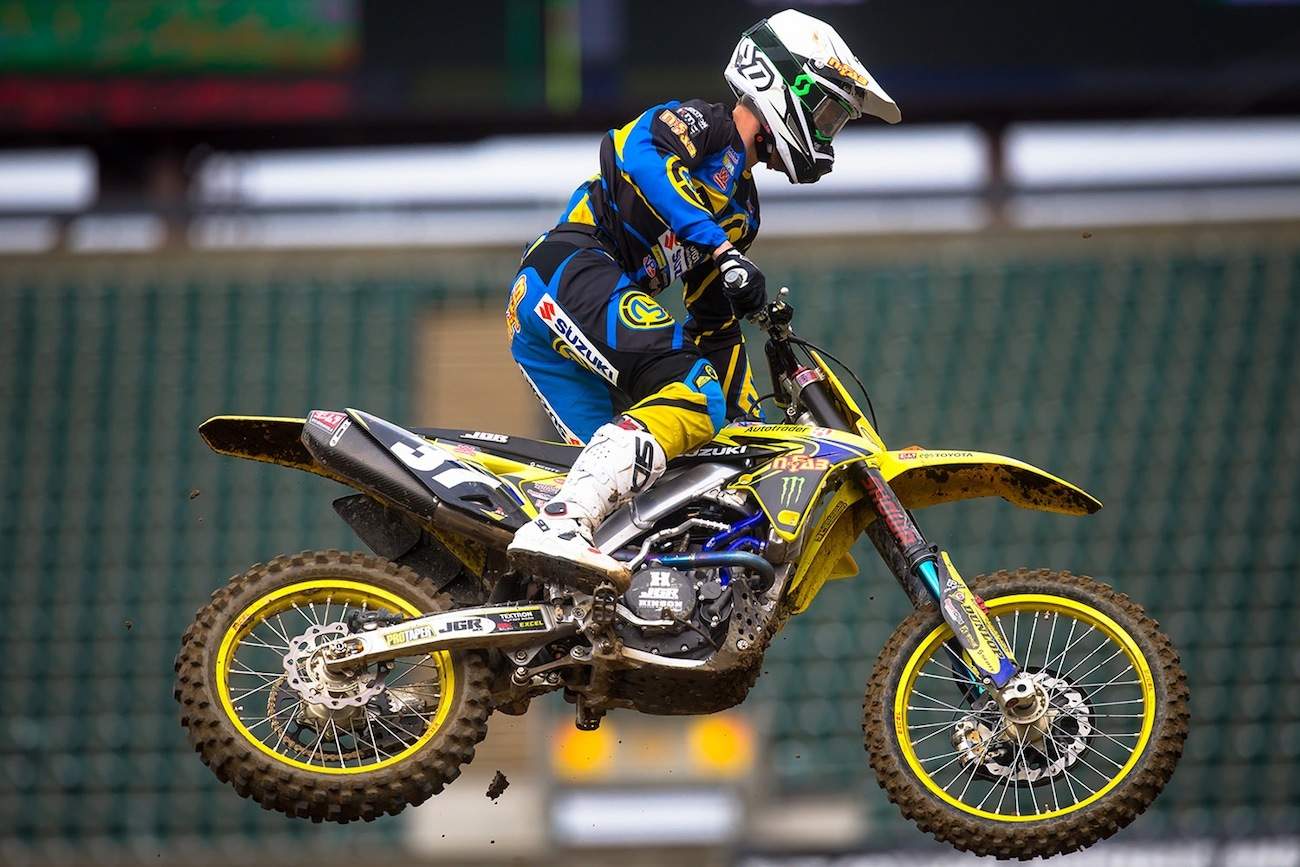 Phil Nicoletti.
SUPERCROSS WAS NOT KIND TO THE JGRMX RIDERS. I can outright state that I've never been so prepared at the beginning of a season, only for things to change so drastically. I had it set up so Bisceglia would ride the 450 if we needed him in Supercross, and the same went for Nicoletti. Then we went to the first race and already needed a fill-in rider. We worked through it, though. Jake Weimer was willing to jump in for four rounds, and that turned into racing the whole series. We gave Cade Autenrieth the opportunity to compete in his first-ever Supercross races, and in his second race he finished 13th. That's pretty special.
We took some chances and did things differently than some people thought we should, but through it all Suzuki was supportive. I cleared all decisions with Suzuki and had Monster Energy sign off, as well. It's important to keep all of our sponsors in the loop and provide the best exposure possible with the bad hand of cards we were dealt. Through it all I thought everything on the team side looked great. The bikes performed exceptionally. We do expect bigger things coming down the road, and I believe results will be better outdoors.
• SATURDAY'S HANGTOWN NATIONAL ANIMATED TRACK MAP
• 2017 AMA NATIONAL TV SCHEDULE: HANGTOWN AIRS ON SATURDAY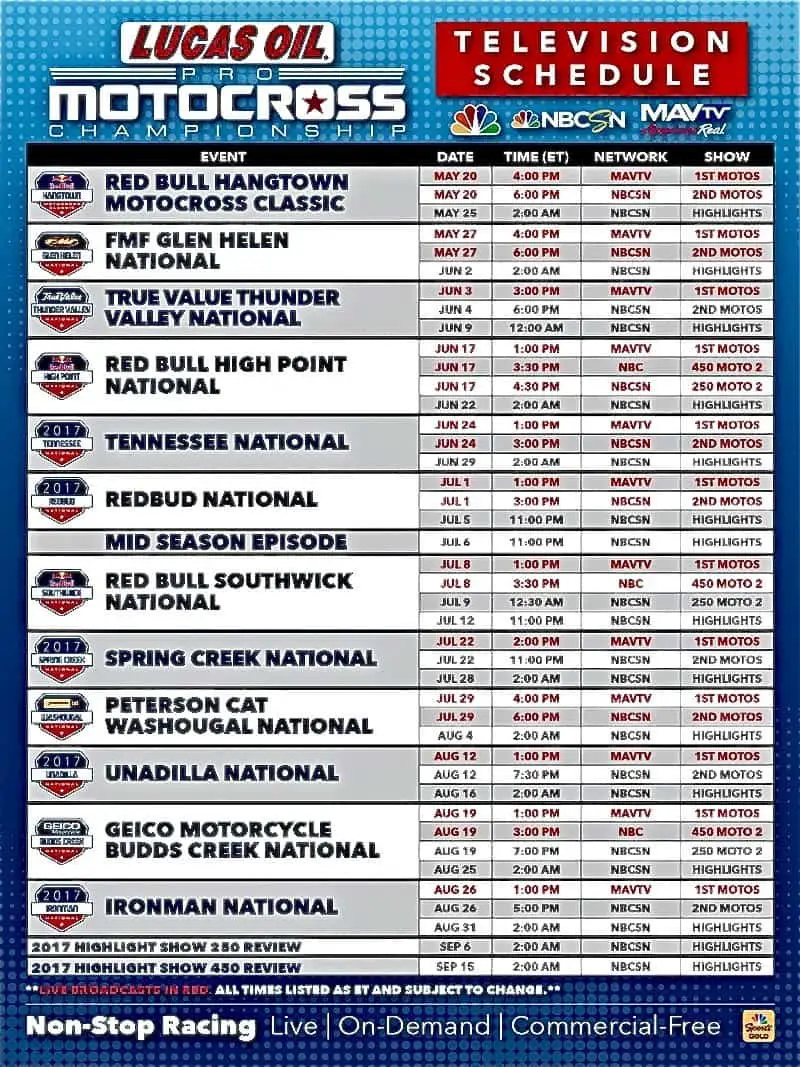 The AMA Nationals will once again call NBC, NBC Sports Network (NBCSN), and MAV-TV home this year—with more than 60 hours of total broadcast time. Plus, 3 of the 12 rounds will be shown live on NBC. The second 450 motos from Mt. Morris (June 17), Southwick (July 8) and Budds Creek (August 19) will be on network TV. MAV-TV will show live coverage of the first motos at all 12 rounds, while NBCSN will carry live final moto coverage from half of the races. All times Eastern.
• THE 100% MOTOCROSS TARIFF WAR GETS A NEW PLAYER

When Robert Lighthizer was confirmed as the new U.S. Trade Representative, there was hope that the proposed 100% tariff on motorcycles under 500cc would get a fresh review by the new government official in charge. In response to the appointment, the American Motorcyclist Association (AMA) sent a letter to  Robert Lighthizer demanding that he remove European motorcycles from a tariff proposal related to U.S. beef exports. The AMA also called on its members to inundate Lighthizer with their objections to a plan to place a 100% tariff on motorcycles imported from the European Union with an engine size between 51cc and 500cc. The European motorcycles were included in a long list of items that would be the subject of tariffs as part of a long-running dispute between U.S. beef producers and the European Union. The Office of the U.S. Trade Representative stated publicly that motorcycles were included because they hoped the outrage of motorcyclists would give the U.S. leverage over foreign governments.
"Those who will suffer the most from this proposed tariff are the Americans who use small-displacement motorcycles and scooters for outdoor recreation and urban riding," AMA President and CEO Rob Dingman wrote to the trade representative. "These are products that are not offered by American manufacturers. A substantial portion of AMA membership includes riders who own and ride motorcycles of 500cc or smaller displacement, including trail bikes for youths and adults, enduro bikes, dual-sport motorcycles, entry-level street motorcycles, scooters and others. The 500cc-or-lower category of motorcycle also is used in a significant portion of the AMA's more than 3,000 sanctioned competition events enjoyed by hundreds of thousands annually."
"In America, the majority of motorcycles under 500cc are sold through small, independently owned shops. The collection of small- to medium-sized dealerships in the United States contributes to the employment of a substantial number of Americans. These dealerships, while small in size, employ individuals for motorcycle sales, aftermarket equipment sales, clothing and merchandise sales, vehicle maintenance and repairs and general dealership operations. "Instead of viewing the American motorcycling community as pawns with an imagined grassroots reach far beyond our shores, the USTR needs to grasp the significant hardships this tariff will cause to hardworking, everyday tax-paying Americans," Dingman wrote.
To take action on this issue, CLICK HERE.
• 49TH ANNUAL HANGTOWN CLASSIC AMA NATIONAL MOTOCROSS
For more info to go www.hangtownmx.com
• 2017 GLEN HELEN 250/450 NATIONAL TRACK MAP — MAY 27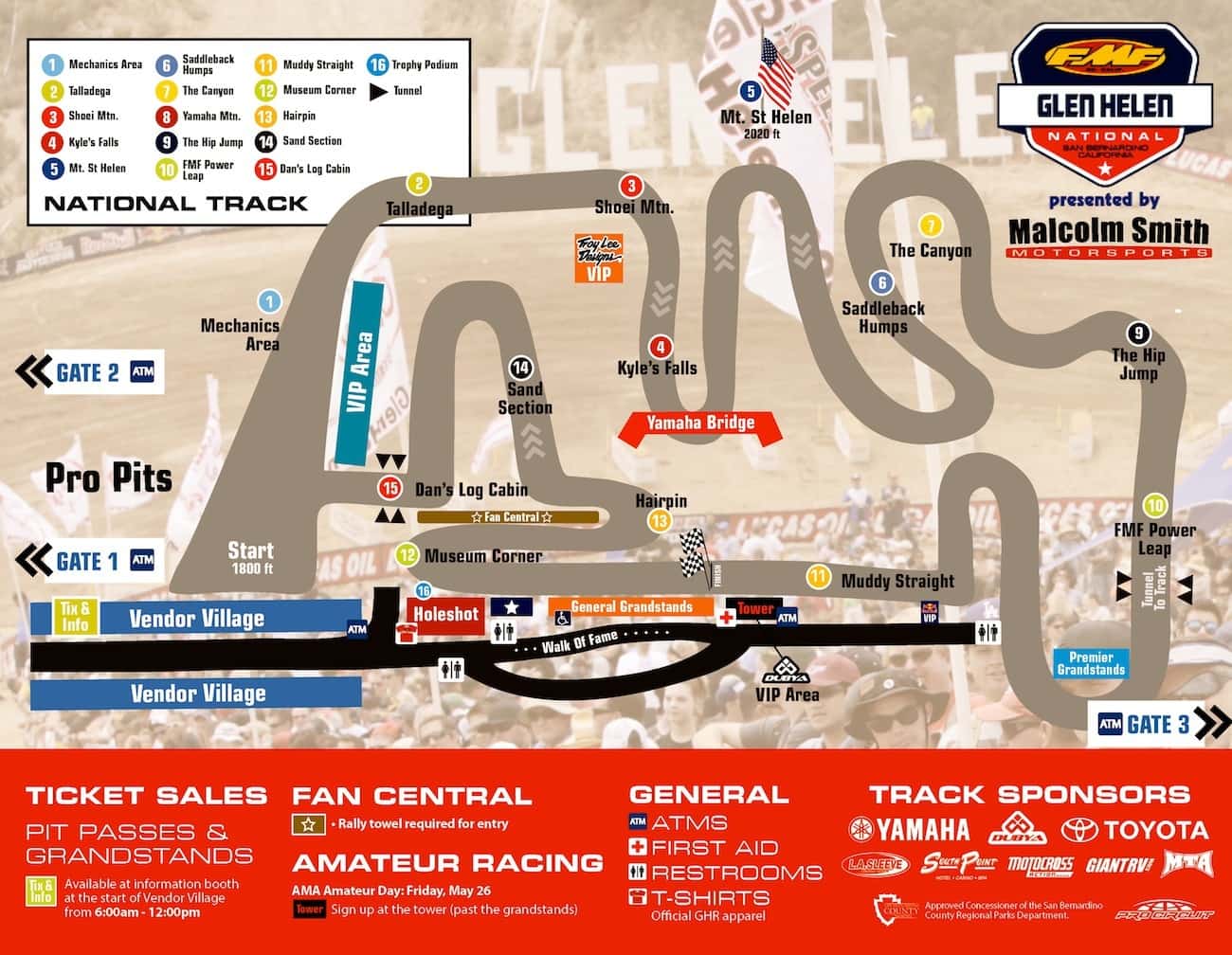 For more info go to www.glenhelen.com
• SOCAL VINTAGE MX CLASSIC AT GLEN HELEN ON JUNE 3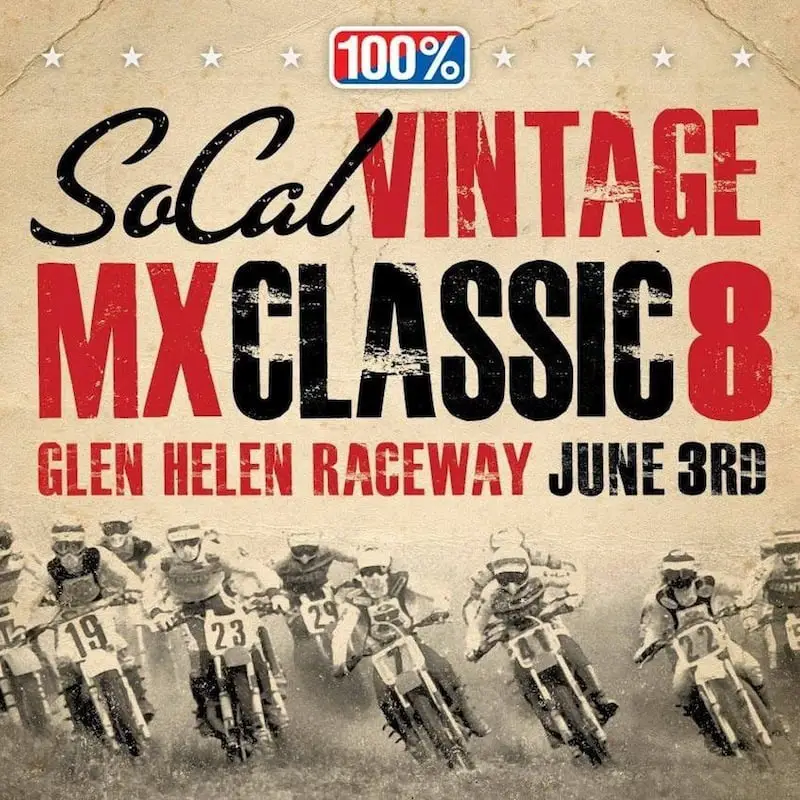 For more info go to www.socalvintagemxclassic.com
• 41ST HIGH POINT NATIONAL AT MT. MORRIS ON JUNE 17
For more info go to www.highpointpromx.com
• HOOLIGAN DIRT DASH ON MAY 20 IN TEMPLE, TEXAS

For more info go to www.horneytoadhd.com.
• MOTOCROSS SCRAMBLES ON MAY 21 AT GLEN HELEN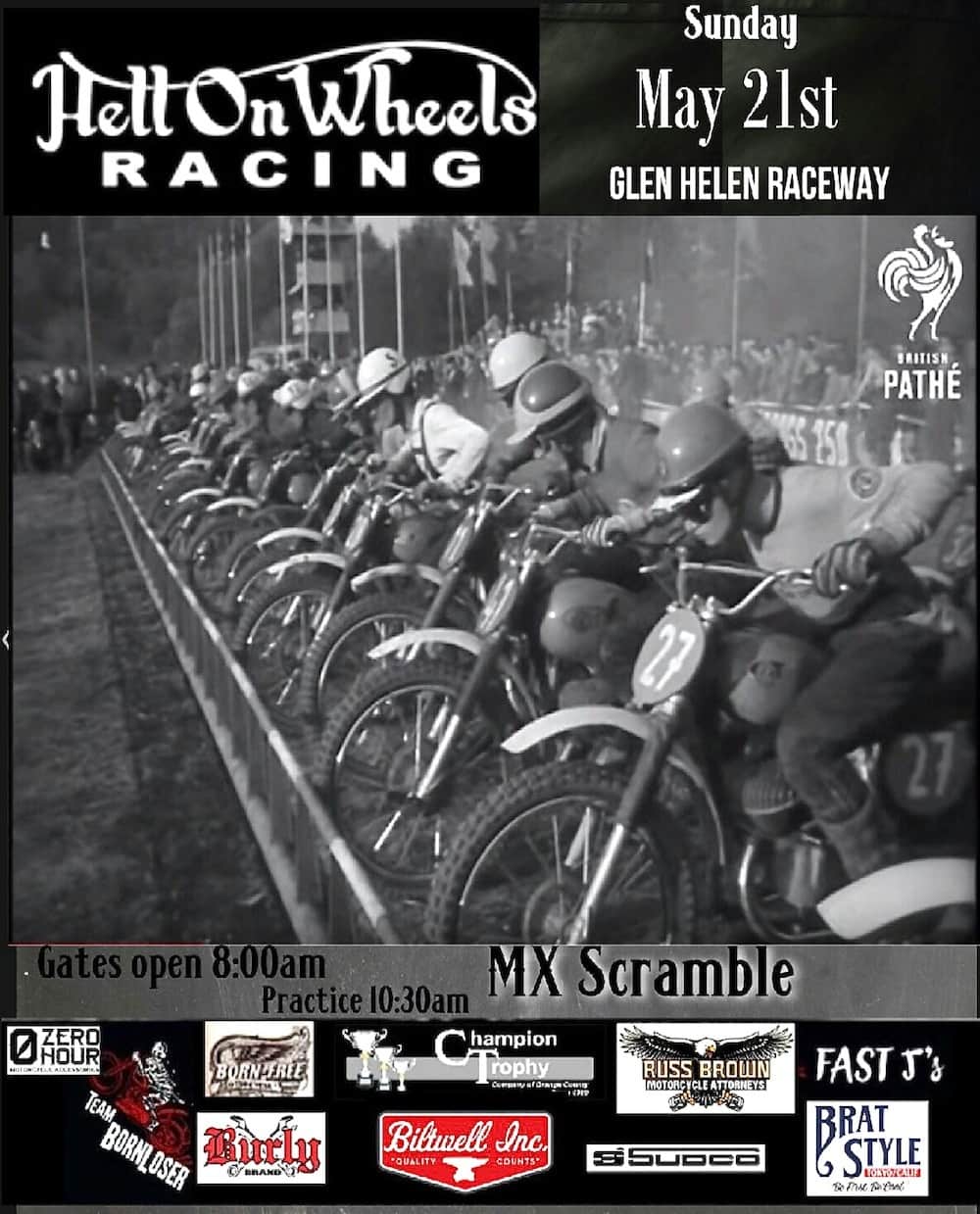 • 2017 PACIFIC NORTHWEST VINTAGE SERIES AT RIVERDALE ON MAY 27

You missed the first round in Boise, but they just keep coming. For more info go to www.pnwvmx.org
• OLD SCHOOL SCRAMBLES ON GLEN HELEN'S OFFROAD TRUCK TRACK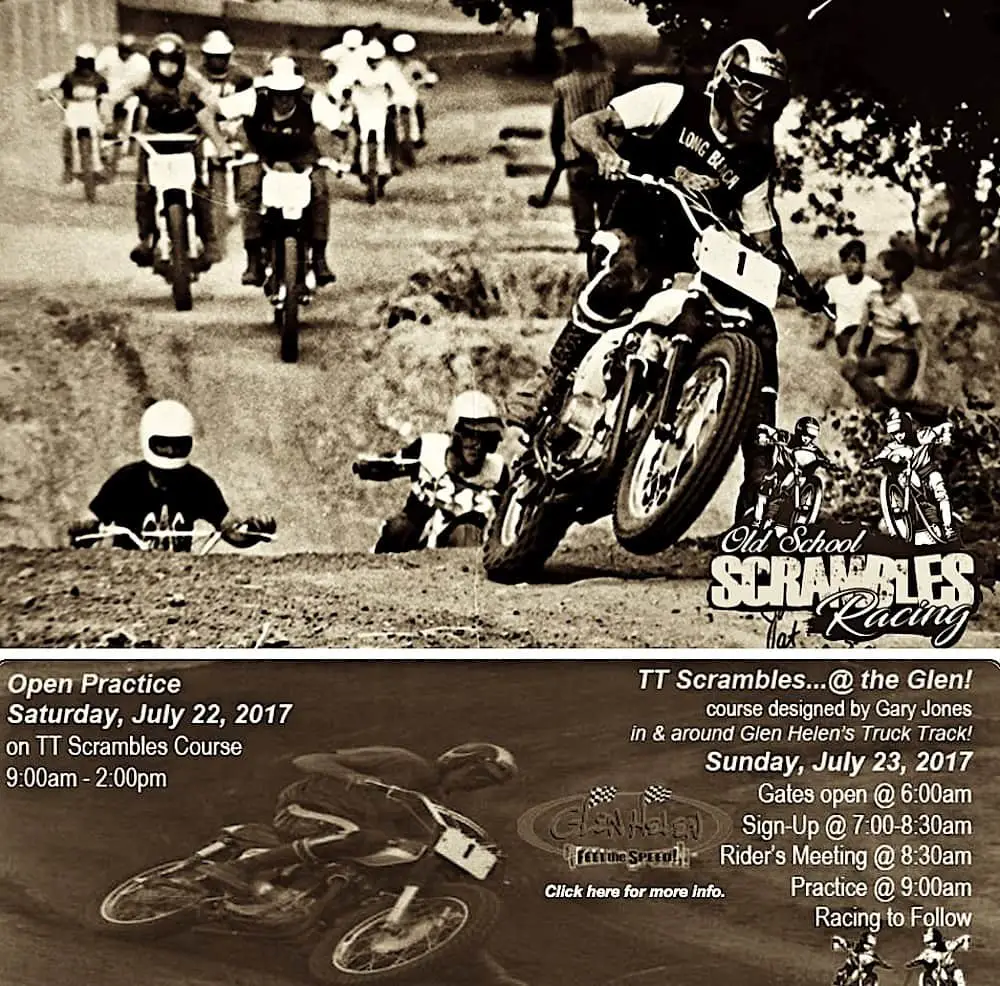 Gary Jones will be designing a special Old School Scrambles track on Glen Helen's Lucas Oil Offroad Truck track for a race on July 23, 2017. For more info go www.oldschoolscramblesracing.com.
• THE PARIS SUPERCROSS ON NOVEMBER 18-19

The 2017 Paris Supercross will move to the brand new U-Arena in the Paris business district. The U-Arena seats 24,000 spectators and has a larger floor area than Lille or Bercy. The 2017 Paris Supercross will be held on November 18-19, 2017.
• FOR THE LAST TIME: 2017 SUPERCROSS WINNERS
Ryan Dungey, won't be back in 2018 (or even for any races left in 2017), but he left and indelible mark. Photo: Daryl Ecklund

Date           Venue                                450                                250
Jan. 7…..Anaheim, CA………………..Ken Roczen………….Shane McElrath
Jan. 14……San Diego, CA……………Ken Roczen…………..Shane McElrath
Jan. 21…Anaheim, CA………………..Ryan Dungey………..Justin Hill
Jan. 28……Glendale, AZ……………..Eli Tomac……………Justin Hill
Feb. 4……Oakland, CA………………..Eli Tomac……………Justin Hill
Feb. 11……..Arlington, TX……………Marvin Musquin….Justin Hill
Feb. 18…..Minneapolis, MN…………Eli Tomac…………..Joey Savatgy
Feb. 25……..Atlanta, GA………………Ryan Dungey………Zach Osborne
Feb. 25…..Atlanta, GA…………………Ryan Dungey………Zach Osborne
Mar. 4……….Toronto, ON…………….Eli Tomac…………..Zach Osborne
Mar. 11……Daytona, FL……………….Eli Tomac…………..Adam Cianciarulo
Mar. 18………Indianapolis, IN………Eli Tomac…………..Joey Savatgy
Mar. 25……Detroit, MI………………..Eli Tomac…………..Jordon Smith
Apr. 1…………St. Louis, MO………….Eli Tomac……………Jordon Smith
Apr. 8……..Seattle, WA……………….Marvin Musquin…..Aaron Plessinger
Apr 22……….Salt Lake, UT…………..Eli Tomac……………Shane McElrath
Apr. 29……New York, NY……………Ryan Dungey………..Zach Osborne
May 6………Las Vegas, NV…………..Ryan Dungey………..Zach Osborne
450 Points leader...Ryan Dungey (KTM)
250 West Champion…Justin Hill (Kaw)
250 East Champion…Zach Osborne (Hus)
• DO YOU REMEMBER WHEN…
Do you remember Glen Helen's famous Muddy Straight (often called Flounder Freeway)? It offered 50 different lines, but only three of them were good and they changed every lap. Here Stephane Roncada (21) tries to choose the best one back in 2001.
• MOTORCYCLE AD OF THE WEEK: TONY D BUSINESS MAN

Three-time 250 National Champion Tony D was the first rider to fully monetize his fame. He no only had his own gear line, his own boots and an MXL goggle deal, but he was among the first riders to demand changes to his contracts—including a clause that insured that if he was selected for the MXDN team that the company would pay.

• MXA PRODUCT SPOTLIGHT: PRO CIRCUIT AIR-TO-SPRING CONVERSION KIT

For riders that prefer a more traditional spring system over air forks, Pro Circuit is now offering a simple spring hybrid conversion cartridge kit that can be easily dropped into your WP AER 48 Air Fork or Showa TAC Air Fork*. The fork cap on this conversion kit comes with an air valve that can be used to add just a touch of air to make the fork a little more progressive through the stroke for the faster, more aggressive riders, or even to compensate for special conditions, such as a mud race. It can also be run at zero pressure for the riders that don't want to mess with adding air in their forks. The kit also offers easy spring preload adjustment without taking the fork all the way apart, letting the fork ride a little higher or lower when needed. This hybrid fork spring system is 100% made in the USA and is available for the following applications:
2015-2017 Honda CRF250R
2015-2017 Kawasaki KX450F
2016 1/2-2017 KTM SX 125, 250/350/450 SX-F
2015-2017 Suzuki RM-Z450
(*Fork spring sold separately).
For more info go to www.procircuit.com.
THIS WEEK'S BIRTHDAY BOYS: CLEMENT, LEMOINE & DARRYN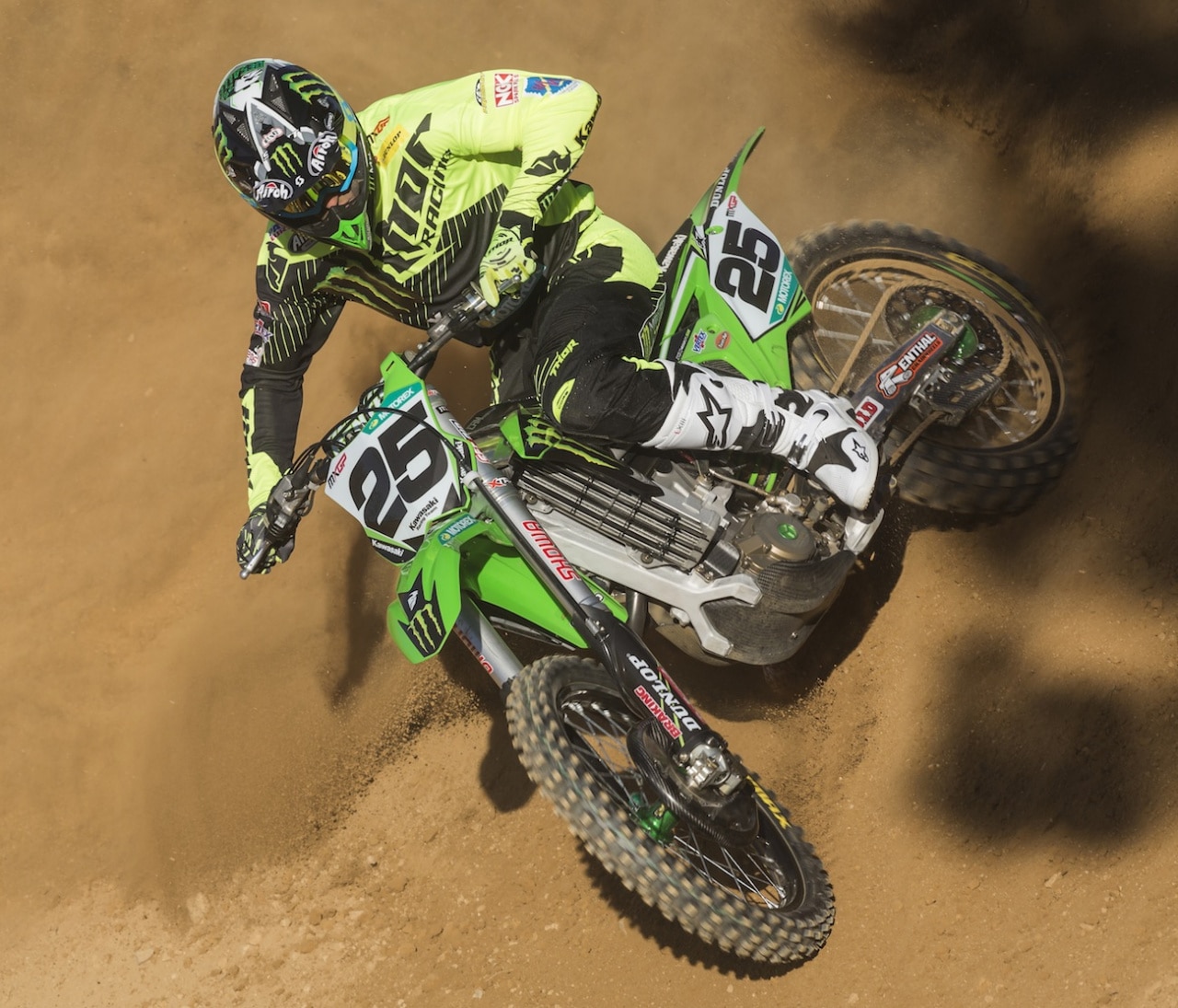 May 19…Clement Desalle 1989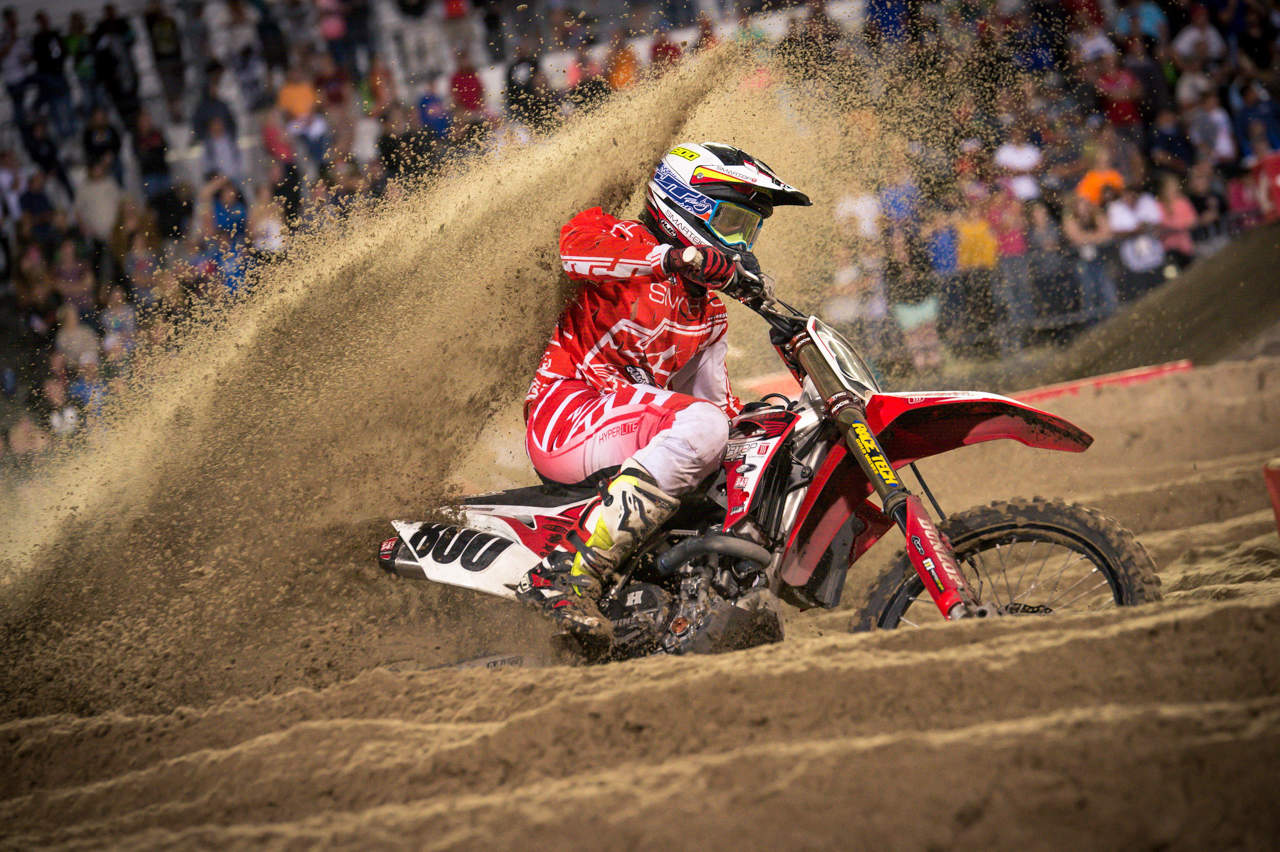 May 19…Mike Alessi 1988
May 20…Joel Roelants 1989
May 22…Matt Lemoine 1989
May 22…Sergio Avanto 1971
May 24…Darryn Durham 1989
May 24…Steve Hatch 1969
May 25…Chad Pederson 1971
• SERVICE HONDA ANNOUNCES THAT IT WILL STOP MAKING THE CR500AF
For more info go to www.servicehonda.com/page/af-motorcycle


• 2017 GRAND PRIX WINNERS AT A GLANCE
Gautier Paulin is one of 5 riders to win a 450 GP so far this season.

Date                   Venue                                     450                                 250
Feb. 25………..Qatar…………….Tony Cairoli…………..Pauls Jonass
Mar. 5…………Indonesia………Shaun Simpson………Jeremy Seewer
Mar. 19……….Argentina……….Tim Gajser…………….Pauls Jonass
Apr. 2…………Mexico……………Tim Gajser…………….Thomas Covington
Apr. 16………..Italy………………Tony Cairoli…………..Jorge Prado
Apr. 23……….Holland………….Gautier Paulin………..Pauls Jonass
May 7………….Latvia…………….Jeffrey Herlings………Thoma Kjer Olsen
May 21……….Germany
May 28……….France
June 11……….Russia
June 25……….Italy
July 2…………Portugal
July 23……….Czech Republic
Aug. 6…………Belgium
Aug. 13……….Switzerland
Aug. 20……….Sweden
Sept. 3………..USA
Sept. 10……….Holland
Sept. 17……….France
450 points leader…Tony Cairoli (KTM)
250 points leader…Pauls Jonass (KTM)
• GP POINTS STANDINGS: WHO'S WHO HEADED TO GERMANY

Jeffrey Herlings finally won a 450GP, but he is only 7th in the points standings. Luckily, for Jeremy MXGP has a very, very, very long season.
FIM 450 WORLD CHAMPIONSHIP STANDINGS
(After 7 of 19 Rounds)
1. Tony Cairoli…241
2. Tim Gajser…258
3. Gautier Paulin…220
4. Evgeny Bobryshev…214
5. Clement Desalle…210
6. Jeremy Van Horebeek…204
7. Jeffrey Herlings…174
8. Romain Febvre…147
9. Max Nagl…139
10. Arnaud Tonus…133
Pauls Jonass has the red plate in the 250 GPs.
FIM 250 WORLD CHAMPIONSHIP STANDINGS
(After 7 of 19 Rounds)
1. Pauls Jonass (KTM)…287
2. Jeremy Seewer (Suz)…245
3. Thomas Kjer Olsen (Hus)…235
4. Julien Lieber (KTM)…223
5. Benoit Paturel (Yam)…198
6. Brent Van doninck (Yam)…166
7. Jorge Prado (KTM)…155
8. Thomas Covington (Hus)…152
9. Calvin Vlaanderen (KTM)…133
10. Vsevolod Brylyakov (Kaw)…133
• HOW TO SUBSCRIBE & GET MXA FOR FREE: ACTUALLY, WE PAY YOU
Do you subscribe to MXA? You should. We know that you think that print magazines are dead and that the internet will fill the void, but most of the stuff in the current issue of MXA won't appear on the web for several months, if at all. Luckily, you can get all of MXA on your iPhone, iPad, Kindle or Android by going to the Apple Store, Amazon or Google Play. Better yet get the Digital desktop version at https://hi-torque.com/product/motocross-action-digital-edition/ for $9.99 a year.
The MXA test riders prefer the print version and not just because it is delivered by a uniformed employee of the U.S. Government, but because right now you can get 12 issues for $15.95 and a free $25 Gift Card from Rocky Mountain ATV/MC. That means that there is a profit to be made in this deal for you. For the Print magazine go to: https://hi-torque.com/product/motocross-action/
• HOW IS YOUR TWITTER GAME GOING? UP IT BY FOLLOWING MXA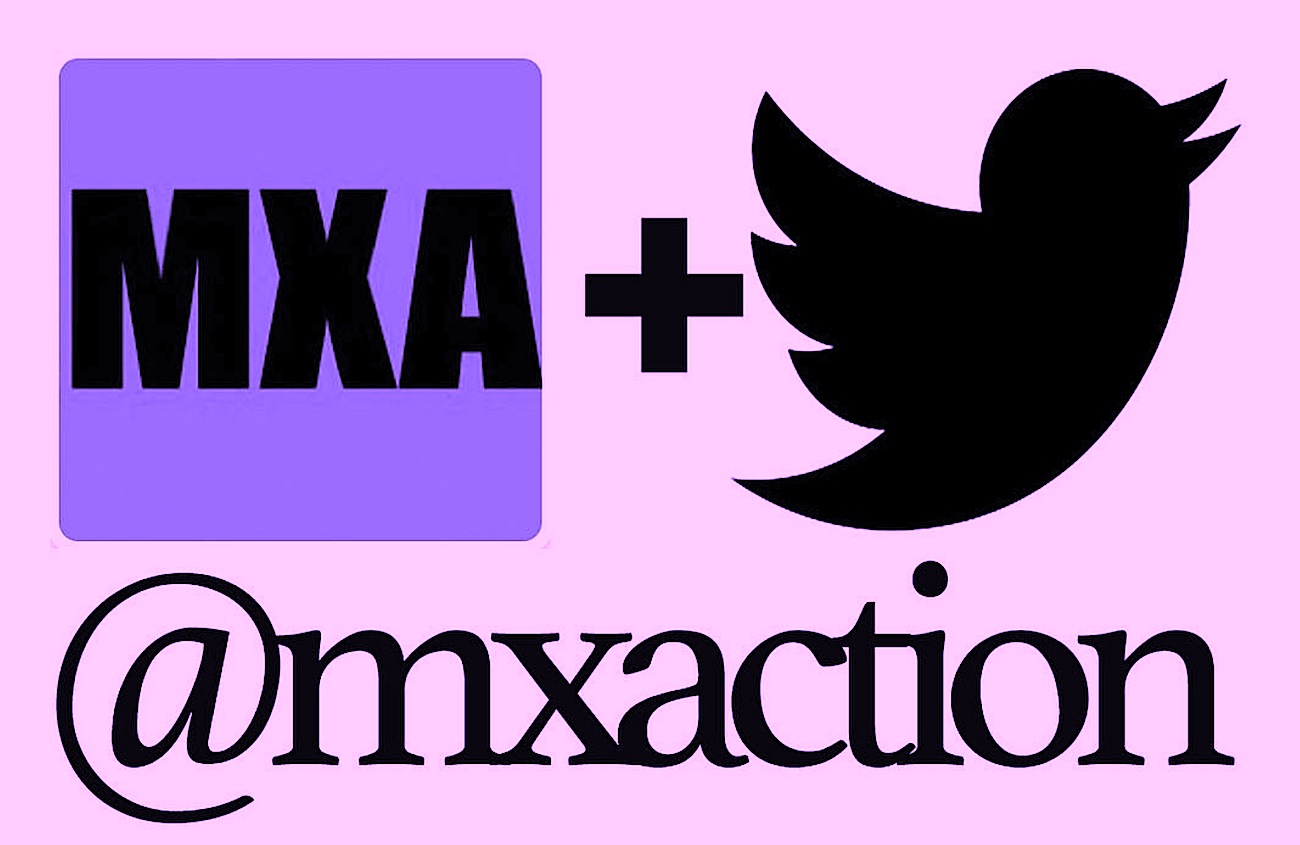 Follow us to see fresh content every day at www.twitter.com/MXAction or on twitter at "MXAction"
• 2017 MOTOCROSS SCHEDULES: WHERE TO BE & WHEN TO BE THERE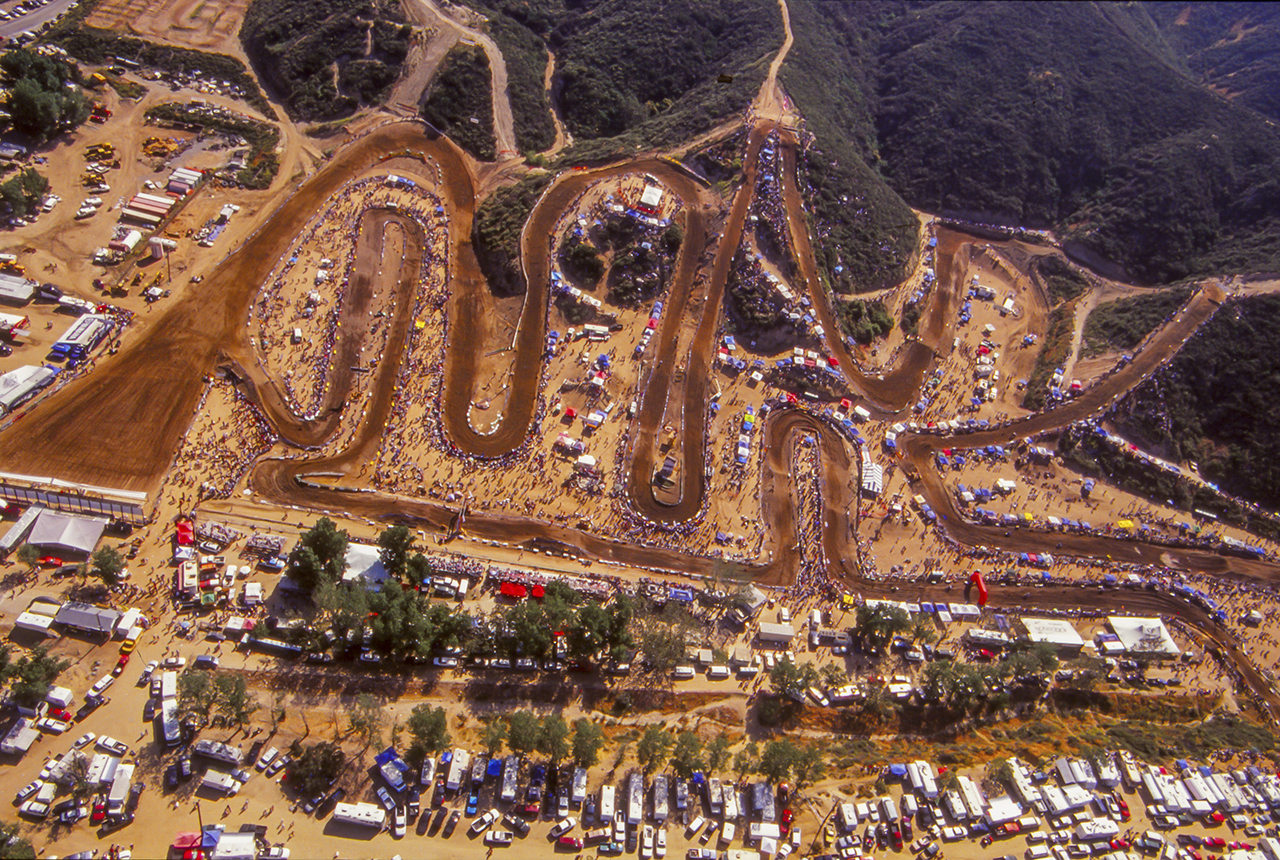 This is not a Supercross track. The 12 AMA National tracks offer all the variety possible for the great outdoors.

2017 AMA NATIONAL CHAMPIONSHIP
May 20……………………Hangtown, CA
May 27.…………………..Glen Helen, CA
June 3..………………….Thunder Valley, CO
June 17..…………………Mt Morris, PA
June 24.………………….Muddy Creek, TN
July 1.…………………….Red Bud, MI
July 8..……………………Southwick, MA​
July 22.…………………..Millville, MN​
July 29.…………………..Washougal, WA
Aug. 12..………………….Unadilla, NY​
Aug. 19..………………….Budds Creek, MD​
Aug. 26.…………………..Crawfordsville, IN
2017 FIM MOTOCROSS WORLD CHAMPIONSHIP
Feb. 25…………………….Qatar (Saturday)
Mar. 5………………………Indonesia
Mar. 19…………………….Argentina
Apr. 2………………………Mexico
Apr. 16……………………..Italy
Apr. 23…………………….Holland
May 7………………………Latvia
May 21…………………….Germany
May 28…………………….France
June 11…………………….Russia
June 25……………………Italy
July 2……………………….Portugal
July 9……………………….San Marino (Canceled)
July 23……………………..Czech Republic
Aug. 6……………………..Belgium
Aug. 13…………………….Switzerland
Aug. 20…………………….Sweden
Sept. 3…………………….Gainesville, FL
Sept. 10……………………Holland
Sept. 17…………………….France
2017 MOTOCROSS DES NATIONS
Oct. 1…………………..Matterley Basin, Great Britain
2017 TRAVIS PASTRANA'S NITRO WORLD GAMES
June 24……………….Salt Lake City, UT
2017 AMA LORETTA LYNN AMATEUR NATIONAL CHAMPIONSHIP
July 31-Aug. 5…..…Hurricane Mills, TN
2017 WOMEN'S MOTOCROSS CHAMPIONSHIP
Mar. 13…………………….Daytona Beach, FL
Mar. 25……………………Wortham, TX
Apr. 9………………………San Diego, CA
May 5………………………Las Vegas, NV
May 18-19………………..Hangtown, CA
June 2…………………….Thunder Valley, CO
June 16……………………Mt. Morris, PA
Aug. 5……………………..Hurricane Mills, TN
2017 WORLD OFF ROAD CHAMPIONSHIP (WORCS)
Jan. 6-8…………………….Taft, CA
Jan. 27-29…………………Primm, NV
Feb. 17-19………………….Taft, CA
Mar. 10-12…………………Lake Havasu, AZ
Apr. 1-2…………………….Las Vegas, NV
Apr. 21-23…………………Hurricane, UT
May. 19-21…………………Cedar City, UT
Jun. 16-17…………………Glen Helen, CA
Sept. 8-10…………………Glen Helen, CA
Oct. 6-8…………………….Adelanta, CA

2017 MAXXIS BRITISH NATIONAL CHAMPIONSHIP
Apr. 9………………………Lyng
Apr. 30…………………….Canada Heights
May 14……………………Hawkstone Park
June 18……………………Desertmartin
July 9………………………Sherwood
July 16…………………….Blaxhall
July 30…………………….Preston Docks
Aug 27……………………..Foxhill
2017 BELGIAN NATIONAL CHAMPIONSHIP
Mar. 12……………………Moerbeke-Waas
Mar. 26……………………Kruishoutem
Apr. 2……………………..Genk
Apr 10…………………….Mons
Apr. 18……………………Axel
Apr. 30……………………Wuustwezel
June 11…………………..Comines
June 18………………….Genk
July 22……………………Axel
July 23…………………..Hasselt
July 30…………………..Gooik
Aug. 15…………………..Balen
Aug. 20………………….Wachtebeke
Aug. 27………………….Orp le Grand
2017 CANADIAN NATIONAL CHAMPIONSHIP
June 4……………………Whispering Pines, BC
June 11………………….Blackwater, BC
June 18………………….Wild Rose, AB
June 25………………….Moto Valley, SK
July 9…………………….Gopher Dunes, ON
July 16…………………..Ulverton, QC
July 23…………………..Pleasant Valley, NS
July 30…………………..Riverglade, NB
Aug. 6…………………….Deschambault, QC
Aug. 13………………….RJ Motosport, ON
2017 DUTCH NATIONAL CHAMPIONSHIP
Mar. 26…………………..Oss
Apr. 9th…………………..Harfsen
May 14……………………Emmen
July 15-16……………….Lichtenvoorde
2017 ADAC GERMAN MASTERS CHAMPIONSHIP
Apr. 9……………………….Muhlberg
Apr. 30…………………….Jauer
May 14…………………….Molln
June 18……………………Bielstein
July 16…………………….Tensfeld
Aug. 27……………………Gaildorf
Sept. 24…………………..Holzgerlingen
2017 AUSTRALIAN NATIONAL CHAMPIONSHIP
April 2……………………..Wonthaggi, Victoria
April 23…………………..Appin, New South Wales
May 7……………………..Connondale, Queensland
May 21……………………Horsham, Victoria
May 28……………………Murray Bridge, South Australia
July 3……………………..Nowra, New South Wales
July 16……………………Shepparton, Victoria
July 30……………………Port Macquarie, New South Wales
Aug. 13…………………..Toowooba, Queensland
Aug. 20……………………Coolum, Queensland
2017 AUSTRALIAN SUPERCROSS CHAMPIONSHIP
Sept. 9…………………..Queensland
Sept. 23…………………Queensland
Oct. 14…………………..TBA
Oct. 26…………………..South Australia
Nov. 4…………………….Victoria
Nov. 11-12……………..New South Wales
2017 AMA SUPERCROSS CHAMPIONSHIP
Jan. 7…………………………Anaheim, CA
Jan. 14………………………San Diego, CA
Jan. 21………………………Anaheim, CA
Jan. 28………………………Glendale, AZ
Feb. 4……………………….Oakland, CA
Feb. 11………………………Arlington, TX
Feb. 18………………………Minneapolis, MN
Feb. 25………………………Atlanta, GA
Mar. 4………………………Toronto, ON
Mar. 11………………………Daytona, FL
Mar. 18………………………Indianapolis, IN
Mar. 25………………………Detroit, MI
Apr. 1…………………………St. Louis, MO
Apr. 8………………………..Seattle, WA
Apr. 22……………………….Salt Lake City, UT
Apr. 29……………………….New York, NY
May 6………………………….Las Vegas, NV
2017 AMSOIL ARENACROSS CHAMPIONSHIP
Jan. 7-8…………………….Cincinnati, OH
Jan. 13-15…………………Grand Rapids, MI
Jan. 20-22…………………Baltimore, MD
Jan. 28-29…………………Nashville, TN.
Feb. 4-5…………………….Louisville, KY
Feb. 18-19…………………Kansas City, MO
Feb.y 25-26……………….Tampa, FL
Mar. 3-5…………………….Southaven, MS
Mar. 11-12…………………New Orleans, LA
Mar. 18-19…………………Portland, OR
Mar. 24-26…………………Reno, NV
April 1-2…………………….Sacramento, CA
April 21-23…………………Denver, CO
May 5-7…………………….Las Vegas, NV
2017 ITALIAN NATIONAL CHAMPIONSHIP
Jan. 29…………..………..Riola Sardo
Feb. 5………………………Malagrotta
Feb.12………………..……Ottobiano
RICKY CARMICHAEL AMATEUR DAYTONA SUPERCROSS
Mar. 12-13…………….Daytona, FL
MTA WORLD TWO-STROKE CHAMPIONSHIP
Apr. 15…………………..Glen Helen, CA
Photos: Brian Converse, Brown Dog Wilson, Scott Mallonee, Daryl Ecklund, KTM, Honda, Massimo Zanzani, MXA,