MXA'S WEEKEND NEWS ROUND-UP: BYE BYE MILESTONE, HELLO MAX & AN MXA TEST RIDER WINS, WINS & WINS
FXR GOES GLOBAL WITH SHAUN SIMPSON IN MXGP
British MXGP star Shaun Simpson has started his own team for the 2020 MXGP series. Note the SS24 logo on his all-new FXR jersey.
FXR Racing has joined forces with Shaun Simpson to compete in the 2020 MXGP and British Championships. FXR will be the official apparel sponsor to Simpson and the SS24 KTM team. Simpson said, "Establishing SS24 KTM MXGP race team for 2020 has been an exciting but daunting task. FXR is taking the stress off my shoulders with the motivation and support they have shown me so far. The fit and quality of this Canadian gear is unbelievable and looks good. I'm honored to be FXR's sole representative in MXGP next year, we're ready to get things rolling."
"We are excited to elevate our motocross program in Europe and compete in the MXGP and British Championships. Having Shaun prove that our products perform at the highest levels on the MXGP circuit is invaluable. Utilizing Shaun's experience and history was an opportunity we couldn't miss, and we jumped at the chance to get on board with SS24 KTM. We look forward to working together to develop even better products," said FXR's British Territory Manager, David Wright.
MXA TEST RIDER WINS HIS FOURTH LAS VEGAS SUPER NATS SHIFTER KART CHAMPIONSHIP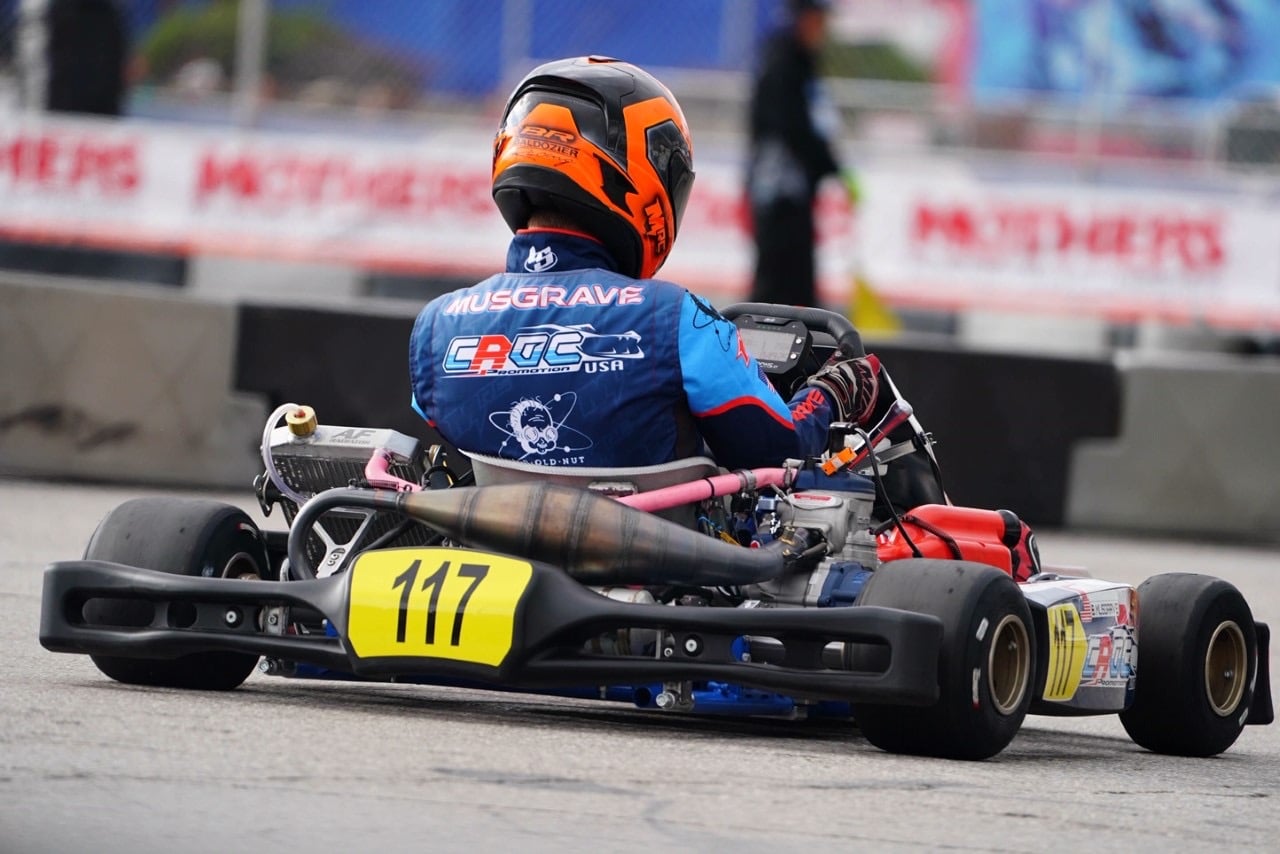 Pro Kart Racing is similar to Pro motocross—winning drivers get factory rides, outside sponsors, bonuses and purse money. However, Billy made more purse money for winning the 2019 Las Vegas Super Nats than a 450 Pro gets for winning an AMA National.
The 2019 SKUSA Super Nats was held at the Rio Hotel in Las Vegas, Nevada. The track is laid out on a parking lot next to the freeway. This is a temporary course that is changed every year so no one has a home track advantage. The best drivers from all around the world show up for this race—the 2019 turnout was over 500 drivers. The schedule is as follows: Practice starts on Wednesday, Qualifying on Thursday, Heat Races on Friday and Saturday. The main events are on Sunday. Willy and Billy Musgrave were MXA test riders for over a decade—they made the switch to karts in 2012 to add some spice to their racing lives. Willy now has a very successful karting company that sells, preps, teaches and modifies karts. You can learn more about it at www.musgraveracing.com.
40 karts on the grid. Billy (117) in the pole position.
The week of racing started off with pouring rain on Wednesday and Thursday morning. Billy Musgrave chose not to practice in the shifter class on Wednesday. And in his rush to make up for lost seat time went out on the drying track for Thursday morning practice with slicks on his kart — not a good idea. That was all the practice that Billy got before the Heat Races on Friday.
Billy still races in an orange helmet in karting, but this was Billy in his MXA orange lid when he was a 125 Pro in 2012.
Friday was the first time that the 40 Pro Shifter class drivers got to drive on a dry track. The drivers had to do timed qualifying for grid position in the Heat Races. The lap times got faster and faster as the track dried out. Billy won the pole with the fastest lap of the day — 42.612 seconds. Jake French was second with 42.896 and A.J. Myers getting third fastest with a 43.120. With the pole position and the fastest lap time it was no surprise when Billy Musgrave won all three of his Heat Races — leading every lap.
THE LAS VEGAS SUPER NATS MAIN EVENT
The thrill of victory — even when it is your third straight.
For the main event every driver gets a new set of Evinco tires, so there is no excuses of worn-out tires from their heat races. Billy Musgrave took the lead off the start and never looked back as he led every lap of the main event. Jake French kept him close for the 25-lap main event, but by the finish Billy would take the win with a 2.409 second lead. Billy would also set fast lap in the main with a 42.134. Billy would take home a $10,000 pay check from SKUSA for his win.
This was Billy Musgrave's third straight Super Nats Championship in the Pro Shifter kart class. Actually it is his fourth title, since Billy also won the shifter kart class in 2012. That makes him a four-time winner in his 7 years at the Las Vegas Super Nats (only 2 other drivers have won four-times in the past 23 years).
A little post-race celebrating.
In big kart news the Honda CR125 engine kit has been discontinued and the Pro Shifter kart class switched to the new Italian-made IAME 175cc SSE shifter kart engine. The new IAME 175 SSE is super fast and harder to drive compared to the Honda CR125. The IAME 175 is like moving from the 125cc class in motocross to the 250cc class — some can handle the added power and some can not. Billy, who was a 125 Pro in motocross, obviously can handle the extra power and is looking forward to the 2020 season to become the first five-time winner of the biggest kart race in America. To learn more go to www.musgraveracing.com
A LOOK AT THE IAME 175cc TWO-STROKE ENGINE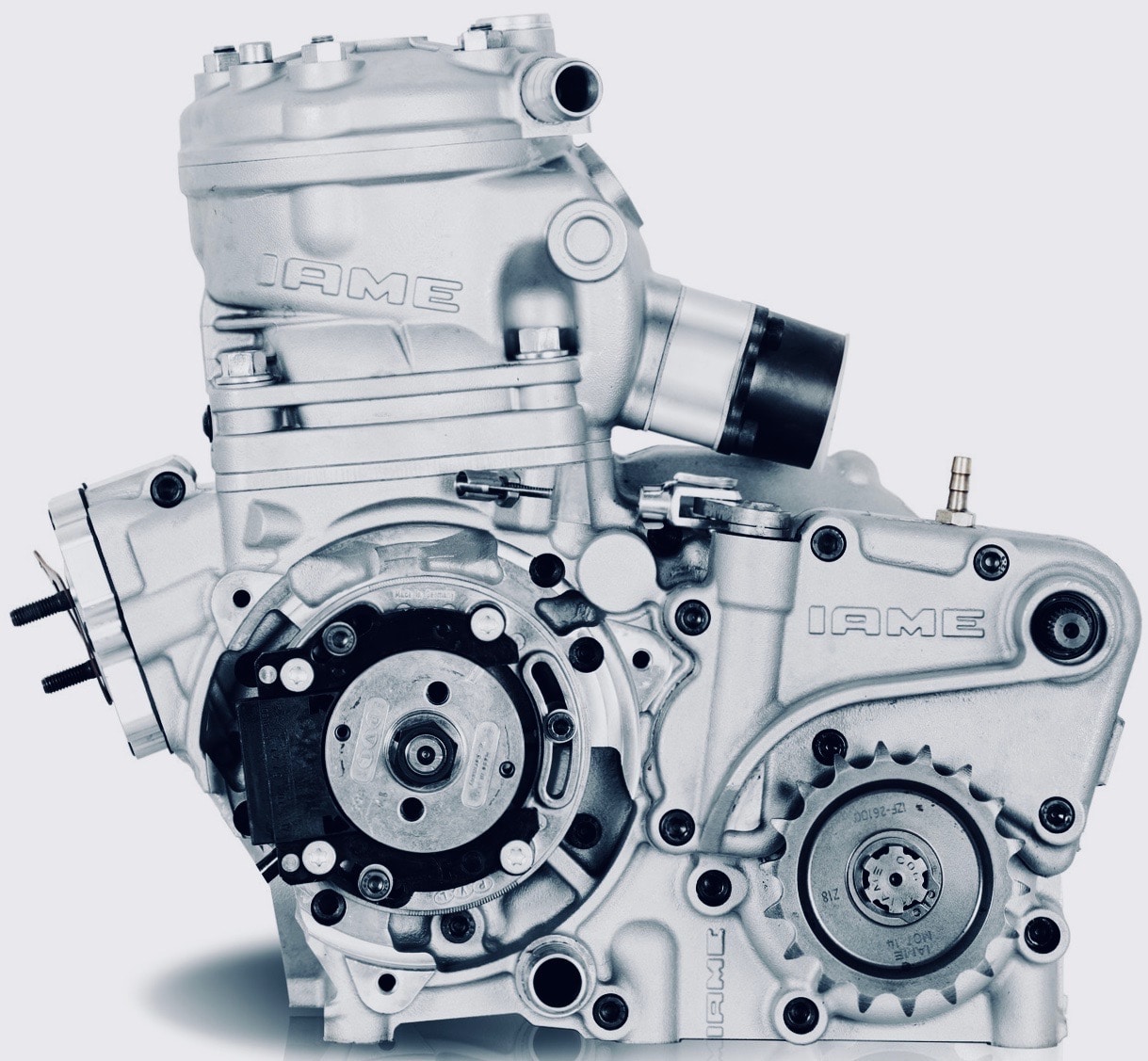 The IAME 175cc SKUSA (Spec. US) shifter engine is specifically engineered around the needs of American shifter-kart drivers. It is the ideal solution for all drivers wishing to race a top-level shifter engine with the benefits and the features of stock class engine. The "Spec. US" combines the performance of the very best KZ engines, while offering increased performance, reliability, consistency and ease of use. Equipped with the new specifically developed Tillotson HB-15A diaphragm carburetor, SSE-Tuned Exhaust, Elto Aluminum silencer, Righetti Ridolfi 'Nox' Racing air box and aluminum water pump (and aluminum water pump pulley), the 63.9mm bore by 54.40mm stroke, two-stroke engine has a six-speed transmission and a claimed 49 horsepower. To order your own, put just under $5000 in a paper bag and call Musgrave Racing.
DECEMBER 8, 2019, WILL BE THE FINAL DAY FOR MILESTONE MX PARK

In what is always bad news for local motocross riders, Milestone MX Park in Pomona, California, is closing for good on December 8, 2019. This has been a popular practice facility for SoCal riders as it features motocross, Vet, Beginner, Supercross, Pee-Wee, flat track and amateur Supercross tracks.
Lots of hopeful Supercross rookies and factory stars used Milestone's Supercross track to get ready for the new season
However, there is a silver lining to the news of Milestone closing and that is that the promoters are opening a new track to take its place. According to Milestone the new track is the located on the border of Perris and Lake Elsinore on  Highway 74 and provides 90 acres of property with 300 feet of elevation. It will open some time in 2020.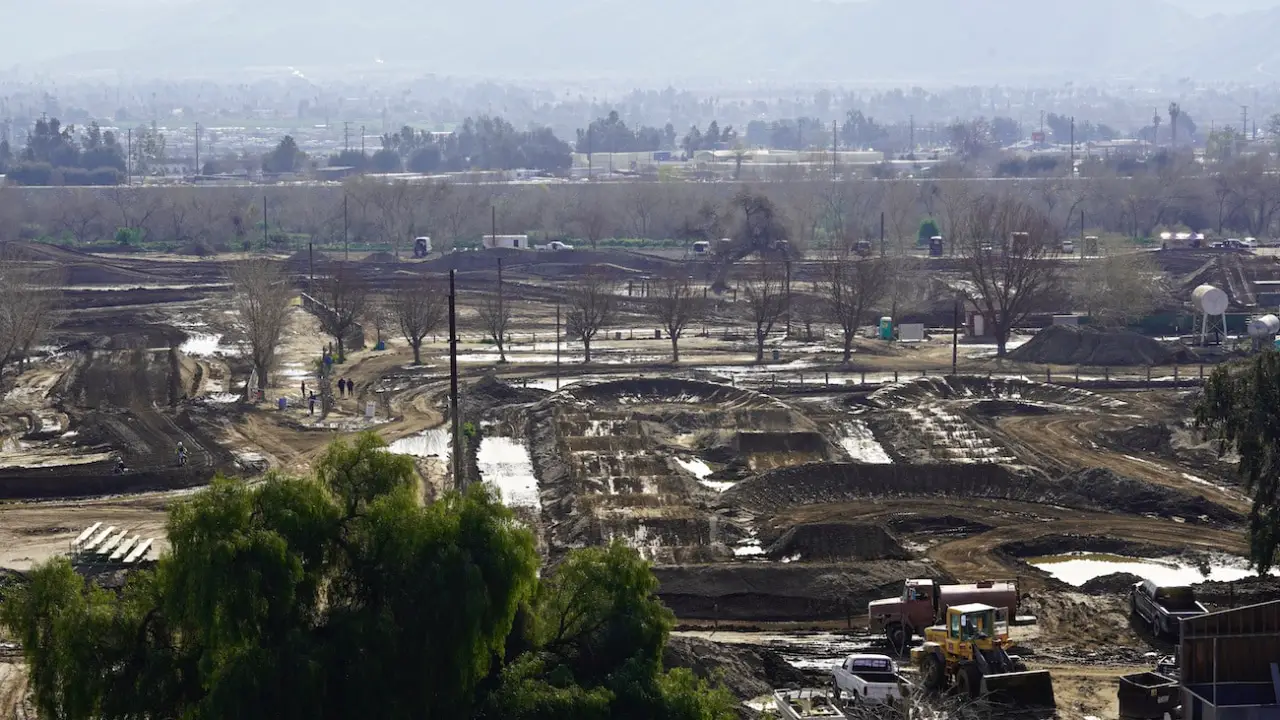 The Milestone tracks were on low-lying land and pooled up when it rained. The new developer will have to raise the land by 15 feet before they can build anything at Milestone.
The name of the new location will be JS63 MX and the promoters have plans for the same tracks they had at Milestone, plus a Side x Side course. They promise a full shop, event hall, shop space for pro teams, RV parking with hookups, showers, laundry, viewing decks, swimming pool, snack bar, permanent restrooms, shade structures, gravel parking and much more.
Additionally, the old Starwest track at Perris Fairgrounds has reopened under the name State Fair MX. SoCal riders lose one track, but in the process gained two.
MXA PRODUCT SPOTLIGHT: REM MX T-SHIRTS, HATS & CASUAL WEAR
REM Checkered Flag shirt—$26.95
REM On Any Saturday Shirt—$26.95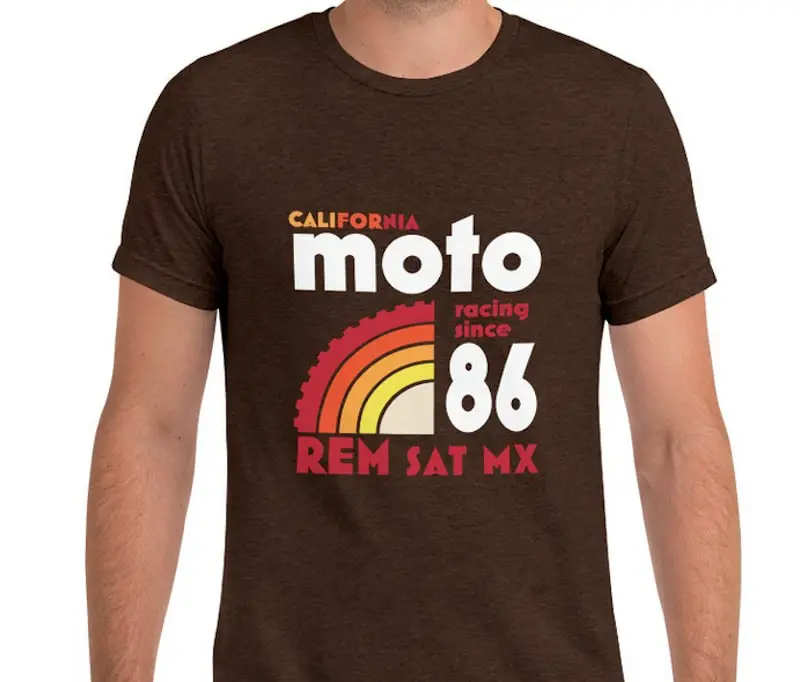 REM Moto Since '86 shirt—$26.95
All REM T-shirts are made from a tri-blend fabric (50% polyester/25% combed ring-spun cotton/25% rayon) creates a vintage, fitted look. Extreme durability makes this T-shirt withstand repeated washings and still remain super comfortable. The 40 singles thread weight, comfortable fit and wash and wear durability come with a contemporary fit in a variety of colors.

REM Remington hat—$30
The REM Remington Snapback has a high-profile, flat visor and a subtle grey under visor. It features a plastic snap closure and comes in a variety of colors.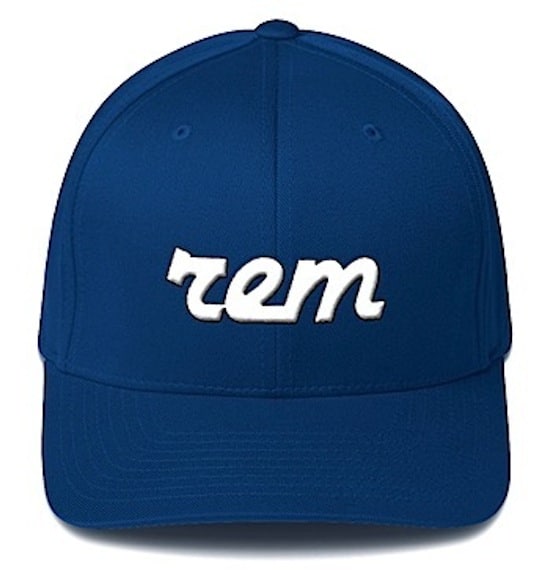 REM Classic hat—$30
The REM Classic hat features flat embroidery and 3D puff on the most trusted Flexfit hat! Available in two sizes, variety of colors and several embroidery options! The structured, 6-panel, mid-profile hat has an athletic shape with a curved visor for those non flat-billers!
REM MX Polo shirt—$39.95
This 100% cotton polo shirt features detailed embroidery that is a great conversation starter, and thanks to the pre-shrunk his 100% cotton polo shirt! The detailed embroidery is a great conversation starter, and thanks to the pre-shrunk ringspun cotton pique fabric, the shirt will maintain its shape after washing. There is a double needle bottom hem and three woodtone buttons on a sleek fit. The detailed left chest embroidery reads "REM MX." For more information go to www.remsatmx.com/shop/
MXA ANSTIE RETURNS TO THE USA WITH H.E.P. SUZUKI
The 2020 H.E.P Suzuki team—Kyle Cunningham, Adam Enticknap and Max Anstie.

H.E.P. Motorsports announced the addition of former World MXGP race winner and 2017 Motocross of Nations overall winner Max Anstie. The likeable Englishman will race both the 2020 450 Supercross and Motocross series.
Max Anstie returns to the USA.
Max said, "Although my focus until recently has been on the MXGP championship, I have always kept an eye on one day competing in the American Championships. Having spent some of my teenage years in the States and placing as high as 4th in my single full 250 West season, I know I am up for the challenge ahead. There are a lot of talented racers here, but I believe in myself and my team. Supercross is going to be a learning experience and I plan to build throughout the season. Motocross, on the other hand, is quite natural to me. I will be up to speed quickly when the series starts outdoors."
Kyle Cunningham is the only original memeber of the H.E.P. team.
Joining Max at H.E.P will be Kyle Cunningham and Lompoc, California's and  Adam Enticknap. Enticnap has often had the longest autograph lines in the pits. Adam will look to set new career highs. Adam said, "I have been working really hard during the off-season. Helping develop the team's new suspension and motor packages have meant me spinning a lot of laps. I have definitely found another level this off-season and I can't wait until I can show the fans at the first round all the gains I've made."
Adam Enticknap.
Clark Jones (41) tries to pass his brother-in-law Gary Jones (94) at the Los Angeles Superbowl of Motocross in the 1970s.
H.E.P's crew chief will be Clark Jones. Clark is a former AMA Pro racer, motocross team owner and current owner of Noleen J6. Clark said, "With Anaheim just over a month away, testing has been going great! Rider feedback has allowed us to improve not only the suspension package, but the motor as well. The riders are feeling comfortable and confident on their machines and are ready to attack the season ahead."
FIRE & POLICE CHRISTMAS GP AT GLEN HELEN ON DEC. 10…THAT'S A TUESDAY
For more info go to www.firepolicemx.com
MXA TEAM TESTED: ARC MEMLON UNBREAKABLE COMPOSITE LEVERS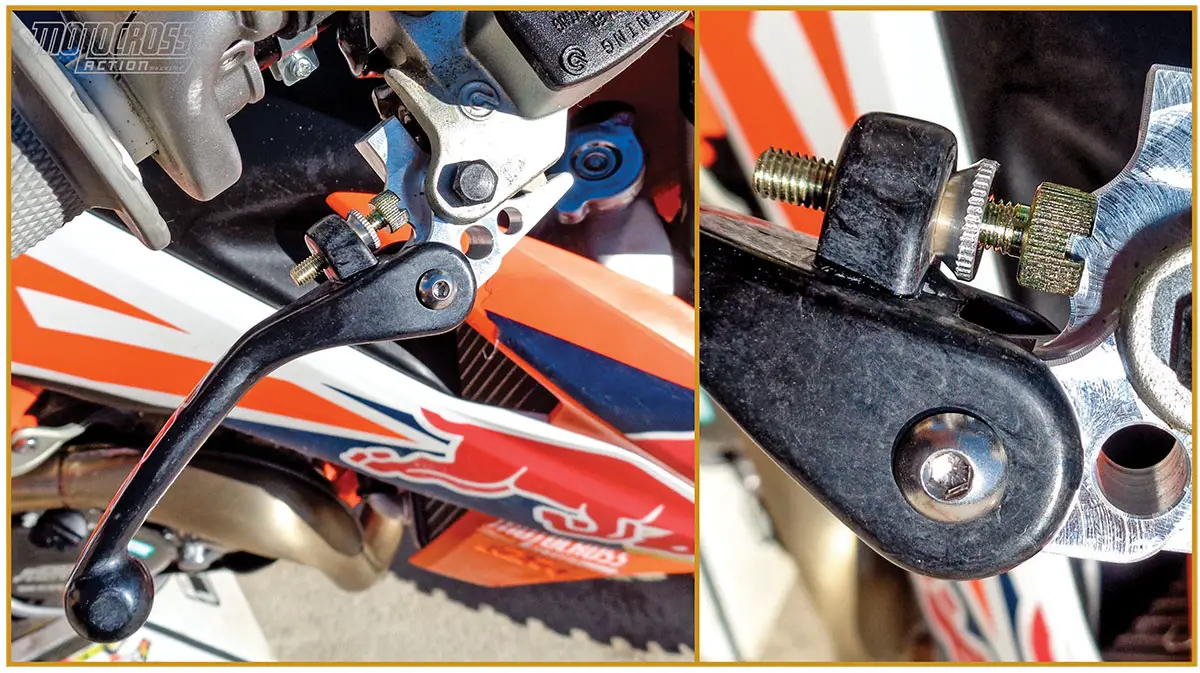 ARC has risen to fame for its composite, unbreakable, folding Memlon levers, but for riders who don't want nylon-style levers, ARC makes forged aluminum levers that mimic the Memlon shape. Marketing 101 always advises business owners to name their product with a name that is colorful, understandable and easy to pronounce, like Big Gulp. By no stretch of the imagination would Wall Street approve of the name Mnemlon—which is what ARC originally named their unbreakable lever.  What does it mean? Its origin is the Greek word mnemonikos ("memory") combined with nylon (although the composite levers have no nylon in them). It is pronounced "Nem-Lawn." As Wall Street predicted, ARC owner Bob Barnett was forced to change the spelling of Mnemlon to an easier-to-read and pronounce Memlon after the first year of production.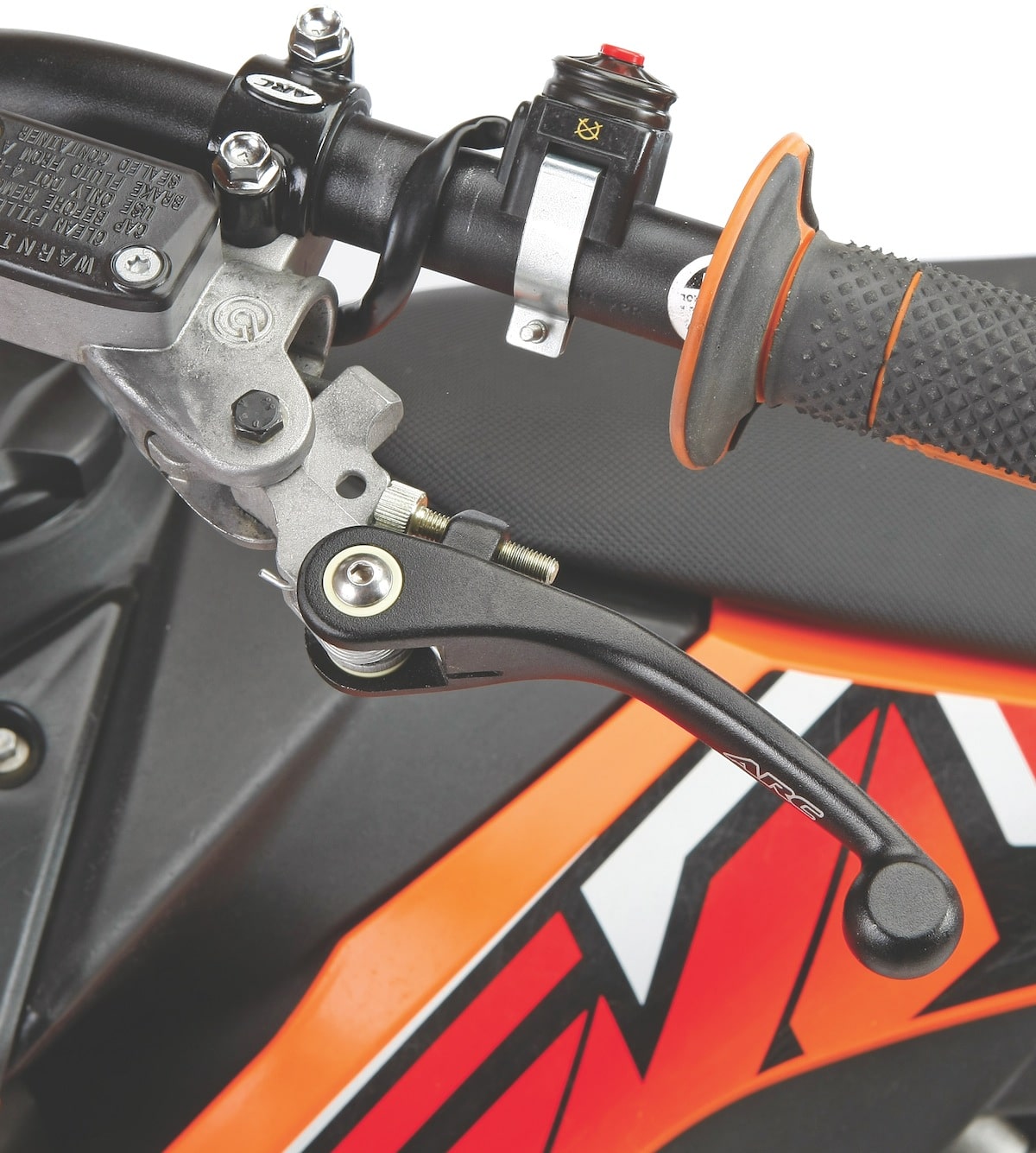 Here's a list of things that stand out with ARC's Memlon composite clutch and brake levers. You don't have to be a factory rider to get the same levers that are on the factory bikes. The Memlon levers are almost flawless. Plus, they fold in a crash and are solidly built. ARC experimented with 14 different mixtures of materials in search of the perfect degree of flexibility and crash resistance.
Since the composite Memlon levers are unbreakable, their lifetime warranty is a given. As for the forged aluminum levers, ARC will replace them for $15 (to cover shipping and handling).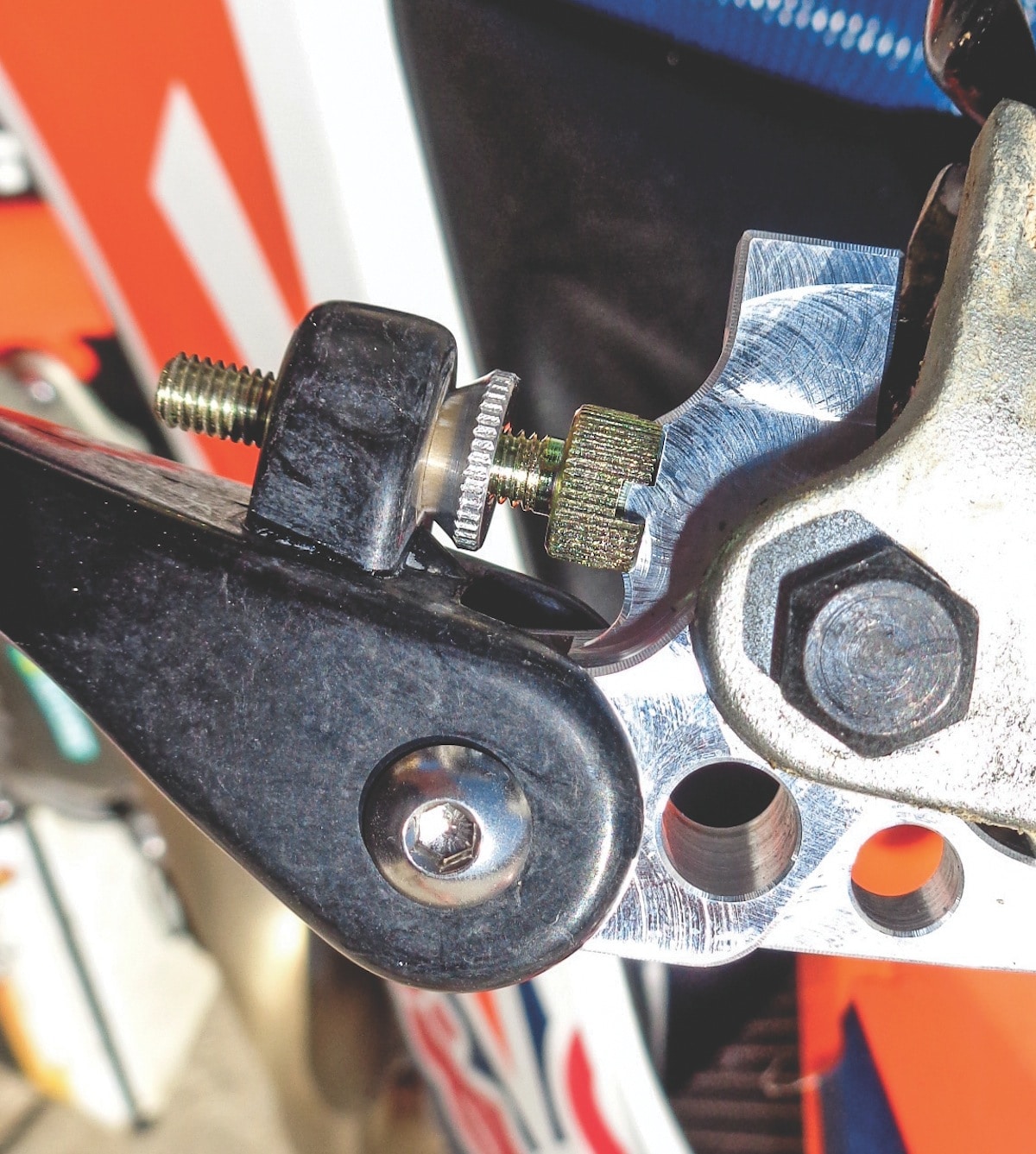 Although it is the cheapest unbreakable lever made, it is much more expensive than most aftermarket aluminum levers. Factory teams run it because they can't afford to lose a race because of a broken lever, thus the $70 price tag is just an insurance policy for them. The Memlon shape is a little wider with more gripping space when compared to the previous ARC aluminum levers. Some MXA test riders preferred the thinner levers over the Memlon shape. Memlon levers are more flexible than aluminum' which is why they don't break. When sitting still in the pits, the MXA test riders could flex the levers very far, but once on the track, no test rider noticed that the levers had any excess flex.
DIGITS? $69.99 (brake or clutch)—www.arclevers.com or (714) 543-0362.
MXA RATING: Factory teams will not run a product unless they have 100 percent faith in it, and ARC levers are on more factory bikes than any other lever. The motocross world has been crying out for an unbreakable lever for the last 50 years. Guess what? It's here.
2019 LAKE ISABELLA CHRISTMAS MX & GP ON DECEMBER 12-15
For more information go to www.gomotoloans.com or call (760) 855-8825.
OSSA WAS LOST IN THE GAS GAS SHUFFLE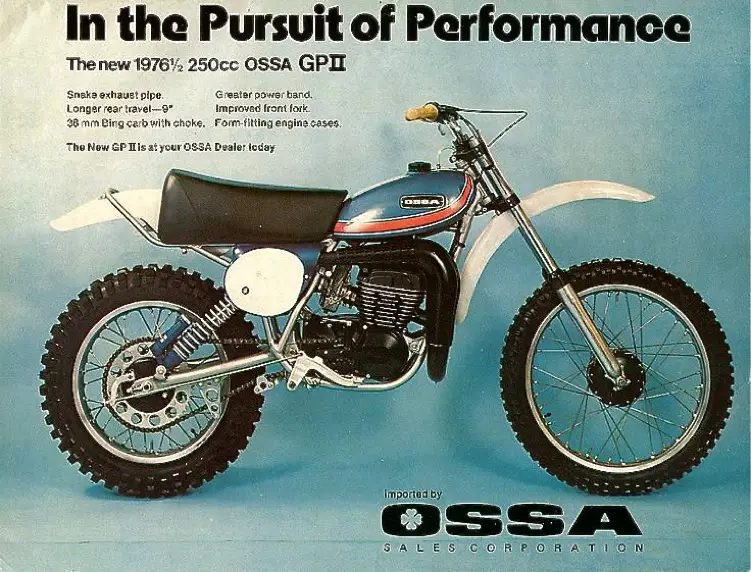 The 1976-1/2 Ossa 250 GP II.
When bankrupt Spanish brand Gas Gas found a sugar daddy buyer to save them from dissolution, no one asked about Osaa. Back in 2014 Ossa was on the road to revival when Gas Gas stepped in to form a manufacturing partnership and a merger that saw both companies combining their engineering, operations, and human resource operations under one roof. It was said that the two Catalan brands would remain distinct in their products, but the economy of scale was of no benefit for either brand — as big brother Gas Gas crashed into receivership. Luckily for Gas Gas, they were saved from bankruptcy court when the Torrot Group acquired ownership of the brand and put them right back into production for the 2017 model year.  Torrot's buy-out might well have meant that they also owned the Ossa brand name as well, but it wasn't to be. And it didn't matter anyway because in 2019 Gas Gas was bought by KTM — and will be platform shared with KTM and Husqvarna. Ossa was left out in the cold—until the next revival attempt.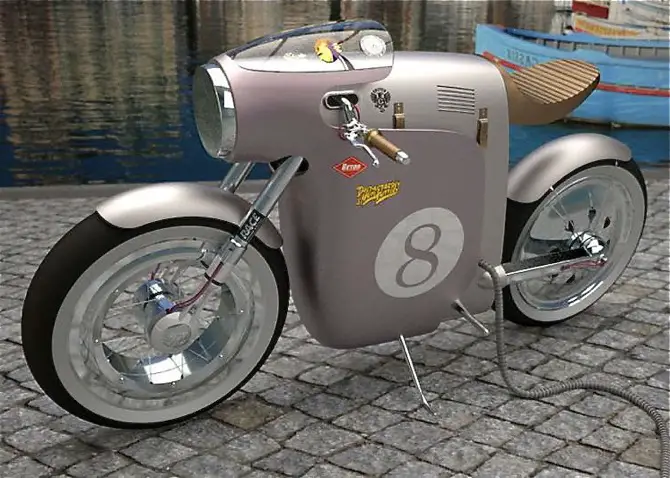 The Ossa Monocasco concept bike. And electric bike replica of a classic Ossa road racer.

The actual, true-to-life, Ossa Monocasco road racer. Do they look anything alike?
The bike that Ossa thought would put them on a map — a fuel-injected, backwards-cylinder, two stroke off-road bike.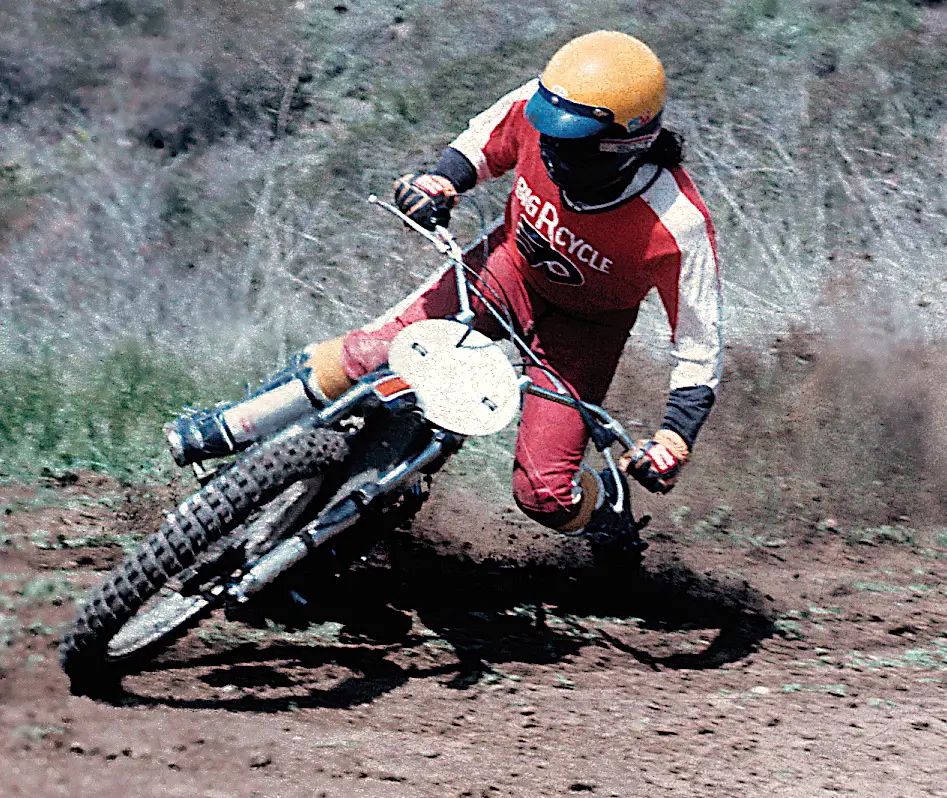 Jody Weisel on an Ossa GPII at the old Escape Country track in Trabuco Canyon in 1976. According to Jody this was the best way to get an Ossa to turn.
Twin-cylinder Yankee Z 500 used two Ossa top-ends bolted to a single crankcase.
This may be the only Ossa you'll be able to buy in the future.
7TH ANNUAL KURT CASELLI RIDE DAY AT PALA ON DEC. 14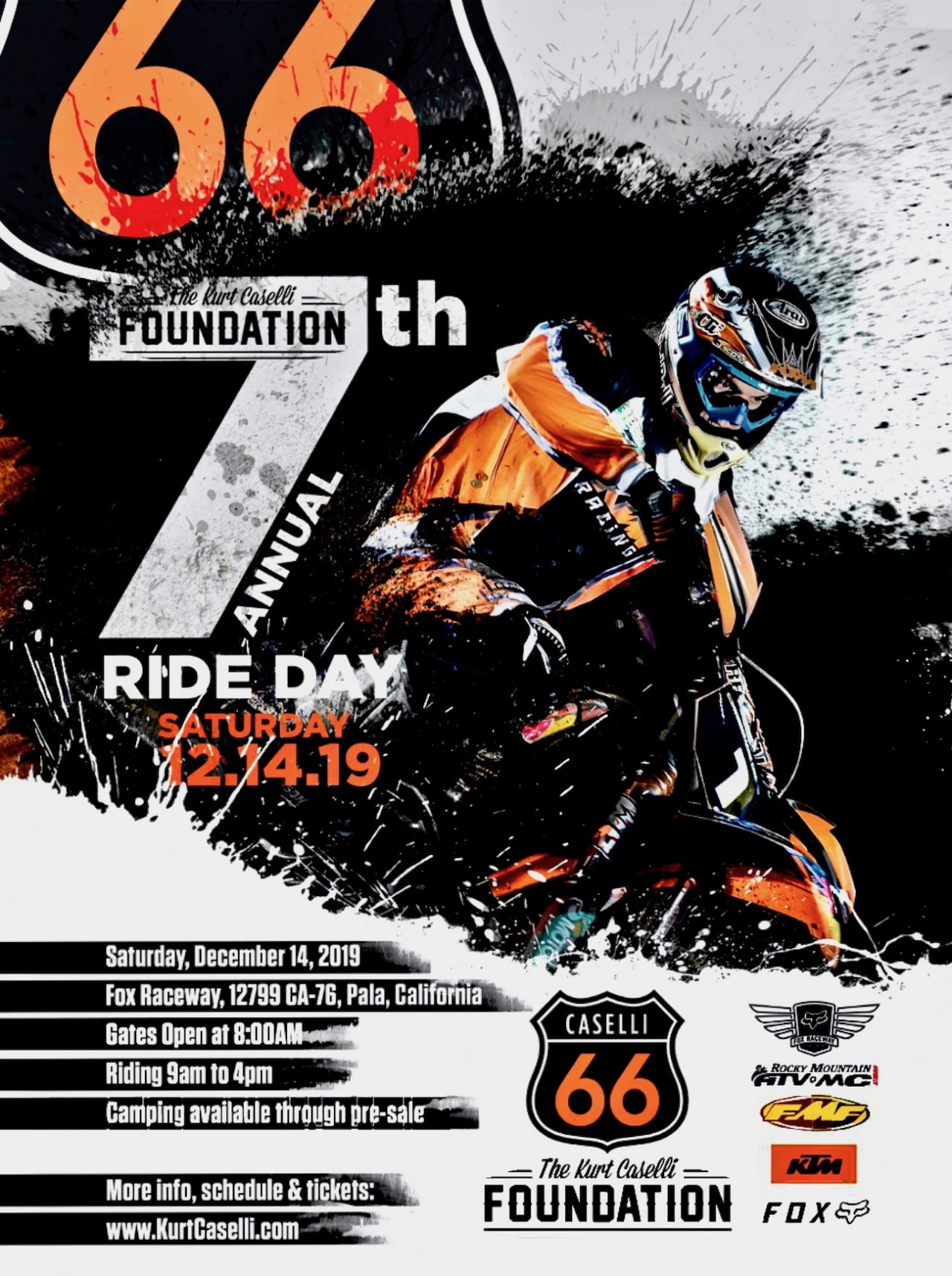 At Pala Raceway from 9:00 a.m. to 4:00 p.m. on December 14. For more info go to www.kurtcaselli.com
FINAL TWO REM RACES OF THE YEAR ON DEC. 14 & DEC. 21


The 2019 REM race season started in January and after 12 months of racing comes to a conclusion with the final two races in December on the 14th and the 21st. For more info go to www.remsatmx.com
5 ANNUAL KYLE YARNELL MEMORIAL TEAM RACE ON SUNDAY, DEC. 15, AT GLEN HELEN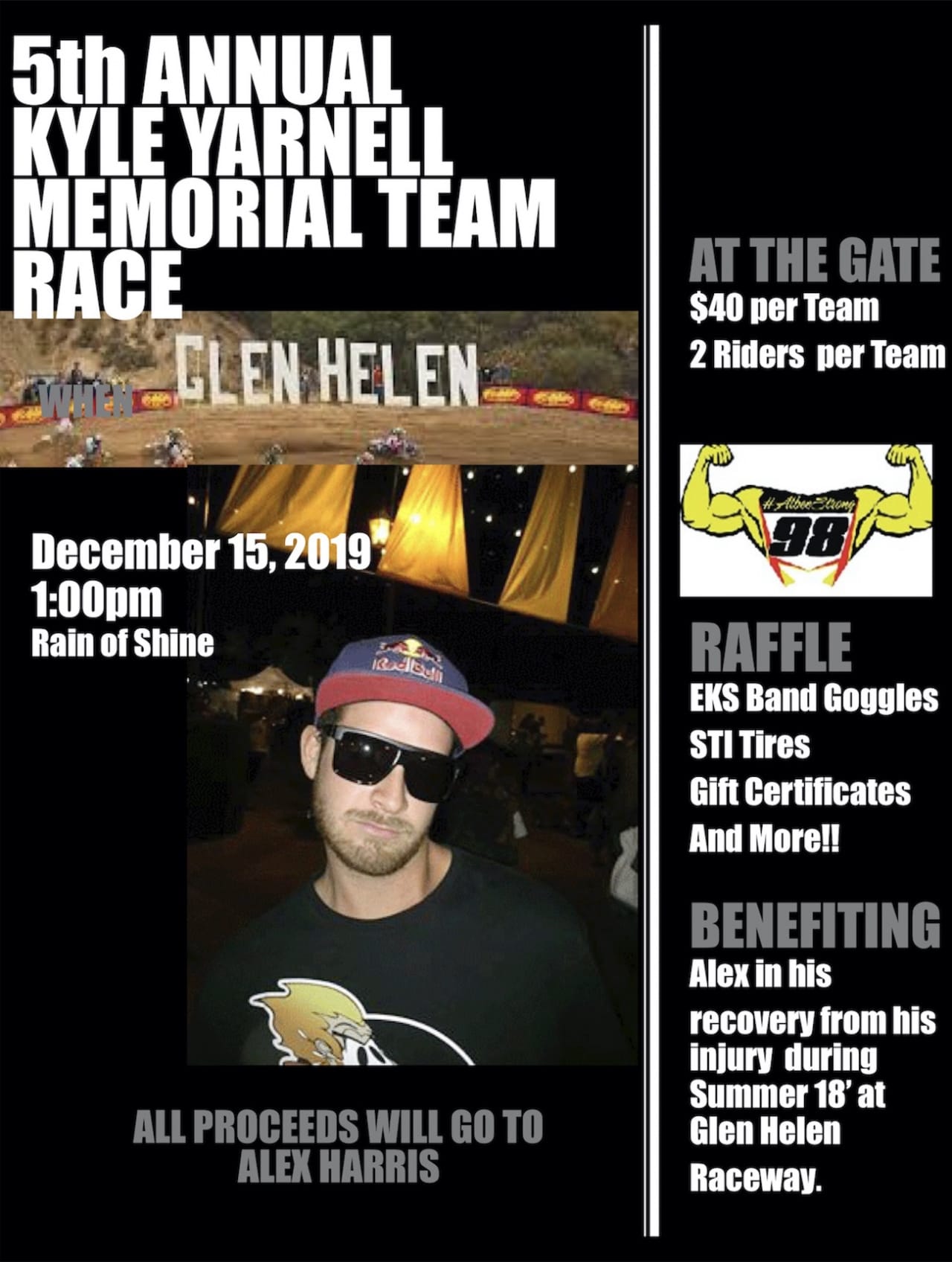 In conjunction with the SRA Sparks of Love GP in the morning and the Kyle Yarnell two-man team race in the afternoon at 1:00 p.m.on December 16. These are two separate events—both for charity. For more info Click Here.
FIRST LOOK! HUSQVARNA'S NEW PARALLEL TWIN-CYLINDER NORDEN 901 ADVENTURE BIKE
Built for two-up riding, there are no passenger pegs on the Norden proto.
Although still in prototype and show bike form, Husqvarna has committed to building the Norden 901 adventure bike that they hope will double as a street bike. KTM and Husky have been working on a conventional parallel twin engine to power their next generation street models.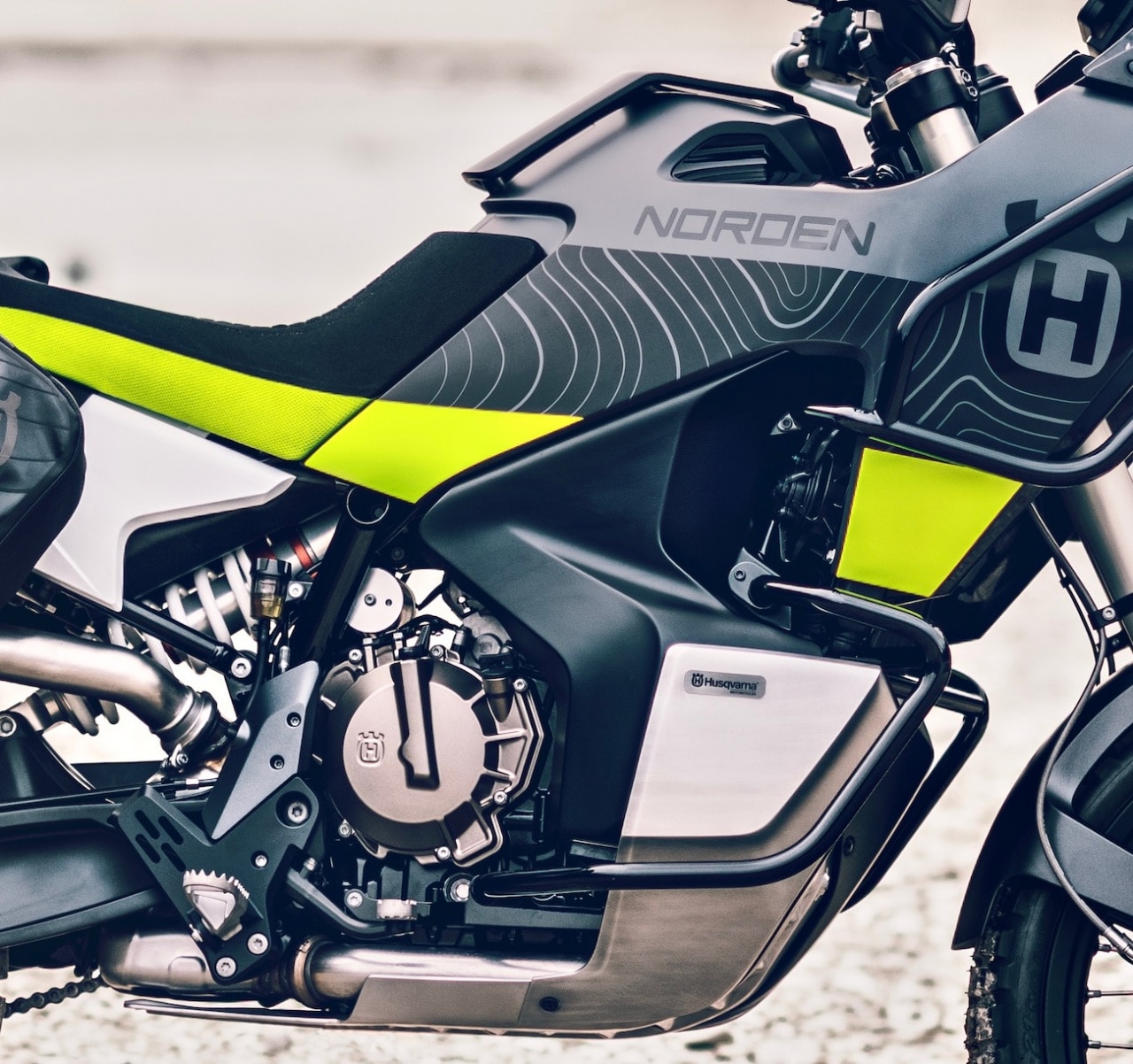 Husqvarna is being mum about the engine, but you can see the exhaust collector behind the skid plate for the two-into-one exhaust system.
It is assumed that the Norden's 889.5cc engine will be based on a punched out version of KTM's LC8c parallel twin, that is schedule to be used in the new KTM 890 Duke. And could become a new 500cc street bike engine.
When fully equipped with its luggage packs, the Norden has the look of a serious long-distance tourer. Note the outlets on the muffler.
The dashboard, small windscreen, controls and gas tank are all very modern looking. No word on when it will be available, only that it is coming.
The Norden 901 proto has bash bars around the vulnerable parts to give it that rugged adventure bike look.
THIRD ANNUAL DISTRICT 37 REUNION (FROM HOPETOWN TO ASCOT) ON DECEMBER 15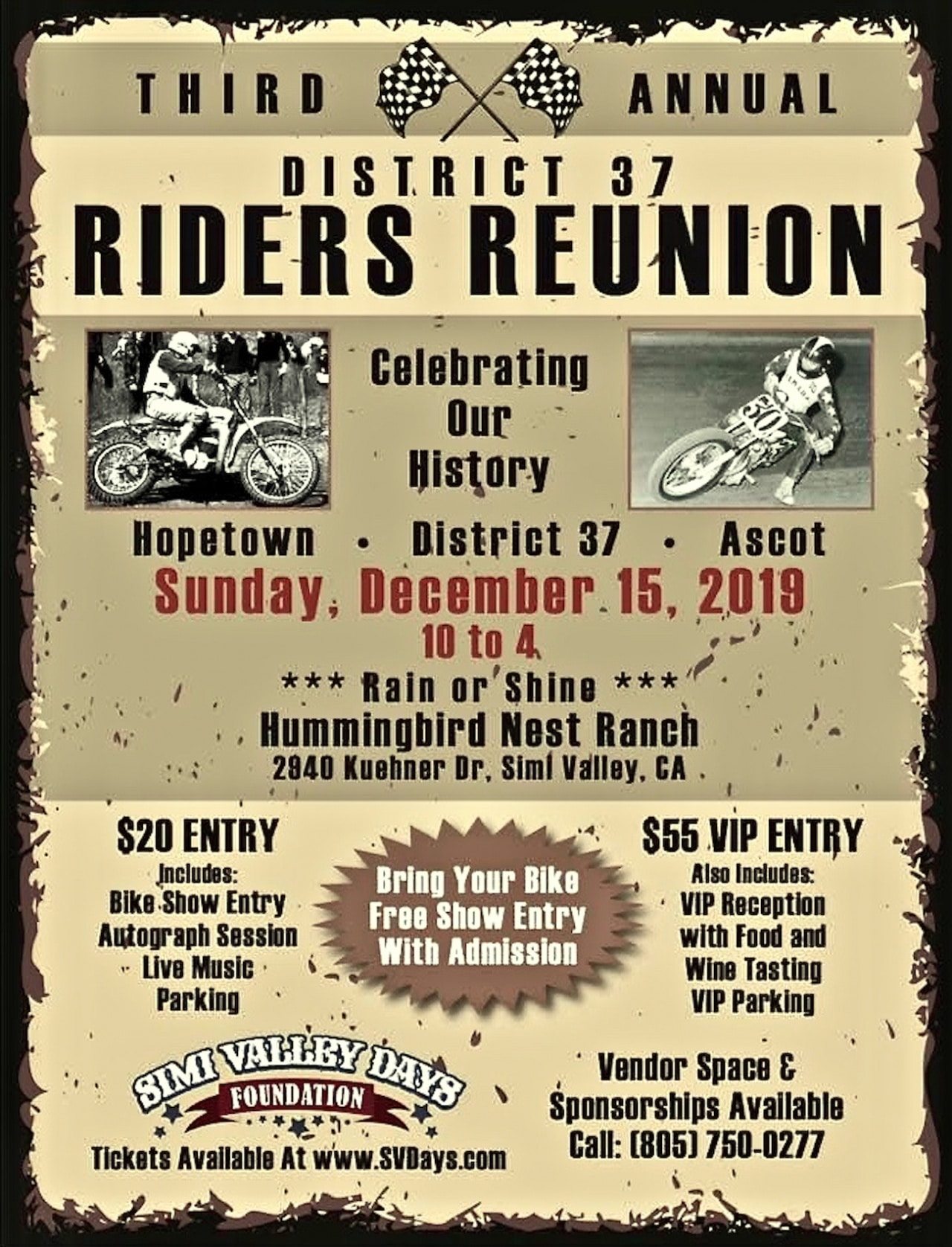 For more info go to www.SVDays.com.
INSIDE ADAM CIANCIARULO'S MONSTER CUP WINNING KAWASAKI KX450
4th ANNUAL JERSEY NELSON MOTOCROSS SCHOOL ON DECEMBER 19 AT PALA


The 4th Annual Jessy Nelson MX School will  be held on Thursday, December 19 at Pala Raceway. Riders of all ages and skill levels get the opportunity to learn from some of the nation's top motocross/Supercross riders. The proceeds from this event will go to benefit Jessy Nelson and Micky Dymond. For more details or to register for the 4th Annual Jessy Nelson MX School, please Click Here.
MXA AD OF THE WEEK: ODE TO THE FULL FLOATER
In 1981 Suzuki introduced its revolutionary Full Floater rear suspension system. Sadly, Suzuki stopped producing it two years later, without a good explanation as to why they would stop offering what was arguably the best rear suspension system ever devised.
OLD SCHOOL SCRAMBLES FINAL 2019 RACE ON DEC. 21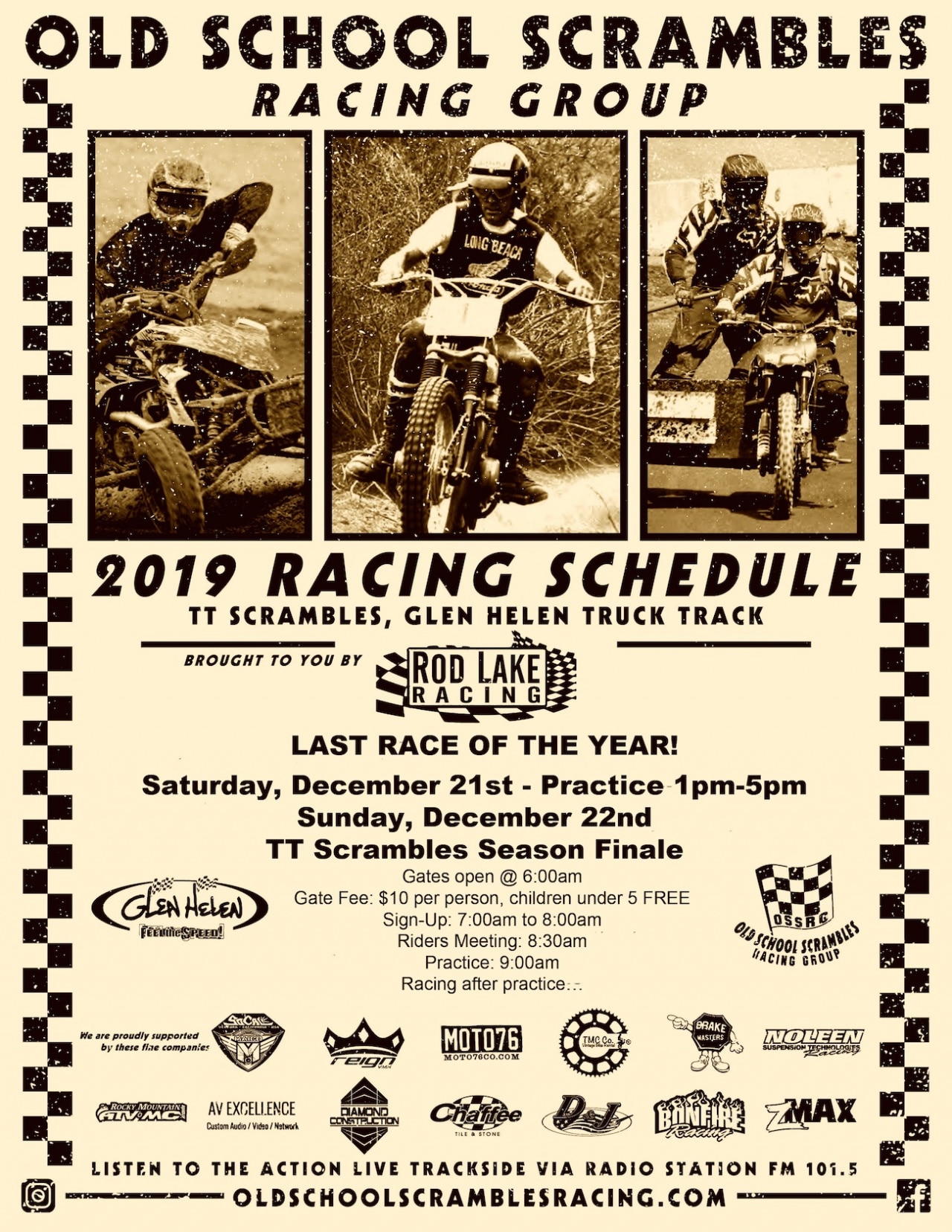 For more info go to www.oldschoolscramblesracing.com
29TH ANNUAL MECUM'S VINTAGE MOTORCYCLE AUCTION ON JAN. 21-26, 2020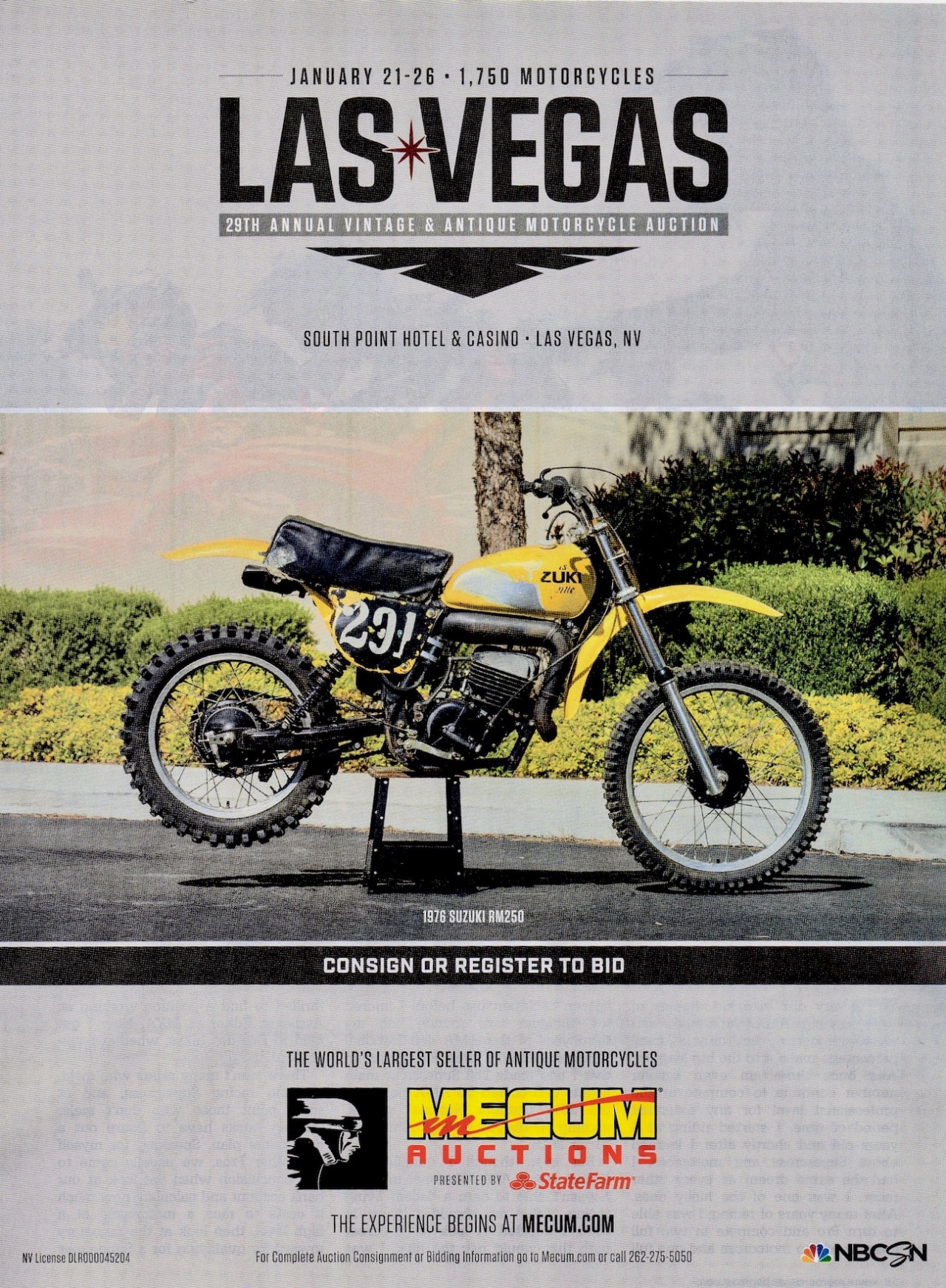 For more info go to www.mecum.com.
2020 SOBOBA TRAIL RIDE ON FEB. 23, 2020, ON THE SOBOBA INDIAN RESERVATION
For more information about the San Jacinto, California, trail ride go to www.sobobarides.biz
THE NEW MXA IS HERE! THE FABULOUS 2020 MXA 450 FOUR-STROKE SHOOTOUT ISSUE
The 2020 MXA 450 Shootout is the most detailed shootout ever printed. It is full of undeniable facts that you never knew, but will when you read it in the January 2020 issue
If you subscribe to MXA you can get the mag on your iPhone, iPad, Kindle or Android by going to the Apple Store, Amazon or Google Play or in a digital version. Even better you can subscribe to Motocross Action and get the awesome print edition delivered to your house by a uniformed employee of the U.S. Government. You can call (800) 767-0345 or Click Here (or on the box at the bottom of this page) to subscribe.
2020 BRITISH ARENACROSS CHAMPIONSHIP STARTS ON JANUARY 31, 2020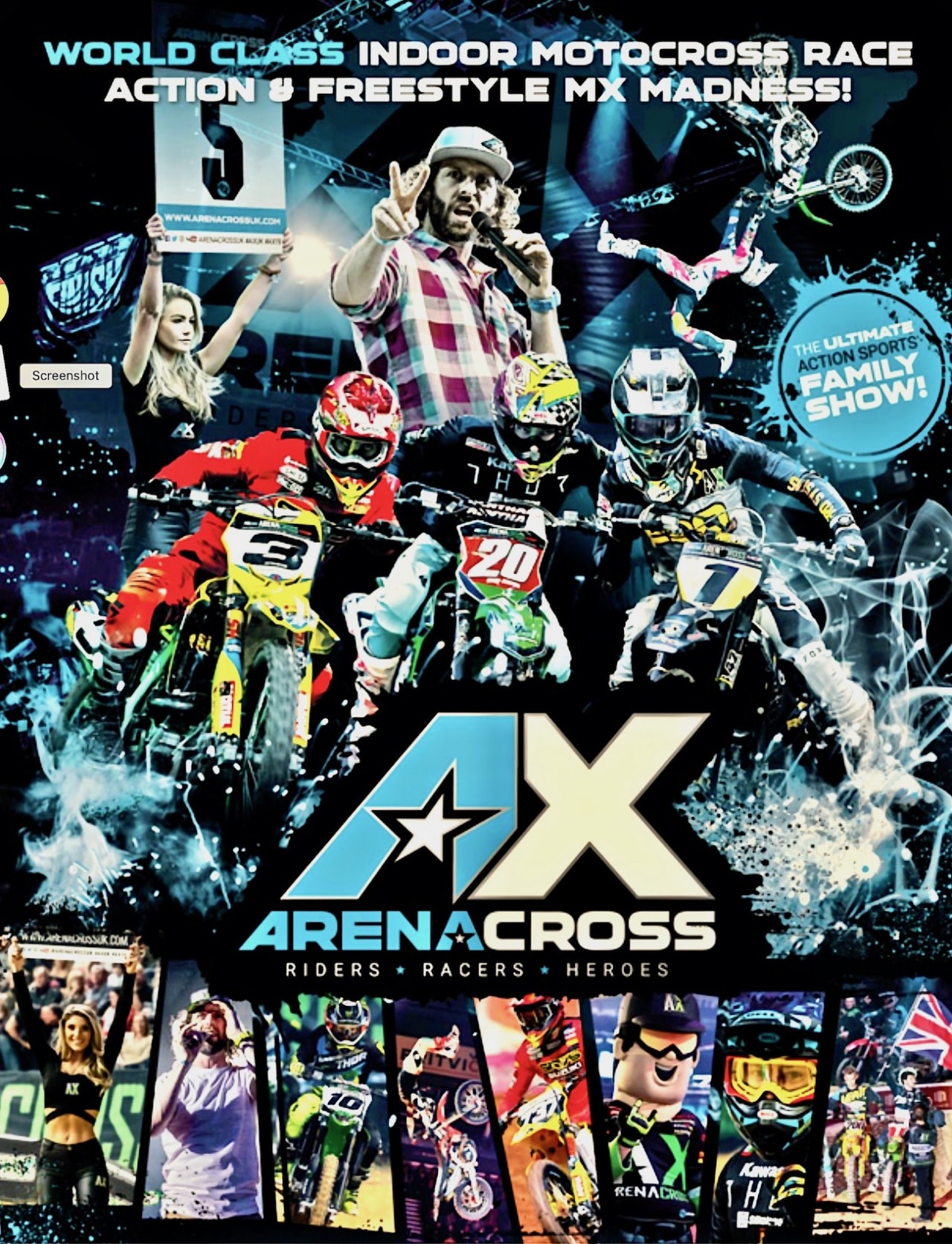 Jan. 31-Feb. 1…Birmingham, England
Jan. 17-18…Belfast, Northern Ireland
Feb. 21-22…London, England
VACATION IN SOCAL WITH DENNIS STAPLETON: RIDE GLEN HELEN, CAHUILLA CREEK, PALA, PERRIS & MORE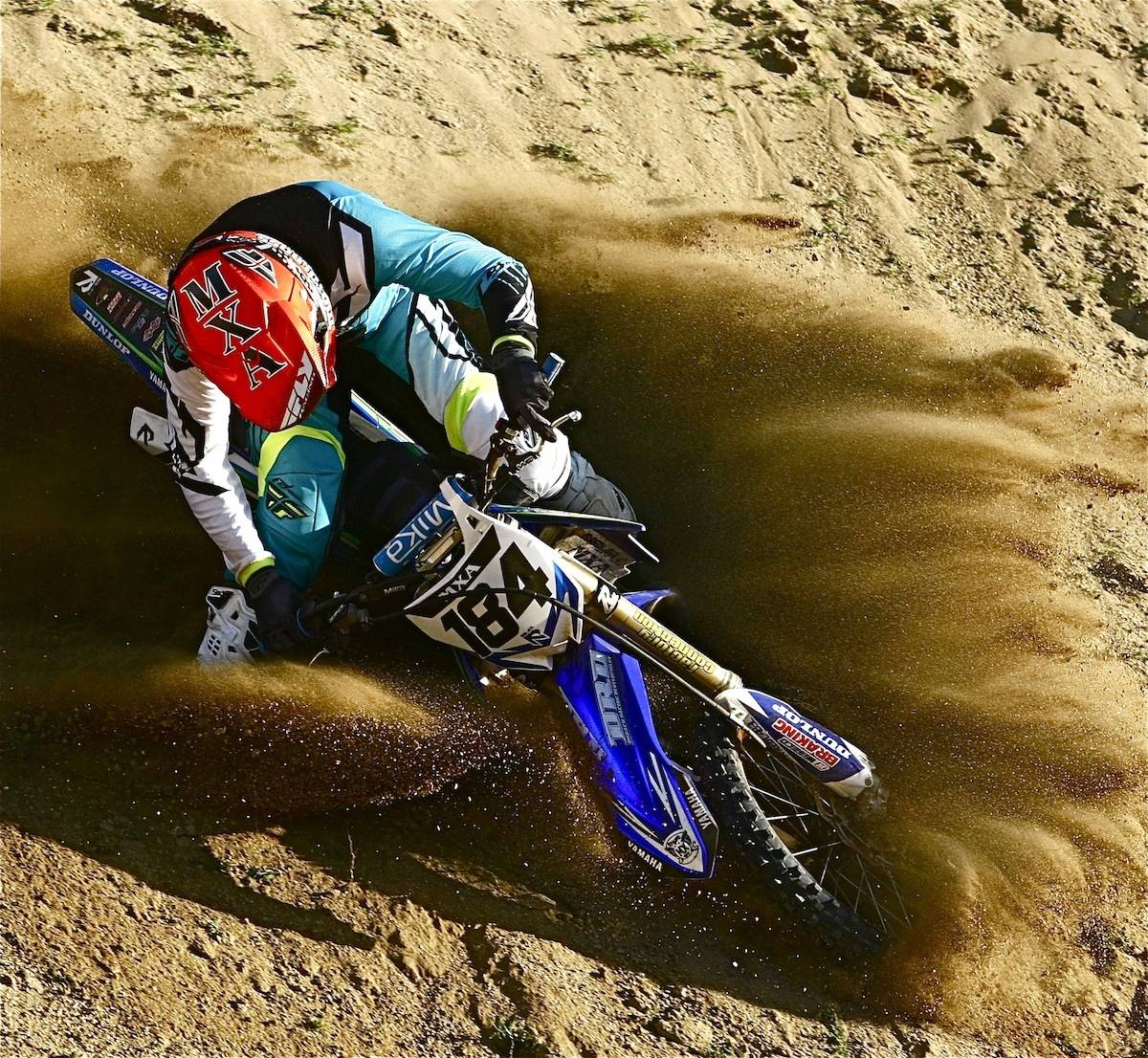 Dennis Stapleton doing what he does every day of the week — let him make your dreams come true.
In his spare time, when he's not testing with MXA, racing in a foreign country, going to Japan or helping many of his motocross buddies, Dennis has the time to open up his house, garage, bikes and mechanics to help riders who would like to come to SoCal on a motocross vacation. He offers full service to all of the Southern California tracks for racers or for play riders. Whether you want to rent a bike, move in for a week, race at Glen Helen or take motocross lessons—this is one-stop shopping.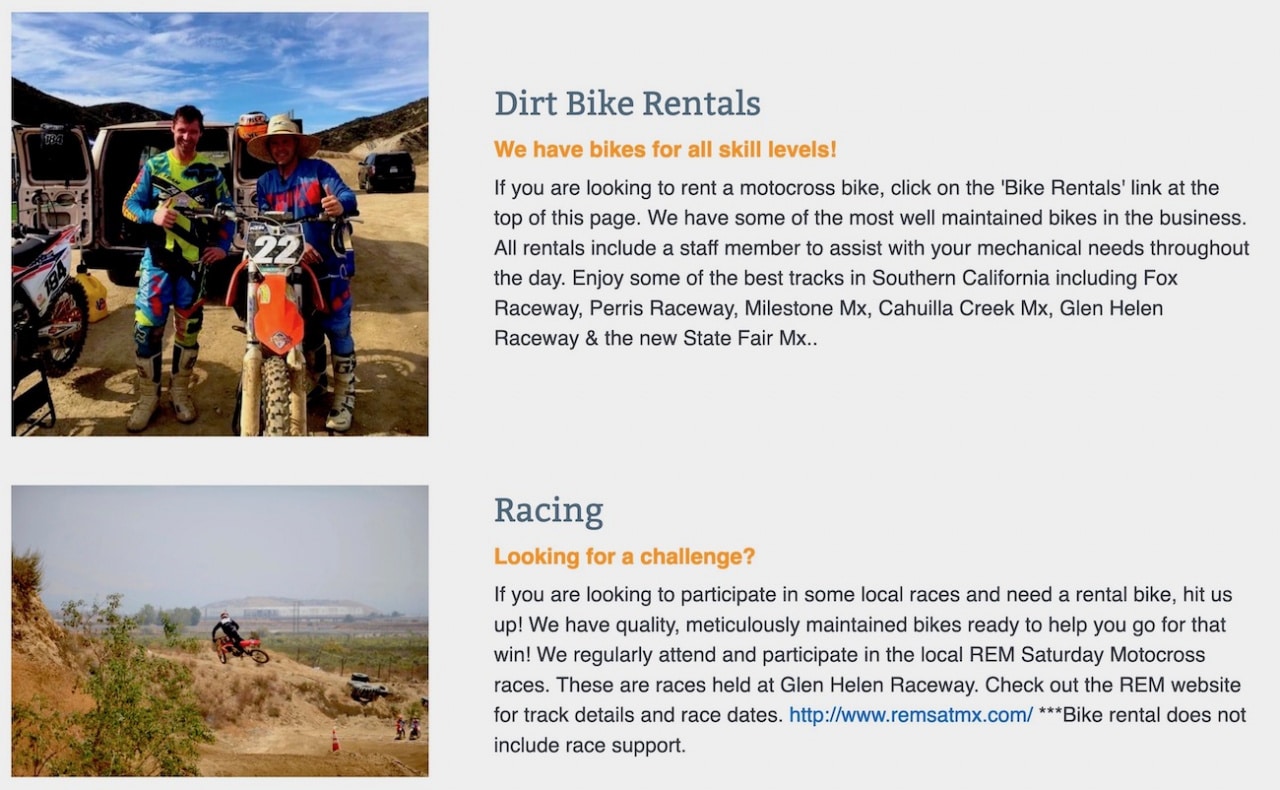 If you're coming out to Southern California and need a rental bike, check out KnobbyShop South/StapoMX for all your rental needs. They offer Motocross Vacations, bike rentals and motocross lessons. Just send them an email ([email protected]). If you'd like to live the SoCal lifestyle for a day, a weekend, a week, a month or three months, visit Dennis' website at www.knobbyshopsouth.org for more details!
2020 11-RACE WORCS RACE SCHEDULE


For more info go to www.worcsracing.com.
EKS BRAND SPONSORSHIP SUBMISSION IS OPEN!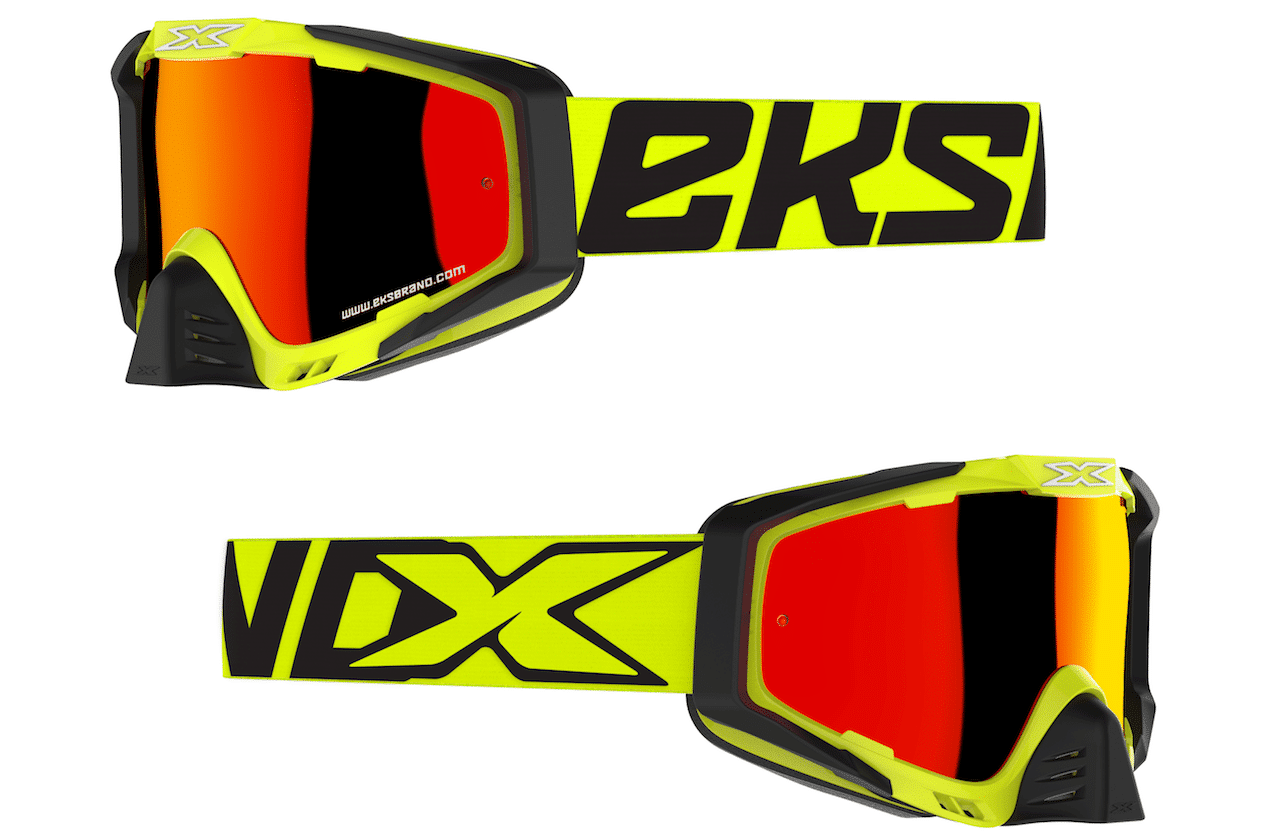 The EKS Brand Rider Support Program is in its 10th year and is actively looking for riders to be a part of the program. Support levels range from C class riders all the way up through National level racers. The program is open to riders of all disciplines including, Motocross, Supercross, Off-Road, Flat Track, Hill Climb, Supermoto, Speedway, Endurocross, Trials, ATV, Mountain bike BMX, Snowsports, and all action sport athletes. Join the likes of 2019 racers Chris Blose, Alex Ray, Kyle Chisholm, Adam Eticknap, Vince Friese, Kyle Cunningham, Henry Miller, John Short, Ben Lemay, Brandon Hartranft, Jacob Hayes, Grant Baylor, Russell Bobbit, Gary Sutherlin and Ricky Brabec,
Click on www.eksbrand.com and go to "contact us" or send a small resume to [email protected]. Note: If you were on the EKS Brand team last year, please specify the program you were on in your resume.
UFO PLASTIC RIDER SUPPORT PROGRAM: HOW TO APPLY
To apply send an email to [email protected]. Be sure to provide the info listed on the poster
TALK MOTO WITH ON MXA'S FACEBOOK GROUP CHAT


We love everything moto and want to bring all moto junkies together into one place to share their two cents, ideas, photos, bike fixes, bike problems and much more. To check it out first you must need to or already have a Facebook account. If you don't, it isn't much work and you could even have an alias so nobody knows it is you. To join click HERE. After you request to join we will accept your request shortly after.
FOLLOW MXA ON TWITTER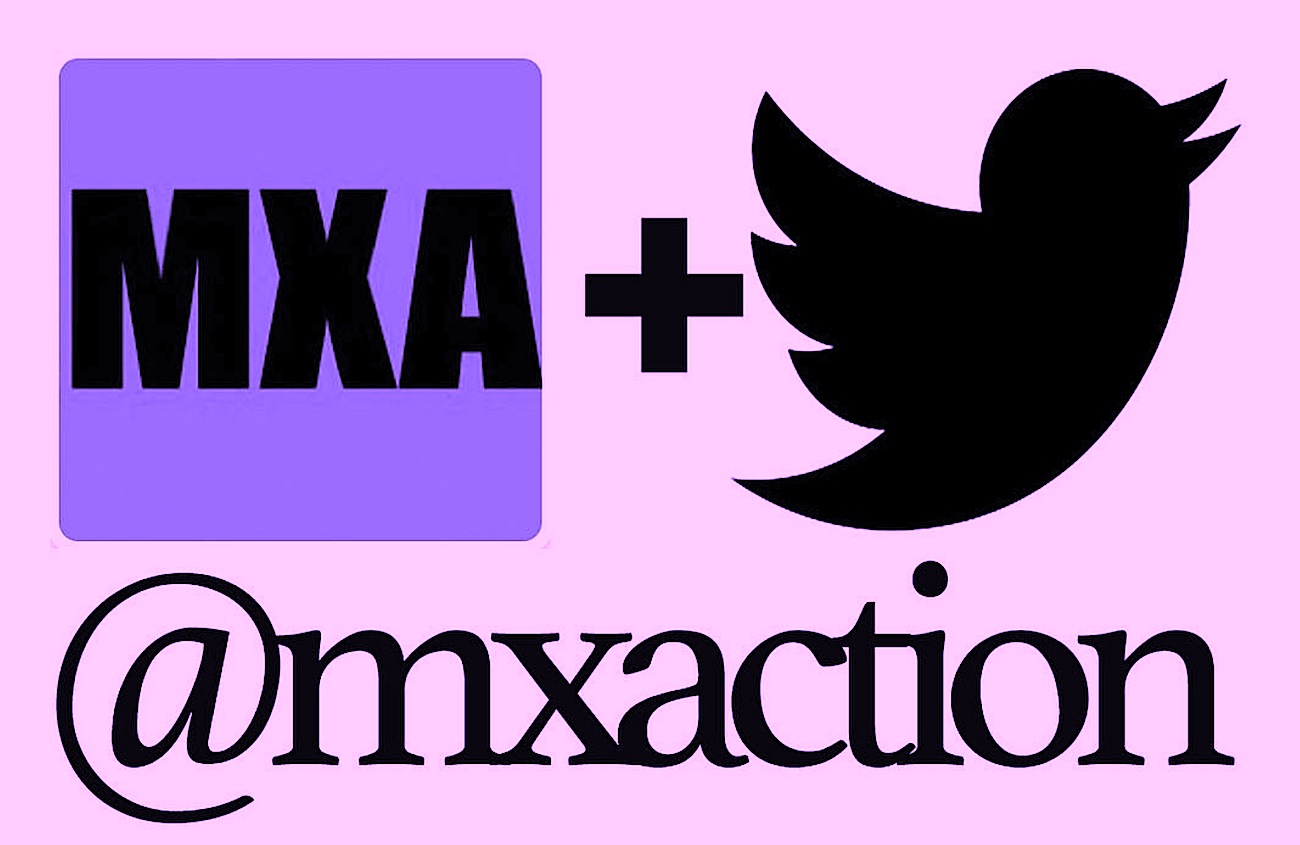 Follow us to see fresh content every day at www.twitter.com/MXAction or on twitter at "MXAction."
OSET ELECTRIC BIKES CAN MAKE YOUR KID'S CHRISTMAS DREAM COME TRUE
Looking for a Christmas gift for Junior? OSET has slashed the price of its 12.5 range of electric off-road motorcycles for kids ages 3-5. The 12.5 Racing and Eco range are the perfect entry-level motorcycle that's ideal for beginners and back yard riders age 3-5 who want to experience a real motorcycle with all the benefits that come with being electric such as ease of maintenance, very low running costs, no hot parts and being virtually silent. Customers can enjoy healthy discounts of up to $100 off the bike's while the stock lasts. Customers should visit www.osetbikes.com/us/ to find their local OSET dealer or to earn more about the full range of OSET Electric Motorcycles for kids.
MXA YOUTUBE CHANNEL | HIT THAT SUBSCRIBE BUTTON

The MXA wrecking crew is everything moto related. Check out our MXA YouTube channel for bike reviews, Supercross coverage, rider interviews and much more. And don't forgot to hit that subscribe button.
LOOKING AHEAD! THE 2020 RACE CALENDAR
2020 AMA SUPERCROSS
Jan. 4…Anaheim, CA
Jan. 11…St. Louis, MO
Jan. 18 …Anaheim, CA
Jan. 25…Glendale, AZ
Feb. 1…Oakland, CA
Feb. 8…San Diego, CA
Feb. 15…Tampa, FL
Feb. 22… Arlington, TX
Feb. 29… Atlanta, GA
Mar. 7…Daytona Beach, FL
Mar. 14…Indianapolis, IN
Mar. 21…Detroit, MI
Mar. 28…Seattle, WA
Apr. 4…Denver, CO
Apr. 18…Foxborough, MA
Apr. 25…Las Vegas, NV
May 2…Salt Lake City, UT
2020 AMA ARENACROSS CHAMPIONSHIP
Jan. 3-4…Loveland, CO
Jan. 11…Hobbs, NM
Jan. 24-25…Oklahoma City, OK
Jan. 31-Feb. 1… Denver, CO
Feb. 7-8…Reno NV
Feb. 28-29…Salt Lake City, UT
Mar. 7… Amarillo, TX
2020 AMA NATIONAL CHAMPIONSHIP
May 16…..Hangtown, CA
May 23…..Pala, CA
May 30….Thunder Valley, CO
Jun. 6……Jacksonville, FL
June 20…Mt. Morris, PA
June 27…Southwick, MA
July 4……Red Bud, MI
July 18….Millville, MN
July 25….Washougal, WA
Aug. 15…Unadilla, NY
Aug. 22…Budds Creek, MD
Aug. 29…Crawfordsville, IN
2020 FIM MOTOCROSS WORLD CHAMPIONSHIP
Mar. 1…Great Britain
Mar.8…Holland
Mar. 22…Argentina
Apr. 5…Italy #1
Apr. 19…Spain
Apr. 26…Portugal
May 10…France
May 17…Italy #2
May 24…Germany
June 7…Russia
June 14…Latvia
June 28…Jakarta, Indonesia
July 5…Palembang, Indonesia
July 26…Czech Republic
Aug. 2…Belgium
Aug. 16…Sweden
Aug. 23…Finland
Sept. 6.…Turkey
Sept. 13…China
Sept. 20…Italy #3
2020 FIM MOTOCROSS DES NATIONS
Sept. 27.…Ernee, France
2020 WORCS OFF-ROAD CHAMPIONSHIP
Jan. 12…Primm, NV
Feb. 23…Taft, CA
Mar. 22… Havasu, AZ
Apr. 19…Blythe, CA
May 3…Las Vegas, NV
May 30…Hurricane, UT
July 19…Prineville, OR
Sept. 20…Glen Helen, CA
Oct. 25…Cahuilla, CA
Nov. 15…Primm, NV
2020 WORCS SPRINT ENDURO
Feb. 25…Taft, CA
May 24… Mesquite, NV
July 25…Prineville, OR
Sept. 26…Glen Helen, CA
Oct. 31…Cahuilla, CA
2020 CANADIAN NATIONAL CHAMPIONSHIP
May 31…Wild Rose, AB
June 7…Blackwater, BC
June 14…Dorva, AB
June 21…MotoVally, SK
July 12…Gopher Dunes, ON
July 19…San Del Lee, ON
July 26…Riverglade, NB
Aug. 2…Deschambault, QC
Aug. 16…Walton, ON
2020 MICHELIN BRITISH NATIONAL CHAMPIONSHIP
Mar. 22…Fatcat MotoParc
Apr. 19…Desertmartin, Ireland
Apr. 26…Hawkstone Park
July 5…Canada Heights
Aug. 9…Landrake
Sept. 6t…Cusses Gorse
2020 ACU BRITISH NATIONAL CHAMPIONSHIP
Apr. 12…Lyng
May 3…Foxhill
May 31…Blaxhall
June 21…Deertmartin, Ireland
July 12…Culham
Aug. 30 Landrake
2020 AUSTRALIAN NATIONAL CHAMPIONSHIP
Mar. 22…New South Wales
April 4-5…Victoria
May 3… Victoria
May 24…Queensland
June 28…Queensland
July 25-26…New South Wales
Aug. 22-23…Queensland
2020 AUSTRALIAN SUPERCROSS CHAMPIONSHIP
Oct. 3 …Western Australia
Oct. 17… South Australia
Oct. 31…Queensland
Nov. 7 …New South Wales
Nov. 14…TBA
Nov. 28…Victoria
2020 ADAC GERMAN NATIONAL CHAMPIONSHIP
Apr. 13…Fürstlich Drehna
May 3…Mölln
May 31…Möggers, Austria
June 21…Aichwald
July 12…Holzgerlingen
July 19…Tensfeld
Aug. 30…Bielstein
Sept.13…Gaildorf
AMA NATIONAL AMATEUR CHAMPIONSHIP
Aug. 3-8….Hurricane Mills, TN
2020 FIM JUNIOR WORLD CHAMPIONSHIP
Aug. 8-9…Megalopolis, Greece
Photos: Brian Converse, Honda, Husqvarna, Daryl Ecklund, Jody Weisel, MXA, KTM, Debbi Tamietti