MXA WEEKEN NEWS ROUND-UP: DO WE COUNT DOWN SUPERCROSS OR COUNT UP TO THE NATIONALS?
HUSQVARNA'S 2019 MINI-MOTOCROSS NEW MODEL LINE-UP
HUSQVARNA TC50
Offering the same striking looks and ergonomic feel as Husqvarna's full-sized motocross machines, the TC50 is perfect for the motocross stars of tomorrow. Featuring superior quality components, the TC50 has been designed from the ground up in order to be a true premium 50cc motocross bike. The TC50 is built around an advanced steel frame, which houses the most powerful engine in its category.
Featuring the latest in two-stroke technology, the engine makes use of a 3-shaft design for improved mass centralization. The exhaust is specifically designed to match the characteristics of the two-stroke powerplant. The engine is fitted with an automatic centrifugal clutch that reduces riding complexity for younger riders. Part of the official Husqvarna Motorcycles Accessories range, a special kit allows for a reduction of the power for less aggressive riders. Leading components such as the WP suspension add up to create a motorcycle that sets the benchmark in the class. The TC50 is fitted with a revolutionary WP AER 35 fork.
Besides being very light, the 35mm forks allow the rider to push the limits with confidence. With 205 mm of wheel travel, the air unit in the left fork leg can be adjusted with an air pump. Offering 185mm of suspension travel, the WP monoshock is matched perfectly to the front forks.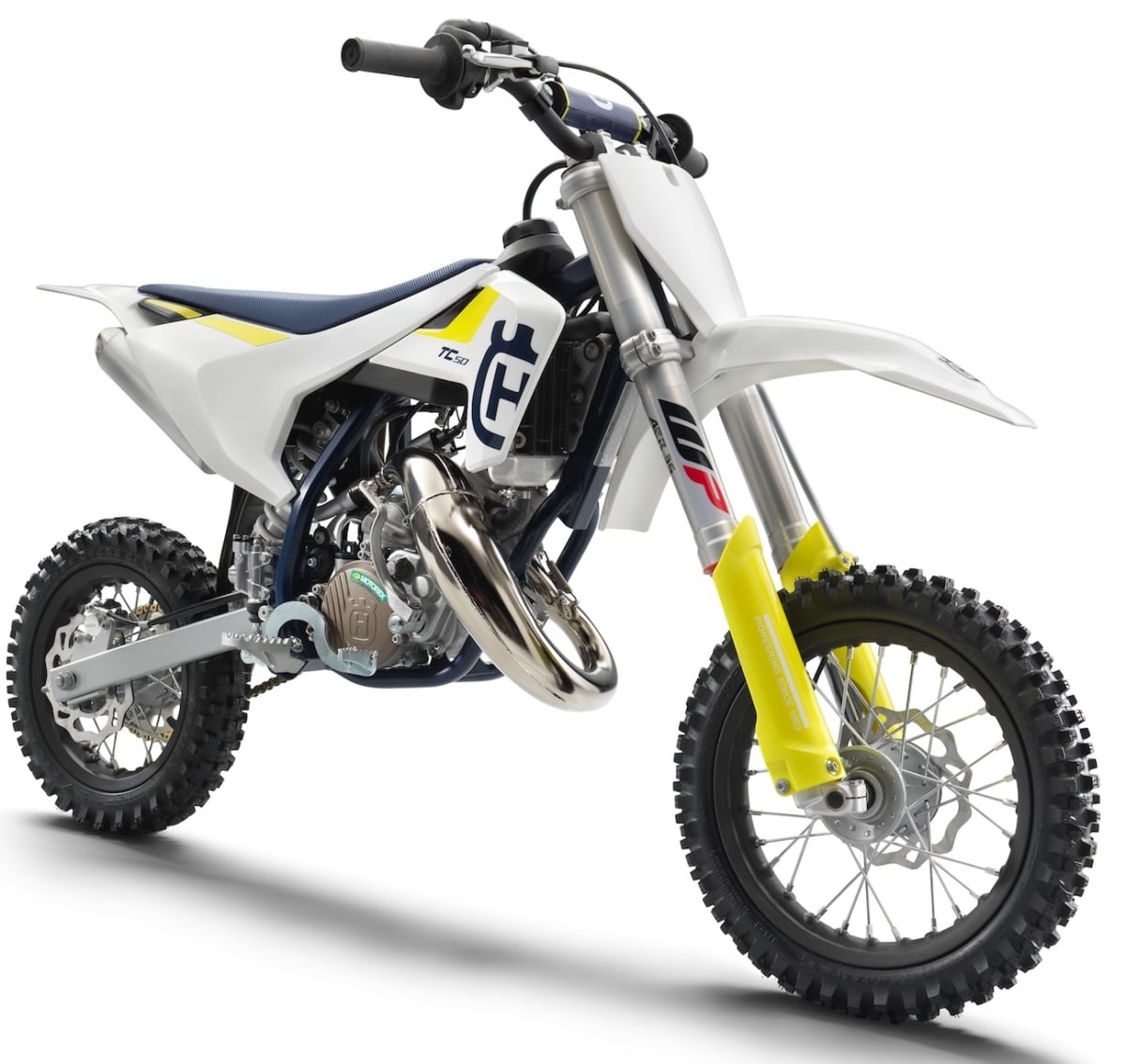 2019 HUSQVARNA TC50 HIGHLIGHTS
1. Bodywork modelled after full-size range
2. Wave brake discs
3. Black aluminum rims & standard MAXXIS tires
4. Radiator spoilers channeling air for better cooling
5. Aluminum handlebars with standard crash pad
6.All-new graphics in white, yellow & blue
HUSQVARNA TC65
The TC65 offers young motocross fans the chance to experience a full race bike with a hydraulic clutch and a manual gearbox, possibly for the first time in their riding careers. Featuring premium components as standard, the TC65 offers exactly the same quality as that found on Husqvarna's larger motocross machines.
Highly competitive in the 65 cc class, the TC65 engine is built using the lightest and most durable materials. Featuring the latest in two-stroke technology, it has a pressure-controlled exhaust valve which helps obtain top level performance. Additionally, the engine features a manual 6-speed transmission and hydraulic clutch allowing the rider to have full control of the power delivery.
Sophisticated components such as the cast aluminum swingarm are blended together with advanced solutions like the intelligent cooling circuit to create a motorcycle that is modern and highly competitive. In the suspension department, the TC 65 features a revolutionary WP AER 35 fork, with 215mm of wheel travel and an adjustable air unit in its left fork. Matched precisely to the forks, the WP monoshock rear suspension offers 270 mm of travel and is fully adjustable.
2019 HUSQVARNA TC65 HIGHLIGHTS
1. Bodywork modeled after full-sized motocross range
2. Alloy handlebars with standard crash pad
3. Hydraulic clutch system
4. Black alloy wheels & standard Maxxis tires
5. Wave discs [198mm front & 160mm rear]
6. Striking new graphics in white, yellow & blue

HUSQVARNA TC85
Raising the bar in the competitive 85 cc class, the TC85 features much of the same technology found in the full-sized Husqvarna motocross motorcycles. Combining the latest in chassis technology with state of the art WP suspension, it offers young mini riders the chance to push their limits with confidence.
Setting the benchmark in the class, the TC85 two-stroke engine combines top level performance with optimum reliability. The cylinder is designed around an innovative power valve system that significantly enhances power, torque and controllability with a simple and effective adjustment system. The 6-speed gearbox and Formula hydraulic diaphragm spring clutch allow for the power to be correctly delivered across the RPM range.
Mirroring technology found in Husqvarna's full-size motocross models, the TC85 features the latest WP suspension componentry. Up front, the WP AER 43 has a split fork design with air in its left leg and oil in the right leg. Offering advanced damping characteristics, the forks are easily adjustable via the easy access clickers and with the use of the supplied pump. In the rear, the TC85 is fitted with a special version of the WP XPlor PDS shock absorber. Designed to work perfectly with the forks, the rear shock is fully adjustable for preload, compression and rebound.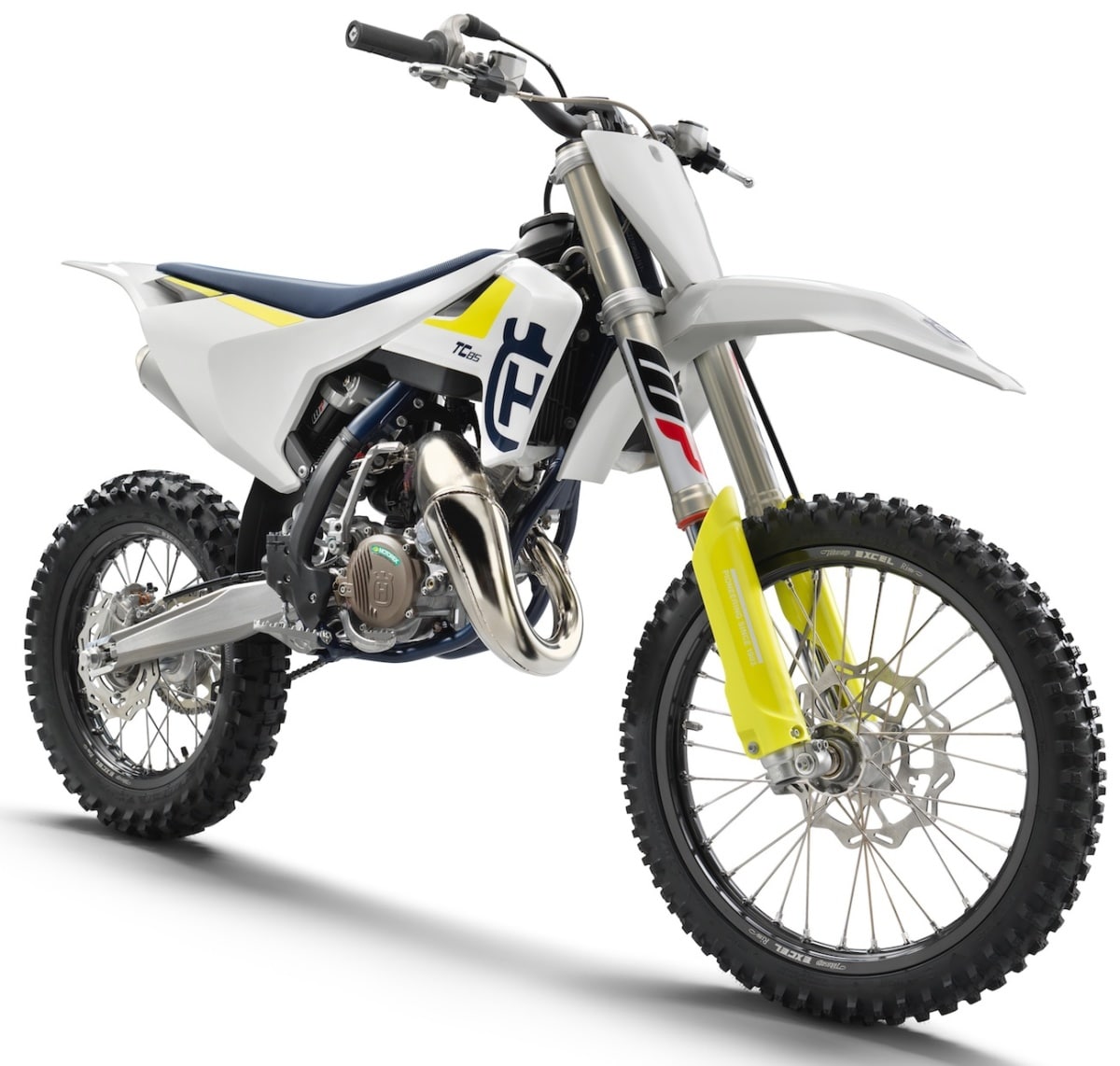 2019 HUSQVARNA TC85 HIGHLIGHTS
1. Available in two wheel sizes; 17/14 and 19/16
2. Self-cleaning gear selector
3. "No-dirt" footpegs preventing dirt build-up
4. Aluminum subframe & one-piece aluminum swingarm
5. Free play adjustment throttle assembly & ODI lock-on grips
6. Airbox offering tool-less access to air filter
7. Black Excel wheels & standard Maxxis tires
8. Formula calipers & waved discs [240mm front & 210mm rear]
9. All-new graphics
BETTER LATE THAN NEVER: THE SEVEN-ROUND TWO-STROKE SERIES THAT IS REALLY ONLY ONE ROUND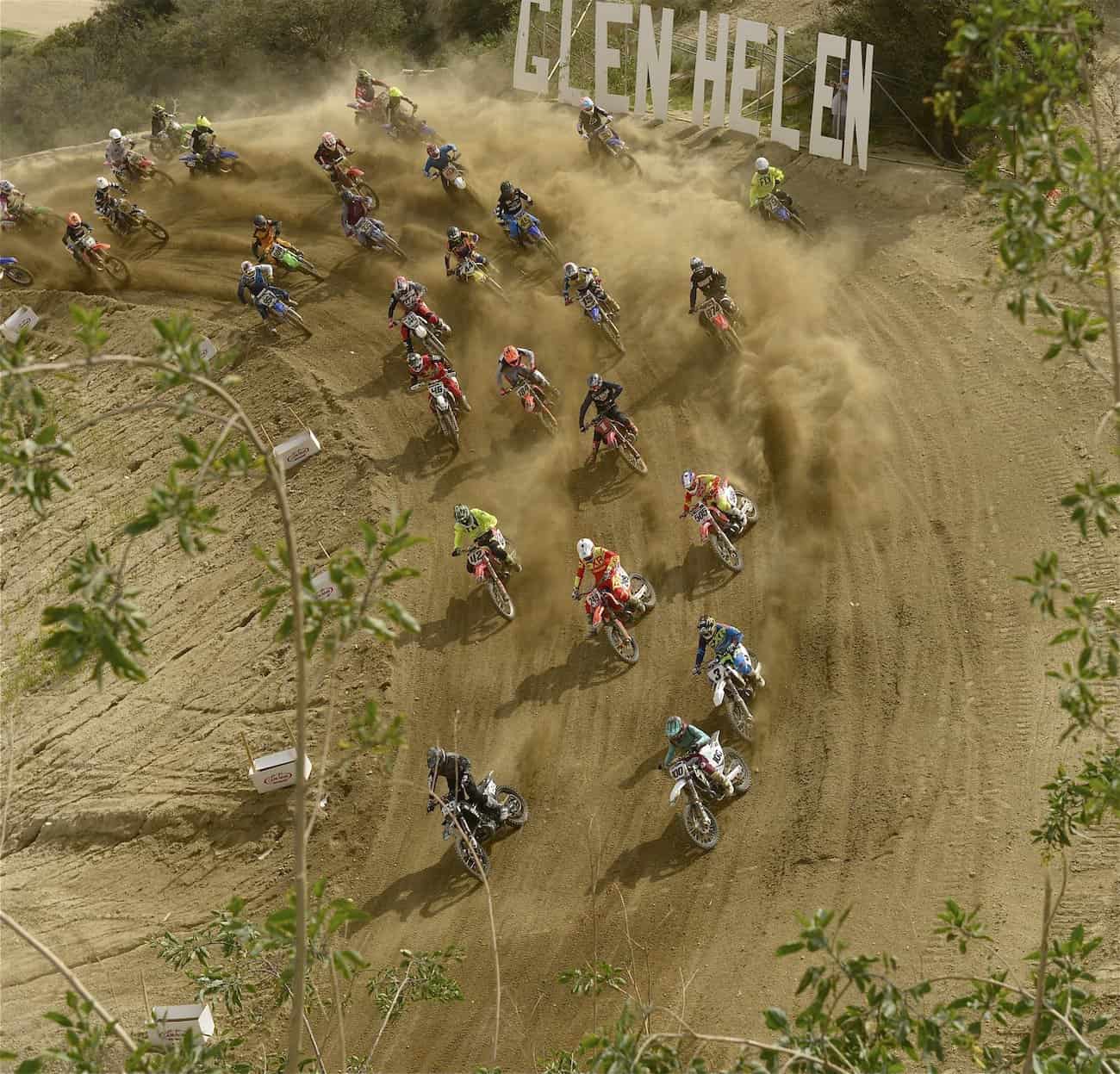 Glen Helen will host a 250/Open Invitational two-stroke race at the May 26 Glen Helen National. They are not part of the 125 All-Star series. This is the first turn at the 2018 World Two-stroke Championship two weeks ago. Zach Bell won.

Press release: The beloved sound of two-stroke motorcycles will return to American motocross this summer as MX Sports Pro Racing has announced the introduction of the 125 All Star Series. This new support program will be featured at a total of seven rounds of the 2018 Lucas Oil Pro Motocross Championship, sanctioned by AMA Pro Racing, beginning with the season opening Hangtown Motocross Classic on May 19th.
The 125 All Star Series will consist of six qualifying rounds and a climactic finale at the season-ending Ironman National on August 25th. In addition to bookending the National schedule, this one-of-a-kind 2-stroke showcase will also visit Thunder Valley (June 2), High Point (June 16), The Wick 338 (June 30), Washougal (July 28), and Budds Creek (August 18). Each All Star event will feature a one-moto format, and will be contested during opening ceremonies at the designated Nationals.
"The resurgence of market interest for two-stroke-based motorcycles, and our recent experience with 2-stroke support classes at national events presents us with opportunities for developing a more formal program for these products for 2018 and beyond," explained Roy Janson, Director of Competition for MX Sports Pro Racing.
"The 125cc two-stroke machine in particular is experiencing an increased level of interest and popularity, due in part to the role it plays in our sport for amateur riders. These motorcycles provide an appropriate transitional machine with size and performance characteristics consistent with the size and skill sets of many young athletes. Additionally, there is continued interest in these machines with our fans based on the important historical role these 2-strokes played in the development, growth and evolution of our sport."
The 125 All Star Series is open to current, production-based, 125cc, two-stroke machines (as well as non-current production models from the final three years of production for manufacturers who no longer produce 125cc models). To be eligible to compete riders must be a minimum 16 years of age, with an AMA skill classification of "B" or higher. Current and former AMA Pro Motocross-licensed riders are eligible to compete, so long as they are not participating in the professional classes at that event.
2018 125 TWO-STROKE ALL-STAR SERIES
May 19……………………….Hangtown, CA
June 2………………………..Thunder Valley, CO
June 16………………………Mt Morris, PA
June 30………………………Southwick, MA
July 28……………………….Washougal, WA.
Aug. 18………………………Budds Creek, MD
Aug. 25………………………Crawfordsville, IN (Finals)
NOTE: In addition, Glen Helen, who has hosted the most two-stroke events of any AMA Nationals will not be part of the 125 All-Star series, but instead will host an invitational two-stroke race open to all size two-strokes — but obviously catering to 250cc and 500cc smokers (because of the big hills a 125 would be at a disadvantage). If MXSports' really wants to help two-strokes, they should change the rule that keeps 250 two-strokes out of racing the AMA 250 National class against 250cc four-stroke (as is legal in Australia,  Canada, Holland and other countries).
THIS WEEK'S BIRTHDAY BOYS: FOUR-TIME CHAMP GARY JONES IS 66 ON SUNDAY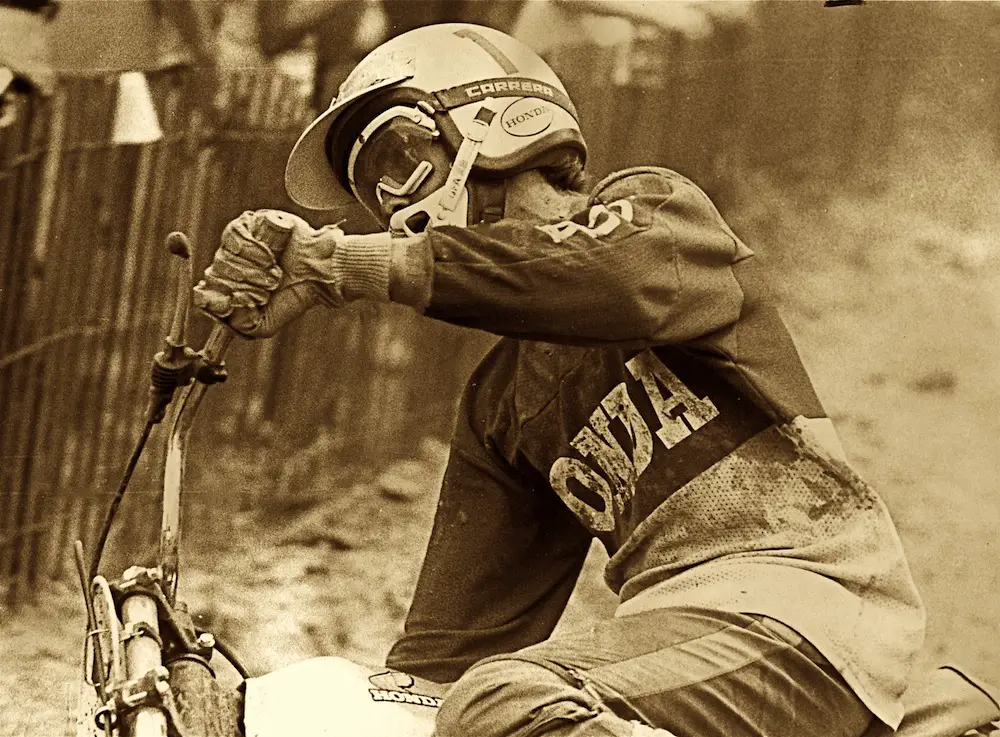 April 22…Gary Jones 1952
April 23…Mike Fisher 1967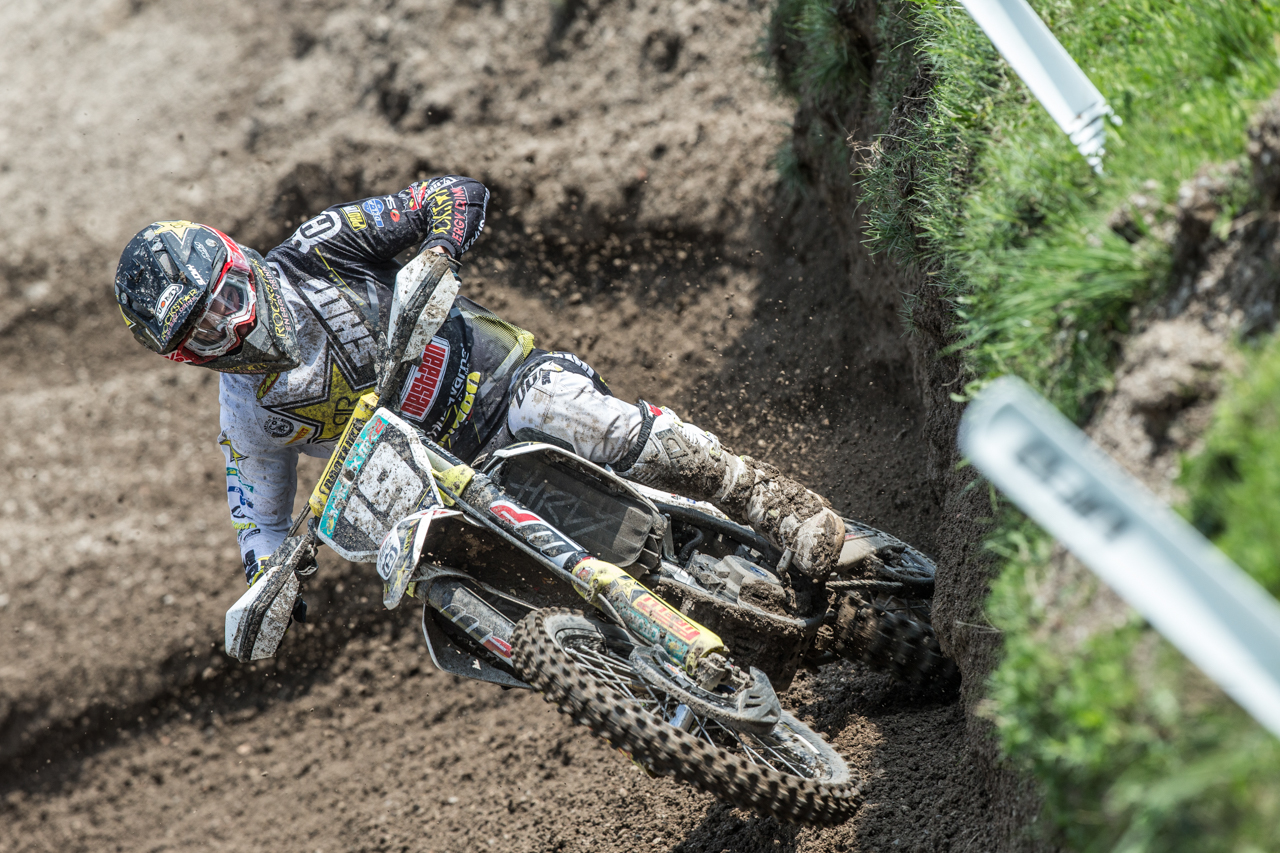 April 23…Thomas Kjer Olsen 1997
April 24…Robby Skaggs 1977
April 25…Max Anstie 1993
April 26…Mike Jones 1966
April 26…Jeff Matiasevich 1970
April 26…Nicolas Aubin 1988
April 26…Taddy Blazusiak 1983
April 27…Eric McCrummen 1986

ZACH OSBORNE RE-UPS WITH ROCKSTAR HUSQVARNA THROUGH 2020
Zach will be riding Husky's until he eligible for the Vet World Championship.
Press release: Rockstar Energy Husqvarna Factory Racing is pleased to announce the extension of Zach Osborne's contract through 2020. He has been successful and a true brand pioneer with his first, as well as Husqvarna Motorcycles' first, 250 East Supercross Championship in the 2017 AMA Supercross season and again with the 2017 AMA 250 National Motocross Championship. He will be contending both series through 2020 and be aboard the FC 450 in the near future.
Zach Osborne: "I'm very excited for the opportunity to continue this relationship with the Rockstar Energy Husqvarna Factory Racing team. We've had good successes so far and I hope to continue that through 2020, in the 450 class, and beyond. It's a great feeling to have the best equipment and team around you in a long term commitment, and I am lucky to have that!"
MXA MOTO-CHALLENGE TRIVIA QUIZ: THE RESULTS FROM 45 YEARS AGO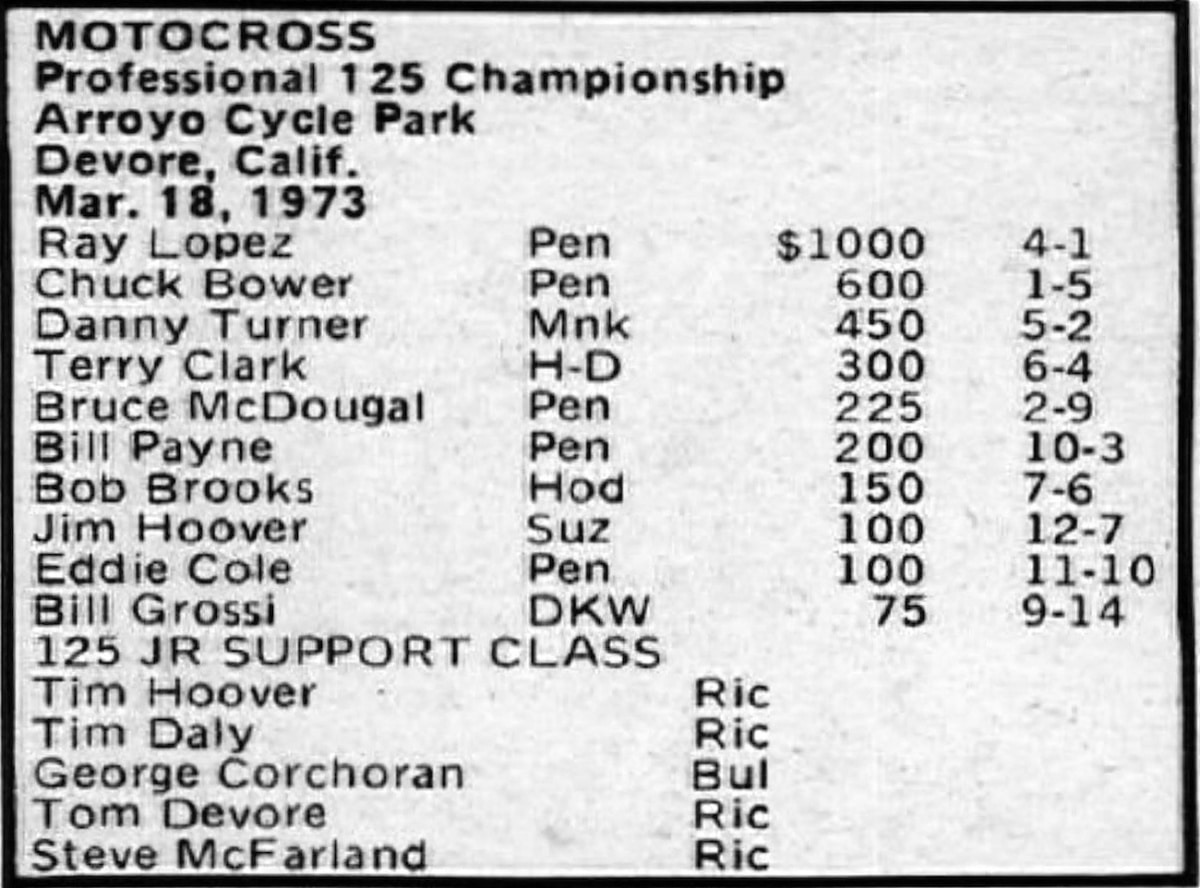 Before the AMA or the FIM recognized 125 two-strokes as a Championship class, the first-ever 125 National Championship was held at Arroyo Cycle Park. These are the results from that day, which saw Penton, Monark, Harley-Davidson, Hodaka and DKW take 9 of the top 10 spots. Jim Hoover brought the first "Big Four" brand home in 8th place. The question? What now sits on the old Arroyo Cycle Park site? Answer at the bottom of the page
2018 CZ WORLD CHAMPIONSHIP & HARRY TAYLOR HODAKA CUP ON MAY 4-6

For more info go to www.czriders.com

USED IT, ABUSED IT, TESTED IT: JGR MX ADJUSTABLE YZ-F/RM-Z SHOCK LINKS
The JGRMX YZ250/450F adjustable shock linkage system not only lowers the rear of 2010–2018 YZ450Fs and 2013–2018 YZ250Fs but also the 2017-18 RM-Z250 and 2017-18 RM-Z450. As with all links, it stiffens the initial part of the shock's stroke while lowering the seat height. What makes the JGRMX shock linkage unique is that it allows the rider to go as low he wants to go..
JGR's adjustable pull rods enable a rider to increase the length of the link in 1mm increments on the YZ-F and 0.5mm on the RM-Z. On the 2017-18 YZ-F, this means from 142mm to 146mm (the JGR riders ran their links at 144mm when they raced YZ450Fs) and on the 2017 RM-Z from 132mm to 134.5mm (Weston Peick ran his 2017 RM-Z450 link at 133.5mm). The 2018 models are comparable. As the length of the linkage arm is increased, the rear of the bike gets lower because the bell crank and the shock attached to it are rotated down. By moving the bell crank's eccentric cam, the starting point of the rising rate is moved into a stiffer point of the curve. This makes the bike slightly stiffer during its initial movement to help lessen wallowing. As for lowering the rear of our YZ450F, 1mm shorter will lower it 8mm, 2mm will lower it 14mm, 3mm will lower it 19mm and 4mm will lower it 23mm.
The MXA wrecking crew loves longer links on the YZ-F and especially on the 2018 Suzuki RM-Z450, not only because they lower the rear of the seat, but because they can be used to change the chassis head angle and overall height (when used in a comprehensive plan with fork-leg height). Most MXA test riders ran it at 2mm longer, but short riders went with 3mm. MXA considers a longer link to be a handling modification instead of a suspension modification. By lowering the rear, you lessen its irritating stinkbug stance, and as the bike gets lower, its cornering ability improves noticeably.
DIGITS: $279.99—www.jgrmxstore.com or (877) 905-4769.
2018 SUPERCROSS POINTS STANDINGS HEADING TO GILLETTE STADIUM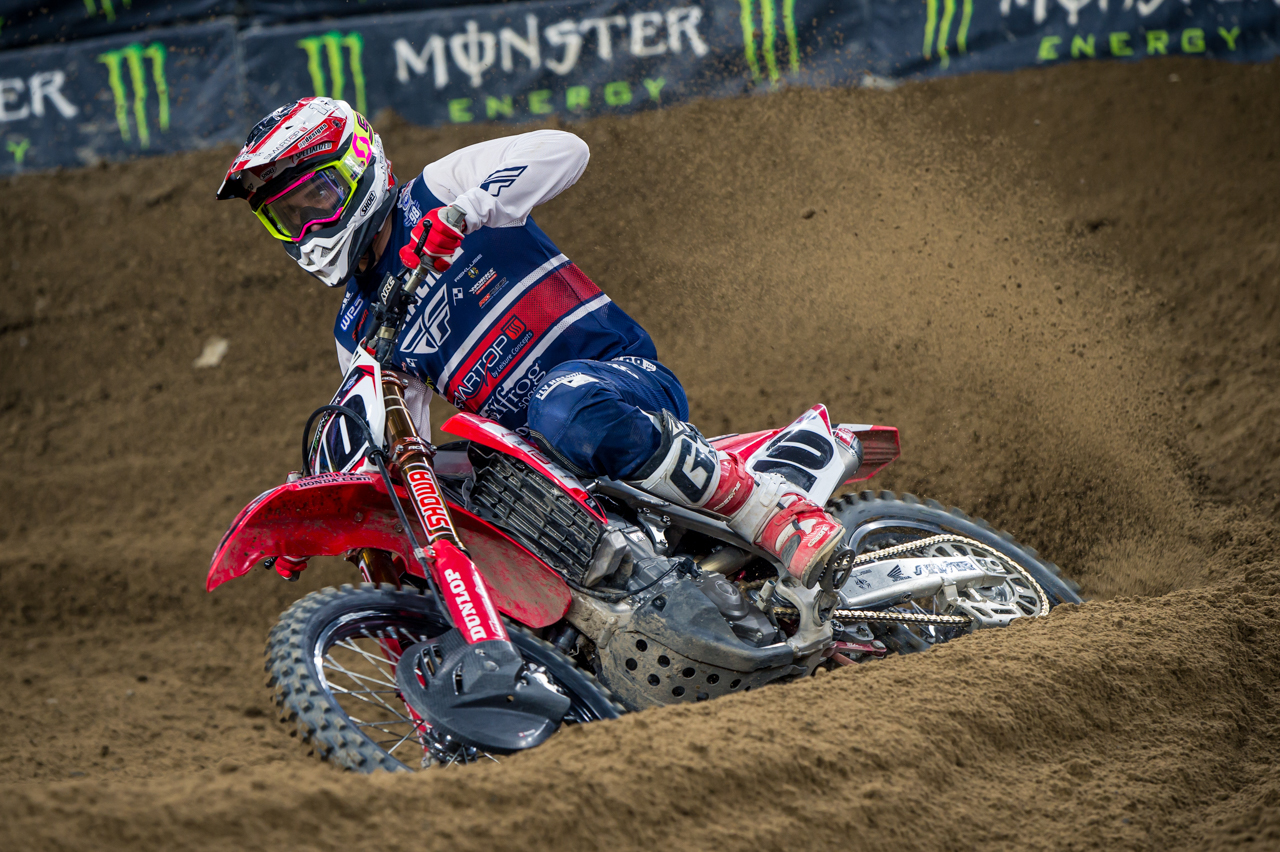 Justin Brayton was in third overall, but one bad night dropped him to fourth and into the reach of Blake Baggett.

2018 AMA 450 SUPERCROSS POINTS
(After 14 of 17 rounds)
1. Jason Anderson…311
2. Marvin Musquin…272
3. Eli Tomac…246
4. Justin Brayton…232
5. Blake Baggett…224
6. Weston Peick…202
7. Broc Tickle…184
8. Cooper Webb…181
9. Dean Wilson…165
10. Malcolm Stewart…134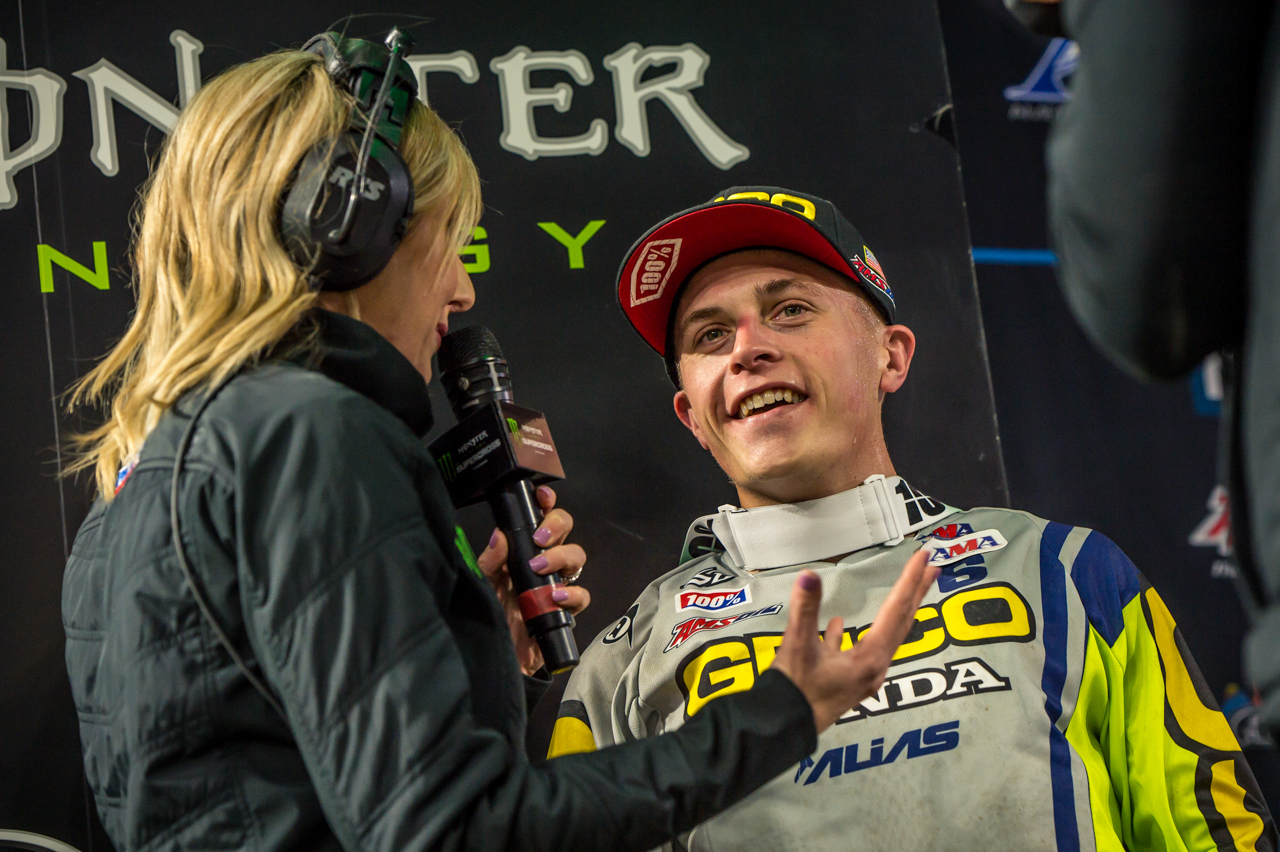 Jeremy Martin, who has traditionally be less than stellar in Supercross, has won two rounds of the 250 East in the last couple races to come on strong. Too late, but still strong.

2018 AMA 250 EAST SUPERCROSS POINTS
(After 8 of 9 rounds)
1. Zach Osborne (Hus)…154
2. Jordon Smith (KTM)…142
3. Jeremy Martin (Hon)…138
4. Austin Forkner (Kaw)…137
5. Luke Renzland (Yam)…95
6. Kyle Peters (Suz)…86
7. Sean Cantrell (KTM)…78
8. Brandon Hartranft (Yam)…73
9. RJ Hampshire (Hon)…57
10. Anthony Rodriguez (KTM)…57
51-Fifty's Kyle Chisholm is in the midst of a dog fight for sixth through ninth in the 250 West.

2018 AMA 250 WEST SUPERCROSS POINTS
(After 8 of 10 rounds)
1. Aaron Plessinger…177
2. Adam Cianciarulo…150
2. Joey Savatgy…152
4. Shane McElrath…146
5. Chase Sexton…132
6. Justin Hill…119
7. Kyle Chisholm…110
8. Christian Craig…106
9. Mitchell Harrison…100
10. Hayden Mellross…81
2018 SUPERCROSS WINNERS AT A GLANCE AFTER 14 OF 17 ROUNDS

Shane McElrath started the 250 West like a man on fire, but he hasn't won again. He has two more chances (Salt lake and Vegas).

Date           Venue                           450                           250
Jan. 6….…Anaheim, CA……….Marvin Musquin…….Shane McElrath
Jan. 13…..Houston, TX………..Jason Anderson……Aaron Plessinger
Jan. 20…..Anaheim, CA………..Eli Tomac……………..Joey Savatgy
Jan. 27…..Phoenix, AZ ………..Eli Tomac………………Aaron Plessinger
Feb. 3…….Oakland, CA………..Jason Anderson…….Aaron Plessinger
Feb. 10…..San Diego, CA……..Jason Anderson……Justin Hill
Feb. 17……Arlington, TX………Eli Tomac………………Zach Osborne
Feb. 24……Tampa, FL…………..Eli Tomac………………Austin Forkner
Mar. 3……..Atlanta, GA…………Jason Anderson……Austin Forkner
Mar. 10……Daytona, FL………..Justin Brayton………Jordon Smith
Mar. 17……St. Louis, MO………Eli Tomac………………Zach Osborne
Mar. 24……Indianapolis, IN…..Marvin Musquin…….Jeremy Martin
Apr. 7………Seattle, WA ……….Eli Tomac………………Aaron Plessinger
Apr. 14…….Minneapolis, MN…Eli Tomac……………..Jeremy Martin
Apr. 21….…Foxborough, MA…..
Apr. 28…….Salt Lake City, UT…
May 5………Las Vegas, NV…….
450 Points leader...Jason Anderson (Hus)
250 West points leader…Aaron Plessinger (Yam)
250 East points leader…Zach Osborne (Hus)
GLEN HELEN'S SPRING STADIUMCROSS SERIES CONTINUES UNDER THE LIGHTS THIS SATURDAY

Glen Helen's Spring Stadiumcross series will hold round two on Saturday night, April 28. The series continues on until May 25 (on the Friday night of the Glen Helen AMA 250/450 National). The 2018 Summer Series starts on June 16. For more info go to www.glenhelen.com.
2018 FIM 250/450 GRAND PRIX POINTS STANDINGS HEADING FOR TWO WEEKS OFF

Romain Febvre (461) is the leader of the duds. He's third in 450 GP points, but along with everyone else in the field can't keep Herlings and Cairoli in sight. Febvre is 72 points back after five races.

2018 450 GRAND PRIX POINTS
(After 5 of 20 rounds)
1. Jeffrey Herlings (KTM)…241
2. Tony Cairoli (KTM)…225
3. Romain Febvre (Yam)…169
4. Clement Desalle (Kaw)…165
5. Gautier Paulin (Hus)…147
6. Glenn Coldenhoff (KTM)…140
7. Jeremy Van Horebeek (Yam)…132
8. Tim Gajser (Hon)…113
9. Jeremy Seewer (Yam)…110
10. Max Nagl (TM)…88
Pauls Jonass looked like he was going to run away with the 250 World Championships, but over the last two races he has been beaten by KTM Teammate Jorge Prado (61).
2018 250 GRAND PRIX POINTS
(After 5 of 20 rounds)
1. Pauls Jonass (KTM)…180216
2. Jorge Prado (KTM)…202
3. Thomas Kjer Olsen (Hus)…185
4. Ben Watson (Yam)…141
5. Jed Beaton (Kaw)..129
6. Vsevolod Brylyakov (Yam)…115
7. Conrad Mewse (KTM)…100
8. Hunter Lawrence (Hon)…99
9. Calvin Vlaanderen (Hon)…97
10. Henry Jacoby (Hus)…96
2018 GRAND PRIX WINNERS AT A GLANCE AFTER 5 OF 20 ROUNDS

Cairoli has been very competitive with Jeffrey Herlings, but only managed to take one win. Jeffrey Herlings almost always runs Tony don't late in the second motos to nab the 450 overalls.

Date           Venue                         450                           250
Mar. 4……..Argentina…………..Jeffrey Herlings……….Pauls Jonass
Mar. 18……Holland #1………….Jeffrey Herlings……….Pauls Jonass
Mar. 25……Spain………………….Tony Cairoli…………….Pauls Jonass
Apr. 8………Italy #1………………Jeffrey Herlings……….Jorge Prado
Apr. 15…….Portugal…………….Jeffrey Herlings……….Jorge Prado
May 1………Russia
May 13…….Latvia
May 20…….Germany
June 3………England
June 10…….France
June 17…….Italy #2
July 1……….Indonesia #1
July 8……….Indonesia #2
July 22……..Czech Republic
Aug. 5………Belgium
Aug. 12…….Sweden (canceled)
Aug. 19…….Switzerland
Aug. 26…….Bulgaria
Sept. 2…….Turkey
Sept. 16……Holland #2
Sept. 30……Italy #3
450 Points leader…Jeffrey Herlings (KTM)
250 points leader…Pauls Jonas (KTM)

CLASSIC MOTOCROSS ADS: NAME THIS "BIG FACTORY STAR"

Can you name this rider? If you can't, the answer is at the bottom of the page.

THE AMA NATIONALS ARE COMING! GLEN HELEN NATIONAL ON MAY 26

For ticket and event information go to www.glenhelen.com


SUBSCRIBE TO MXA & GET A $25 ROCKY MOUNTAIN GIFT CARD—YOU MAKE A PROFIT BY READING MXA

The May 2018 issue of MXA is in your mailbox, on your computer, in your phone or at the news stands now. It is filled with moto-stuff that you can't find anywhere else.

Do you subscribe to MXA? You should. We know that you think that print magazines are dead and that the internet will fill the void, but most of the stuff in the current issue of MXA won't appear on the web for several months, if at all. Luckily, you can get all of MXA on your iPhone, iPad, Kindle or Android by going to the Apple Store, Amazon or Google Play or in a digital version. Even better you can subscribe to Motocross Action and get a $25 Rocky Mountain ATV/MC gift card to spend on whatever motorcycle parts or products you need. You can call (800) 767-0345 or go to www.hi-torque.com/product/motocross-action-holiday/.
HOW IS YOUR TWITTER GAME GOING? UP IT BY FOLLOWING MXA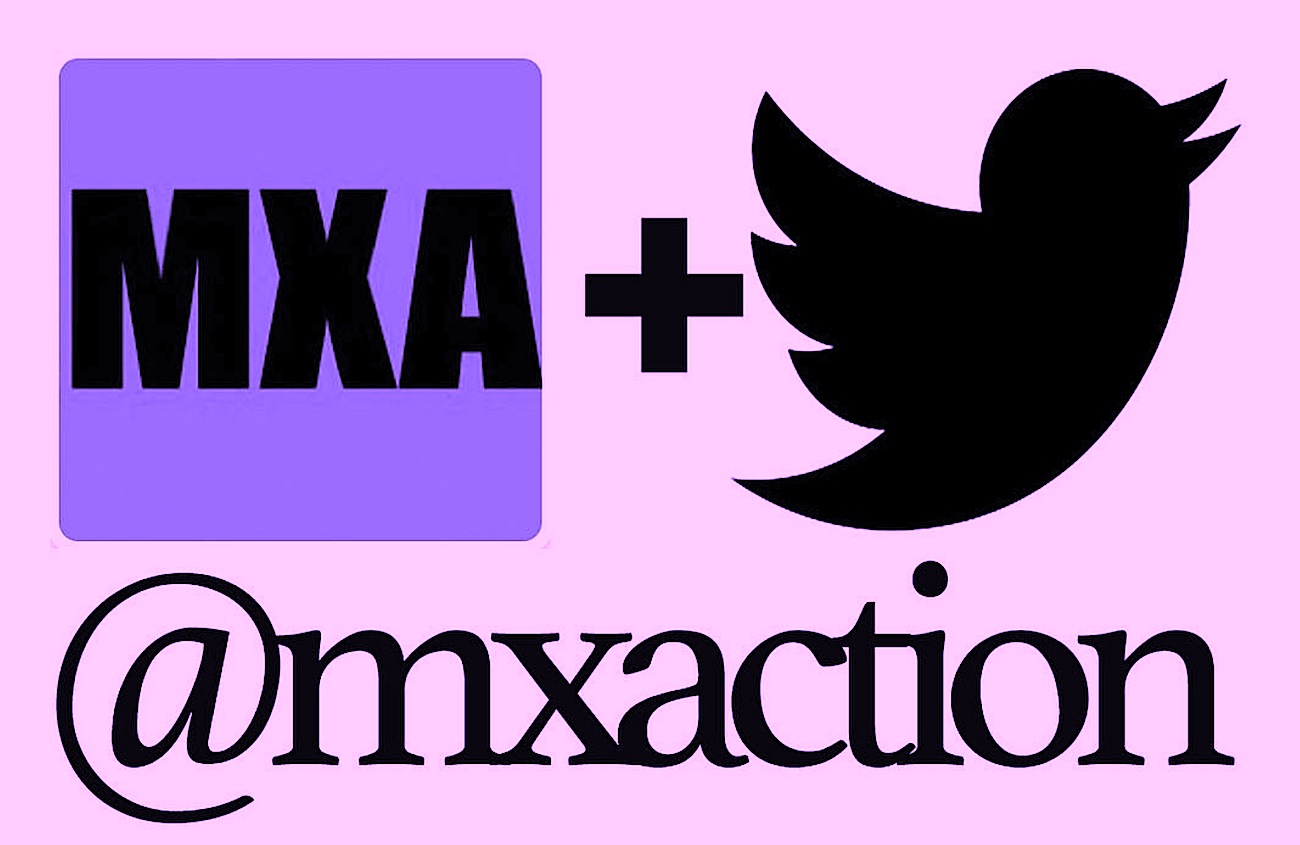 Follow us to see fresh content every day at www.twitter.com/MXAction or on twitter at "MXAction"
JOIN MXA'S FACEBOOK GROUP CHAT

We love everything moto and want to bring all moto junkies together into one place to share their two cents, ideas, photos, bike fixes, bike problems and much more. To check it out first you must need to or already have a Facebook account. If you don't, it isn't much work and you could even have an alias so nobody knows it is you. You can go to MXA's Facebook page by clicking here.
SAVE THE DATE! LOTS OF RACING LEFT IN 2018

The 2018 Supercross series my be almost over, but it was just an appetizer for what comes next on the calendar.
2018 AMA SUPERCROSS CHAMPIONSHIP
Jan. 6……………………..…Anaheim, CA
Jan. 13………………………Houston, TX
Jan. 20………………………Anaheim, CA
Jan. 27………………………Phoenix, AZ
Feb. 3……………………..…Oakland, CA
Feb. 10………………………San Diego, CA
Feb. 17………………………Arlington, TX
Feb. 24………………………Tampa, FL
Mar. 3……………………..…Atlanta, GA
Mar. 10………………………Daytona, FL
Mar. 17………………………St. Louis, MO
Mar. 24………………………Indianapolis, IN
Apr. 7……………………..…Seattle, WA
Apr. 14………………………Minneapolis, MN
Apr. 21………………………Foxborough, MA
Apr. 28………………………Salt Lake City, UT
May 5…………………….…Las Vegas, NV
2018 AMSOIL ARENACROSS CHAMPIONSHIP
Jan. 6-7………………………….Dayton, OH
Jan. 13-14………………………Worcester, MA
Jan. 20-21……………………….Wilkes Barre, PA
Jan. 27-28………………………Greensboro, NC
Feb. 10-11………………………Madison, WI
Feb. 17-18………………………Florence, SC
Mar. 17-18………………………Denver, CO
Mar. 24-25………………………Nampa, ID
Apr. 7-8………………………….Wichita, KS
Apr. 21-22………………………Portland, OR
Apr. 28-29………………………Reno, NV
May 4-6…………………………Las Vegas, NV
2018 AMA NATIONAL CHAMPIONSHIP
May 19……………………Hangtown, CA
May 26.…………………..Glen Helen, CA
June 2..………………….Thunder Valley, CO
June 16..…………………Mt Morris, PA
June 23.………………….Muddy Creek, TN
June 30.………………….Southwick, MA
July 7..……………………​Red Bud, MI
July 21.…………………..Millville, MN​
July 28.…………………..Washougal, WA
Aug. 11..………………….Unadilla, NY​
Aug. 18..………………….Budds Creek, MD​
Aug. 25.…………………..Crawfordsville, IN
2018 125 TWO-STROKE ALL-STAR SERIES
May 19……………………….Hangtown, CA
June 2………………………..Thunder Valley, CO
June 16………………………Mt Morris, PA
June 30………………………Southwick, MA
July 28……………………….Washougal, WA.
Aug. 18………………………Budds Creek, MD
Aug. 25………………………Crawfordsville, IN (Finals)
2018 GLEN HELEN NATIONAL 250/OPEN TWO-STROKE INVITATIONAL
May 26.…………………..Glen Helen, CA
2018 FIM MOTOCROSS WORLD CHAMPIONSHIP
Mar. 4……………………..Argentina
Mar. 18…………………….Holland 1
Mar. 25…………………….Spain
Apr. 8……………………….Italy 1
Apr. 15……………………..Portugal
May 1……………………….Russia
May 13……………………..Latvia
May 20…………………….Germany
June 3………………………England
June 10…………………….France
June 17…………………….Italy 2
July 1……………………….Indonesia 1
July 8……………………….Indonesia 2
July 22……………………..Czech Republic
Aug. 5………………………Belgium
Aug. 12……………………..Sweden (Canceled)
Aug. 19……………………..Switzerland
Aug. 26……………………..Bulgaria
Sept. 2……………………….Turkey
Sept. 16………………………Holland 2
Sept. 30………………………Italy 3
2018 MOTOCROSS DES NATIONS
Oct. 7………………………Red Bud, MI
2018 REM GLEN HELEN CHAMPIONSHIP
Jan. 13……………………Glen Helen, CA
Jan. 13……………………Glen Helen, CA
Jan. 13……………………Glen Helen, CA
Feb. 3……………………..Glen Helen, CA
Feb. 3……………………..Glen Helen, CA
Feb. 3……………………..Glen Helen, CA
Feb. 3……………………..Glen Helen, CA
Mar. 10……………………Glen Helen, CA
April 7………………….…Spring Series #1
April 14…………………..20th Anniversary #2
April 28…………………..Spring Series #3
May 5…………………….Spring Series #4 (National track)
May 12……………………Spring Series #5
May 19……………………Spring Series #6
June 2…………………….Glen Helen, CA
June 16…………………..Glen Helen, CA
June 30…………………..Glen Helen, CA
July 14……………………Summer Series #1
July 21……………………Summer Series #2
July 28……………………Summer Series #3
Aug. 11……………………Summer Series #4
Aug. 25………..………….Summer Series #5
Sept. 1……………………Summer Series #6
Sept. 1…………………….Glen Helen, CA
Oct. 6……………………..Glen Helen, CA
Oct. 20……………………Glen Helen, CA
Oct. 27……………………Glen Helen, CA (National track)
Nov. 17……………………Glen Helen, CA
Dec. 1……………………..Glen Helen, CA
Dec. 15……………………Glen Helen, CA
Dec. 22……………………Glen Helen, CA
Dec. 29…………..………Glen Helen, CA
2018 WORLD OFFROAD CHAMPIONSHIP (WORCS)
Feb. 2-4…………………..……Las Vegas, NV
Feb. 23-25……………….…..Phoenix, AZ
Mar. 23-24……………….…..Lake Havasu, AZ
Apr. 20-22……………….…..Hurricane, UT
May 25-27……………………Cedar City, UT
Sept. 14-16……………………Glen Helen, CA
Oct. 19-21………………….…Adelanto, CA
Nov. 9-11……………………..Primm, NV
2018 AMA SUPERMOTO CHAMPIONSHIP
April 14………………………….Boise, ID
May 13………………………….Tucson, AZ
June 8…………………………..Austin, TX
June 9…………………………..Austin, TX
Aug. 3-5………………………..Quebec, CN
Sept. 8………………………….Sturgis, SD
2018 OLD SCHOOL SCRAMBLES CHAMPIONSHIP
Feb. 11……………………..Glen Helen, CA (canceled)
Mar. 24-25…………………Glen Helen, CA
June 17………………..…..Glen Helen, CA
Aug. 19………………..…..Glen Helen, CA
Dec. 9………………………Glen Helen, CA
2018 MAXXIS BRITISH NATIONAL CHAMPIONSHIP
Mar.11…………………………..Lyng, England (canceled)
Apr. 1……………………………Culham, England
Apr. 22………………………….Canada Heights, England
May 6…………………………..Blaxhall, England
June 24………………………..Desertmartin, Ireland
July 29………………………….Duns, England
Aug. 12…………………………Hawkstone, England
Sept. 23………………………..TBA, England
2018 MICHELIN BRITISH NATIONAL CHAMPIONSHIP
April 8………………….…….Lyng, England
May 20……………..………Preston Docks, England
May 27…………….……….Hawkstone Park, England
July 1………….…..………..Sherwood, England
July 15………….…..………Canada Heights, England
Sept. 2…………….…..……Crookwood, England
2018 DUTCH MASTERS CHAMPIONSHIP
Mar.11…………………………..Markelo, Holland
Apr. 2……………………………Oldebrook, Holland
May 6…………………………..Mill, Holland
July 14-16…………………….Lichtenvoorde, Holland
2018 GERMAN ADAC MASTERS CHAMPIONSHIP
Apr. 22………………………….Drehna, Germany
May 27………………………….Molln, Germany
June 24…………………………Bielstein, Germany
May 6……………………………Blaxhall, Germany
July 15………………………….Moggers, Germany
July 29………………………….Tensfeld, Germany
Aug. 26…………………………Teutschthal, Germany
Sept. 9…………………………..Gaildorf, Germany
2018 HAWKSTONE INTERNATIONAL
Feb. 11………………………….Hawkstone, England
2018 RICKY CARMICHAEL AMATEUR SUPERCROSS
Mar. 11-12……………..…….Daytona, FL
2018 LORETTA LYNN AMATEUR CHAMPIONSHIP
July 30-Aug. 4…………………Hurricane Mills, TN
2018 MONSTER ENERGY CUP
Oct. 13………………………….Las Vegas, NV
2018 REM OCTOBERCROSS
Oct. 27……………………………Glen Helen, CA

2018 DUBYA WORLD VET CHAMPIONSHIP
Nov. 3-4…………………..…..Glen Helen, CA
2018 PARIS SUPERCROSS
Nov. 17-18………………………Paris, France
2018 THOR MINI OLYMPICS
Nov. 19-24…………………….Gainesville, FL
2018 DAY IN THE DIRT
Nov. 23-25………………………..Glen Helen, CA
2018 BRITISH ARENACROSS CHAMPIONSHIP
Jan. 6…………………………..Manchester
Jan. 13………………………….Newcastle
Jan. 20…………………………Birmingham
Jan. 26-27…………………….Belfast
Feb. 10………………………….Sheffield
Feb. 17………………………….London
2018 WORLD TWO-STROKE CHAMPIONSHIP
Mar. 31…………………..…..Glen Helen, CA

Big Factory Star Answer: Guy Cooper
Arroyo Answer: Glen Helen's REM track
Photos: Brian Converse, Massimo Zanzani, Dan Alamangos, Mark Chilson, Jody Weisel, MXA, AMA, MXGP