MOTOCROSS ACTION WEEKEND NEWS ROUND-UP: BE THERE
HONDA BUILDS 300,000,000th MOTORCYCLE

Honda announced that their cumulative worldwide motorcycle production reached the 300 million-unit milestone in September 2014. The actual bike was a 40th Anniversary Edition Gold Wing 40th Anniversary Edition produced at Kumamoto factory. The first Honda motorcycle was made in 1949 and the Gold wing passed down the assembly line 66 years later.
Honda is currently producing motorcycles at 33 plants in 22 countries. The first production outside of Japan began in Belgium in 1963.
DAVE MILLER'S TACO

Just your basic 25-horsepower, CR85-powered, old-school, Taco mini bike from Dave Miller at DMC.

To see more of Dave's handiwork go to www.facebook.com/pages/Dave-Miller-Concepts/137383096290268
KURT CASELLI RIDE DAY ON DEC.5 AT GLEN HELEN
For more info go to www.kurtcaselli.com
REM RETURNS TO GLEN HELEN FOR FOUR-PACK ON DEC. 6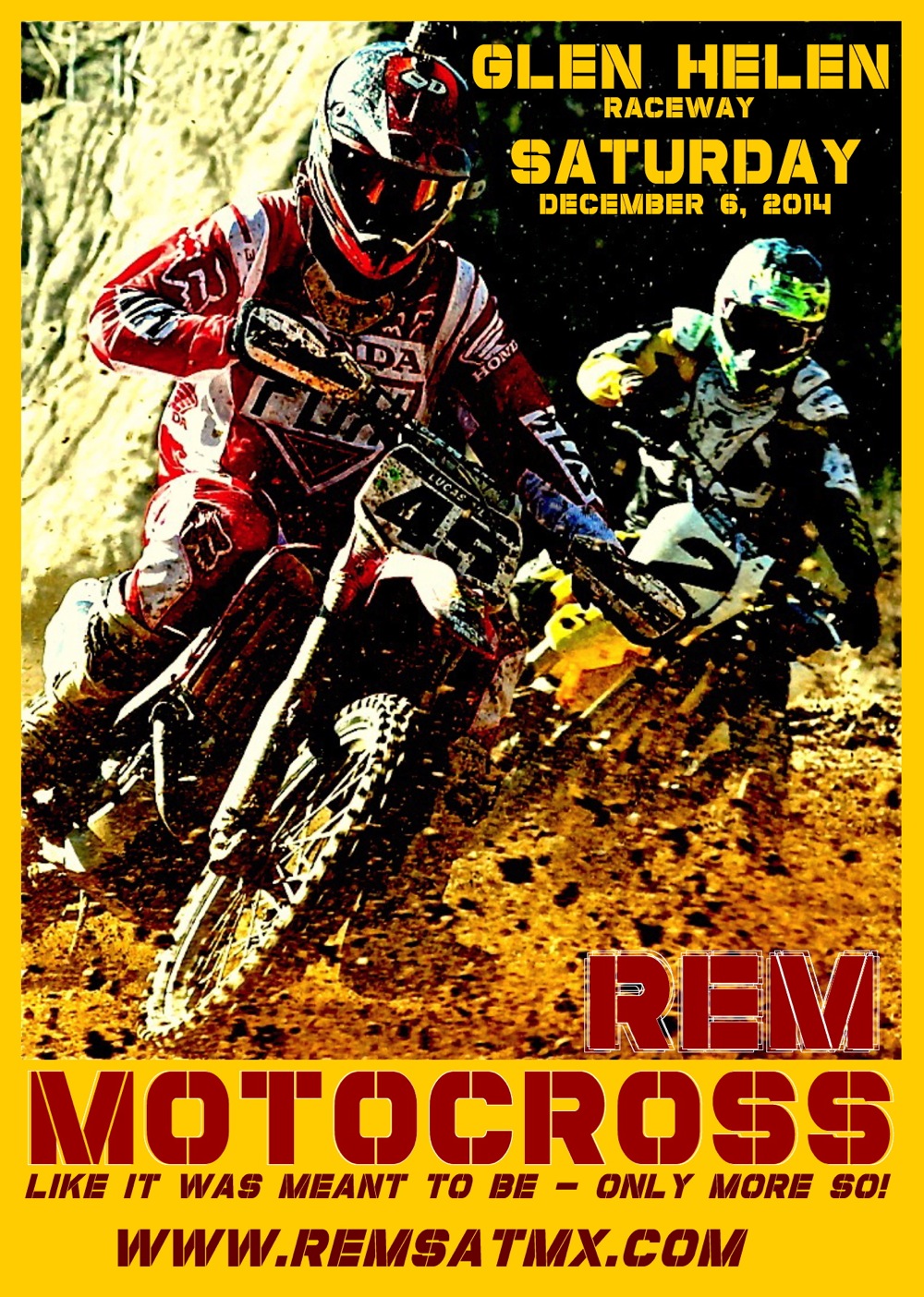 REM will race every weekend in December, but the fun starts on December 6. For more info go to www.remsatmx.com
ASK THE MXPERTS: WHAT IS THE BEST 2014 YZ450F MAP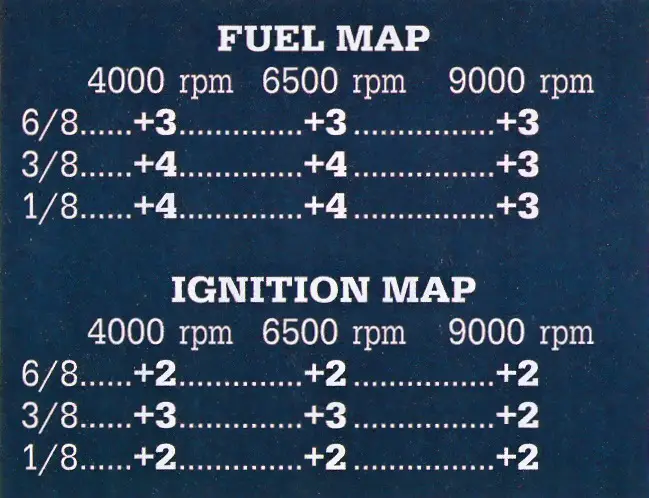 Dear MXA,
    Last week you gave out the maps for the 2010 to 2013 Yamaha YZ450Fs, but I know you have a better map for the 2014 YZ450F because my friend ask Jody for help at Glen Helen and he put the MXA map in his bike. His bike runs great. Please show me some love.
Above is the map that we ran with our stock YZ450F exhaust system. It is important to note that we run a different map with aftermarket exhaust pipes. We have reprogrammed a lot of bikes at the track for people, mostly friends, but these friends often bring their friends up later. So, here is some love.
BIRTHDAYS OF THE STARS: INCLUDING BRUCE BROWN


Nov. 29…John Rice
Nov. 29…Brandon Butler
Nov. 30…Jacob Saylor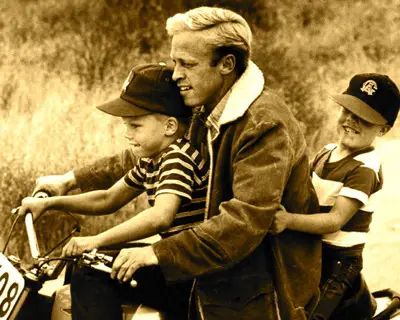 Dec. 1…Bruce Brown 1937
Dec. 1…Stanton Barrett 1972

Dec. 1…Jeff Emig 1970
Dec. 2…Jiri Dostal 1979
Dec. 3…Craig Decker 1975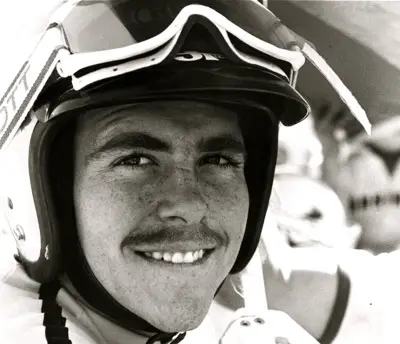 Dec. 3…Danny LaPorte 1957
Dec. 4…Tiger Lacey 1982
Dec. 4…Greg Blackwell 1953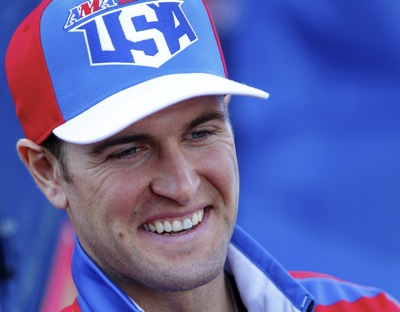 Dec. 4…Ryan Dungey 1989

Dec. 4…Jim Gibson 1961

Dec. 5…Casey Johnson 1975
2014 YAMAHA PRO-AM ON DEC. 13-14: MX ON SATURDAY & GP ON SUNDAY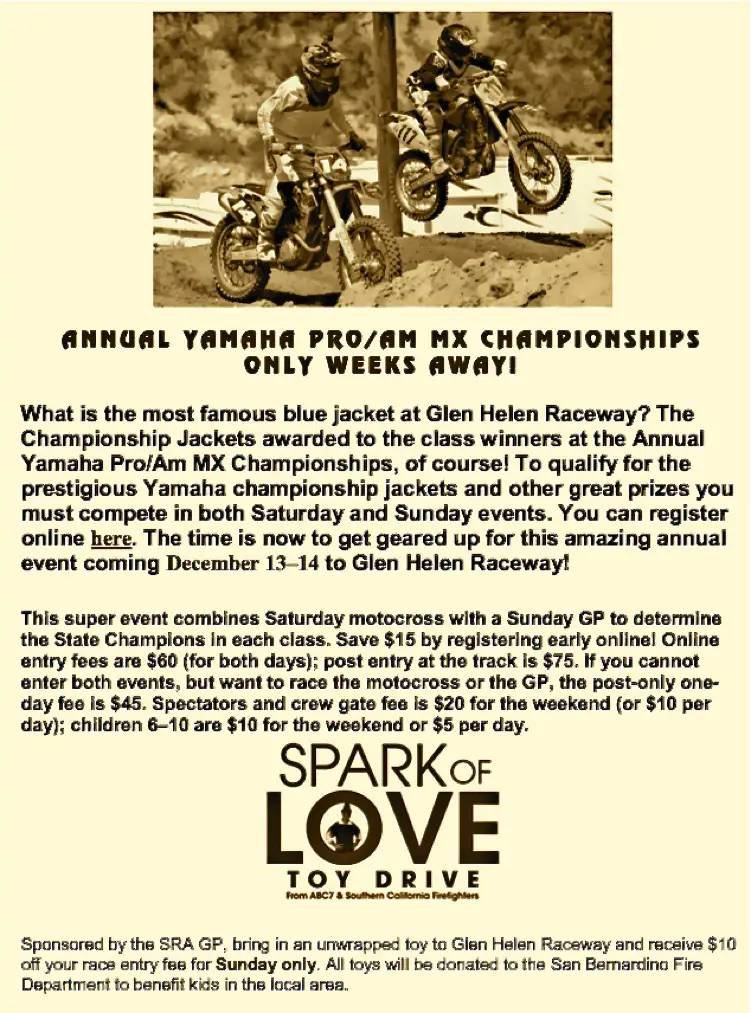 For more info go to www.glenhelen.com
MILESTONE TO HOST 2ND ANNUAL INVITATIONAL SUPERCROSS ON DEC. 13

The Pro Super X Invitational returns to SoCal's Milestone Raceway on December 13. There will be a $10,000 purse for the invited riders, Larry Huffman will do the announcing and the gate fee to watch is $15. For more info go to www.milestone mx.com.
MEET AN MXA GUY: LARS LARSSON GOES WAYYYY BACK

Lars Larson in 1973.
Lars Larson was among the first wave of European GP riders to move to the USA to teach American teenagers all about the sport. Lars was hired by Edison Dye to demonstrate Husqvarnas by traveling from town to town in a van with two 1968 Huskys…and, when he got there, he would win whatever race they held, be it dirt track, scrambles or hillclimb. As far back as the 1970s Lars helped MXA with bike testing, technical support and friendship. That relationship continues to this day.
Lars may have been a GP motocrosser, but he also raced the ISDT many times. This photo of Lars with his works Kawasaki ISDT bike really defines the times. He's wearing Barrufaldi goggles, goat skin gloves, Hallman flip visor and the de rigeur Torsten Hallman enduro jacket. His 1973 Kawasaki 450cc F12 (it wasn't called a KX450 until 1974) has the age appropriate aluminum gas tank, rubber mud flap on the front fender, Magura levers and Preston Petty headlight number plate.
We sent this photo to Lars and asked him to tell us the story. Lars said, "After the Six-Days in Czecho in 1972, I got a contract with Kawasaki to be part of the team to help with the development of their offroad/enduro machines. The goal was to have a team on these machines at the 1973 Six-Days in 1973. The Kawasaki was very advanced, it had a lot of new inventions such as mag wheels and disc brakes.
"The bike was basically the motocross bike that Brad Lackey and Jimmy Weinert were using, but modified for enduro. In my opinion the engine was not modified very much. It was pure mx. It was very powerful and hard to handle on the trail. On the fifth day of the Six-Days and still on Gold,  I was the last Kawasaki rider left in the 1973 Six-Days. Then, with one day to go, on the way to the first checkpoint the darn thing exploded. There was not a single piece of that transmission that was usable."



Lars Larsson was one of the founders of Thor. Torsten Hallman and Lars partnered in Torsten Hallman Offroad Racing…the acronym of which is THOR. In this Torsten Hallman magazine ad, Lars models their Roger DeCoster replica five-snap visor, DeCoster-designed Barrufaldi goggles and Hallman's see-thru face guard.
Lars is still racing today at 73 years old. Here, the three-time World Vet Champion leads Jody Weisel (75) at Glen Helen. Lars and Jody are the last link to MXA's 1970s past.
LACR TO HOST FIRST GRAND PRIX SINCE REOPENING ON DEC. 21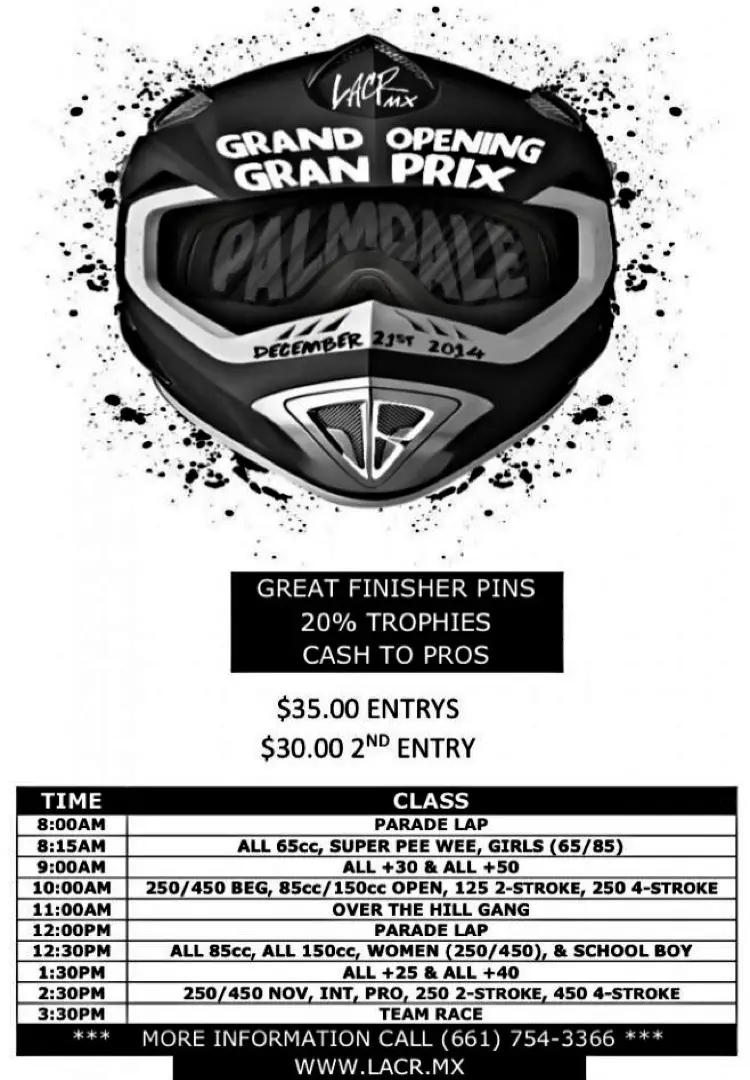 For more info go to www.lacr.mx
TICKET PRICES TOO HIGH —DO SOMETHING ABOUT IT NOW— $20 DISCOUNT FROM NOV. 28 TO NOV. 30

CLICK HERE TO ORDER: www.eventbrite.com/e/glen-helen-mx-national-tickets-14005509857?aff=blackfridaysale&utm_source=Riders+%26+Spectators&utm_campaign=34c18fda2e-Black_Friday_Sale11_20_2014&utm_medium=email&utm_term=0_0c309d9dc9-34c18fda2e-24168345
THE 2015 RACER CALENDAR

The Supercross season starts on January 3, 2015, at Anaheim Stadium.

2015 AMA SUPERCROSS CHAMPIONSHIP
Jan. 3………………….Anaheim, CA
Jan. 10…………………Phoenix, AZ
Jan. 17…………………Anaheim, CA
Jan. 24…………………Oakland, CA
Jan. 31…………………Anaheim, CA
Feb. 7……………,…….San Diego, CA
Feb. 14…………………Arlington, TX
Feb. 21…………………Atlanta, GA
Feb. 28…………………Atlanta, GA
March 7………………..Daytona, FL
March 14……………..Indianapolis, IN
March 21……………..Detroit, MI
March 28……………..St. Louis, MO
April 11………………..Houston, TX
April 18………………..Santa Clara, CA
April 25………………..East Rutherford, NJ
May 2…………………..Las Vegas, NV

2015 AMA NATIONAL CHAMPIONSHIP
May 16…………….…Hangtown, CA
May 23…………….…Glen Helen, CA
May 30………….……Thunder Valley, CO
June 6………………..Muddy Creek, TN
June 13……………….Mt. Morris, PA
June 27………………Budds, MD
July 4…………………Red Bud, MI
July 18………..……..Millville, MN
July 25……………….Washougal, WA
August 8………….…Unadilla, NY
August 15……….…..Miller Motorsports, UT
August 22 …………..Crawfordsville, IN
2015 FIM WORLD MOTOCROSS CHAMPIONSHIP
Feb. 28…………………Losail, Qatar
March 8………………..Si Racha, Thailand
March 29………………Neuwuen, Argentina
April 19………………..Arco di Trento, Italy
April 26………………..Valenswaard, Holland
May 10…………………Talavera, Spain
May 24…………………Matterley Basin, Great Britain
May 31…………………Villars Sous Ecot, France
June 14………………..Maggiora, Italy
June 21………………..Teutschenthal, Germany
July 5…………………..Uddevalla, Sweden
July 12…………………Kegums, Latvia
July 26…………………Loket, Czech Republic
Aug 2…………………..Lommel, Belgium
Aug 16…………………Trinidade, Brazil
Aug 30…………………Assen, Netherlands
Sept 13…………………Leon, Mexico
Sept. 20………………..Glen Helen, USA
2015 AMSOIL ARENACROSS CHAMPIONSHIP
Jan. 10-11………….…Cincinnati, OH
Jan. 16-18………….…Grand Rapids, MI
Jan. 23-25…………….Colorado Springs, CO
Jan. 31- Feb. 1…..…..Nashville, TN
Feb. 6-8……………….Wilkes-Barre, PA
Feb. 21-22……………Tampa, FL
Feb. 28- Mar.1………Kansas City, MO
Mar. 6-8……………….Council Bluffs, IA
Mar. 13-15……………Southaven, MS
Mar. 21-22……………New Orleans, LA
Mar. 28-29……………Austin, TX
April 11-12……………Spokane, WA
April 18-19……………Tacoma, WA
April 25-26……………Fresno, CA
May 1-3………………..Las Vegas, NV
2015 GEICO ENDUROCROSS CHAMPIONSHIP
March 6……………….Daytona Beach, FL
March 21……………..Salt Lake City, UT
April 25……………….Sacramento, CA
May 1………………….Las Vegas, NV
May 30………………..Phoenix, AZ
June 5…………………Austin, TX
Aug, 22……………….Atlanta, GA
Oct. 3………………….Denver, CO
Oct. 17…………………Everett, WA
Nov. 7………………….Boise, ID
Nov. 20-21…………..Ontario, CA
2015 WORCS WORLD OFFROAD CHAMPIONSHIP
Jan. 18…………………Taft, CA
Feb. 8………………….Primm, NV
March 1 ………………Peoria, AZ
March 29 …………….TBA
April 19……………….Hurricane, UT
May 24 ……………….Cedar City, UT
Aug. 2 …………………TBA
Sept. 27 ………………Glen Helen, CA
Oct. 18 ………………..Prim, NV
2015 WORLD SIDECAR CROSS CHAMPIONSHIP
April 6…………………Switzerland
April 12………………..France
May 10………………..Ukraine
May 17………………..Germany
May 25………………..Holland
June 7…………………Latvia
June 14……………….Czech Republic
July 5…………………..France
July 12…………………Belgium
July 19…………………Germany
Aug. 2…………………Estonia
Aug. 9…………………Latvia
Aug. 16……………….Ukraine
Sept.13………………..France
Sept.20………………..Germany
2015 AUSTRALIAN NATIONAL CHAMPIONSHIP
March 29……..……Horsham, Vic
April 12……..……..Appin, NSW
April 26 …….…..…Broadford, Vic
May 17 ………….….Murray Bridge, SA
May 31………..…….Coolum, Qld
July 5 ……………….Raymond Terrace, NSW
July 19 ………..……Shepparton, Vic
August 2 …….….…Nowra, NSW
August 23 …………Toowoomba, Qld
August 30 ……..….Coolum, Qld
2015 WMX WOMENS MOTOCROSS CHAMPIONSHIP
Feb. 28…………………Losail, Qatar
March 8………………..Si Racha, Thailand
May 24…………………Matterley Basin, Great Britain
May 31…………………Villars Sous Ecot, France
June 21………………..Teutschenthal, Germany
July 26…………………Loket, Czech Republic    
YOUR LAST CHANCES IN 2014 TO BE LIKE KURT


2014 KURT CASELLI RIDE DAY
December 5…………..Glen Helen, CA
2014 CANADIAN ARENACROSS CHAMPIONSHIP
December 5-6……………Chilliwack, BC
2014 MILESTONE PRO SX INVITATIONAL
December 13……………..Milestone, CA
2014 YAMAHA PRO-AM MX & GP
December 13-14…………..Glen Helen, CA
LACR GRAND OPENING GRAND PRIX
December 21……………..Palmdale, CA
2014 REM GLEN HELEN MOTOCROSS SERIES
December 6……………..Glen Helen, CA
December 13……………Glen Helen, CA
December 20…………..Glen Helen, CA
December 27……………Glen Helen, CA (Double points)
YOU CAN GET MXA FOR YOUR PHONE, IPAD, TABLET, COMPUTER OR MAILBOX