MXA'S WEEKEND NEWS ROUND-UP: ERZBERG OUT, GARDNER IN, CAMERAS OUT, STAPO IN, MAD SKILLS 3 OUT
• ERZBERG RODEO CANCELED AGAIN
Due to the ongoing complications felt by the Covid pandemic, the running of Austria's Red Bull Erzbergrodeo has been cancelled for 2021 (as it was in 2020). Long regarded as one of the pinnacles of Hard Enduro races in the world, it is both a rider and fan favorite for many people. To try and save the race, the Erzberg organisers had proposed several different formats and scenarios to make the race happen in 2021, but new Covid-19 regulations and guidelines from the Austrian federal government, left them with no alternative but to cancel for 2021. Plans are already in place for the 2022 Red Bull Erzbergrodeo to take place on June 16-19, 2022.
All registered 2021 participants will be reimbursed their full entry fee without any deductions. The same applies to all visitors who have already purchased entry or VIP tickets. For more information go to www.redbullerzbergrodeo.com.
• 2021 MXA 250 FOUR-STROKE SHOOTOUT VIDEO: THE REAL DEAL OF ALL SEVEN BIKES
• CARLEN GARDNER NAMED BETA FACTORY RACING TEAM MANAGER
Beta Motorcycles announced that AMA Pro racer Carlen Gardner will become the Team Manager for Beta Racing. This is noteworthy because Beta wants to moved into the motocross/Supercross market in the big way. They are fielding an MXGP team with Jeremy Van Horebeek in the 2021 450 GPs and plan to race AMA Pro races in 2022. Carlen will replaced Rodney Smith who has been promoted to Beta Brand Ambassador. Gardner well suited for the role as team manager having gained experienced as the rider/manager of the BWR Supercross team that he co-owns. Carlen Gardner said, "I'm very excited to join the Beta family. I have had the honor of working with Beta USA for a couple of years now and I'm happy to join the team full time. I'm looking forward to this new venture."
As the Beta Brand Ambassador Rodney Smith will be able to utilize his connections with the industry, media, Beta enthusiasts and potential customers more effectively.
• "THIS WEEK IN MXA WITH JOSH MOSIMAN:" MITCH PAYTON'S HONEST ASSESSMENT OF 2021 SO FAR
• AMA BANS HELMET-MOUNTED CAMERAS FOR AMATEURS AND PROS
Adam Cianciarulo will have to find some place else to mount his camera.
Following their previous ban a helmet-mounted cameras for AMA Amateur racers, AMA National Championip promoter MXSports extended the ban to include AMA Pro riders. The new written rule 3.20.c reads, "Helmet-mounted cameras or other recording devices of any type are prohibited. Riders may request approval to use Onboard Cameras for mounting on the motorcycle or body of the rider, other than the helmet, subject to footage use terms and conditions."
Here are the basic of the new rule: (1) Cameras may only be mounted on the motorcycle or on the body of the rider, other than the helmet. (2) Any use of on-track video footage is limited to the social media platforms (Facebook, YouTube, Instagram, Twitter, TikTok) of the rider and registered team. (3) The footage may not be sold or used for commercial purposes without the written approval of MX Sports Pro Racing. (4) Footage posted on the rider's social media is limited to clips no longer than 60 seconds in length each, not to exceed 2 minutes per event. (4) All video clips must be tagged to included MXSports social media handles. (5) The riders must given MX Sports and it broadcast partners unlimited access to all such footage upon request.
There are also other rules changes for the 2021 AMA Nation Championship season. They include: (1) Riders can skip the actual riders meeting by watching a pre-recorded riders meeting, the meeting will be made available online by 6:00 p.m.on the Friday of the event. (2) Red Striped Red Cross Flag or Red and White flashing lights indicate a hazardous situation ahead. Riders must proceed with extreme caution. Both wheels of the motorcycle must remain on the ground over obstacles until the rider has passed the area of concern. Passing is not allowed. (3) For drug testing purposes, the term "in-competition" refers to the period of time commencing at 11:59 p.m., on the day before a competition, through the end of the sample collection process. (4) Doping violation may be established through any reliable means including, but not limited to, drug testing, confessions, third-party testimony and circumstantial evidence. (5) Anyone subject to anti-doping rules who attempts to obstruct whistleblowing activities may receive a penalty ranging from two years to lifetime ineligibility.
• WIN THIS BIKE! SUNDAY MOTORS FLAT TRACK BIKE, TAKE MXA SURVEY TO ENTER
The Sunday S147 Short Tracker has a 150cc Daytona/YCF four-stroke engine and is a ball to ride with its 14-inch wheels. It can be used as a pit bike, play bike or entry-level dirt tracker.
The MXA wrecking crew is busy year-round testing motorcycles and producing content for the magazine and website, but once a year we compile a "reader survey" to help us learn more about our loyal magazine/website readers and viewers. We take your input on the survey to help improve both the website and monthly print content coming from Motocross Action.
This year, we are offering the super cool opportunity of winning a Sunday Motors 147 Flat Track motorcycle! Completely fill out the annual MXA Reader Survey by click here. One lucky winner will be chosen at random to receive a bike from Sunday Motors and you'll be helping us out as we strive forward continuing to testing motorcycles, parts and gear. One winner will be chosen on July 6, 2021.
• SEE THE SUNDAY S147 IN ACTION

• LIST OF MOTORCYCLES APPROVED FOR AMA PRO COMPETITION

Eli Tomac's KX450 may well be on the 2021 approved list, but he has no plans to race it next year.
A rider may not compete in any 2021 AMA National Motocross on any bike or year model that is not on the approved list. The only approved two-strokes are the KTM 125SX, KTM 250SX, Husqvarna TC125, Husqvarna TC250 and GasGas MC 125. Here is the officially approved list for 2021.
There are only five two-stroke models that are legal in AMA Pro racing and all of them come from Austria—including the GasGas MC 125 (they don't make an MC 250 two-stroke).
APPROVED 450 CLASS MODELS
Brand   Years   Model
GasGas 2021 MC 450F
Honda 2017 – 2021 CRF450
Honda 2019 – 2021 CRF450 Works Edition
Husqvarna 2018 – 2021 FC450 Rockstar Edition
Husqvarna 2017 – 2021 FC450
Husqvarna 2017 – 2021 FC350
Husqvarna 2017 – 2021 TC250 two-stroke
Kawasaki 2017 – 2021 KX450
KTM 2017 – 2021 250SX two-stroke
KTM 2017 – 2021 350SXF
KTM 2017 – 2021 450SXF
KTM 2017 – 2021 450SXF Factory Edition
Suzuki 2017 – 2021 RM-Z450
Yamaha 2017 – 2021 YZ450F
You can race any KTM 250SXF from 2017 through 2021.
APPROVED 250 CLASS MODELS
Brand    Years   Models
GasGas 2021 MC 125 two-stroke
GasGas 2021 MC 250F
Honda 2017 – 2021 CRF250R
Husqvarna 2017 – 2021 FC250
Husqvarna 2017 – 2021 TC125 two-stroke
Kawasaki 2017 – 2021 KX250
KTM 2017 – 2021 125SX two-stroke
KTM 2017 – 2021 250SXF
KTM 2017 250SXF Factory Edition
KTM 2021 250SXF TLD Edition
Suzuki 2017 – 2021 RM-Z250
Yamaha 2017 – 2021 YZ250F
• MAD SKILLS MOTOCROSS 3 TO BE RELEASED ON MAY 25: SEE THE TRAILER IS HERE
• DSC CONSTRUCTION'S 2ND ANNUAL RIDE DAY AT ELSINORE ON MAY 22-23

• HAVE YOU SEEN THE JUNE ISSUE OF MXA? YOU SHOULD, YOU REALLY SHOULD

What's in the newest issue of MXA? There is an five bike 125 two-stroke shootout with accurate weights, prices and dyno charts. We also shootout the stock 2021 Honda CRF450 against the $13,400 Honda CRF450 Works Edition. We find a way to test of a 2021 GasGas 350 four-stroke, even though GasGas doesn't make an MC 350 test (the trick is to start with a 2021 GasGas EX 350 cross-country). And those are just some of bike tests! We also have an emotional tribute to Marty and Nancy Smith by former Honda teammate Warren Reid, who's stepdad was also Marty's factory Honda mechanic. Great job Warren! And, much more!
HOW TO SUBSCRIBE TO MXA SO THAT YOU NEVER MISS ANOTHER ISSUE, PLUS GET A $25 ROCKY MOUNTAIN GIFT CARD TO COVER YOUR COSTS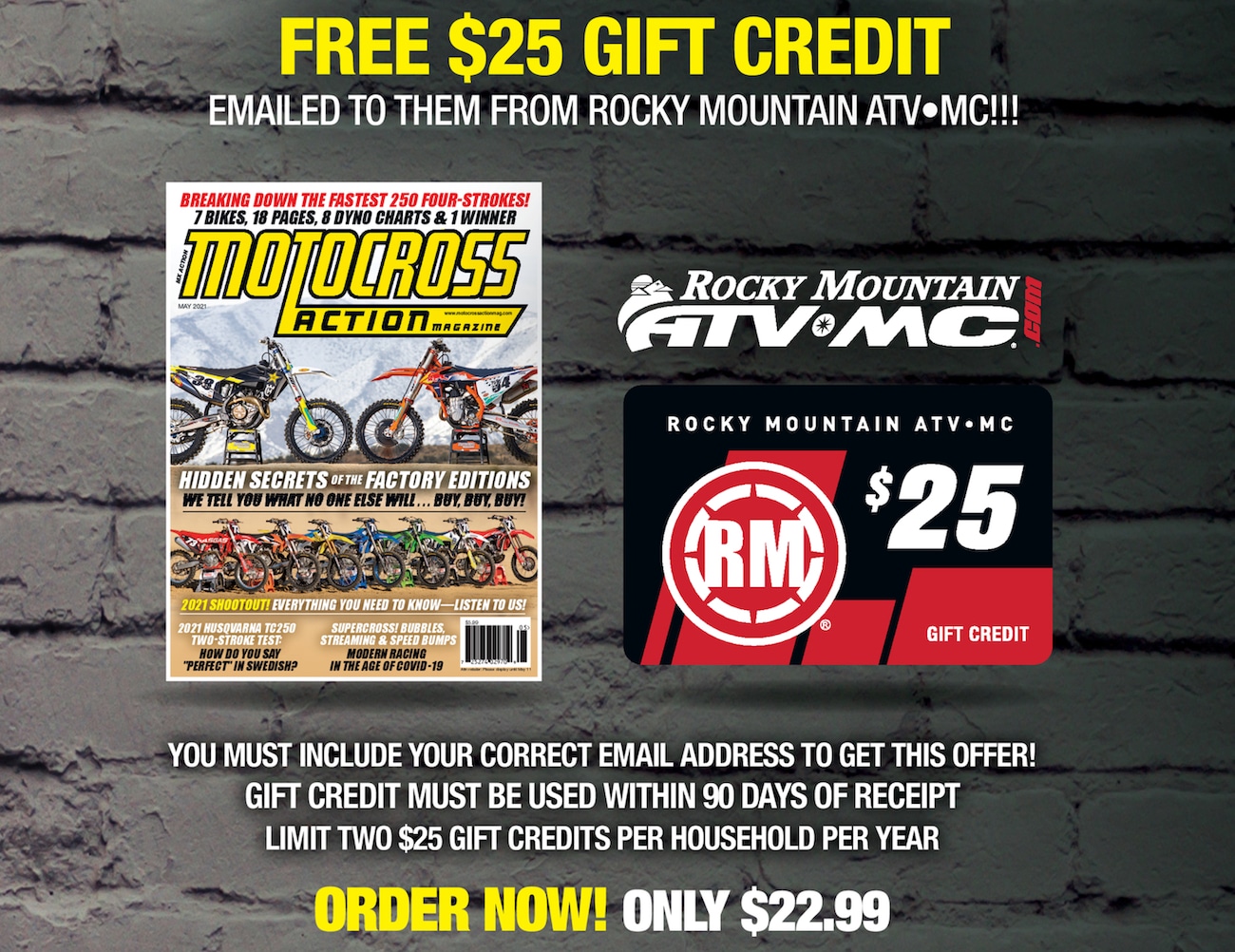 If you subscribe to MXA you can get the mag on your iPhone, iPad, Kindle or Android by going to the Apple Store, Amazon or Google Play or in a digital version. Even better you can subscribe to Motocross Action and get the awesome print edition delivered to your house by a uniformed employee of the U.S. Government. Did we mention the $25 gift card for any part you want from Rocky Mountain ATV/MX? You can call (800) 767-0345 or Click Here (or on the box at the bottom of this page) to subscribe.
• 2021 NEBRASKA/IOWA GREAT PLAINS VINTAGE MOTOCROSS SCHEDULE: NEXT RACE ON MAY 16

Here is the 2021 race schedule for the Nebraska/Iowa Great Plains Vintage Motocross season. They are now in their 9th year. It started with five riders and now brings in about 175 entries at each race. For more info go to www.greatplainsvintagemx.org
• 2021 AME SUMMERCROSS SATURDAY NIGHT RACING: NEXT RACE MAY 22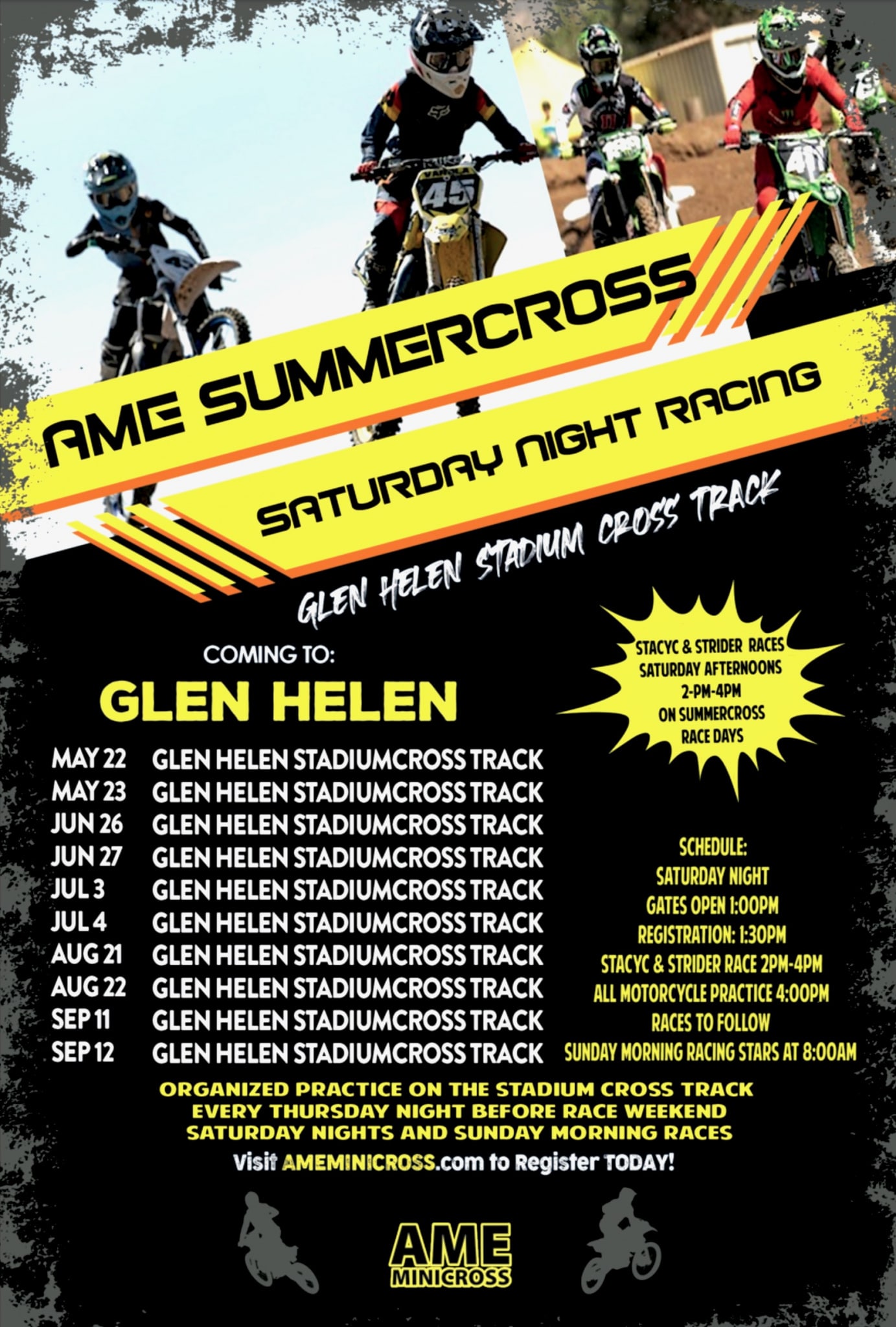 Put Saturday nights on your race calendar as AME Minicross will be returning to the Glen Helen Stadiumcross track for ten races—starting on May, 22, 2021. Plus, the Stadiumcross track is open on Thursday nights before each race weekend of Saturday night and Sunday morning races. For more info go to www.ameminicross.com
• WORLD HARE & HOUND CHAMPIONSHIP ON MAY 21-23 IN TONOPAH, NEVADA
This race will be held on 110 miles of desert that hasn't been used in 15 years. For more information go to www.bitd.com
• MOTOCROSS REVIVAL 2021 VINTAGE RACE ON JUNE 6

more information go to www.americanretrocross.org
• 2021 MXA 450 SHOOTOUT: TIME FOR THE LONGEST AND MOST DETAILED SHOOTOUT EVER
• MXA MOTO CHALLENGE QUIZ: WE WERE ALL YOUNG ONCE
Can you name this factory Yamaha rider? He would become a World Champion in 2004. Can you name him and the class he won his crown in?  Answer at the bottom of the page.
• 2021 ADELANTO GRAND PRIX MOVES TO ADELANTO STADIUM MAY 28-30


The Adelanto Grand Prix lost its race track when Elon Musk bought the land for his Boring Company to test drilling tunnels for his proposed underground high-speed rail transportation system. They have since moved the GP to Adelanto Stadium for a 3-day event on May 28-May 30. For more information and to find out if Elon Musk bought Adelanto Stadium go to www.adelantogp.com
• WANNA RACE IN SOCAL? NEED TO RENT A BIKE? FIND A PLACE TO STAY? JUST CALL STAPO WHEN YOU CAN TRAVEL AGAIN

In his spare time, when he's not testing with MXA, racing in a foreign country, going to Japan or helping many of his motocross buddies, MXA test rider Dennis Stapleton opens up his house, garage, bikes and mechanics to help riders who would like to come to SoCal on a motocross vacation—and now that the coronavirus pandemic is waning in the USA and the country is opening back up, foreign riders will be able to come to America to race, train and sightee again. You should plan ahead and make your reservations now for this upcoming Summer and Fall. Dennis offers full service to all of the Southern California tracks for racers or for play riders. Whether you want to rent a bike, move in for a week, race at Glen Helen or take motocross lessons—this is one-stop shopping. Just send them an email ([email protected]). If you'd like to live the SoCal lifestyle for a day, a weekend, a week, a month or three months, visit Dennis Stapleton's' website at www.knobbyshopsouth.org for more details!
• MXA YOUTUBE CHANNEL | HIT THAT SUBSCRIBE BUTTON
The MXA wrecking crew is everything moto related. Check out our MXA YouTube channel for bike reviews, Supercross coverage, rider interviews and much more. And don't forget to hit that subscribe button.
• JOIN MXA'S FLIPBOARD PAGE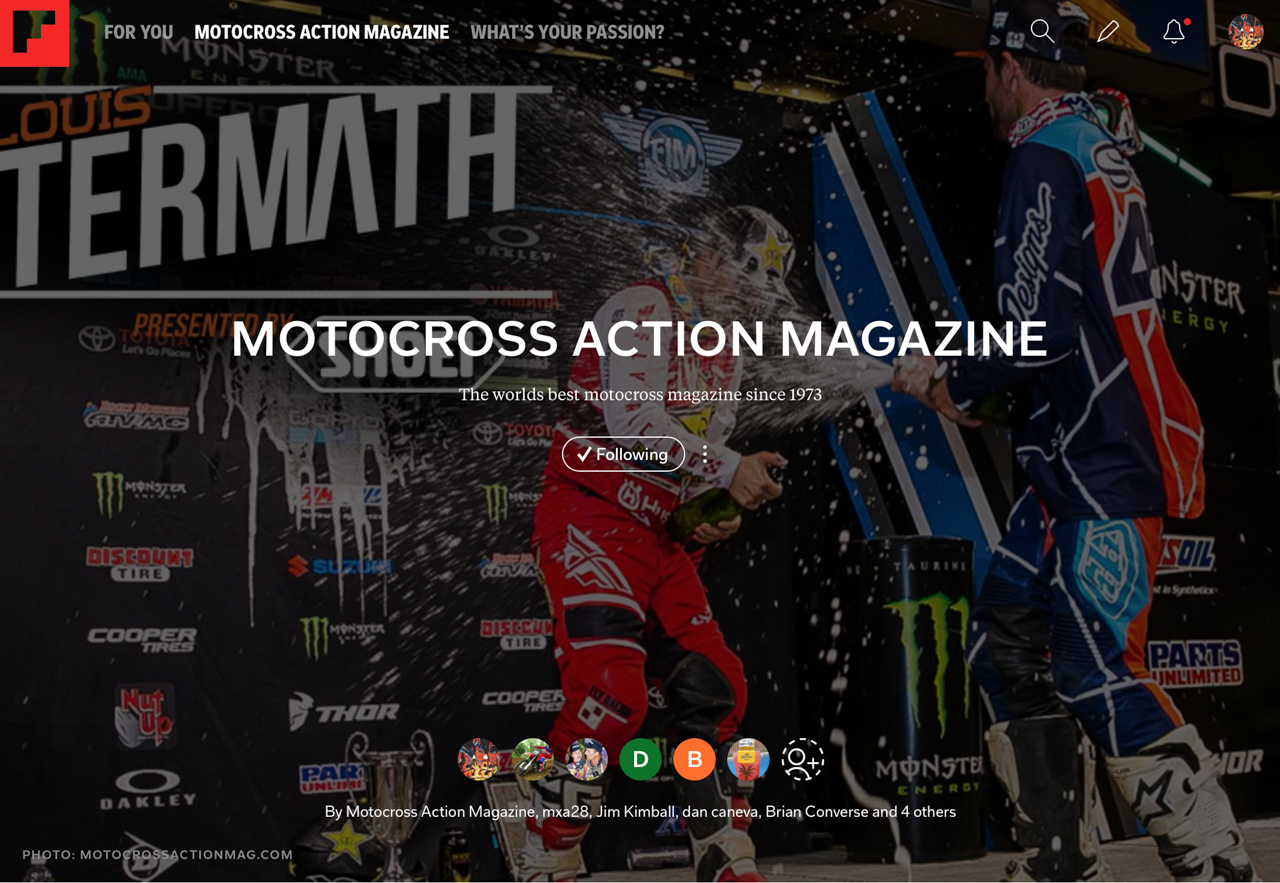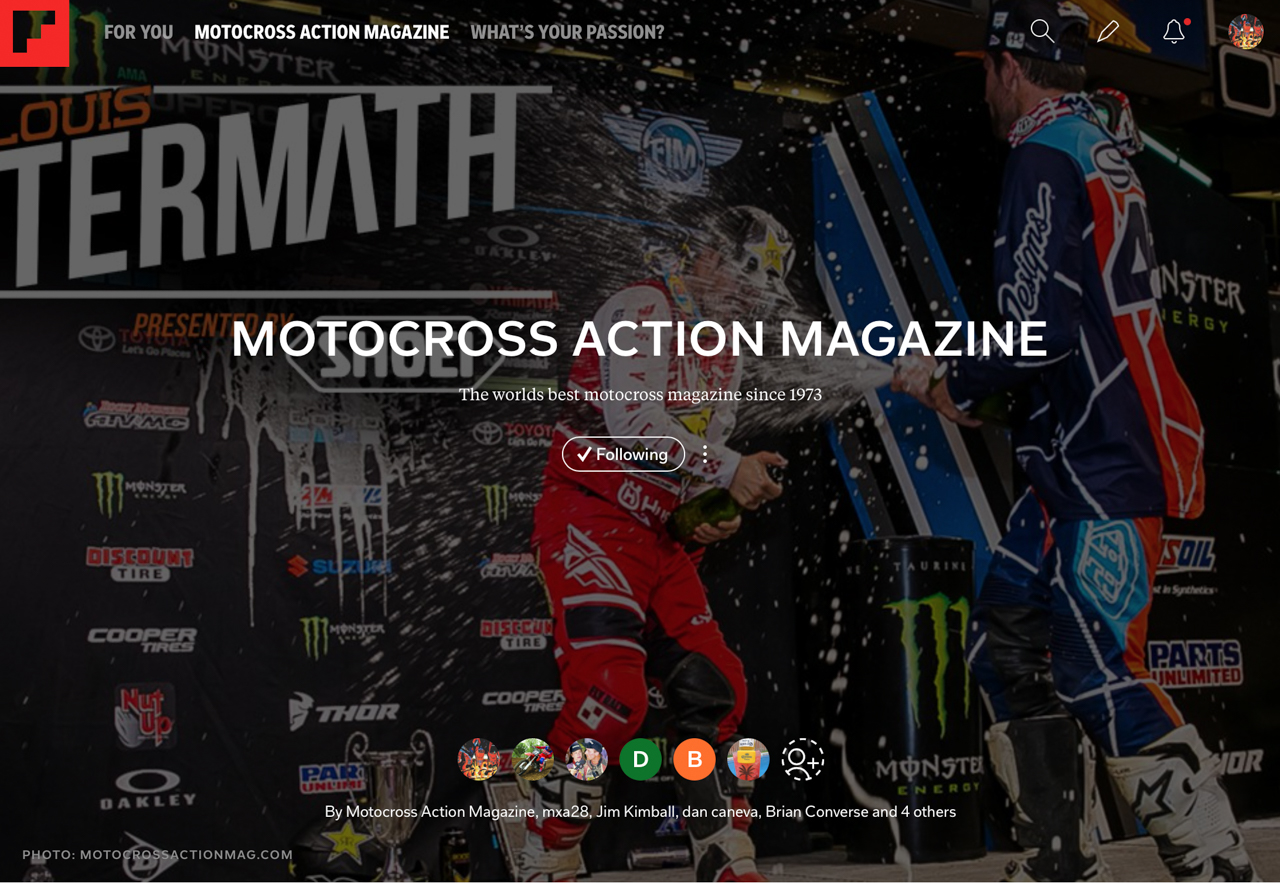 If you use Flipboard make sure to subscribe to the Motocross Action page for all the updates on our website. Click HERE to check out the page.