MXA'S WEEKEND NEWS ROUND-UP: EVERY WEEKEND BRINGS NEW SURPRISES
THIS WEEK'S BIRTHDAY BOYS: BOBBY, FRANK, STAPO & BIMBO

Nov. 10…Cooper Webb 1995
Nov. 10…Pat Lio
Nov. 11…Bradley Taft 1996
Nov. 12…Paul Currie 1976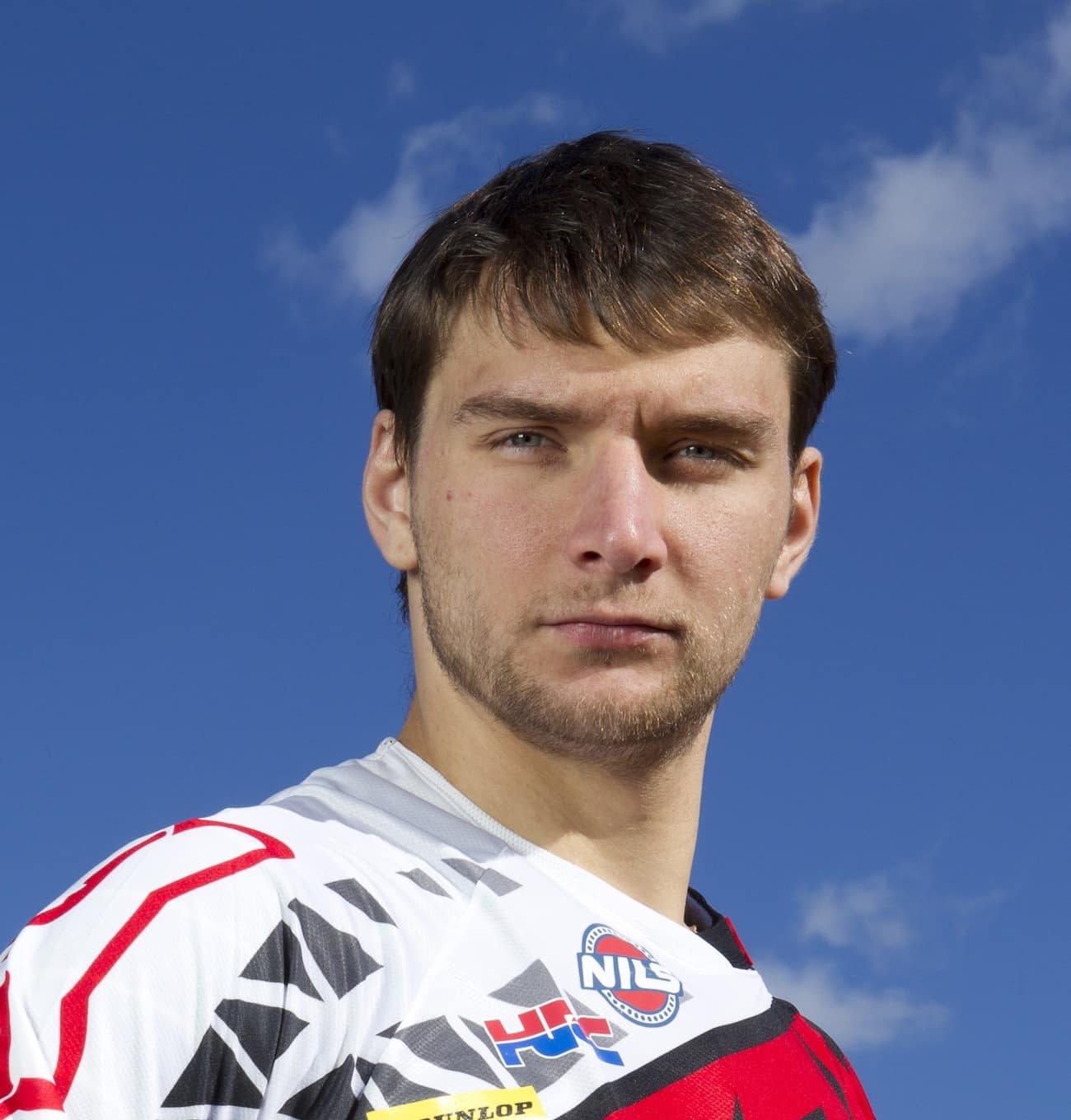 Nov. 13…Evgeny Bobryshev 1987
Nov. 14…Clark Stiles 1975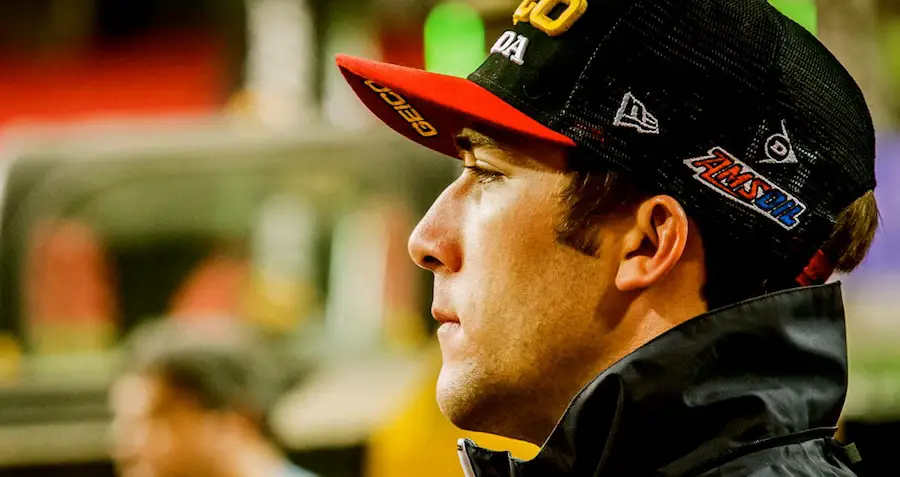 Nov. 14…Eli Tomac 1992
Nov. 14…Shaun Palmer 1968
Nov. 14…Dustin Nelson 1977

Nov. 15…Kurt Nicoll 1964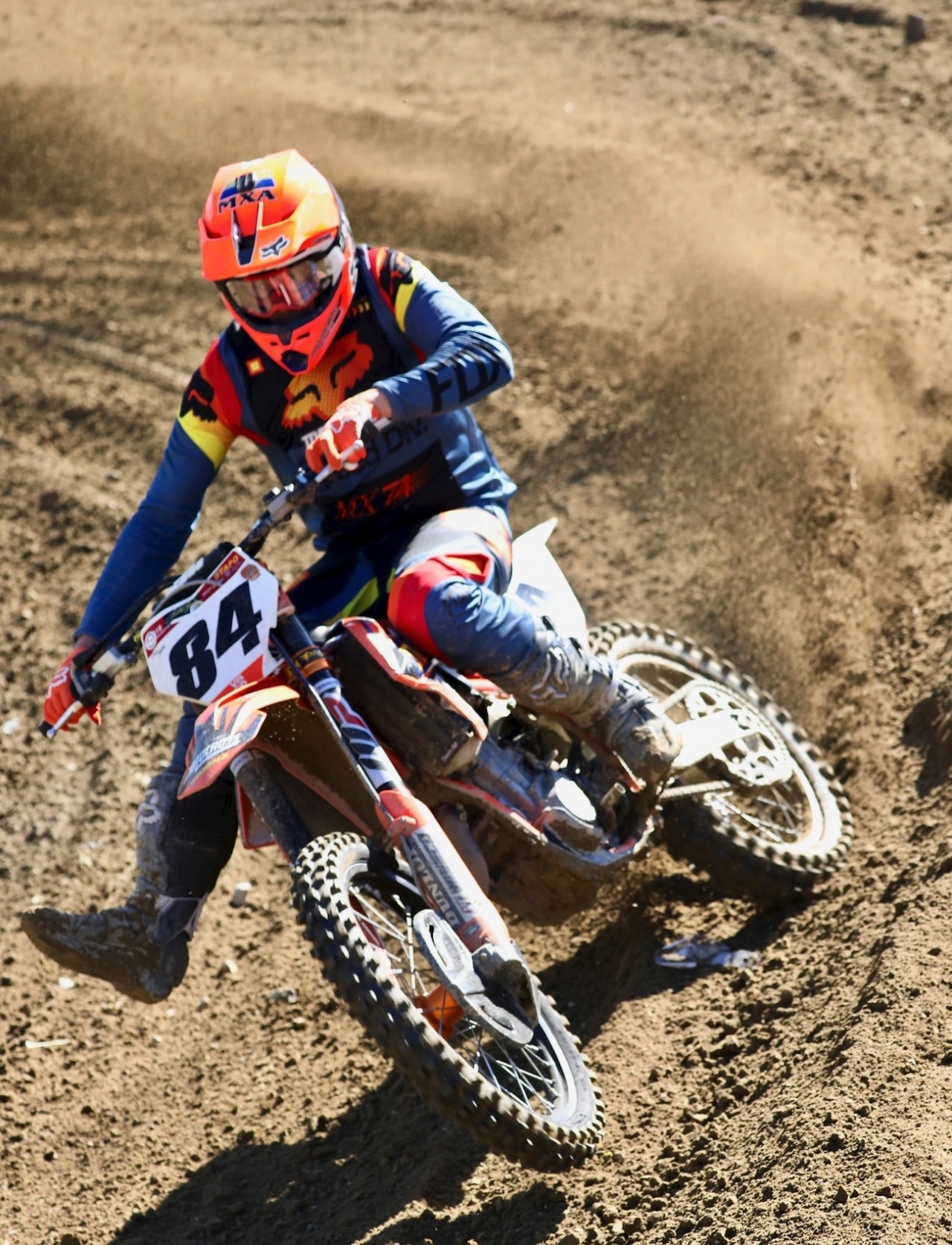 Nov. 15…Dennis Stapleton 1981
Nov. 16…P.J. Larsen 1990

Nov. 16…Jim Pomeroy 1952
JON ORTNER'S WORLD VET PHOTO ALBUM: THE BEHIND THE SCENES STUFF

Larry Huffman said before the Edison Dye Award ceremony that since Jody refuses to do interviews that it might be 15 minutes dead air, but Jody talked briefly about Tom White, his appreciation for the award and made fun of Larry whenever possible.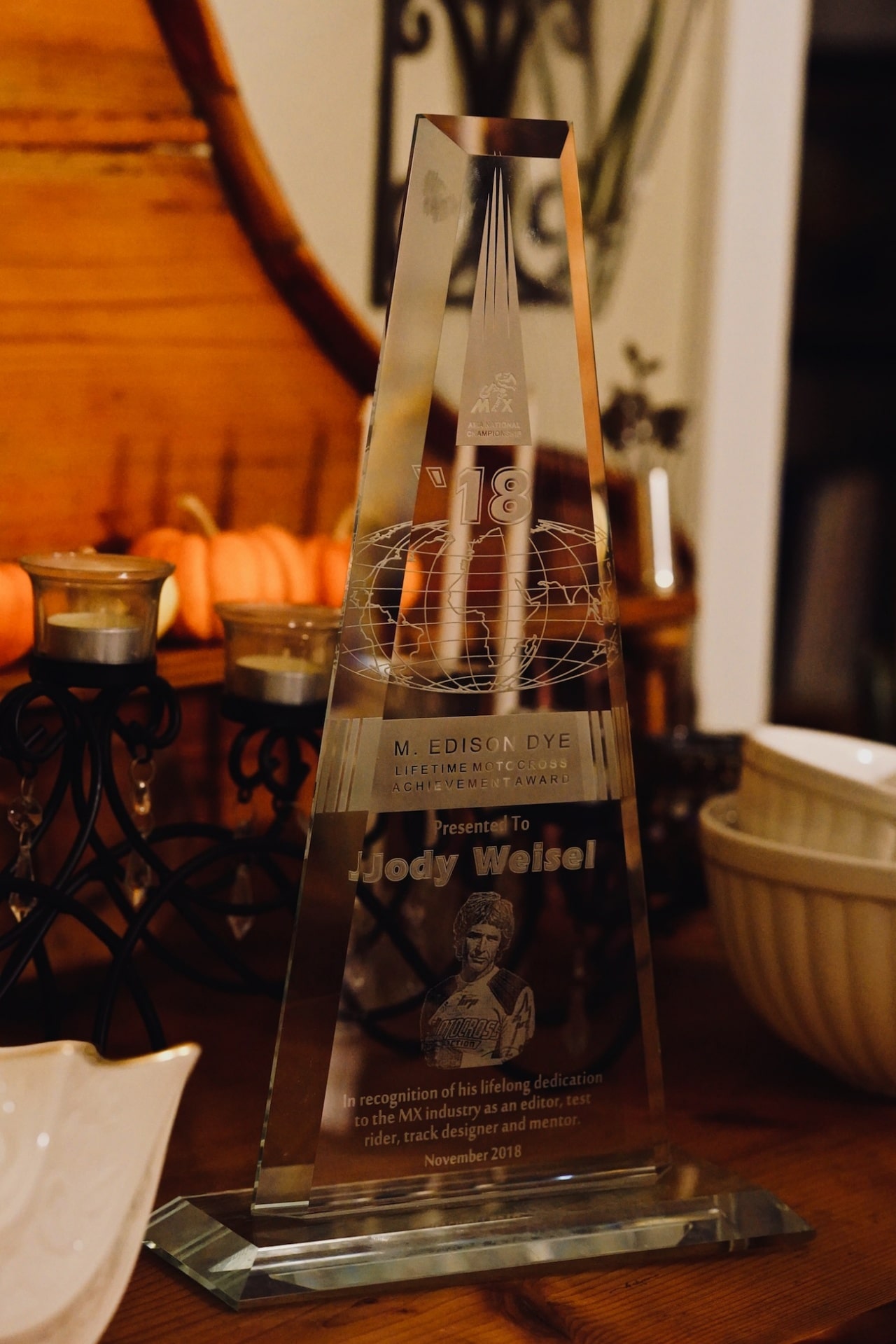 The award includes the inscribed granite block that Jody is holding above and this trophy with all the facts and engraved portrait. The granite block goes on the Glen Helen Walk of Fame right next to arch-rival Lars Larsson's 2017 award.

These are the Breck's. That's Benny in the middle, sister Holly (on the left) and Benny's wife and son.

Every Glen Helen racer knows this family—they have run the REM races for over 30 years. From left to right; Myra, Frank, Janae and Senna).

Jim O'Neal watching the ceremony from the back of the room. It was crowded because the 34th Annual Dubya World Vet Motocross Championships had a record 1300 total entries from nearly 20 different countries.

Chris Cole and Josh Mosiman. Josh is AMA National number 71 and the brother of factory Husqvarna rider Michel Mosiman. Josh is also the latest member of the MXA wrecking crew. He has joined Jody, Daryl Ecklund and Dennis Stapleton on the staff.

The Grants. Josh is a Glen Helen local.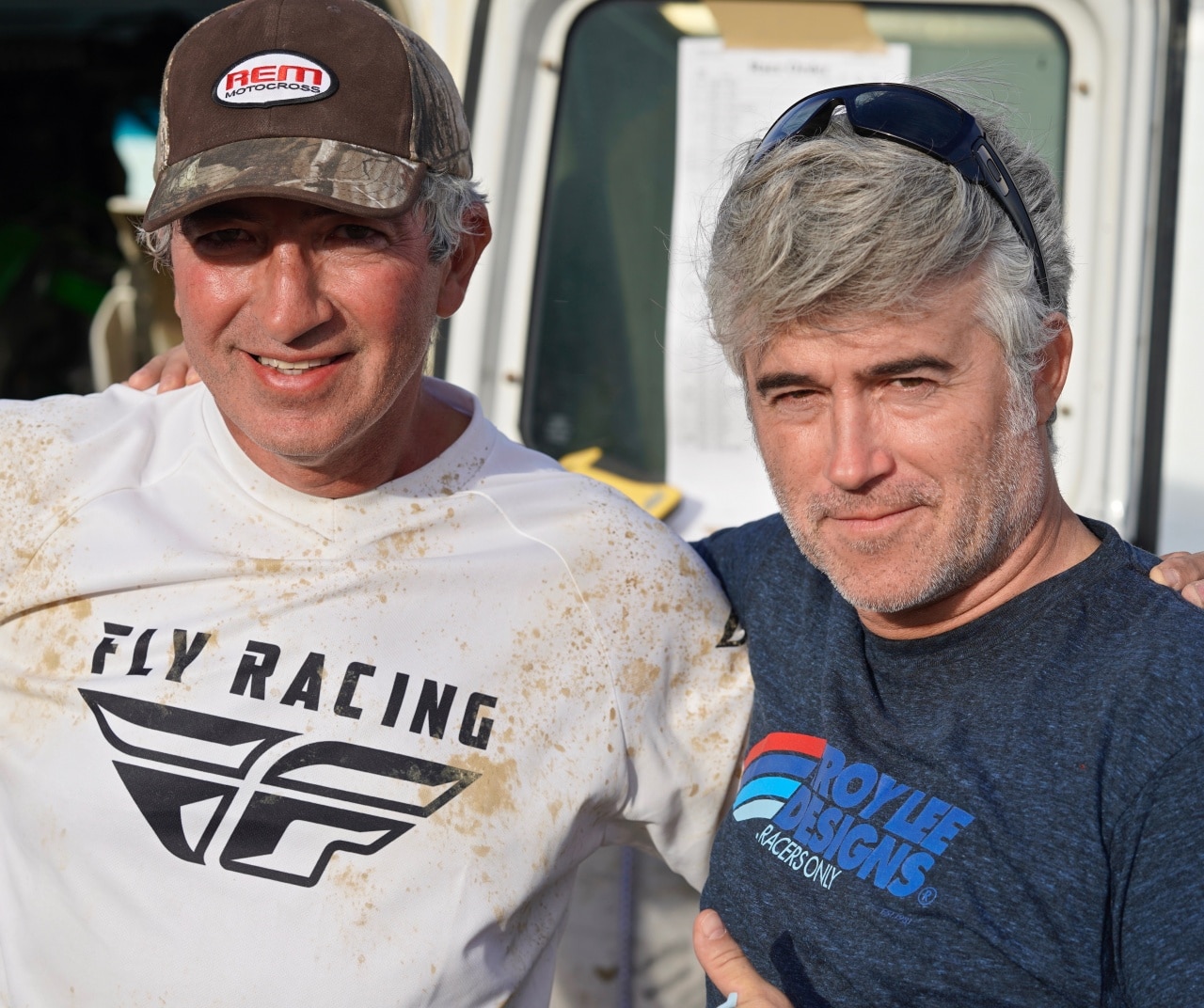 These Spanish racers came to Glen Helen in 2011 to race the USGP and they have been coming back ever since for the World Vet Championship. Dr. Joaquim Sunol and Xavi Costa are dedicated.
Gary Jones, Isao Ida, Jody Weisel and Japanese photographer Eri Ida.
Motocross wives are like no other on the planet. They never say, "I told you so," they just say, "Get in the car, I'll drive you to the hospital." Pam Skinner and Sally Weisel.

Former 250 and 500 World Champ Tim Gajser's dad Bojo came from Slovenia to race.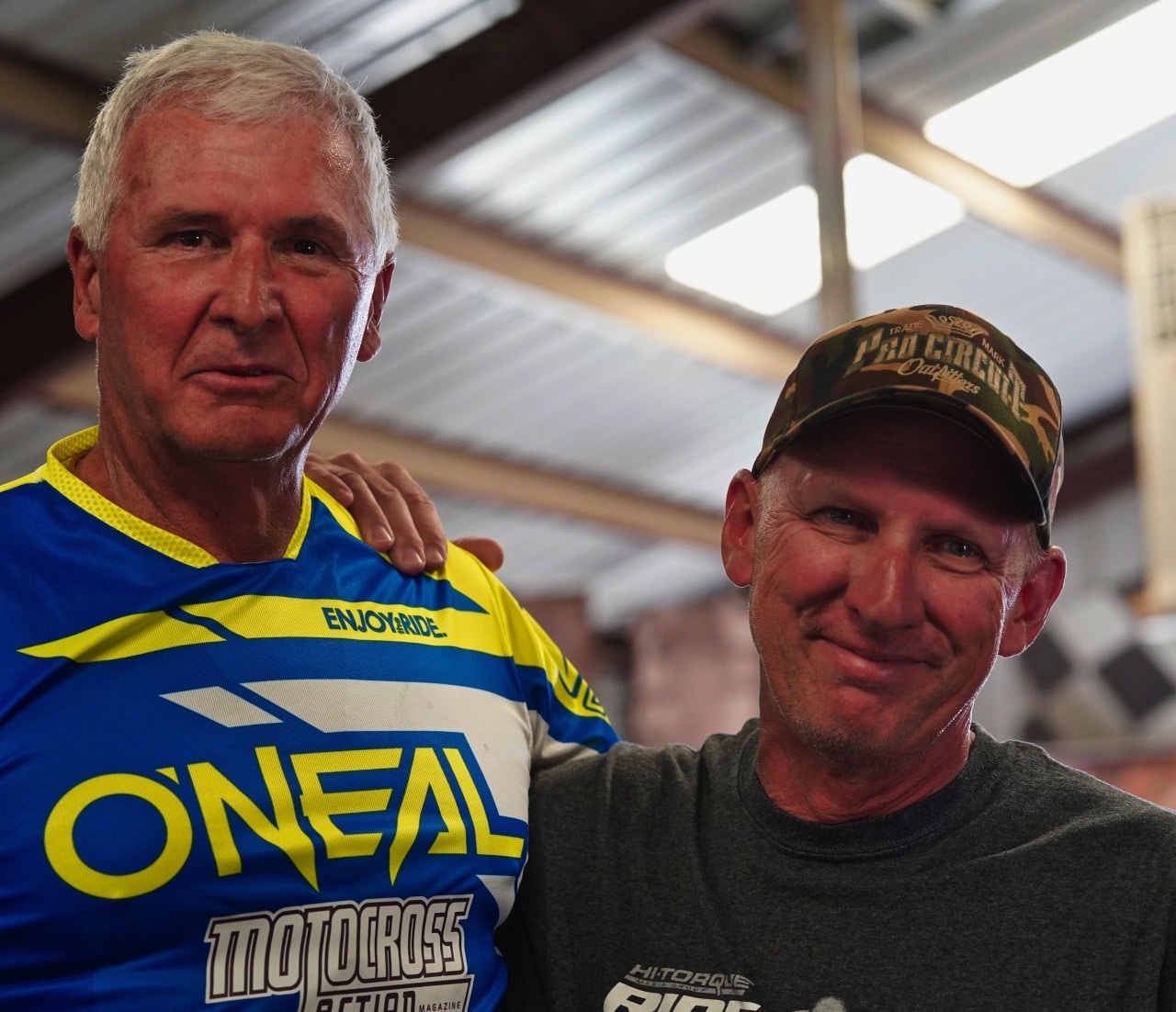 Jody towers over Bones Bacon, however, he did it by standing on a bench.

Rocket Rex Staten, Chief Charlie Beck and Joe Root.
Ten minutes after the Lifetime Achievement Award ceremony was over, Jody was back on the track.

When the World Vet was over the MXA gang didn't want to leave. They wanted to tell lies about how well they did. When darkness fell, they all went to Jody's house for dinner.

2018 EDISON DYE LIFETIME ACHIEVEMENT VIDEO
MXA COVER OF THE WEEK: LARRY BROOKS FIRST MXA COVER

Larry Brooks gig as an MXA test rider started with this photo shot at Saddleback Park on an Suzuzki RM80. He would be an MXA test rider for 25 years.

MXA AD OF THE WEEK: LARRY BROOK'S THOR SPREAD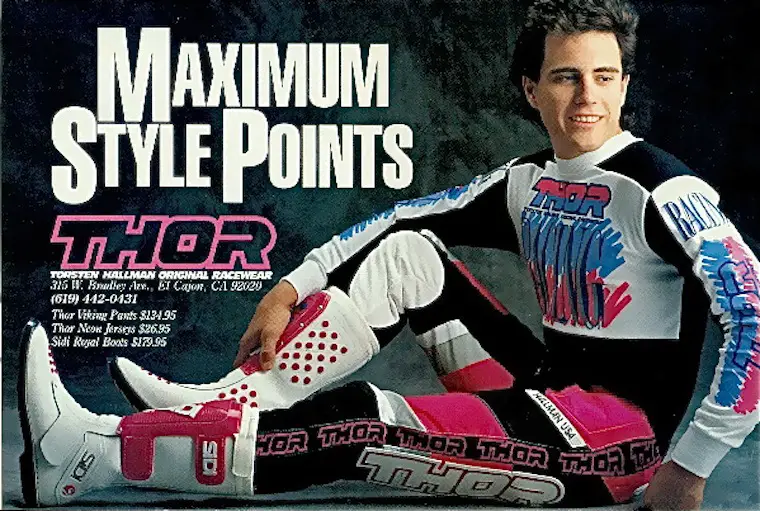 During his racing career Larry wore a lot of gear brands, but this Thor ad for their $134.95 Viking pants, $26.95 Neon jersey and $179.95 Sidi Royal boots was a full spread ad.

MEMORIES OF THE WAY WE WERE: 2003 EDISON DYE AWARD

Gary Jones was the recipient of the 2003 Edison Dye Lifetime Achievement Award. As Tom White turns to interview brother DeWayne Jones, Gary hugs his mom and stands next to his dad Don. Both DeWayne and Don are gone now, but mom Melinda is still huggable.

MXA TEAM TESTED: ARC FOLDING UNBREAKABLE MEMLON LEVERS
WHAT IS IT? ARC has risen to fame for its composite, unbreakable, folding Memlon levers, but for riders who don't want nylon-style levers, ARC makes forged aluminum levers that mimic the Memlon shape. Marketing 101 always advises business owners to name their product with a name that is colorful, understandable and easy to pronounce, like Big Gulp. By no stretch of the imagination would Wall Street approve of the name Mnemlon. It is pronounced "Nem-Lawn." What does it mean? Its origin is the Greek word mnemonikos ("memory") combined with nylon (although the composite levers have no nylon in them). As Wall Street predicted, ARC owner Bob Barnett was forced to change the spelling of Mnemlon to an easier-to-read Memlon after the first year of production.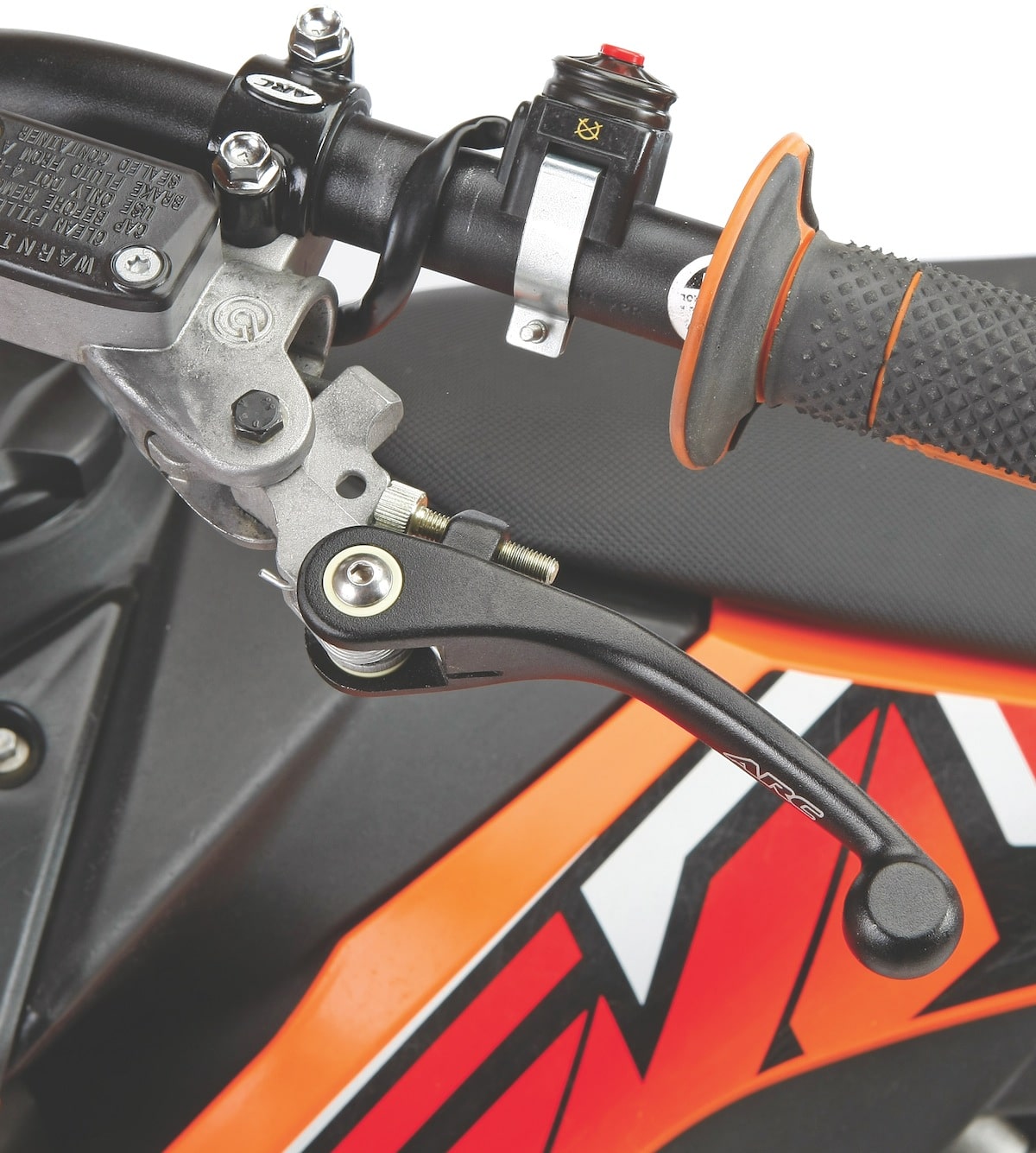 It is obvious that ARC is a hard-core design firm that can't stop reinventing the wheel—and the wheel in this case is motorcycle brake and clutch levers. ARC has something else going for it—high-profile test riders. With Eli Tomac, Zach Osborne, Austin Forkner, Weston Peick, Justin Barcia, Justin Hill, Josh Grant, Malcolm Stewart and Adam Cianciarulo providing input every week, ARC has its pulse on what the stars want. Some of those stars want unbreakable composite levers and some want forged aluminum levers, but they are all in agreement that they prefer the thicker shape of the Memlon composite levers over ARC's previous forged aluminum lever. So, ARC redesigned its forged levers to be more like the composite levers.
You don't have to be a factory rider to get the same levers that are on the factory bikes. The Memlon levers are almost flawless. Plus, they fold in a crash and are solidly built. ARC experimented with 14 different mixtures of materials in search of the perfect degree of flexibility and crash resistance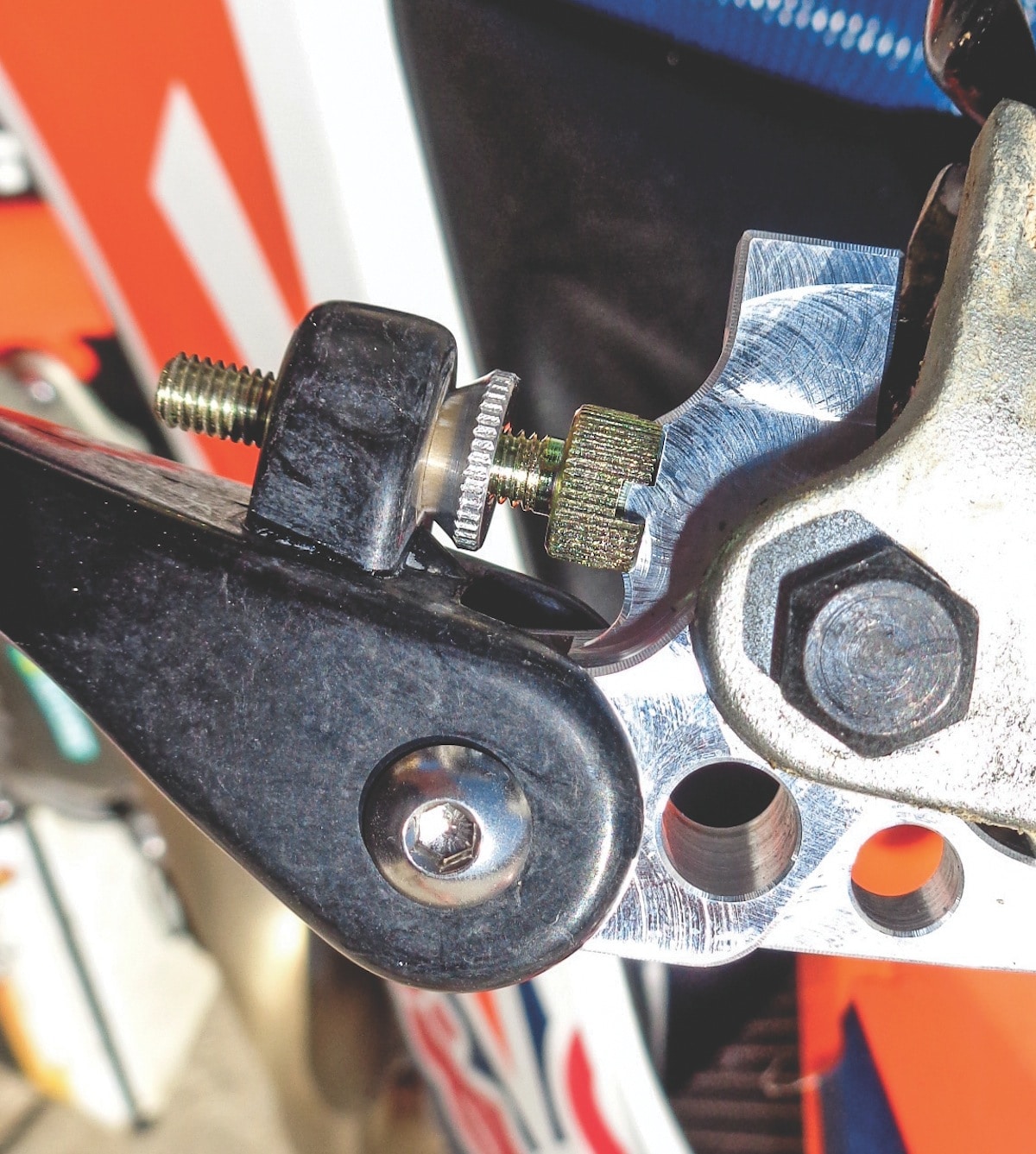 The greatest part of the new forged ARC lever is the reach adjuster. It is a stroke of genius because of its simplicity. The lever has a small blade-like fin that fits into a cross-hatch groove in the adjuster bolt. The bolt can be turned in or out to change the reach, but once the fin interlocks with the crosshatch, the reach is set. Stunning engineering. Since the composite Memlon levers are unbreakable, their lifetime warranty is a given. As for the forged aluminum levers, ARC will replace them for $15 (to cover shipping and handling).
DIGITS $69.99 (brake or clutch)—  www.arclevers.com or (714) 543-0362.
MXA RATING: Factory teams will not run a product unless they have 100 percent faith in it, and ARC levers are on more factory bikes than any other lever. The motocross world has been crying out for an unbreakable lever for the last 50 years. Guess what? It's here.
SUBSCRIBE TO MXA & GET A $25 CHAPARRAL GIFT CARD—YOU MAKE A PROFIT BY READING MXA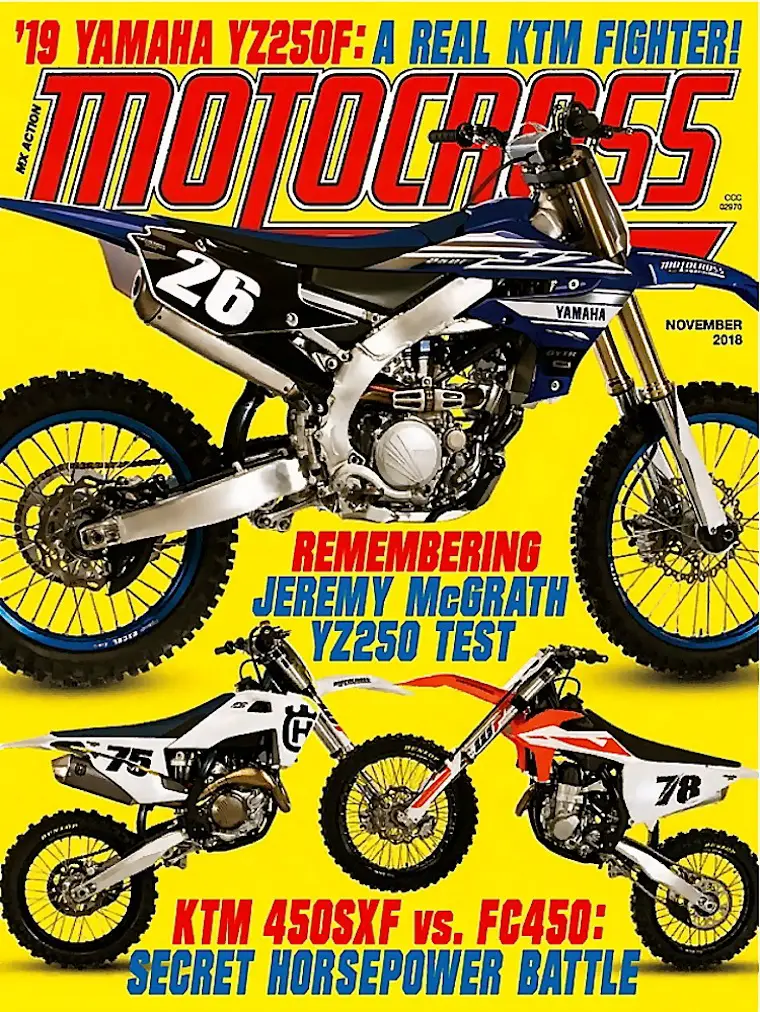 If you had subscribed to Motocross Action, the November 2018 issue of MXA would be in your mailbox, computer or iPhone already. It has tests of the 2019 KTM 450SXF, 2019 Husqvarna FC450, 2019 Yamaha YZ250F, Retro-Test of Jeremy McGrath's 1999 Yamaha YZ250 and a special ClubMX KTM 150SX. Plus, a Ken Roczen interview where he tells the world that he will give up his German citizenship and become an American. All that and everything that you ever wanted to know about moto.

Do you subscribe to MXA? You should. We know that you think that print magazines are dead and that the internet will fill the void, but most of the stuff in the current issue of MXA won't appear on the web for several months, if at all. Luckily, you can get all of MXA on your iPhone, iPad, Kindle or Android by going to the Apple Store, Amazon or Google Play or in a digital version. Even better you can subscribe to Motocross Action and get a $25 Chaparral gift card to spend on whatever motorcycle parts or products you need. You can call (800) 767-0345 or www.hi-torque.com/product/motocross-action or click on the box at the bottom of this page.
MXA RACE POSTER UPDATE: WHAT'S ON DECK IN MX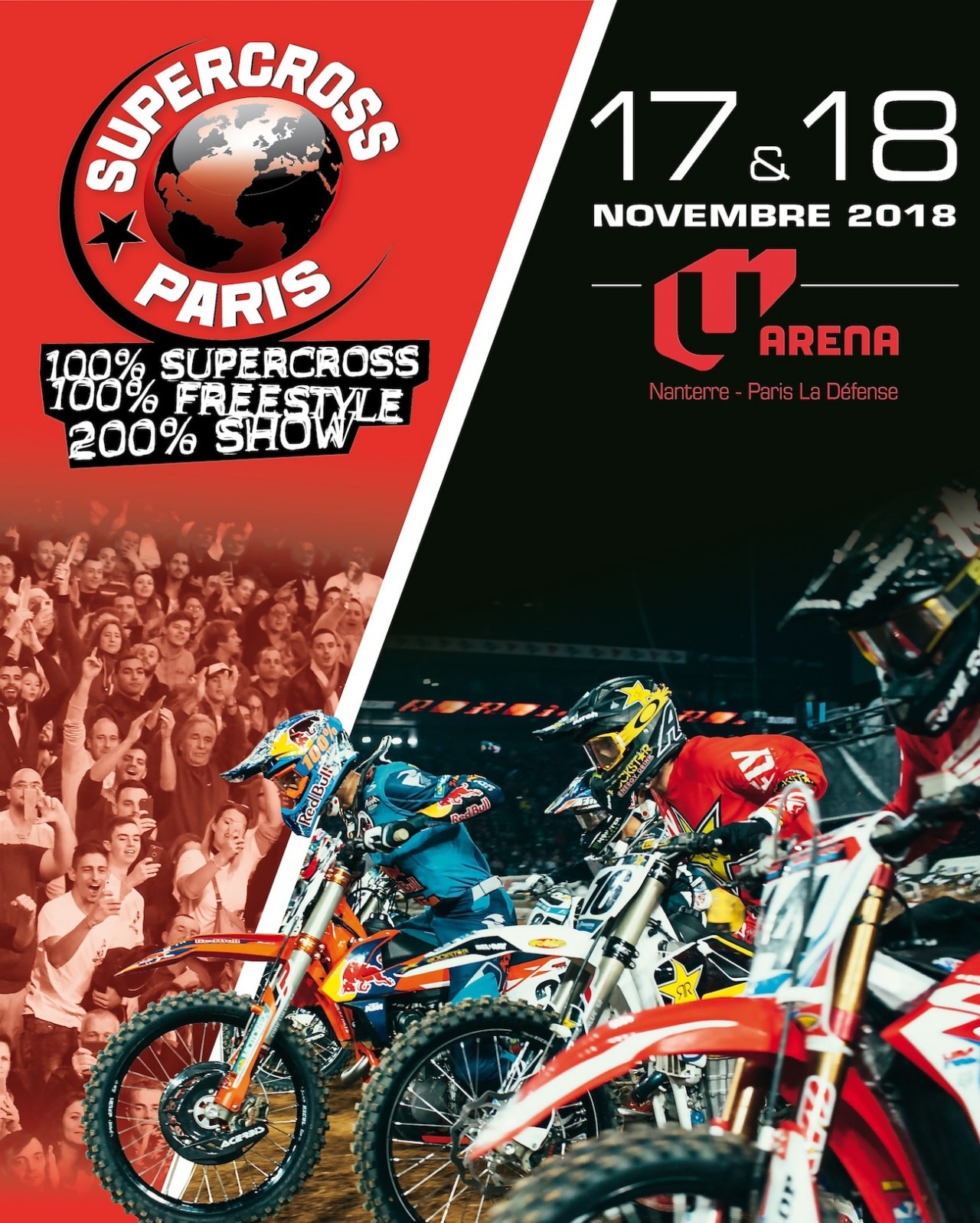 2018 PARIS SUPERCROSS ON NOVEMBER 17-18
For more info, brush up on your high school French and then go to www.supercrossparis.com
2018 THOR MINI OLYMPICS ON NOVEMBER 19-258
For more info go to www.unlimitedsportsmx.com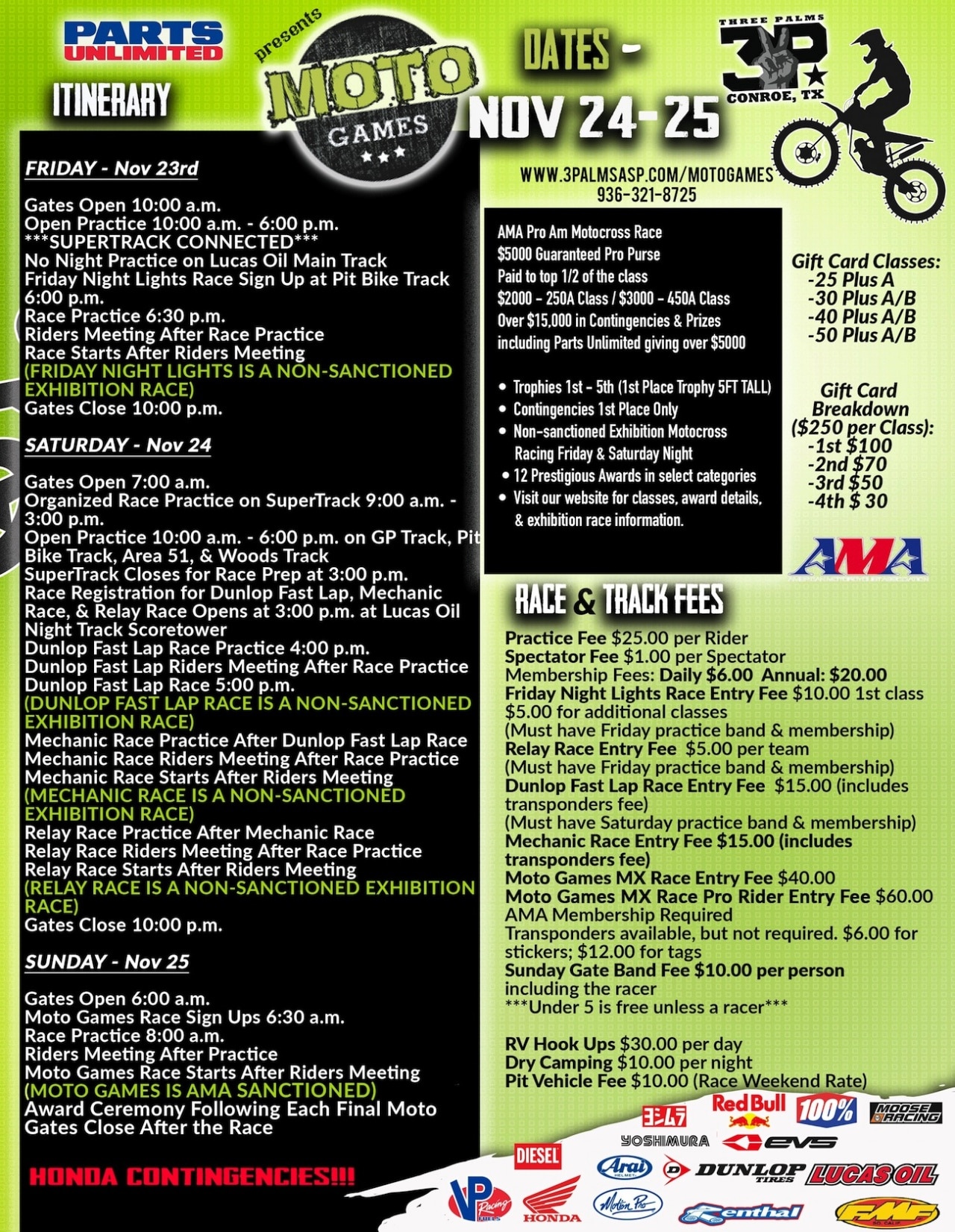 THREE PALMS "MOTO GAMES" ON NOV. 24-25
For more information (although they seemed to have squeezed everything short of "War and Peace" into their poster) go to www.3palmsasp.com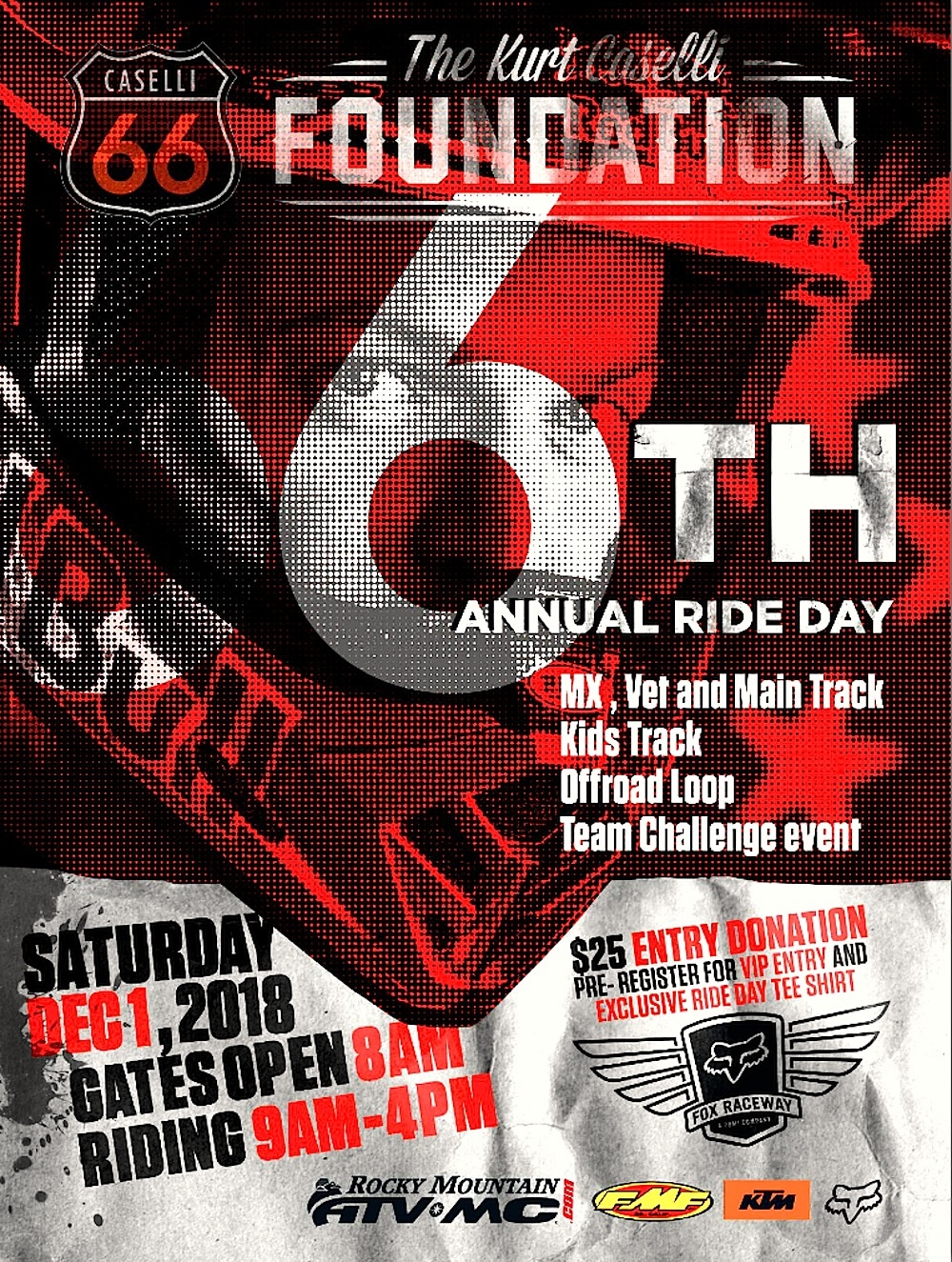 6TH ANNUAL KURT CASELLI RIDE DAY FOX RACEWAY ON DEC. 1
For more information go to www.kurtcasell.com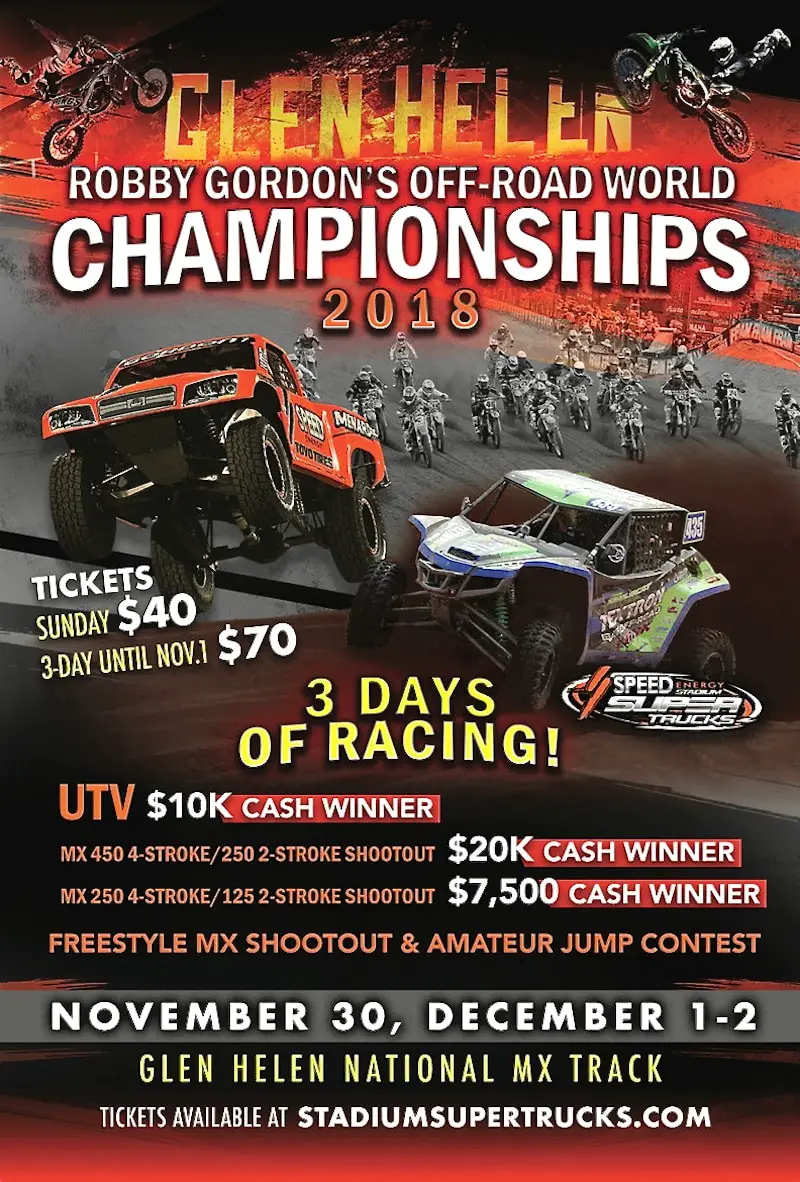 2018 ROBBIE GORDON OFFROAD WORLD CHAMPIONSHIPS ON NOV. 30—DEC. 1
$20,000 to the winner of the 450 class and $7500 to the winner of the 250 class. For more info go to www.stadiumsupertrucks.com
2019 MOTOCROSS ACTION 450 SHOOTOUT VIDEO
2019 RACE SCHEDULE: FOR THOSE WHO CAN'T WAIT UNTIL JANUARY


In 2018 Eli Tomac won over $3.5 million dollars in purse money and bonuses—not counting his big bucks Kawasaki, Oakley and Alpinestars salaries. His tax accountant is warming up his adding machine for the January 5th start of the 2019 Supercross season.

2019 AMA SUPERCROSS SERIES
Jan. 5…………………………….Anaheim, CA
Jan. 12………………………….Glendale, AZ
Jan. 19………………………….Anaheim, CA (3-moto race)
Jan. 26………………………….Oakland, CA
Feb. 2……………………………San Diego, CA
Feb. 9…………………………..Minneapolis, MN
Feb. 16………………………….Arlington, TX
Feb. 23………………………….Detroit, MI (3-moto race)
Mar. 2……………………………Atlanta, GA (250 E/W Shootout)
Mar. 9……………………………Daytona Beach, FL
Mar. 16………………………….Indianapolis, IN
Mar. 23………………………….Seattle, WA
Mar. 30………………………….Houston, TX (3-moto race)
Apr. 6……………………………Nashville, TN
Apr. 13………………………….Denver, CO
Apr. 27………………………….East Rutherford, NJ
May 4……………………………Las Vegas, NV (250 E/W Shootout)
2019 AMA NATIONAL CHAMPIONSHIP
May 18……………………Hangtown, CA
May 25.…………………..Glen Helen, CA
June 1..………………….Thunder Valley, CO
June 15..…………………Mt. Morris, PA
June 22.………………….Jacksonville. FL
June 29..…………………Southwick, MA
July 6.…………………….Red Bud, MI​
July 20.…………………..Millville, MN​
July 27.…………………..Washougal, WA
Aug. 10..………………….Unadilla, NY​
Aug. 17..………………….​Budds Creek, MD
Aug. 24.…………………..Crawfordsville, IN
2019 FIM MOTOCROSS WORLD CHAMPIONSHIP
Mar. 10……………………………TBA
Mar. 24……………………………England
Mar. 31……………………………Holland
Apr. 7……………………………..Italy #1
Apr. 21……………………………Hong Kong
May 1……………………………..Shanghai
May 12……………………………Italy #2
May 26……………………………France
June 9…………………………….Russia
June 16…………………………..Latvia
June 23…………………………..Germany
July 7……………………………..Indonesia #1
July 14……………………………Indonesia #2
July 28……………………………Czech Republic
Aug. 4…………………………….Belgium
Aug. 18…………………………..Switzerland
Aug. 25…………………………..Sweden
Sept. 8……………………………Turkey
Sept. 22………………………….Italy #3
2019 MOTOCROSS DES NATIONS
Sept. 29…………………………….Assen, Holland
2019 BRITISH ARENACROSS CHAMPIONSHIP
Jan. 18-19………………………….Belfast, Irl
Feb. 1-2……………………………..Birmingham, GB
Feb. 15-6…………………………..Sheffield, GB
RYAN VILLOPOTO AMATEUR MOTOCROSS CUP
Aug. 22-25………………………..Grays Harbor, WA
2019 AMA VINTAGE MOTORCYCLE DAYS
July 5-7…………………………….Lexington, Ohio
2019 GERMAN MX MASTERS CHAMPIONSHIP
April 14……………………………..Princely Drehna
June 2………………………………Moggers, Austria
June 30…………………………….Molln
July 21……………………………..Tens
Aug. 11…………………………….Gaildorf
Sept. 1……………………………..Biel
Sept. 15……………………………Wood Gerlingen
JOIN MXA'S FLIPBOARD PAGE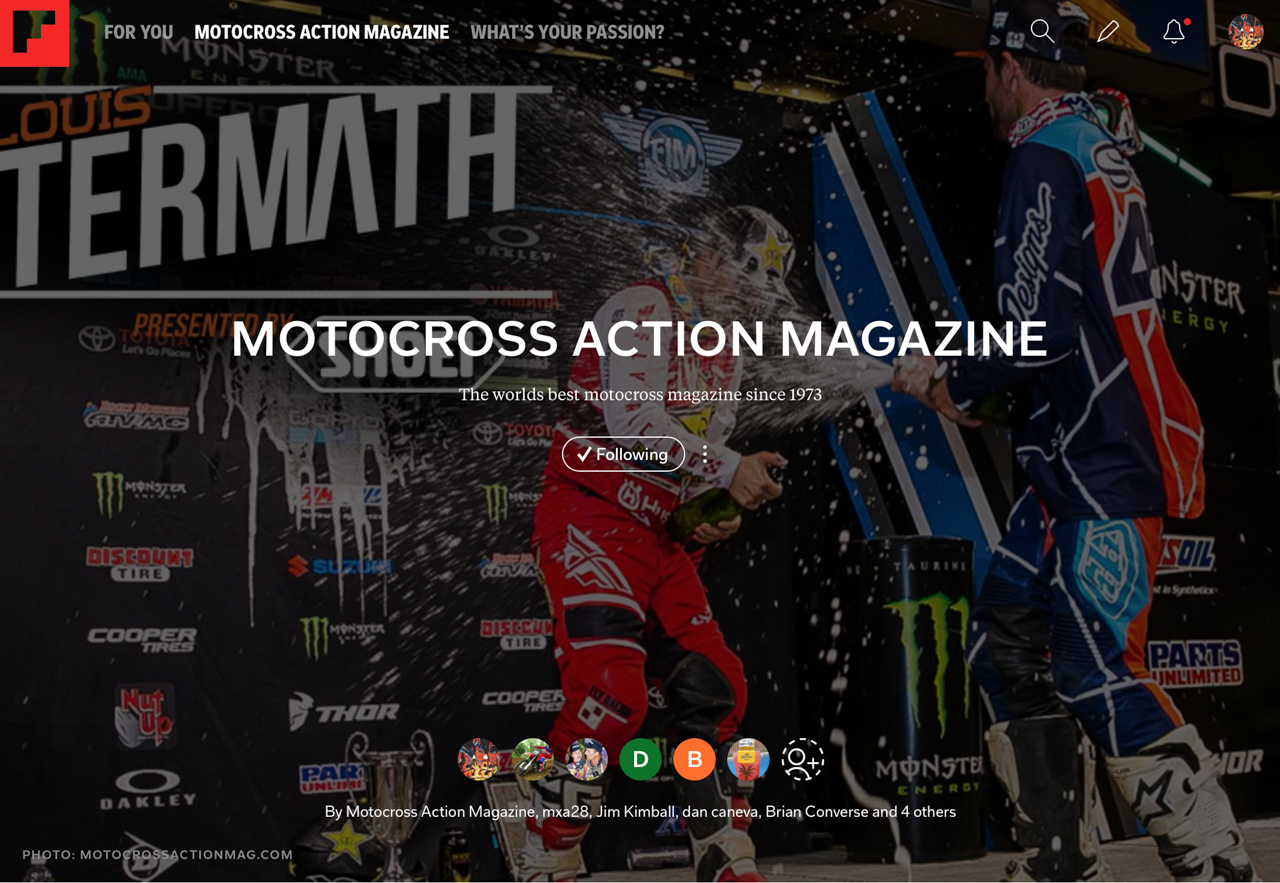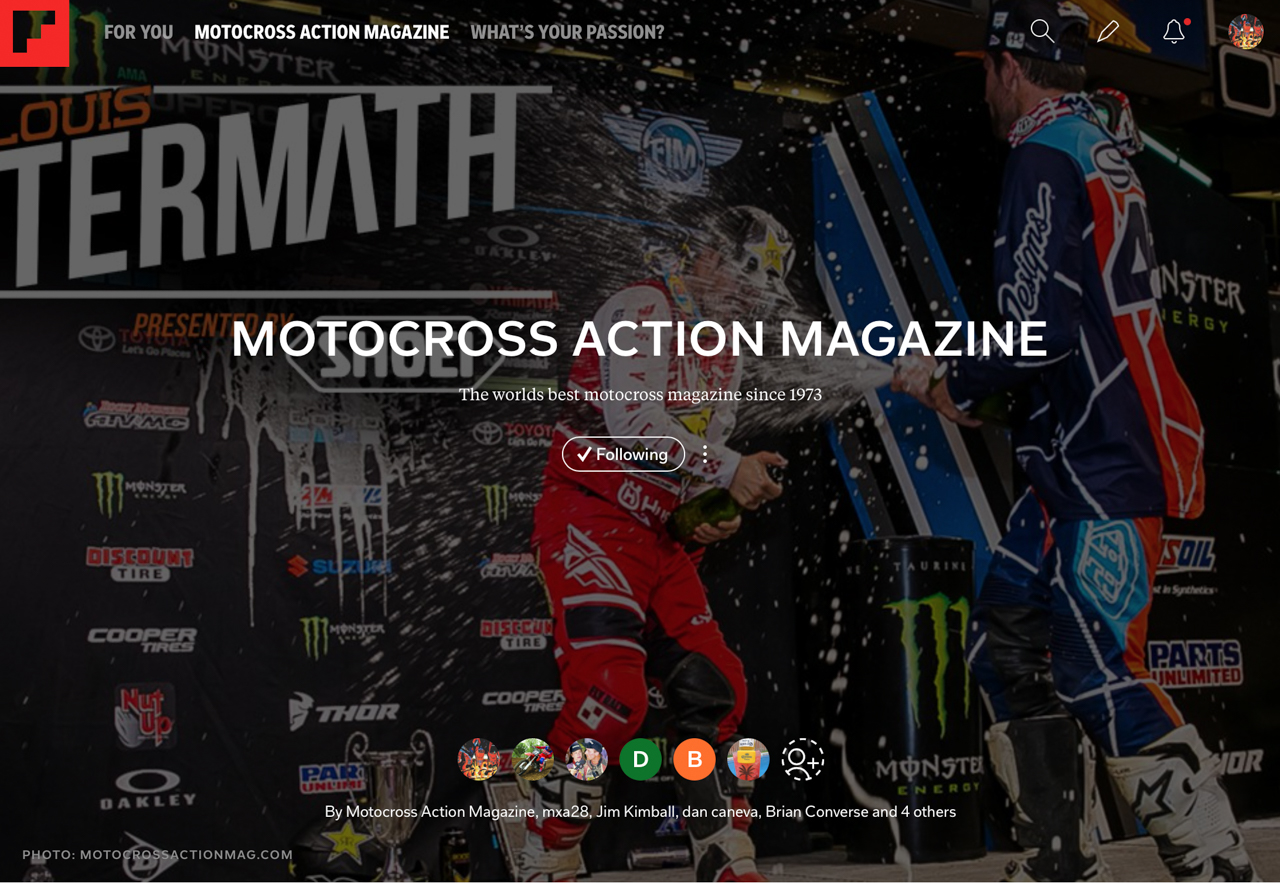 If you use Flipboard make sure to subscribe to the Motocross Action page for all the updates on our website. Click HERE to check out the page.
TALK MOTO WITH ON MXA'S FACEBOOK GROUP CHAT


We love everything moto and want to bring all moto junkies together into one place to share their two cents, ideas, photos, bike fixes, bike problems and much more. To check it out first you must need to or already have a Facebook account. If you don't, it isn't much work and you could even have an alias so nobody knows it is you. To join click HERE. After you request to join we will accept your request shortly after.
MXA'S SNAP CHAT FEED
If you are a Snap Chat user then add us to your stories. Get sneak peaks of everything moto. Our Snap Chat name is motocrossaction. Or just take a Snap of the picture above and it will add MXA automatically to your feed.
FOLLOW MXA ON TWITTER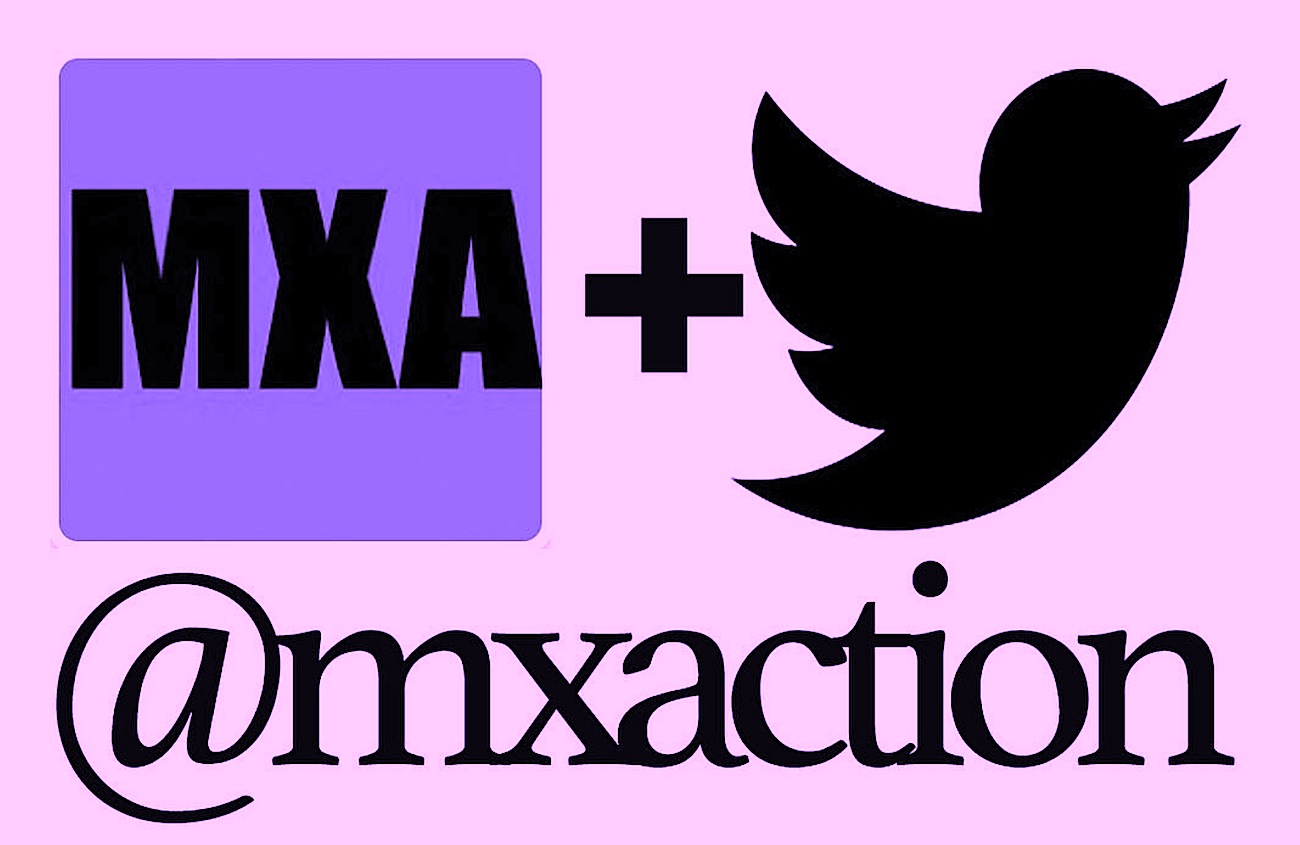 Follow us to see fresh content every day at www.twitter.com/MXAction or on twitter at "MXAction."
SAVE THE DATE! THE LAST RACES OF THE 2018 MOTOCROSS SEASON

The 2018 Day in the Dirt starts on Nov. 23.
2018 PARIS SUPERCROSS
Nov. 17-18…………………….Paris, France
2018 THOR MINI OLYMPICS
Nov. 19-24…………..…….Gainesville, FL
2018 DAY IN THE DIRT
Nov. 23-25…………………….Glen Helen, CA
2018 ROBBY GORDON OFF-ROAD CHAMPIONSHIP
Dec.1-2………………………..Glen Helen, CA
2018 REM GLEN HELEN CHAMPIONSHIP
Nov. 17……………………Glen Helen, CA
Dec. 8……………….……Glen Helen, CA
Dec. 15……………………Glen Helen, CA
Dec. 22……………………Glen Helen, CA
Dec. 29…………..…….…Glen Helen, CA
2018 WORLD OFFROAD CHAMPIONSHIP (WORCS)
Nov. 9-11………………….…..Primm, NV
2018 OLD SCHOOL SCRAMBLES CHAMPIONSHIP
Dec. 9………………………..Glen Helen, CA
2018 ENDUROCROSS CHAMPIONSHIP
Nov. 3……………………………Boise, ID
Photos: Debbi Tamietti, Jon Ortner, Brian Converse, Jody Weisel, Travis Fant, Daryl Ecklund, MXA, MXGP