MXA'S WEEKEND NEWS ROUND-UP: FIRST LOOK 2021 HONDA CRF250, CANADA DELAYED, SIDECARS CANCELED
MORE MXGP CANCELLATIONS & DATE CHANGES: IT LOOKS LIKE DECEMBER IS GOING TO BE BUSY
Break out the snow shoes Jeffrey because it's going to be a long cold winter.
The 2020 Grand Prix of China scheduled for September 13 has been canceled, but will be on the 2021 MXGP race schedule (although it will probably be canceled next year also). Meanwhile, the Grand Prix of Russia, which has already been moved twice will be moved again. It is currently scheduled for August 2, but now becomes one of MXGP's many "To Be Announced" Dates (TBA). The proposed new Russian dates would be sometime in October or November to take advantage of the icicles that Russia has to offer that time of year.
MXGP's goal is to hold 10 to 12 events in Europe between the middle of August and the end of October, including the Motocross des Nations on September 27. After the MXDN, the remainder of the 2020 World Motocross Championship will take place in October, November and December. It should be noted that under the current schedule there are 12 GPs that will happen after the Motocross des Nations (which has traditionally be the last race of the year).
This MXGP race schedule will never hold up. It will be changed many more times, with many moreraces will be canceled before,MXGP gets to the end of the year.
REVISED 2020 FIM MOTOCROSS WORLD CHAMPIONSHIP
(As of Friday, June 12, 2020)
Mar. 1…Matterley, Great Britain (Held)
Mar. 8…Valkenswaard, Holland (Held)
Aug. 9…Kegums, Latvia
Aug. 16…Uddevalla, Sweden
Aug. 23…KymiRing, Finland
Sept. 6.…Afyonkarahisar, Turkey
Sept. 20…TBA
Sept. 27…MXDN, Ernee, France
Oct. 4…Trentino, Italy
Oct. 11..Arroyomolinos, Spain
Oct. 18…Agueda, Portgual
Oct. 25…Lommel, Belgium
Nov. 1…Jakarta, Indonesia
Nov. 8…TBA, Indonesia
Nov. 22…Neuquen, Argentina
Nov. 29…TBA
TBA…Loket, Czech Republic
TBA…Teutschenthal, Germany
TBA…Imola, Italy
TBA…Orlyonok, Russia
MXA PHOTO OF THE WEEK: WHAT HAPPENED TO BAM BAM AT SLC-4?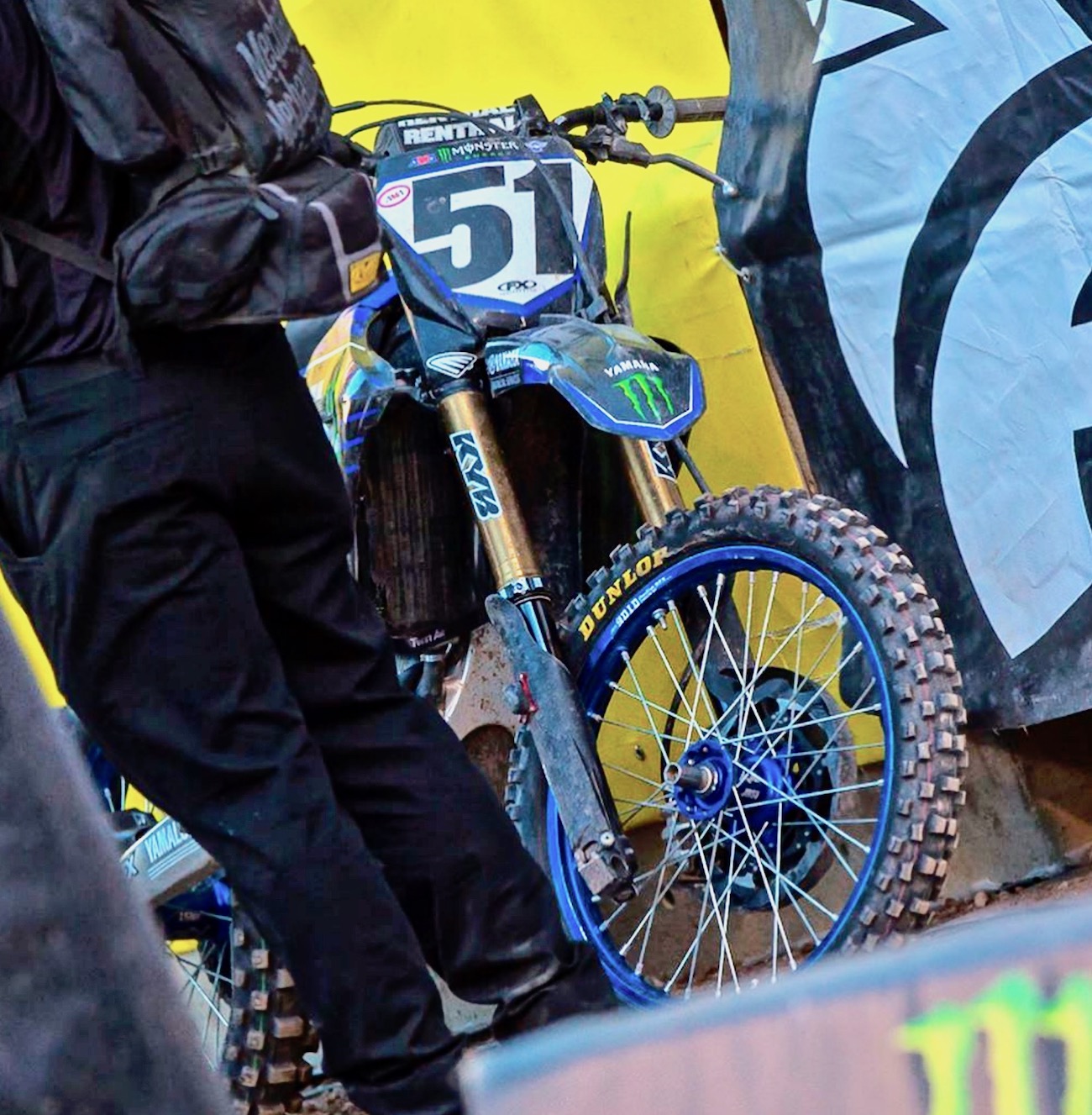 Justin Barcia hit the outside wall of the SLC-4 track so hard that his front wheel came out of the lug.
On lap 20 of the 26-lap Salt Lake City Supercross, Justin Barcia flew off the track and center-punched the retaining wall on the side of  the track. The TV cameras got there in time to show Justin struggling to get his bike up and running again. But it was no go.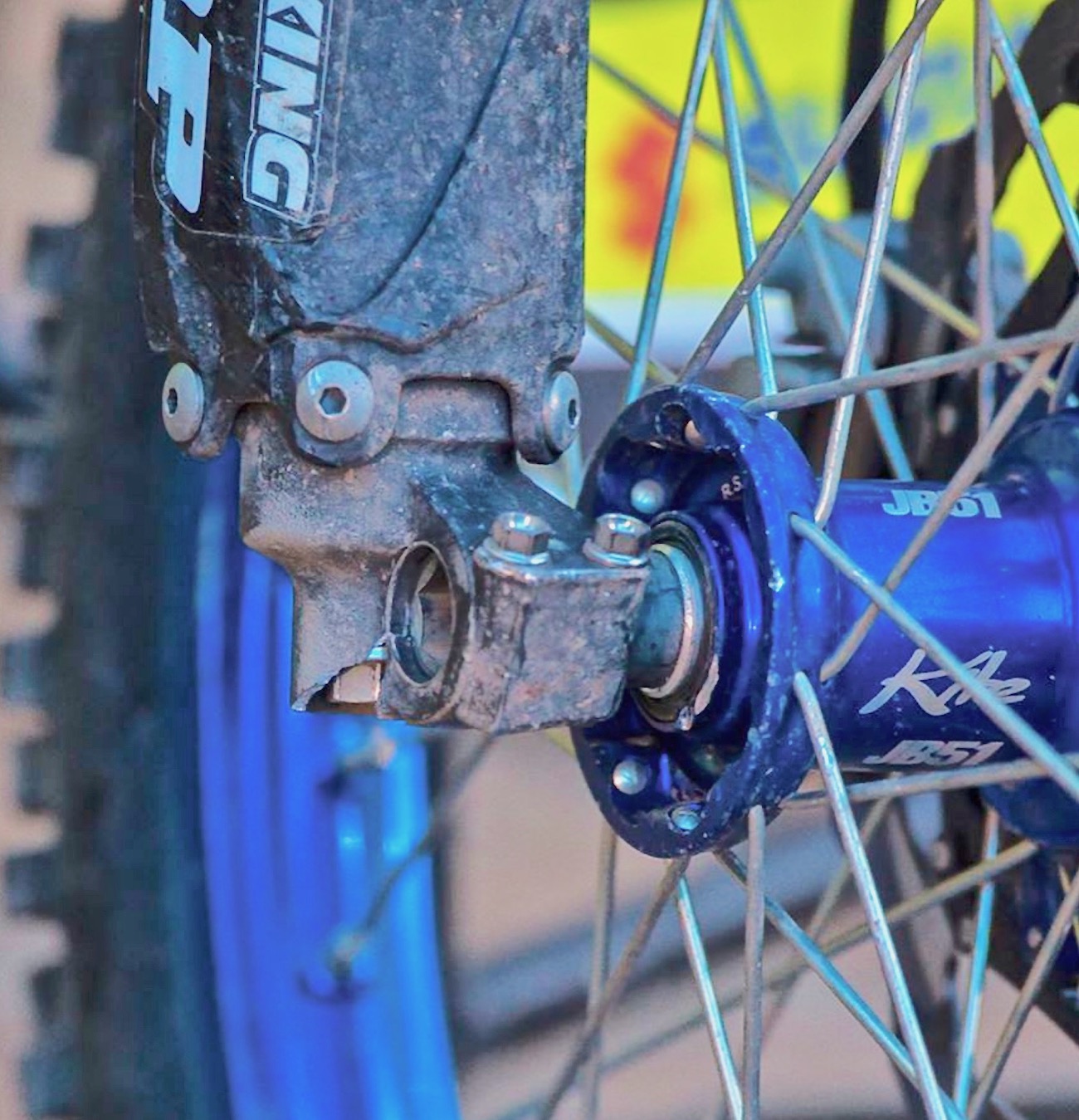 Note the chunk missing from Justin's  fork leg and the corresponding crack where the axle slides in. Photos: Travis Fant

Why? Justin right front fork lug was cracked on impact and that allowed the front axle to pull out of the lug. Justin's night was over. It cost him fifth in series place points, as Jason Anderson passed him in the standings. Luckily, Justin is only 4 points out of fifth and has three races left to get back in the top five.
FIRST LOOK: 2021 KAWASAKI KX MINI MOTOCROSS & PLAY BIKE LINEUP
2021 KAWASAKI KX65
The 2021 KX65 is the most compact bike in the Kawasaki KX lineup, built to serve as the machine of choice for aspiring motocross racers driven to follow in Kawasaki's championship footsteps. Featuring a six-speed transmission, race-ready engine, strong stopping power, and superb handling, the KX65 grooms champions. Its liquid-cooled, two-stroke 65cc engine and light weight chassis delivers strong controllable power and exceptional handling that results in the ultimate recipe for winning races. The 33mm front forks and four-way adjustable rebound damping are capable of performing at the highest level in aggressive terrain, while the rear is fitted with Kawasaki's Uni-Trak single-shock system with adjustable rebound damping and fully adjustable spring preload. Kawasaki KX65—$3749.
2021 KAWASAKI KX85
The 2021 KX85 motorcycle defines a "big bike in a small package" and has been strategically developed to meet the standards of youth racers searching for the upper hand over the competition. The KX85 relies on its instantaneous power, nimble handling, and factory-race inspired styling to reach the checkered flag first. The two-stroke, single cylinder 85cc engine is equipped with the highly advanced KIPS powervalve system that generates an easy-to-use wide-spread powerband. Championship performance requires power and reliability, which is exactly why the KX85 stands above the competition. 2021 Kawasaki KX85—$4399.
2021 KAWASAKI KX100
Despite its smaller stature, the powerful 99cc two-stroke engine in the 2021 KX100 motorcycle resembles the jaw dropping "big bike" look of its larger KX counterparts, while maintaining its ability to outperform the competition. The adjustable Ergo-Fit handlebar mounting system allows for riders to place themselves in the best ride position. Backed by winning performance from Kawasaki Team Green, the KX100 has been a natural step for the riders who are looking to make the transition from the 85cc class to a full-size motocross bike. 2021 Kawasaki KX100—$4649.
2021 KAWASAKI KLX230R
The KLX 230R off-road motorcycle has been purpose-built for serious fun in the dirt; with priority placed on both its engine and frame design. It was designed and built to be a lightweight and easily maneuverable motorcycle for a broad range of riders. A powerful 233cc fuel-injected, air-cooled four-stroke engine utilizes an electric starter and keyless ignition, and has been paired with a reliable, easy-to-use smooth-shifting six-speed transmission and manual clutch. The KLX230R comes equipped with full-size off-road wheels and tires, using a 21" front and 18" rear, and long travel suspension for optimal ground clearance.Kawasaki KLX230R—$4399.

2021 KAWASAKI KLX140R
The KLX140R motorcycle is available in two model variations and the powerful ,144cc, four-stroke, air-cooled, single-cylinder engine features an electric starter and keyless ignition. Its broad and smooth high-revving  engine utilizes a manual clutch and five-speed transmission to offer an efficient and user-friendly feel. The KLX140R uses a 17" front and 14" rear wheel, while the mid-sized KLX140R L motorcycle is equipped with a 19" front and 16" rear wheels to accommodate taller riders, providing extra ground clearance. Kawasaki KLX140R—$3149.
MARTY & NANCY SMITH TRIBUTE FILM PROJECT NEEDS YOUR HELP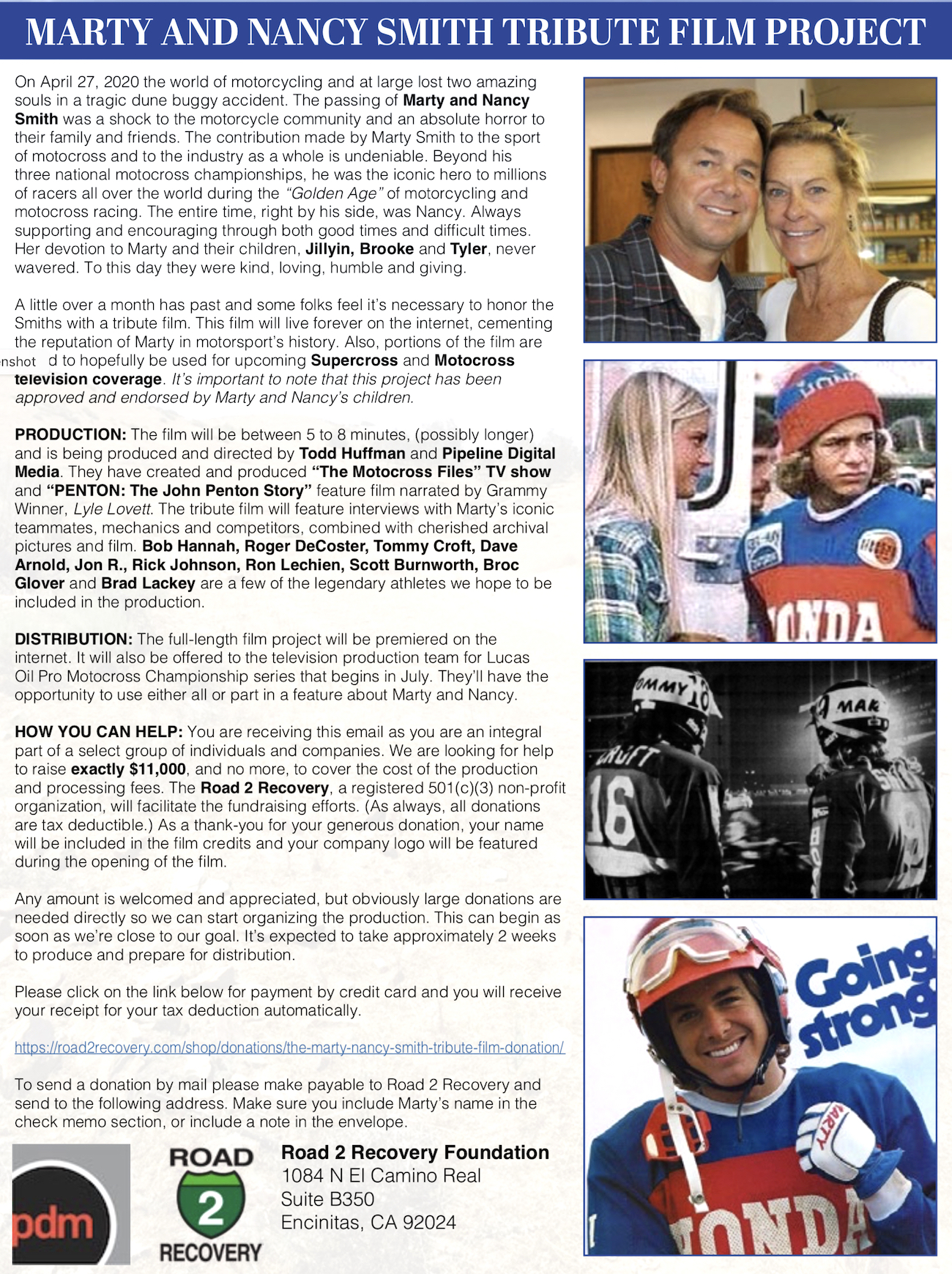 "As many of you know on April 27, 2020, the world of motorcycling lost two very beloved friends in a tragic dune buggy accident. The passing of Marty and Nancy Smith was a shock to the motorcycle community and an absolute horror to their family and friends. Marty's contribution to the sport of motocross and to the industry as a whole is undeniable. A little over a month has passed since their passing and many have expressed a desire to honor Marty and Nancy in a retrospective way. I've attached a proposal regarding a video Memorial Tribute. This concept has the support of Marty's three children.
"Of course this endeavor requires financial donations adequate to cover production costs understanding that's a big ask during these times for many. If all of us as an industry and community can donate just a small amount, together we can easily make this happen. Details are attached and I'm told this is tax deductible.Thanks for any consideration and please feel free to forward to anyone who might be interested. Hope everyone is healthy and doing well.
"All the best, Dave Arnold"
Please click on the link below for payment by credit card and you will receive a receipt for your tax deductible donations. To send donations by mail, make checks payable to Road to Recovery at 1084 North El Camino Real, Suite B350, Encinitas, CA 92024. Please include Marty's name in the check memo section or enclose a note in your envelope. The fund only needs exactly $11,000 to cover production costs
https://road2recovery.com/shop/donations/the-marty-nancy-smith-tribute-film-donation
TAKE THE MXA 2020 READER SURVEY & HAVE A CHANCE TO WIN FREE THOR GEAR!

Score free head-to-toe Thor gear now! Complete our reader survey we'll take your input to help improve future web and monthly print content of Motocross Action. One lucky winner will be chosen at random to receive a free gear ensemble from Thor (style and/or color may vary). This year's Thor (www.thormx.com) gear giveaway includes the following: Prime Pro jersey and pants, Sector Split with MIPS helmet, Radial boots, Sniper Pro goggles, and Agile gloves. That's $750 worth of products, so don't miss this opportunity to win all this stylish gear for free! Fill out the entire survey!
FIRST LOOK: 2021 HONDA PLAY BIKES & THE UNCHANGED 2021 HONDA CRF250
2021 CRF250R
The only 2021 motocross machine released at this point in the model year, the CRF250R offers strong power across the rev range and a low-center-of-gravity chassis layout that delivers nimble, stable handling. The CRF250R has also performed well in the 2020 AMA Supercross series, where Geico Honda rider Chase Sexton leads the 250SX East title chase through the first six rounds. CRF250R— $7999.
2021 CRF250RX
Campaigned in National Championship off-road racing, the CRF250RX features closed-course off-road-focused components like a large fuel tank, aluminum side stand and 18-inch rear wheel. It also has off-road-specific engine mapping and suspension settings, making it ideal for specialties like woods racing, desert racing, off-road grand prix competition and trail riding in legal off-road areas. CRF250RX—$8399.
2021 CRF150R/CRF150R BIG WHEEL
Honda's smallest motocrosser is available in both standard and Big Wheel versions (the latter targeted at taller riders, offering larger wheels, a higher seat and additional rear-suspension travel). The powersports industry's top-selling mini motocrosser, the CRF150R has a Unicam four-stroke engine—unique in the mini MX world—that delivers smooth, ample torque across the rev range. The Showa suspension components comprise a 37mm inverted fork and a Pro-Link rear-suspension system with a single Showa shock. CRF150R—$5199, CRF150R Big Wheel—$5399.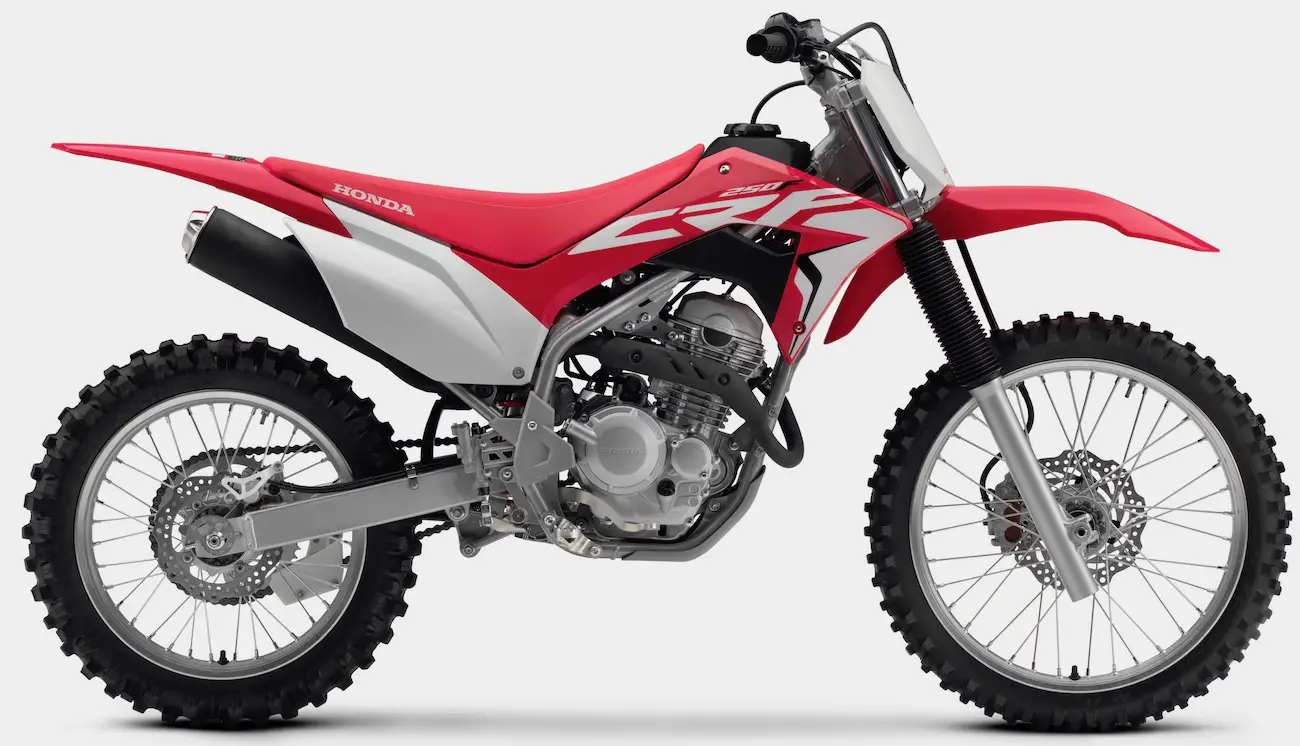 2021 CRF250F
An incredibly versatile trail bike, the CRF250F can take riders from their first time on dirt to tackling challenging terrain. The flagship of Honda's CRF Trail line features Keihin electronically controlled fuel injection and is year-round off-road legal in all 50 states. Its SOHC long-stroke, air-cooled engine delivers smooth acceleration and excellent rear-wheel hookup, and its perimeter steel frame and Showa suspension offer confidence-inspiring handling and a compliant ride in varied terrain. Add it all up and the result is a fun-but-capable trail bike that's ready for just about anything—and any rider. CRF250F—$4699.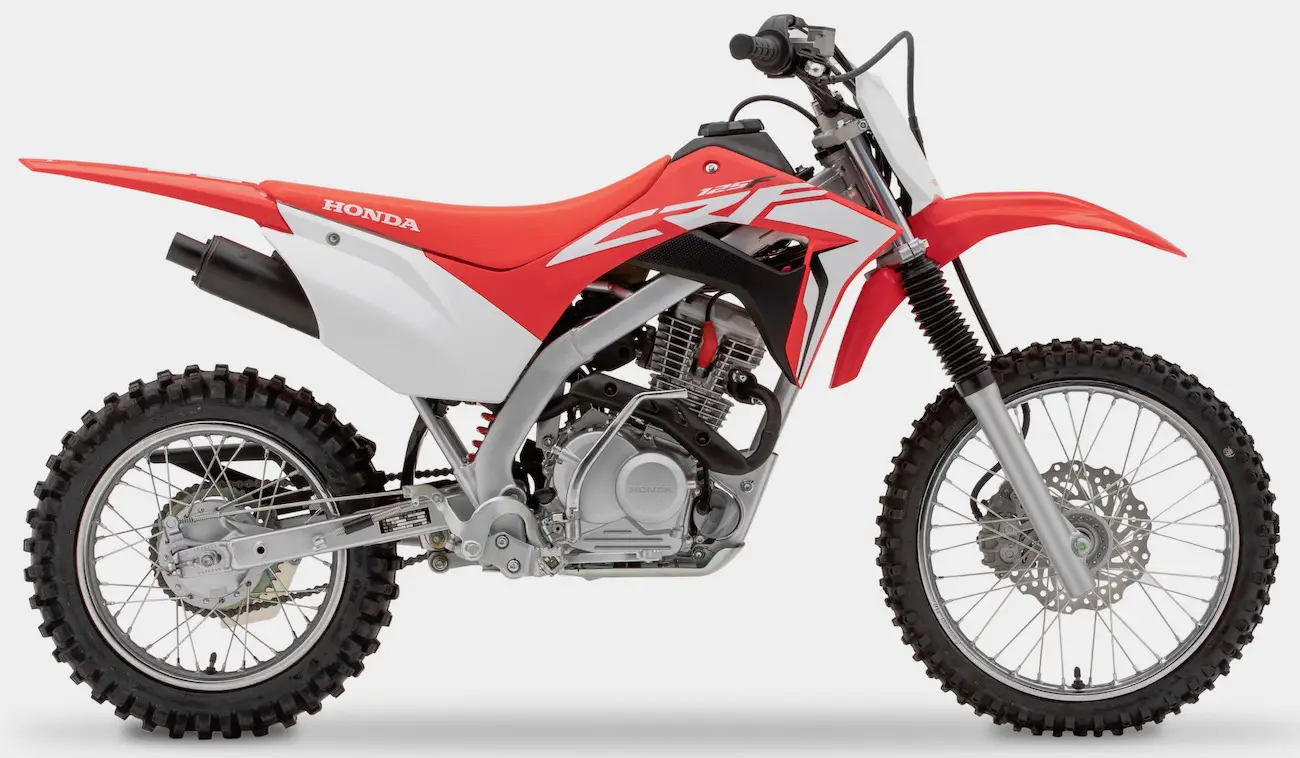 2021 CRF125F/CRF125F BIG WHEEL
The midsize CRF125F trail bike is available in two versions—standard and Big Wheel, the latter accommodating taller riders with larger front and rear wheels, longer-travel suspension and a higher seat. With their fun performance and looks that mimic those of the CRF Performance line, both versions of the CRF125F promise years of recreational trail-riding enjoyment, and with clean-running Keihin electronic fuel injection, both boast 50-state 12-month off-road legality. CRF125F—$3199, CRF125F Big Wheel—$3599.
2021 CRF110F
The Honda CRF110F is the top-selling off-road motorcycle, and it's no wonder: This model perfectly encapsulates Honda's proud heritage—extending back nearly four decades to the legendary XR75—of four-stroke trail bikes that are kid-sized but full-featured. In the modern era, that means clean-running Keihin fuel injection and 50-state year-round off-road legality, as well as a clutch-less, four-speed, semi-automatic transmission and push-button electric start. The CRF110F is sure to continue delivering smiles long after riding skills develop, so there's no telling where it could take generations of youngsters. CRF110F—$2499.
2021 MONKEY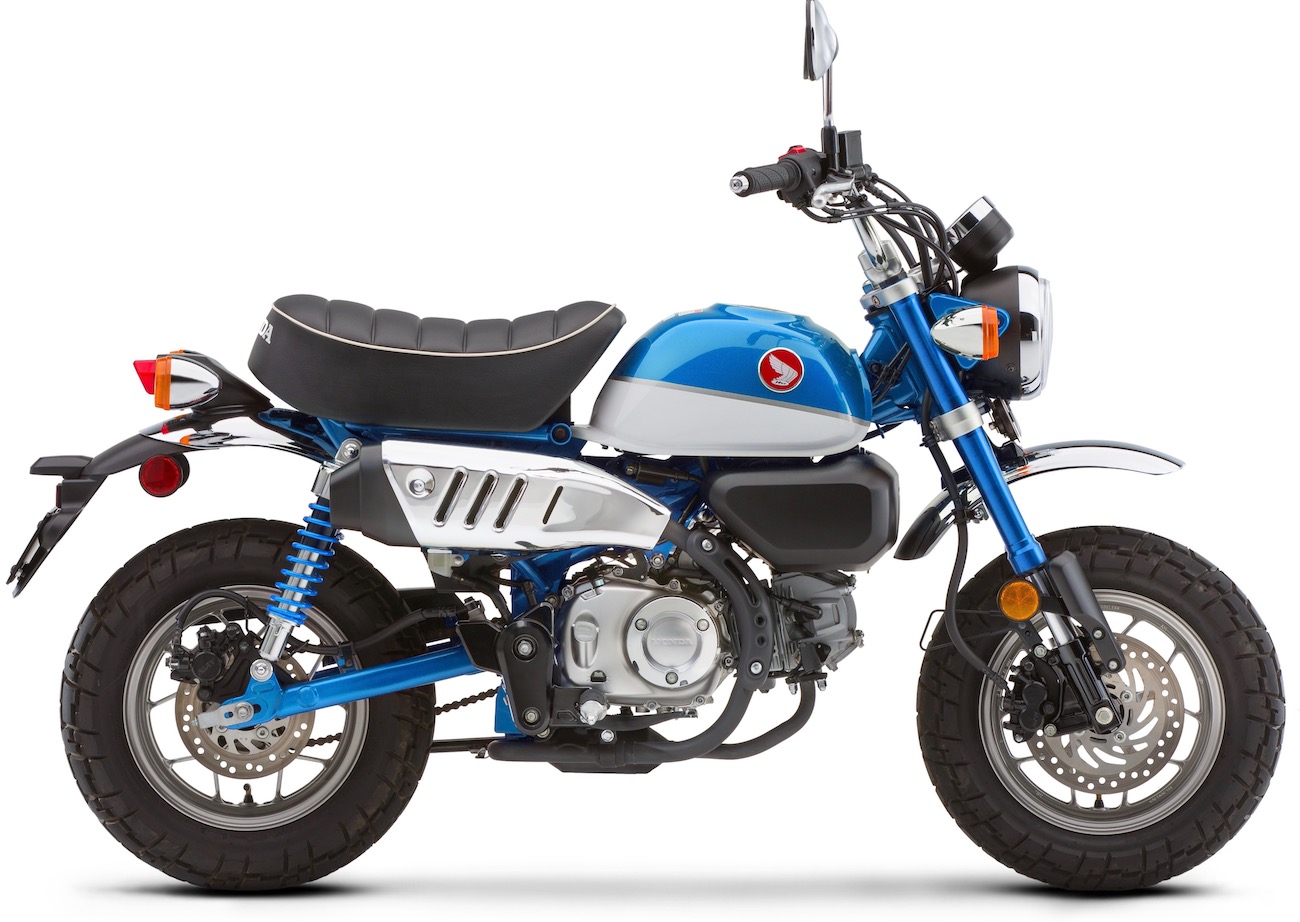 Celebrating its 60th anniversary this model year, the legendary Monkey oozes history and tradition, having originally been produced in 1961 for Tama Tech, a Honda-owned amusement park in Japan. But while this minimoto bike's looks and spirit are faithful to the Monkey's earliest concept of making mobility fun, its modern iteration touts convenient features that help it perform well and run reliably, which explains why it's a hit with both nostalgic customers seeking a trip down memory lane, and a new generation of enthusiasts. Monkey—$3999, Monkey ABS—$4199.2020
2020 CANADIAN NATIONALS PUSHED BACK AGAIN: NEW SCHEDULE RELEASED
REVISED 2020 CANADIAN NATIONAL CHAMPIONSHIP
July 25-26…Courtland, ON
Aug…1-2…Chatsworth, ON
Aug. 15-16…Walton, ON
Aug. 29-30…Sand Del Lee, ON
Sept. 5-6….Deschambault, QC
MXA PRODUCT SPOTLIGHT: NIHILO CONCEPTS AMERICA GRIP TAPE
Nihilo Concepts Factory Frame Grip Tape is a must-have for the serious racer. Not only does the durable friction tape stick to the frame like no other but it's traction tape finish also helps the rider grip the bike in the perfect riding style. Available in tiger, leopard, bengal,  multi-cat and Fourth of July motifs.
It's easy to install because the flexible material conforms the shape of the frame and will not buckle or crease. This is a limited edition run of July 4th inspired grip tape. The retail price is $22.99 at www.nihiloconcepts.com.
2020 WORLD SIDECAR MOTOCROSS CHAMPIONSHIP CANCELED COMPLETELY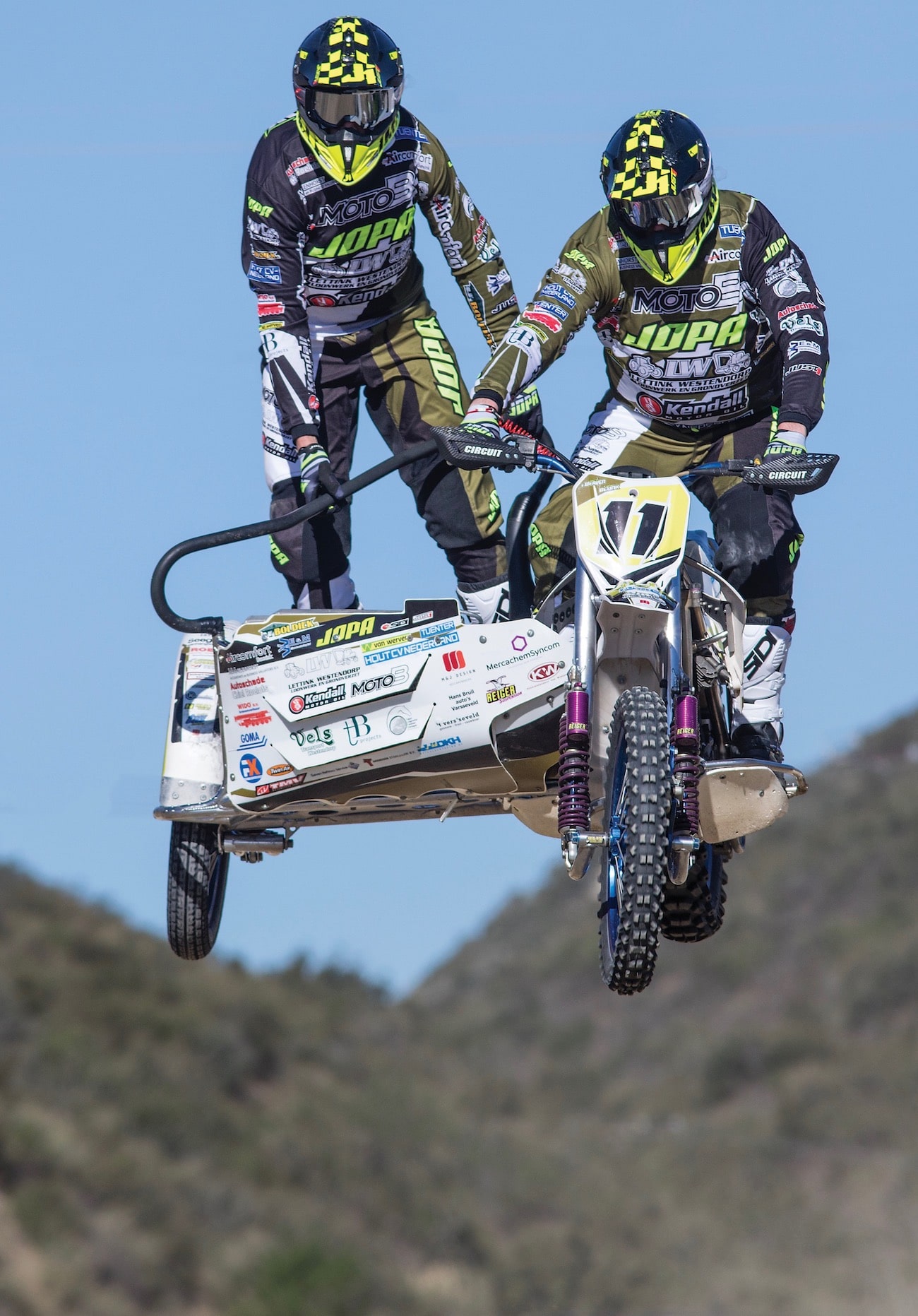 Peter Beunk and Gert Van Werven will have to wait another year.
The 2020 FIM World Sidecar Motocross Championship (WSC) has been canceled due to scheduling conflicts created by differing government regulations due to the ongoing coronavirus pandemic. The World Sidecar Motocross Championship had already been shortened from 10 races to 4 and the organization felt there was no guarantee that even those few remaining events would be allowed to run. So, rather leave the teams in uncertainty, the 2020 season was canceled and will resume in 2021.
Martin Bena, CEO of the WSC sanctioning group said, "Our amazing sport depends on spectator support track-side, both for the atmosphere, and as a revenue stream. Without a guaranteed number of spectators through the gates, the risks for race organisers, in financial terms, are high, and therefore it is unfair to ask them to put their necks on the line in these uncertain times."
MXA PRODUCT SPOTLIGHT: RYAN DUNGEY'S RD COFFEE DRINKWARE
11-ounce ceramic mug $14.95 and 15-ounce Travelers mug —$24.95
Ryan Dungey says, "Through 11 seasons, with many highs and lows, I was able to capture four National Supercross Championships and three National Motocross Championships in the premiere 450 class. This afforded me the incredible opportunity to travel to many parts of the world. During these travels I developed a passion for tasting all different varieties of coffee. After meeting my wife at a local restaurant over a cup of coffee, we always made a point to find a local coffee shop wherever we were in the world. Since retiring from racing in 2017, we now want to share our passion for specialty coffee." For more info go to www.rdcoffees.com
THIS WEEK'S BIRTHDAY BOYS: ROLF DIEFFENBACH, TOMMY SEARLE, JIMMY BUTTON & GRANT LANGSTON

June 12…Rolf Dieffenbach 1951
June 13…Dick Mann 1934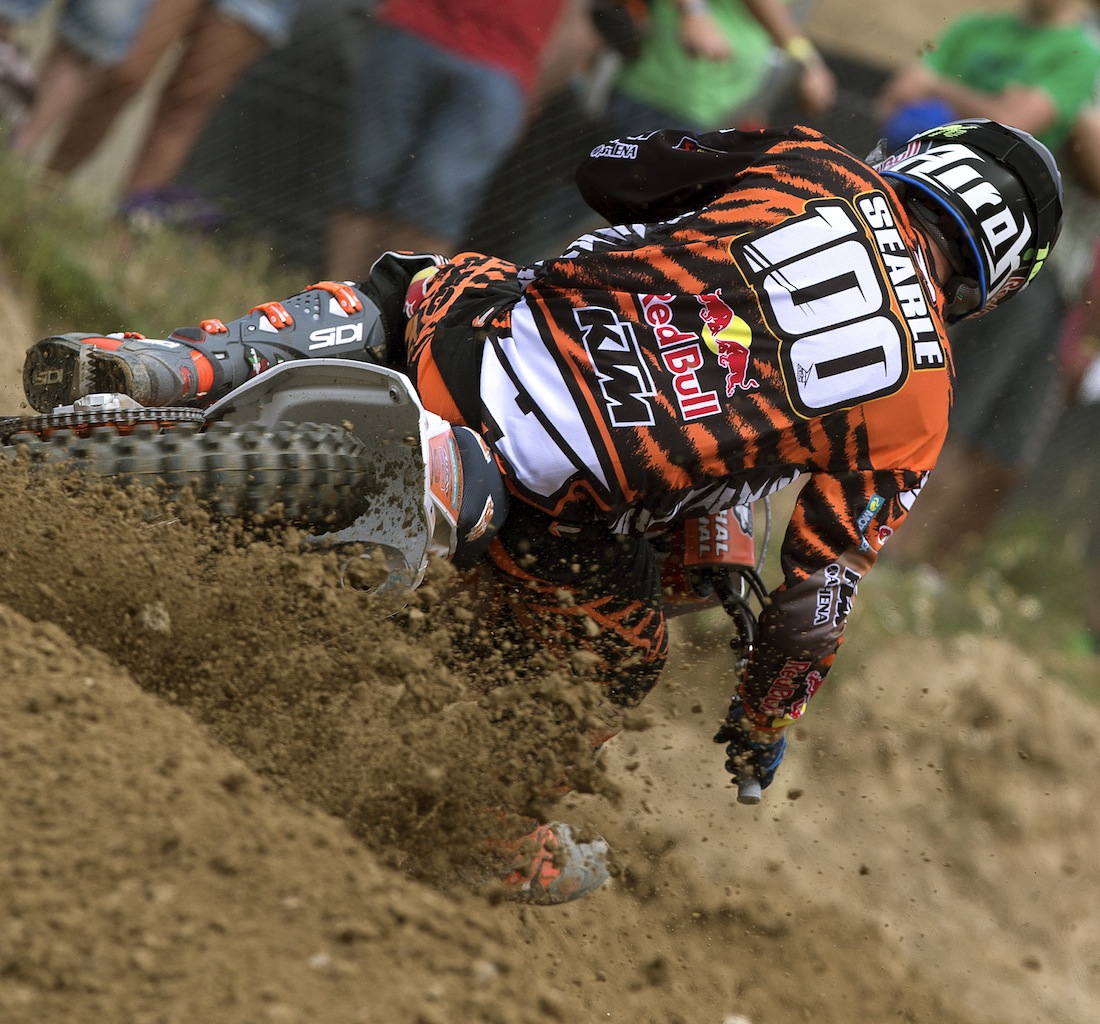 June 13…Tommy Searle 1990
June 14…Keith Johnson 1982
June 14…Nick Evennou
June 14…Darian  Sanayei 1996
June 14…Jeff Gibson 1982
June 14…Jimmy Button 1973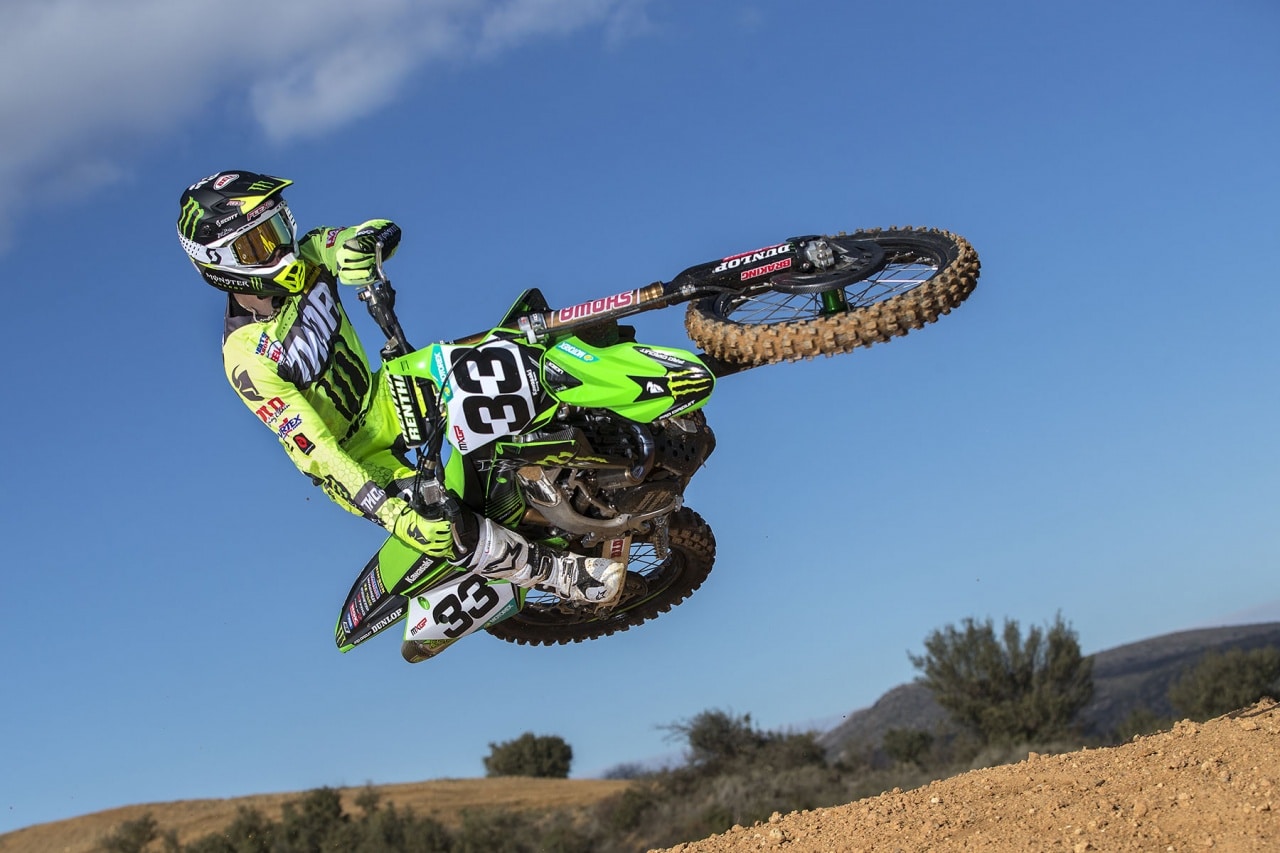 June 15…Julien Lieber 1994
June 15…Willy Browning
June 16…Grant Langston 1982
June 16…Greg Berg
June 16…Jimmy Albertson 1988
THE TV SCHEDULE OF THE THREE REMAINING AMA SUPERCROSS EVENTS — NEXT RACE ON SUNDAY, JUNE 14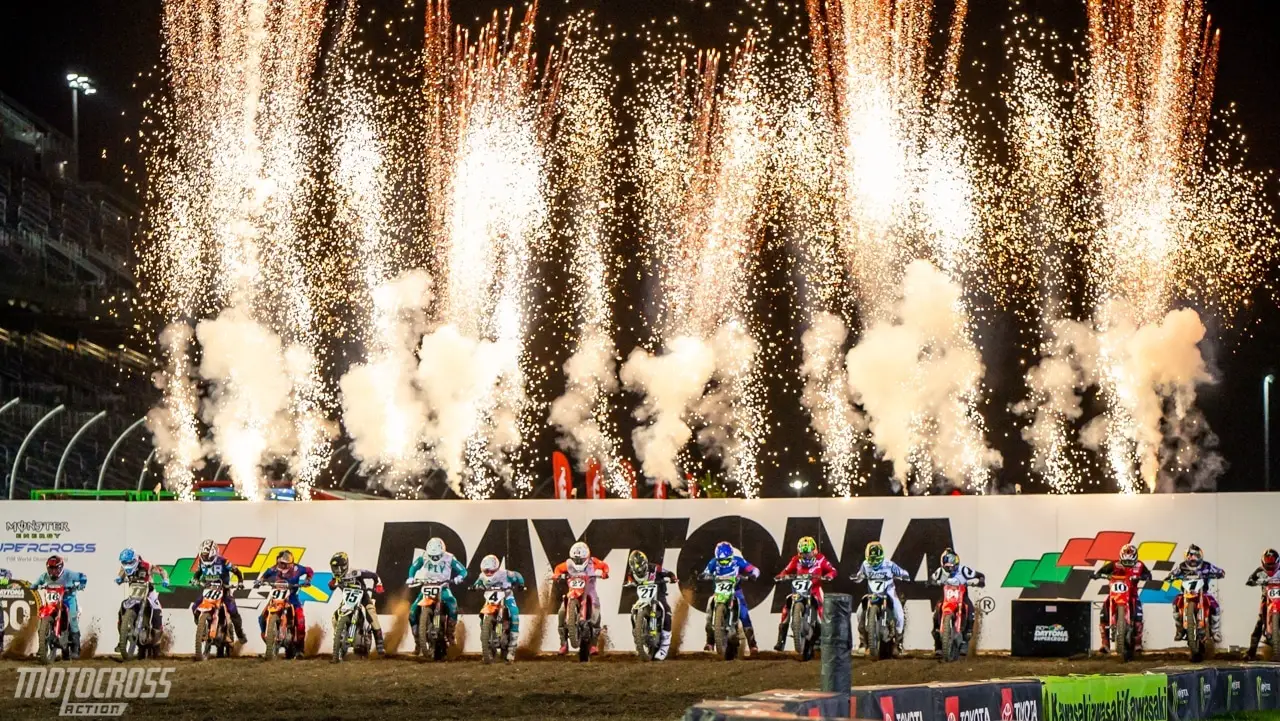 Round 15 of 17 rounds  of the 2020 Monster Energy AMA Supercross series will be held in Salt Lake City's Rice-Eccles Stadium On Sunday, June 14, at 7:00 p.m. (Eastern Time), which is 4:00 p.m. (Pacific Time). The track design is more open than the previous four races .
The track will be changed for Round 15 on Sunday, June 14. It has a very long start with a big first turn, long sweeper back onto the start straight and the same cookie cutter rhythm sections that pass for technical sections on all Salt Lake City layouts.

NBC AND NBC-SN SUPERCROSS TELEVISION SCHEDULE
ROUND 15
Sunday, June 14 (250 West)
7:00 p.m on NBC-SN (Eastern Time)—4:00 p.m (Pacific)
ROUND 16
Wednesday, June 17 (250 East)
7:00 p.m on NBC-SN (Eastern Time)—4:00 p.m (Pacific)
ROUND 17
Sunday, June 21 (East/West Challenge)
3:00 p.mo n NBC-SN (Eastern Time)—12 noon (Pacific)
6:00 on NBC (Eastern Time)—3:00 p.m. (Pacific)
(All times Eastern and TV schedule subject to change).
EVERY 2020 AMA SUPERCROSS WINNER AT A GLANCE

Eli Tomac (3) now has the 27- point lead over Cooper Webb heading to the final 3 rounds in Salt Lake City. He can start protecting his points lead, but we're pretty sure that he isn't in a defending mood..
Venue                                         450                             250
1. Anaheim 1…………………Justin Barcia………..Justin Cooper (West)
2. St. Louis…………………….Ken Roczen…………..Austin Forkner (West)
3. Anaheim 2………………..Eli Tomac………………Dylan Ferrandis (West)
4. Glendale…………………..Ken Roczen…………..Austin Forkner (West)
5. Oakland……………………Eli Tomac……………….Dylan Ferrandis (West)
6. San Diego…………………Cooper Webb……….Dylan Ferrandis (West)
7. Tampa……………………….Eli Tomac……………….Shane McElrath (East)
8. Arlington………………….Eli Tomac……………….Chase Sexton (East)
9. Atlanta……………………..Ken Roczen…………….Chase Sexton (East)
10. Daytona…………………Eli Tomac………………..Garrett Marchbanks (East)
11. Salt Lake City #1……Eli Tomac………………..Shane McElrath (East)
12. Salt Lake City #2……Cooper Webb…………Shane McElrath (East)
13. Salt Lake City #3…….Eli Tomac………………Chase Sexton (East)
14. Salt Lake City #4……..Eli Tomac…………………Austin Forkner (West)
15. Salt Lake City #5…
16. Salt Lake City #6…
17. Salt Lake City #7…
450 Points leader…Eli Tomac
250 West points leader…Dylan Ferrandis
250 East points leader…Chase Sexton
CURRENT AMA SUPERCROSS POINTS HEADING TO SLC-5
Dean Wilson (15) is 7th in points, but only 5 points ahead of the fast closing Zach Osborne and 7 points ahead of Justin Brayton.
2020 AMA 450 SUPERCROSS POINTS STANDINGS
(after 14 of 17 events)
1. Eli Tomac (Kaw)…322
2. Cooper Webb (KTM)…295
3. Ken Roczen (Hon)…293
4. Jason Anderson (Hus)…245
5. Justin Barcia (Yam)…241
6. Malcolm Stewart (Hon)…199
7. Dean Wilson (Hus)…191
8. Zach Osborne (Hus)…186
9. Justin Brayton (Hon)…184
10. Justin Hill (Hon)…179
Chase Sexton passed Shane McElrath at last Sunday's race to take back the 250 East points lead, but his 3-point advantage is only the difference between first and second at the next East round on June 17th. They have two East rounds left.

2020 AMA 250 EAST SUPERCROSS POINTS STANDINGS
(after 7 of 9 events)
1. Chase Sexton (Hon)…166
2. Shane McElrath (Yam)…163
3. Garrett Marchbanks (Kaw)…119
4. Jeremy Martin (Hon)…105
5. Jalek Swoll (Hus)…91
6. Jo Shimoda (Hon)…89
7. Enzo Lopes (Yam)…81
8. R.J. Hampshire (Hon)…80
9. Pierce Brown (KTM)…73
10. Kyle Peters (Hon)…69
Dylan Ferrandis  was second in the only 250 West race yet to be held in Salt Lake City. He is still 10-points ahead of Austin Forkner. The West has two races left (counting the final East/West Challenge).

2020 AMA 250 WEST SUPERCROSS STANDINGS
(After 8 of 9 rounds)
1. Dylan Ferrandis (Yam)…158
2. Austin Forkner (Kaw)…148
3. Justin Cooper (Yam)…147
4. Brandon Hartranft (KTM)…126
5. Alex Martin (Suz)…115
6. Michael Mosiman (Hus)…100
7. Luke Clout (Hon)…94
8. Derek Drake (KTM)…92
9. Jacob Hayes (Hus)…89
10. Mitchell Oldenburg (Hon)…85
TEAM BUD RACING "BACK TO WORK"
JOIN MXA'S FLIPBOARD PAGE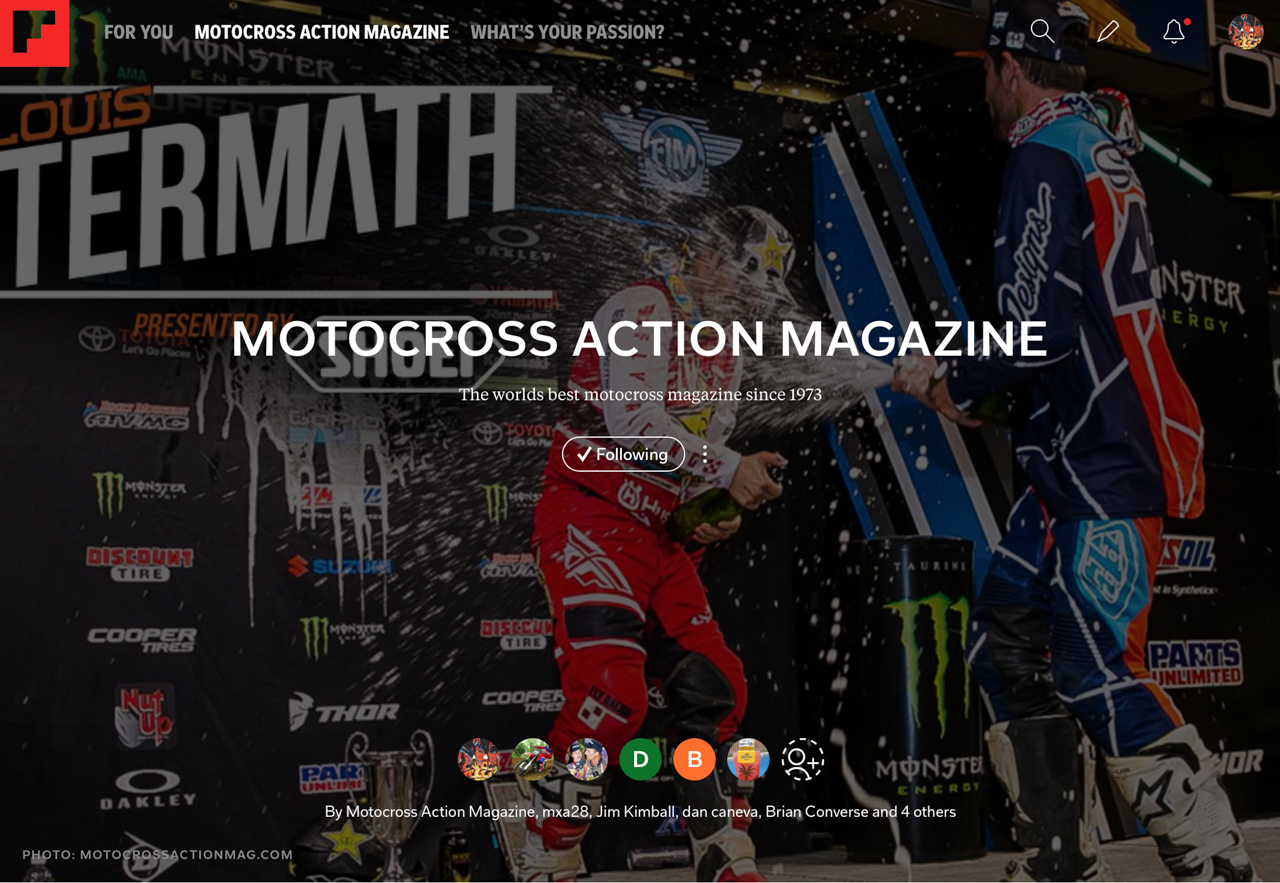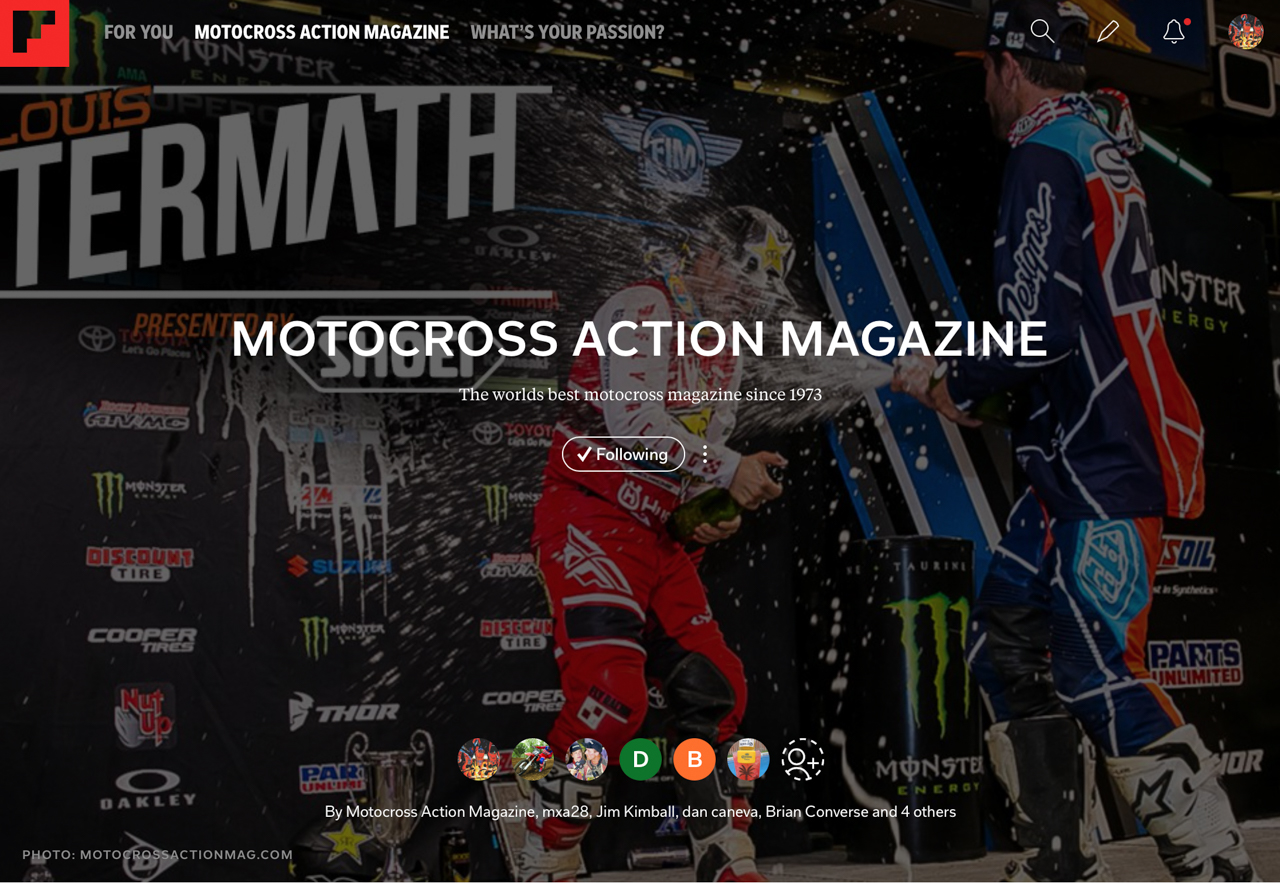 If you use Flipboard make sure to subscribe to the Motocross Action page for all the updates on our website. Click HERE to check out the page.
CLASSIC MOTOCROSS PHOTO: CAN YOU NAME THIS FAMOUS RACER FROM THE PAST

This surfer was an AMA  Supercross Champion. Can you name him? The answer is at the bottom of the page.
HAVE YOU SEEN THE JULY 2020 ISSUE OF MXA? TWO-STROKES FROM MILD TO WILD, BIG TO SMALL, EXOTIC TO STOCK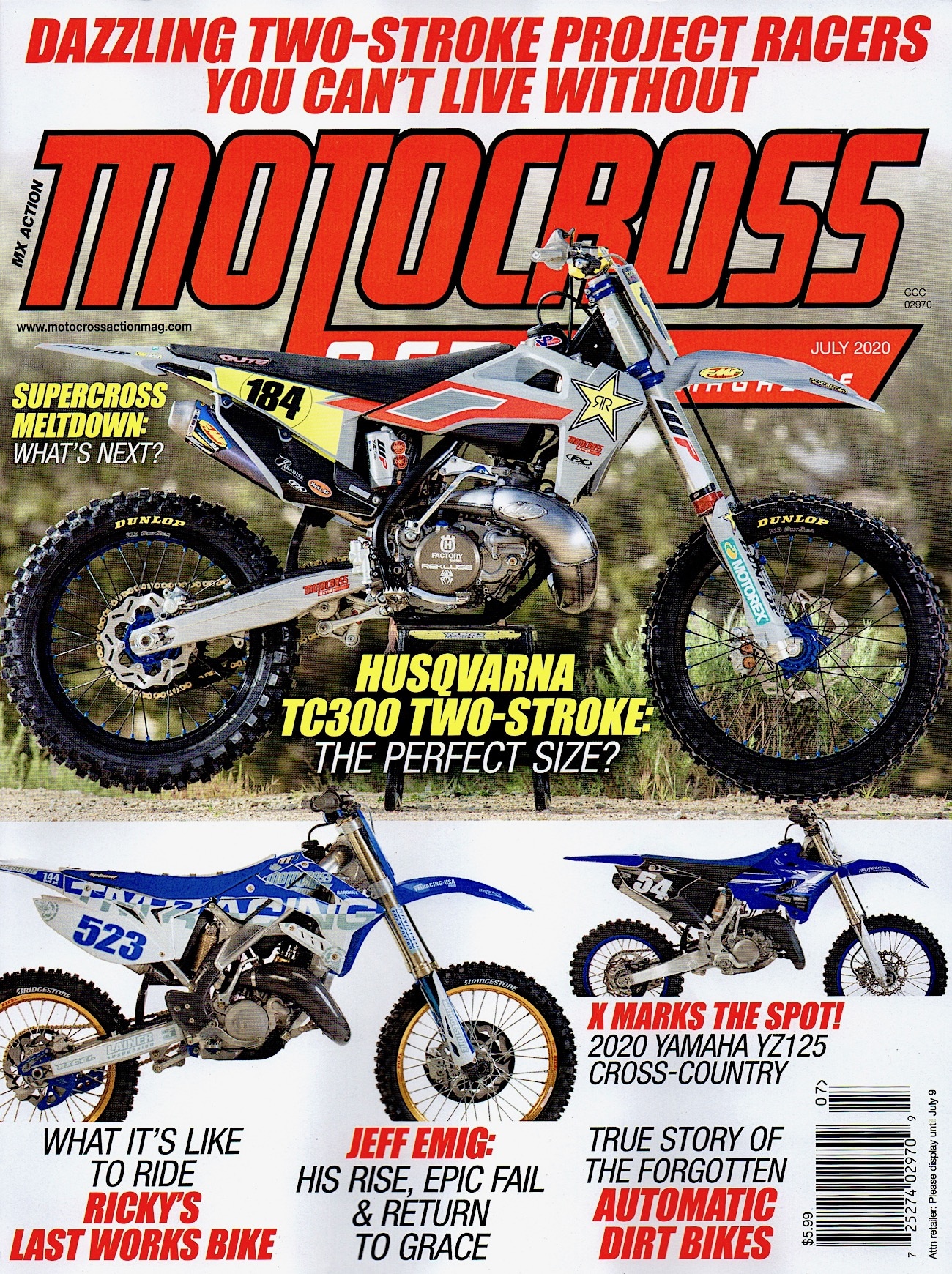 The MXA wrecking crew has been building hot-rod two-strokes at a record pace to have them ready for the 2020 World Two-Stroke Championship on October 3. Not the least of which is our Husqvarna TC300 racer—built with Jason Anderson's factory engine.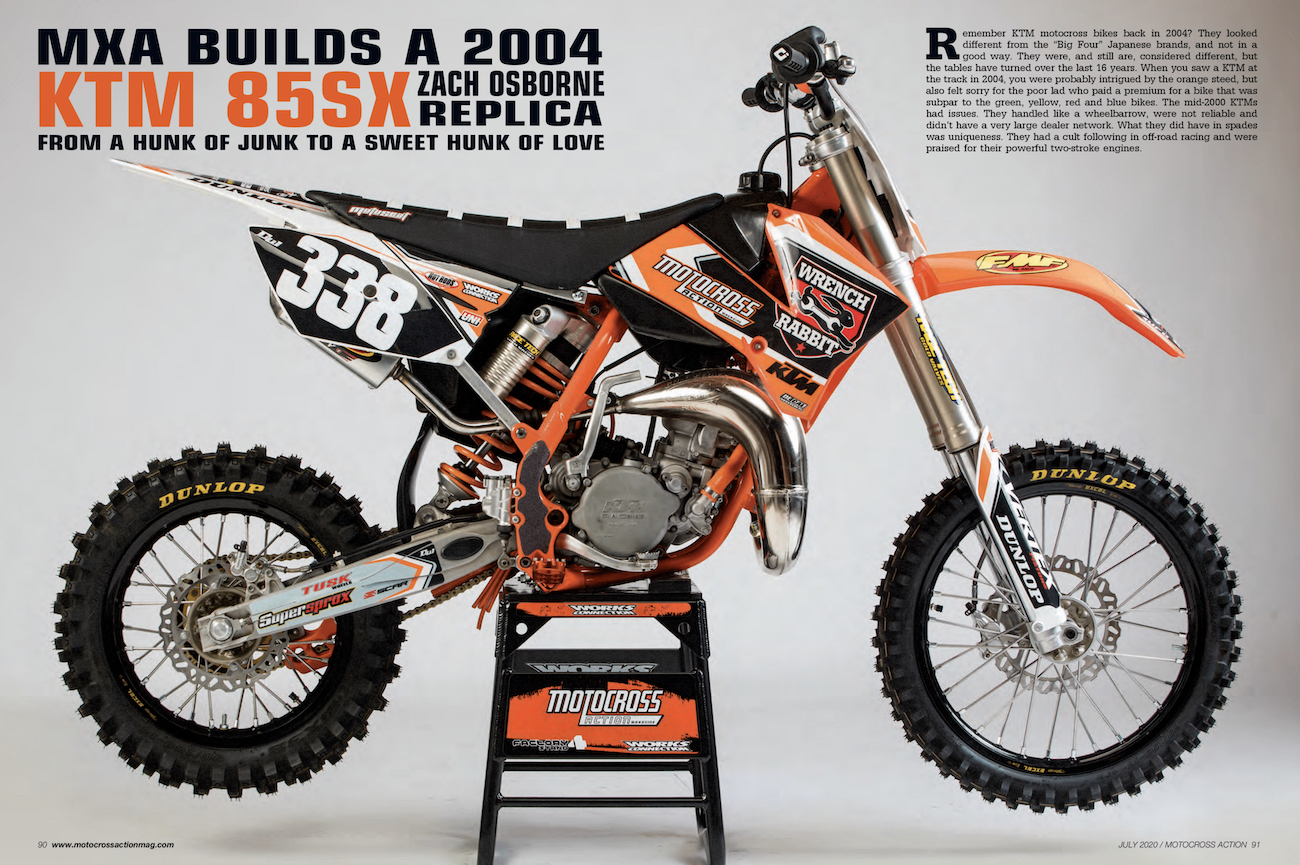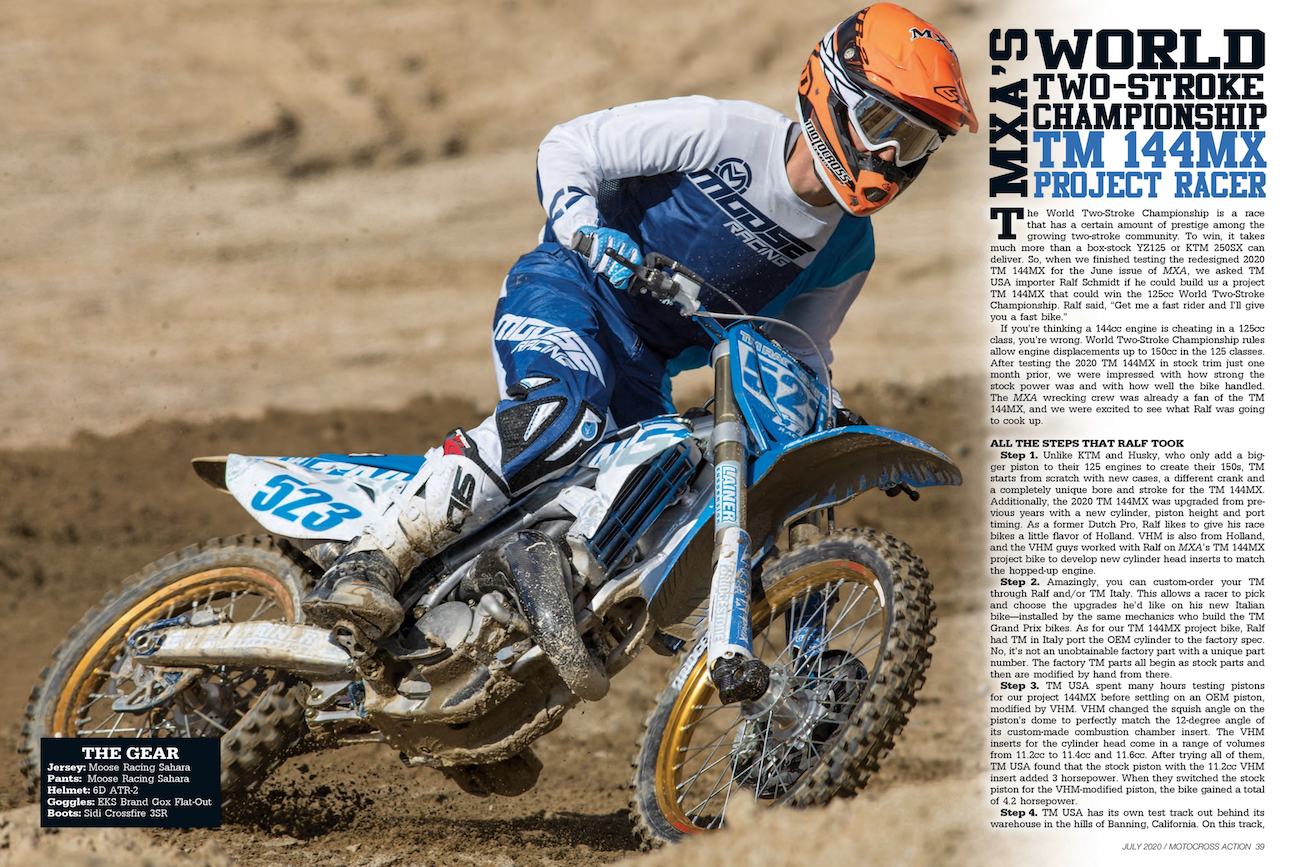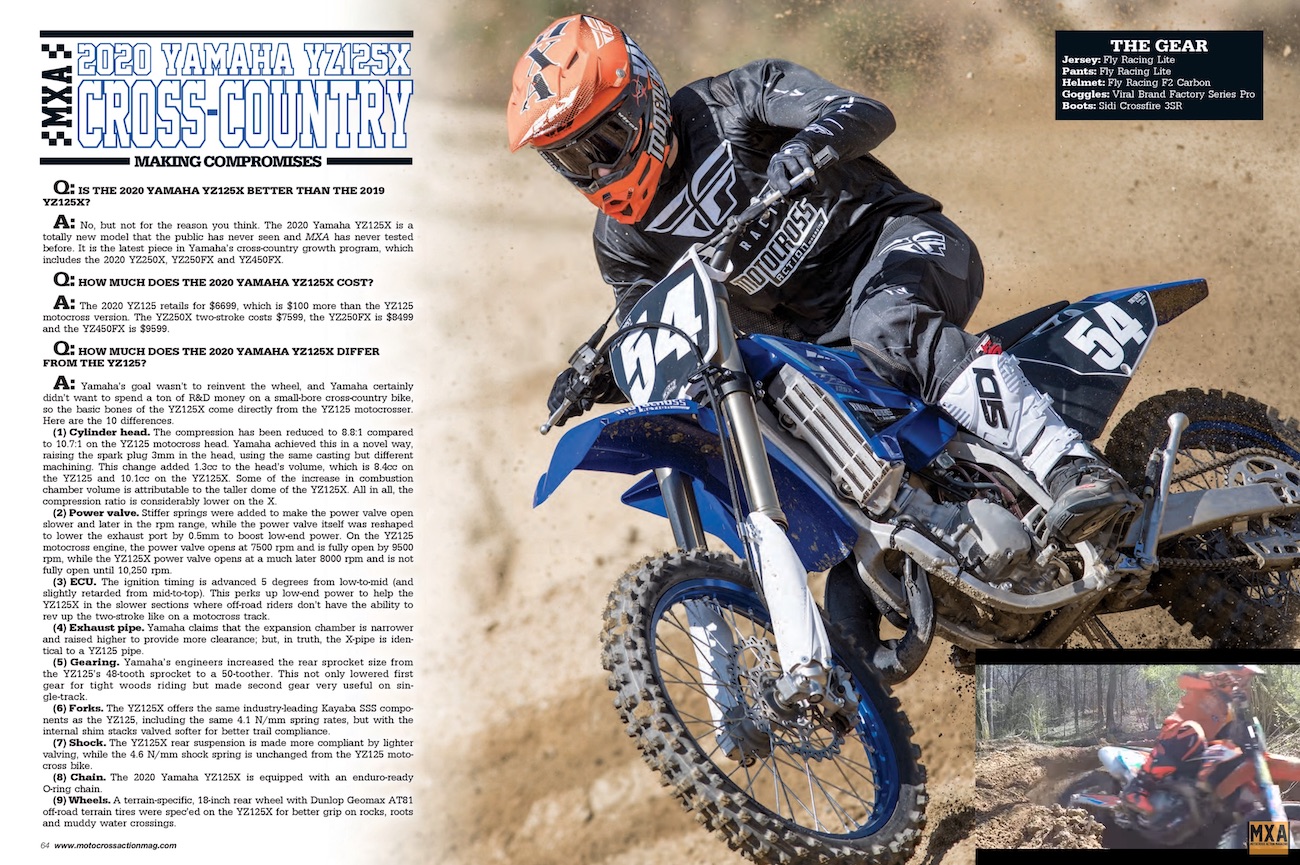 HOW TO SUBSCRIBE TO MXA SO THAT YOU NEVER MISS ANOTHER ISSUE
If you subscribe to MXA you can get the mag on your iPhone, iPad, Kindle or Android by going to the Apple Store, Amazon or Google Play or in a digital version. Even better you can subscribe to Motocross Action and get the awesome print edition delivered to your house by a uniformed employee of the U.S. Government. You can call (800) 767-0345 or Click Here (or on the box at the bottom of this page) to subscribe.
MXA PRODUCT SPOTLIGHT: EKS BRAND GOGGLE ACCESSORIES
EKS WORX CLEANER – SUPER TOUGH HAND CLEANER
EKS Brand Worx Mulitpurpose Hand Cleaner uses high-powered industrial strength hand cleaner that cuts through the grease and grime without harming your skin.Removes dirt, grease, grime and other difficult soils from your hands. The etail price is $12.95.
EKS WORX CLEANER – CLEANING WIPES
EKS Brand Worx Multi-purpose cleaning wipes are designed to remove grease, grime, dirt, some inks, adhesives, and other difficult soils from both hands and other non-porous surfaces. They come in a package of 70 wipes for $14.95
EKS WORX GLOVES – WHITE 5-MIL PVC VINYL
EKS Brand Worx 5-mil PVC Vinyl Gloves are a single-use glove that prevents cross contamination and provide the dexterity needed for intricate work. They are the economical choice for applications that require a moderate amount of dexterity and durability.The EKS Works gloves are Latex free and powder free to eliminate potential allergic reactions to natural rubber latex protein. They come in a box of 100 gloves for $7.49.
EKS BRAND BLACK T-SHIRT
Available in sizes from small to extra large in a wide choice of colors that start with "B" and end with "K." The retail price is $24.99.
BEER OPTICS LIMITED-EDITION "DRY BEER" GOGGLES
The Beer optics, goggle line was designed with two major factors in mind, function and price. The "Dry Beer" model's pliable "Polyflex" urethane frame material contours to your face for the ultimate in comfort and protection. It is equipped with the highest quality, Polycarbonate, shatter-resistant anti-scratch & anti-fog coated lens available. It has 100% UVA protection and it is the leader in lens attributes and function. Replacement lenses are available in a variety of tints, The 17mm thick, 4-layer face-foam is backed with a moisture wicking fleece lining to the best anti-drip, sweat protection available. Everything looks better through beer optics! The retail price is $35.00. For more info go to www.eksbrand.com
CAMP REV CHRISTIAN MOTOCROSS CAMP ON JUNE 22-24
For more information go to www.camprev.com
THE 32:1 PREMIX CLASSIC COMING TO LAST CHANCE RACEWAY ON SEPT. 11-13
For more information about the September 11-13 race in Montana go to www.lastchancemx.com.
40TH ANNUAL CZ WORLD CHAMPIONSHIP RESCHEDULED FOR OCTOBER 9-10 AT MARYSVILLE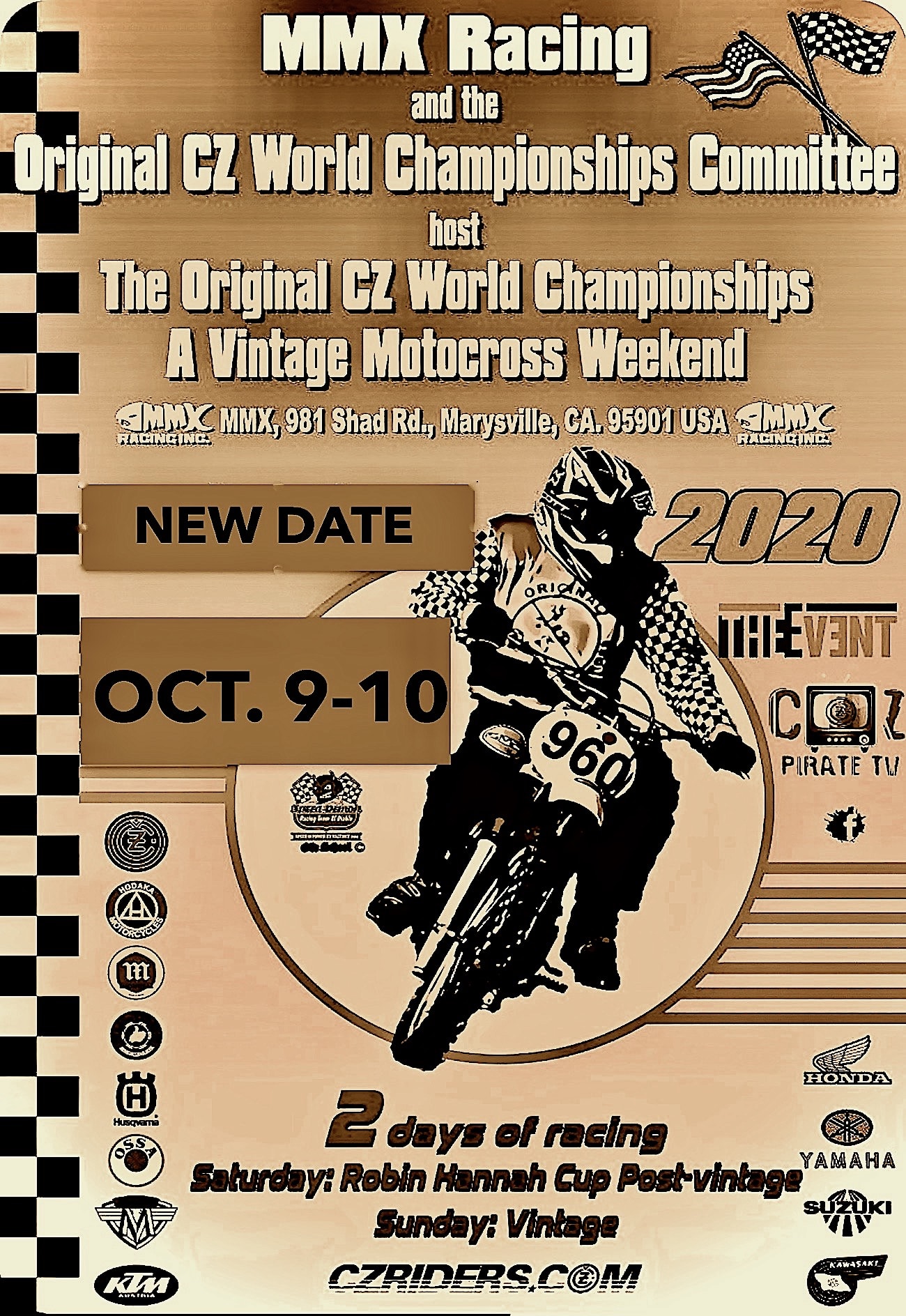 Dating back to 1980 when MXA's Jody Weisel, Ketchup Cox and Pete Maly talked Saddleback Saturday promoter Jim Beltnick into holding a CZ race, the CZ World Championship is now on its 40th anniversary in 2020. For more information go to www.czriders.com
2020 WISECO WORLD TWO-STROKE MOTOCROSS CHAMPIONSHIP WILL BE HELD ON OCTOBER 3, 2020
For more information go to www.glenhelen.com
36TH ANNUAL WORLD VET MOTOCROSS CHAMPIONSHIP ON NOVEMBER 6-8: START PLANNING NOW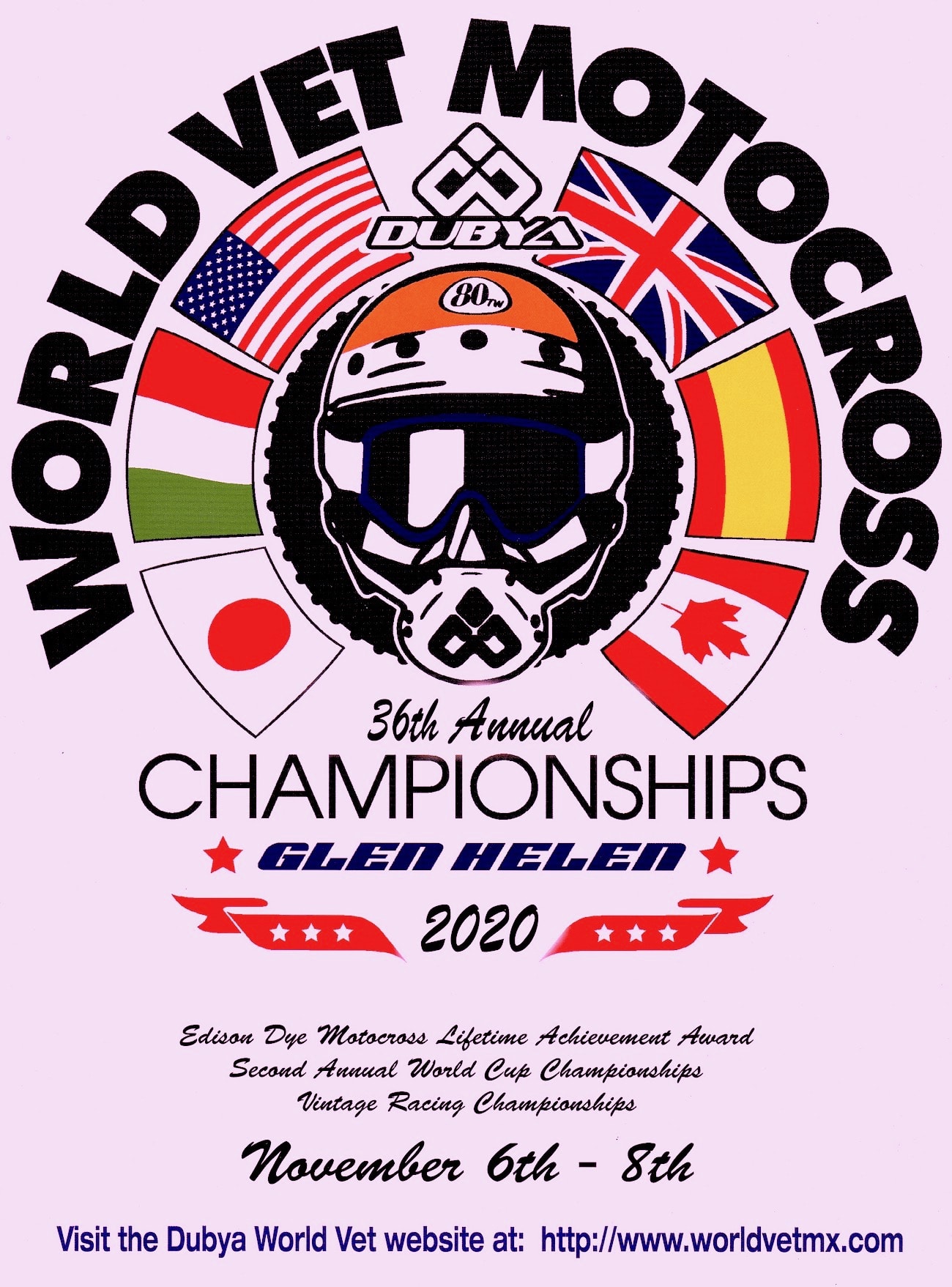 For more information go to www.worldvetmx.com
AIM EXPO CHANGES ITS DEALER SHOW FROM OCTOBER TO JANUARY, 2021, IN COLUMBUS, OHIO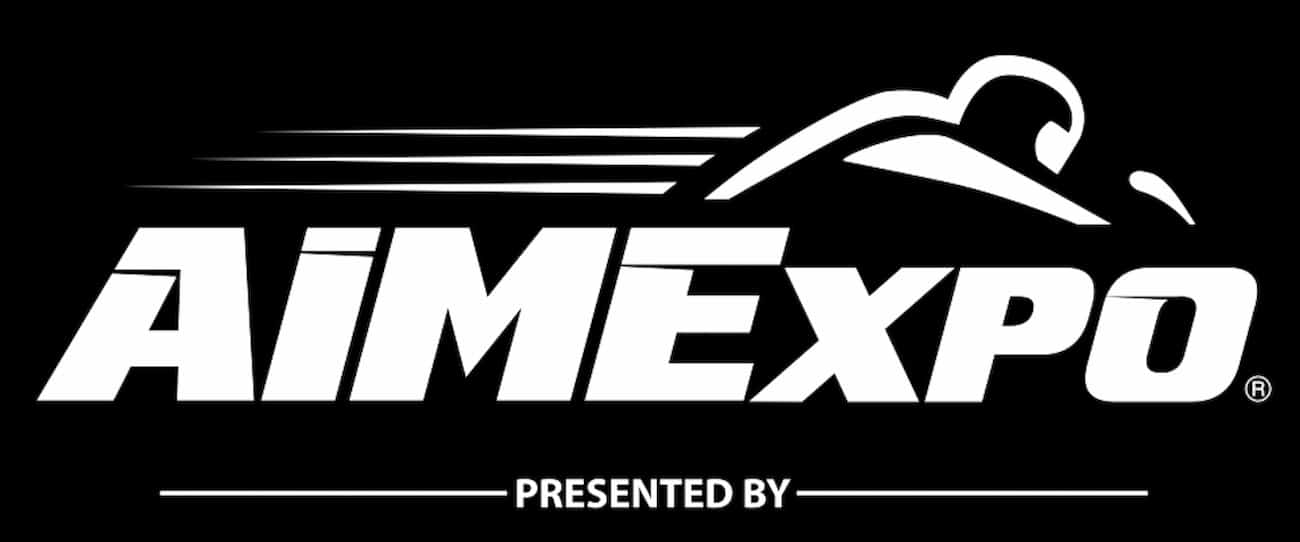 The American International Motorcycle Expo (AIMExpo) will change the date of the 2020 motorcycle show from October 2020 to Jan. 21-23, 2021. It will be held at the Greater Columbus Convention Center in Columbus, Ohio. The 2021 show will now focus on retailers over three days instead of four. For 2021, AIMExpo will become a trade-only event. The transition to trade-only will bring more focus on industry needs and education. AIMExpo hope to educate dealers on improving efficiency, staying competitive and enhancing the bottom line.
MXA PRODUCT SPOTLIGHT: "PRO-BOOT MX" REMEDIAL BOOT REPAIR
Note the big tear in the toe box area of this brand-new boot.
Although you only think of Pro-Boot MX as a company that resoles well-used Motocross boots, they recently came upon a boot that had a bad luck story. Pro-Boot MX's Randy Nagel got a brand-new Gaerne SG12 boot from a guy who ran his foot into something that split the metal toe cap in two and tore a hole through the side of the boot. Luckily, he didn't get hurt. He sent the boot to Pro-Boot MX, not to have the brand-new soles replaced, but to see if they could do something about the big tear in the toe box.
After the repair, the boot is good to go.
Randy glued the inner padding back together, welded up the crack and color matched the area with a flexible bonding material. The Pro-Boot MX repair looked pretty good, especially for a new boot that looked like it's effective lifespan was only one ride. Total cost including a new toe cap and the repair was under $50.00 (plus return shipping). So, if you have a run-in with a footpeg or your kickstarter gouges your boot, don't throw it away, send it to www.pro-bootmx.com or call (507) 534-1247.
BORED AT HOME? TRY FREE ACCESS TO MXA DIGITAL EDITIONS FOR FREE, FREE FREE, FREE FREE FREE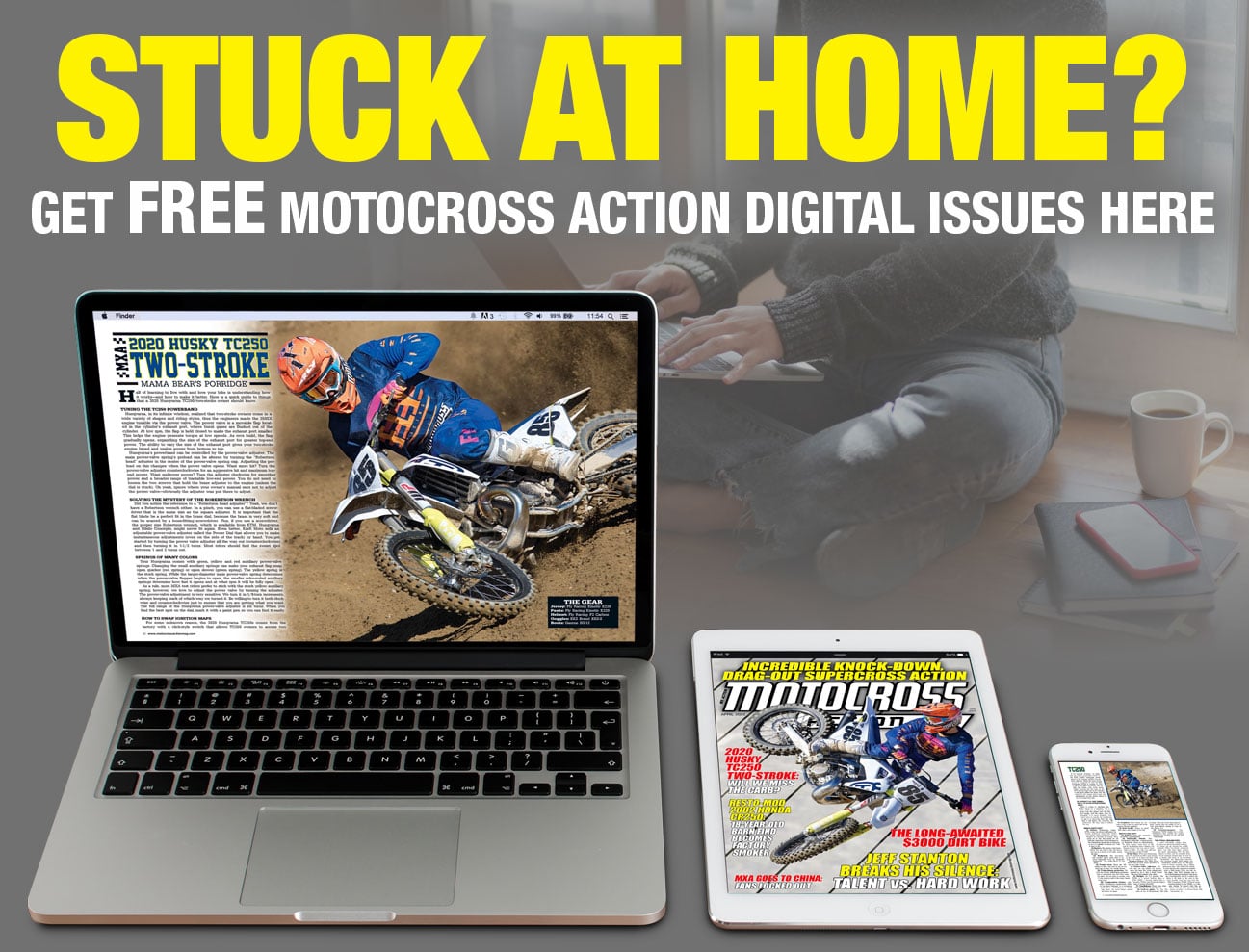 Click here or on the above photo to get your free digital issues.
MXA PRODUCT SPOTLIGHT: PRO CIRCUIT'S CASUAL TEES
Pit bike —$21.00

Team Peak Honda—$27.00

Adam Cianciarulo Champion—$10.00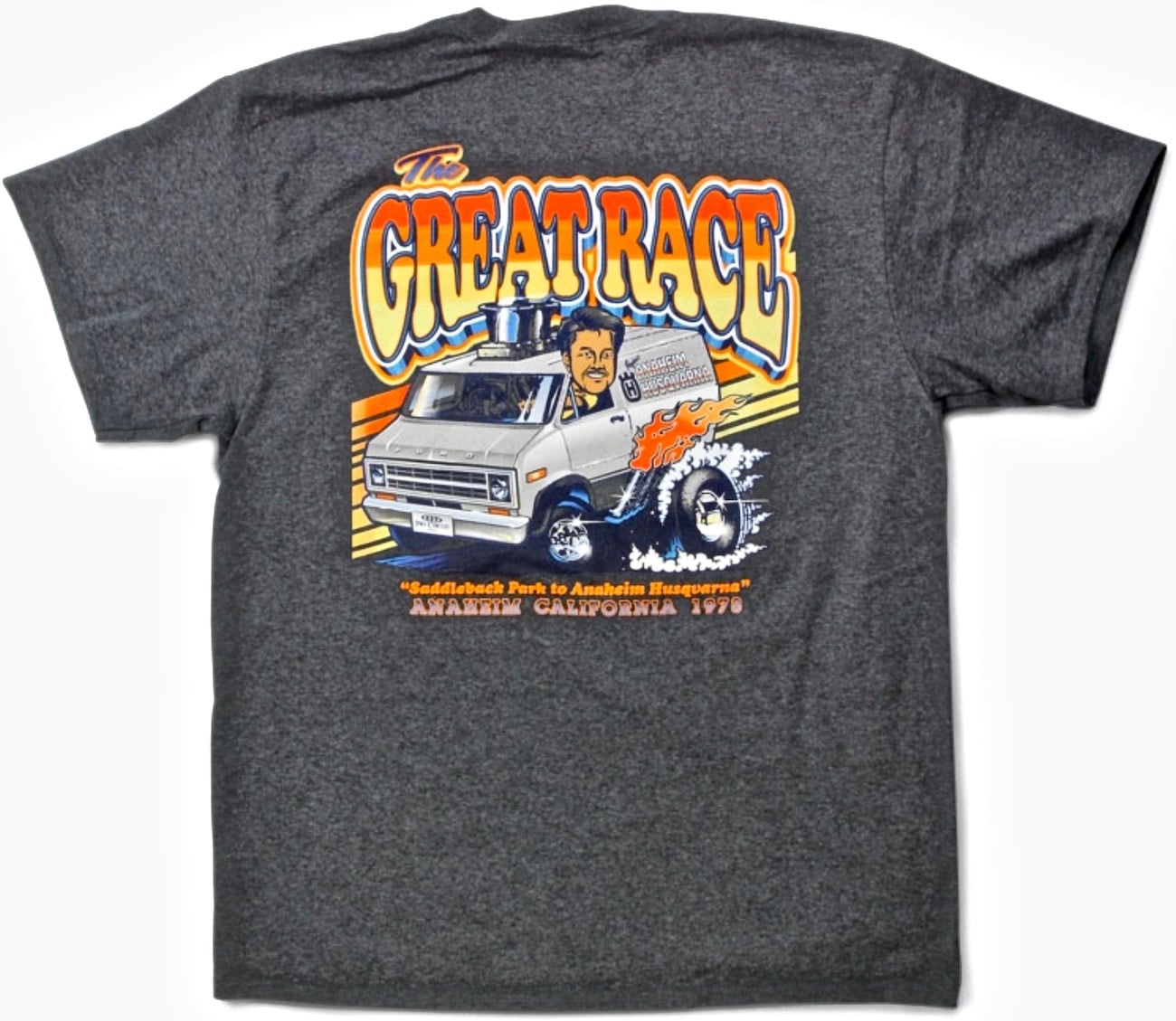 Great Race-$21.00
For more info go to www.procircuit.com
THE EVER CHANGING 2020 RACE SCHEDULES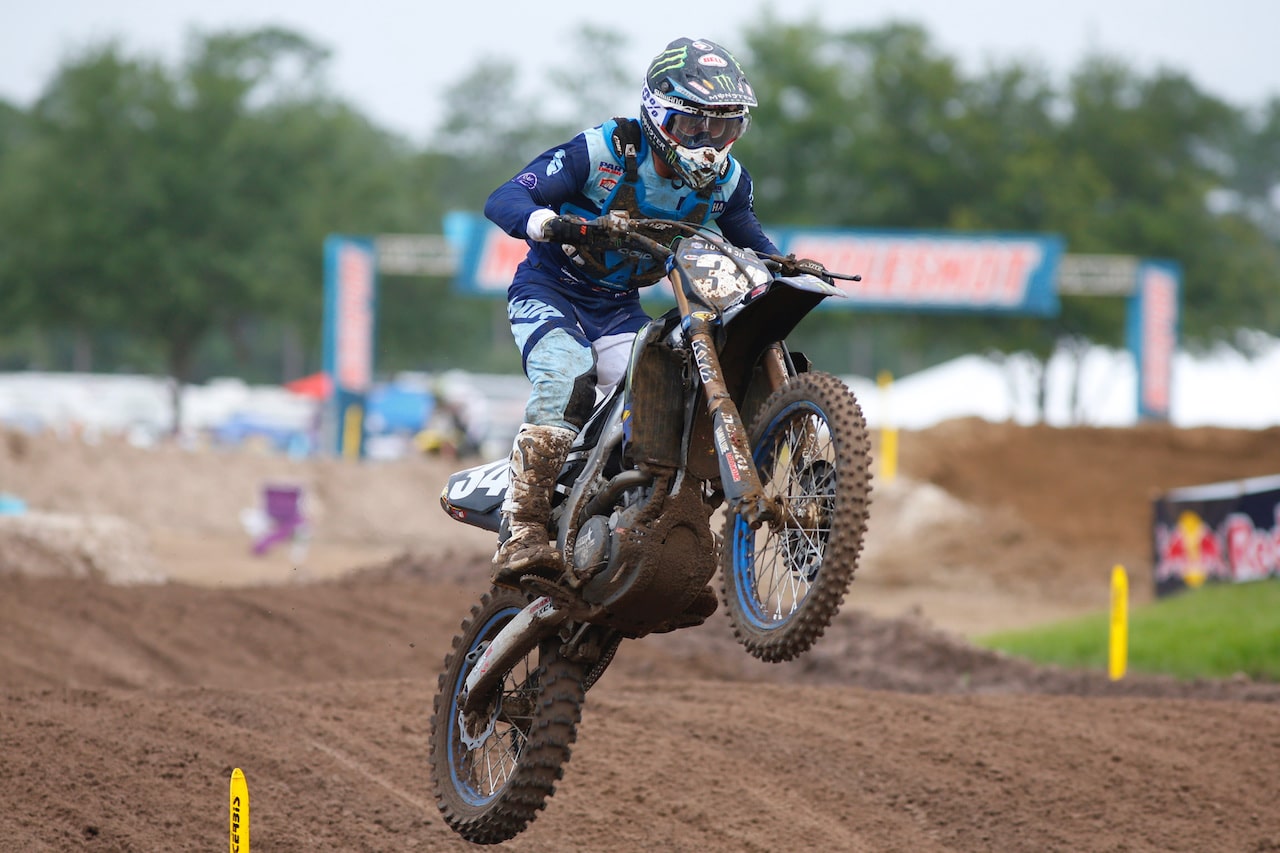 Jacksonville, Florida, has been named the second 250/450 National of the 2020 motocross season. It joins Crawfordsville and Pala on a schedule that has 9 "to-be-announced" dates. Don't expect every race on the National schedule to be held in 2020.

REVISED 2020 AMA SUPERCROSS CHAMPIONSHIP
Jan. 4…Anaheim, CA (West)
Jan. 11…St. Louis, MO (West)
Jan. 18 …Anaheim, CA (West)
Jan. 25…Glendale, AZ (3-Moto) (West)
Feb. 1…Oakland, CA (West)
Feb. 8…San Diego, CA (West)
Feb. 15…Tampa, FL (East)
Feb. 22… Arlington, TX (3-Moto) (East)
Feb. 29… Atlanta, GA (East)
Mar. 7…Daytona Beach, FL (East)
May 31…Salt Lake City, UT (East)
June 3…Salt Lake City, UT (East
June 7…Salt Lake City, UT (West)
June 10…Salt Lake City, UT (West)
June 14…Salt Lake City, UT (West)
June 17…Salt Lake City, UT (East
June 21…Salt Lake City, UT (East/West)
TENTATIVE AMA NATIONALS MOTOCROSS CHAMPIONSHIP
July 18…Crawfordsville, IN
July 25…Jacksonville, FL
TBA…Washougal, WA
TBA…Mt. Morris, PA
TBA…Southwick, MA
TBA…Red Bud, MI
TBA…Lakewood, CO
TBA…Unadilla, NY
TBA…Hurricane Mills, TN
TBA…Millville, MN
TBA…Budds Creek, MD
October 10…Pala, CA
REVISED 2020 FIM MOTOCROSS WORLD CHAMPIONSHIP
Mar. 1…Matterley, Great Britain (Held)
Mar. 8…Valkenswaard, Holland (Held)
Aug. 9…Kegums, Latvia
Aug. 16…Uddevalla, Sweden
Aug. 23…KymiRing, Finland
Sept. 6.…Afyonkarahisar, Turkey
Sept. 20…TBA
Sept. 27…MXDN, Ernee, France
Oct. 4…Trentino, Italy
Oct. 11..Arroyomolinos, Spain
Oct. 18…Agueda, Portgual
Oct. 25…Lommel, Belgium
Nov. 1…Jakarta, Indonesia
Nov. 8…TBA, Indonesia
Nov. 22…Neuquen, Argentina
Nov. 29…TBA
TBA…Loket, Czech Republic
TBA…Teutschenthal, Germany
TBA…Imola, Italy
TBA…Orlyonok, Russia
2020 FIM MOTOCROSS DES NATIONS
Sept. 27.…Ernee, France
REVISED 2020 CANADIAN NATIONAL CHAMPIONSHIP
July 25-26…Courtland, ON
Aug…1-2…Chatsworth, ON
Aug. 15-16…Walton, ON
Aug. 29-30…Sand Del Lee, ON
Sept. 5-6….Deschambault, QC
REVISED 2020 AUSTRALIAN NATIONAL MOTOCROSS CHAMPIONSHIP
Aug. 9…Connondale. QLD
Aug. 6…Maitland, NSW
Sept. 16…Newry, VIC
Sept. 12…Horsham, VIC
Oct. 4…Gympie, QLD
Oct. 11…Coolum, QLD
2020 AMA NATIONAL AMATEUR CHAMPIONSHIP
Aug. 3-8….Hurricane Mills, TN
2020 WISECO WORLD TWO-STROKE CHAMPIONSHIP
Oct. 3…Glen Helen, CA
2020 MONSTER ENERGY CUP
Oct. 10…Carson, CA
REM OCTOBERCROSS
Oct. 31…Glen Helen, CA
2020 DUBYA WORLD VET MOTOCROSS CHAMPIONSHIP
Nov. 6-8…Glen Helen , CA