MXA'S WEEKEND NEWS ROUND-UP: HONDA HISTORY WITH JOHNNY CAMPBELL & THE 2017 CRF450
• FIRST LOOK! 2023 GASGAS MC450F & MC250F FACTORY EDITIONS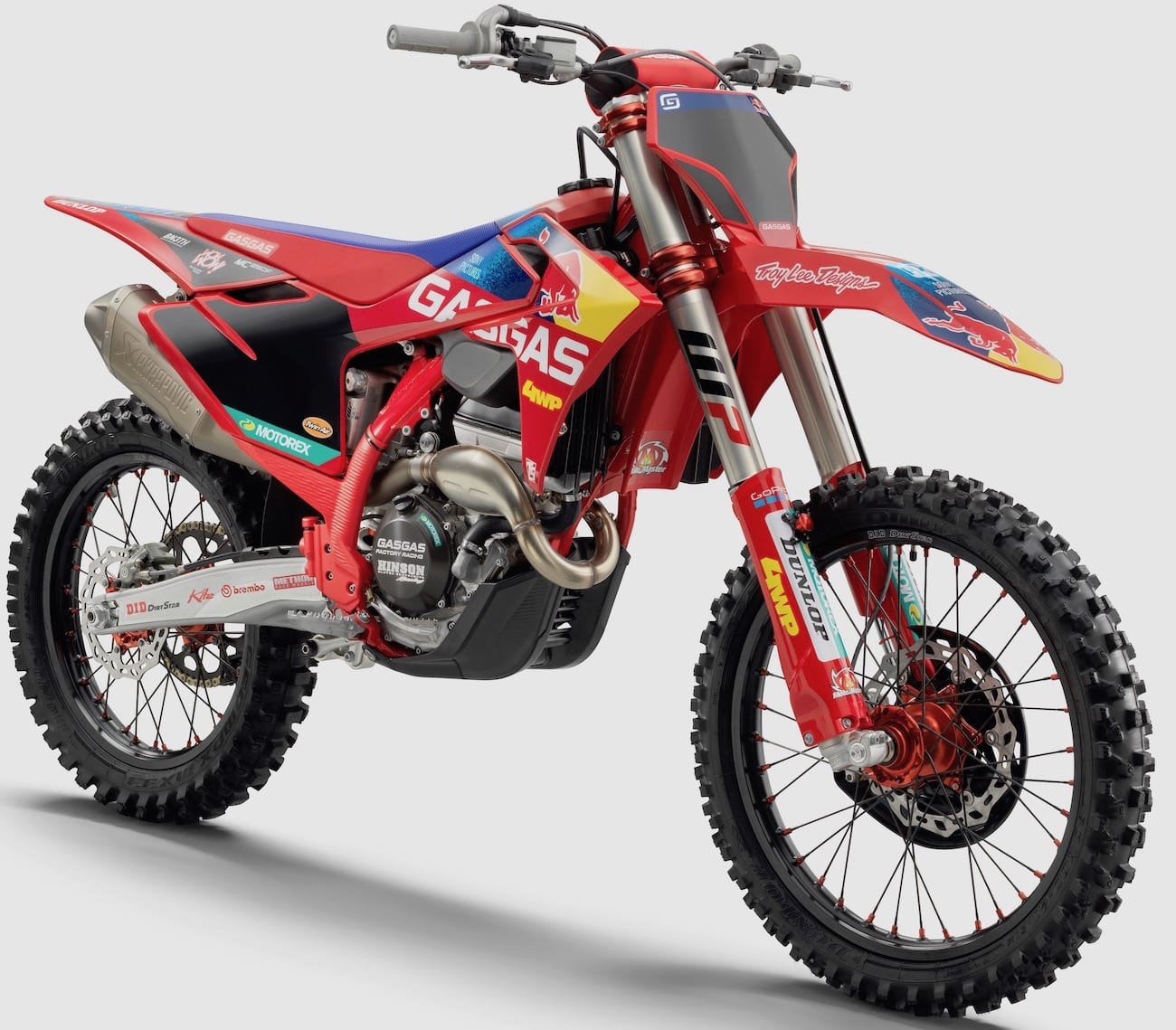 MC250F FACTORY EDITION 2023—MSRP: $10,999
Built with an all-new motor and frame, the GasGas MC250F Factory Edition features the very best of our Technical Accessories to transform it into a race-winning dirt bike capable of competing for wins and championships across the globe. Finished off with all-new plastics and the latest Troy Lee Designs/Red Bull/GasGas Factory Racing graphics, it's an absolute thing of beauty! The GasGas Factory Edition aren't even close to the 2023 production GasGas models.Which means they have to file paperwork to make the new GasGas frame, engine and swingarm legal.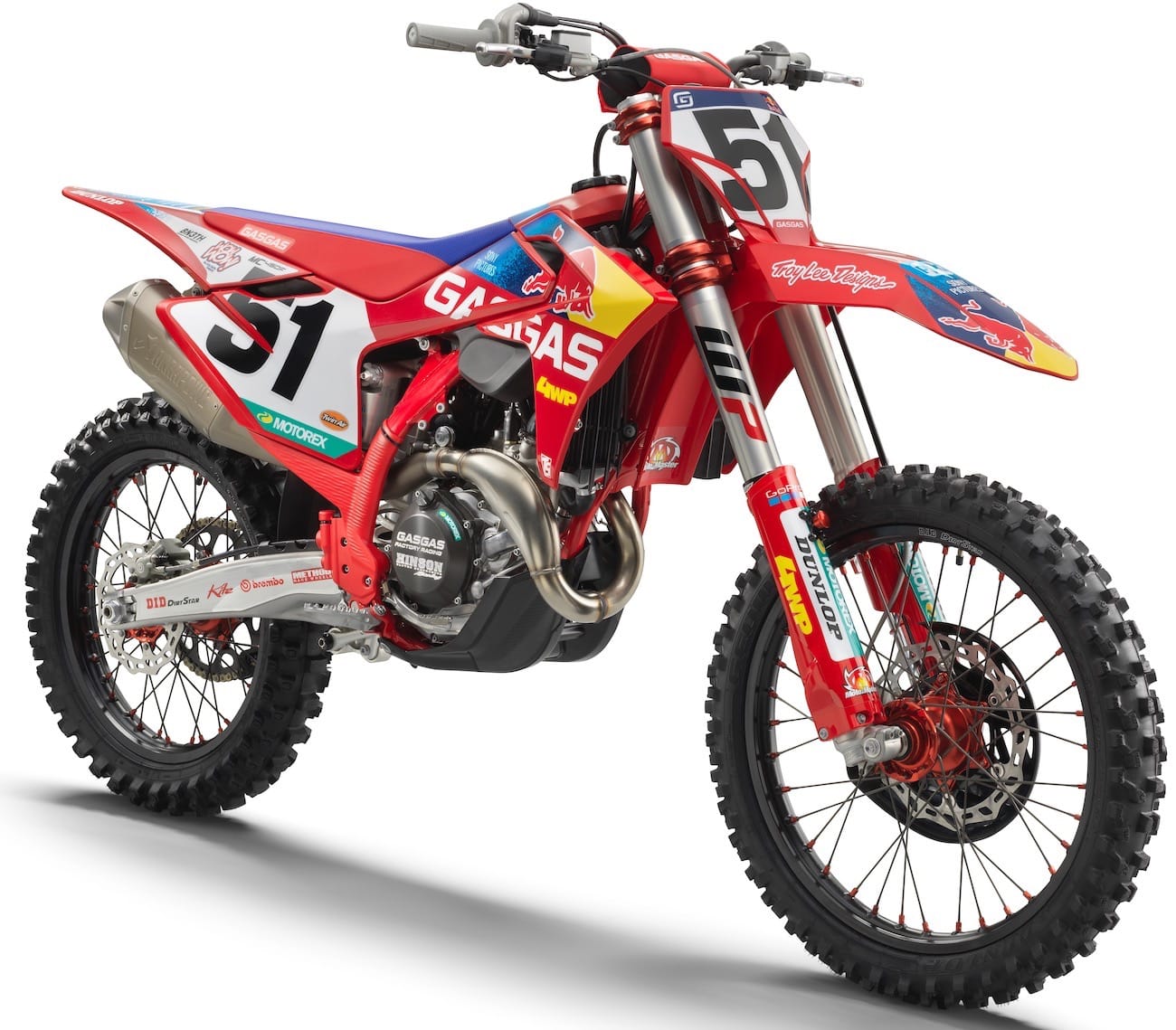 MC450F FACTORY EDITION 2023—MSRP: $12,099
The all-new, all-awesome MC450F Factory Edition is as close as it gets to the bike that Justin Barcia will race in 2023. A new engine, new frame, new swingarm and new plastics, as well as a pretty long list of racing-focused components from our Technical Accessories range have created a bike designed for winning. The GasGas MC450F Factory Edition is the real deal and as good as it gets. But GasGas has to produce 400 production in order for thwm to be legal. Luckily for the GasGas team, the AMA homologation rule is so porous that there is no rush.
• HONDA CELEBRATES 30-YEAR PARTNERSHIP WITH JOHNNY CAMPBELL AT CHOCOLATE MOUNTAIN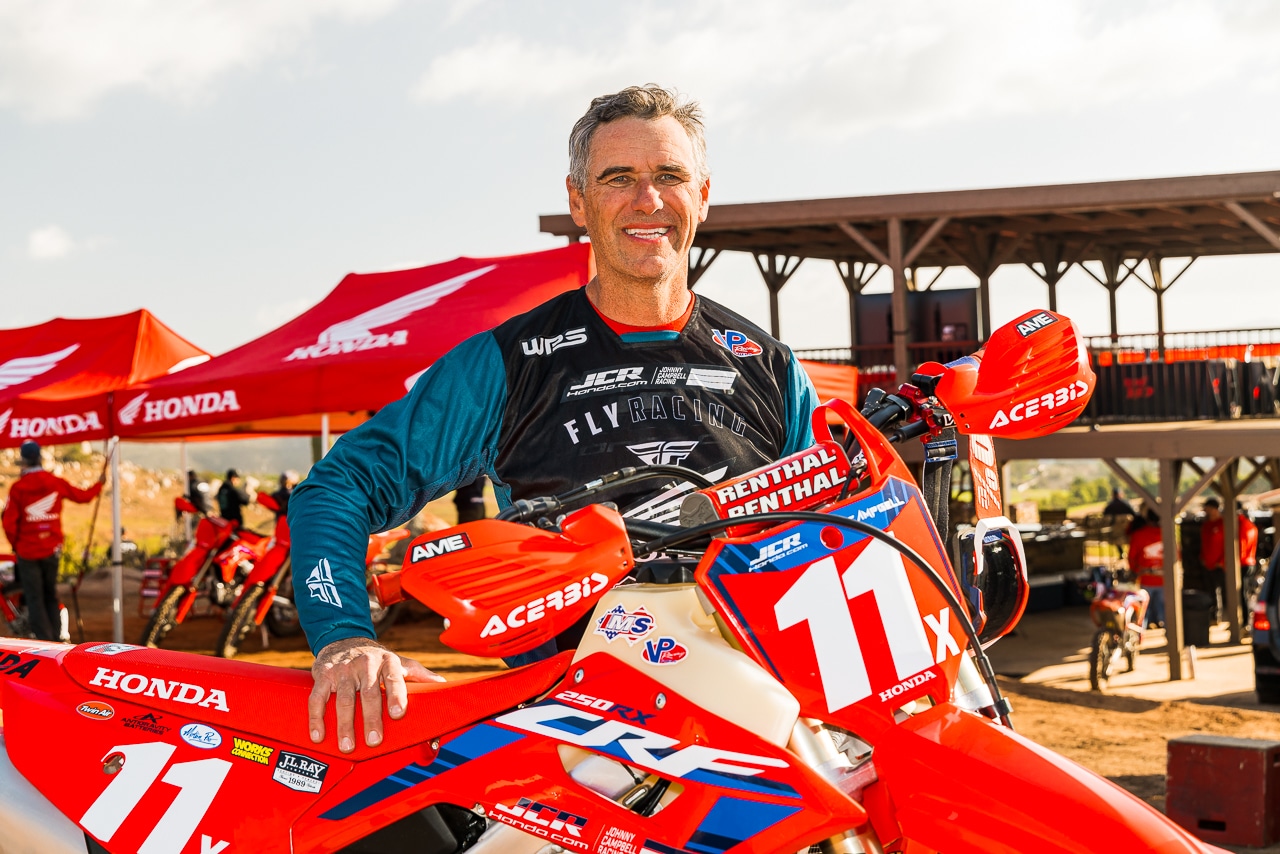 Johnny Campbell is an off-road legend best known for winning the Baja 1000 11 times.
In a special event held at Chocolate Mountain, East of San Diego, American Honda celebrated its 30th year working with Johnny Campbell. The off-road media gathered to socialize with Campbell, check out several of his old race bikes, enjoy a taco lunch and ride the 2023 Honda models that Campbell helped develop — including the CRF450X, CRF450RX and CRF250RX. As a token of their appreciation, Honda presented Campbell with the 1997 XR600R that he rode to his first win in the SCORE International Off-Road Racing series.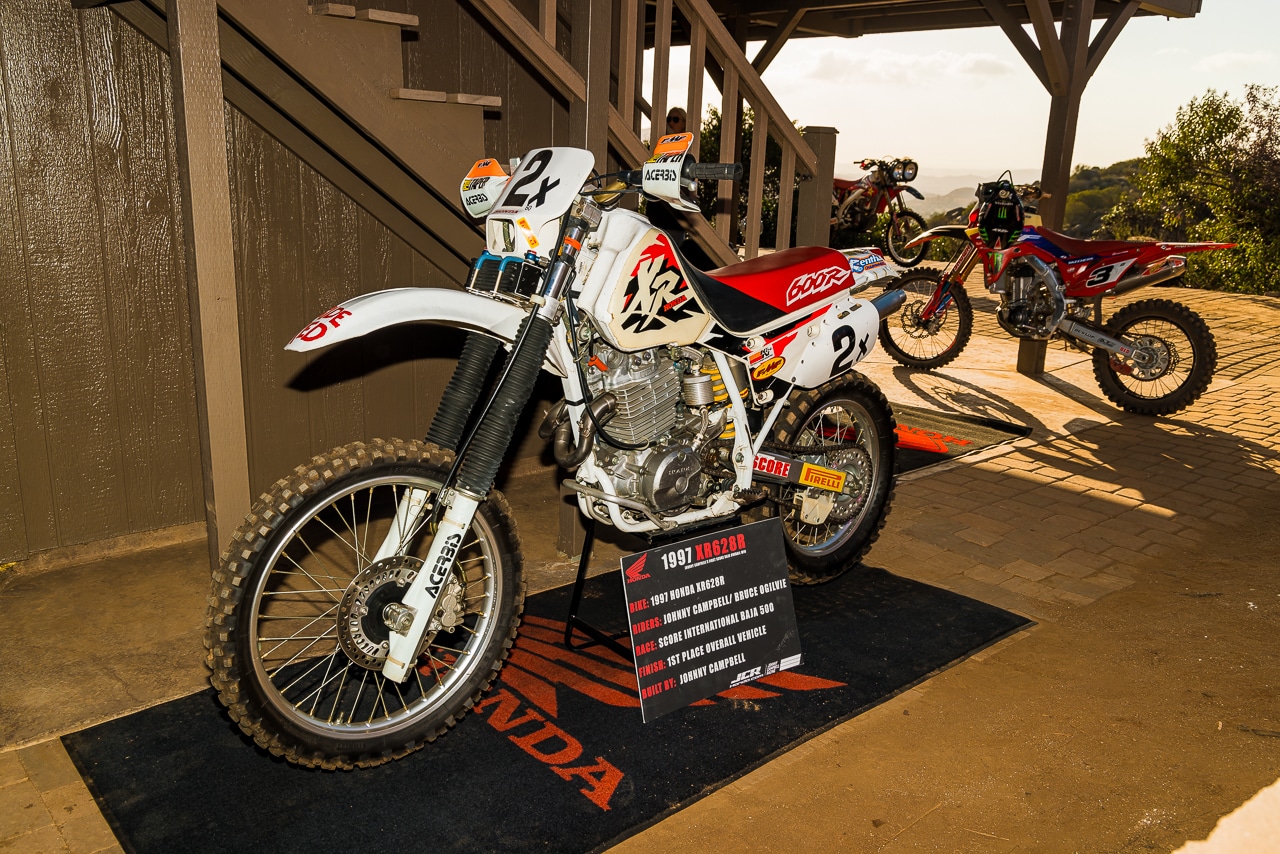 Johnny Campbell's 1997 XR628 Baja 500 winning machine.
Campbell joined Honda in 1992 as an off-road racer aboard the XR600R. His first big win was the 1995 Nevada Rally, but he would become best known for his success racing in SCORE. He won the Baja 500 in 1997 as a teammate to Bruce Ogilvie (a Honda manager who would go on to become Campbell's mentor), and then topped the Baja 1000 the same year, with teammates Tim Staab and Greg Bringle. He went on to collect a record total of 11 wins in the Baja 1000, and five in the Baja 500. He also competed in the 2001 Dakar Rally, finishing eighth overall and first privateer.
Josh Mosiman, who raced for Johnny Campbell's team on occasion, took a break from the festivities to ride the 2023 Honda CRF250RX on the Chocolate Mountain Motocross track..
In addition to his racing, Campbell has supported Honda in a number of other ways. In 1994, he was brought in-house to build Honda's off-road race machines—initially based on the XR600R, eventually the XR650R and ultimately the CRF450X. Along the way, Campbell assumed more responsibilities, including forming his own team (Johnny Campbell Racing) and taking over Honda's SCORE effort in 2008. JCR transitioned from SCORE to the GNCC series in 2014 and continues to compete in the American Motorcyclist Association's NGPC and NHHA series. Campbell also serves as Off-Road Coordinator for American Honda, working with the SLR Honda and Phoenix Racing Honda squads.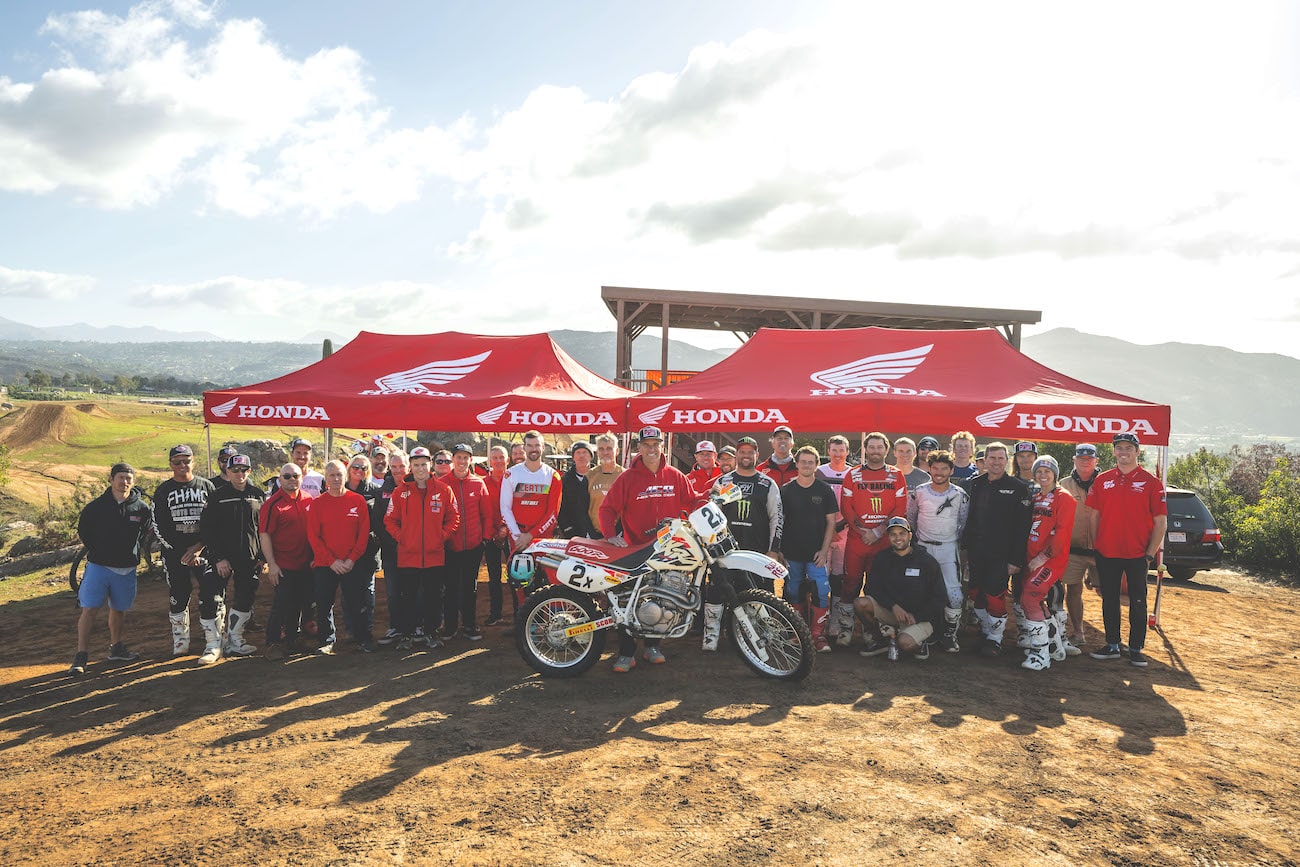 The assembled crowd that came to celebrate with Johnny—who isn't retiring, Honda just wanted to celebrate his three decades in red.
Campbell has also been heavily involved in the R&D of Honda production bikes and factory machinery like the CRF450 Rally, which Ricky Brabec and Kevin Benavides rode to Dakar Rally wins in 2020 and 2021, respectively.
Johnny Campbell said. "I'm very thankful for my relationship with American Honda, and it means a lot to be recognized for three decades of hard work, racing, overcoming obstacles, giving input for new product, and helping with rider development. I cherish all the relationships I have with the folks at American Honda, and I'm really touched, honored and emotional. It's been an amazing career so far, but this isn't a retirement party; there's still plenty of work to be done, and I look forward to this partnership continuing for a long time!"
• MXA VIDEO: 2023 KAWASAKI KX450 VIDEO TEST
• 10TH ANNUAL KURT CASELLI RIDE DAY ON SATURDAY, DEC. 3 AT PALA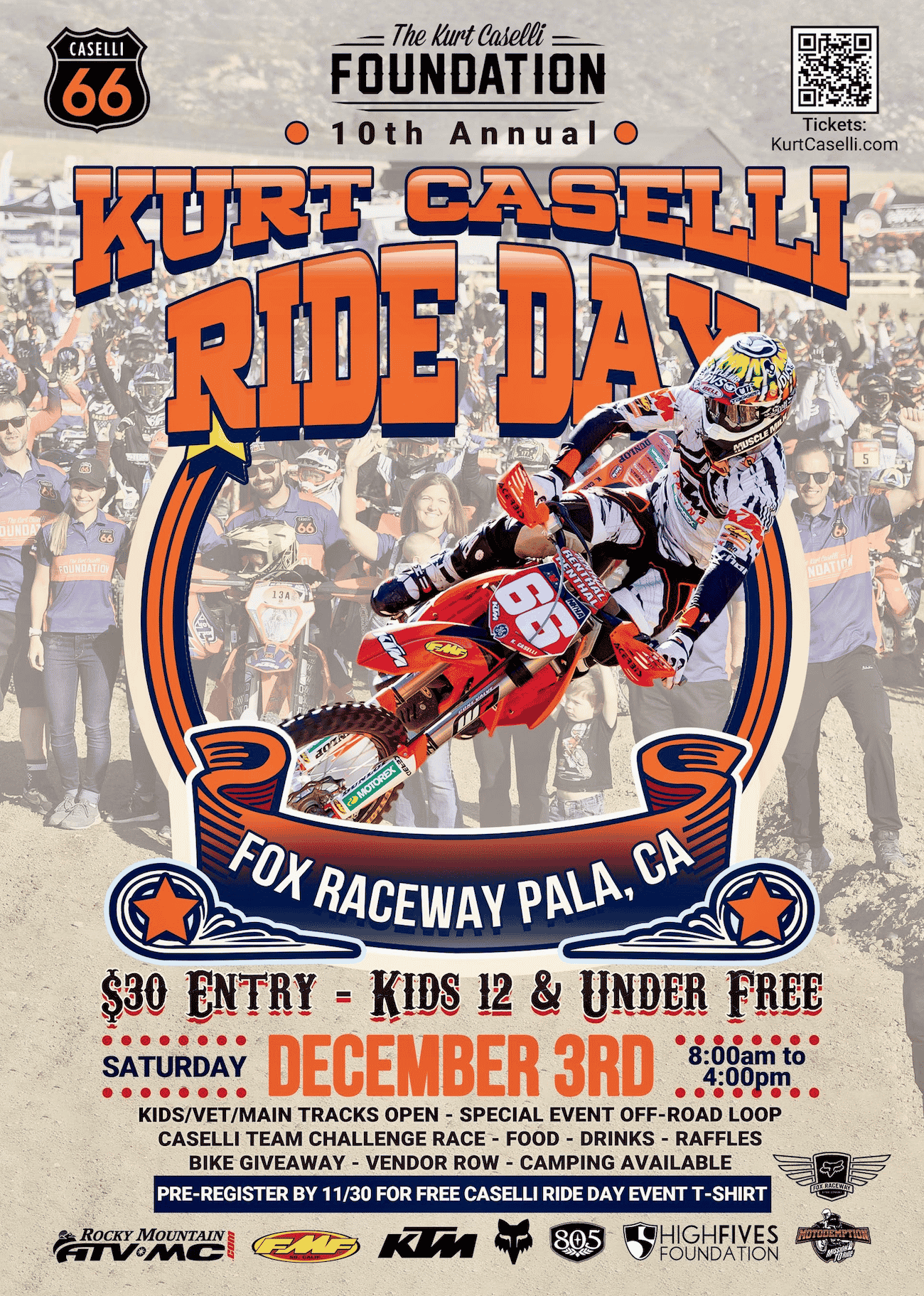 The Kurt Caselli Foundation will host its 10th Annual Kurt Caselli Ride Day presented by Rocky Mountain ATV/MC, FMF and KTM on Saturday, December 3d, 2022 at Fox Raceway in Pala, California.
• MXA VIDEO: 2023 HUSQVARNA FC250 VIDEO TEST
• MXA PHOTO OF THE WEEK: HOW MANY RIDERS CAN YOU SQUEEZE ON ONE TRACK?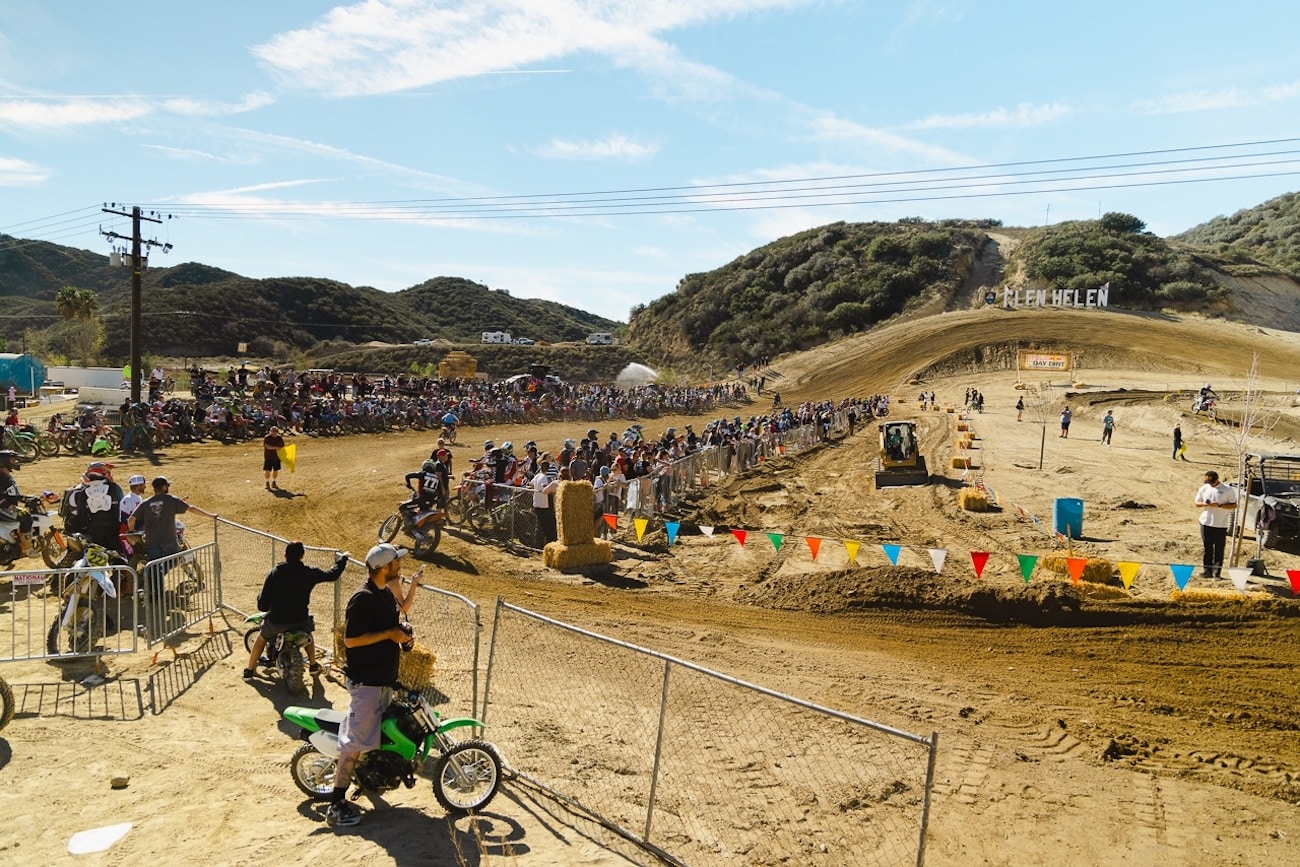 This is the Lemans start for the team race at last weekend's 25th Annual "Day in the Dirt" event. When the flag flies everybody goes. Photo: Trevor Nelson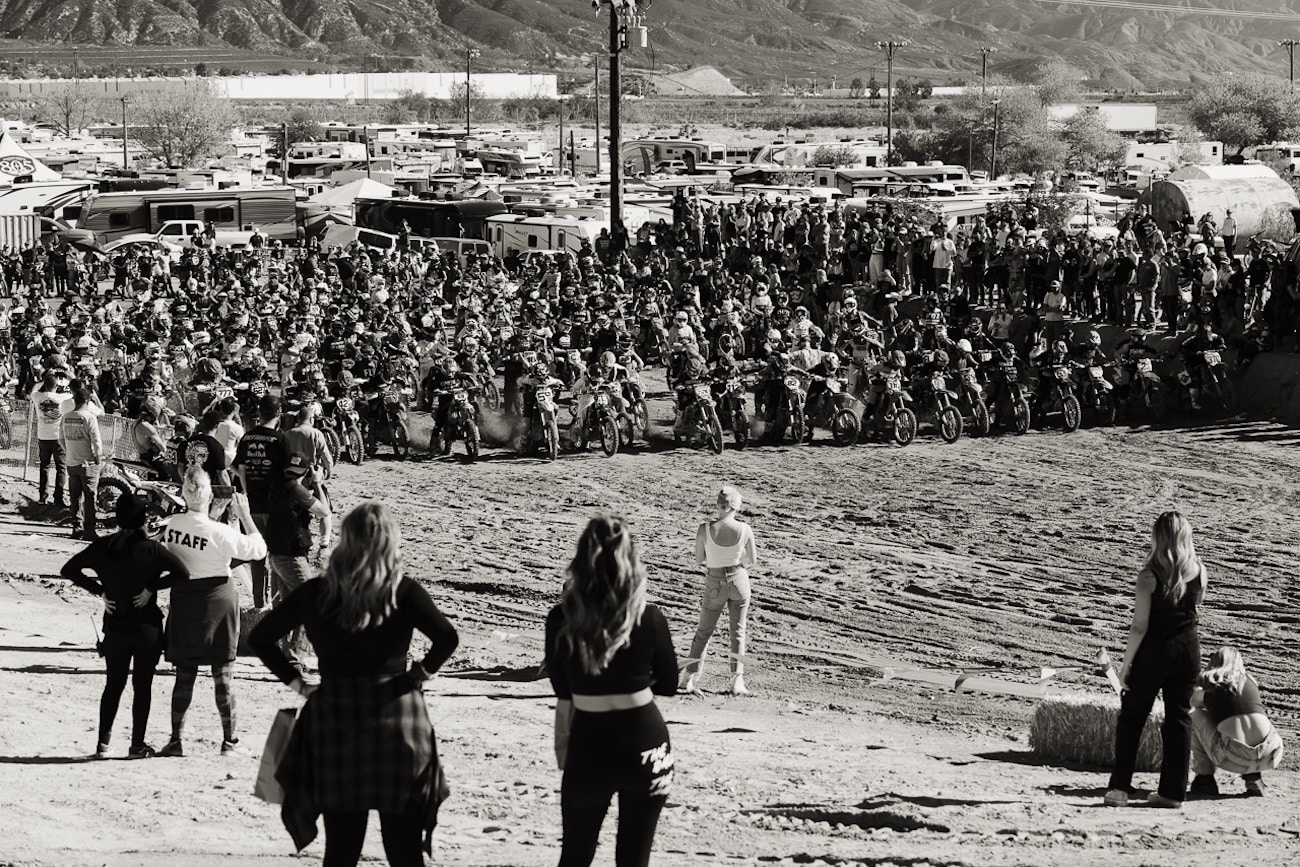 And if you're not a fan of Lemans-style starts, this is how most of the races at "Day in the Dirt" were started—wave after wave at ten second intervals. This was the second event at Glen Helen this month that had over 1000 entrants. The "World Vet Championship" and Red Bull "Day in the Dirt" were big races. Photo: Trevor Nelson
• THIS IS NOT MOTOCROSS, BUT IT JUST MIGHT BE BETTER
• 2023 AMA SUPERCROSS RACE SCHEDULE
• MXA VIDEO: 2023 YAMAHA YZ450F VIDEO TEST
• 2022 FIRE & POLICE ELSINORE GRAND PRIX ON TUESDAY, DECEMBER 6…YES, TUESDAY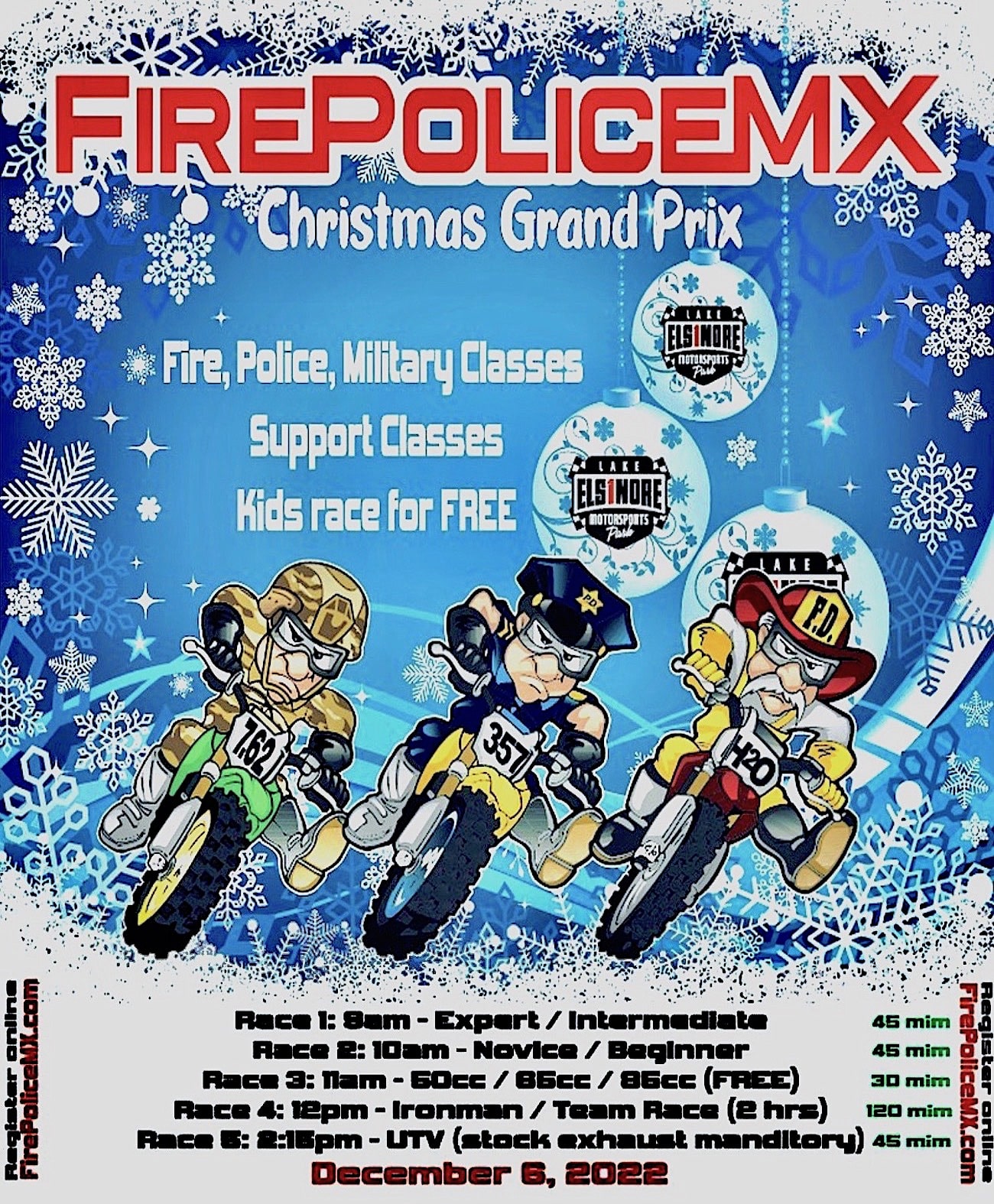 For more information or to sign-up go to www.firepolicemx.com
• THE JEREMY MCGRATH STORY: IN HIS OWN WORDS AND THOSE OF HIS FRIENDS
• MXA AD OF THE WEEK: THE ONE BEFORE THE GOOD ONE
You are forgiven if the 1980 Suzuki RM125, RM250 and RM400 don't ring any bells with you. That always happens when one model year, in this case 1980, is overshadowed by the machines that followed it. The 1981 Suzuki Full Floater that replaced the twin-shock 1980 RMs was a revelation—it made everything before it, and paradoxically, after it to be erased from your brain cells.
• MXA VIDEO: 2023 KAWASAKI KX250 VIDEO TEST
• 2023 SOBOBA TRAIL RIDE WILL BE ON FEBRUARY 26, 2023
For more info go to www.sobobarides.biz/home
MXA VIDEO: 2023 KTM 300SX FUEL-INJECTED TWO-STROKE VIDEO TEST
• ON THE RECORD: COMPLETE TEST OF THE 2017 HONDA CRF450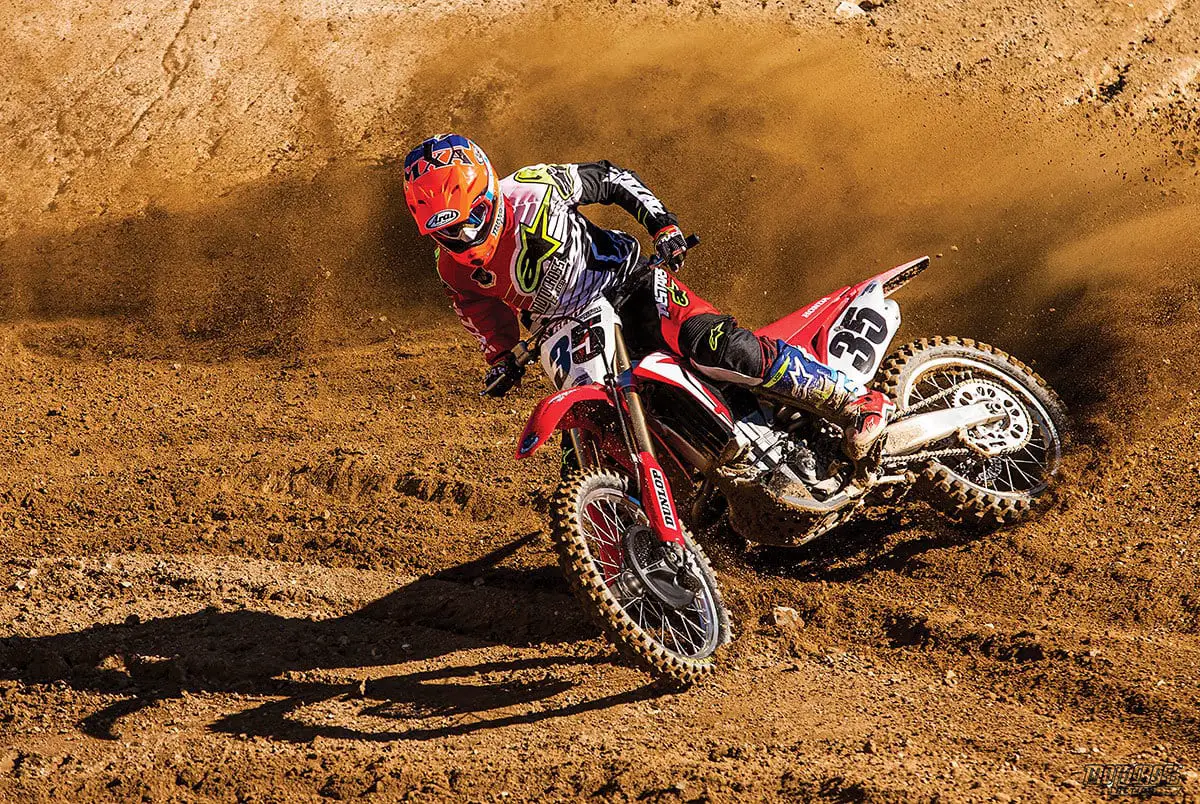 This 2017 Honda CRF450 test is from the March 2017 issue of MXA.
Q: FIRST AND FOREMOST, IS THE 2017 CRF450 BETTER THAN THE 2016 CRF450?
A: Yes. In the timeline of Honda CRF450 history, most racers would like to erase the last eight years and leap from the superb 2008 CRF450 directly to the 2017 model—and that includes Honda too.
Q: WHAT WAS SO BAD ABOUT THE 2009 TO 2016 HONDA CRF450s?
A: Scientific history is full of stories about lab experiments gone awry—and the 2009 Honda CRF450 was a failed attempt by Honda to revolutionize frame geometry. Honda's secret isotope was a radical new "cab forward" philosophy that broke all the rules of weight bias, steering response, engine positioning and setup. Honda's hubris convinced its engineers that they could rewrite the book on geometry—and, when it didn't work out, they blindly stuck with the side effects for eight long years.
Twice pipes is not twice good. Worse yet, the 2017 CRF450 blew 119.7 dB. That is way over the AMA limit.
Q: WHY DIDN'T HONDA'S ENGINEERS RIGHT THE GOOD SHIP CRF450 AS SOON AS FEASIBLE?
A: Pride. When the 2009 Honda CRF450's frame geometry didn't work as intended, Honda Band-Aid'ed it with the HPSD steering damper. That was a red flag that there would be "no joy in Mudville." The 2009 through 2012 CRF450s had a front end that flopped through corners like a fish on a beach. Later in the development program, Honda doubled-down on its "slower is better" strategy. The 2013 through 2016 CRF450s were better handling than their 2009 brethren, but Honda detuned the engines to the point where they had 5 horsepower less than the competition.
Q: WAS THE FOUR-YEAR PLAN TO BLAME FOR HONDA'S WOES?
A: Yes. When the economic recession was in full force in 2009, the Japanese manufacturers became entrenched in their traditional four-year development plans. That meant that any new model, like the ill-fated 2009 CRF450, was destined to stay around for four long years. If a design were flawed, it would stay flawed. If it were slow, it would stay slow. Honda has been back on its heels ever since it dropped the fabulous 2008 CRF450 for the weirdly configured 2009 model and then upped the ante with the "slow is better" formula. Honda lost its mojo over that eight-year span.
This chart shows the dfferences between a 2016 CRF450 and a 2017 CRF450, but what really matters are the similarities between the 2017 CRF450 and the 2008 CRF450.
Q: WHAT WERE THE BASICS OF THE 2009 CRF450'S "CAB FORWARD" FRAME GEOMETRY?
A: Compared to the beloved 2008 Honda CRF450's frame geometry, Honda jigsaw-puzzled the 2009 geometry. The 2009 CRF450's front wheel was 15mm closer to the engine. The steerer tube was pulled back 10mm. The swingarm was 18mm longer than in 2008. Fork offset was reduced from 22mm to 20mm (fork offset in 2007 was 24mm). Trail was decreased from 4.5 inches to 4.3 inches. And, the head angle was steepened from 26.76 degrees to 26.52 degrees. In short, every aspect of the 2009–2016 CRF450 was moved forward (by moving the front and rear wheels farther back in relationship to the engine position). This shifted the weight bias forward on to the steep head angle and, because of the chassis' setup, the front of the 2009 CRF450 was amazing at turn-in. Even the slightest movement of the bars would initiate a turn, but it was too much of a good thing. The front tire over-steered in, which required a counter-steer correction, which resulted in understeer out and eventually more oversteer. It made a simple left-hand turn into three or four distinct movements of the bars.
You gotta love Honda for getting rid of their atrocious PSF-2 air forks for Showa coil spring forks. The coil-spring forks offer more potential.
Q: HOW DID HONDA UNDO THE "CAB FORWARD" CONCEPT FOR 2017?
A: That's simple. The 2017 chassis undoes the effects of the 2009 geometry by going back in time. Here is a quick look at how the 2017 chassis differs from the 2016 chassis. (1) The 2017 front wheel is moved forward 13.1mm (farther in front of the engine). (2) The 2017 swingarm was shortened to move the rear axle 23mm closer to the engine. (3) The 2017 wheelbase was decreased by 7mm. (4) The 2017 head angle was slackened to 27.22 degrees. (5) The 2017 fork offset was returned to 22mm. (6) The 2017 trail was increased from 4.3 inches to 4.6 inches. (7) For 2017 the HPSD steering damper was dropped (although the mounting points remain).
In essence, the 2017 Honda CRF450 frame geometry has more in common with the 2008 numbers than any bike in the previous eight years. "Cab forward" is a thing of the past at Honda. As a side note, the Honda R&D department flew in 2008 Honda CRF450 test riders Drey Dircks and Spud Walters to double-check the 2017 frame against their memories of the 2008 geometry.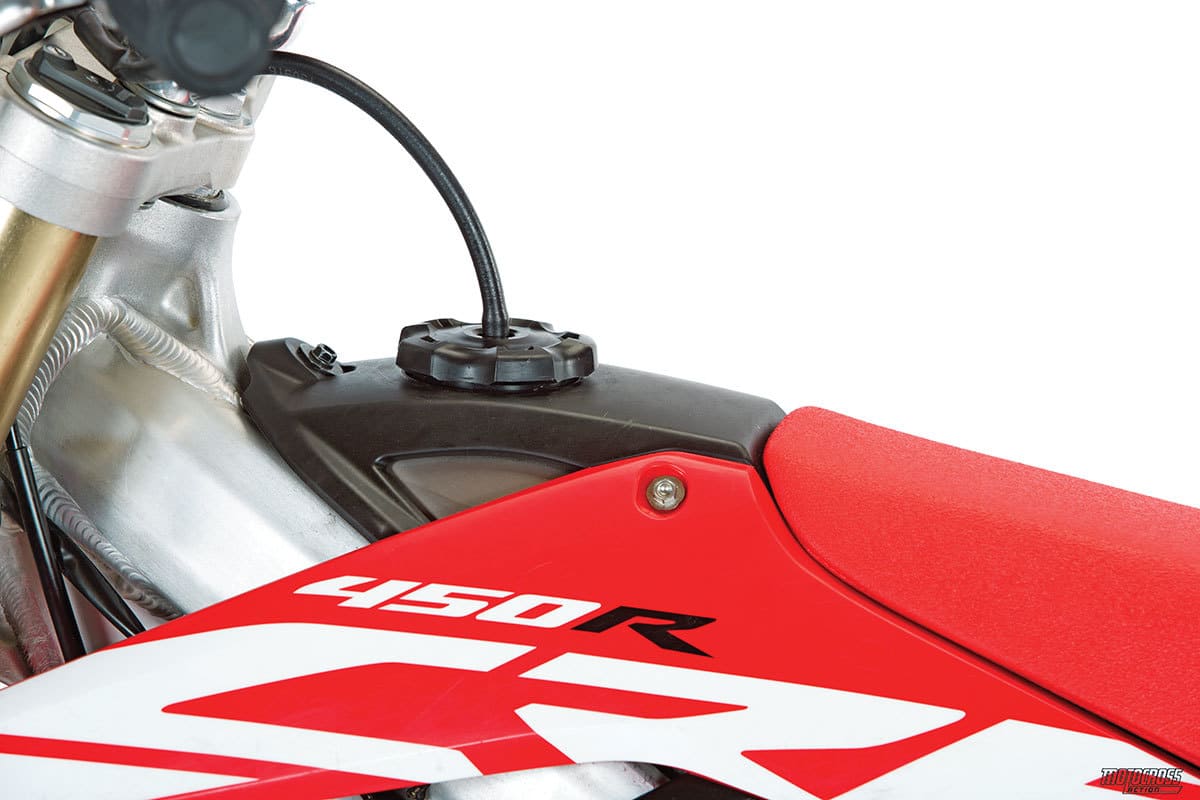 This is the titanium gas tank. Yeah, yeah. We know, it looks like it is made out of plastic, but that is just the cover.
Q: IS THE 2017 HONDA CRF450 FASTER THAN THE 2016 CRF450?
A: Yes, but what isn't. Although we don't fault the 2016 Honda's ability to run well from low-to-mid, the 2017 model blows it out of the water from mid to top. However, it is equally obvious that low-end throttle response on the 2017 CRF450 is its worst trait. It is herky-jerky at tip-in and turns quarter-throttle solutions in corners into a series of unsyncopated lurches with each blip of the throttle. MXA test riders found that the best way to avoid the sporadic low-end power delivery of the 2017 engine was to run the engine harder and higher in the rpm range—a great solution for fast test riders but a no-go for Novices and Vets.
Once the 2017 engine gets into the midrange, it cleans up, smooths out and takes off. The midrange power delivery is a thing of beauty. It pulls hard and has an amazing, hooked-up feel that is unlike any bike we've ever ridden. The 2017 Honda CRF450 has the top-end power that has been missing since 2008. When compared to the 2016 Honda CRF450, the top-end gives the 2017 CRF450 a whole new dimension of power that Honda riders haven't felt in eight years. It may be a stronger Honda than what came before, but it doesn't have the breadth, pulse, length or power of the 2017 KTM or Husky.
The black plug is where the electric starter would go if the CRF450 came with one. It is available as an option, but adds mightily to the cost and weight of the 2017 CRF450.
Q: WHAT IS THE BEST EFI MAP?
A: There are three maps—stock (one blue flash), mellow (two blue flashes) and aggressive (three blue flashes). Every MXA test rider chose to run the stock map. There is no launch control button, but, what we really wanted was a totally new map that would iron out the jerky low-to-mid transition and produce a broader spread of power from bottom to top. We tested a bevy of maps wth Honda's R&D department and are working on narrowing the field down to one map.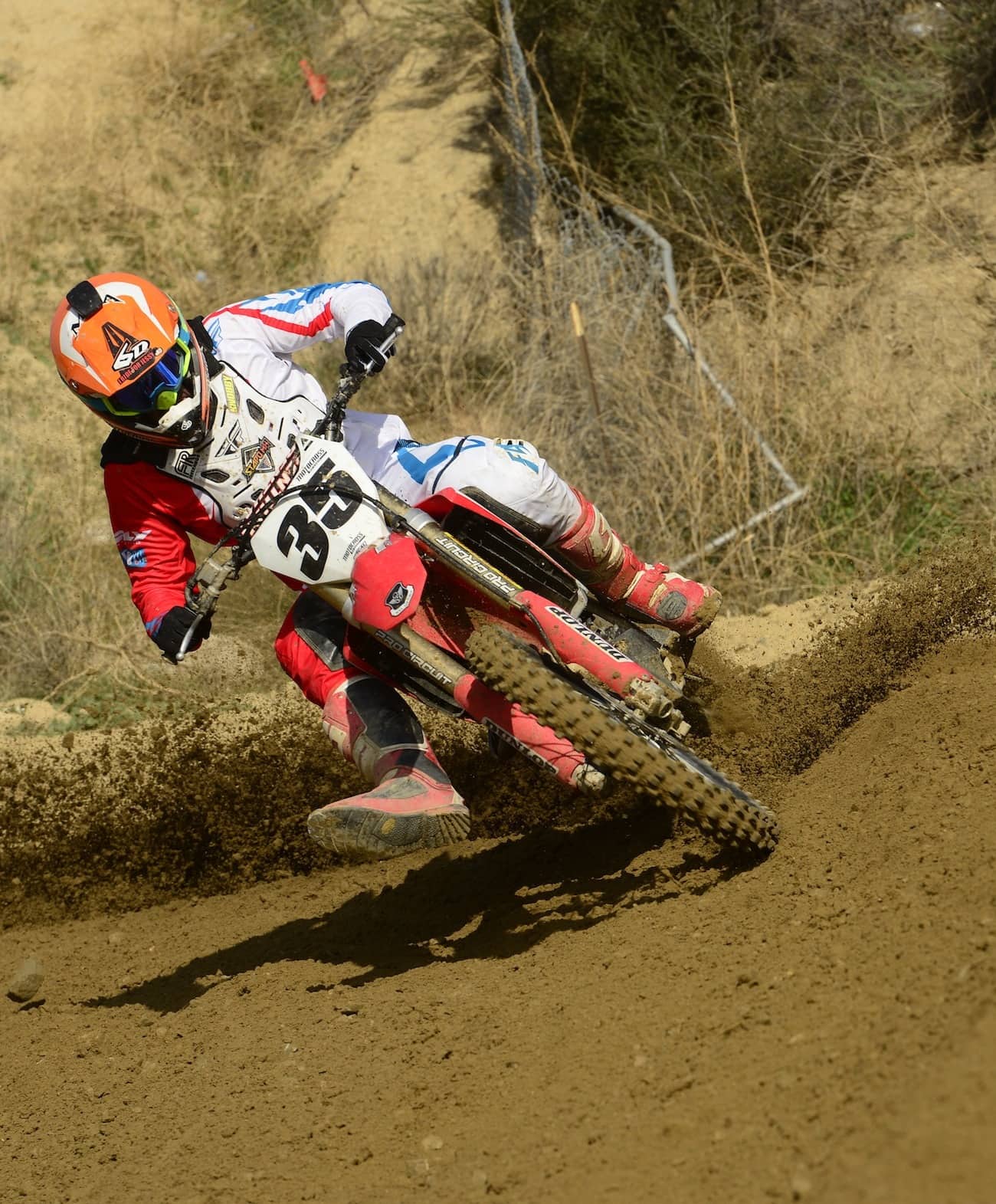 We had ten different test riders from National Pro to Intermediate to Novice to Vet to young to old race our CRF450 during our test period.
Q: DOES THE 2017 CRF450 HANDLE BETTER THAN THE 2016 MODEL?
A: Yes. It is especially good at turn-in, which was the only place that the 2016 CRF450 felt really good. It is still a little loose from the center-out of a corner (and doesn't feel as planted later in the turn as it does in the beginning). It is not as twitchy as the 2016 model in a straight line, but its not calm either. We did suffer considerable head-shake at speed, but we chocked this up to the soft front forks letting the frame geometry get too steep. Overall, the 2017 Honda CRF450 is a good all-around handler—that will only get better when the suspension is calmed down and stabilized. Is it the best-handling bike on the track? No. Could it be? No, but it could be a lot better than it is in stock trim.
Q: HOW GOOD IS THE SUSPENSION?
A: The polite way to describe the 2017 Honda's suspension is that the shock can confuse the forks, which tend to be very stagey in the second part of their stroke. When the shock is going through its rather large uncontrolled swings, the front end sucks down to the stiff part of the curve and the rear end kicks. Until you settle the argument between the forks and shock, you will struggle with the see-saw motion of the CRF450 over rough ground.
The 2017 Honda CRF450 was built to erase the memory of the 2009 through 2016 CRF450. It harks back to the days of the fabled 2008 CRF450 — in not just memory, but also geometry changes.
Q: HOW MUCH DOES IT WEIGH?
A: It weighs 233 pounds, which is exactly what it weighed last year. If you do the math, you can see that if Honda had stuck with last year's Kayaba PSF-2 air forks, the bike would have hit the scales at 230 pounds—although it would have had terrible forks. It should be noted that a 2017 KTM 450SXF weighs 222 pounds.
Q: WHAT'S THE DEAL WITH THE ELECTRIC STARTER?
A: It didn't make the production cut, nor did the rumored hydraulic clutch. You can order an electric-start kit from your friendly local dealer (Honda put the mounting port into the 2017 cases). It will cost an estimated $700, plus the cost of a battery and a couple hours of labor to install. The most optimistic estimate for how much weight it would add is 5 pounds—which would make the CRF450 16 pounds heavier than the KTM 450SXF.
Q: WHAT DID WE HATE?
A: The hate list:
(1) Radiator louvers. The gaps between the louvers that protect the radiator fins are so widely spaced that within 30 hours of run-time our radiators looked like someone had been hitting them with a tap hammer. Most of the fins were dented. Our quick fix was Twin Radiator covers (after we replaced the original radiators). Twin Air's mesh-like screens knock down the hard stuff without lessening air flow. Racing takes a bigger toll on the radiator vanes than play riding, because racers follow in the roost of others riders.
(2) Seat. We had the front of the seat come unhooked on several occasions. When you land hard on the seat, the middle section flexes and the front hooks pops out. Additionally, when it pulls out, the gap between the seat and the bodywork often cause the rider's thigh to get pinched between the two.
(3) Clutch. We aren't sure why Honda keeps experimenting with different numbers of clutch plates. The new seven-plate clutch uses 2mm-thick drive plates and very stiff clutch springs (fewer plates require stiffer springs). This clutch is much better than the previous units, but it is harder to pull and releases way out on the lever. We broke the judder plate in half in the middle of our test.
<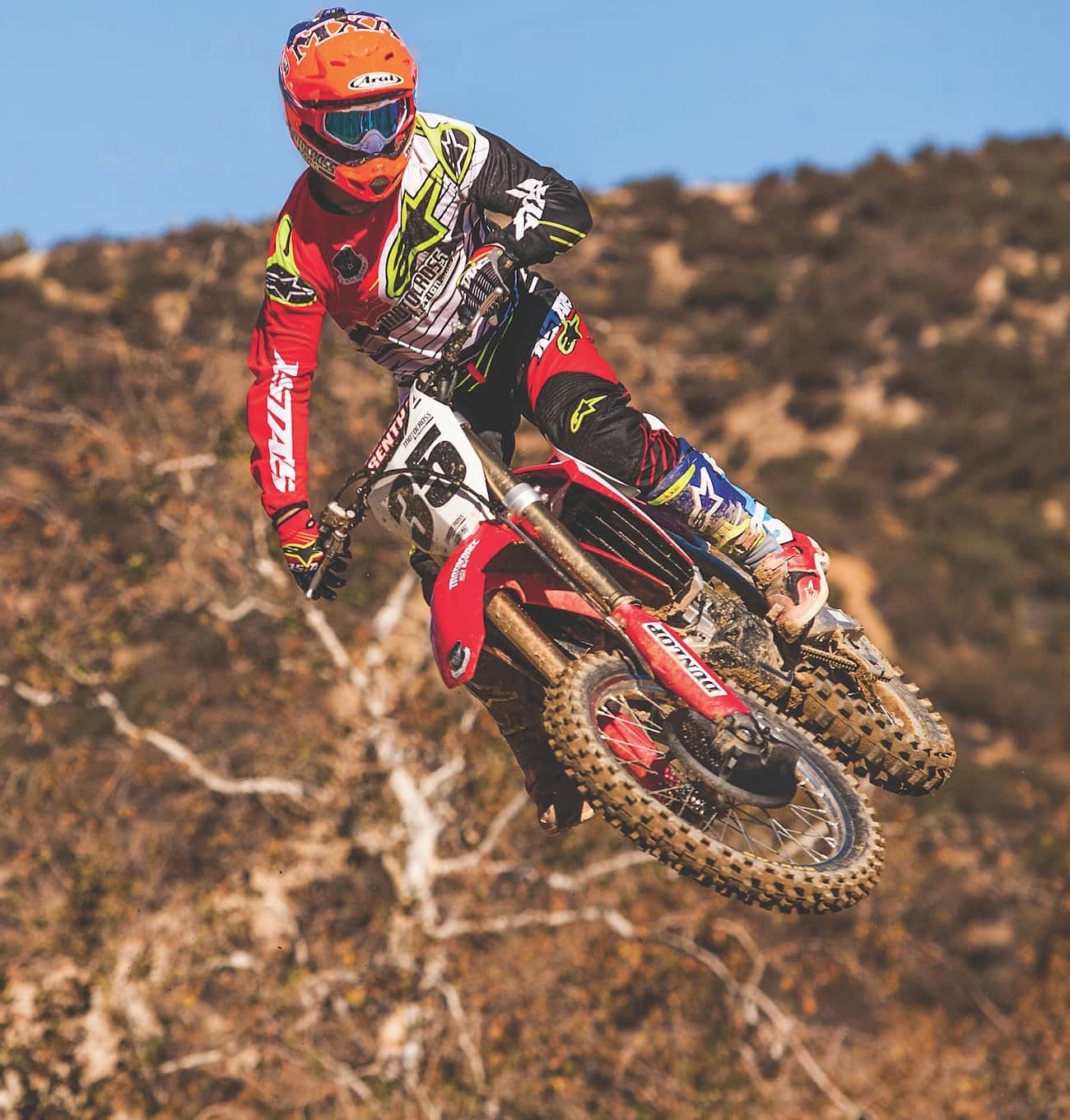 (4) Overheating. It got hot. After suffering through several embarassing puddles, we installed a high-pressure radiator cap.
(5) Exhaust pipe. Two mufflers is one too many for a bike that is already heavier and louder than the KTM, Husqvarna and Kawasaki.
(6) Sound. On the two-meter-max sound test, our 2017 CRF450 blew a 119.7-decibel reading. That is 5 decibels over the FIM's and AMA's 114-decibel sound limit.
(7) Gearing. Given the Honda's need to be in the midrange and above its cranky low-end, we geared it down one tooth (from 49 teeth to 50 teeth).
(8) Titanium gas tank. We don't get it. Honda went to the trouble and expense to make a titanium gas tank, but it isn't significantly lighter than the plastic one it replaced. And, to make matters worse, Honda covered it up with plastic cladding so that no one can see it. Plus, the hard, low-profile gas cap sticks.
(9) Airbox holes. Why would Honda steal the triangular airbox vents from the Kawasaki KX450F? They should steal from someone with a good idea. Having giant holes on both sides of the airbox is an inelegant way to get air into an engine. Although, it is the best way to get dirt, water and small birds into the airbox. Block these vents when you wash your CRF450.
(10) First year jitters. When we first tested the CRF450, we dynoe'ed it the day when we got back from the Monster Mountain intro. The engine was good at peak, but weak below it. It ran okay, but wasn't as good as it should have been in transition from low to mid. However, since this was among the first CRF450s in the country, we assumed that how it ran was how it ran. After the shootout was done, Honda rebuilt the engine. Surprise! When we dyno'ed it after we got it back from its rebuild, the bottom-to-mid transition improved dramatically (on the track and on the dyno). We think that our first top end suffered from valve adjustment problems. Although no magazines have reported their failures, we saw a CRF450 break at Monster Mountain, with decompression device failures, and another couple had issues with the automatic compression releases failing after they got back to SoCal (the broken engine cases are normally related the decompression mechanism failing). Our decompression release did not have any problems.
The 2017 Honda CRF450 makes great peak horsepower and has a very impressive midrange pull.
Q: WHAT DID WE LIKE?
A: The like list:
(1) Midrange. Even though the midrange is bracketed by an erratic low-end and late peak, the way the CRF450 puts the power to the ground is its best trait. It feels supremely hooked up—in a way that gobbles up ground. On the pipe, in the midrange, with the throttle pegged, this is a great engine. Conversely, it is not a great engine off the bottom.
(2) Chassis. It feels sleek (it is 30mm narrower at the radiator shrouds).
(3) Valve train. Although Honda stuck with its signature Unicam design, it added finger-followers to the 2mm-larger intake valves, which means that the cam lobes don't ride directly on the intake valve's stems but instead lever against tiny rocker arms.
Our CRF450 engine had a mechanical issue that hurt its performance initially. After it was rebuilt it performed much better.
(4) Engine oil. Although 2016's separate engine and transmission oil compartments were technically superior, they were hampered by the small quantities contained in each compartment. For 2017, Honda mixes engine and transmission oil just like on every other 450 four-stroke.
(5) Airbox. Honda mounted the throttle body at a 45-degree angle to improve air velocity, but at this angle the intake boot would have hit the shock body. To eliminate this obstruction, Honda lowered the shock by 39mm and took the airboot up and over the centrally mounted shock. The result is a larger, easier-to-access, oval air filter that is mounted under the seat. As a bonus, Honda has the trickest seat bolts in the biz.
Q: WHAT DO WE REALLY THINK?
A: The 2017 Honda CRF450 is as radically different from the 2016 model as the 2009 CRF450 was from the 2008. Suffice it to say that Honda's engineering department turned back the clock. Embarrassed by the last eight years in the doldrums, they decided to get in Mr. Peabody's Wayback Machine and set the dial for 2008. The goal? Take everything good about the 2008 CRF450 and build a 2017 version of it. Did they succeed? Yes, in terms of handling, power and feel. No, in terms of the suspension. That said, the 2017 Honda makes the 2016 Honda and its seven older brothers feel like donkey carts. If you are a loyal Honda owner with a good suspension guy on speed dial, this is the bike for you.


MXA'S HONDA CRF450 SETUP SPECS
This is how we set up our 2017 Honda CRF450 for racing. We offer it as a guide to help you find your own sweet spot.
SHOWA COIL SPRING FORK SETTINGS
Honda is the first manufacturer—since Yamaha in 1977—to abandon air forks and return to a coil-spring system. Why? The complexity of Kayaba and Showa air forks was hurting sales, not helping them. The 2017 Showa's 49mm forks add 3 pounds to the CRF450's overall weight, which is offset by losing 3 pounds on the chassis and engine. In stock trim, the Showa forks are too soft for fast riders and too harsh for slow riders. The hardest suspension glitch to fix is a fork that feels too soft initially and too rigid later, because the obvious fix for one issue is calamity for the other. The simplest and cjeapest solution is to replace the stock fork springs with the stiffer optional 0.50 N/m fork soring. This, whenb combined with a stiffer shock spring balances out the bike. For hard-core racing, these are MXA's recommended 2017 CRF450 fork settings (stock settings are in parentheses):
Spring rate: 0.50 N/m (0.48 N/m)
Compression: 10 clicks out (11 clicks)
Rebound: 13 clicks out
Fork-leg height: Second line (first line)
Notes: The best fix for the forks is to have them re-valved to stop them from bottoming over big hits and to make them more fluid as they transition from the soft low-speed damping to the harsh wall of damping in the mid-stroke. We think that faster riders and heavier riders will need to go up one spring rate on the fork springs (and then use oil height and clicker settings dial the forks in)
KAYABA SHOCK SETTINGS
In prior years, the rear shock was set 5mm off center, but for 2017 the shock is located in the middle of the chassis. Honda recommended that we run excess race sag. It didn't take long to understand why. The 2017 CRF450 has a stinkbug stance, which has been a common trait since 2009. We put the race sag at 108mm and raised the fork legs in the clamps by 2.5mm to balance out the chassis (this lowered the overall bike, while maintaining the same frame geometry—had we just lowered the rear it would have kicked the head angle out and slackened the geometry and affected turn-in) . Without some adjustments, the rear end transferred too much weight to the forks, causing twitchiness in corners and head-shake at high speeds.
For 2017 Honda dropped the HPSD steering damper that the old geometry demanded. The mounts are still on the frame and bottom triple clamp, so some test riders put the damper back on. The CRF450 has the most sensitive fore-and-aft balance that we have ever encountered. Any change to the shock would seriously affect the forks. Additionally, the shock's high-speed damping was already so far out that it only offered the ability to slow it down. We felt that the rear end moved up and down too much. We switched to a stiffer shock spring and this was a big plus, as it made the CRF450 feel more stable in the rough. The stiffer shock spring fixed most of the rear-end woes. For hard-core racing, these are MXA's recommended 2017 CRF450 shock settings (stock settings are in parentheses):
Spring rate: 56 N/m (54 N/m)
Race sag: 108mm
Hi-compression: 3-1/2 turns out
Lo-compression: 12 clicks out
Rebound: 7 clicks out (10 clicks out)
Notes: MXA's biggest change was to swap out the stock 54 N/m shock spring for a stiffer 56 N/m spring. This was a great mod for riders over 175 pounds or fast riders. With the stiff spring we turned the high-speed compression all the way out and increased the rebound to slow everything down.
• MXA VIDEO: 2023 SUZUKI RM-Z450 VIDEO TEST
• 2023 AMA NATIONAL MOTOCROSS RACE SCHEDULE 
• MXA VIDEO: 2023 GASGAS MC350F VIDEO TEST
• FIM WORLD MOTOCROSS CHAMPIONSHIP RACE SCHEDULE

• MXA VIDEO: 2023 SUZUKI RM-Z250 VIDEO TEST
• LOOKING TO THE FUTURE: THE 2023 RACE SCHEDULES
2023 AMA SUPERCROSS CHAMPIONSHIP
Jan. 7…Anaheim, CA
Jan. 14…Oakland, CA
Jan. 21…San Diego, CA
Jan. 28…Anaheim, CA
Feb. 4…Houston, TX
Feb. 11…Tampa, FL
Feb. 25…Arlington, TX
Mar. 4…Daytona Beach, FL
Mar. 11…Indianapolis, IN, MI
Mar. 18…Detroit, MI
Mar. 25…Seattle, WA
Apr. 8…Glendale AZ
Apr. 15…Atlanta, GA
Apr. 22…East Rutherford, NJ
Apr. 29…Nashville, TN
May 6…Denver, CO
May 13…Salt Lake City, UT
2023 SUPERMOTOCROSS PLAYOFF SCHEDULE
Sept. 9…TBA
Date TBA…TBA
Oct. 14: Los Angeles, CA
2023 AMA ARENACROSS CHAMPIONSHIP
Nov. 18, 2022…Albany, GA
Nov. 25, 2022…Albany, NY
Jan. 6…Loveland, CO
Jan.13…Prescott, AZ
Jan. 20…Guthrie, OK
Jan. 27….Guthrie, OK
Feb. 3…Reno, NV
Feb. 10…Denver, CO
Feb. 24…Hobbs, NM
Mar. 3…Amarillo, TX
Mar. 10…Tulsa, OK
Mar. 17…Salem, VA
Mar. 24…Little Rock, AR
Mar. 31…Lexington, KY
2023 2023 FIM WORLD MOTOCROSS CHAMPIONSHIP
Mar. 12…Argentina
Mar. 26…TBA
Apr. 10…TBA
Apr. 16…Italy
Apr. 30…Portugal
May 7…Spain
May 21…France
Jun. 4…Latvia
Jun. 11…Germany
Jun. 25…Indonesia
July 2…Indonesia
July 16…Czech Rep.
July 23…Belgium
Aug. 6…Finland
Aug. 13…Sweden
Aug. 20…Holland
Sept. 3…Turkey
Sept. 17…Vietnam
Oct. 1…TBA
Oct. 15…England
2023 AMA NATIONAL MOTOCROSS CHAMPIONSHIP
May 27…Pala, CA
June 3…Hangtown, CA
June 10…Thunder Valley, CO
June 17…Mt. Morris, PA
July 1…Red Bud, MI
July 8…Southwick, MA
July 15…Millville, MN
July 22…Washougal, WA
Aug. 11…Unadilla, NY
Aug. 19…Budds Creek, MD
Aug. 26…Crawfordsville, IN
2023 "SATURDAY AT THE GLEN" SCHEDULE
Jan. 14…Winter Series #1 (Saturday track)
Jan.. 28…Winter Series #2 (National track)
Feb. 3…Winter Series #3 (Saturday track)
Feb. 11…Winter Series #4 (Saturday track)
Feb. 25…Winter Series #5 (National track)
Mar. 11…Spring Series #1 (Saturday track)
Mar. 25…Spring Series #2 (Saturday track)
Apr. 15…Spring Series #3 (Saturday track)
Apr. 22…Spring Series #4 (Saturday track)
May 13…Spring Series #5 (National track)
June 1…Summer Series #1 (Saturday track)
June 17…Summer Series #2 (Saturday track)
June 24…Summer Series #3 (Saturday track)
July 15…Summer Series #4 (Saturday track)
July 29….Summer Series #5 (National track)
Aug.19…Fall Series #1 (Saturday track)
Aug. 26…Fall Series #2 (Saturday track)
Sept. 16…Fall Series #3 (Saturday track)
Sept. 23…Fall Series #4 (Saturday track)
Sept. 30…Fall Series #5 (National track)
Oct. 24…Winter Series #1 (Saturday track)
Oct. 28…Winter Series #2 (National track)
Nov.3-5…World Vet Championship (National track)
Nov. 19..Winter Series #3 (Saturday track)
Dec. 2…Winter Series #4 (Saturday track)
Dec. 9…Winter Series #5 (National track)
2023 VET MOTOCROSS DES NATIONS
Aug. 24-28…Foxhill, GB
2023 MOTOCROSS DES NATIONS
Oct. 22…Ernee, France
2023 WORLD VET MOTOCROSS CHAMPIONSHIP
Nov. 3-5…Glen Helen, CA
2023 RED BULL DAY IN THE DIRT
Nov. 24-26…Glen Helen, CA
• BONES BACON'S AMAZING LOVE FOR THE HONDA TRAIL 90, TRAIL 110 AND ALL-NEW TRAIL 125
• HOW SMART DO YOU HAVE TO BE TO SUBSCRIBE TO MXA? YOU SUBSCRIBE AND GET A $25 ROCKY MOUNTAIN GIFT CREDIT—SEEMS SIMPLE

You can't afford not to subscribe, because when you order a subscription, Rocky Mountain ATV/MC sends you a $25 gift credit to use on anything you want from their massive selection. Plus, subscribers to MXA can also choose to get the digital mag on their iPhone, iPad, Kindle or Android by going to the Apple Store, Amazon or Google Play or in a digital version. Even better, you can subscribe to Motocross Action and get the awesome print edition delivered to your house by a uniformed employee of the U.S. Government. Do we have to mention the $25 Rocky Mountain ATV/MC gift card again? You can't lose on this deal? Call (800) 767-0345 or Click Here
•  THE REMAINING RACES OF THE 2022 SEASON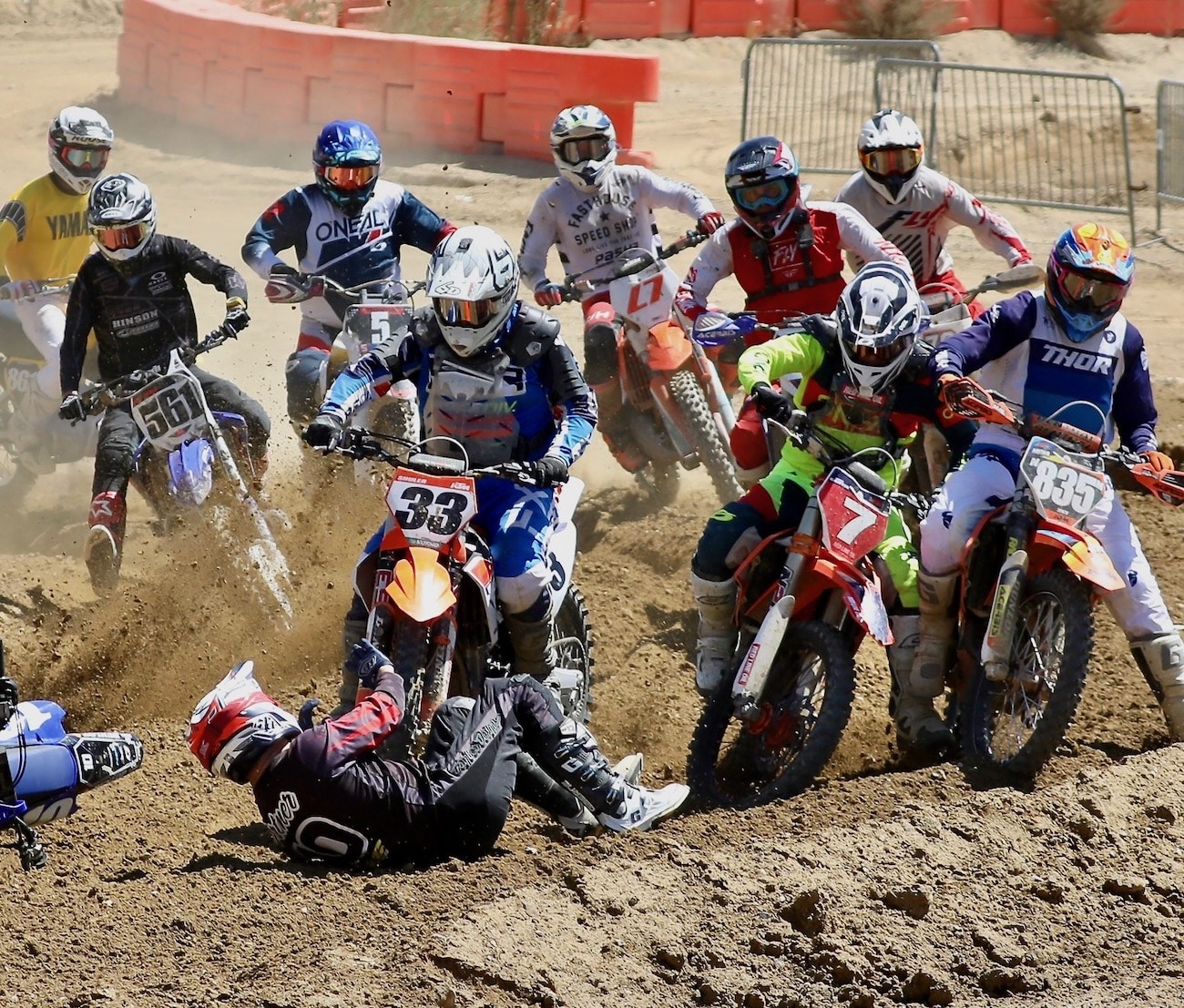 The "Saturday at the Glen" races only have two events left in 2022 (on December 3 and December 10), then it starts up again after the Holidays.
2022 SATURDAY AT THE GLEN RACE SCHEDULE
Apr. 2…Spring Series #1
Apr. 23…Spring Series #2
Apr. 30…Spring Series #3
May 7…Spring Series #4
May 14…Spring Series #5 (National Track)
June 11…Summer Series #1
June 25…Summer Series #2
July 9…Summer Series #3
July 30…Summer Series #5
Aug. 13…Summer Series #6  & Pasha 125 Open (National Track)
Aug. 27…..Fall Series #1
Sept. 10…Fall Series #2
Sept. 17…Fall Series #3
Oct. 1…Fall Series #4 & Pasha 125 Open (National Track)
Oct. 15…Fall Series #5
Oct. 22…Fall Series #6
Oct. 29…Winter Series #1 (National Track)
Nov. 5-6…Dubya World Vet Championship (National Track)
Nov. 19…Winter Series #2
Dec. 3…Winter Series #3
Dec. 10…Winter Series #4 (National Track)
2022 AUSTRALIAN SUPERCROSS CHAMPIONSHIP
Oct. 21…Melbourne, Vic
Oct. 29…Adelaide, SA
Nov. 26…Newcastle, NSW
Dec. 3…Wagga Wagga, NSW
2022 MOTOCROSS DES NATIONS
Sept. 25… Red Bud, MI
2022 WORLD VET MOTOCROSS CHAMPIONSHIP
Nov. 5-6…Glen Helen, CA
2022 PARIS SUPERCROSS
Nov. 12-13… Paris, France
• MXA PRODUCT SPOTLIGHT: MOTOCROSS ACTION CASUAL WEAR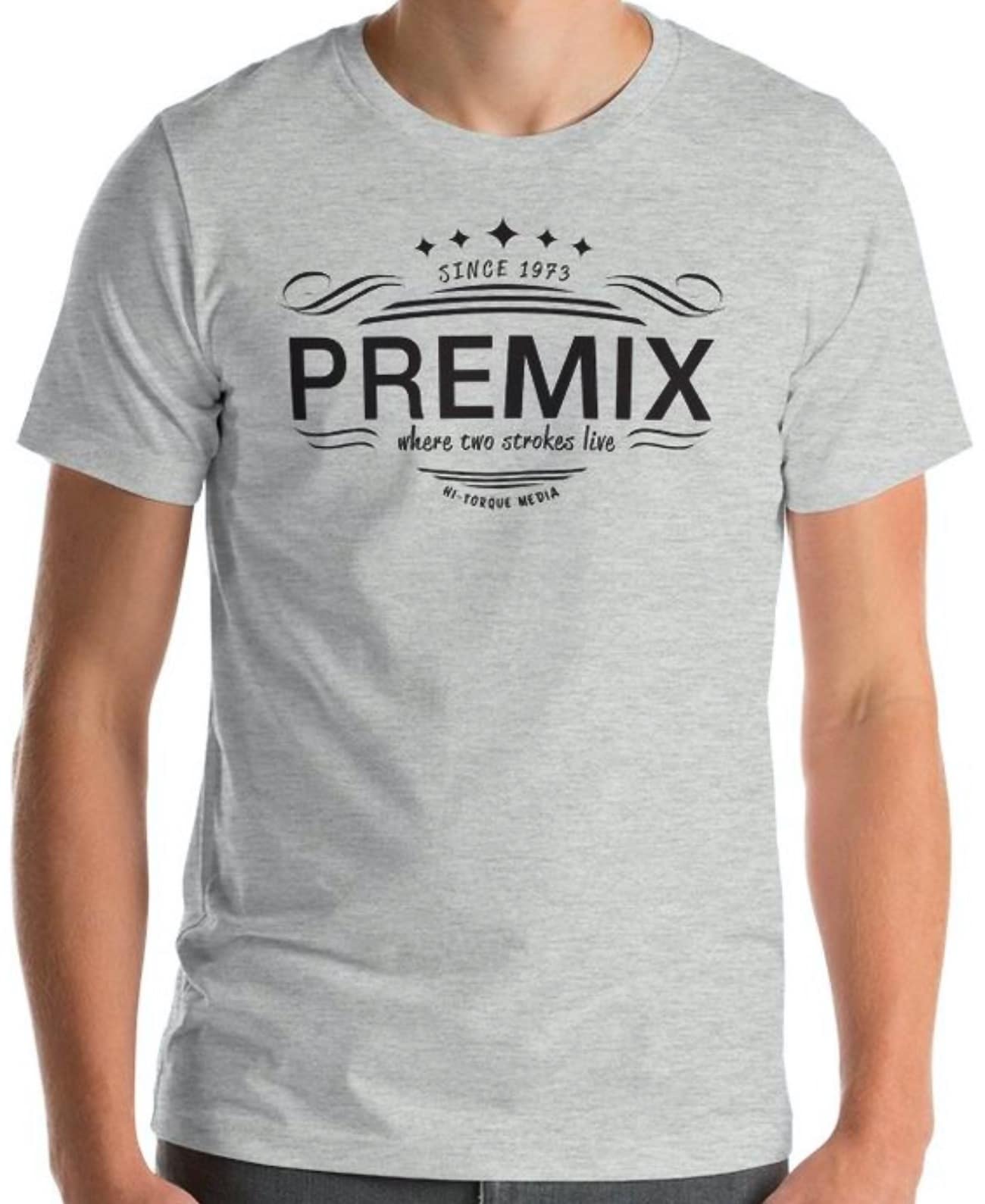 MXA PREMIX T-SHIRT—$29.95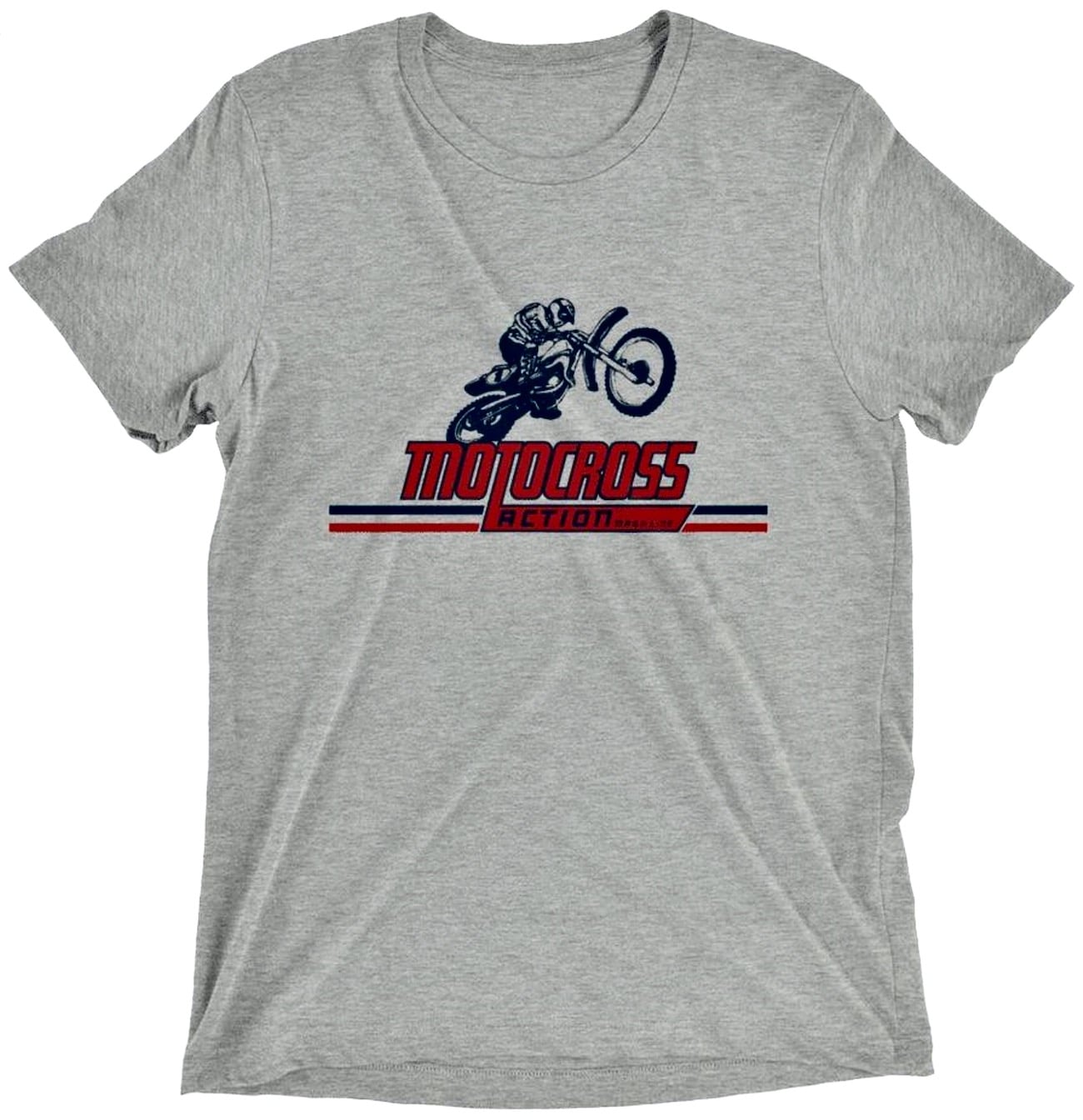 MXA VINTAGE T-SHIRT—$29.95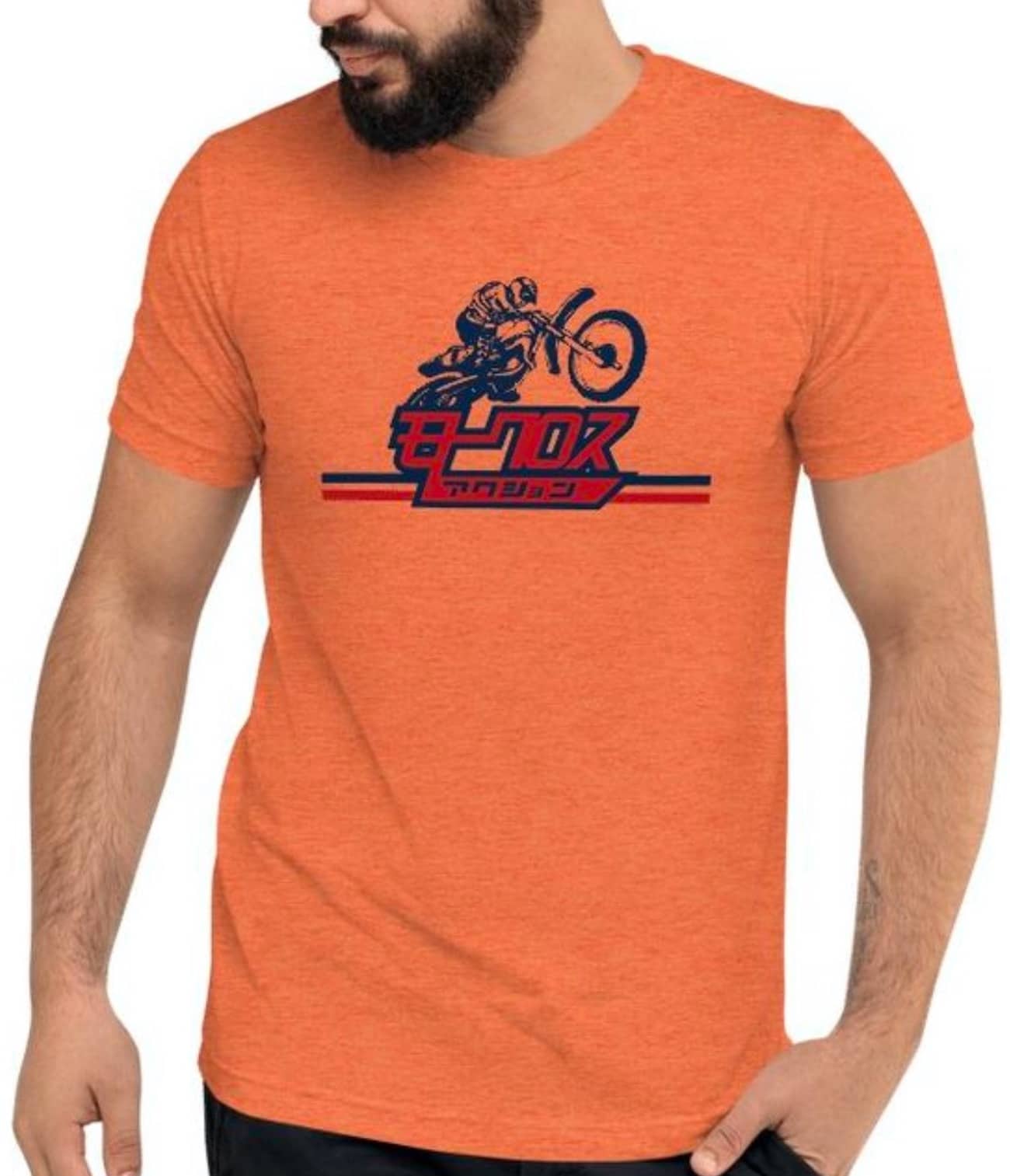 MXA JAPANESE LOGO T-SHIRT—$29.95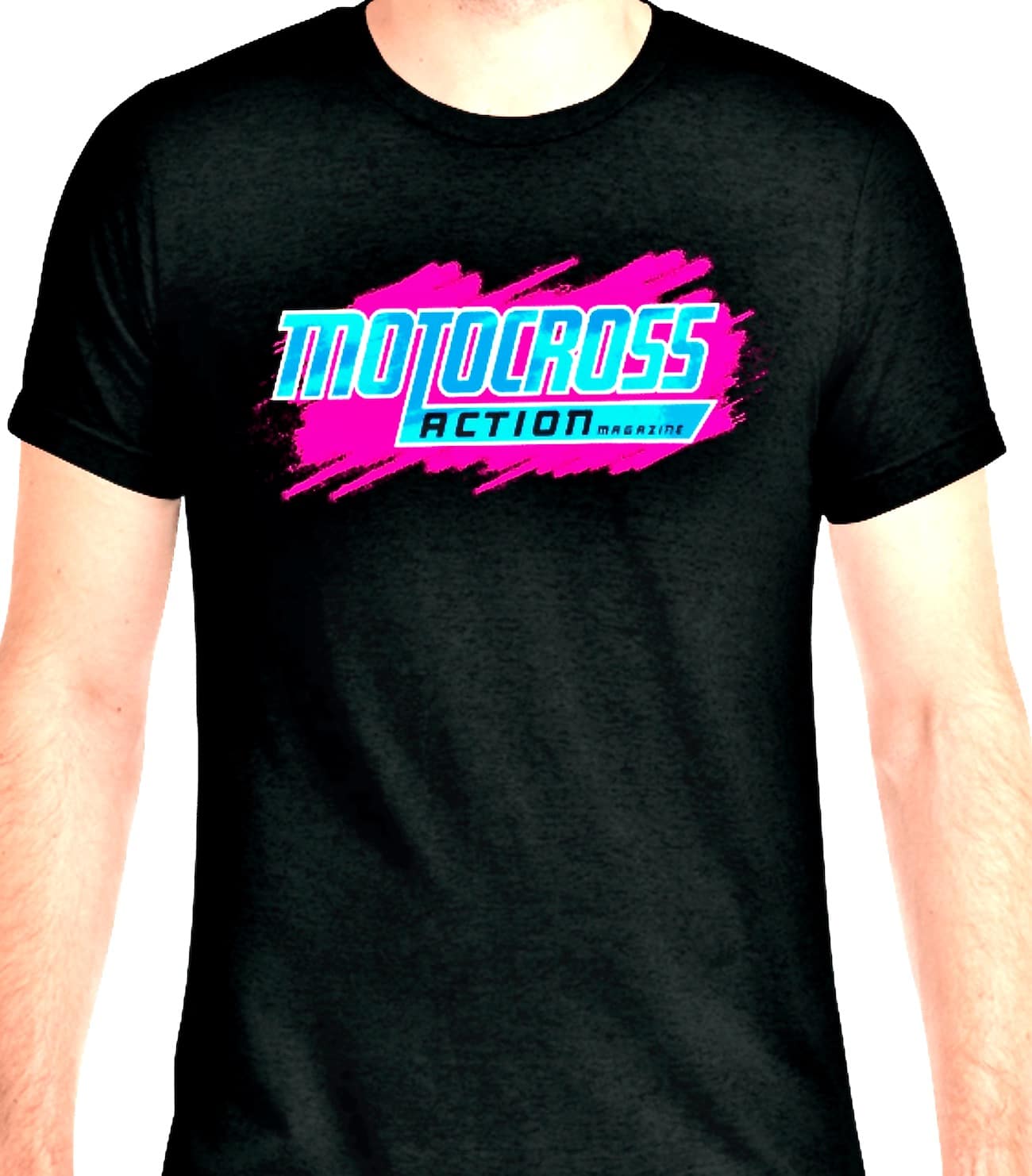 MXA 80s T-SHIRT—$29.95
To see more MXA T-shirts and all the available colors Click Here
• MXA YOUTUBE CHANNEL | HIT THAT SUBSCRIBE BUTTON
The MXA wrecking crew is everything moto related. Check out our MXA YouTube channel for bike reviews, Supercross coverage, rider interviews and much more. And don't forget to hit that subscribe button.