MXA'S WEEKED NEWS ROUND-UP: HORSE SENSE, COMMON SENSE & TWO CENTS
MXA "MAIL ENTRIES"—READERS WRITE & WE RESPOND

Pro Circuit will have five riders split between the two coasts in 2021.
THE 250 SUPERCROSS CLASS DILEMMA
Dear MXA,
It seems a little silly to call the East/West 250 Supercross Championship a development class for upcoming young riders when it is dominated by high-paid factory riders making six figure contracts, flying to each race and pitting out of a factory 18-wheeler. They have full-time trainers, test and race mechanics, get factory bonuses that dwarf the measly 250 Supercross purse structure, race works-tuned bikes and take dives to avoid having to move up. I don't have a horse in this race, but the easiest thing to do to make the 250 East and West concept make sense would be to put an age limit on it—say 23 years old—like in Europe.
The problem with the AMA and race promoters is not getting them to do the easiest thing but getting them to do anything. An age limit might work, but one unified AMA 250 Supercross Championship would work better, but what doesn't work is the AMA ignoring that this system is broken.
EVERYTHING FROM 2006 WAS GOOD
No matter how you cut it, a good deal on a barely used 2006 Suzuki RM-Z450 could be a cheap way into motorcycling.
Dear MXA,
I can get a great deal on a barely used 2006 Suzuki RM-Z450, but since I'm only 25 years old and was only 11 when this particular bike was new I don't know anything about it. Was the 2006 Suzuki RM-Z450 any good? Would it still be a good bike?
It's too bad that you haven't found a barely used 2006 Suzuki RM250 two-stroke, because that was a great bike that was the equal of the Yamaha YZ250. As for the 2006 Suzuki RM-Z450, there is no need to dance around the obvious—if Suzuki had put a five-speed transmission in it instead of a four-speed it would have been a front runner instead of in the middle of the pack. Back in 2006 only two 450s, the Honda CRF450 and Yamaha YZ450F, had five-speed transmissions and they were at the top of the class. The four-speed Suzuki, KTM and Kawasaki and were at the bottom.
Power: Suzuki could have used a broader powerband. It depended too much on throttle response and low-to-mid power and, in the process, lacked peak ponies and over-rev. It's a quick engine, but current trends favor wide spreads of power (with five gears to make the output more versatile). The 2006 Suzuki RM-Z450 does its best work from idle to the middle. The top-end is relatively flat. This is most noticeable when you try to rev the bike out to stretch a gear to the next turn—it doesn't pull through the top-end, but hangs and bangs. As it sat, it was geared too tall.
Suspension: The Suzuki's Showa suspension set-up is good, but not as good as the 2006 YZ450F's SSS stuff or Honda's version of the same Showa parts.
Handling: Handling is the one category where the 2006 Suzuki RM-Z450 shined. The RM-Z450's geometry was razor sharp, super steep and agile as a Russian gymnast, yet the MXA test crew rated it behind the CRF450 in cornering prowess. How can that be! The RM-Z450 has more oversteer than any other make (achieved by a very steep head angle) and that makes the RM-Z twitchy.
MXA's opinion is that the 2006 Suzuki RM-Z450 was an interesting take on how to blend a two- and four-stroke characteristics into a hybrid machine. And there is nothing that wouldn't make the 2006 RM-Z450 a good all-round bike to ride.
WHEN A KTM ISN'T REALLY KTM, OR IS IT
The connection between KTM Motorcycles and KTM Bicycles was solid until 1991, when KTM was broken into four different corporations.
Dear MXA,
I swear that when I was watching a recap of the 2020 Tour de France that I saw a KTM logo on a bike. Did KTM have a team in the Tour?
Yes and no. Before 1991 KTM was a conglomerate that included motorcycles, bicycles, radiators and metal tooling. But the financial downturn of the late 1980s left KTM in serious debt and an Austrian investment firm, named GIT Trust holding, bought a controlling 51 percent interest in KTM. But GIT Trust mismanaged the motorcycle business and was unable to turn KTM around. GIT lost control to a consortium of creditor banks who owned KTM's debt in 1991.
The new management split KTM into four different companies and sold each off separately. The four new companies were KTM Sportmotorcycle GmbH (motorcycles), KTM Fahrrad GmbH (bicycles), KTM Kühler GmbH (radiators) and KTM Werkzeugbau GmbH (tooling). In 1992 Stefan Pierer's Cross Holdings bought the KTM Motorcycle division and took over the tooling division soon after (the tooling company was needed to produce motorcycle engines).
The KTM bicycle division was bought by the Urkauf family, who still own it today. Some of the confusion about which company is owned by who, which neither company minds, is because the motorcycle and bicycle companies both have orange and black as their corporate colors. The B&B Hotel Tour de France team rode carbon fiber KTM Revelator Alto bicycles in the 2020 Tour de France. The team was led by Bryan Coquard and Pierre Rolland.
You can send email or Ask the MXperts questions to [email protected].
ASK THE MXPERTS: WHAT MAP DOES MXA RUN IN IT'S 2020-2021 YZ450F
We run the TP3 map, which stands for Travis Preston 3, you can find it on the Yamaha WiFi app. You can see above that this map richens up the fuel in 11 of  16 boxes. The only box where the fuel is leaned out is at the highest rpm with the throttle wide open. Each number on the fuel maps represents a 2% increase (or decrease) per number. Thus a "1" is 2 percent more fuel, a "2" is 4 percent more and an "-1" is 2 percent less fuel. As for the ignition maps (on the right side of the chart) each number represent one degree of advanced or retarded ignition timing. This ignition map advances the ignition in 13 out of 16 boxes. Two of the boxes, have "O" in them, that means they are unchanged from stock, while the box in the lower right is retarded 3 degrees at the least throttle opening, but the highest rpm. As you can see, the 2020 YZ450F likes more fuel and lots of ignition advance.
One of the pluses on the 2020-21 YZ450F is that it has a button on the  clutch side of the handlebars that allows the rider to switch between the stock map and a performance map (the performance map will be indicated by the blue button lighting up). MXA always keeps the stock map accessible (when the light isn't lit) so we can make quick comparison for changing track conditions. This way you can change maps on the fly, but be careful because the map button is too far inboard on the bars to do it without some effort. If you don't load a different map, then both maps  (lit and unlit) will have the identical stock map—regardless of the light.
NEW 2021 SUPERCROSS SCHEDULE: PHOENIX DROPPED & THE 250 EAST/WEST SERIES PLAYS MUSICAL CHAIRS
The 2021 Supercross finale is scheduled for May 1 in Salt Lake City. Hopefully spectators will be allowed unlike the last time in SLC.
The planned Arizona rounds were dropped because of attendance restrictions and health mandates and after the trio of Houston and Indy rounds, Orlando has been added to the schedule for two races on Saturday, February 13 and Saturday, February 20. The annual Daytona is the the ninth race on the schedule (although only the fourth venue) on Saturday, March 6. The 2021 Supercross series will return to Texas for three rounds in Arlington's AT&T Stadium in the span of 8 days (March 13, 16 & 20). In a twist, Atlanta Motor Speedway will host three outdoor Daytona-Style Supercross races on Saturday, March 13; Tuesday, March 16; and Saturday, March 20. The final two races of the 17-race 2021 AMA Supercross series will be in Salt Lake City on Saturday, April 24 and Saturday, May 1.
The 250 East/West series has flip-flopped like a flounder on the beach. On Wednesday of this week Feld announced that the three rounds in Houston were 250 West races, but all the changed on Thursday. Now, Houston, Indy and the first round in Orlando are all East rounds. The second round in Orlando is a 250 West race, as is Daytona and the three rounds in Arlington, Texas.  The 250 East returns for the three rounds at Atlanta Motor Speedway—plus the penultimate round in Salt Lake City. The final race is the East/West Showdown in Salt Lake.
All in all, the 2021 AMA Supercross series will hold 13 races on Saturdays and four on Tuesdays (Houston, Indy, Arlington and Atlanta). They will race 17 races in 7 cities in 5 states (Texas 6 races, Florida 3 races, Indianapolis 3 races, Georgia 3 races and Utah 2 races).
REVISED 2021 AMA SUPERCROSS CHAMPIONSHIP (UPDATE)
Jan. 16 (Saturday)…Houston, TX (250 East)
Jan. 19 (Tuesday)….Houston, TX (250 East)
Jan. 23 (Saturday)…Houston, TX (250 East)
Jan. 30 (Saturday)…Indianapolis, IN (250 East)
Feb. 2 (Tuesday)….Indianapolis, IN (250 East)
Feb. 6 (Saturday)…Indianapolis, IN (250 West)
Feb. 13 (Saturday)…Orlando, FL (250 East)
Feb. 20 (Saturday)…Orlando, FL (250 West)
Mar. 6 (Saturday)…Daytona Beach, FL (250 West)
Mar. 13 (Saturday)…Arlington, TX (250 West)
Mar. 16 (Tuesday)… Arlington, TX (250 West)
Mar. 20 (Saturday)…Arlington, TX (250 West)
Apr.10 (Saturday)…Atlanta, GA (250 East)
Apr.13 (Tuesday)…Atlanta, GA (250 East)
Apr.17 (Saturday)…Atlanta, GA (250 West)
Apr. 24 (Saturday)…Salt Lake City (250 East)
May 1 (Saturday)…Salt Lake City (250 East/West)
DEBBI TAMIETTI'S REM PHOTO SITE: NEED A PHOTO FOR YOUR CHRISTMAS CARD?
Jon Ortner.
Famous moto-photographer Debbi Tamietti goes to every REM race at Glen Helen to be with her former CMC Number One  husband Val Tamietti. And while it isn't the AMA Nationals, Grands Prix or Motocross des Nation that she is used to shooting photos at, she loves to shoot photos. Here are few of her snaps from a Saturday  at Glen Helen—she has plenty more on her site.
Kent Reed.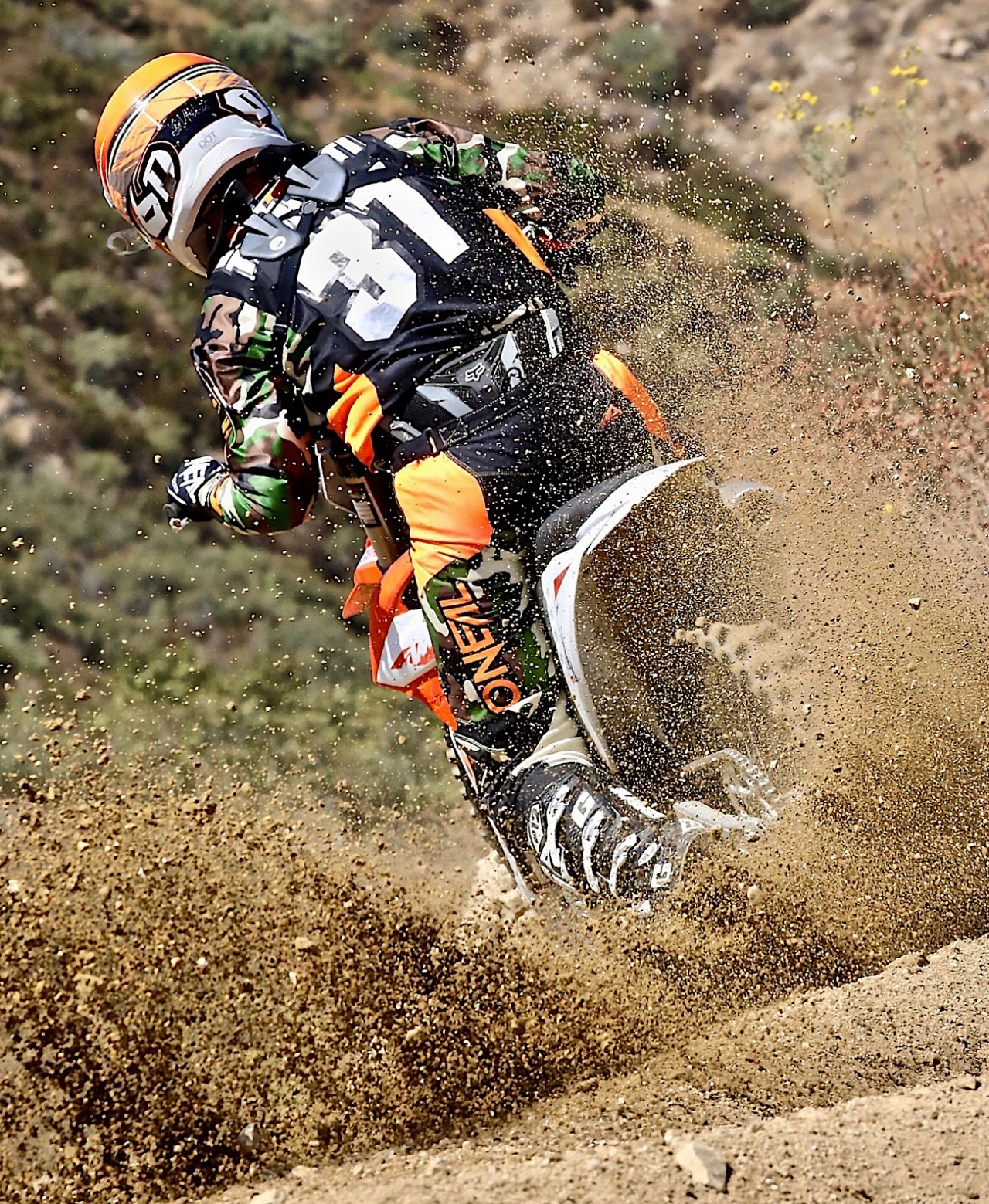 Val Tamietti.
The Over-50 Experts.
Debbi puts all the photos she shoots at Glen Helen up on her SmugMug page, where REM racers can peruse the hundreds of photos she shoots and order digital photos for as little a $1.50. Debbi gives all the money she makes to charity. To see all of her photos, organized by races go to www.debbitamietti.smugmug.com
BIKES YOU WISH YOU HAD RIDDEN: THREE-SPEED VERTEMATI V495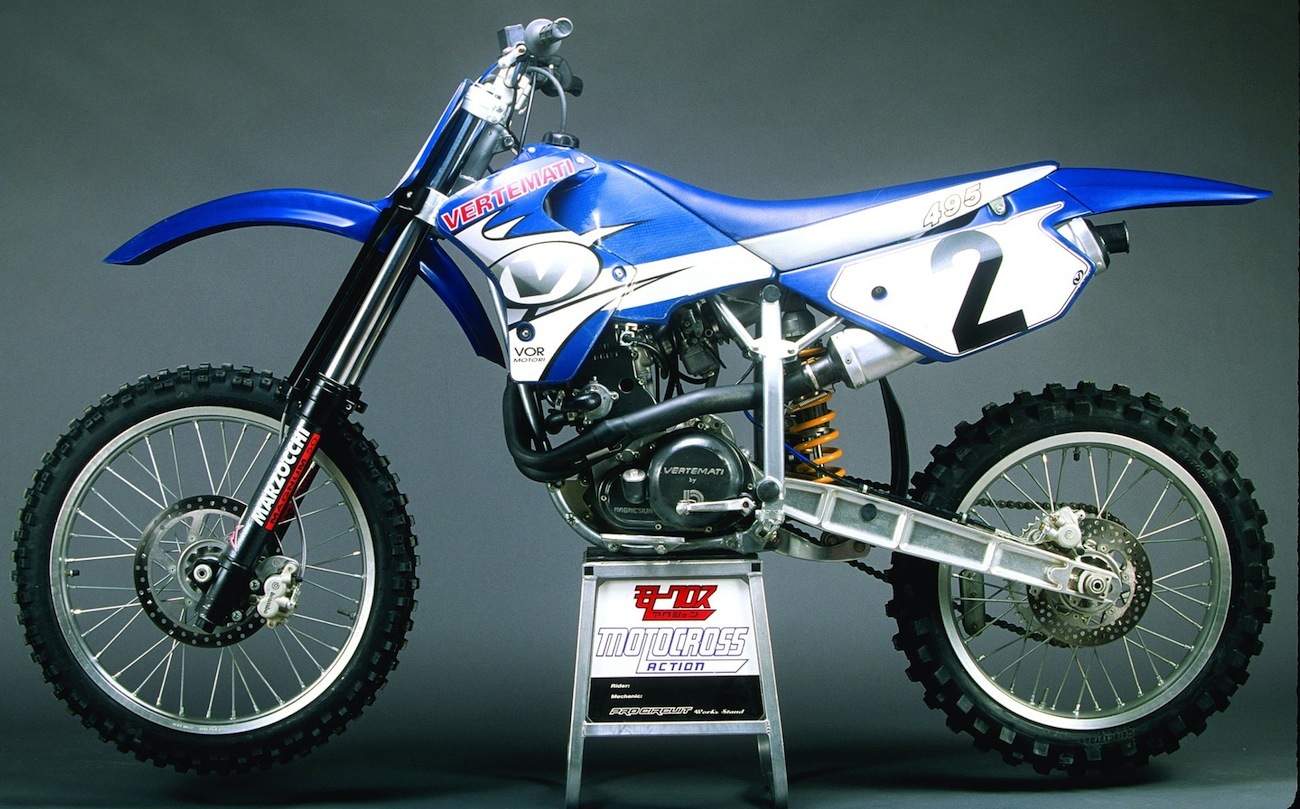 This Italian built Vertemati V495 was as rare as hens teeth. The exotic bike featured a hand-built engine, odd bolt-together frame and a three-speed gearbox, with neutral on the bottom.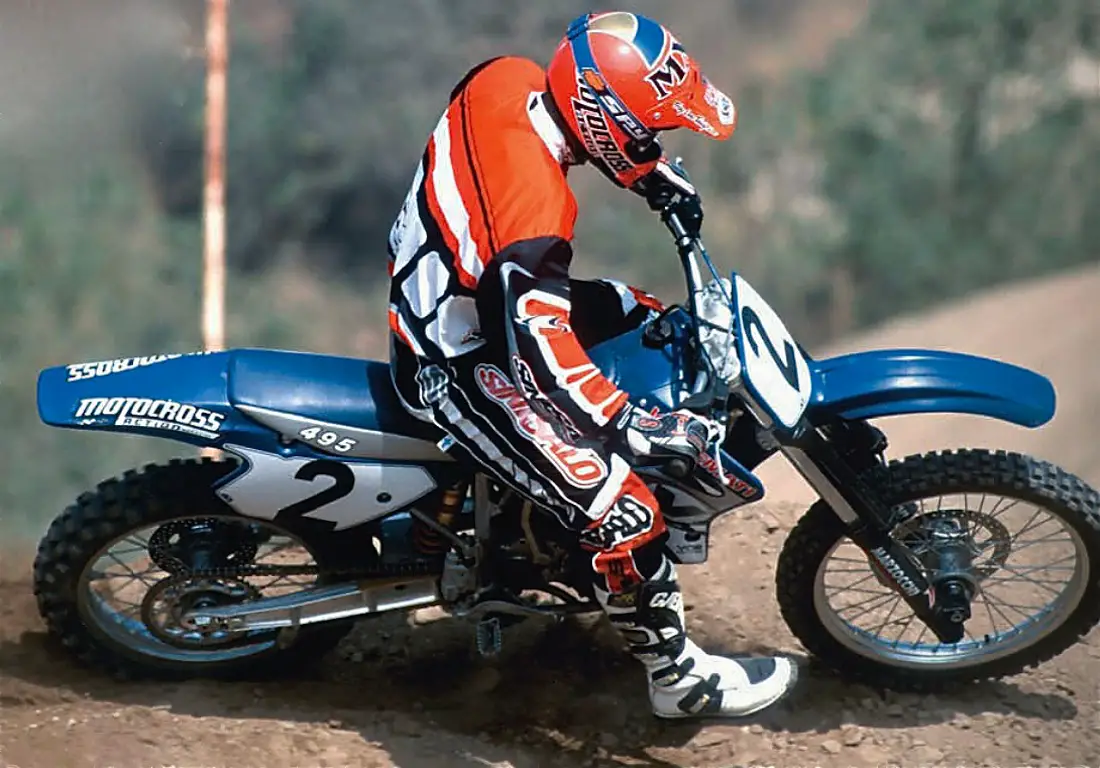 MXA test rider Willy Musgrave raced the V495 several times, but couldn't come to terms with the tall chassis, flexible frame and three-speed gearbox. It wasn't the dream bike everybody thought it was.
BIKES YOU WISH YOU HAD RIDDEN: A 75 HORSEPOWER, METHANOL-FUELED JAWA SPEEDWAY BIKE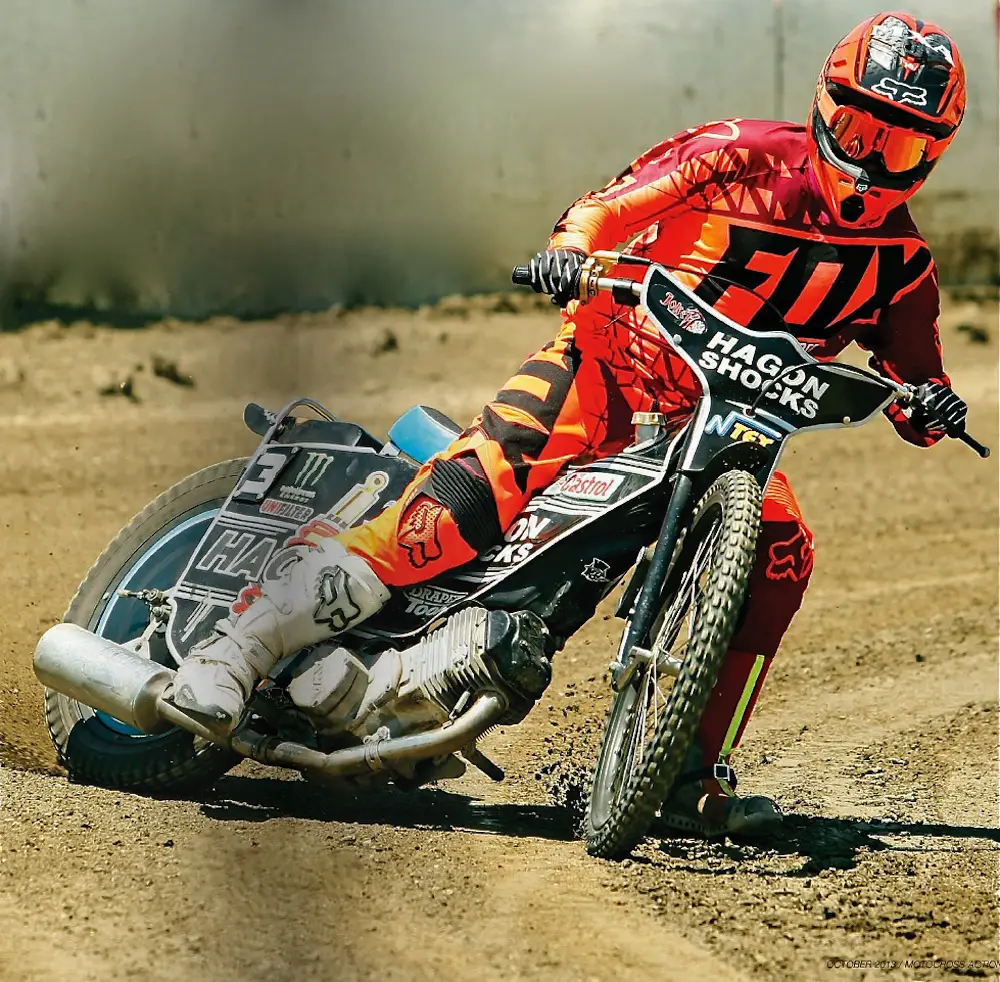 MXA's Daryl  Ecklund adapted fairly quickly to the Jawa Speedway bike — by forgetting everything he knew about riding a  motocross bike.
The MXA wrecking crew loves bikes — all kinds of bikes — and we have tested and raced lots of different types of dirt machines. We have tested dirt trackers, snowmobiles, sidecars, pogo sticks, GNCC bikes, endurocross bikes, electric bikes, snow bikes, Paris-Dakar bikes, ice racers and road racers between our day job testing motocross bikes. Yes, we know, it isn't motocross — and that's what we like about it. It gives us a chance to see how the other half lives and to have fun doing it.
The 500cc, four-stroke, single-speed Jawa engine can accelerate from zero to 60 in three seconds, but in our hands it tried to hit the wall in 2.5 seconds. All Speedway bikes run on methanol and the gas tanks only hold enough fuel to go eight laps — about two minutes.
MXA'S HANDY-DANDY PRE-MIX RATIO CHART BY GALLON & RATIO
This easy-to-use chart tells you how much oil to pour into 1 , 2,  2.5, 3, 4 or 5 gallons of gas to get the proper oil-to-gas ratio you are looking for. MXA typically runs Maxima K2 at 40:1 —which would be 16 ounces of oil to 5 gallons of gas. If we didn't need 5 gallons, but only wanted 1 gallon of premix, we would a 3.20 ounces to 1 gallon of gas. All you have to do is pick your favorite premix ratio and follow the chart to how many gallons you want.
MXA SHOOTOUT VIDEO: 2021 HONDA CRF450 VERSUS HUSQVARNA FC450
MXA FIRST RIDE VIDEO: 2021 GASGAS MC 450F
THE FINAL ROUND OF THE 2020 REM SEASON—WITH THE NUMBER ONE PLATE HANGING IN THE BALANCE—IS THIS SATURDAY
REM will hold its final race of the 2020 season on Saturday, December 19. The year-long points chase has narrowed down to two former Pro racers, Will Harper and Robert Reisinger, battling for the title of the Number One rider at Glen Helen. A couple weeks ago, there were four riders vying for the crown, but Val Tamietti got injured and Dave Eropkin had a bad day at the last race and finished out of the top five. Harper  has a big points lead, but anything can happen, just ask Val and Dave.
2020 REM GLEN HELEN POINTS STANDINGS
(with one race left)
1. Will Harper (Over-60 Expert)…384
2. Robert Reisinger (Over-60 Expert)…356
3. Dave Eropkin (Over-60 Expert)…344
4. Val Tamietti (Over-60 Expert)…294
5. Giovanni Spinali (Over-50 Expert)…250
6. John Griffin (Over-50 Expert)…234
7. Randy Skinner (Over-60 Expert)…224
8. Lonnie Paschal (Over-60 Int)…214
9. Val Tamietti (Over-50 Expert)…206
10. Gene Boere (Over-65 Int)…200
Other notables: 11. Joe Sutter (199); 12.Mike Monaghan (192); 13. Bill Reimer (186); 14. Mike Phillips (18); 15. Ron Lawson (174).
MXA PHOTO OF THE WEEK: TEACHING YOUR PET TO RIDE

Jody with his Kiss helmet and his meanest goose back in 1979.
HAVE YOU SEEN THE JANUARY 2021 ISSUE OF MXA YET?
What's in the newest issue of MXA? How about full tests on the 2021 Husqvarna FC250, 2021 Honda CRF450,  2021 Yamaha YZ125, 2021 Kawasaki KX250 and Mike Alessi's World Two-Stroke Championship winning ESR Yamaha YZ325.
HOW TO SUBSCRIBE TO MXA SO THAT YOU NEVER MISS ANOTHER ISSUE, PLUS GET A $25 ROCKY MOUNTAIN GIFT CARD TO COVER YOUR COSTS
If you subscribe to MXA you can get the mag on your iPhone, iPad, Kindle or Android by going to the Apple Store, Amazon or Google Play or in a digital version. Even better you can subscribe to Motocross Action and get the awesome print edition delivered to your house by a uniformed employee of the U.S. Government. Did we mention the $25 gift card for any part you want from Rocky Mountain ATV/MX? You can call (800) 767-0345 or Click Here (or on the box at the bottom of this page) to subscribe.
MXA TEAM TESTED: ARC MEMLON UNBREAKABLE COMPOSITE LEVERS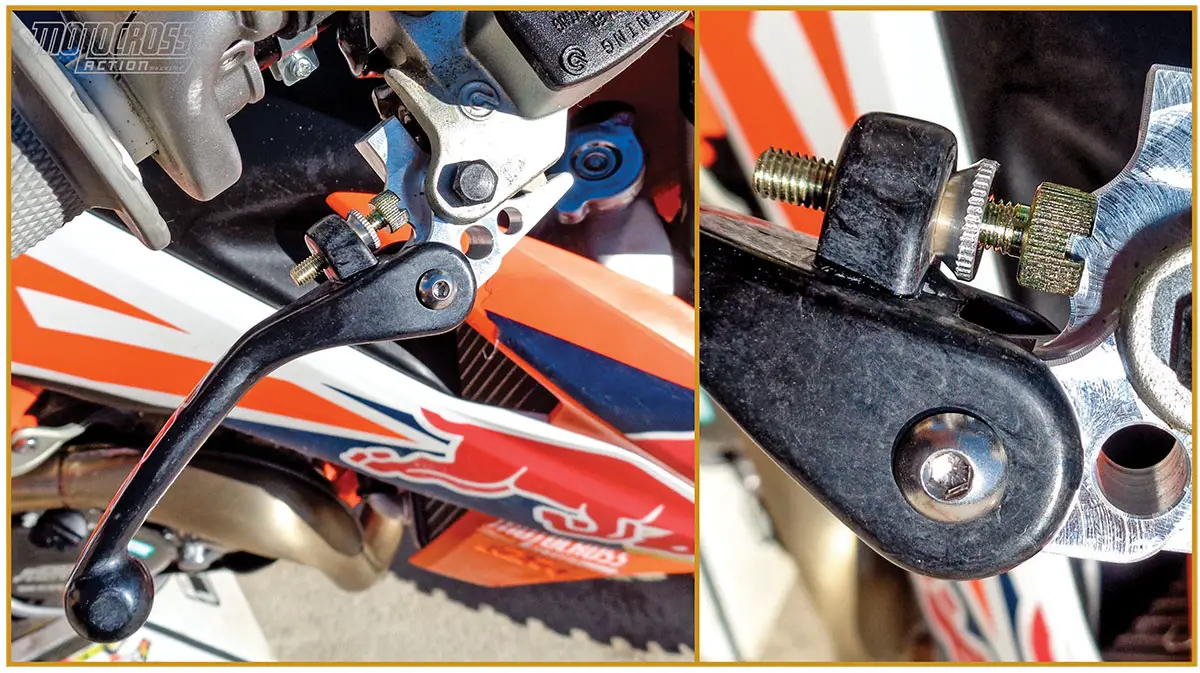 ARC has risen to fame for its composite, unbreakable, folding Memlon levers, but for riders who don't want nylon-style levers, ARC makes forged aluminum levers that mimic the Memlon shape. Marketing 101 always advises business owners to name their product with a name that is colorful, understandable and easy to pronounce, like Big Gulp. By no stretch of the imagination would Wall Street approve of the name Mnemlon—which is what ARC originally named their unbreakable lever.  What does it mean? Its origin is the Greek word mnemonikos ("memory") combined with nylon (although the composite levers have no nylon in them). It is pronounced "Nem-Lawn." As Wall Street predicted, ARC owner Bob Barnett was forced to change the spelling of Mnemlon to an easier-to-read and pronounce Memlon after the first year of production.
Here's a list of things that stand out with ARC's Memlon composite clutch and brake levers. You don't have to be a factory rider to get the same levers that are on the factory bikes. The Memlon levers are almost flawless. Plus, they fold in a crash and are solidly built. ARC experimented with 14 different mixtures of materials in search of the perfect degree of flexibility and crash resistance.
Since the composite Memlon levers are unbreakable, their lifetime warranty is a given. As for the forged aluminum levers, ARC will replace them for $15 (to cover shipping and handling).
Although it is the cheapest unbreakable lever made, it is much more expensive than most aftermarket aluminum levers. Factory teams run it because they can't afford to lose a race because of a broken lever, thus the $70 price tag is just an insurance policy for them. The Memlon shape is a little wider with more gripping space when compared to the previous ARC aluminum levers. Some MXA test riders preferred the thinner levers over the Memlon shape. Memlon levers are more flexible than aluminum' which is why they don't break. When sitting still in the pits, the MXA test riders could flex the levers very far, but once on the track, no test rider noticed that the levers had any excess flex.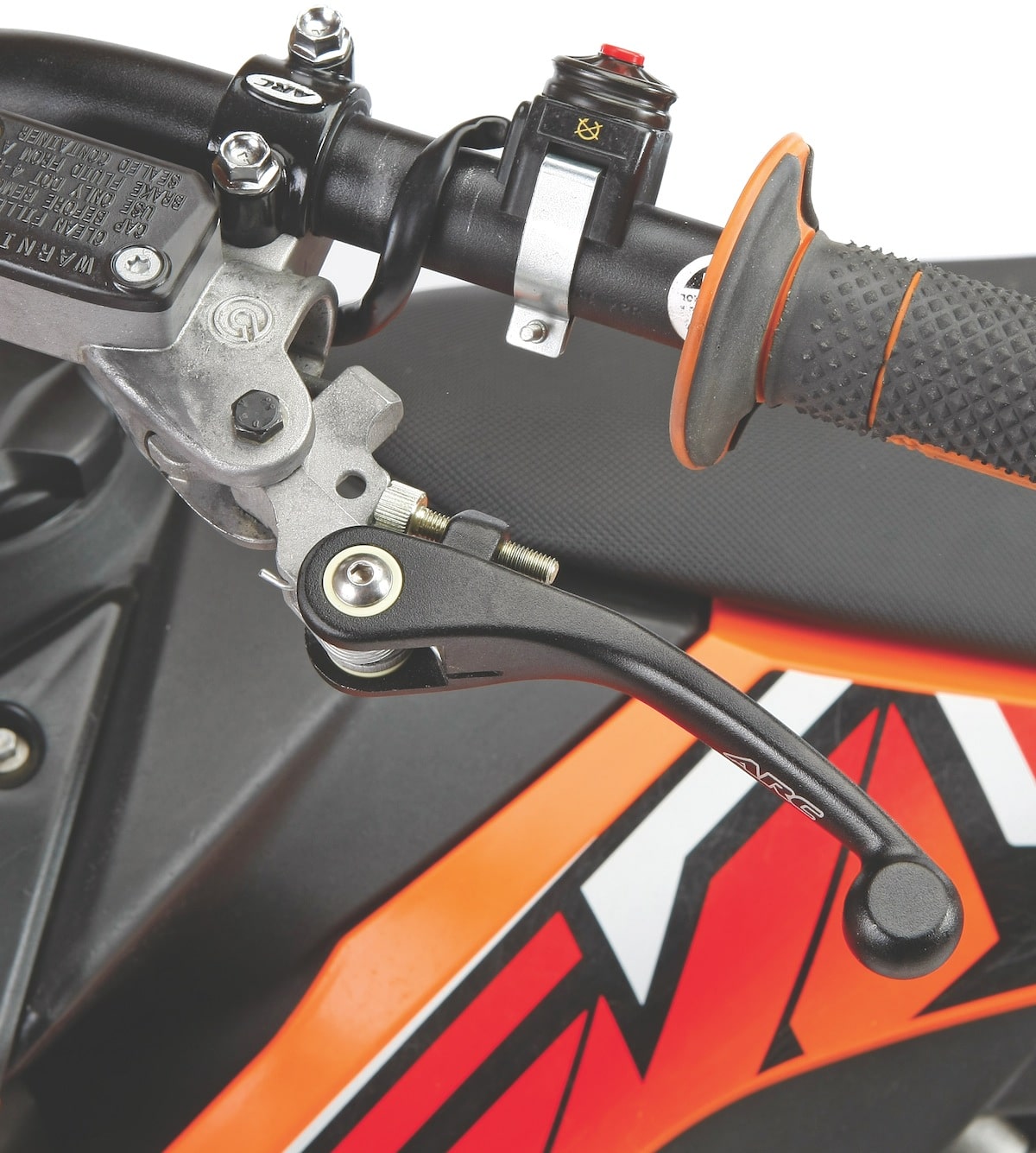 DIGITS? $69.99 (brake or clutch)—www.arclevers.com or (714) 543-0362.
MXA RATING: Factory teams will not run a product unless they have 100 percent faith in it, and ARC levers are on more factory bikes than any other lever. The motocross world has been crying out for an unbreakable lever for the last 50 years. Guess what? It's here.
PANICREV'S WINTER CAMP AT GLEN HELEN ON DECEMBER 28-30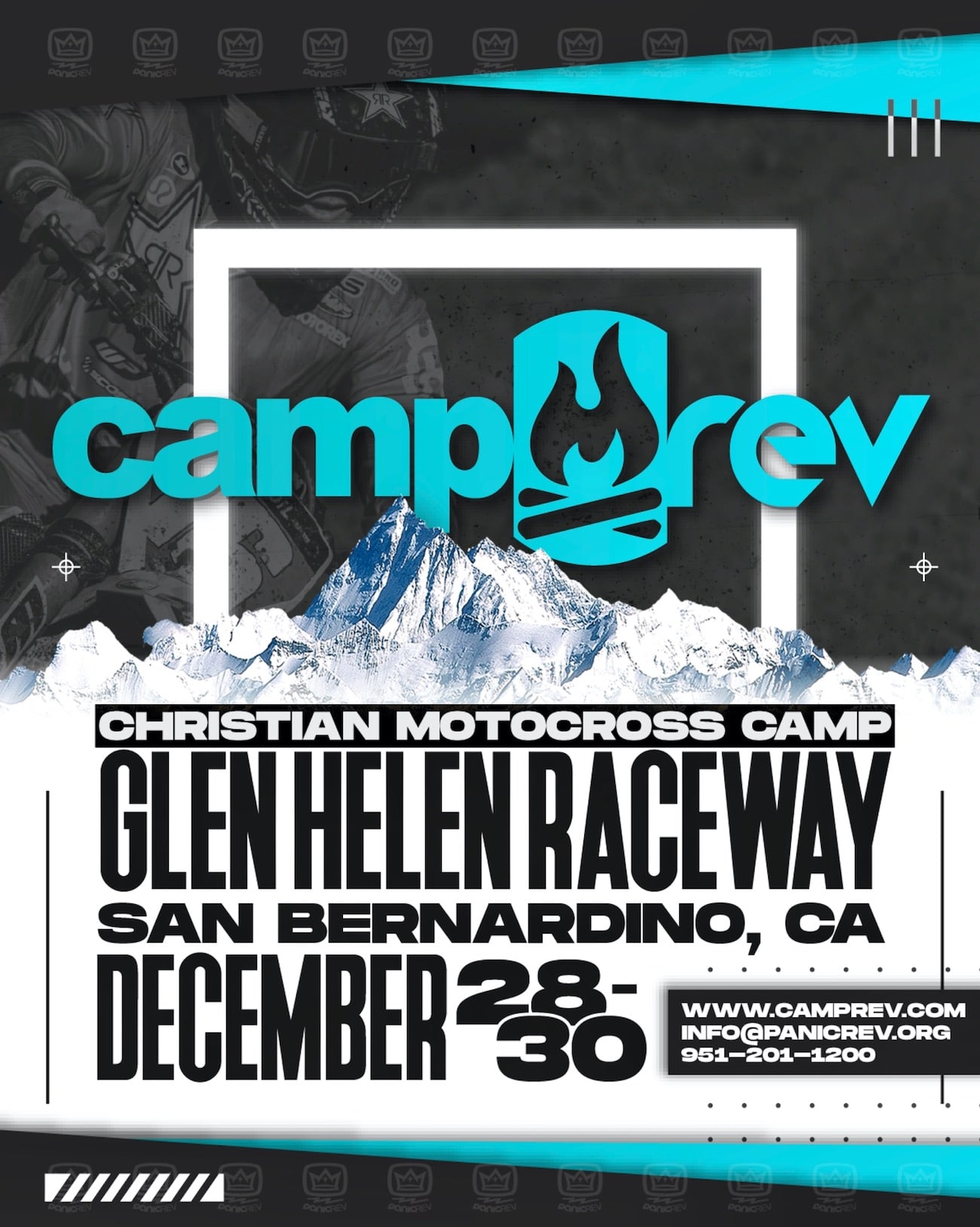 PanicREV is excited to announce their Western Region Winter Camp at Glen Helen Raceway in Southern California on December 28, 29 & 30! CampREV is designed to help give riders a solid spiritual, physical and technical foundation through their world class program. CampREV is set up for riders of all ages and skill levels that are looking to take their skills on the racetrack to a new level! This is achieved by breaking everyone up into groups based on their ages and skill levels. CampREV features daily chapel services and prayer, in addition to refining skills such as conditioning, corners, jumping, starts, riding position, technique and a whole lot of fun! Come bring in the new year with CampRev at Glen Helen and have the time of your life! For more info go to www.camprev.com
MXA SHOOTOUT VIDEO: 2021 KAWASAKI KX450 VERSUS YAMAHA YZ450F
MXA FIRST RIDE VIDEO: 2021 GASGAS MC 250F
MXA AD OF THE WEEK: 2010 UNITED STATES GRAND PRIX AT GLEN HELEN
The pulling power of the European Grand Prix riders was tested at Glen Helen in 2010—and it turned out that very few American fans were interested.
KEEPING TRACK OF THE 2021 RACE SCHEDULES
The 17-round 2021 Supercross series is coming back, but it is only coming to  7 towns in 5 states.
2021 AMA KICKER ARENACROSS CHAMPIONSHIP
Jan. 8…….Starkville, MS
Jan. 9…….Starkville, MS
Jan. 15…….Lubbock, TX
Jan. 16…….Lubbock, TV
Jan. 22…….Guthrie, OK
Jan. 23…….Guthrie, OK
Jan. 29…….Denver, CO
Jan. 30…….Denver, CO
Feb. 5…….Reno, NV
Feb. 6…….Reno, NV
Mar. 5…….Amarillo, TX
Mar. 6…….Amarillo, TX
REVISED 2021 AMA SUPERCROSS CHAMPIONSHIP (UPDATED)
Jan. 16 (Saturday)…Houston, TX (250 West)
Jan. 19 (Tuesday)….Houston, TX (250 West)
Jan. 23 (Saturday)…Houston, TX (250 West)
Jan. 30 (Saturday)…Indianapolis, IN (250 West)
Feb. 2 (Tuesday)….Indianapolis, IN 250 West)
Feb. 6 (Saturday)…Indianapolis, IN (250 West)
Feb. 13 (Saturday)…Orlando, FL (250 East)
Feb. 20 (Saturday)…Orlando, FL (250 East)
Mar. 6 (Saturday)…Daytona Beach, FL (250 East)
Mar. 13 (Saturday)…Arlington, TX (250 East)
Mar. 16 (Tuesday)… Arlington, TX (250 East)
Mar. 20 (Saturday)…Arlington, TX (250 East)
Apr.10 (Saturday)…Atlanta, GA (250 East)
Apr.13 (Tuesday)…Atlanta, GA (250 East)
Apr.17 (Saturday)…Atlanta, GA (250 West)
Apr. 24 (Saturday)…Salt Lake City (250 West)
May 1 (Saturday)…Salt Lake City (250 East/West)
2021 PROVISIONAL GRAND PRIX SCHEDULE (UPDATED)
Apr. 3…Muscat, Oman
Apr. 25…TBA, Italy
May 16…Agueda, Portugal
May 23…Oss, Holland,
May 30…Teutschenthal, Germany
Jun. 13…Orlyonok, Russia
Jun. 20…Kegums, Latvia
Jul. 4…Jakarta, Indonesia
Jul. 11…Semarang, Indonesia
Jul. 25…Locket, Czech Republic
Aug. 1…Lommel, Belgium
Aug 8…Uddevall, Sweden
Aug. 22…KimiRing, Finland
Aug. 29…Igora, Russia
Sep. 12…Afyonkarahisar, Turkey
Sep. 19…TBA, China
Oct. 10…St, Jean d'Angely, France
Oct. 17…Intu Xanadu, Spain
Oct. 31…TBA
Nov. 14…Neuquen, Argentina
2021 AUSTRALIAN NATIONAL CHAMPIONSHIP
Apr. 11…Wonthaggi, VIC
May 2 …Canberra, ACT
May 30…Gillman, SA
Jun. 27…Maitland, NSW
Jul. 25…Wodonga, VIC
Aug. 9…TBA, QLD
Aug. 14….Coolum, QLD
Aug. 14….Coolum, QLD
2021 ADAC GERMAN NATIONAL CHAMPIONSHIP
Apr.18…Dreetz
May 16…Moggers
Jun. 6…Reutlingen
Jul. 3…Bielstein
Jul. 18…Tensfeld
Sep. 5…Princely Drehna
Sep. 9…Gaildorf
2021 MOTOCROSS DES NATIONS
Sep. 26…Imola, Italy
MXA'S "FIRST RIDE" LIBRARY: PICK YOUR BIKE AND ENJOY
MXA FIRST RIDE VIDEO: 2021 KAWASAKI KX250
MXA FIRST RIDE VIDEO: 2021 KAWASAKI KX450
MXA FIRST RIDE VIDEO: 2021 KAWASAKI KX450X OFF-ROAD BIKE
MXA FIRST RIDE: 2021 KTM 250SXF
MXA FIRST RIDE VIDEO: 2021 KTM 350SXF
MXA FIRST RIDE VIDEO: 2021 KTM 450SXF
MXA FIRST RIDE VIDEO: 2021 YAMAHA YZ250 TWO-STROKE
MXA FIRST RIDE VIDEO: 2021 YAMAHA YZ250F
MXA FIRST RIDE VIDEO: 2021 YAMAHA YZ450F
MXA FIRST RIDE VIDEO: 2021 HUSQVARNA FC450
MXA FIRST RIDE VIDEO: 2021 HONDA CRF250
MXA'S FIRST RIDE VIDEO: 2021 HONDA CRF450
JOIN MXA'S FLIPBOARD PAGE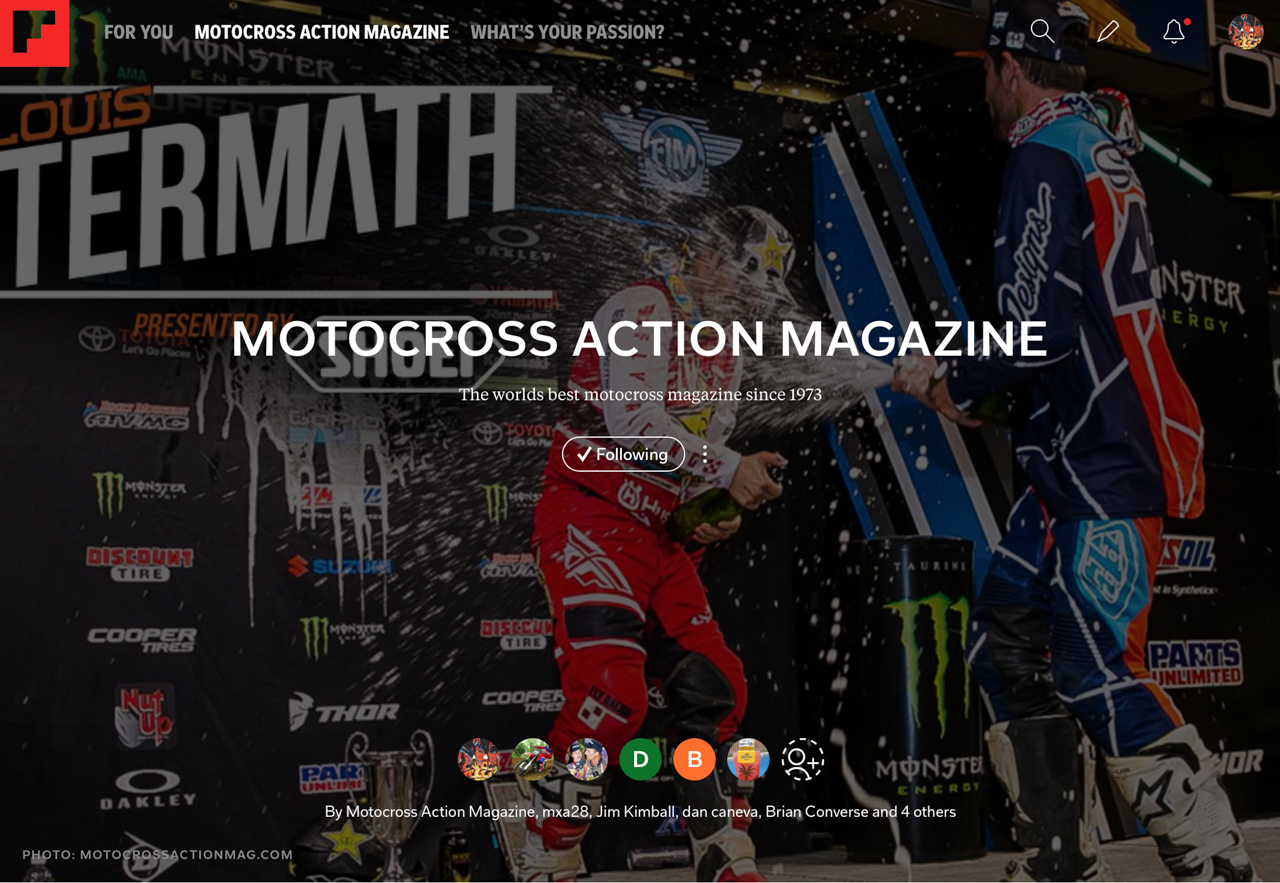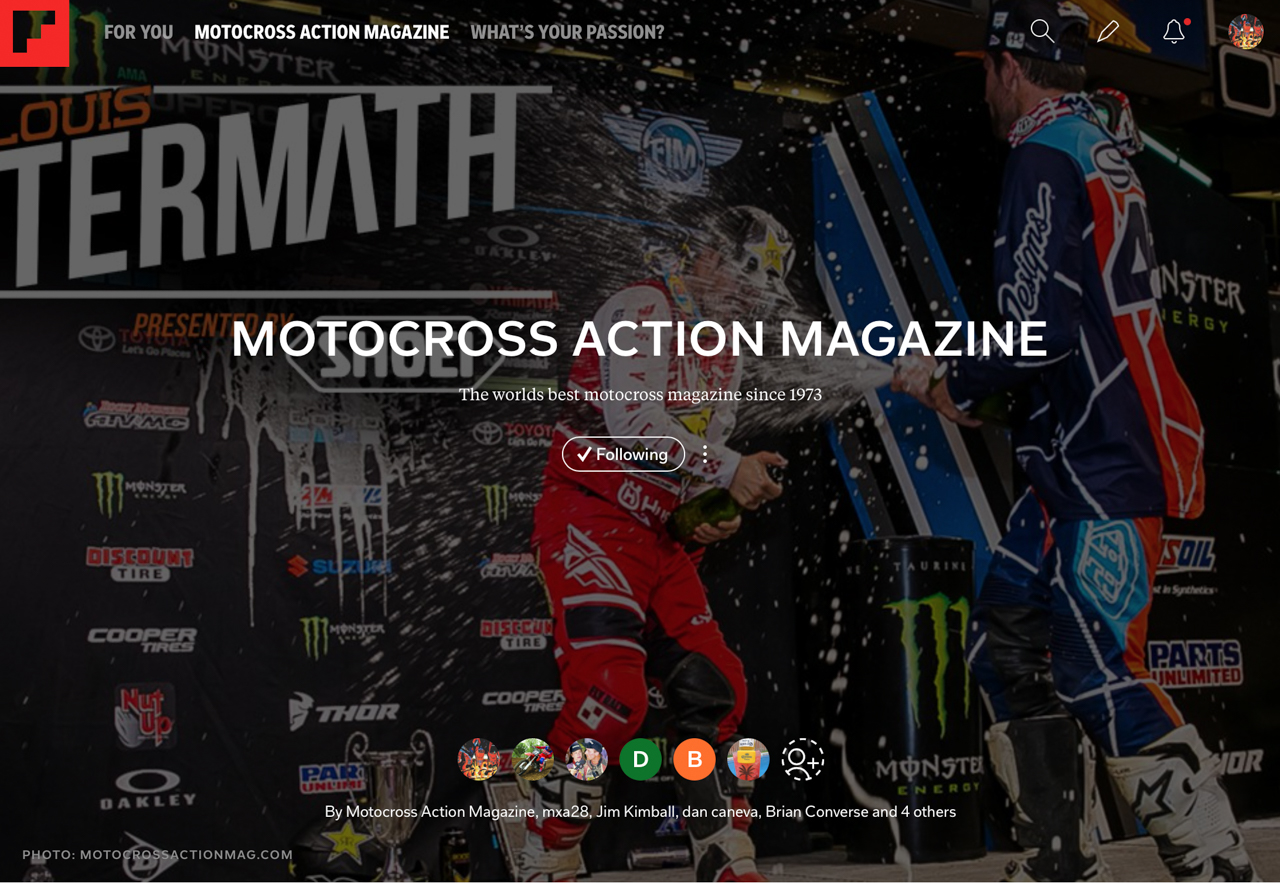 If you use Flipboard make sure to subscribe to the Motocross Action page for all the updates on our website. Click HERE to check out the page.