MXA WEEKEND NEWS ROUND-UP: HOW DID ROGER AND RONNIE MAKE THE NEWS?
RON LECHIEN TO BE INDUCTED INTO THE AMA HALL OF FAME

The AMA Motorcycle Hall of Fame will welcome motocross champion Ron Lechien to the 2019 AMA Motorcycle Hall of Fame. The induction ceremony is part of the 2019 AMA Legends & Champions Weekend, December 6-7 at the Hilton Columbus Downtown.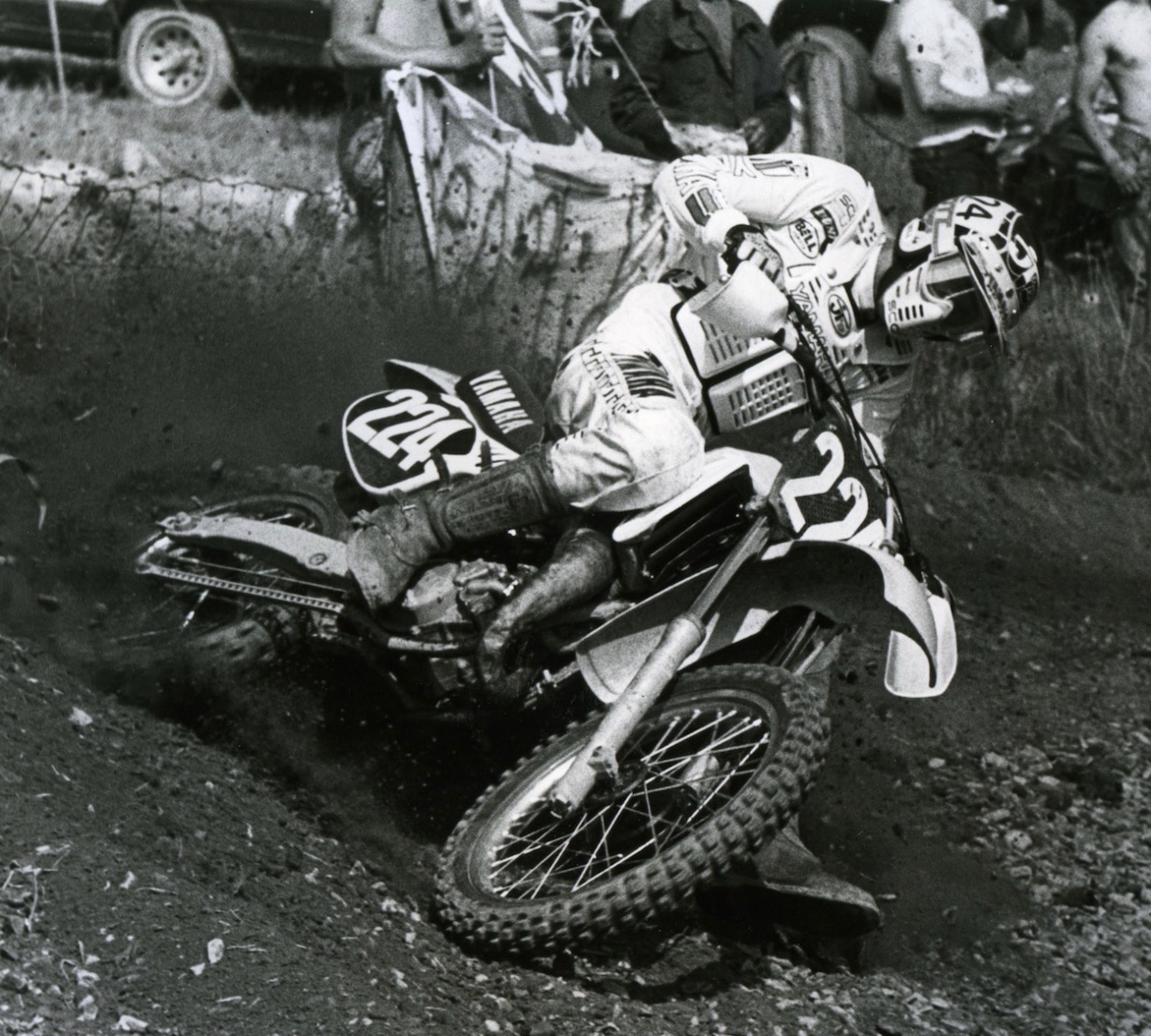 Everybody starts with a three digit number, but we rarely remember them 36 years later. We remember Ron's first year.
El Cajon, California., native Ron Lechien competed against some of the greatest motocross racers in history throughout the 1980s, winning 26 nationals and the 1985 125cc AMA National Motocross Championship. Lechien's natural talent and smooth riding style made him unmistakable on the track. His seemingly effortless speed translated across classes, and he earned wins in 125cc, 250cc and 500cc motocross competition, as well as in 250cc Supercross, the premier class at the time.
"Think overall" That was counter-intuitive to Ron's racing style.
Lechien, born December 13, 1966, won the 1985 125cc AMA Motocross Championship and was without question one of the era's top riders. Lechien finished in the top three in national points 10 times out of the 18 series he contested full time. Lechien raced 158 races in his career and made the podium in 80 of them. Over half the time he raced, Lechien stood on the podium among some of the greatest American racers of all time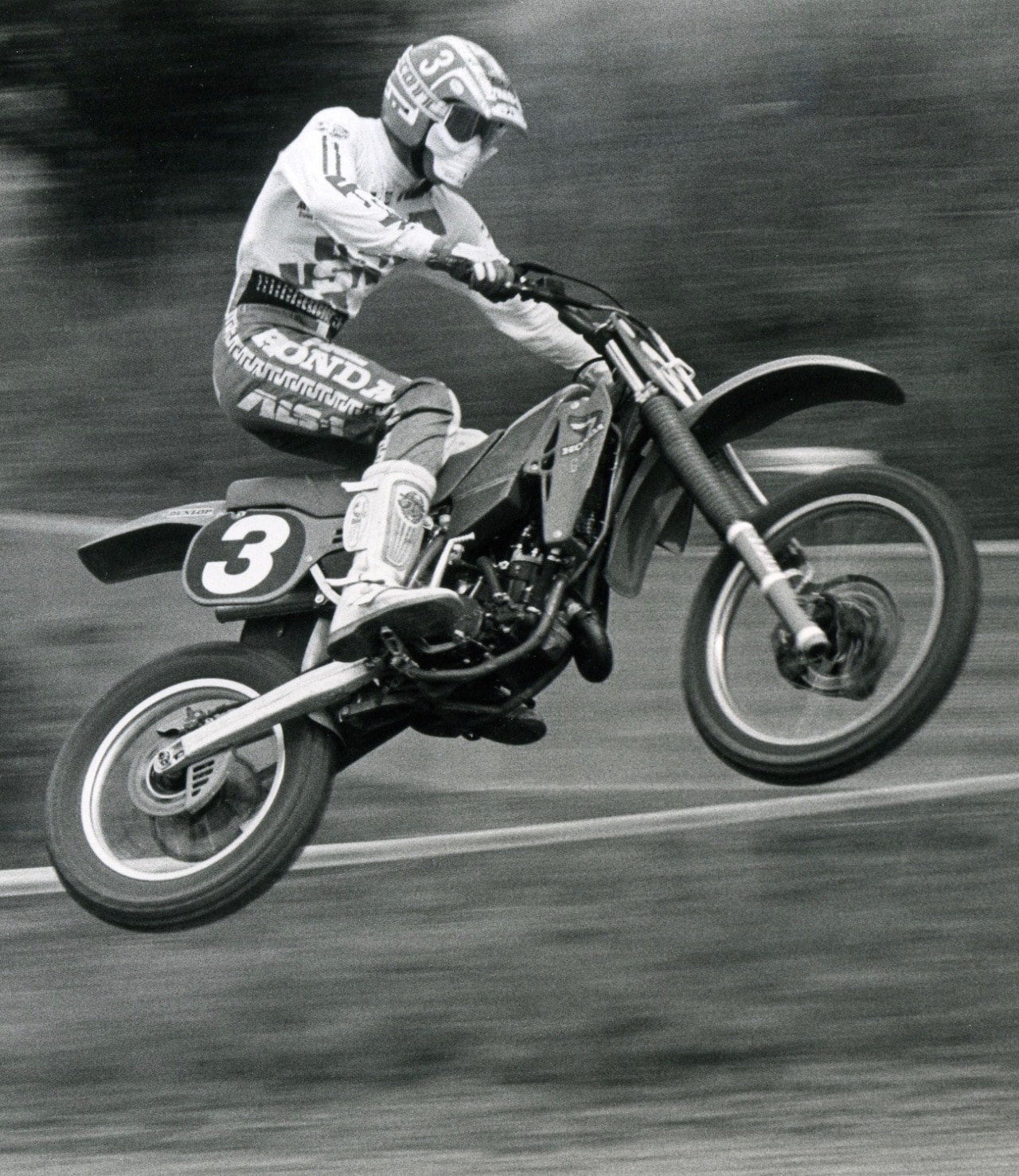 Ron on the Honda 125 works bike.
In 1985, Lechien raced the 125cc class for the U.S. team at the Motocross of Nations in Germany and won his class with a 2-1-1 finish. At the 1988 Motocross of Nations in France, he raced the 500cc class and won both of his motos, beating the best in the world. Lechien, who raced for the Kawasaki, Yamaha and Honda factory teams throughout his career, also competed in the 1984 and 1989 U.S. Motocross Grand Prix, collecting two wins.
While a severely broken leg in the 1989 500cc AMA National Championship Series ended Lechien's career prematurely, he is remembered as one of the top riders from one of the most-competitive eras of the sport.
7TH ANNUAL SIERRA OTHG "RUN WHAT YA BRUNG" TWO-STROKE RACE ON SEPT. 15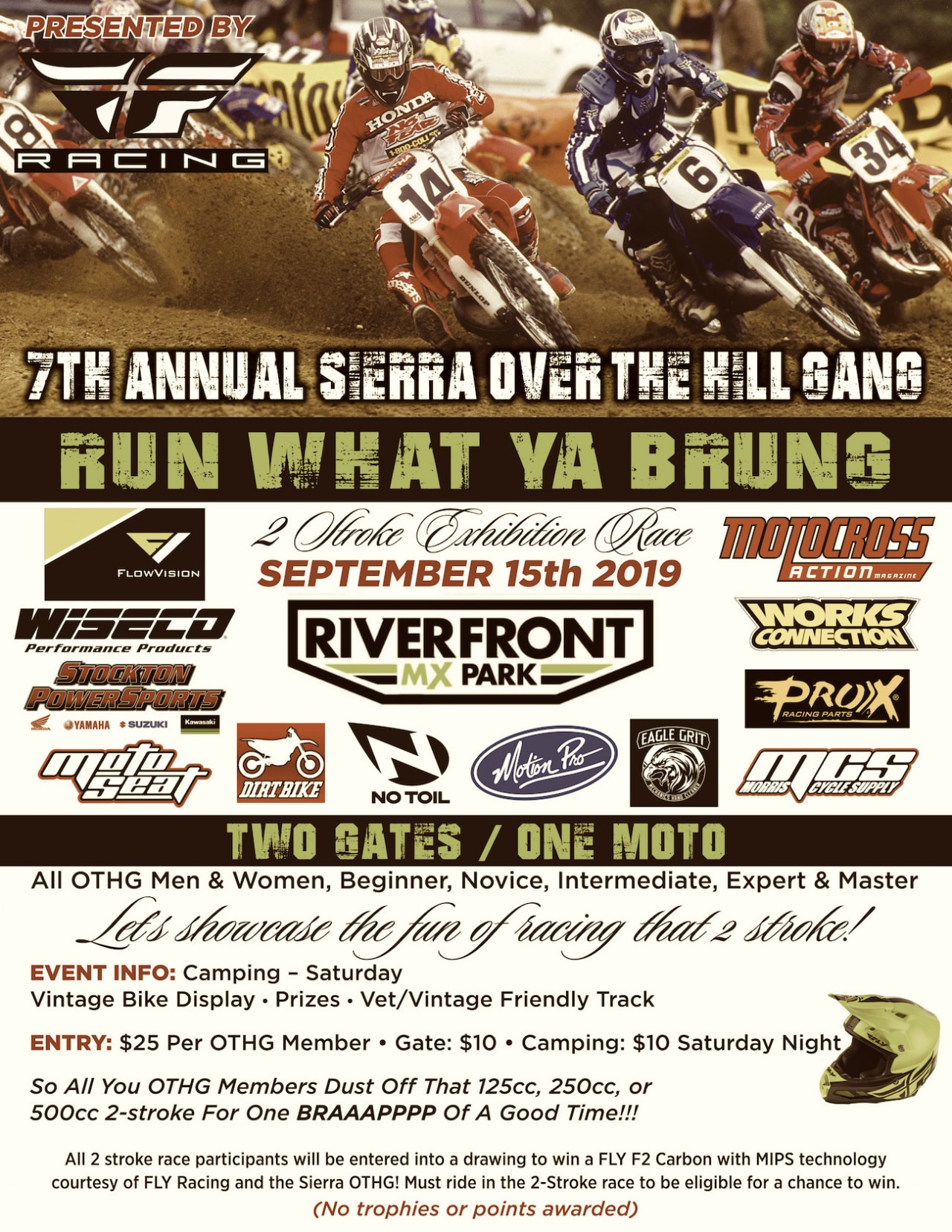 At Riverfront MX Park on Sunday September 15 on a vintage friendly track.
GREAT PLAINS VINTAGE SERIES ON SEPT. 15 AT LSF MX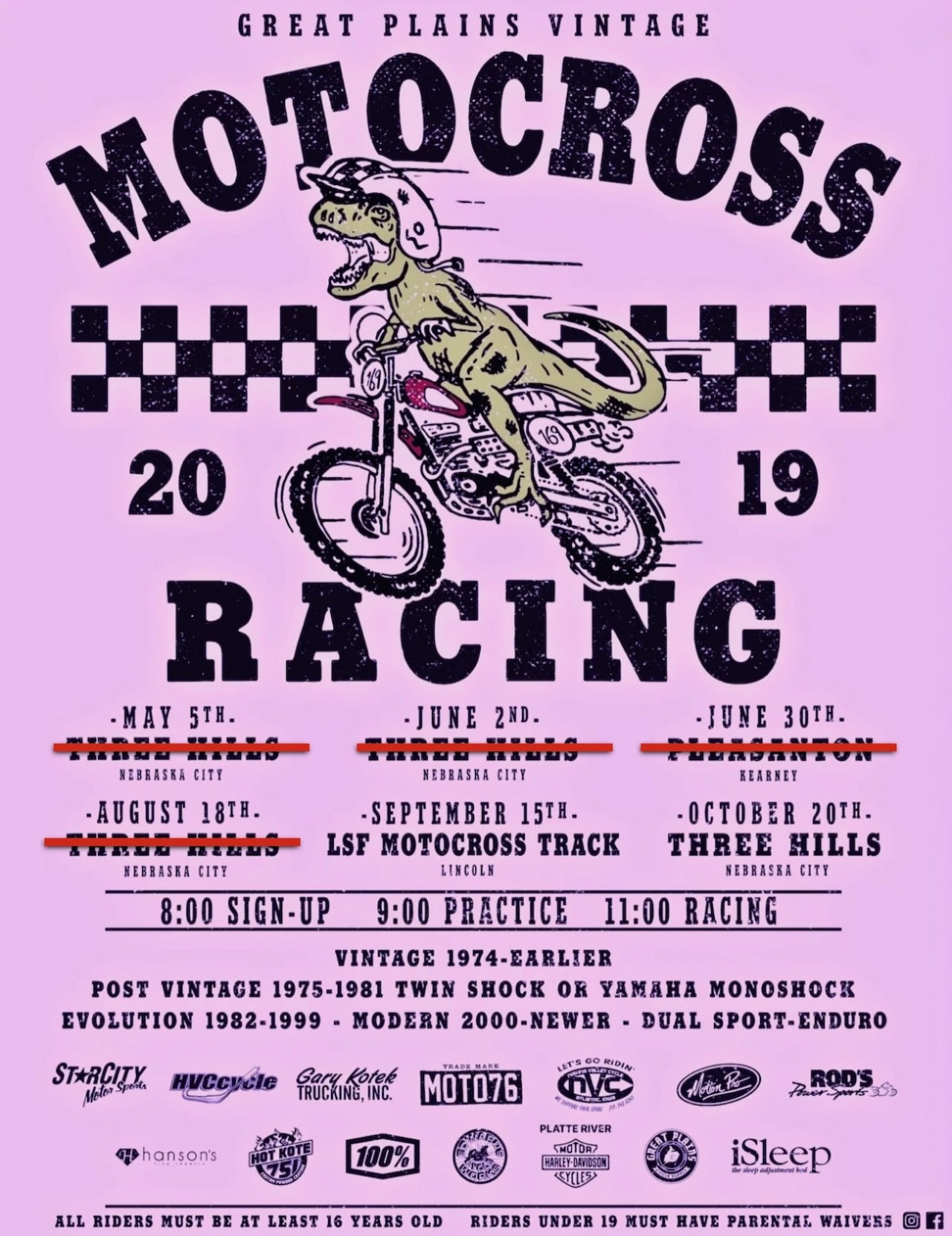 Round 5 of the 6-race Great Plains Vintage motocross series moves to LSF Motocross on September 15. For more info go to www.greatplainsvintagemx.org.
"32:1 PRE-MIX TWO-STROKE CLASSIC" ON SEPTEMBER 13-15 IN HELENA, MONTANA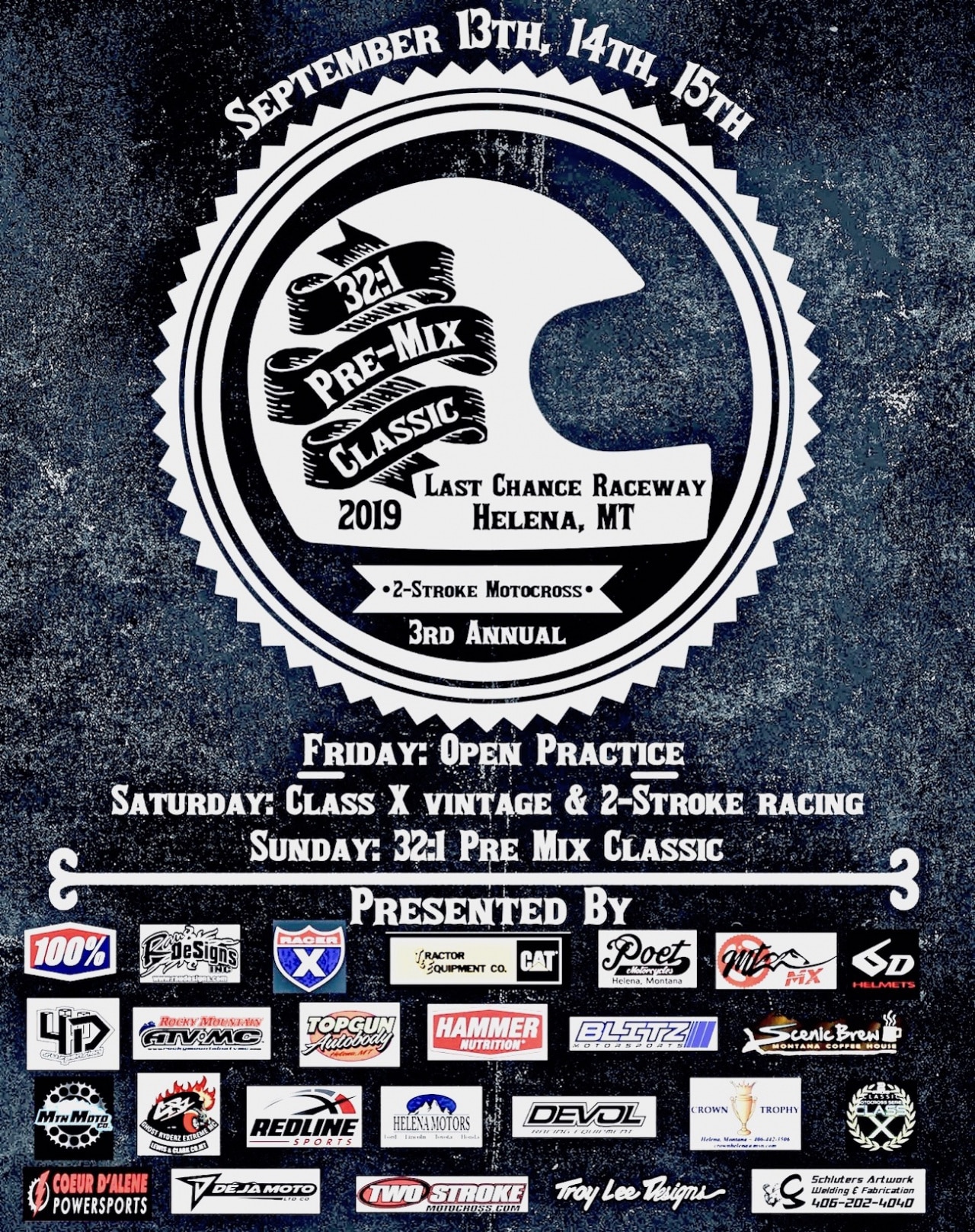 Last Chance Raceway will be holding their third Annual 32:1 Pre-Mix Classic on September 13-15. It includes a Pit Bike track, $5000 Pro purse, ClassX vintage classes and the 4-to-6 year old Pee-Wee's ride for free. For more info go to www.lastchancemx.com.
REM RETURNS TO GLEN HELEN HELEN ON SEPTEMBER 21

REM will race at Glen Helen on September 21 and then on September 28 and October 5. Plus the REM Octobercross "World Vet Warm-up" race will be held on October 26. For more info go to www.remsatmx.com.
MARTY TRIPES BIG3 TWO-STROKE SERIES ON SEPT. 21, OCT. 26 & NOV. 16

Marty  Tripes will host a three-race two-stroke series on September 21, October 26 and November 16 that will include 1975 and under vintage classes, 1981 and under Post Vintage classes, 1990 and under Early Modern classes, 2020 and under Modern class, 65cc and 85cc mini classes, a support class for four-strokes and the Marty Tripes 100cc Works Revenge race for two- or four-strokes under 100cc. For more info email Marty at [email protected] or phone (619) 408-2305.
31ST ANNUAL IDAHO OLD TIMERS MOTOCROSS AT OWYHEE ON SEPT. 21-22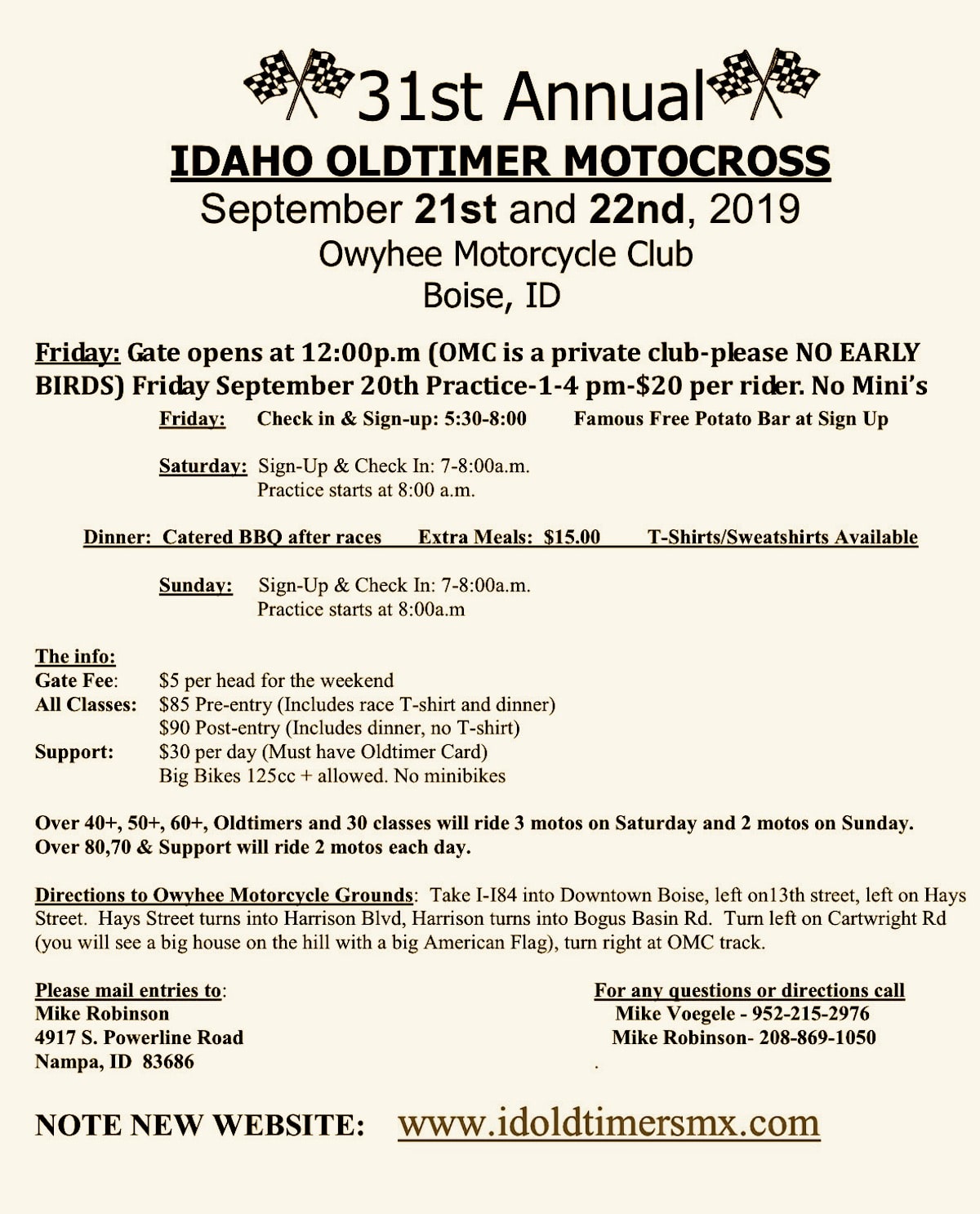 For more information go to www.idoldtimersmx.com
MOUNTAIN VIEW MOTOCROSS ROUND #5 ON SEPTEMBER 22

For more information go to www.mtnviewmx.com.
20TH ANNUAL "TEXAS FULL MOON SERIES" ON SEPTEMBER 28 AT OAK HILL

For more info go to www.badlandsmx.com
OKTOBERFAST GRAND PRIX AT GLEN HELEN ON OCTOBER 13


The Octoberfast will have classes for modern bikes, vintage bikes, minicycles and everything in between. For more information go to www.oktoberfast.com.

2019 DUBYA USA WORLD VET MOTOCROSS CHAMPIONSHIPS ON NOVEMBER 1-3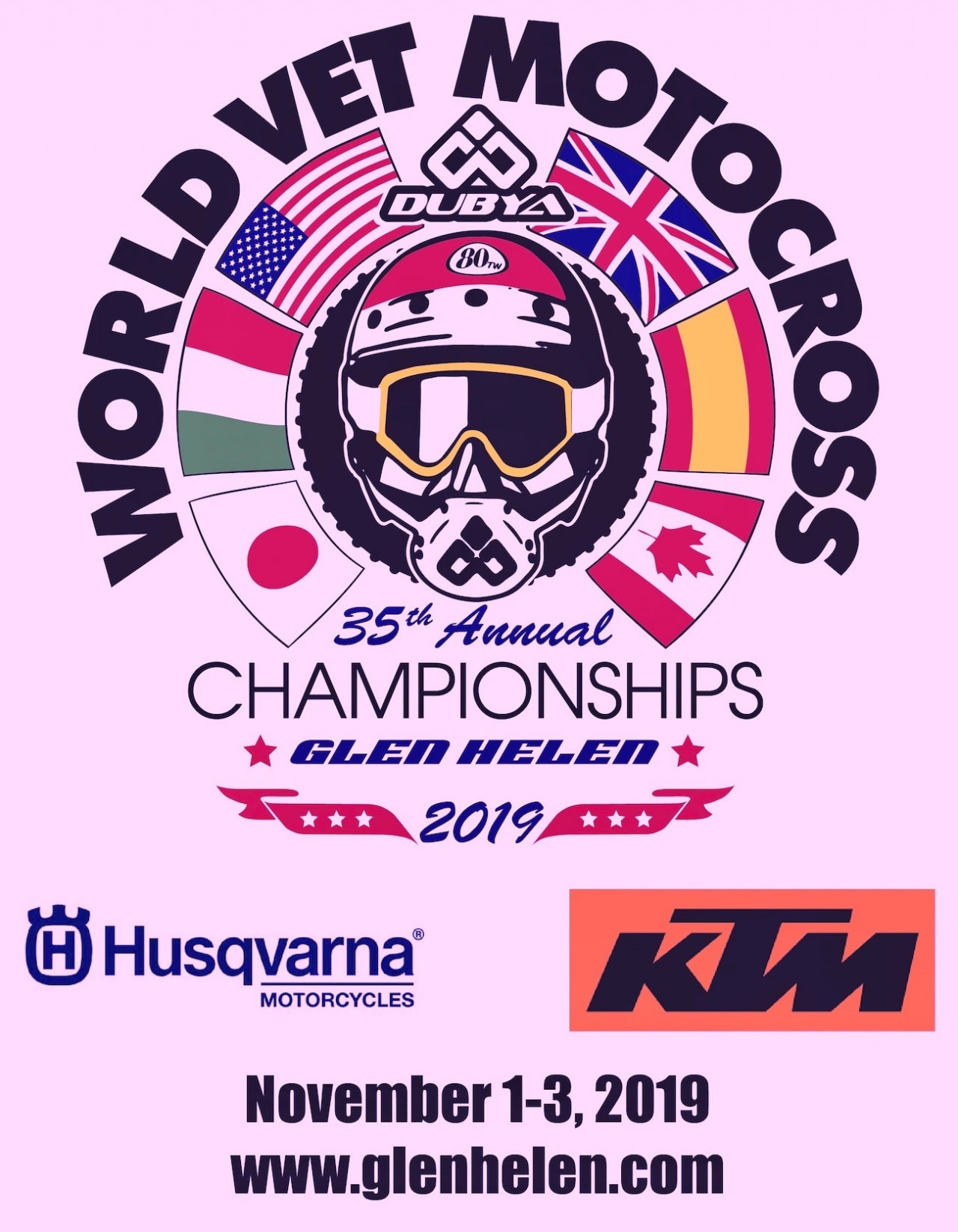 For more information about the 2019 World Vet Click Here.
2019 LAKE ELSINORE GRAND PRIX ON NOVEMBER 8-10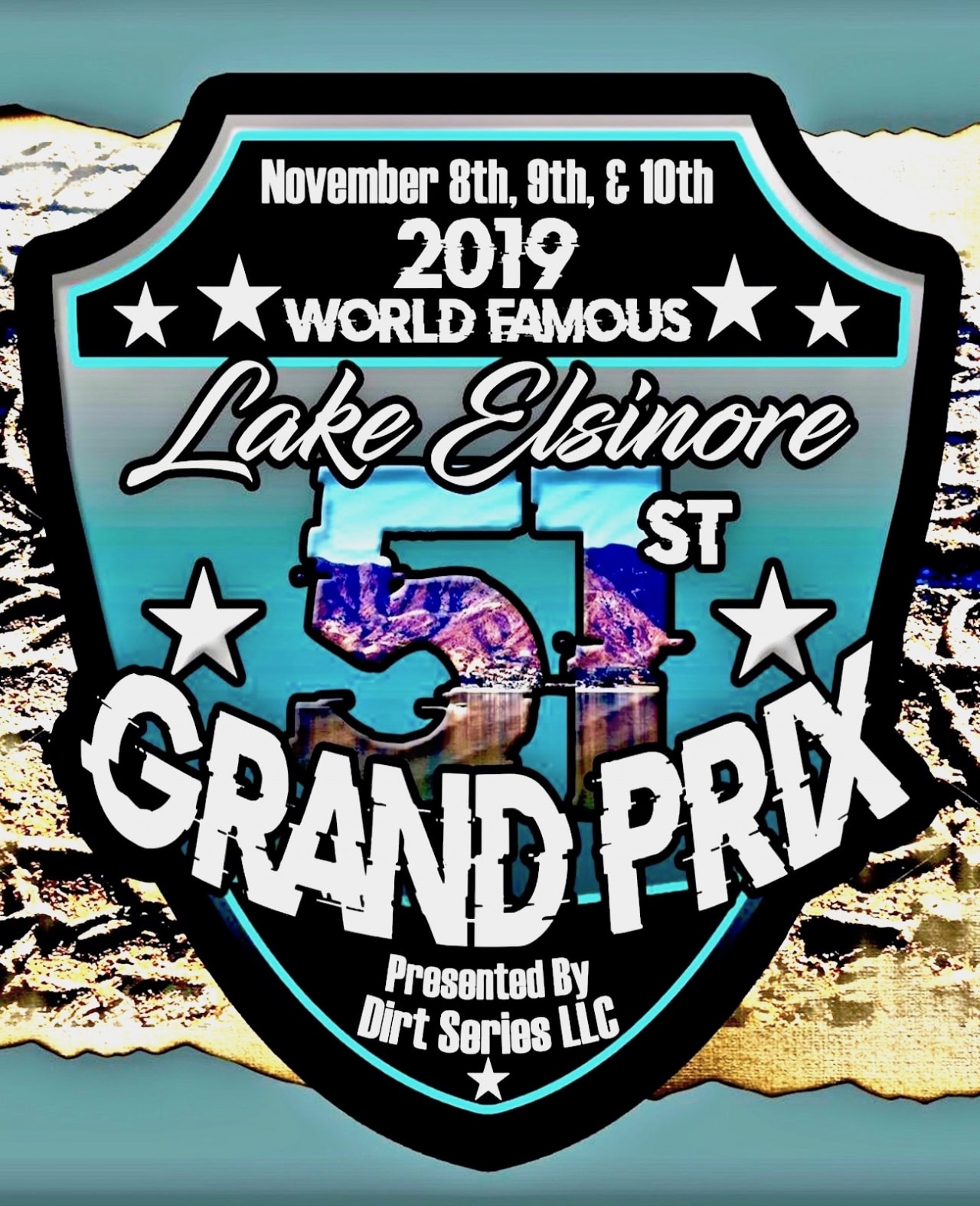 For more information go to www.elsinoregrandprix.com
PANIC REV WILL HOLDS ITS NEXT CAMPREV EVENT AT DREAMLAND ON NOVEMBER 20-22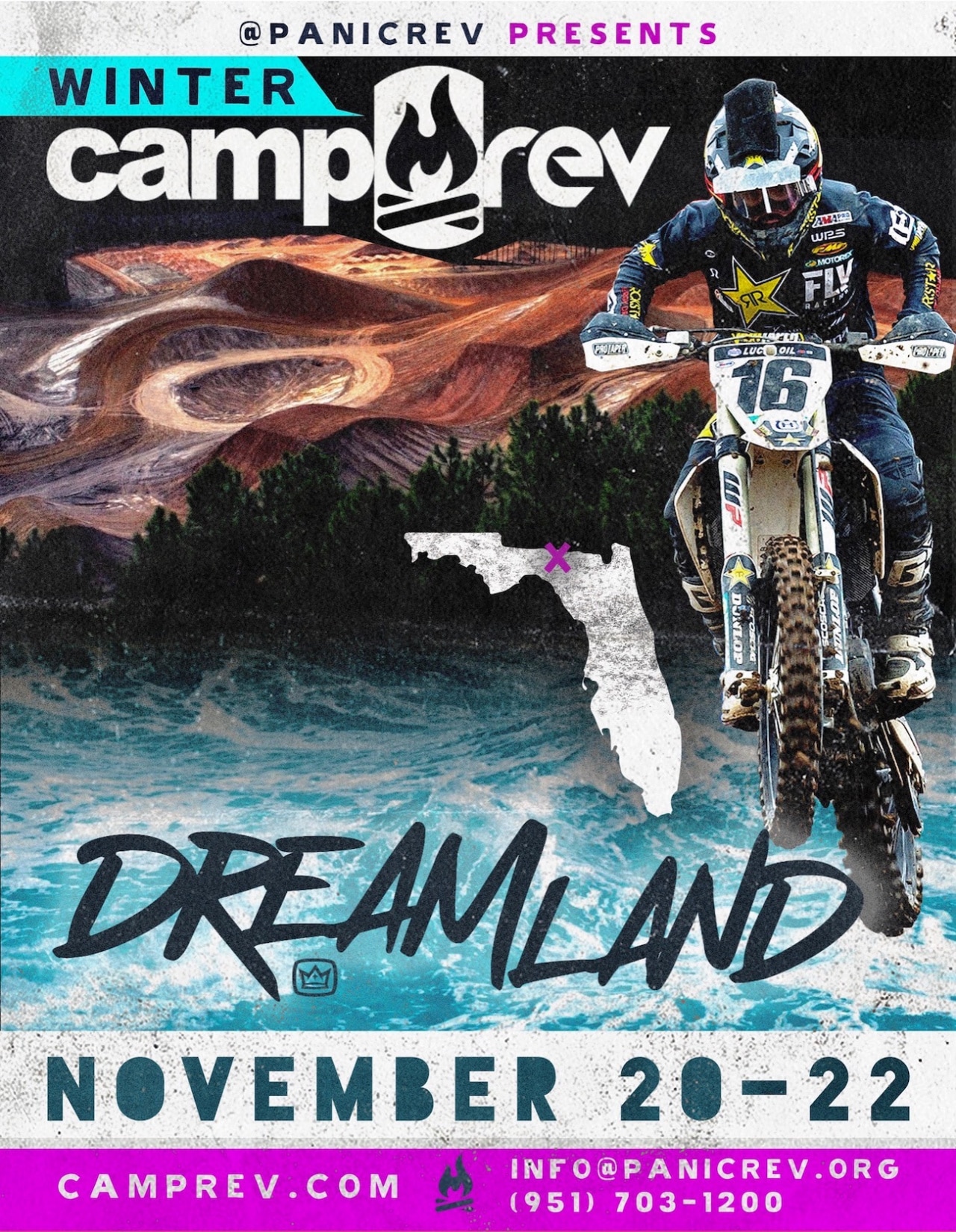 It is going to be a great great time in Florida at CampRev. For more info go to www.camprev.com.
MXA TEAM TESTED: VP RACING T2 PRE-MIXED TWO-STROKE FUEL
T2 is a two-stroke racing fuel that is already pre-mixed with oil. It requires no mixing; just pour and go. T2 is a leaded fuel with a 105-octane rating (R+M/2). This is more than sufficient to provide all modern two-strokes with protection against detonation. T2 vaporizes better, burns cleaner, contains no ethanol and remains stable in a sealed container for up to two years. It should be noted that VP Racing's T2 is formulated for modern water-cooled two-strokes. If you own an air-cooled two-stroke, please stick with VP's C12 two-stroke fuel. C12 has a 113-octane rating and is recommended for compression ratios as high as 15:1. It is the go-to gas for ported, milled and air-cooled engines. Modern pump gas has ethanol in it. Ethanol-blended pump gas can foul carburetors and goes bad after just a few weeks in storage. To address those problems, VP Racing Fuels has introduced T2, which is ethanol-free fuel.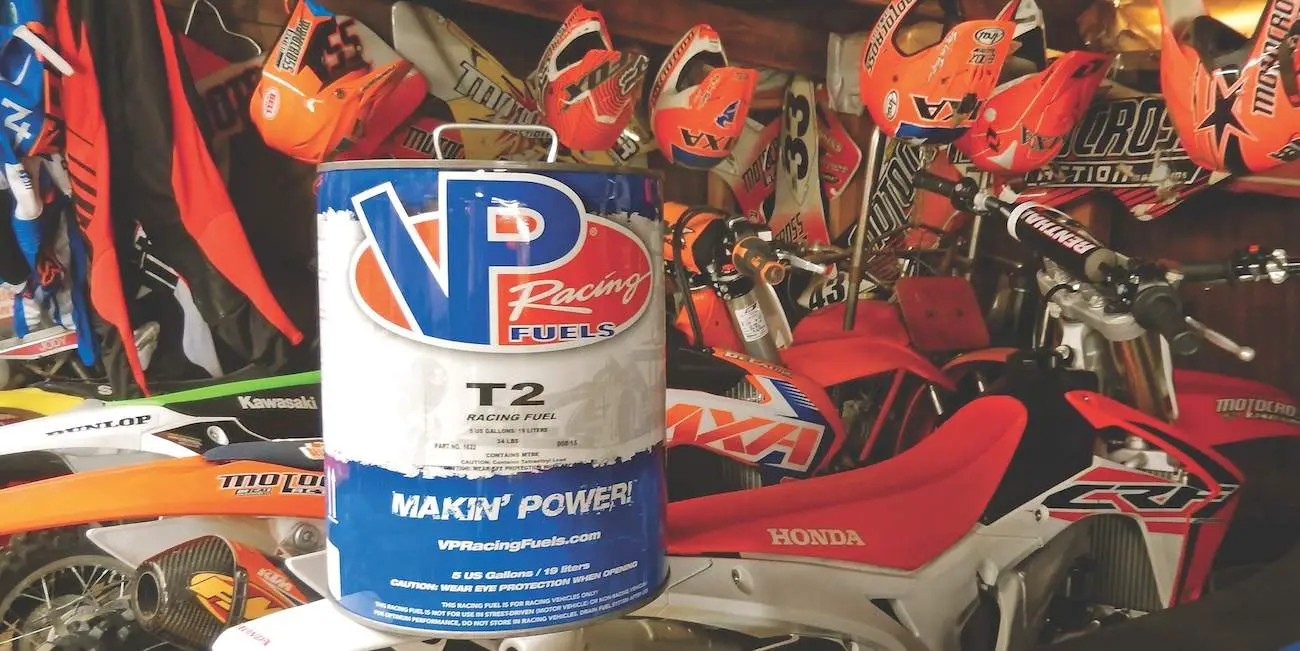 T2 is pre-mixed at a 40:1 ratio with a top-quality, JASO FD-rated, certified premium two-stroke oil. Although VP does not say what two-stroke oil it uses in the T2 mixture, we would bet the pre-mix oil is Maxima and the fuel is VP Racing's VPR fuel.
With 5 gallons of premium pump gas going for around $20.00 and a liter of pre-mix running $15.00, T2 retails for about $30.00 more than 5 gallons of conventional 91-octane fuel. The price is not comparable, however, because T2 does not contain any ethanol (pump gas contains at least 10 percent), and the octane rating of T2 is 14 points higher than premium pump gas. Plus, T2 is prepackaged in a metal container and has a life span of two years (while pump gas goes bad in a couple of weeks).
Thanks to its oxygen content and high octane rating, T2 produced more power in our KTM 250SX, Husky TC250 and Yamaha YZ250. Although the gains were modest across the board, the engine ran crisper. Pinging under a load was totally eliminated, and throttle response was better. The T2 offered a degree of consistency that pump gas can never guarantee. Consistent performance is especially important for riders on the road to far-away race events where they have to buy gas from strange stations. Although we didn't have to re-jet for our mildly modified engine, it would be a good idea to carry a one-size-larger main and pilot with you to the track to deal with changing temperature and humidity conditions.
DIGITS. $73.00 in 5-gallon containers —  www.vpracingfuels.com or (210) 635-7799.
MXA RATING: The decision to buy race gas for your smoker should be based on whether you want the power increase more than you want the money.
MXA TEAM TESTED: REKLUSE 12-PLATE TORQDRIVE CRF450 CLUTCH

The Rekluse 12-plate TorqDrive clutch pack for the Honda CRF450 is made in the USA. It is the same basic system used by the factory teams, only at an affordable price point. It uses your stock components and is a plug-and-play plate replacement system. This clutch system is available for all of the major bike brands. The 2017 to 2020 Honda CRF450s are known for their weak clutches. The clutch is critical on the 2019-20 CRF450s because the bikes are pumping out over 60 horsepower. This monster power puts a strain on the CRF450's already weak clutch. The CRF450 has a tendency to go through clutch plates quickly, which causes the oil to get contaminated at a faster rate, requiring more frequent oil changes.
The Rekluse TorqDrive clutch pack increases the clutch torque capacity by about 20 percent. With 12 plates, the TorqDrive pack offers a lighter lever feel and a more controlled release at your fingertips. Not only does it have a smoother feel, it also helped with the throttle-to-rear-wheel consistency. When testing it, the engagement let out quite early with a smoother transition, allowing more control over the bike. During testing of the Rekluse clutch pack, the MXA wrecking crew had no issues. It lasted much longer than the stock clutch with better feel. The play in the lever also stayed consistent. On the plus side, we noticed that the oil was cleaner when changing it out compared to the stock clutch. We checked it at regular intervals to see the condition of the metal sleeves on the basket tangs. It's important to note that clutches are high-wear parts. In fact, they work by wearing the plates down, so regular maintenance is required.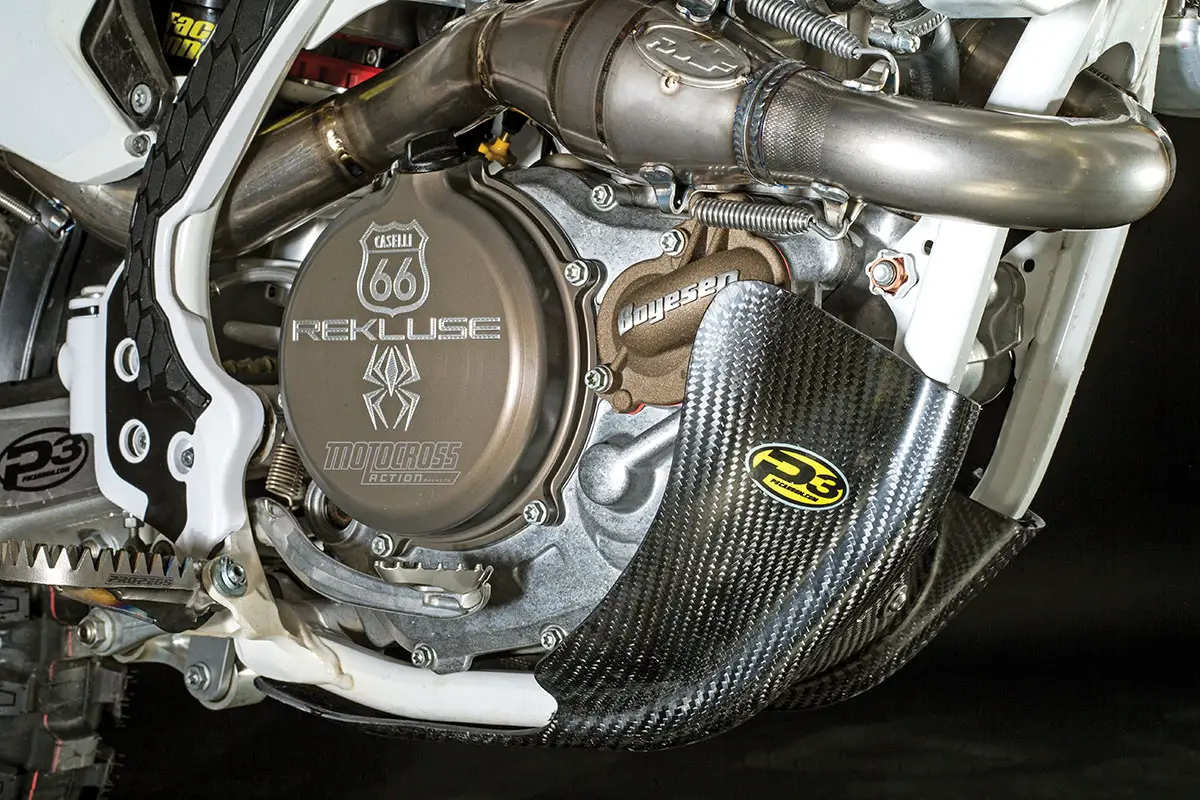 Installing the Rekluse TorqDrive clutch pack is fairly easy—if you follow the instructions to a T. The Rekluse clutch cover ($159) is not required, but it holds more oil and offers a factory look. The TorqDrive clutch pack comes with springs, 12 TorqDrive friction plates and 10 steel drive plates. The tools that are needed to install the Rekluse TorqDrive clutch pack are a fluid catch container, 8mm socket, 10mm socket, torque wrench and awl. After draining the oil, lay the bike on its left side. Disassemble the OEM clutch. Check the clutch basket for notching on the tangs, then install the new clutch. This clutch comes with steel basket sleeves to reduce notching on the tangs, so install these first. Follow the instructions from there. For more detailed installation instructions, see the manual on the Rekluse website.
DIGITS? $349.00 (TorqDrive Pack), $159.00 (Rekluse clutch cover) — www.rekluse.com or (208) 426-0659
MXA RATING: This is a must-have product for the 2017–2020 Honda CRF450. It is a vastly superior product to the OEM clutch. 
RIDERS WHO WILL NOT BE AT THE 2019 MXDN
Eli Tomac (USA)
Ken Roczen (Ger)


Marvin Musquin (Fra)
Fredrik Noren (Swe)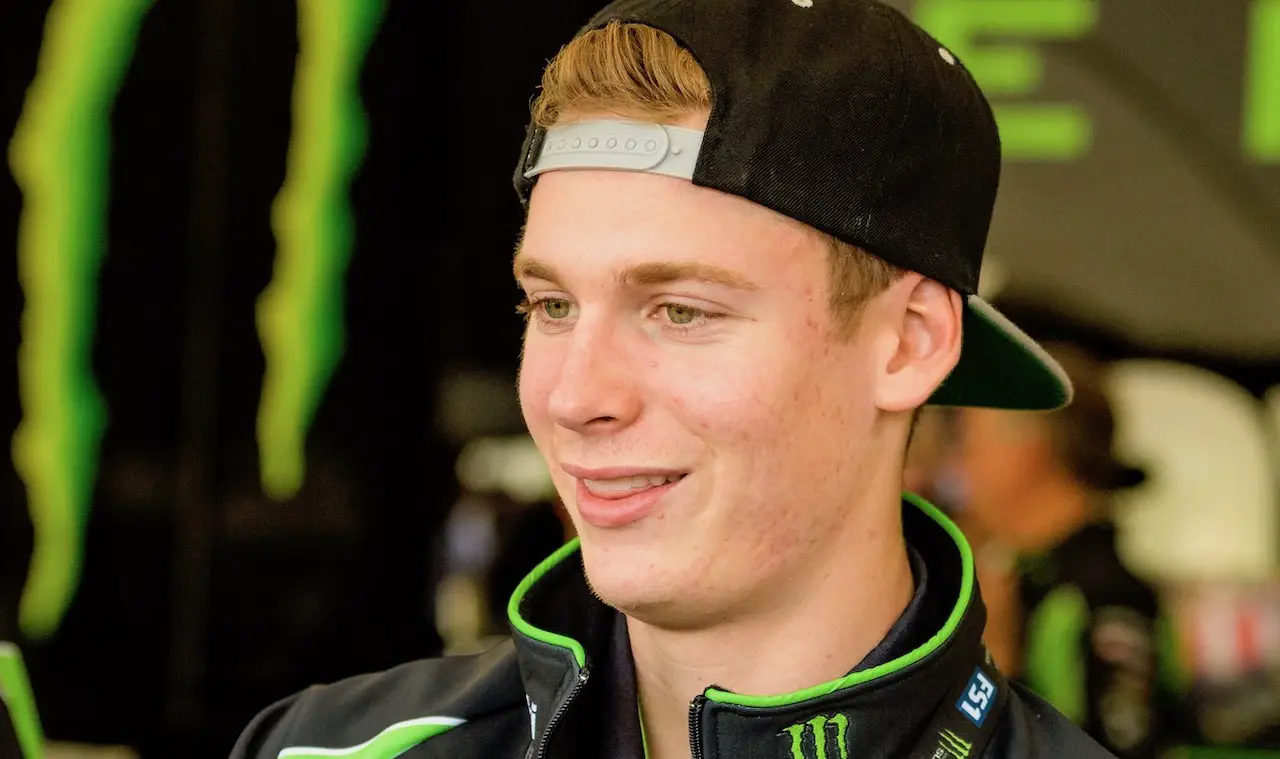 Adam Cianciarulo (USA)
Dylan Ferrandis (Fra)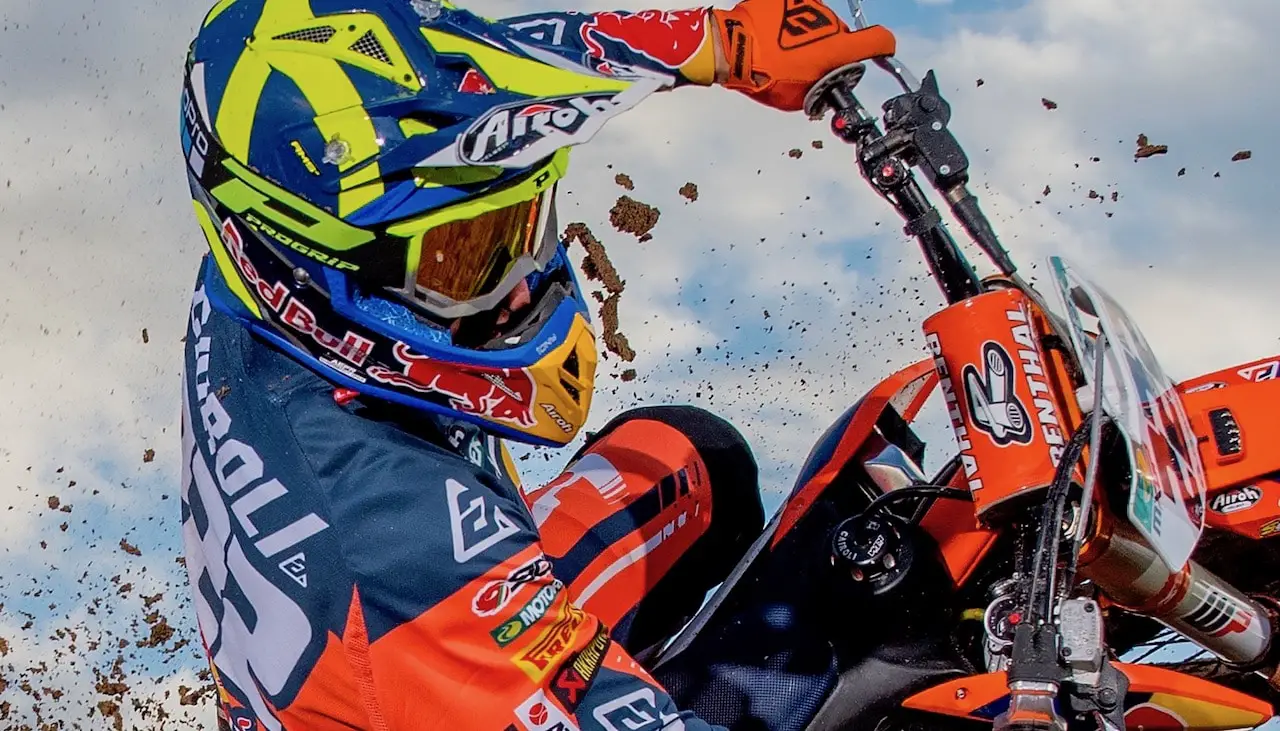 Tony Cairoli (Ita)
Hunter Lawrence (Australia)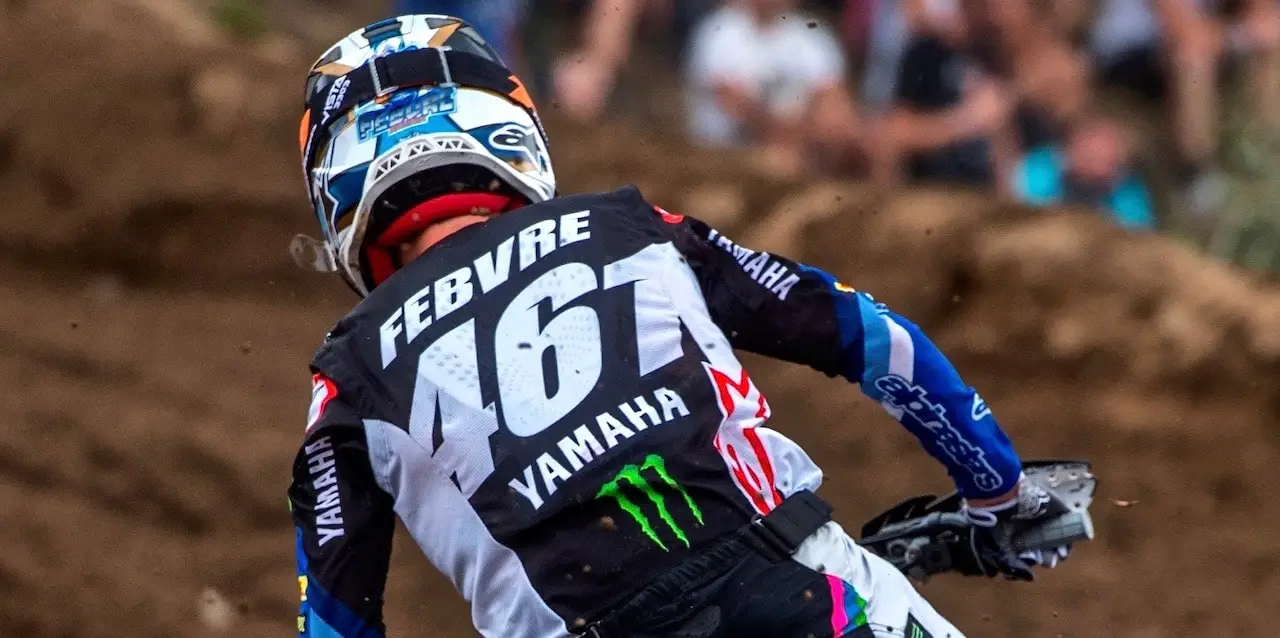 Romain Febvre (Fra)
Clement Desalle (Bel)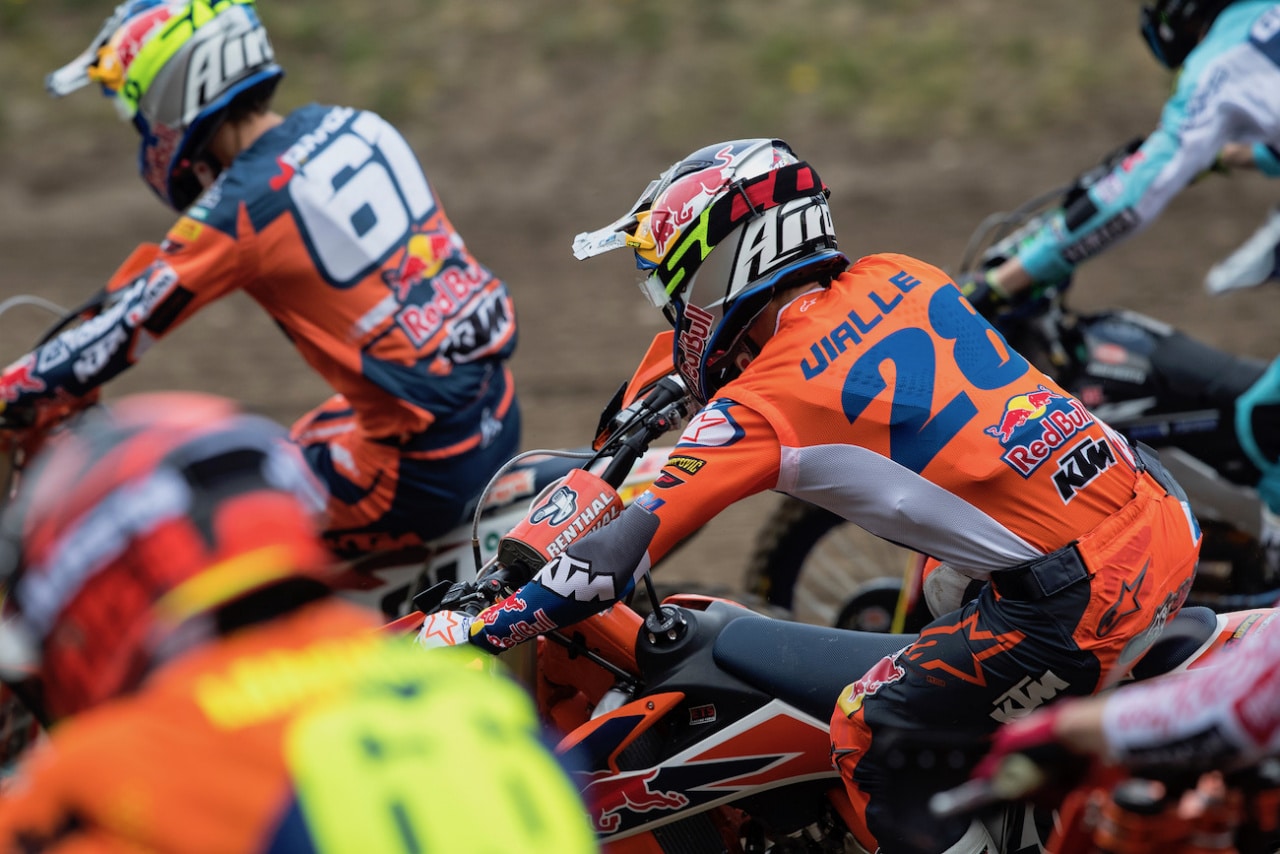 Tom Vialle (Fra)
Ben Watson (Eng)

Max Anstie (Eng)
Henry Jacobi (Ger)
EVERY 250/450 GRAND PRIX WINNER WITH ONE RACE LEFT

Pauls Jonass (41) moved from the 250 class to the 450 class for 2019. With one race to go he is currently sixth in 450 points.

Date               Venue                                            450                                250
Mar. 3……. Argentina……………………….Tony Cairoli…………..Jorge Prado
Mar. 24……England………………………….Tony Cairoli…………..Thomas Kjer Olsen
Mar. 31……Holland…………………………..Tony Cairoli…………..Jorge Prado
Apr. 7……….Trentino, Italy………………..Tim Gajser…………….Jorge Prado
May 12…….Lombardia, Italy……………Tony Cairoli………….Jorge Prado
May 19……..Portugal………………………..Tim Gajser……………..Jorge Prado
May 26…….France…………………………….Tim Gajser…………….Jorge Prado
June 9…..…Russia……………………………..Tim Gajser…………….Jorge Prado
June 16……Latvia………………………………Tim Gajser…………….Jorge Prado
June 23……Germany…………………………Tim Gajser…………….Jorge Prado
July 7………Palembang, Indo……………Tim Gajser…………….Jorge Prado
July 14……..Semarang, Indo…………….Tim Gajser…………….Jorge Prado
July 28….…Czech Republic…………….Romain Febvre…….Jorge Prado
Aug. 4………Belgium………………………….Tim Gajser…………….Jorge Prado
Aug. 18….…Imola, Italy…………………..Glenn Coldenhoff….Jorge Prado
Aug. 25….…Sweden………………………..Glenn Coldenhoff…..Tom Vialle
Sept. 8……..Turkey……………………………Jeffrey Herlings……Jorge Prado
Sept. 15…..Shanghai, China
450 Champion…………..Tim Gajser (Hon)
250 Champion…………..Jorge Prado (KTM)
CURRENT 2019 WORLD CHAMPIONSHIP POINTS STANDINGS BEFORE THE SERIES GETS SHANGHAI'ED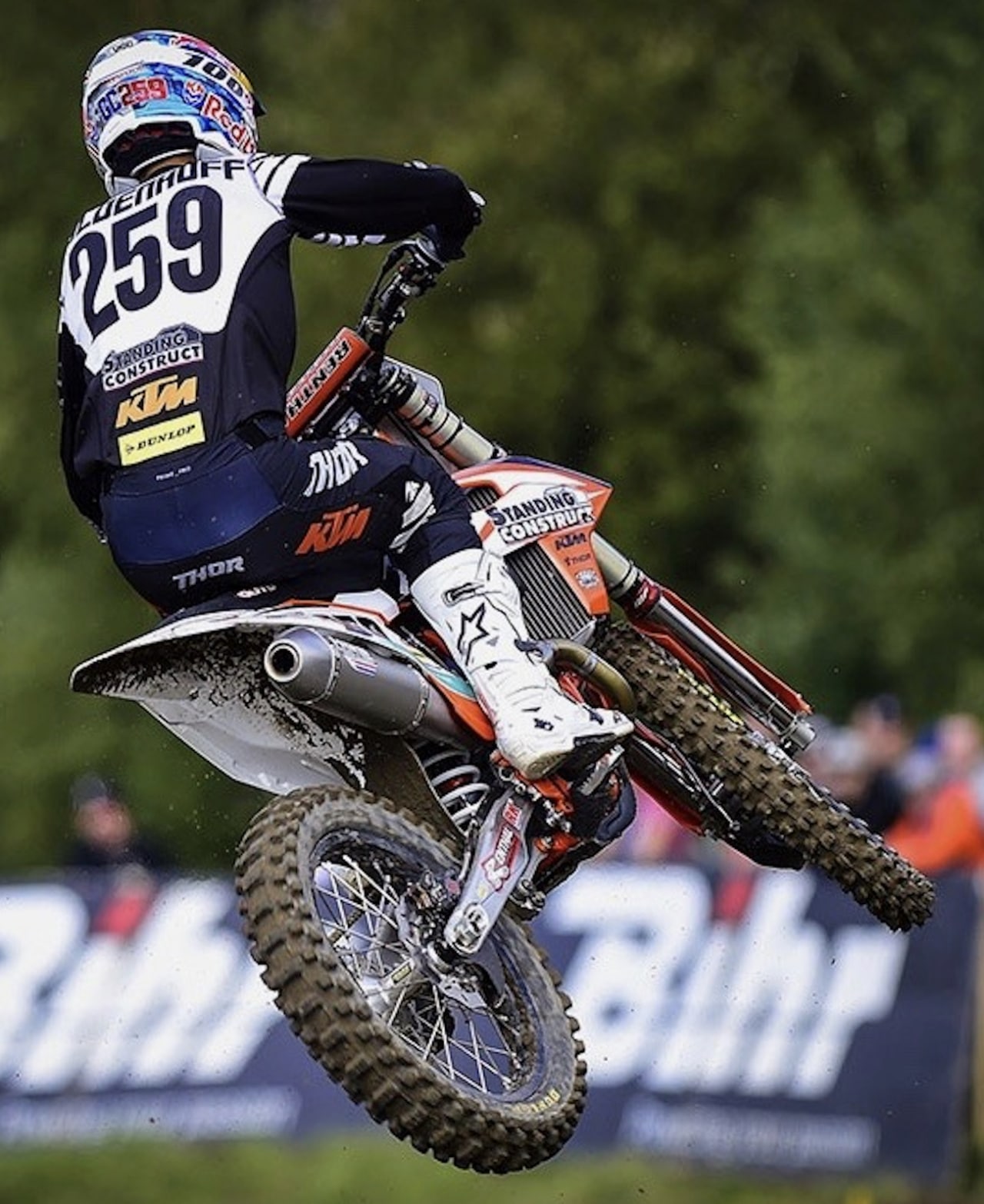 Glenn Coldenhoff (259) settled into the 450 pace in the last third of the 450 series. He need 11 points more than Jeremy Seewer in China to make the top three for the 2019 season.

450 WORLD CHAMPIONSHIP POINTS STANDINGS
(after 17 of 18 rounds)
1. Tim Gajser (Hon)…744
2. Jeremy Seewer (Yam)…542
3. Gautier Paulin (Yam.)…499
4. Glenn Coldenhoff (KTM)…488
5. Arnaud Tonus (Yam.)…463
6. Pauls Jonass (KTM)…428
7. Arminas Jasikonis (Hus)…416
8. Jeremy Van Horebeek (Hon)…403
8. Romain Febvre (Yam)…384
10. Antonio Cairoli (KTM)…358
Calvin Vlaanderen is waiting to see if he will be named to the Belgium MXDN team or not.

250 WORLD CHAMPIONSHIP POINTS STANDINGS
(after 17 of 18 rounds)
1. Jorge Prado (KTM)…787
2. Thomas Kjer Olsen (Hus)…592
3. Jago Geerts (Yam)…505
4. Tom Vialle (KTM)…495
5. Henry Jacobi (Kaw)…442
6. Adam Sterry (Kaw)…384
7. Maxima Renaux (Yam)…376
8. Calvin Vlaanderen (Hon)…359
9. Mathys Boisrame (Hon)…303
10. Ben Watson (Yam)…282
COME VISIT FARLEIGH CASTLE FOR A QUIET WEEKEND GET-AWAY IN ENGLAND

WHAT'S LEFT OF THE 2019 RACE CALENDAR
2019 FIM WORLD MOTOCROSS CHAMPIONSHIP
Sept. 15………………………….China
2019 WORCS OFF-ROAD CHAMPIONSHIP
Oct. 11-13……………………………Honolulu Hills, CA
Nov. 22-24……………………….Primm, NV
2019 AMA ENDUROCROSS CHAMPIONSHIP
Oct. 19……………………………..Denver, CO
Oct. 26…………………………….Nampa, ID
2019 LAS BEGAS MONSTER CUP SUPERCROSS
Oct. 19……………………………..Las Vegas, NV
KTM MOTO TOUR TEST RIDE DATES
Sept. 27…………………………..Washougal, WA
Oct. 5………………………………Muddobber National, IN
Oct. 6……………………………..Hollister, CA
Oct. 11……………………………Cahuilla Creek, CA
Oct. 19-20……………………..Crow Canyon MX, OH
Nov. 2……………………………..Rio Bravo, TX
Nov. 10…………………………..Highland Park, GA
2019 BRITISH NATIONAL CHAMPIONSHIP FINAL
Sept. 22…………………………Landrake
2019 GERMAN MX MASTERS CHAMPIONSHIP FINAL
Sept. 15…………………………Wood Gerlingen
MARTY TRIPES BIG-3 TWO-STROKE SERIES
Sept. 21………………………….Cahuilla Creek, CA
Oct. 26…………………………..Cahuilla Creek, CA
Nov. 16…………………………..Glen Helen, CA
2019 MOTOCROSS DES NATIONS
Sept. 29……………………………Assen, Holland
OLD SCHOOL SCRAMBLES OKTOBERFAST GRAND PRIX
Oct. 13……………………………Glen Helen, CA
2019 MONSTER ENERGY CUP
Oct. 19……………………………..Las Vegas, NV
2016 REM OCTOBERCROSS
Oct. 29…………………………..Glen Helen, CA
2019 DUBYA WORLD VET VINTAGE CHAMPIONSHIP
Nov. 1…………………………….Glen Helen, CA
2019 DUBYA WORLD VET CHAMPIONSHIP
Nov. 1-3…………………………Glen Helen, CA
2019 PARIS SUPERCROSS
Nov. 9-10……………………….Paris, France
2019 DAY IN THE DIRT 22
Nov. 28-Dec. 1……………..Glen Helen, CA
HOW TO REEL IN YOUR KTM'S HORSEPOWER
The black throttle cam is the quick-turn version when used on a KTM 450SXF, but comes stock on the KTM 250SXF.

A black and gray throttle reel came with your new KTM four-stroke. On your 450SXF, the gray reel was installed in the bike at the factory, while the black reel is in the spare parts briefcase. The outer diameter of each reel determines how much throttle cable is pulled per rotation. The larger the diameter of the reel, the less the rider has to twist the grip to open the throttle body's butterfly all the way. This is called a quick-turn throttle. Conversely, the smaller the diameter of the reel, the farther the rider has to turn the throttle to get full power. At the KTM factory, the preferred reel is the small 36.5mm gray reel so that the abundant low and midrange power can be metered better, while the 250SXF gets the larger 39.5mm black quick-turn reel so that the reduced power of the high-rpm 250 engine can be accessed quicker. Most MXA test riders prefer to run the black quick-turn reel in place of the gray reel in the 450SXF.
MEMORIES OF THE WAY WE WERE: ROGER'S ZONE OF INFLUENCE

As motocrossers we like to think of Roger DeCoster as the man who spread the word of our sport to young American teenager starting in 1967. But Roger was more than that. His public reach didn't stop at motocross racers, it also covered BMX racers, man of whom who loved motocross and thought of it as the unltimate extension of what they did on BMX bikes.
MXA'S 2020 "FIRST RIDE" 250 FOUR-STROKE VIDEOS

MXA'S FIRST RIDE OF THE 2020 HONDA CRF250
MXA'S FIRST RIDE OF THE 2020 HUSQVARNA FC250
MXA'S FIRST RIDE OF THE 2020 YAMAHA YZ250F
MXA'S FIRST RIDE OF THE 2020 KAWASAKI KX250
MXA'S FIRST RIDE OF THE 2020 HONDA CRF450
MXA'S FIRST RIDE OF THE 2020 KTM 250SXF
GREATEST MOTOCROSS DRONE FOOTAGE EVER SHOT
YOU DO THE MATH! SUBSCRIBE TO MXA & GET A $25 CHAPARRAL GIFT CARD
If you subscribed to Motocross Action,  you could be spending your gift money at Chaparral right now.
If you subscribe to MXA you can get the mag on your iPhone, iPad, Kindle or Android by going to the Apple Store, Amazon or Google Play or in a digital version. Even better you can subscribe to Motocross Action and get a $25 Chaparral gift card to spend on whatever motorcycle parts or products you need. And the awesome print edition will be delivered to your house by a uniformed employee of the U.S. Government. You can call (800) 767-0345 or CLICK HERE or click on the box at the bottom of this page.
MXA'S 2020 "FIRST RIDE" 350/450 FOUR-STROKE VIDEOS
MXA'S FIRST RIDE OF THE 2020 YAMAHA YZ450F
MXA'S FIRST RIDE OF THE 2020 HONDA CRF450
MXA'S FIRST RIDE OF THE 2020 KAWASAKI KX450
MXA'S FIRST RIDE OF THE 2020 HUSQVARNA FC450
MXA'S FIRST RIDE OF THE 2020 KTM 450SXF
MXA'S FIRST RIDE OF THE 2020 HUSQVARNA FC350
MXA'S FIRST RIDE 2020 KTM 350SXF
THE 2020 AMA SUPERCROSS RACE SCHEDULE
Notably missing from the 2020 schedule is Nashville, New Jersey, Houston and Minneapolis.
LOOKING AHEAD! THE 2020 RACE CALENDAR


2020 AMA SUPERCROSS SCHEDULE
Jan. 4…Anaheim, CA
Jan. 11…St. Louis, MO
Jan. 18 …Anaheim, CA
Jan. 25…Glendale, AZ
Feb. 1…Oakland, CA
Feb. 8…San Diego, CA
Feb. 15…Tampa, FL
Feb. 22… Arlington, TX
Feb. 29… Atlanta, GA
Mar. 7…Daytona Beach, FL
Mar. 14…Indianapolis, IN
Mar. 21…Detroit, MI
Mar. 28…Seattle, WA
Apr. 4…Denver, CO
Apr. 18…Foxborough, MA
Apr. 25…Las Vegas, NV
May 2…Salt Lake City, UT
2020 FIM MOTOCROSS WORLD CHAMPIONSHIP
Feb. 3…TBA
Mar. 8…Argentina
Mar. 22…Holland
Apr. 5….Italy #1
Apr. 19…Spain
Apr. 26…Portugal
May 10…Latvia
May 17…Russia
May 31…Germany
June 7…France
June 14…Italy #2)
June 28……TBA, Indonesia
July 5…Semarang, Indonesia
July 12…Shanghai, China
July 26…Czech Republic
Aug. 2…Belgium
Aug. 16…Switzerland
Aug. 23…Sweden
Aug. 23…Finland
Sept 13.…Turkey
2020 FIM MOTOCROSS DES NATIONS
Sept. 13.…Ernee, France

MXA YOUTUBE CHANNEL | HIT THAT SUBSCRIBE BUTTON

The MXA wrecking crew is everything moto related. Check out our MXA YouTube channel for bike reviews, Supercross coverage, rider interviews and much more. And don't forgot to hit that subscribe button.
FOLLOW MXA ON TWITTER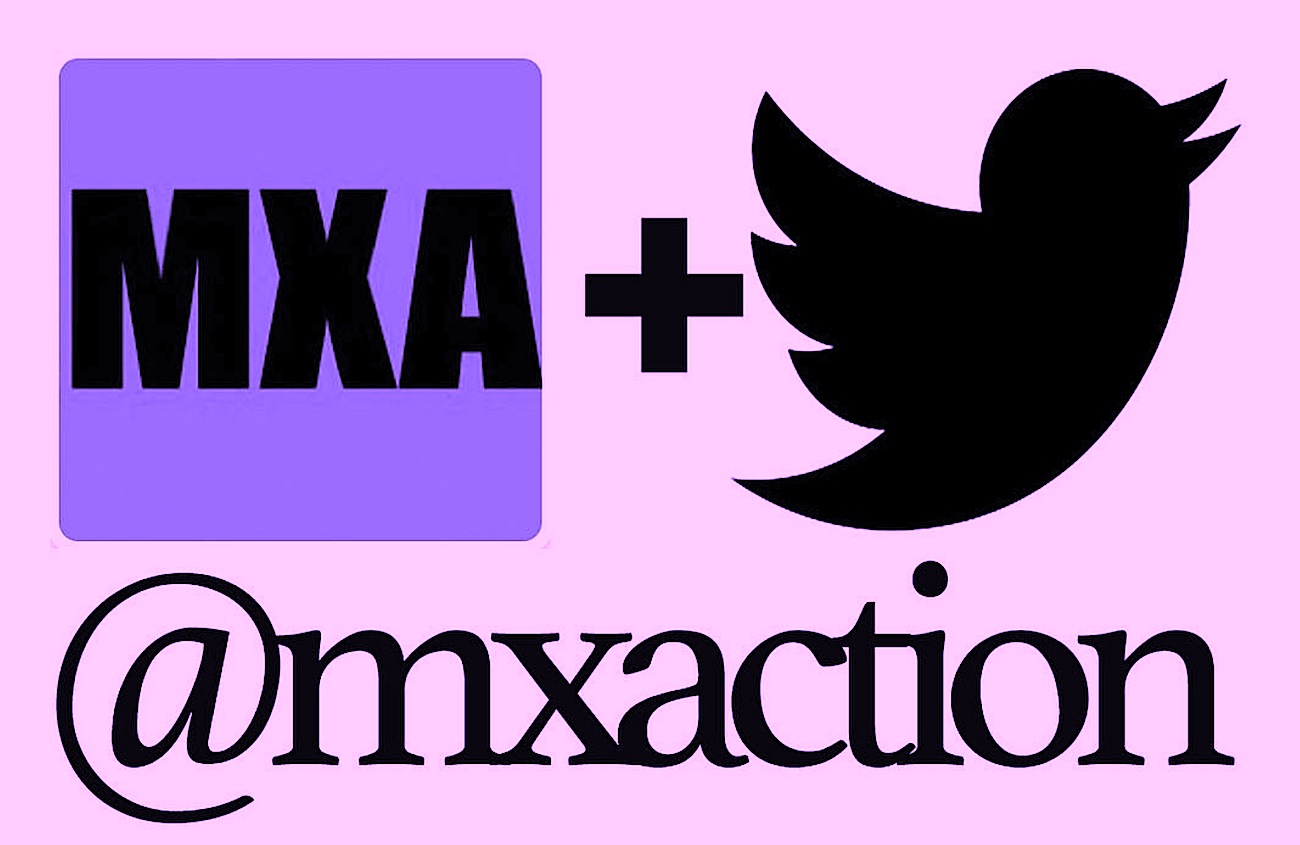 Follow us to see fresh content every day at www.twitter.com/MXAction or on twitter at "MXAction."
TALK MOTO WITH ON MXA'S FACEBOOK GROUP CHAT


We love everything moto and want to bring all moto junkies together into one place to share their two cents, ideas, photos, bike fixes, bike problems and much more. To check it out first you must need to or already have a Facebook account. If you don't, it isn't much work and you could even have an alias so nobody knows it is you. To join click HERE. After you request to join we will accept your request shortly after.
Photos: MXGP, Ray Archer, Acevedo, Dubya, Brian Converse, Honda, Daryl Ecklund, MXA, Honda, KTM,