MXA'S WEEKEND NEWS ROUND-UP: IT'S A STRANGE, STRANGE WORLD WE LIVE IN, MASTER JACK
HUSQVARNA'S ALL-NEW 74 HORSEPOWER LONG-RANGE 701 ENDURO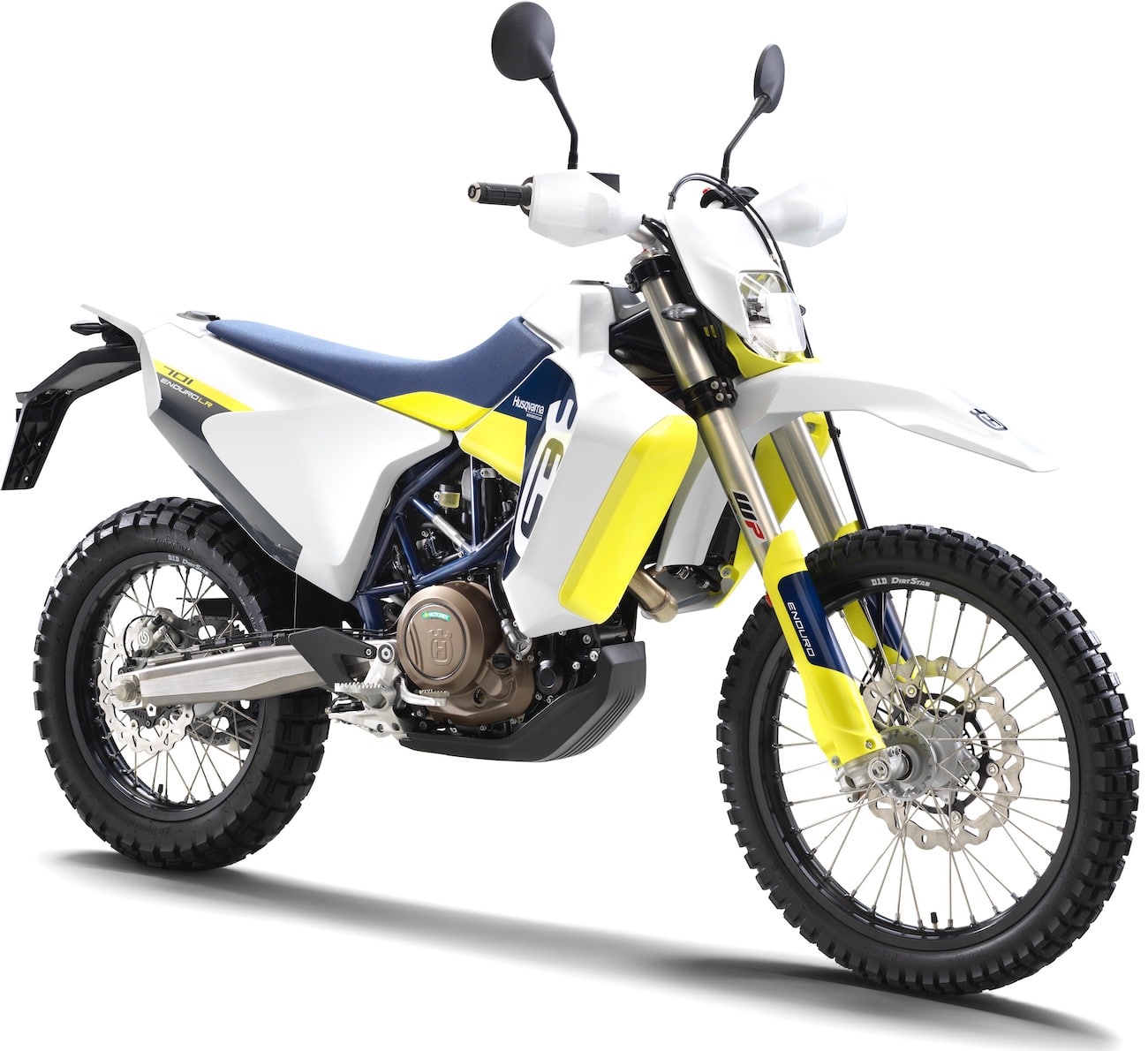 This bike can go 300 miles between fuel stops. How far can your bladder go?
Husqvarna has announce the 2020 701 Enduro Long-Range (LR). It is a 692cc, single cylinder, enduro machine for riders wanting to travel further. With its fully integrated 6.6 gallon fuel tanks, it is the perfect machine for extended, adrenaline-filled on-road or off-road adventures, allowing up to 300 miles between fuel stops.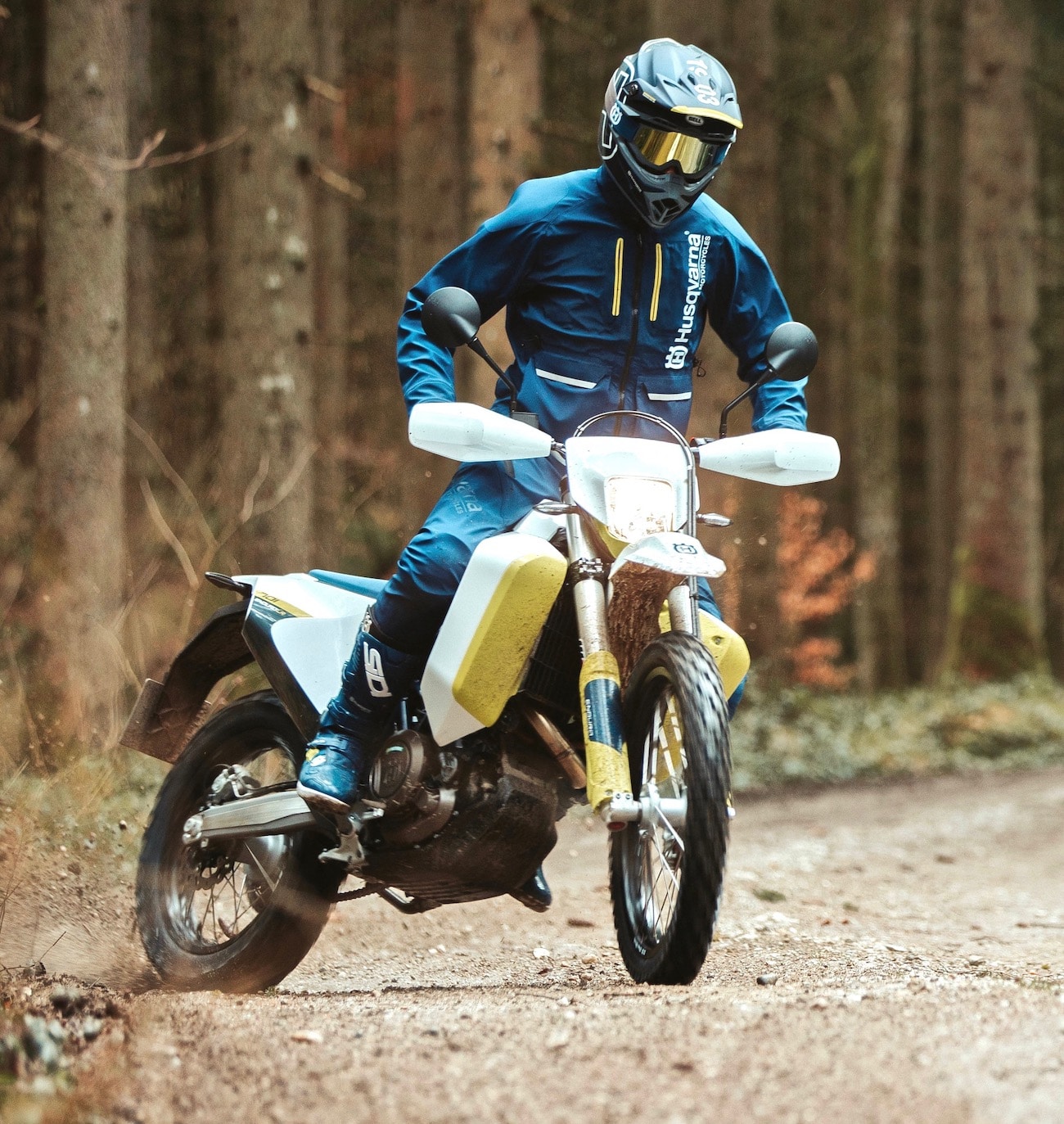 Based on the 701 Enduro, the 2020 Husqvarna 701 Enduro Long-Range offers a ride-by-wire throttle system, Bosch ABS lean angle sensitive traction control, switchable ride modes, 48mm WP XPLOR upside-down forks, Chromoly steel trellis frame,  a WP XPLOR rear shock and excellent all-terrain capabilities.
THE CAKE KALK INK ELECTRIC BIKE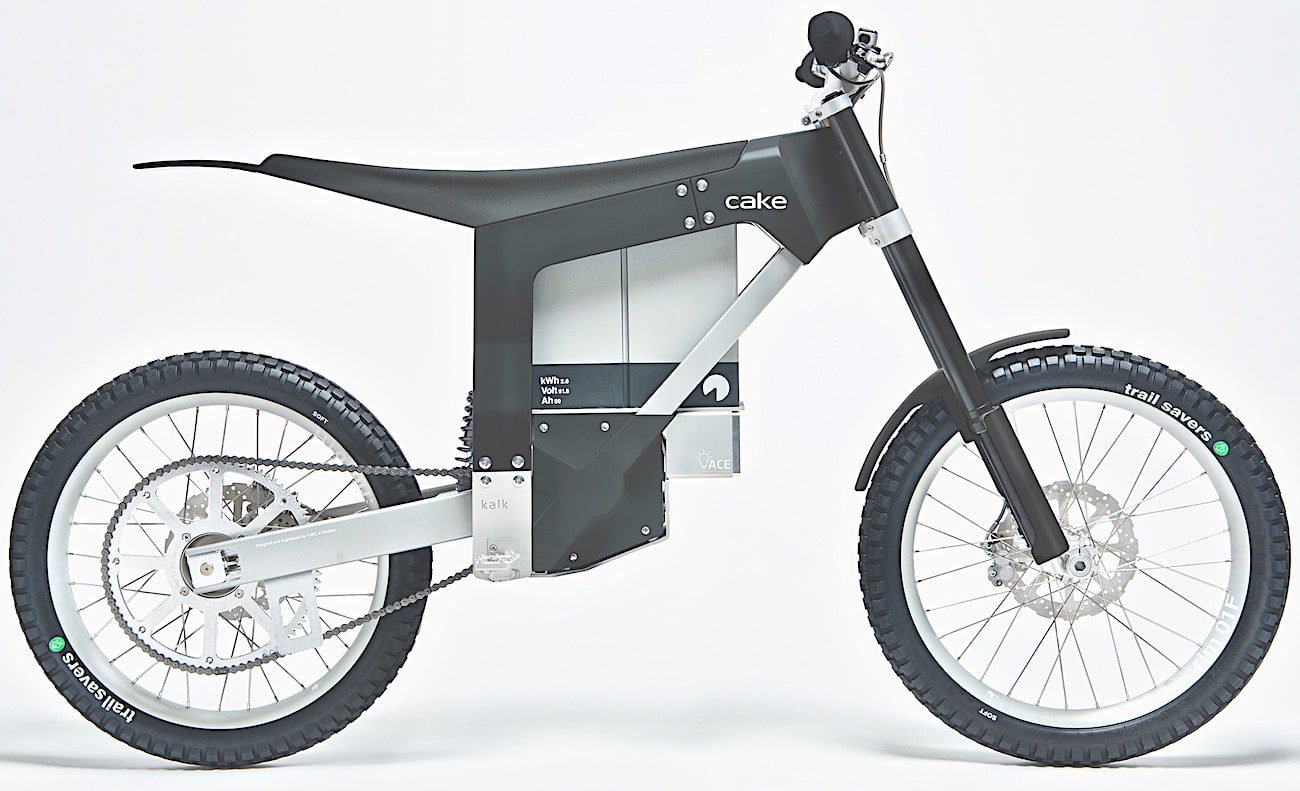 More mountain bike than dirt bike, the Cake Kalk INK is miminalistic.
Cake, a Swedish manufacturer of lightweight electric off-road motorcycles, announced the launch of Cake Kalk INK. Hardly a dirt bike, the Cake Kalk INK is a light-use off-road electric motorcycle capable of reaching 50 mph and having a run time of 3 hours on a single charge. The Kalk INK is based on the technology of the performance-oriented Kalk OR, featuring the same powerful drivetrain, battery, and robust 6061 aluminum frame/swingarm. The Kalk INK differentiates itself from Kalk OR by utilizing a no-link rear suspension, lightweight motocross front suspension, a 19-inch wheelset and injection-molded polycarbonate fenders and bodywork.
It is obvious that Cake is strongly influenced by downhill and cross-country mountain bikes. Cake will start shipping the Kalk to online customers and select retailers on June 1, 2020. In case you want to know, the name Kalk is derived directly from Kalksten, the limestone bedrock of the Swedish island of Gotland, where Cake's test grounds are located (INK refers to the motorcycle's black plastic bodywork). Learn more about Cake at www.ridecake.com.
BEHIND THE SCENES AT THE BRITISH GRAND PRIX: ALL YOU NEED TO KNOW AND MORE!
UPDATED 2020 REM MOTOCROSS SIX-MONTH RACE SCHEDULE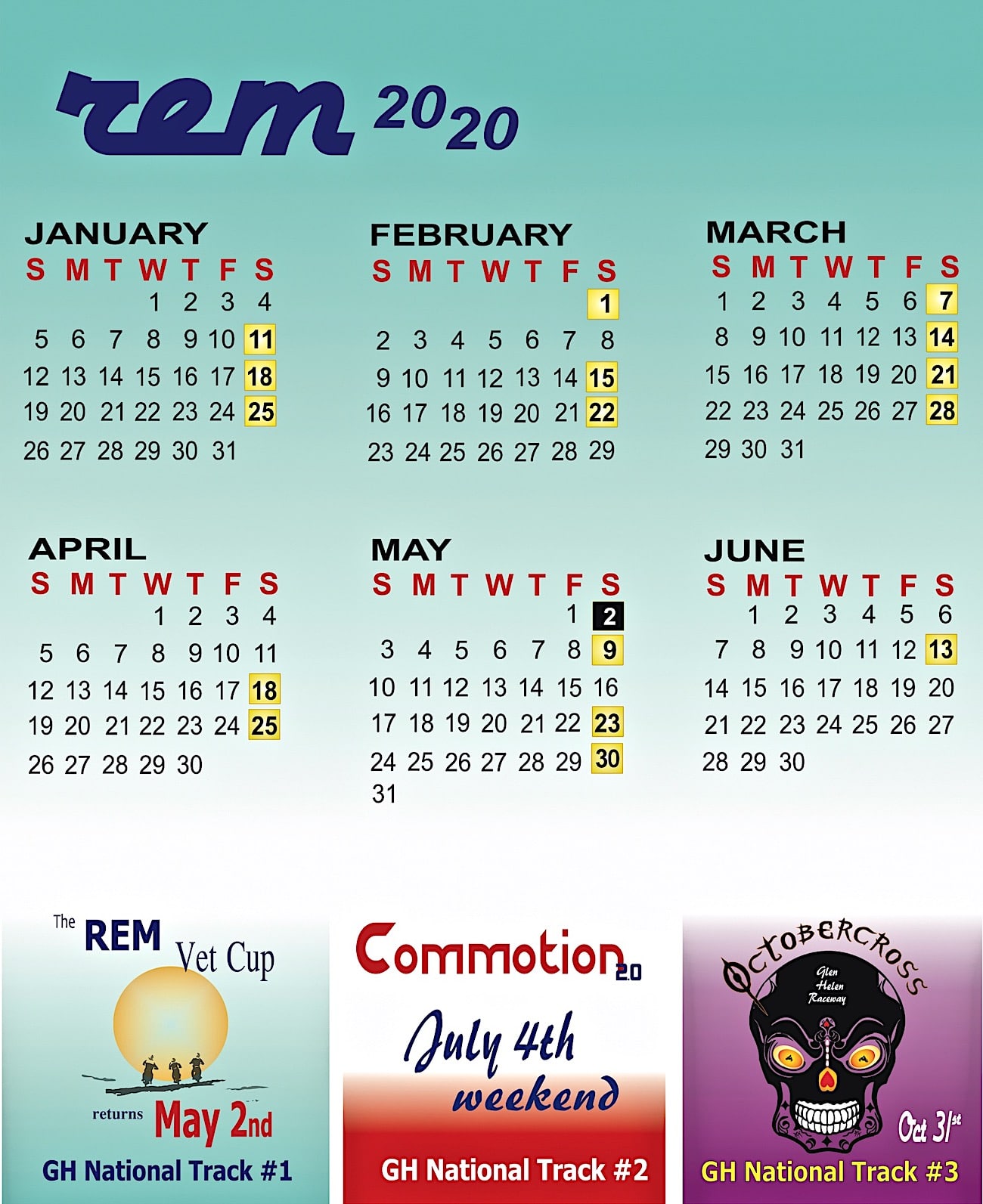 If you plan on flying from Sweden to race at REM, check this six-month schedule first.
REM has updated their race schedule for the first six months of 2020, and since we are already in March, it is only and updated four-month schedule (from March until the end of June). At the bottom of the schedule are three special races. The May 2 REM Vet Cup, the July 3-5 Commotion-By-The-Ocean tribute race and the October 31 Octobercross. For more information go www.remsatmx.com.
MXA PRODUCT SPOTLIGHT: RISK RIPPER AUTOMATED TEAR-OFF SYSTEM
GLEN HELEN TO BE OPEN ON TUESDAYS FOR OPEN PRACTICE
Glen Helen has added more practice days to their very busy schedule.
Starting March 17, 2020, Glen Helen Raceway will be opening Tuesday's for open practice. Glen Helen Raceway has always been open on Thursdays for practice on the National, REM and Pee-Wee tracks—in addition to having those tracks open for practice on Saturdays and Sundays when there aren't organized races scheduled on those days. However, starting on March 17, Glen Helen will be open on Tuesdays from 1:00 p.m. to dusk. Their Grand Opening Tuesday will have a special $20 gate fee. For more info go www.glenhelen.com
WANNA RACE IN SOCAL? NEED TO RENT A BIKE? FIND A PLACE TO STAY? NEED MOTOCROSS INSTRUCTION: JUST CALL STAPO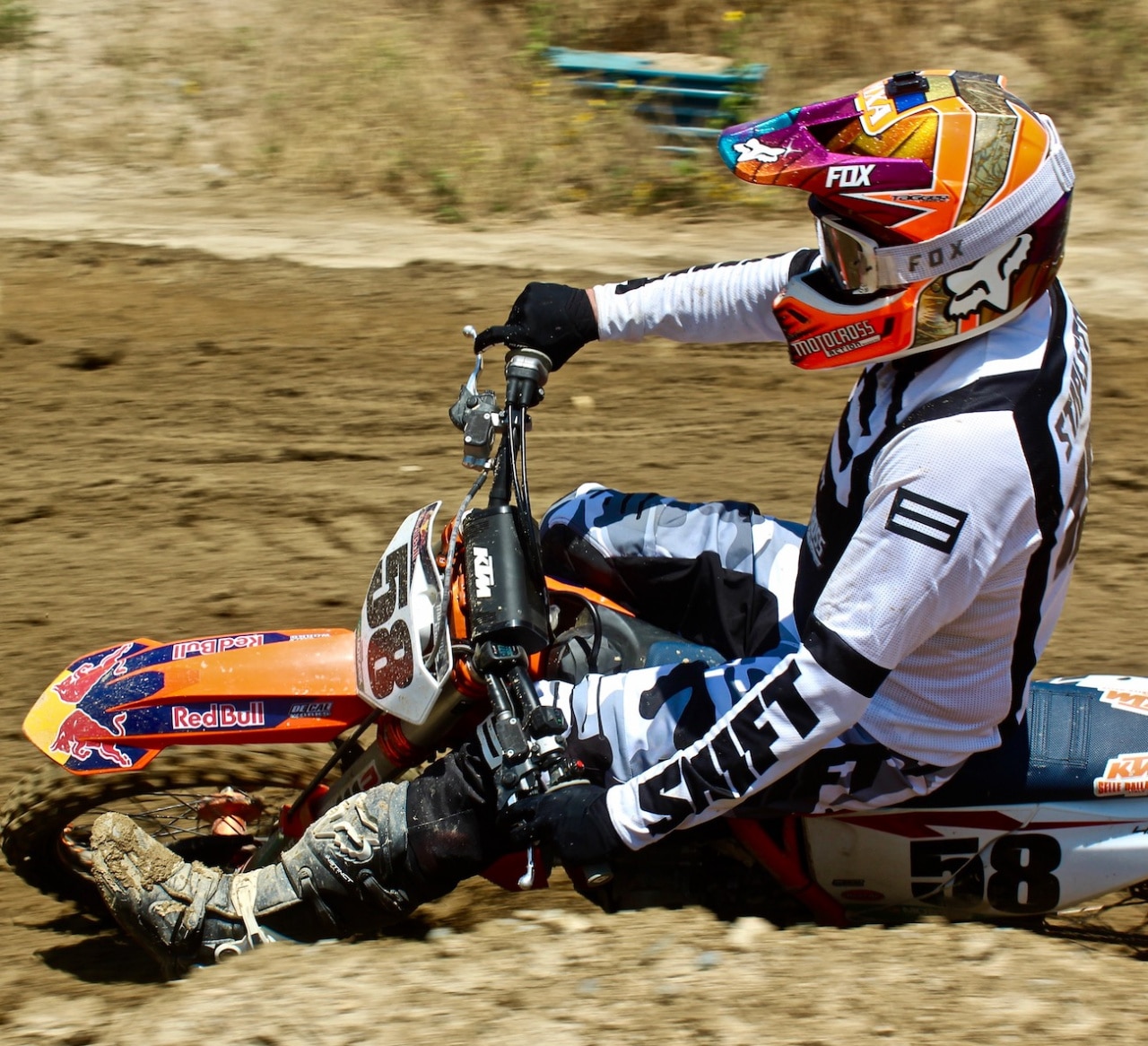 Dennis Stapleton doing what he does every day of the week — let him make your dreams come true.
In his spare time, when he's not testing with MXA, racing in a foreign country, going to Japan or helping many of his motocross buddies, MXA test rider Dennis Stapleton opens up his house, garage, bikes and mechanics to help riders who would like to come to SoCal on a motocross vacation. He offers full service to all of the Southern California tracks for racers or for play riders. Whether you want to rent a bike, move in for a week, race at Glen Helen or take motocross lessons—this is one-stop shopping. Just send them an email ([email protected]). If you'd like to live the SoCal lifestyle for a day, a weekend, a week, a month or three months, visit Dennis Stapleton's' website at www.knobbyshopsouth.org for more details!
SEVEN RIDERS WHO WILL HAVE TO WAIT UNTIL NEXT YEAR TO TRY FOR THE 450 SUPERCROSS CHAMPIONSHIP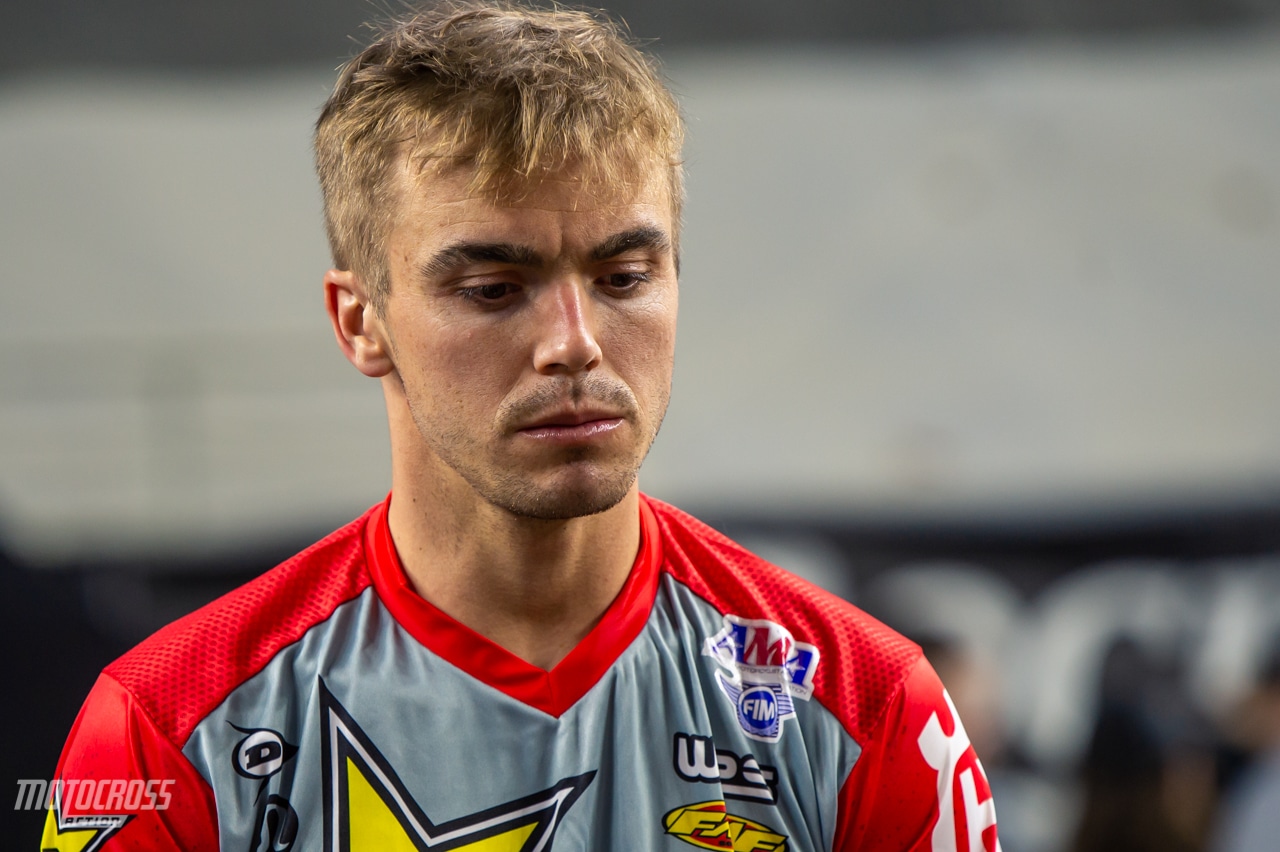 Zach Osborne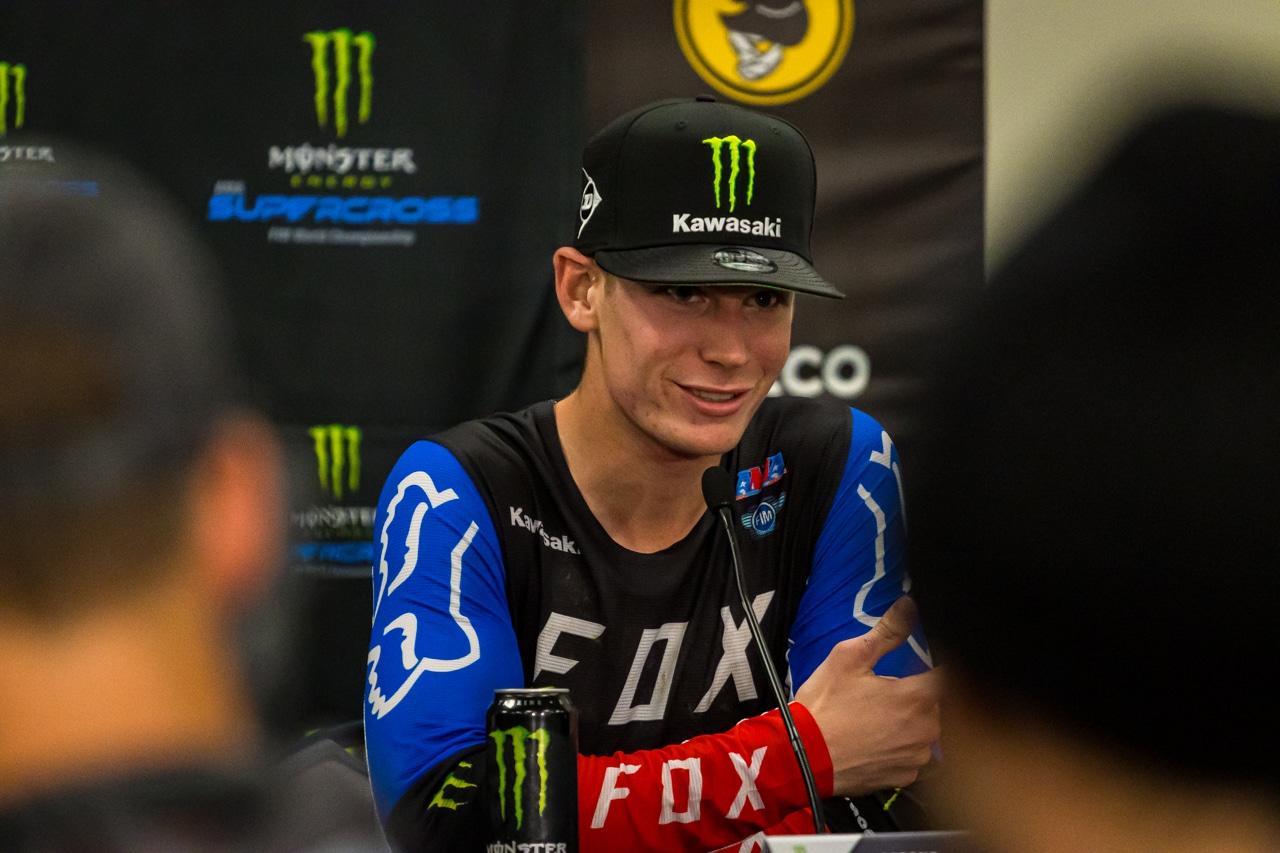 Adam Cianciarulo.
Marvin Musquin.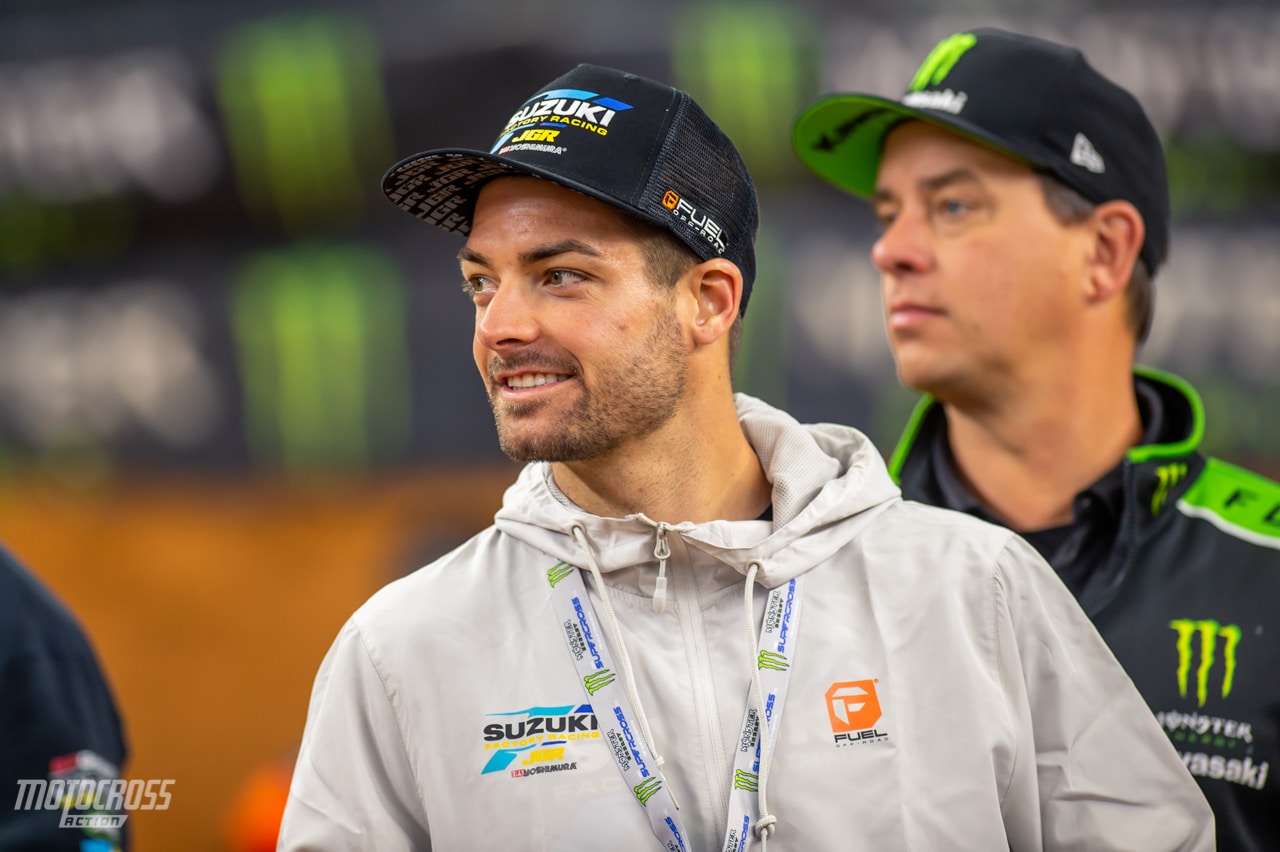 Broc Tickle.
Justin Bogle.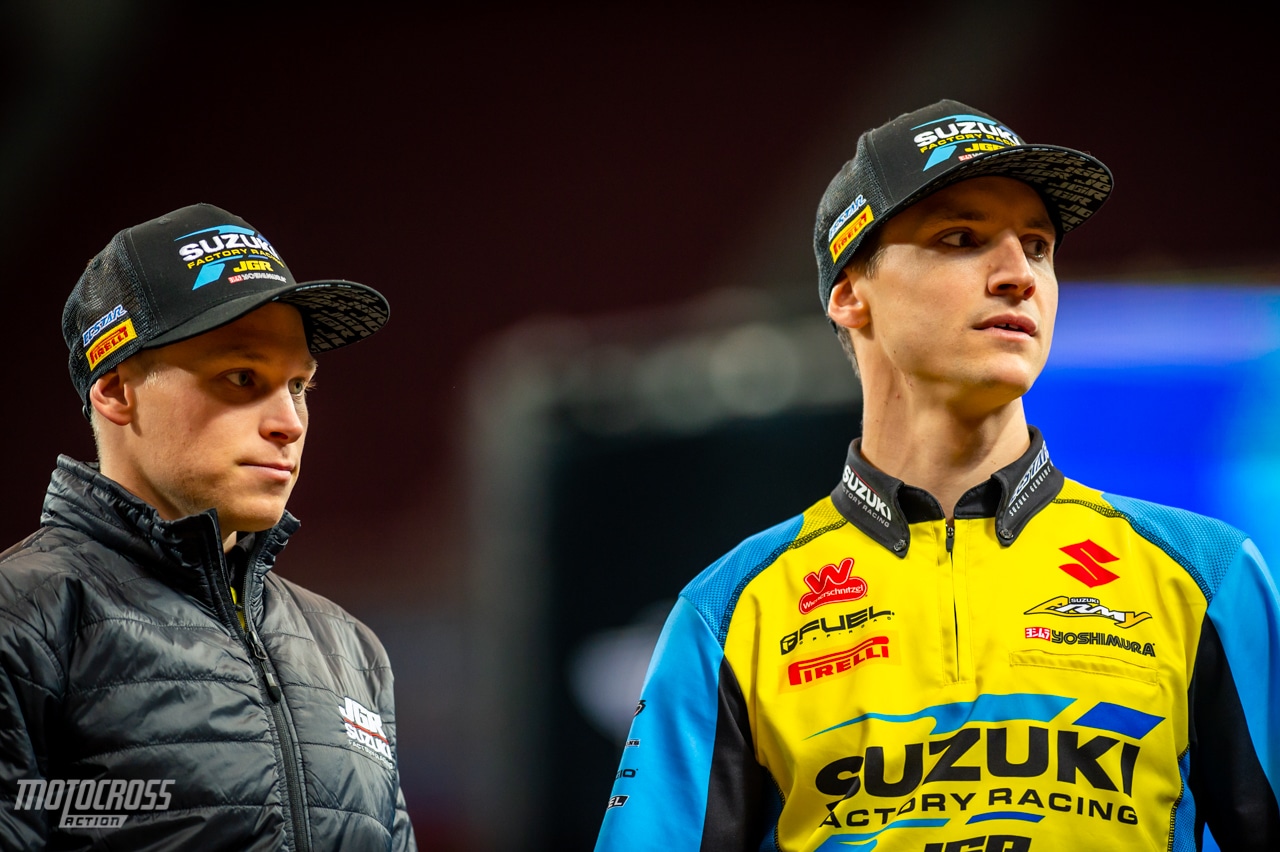 Fredrik Noren (right).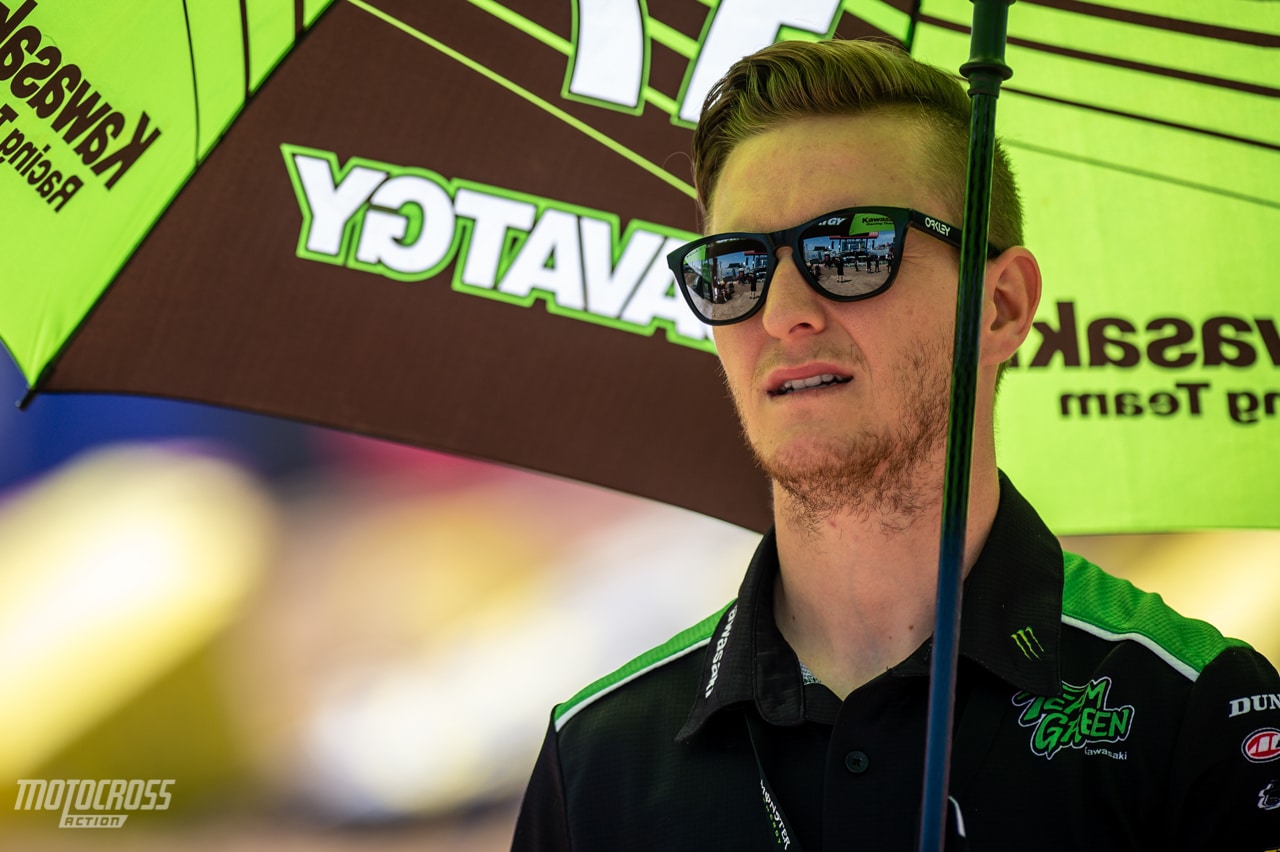 Joey Savatgy.
Husqvarna's Zach Osborne, Kawasaki's Adam Cianciarulo, Rocky Mountain KTM's Justin Bogle, KTM's Marvin Musquin, JGR Suzuki's Broc Tickle, JGR Suzuki's Fredrik Noren and JGR Suzuki's Joey Savatgy are the well-funded and factory-backed 450 riders who are out of the 2020 AMA Supercross series—some before the first race and the rest before the halfway point in the 17-race series.
MXA RIDES THE 72-HORSE KTX500e TWO-STROKE: ONE-THIRD KX500, ONE-THIRD KTM & ONE-THIRD HAND-MADE
2020 AMA SUPERCROSS WINNERS AT A GLANCE
Chase Sexton has won two of the first three 250 East Supercross rounds.

Venue                                        450                                    250
1. Anaheim 1………….Justin Barcia………..Justin Cooper
2. St. Louis………………Ken Roczen…………..Austin Forkner
3. Anaheim 2………….Eli Tomac………………Dylan Ferrandis
4. Glendale…………….Ken Roczen…………..Austin Forkner
5. Oakland……………..Eli Tomac……………….Dylan Ferrandis
6. San Diego…………..Cooper Webb……….Dylan Ferrandis
7. Tampa…………………Eli Tomac……………….Shane McElrath
8. Arlington……………Eli Tomac……………….Chase Sexton
9. Atlanta………………Ken Roczen…………….Chase Sexton
10. Daytona………….
11. Indianapolis……
12. Detroit…………….
13. Seattle…………….
14. Denver…………….
15. Foxborough……
16. Las Vegas………..
17. Salt Lake City….
450 Points leader…Eli Tomac/Ken Roczen (tie)
250 West Points leader…Dylan Ferrandis
250 East points leader…Chase Sexton

AMA SUPERCROSS STANDINGS HEADING TO THE 2020 DAYTONA SUPERCROSS

Cooper Webb's impressive ride at Atlanta saved him from going a full moto behind the two points leaders. A Supercross main event win pays 26 points and Cooper is 24 points behind Roczen and Tomac.

AMA 450 SUPERCROSS STANDINGS
(After 9 of 17 rounds)
1. Eli Tomac (Kaw)…200
2. Ken Roczen (Hon)…200
3. Justin Barcia (Yam)…177
4. Cooper Webb (KTM)…176
5. Jason Anderson (Hus)…151
6. Malcolm Stewart (Hon)…137
7. Adam Cianciarulo (Kaw)…128
8. Justin Hill (Hon)…127
9. Justin Brayton (Hon)…116
10. Dean Wilson (Hus)…113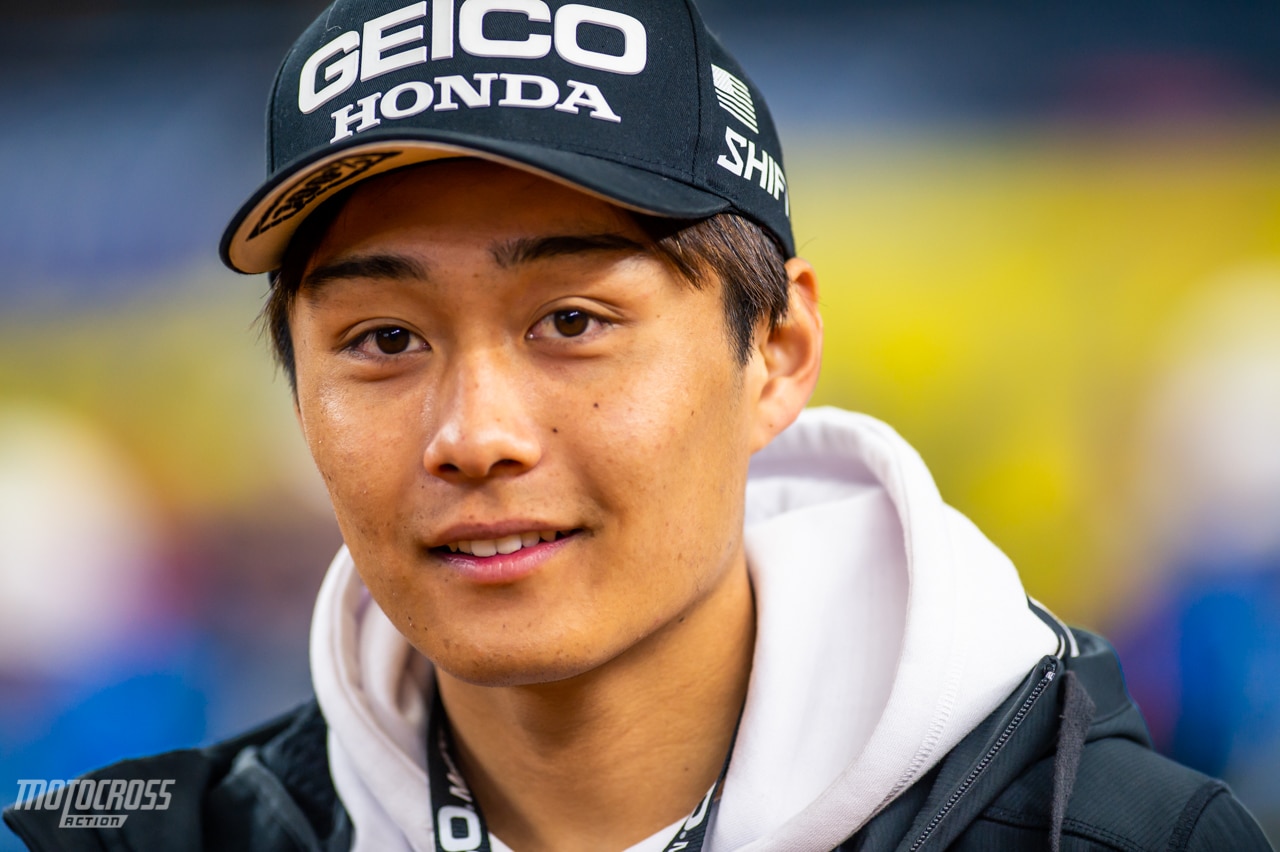 Japanese rider Jo Shimoda is tied with Jeremy Martin for sixth in the 250 East Supercross points standings.
AMA 250 EAST SUPERCROSS STANDINGS
(After 3 of 9 rounds)
1. Chase Sexton (Hon)…75
2. Shane McElrath (Yam)…70
3. R.J. Hampshire (Hus)…61
4. Garrett Marchbanks (Kaw)…53
5. Jordon Smith (Kaw)…47
6. Jeremy Martin (Hon)…44
7. Jo Shimoda (Hon)…44
8. Josh Hill (Yam)…41
9. Enzo Lopes (Hon)…36
10. Joey Crown (Yam)…31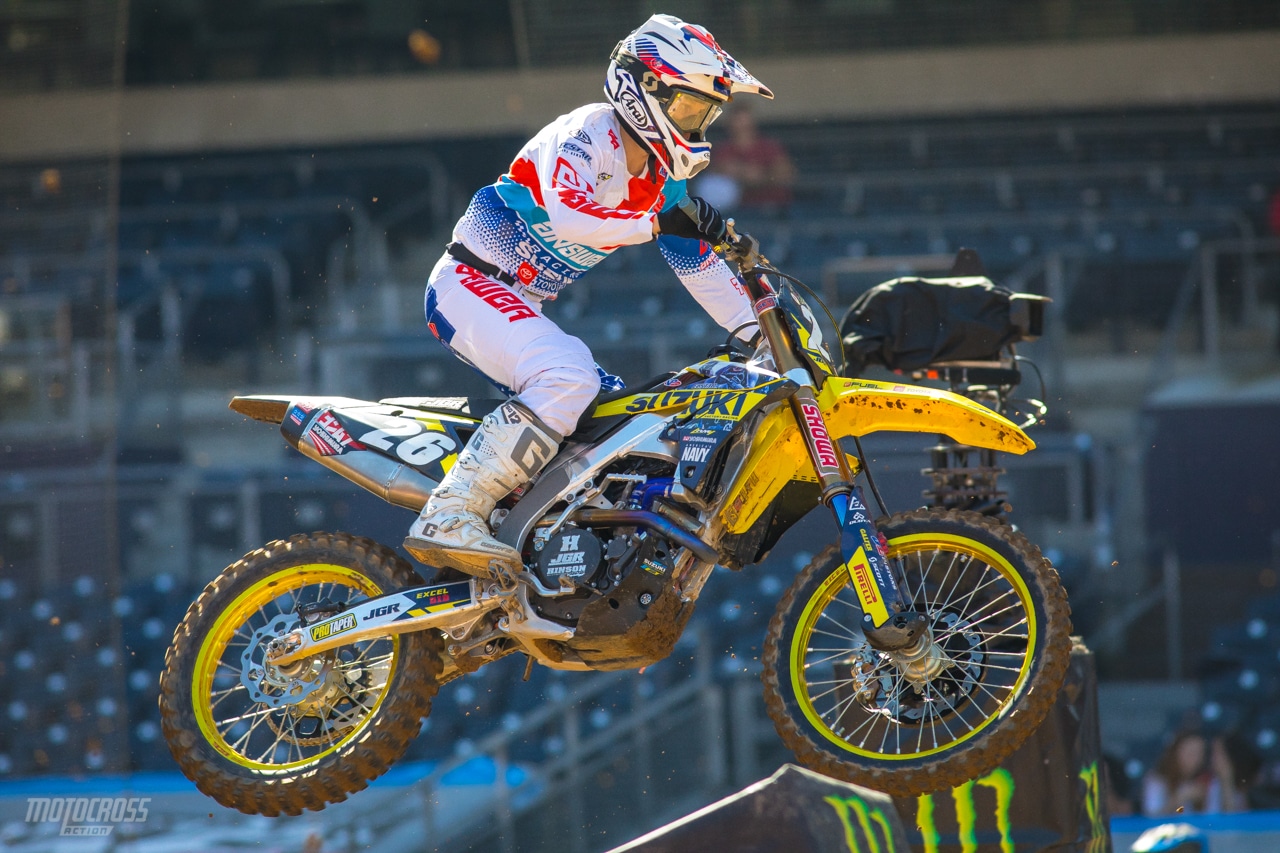 Alex Martin (26) is 5th in the 250 West behind Brandon Hartranft, Austin Forkner, Justin Cooper and Dylan Ferrandis.

AMA 250 WEST SUPERCROSS STANDINGS
(After 6 of 10 rounds)
1. Dylan Ferrandis (Yam)…135
2. Justin Cooper (Yam)…128
3. Austin Forkner (Kaw)…122
4. Brandon Hartranft (KTM)…110
5. Alex Martin (Suz)…98
6. Jacob Hayes (Hus)…89
7. Luke Clout (Hon)…83
8. Michael Mosiman (Hus)…82
9. Derek Drake (KTM)…78
10. Mitchell Oldenburg (Hon)…72
THE HANDY-DANDY TRACK MAPS OF ROUNDS 10 & 11 — DAYTONA & INDIANAPOLIS
On March 7, 2020 the  2020 Daytona Supercross will become the 10th stop on the 17-race 2020 AMA Supercross Championship. It will also be the 50th Annual Daytona .

The Indianapolis Supercross will be held in the Lucas Oil Stadium on March 14. It is one of the simplest track designs of the 2020 season with lots of rhythm sections and only one short section of whoops.
THE APRIL 2020 ISSUE IS JAM-PACKED FULL OF BIKE TEST & TECH ARTICLES

If you haven't seen the latest issue of MXA then you are missing a thrill ride of motocross facts, figures, information, racing, tech and the stuff that never makes it to your phone.

If you subscribe to MXA you can get the mag on your iPhone, iPad, Kindle or Android by going to the Apple Store, Amazon or Google Play or in a digital version. Even better you can subscribe to Motocross Action and get the awesome print edition delivered to your house by a uniformed employee of the U.S. Government. You can call (800) 767-0345 or Click Here (or on the box at the bottom of this page) to subscribe.
ASK THE MXPERTS: CAN I RUN A KTM CLUTCH BASKET ON MY HONDA CRF450?
A steel clutch basket has pluses and minuses, but mostly pluses.
Dear MXA,
Everyone raves about the KTM's CNC-machined steel clutch basket. I realize that the KTM parts won't fit on my Honda CRF450, but does anyone make a steel clutch basket for a 2018 Honda CRF450?
You can get an added dose of KTM clutch performance out of your CRF450 with Hinson's Momentum steel clutch basket. It is CNC-machined out of a billet of solid steel and weighs 2 pounds more than the stock cast-aluminum basket. If you are tired of notching baskets and changing clutch plates on the judder spring-equipped CRF450 clutch, the Hinson basket is for you. Hinson makes the steel clutch basket for riders who never want to worry about the lifespan of their clutch baskets. The steel basket is extremely wear resistant, has oil ports to help lubricate the plates, and improves clutch performance because of its stiction-free tangs.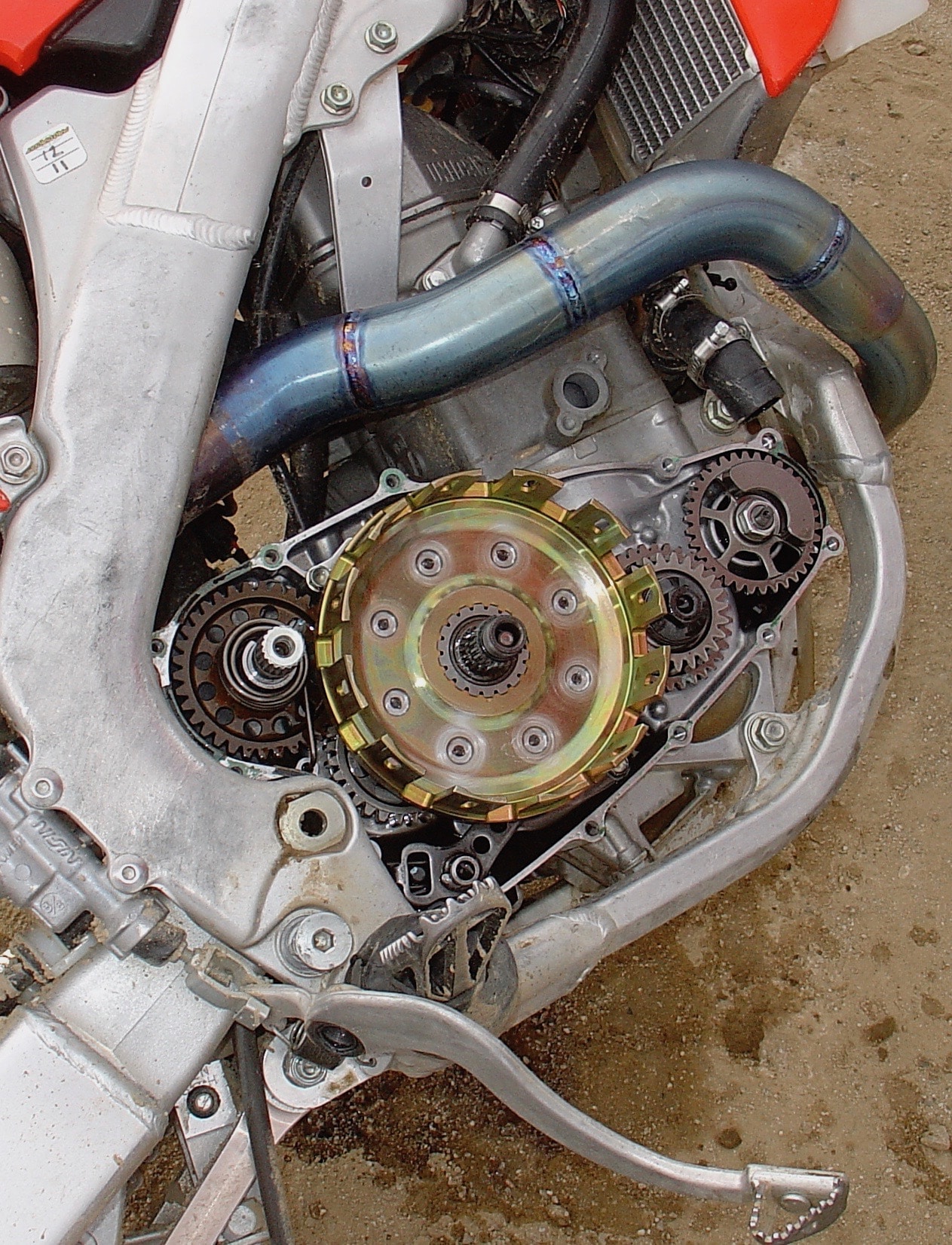 Hinson steel clutch basket in a CRF450.
MXA was initially worried about what the heavy basket would do to throttle response and power output. Amazingly, most MXA test riders liked the feel. The whole clutch felt smoother in action because the plate drag on the basket's tangs was reduced. At the worst, the test riders felt that the heavy basket took the edge off of the harsher parts of the CRF450 powerband, slowed the revs down in the midrange and broadened the over-rev. Perhaps, because of the direction of the rotation of the clutch, it operates more like a giant counterbalancer than a flywheel weight; it had none of the attributes of a heavy flywheel.
The Hinson Momentum clutch is available for Hondas, Yamahas, Suzukis and Kawasakis. At $384.99, the CNC-machined steel Hinson basket costs $60 more than their Akadized aluminum basket. For more information, go to www.hinsonracing.com or call (909) 946-2942.
CLASSIC MXA TEST RIDER PHOTOS: DARYL ECKLUND FLYING HIGH OVER THE PACIFIC

MXA Managing Editor Daryl Ecklund wanted to get a good view of the Pacific Ocean to his right and Costa Rica below. This was his solution.

REM GOES FOUR-FOR-FOUR ON MARCH 7, 14, 21 & 28 AT GLEN HELEN

For more information about REM go to www.remsatmx.com
INAUGURAL "DAY IN THE DIRT DOWN SOUTH" AT DADE CITY ON MARCH 13-15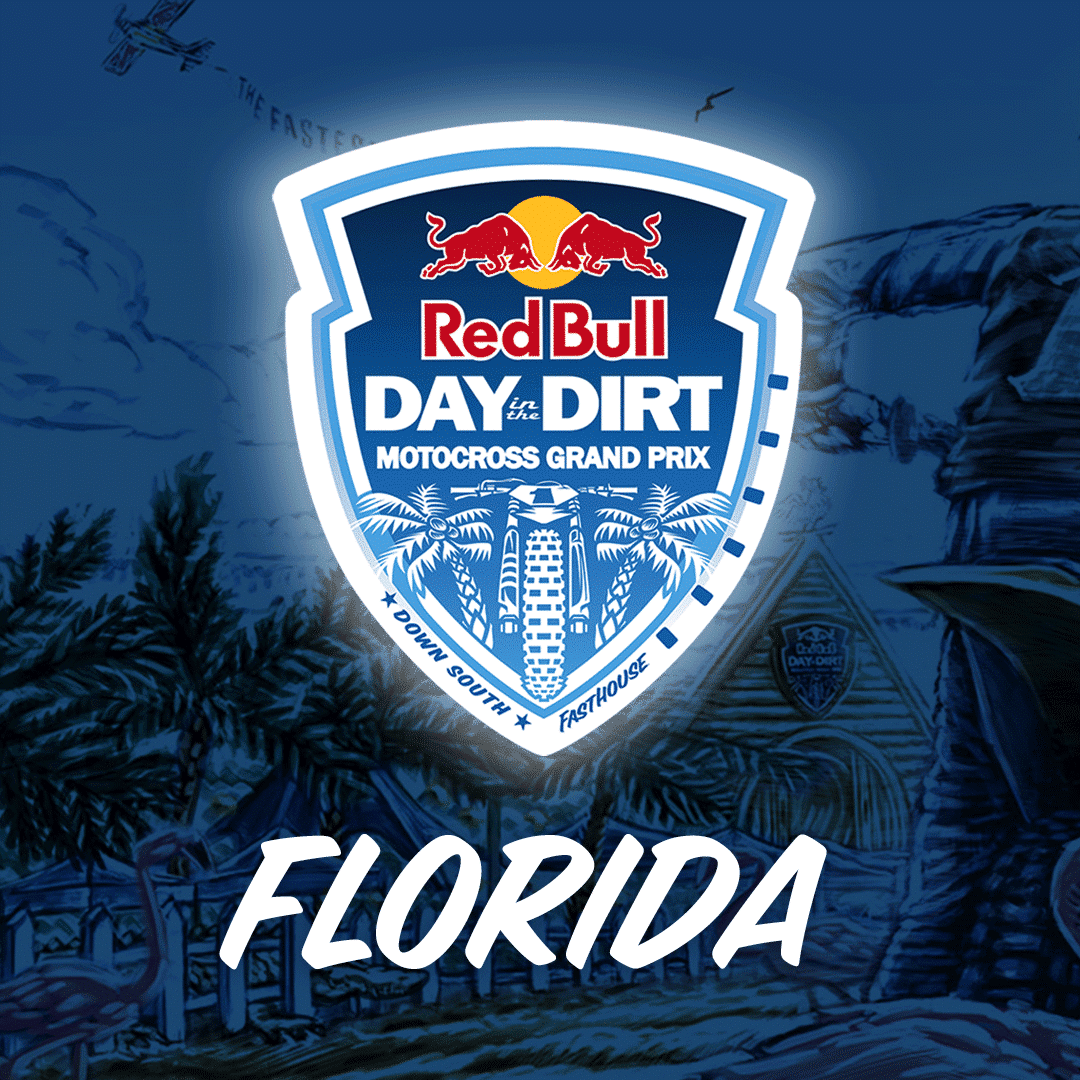 The Red Bull Day in the Dirt is coming to Dade City Motocross in Florida on March 13-15.Day in the Dirt has been held in SoCal for 22 years, but has expanded to Australian and now to the South. The Red Bull Day in the Dirt Down South promises to be a unique gathering of dirt bike-riding, fun-loving family and friends.The racing will happened all weekend with classes for all levels and ages – from Beginner to Pro, Minicycles to Vintage, Vets and Women, Two-Strokes, Off-Roaders—everyone. There will also be a wide array of team races like the Bosa Nova GP, Moto A Go-Go, the Old Switcheroo, the Still Smoking Two-Stroke race and finally the Coup de Grace Survival Race. Also, riders that compete in and finish five events become an Ironman and will receive a stylish trophy. For more information go to www.dayinthedirtdownsouth.com.
6TH ANNUAL MOTO MASTERS VET SERIES STARTS ON MARCH 14 AT JOHNSVILLE MX FARM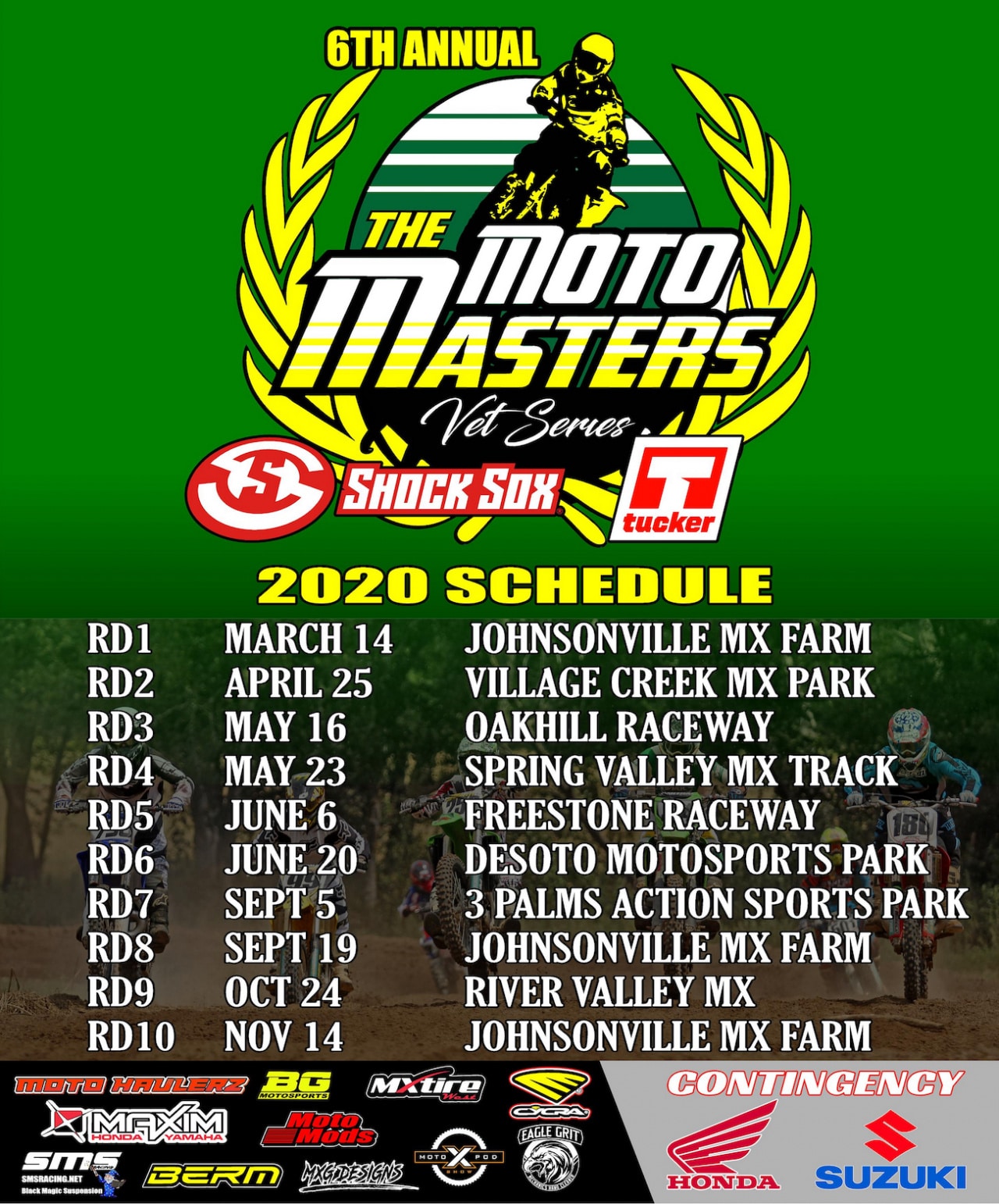 For more info go to www.johnsonvillemxfarm.com
2020 ARIZONA STATE CHAMPIONSHIP SERIES RACES ON MARCH 22 AT CANYON RACEWAY

For more information go to www.canyonmx.com or www.amxracing.com
2020 OLD SCHOOL SCRAMBLES TT AT GLEN HELEN ON MARCH 29

For more info go to www.ossrg.org
2020 WISECO/FASTHOUSE WORLD TWO-STROKE CHAMPIONSHIP COMING ON APRIL 10-11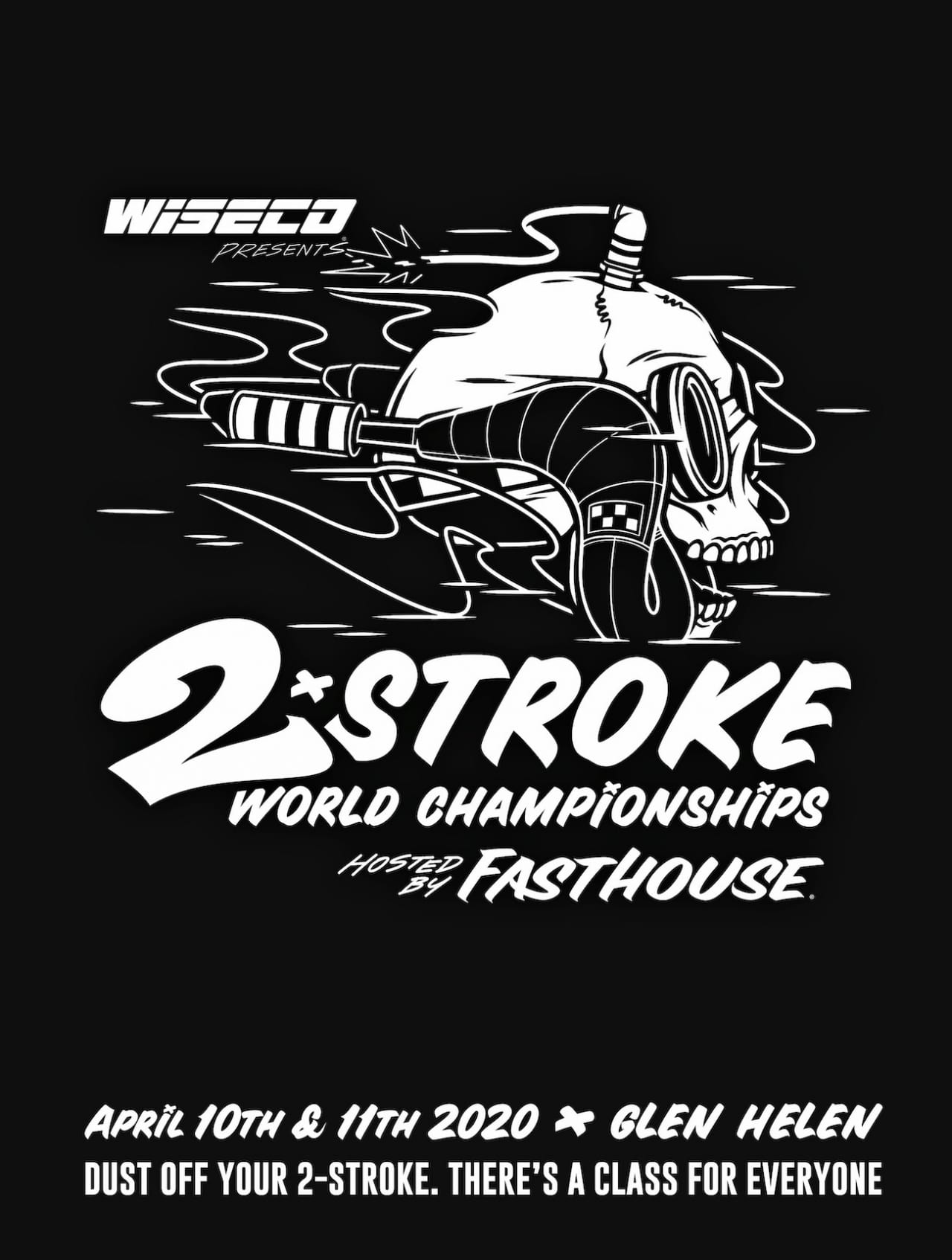 You can pre-enter now. To pre-enter Click Here
2020 CZ WORLD CHAMPIONSHIP ON APRIL 24-26 AT MARYSVILLE
Dating back to 1980 when MXA's Jody Weisel, Ketchup Cox and Pete Maly talked Saddleback Saturday promoter Jim Beltnick into holding a CZ race, the CZ World Championship is now on its 40th anniversary in 2020. For more information go to www.czriders.com
GLEN HELEN'S 6-HOUR ENDURANCE RACE THIS SUNDAY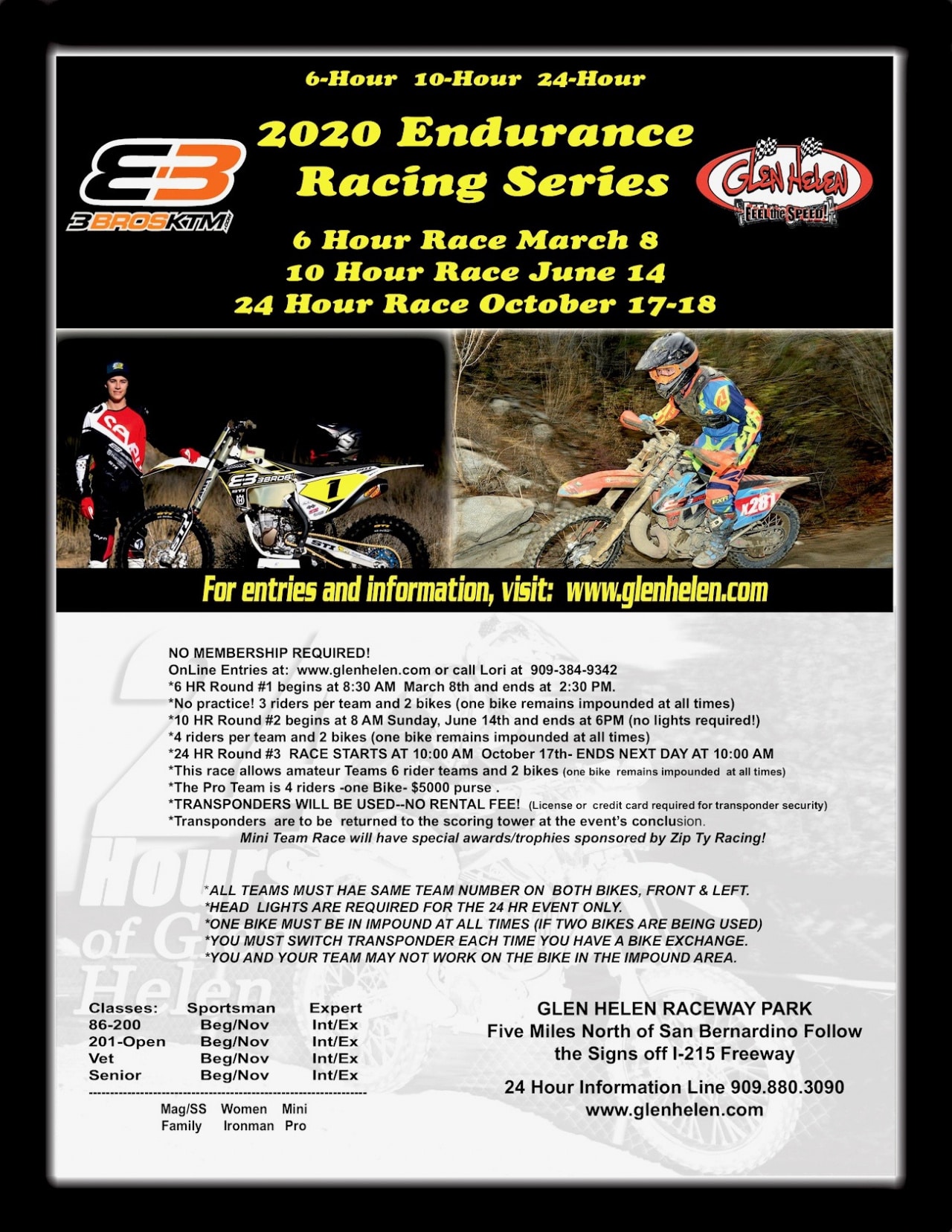 The 10-Hour is on June 14 and the 24-Hour starts on October 17 (and ends on the 18th). For more info go to www.glenhelen.com
36TH ANNUAL WORLD VET MOTOCROSS CHAMPIONSHIP: START PLANNING NOW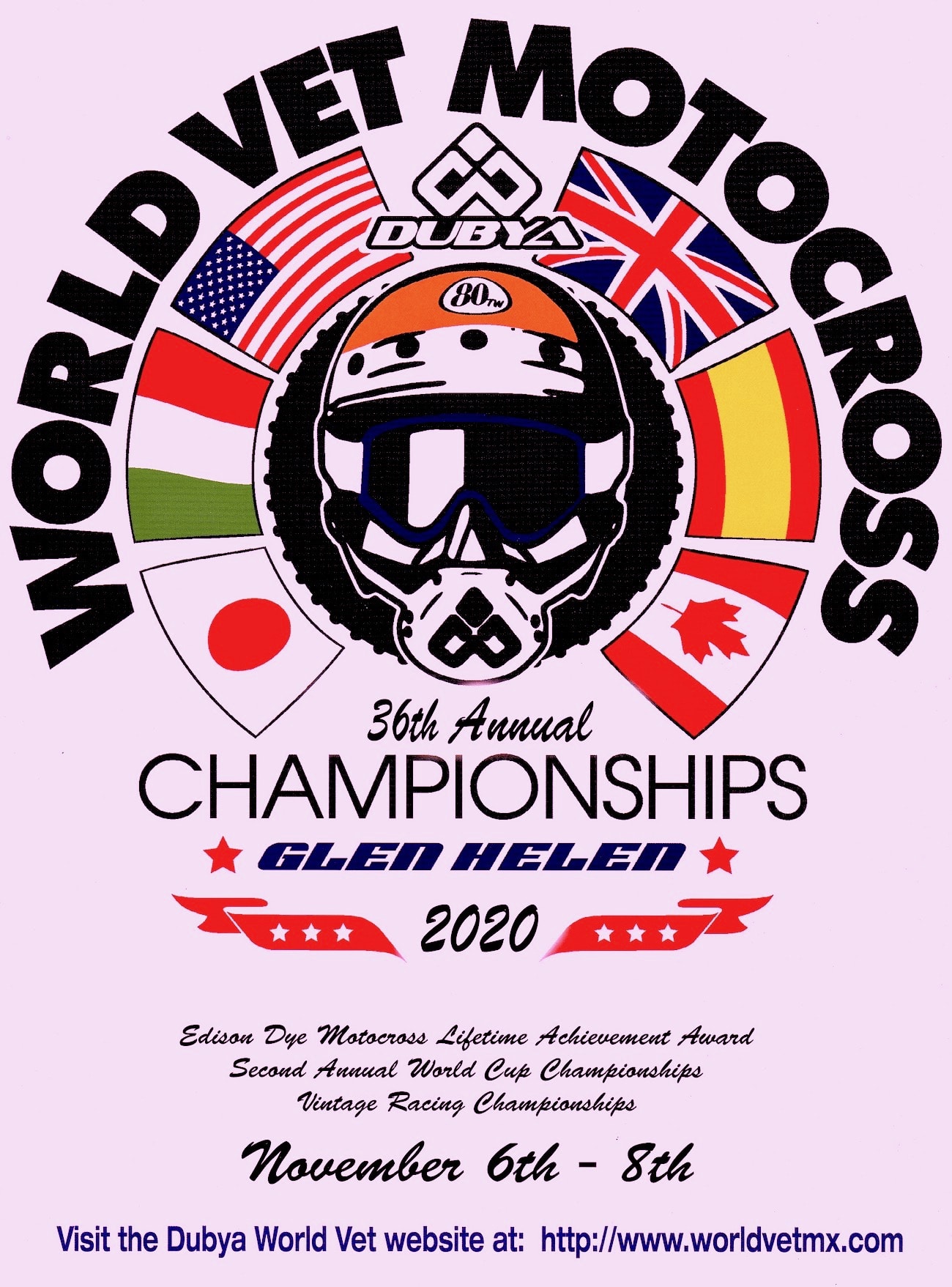 The 2020 World Vet Championship is not until November 6-8, 2020. But this three-day event is the longest running, biggest and most prestigious Vet race in the world. It includes Novice, Intermediate and Expert classes for all age groups, (in five-year increments), Pro races for Over-30, Over-40, Over-50, Over-60 class, the The Vet Cup of Nations (for three-man teams from each nation) and the Edison Dye Lifetime Achievement Award (last year Roger DeCoster presented the award to Mitch Payton). For more info go to www.worldvetmx.com or to www.glenhelen.com
LOOKING AHEAD! THE 2020 RACE CALENDAR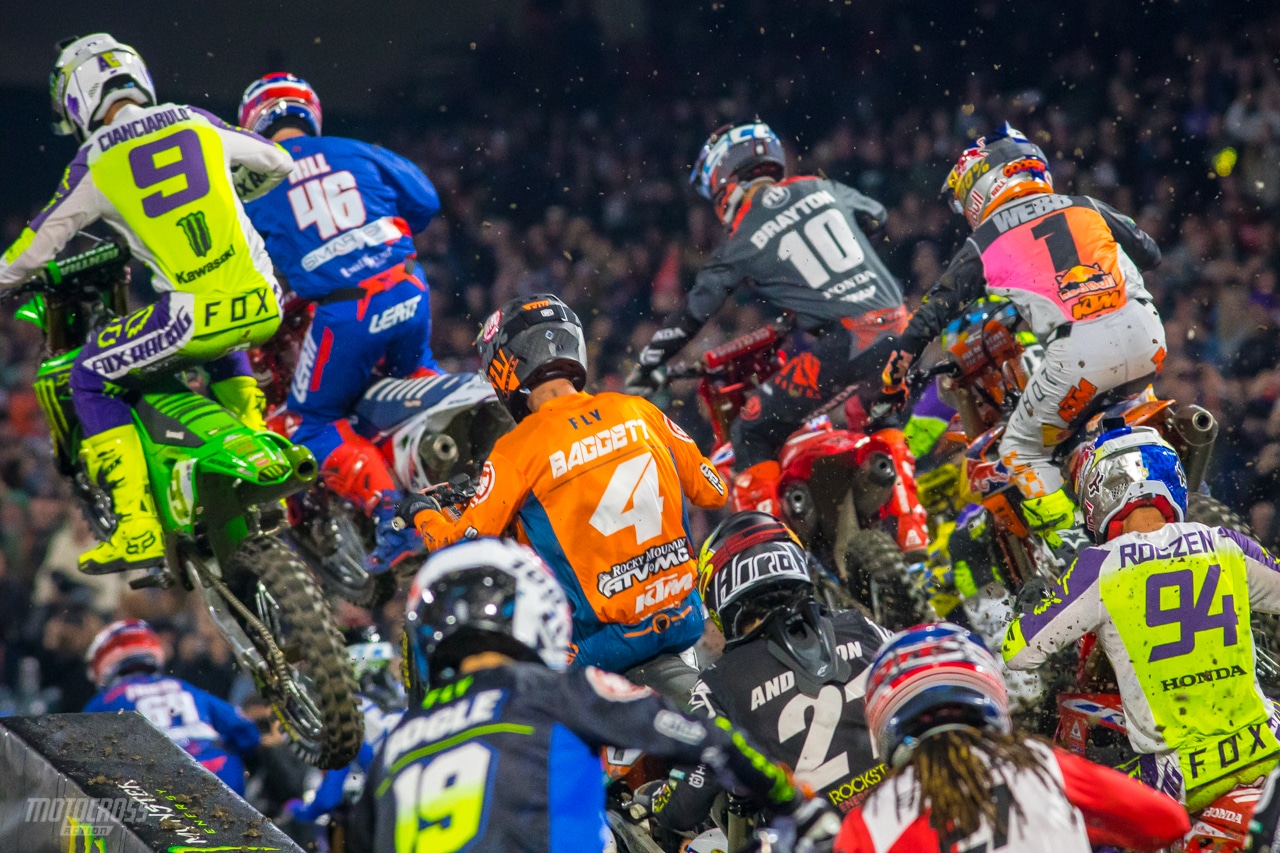 2020 AMA SUPERCROSS CHAMPIONSHIP
Jan. 4…Anaheim, CA (West)
Jan. 11…St. Louis, MO (West)
Jan. 18 …Anaheim, CA (West)
Jan. 25…Glendale, AZ (3-Moto) (West)
Feb. 1…Oakland, CA (West)
Feb. 8…San Diego, CA (West)
Feb. 15…Tampa, FL (East)
Feb. 22… Arlington, TX (3-Moto) (East)
Feb. 29… Atlanta, GA (East)
Mar. 7…Daytona Beach, FL (East)
Mar. 14…Indianapolis, IN (East)
Mar. 21…Detroit, MI (East)
Mar. 28…Seattle, WA (West)
Apr. 4…Denver, CO (East/West)
Apr. 18…Foxborough, MA (East)
Apr. 25…Las Vegas, NV (3-Moto) (West)
May 2…Salt Lake City, UT (East/West)
2020 AMA ARENACROSS CHAMPIONSHIP
Jan. 3-4…Loveland, CO
Jan. 11…Hobbs, NM
Jan. 24-25…Oklahoma City, OK
Jan. 31-Feb. 1… Denver, CO
Feb. 7-8…Reno NV
Feb. 28-29…Salt Lake City, UT
Mar. 7… Amarillo, TX
2020 AMA NATIONAL CHAMPIONSHIP
May 16…..Hangtown, CA
May 23…..Pala, CA
May 30….Thunder Valley, CO
Jun. 6……Jacksonville, FL
June 20…Mt. Morris, PA
June 27…Southwick, MA
July 4……Red Bud, MI
July 18….Millville, MN
July 25….Washougal, WA
Aug. 15…Unadilla, NY
Aug. 22…Budds Creek, MD
Aug. 29…Crawfordsville, IN
2020 AMA SUPERMOTO CHAMPIONSHIP
Apr. 4-5… Primm, NV
May 2…Honolulu, HA
May 30…Dacono, CO
June 12-13…Austin,TX
July 31-Aug. 2…Trois-Rivieres, Quebec
Sept. 11-12…Sturgis, SD
2020 FIM MOTOCROSS WORLD CHAMPIONSHIP
Mar. 1…Great Britain
Mar. 8…Holland
Mar. 22…Argentina
Apr. 5…Italy #1
Apr. 19…Spain
Apr. 26…Portugal
May 10…France
May 17…Italy #2
May 24…Germany
June 7…Russia
June 14…Latvia
June 28…Jakarta, Indonesia
July 5…Palembang, Indonesia
July 26…Czech Republic
Aug. 2…Belgium
Aug. 16…Sweden
Aug. 23…Finland
Sept. 6.…Turkey
Sept. 13…Shanghai, China
Sept. 20…Italy #3
2020 FIM MOTOCROSS WORLD SIDECAR CHAMPIONSHIP
Apr. 19…Holland
May 10…Czech Republic
May 17…Ukraine
June 21…Belgium
June 28…France
July 12…Estonia
Aug. 23…Belgium
Aug. 30…Switzerland
Sept. 6.…Slovenia
Sept. 13…Czech Republic
Sept. 20…Germany
2020 FIM MOTOCROSS DES NATIONS
Sept. 27.…Ernee, France
2020 WORLD TWO-STROKE CHAMPIONSHIP
April 10-11.…Glen Helene, CA
2020 AMA ENDUROCROSS CHAMPIONSHIP
Aug. 22…Prescott Valley, AZ
Sept. ??…TBA
Oct. 3,…Amarillo, TX
Oct. 10…Denver, CO
Nov. 7…Boise, ID
2020 WORCS OFF-ROAD CHAMPIONSHIP
Jan. 26…Primm, NV
Feb. 23…Taft, CA
Mar. 22… Havasu, AZ
Apr. 19…Blythe, CA
May 3…Las Vegas, NV
May 31…Cahuilla Creek, CA
July 19…Prineville, OR
Sept. 20…Glen Helen, CA
Oct. 18…Mesquite, NV
Nov. 15…Primm, NV
2020 WORCS SPRINT ENDURO CHAMPIONSHIP
Feb. 14-15…Taft, CA
June 5-6…Cahuilla, CA
June 24-25…Prineville OR
Sept. 26…Glen Helen, CA
2020 CANADIAN NATIONAL CHAMPIONSHIP
May 31…Wild Rose, AB
June 7…Blackwater, BC
June 14…Dorva, AB
June 21…MotoVally, SK
July 12…Gopher Dunes, ON
July 19…San Del Lee, ON
July 26…Riverglade, NB
Aug. 2…Deschambault, QC
Aug. 16…Walton, ON
2020 MICHELIN BRITISH NATIONAL CHAMPIONSHIP
Mar. 22…Fatcat MotoParc
Apr. 19…Desertmartin, Ireland
Apr. 26…Hawkstone Park
July 5…Canada Heights
Aug. 9…Landrake
Sept. 6t…Cusses Gorse
2020 BRIDGESTONE BRITISH MASTERS CHAMPIONSHIP
Mar. 7-8…Culham
Apr. 4-5…Hawkstone
May 16-17…Wroxton
June 13-14…Pontrilas
Aug. 1-2…Iron Works Moto
Sept. 19-20…Cusses Gorse
2020 ACU BRITISH NATIONAL CHAMPIONSHIP
Apr. 12…Lyng
May 3…Foxhill
May 31…Blaxhall
June 21…Deertmartin, Ireland
July 12…Culham
Aug. 30…Landrake
2020 IRISH NATIONAL CHAMPIONSHIP
Apr. 4…Desertmartin
May 10…TBA
June 6…Claudy
July 19…TBA
Aug. 15…Tandragee
Sept. 13…TBA
2020 AUSTRALIAN NATIONAL CHAMPIONSHIP
April 4-5…Horsham, Victoria
May 3… Newry, Victoria
May 24…Queensland
June 28…Glympie, Queensland
July 25-26…Maitland, New South Wales
Aug. 22-23…Coolum, Queensland
2020 AUSTRALIAN SUPERCROSS CHAMPIONSHIP
Oct. 3 …Western Australia
Oct. 17… South Australia
Oct. 31…Queensland
Nov. 7 …New South Wales
Nov. 14…TBA
Nov. 28…Victoria
2020 ADAC GERMAN NATIONAL CHAMPIONSHIP
Apr. 13…Fürstlich Drehna
May 3…Mölln
May 31…Möggers, Austria
June 21…Aichwald
July 12…Holzgerlingen
July 19…Tensfeld
Aug. 30…Bielstein
Sept.13…Gaildorf
2020 REM COMMOTION BY THE OCEAN
July 3-5…Glen Helen, CA
2020 AMA NATIONAL AMATEUR CHAMPIONSHIP
Aug. 3-8….Hurricane Mills, TN
2020 FIM JUNIOR WORLD CHAMPIONSHIP
Aug. 8-9…Megalopolis, Greece
REM OCTOBERCROSS
Oct. 31…Glen Helen, CA
2020 DUBYA WORLD VET MOTOCROSS CHAMPIONSHIP
Nov. 6-8…Glen Helen , CA
MXA PRODUCT SPOTLIGHT: DUBYA USA EDGE WHEELSETS
Orange Edge hubs, Bulldog spokes, nickel plated nipples and black Excel Notako rims.
Dubya USA, a provider of premium motorcycle wheel sets and components, is proud to announce the all-new Edge Wheel sets. These wheels are the perfect solution for riders who need quality and performance at an economical price point.
The Edge hubs are available in red, green blue or orange with black or silver rims at a very affordable price.
We're excited to add these new Edge wheel sets to the Dubya USA lineup," said Dubya co-founder Kristin White Anderson. "We strive to deliver the best products possible to our customers, but top-of-the-line wheels are not in everyone's budget. The Edge wheels are durable and reliable, and are affordable for virtually any rider looking to replace their old wheels or simply give their bike a more upgraded look."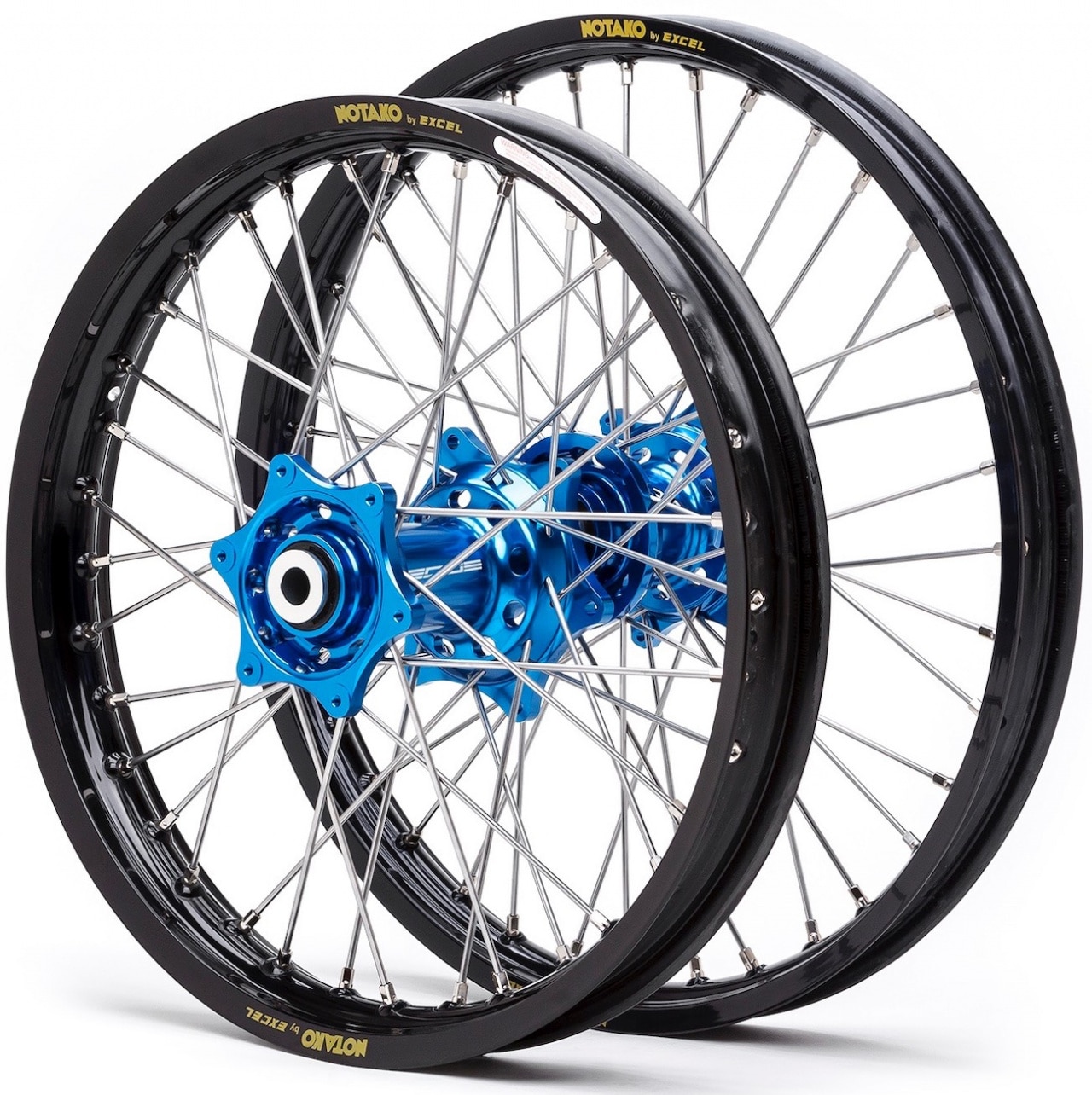 Blue Edge hubs, Bulldog spokes, nickel plated nipples and black Excel Notako rims. 
Edge wheel set centers around the highly durable forged aluminum Edge hub, which are offered in factory colors of blue, red, green, and orange. The hubs are laced to your choice of black or silver Excel Notako rims using stainless steel Bulldog spokes and nickel plated steel nipples. Each wheel is pre-assembled in Dubya USA's southern California facility by the same technicians who assemble all of Dubya's top professional rider and team wheels.
Edge wheel sets are priced at $639.00. Visit www.DubyaUSA.com for more details or call 714-279-0200 to speak to a wheel specialist.
MXA PRODUCT SPOTLIGHT: PRO CIRCUIT'S 2020 KTM 300XC TPI & HUSKY TE300I PIPES & SILENCER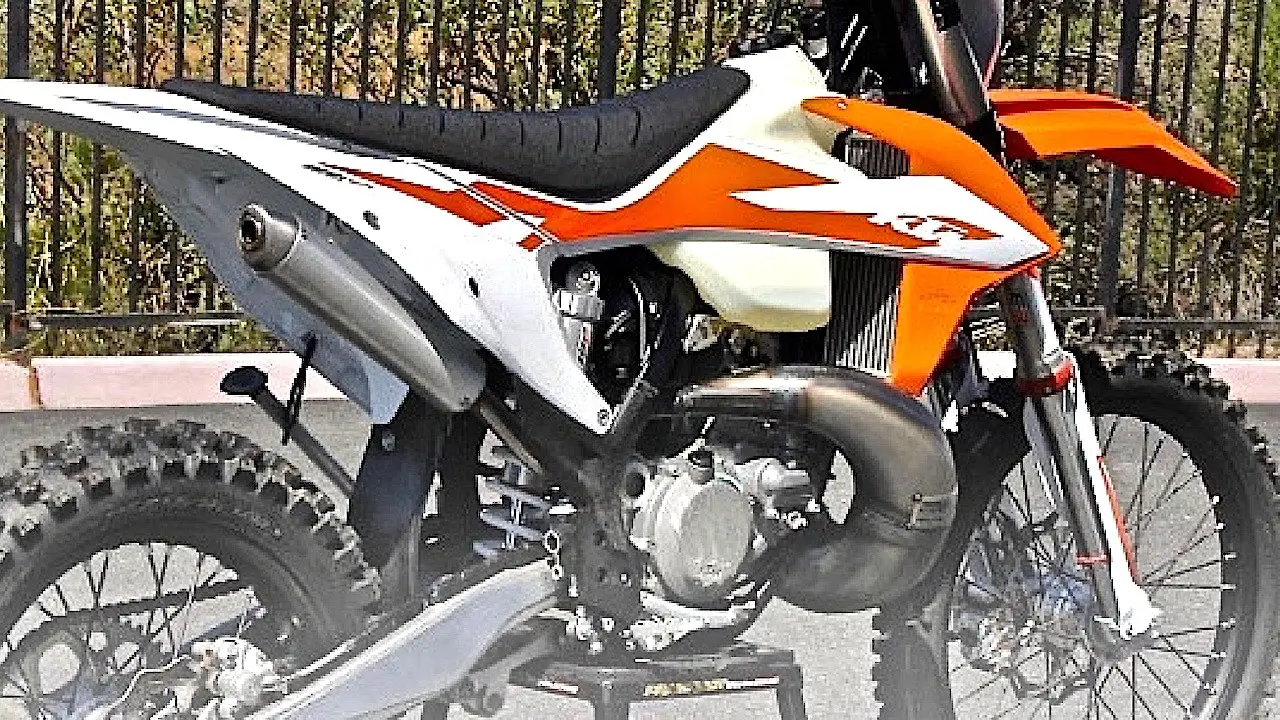 Pro Circuit has gotten rave reviews for its pipes and silencers for the 2020 KTM 300 XC TPI and 2020 Husqvarna TE 300i models. These pipes/silencers also fit on the Some of the KTM's Six Days and Erzbergrodeo, along with the Husqvarna 2020 TC250/300 model.Pro Circuit's line of pipes and silencers for the new KTM and Husqvarna models offer a noticeable performance and horsepower boost across the entire RPM range. Add a bit more performance and fun into your next riding experience.  There are two pipes to choose from and we run the R-304 Shorty Silencer:
Pro Circuit Works KTM 300XC TPI pipe.
Works Pipes. The original Pro Circuit Works Pipe offers unparalleled performance for every two-stroke application. Increased horsepower and torque gains will quickly be noticed across the entire rpm range. The unplated, oiled metal finish requires some maintenance, but really gives your bike that "works look." Retail price—$262.46.
Platinum Pipe. The Platinum Pipe offers the same performance gains as the Works Pipe, but is constructed from AKDQ high-quality carbon steel and includes a nickel plated finish to protect the pipe against nature's elements. The Platinum Pipe also features pounded seams and reinforced mounting brackets and stingers for increased durability. Retail price—$262.46.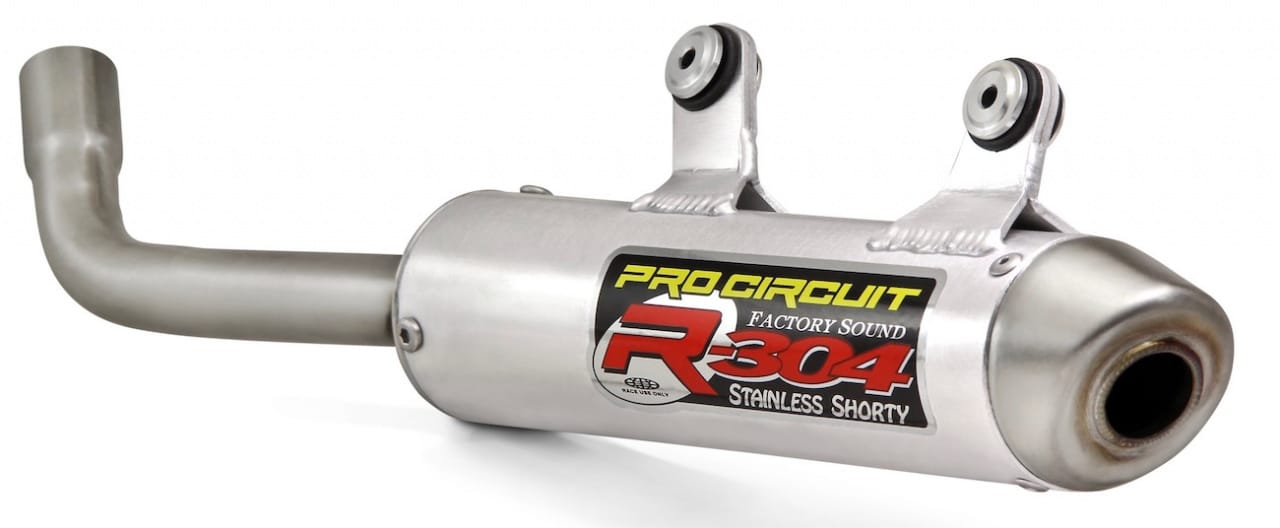 Pro Circuit's aluminum R-304 Shorty silencer.
R-304 Shorty Silencer. The R-304 Shorty Silencer was developed as a full-race two-stroke silencer. The compact design of the short aluminum canister offers optimum performance gains and is recommended for closed-course racing only. Hex head screws are used or quick re-packing. Retail price—$141.71. For more info on these products go to www.procircuit.com
MXA PRODUCT SPOTLIGHT: KTM POWERPARTS ACCESSORIES

KTM 60-PIECE 3/8″ TOOL BOX KIT
The most commonly used Torx, Allen, socket, screwdriver blades, adaptors, ratchet, extensions and breaker bar in a form-fitting case. It is design to make working on almost every KTM nut or bolt from 50cc to 505cc. Retail price—$145.99.
KTM 300CC FACTORY ENGINE KIT
All the parts needed to turn your 250SX into a 300SX (including cylinder, gaskets, piston, rings, cylinder head, black box, wrist pin, circlips and power valve). It is a bolt-on engine kit that boosts  power by 4.25 horsepower more than the stock 250SX engine. Retail price—$956.99.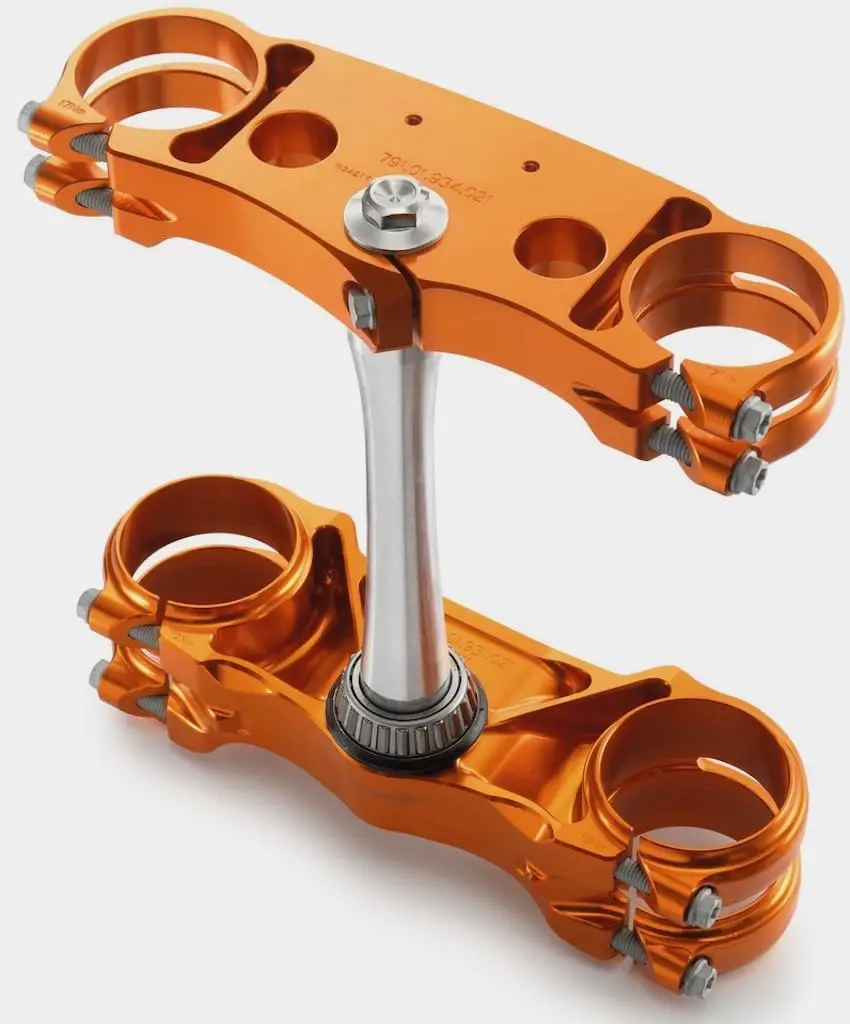 FACTORY TRIPLE CLAMPS
This orange anodized triple clamp includes the steering stem with the bottom bearing already pressed on. It features adjustable offset (20mm or 22mm) and a special split clamp design to optimize perfect grip on the fork tubes. Identical to the 2020-1/2 KTM FC450 Factory Edition triple clamps. Retail price—$623.99.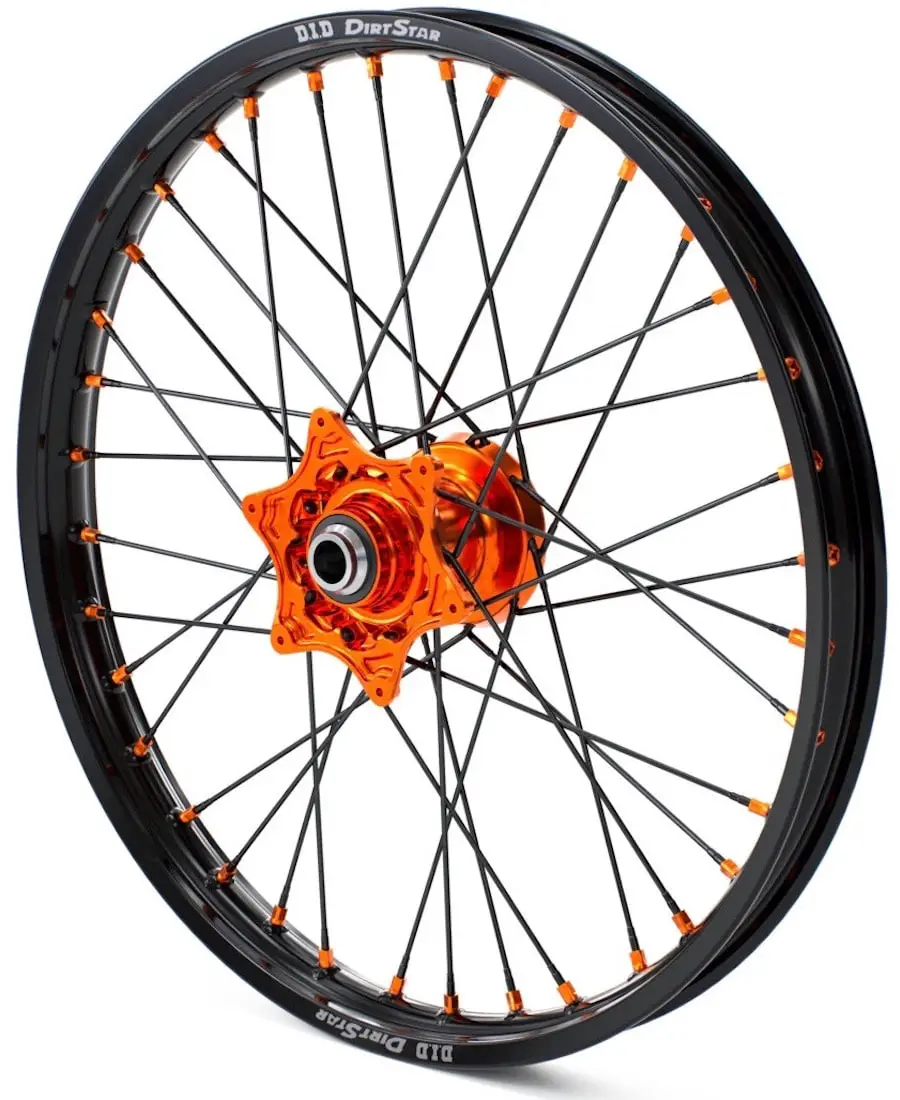 FACTORY WHEELS
The  orange anodized CNC-machined hubs are laced to D.I.D DirtStars rims with orange anodized aluminum spoke nipples with 36 black anodized spokes. The rear wheel comes in either 18-inch or 19-inch diameters on 2.15-inch DID DirtStar rims. Retail price—$424.99 (front), $499.99 (Rear).
KTM Power Powerparts are available at your friendly local KTM dealer. to find a KTM dealer near you Click Here.
MXA PRODUCT SPOTLIGHT: ZETA RACING REVOLVER SHIFT LEVER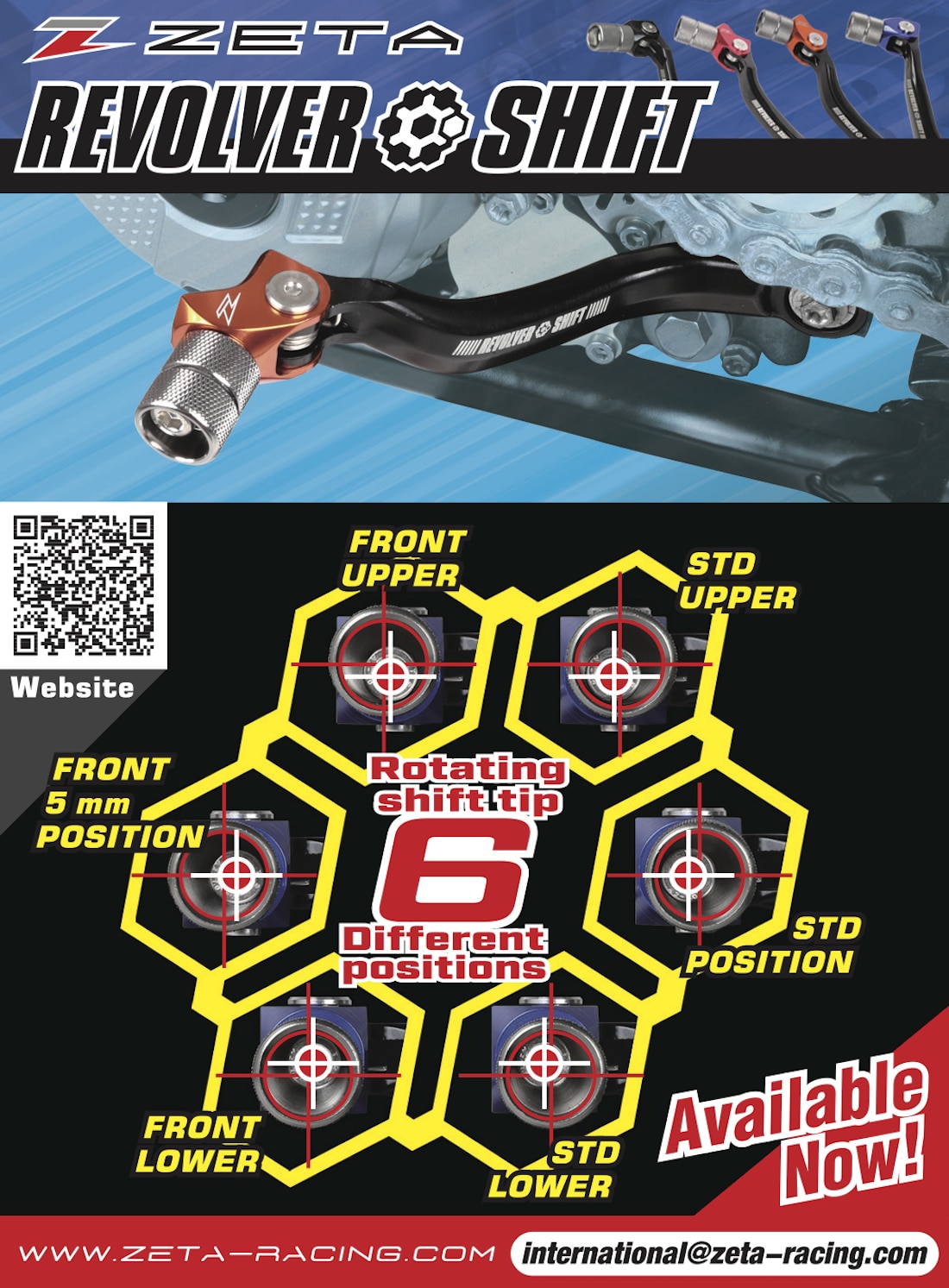 Zeta Racing offers some of the most interesting aftermarket products in the sport and their Revolver shift lever is no exception. The shift lever tip can be adjusted toof six different positions to better suit a rider's boots or rrding style. The shift tips mounting hole works like an eccentric cam, allowing the rider to move the position of the tip by unbolting it and move the eccentric to raise, lower, extend or angle the shift tip fore or aft. Between six different position every ride should be able to find his sweet spot. The shift arm is made of A2014 forged aluminum. It is black anodized and laser prints for durability. The retail price is $37.95. For more info go to www.zeta-racing.com.
ZETA REVOLVER SHIFT LEVER VIDEO
MXA PRODUCT SPOTLIGHT: 2020 MOOSE AGROID GEAR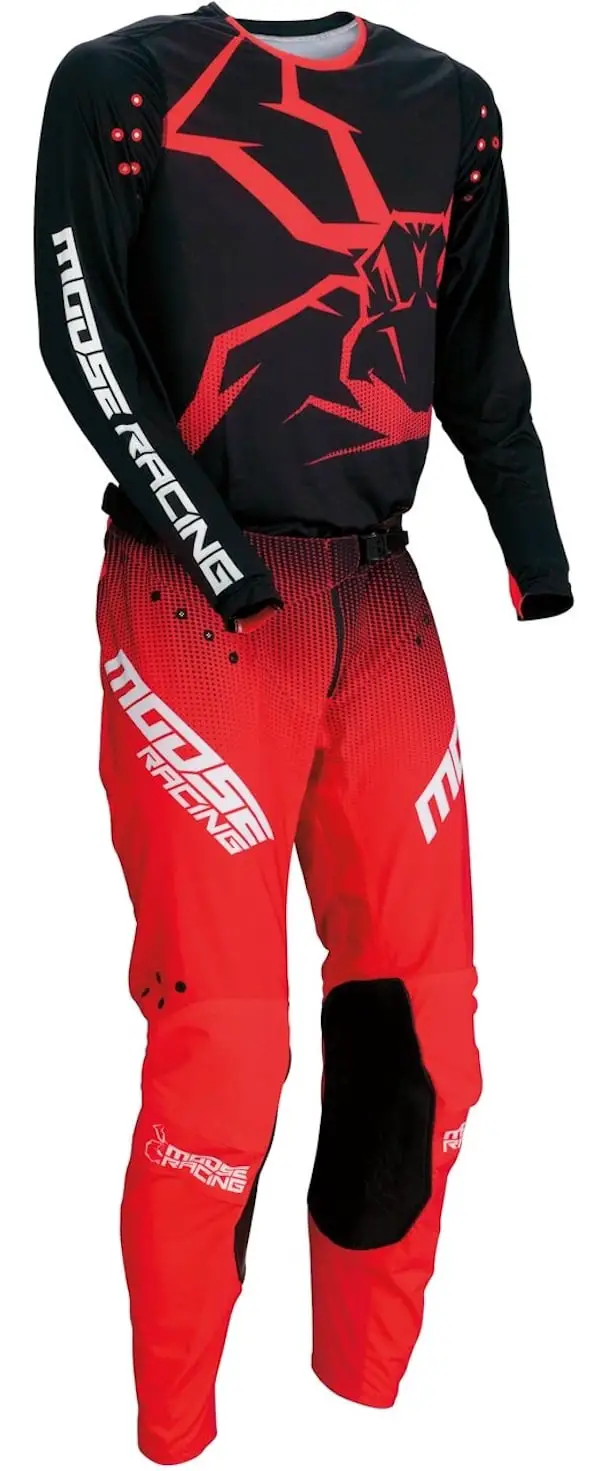 Unlike last year's Moose M1 Agroid line, which was built on the M1 racewear chassis with Agroid graphics, the 2020 Agroid racewear line is brand-new from the ground up. Maximum comfort and mobility are achieved with the Agroid jersey and pant by using the latest stretch polyester materials and laser-cut vent holes. Moose Agroid gear is offered in four different color combinations and there is nothing stopping you from running the mint-highlighted jersey with the orange-accented pants or vice versa.
2020 Moose Agroid jersey: The Agroid jersey retails for $49.95 in aqua green, red, navy white and black grey.
2020 Moose Agroid pants: Available in sizes 28" to 42". The pants retail for $139.95 in in aqua green, red, navy white and black grey. For more information go to www.mooseracing.com.
MXA PRODUCT SPOTLIGHT: BOLT BRAND SPECIFIC BOLT KITS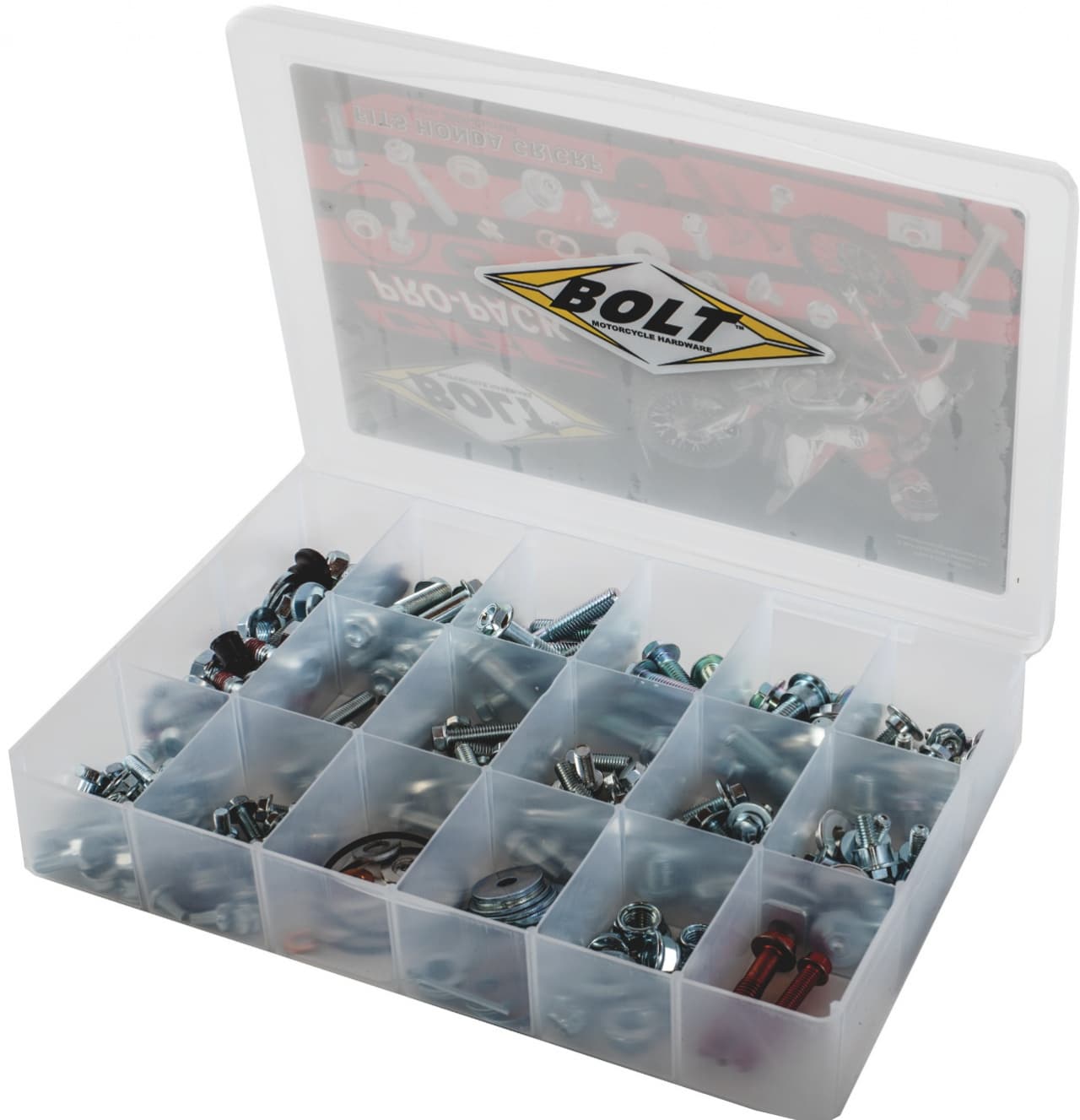 Bolt offers a self-contained kit that stockpiles the most commonly used bolts for Honda, Yamaha, Suzuki, Kawasaki, Husqvarna and KTM offroad bikes (and vintage bikes). Each kit is specially designed to include special bolts for each brand. Every Bolt kit comes in an 18-compartment plastic box, which slips easily under the front seat of a truck. What can we say about the performance of a bolt kit. It works. The retail price is $54.95-$64.95 (Pro Packs), $19.95 (56-piece Track Packs) and $15.99 (bodywork only). For more info go to www.boltmotorcyclehardware.com
MXA PRODUCT SPOTLIGHT: "THE INSIDE LINE: RACING THE 500CC WORLD MOTOCROSS CHAMPIONSHIP"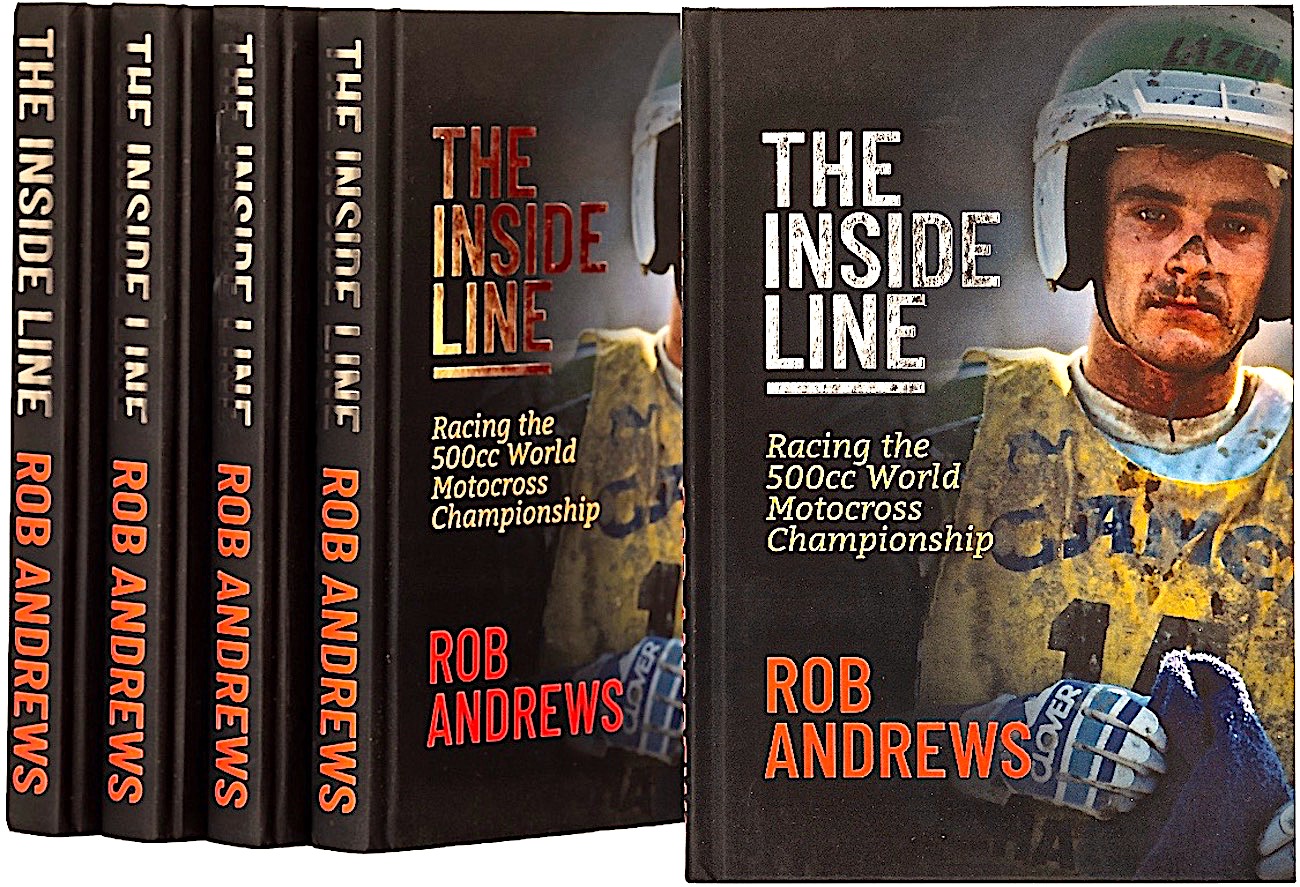 Rob Andrews is not just another pretty face who can race a motorcycle, he is a story teller that takes you inside and behind the scenes of what its like to race the FIM 500cc World Championships. The Namur Chapter is worth the price.
Never-before-published images from some of the sport's most acclaimed photographers highlight the book. Author Rob Andrews says: "I feel very fortunate that the best years of my GP racing career coincided with an incredibly memorable period for the 500cc World Championship. To be able to share my own experiences of that great time in motocross grands prix is equally exciting." On sale at www.theinsidelinebook.com now—worldwide shipping is available.
MXA PRODUCT SPOTLIGHT: COBRA CX50 / CX65 PRO LAUNCH START DEVICES
Looking for a Pro Launch Start Device to fit your Cobra minibike? Good news, Works Connection just released Pro Launch Star Devices for the CX50JR, CX50SR and the CX65 models. Each Pro Launch kit includes a CNC'd fork ring, start body/trigger assembly, custom aluminum drill guide template, aluminum countersink tool and detailed step-by-step instructions. The spring-less design delivers positive engagement and consistent release and is made of CNC-machined aircraft-grade aluminum. The assembly only weighs 50 grams and is laser etched, engineered, manufactured and assembled in the USA. The retail price is $119.95. Contact your retailer or visit www.worksconnection.com
MXA PRODUCT SPOTLIGHT: MOTO TASSINARI VFORCE4R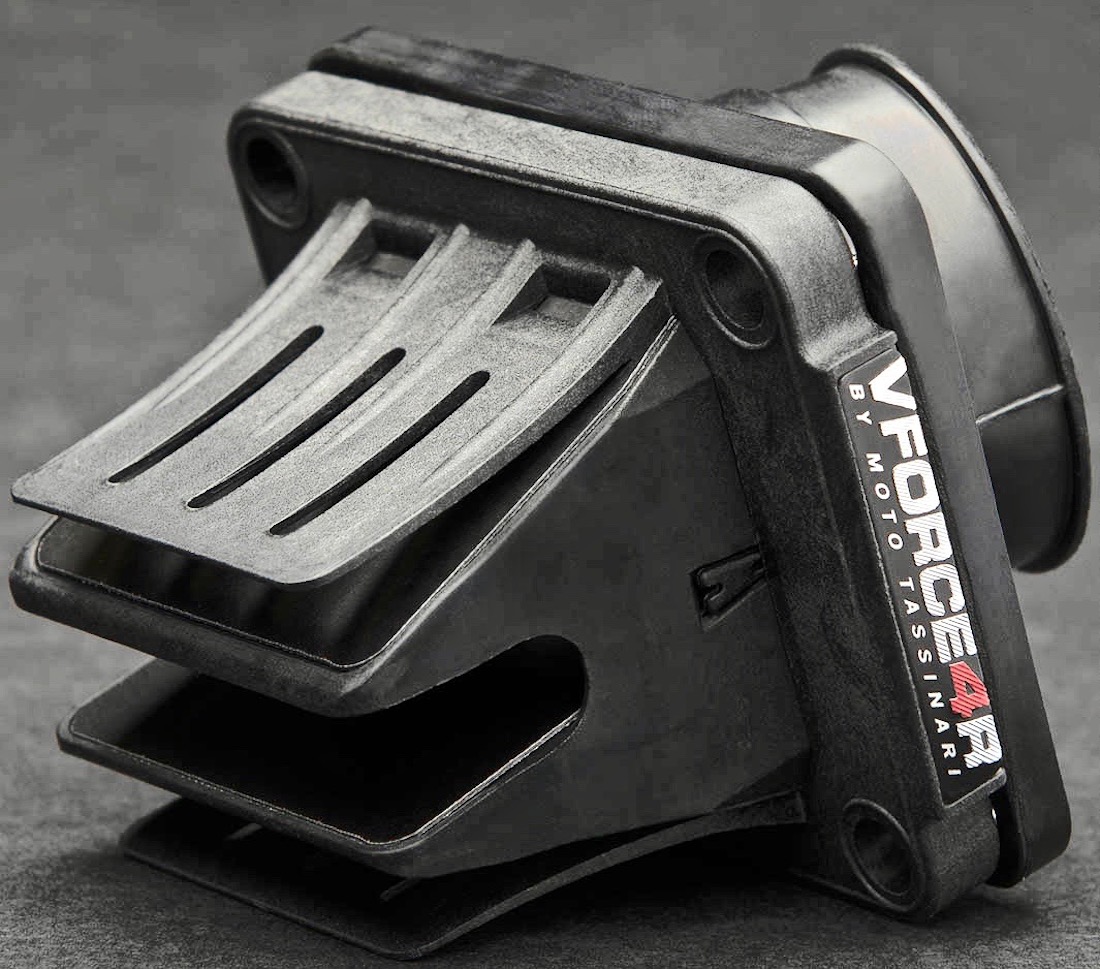 The unique VForce reed valve features double the reed tip surface over a conventional reed valve design. The added reed petals mean that reeds only travel half the distance as a conventional reed valve to get the same airflow. The shorter opening means that they open quicker, close more completely and last longer. Ever since their introduction VForce reeds have been popular with two-stroke riders looking for more midrange, increased airflow and perfect fit.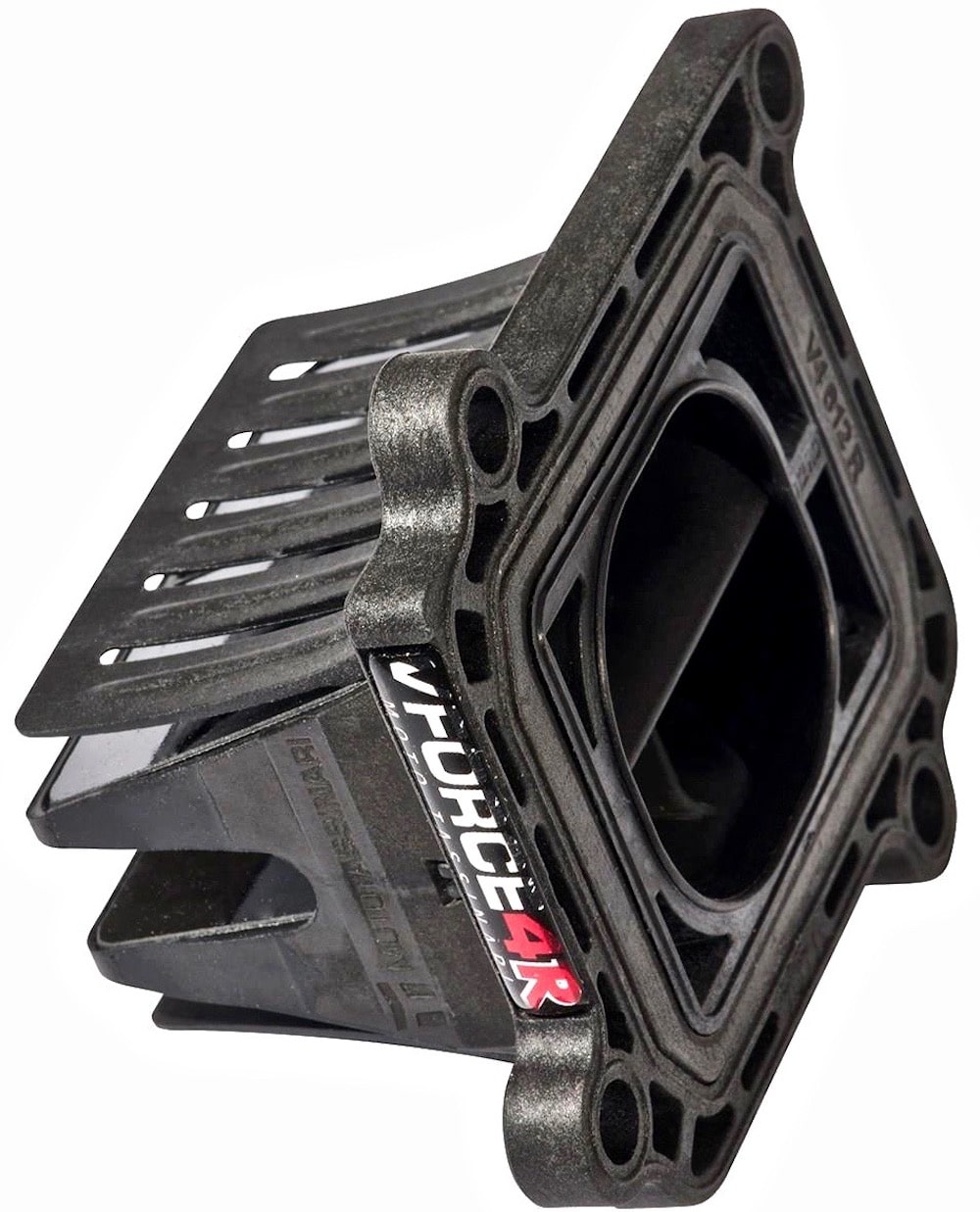 Constantly changing to improve the design, Motocross Tassinari offers the VForce4 with its pre-curved reed petal, carbon fiber petal tips, wider cage, 10.5% increase in reed tip area and longer reed stops. The VForce4 has become the go-to reed cage for many two-stroke owners. But wait, there's more. Enter the "VForce4R" with its rubber over-molding on the reed petal tips to increase petal life, straighter intake manifold, newly design cage and a winged air guide that increases air velocity. For more info go to www.mototassinari.com
MXA PRODUCT SPOTLIGHT: O'NEAL LIMITED EDITION PRODIGY GEAR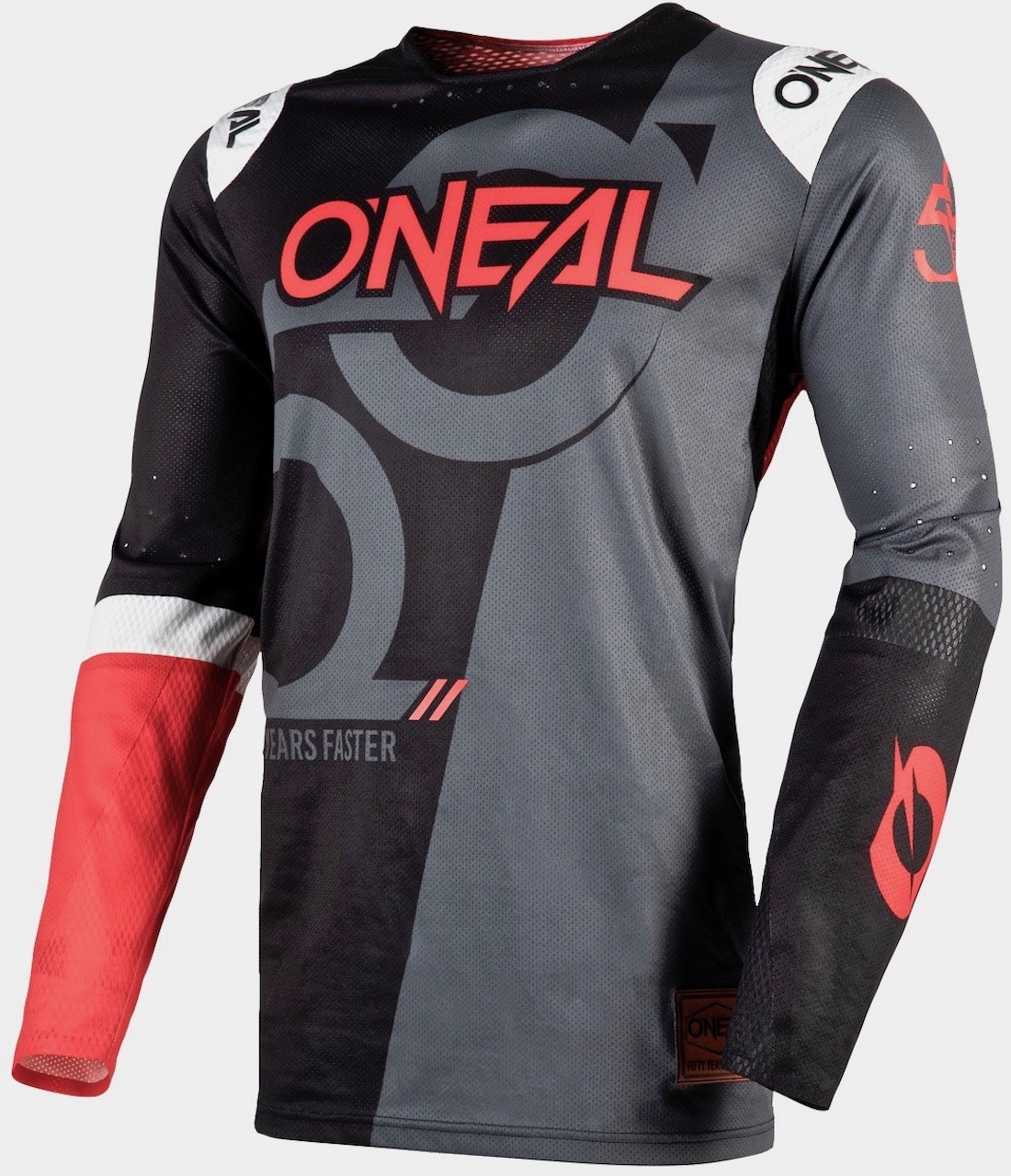 O'Neal Racing has introduced special run of Limited Edition tribute gear top celebrate their 50 years of product technology. The new Limited Edition Prodigy gear, in a special reflex black/neon red color combination combination all of most advanced features that a motocross racer would want.
The Limited Edition Prodigy jersey features ''4-Cell" Performance Fabric with 4-way stretch. The 4way stretch vented panel on the entire back to allow maximum movement for an athletic fit. Plus the proprietary "Infinity" cuff and collar are lined with stretch material for maximum comfort. The graphics are sublimated into the fabric so they will never fade and the Prodigy jersey weighs on 7 ounces.
As for the Limited Edition Prodigy pants, the feature a pre-curved leg design conforms to the ideal riding position, lightweight rubber patches at the knee (with integrated air-intakes for cooling), genuine Drum Dyed leather inner knee protection, a 900-denier rear saddle custom quilted cross-stitch for comfort and grip and laser cut perforation, with silicone-lined edges, to you you cool and dry. And, of course the Limited Edition Prodigy pant features O'Neal awesome 360-degree adjustable belt for the perfect fit that no ratchet closure can match.
The retail price for the Limited Edition Prodigy gear is $74.99 for the jersey and $219.99 for the pants. For more information Click Here.
MXA PRODUCT SPOTLIGHT: FACTORY EFFEX 2020 BEANIE COLLECTION WITH & WITHOUT POMS

POM BEANIES
Yamaha pom beanie·$24.95.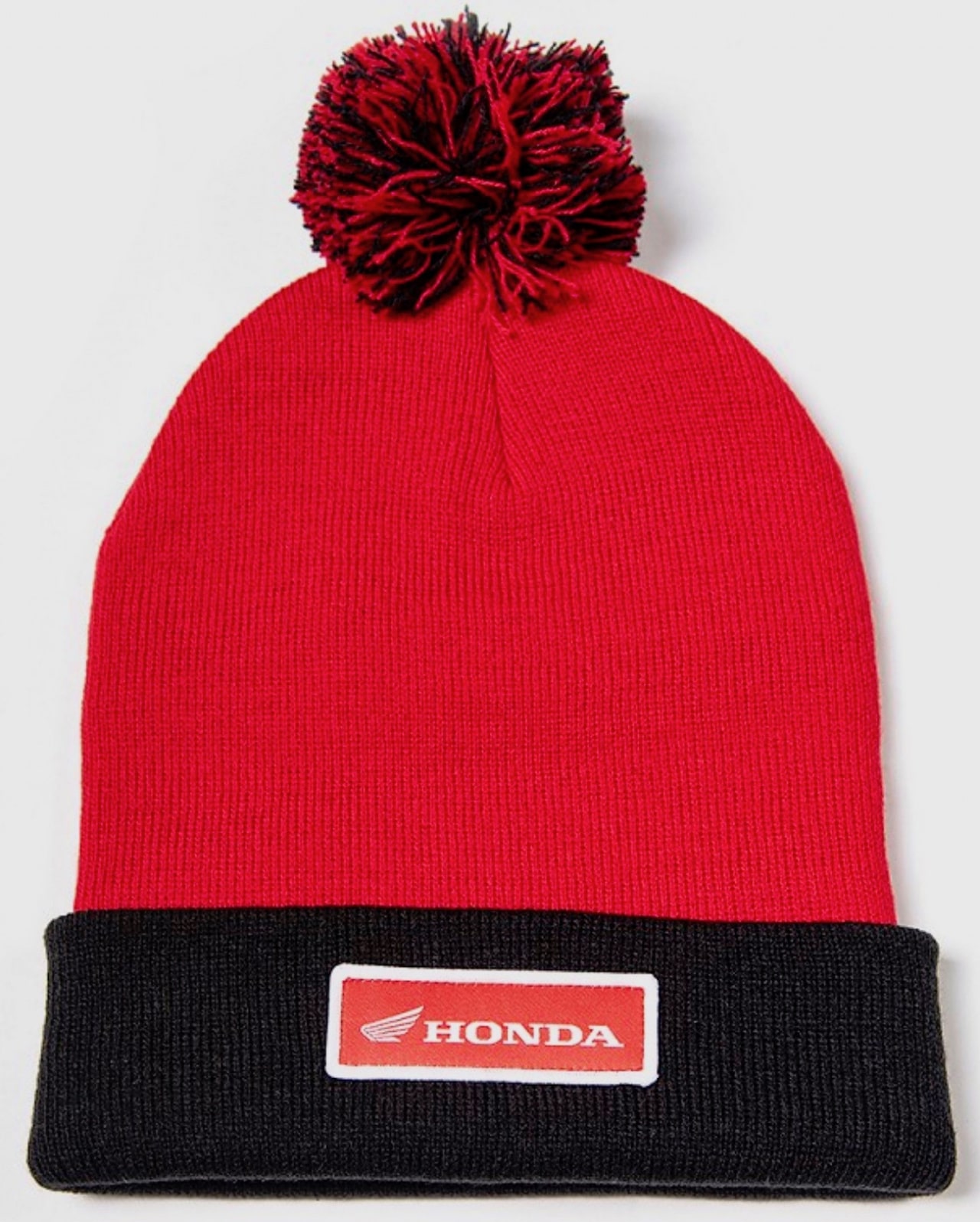 Honda pom beanie·$24.95.
Kawasaki pom beanie·$24.95.
Suzuki pom beanie·$24.95.
REGULAR BEANIES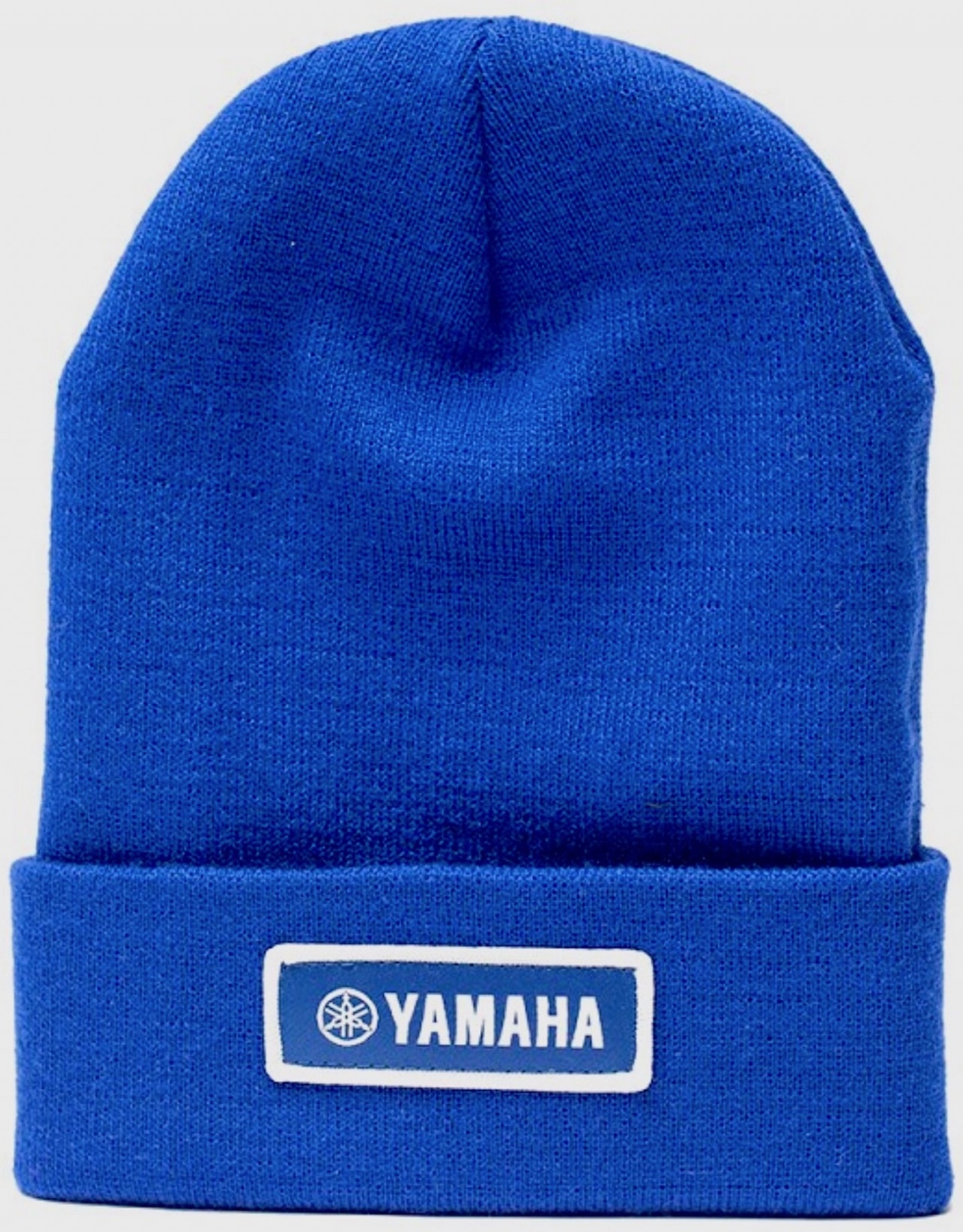 Yamaha – $24.99.
Honda – $24.99.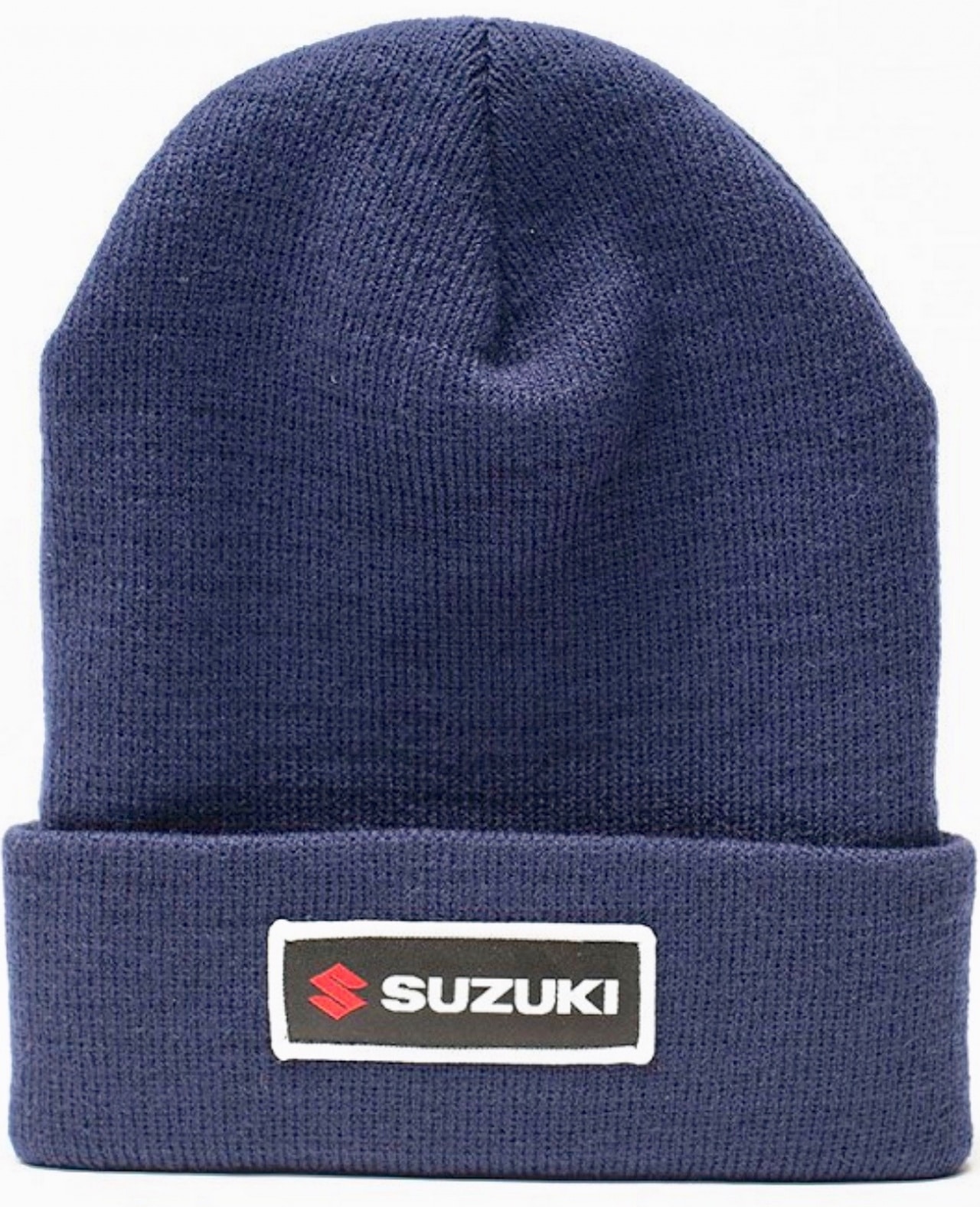 Suzuki – $24.99.
Kawasaki – $24.99.
Looking for a way to keep your lid warm during the upcoming winter and spring racing season. Look no further than Factory Effex beanies. For more information go to www.factoryeffex.com.
TALK MOTO WITH ON MXA'S FACEBOOK GROUP CHAT


We love everything moto and want to bring all moto junkies together into one place to share their two cents, ideas, photos, bike fixes, bike problems and much more. To check it out first you must need to or already have a Facebook account. If you don't, it isn't much work and you could even have an alias so nobody knows it is you. To join click HERE. After you request to join we will accept your request shortly after.
FOLLOW MXA ON TWITTER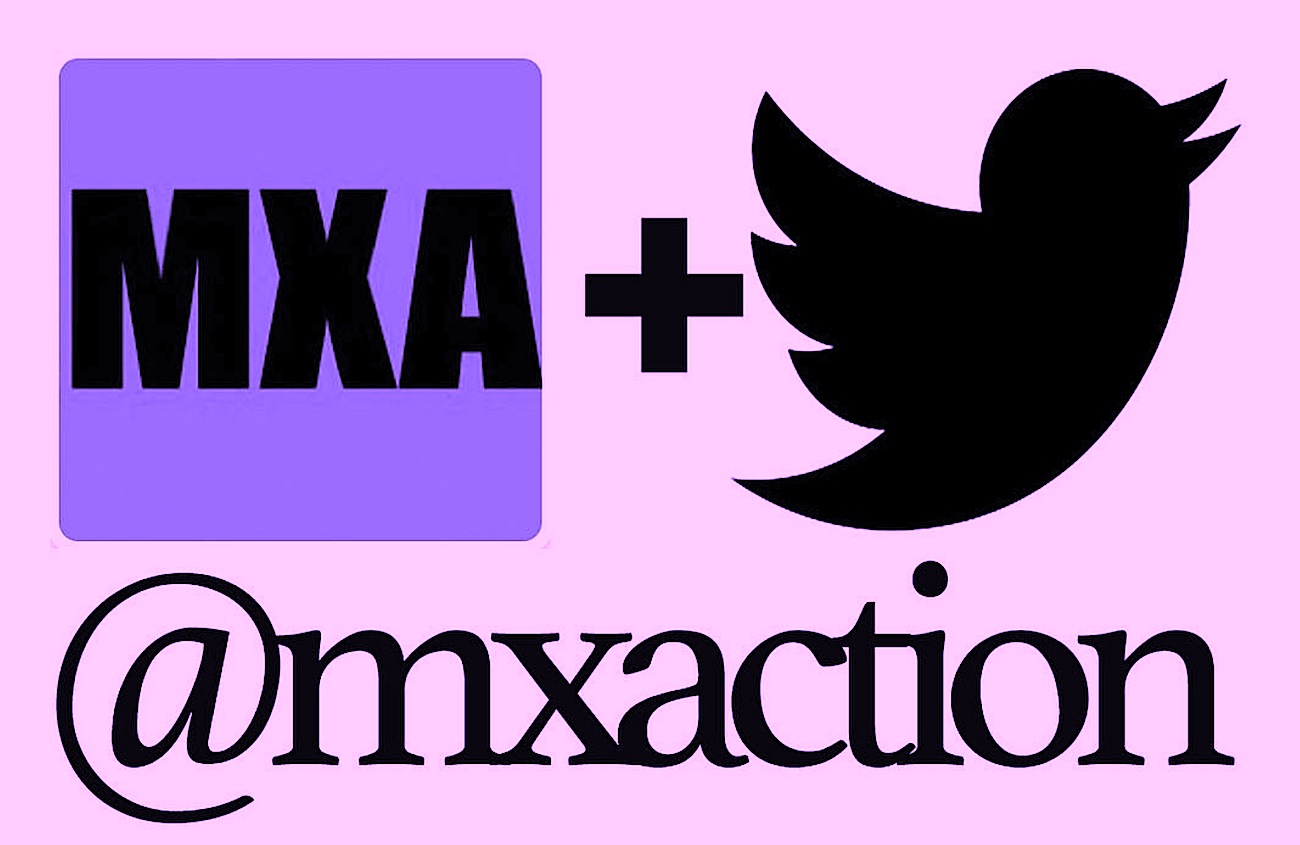 Follow us to see fresh content every day at www.twitter.com/MXAction or on twitter at "MXAction."
MXA YOUTUBE CHANNEL | HIT THAT SUBSCRIBE BUTTON

The MXA wrecking crew is everything moto related. Check out our MXA YouTube channel for bike reviews, Supercross coverage, rider interviews and much more. And don't forgot to hit that subscribe button.
Photos: Brian Converse, Josh Mosiman, Debbi Tamietti, Dan Alamangos, Daryl Ecklund, MXA,