MXA WEEKEND NEW ROUND-UP: MXDN STATS, CLASS WINNERS & PHOTOS
ALL THE STATS FROM THE 2016 MOTOCROSS DES NATIONS
A happy French team (center) and Dutch team (left) are offset by a disappointed American team that only had two riders on the podium because of Jason Anderson's freak accident.

Maggiora's first turn—Moto one.

RESULTS: 2016 MOTOCROSS DES NATIONS
(Total points and moto scores)
1. France…29 (1-3-4-19-11)
2. Holland…30 (1-2-6-7-14)
3. USA…33 (1-4-9-9-10)
4. Belgium…36 (3-3-5-7-18)
5. Italy…44 (2-2-12-13-15)
6. Switzerland…44 (4-8-8-11-13)
7. Great BrItain…73 (5-6-18-22-22)
8. Australia…76 (5-7-14-15-35)
9. Estonia…93 (13-16-19-22-23)
10. Canada…95 (8-12-18-25-32)
Romain Febvre—Team France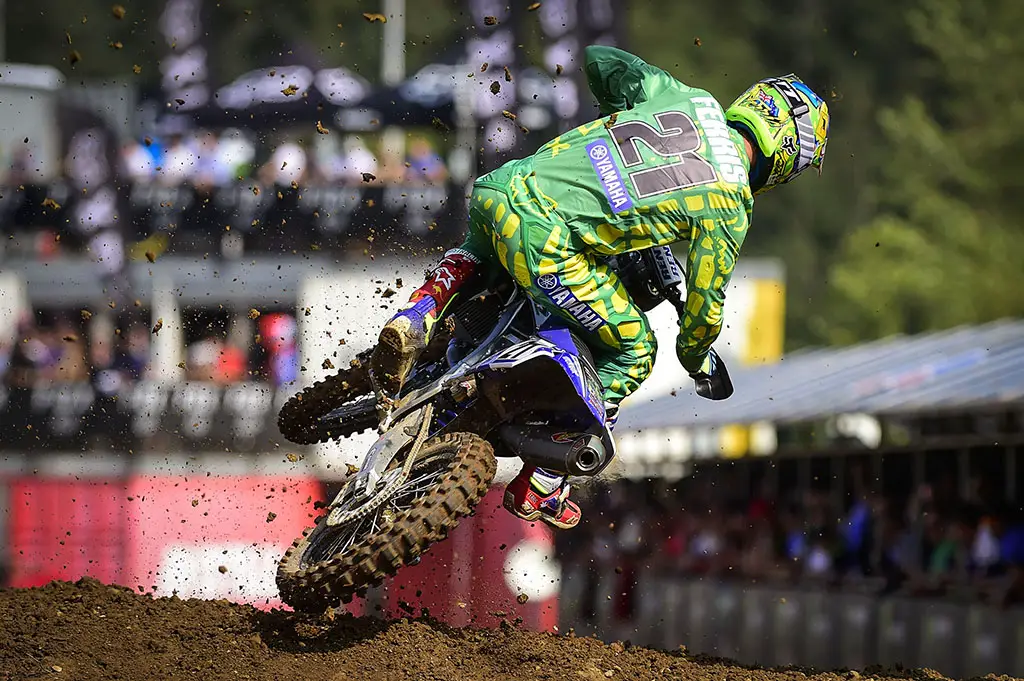 Dean Ferris—Team Australia
Cooper Webb—Team USA
MOTO 1 (450A/250)
1. Romain Febvre…Fra
2. Antonio Cairoli…Ita
3. Kevin Strijbos…Bel
4. Cooper Webb…USA
5. Jeremy Van Horebeek…Bel
6. Glenn Coldenhoff…Hol
7. Todd Waters…Aus
8. Karen Benoit…Can
9. Alex Martin…USA
10. Cody Cooper…Nzl
Jason Anderson—Team USA
Arnaud Tonus—Team Switzerland
Alex Martin —Team USA
MOTO 2 (450B/250)
1. Jason Anderson…USA
2. Jeffrey Herlings…Hol
3. Gautier Paulin…Fra
4. Arnaud Tonus…Swi
5. Dean Ferris…Aus
6. Shaun Simpson…Eng
7. Jeremy Van Horebeek…Bel
8. Jeremy Seewer…Swi
9. Alex Martin…USA
10. Benoit Paturel…Fra
Jeffrey Herlings—Team Holland
MOTO 3 (450A/450B)
1. Jeffrey Herlings…Hol
2. Antonio Cairoli…Ita
3. Kevin Strijbos…Bel
4. Romain Febvre…Fra
5. Tommy Searle…Eng
6. Evgeny Bobryshev…Rus
7. Glenn Coldenhoff…Hol
8. Arnaud Tonus…Swi
9. Jose Butron…Spa
10. Cooper Webb…USA
Jeremy Van Horebeek—Team Belgium
RESULTS: MXDN 250 CLASS
1. Jeremy Van Horebeek (Bel)…5-7
2. Alex Martin (USA)…9-9
3. Jeremy Seewer (Swi)…11-8
4. Benoit Paturel (Fra)…14-10
5. Smauele Bernardini (Ita)…16-15
6. Tanel Leok (Est)…19-13
7. Brian Bogers (Hol)…20-14-4
8. Thomas Kjer Olsen (Swe)…15-21
9. Vsevolod Brylyakov (Rus)…21-19
10. Max Anstie (Eng)…18-22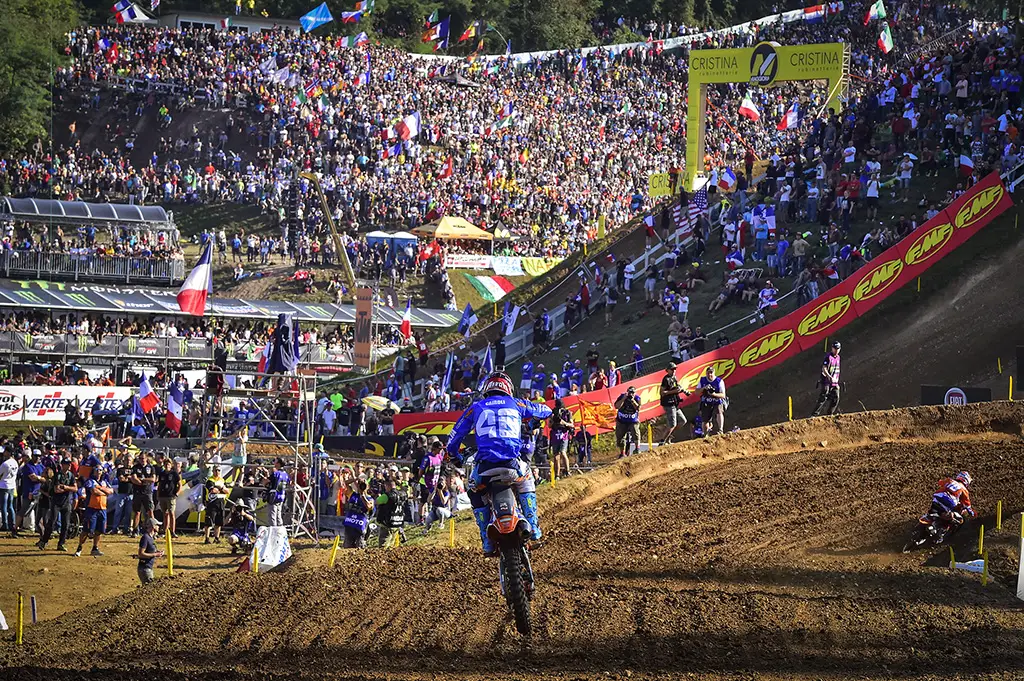 Tony Cairoli—Team Italy
RESULTS: MXDN 450A CLASS
1. Tony Cairoli (Ita)…2-2
2. Romain Febvre (Fra)…1-4
3. Kevin Strijbos (Bel)…3-3
4. Glenn Coldenhoff (Hol)…6-7
5. Cooper Webb (USA)…4-10
6. Kaven Benoit (Can)…8-12
7. Jose Butron (Spa)…12-9
8. Todd Waters (Aus)…7-14
9. Tommy Searle (Eng)…22-5
10. Valentin Guillod (Fra)…13-16
Jason Anderson holeshots and goes on to win the second moto.
RESULTS: MXDN 450B CLASS
1. Jeffrey Herlings (Hol)…2-1
2. Arnaud Tonus (Swi)…4-8
3. Gautier Paulin (Fra)…3-11
4. Dean Ferris (Aus)…5-15
5. Evgeny Bobryshev (Rus)…17-6
6. Michele Cervellin (Ita)…12-13
7. Fredrik Noren (Swe)…11-20
8. Harri Kullas (Est)…16-23
9. Pascal Rauchenecker (Sut)…23-19
10. Jorge Zaragoza (Spa)…20-24
EVERY AMERICAN MXDN TEAM AND WHERE THEY FINISHED

Year…Place…Riders
1972…7…Brad Lackey, Jim Pomeroy, Jimmy Weinert, Gary Jones
1973…4…Jim Pomeroy, Mike Hartwig, John DeSoto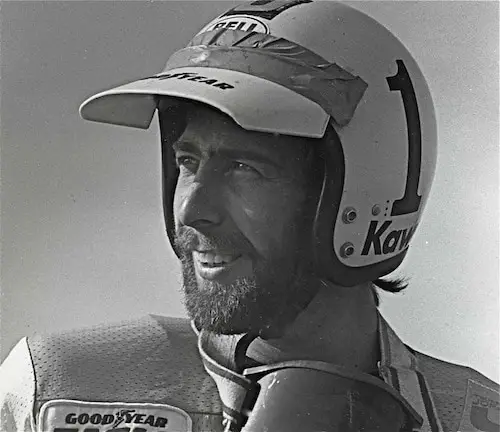 v
1974…2…Brad Lackey, Jim Pomeroy, Jimmy Weinert, Tony DiStefano
1975…9…Brad Lackey, Jim Pomeroy, Kent Howerton, Tony DiStefano
1976…5…Bob Hannah, Rex Staten, Kent Howerton, Tony DiStefano
1977…2…Steve Stackable, Gary Semics, Kent Howerton, Tony DiStefano
1978… 4…Bob Hannah, Chuck Sun,  Rick Burgett, Tommy Croft
1979…no team
1980…no team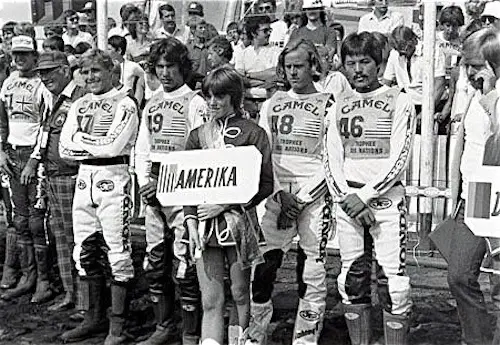 1981…1…Chuck Sun, Danny LaPorte, Johnny O'Mara, Donnie Hansen
1982…1…Danny Chandler, Jim Gibson, Johnny O'Mara, David Bailey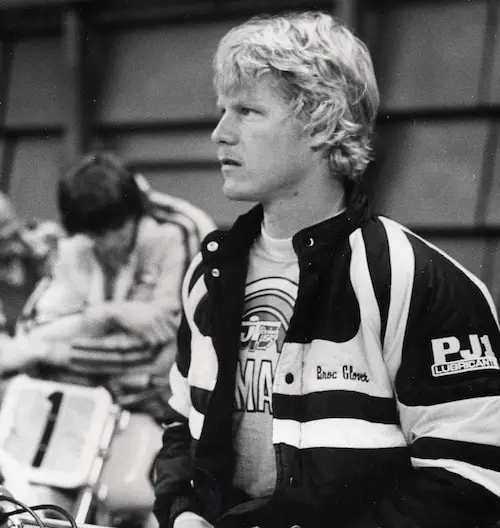 1983…1…Broc Glover, Jeff Ward, Mark Barnett, David Bailey
1984…1…David Bailey, Johnny O'Mara, Jeff Ward, Ricky Johnson
1985…1…Ron Lechien, Jeff Ward, David Bailey

1986…1…Johnny O'Mara, Ricky Johnson, David Bailey
1987…1…Bob Hannah, Ricky Johnson, Jeff Ward
1988…1…Jeff Ward, Ricky Johnson, Ron Lechien
1989…1…Mike Kiedrowski, Jeff Stanton, Jeff Ward

1990…1…Damon Bradshaw, Jeff Stanton, Jeff Ward
1991…1…Mike Kiedrowski, Damon Bradshaw, Jeff Stanton
1992…1…Jeff Emig, Mike LaRocco, Billy Liles
1993…1…Jeff Emig, Jeremy McGrath, Mike Kiedrowski
1994…2…Jeff Emig, Mike Kiedrowski, Mike LaRocco

1995…2…Steve Lamson, Jeff Emig, Ryan Hughes
1996…1…Steve Lamson, Jeremy McGrath, Jeff Emig
1997…8…John Dowd, Jeff Emig, Steve Lamson
1998…5…John Dowd, Doug Henry, Ricky Carmichael
1999…4…Mike LaRocco, Kevin Windham, Ricky Carmichael

2000…1…Ryan Hughes, Ricky Carmichael, Travis Pastrana
2001…no team (September 11)
2002…no team (Comp Park cancellation—race held two months later in Italy)
2003…2…Ricky Carmichael. Ryan Hughes, Tim Ferry
2004 …no team
2005 …1…Ricky Carmichael, Kevin Windham, Ivan Tedesco

2006 …1…James Stewart, Ryan Villopoto, Ivan Tedesco
2007 …1…Ricky Carmichael, Ryan Villopoto, Tim Ferry
2008 …1…James Stewart, Ryan Villopoto, Tim Ferry

2009 …1…Ivan Tedesco, Ryan Dungey, Jake Weimer
2010 …1…Ryan Dungey, Andrew Short, Trey Canard
2011 …1…Ryan Dungey, Ryan Villopoto, Blake Baggett

2012 …3…Ryan Dungey, Justin Barcia, Blake Baggett
2013 …2…Ryan Dungey, Justin Barcia, Eli Tomac
2014 …3…Ryan Dungey, Eli Tomac. Jeremy Martin
2015 …2…Justin Barcia, Cooper Webb, Jeremy Martin

2016 …3…Cooper Webb, Jason Anderson, Alex Martin
V
WHAT'S LEFT OF THE 2016 RACE CALENDAR
2016 REM MOTOCROSS
Oct. 1…………………………Glen Helen, CA
Oct. 8…………………………Glen Helen, CA
2016 GEICO ENDUROCROSS CHAMPIONSHIP
Aug. 27……………………..Atlanta, GA
Sept. 3………………………Sioux Falls, SD
Sept. 10…………………….Salt Lake City, UT
2016 AMA SUPERMOTO CHAMPIONSHIP
Sept. 3………………………..Denver, CO
Oct. 22………………………..Tucson, AZ
2016 MOTOCROSS DES NATIONS
Sept. 25…………………………Maggiora, Italy
2016 SPANISH NATIONAL CHAMPIONSHIP
Oct. 2…………………………..Calataya, Zaragoza (Final)
2016 MONSTER SMX RIDERS' CUP
Oct. 8……………………………..Gelsenkirchen, Germany
2016 MONSTER CUP
Oct. 15…………………………..Las Vegas, NV
2016 REM OCTOBERCROSS
Oct. 29…………………………..Glen Helen, CA
2016 DUBYA WORLD VET CHAMPIONSHIP
Nov. 5-6…………………………Glen Helen, CA
THE WAY WE WERE: IT WAS A DIFFERENT WORLD IN '74

The world, especially the motocross world, was a different place back in 1974. Note the leather pants, seven buckle boots, socks over the top, Jofa face guard, open face helmet, Carerra goggles and, not the least of all, the Czechoslovakian-made CZ. Words that aren't used today include "Powder Puff," "Downpipe," and "Hot Shoe." The hot shoe on the June 1974 cover is MXA test rider Pete Maly.
EVERY 2016 NATIONAL CHAMPION

AMA SUPERCROSS:  Ryan Dungey
AMA 250 EAST SUPERCROSS: Malcolm Stewart
AMA 250 WEST SUPERCROSS: Cooper Webb
AMA ARENACROSS: Gavin Faith
AMA 450 NATIONALS: Ken Roczen
AMA 250 NATIONALS: Cooper Webb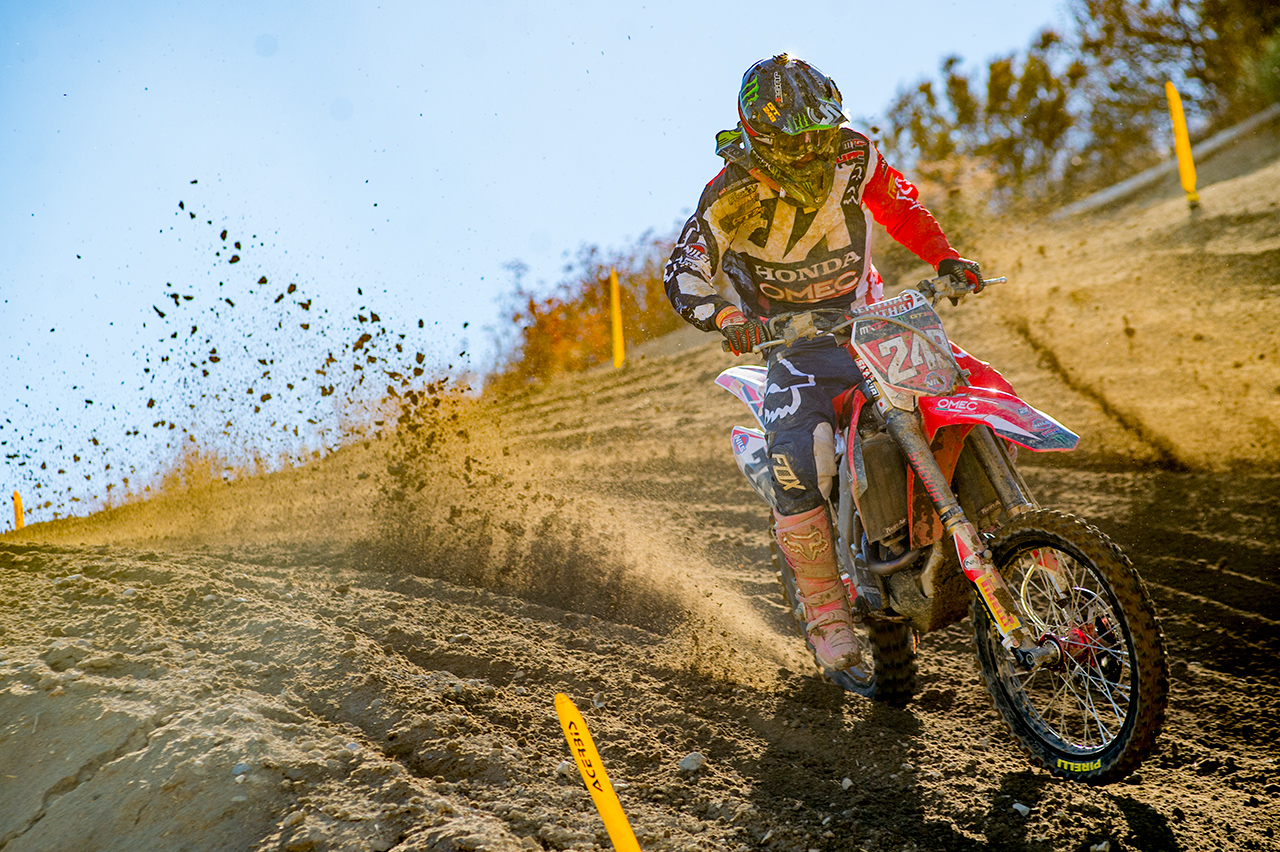 Tim Gajser.
FIM 450 GRAND PRIX: Tim Gajser
FIM 250 GRAND PRIX: Jeffrey Herlings
FIM WOMEN: Livia Lancelot
MOTOCROSS DES NATIONS: France
Davi Millsaps.
CMRC 450 CANADIAN NATIONALS: Davi Millsaps
CMRC 250 CANADIAN NATIONALS: Cole Thompson
Tommy Searle.
ACU 450 BRITISH NATIONALS: Tommy Searle
ACU 250 BRITISH NATIONALS: Adam Sterry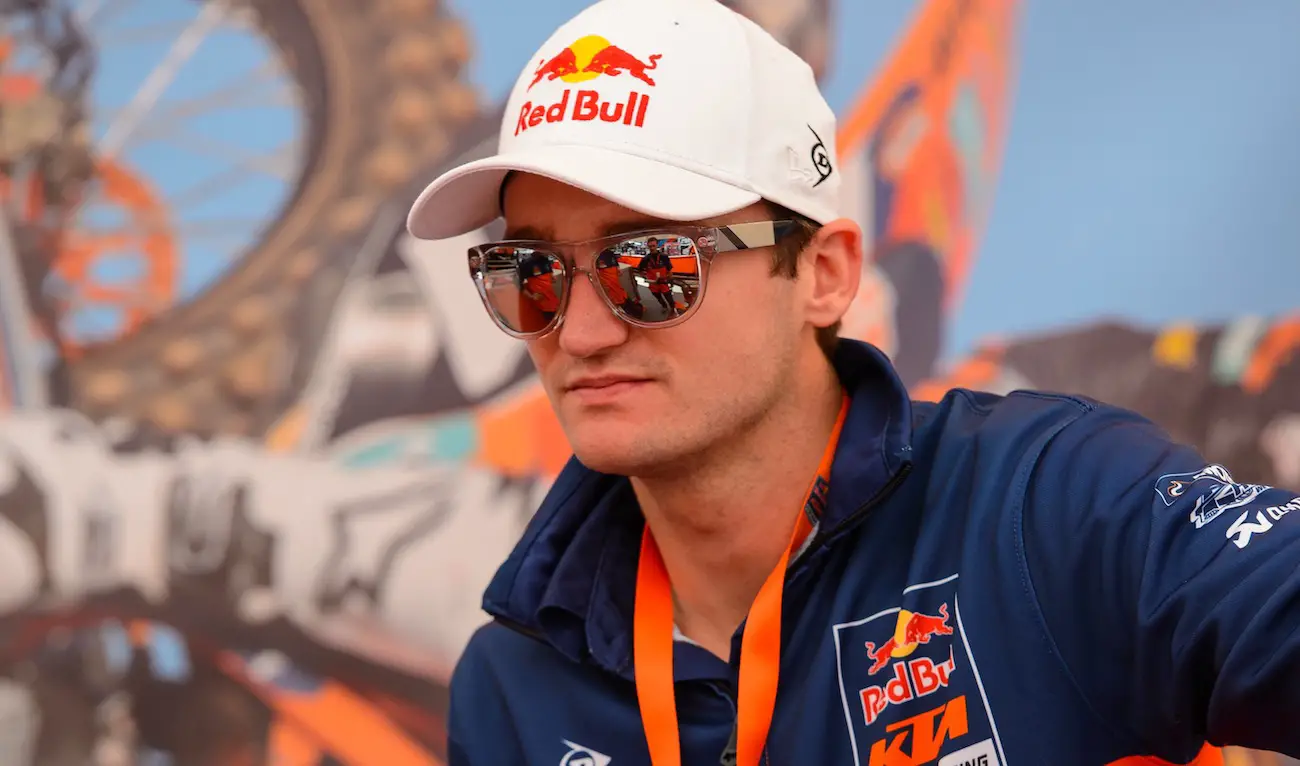 Dean Ferris.
MA 450 AUSTRALIAN NATIONALS: Dean Ferris
MA 250 AUSTRALIAN NATIONALS: Jed Beaton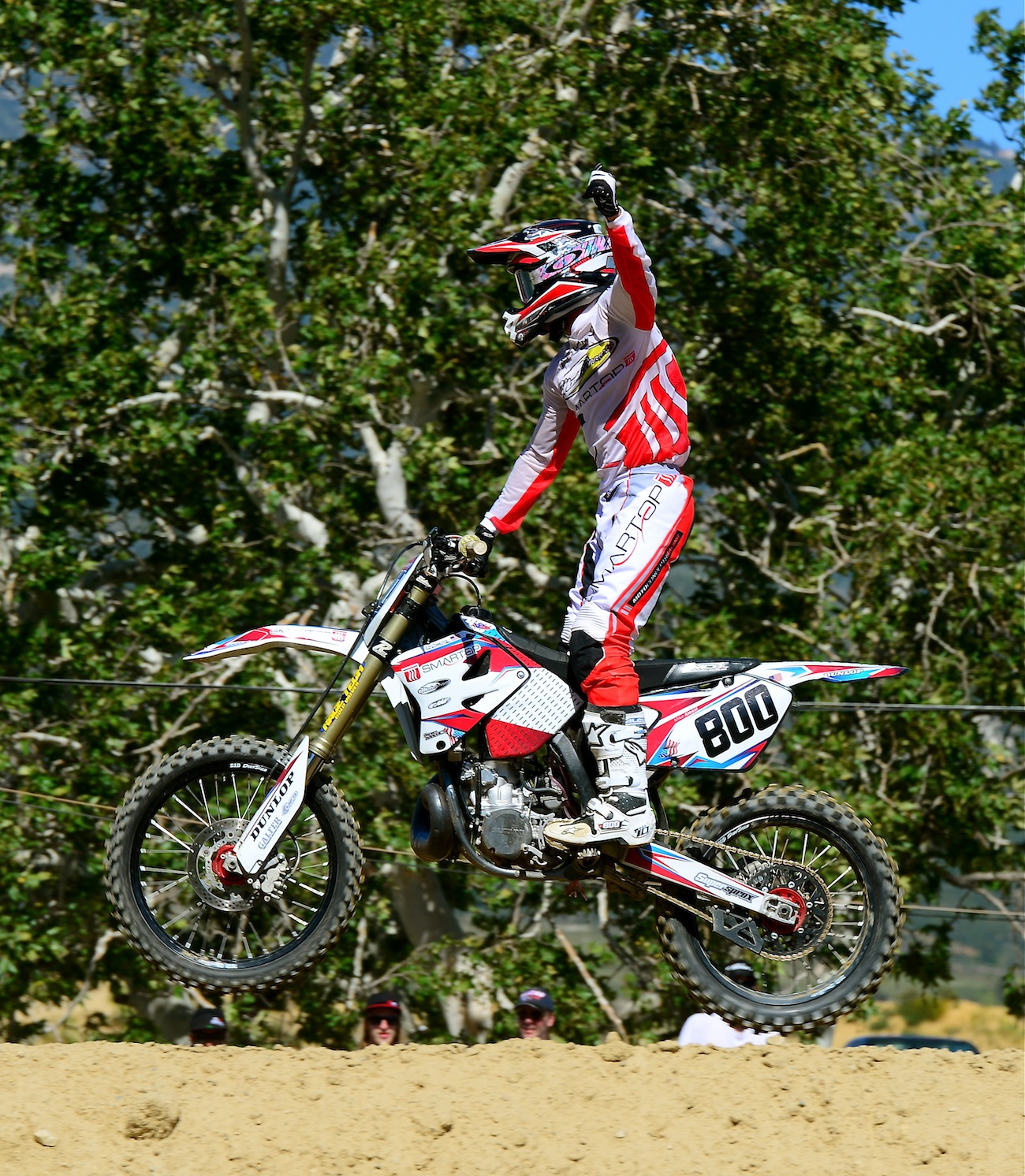 Mike Alessi.
250 WORLD TWO-STROKE: Mike Alessi
125 WORLD TWO-STROKE: Ryan Surratt
Mike Kras.
EMX 300 TWO-STROKE: Mike Kras
EMX 125 TWO-STROKE: Jago Geerts
EMX 250 FOUR-STROKE: Thomas Kjer Olsen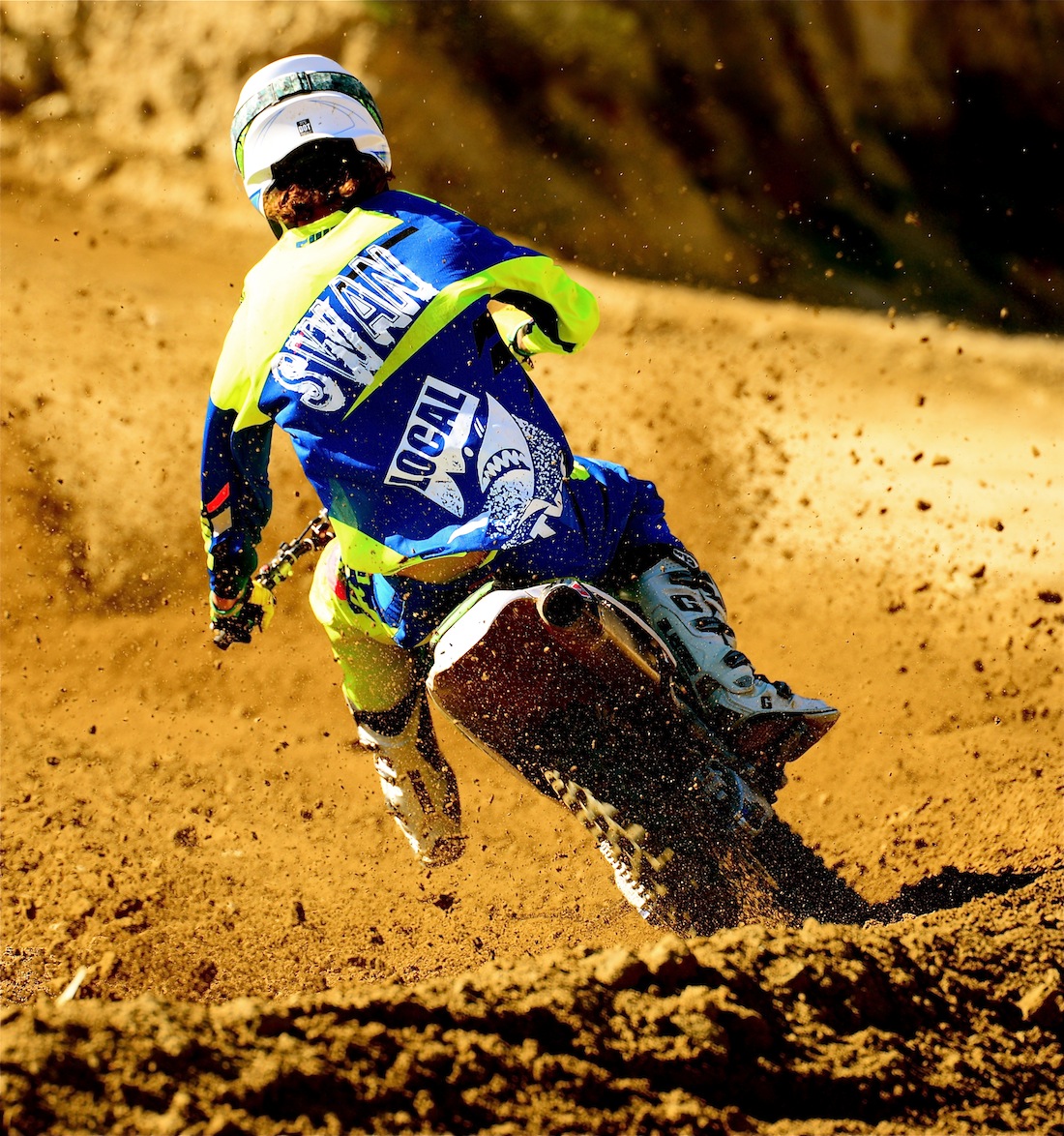 Arik Swan.
AMA NATIONAL AMATEUR:
250A: Bradley Taft (Yam)
Open Pro Sport: Chase Sexton (Hon)
Over-25: Ricky Renner (KTM)
Over-30: Arik Swan (Kaw)
Over-40: James Povolny (KTM)
Over-50: John Grewe (Kaw)
125 Two-Stroke: Jake Swoll (Hus)
85cc: Ty Masterpool (Yam)
Women: Brandy Richards (Yam)
FORGET SILLY SEASON: WHAT HAPPENS AFTER YOU SIGN THE CONTRACT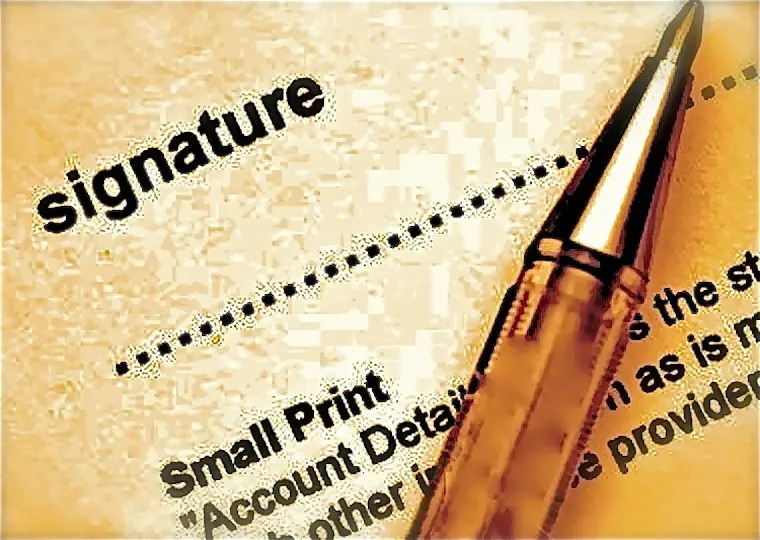 (1) If you think that a factory rider goes to the starting line with little more than a handshake deal between him and his sponsors, you are sorely mistaken. The modern factory contract is full of clauses, codicils, stipulations, provisions and lawyer handiwork — not the least of which is that when the rider signs his contract, he agrees to allow the team to use his name and likeness to sell, distribute, advertise or license any team product. The rider waives any rights to royalties. Additionally, these rights shall survive the termination of the contract. On the flip side, the rider shall not sign any promotional or licensing agreements without the approval of the team. Any contracts that the rider enters into that are inconsistent with the team will be considered void. In other words, the rider can't sign a Red Bull contract when he rides for a Monster-sponsored team.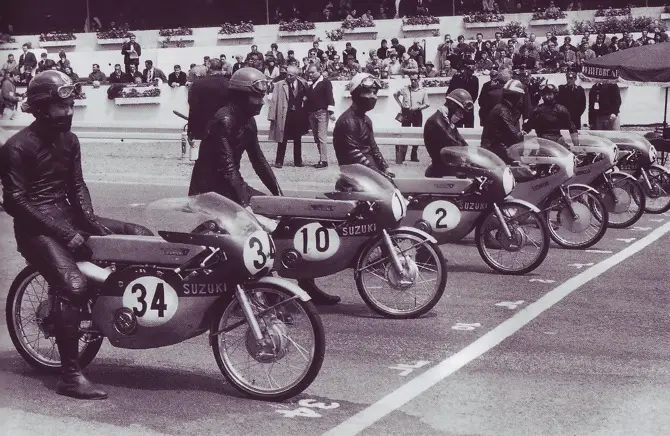 Ernst Degner (2) didn't just break his MZ contract, he also reportedly took all their blueprints with him to Suzuki when he defected from behind the Iron Curtain.
(2) A factory rider cannot disclose the contents or information contained in his contract to anyone outside of the team. Additionally, a rider cannot reveal any new concepts, inventions or developments to his motorcycle. Of course, history is full of factory riders who immediately told their new team all of the stuff their previous employers were working on. The most famous example was when East German MZ 125 GP road racer Ernst Degner defected from behind the Iron Curtain and reportedly took blueprints, drawings and an MZ cylinder to his new employers at Suzuki—who promptly built an MZ replica.

If you think this is a suggestion, you are wrong. This is a contract clause that has to be obeyed.
(3) Under the terms of a factory contract, a factory rider must ride to win; but, if he's not in position to win a championship, he must ride to benefit any other team member who is in position to win a championship. What does that mean? It means that the rider must move over for his teammate, which is illegal under AMA rules. This happens all the time—most famously in the 1977 "Let Broc Bye" incident, and again in 1990 when Jean-Michel Bayle refused to help Mike Kiedrowski win the AMA 125 National Championship. When Bayle said that he wouldn't help Kiedrowski, Honda put his CR125 back in the truck and refused to let him race.
(4) A factory rider must release the team from any legal responsibility for property damage, personal injury or death that occurs while riding for the team. Additionally, the team will not provide medical insurance, emergency-room care or Workman's Compensation for the rider. How can the factory refuse to pay medical or workman's compensation claims for one of their employees? Simple. The riders are not considered employees of the team. They are outside contractors (just like the plumber who comes to the factory to repair the pipes).
Riders have been fined, fired or, more commonly, sent home to think about it many times in the past. In 2015 Davi Millsaps (18) had his Kawasaki contract terminated during the Supercross series for undisclosed reasons.
(5) A factory rider can be terminated with five days notice for breaching the contract (without just cause) or being convicted of a felony-level crime (or any act of moral turpitude or an act that reflects poorly on the team). No one outside of Davi and Kawasaki know what led to his release from Team Kawasaki in the midst of the 2015 Supercross season. Davi has rebounded to land on the BTO KTM team for 2016.
(6) Should the rider breach the terms of his contract, he is subject to monetary fines of up to $25,000 per instance. It is rumored that when Ron Lechien was a Kawasaki factory rider, he was fined more than any other rider in motocross history for failing to show up at test sessions.
(7) A factory rider does not own his race bike. That is why none of the riders' personal sponsors' decals are on the bikes. A factory team agrees to provide race motorcycles for the rider, but only to use at agreed-upon events. The team will, however, give the rider a practice motorcycle (including the transfer of title). The rider cannot race any event that the team doesn't agree to. Additionally, a factory rider can never lend his bike to another rider.
(8) A factory rider must make himself available to promote the team's bikes and product line for up to 35 days per year. This can include autograph signings and dealer shows. If a rider misses too many autograph sessions, he can be fined.
(9) A factory rider cannot directly or indirectly endorse any product that is in competition with a product promoted or sold by the team. This includes ATVs, scooters, water craft, motorcycles, accessories or parts sold by the team. Back in 1995, Team Honda scolded Jeremy McGrath for riding a Yamaha Wave Runner for a magazine photo.
(10) A factory rider can be required to submit to a drug test with only 48 hours notice. The test can include blood and urine samples, but is not limited to those. The AMA has drug policies, but the number of times that AMA riders have been drug tested is limited to twice a year in each series.
BIRTHDAY BOYS: BLOWING OUT THE CANDLES

Sept. 26…Bob Hannah 1956
Sept. 26…Jesse Masterpool
Sept. 27…Jeremy Stenberg 1981
Sept. 28…Danny Massie
Sept. 28…Gregory Aranda 1989

Sept. 28…Erik Kehoe 1964
Sept. 29…Ricky Dietrich 1987
Sept. 29…Dave Thorpe 1962
MXA PRODUCT SPOTLIGHT: REM "ON ANY SATURDAY" T-SHIRT

Do you race at REM? Do do you want to race at REM? Do you want to look like an REM racer? Are you too far away to make it to Glen Helen on Saturday? SoCal's popular REM races at Glen Helen happen virtually every Saturday of the year and the locals can get REM T-shirts at sign-up, but if you'd like to have one of your own—in small, medium, large, extra large and extra-extra large you can get them in the mail. The shirts retail for $20 and to place an order click here.
MXA AD OF THE WEEK: U.S. GRAND PRIX BOOTS

With the exception of Heckel boots this was the style of boot that every motocross racer in the the 1970s wore. Although U.S. Grand Prix boots weren't a big seller, they didn't vary much from the popular Full Bore or Hi-Point boots of the day.

MXA PRODUCT SPOTLIGHT: PRO CIRCUIT T6 STAINLESS EXHAUST SYSTEMS

"Our T-6 Stainless/Aluminum exhaust systems offer all the performance of our championship winning Ti-6 Titanium systems but at a significantly lower price," says Pro Circuit's Mark Hall. "The RC-4 head pipe and mid-section are constructed from high-grade stainless steel for durability while the silencer is built using aircraft quality aluminum for both light weight and exceptional strength. The T-6 system is the ideal exhaust for both motocross racers looking for added performance and off-road competitors who demand superior durability and the option of a removable U.S. Forest Service approved spark arrestor. The RC-4 Resonance Chamber reduces the sound level and the asymmetrical muffler design allows for increased packing volume which means the T-6 system is sound legal for AMA Amateur and Pro/Am competition events. All of our Pro Circuit T-6 exhaust systems are made here in the USA by skilled craftsmen who take pride in building championship winning products for our customers. Prices start at $779.95. For more info go to www.procircuit.com."
MXA AD OF THE WEEK: KAYABA'S AIR SUSPENSION FROM 35 YEARS AGO


Many young and not-so-young racers think that air suspension is a new thing — it isn't. Air forks were standard on the 1976 Yamahas and Kayaba produced both air forks and air shocks in 1980. The air pressure was used as a booster on the KYB Pneumatic front forks, while the twin shocks featured an air spring, a piggyback for the air chamber and remote nitrogen chambers.

MXA PRODUCT SPOTLIGHT: SPROCKET STUFF COUNTER SPROCKET TOOL

Sprocket Stuff makes a special tool that allows you to easily remove your bike's countershaft sprocket without having to stand on the rear brake or shove rags into the engine cases.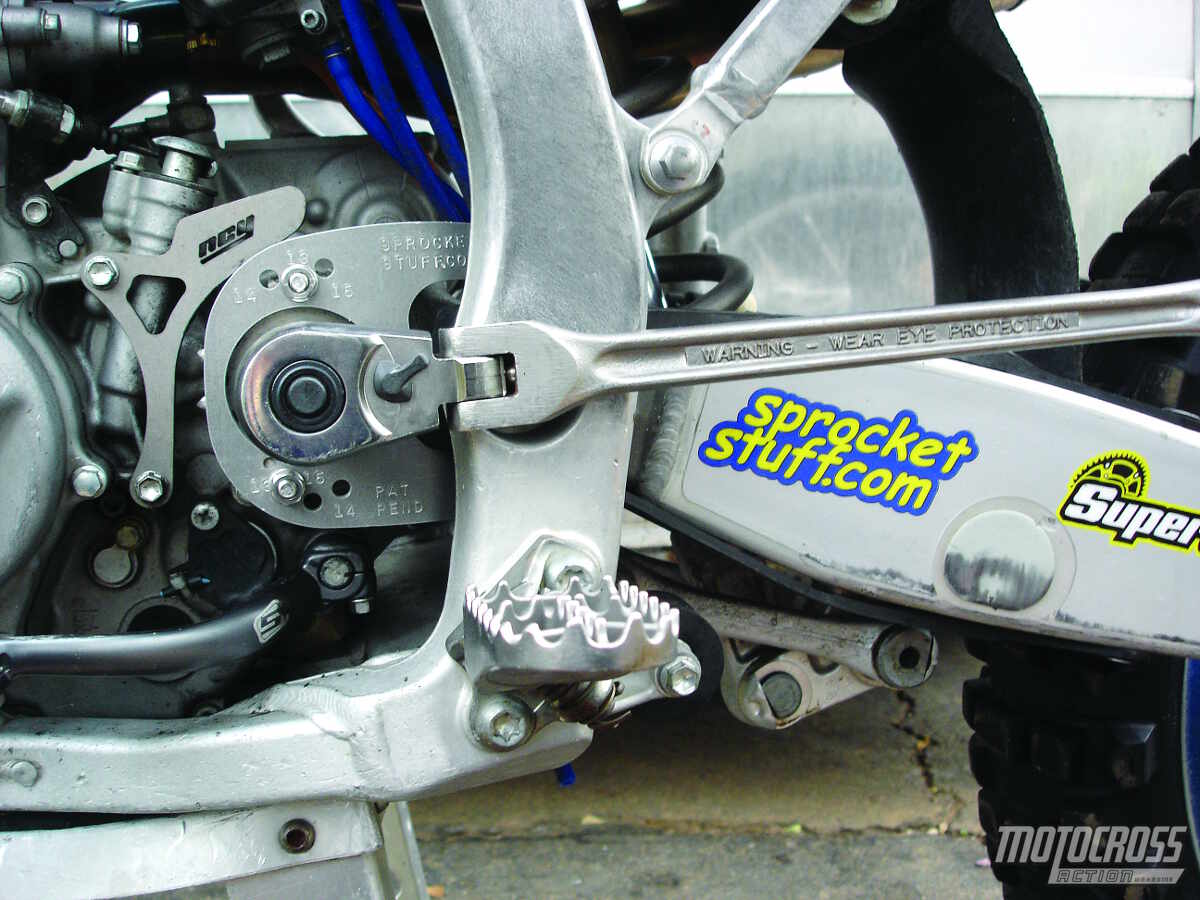 VERDICT: If you want to replace a worn-out countershaft sprocket or change your gearing, removing the old countershaft sprocket can be a hassle. It is often corroded in place, and when you try to turn the sprocket, you typically turn the engine over. Sprocket Stuff's counter sprocket tool is designed to lock your bike's countershaft sprocket to the swingarm so that it can't spin. It's a specialty tool, which is what makes it special.
DIGITS: $19.99 —www.sprocketstuff.com or (760) 500-3397.|
105 DAYS UNTIL SUPERCROSS STARTS
2017 AMA SUPERCROSS CHAMPIONSHIP SCHEDULE
Jan. 7…………………………Anaheim, CA
Jan. 14………………………San Diego, CA
Jan. 21………………………Anaheim, CA
Jan. 28………………………Glendale, AZ
Feb. 4……………………….Oakland, CA
Feb. 11………………………Arlington, TX
Feb. 18………………………Minneapolis, MN
Feb. 25………………………Atlanta, GA
Mar. 4………………………Toronto, ON
Mar. 11………………………Daytona, FL
Mar. 18………………………Indianapolis, IN
Mar. 25………………………Detroit, MI
Apr. 1…………………………St. Louis, MO
Apr. 8………………………..Seattle, WA
Apr 22……………………….Salt Lake City, UT
$25,000 TEXAS PRO CHALLENGE THIS WEEKEND AT SWAN

For more info go to www.swanmx.com.
WORLD VET MOTOCROSS CHAMPIONSHIP ON NOV. 5-6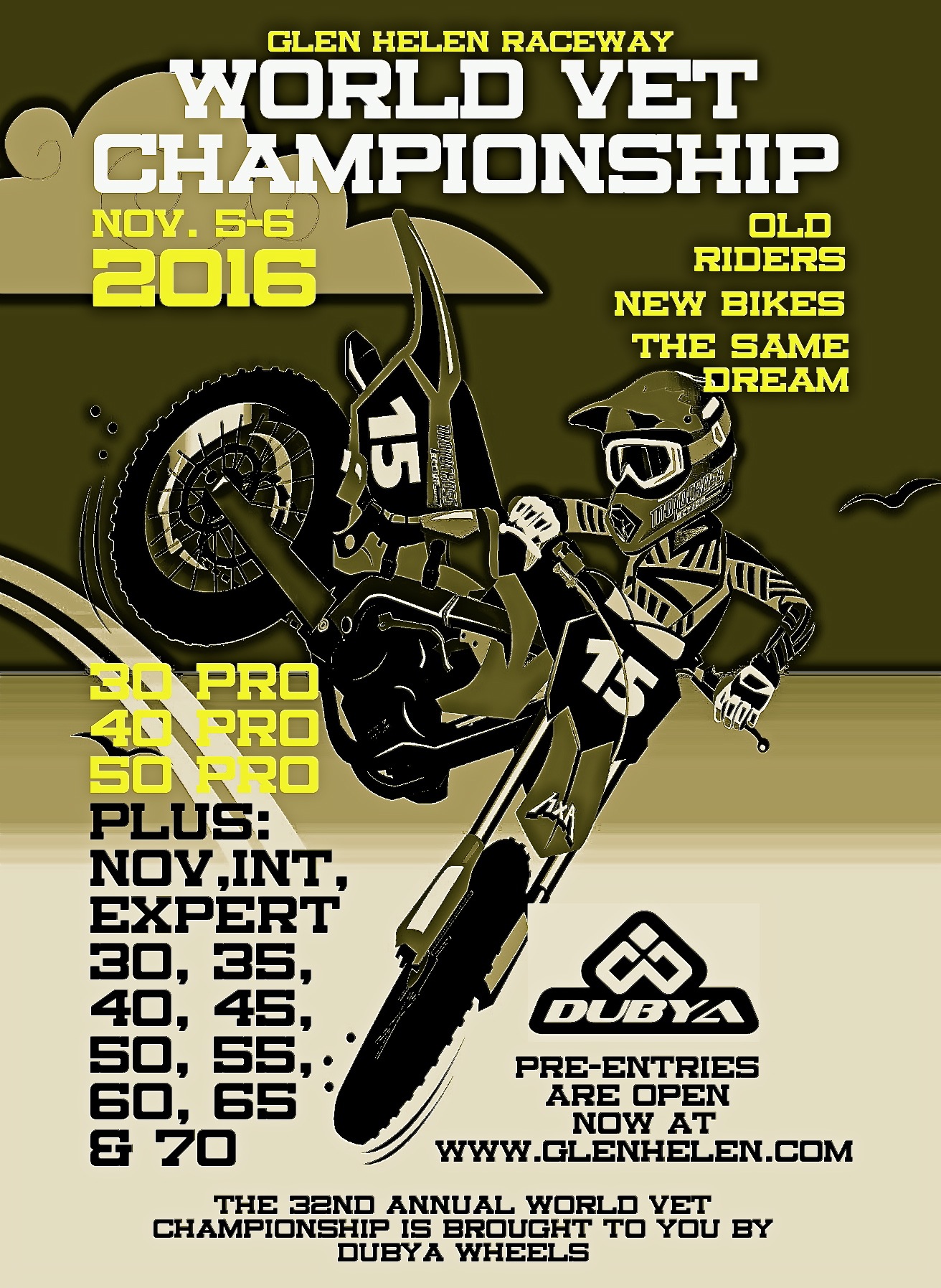 Now that the young guy's Championships are decided, all eyes will turn to the older set at the 2016 Dubya-sponsored World Vet Championships. There are Pro class for the Over-30, Over-40 and Over-50 racers. Expect the competition to be intense. For more info go to www.glenhelen.com
GRAN FONDO SANTA CLARITA: 20, 60 & 100 MILE LOOPS ON OCT. 22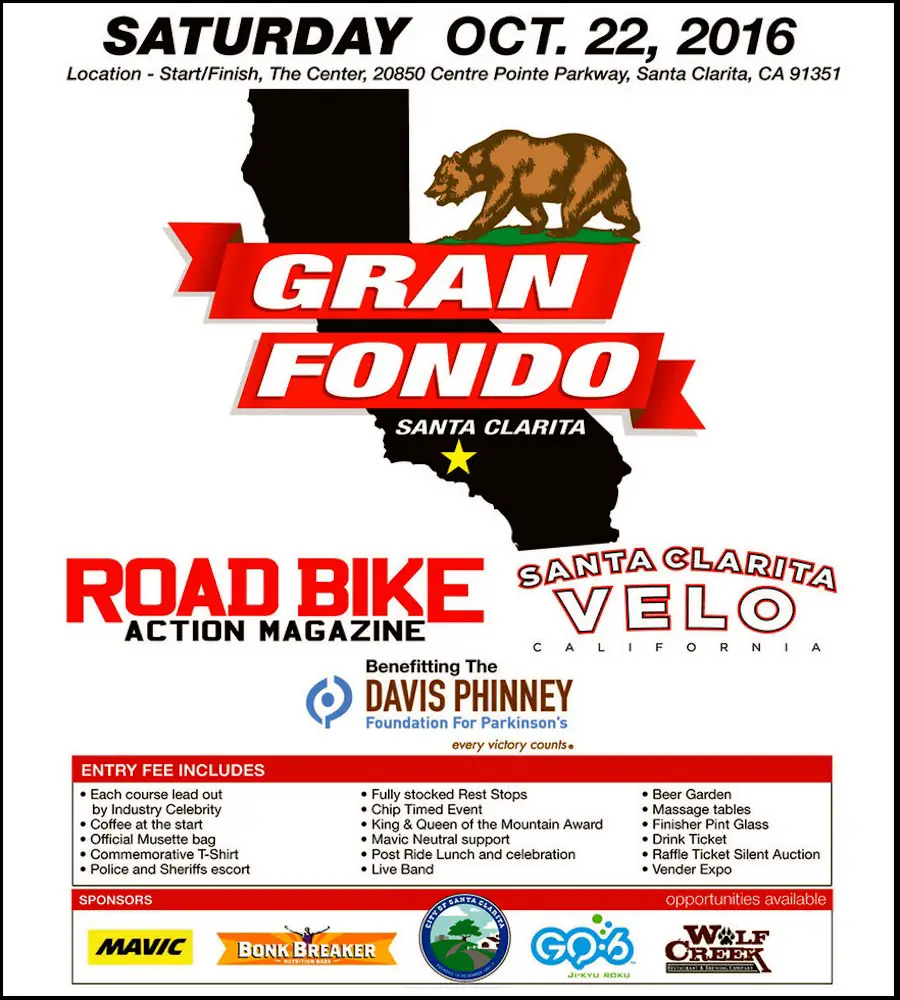 Lots of cycling stars and even more motorcycle guys. For more info go to www.granfondosantaclarita.com
REM GLEN HELEN GEARS UP FOR THE LAST 9 RACES OF 2016
There are 9 races left in REM's 40-race points paying schedule. They are Oct. 1, Oct. 8, Oct. 22, Oct. 29, Nov. 12, Nov. 19, Dec. 3, Dec. 10 and Dec. 17. The missing weekends are filled by the 24 Hours of Glen Helen (October 15-16), World Vet Championship (Nov. 5-6) and Day In The Dirt (November 26-27). For more info go to www.remsatmx.com or www.facebook.com/remsatmx/?fref=tsv

ROUTE 66 VINTAGE SCRAMBLES AT ROY ROGERS RANCH ON NOV. 20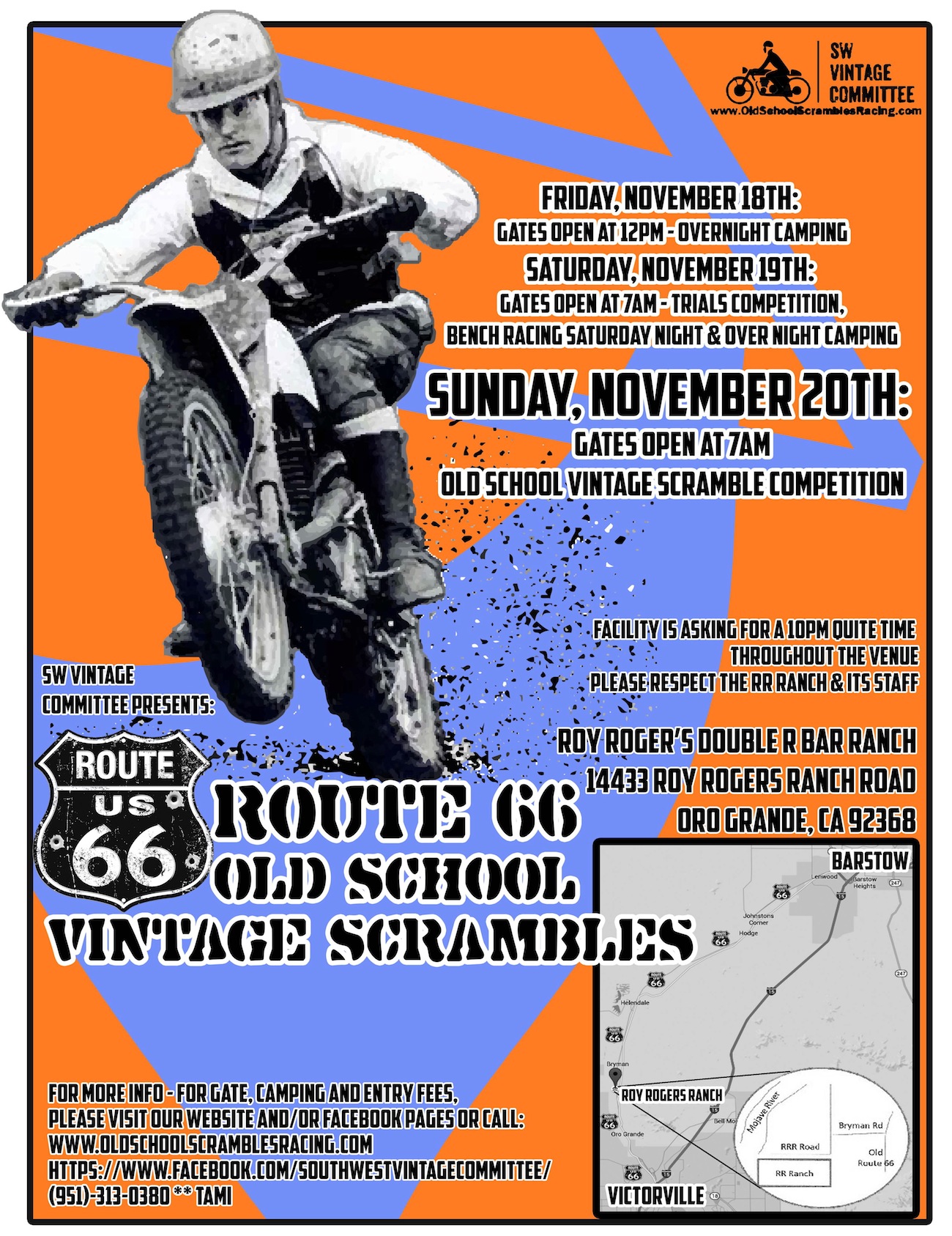 For more info click here.
HOW TO SUBSCRIBE TO MXA AND MAKE MONEY
Interested in getting a new 2017 bike this year? The October 2016 issue of MXA will be on the news stands soon and has test of four 2017s and two-stroke projects on the YZ125 and Suzuki RM250. Plus, if you subscribe now you get a $25 gift certificate from Rocky Mountain ATV/MC which more than pays for your subscription.
Do you subscribe to MXA? You should. We know that you think that print magazines are dead and that the internet will fill the void, but most of the stuff in the current issue of MXA won't appear on the web for several months, if at all. Luckily, you can get all of MXA on your iPhone, iPad, Kindle or Android by going to the Apple Store, Amazon or Google Play. Better yet get the Digital desktop version at https://hi-torque.com/product/motocross-action-digital-edition/ for $9.99 a year. The MXA test riders prefer the print version and not just because it is delivered by a uniformed employee of the U.S. Government, but because for only $19.99 you get 12 issues and a free $25 Gift Card from Rocky Mountain ATV/MC. That means that there is a profit to be made in this deal for you. For the Print magazine go to: http://hi-torque.com/product/subscribe-to-motocross-action-magazine/
Photos: Scott Mallonee, Brian Converse, Massimo Zanzani, John Basher, Kyoshi Becker, Debbi Tamietti, Dan Alamangos, John Basher, Yamaha, MXGP, MXA, Honda