MXA'S WEEKEND NEWS ROUND-UP: NEWS FOR THOSE OF YOU WHO SUFFER FROM SUN SPOTS
PRO CIRCUIT ADDS FILL-IN RIDERS TO REPLACE ITS INJURED FRONT-LINERS SMITH, FORKNER & MARCHBANKS
Austin Forkner suffered serious internal injuries in his Salt Lake City Supercross crash and is out for the rest of 2020.
Mitchell Harrison and Darian Sanayei have been hired to fill-in for the injured Jordon Smith, Austin Forkner and Garrett Marchbanks on the Monster Energy Pro Circuit Kawasaki team in the 2020 AMA National. They will join Cameron McAdoo—the only remaining Pro Circuit rider.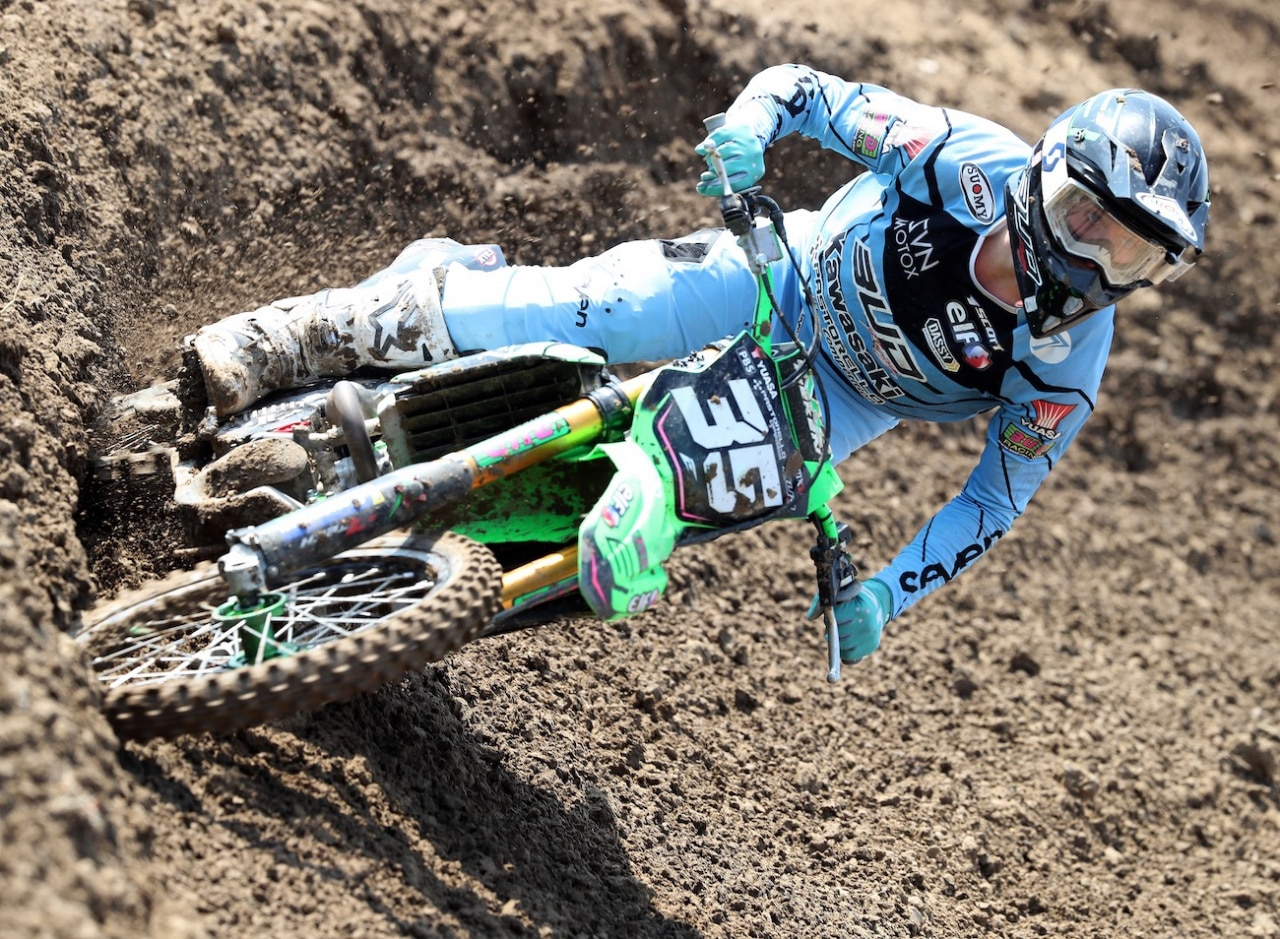 Mitchell Harrison had a Bud Racing Kawasaki ride for the 2020 250 GP series, but the EU wouldn't allow him to him to fly to the continent.
Both Harrison and Sanayei have been racing in Europe for the several years, but Harrison lost his Bud Racing Kawasaki 250 GP deal when the EU refused to allow Americans to travel to Europe (of course, the USA bans Europeans from traveling to America). Sanayei did not have a ride lined up for the 2020 Nationals. Sanayei has only ever raced one AMA National…and that was back in 2015.
MXA FIRST RIDE VIDEO: 20201 HUSQVARNA FC450
ROGER DE COSTER CELEBRATES 10 YEARS AT KTM WITH A NEW CONTRACT THROUGH 2022
Roger DeCoster has renewed his KTM contract through the 2021 and 2022 seasons.

"I'm happy to re-sign for another two years and I'm proud to continue working with a company who is so dedicated to their racing efforts. We are all very happy with the recent announcement of the 2020 Pro Motocross schedule and we can't wait to get back to racing this summer," said Roger DeCoster after signing a new two-year contract to remain the KTM/Huqvarna/GasGas Director of Motorsports in North America.
Roger on a CZ.
The five-time 500cc World Motocross Champion earned 36 FIM 500 Grand Prix GP victories in the 1970s. DeCoster's racing career bridged three decades (1960-1970-1980) and continued on to become the Honda team consultant, Suzuki team manager and started at KTM in 2011 when he moved from Suzuki to KTM. Believe it or not Roger will be 78 years old when his new contract expires. We hope that KTM is smart enough to sign him to another two-year extension for 2023-2024.
The five-time 500 World Motocross Championship spent his life promoting the sport around the world. That dedication made Roger DeCoster the most memorable name in motocross history.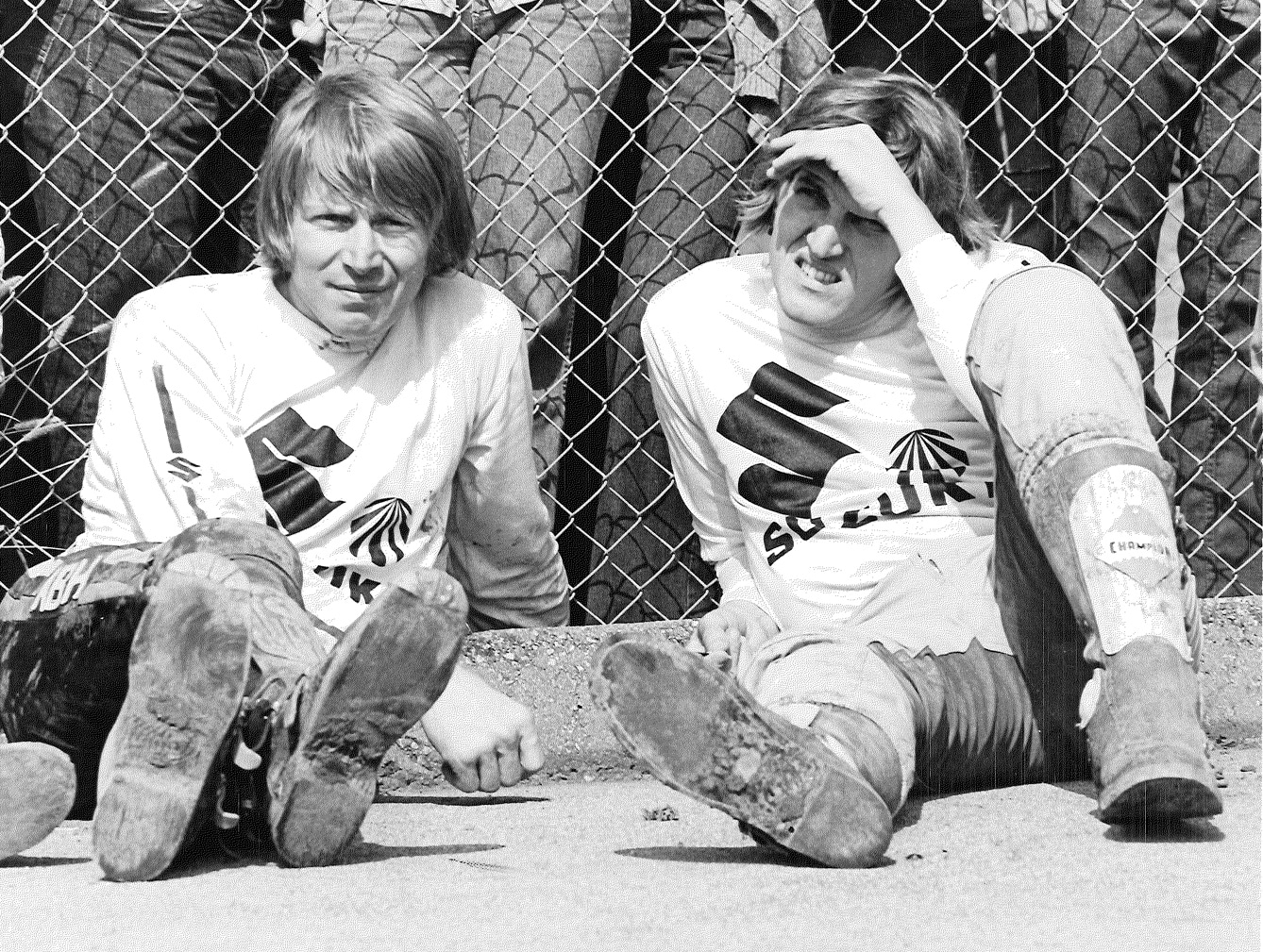 Roger with his Suzuki teammate Gerritt Wolsink.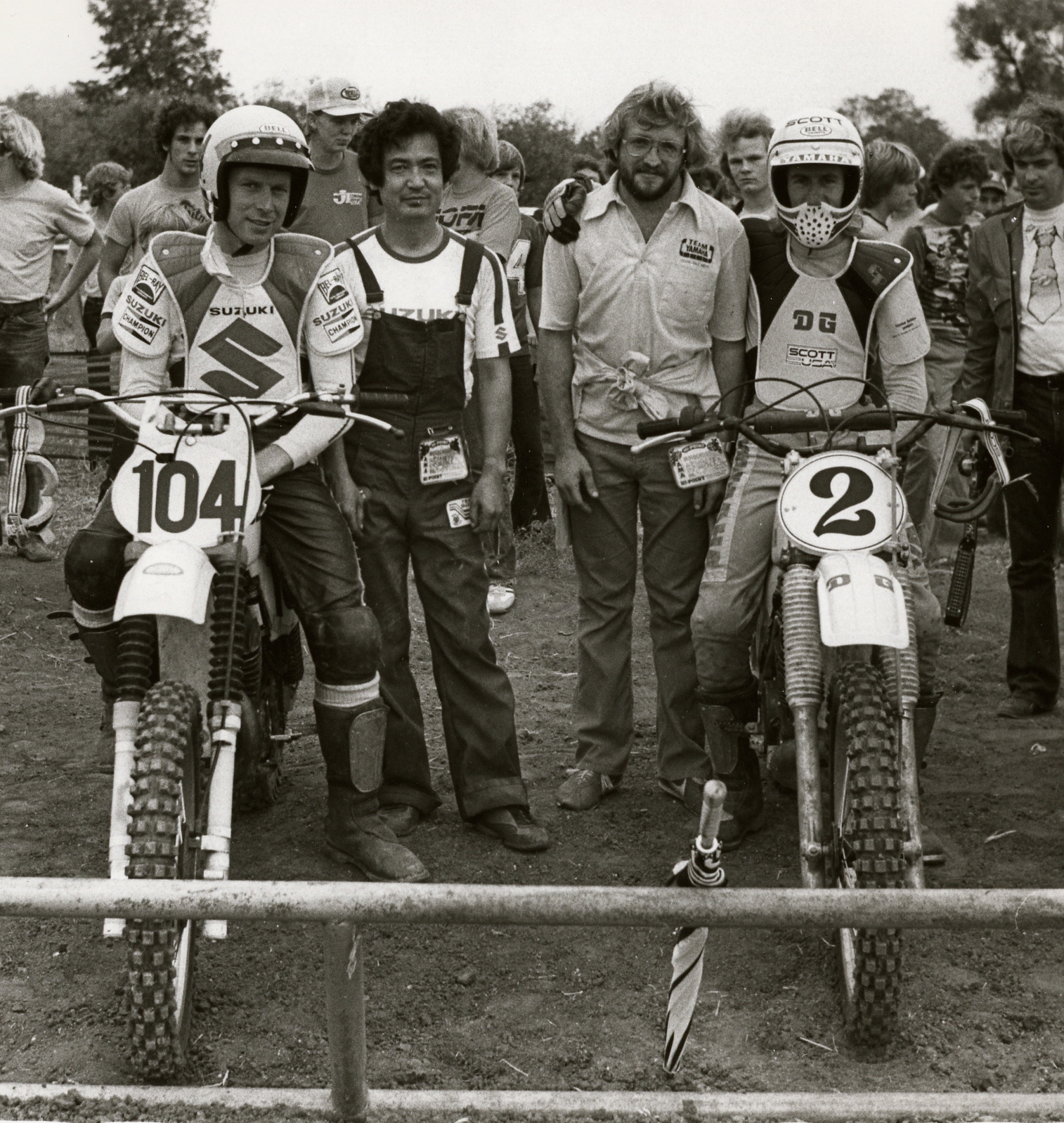 Roger and Bob Hannah during the Trans-AMA series.
Jeffrey Herlings would not move to the USA like Roczen and Musquin, so Roger only saw him at the MXDN.
Roger (left) and Joel Robert (right) with Dave Bicker behind them during their CZ days.
Roger DeCoster with Selvaraj Narayana—they go back to Sel's years at Maico in Germany.

Roger (far right) with Ryan Dungey, Justin Barcia and Eli Tomac at the 2013 MXDN.
MXA FIRST RIDER VIDEO: 2021 KAWASAKI KX450

DOVI BREAKS HIS COLLARBONE AT A MOTOCROSS RACE AND MAKES THE PODIUM AT A MOTOGP RACE TWO WEEKS LATER
Andrea Dovizioso.
When Ducati factory road racer Andrea Dovizioso broke his collarbone at a local Italian motocross race in Faenza, Italy, his 2020 MotoGP road race season seemed in jeopardy. It also got him in hot water with Ducati's management. Surprise! At last weekend's Spanish MotoGP Grand Prix at Jerez, Dovi charged to a third place finish only two weeks after having his collarbone plated. Andrea said after the race, "This podium is like a victory for me. It was a challenging race, and I didn't think I could get this result, but luckily I didn't give up until the end and managed not to make any mistakes. Unfortunately, I still didn't feel completely comfortable on the bike and, above all, I lacked speed. Surely, thanks to the feedback of this race, we will be able to be more competitive in the next GP, which will be held again here in Jerez."
KTM WILL SELL YOU ITS WORKS DAKAR RALLY BIKE — GUESS THE PRICE
KTM's Ready to Race slogan come to life with the KTM 450 Rally Replica. Ridden by Red Bull KTM Factory Racing's Toby Price, Matthias Walkner and Sam Sunderland the 450cc SOHC fuel-injected engine is wrapped in a competition-based chassis that includes WP Xact Pro Cone Valve forks, aerodynamic bodywork, a brand-new gearbox and revised shift mechanism. The gearbox construction and configuration will make a difference to the riders who want to push the KTM 450 Rally Replica.
The Rally Replica is a limited edition model and only 85 will be made. The price $28,000 (plus VAT & shipping). A service and support package is available for a limited number of riders at the Dakar Rally at additional cost. For more information, please refer to your authorized KTM dealer or visit www.ktm.com.
JUSTIN BOGLE TO RETURN TO ROCKY MOUNTAIN KTM FOR THE AMA NATIONALS—BENNY BLOSS OUT
Justin Bogle.
Justin Bogle, who was injured at the Phoenix Supercross months ago, is healthy enough to raced he 2020 AMA Nationals when they start up on August 15 at the Loretta Lynn Dude Ranch. While Bogle was gone from the Rocky Mountain ATV/MC KTM team, Benny Bloss filed in for him. With Bogle coming back, Bloss is looking for a new ride.
WHAT ABOUT TEAM USA & THE 2020 MXDN?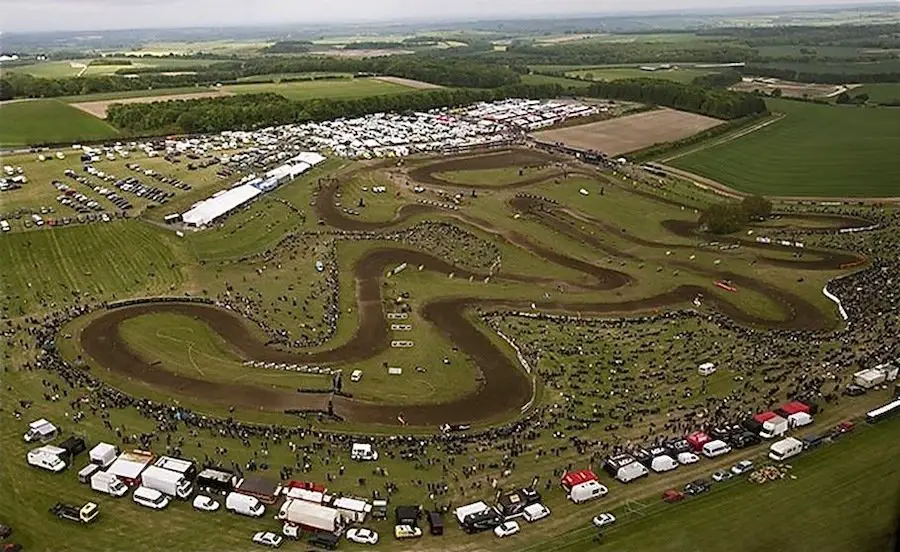 Matterley Basin is scheduled to hold the 2020 MXDN on September 27.
It is no surprise that Team USA will not be at the mid-season, September 27, Motocross des Nations this year. There are several good reasons:
(1) MX Sports has scheduled an AMA 250/450 National on Saturday, September 26. which means that the U.S. based teams would have to skip an AMA National, which is the series that they are, not only interested in, but spend all their money on.
(2) Europe currently bans Americans from flying to Europe and with the potential for quarantines no American riders wants to be stuck in a foreign country.
(3) Eli Tomac says that he wants to race the MXDN this year—even though he didn't want to ride it last year.  But it wouldn't be wrong, given his unwillingness to go last year, that he wants to go this year because it isn't possible. It is safe to say you want to go, when you already know that you can't go.
(4) The Motocross des Nations has historically been a race between national teams from as many as 30 different countries. The plan this year to make the MXDN into a round of the 2020 MXGP series, but doing this will drive a nail into the coffin of any chance that lots of national teams will agree to fly to England for what will be a mixed-up mess with little or no historical connection to the actual MXDN—which was first held in 1947. And, there is a chance that no spectators will be allowed at Matterley Basin in September.
NEW RED BUD DATES ON REVISED AMA NATIONAL MOTOCROSS RACE SCHEDULE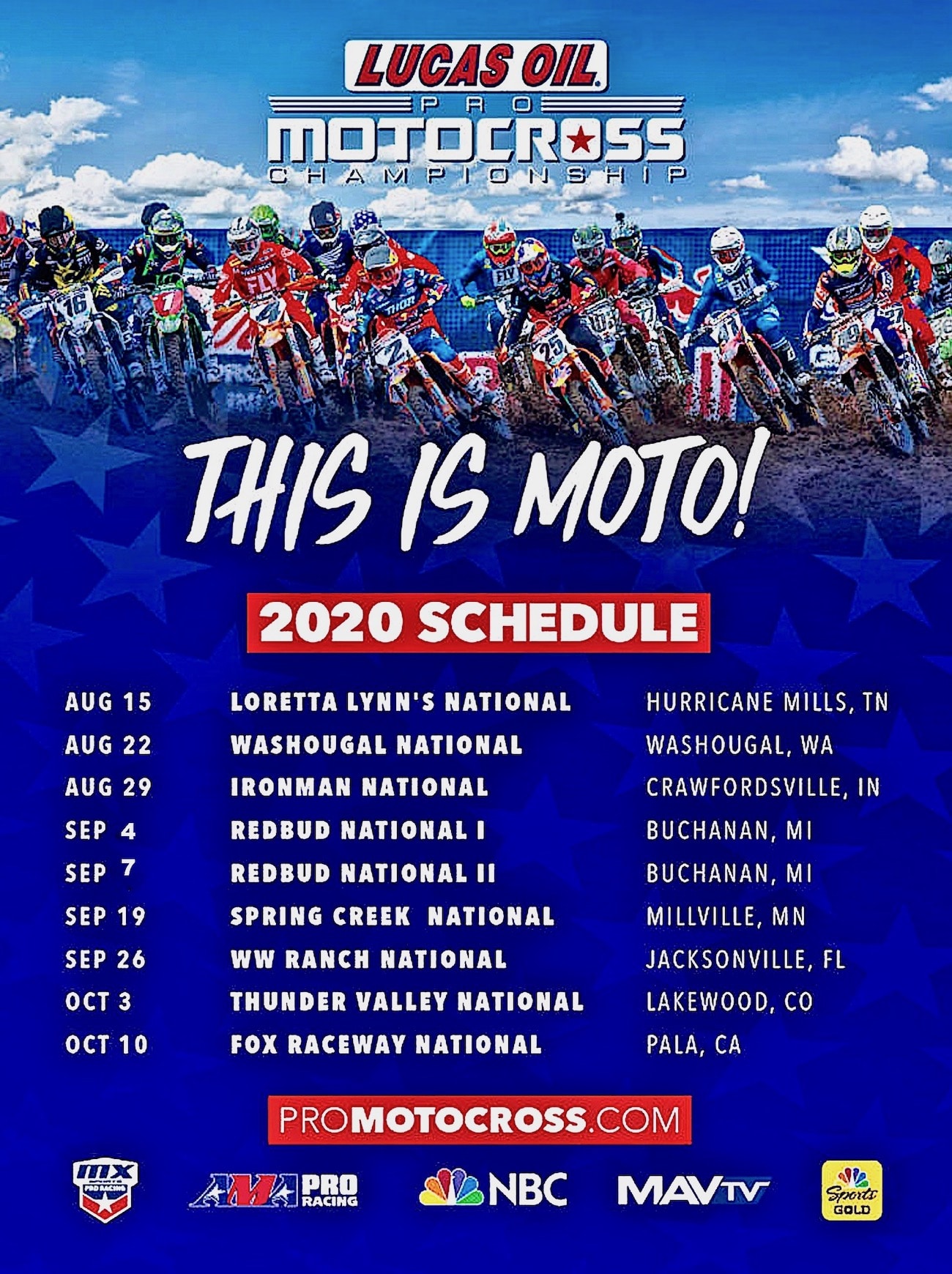 TENTATIVE AMA NATIONAL  MOTOCROSS CHAMPIONSHIP
Aug. 15…Hurricane Mills, TN
Aug. 22…Washougal, WA
Aug. 29…Crawfordsville, IN
Sept. 4 (Friday)…Red Bud, MI
Sept. 7 (Monday) …Red Bud, MI
Sept. 19…Millville, MN
Sept. 26…Jacksonville, FL
Oct. 3…Lakewood, CO
Oct. 10…Pala, CA, CA
For more information go to www.promotocross.com
MXA AD OF THE WEEK: THE JT POWERHOUSE

Jeff Ward, Marty Tripes, Kent Howerton and Chuck Sun were four of ten factory riders that raced for JT Racing.
HAVE YOU SEEN THE AUGUST 2020 ISSUE OF MXA? SUBSCRIBING IS THE BEST DEAL IN  MOTOCROSS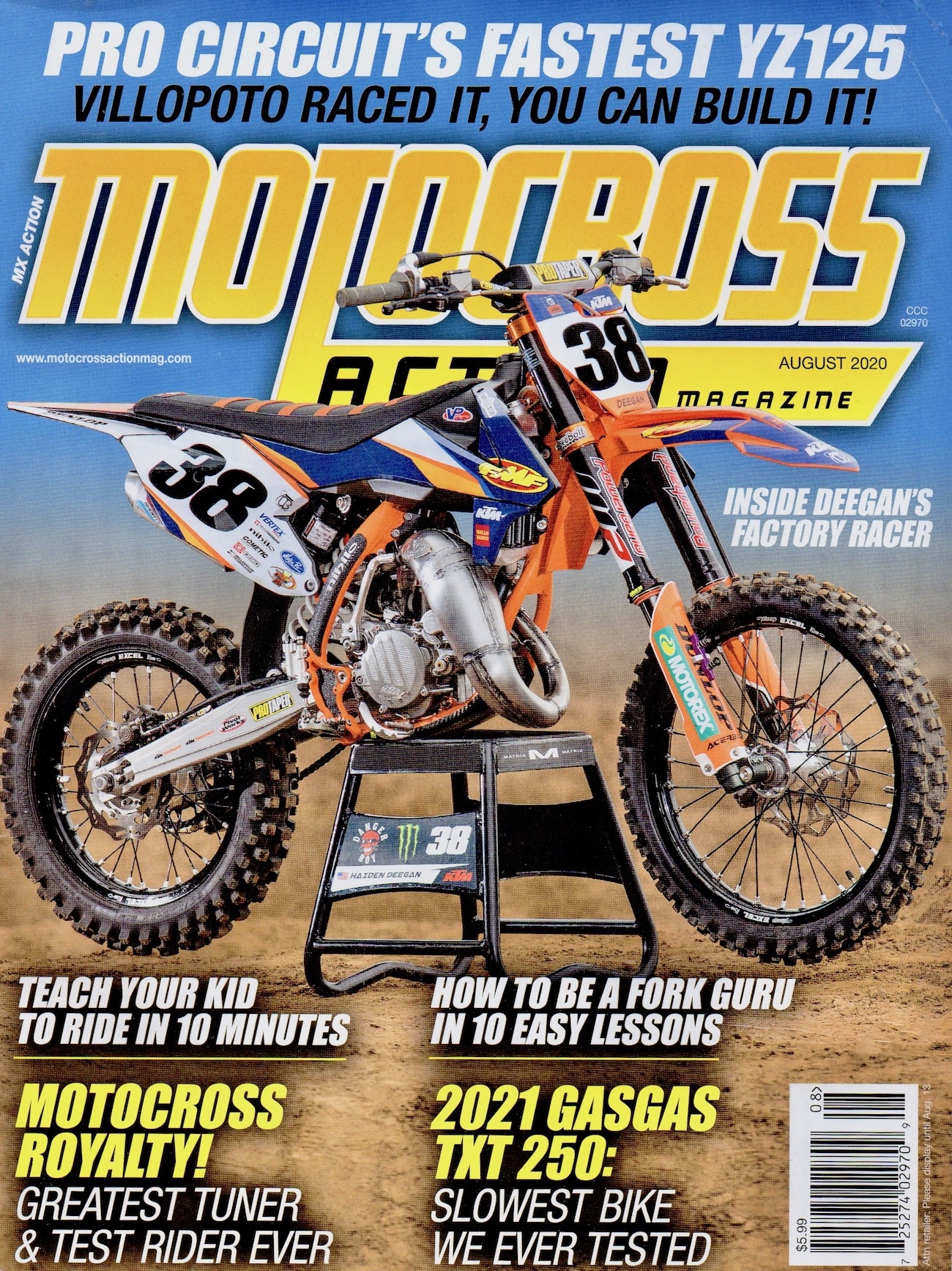 In this issue, out now, we test a full race Pro Circuit Yamaha YZ125 that we built for the World Two-Stroke Championships. We also had Doug Dubach shepherd our GYTR-kitted YZ450F through its hop-up phase. Unwilling to leave well enough alone we herded up a bunch of kids to help us test a Stacyc electric balance bike, we ask a kid to let us ride his full-race Supermini and not only resurrected a 2005 Honda CR125, but blew it up, while we were at it. If that wasn't enough we interviewed Rocket Rex Staten to prove that we weren't afraid of him.
HOW TO SUBSCRIBE TO MXA SO THAT YOU
NEVER MISS ANOTHER ISSUE OR SPEND A PENNY
If you subscribe to MXA you can get the mag on your iPhone, iPad, Kindle or Android by going to the Apple Store, Amazon or Google Play or in a digital version. Even better you can subscribe to Motocross Action and get the awesome print edition delivered to your house by a uniformed employee of the U.S. Government. You can call (800) 767-0345 or Click Here (or on the box at the bottom of this page) to subscribe.
GLEN HELEN'S 10-HOUR & 24-HOUR ENDURANCE RACES ANNOUNCED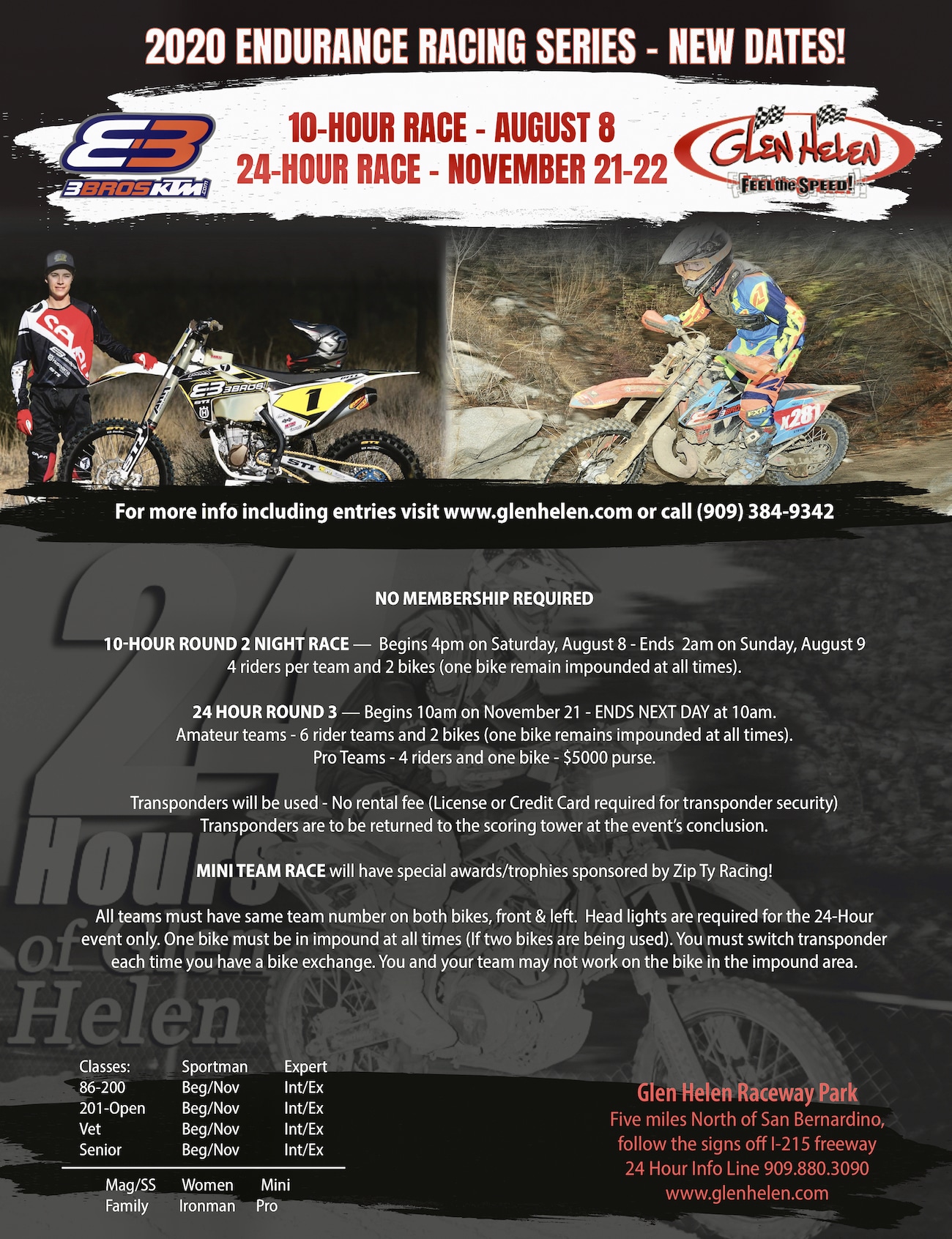 Glen Helen's 3Bros-sponsored 10-Hour and 24-Hour off-road race have been scheduled for August 8 and November 21-22. This year the 10-Hour race will start at 4:00 p.m. Saturday and end at 2:00 a.m.Sunday morning. It is open to 4 riders per team and two bikes. The 25-Hour of Glen Helen will begin on November 21 at 10:00 a.m. and end on Sunday, November 22 at 10:00 a.m. The amateur teams can have 6 riders and two bikes, but the Pro teams can only have 4 riders and must finish the 24 hours on the one bike. Headlights are required for the 24-hour only, but recommended for the 10-Hour. For more info go to www.glenhelen.com.
NEW 2020 CANADIAN NATIONAL MOTOCROSS SCHEDULE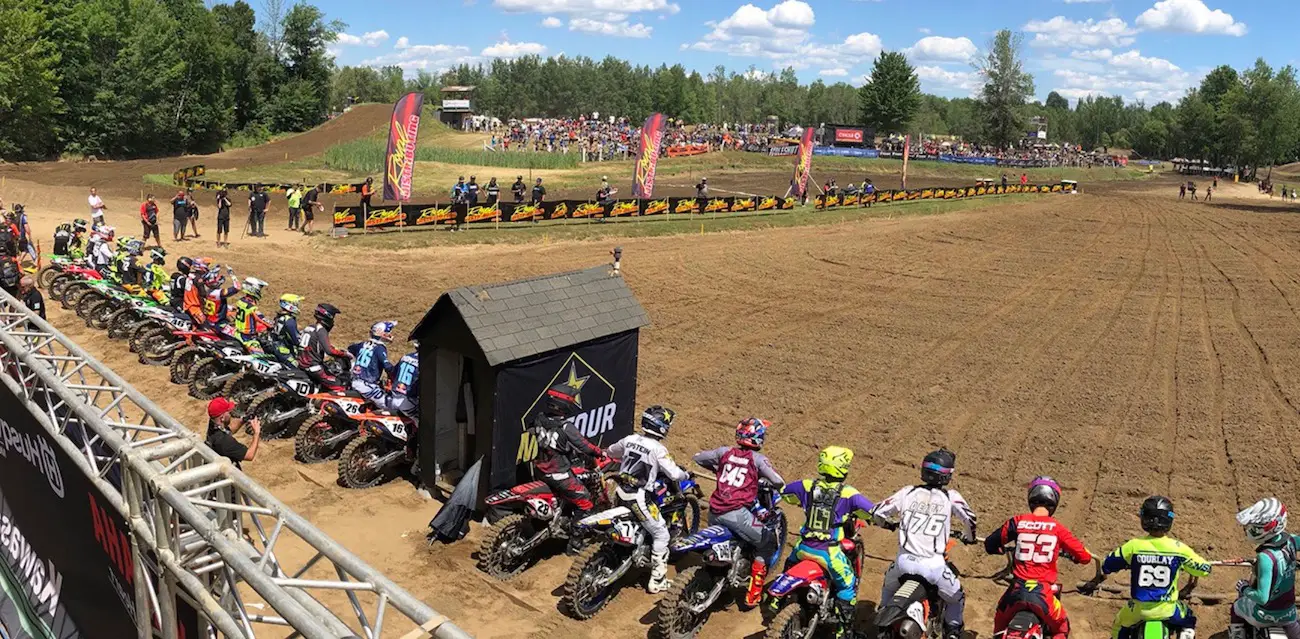 Is it better to post new race schedules and then cancel them or wait until you are sure that the races will be held? Canada posted two different National schedules in the same week.
Professional racing is under incredible pressure to organize and hold their 2020 seasons. With both the AMA 250/450 Nationals and FIM World Motocross Championships delaying the start of their seasons virtually every other week, the Rockstar-sponsored 2020 Canadian Motocross Nationals are prepared to get under way on the weekend of July 25-26 at Gopher Dunes. But, this isn't business as usual, as there won't be any spectators.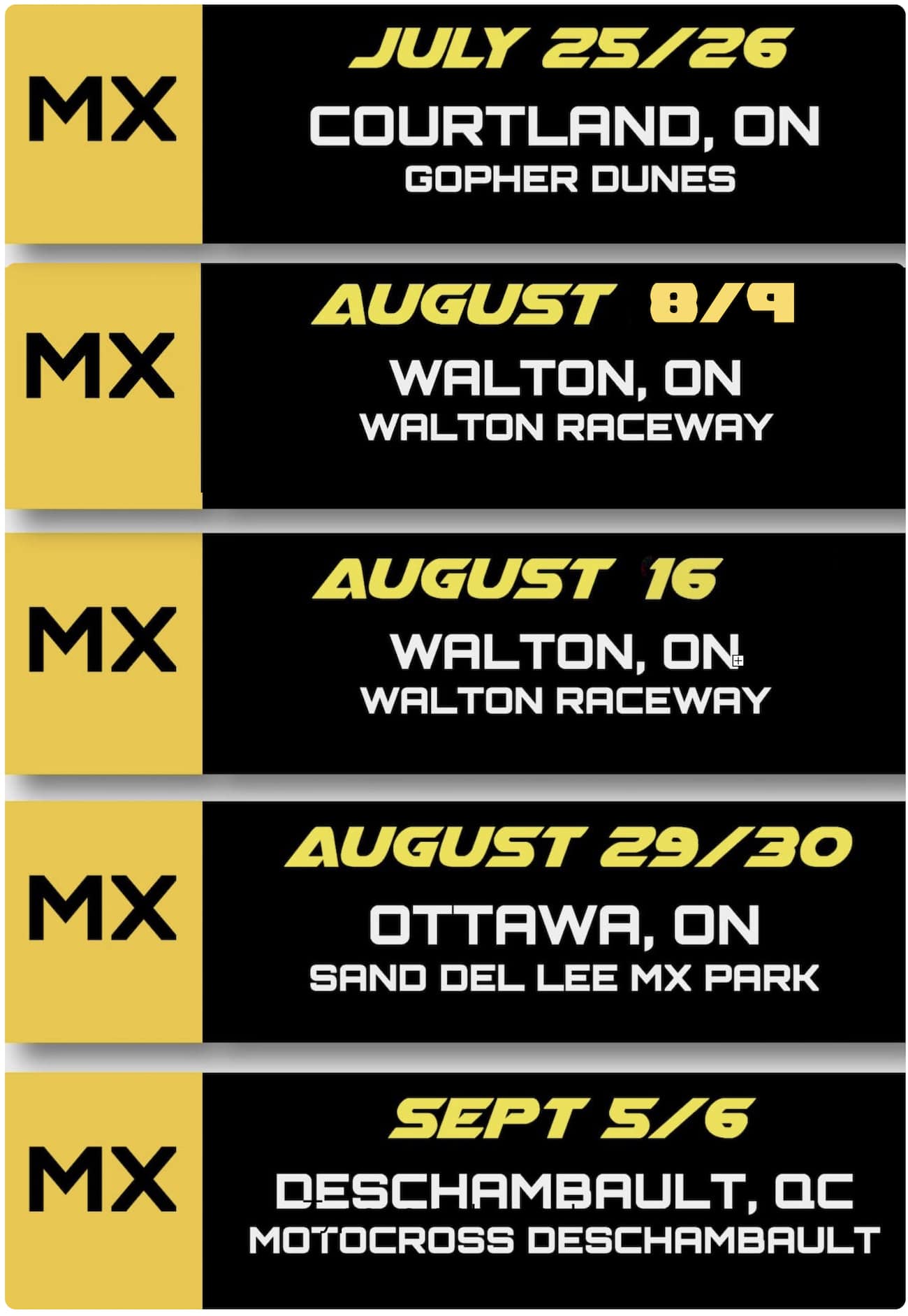 The 2020 Canadian National Motocross schedule has been changed in the last three days. Moto Park on August 1-2 is off the schedule and Walton Raceway will get back-to-back National rounds on August 8-9 and again on August 16.
To read the complete rider handbook for the Rockstar Triple Crown Series CLICK HERE. For additional information go to www.rockstartriplecrown.com.
REM MOTOCROSS RETURN TO ACTION THIS SATURDAY AT GLEN HELEN
For more info go to www.remsatmx.com.
TAKE THE MXA 2020 READER SURVEY & HAVE A CHANCE TO WIN FREE THOR GEAR!

Score free head-to-toe Thor gear now! Complete our reader survey we'll take your input to help improve future web and monthly print content of Motocross Action. One lucky winner will be chosen at random to receive a free gear ensemble from Thor (style and/or color may vary). This year's Thor (www.thormx.com) gear giveaway includes the following: Prime Pro jersey and pants, Sector Split with MIPS helmet, Radial boots, Sniper Pro goggles, and Agile gloves. That's $750 worth of products, so don't miss this opportunity to win all this stylish gear for free! Fill out the entire survey!
2020 GREAT PLAINS VINTAGE MOTOCROSS SERIES: AUG. 9 & OCT. 11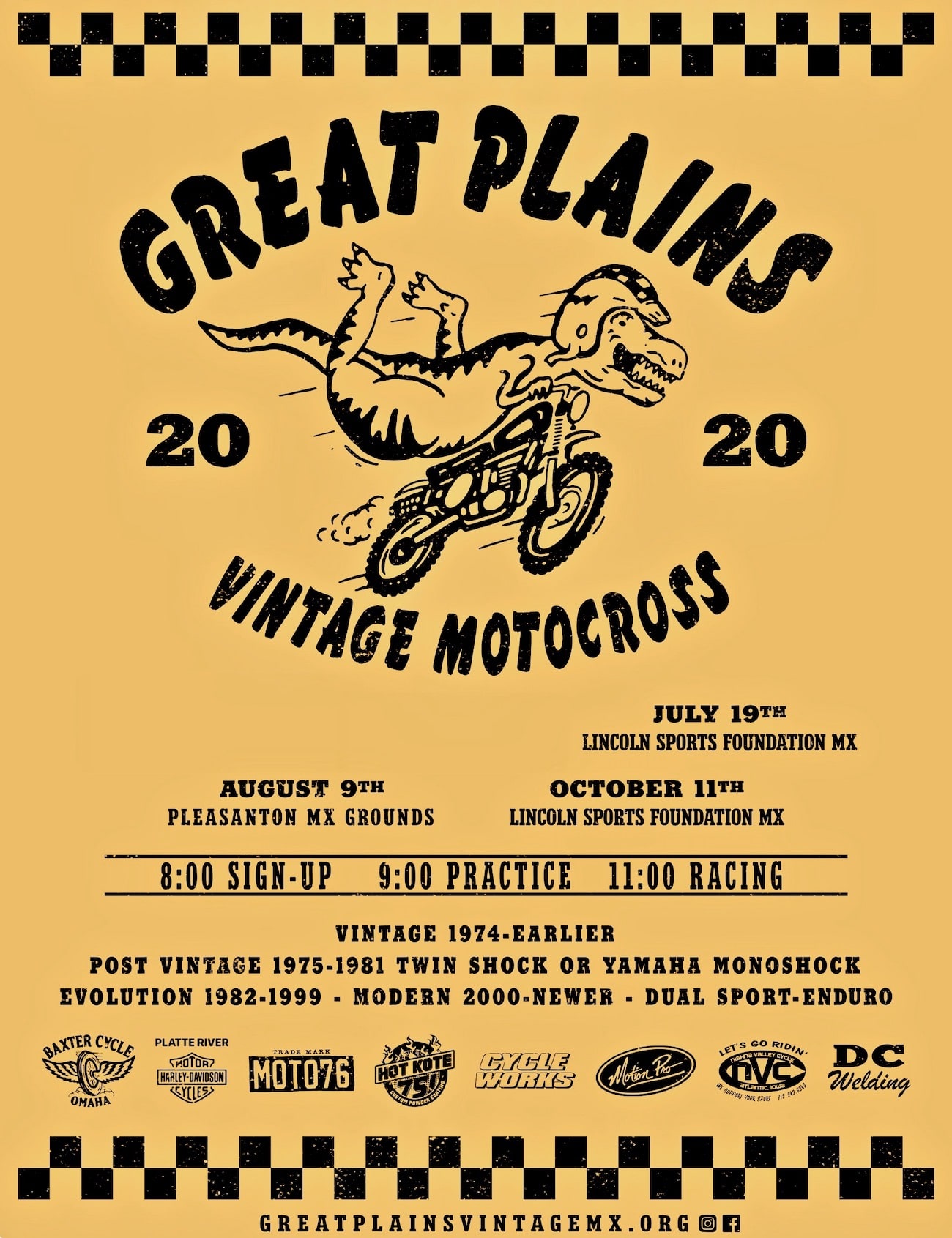 For more information about the Great Plains Vintage Series go to www.greatplainsvintagemx.org
THE 32:1 PREMIX CLASSIC COMING TO LAST CHANCE RACEWAY ON SEPT. 11-13
For more information about the September 11-13 race in Montana go to www.lastchancemx.com.
2020 WISECO WORLD TWO-STROKE MOTOCROSS CHAMPIONSHIP WILL BE HELD ON OCTOBER 3, 2020
For more information go to www.glenhelen.com
40TH ANNUAL CZ WORLD CHAMPIONSHIP RESCHEDULED FOR OCTOBER 9-10 AT MARYSVILLE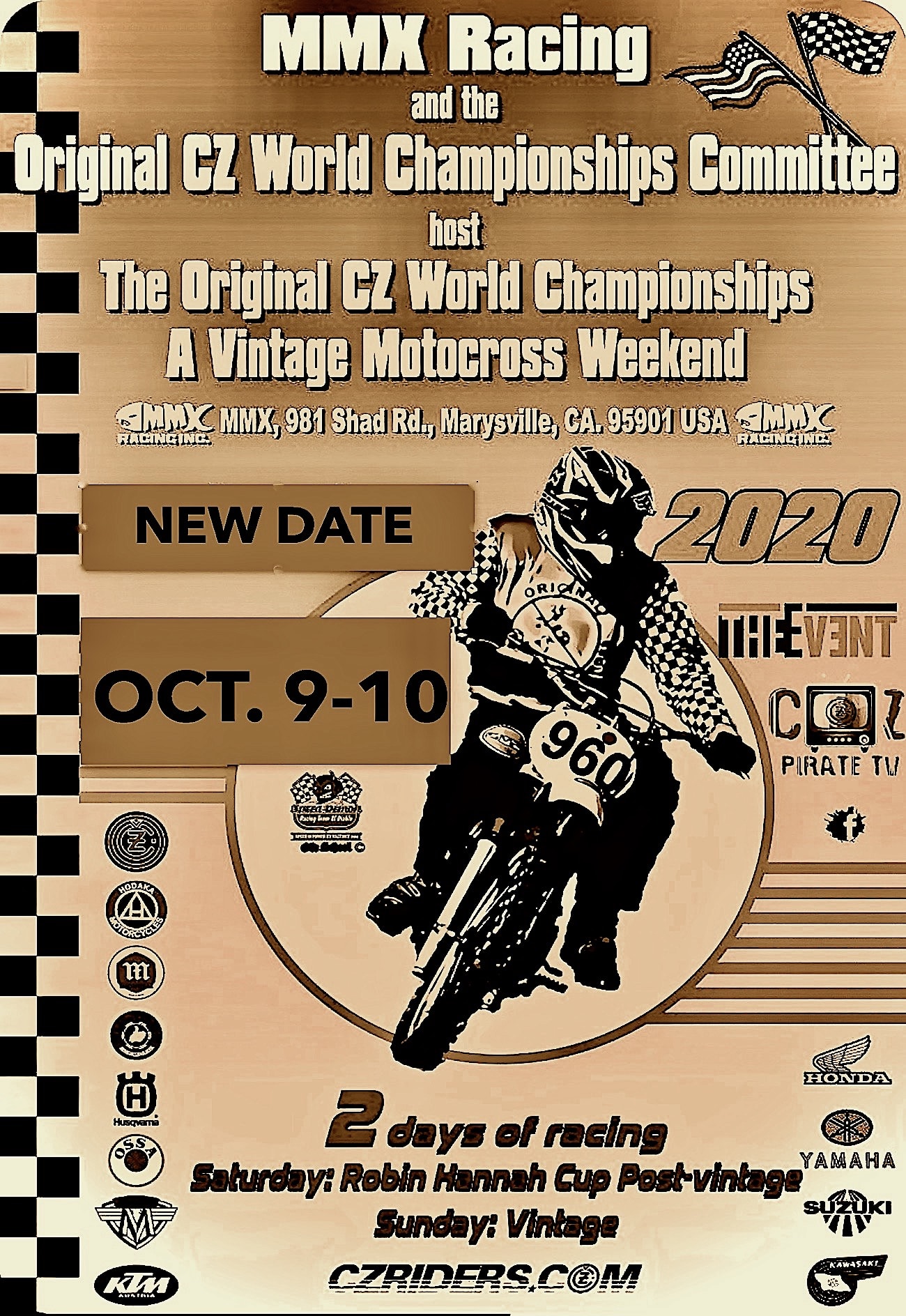 Dating back to 1980 when MXA's Jody Weisel, Ketchup Cox and Pete Maly talked Saddleback Saturday promoter Jim Beltnick into holding a CZ race, the CZ World Championship is now on its 40th anniversary in 2020. For more information go to www.czriders.com
36TH ANNUAL WORLD VET MOTOCROSS CHAMPIONSHIP ON NOVEMBER 6-8: START PLANNING NOW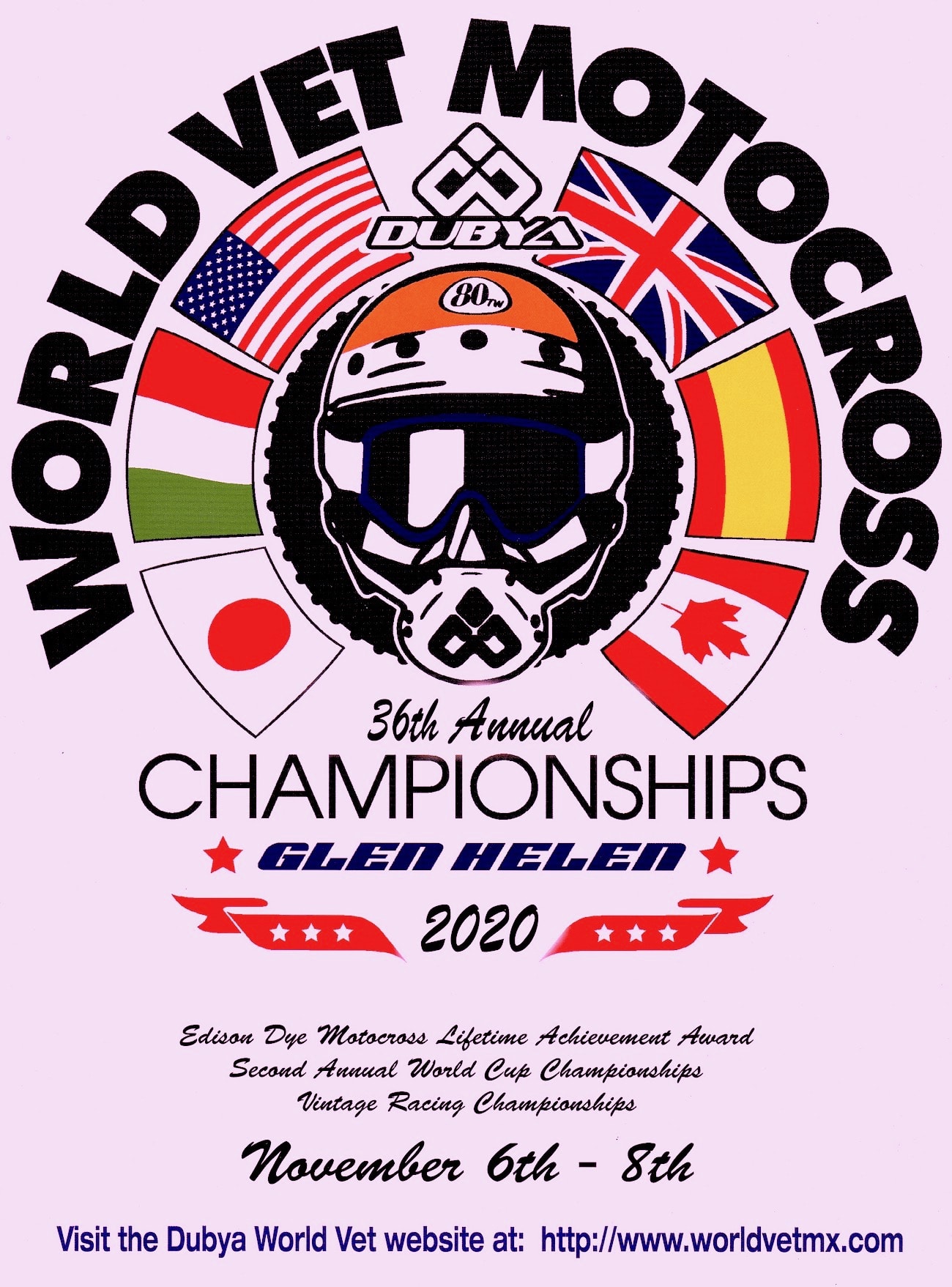 For more information go to www.worldvetmx.com
AIM EXPO CHANGES ITS DEALER SHOW FROM OCTOBER TO JANUARY, 2021, IN COLUMBUS, OHIO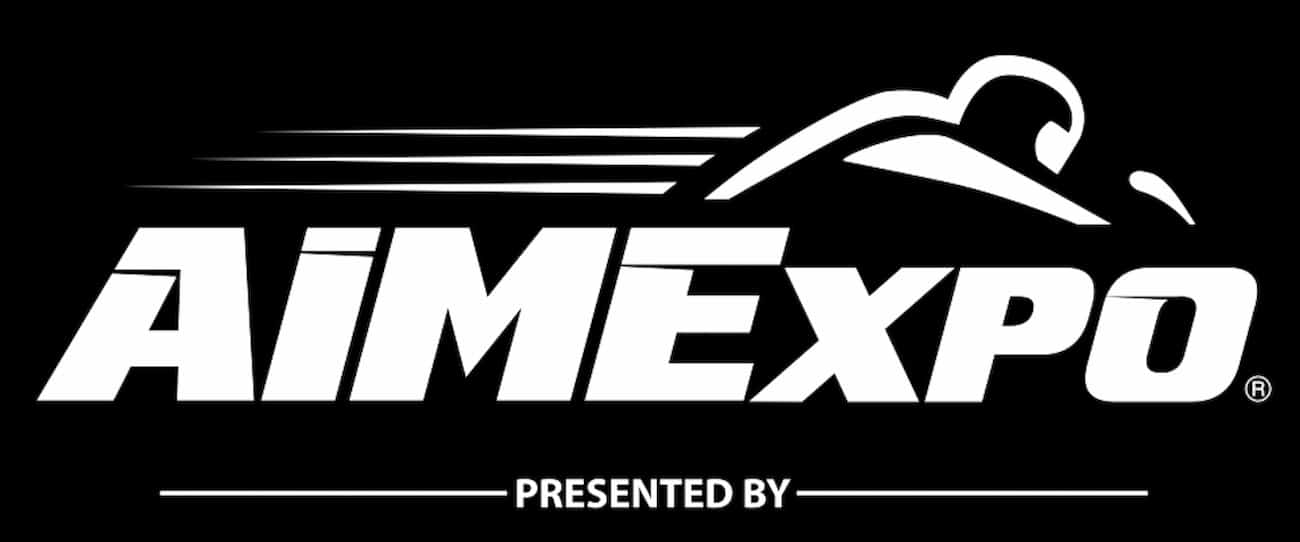 The American International Motorcycle Expo (AIMExpo) will change the date of the 2020 motorcycle show from October 2020 to Jan. 21-23, 2021. It will be held at the Greater Columbus Convention Center in Columbus, Ohio. The 2021 show will now focus on retailers over three days instead of four. For 2021, AIMExpo will become a trade-only event. The transition to trade-only will bring more focus on industry needs and education. AIMExpo hope to educate dealers on improving efficiency, staying competitive and enhancing the bottom line.
BORED AT HOME? TRY FREE ACCESS TO MXA DIGITAL EDITIONS FOR FREE, FREE FREE, FREE FREE FREE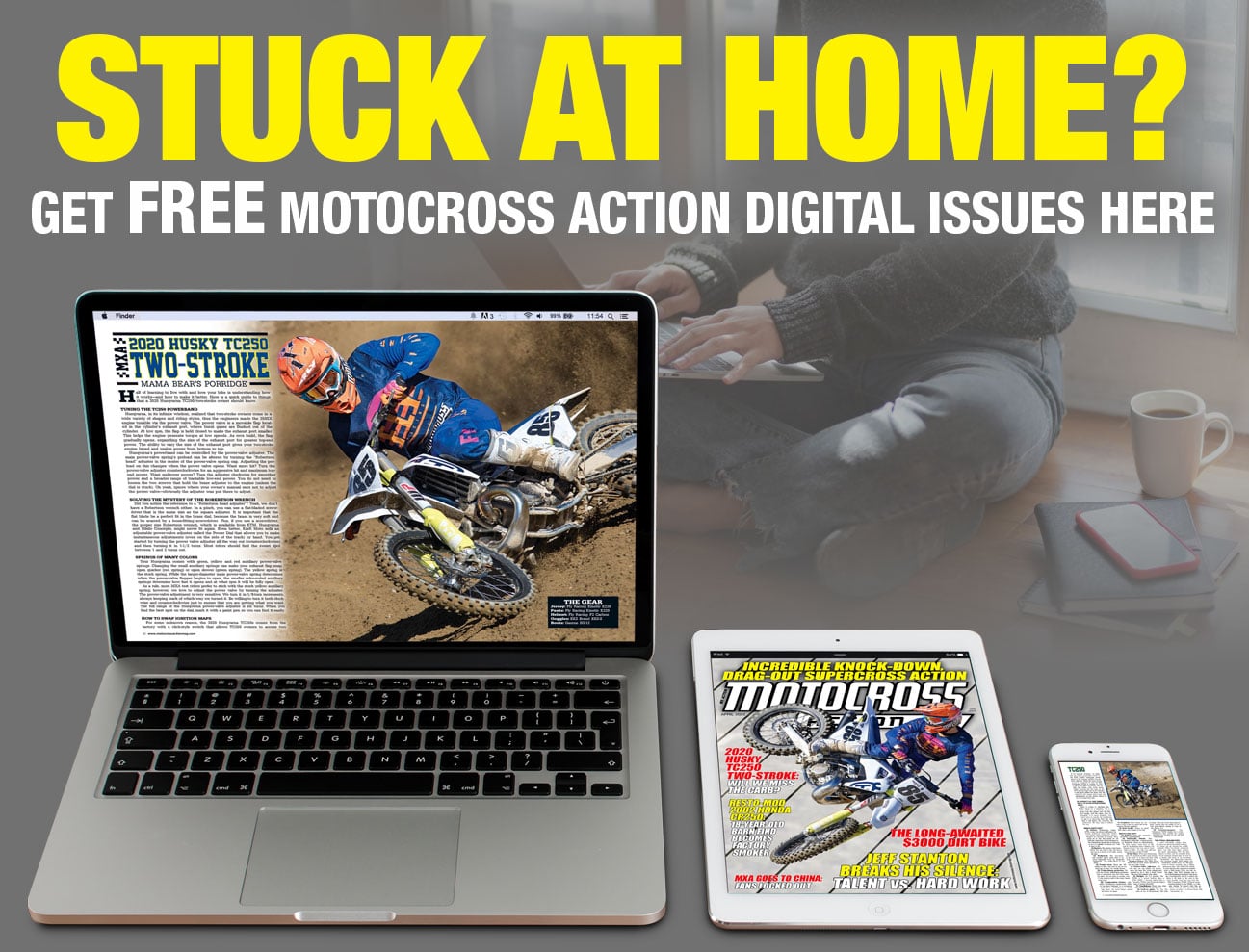 Click here or on the above photo to get your free digital issues.
THE EVER CHANGING 2020 RACE SCHEDULES
Under the current plan, the 2020 AMA National series will start on  August 15 and feature 9 rounds—counting two back-to-back races at Red Bud on a Friday, September 4 and Monday on September 7.

TENTATIVE AMA NATIONAL  MOTOCROSS CHAMPIONSHIP
Aug. 15…Hurricane Mills, TN
Aug. 22…Washougal, WA
Aug. 29…Crawfordsville, IN
Sept. 4 (Friday)…Red Bud, MI
Sept. 7 (Monday) …Red Bud, MI
Sept. 19…Millville, MN
Sept. 26…Jacksonville, FL
Oct. 3…Lakewood, CO
Oct. 10…Pala, CA, CA
REVISED 2020 FIM MOTOCROSS WORLD CHAMPIONSHIP
Mar. 1…Matterley, Great Britain (Held)
Mar. 8…Valkenswaard, Holland (Held)
Aug. 9…Kegums, Latvia
Aug. 12…Kegums, Latvia
Aug. 16…Kegums, Latvia
Sept. 6.…Afyonkarahisar, Turkey
Sept. 16…Faenza, Italy
Sept. 20…Faenza, Italy
Sept. 27…MXDN, Matterley, Great Britain
Oct. 4…Mantova, Italy
Oct. 11..Arroyomolinos, Spain
Oct. 18…Lommel, Belgium
Oct. 21…Lommel, Belgium
Oct. 25…Lommel, Belgium
Nov. 1…Trentino, Italy
Nov. 8…TBA, Indonesia
Nov. 22…Neuquen, Argentina
2020 FIM MOTOCROSS DES NATIONS
Sept. 27.…Matterley Basin,Great Britain
REVISED 2020 BRITISH NATIONAL CHAMPIONSHIP
Aug. 2…Hawkstone Park
Aug. 23…Landrake Motoparc
Sept 6…Cusses Gorse
Oct. 4… Fatcat Motoparc
REVISED 2020 CANADIAN NATIONAL CHAMPIONSHIP
July 25-26…Courtland, ON
Aug…8-9…Walton, ON
Aug. 16…Walton, ON
Aug. 29-30…Sand Del Lee, ON
Sept. 5-6….Deschambault, QC
REVISED 2020 AUSTRALIAN NATIONAL MOTOCROSS CHAMPIONSHIP
Aug. 9…Connondale. QLD
Aug. 6…Maitland, NSW
Sept. 16…Newry, VIC
Sept. 12…Horsham, VIC
Oct. 4…Gympie, QLD
Oct. 11…Coolum, QLD
2020 AMA NATIONAL AMATEUR CHAMPIONSHIP
Aug. 3-8….Hurricane Mills, TN
2020 WISECO WORLD TWO-STROKE CHAMPIONSHIP
Oct. 3…Glen Helen, CA
2020 MONSTER ENERGY CUP
Oct. 10…Carson, CA
REM OCTOBERCROSS
Oct. 31…Glen Helen, CA
2020 DUBYA WORLD VET MOTOCROSS CHAMPIONSHIP
Nov. 6-8…Glen Helen , CA
JOIN MXA'S FLIPBOARD PAGE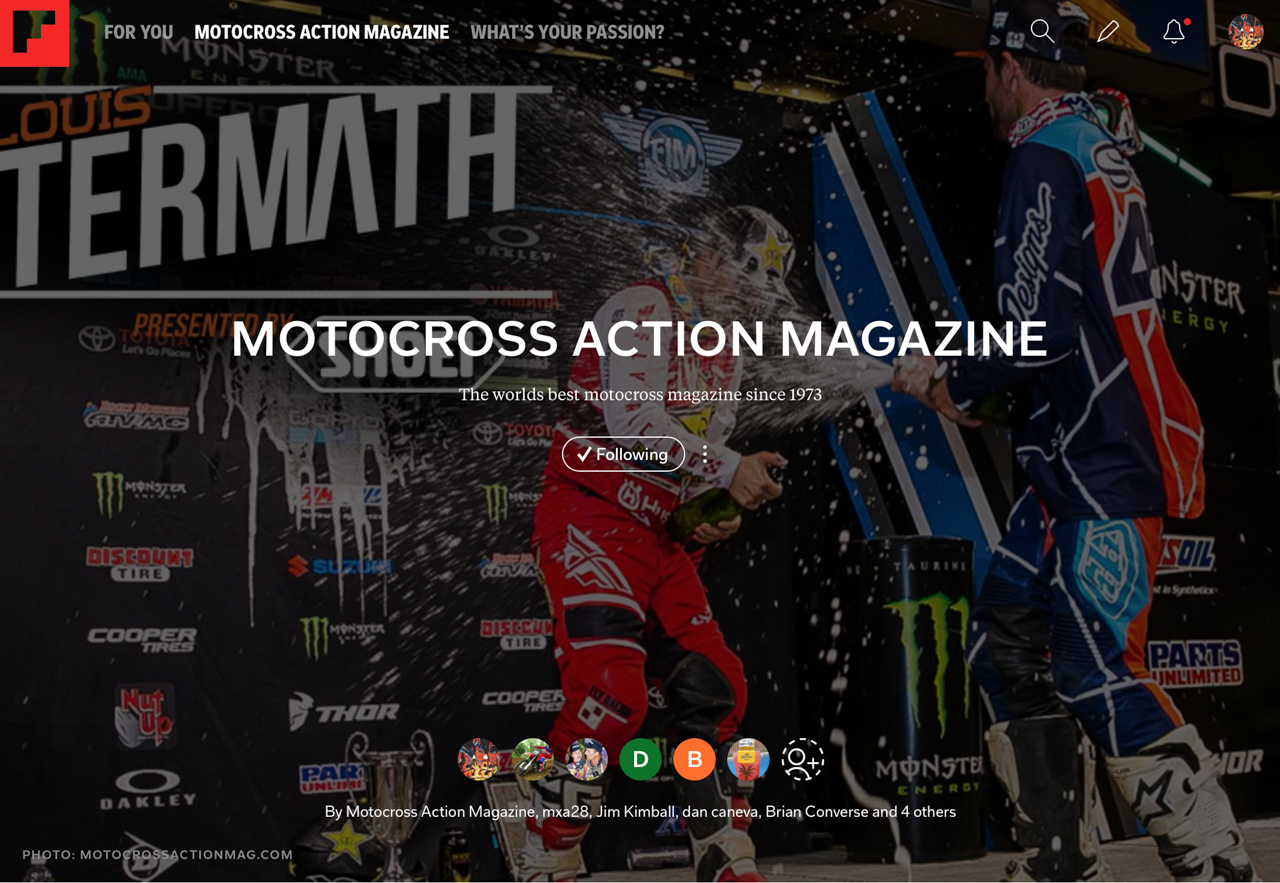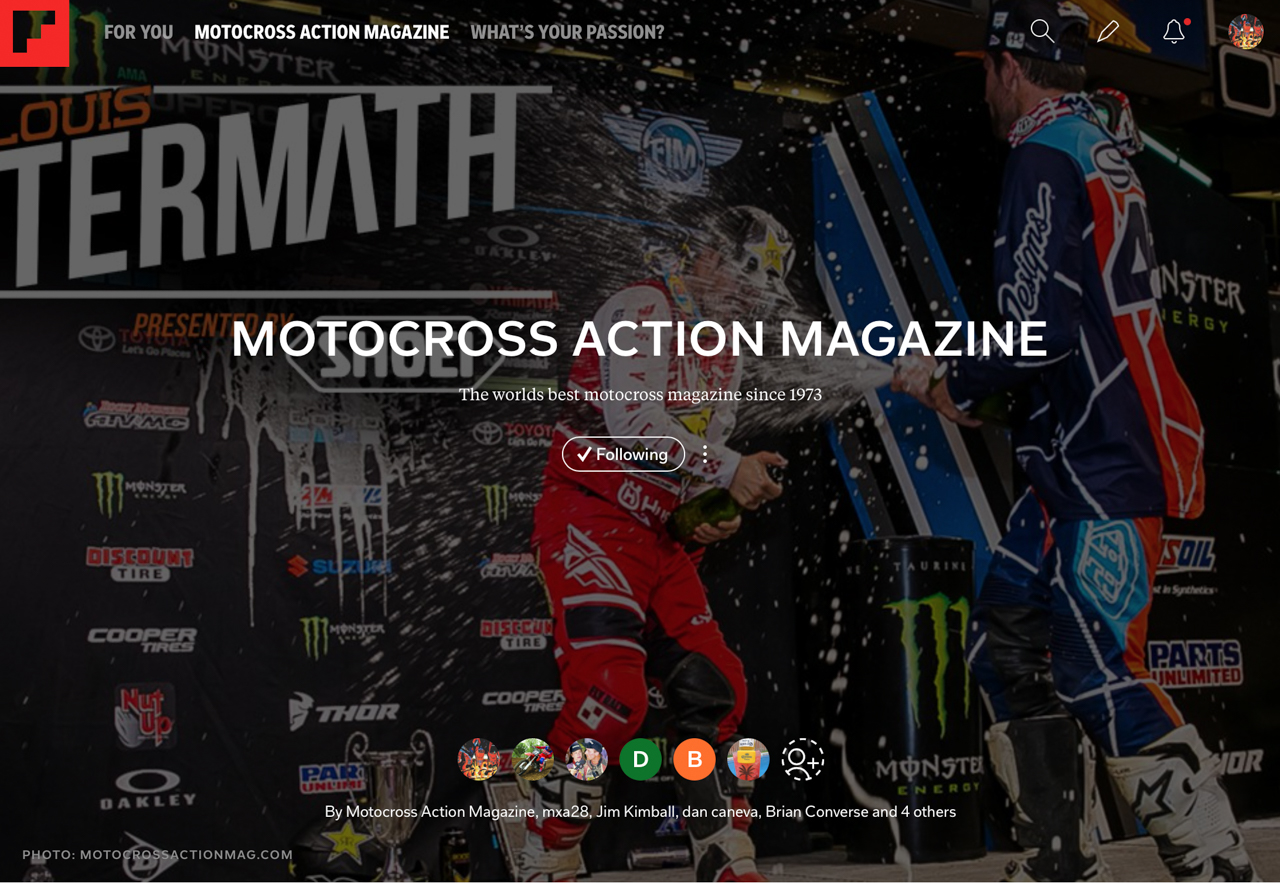 If you use Flipboard make sure to subscribe to the Motocross Action page for all the updates on our website. Click HERE to check out the page.