MXA'S WEEKEND NEWS ROUND-UP: LOGO MANIA, KTM SALES RECORD & PASTRANA FALLS FROM THE SKY
• TRAVIS PASTRANA BREAKS PELVIS IN FAILED BASE JUMP FROM HOTEL ROOF

Broken hip? Just a normal day in the life of Travis Pastrana.
38-year-old action sports star and 2000 AMA 125 National Champion Travis Pastrana suffered a broken pelvis while working as a stuntman on a film being shot in Fort Lauderdale, Florida. According to reports from TMZ Pastrana base jumped off the top of the Hyatt hotel with a parachute, but something went wrong as the chute deployed later than planned. The parachute did open, but not soon enough to slow Travis' descent. He was taken in an ambulance to Broward Health Medical Center, where underwent surgery and is expected to make a full recovery.
This is not the first time that Travis has broken his pelvis—as he has broken a reported 60 bones in his career. Travis Pastrana is schedule to race the 100 Acre Wood Rally for Subaru on March 18-19—any doubts that he will be there?
• NEW HRC HONDA LOGO

The old HRC logo.
The Honda Racing Corporation (HRC) has handle Honda's motorcycle racing endeavors since 1982. However, HRC is receiving a makeover in 2022. And that includes an updated logo. HRC redesigned its iconic logo with an italized font and newr shades of blue and red. The new look not only celebrates the inclusion of car racing but also hints at Honda's forward progress in both electrification and alternative fuels .Following Honda's withdrawal from Formula 1 as an engine supplier, the firm is consolidating both motorcycle and automotive racing efforts under the HRC banner.
The new HRC logo.
HRC President Toshihiro Mibe said, "Starting this season, Honda will further strengthen its motorsports operation and capability by adding automobile racing activities to Honda Racing Corporation (HRC), which has been operating Honda's motorcycle racing activities. This will enable Honda to achieve mutual collaboration of the technologies and know-how Honda has amassed in the respective areas of motorcycle and automobile racing and increase the efficiency of motorsports operations."
• NEW KAWASAKI LOGO


In November 2020, Kawasaki Heavy Industries announced that the motorcycle business would spin-off as a separate company called Kawasaki Motors Limited. Now, the new company has revealed the logo that future Kawasaki models will display. The new logo is actually very old, having first appeared in the 1870s, on the flags flown by the ships owned by the Kawasaki Tsukiji Shipyard (predecessor of Kawasaki Heavy Industries). It has already appeared on Kawasaki motorcycles and will get wider play in the future.
• KTM'S 2021 SALES UP 23% IN 2021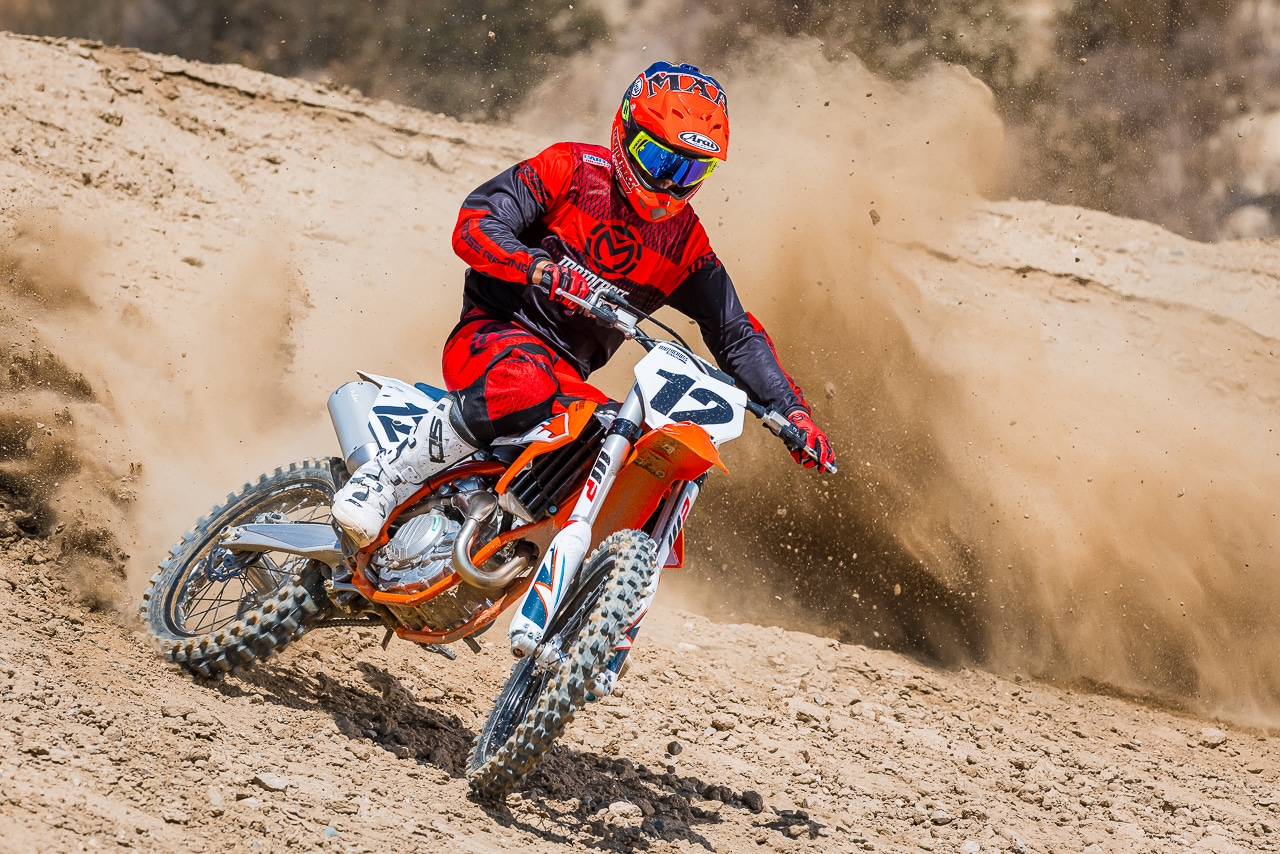 KTM is the flagship brand at Pierer Mobility.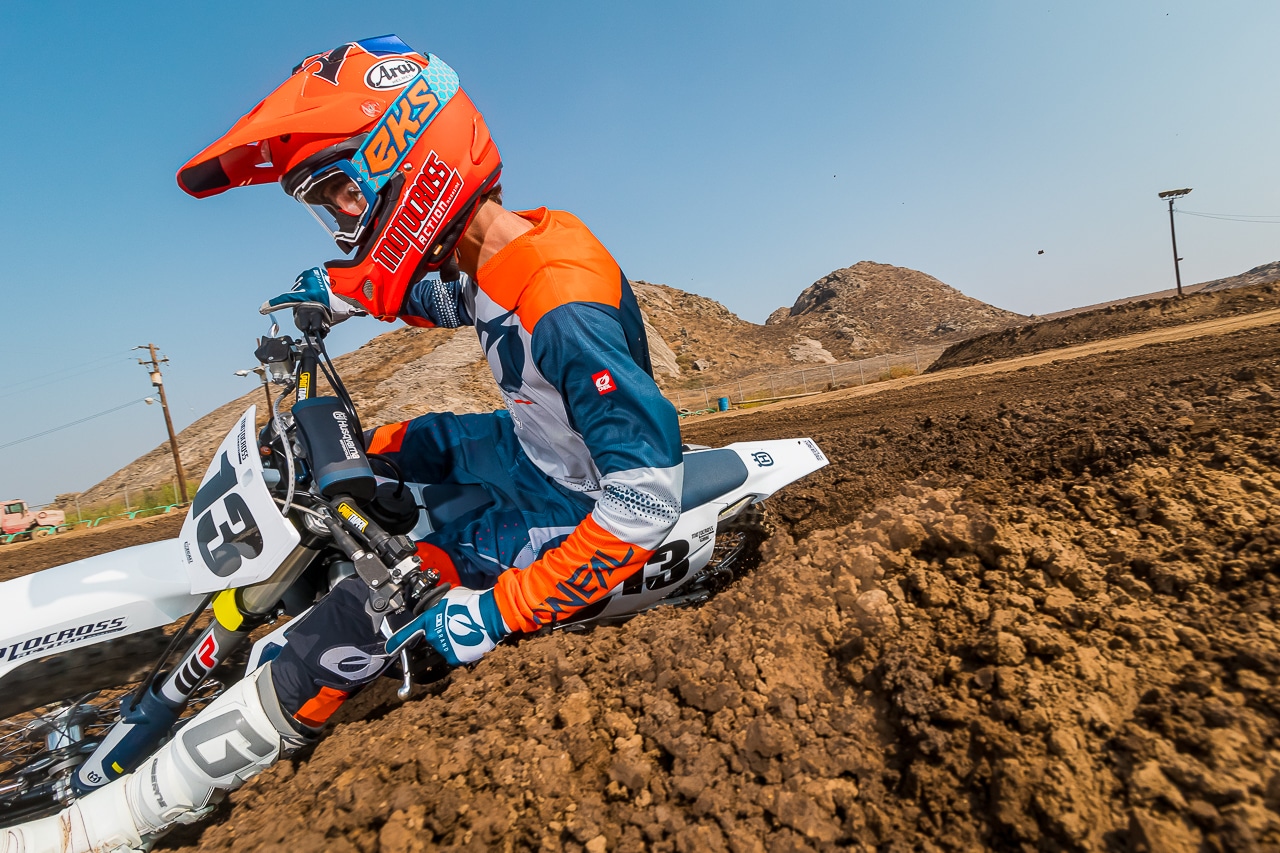 Husqvarna was bought from BMW in late 2013 and put into production in Austria for the 2014 model year.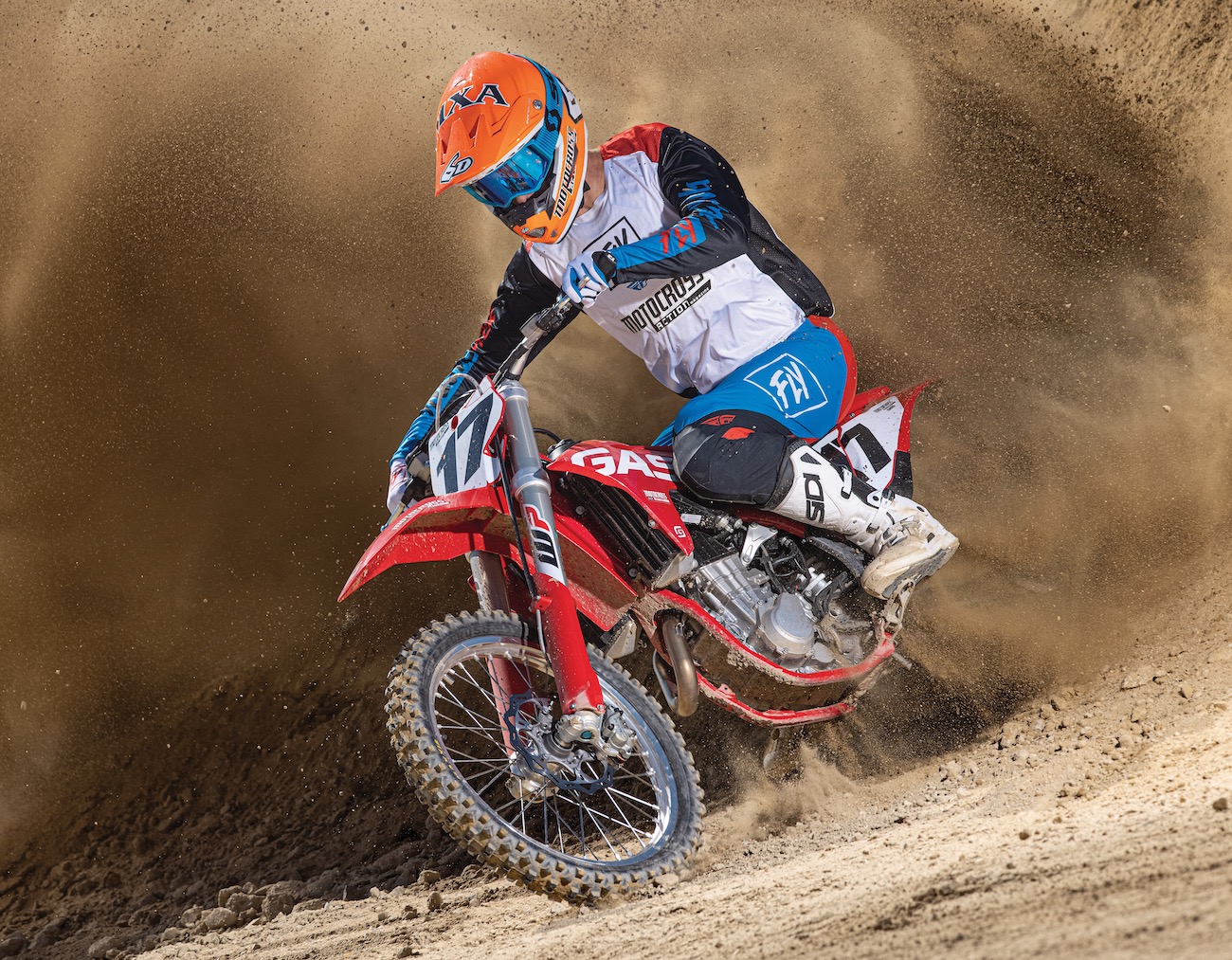 Stefan Pierer purchased the Spanish GasGas brand as it approached bankruptcy and revived it as the more affordable Austrian model.
KTM, Husqvarna, and GasGas are owned by Pierer Mobiity and the home office sent out a preliminary report on 2021 bikes sales that claims that 2021 was the 11th year in a row that KTM has set a new sales record. According to the report, KTM, Husky and GasGas sold 332,881 motorcycles worldwide in 2021. That is a 23 percent increase over 2020, when they sold 270,407 units. Approximately120,000 of theses bikes were sold in Europe with 210,000 sold in other markets—led by the USA, India and Australia.
• REM RETURN TO GLEN HELEN THIS SATURDAY, JAN. 29
For more information go to www.facebook.com/remsatmx or www.remsatmx.com

• GODSPEED! ALVARO VERTEMATI (1951-2022)

Alvaro was a serious motocross racer before turning to building race bikes.
Alvaro Vertemati passed away on January 15, 2022, from long-term health issues. Alvarao and his brother Guido built a reputation as excellent craftsmen and formed a relationship with Husaberg to run their motocross team with Joel Smets as the rider. On the Vertemati brothers hand-built Husaberg, Smets came close to winning the 1994 FIM 500 World Championship, but Smets decided to leave their small team for a spot at Husaberg, where he won the 1995 FIM 500 World Championship.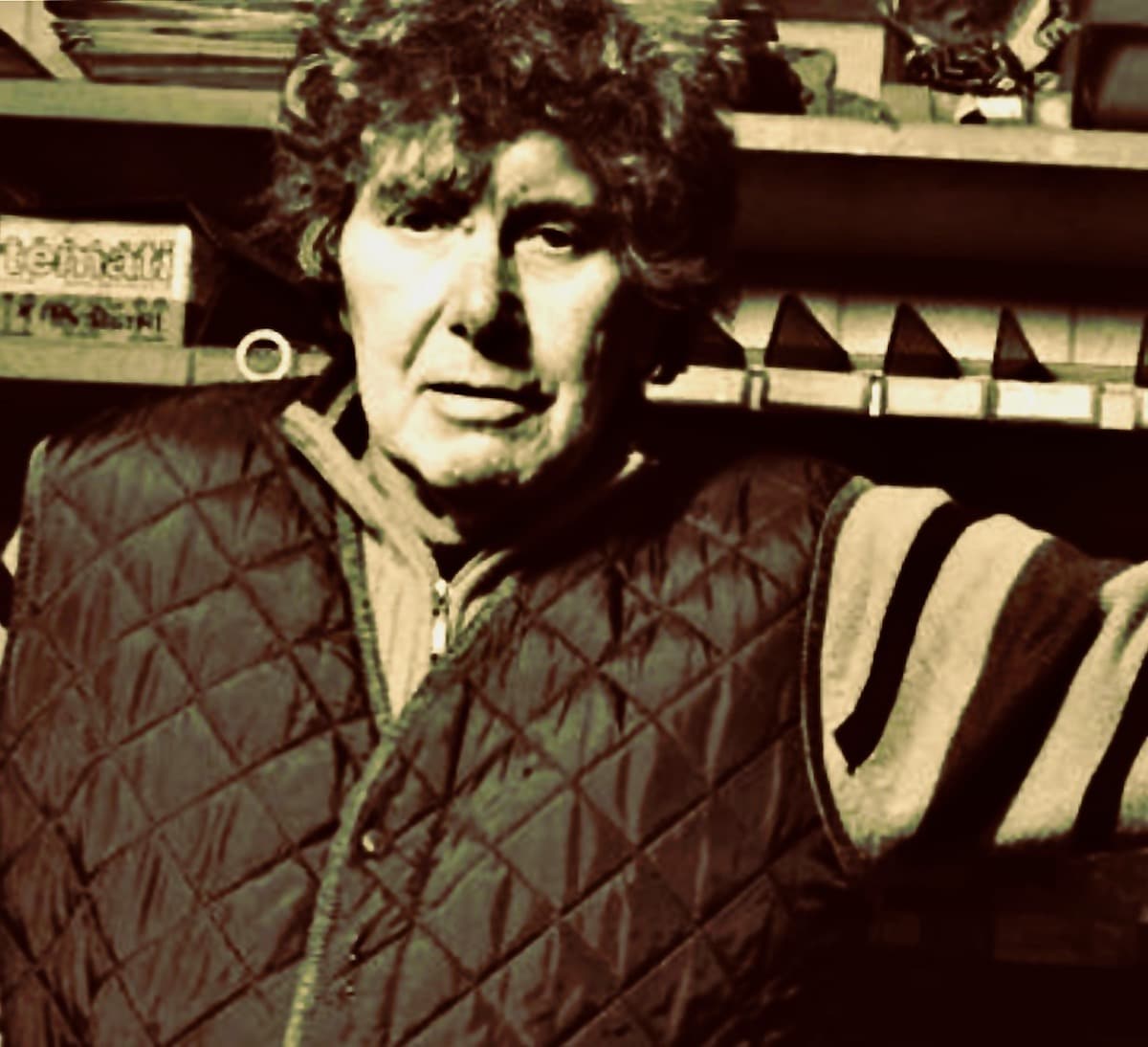 Alvaro Vertemati in his workshop.
With their ties to Husaerg severed the brother set out on their own. The Vertemati race bikes were the pride of Italy as each bike was custom-made and in great demand. They ended up in financial trouble and partnered with VOR to produce the bikes. This partnership splintered as the Vertemati brothers decided to go back to building their own bikes, even though VOR was still in production of the Vertemati/VOR a was eventually forced to stop.
The ill-fated Vertemati/VOR 495.
Although they never gave up, they never reached the heights of Grand Prix motocross that they had achieved with Joel Smets. And in recent years have inroduced one-off prototypes, that never seemed to reach production, and moved to Supermoto to race their latest creations. There is little doubt that Alvaro, an avid motocross racer in his youth, was a giant of Italian motocross alonside his brother Guido. They built the little company that ushered in the four-stroke era.
• SOCAL OLD TIMER'S 2022 RACE SCHEDULE: 23 RACES AT 5 TRACKS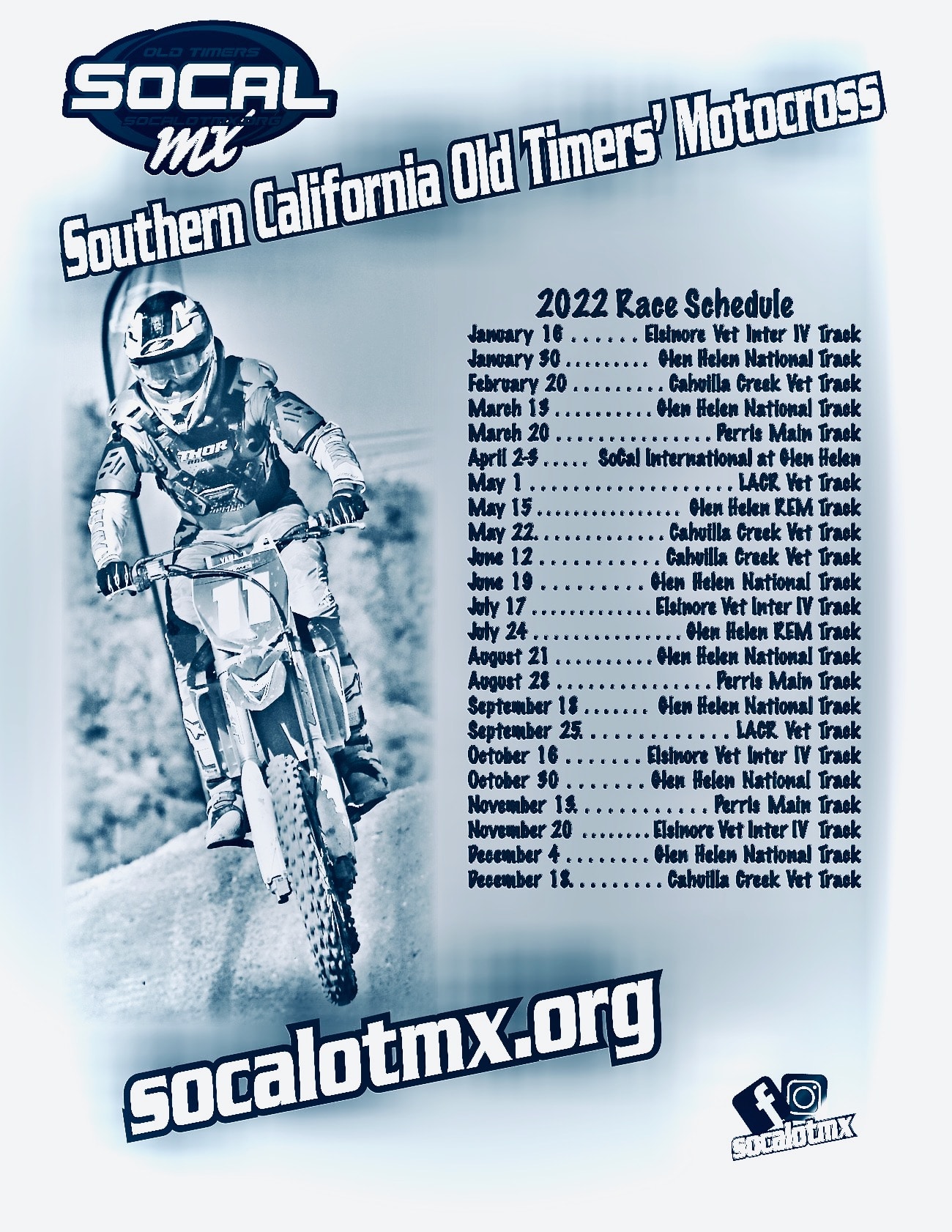 For more info go to www.socalotmx.org
• THIS WEEK IN MXA WITH JOSH MOSIMAN: NEW WINNERS, SAN DIEGO MAYHEM & "I COULD TALK FOR HOURS"

• FIRST LOOK! 2022-1/2 GASGAS MC 450F "JUSTIN BARCIA EDITION"
GasGas has introduced the 2022-1/2 GasGas MC 450F Justin Barcia Edition. It features firmer suspension settings (making it feel more like a KTM), Factory split clamps (replacing the stock forged aluminum clamps), Factory wheels (black rims instead of silver), Neken Fatbars (black instead of silver), GasGas bar pad (full-size not half-size), Factory holeshot device, TLD Factory Racing seat, semi-floating front rotor, front rotor guard, composite skid plate, red frame guards, triple clamp-mounted hour meter, map multi-switch (two maps, launch control and traction control), Justin Barcia's number and graphics, Akrapovic slip-on muffler and Dunlop tires (instead of Maxxis).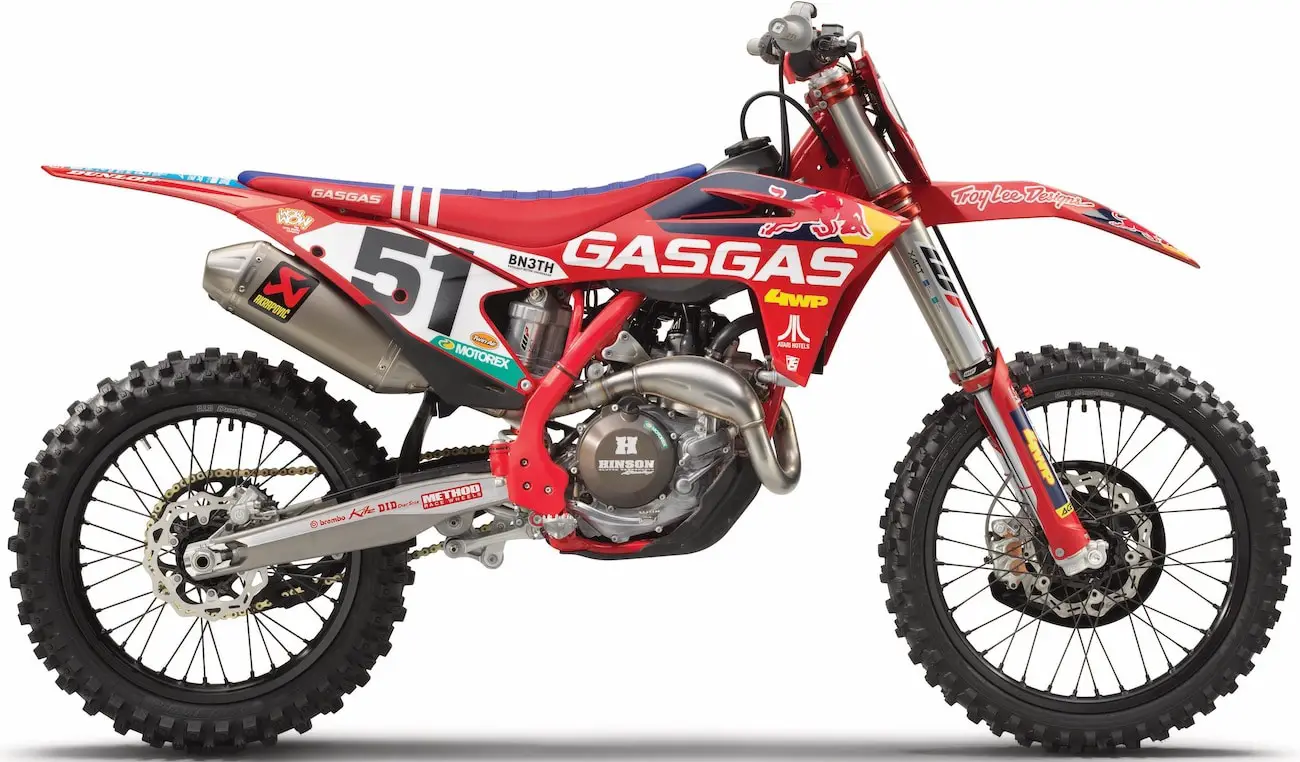 Heavily inspired by Justin Barcia's AMA Supercross and motocross race-winning machine, it comes with many of the very same parts used on the TLD/Red Bull/GasGas Factory bike.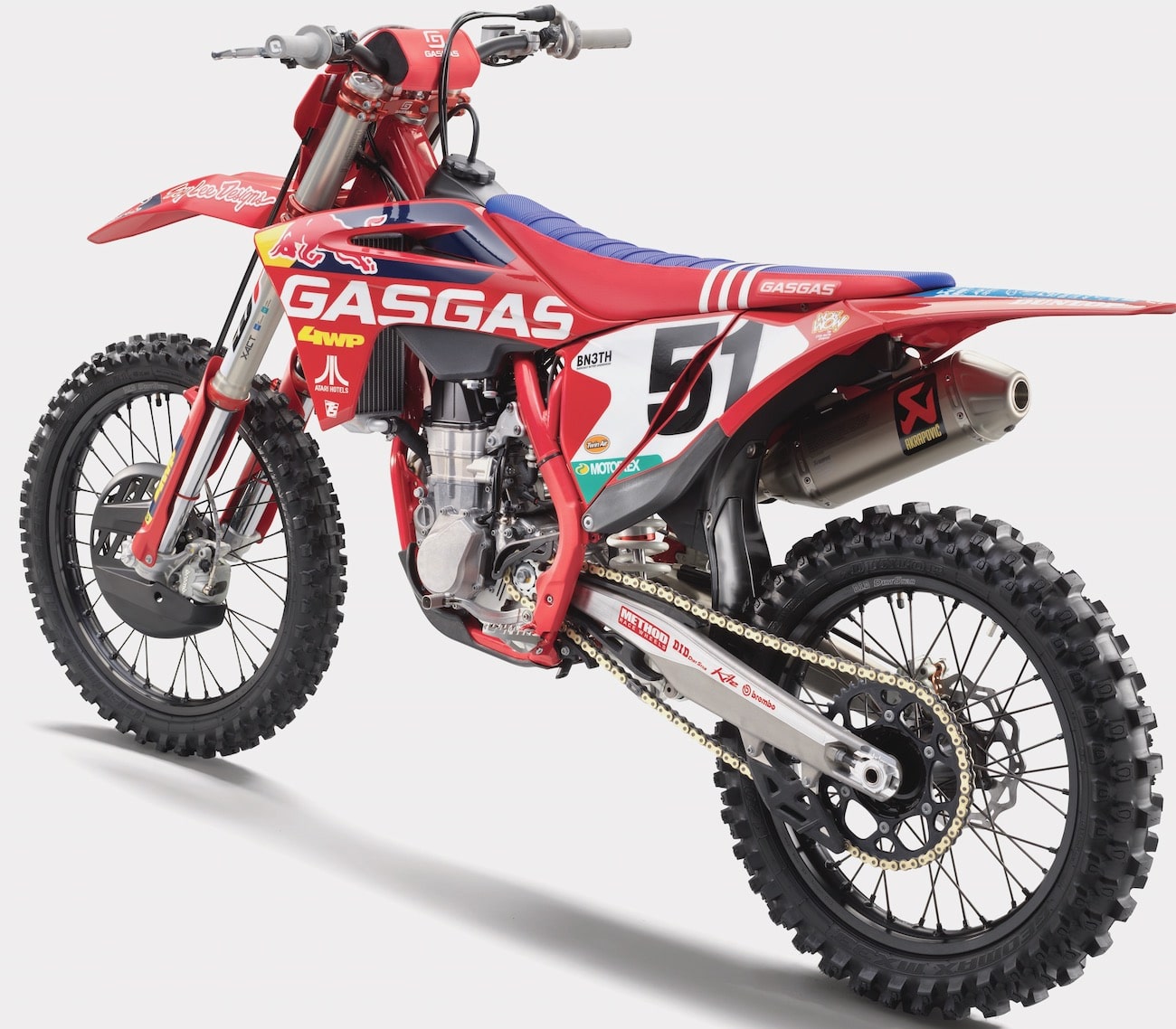 It comes with Justin Barcia's number, but you don't have to put it on.

The front rotor guard fits on easily.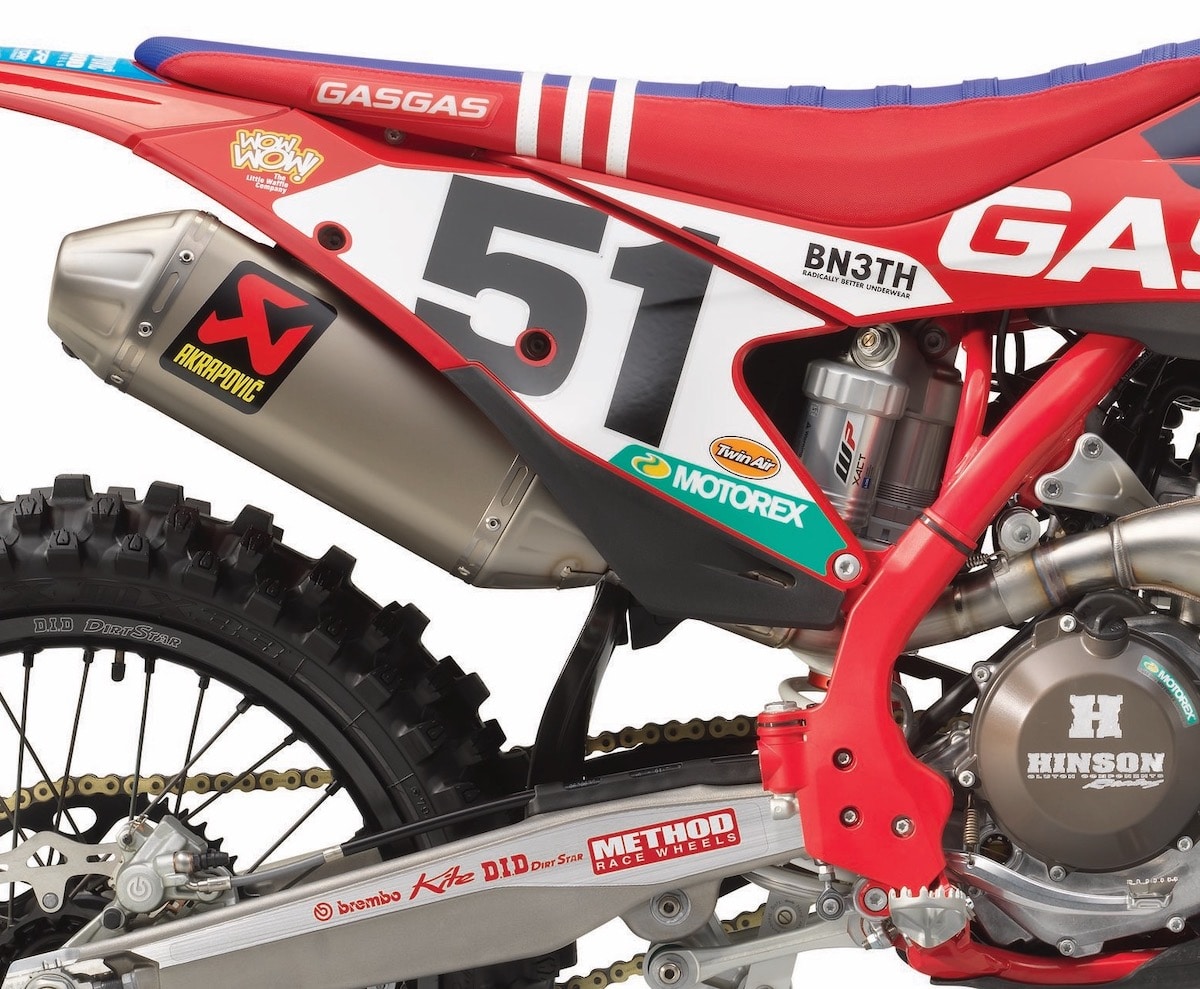 It isn't a complete Akrapovic exhaust, just an Akrapovic slip-on muffler.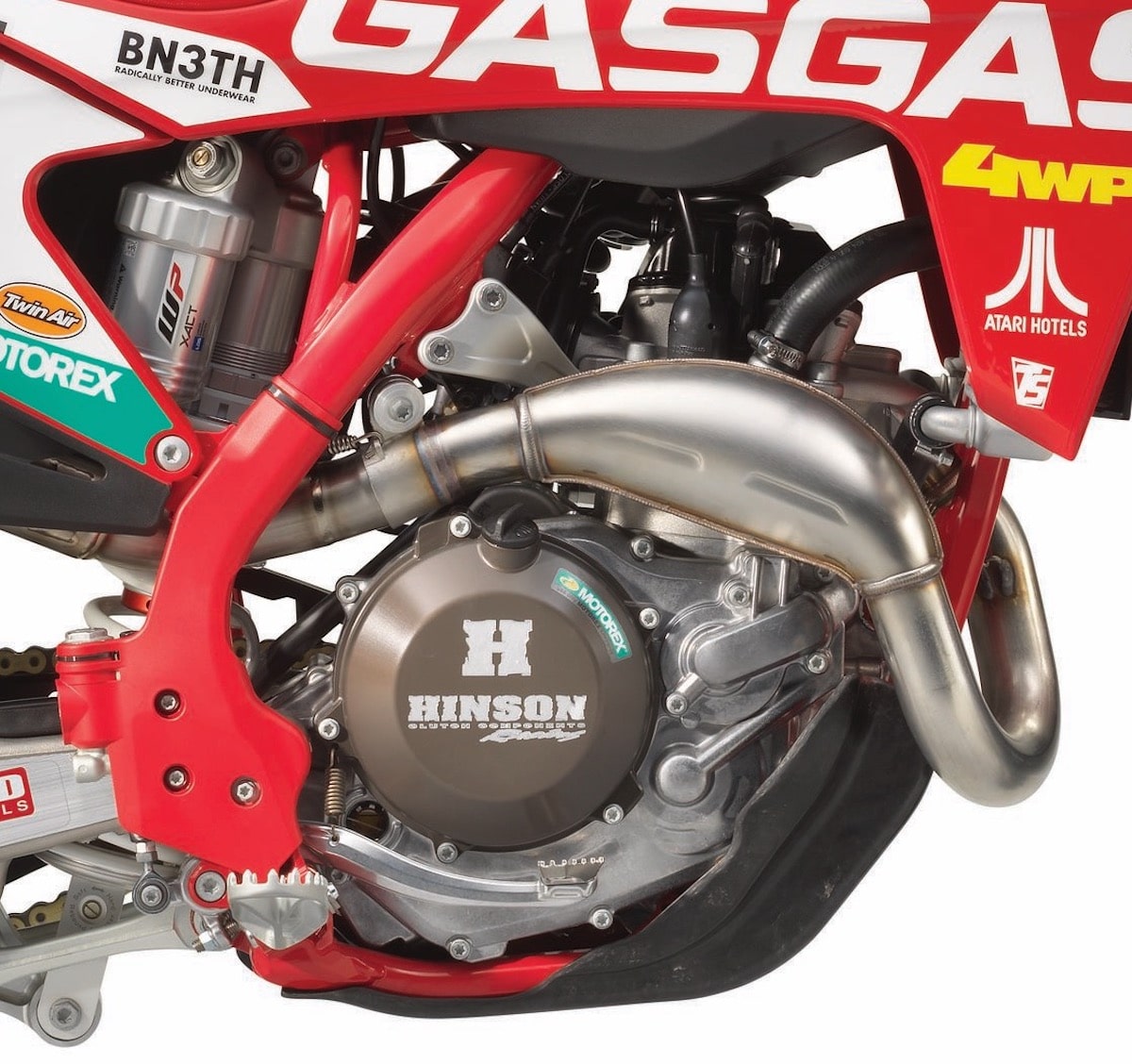 The Hinson clutch covered houses a stock DDS clutch with Belleville washer spring and CNC-machined clutch basket. Note the red plastic frame guards.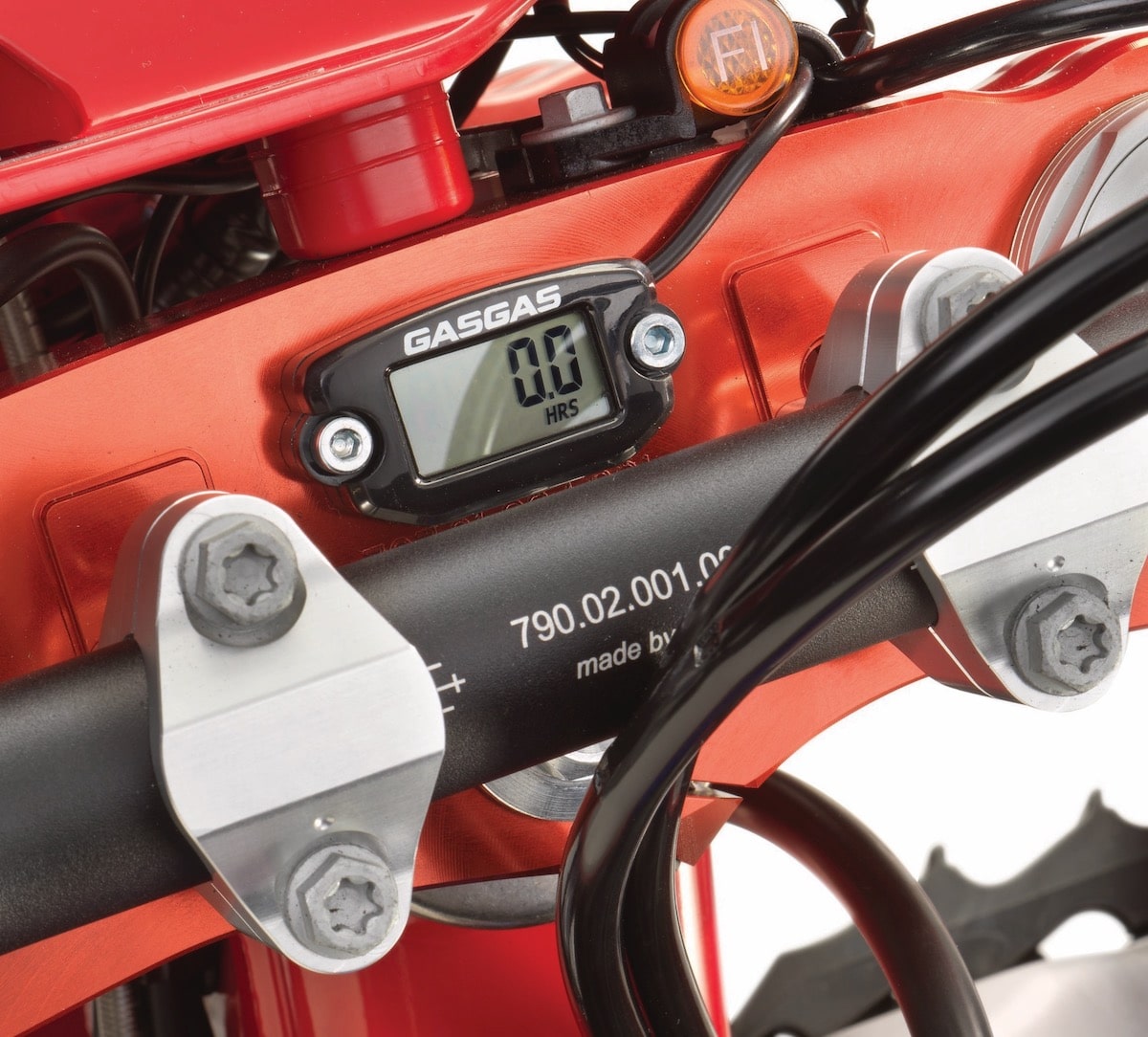 The hour meter mounts to the front of the red anodized Factory split triple clamps.

In this photo you can see the soft ODI Lock-On grips, black Neken handlebars, Factory Split triple clamps , full-size crossbar pad and the map/traction control/launch control multi-switch.
For more information and to check out the full spec of the MC 450F "Justin Barcia Replica," head over to GASGAS.com. It will be available in dealerships this February!
• WHO'S WHO IN THE SUPERCROSS ZOO? THE CURRENT TOP TEN HEADING TO ANAHEIM 2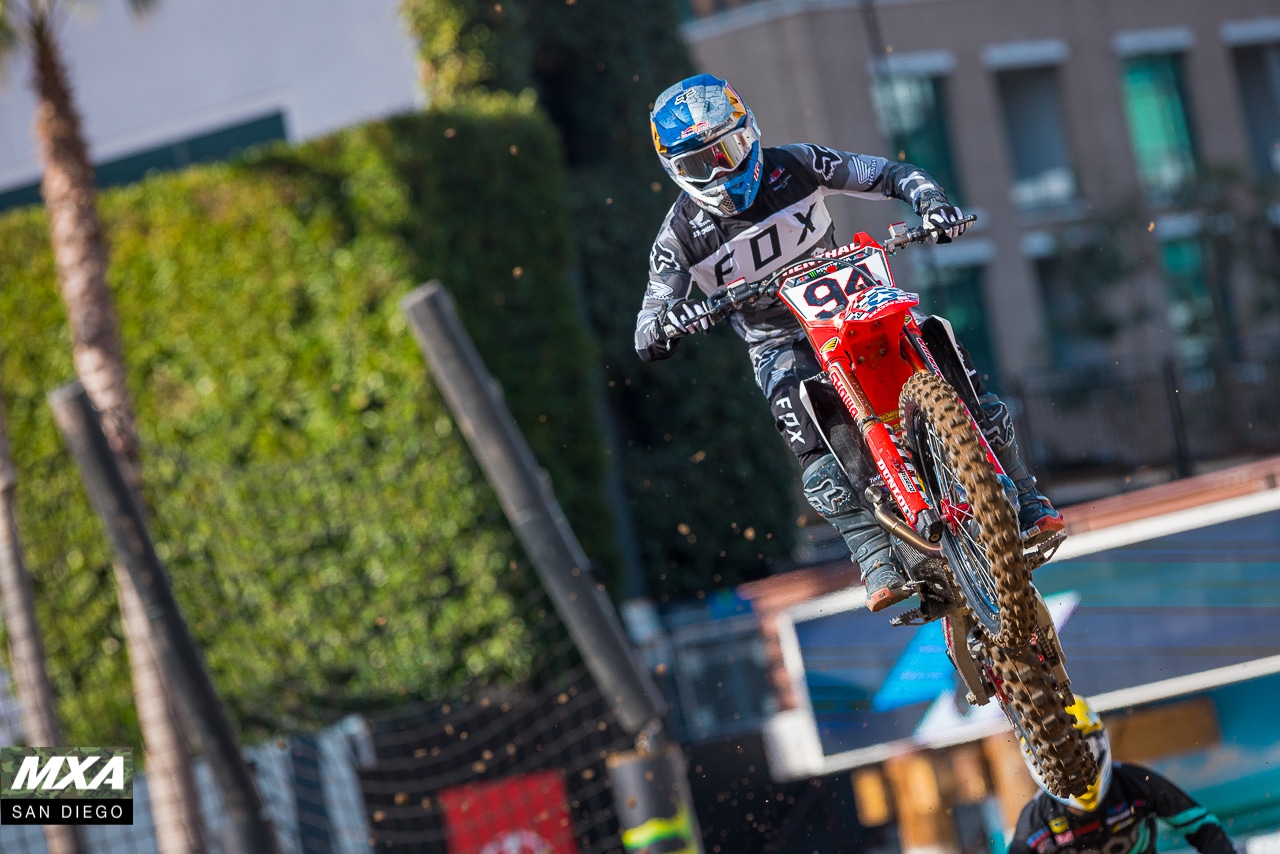 Ken Roczen had the Red Plate after his wins at A1, but since then he has struggled, but even with his 7th place finish in San Diego and 13th in Oakland, he is still only 7 points out of first place.
2022 AMA 450 SUPERCROSS POINTS STANDINGS
(After 3 of 17 rounds)
1. Eli Tomac…59
2. Chase Sexton…58
3. Cooper Webb…58
4. Justin Barcia…56
5. Aaron Plessinger…54
6. Jason Anderson…53
7. Ken Roczen…52
8. Malcolm Stewart…52
9. Marvin Musquin…47
10. Dylan Ferrandis…45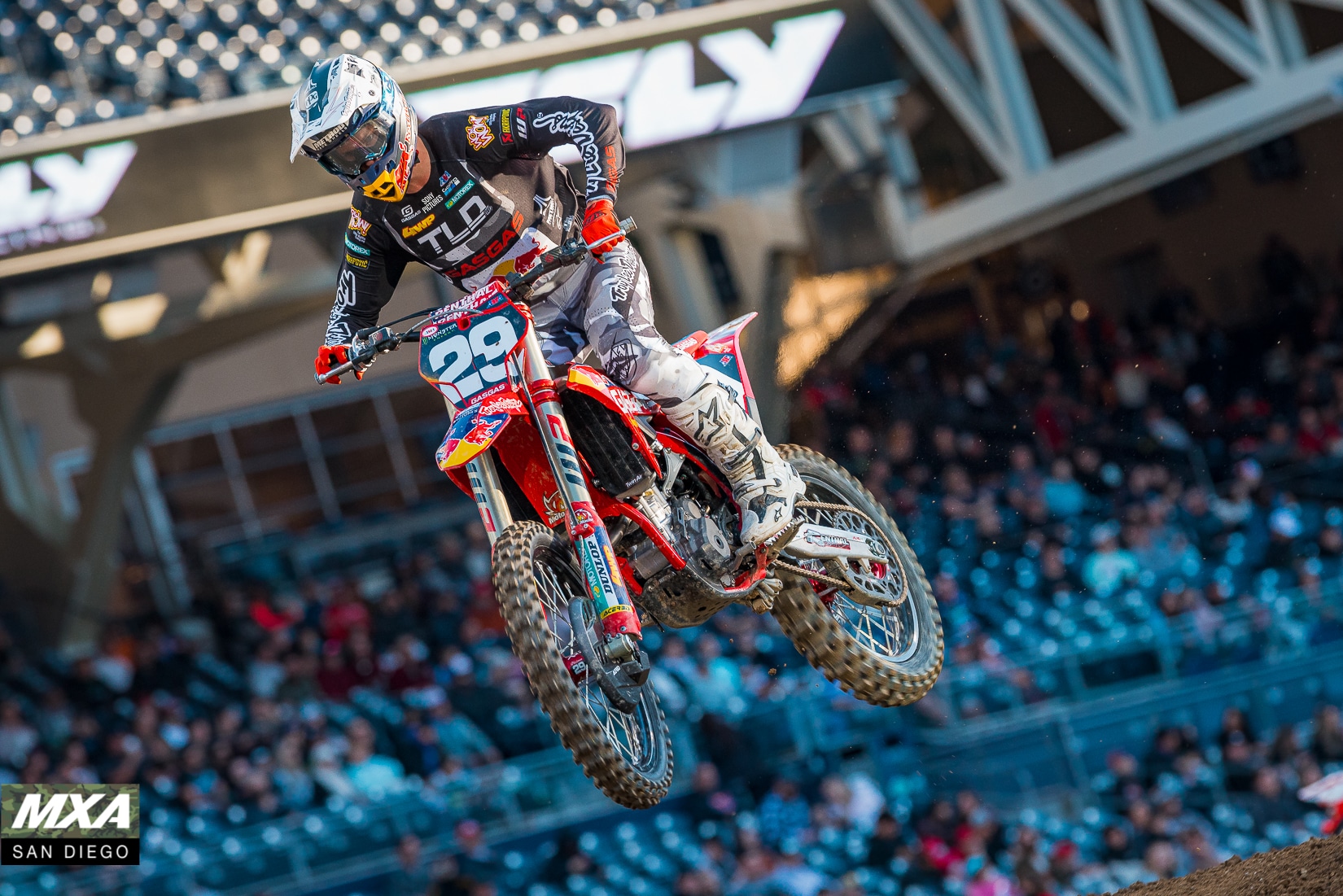 Michael Mosiman gave GasGas a 250 West victory, broke Christian Craig's win streak and moved up to third in 250 West points.

2021 AMA 250 WEST SUPERCROSS POINTS STANDINGS
(After 3 of 10 rounds)
1. Christian Craig…73
2. Hunter Lawrence…67
3. Michael Mosiman…62
4. Vince Friese…54
5. Jo Shimoda…50
6. Seth Hammaker…44
7. Nate Thrasher…44
8. Carson Mumford…39
9. Robbie Wageman…37
10. Chris Blose…36
• 2022 SAN DIEGO SUPERCROSS RESULTS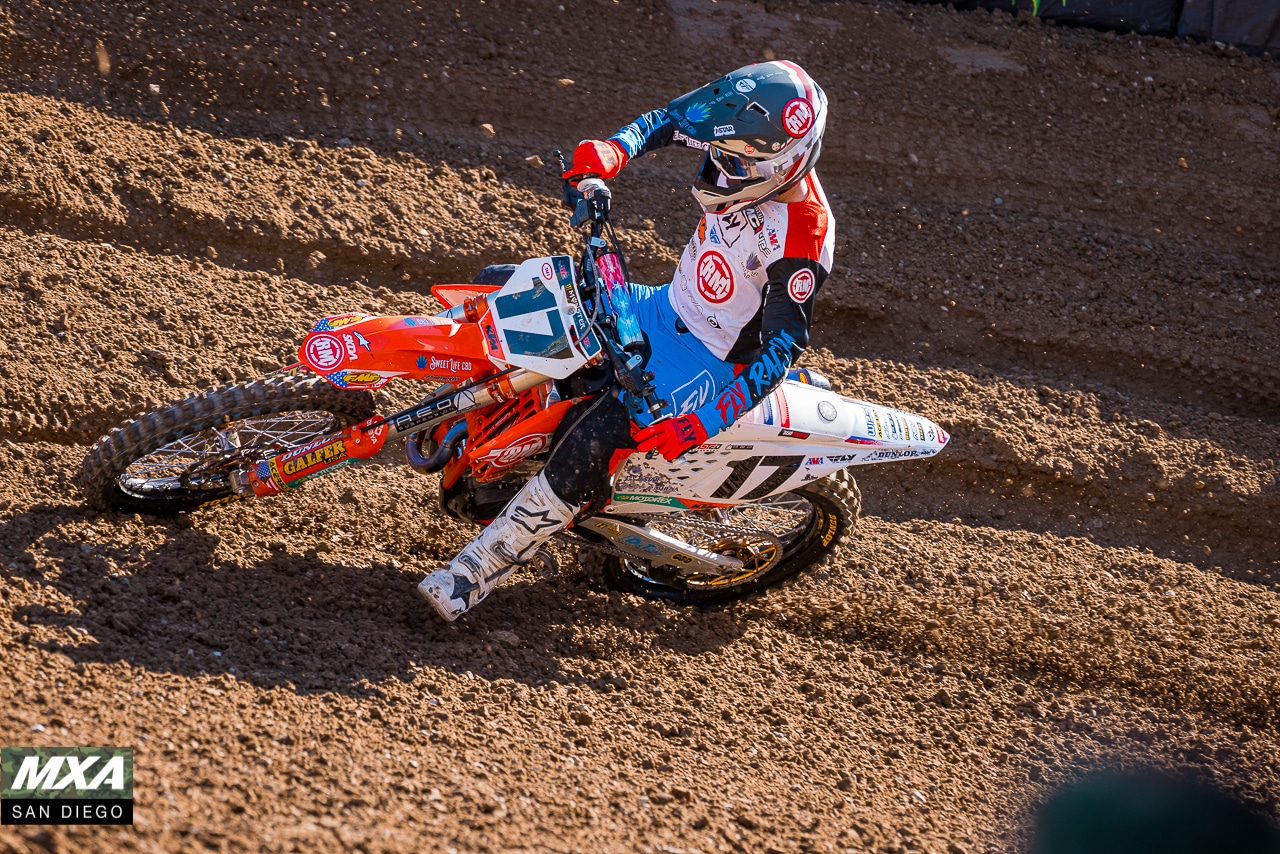 Joey Savatgy has decided to pull out of the 2022 AMA 450 Supercross series to get his knee fixed. A crash in his heat race convinced the Rocky Mountain ATV/MC rider that it was time to deal with the problem.
SAN DIEGO 450 RESULTS
1. Chase Sexton…Hon
2. Eli Tomac…Yam
3. Dylan Ferrandis…Yam
4. Cooper Webb…KTM
5. Malcolm Stewart…Hus
6. Aaron Plessinger…KTM
7. Ken Roczen…Hon
8. Jason Anderson…Kaw
9. Justin Barcia…GasGas (penalized one place)
10. Marvin Musquin…KTM
Other notables: 11. Justin Brayton (Hon); 12. Max Anstie (KTM); 13. Shane McElrath (KTM); 15. Dean Wilson (Hus); 18. Josh Hill (KTM); 20. Alex Martin (Yam); 20. Josh Hill (KTM); 21. Fredrik Noren (KTM) 22. Justin Bogle (DQ).
Garrett Marchbanks had a bad night in San Diego and is now 38 points behind the 250 points leader.
SAN DIEGO 250 WEST RESULTS
1. Michael Mosiman…Gas
2. Hunter Lawrence…Hon
3. Christian Craig…Yam
4. Vince Friese…Hon
5. Jo Shimoda…Kaw
6. Carson Mumford…Suz
7. Jalek Swoll…Hus
8. Nate Thrasher…Yam
9. Cole Thompson…Yam
10. Carson Brown …KTM
Other notables: 11. Dylan Walsh (Kaw); 12. Derek Kelley (KTM); 13. Chris Blose (Gas); 14. Robbie Wageman (Yam); 15. Ryan Surratt (Yam); 17. Dilan Schwartz (Suz); 21. Justin Rodbell (Kaw); 22. Garrett Marchbanks (Yam).
• 2022 AMA SUPERCROSS WINNERS AT A GLANCE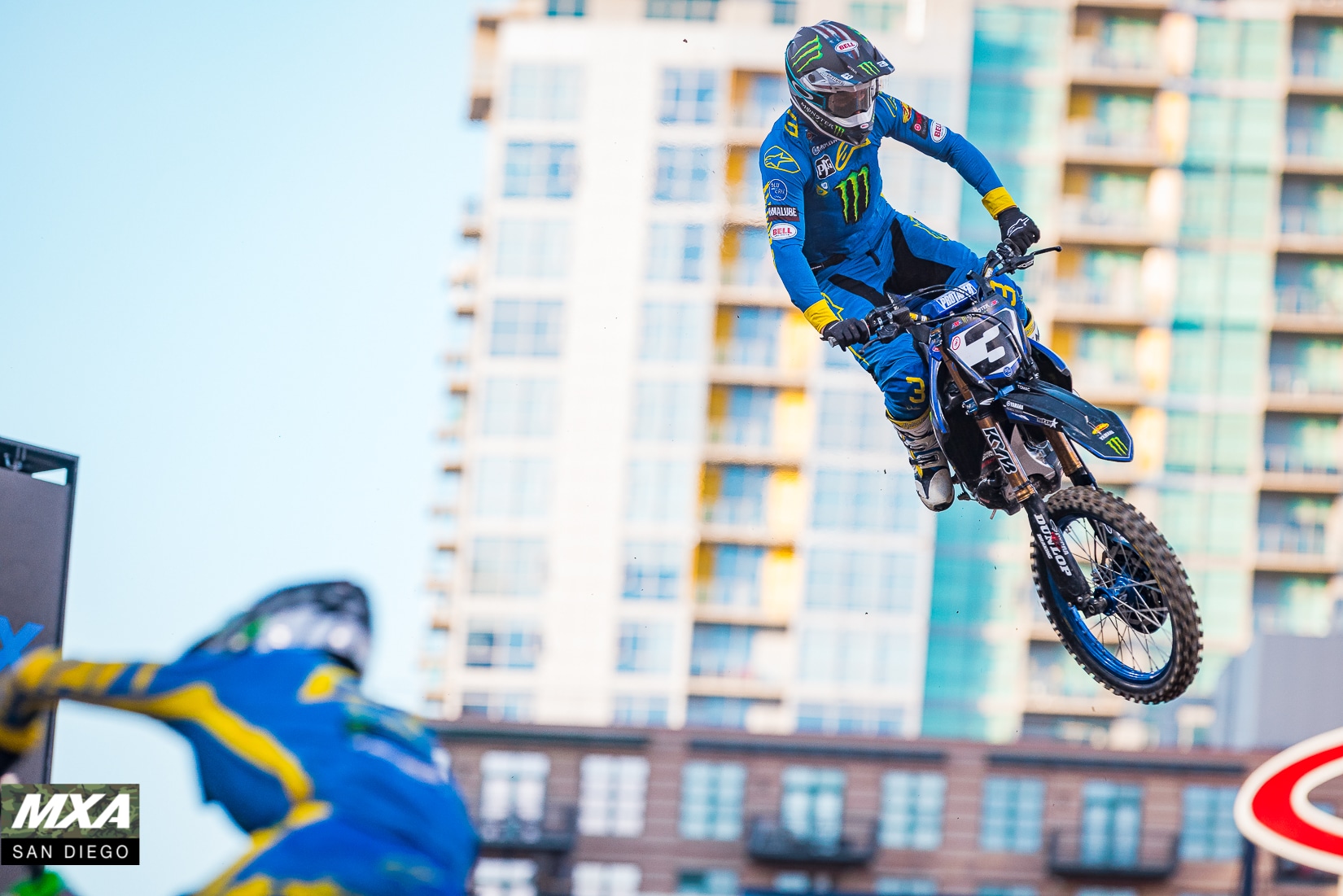 Eli Tomac will have the point leader's Red Plate at Anaheim 2 on Saturday night. The Red Plate doesn't seem as hard to get as it is to keep.
Venue                                                     450                                       250
Jan. 8…Anaheim, CA………….Ken Roczen………………Christian Craig
Jan. 15…Oakland, CA…………Jason Anderson…………Christian Craig
Jan. 22…San Diego, CA………Chase Sexton……………..Michael Mosiman
Jan. 29…Anaheim, CA…………
Feb. 5…Glendale, AZ……………
Feb. 12…Anaheim, CA………….
Feb. 19… Minneapolis, MN…….
Feb. 26… Arlington, TX…………..
Mar. 5…Daytona Beach, FL…….
Mar. 12…Detroit, MI……………….
Mar. 19…Indianapolis, IN………..
Mar. 26…Seattle, WA……………..
Apr. 9…St. Louis, MO……………..
Apr. 16…Atlanta, GA………………
Apr. 23…Foxborough, MA………..
Apr. 30…Denver, CO………………
May 7…Salt Lake City, UT……….
450 points leader……………………..Eli Tomac (Yam)
250 West points leader……………Christian Craig (Yam)
• THE BARCIA VERSUS BOGLE INCIDENT
Justin Bogle finished 21st, but the AMA disqualifed him for ramming Justin Barcia, moved him back to 22nd, erased him from the race results and took away any points he would have earned (2 points) for his dangerous action against Justin Barcia. Then, they got Barcia for a minor offense (surprised they didn't write him a parking ticket for his car also).
Justin Bogle got off easy when he was just disqualified from the San Diego Supercross. At the time of the incident he wasn't racing for position. He was lapper. It is true that he was a lapped because Justin Barcia knocked him down earlier in the race, but try to name any 450 rider who who hasn't been pushed off in a bowel turn. Bogle is free to retaliate, but not if he is just tooling around the track waiting to get his revenge. When Barcia tried to lap Bogle, the Twisted Tea rider punched the throttle of his Suzuki and rammed the GasGas rider off the track. Barcia got up off the ground and raced back to 8th place (and was penalized one place—we assume for being stupid enough to get taken out—but the AMA said it was for speeding next to the whoops to get back on the track). Was it really for speeding or was the AMA just trying to penalize Barcia for something.
Face it, the AMA was never going to penalize Barcia for his move on Bogle, so Bogle decided to take justice into his own hands. In truth, riders who are no longer at race pace, especially those just riding along the edge of the track, should be black flag. Believe it or not, there is an existing (and obviously rarely enforced) AMA rule that reads—"During a race or qualifying session, a rider must always attempt to succeed. If not, he or she shall not be allowed to continue the race or qualifying session and may be penalized by Race Direction."
Retaliation is common—AMA punishments are not, which is what makes this incident unique.
• TAKE A LOOK AT SATURDAY NIGHT'S ANAHEIM 2 SUPERCROSS TRACK MAP
• 2022 SUPERCROSS TV SCHEDULE: ANAHEIM 2 SUPERCROSS MOVES BACK TO CNBC ON SATURDAY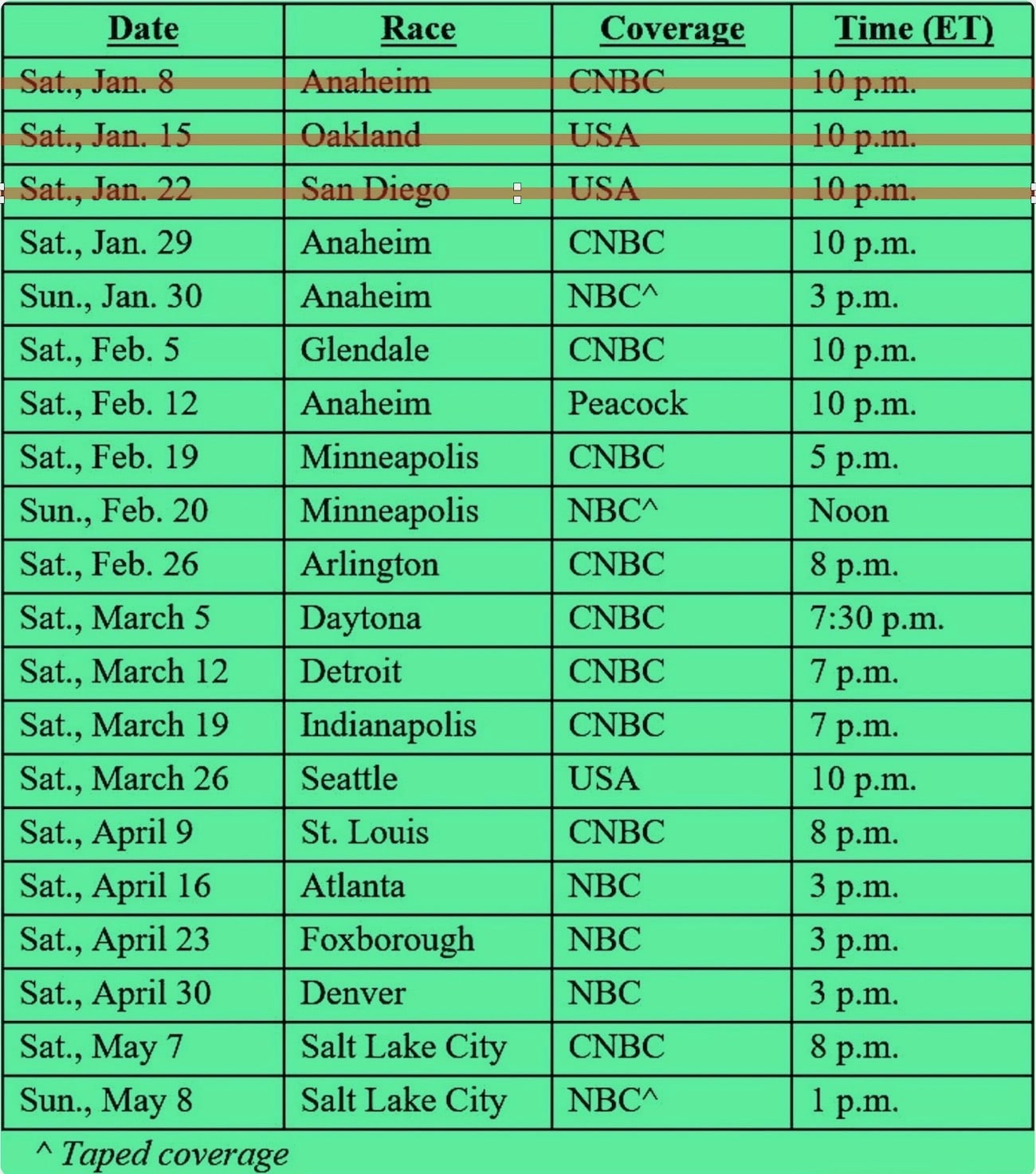 All times Eastern (subtract three hours for Pacific Time Zone).
• WHO HASN'T WON YET, BUT HAS 14 MORE CHANCES STARTING THIS SATURDAY
With Chase Sexton (23) winning the San Diego 450 Supercross, he joins Ken Roczen and Jason Anderson in the list of 2022 winners. Who's next?
With only three races down and three different winners (Roczen, Anderson and Sexton). This year the doors have opened wide for more new winners in 2022. There have been 9 available podium spots so far in the 2022 season. The 9 spots have been shared by 8 riders (Tomac, Sexton, Ferrandis, Webb, Anderson, Plessinger, Roczen and Barcia). Justin Barcia is the only rider to make the podium twice (Anahiem1 and Oakland). Here are riders, who haven't won yet, but could be winners on Saturday.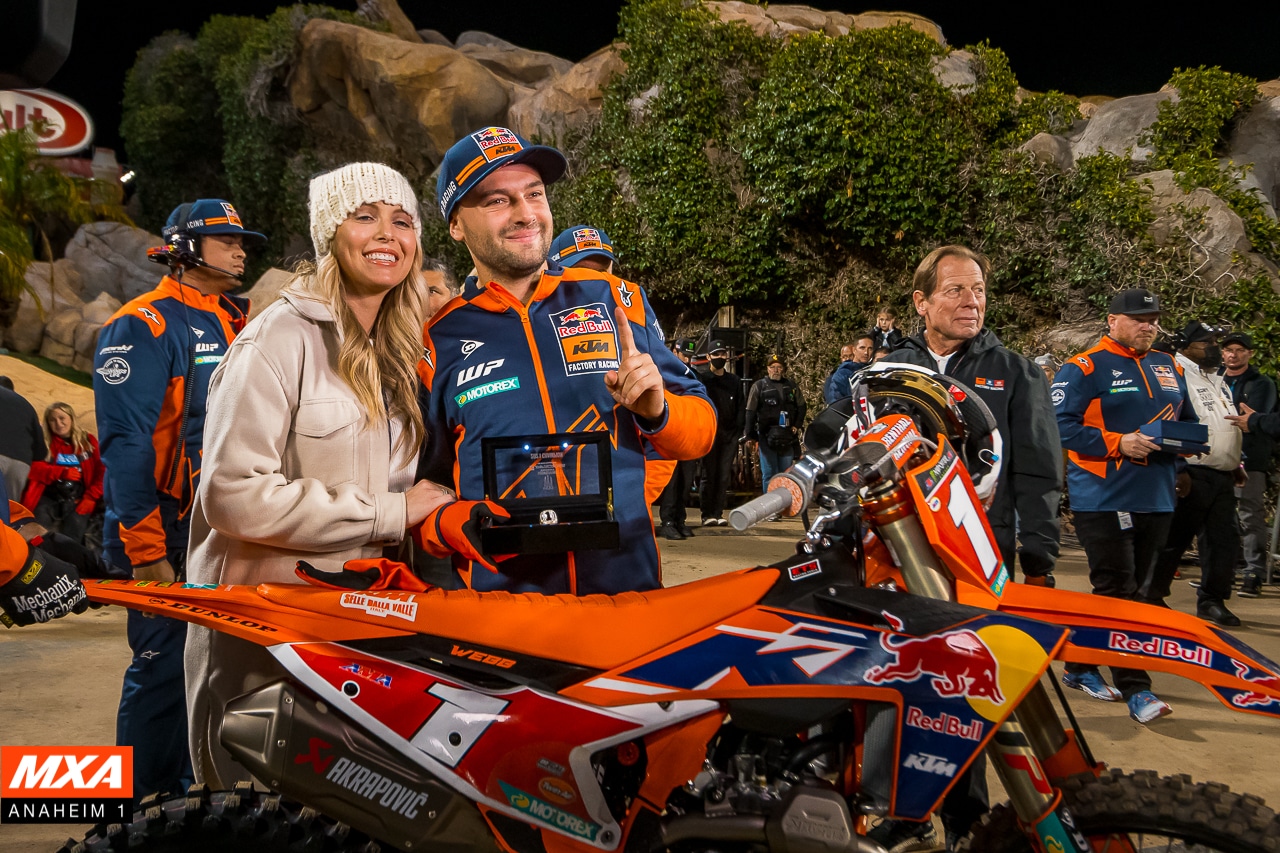 Cooper Webb. Traditionally a slow starter, Cooper shocked himself with a second behind Roczen at A1, but he was a distant 7th in Oakland and 4th in San Diego. He has a track record of catching on fire at the midway point of the season.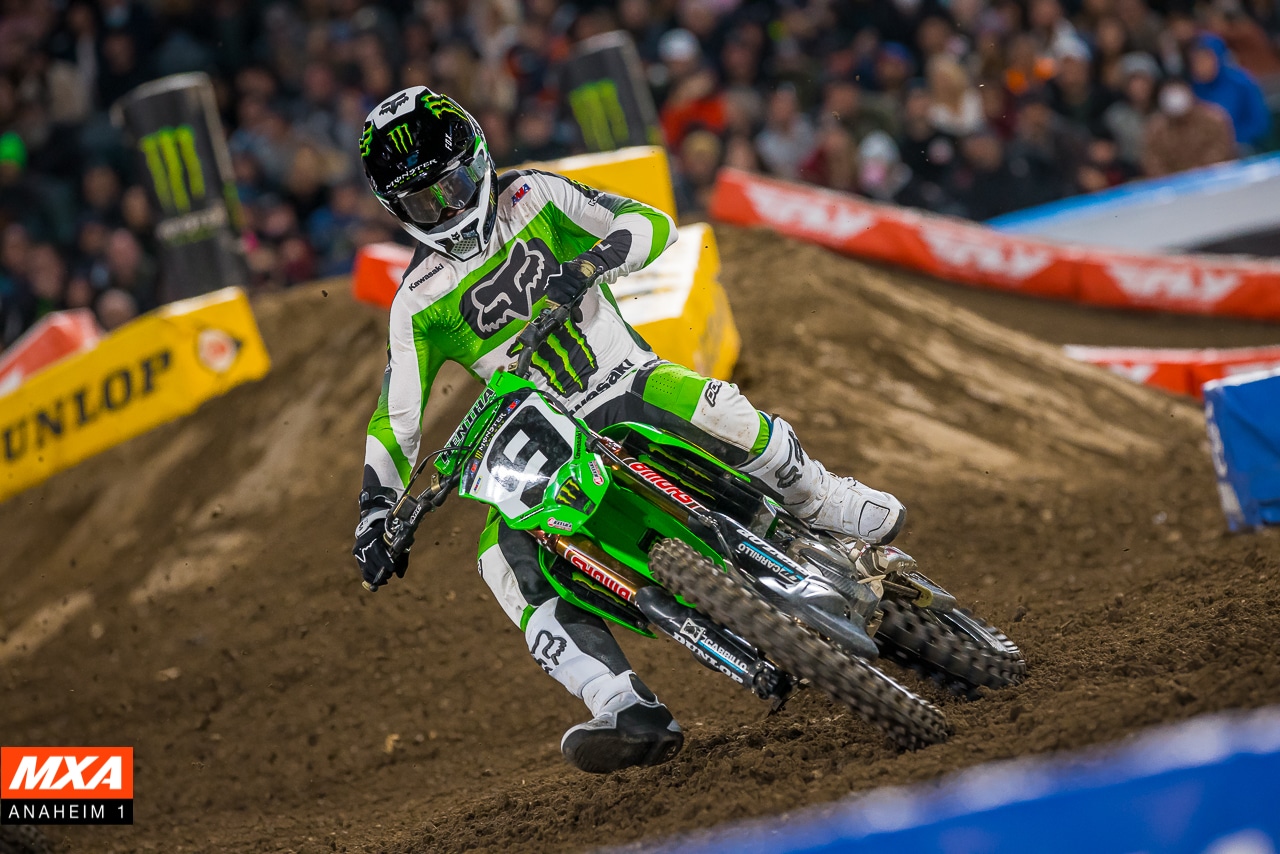 Adam Cianciarulo. Adam had a small crash in qualifying and decided not to race the San Diego Supercross because he aggravated an existing injury. No word on if he'll be at A2.

Malcolm Stewart. Malcolm Stewart has been consistent, but not consistently in the top three. He just needs a break-out race to make him believe that he's a winner.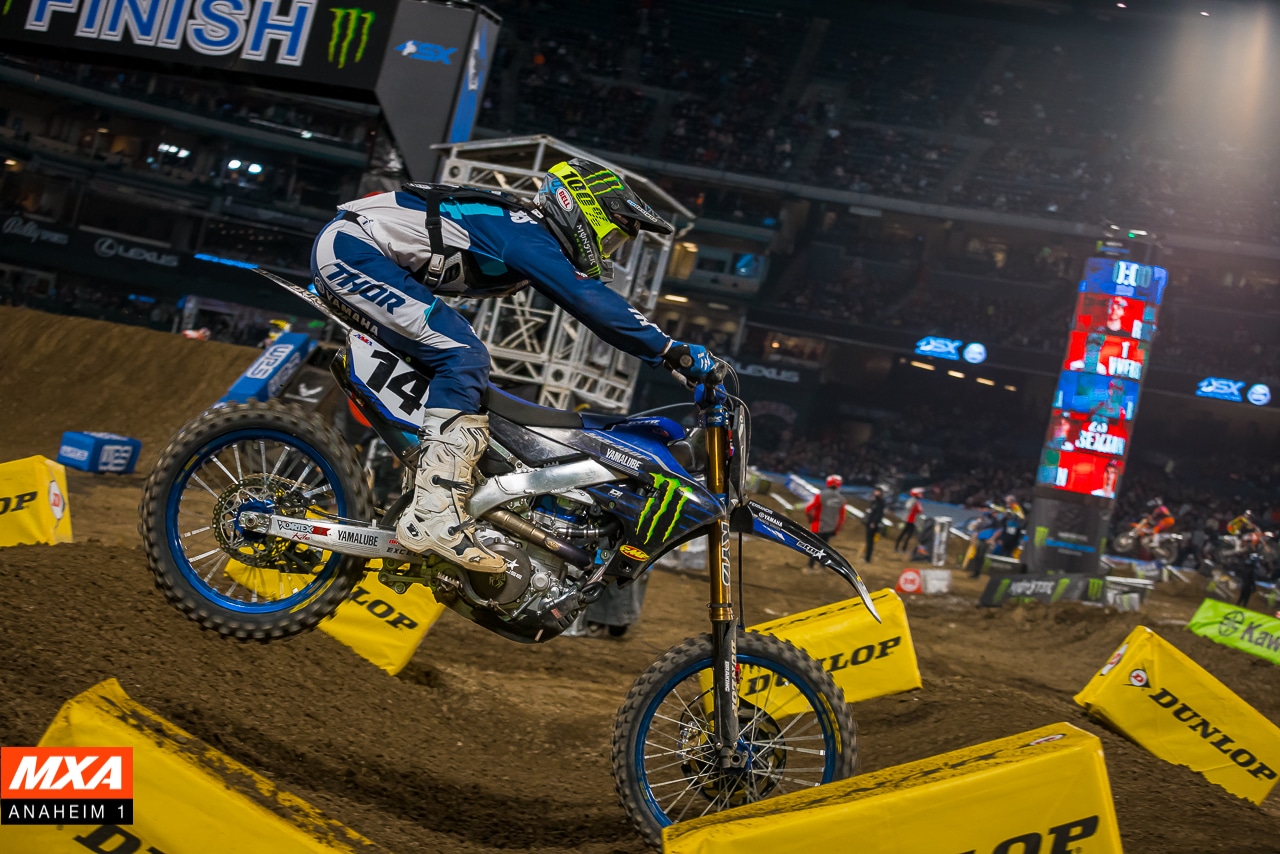 Dylan Ferrandis. Dylan turned his 2022 season around at San Diego with a third overall. However, he is still only tenth in 450 points, but you don't need to be at the top of the points tally to win—you need to win to get to the top of the points.
Aaron Plessinger. It was obvious at Oakland that Aaron has the speed and fitness to win. He just needs to put together a start, break away with the top three on lap one and turn in his fastest laps in the last four laps of the race.
Marvin Musquin. Make no mistake about it, Marvin is fast, but he needs to put together more fast laps—and, it goes without saying that he won't win again until he gets through the whoops better.
• HAVE YOU SEEN THE FEBRUARY 2022 ISSUE OF MXA? IT IS THE BEST DEAL IN THE SPORT!
If you don't subscribe to MXA, you are missing a whole different world of motocross news, facts, test and photographs. For example, the just released February 2022 issue includes the complete and thorough 2022 MXA 450 Shootout, a look back our 2001 Cannondale MX400 test, plus all-new tests on the 2022 Kawasaki KX250 and Husvarana FC250. Then, we sat down for a long conversation with Supercross's Director of Operations Dave Prater to learn all the ins and out of getting the 2022 Supercross series up and running. Plus, there is in-depth coverage of the 2021 Dubya World Vet Motocross Championship and much, much more. You don't know what you're missing when you miss an issue of MXA. To subscribe call (800) 767-0345 or Click Here
• MXA PRODUCT SPOTLIGHT: PRO-X 520 GOLD MX CHAIN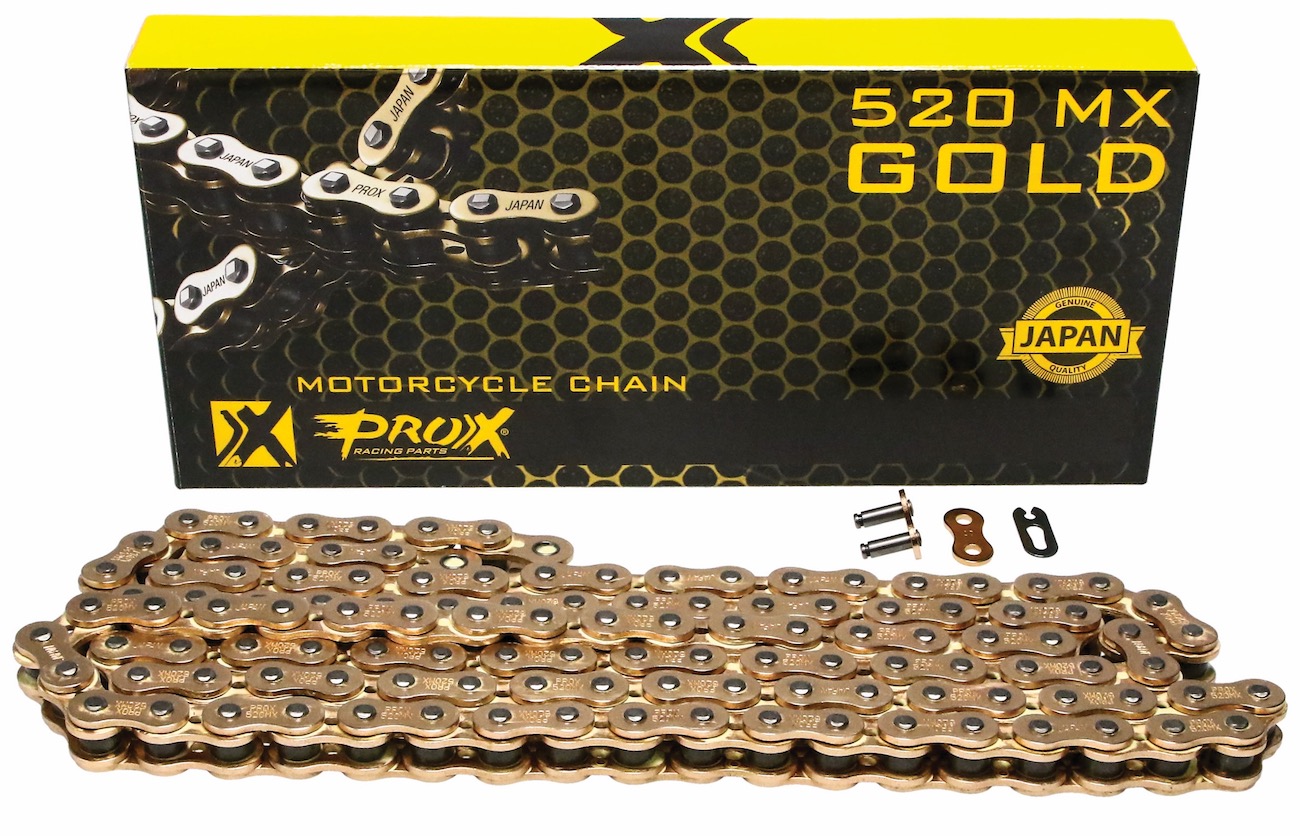 ProX drive chains are manufactured in Japan using quality Japanese steel. Offered in both 520 (standard) and 420 (mini) sizes, ProX pulls out all the manufacturing stops to ensure strong, reliable use, including sur- face-treating and hardening of pins, shot-peen- ing rollers, and heat-treating throughout, all contributing to strength and longevity of the chain's individual components. ProX chains are pre-stretched for easy adjustment, and the 520 sizes are available in the gold-plated finish for ample corrosion resistance. The retail price is $95.47at www.pro-x.com or (441) 951-6600..
• BIKES YOU'VE NEVER SEEN BEFORE: 1991 SUZUKI 200 XF-5 TWO-WHEEL DRIVE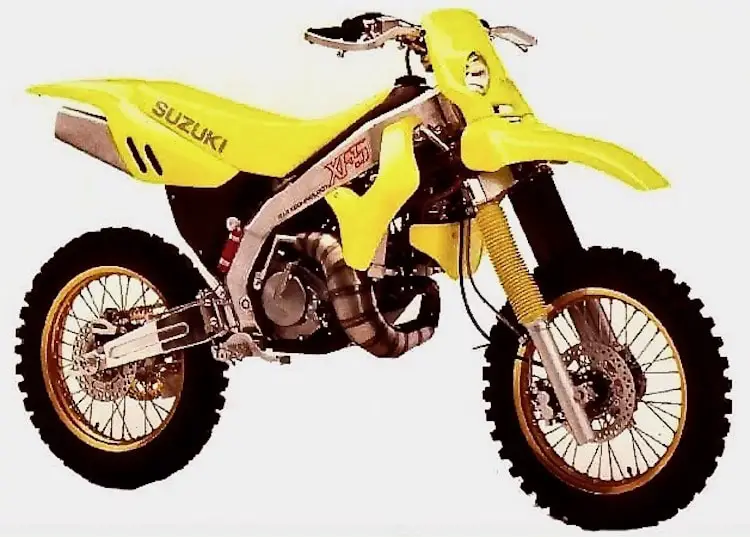 1991 Suzuki XF-5 two-wheel-drive off-road bike.
Back in 1991 Suzuki showed big interest in all-wheel-drive machines. At the Tokyo Auto show, Suzuki unveiled a trio of a two-wheel drive concept bikes. The three bikes were hardly full-blown race machines, but rather the utilitarian XF4, XF425 Ugly Duck scooter and XF-5 enduro—which couldn't be taken too seriously with its 200cc four-stroke engine. The Suzuki XT-5 system to get power to the front wheel required a telescopic driveshaft running vertically in front of the left fork leg. Power came, as it has on most two-wheel drive bikes, via a series of chains that started at the countershaft sprocket and linked up to a jackshaft behind the steering head then over to the left-side driveshaft. The three chain drive system added 15 pounds to the bike.
Suzuki spiffed up the little trail bike with a creative aluminum frame, fat tires and a dazzling fork configuration that separated the drive leg from the right-side suspension leg. The left-side drive was attached to a swingarm between the bike and fork leg. Power was divided so that the greater amount of power went to the rear wheel with a lesser amount on the front wheel. It looked cool, but splitting the power of a 200cc play bike engine wasn't going to make two-wheel drive much of an advantage over a rear wheel drive 200. As with most show bikes, it never saw the light of a day after the Tokyo show was over. All that remains are some fuzzy brochure photos.
• HOW SMART DO YOU HAVE TO BE TO SUBSCRIBE TO MXA?  YOU PAY $19.99 AND GET A $25 ROCKY MOUNTAIN GIFT CREDIT—SEEMS SIMPLE

You can't afford not to subscribe, because when you order a $19.99 subscription, Rocky Mountain ATV/MC sends you a $25 gift credit to use on anything you want from their massive selection. Plus, subscribers to MXA can get the digital mag on their iPhone, iPad, Kindle or Android by going to the Apple Store, Amazon or Google Play or in a digital version. Even better, you can subscribe to Motocross Action and get the awesome print edition delivered to your house by a uniformed employee of the U.S. Government. Do we have to mention the $25 Rocky Mountain ATV/MC gift card again? You can't lose on this deal? Call (800) 767-0345 or Click Here
• MXA PRODUCT SPOTLIGHT: MOOSE RACING CARBON FIBER SKID PLATE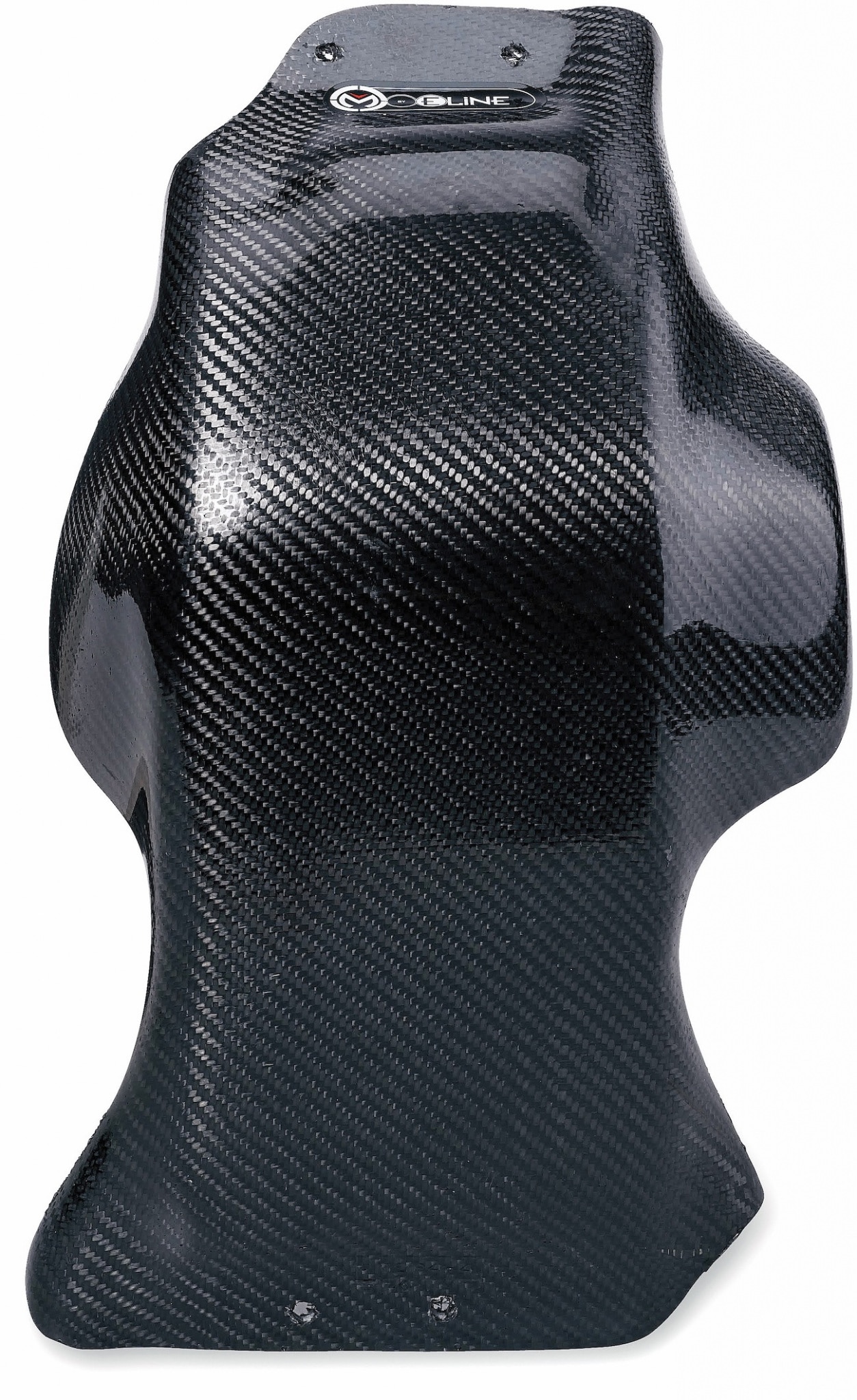 Reduce unnecessary weight while adding protection and durability with this high-quality Moose Racing skid plate by E Line. Switching from aluminum to carbon fiber has many benefits, and the use of anti-ballistic composite material provides a longer fatigue life and greater tensile strength. Composite plates are molded to the exact shape desired, making for a closer fit and a more protective plate. Plus, composite plates absorb vibration and do not amplify sounds like aluminum plates do. Made in the USA, this skid plate protects the side engine cases and the water pump, in addition to the frame and the center case. Mounting hardware included. The retail price is $174.95 at www.mooseracing.com or (800) 369-1000.
• 2022 TT SCRAMBLES CHAMPIONSHIP SERIES AT GLEN HELEN SCHEDULE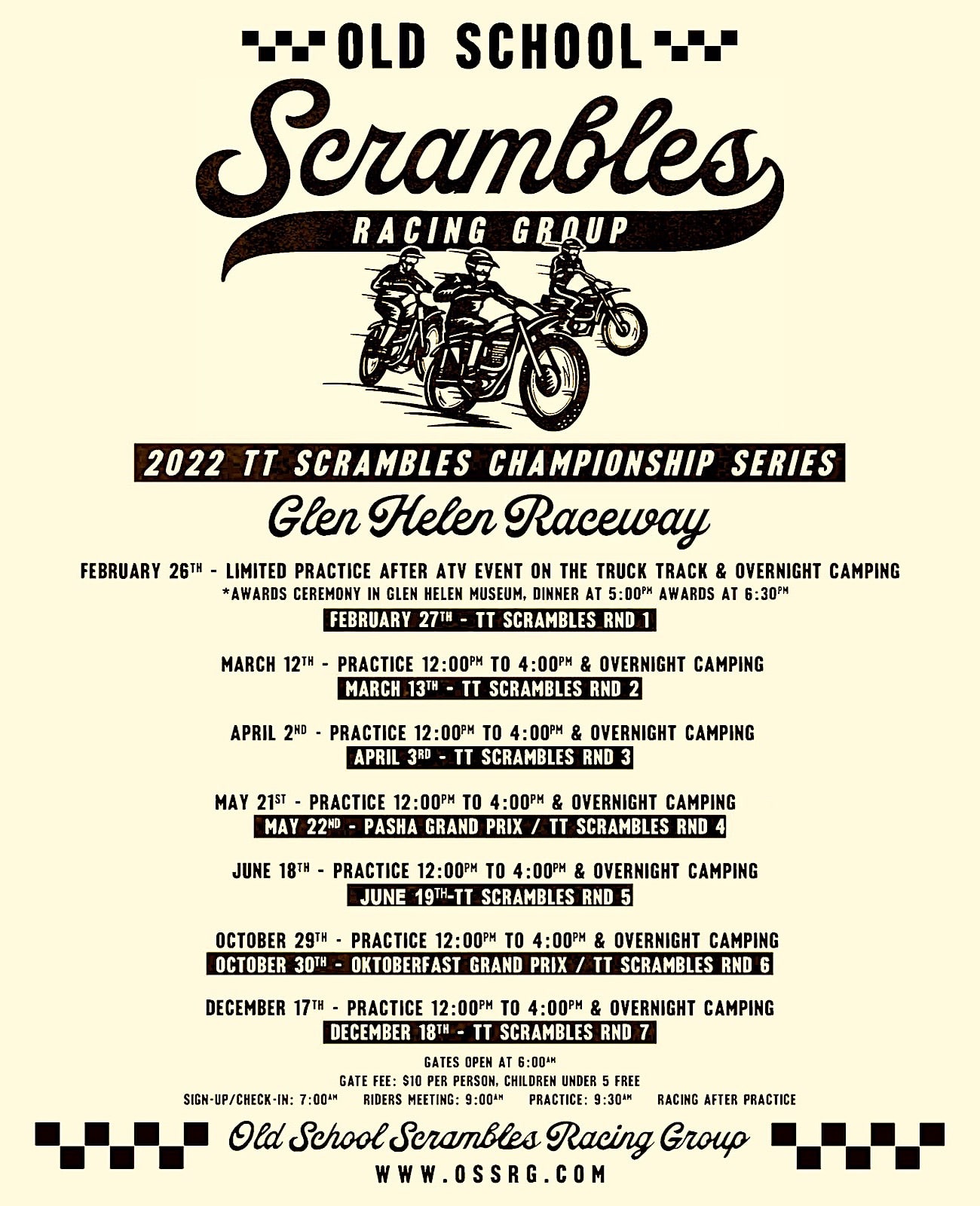 For more info contact the Old School Scrambles Racing Group at www.ossrg.com
• MXA PRODUCT SPOTLIGHT: MXA PRODUCT SPOTLIGHT: FACTORY EFFEX OFFICIALLY LICENSED BIKE MAT

Complete your garage setup with an officially licensed Factory Effex OEM bike mat. Carpeted with rubber edging and anti-slip backing, you'll be able to keep your garage floors clean and easily spot any bolts that fall off your bike while working on it. Plus, the FX mat has fibers that are UV resistant, as well as stain and mildew resistant, too. Available for Honda, Yamaha, Kawasaki and Suzuki, the mats are 6 by 3 feet big. The retail price is $139.95 at www.factoryeffex.com or (800) 866-0709.
• MXA's 2022 450 MOTOCROSS BIKE TEST LIBRARY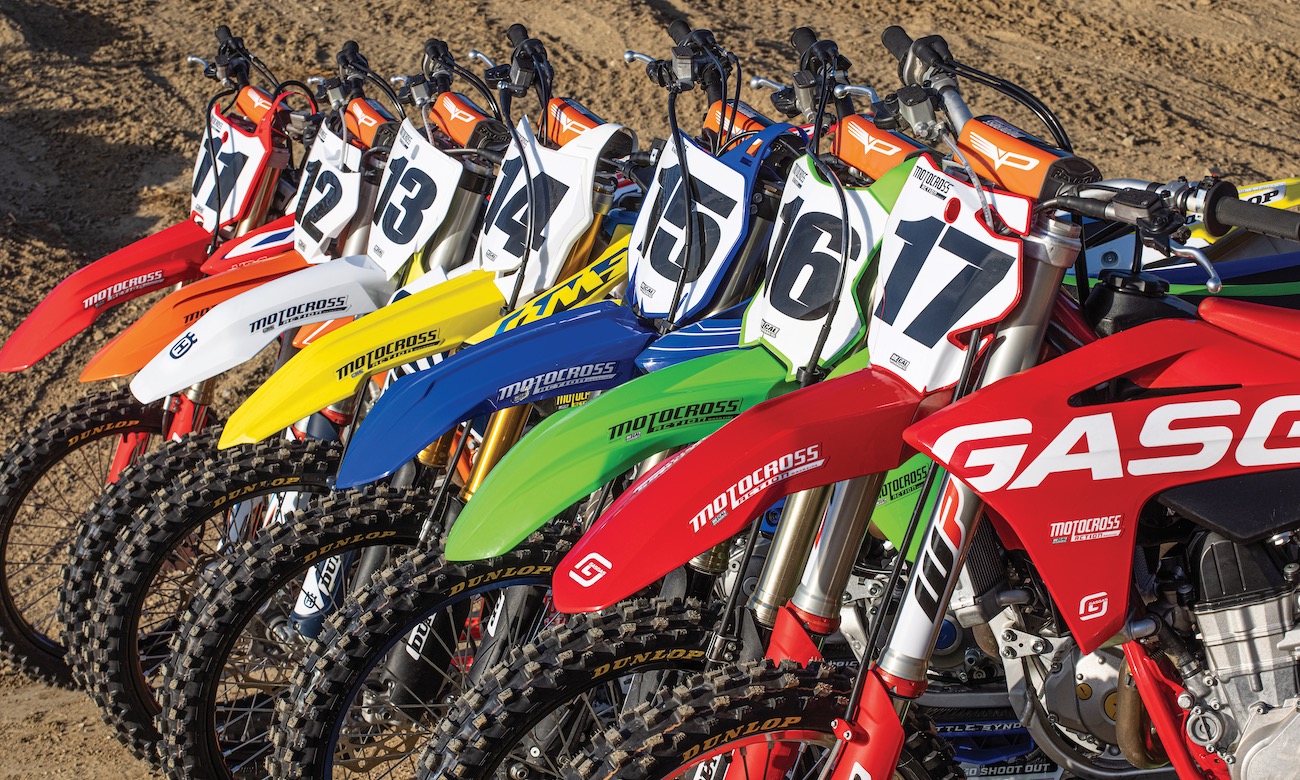 • MXA VIDEO: 2022 MXA 450 SHOOTOUT VIDEO TEST
MXA VIDEO: 2022 YAMAHA YZ450F VIDEO TEST
MXA VIDEO: 2022 GASGAS MC 450F VIDEO TEST
MXA VIDEO: 2022 HUSQVARNA FC450 VIDEO TEST
MXA VIDEO: 2022 KAWASAKI KX450 VIDEO TEST
MXA VIDEO: 2022 HONDA CRF450 VIDEO TEST
• THREE DOWN! HERE'S THE 14 MONSTER ENERGY SUPERCROSS EVENTS TO GO

2022 AMA SUPERCROSS CHAMPIONSHIP
Jan. 8…Anaheim, CA
Jan. 15…Oakland, CA
Jan. 22…San Diego, CA
Jan. 29…Anaheim, CA
Feb. 5…Glendale, AZ
Feb. 12…Anaheim, CA
Feb. 19… Minneapolis, MN
Feb. 26… Arlington, TX
Mar. 5…Daytona Beach, FL
Mar. 12…Detroit, MI
Mar. 19…Indianapolis, IN
Mar. 26…Seattle, WA
Apr. 9…St. Louis, MO
Apr. 16…Atlanta, GA
Apr. 23…Foxborough, MA
Apr. 30…Denver, CO
May 7…Salt Lake City, UT
• 2022 FIM GRAND PRIX 250/450 CHAMPIONSHIP SCHEDULE

• 2022 AMA 250/450 NATIONAL MOTOCROSS CHAMPIONSHIP SCHEDULE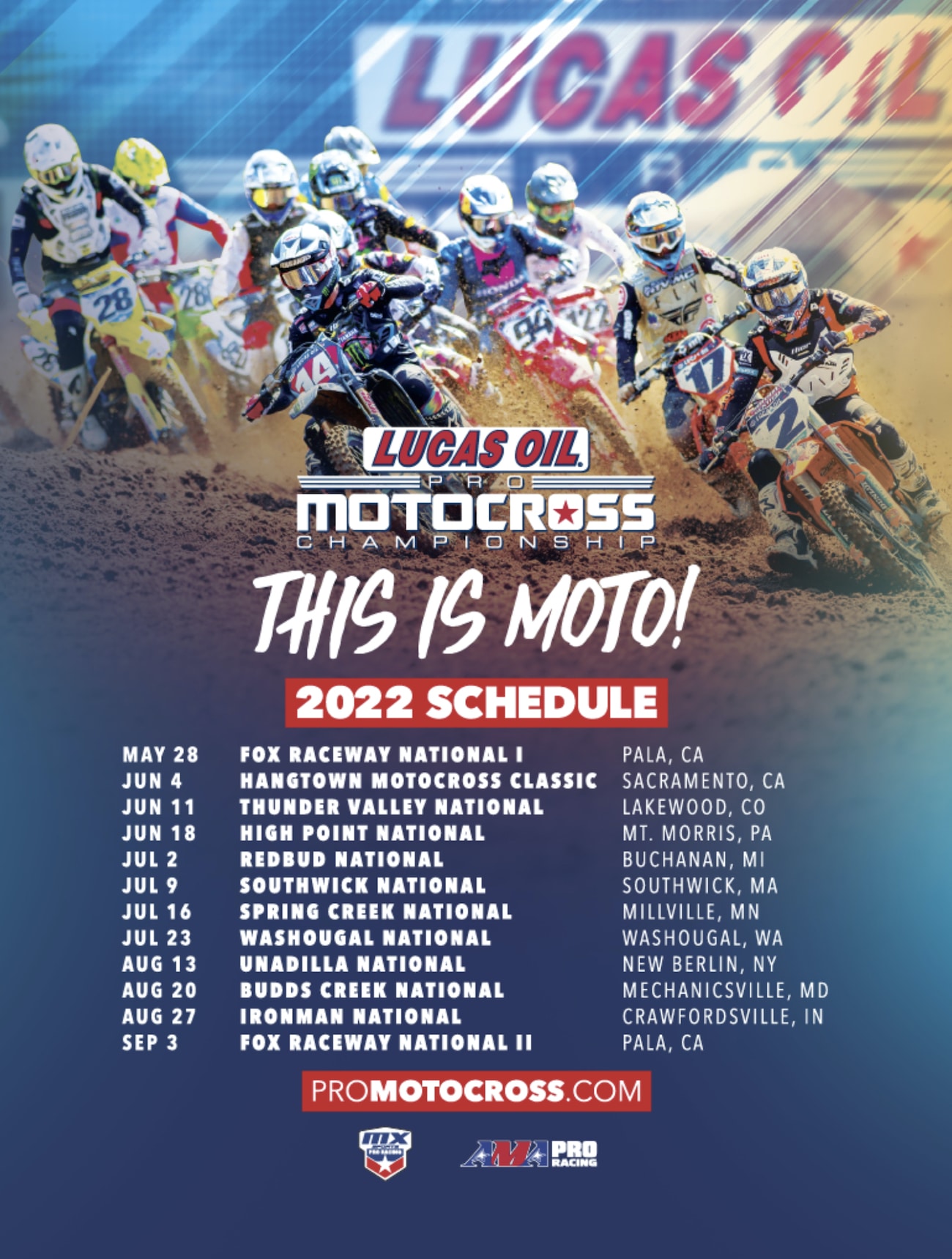 2022 AMA NATIONAL MOTOCROSS CHAMPIONSHIP
May 28…Pala, CA
June 4…Hangtown, CA
Jun 11…Thunder Valley, CO
June 18…Mt. Morris, PA
July 3…Red Bud, MI
July 9…Southwick, MA
July 16….Millville, MN
July 23….Washougal, WA
Aug. 13…Unadilla, NY
Aug. 20…Budds Creek, MD
Aug. 27…Crawfordsville, IN
Sept. 3…Pala, CA
• TENTATIVE 2022 RACE SCHEDULES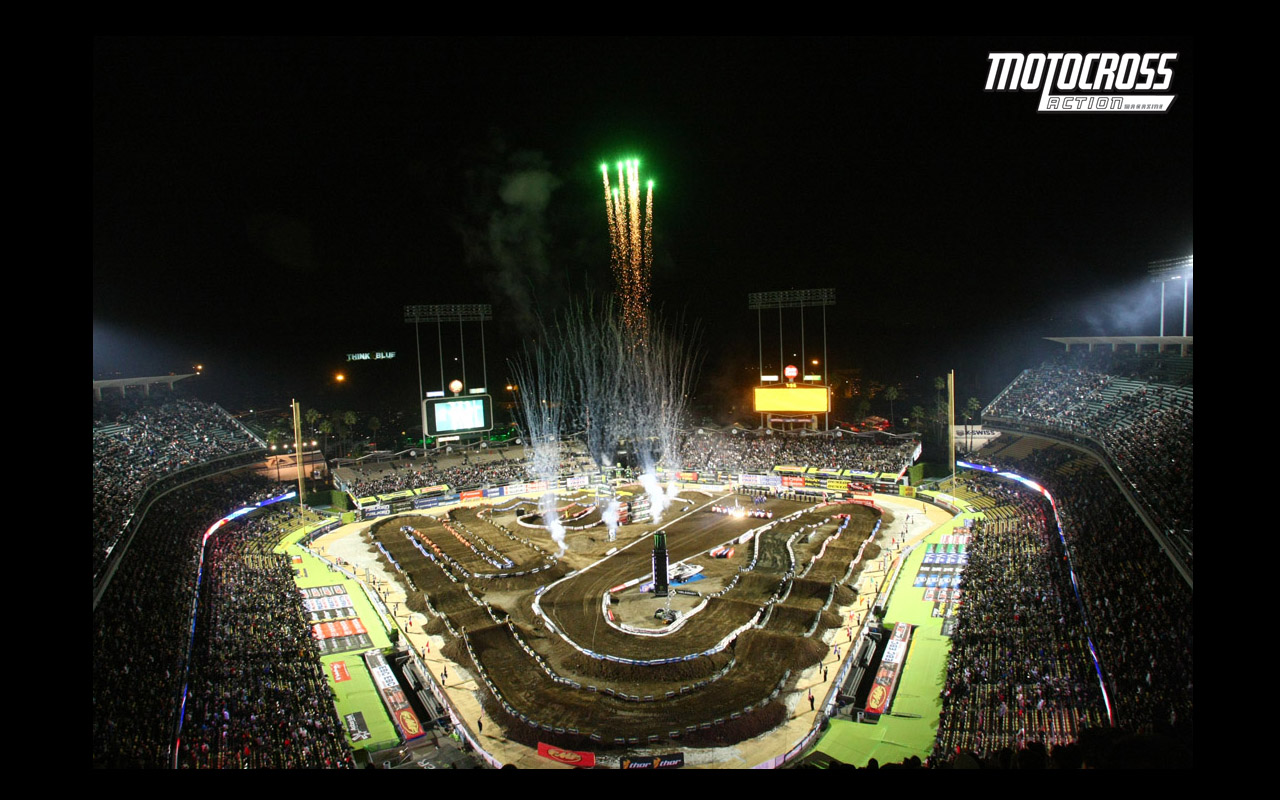 2022 AMA SUPERCROSS CHAMPIONSHIP
Jan. 8…Anaheim, CA
Jan. 15…Oakland, CA
Jan. 22…San Diego, CA
Jan. 29…Anaheim, CA
Feb. 5…Glendale, AZ
Feb. 12…Anaheim, CA
Feb. 19… Minneapolis, MN
Feb. 26… Arlington, TX
Mar. 5…Daytona Beach, FL
Mar. 12…Detroit, MI
Mar. 19…Indianapolis, IN
Mar. 26…Seattle, WA
Apr. 9…St. Louis, MO
Apr. 16…Atlanta, GA
Apr. 23…Foxborough, MA
Apr. 30…Denver, CO
May 7…Salt Lake City, UT
2022 FIM GRAND PRIX CHAMPIONSHIP (TENTATIVE)
Feb. 20…Matterley Basin, England
Mar. 6…Mantova, Italy
Mar. 20…Villa La Angostura, Argentina
April 3…Agueda, Portugal
April 10…Trentino, Italy
Apr. 24…Kegums, Latvia
May 1…Orlyonok, Russia
May 15…Rio Sardo, Sardinia.
May 29…Intu Xanadu, Spain
June 5…Ernee, France
June 12…Teutschenthal, Germany
June 26…Samota, Indonesia
July 3… Jakarta, Indonesia
July 17…Locket, Czech Republic
July 24…Lommel, Belgium
Aug. 7…Uddevalla, Sweden
Aug. 14…KymiRing, Finland
Aug 21…St. Jean d' Angely, France
Sept. 4…Afyonkarahisar, Turkey
Sept. 18…TBA
2022 AMA NATIONAL MOTOCROSS CHAMPIONSHIP
May 28…Pala, CA
June 4…Hangtown, CA
June 11…Thunder Valley, CO
June 18…Mt. Morris, PA
July 3…Red Bud, MI
July 9…Southwick, MA
July 16….Millville, MN
July 23….Washougal, WA
Aug. 13…Unadilla, NY
Aug. 20…Budds Creek, MD
Aug. 27…Crawfordsville, IN
Sept. 3…Pala, CA
2022 KICKER ARENACROSS SERIES
Jan. 7-8…Loveland, CO
Jan. 15…Amarillo, TX
Jan. 21-22…Oklahoma City, OK
Jan. 29…Greensboro, NC
Feb. 4-5…Reno, NV
Feb. 11-12…Denver, CO
2022 WORLD SIDECAR MOTOCROSS CHAMPIONSHIP
Apr. 24… Holland
May. 22…Czech Republic
June 12…Holland
June 26…Ukraine
July 3…Estonia
July 10…TBA
July 23…No. Ireland
July 31…Germany
Aug. 7…TBA
Aug. 28…Czech Republic
Sept. 4…Slovenia
Sept.18…Germany
2022 WORCS OFF-ROAD SCHEDULE
Jan. 21-23…Primm, NV
Feb. 18-20…Glen Helen, CA
Mar. 11-13…Lake Havasu City, AZ
Apr. 8-10…Taft, CA
Apr. 29-May 1…Las Vegas, NV
May 27-29…Cedar City, UT
Sept. 16-18…Preston, ID
Oct. 14-16…Mesquite, NV
Nov 4-6…Primm, NV
2022 CANADIAN TRIPLE CROWN SERIES
June 5…Kamloops, BC
June 12…Drumheller, AB
June 19…Pilot Mound, MB
July 3…Walton, ON
July 10…Courtland, ON
July 17…Ottawa, ON
July 24…Moncton, NB
July 31…Deschambault, QC
Aug. 14…Walton, ON
2022 GERMAN ADAC MOTOCROSS MASTERS
Apr. 3…Princely Drehna
May 22…Dreetz
June 19…Möggers
July 3…Bielstein
July 10…Tensfeld
July 31…Gaildorf
Sept. 4…Jauer
Sept. 11…Holzgerlingen
2022 MICHELIN BRITISH CHAMPIONSHIP
Mar. 20…FatCat
May 1…Landrake
May 29…Lyng
June 26…Cusses Gorse
Aug. 7…TBA
Sept. 4…Hawkstone
2022 SCOTTISH MOTOCROSS CHAMPIONSHIP
March 20…Tain
April 24…Lochgilphead
May 15…Duns
June 12…Rhynie
July 9…Doune
July 16…Doune
August 14…TBA
2022 IRISH NATIONAL CHAMPIONSHIP
Mar. 27…TBA
Apr. 10…TBA
June 5… TBA
June 26… Loughbrickland
July 24…TBA
Aug. 21… Saul
2022 DUTCH MASTERS SERIES
Mar. 13…Arnhem
April 18…Oldebroek (Monday)
May 8…Harfsen
May22…Oss
June 18…Rhenen
2022 MOTOCROSS DES NATIONS
Sept. 25… Red Bud.Michigan
2022 WORLD VET MOTOCROSS CHAMPIONSHIP
Nov. 3-6…Glen Helen, CA
• MXA YOUTUBE CHANNEL | HIT THAT SUBSCRIBE BUTTON
The MXA wrecking crew is everything moto related. Check out our MXA YouTube channel for bike reviews, Supercross coverage, rider interviews and much more. And don't forget to hit that subscribe button.