MXA WEEKEND NEWS ROUND-UP: NOW IS THE TIME TO RIDE, BEFORE THE SNOW FLIES
THIS WEEK'S BIRTHDAY BOYS: FRANK, STAPO, ARNE & BIMBO

Nov. 15…Kurt Nicoll 1964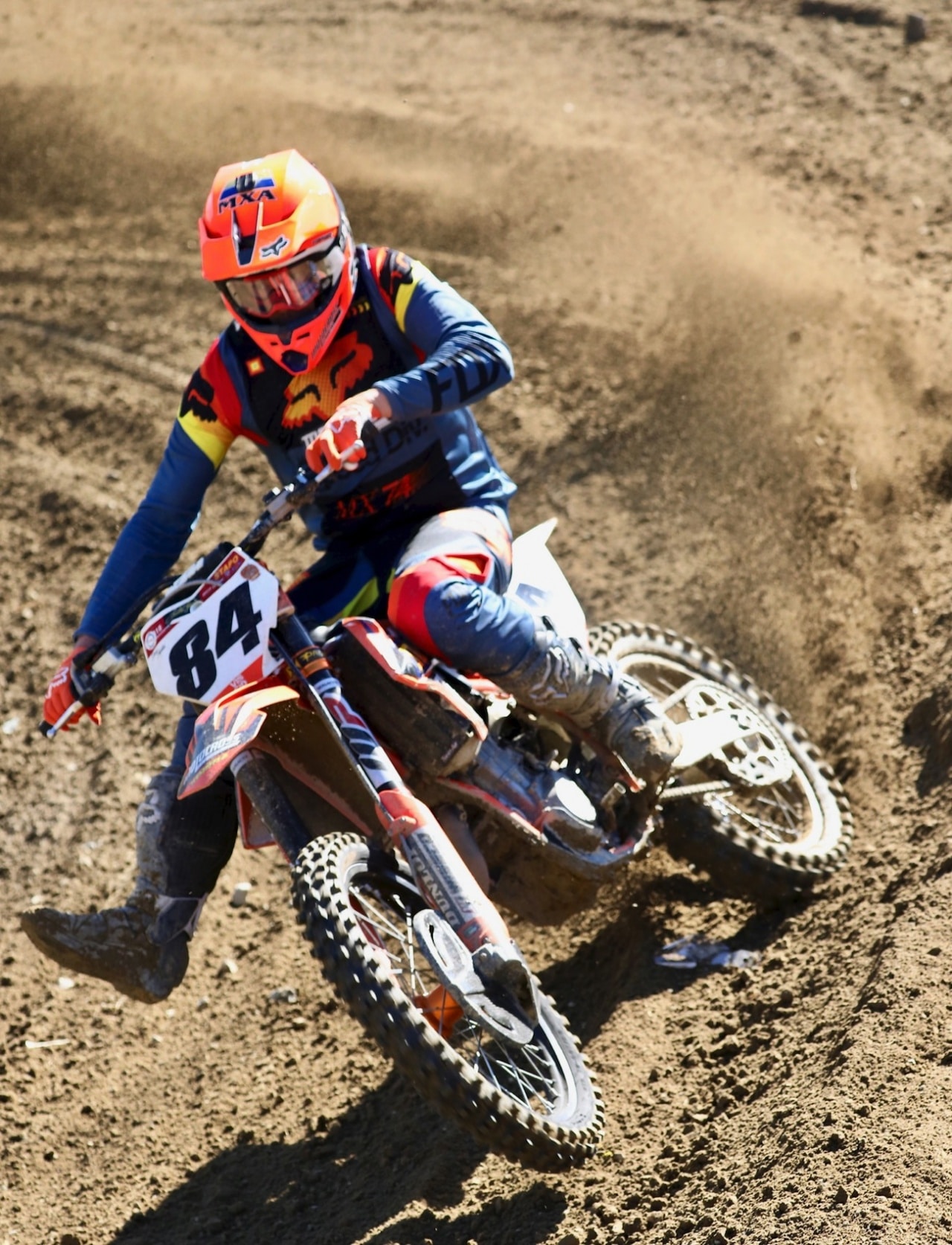 Nov. 15…Dennis Stapleton 1981
Nov. 16…P.J. Larsen 1990

Nov. 16…Jim Pomeroy 195
Nov. 17…Cade Clason 1994
Nov. 17…Arne Kring 1942
Nov. 18…Chris Taylor
Nov. 19…Mike Metzger 1975
Nov. 19…Jeremy McGrath 1971
Nov. 20…Jeff Hedden 1975
Nov. 20…Jon Hedden 1975
Nov. 20…Sten Lundin 1931
Nov. 20…Mike Healey
Nov. 20…Weston Peick 1990
Nov. 20…Rob Healy
Nov. 20…Malcolm McCassy
Nov. 21…Dave Casella
Nov. 21…Broc Tickle 1989
Nov. 21…Danny Storbeck
Nov. 22…Ron Turner
Nov. 22…Trevor Vines 1972
MXA'S MOST COMMON QUESTION
With so many riders switching to, rebuilding old bikes or buying brand-new two-strokes, the knowledge base that used to be so well-known back in the glory days of two-strokes is seriously lacking after over 13 years of four-stroke dominance. Thus, MXA gets emails every day asking how much oil to mix in their gas. This handy chart tells you how many ounces of oil to mix in one, two, two-and-a half, three, four and five gallons of gas for ratios from 20:1 to 100:1.
SORT OF A MOTOCROSS VIDEO: THE CHAINSMOKERS FEATURING KELSEA BALLERINI
LITTLE KNOWN FACTS FROM THE 2018 WORLD VET CHAMPIONSHIP
A Brazilian rider leads the charge with a Dutch rider to the right in the Over-40 Expert class.

TEN TIDY LITTLE TIDBITS ABOUT THE DUBYA WORLD VET CHAMPIONSHIP
1. How many entries? 1252 Entries
2. How many countries? 22 Countries
3. How many U.S. states? 28 States
4. Most popular race number? 5 (on nine bikes)
5. Most popular first name? Michael
6. Most popular last name? Smith
7. Most podium finishes – 4 (by Caleb Rice #695)
8. Oldest racer? 79 year old Ernest Cabral
9. How many female racers? 21 Female Racers
10. Most racers on one gate? 41
Two members of the all-powerful Spanish team—including the Over-50 Catalonian Champion Xavi Costa (right).
TOP TEN NATIONS BY RIDERS
1. USA…426
2. England…21
3. Canada…16
4. Australia…14
5. New Zealand…11
6. Mexico…9
7. Sweden…9
8. Brazil…9
9. Italy…7
10. Germany…6
Over-60 World Champion Pete DeGraff was just one of the 325 KTM's racing at the 2018 Dubya World Vet Championship.
MOTORCYCLE BRANDS BY PERCENTAGE
(Adds up to 100%)
1. KTM…26%
2. Yamaha…24%
3. Honda…21%
4. Kawasaki…14%
5. Husqvarna…8%
6. Suzuki…6%
7. TM…0.7%
8. Other…0.03%

Every race at the World Vet had at least two-wave starts—this is the Over-55 Intermediate class. There were even a couple three-wave starts. But since the track was over 3 minutes long for the amateur classes there wasn't a lot of lapped traffic.
TOP TEN LARGEST CLASSES
(Percentage to total)
1. Over-50 Novice…10%
2. Over-45 Novice…9%
3. Over-40 Novice…7%
4. Over-55 Novice…7%
5. Over-35 Novice…6%
6. Over-45 Intermediate…5.5%
7. Over-50 Intermediate…5.4%
8. Over-25 Novice….4.7%
9. Over-60 Expert…4.5%
10. Over-40 Intermediate…4.5%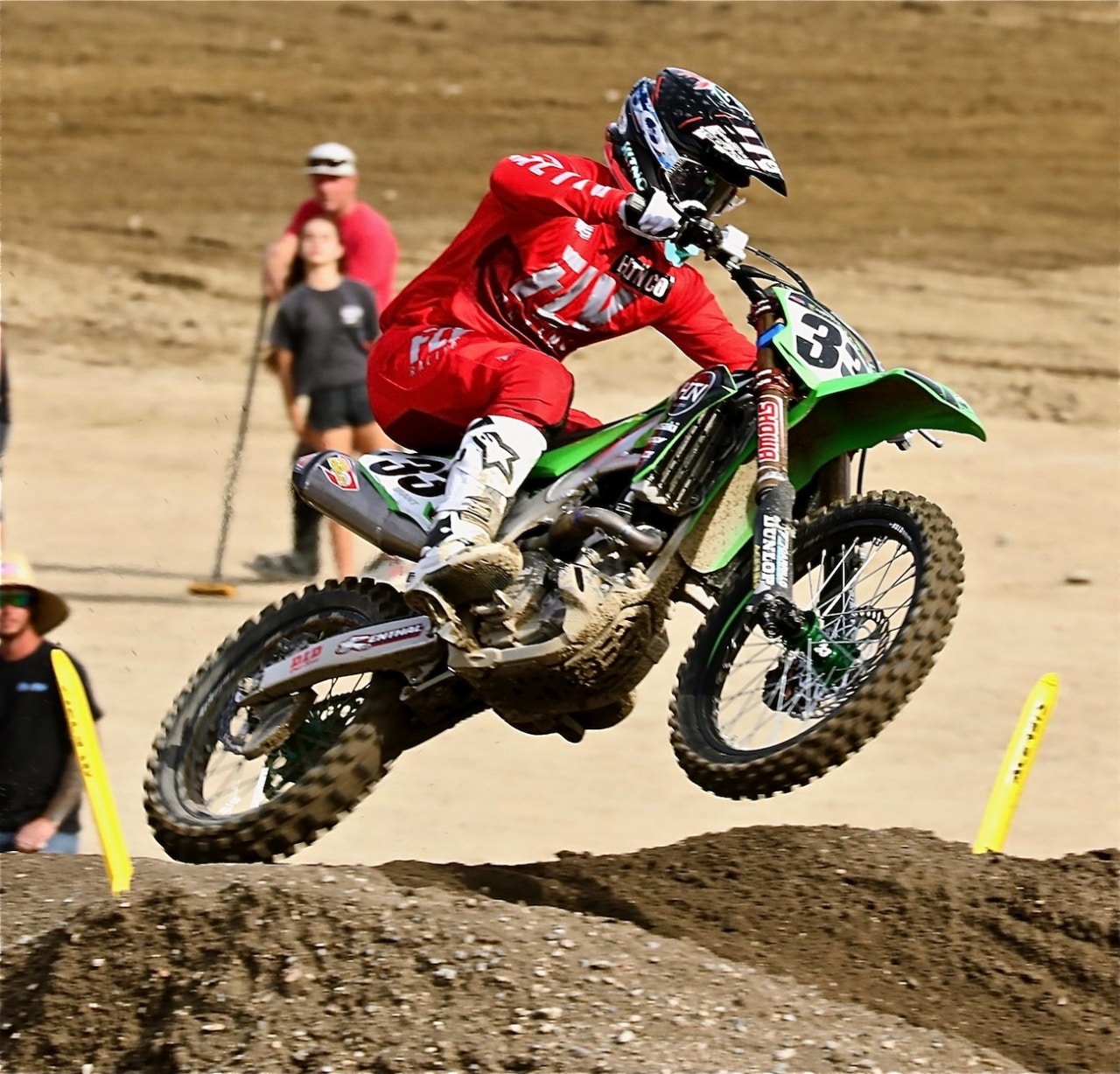 Josh Grant was the top California rider. In fact he was the fastest rider from anywhere by a large margin.
TOP TEN U.S. STATES BY RIDER
(Adds up to 100%)
1. California…55%
2. Arizona…15%
3. Colorado…7%
4. Texas…6%
5. Utah…4%
6. Washington…4%
7. Idaho…3%
8. Illinois…3%
9. Nevada…2%
10. Missouri…1%
MXA COVER OF THE WEEK: TONY'S WALL OF FAME

Tony Cairoli posing in front of his one and only MXA cover—the June 2015 issue

MXA AD OF THE WEEK: HOW JT RACING GOT STARTED

JT Racing, the powerhouse 1980's gear company, got it's start with this ad in Cycle News selling motocross socks for $4.95 out of a Dana Point, California, Post Office Box.
MXA TEAM TESTED: "HODAKA MOTORCYCLES: THE COMPLETE HISTORY" BOOK
WHAT IS IT? We are always a little skeptical when a book claims to offer a "complete history" on any given subject, but "Hodaka Motorcycles" is the most comprehensive work on the subject ever. It just so happens that 2019 was the 55th anniversary of the founding of Hodaka Motorcycles and this 190-page book covers the history of one of the sport's most unique and creatively marketed bikes ever produced. Although virtually unknown to modern motocross racers, no hardcore rider from the 1960s and 1970s could every forget the impact that Hodaka had on the American offroad market.
"Hodaka Motorcycles" Is divided into 13 chapters. The first chapter tells the unusual story of how an Oregon company called Farm Chemicals was worried that the U.S. government might drop farm subsidies after the 1960 elections. So, Farm Chemicals decided to hedge their bets by starting an import business named the Pacific Basin Trading Company (PABATCO). In 1961 they imported their first product to the United States—Yamaguchi motorcycles. All was well at PABATCO in 1962. They sold 5000 Yamaguchi's in the first two years—only to be blind sided by the news that Yamaguchi had gone bankrupt. PABATCO was left high and dry, but so was a small Japanese company named Hodaka, who made the engines for Yamaguchi. The eventual pairing of PABATCO and Hodaka was thus born.
"Hodaka Motorcycles" is filled with over 300 photos, many of them very rare looks into the origins of the company. Not to be overlooked are the color illustrations of Hodaka's colorful model names and their whimsical decals. If you are only vaguely familiar with Hodaka the machine, you will instantly remember names like Super Rat, Wombat, Combat Wombat, Super Combat, Road Toad, Dirt Squirt and Thunderdog.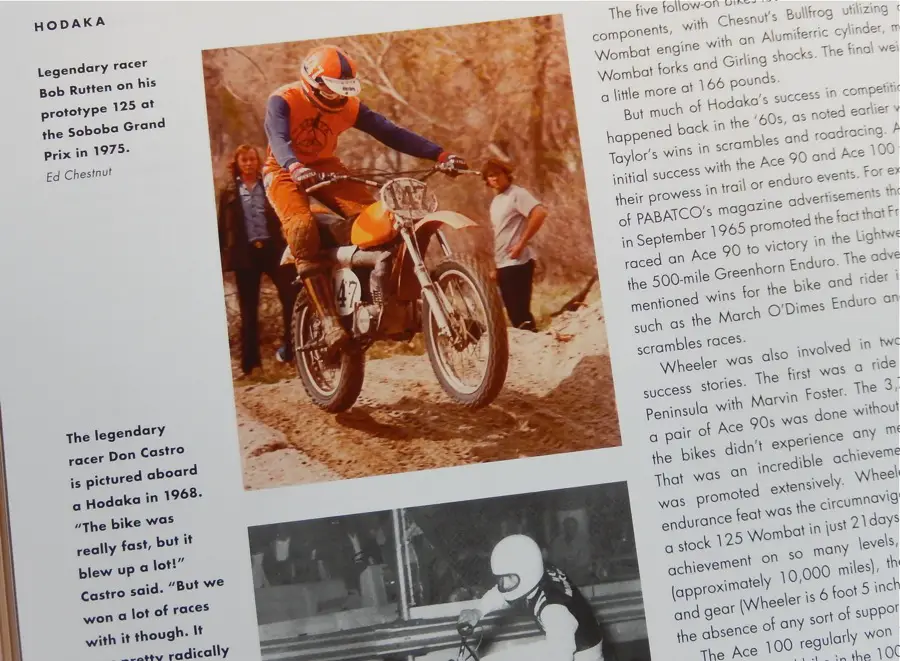 To this day Hodaka remains one of the iconic brands in motocross history. It is easy to think of the affordable, under $500, dirt bike as a small offshoot of the motorcycle business, but Hodaka sold as many as 15,000 dirt bikes a year. And Hodaka helped support the racing careers of many young racers. Tommy Croft, Cordis Brooks, Jim Pomeroy, Bob Rutten, Jody Weisel and many big name stars got their start on Super Rats. The success of the bike makes it popular among vintage collectors. Hodaka even holds a special celebration, called Hodaka Days" at its ancestral home in Athena, Oregon, every June.
WHAT'S IT COST? $40.00 (hardcover) — www.octanepress.com/book/hodaka-motorcycles.
MXA RATING
If you don't know what a Hodaka is or aren't old enough to remember a bike that was last produced in 1978, move on. This book is for the nostalgic among us.
MXA'S FIRST RIDE: 2019 TM 300MX TWO-STROKE
SUBSCRIBE TO MXA & GET A $25 CHAPARRAL GIFT CARD—YOU MAKE A PROFIT BY READING MXA

If you had subscribed to Motocross Action, the December 2018 issue of MXA would be in your mailbox, computer or iPhone already. This is the 2019 MXA 450 Shootout issue. It is jam-pcked with facts and data that will allow you to choose which bike is best for you — and if your confused, we tell you which bike was the best for us. Plus we test the 2019 Kawasaki KX250, 2019 KTM 250SX two-stroke and fly to Japan to ride the 2019 Suzuki RM-Z250. Plus much, much more

Do you subscribe to MXA? You should. We know that you think that print magazines are dead and that the internet will fill the void, but most of the stuff in the current issue of MXA won't appear on the web for several months, if at all. Luckily, you can get all of MXA on your iPhone, iPad, Kindle or Android by going to the Apple Store, Amazon or Google Play or in a digital version. Even better you can subscribe to Motocross Action and get a $25 Chaparral gift card to spend on whatever motorcycle parts or products you need. You can call (800) 767-0345 or www.hi-torque.com/product/motocross-action or click on the box at the bottom of this page.
MXA RACE POSTER UPDATE: WHAT'S ON DECK IN MX
2018 PARIS SUPERCROSS ON NOVEMBER 17-18
For more info, brush up on your high school French and then go to www.supercrossparis.com
2018 THOR MINI OLYMPICS ON NOVEMBER 19-258
For more info go to www.unlimitedsportsmx.com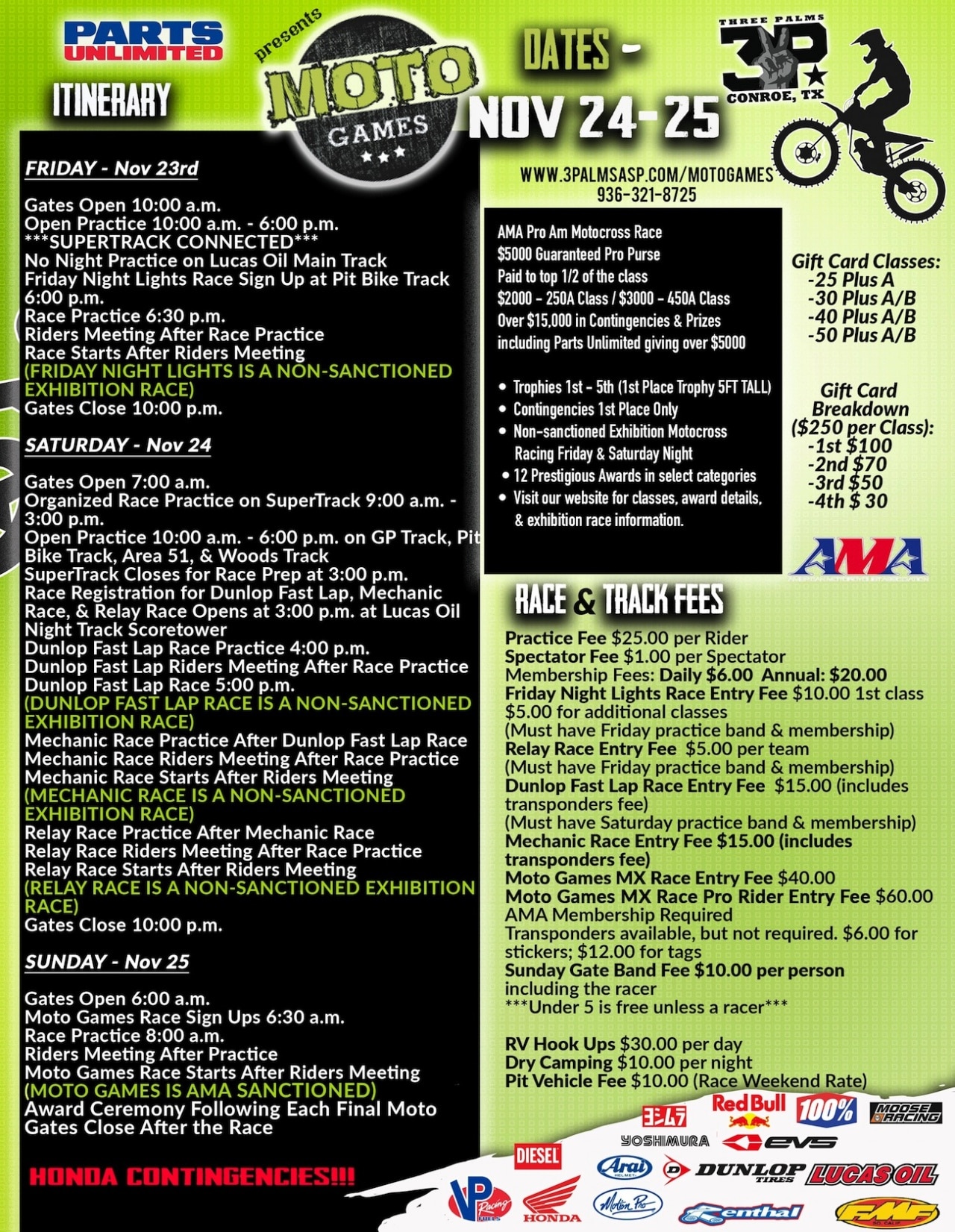 THREE PALMS "MOTO GAMES" ON NOV. 24-25
For more information (although they seemed to have squeezed everything short of "War and Peace" into their poster) go to www.3palmsasp.com
6TH ANNUAL KURT CASELLI RIDE DAY FOX RACEWAY ON DEC. 1
For more information go to www.kurtcasell.com
2018 ROBBIE GORDON OFFROAD WORLD CHAMPIONSHIPS ON NOV. 30—DEC. 1
$20,000 to the winner of the 450 class and $7500 to the winner of the 250 class. For more info go to www.stadiumsupertrucks.com
2019 MOTOCROSS ACTION 450 SHOOTOUT VIDEO
2019 RACE SCHEDULE: FOR THOSE WHO CAN'T WAIT UNTIL JANUARY


Jason Anderson will be at Anaheim Stadium on January 5, 2019, to start his Supercross title defense.

2019 AMA SUPERCROSS SERIES
Jan. 5…………………………….Anaheim, CA
Jan. 12………………………….Glendale, AZ
Jan. 19………………………….Anaheim, CA (3-moto race)
Jan. 26………………………….Oakland, CA
Feb. 2……………………………San Diego, CA
Feb. 9…………………………..Minneapolis, MN
Feb. 16………………………….Arlington, TX
Feb. 23………………………….Detroit, MI (3-moto race)
Mar. 2……………………………Atlanta, GA (250 E/W Shootout)
Mar. 9……………………………Daytona Beach, FL
Mar. 16………………………….Indianapolis, IN
Mar. 23………………………….Seattle, WA
Mar. 30………………………….Houston, TX (3-moto race)
Apr. 6……………………………Nashville, TN
Apr. 13………………………….Denver, CO
Apr. 27………………………….East Rutherford, NJ
May 4……………………………Las Vegas, NV (250 E/W Shootout)
2019 AMA NATIONAL CHAMPIONSHIP
May 18……………………Hangtown, CA
May 25.…………………..Glen Helen, CA
June 1..………………….Thunder Valley, CO
June 15..…………………Mt. Morris, PA
June 22.………………….Jacksonville. FL
June 29..…………………Southwick, MA
July 6.…………………….Red Bud, MI​
July 20.…………………..Millville, MN​
July 27.…………………..Washougal, WA
Aug. 10..………………….Unadilla, NY​
Aug. 17..………………….​Budds Creek, MD
Aug. 24.…………………..Crawfordsville, IN
2019 FIM MOTOCROSS WORLD CHAMPIONSHIP
Mar. 10……………………………TBA
Mar. 24……………………………England
Mar. 31……………………………Holland
Apr. 7……………………………..Italy #1
Apr. 21……………………………Hong Kong
May 1……………………………..Shanghai
May 12……………………………Italy #2
May 26……………………………France
June 9…………………………….Russia
June 16…………………………..Latvia
June 23…………………………..Germany
July 7……………………………..Indonesia #1
July 14……………………………Indonesia #2
July 28……………………………Czech Republic
Aug. 4…………………………….Belgium
Aug. 18…………………………..Switzerland
Aug. 25…………………………..Sweden
Sept. 8……………………………Turkey
Sept. 22………………………….Italy #3
2019 MOTOCROSS DES NATIONS
Sept. 29…………………………….Assen, Holland
2019 BRITISH ARENACROSS CHAMPIONSHIP
Jan. 18-19………………………….Belfast, Irl
Feb. 1-2……………………………..Birmingham, GB
Feb. 15-6…………………………..Sheffield, GB
RYAN VILLOPOTO AMATEUR MOTOCROSS CUP
Aug. 22-25………………………..Grays Harbor, WA
2019 AMA VINTAGE MOTORCYCLE DAYS
July 5-7…………………………….Lexington, Ohio
2019 GERMAN MX MASTERS CHAMPIONSHIP
April 14……………………………..Princely Drehna
June 2………………………………Moggers, Austria
June 30…………………………….Molln
July 21……………………………..Tens
Aug. 11…………………………….Gaildorf
Sept. 1……………………………..Biel
Sept. 15……………………………Wood Gerlingen
WHY DOES THE GUY WITH THE GREATEST JOB ON EARTH NEED AN AWARD?
JOIN MXA'S FLIPBOARD PAGE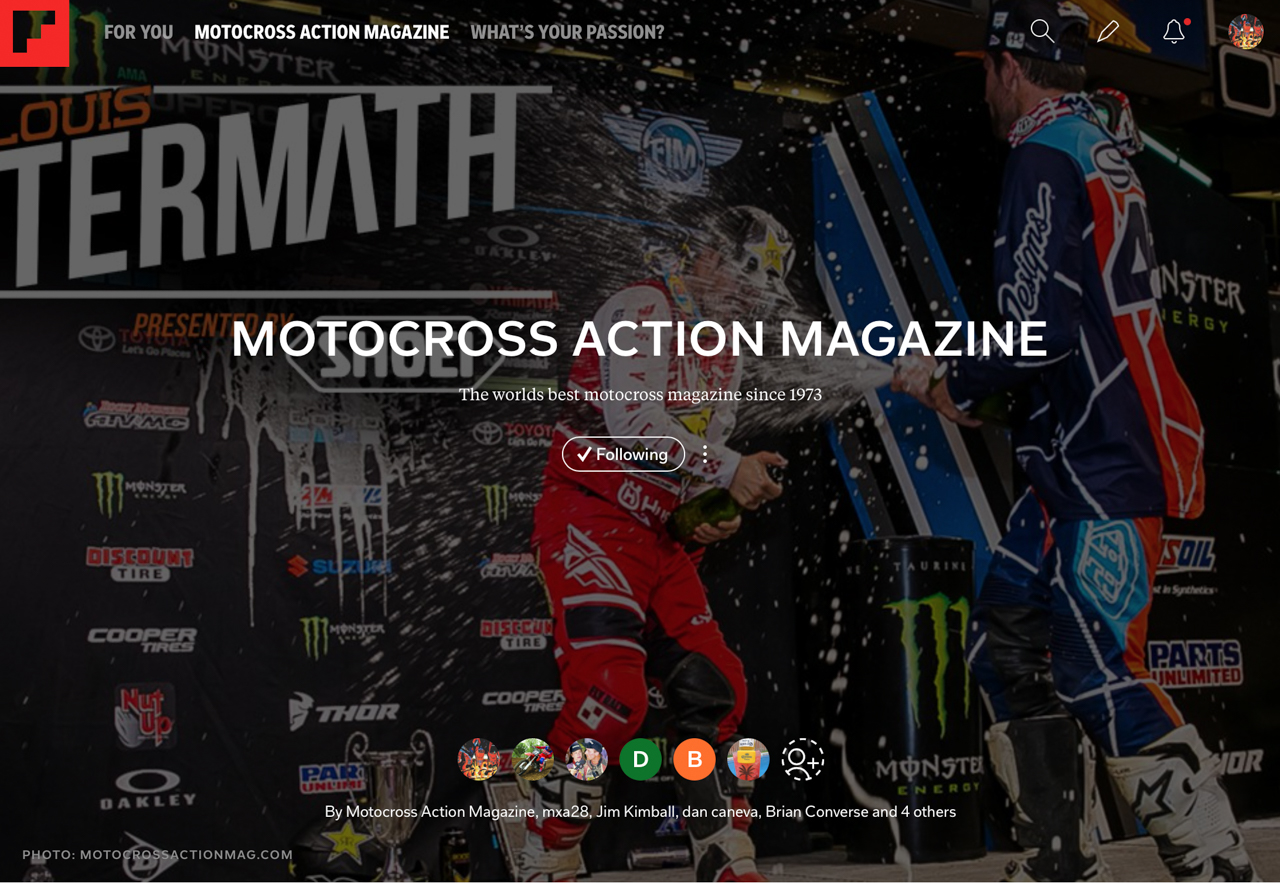 If you use Flipboard make sure to subscribe to the Motocross Action page for all the updates on our website. Click HERE to check out the page.
TALK MOTO WITH ON MXA'S FACEBOOK GROUP CHAT

We love everything moto and want to bring all moto junkies together into one place to share their two cents, ideas, photos, bike fixes, bike problems and much more. To check it out first you must need to or already have a Facebook account. If you don't, it isn't much work and you could even have an alias so nobody knows it is you. To join click HERE. After you request to join we will accept your request shortly after.
MXA'S SNAP CHAT FEED
If you are a Snap Chat user then add us to your stories. Get sneak peaks of everything moto. Our Snap Chat name is motocrossaction. Or just take a Snap of the picture above and it will add MXA automatically to your feed.
FOLLOW MXA ON TWITTER

Follow us to see fresh content every day at www.twitter.com/MXAction or on twitter at "MXAction."
SAVE THE DATE! THE LAST RACES OF THE 2018 MOTOCROSS SEASON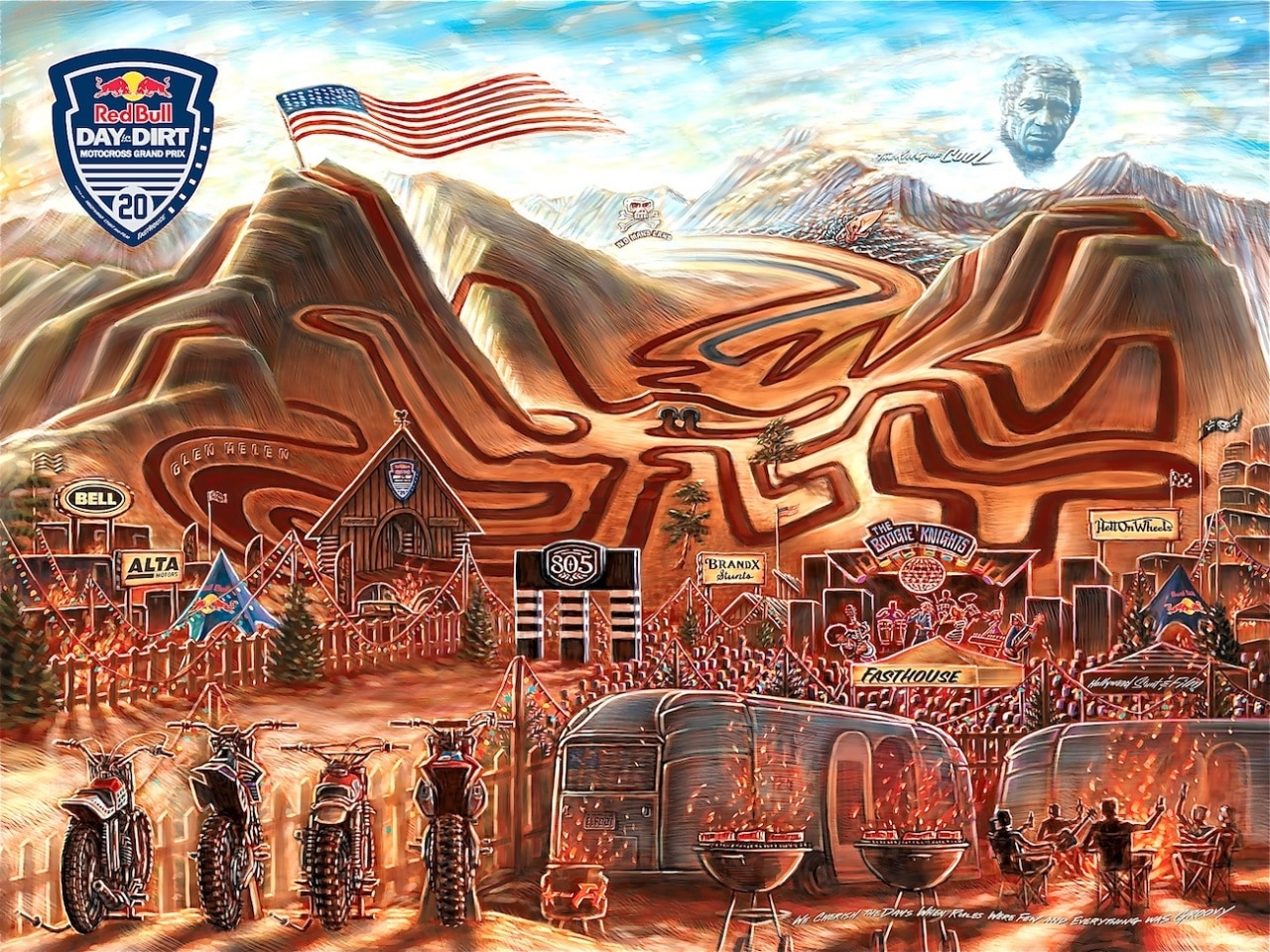 The 2018 Day in the Dirt starts on Nov. 23.
2018 PARIS SUPERCROSS
Nov. 17-18…………………….Paris, France
2018 THOR MINI OLYMPICS
Nov. 19-24…………..…….Gainesville, FL
2018 DAY IN THE DIRT
Nov. 23-25…………………….Glen Helen, CA
2018 ROBBY GORDON OFF-ROAD CHAMPIONSHIP
Dec.1-2………………………..Glen Helen, CA
2018 REM GLEN HELEN CHAMPIONSHIP
Nov. 17……………………Glen Helen, CA
Dec. 8……………….……Glen Helen, CA
Dec. 15……………………Glen Helen, CA
Dec. 22……………………Glen Helen, CA
Dec. 29…………..…….…Glen Helen, CA
2018 WORLD OFFROAD CHAMPIONSHIP (WORCS)
Nov. 9-11………………….…..Primm, NV
2018 OLD SCHOOL SCRAMBLES CHAMPIONSHIP
Dec. 9………………………..Glen Helen, CA
2018 ENDUROCROSS CHAMPIONSHIP
Nov. 3……………………………Boise, ID
Photos: Debbi Tamietti, Jon Ortner, Brian Converse, Jody Weisel, Travis Fant, Daryl Ecklund, MXA, MXGP