MXA'S WEEKEND NEWS ROUND-UP: HIEROGLYPHICS, WORKMAN'S COMP & WORLD CUP BIBS
MXA PHOTO OF THE WEEK: THE CRF450 CHEAT SHEET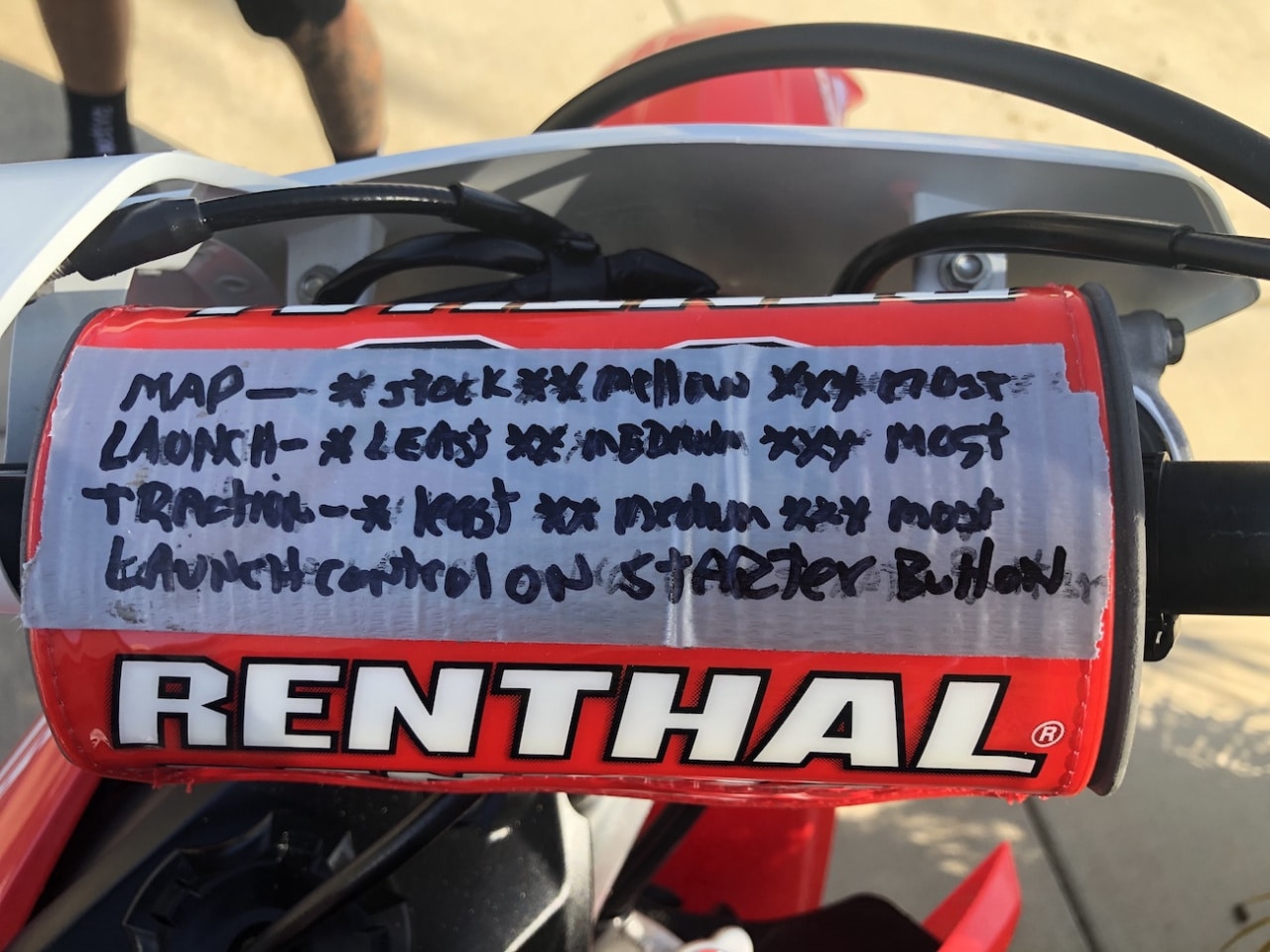 MXA has a lot of endurance test riders who race our bikes every weekend. The men assigned to take care of the test riders and make sure that each test rider follows through onthe proper set-up, got tired of explaining the 2020 Honda's extremely complicated mapping, traction control and holeshot electronics each time they took the CRF450 out. So, to cut down on confusion and time, these hieroglyphics were taped to the crossbar pad. Do you understand them?
2020 MOTOCROSS ACTION 450 FOUR-STROKE SHOOTOUT
YOUR CHANCE TO SEE TOM WHITE'S PRIVATE "EARLY YEARS OF MOTOCROSS MUSEUM"—BUT YOU GOTTA HURRY

You haven't lived until you've been to the late Tom White's "Early Years of Motocross Museum," and with many riders coming to SoCal for the Dubya USA World Vet Motocross Championship at Glen Helen that weekend, the White family decided to open the museum on Wednesday, October 30, 2019, for motocross fans and vintage enthusiasts. It should be noted that the number of people who can be accommodated for the "Bikes and Burgers" night is limited.
Tom collected over 150 vintage bikes in his museum, including some of the rarest motocross bikes ever made.
If you want to go you must email your name and how many are in your party to [email protected]. You will have to have your name on the list to gain admission to Tom's private museum. It is only open for rare special events — and since Tom was the founder of the World Vet Championship — this is a very special time for the White clan. If you among the first 100 they will send you an official invitation and a map of how to get there (yes, it is that secret).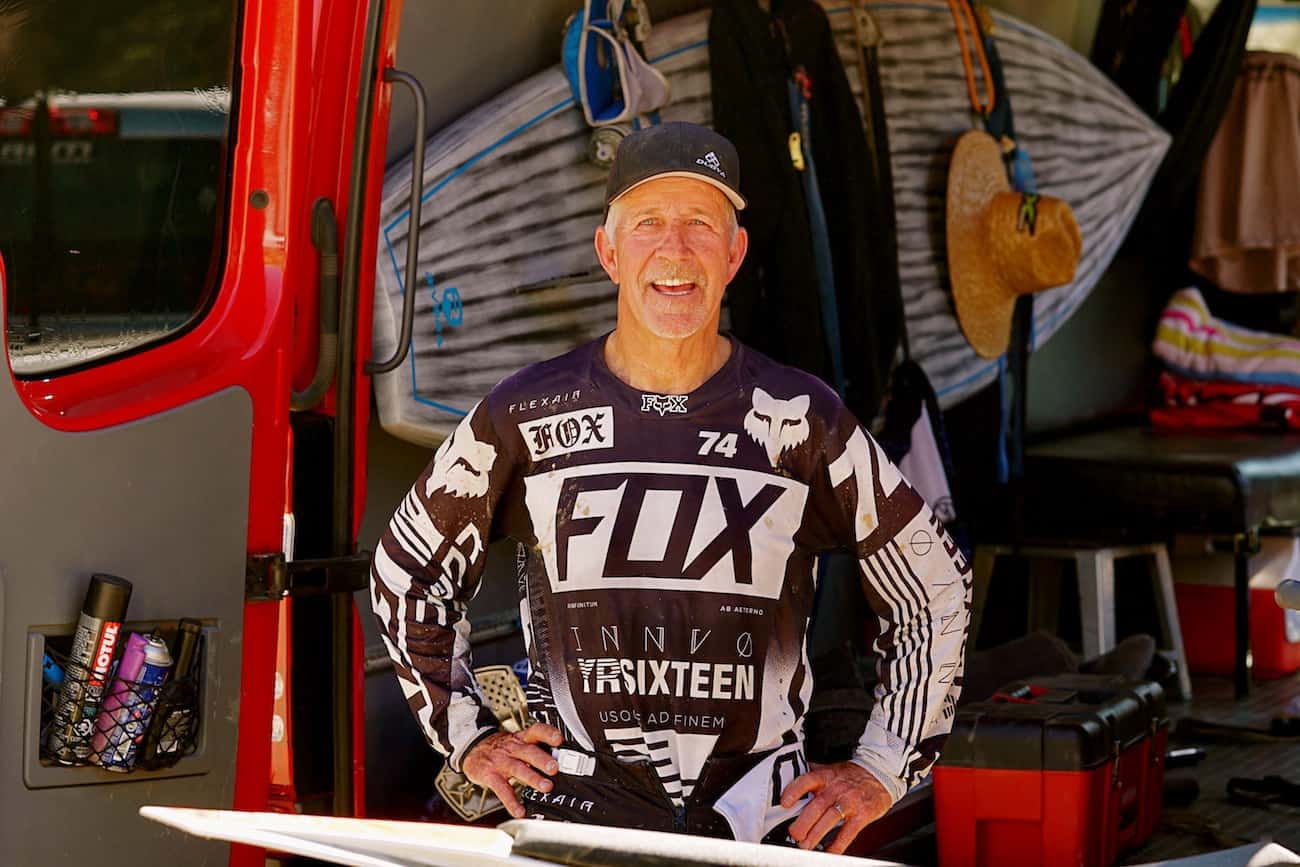 Tom White passed away just before the 2017 World Vet Championship and thus the White Family wants to open his museum during the 2019 World Vet Championship week.
RIDER FILES FOR WORKMAN'S COMPENSATION INJURY BENEFITS AND THEN GOES RIDING

The Montana Attorney General, Tim Fox, charged a man with fraudulently collecting workers' compensation benefits from the Montana State Fund. What does this have to do with motocross? The worker filing the claim was a Vet motocross racer. The man claimed that he suffered a work-related injury to his right knee while working as an HVAC technician in Bozeman, Montana. Less than two weeks after the alleged workplace injury, the man competed in a motocross race near Wolf Point. He was diagnosed with a meniscus tear in his right knee and underwent surgery followed by physical therapy and started receiving workers' compensation temporary total disability (TTD) benefits based on a doctor's conclusion. He then had a second surgery on the same knee for a new or recurrent meniscus tear.
However, the  man's employer, a heating and plumbing company, reported seeing photos on Facebook of the supposedly disabled man riding dirt bikes after his claimed injury.  A private investigator, hired by the Montana State Fund, observed the claimant participating in motocross races at the same time that a doctor concluded the rider's complaints of ongoing pain that prevented him from working did not correlate with the objective medical findings. After participating in three more motocross events, the rider was interviewed by investigators and notified his TTD payments were being terminated. Less than two weeks later, the rider went back to work for a different plumbing and heating company.
During his time on disability, the rider received up to $91,770 worth of medical benefits and $40,937 in TTD wage loss benefits he was not entitled to.  He was given,  a three-year deferred probationary sentence and ordered to pay $12,295 in restitution and a pay $500 fine.
THE FIRST BATCH OF VET WORLD CHAMPIONSHIP WORLD CUP TEAMS
This is just a small portion of the nations that plan to compete in the World Cup  on November 2-3 at Glen Helen. Teams must apply and be accepted for each country. To represent your country, you must be a citizen of that country. The World Vet Cup of Nations Jury Committee will review all applications. If more than three teams are entered from the same nation, the World Cup Jury will choose the three teams that will be allowed to race.
For teams that are in flux, there will be a sign-up booth at the Glen Helen Tower in the days leading up to Saturday's World Vet Day One. National teams can be formed leading up to the race (which has one moto on Saturday and one on Sunday).
If you want to race the World Cup, but do not have enough riders to make up a team to represent your country, you can still apply and the committee will attempt to partner you with other individuals from the same country to make up a team—which is why Glen Helen encourages riders from different countries to come to sign-up and apply as individuals—because it is possible that you could be paired with two other riders from your country to form a team on the spot.

Although World Cup teams can be formed right up until Saturday's first moto, there are already 18 teams on the list and many more that are waiting to find their third rider.
The official rules require each team to have a 30+, 40+, and 50+ riders, but It is interesting to note that teams can be composed of Over-40 and Over-50 riders without benefit of an Over-30 rider. Since rules require one 30-year-old, one 40-year-old and one 50-year-old, they can race with an older rider as a replacement for the 30-year old—as long as he is 40 or 50. That means that the rider designated to replace the Over-30 rider must start with the Over-30 riders from the other countries in the first gate. In the Over-40 and Over-50 classes, a younger rider cannot replace that rider on the starting grid.
Under no circumstances can a team have more than one Over-30 rider. You can see the World Cup application and sign-up now by Clicking Here.
REM "OCTOBERCROSS" ON THE "WORLD VET TRACK" ON SATURDAY, OCTOBER 26
The only race to run the World Vet Track before the big race. For more info go to www.remsatmx.com
A MOTOCROSS WIFE'S POEM: I WISH I WAS A BIKE
Don't send us any more poems, even if it does sync with the music from  "These Boots Are Made For Walking." We are only running this one because it came from ace photographer Debbie Tamietti and Jeannette DeGraaf—the wives of Val Tamietti and Pete DeGraaf.  We are okay with this poem because we have blocked any more emails from them.
ENDUROCROSS COMING TO BOISE ON OCT. 26
For more info go to www.endurocross.com
MXA COVER OF THE WEEK: A QUICK DIP IN THE PACIFIC OCEAN

MXA knew a beach, just north of Malibu, that was pretty secluded. Our plan was to shoot an "On Any Sunday" style beach shot with the setting sun, 1986 Yamaha YZ250 and MXA test rider Larry Brook. Oh yeah, we had to shoot it before the police came.  As we were shooting, the tide kept coming in and Larry's beach berm shots were suddenly ocean berm shots. This photo was shot as the sun set, with the flash lighting up Larry and the back glow of the sun turning the Pacific Ocean foam into a golden froth. Great photo, great day and no cops.
MXA PRODUCT SPOTLIGHT: PRO CIRCUIT YZ125/YZ250 SHOCK LINKAGE

Pro Circuit is excited to announce the release of our new linkage arm for the 2006-2020 YZ125/250 models. The Pro Circuit Linkage Arm is designed to stiffen up the initial linkage curve and enhance the geometry of the chassis, greatly improving stability and traction. The linkage arm is CNC-machined from billet aluminum, making it a strong improvement in strength, durability and performance over OEM. The Pro Circuit Linkage Arm is a key addition that any 2006-2020 Yamaha YZ125/250 two-stroke rider can benefit from. The retail price is $224.95 at www.procircuit.com
EVERY YEAR THE AMA PICKS THE BEST NATIONAL TROPHY—THIS TROPHY BLOWS THEM OUT OF THE WATER

The trophies for this weekend's Halloween-themed REM Octobercross are among the best we've ever seen.
WHAT'S LEFT ON THE 2019 RACE CALENDAR
The 2019 Dubya Wheels-sponsored World Vet Motocross Champion is only 3 weeks away.
2019 AUSTRALIAN SUPERCROSS CHAMPIONSHIP
Nov. 11…………………………..Wollogong, New South Wales
Nov. 16…………………………..Auckland, New Zealand
Nov. 30…………………………..Melbourne, Victoria
KTM MOTO TOUR TEST RIDE DATES
Nov. 2……………………………..Rio Bravo, TX
Nov. 10…………………………..Highland Park, GA
2019 WORCS OFF-ROAD CHAMPIONSHIP
Nov. 22-24……………………….Primm, NV
2019 AMA ENDUROCROSS CHAMPIONSHIP
Oct. 26…………………………….Boise, ID
2016 REM OCTOBERCROSS
Oct. 26…………………………..Glen Helen, CA
MARTY TRIPES BIG-3 TWO-STROKE SERIES
Oct. 26…………………………..Cahuilla Creek, CA
Nov. 16…………………………..Glen Helen, CA
2019 DUBYA WORLD VET VINTAGE CHAMPIONSHIP
Nov. 1…………………………….Glen Helen, CA
2019 DUBYA WORLD VET CHAMPIONSHIP
Nov. 1-3…………………………Glen Helen, CA
2019 PARIS SUPERCROSS
Nov. 9-10……………………….Paris, France
2019 DAY IN THE DIRT 22
Nov. 28-Dec. 1……………..Glen Helen, CA 
7TH ANNUAL KURT CASELLI RIDE DAY
Dec. 14…………………………..Glen Helen, CA 
YOU DO THE MATH! SUBSCRIBE TO MXA & GET A $25 CHAPARRAL GIFT CARD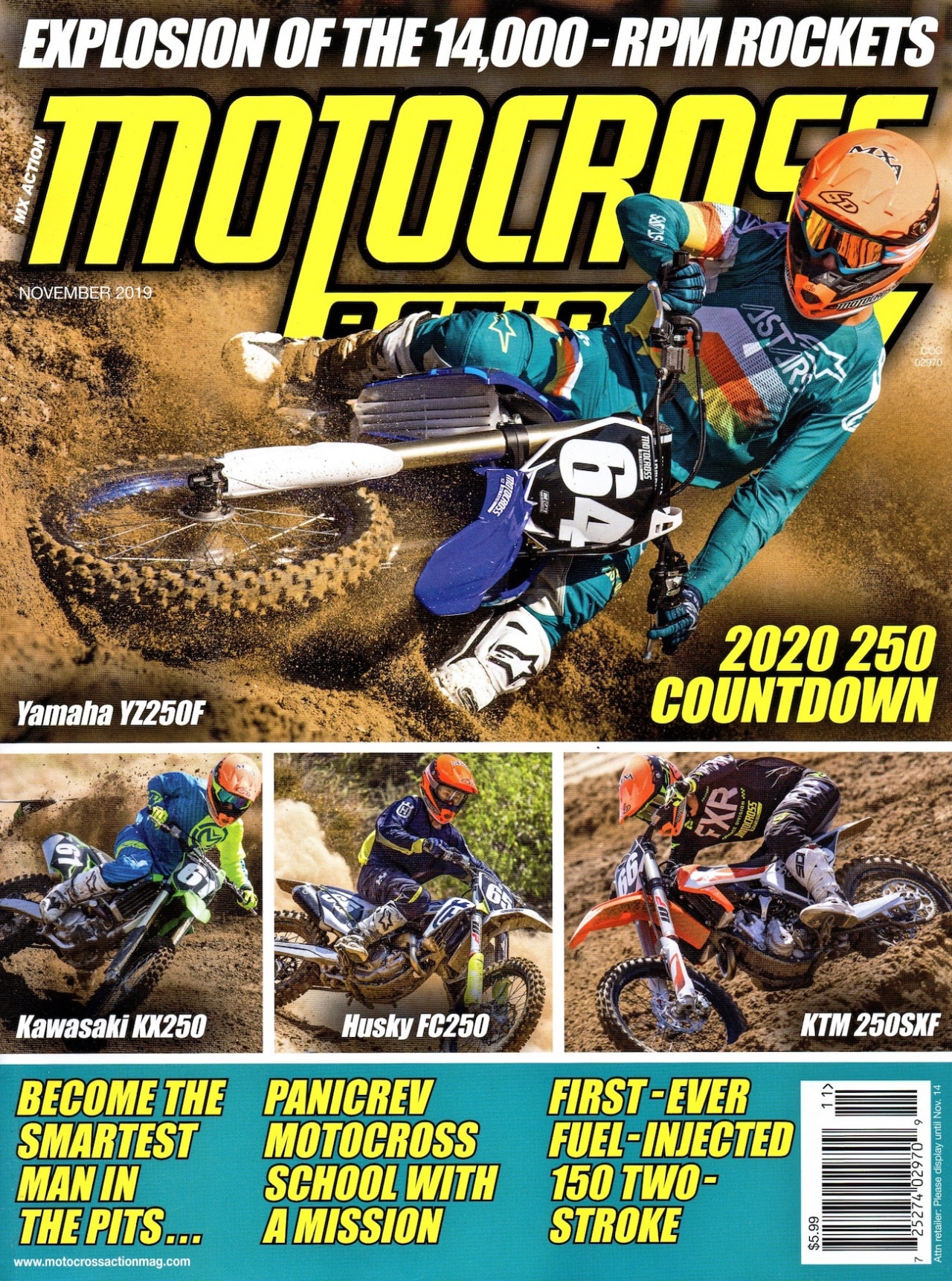 If you subscribed to Motocross Action,  you could be spending your gift money at Chaparral right now.
If you subscribe to MXA you can get the mag on your iPhone, iPad, Kindle or Android by going to the Apple Store, Amazon or Google Play or in a digital version. Even better you can subscribe to Motocross Action and get a $25 Chaparral gift card to spend on whatever motorcycle parts or products you need. And the awesome print edition will be delivered to your house by a uniformed employee of the U.S. Government. You can call (800) 767-0345 or Click Here (or on the box at the bottom of this page).
MXA'S FIRST RIDE OF THE 2020 SUZUKI RM-Z450
2019 WORLD VET MOTOCROSS CHAMPIONSHIP ON NOV. 1-3

For more info go to www.glenhelen.com
MAKE YOUR SOCAL RACING VACATION A REALITY: RIDE GLEN HELEN, MILESTONE, CAHUILLA CREEK, PALA, PERRIS & MORE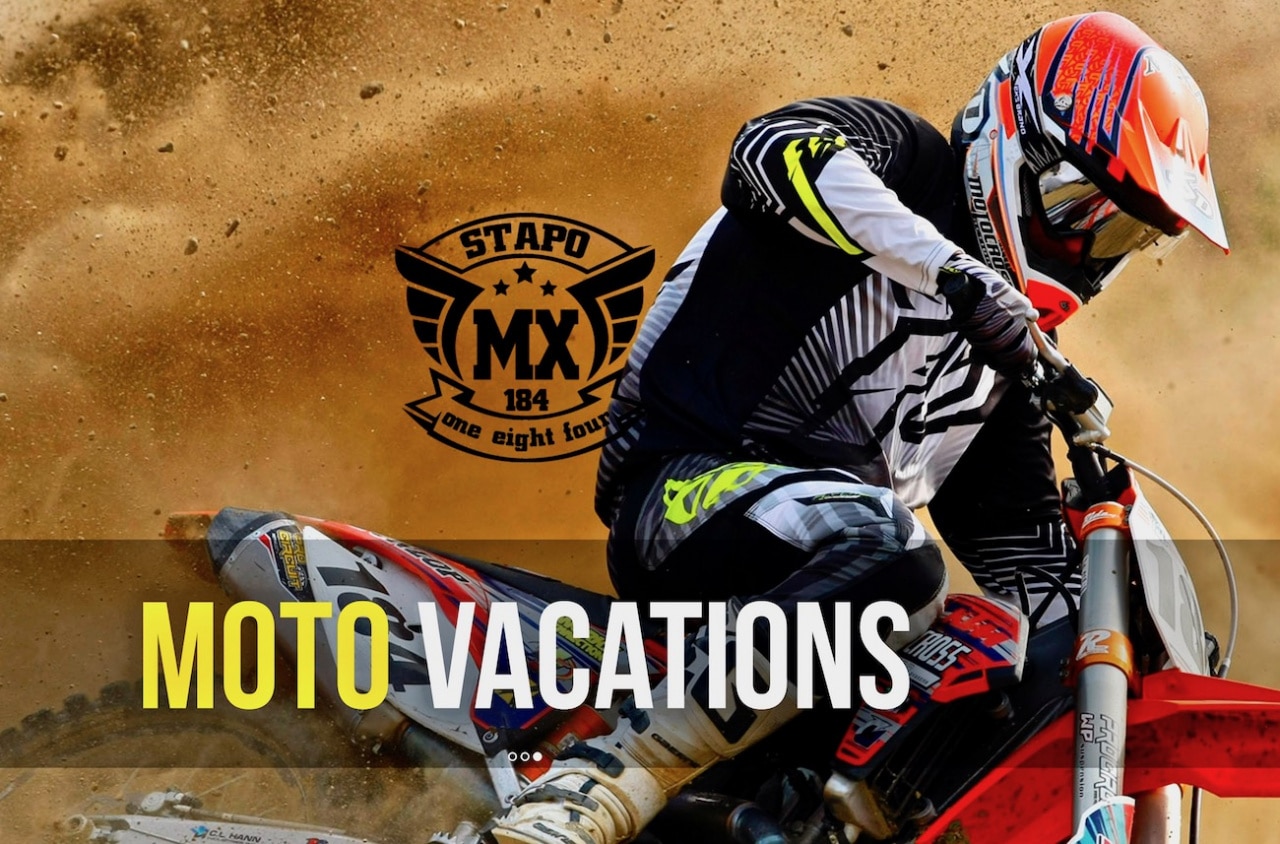 In his spare time, when he's not testing with MXA, racing in a foreign country, going to Japan or helping many of his motocross buddies, Dennis has the time to open up his house, garage, bikes and mechanics to help riders who would like to come to SoCal on a motocross vacation. He offers full service to all of the Southern California tracks for racers or for play riders.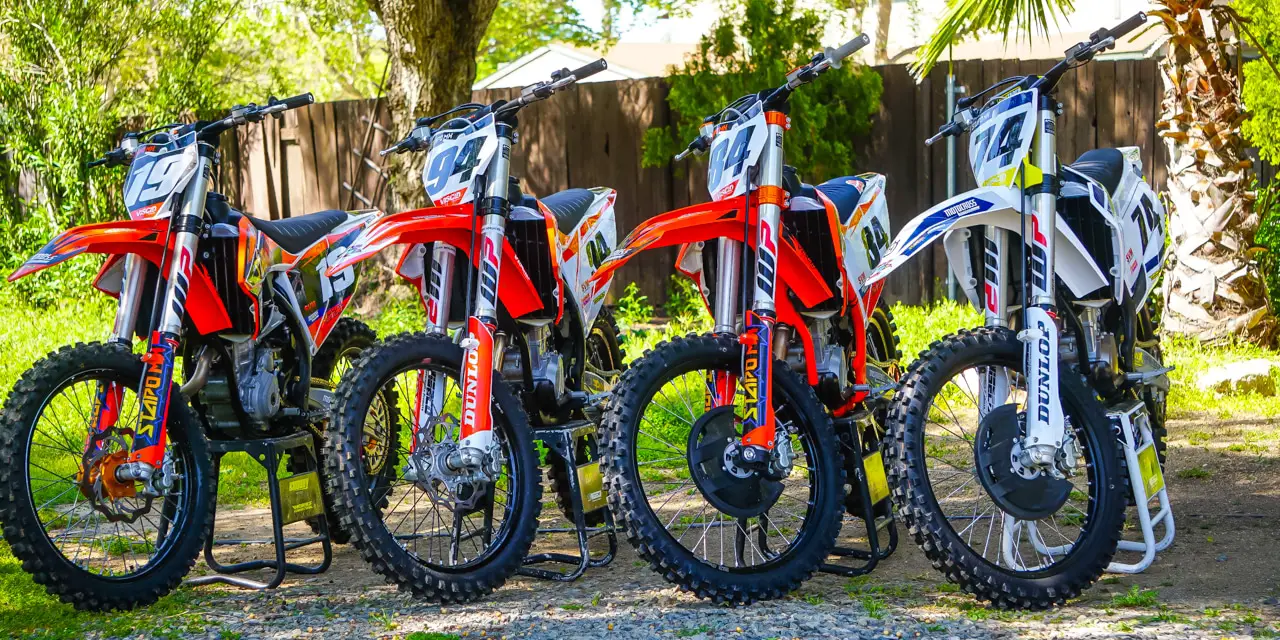 If you're coming out to Southern California and need a rental bike, check out KnobbyShop South/StapoMX for all your rental needs. They offer Motocross Vacations, bike rentals and motocross lessons. Just send them an email ([email protected]). If you'd like to live the SoCal lifestyle for a day, a weekend, a week, a month or three months visit Dennis' website at www.stapomx.com for more details!
2019 MOTO BEACH CLASSIC AT BOLSA CHICA ON OCT. 26
The Moto Beach Classic short track and dirt track race returns to Bolsa Chica State Beach Saturday, October 26th for more Click Here.
2019 LAKE ELSINORE GRAND PRIX ON NOV. 8-10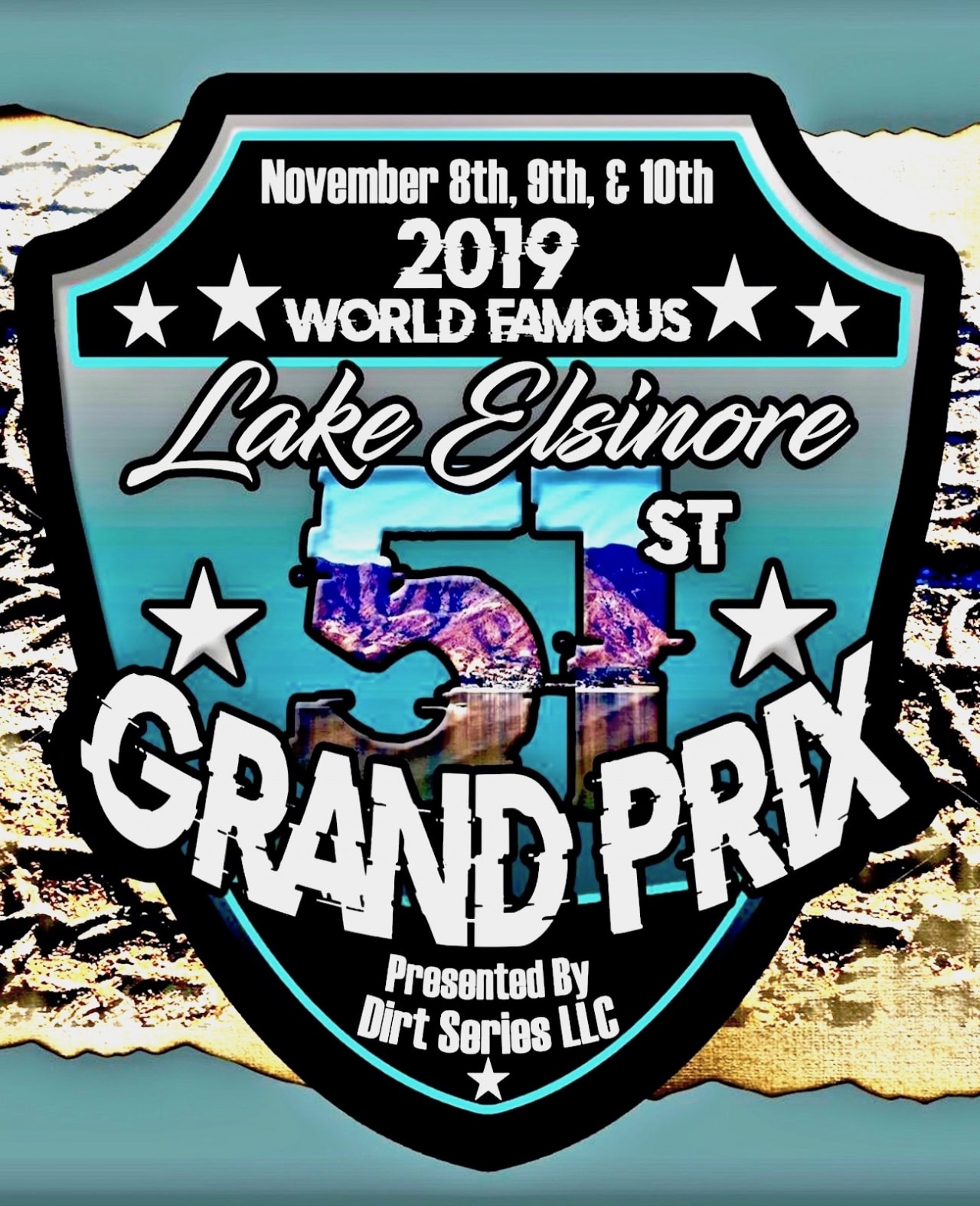 For more information go to www.elsinoregrandprix.com
CAMPREV WINTER EVENT AT FLORIDA'S DREAMLAND ON NOV. 20-22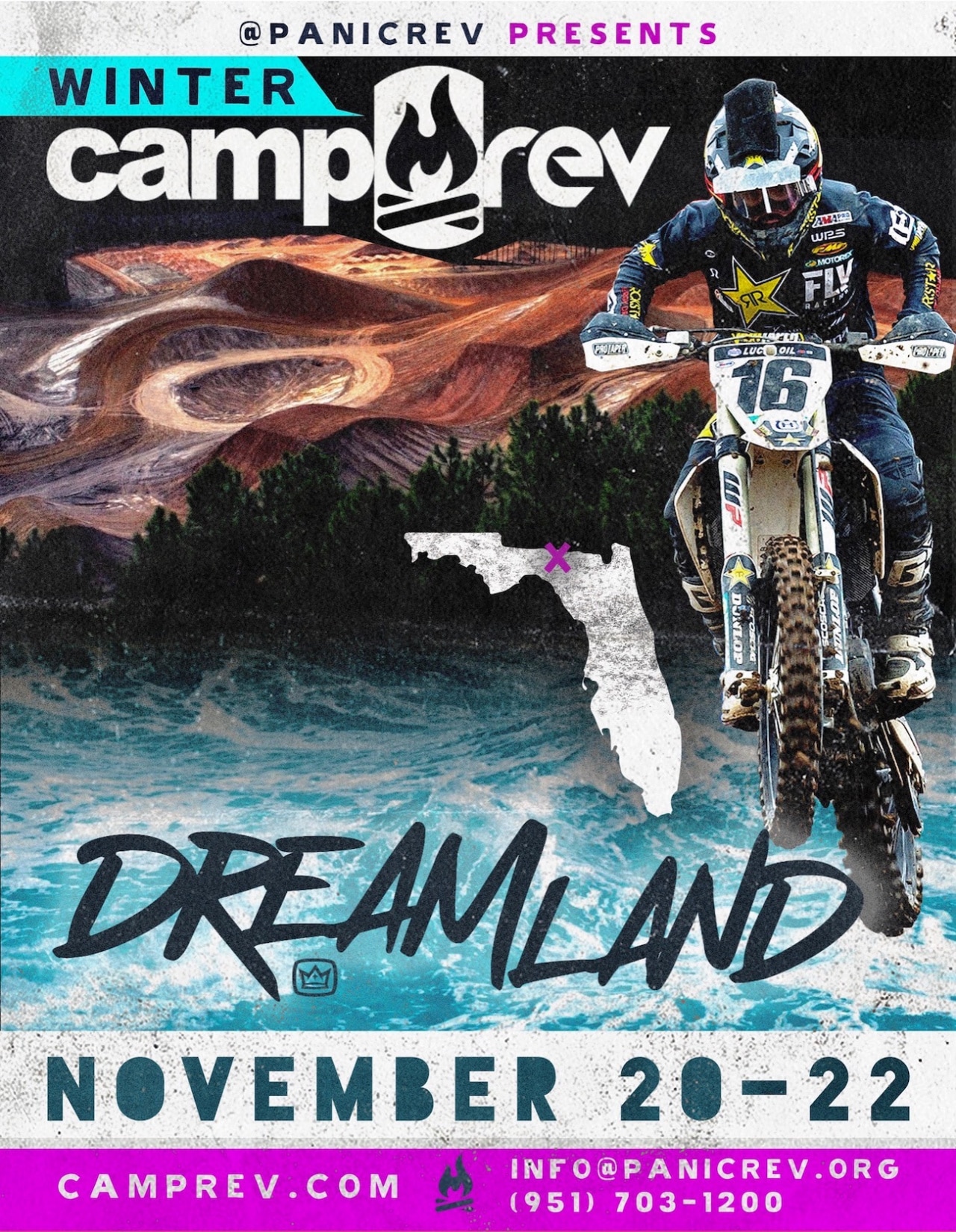 It is going to be a great great time in Florida at CampRev. For more info go to www.camprev.com.
"DAY IN THE DIRT" GRAND PRIX ON NOV. 29 – DEC. 1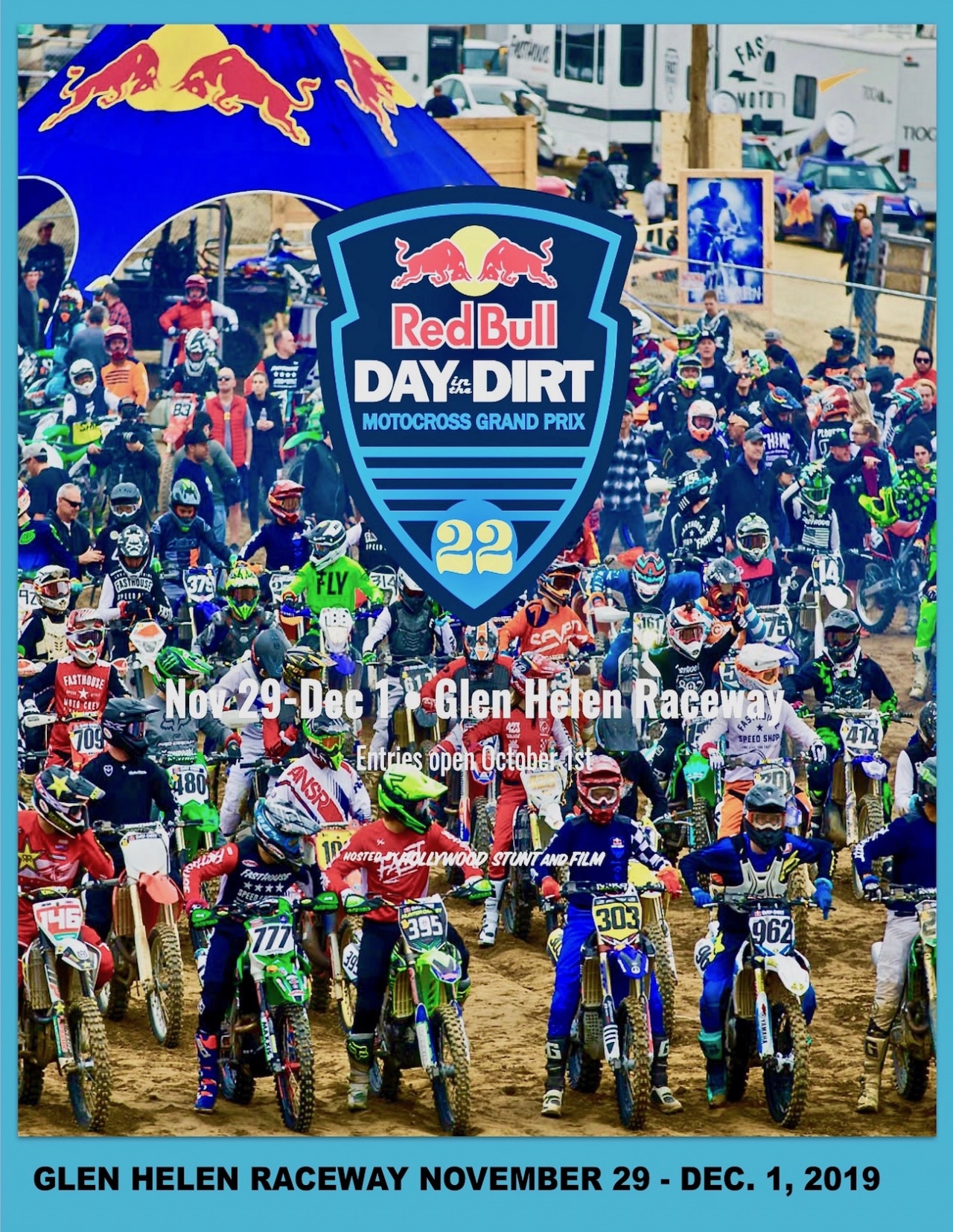 For more info go to www.adayinthedirt.com
7TH ANNUAL KURT CASELLI RIDE DAY AT PALA ON DEC. 14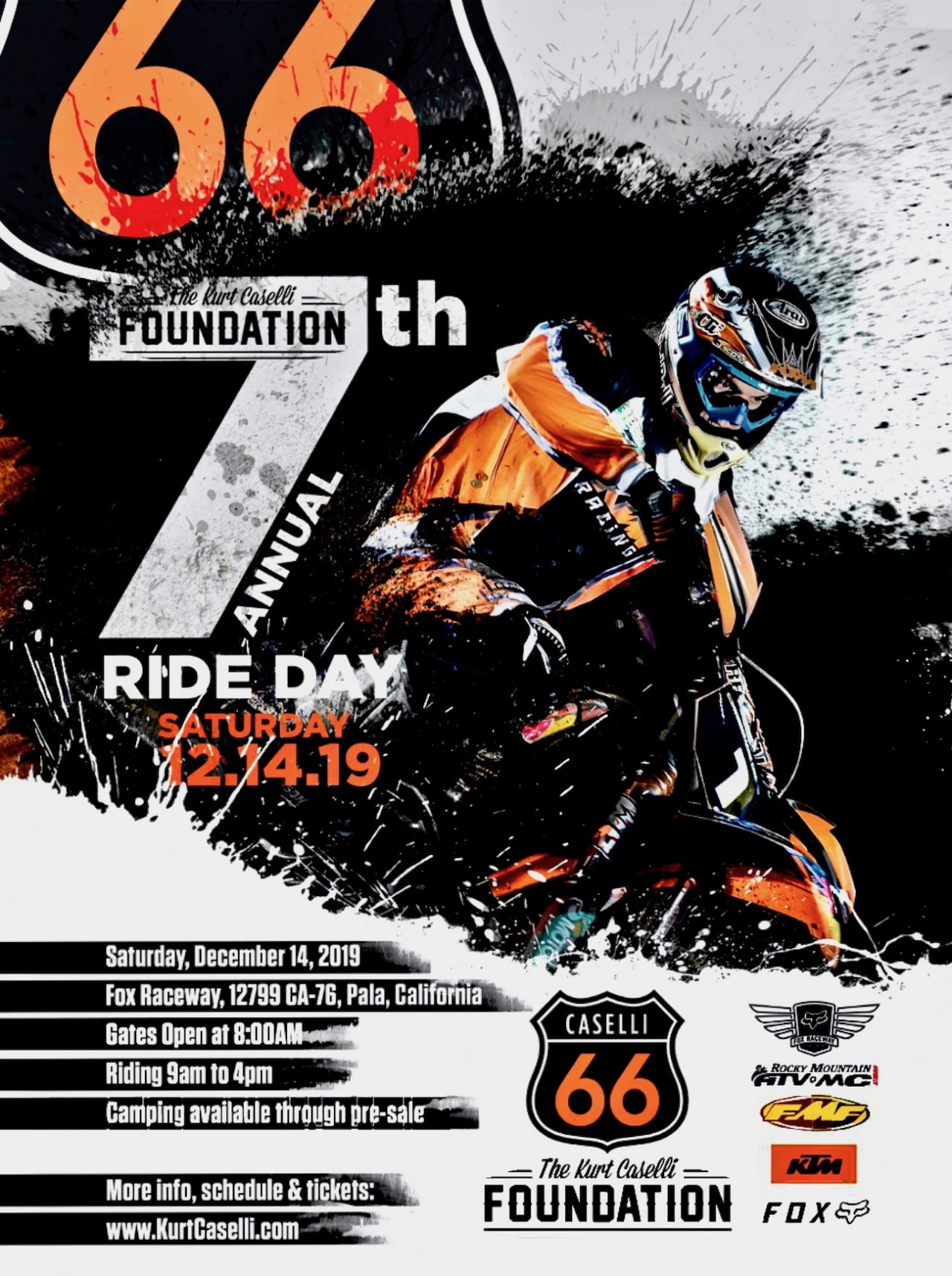 At Pala Raceway from 9:00 a.m. to 4:00 p.m. on December 14. For more info go to www.kurtcaselli.com
MXA'S FIRST RIDE OF THE 2020 KTM 450SXF
LOOKING AHEAD! THE 2020 RACE CALENDAR


2020 AMA SUPERCROSS
Jan. 4…Anaheim, CA
Jan. 11…St. Louis, MO
Jan. 18 …Anaheim, CA
Jan. 25…Glendale, AZ
Feb. 1…Oakland, CA
Feb. 8…San Diego, CA
Feb. 15…Tampa, FL
Feb. 22… Arlington, TX
Feb. 29… Atlanta, GA
Mar. 7…Daytona Beach, FL
Mar. 14…Indianapolis, IN
Mar. 21…Detroit, MI
Mar. 28…Seattle, WA
Apr. 4…Denver, CO
Apr. 18…Foxborough, MA
Apr. 25…Las Vegas, NV
May 2…Salt Lake City, UT
2020 AMA ARENACROSS CHAMPIONSHIP
Jan. 3-4…Loveland, CO
Jan. 11…Hobbs, NM
Jan. 24-25…Oklahoma City, OK
Jan. 31-Feb. 1… Denver, CO
Feb. 7-8…Reno NV
Feb. 28-29…Salt Lake City, UT
Mar. 7… Amarillo, TX
2020 AMA NATIONAL CHAMPIONSHIP
May 16…..Hangtown, CA
May 23…..Pala, CA
May 30….Thunder Valley, CO
Jun. 6……Jacksonville, FL
June 20…Mt. Morris, PA
June 27…Southwick, MA
July 4……Red Bud, MI
July 18….Millville, MN
July 25….Washougal, WA
Aug. 15…Unadilla, NY
Aug. 22…Budds Creek, MD
Aug. 29…Crawfordsville, IN
2020 FIM MOTOCROSS WORLD CHAMPIONSHIP
Mar. 1…Great Britain
Mar.8…Holland
Mar. 22…Argentina
Apr. 5…Italy #1
Apr. 19…Spain
Apr. 26…Portugal
May 10…France
May 17…Italy #2
May 24…Germany
June 7…Russia
June 14…Latvia
June 28…Jakarta, Indonesia
July 5…Palembang, Indonesia
July 26…Czech Republic
Aug. 2…Belgium
Aug. 16…Sweden
Aug. 23…Finland
Sept. 6.…Turkey
Sept. 13…China
Sept. 20…Italy #3
2020 FIM MOTOCROSS DES NATIONS
Sept. 13.…Ernee, France

2020 WORCS OFF-ROAD CHAMPIONSHIP
Jan. 12…Primm, NV
Feb. 23…Taft, CA
Mar. 22… Havasu, AZ
Apr. 19…Blythe, CA
May 3…Las Vegas, NV
May 30…Hurricane, UT
July 19…Prineville, OR
Sept. 20…Glen Helen, CA
Oct. 25…Cahuilla, CA
Nov. 15…Primm, NV
2020 WORCS SPRINT ENDURO
Feb. 25…Taft, CA
May 24… Mesquite, NV
July 25…Prineville, OR
Sept. 26…Glen Helen, CA
Oct. 31…Cahuilla, CA
MXA YOUTUBE CHANNEL | HIT THAT SUBSCRIBE BUTTON

The MXA wrecking crew is everything moto related. Check out our MXA YouTube channel for bike reviews, Supercross coverage, rider interviews and much more. And don't forgot to hit that subscribe button.
FOLLOW MXA ON TWITTER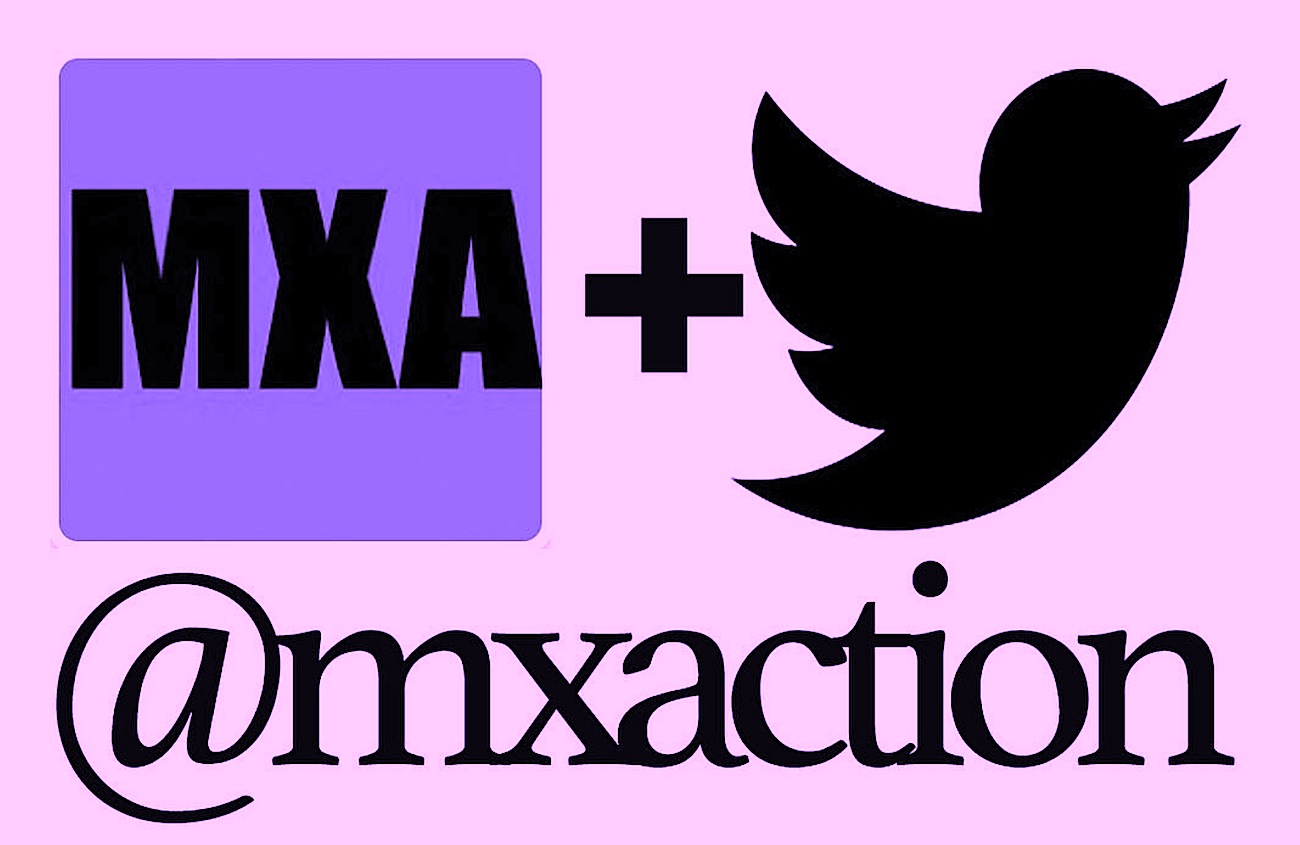 Follow us to see fresh content every day at www.twitter.com/MXAction or on twitter at "MXAction."
TALK MOTO WITH ON MXA'S FACEBOOK GROUP CHAT


We love everything moto and want to bring all moto junkies together into one place to share their two cents, ideas, photos, bike fixes, bike problems and much more. To check it out first you must need to or already have a Facebook account. If you don't, it isn't much work and you could even have an alias so nobody knows it is you. To join click HERE. After you request to join we will accept your request shortly after.
Photos: Brian Converse, Honda, Husqvarna, Daryl Ecklund, Jody Weisel MXA, KTM, Debbi Tamietti, Oset