MXA'S WEEKEND NEW ROUND-UP: ONE WEEK TO CATCH YOUR BREATH & FOCUS ON THE NEAR FUTURE
MXA FIRST RIDE VIDEO: 2021 KTM 450SXF
MXA FIRST RIDE VIDEO: 2021 YAMAHA YZ450F
MXA FIRST RIDE VIDEO: 2021 HUSQVARNA FC450
MXA FIRST RIDE VIDEO: 2021 KAWASAKI KX450
SUZUKI INTRODUCES ALL NEW MX-TUNER 2.0 PERFORMANCE TUNING SYSTEM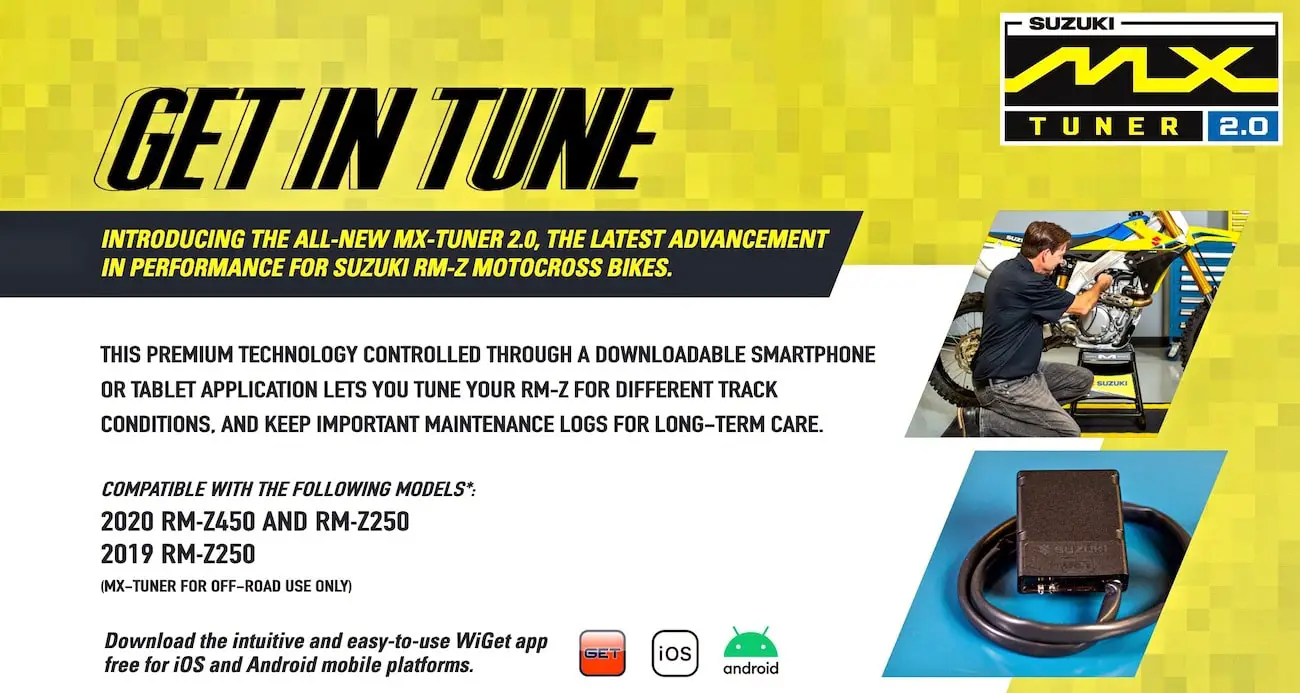 Suzuki has introduced their "new MX-Tuner 2.0" performance tuning system for the Suzuki RM-Z450 and RM-Z250. This technology allows the rider to tune their RM-Z for different track or riding conditions, keep important maintenance logs, and monitor the engine functions in real time using an easy-to-use downloadable application for a smartphone or tablet. It features four pre-programmed performance maps are available including aggressive, smooth, richer, and leaner for different riding conditions, the capability of building custom fuel or ignition maps (and they can be downloaded to the Suzuki couplers to be plugged-in at the track) and a service/monitor capability to keep track of engine run time, rpm, throttle position, system voltage and more.

The Suzuki MX-Tuner 2.0 is available through Suzuki dealers nationwide or online at Store.SuzukiCycles.com. As part of a special limited time promotion the MX-Tuner 2.0 performance tuning system is now available free with the purchase of a new 2020 RM-Z450 or 2020-2019 RM-Z250 model. The MX-Tuner 2.0 is compatible with the
2020 RM-Z450, 2020 RM-Z250 and 2019 RM-Z250.
HAVE YOU SEEN THE SEPTEMBER 2020 ISSUE OF MXA? SUBSCRIBING IS THE BEST DEAL IN  MOTOCROSS
In this issue, MXA tested and built the KTM 350SXF that we wished KTM had built in the first place back in 2011. We wanted a mid-size Open class bike, not high-rpm, big-bore 250. KTM didn't give us that, so we built what we wanted with the help of a $650 Cylinder Works 366 kit. It changed the personality and peak horsepower of the KTM 350SX for the better.
Read all about MXA's KTM 366SXF in the September issue. It could be tucked away in your mailbox by a authorized U.S. government employee if you subscribed.

HOW TO SUBSCRIBE TO MXA AND GET A $25 ROCKY MOUNTAIN ATV/MX GIFT CARD—WHICH MAKES YOUR MXA SUBSCRIPTION BETTER THAN FREE
If you subscribe to MXA you can get the mag on your iPhone, iPad, Kindle or Android by going to the Apple Store, Amazon or Google Play or in a digital version. Even better you can subscribe to Motocross Action and get the awesome print edition delivered to your house by a uniformed employee of the U.S. Government. You can call (800) 767-0345 or Click Here (or on the box at the bottom of this page) to subscribe.
MXA TEAM TESTED: PRO CIRCUIT KTM/HUSKY RISING-RATE SHOCK LINKAGE


On the 2021 models KTM is changing the rising rate shock linkage. If you'd like to update your 2020  to 2016 KTM to the latest rate, Pro Circuit has you covered. In 2016, KTM changed its rising-rate linkage. It was a major change, as the shock spring rate dropped from 57 N/mm to 48 N/mm on the 450SXF. This was a sure sign that the leverage ratio was dramatically stiffer. But, every MXA test rider felt that the 48 N/mm spring was too stiff for the rising rate. The backyard fix was to drop the 48 N/mm spring for a softer 45 N/mm spring, which KTM did in production later. Pro Circuit elected to fix the problem at the source with a completely new rising-rate shock linkage. Don't confuse this with the typical longer linkage arms. Changing the length of the link arms does not change the rising-rate curve; it only changes where on the curve the shock begins to move. Pro Circuit's system is a completely new linkage that changes the rising rate courtesy of a new eccentric bell crank and linkage arm.
WHAT'S IT COST? $349.95— www.procircuit.com or (951) 738-8050.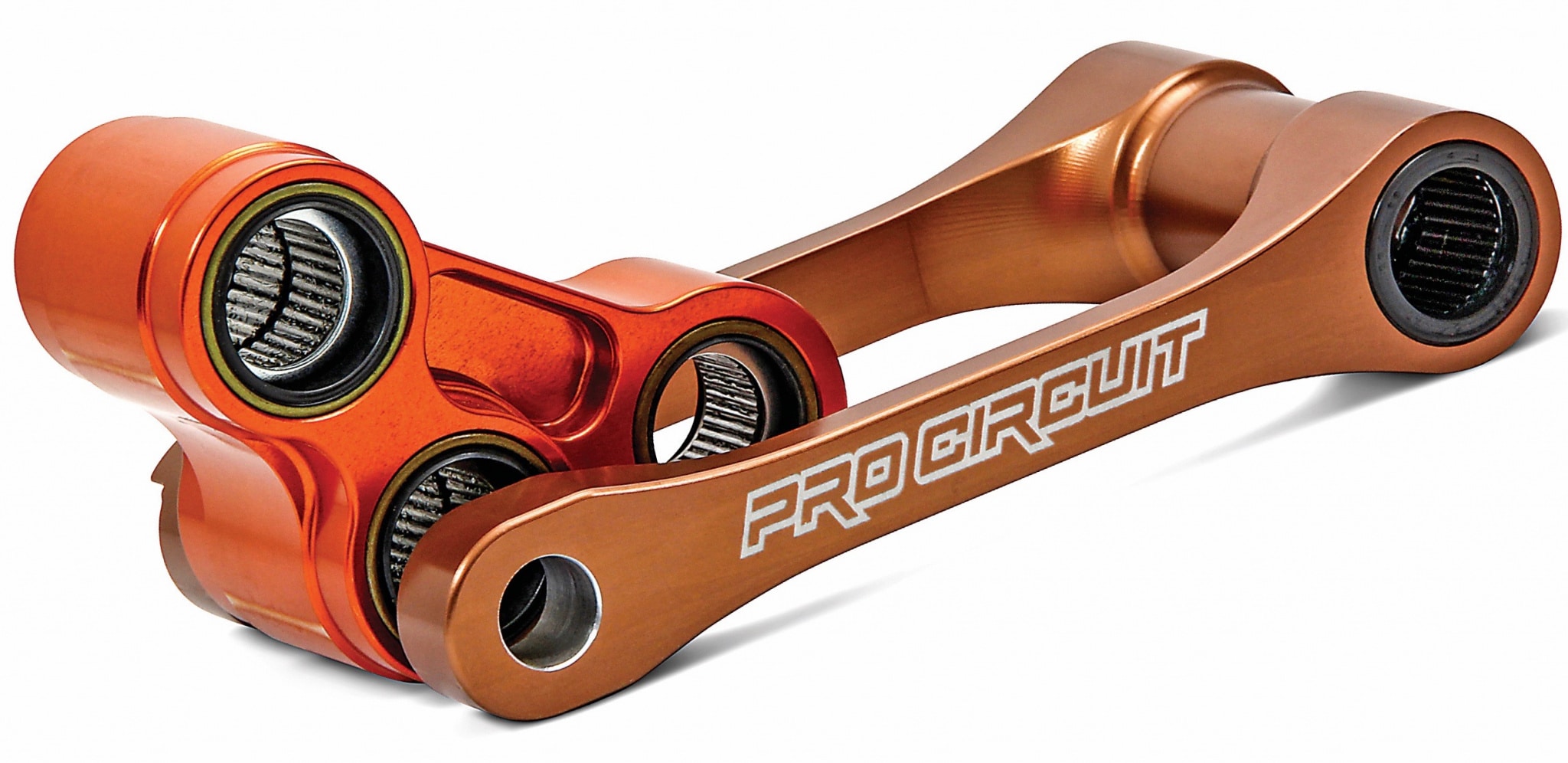 By changing the shape of the cam, an engineer can feed in stiffness or softness. For example, in Supercross, bottoming is the biggest problem because of the size of the jumps. The engineer can change the linkage ratio to make the shock move even faster as it gets deeper into its travel, which would result in a massive increase in damping. Voila! No bottoming. Conversely, the cam's shape can be changed to make the linkage ratio more linear, which translates into less rate of change in the speed of the shock shaft and a plusher feel.
The previous generation (pre-2016) of OEM KTM shock linkages delivered an unwanted soft feeling. The 2016 to 2020 OEM shock linkage was redesigned to make the shock stiffer, but KTM went a little too far and got a sensation that was both harsh and stagnant. Pro Circuit's rising-rate linkage utilizes some of the mechanical advantages of both designs to allow for the use of a more true-to-weight spring rate and linkage-ratio sweet spot. In essence, Pro Circuit split the difference between the soft pre-2016 linkage and the stiffer 2016–2020 ratio.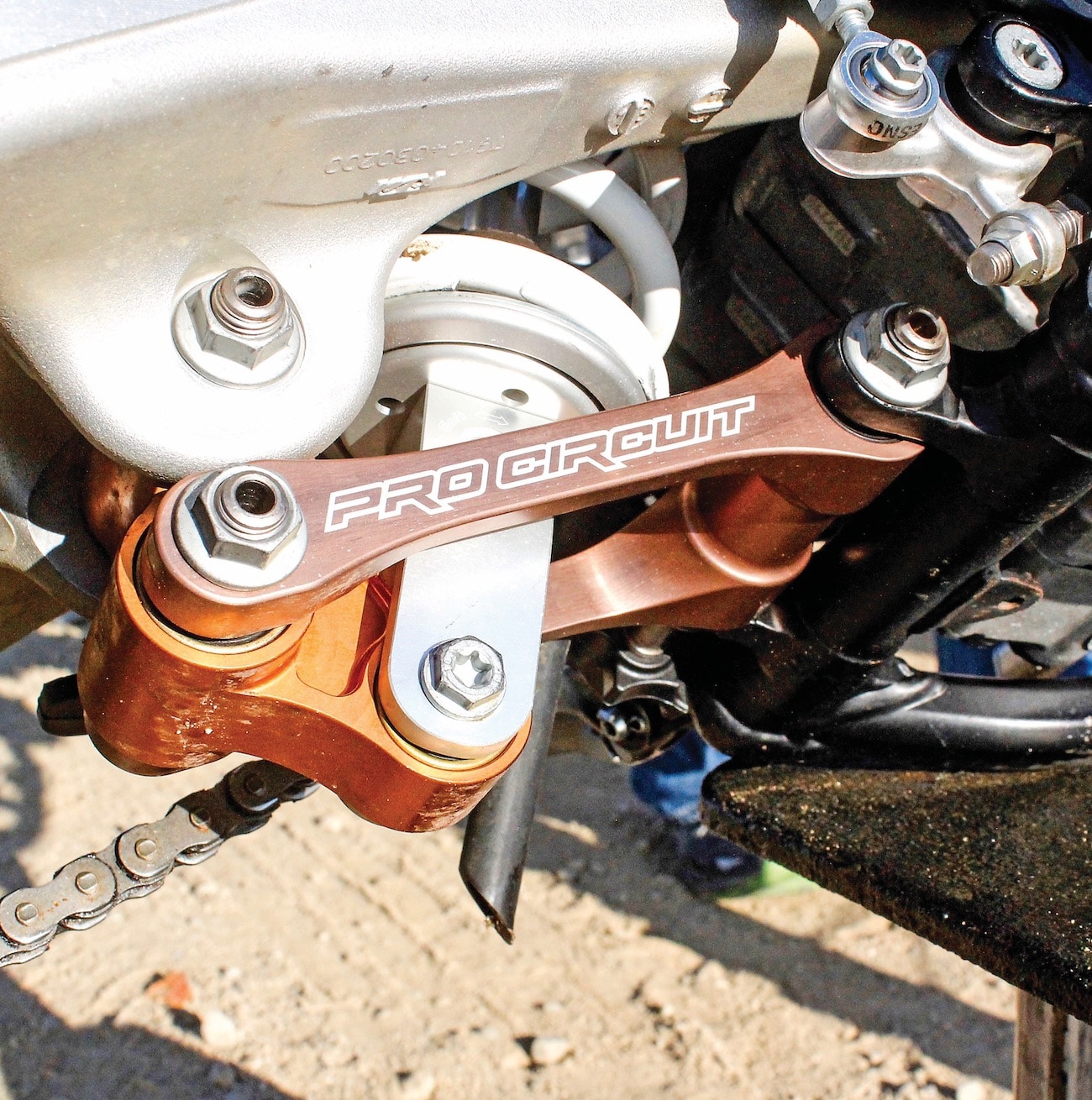 There are two significant improvements to the Pro Circuit KTM linkage over the stock KTM linkage. One, there is a noticeable improvement in rear-wheel traction, which corresponds to a big reduction in deflection off of square-edged bumps. The mechanical advantage at the rear wheel is improved by an average of 7 percent across the full travel of the rear suspension. Two, most MXA test riders complained that the WP shock delivers a stagey feel in its mid-stroke, as though it is actually hanging up for a second before continuing on. These spikes in the curve are improved by 10 percent to allow the shock to feel more fluid through its stroke.
We tested the Pro Circuit link on our 2020 KTM 450SXF. We started with the stock shock spring. It hated the new linkage. We replaced the 45 N/mm shock spring with a stiffer 48 N/mm spring and everything was rosy. The performance of the rear suspension improved considerably, the stagey feeling disappeared and the shock felt ultra plush throughout the stroke.
MXA RATING: Once you find the proper spring rate (and for riders under 200 pounds, we would start with a 48 N/mm spring). The KTM suspension works better over small bumps and has a smoother transition through its full stroke. It loses the stagey feel that made the KTM rear feel as though it had three different phases to the shock stroke. This is a solid suspension mod.
COMING TO ESPN2 ON AUGUST 15: THE PASTRANALAND PIT BIKE CHALLENGE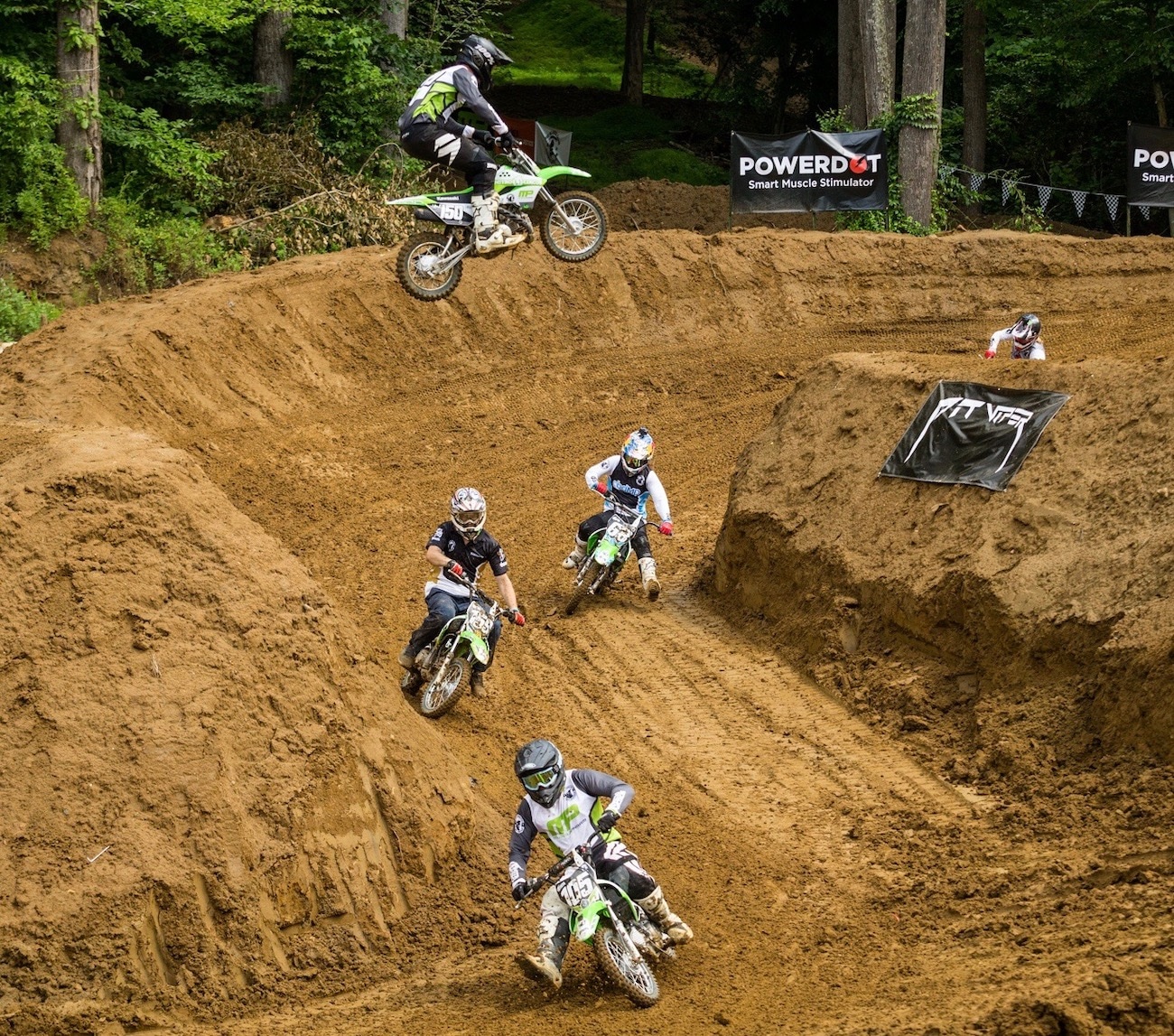 The "Pastranaland Pit Bike Championship" which will air on ESPN2 on Saturday, August 15, is not the best pit bike motocross racers in the country going head to head against each other, but a mix of motorcycles racers (Travis Pastrana, Ryan Sipes, Gared Steinke, Justin Sipes, A. J. Catanazaro, Phil Smage and Tarah Geiger) paired with and against mountain bike racers. There will be 11 teams of two riders each, drawn from across the action sports world, will battle in this high-octane contest on miniature versions of motocross bikes on a one-of-a-kind course with banked turns, ramp-to-ramp jumps and an over-under crossover. The Pastranaland Pit Bike Championship is presented by Tractor Supply Company .It will included all of the typical Nitro Circus shenanagins, but it isn't a serious pit bike race without the legendary Carson Brown in the mix.
MXA PHOTO OF THE WEEK: FROM LAST SATURDAY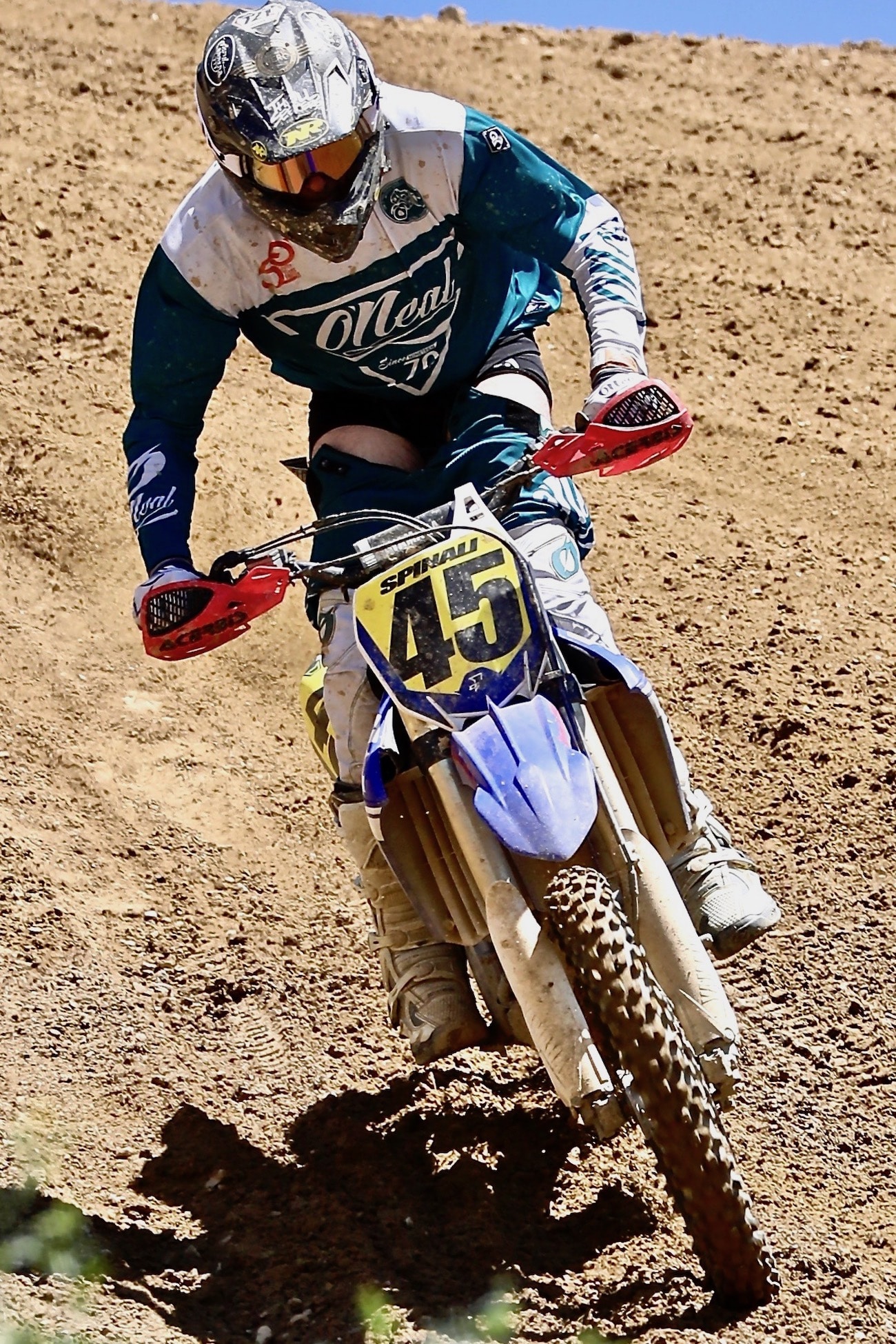 Look closely at this photo of racer Giovanni Spinali. Notice anything unusual? He was leading the Over-50 Expert class at REM Glen Helen last Saturday when his pants fell down. Given that they are O'Neal pants with a wrap-around belt that means he didn't cinch the belt. Unbelievably, even though Giovanni legs were locked together, he held on to finish third. Photo: Debbi Tamietti

MXA PHOTO OF THE WEEK: FROM THREE YEARS AGO

This rare shot shows four Suzuki RM-Z450 riders blasting off the line together at the final 2017 AMA 450 National. The riders are Weston Peick (32), Justin Barcia (51), Justin Bogle (19) and Matt Biscelgia (43). Photo: Brown Dog Wilson
MXA PHOTO OF THE WEEK: FROM 37 YEARS AGO

MXA has been testing motocross bikes since 1973. This 1983 MXA 250 Shootout photo was memorable not just because of its unique set-up, but because the four MXA test riders from 34 years ago were (from top to bottom) Gary Jones, Jody Weisel, David Gerig and Lance Moorewood. Photo: Ketchup Cox
"CANCELED" IS THE NEW DIRTY WORD: 20 EVENTS THAT GOT EJECTED, REJECTED & DEJECTED IN 2020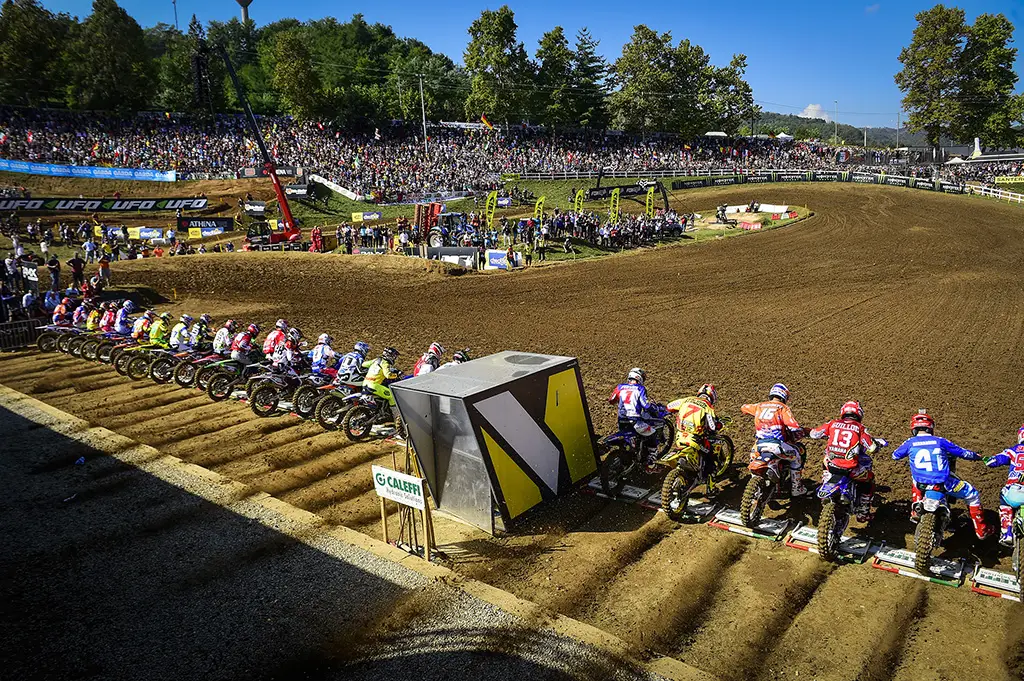 Every event that was canceled because of the coronavirus was a loss for the sport, but losing the Motocross des Nations hurts the most. It had an unbroken string of 73 years. MXGP should have done everything in their power to hold it, but instead the killed it.
2020 HANGTOWN NATIONAL
Canceled
2020 MAMMOTH MOUNTAIN MOTOCROSS
Canceled
2020 REM COMMOTION BY THE OCEAN
Canceled
2020 MOTOCROSS DES NATIONS
Canceled
2020 MONSTER ENERGY CUP
Canceled
2020 LAKE ELSINORE GRAND PRIX
Canceled
2020 COLOGNE MOTORCYCLE SHOW
Canceled
2020 EICMA MILAN MOTORCYCLE SHOW
Canceled
2020 WORLD SIDECAR MOTOCROSS CHAMPIONSHIP
Canceled
2020 ERZBERG RODEO
Canceled
2020 INTERNATIONAL SIX DAYS OF ENDURO (ISDE)
Canceled
2020 AIM EXPO SHOW
Canceled
2020 SUPERCROSS EVENTS
Indianapolis…Canceled
Detroit….Canceled
Seattle…Canceled
Denver…Canceled
Foxborough…Canceled
Las Vegas…Canceled
ASK THE MXPERTS: SHOULD I SIT OR STAND WHEN MEASURING RACE SAG?
In order to eliminate variations in how different test riders measure sag, MXA uses a Slacker digital sag scale and drills a pilot hole in the rear fender of each test bike to insure that every measurement is accurate.
Dear MXA,
Every time I have someone help me set the race sag on my bike, they tell me to stand up, but if I am standing up, they tell me to sit down. What's the proper way?
It doesn't matter. That is not to say that the measurements won't differ, but since your plan is to ride the bike after setting the sag, you will be the final arbiter of whether the sag is too high, too low or just right. Measure the sag however you want, but once you find the perfect number, always measure the sag using the same method. The stand-up method does eliminate the variations of where you sit on the saddle. If you sit even 1 inch farther back than the last time, the sag will change. Be consistent, whichever method you choose.
MXA PRODUCT SPOTLIGHT: PRO CIRCUIT PISTON & SPARK PLUG T-SHIRTS AVAILABLE NOW

Pro Circuit Spark Plug T-shirt.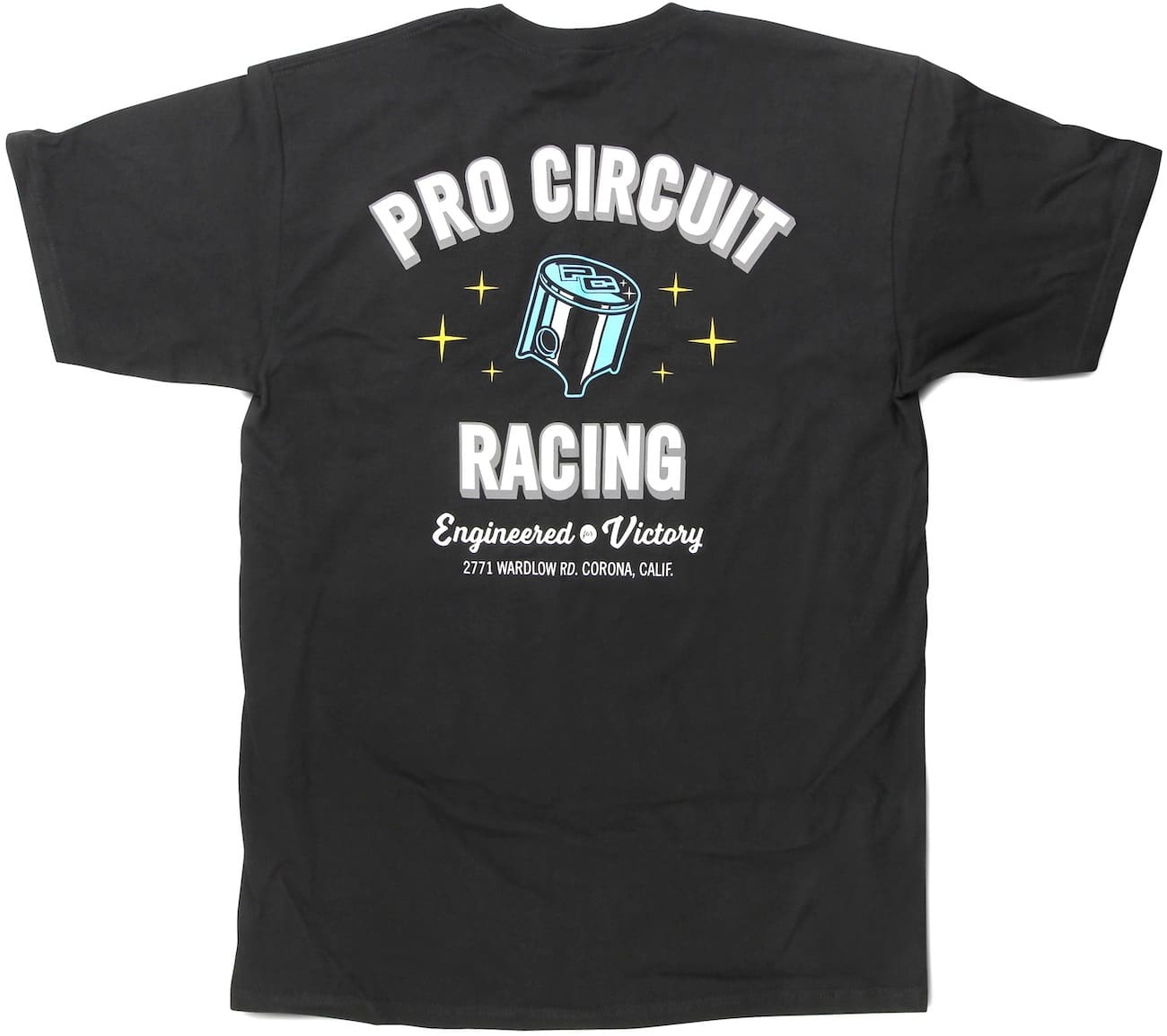 Pro Circuit Piston T-shirt.
Two new Pro Circuit tees are now available in the shop, bagged up and ready to head out to customers. The batch  includes our Piston Tee with a custom racing graphic on the back as well as a small piston print on the wearer's left chest and our Spark Plug Tee pays tribute to the '99 race team graphic kit with its swirling reds and blues, plus the iconic spark plug artwork. Both tees are the ultimate in style and are the perfect items to complete any motocross fan's wardrobe. The retail price is $24. For more info go to www.procircuit.com.
MXA TESTS A TM 660 WORLD SIDECARCROSS CHAMPIONSHIP RIG
THE AMA 250/450 NATIONALS START IN 9 DAYS—WHERE WILL THEY BE AFTER THAT?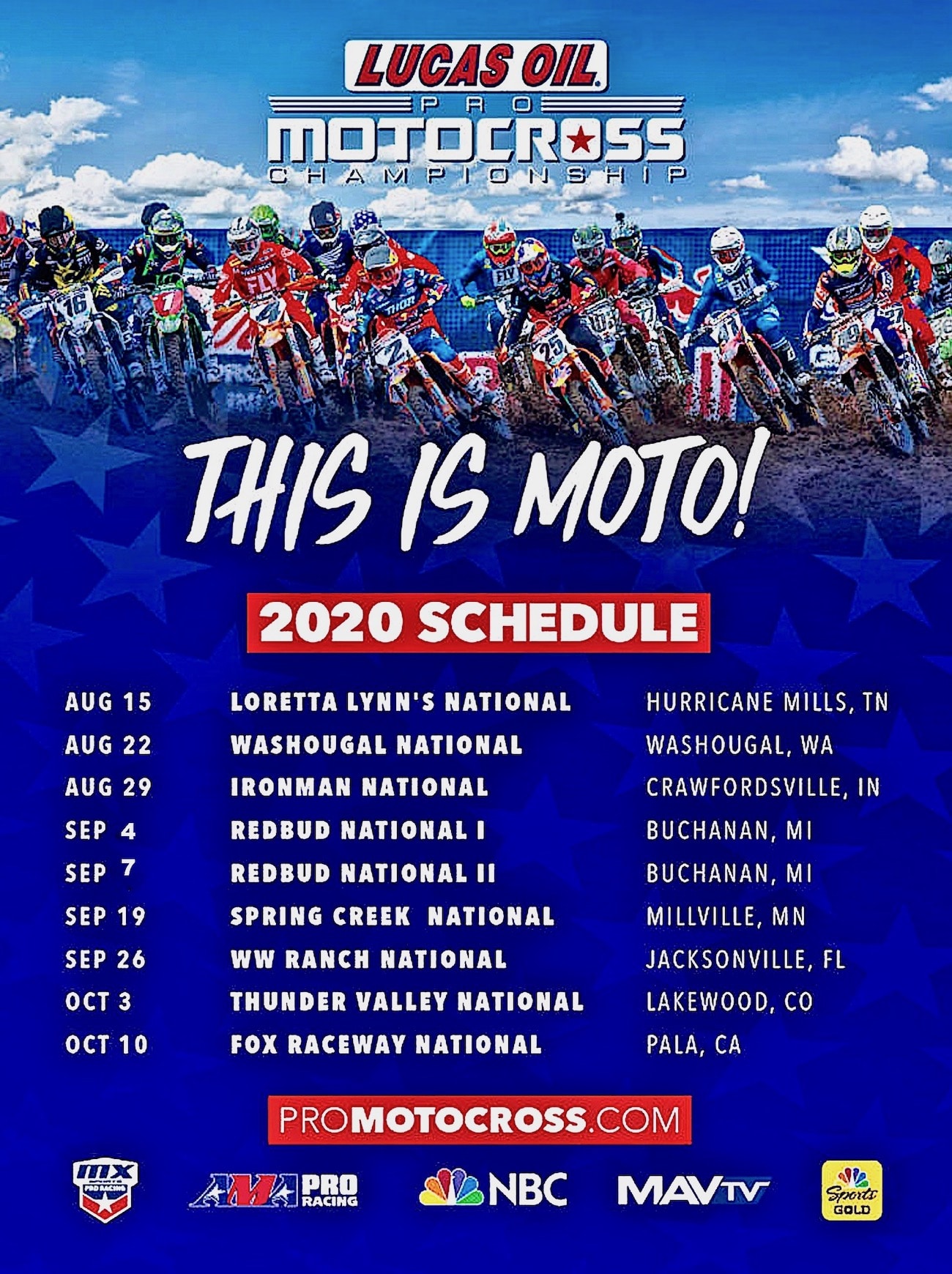 TENTATIVE AMA NATIONAL  MOTOCROSS CHAMPIONSHIP
Aug. 15…Hurricane Mills, TN
Aug. 22…Washougal, WA
Aug. 29…Crawfordsville, IN
Sept. 4 (Friday)…Red Bud, MI
Sept. 7 (Monday) …Red Bud, MI
Sept. 19…Millville, MN
Sept. 26…Jacksonville, FL
Oct. 3…Lakewood, CO
Oct. 10…Pala, CA, CA
For more information go to www.promotocross.com
MXA AD OF THE WEEK: SINISALO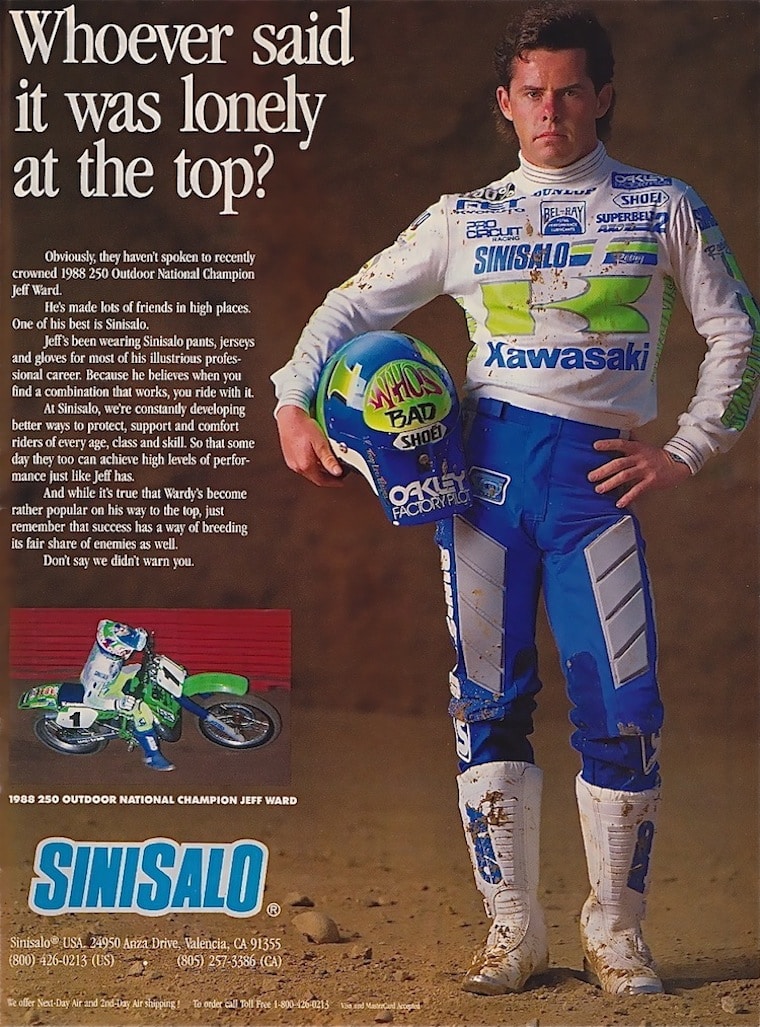 Sinisalo was a popular gear brand in the 1980s and 1990s.
Sinisalo gear was made in Finland and designed clean and attractive gear. It is best known for innovating BioFoam panels into the thighs and hip area of their pants and for their classic color combos. This is Jeff Ward in 1988. Sinisalo USA was located on Anza Drive in Valencia, California. At one time that street was home to Sinisalo, Mechanixwear, N-Style, Marzocchi, Dirt Bike Magazine and MXA.
MXA MOTO CHALLENGE: CAN YOU NAME THIS RIDER?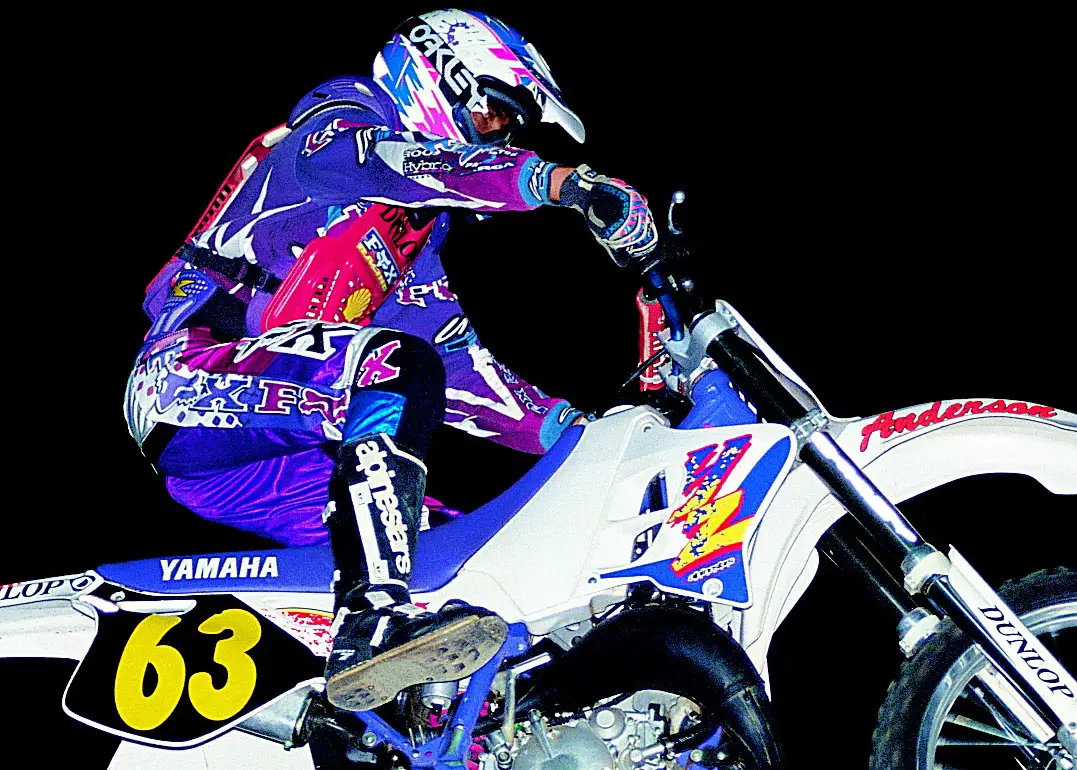 We are going to make it easy for you because his last name is on his front fender. He won an AMA 125 National and is related to another motocross star. What's his first name? Who is his relative? Answer at the bottom of the page.
KURT NICOLL'S CHAMPION MOTOCROSS SCHOOLS & VACATIONS
As soon as the borders open up, European riders can come to SoCal for their motocross holidays. Until then Kurt Nicoll is busy teaching motocross schools to American riders.
Kurt Nicoll, four-time world 500cc runner-up, 1994 Motocross des Nations winner and two-time AMA Supermoto Champion, runs Champion MX Vacations. He offers customers a complete package so all they need to do is fly in and ride a selection of fully-prepped new model machines. Based in Temecula, the home-away-from-home of American motocrossers, you'll have access to California's finest practice facilities and be located just a stone's throw away from legendary industry big-hitters including Troy Lee Designs, Pro Circuit and FMF as well as all the factory Supercross teams. For more information and prices go to www.championmx.com.
MXA PRODUCT SPOTLIGHT: HOT CAMS KAWASAKI KX250 CAMS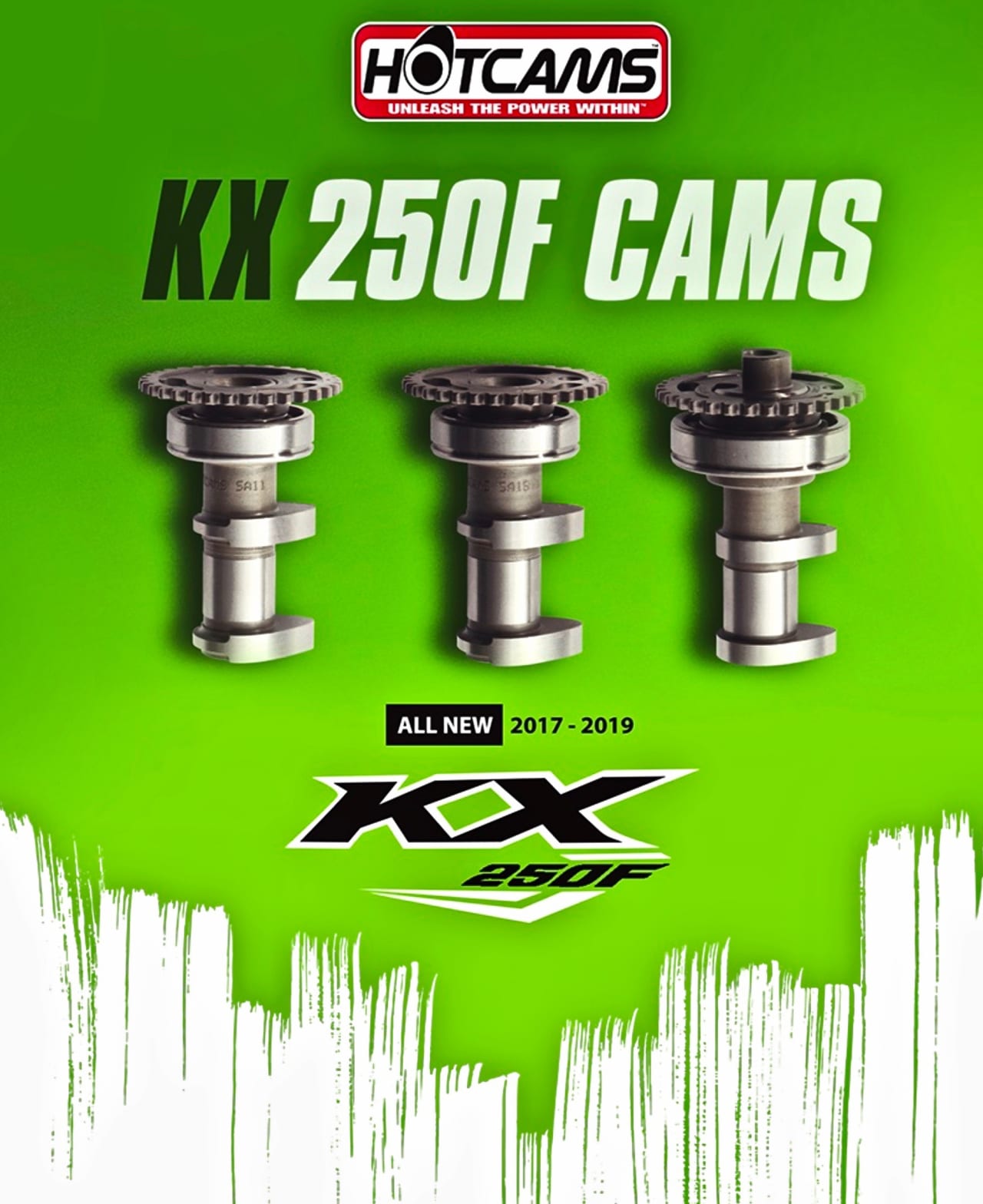 Hot Cams is the industry leader in innovation, design and development of high-performance aftermarket camshafts for dirt bikes and ATV's. Designed with industry leading valve train software and dyno proven, they provide the most reliable, economical and easy to install camshafts that add up to 10% power gain to your engine. Hot Cams camshafts for the 2017-2019 Kawasaki KX 250F are manufactured to the highest engineering standards.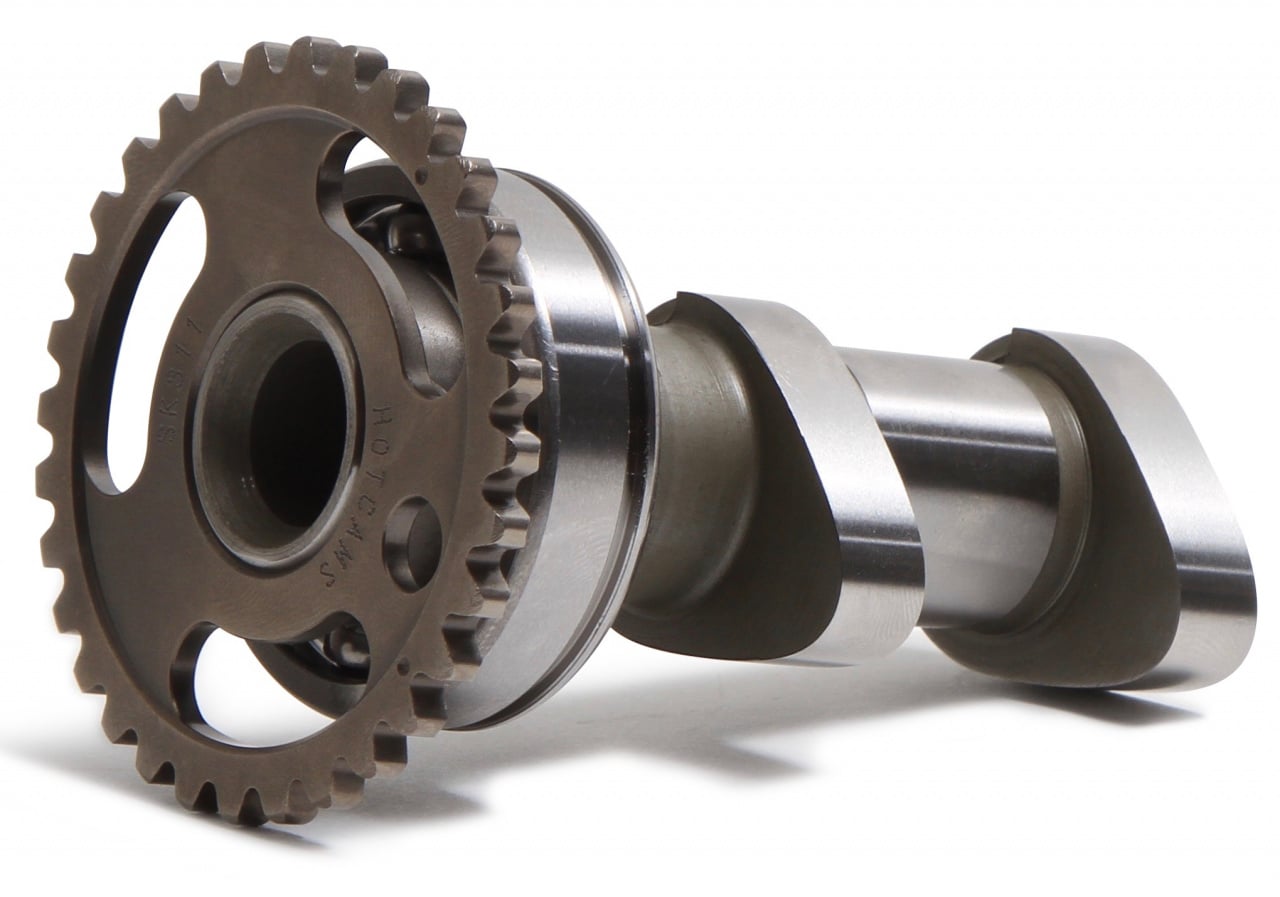 STAGE 1 INTAKE CAM
Good power increase from 4000 RPM to the redline. Designed with Improved Throttle Response technology. Uses stock valve springs. Dual-cam engine, intake and exhaust cams sold separately. Priced At $179.95.
STAGE 2 INTAKE CAM
Excellent mid-range and top-end increase over 8000 RPM. No loss on the bottom-end. Designed with Improved Throttle Response technology. Uses stock valve springs. Dual-cam engine, intake and exhaust cams sold separately. Priced At $179.95.
STAGE 1&2 EXHAUST CAM
For use with both the Stage 1 and Stage 2 intake cams. Designed with Improved Throttle Response technology. Uses stock valve springs. Dual-cam engine, intake and exhaust cams sold separately. Uses stock auto-decompression mechanism. Priced At $199.95. Get them at your local dealer or call (515) 402-8000 for more info.
2020 GREAT PLAINS VINTAGE MOTOCROSS SERIES: AUG. 9 & OCT. 11
For more information about the Great Plains Vintage Series go to www.greatplainsvintagemx.org
THE 32:1 PREMIX CLASSIC COMING TO LAST CHANCE RACEWAY ON SEPT. 11-13
For more information about the September 11-13 race in Montana go to www.lastchancemx.com.
2020 WISECO WORLD TWO-STROKE MOTOCROSS CHAMPIONSHIP WILL BE HELD ON OCTOBER 3, 2020
For more information go to www.glenhelen.com
2020 OLD SCHOOL SCRAMBLES SERIES ON OCT. 4, OCT. 18 & DEC. 20 AT GLEN HELEN

For more information go to www.ossrg.org
40TH ANNUAL CZ WORLD CHAMPIONSHIP RESCHEDULED FOR OCTOBER 9-10 AT MARYSVILLE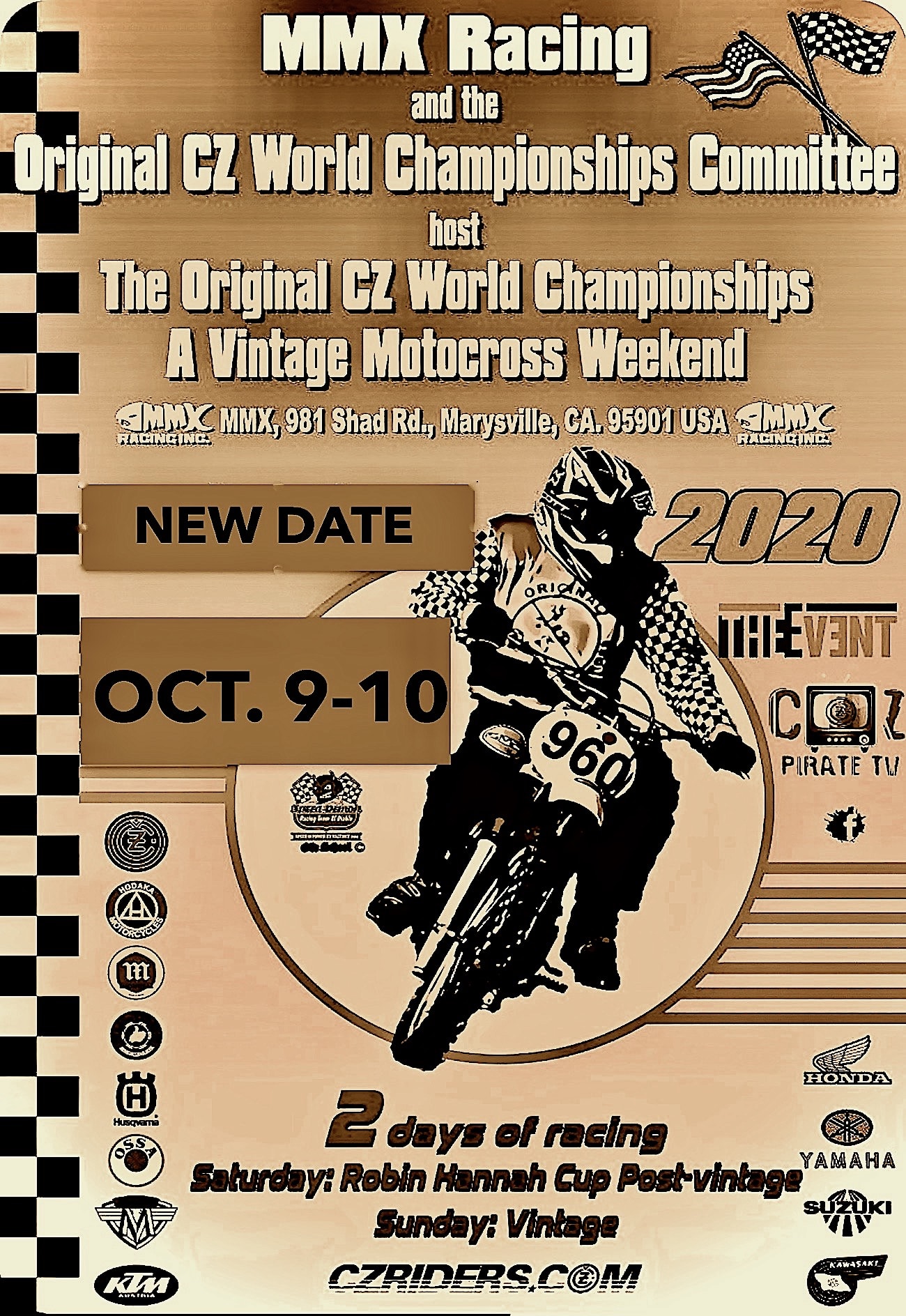 Dating back to 1980 when MXA's Jody Weisel, Ketchup Cox and Pete Maly talked Saddleback Saturday promoter Jim Beltnick into holding a CZ race, the CZ World Championship is now on its 40th anniversary in 2020. For more information go to www.czriders.com
36TH ANNUAL WORLD VET MOTOCROSS CHAMPIONSHIP ON NOVEMBER 6-8: PRE-ENTRY OPEN NOW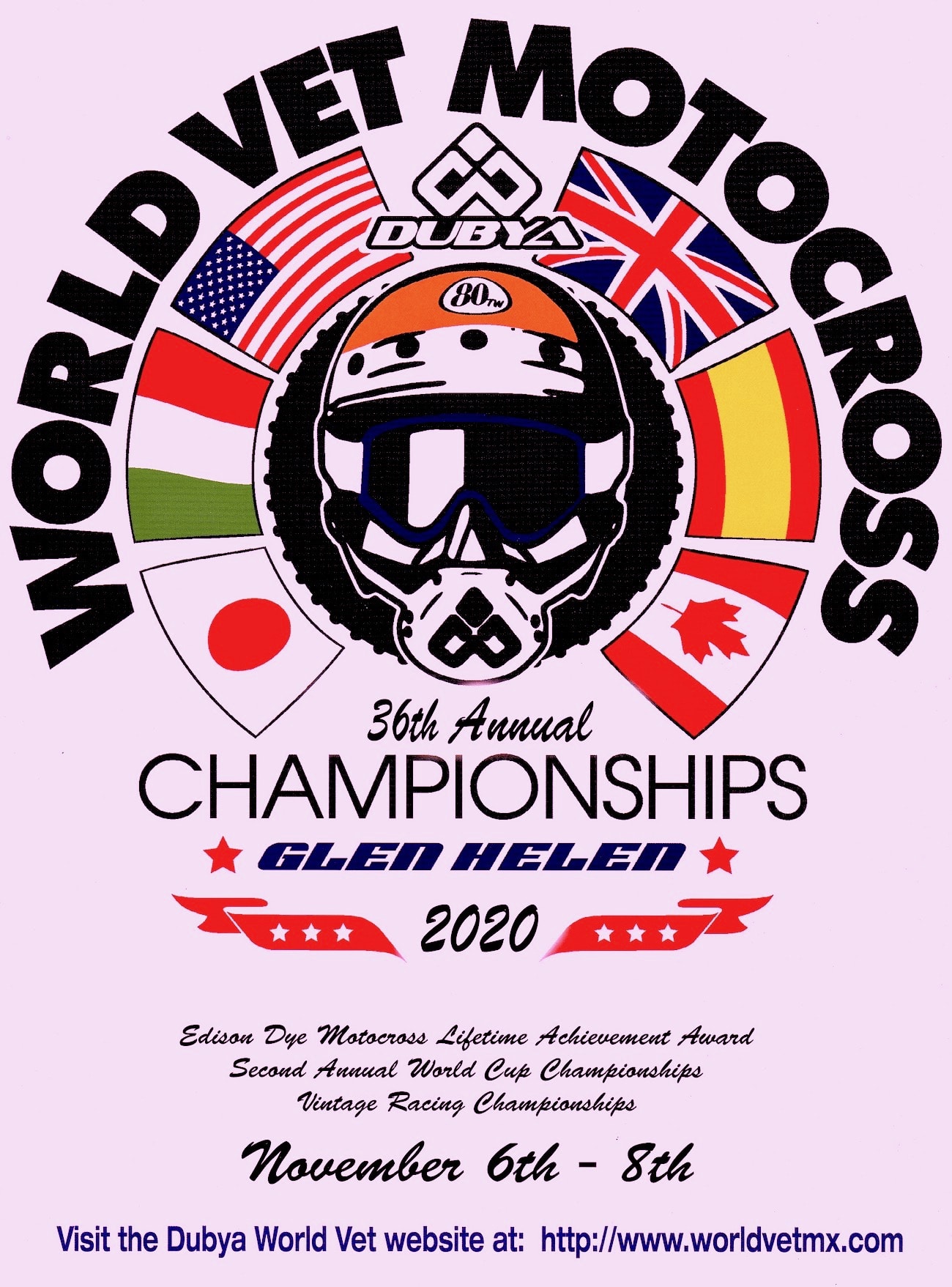 Save money and time by submitting your online pre-entries now. The Dubya World Vet MX Championships takes place on Saturday and Sunday, with Sunday being the World Vet Motocross Championship Day. For additional savings riders have the option to sign-up for both Saturday and Sunday!
Pre-Entry Fees
Saturday & Sunday $100 | $90 Second Class
Saturday Only $70 | $60 Second Class
Sunday Only $70 | $60 Second
https://secure.tracksideprereg.com/glenhelen/index.asp?event=83&mc_cid=66136c7217&mc_eid=3c9b324536 For more information go to www.worldvetmx.com
GLEN HELEN'S 24-HOUR ENDURANCE RACE SCHEDULED FOR NOVEMBER 21-22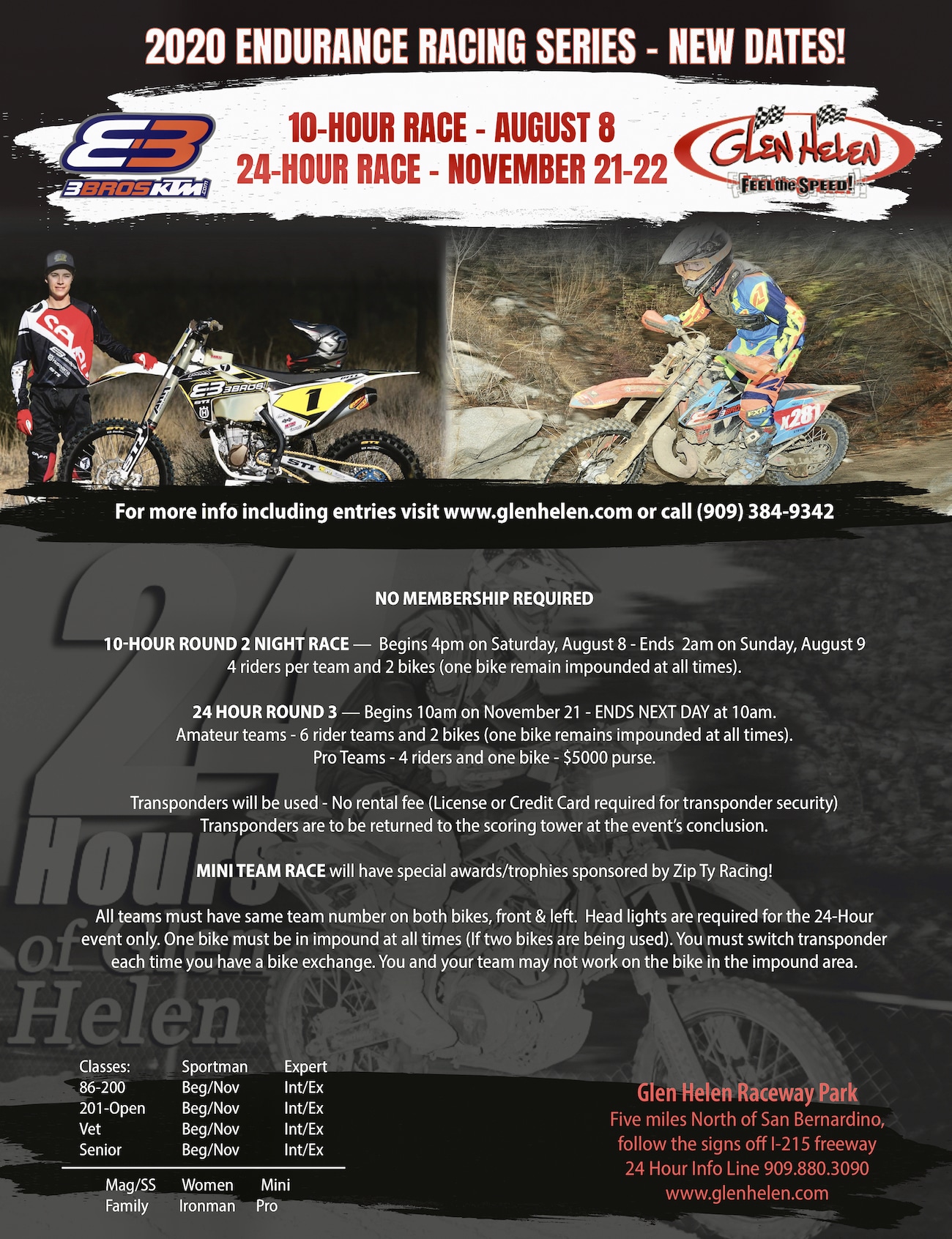 Glen Helen's 3Bros-sponsored 24-Hour off-road endurance race is scheduled forNovember 21-22.The 24-Hour of Glen Helen will begin on November 21 at 10:00 a.m. and end on Sunday, November 22 at 10:00 a.m. The amateur teams can have 6 riders and two bikes, but the Pro teams can only have 4 riders and must finish the 24 hours on the one bike. Headlights are required for the 24-hour. For more info go to www.glenhelen.com.
THE EVER CHANGING 2020 RACE SCHEDULES
We are almost where we should have been back in May. It was a long delay, but the 2020 AMA 250/450 National series will start on  August 15 and feature 9 rounds—counting two back-to-back races at Red Bud on Friday, September 4 and Monday, September 7.

TENTATIVE AMA NATIONAL  MOTOCROSS CHAMPIONSHIP
Aug. 15…Hurricane Mills, TN
Aug. 22…Washougal, WA
Aug. 29…Crawfordsville, IN
Sept. 4 (Friday)…Red Bud, MI
Sept. 7 (Monday) …Red Bud, MI
Sept. 19…Millville, MN
Sept. 26…Jacksonville, FL
Oct. 3…Lakewood, CO
Oct. 10…Pala, CA, CA
REVISED 2020 FIM MOTOCROSS WORLD CHAMPIONSHIP
Mar. 1…Matterley, Great Britain (Held)
Mar. 8…Valkenswaard, Holland (Held)
Aug. 9…Kegums, Latvia
Aug. 12…Kegums, Latvia
Aug. 16…Kegums, Latvia
Sept. 6.…Afyonkarahisar, Turkey
Sept. 16…Faenza, Italy
Sept. 20…Faenza, Italy
Sept. 30…Mantova, Italy
Oct. 4…Mantova, Italy
Oct. 11..Arroyomolinos, Spain
Oct. 18…Lommel, Belgium
Oct. 21…Lommel, Belgium
Oct. 25…Lommel, Belgium
Nov. 1…Trentino, Italy
Nov. 22…Neuquen, Argentina
2020 FIM MOTOCROSS DES NATIONS
CANCELED
REVISED 2020 BRITISH NATIONAL CHAMPIONSHIP
Aug. 2…Hawkstone Park
Aug. 23…Landrake Motoparc
Sept 6…Cusses Gorse
Oct. 4… Fatcat Motoparc
REVISED 2020 ACU MOTOCROSS BRITISH CHAMPIONSHIP
Aug. 29 (Saturday)…Foxhill
Aug. 31 (Monday)…Foxhill
Sept.13… Little Silver
Sept. 27…Blaxhall
REVISED 2020 CANADIAN NATIONAL CHAMPIONSHIP
July 25-26…Courtland, ON
Aug…8-9…Walton, ON
Aug. 16…Walton, ON
Aug. 29-30…Sand Del Lee, ON
Sept. 5-6….Deschambault, QC
REVISED 2020 AUSTRALIAN NATIONAL MOTOCROSS CHAMPIONSHIP
Aug. 9…Connondale. QLD
Aug. 6…Maitland, NSW
Sept. 16…Newry, VIC
Sept. 12…Horsham, VIC
Oct. 4…Gympie, QLD
Oct. 11…Coolum, QLD
2020 WISECO WORLD TWO-STROKE CHAMPIONSHIP
Oct. 3…Glen Helen, CA
2020 DUBYA WORLD VET MOTOCROSS CHAMPIONSHIP
Nov. 6-8…Glen Helen , CA
JOIN MXA'S FLIPBOARD PAGE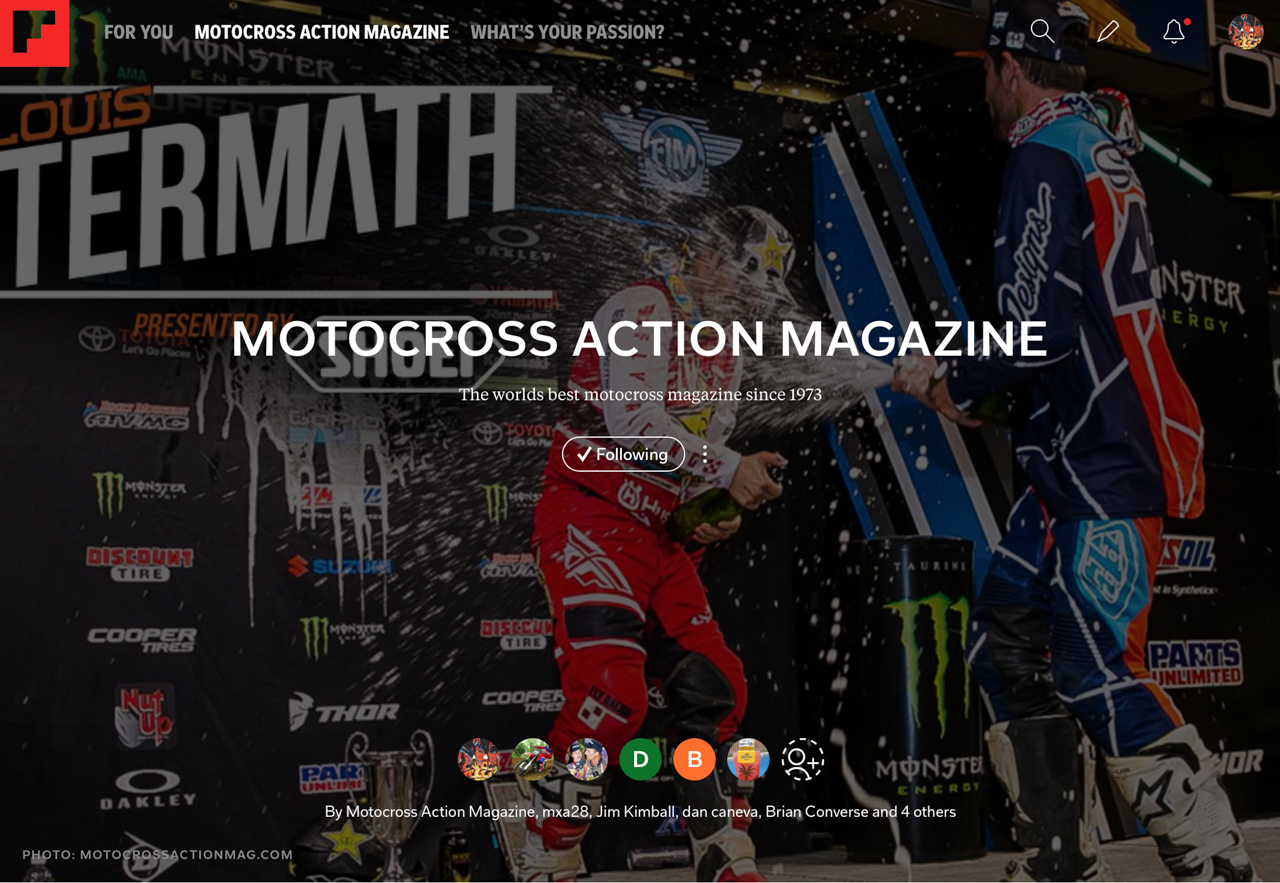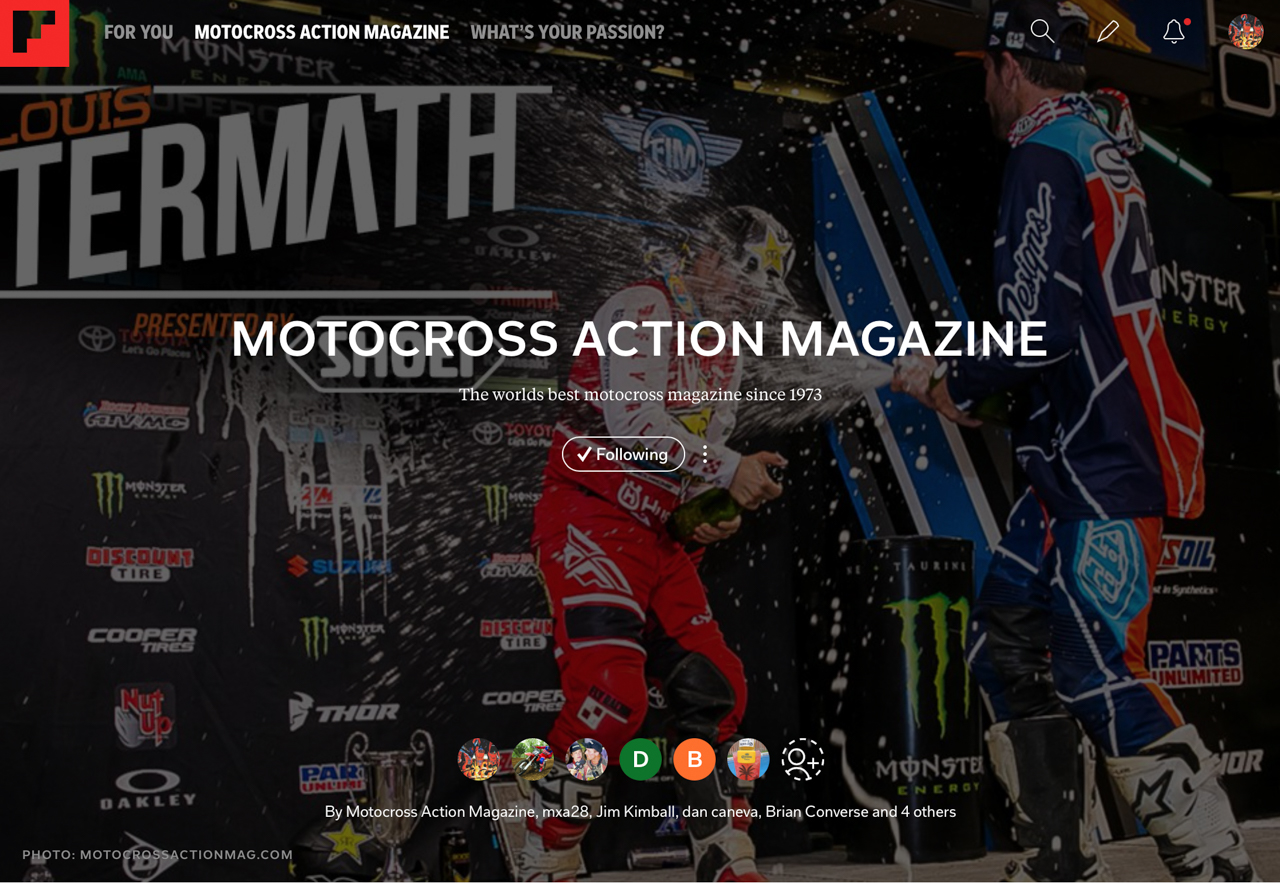 If you use Flipboard make sure to subscribe to the Motocross Action page for all the updates on our website. Click HERE to check out the page.