MXA WEEKEND NEWS ROUND-UP: ONLY 3 BIG RACES LEFT
Click on images to enlarge
• THE BOMBS OF THE 2016 SEASON

STRAIGHT RHYTHM
Red Bull shot itself in the foot this year with its rendition of the gimmicky Straight Rhythm race at the Pomona fairgrounds. It had all of the allure of a KTM photo shoot, as the only riders of note at the race were KTM sponsored riders, who all just happened to be Red Bull sponsored riders. They went 1-2 in the 450 finals and 1-2-3 in the 250 finals. The crowd, what there was of it, sat through some yawner races where unknown privateers went up against World and National Championship winners in the heat races early in the program. That was followed by the superstars facing semi-retired privateers in the middle rounds before having the final all to themselves. Yawn. The novelty of watching riders that you can't see for the first quarter mile slam through whoops and jump in a straight line has worn off. If Red Bull can't find a TV network, some Monster-sponsored riders or a new gimmick, this idea is dead.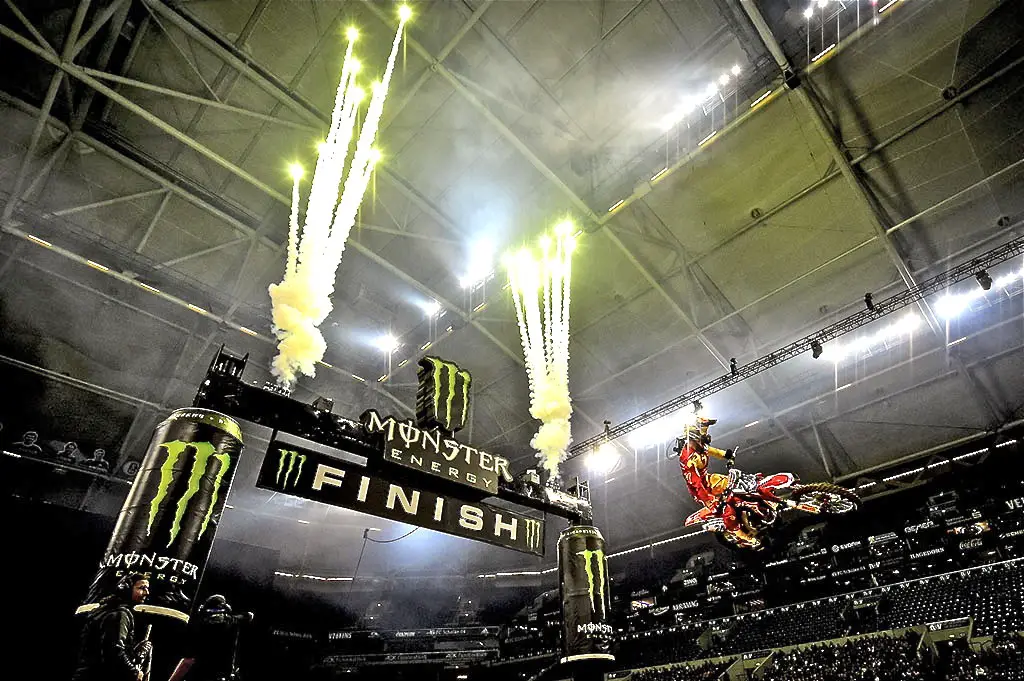 SMX RIDER'S AND MANUFACTURER'S CUP
The most difficult task for Giuseppe Luongo at the SMX CUP was making sure that the camera never panned across the almost totally empty Veltins Arena in Germany. Nobody was there—and we mean nobody! If Feld wants to take the AMA Supercross Championship on the road to Europe in the future they need to look at this dud of a race and re-evaluate their plans. The German fans didn't care—and not even American Supercreoss Champion Ryan Dungey could make them buy a ticket. The winners purse was $53,000 (which Ryan took home)… and Ryan made more money than Giuseppe did that night. The track didn't help, but since no one saw it before they had already bought a ticket that didn't matter. Supercross didn't play in Germany. As for the track, it was what you would expect at a local race anywhere in America. It wasn't Supercross, that's for sure. Calling it "SuperMotocross" was an insult to the sport we all love. This race is on the 2017 Youthstream calendar, but Luongo will probably rethink it before it comes around again.
GLEN HELEN UNITED STATES GRAND PRIX
It should be obvious now, after Charlotte and Glen Helen, that Americans don't know doodly-squat about the riders of the Grand Prix circuit. Charlotte drew an okay crowd to Charlotte Motor Speedway, while Glen Helen drew the same small crowd it has attracted the five previous times—which is about 6000 people. Youthstream claimed 27,000 spectators at Glen Helen, and then reneged on the 2017 Motocross des Nations deal with Glen Helen because "The crowd wasn't big enough." There is nothing like being caught in your own web of lies. If the crowd was 27,000 people then why isn't that big enough…or was Youthstream fibbing about the 27,000 people? Of course their crowd figures are inflated beyond belief—they always have been. So, Glen Helen will not get the MXDN in 2017 and they won't hold a USGP in 2017. You can't blame Glen Helen or Giuseppe Luongo. They gambled their own money on hosting a USGP (at a track that drew a massive crowd a few months earlier for the AMA 250/450 National) and they lost. Not once. Not twice. Not three times. Not four times…they just bet on the draw of the GP riders without taking into account the disinterest of the American riders. Without the American riders, Americans fans don't care, even though Eli Tomac was Captain America at both Charlotte and Glen Helen.
• ONLY THREE BIG RACES LEFT IN 2016…IF THEY ARE YOUR CUP OF TEA

2016 DUBYA WORLD VET MOTOCROSS CHAMPIONSHIP: NOV. 5-6
American fans may not support the MXGP riders when they come to Glen Helen, but European Vet riders support Glen Helen in massive numbers at the annual World Vet Championship. With Championships for Over-30, Over-40, Over-50, Over-50 and Over-70 year old riders, in classes from Novice to Pro, the American-originated idea of Vet racing has spread like wildfire. As the teenagers of the 1970s motocross boom start to hit their 50s and 60s, they want to recapture their youth…and what better way to do that than in the saddle of a motocross bike. The World Vet allows old codgers, semi-young lions and an international cast of characters to feel like they did when they were 16. Actually, they probably feel a lot better than they did when they were 16 because they can now afford the best equipment money can buy.
With riders from 20 nations, the World Vet Championship spans four-days—with two days of practice for those who think they need practice and two-days of racing. The Saturday race is really a chance for riders not familiar with Glen Helen to get a feel for the big hills and even bigger bumps. Saturday's premier race, and the only one that counts as a World Championship is the Over-40 Pro race (all the other classes from Novice to Intermediate to Expert to Pro race for their crowns on Sunday). Sunday has all the fireworks with Championships in every age group and every skill level — with purse riders and world renown riders in the Over-30 and Over-50 Pro races.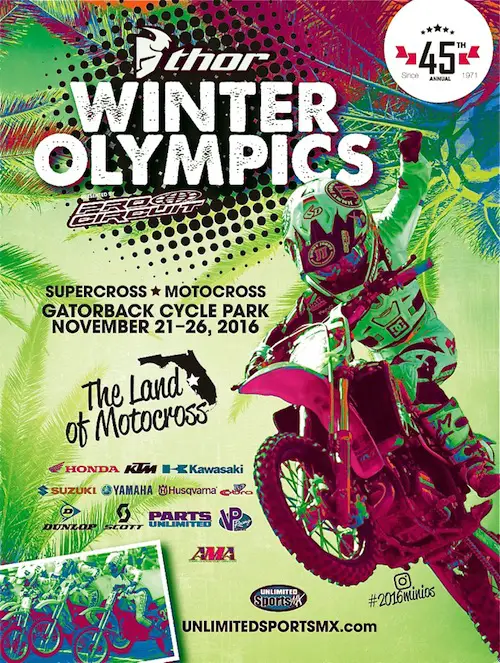 2016 THOR WINTER OLYMPICS: NOV. 21-26
For 45 years the Minis O's have been attracting snow birds to Florida for the annual Mini Olympics. Typically held on the week of Thanksgiving when the kids are out of school, it combines motocross and Supercross (and at one time cross-country racing) into a giant party. Supported by the major factories and considered one of the top Amateur races of the year—it is a yearly destination for the motorhome crews.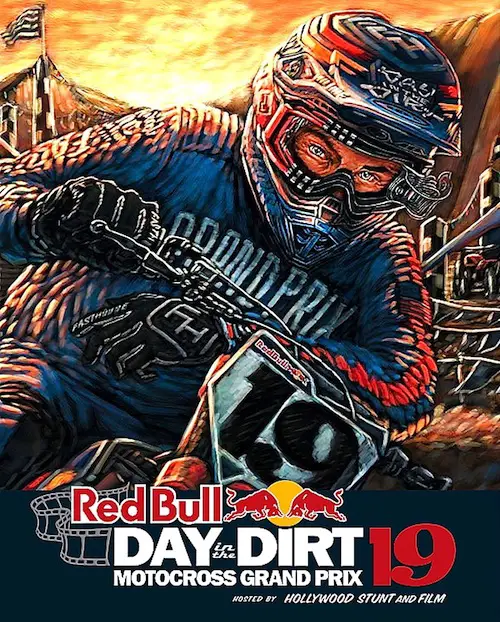 2016 RED BULL DAY IN THE DIRT: NOV. 25-27
Also a Thanksgiving weekend event, Day in the Dirt is not a big race on the minicycle calendar, but it is an adult party. There are classes for every imaginable kind of bike and ilk of rider. Glen Helen teems with humanity as the racers spread to three different venues to race short track, vintage, Harley-Davidson, two-stroke and major Pro races—with lots of star power. The stars used to come from the Hollywood elite, as the Day in the Dirt was originally a stuntmen race. In the years since it has spread far beyond the Hollywood community to attract factory racers, hangers-on, wannabes and weirdos–all in a good way.

• SURPRISE WORLD VET ENTRIES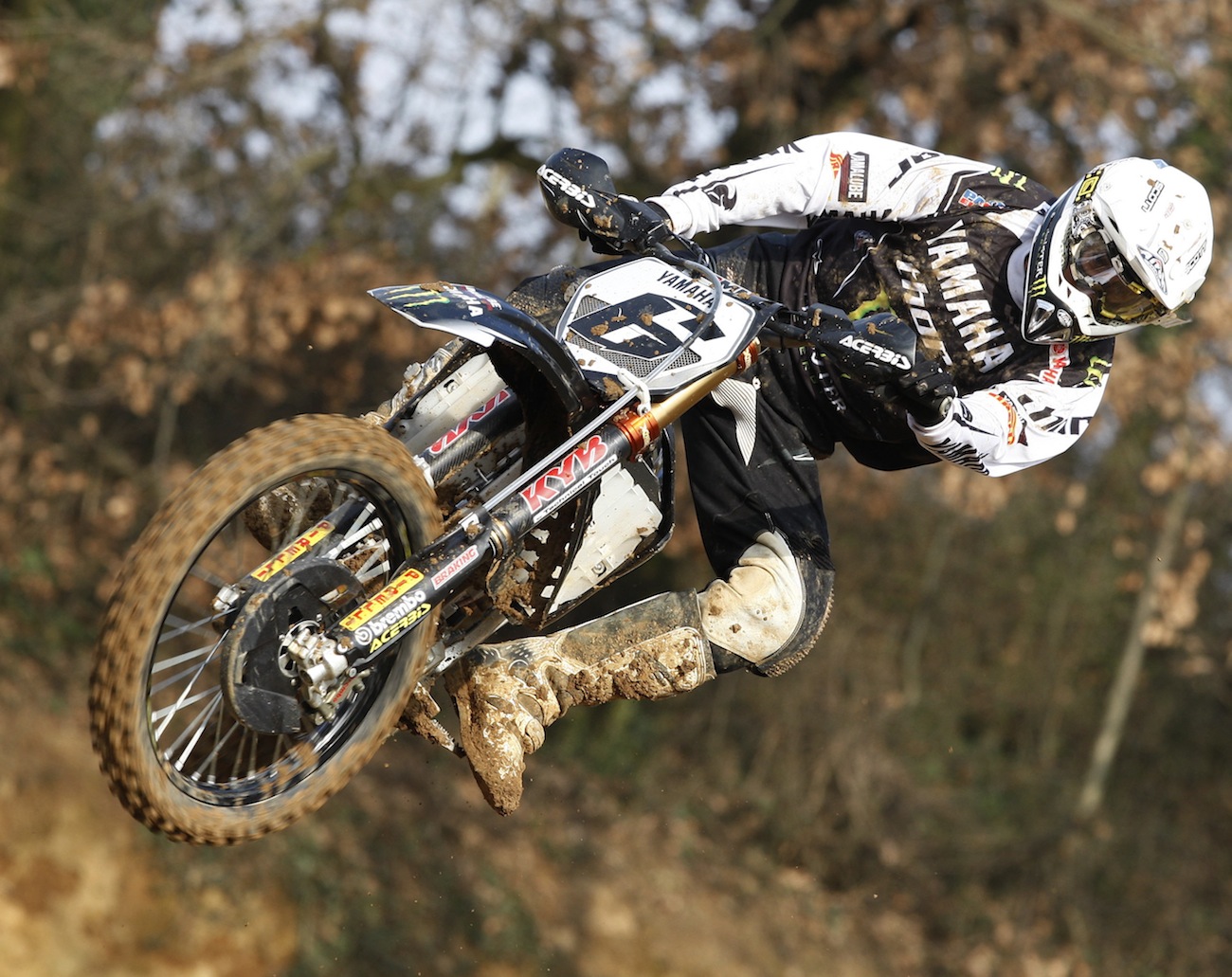 Josh Coppins will lead the men in black at the World Vet next weekend.
MXA got a quick glance at the riders who have pre-entered to race the World Vet Championship on Nov. 5-6. We didn't see every name, because there were 450 riders from around the world who have already pre-entered, but we did catch a few of the names. They included several former Grand Prix riders, lots of National Champions and a powerful team from New Zealand that will be comprised of Josh Coppins, Daryl Hurley and Daryll King. Here is a partial list. It doesn't included local SoCal riders—because they can't be bothered to pre-enter, they will just show up to the race. Sorry, but James Stewart has not signed up yet, even though he is old enough. Perhaps someone can lend him a bike.
Josh Coppins- New Zealand
Daryl Hurley- New Zealand
Darryll King- New Zealand
Julian Cerny- Canada
Javier Garcia Vico- Spain
Ryan Hunt- South Africa
Geoff Walker- Ireland
Brian Wheeler- United Kingdom
Isao Ida- Japan
Glen Aguilar- Philippines
• RARE FOOTAGE OF THE 1976 SADDLEBACK BMX RACE
• THIS WEEK'S BIRTHDAY BOYS: TIXIER & TOMAC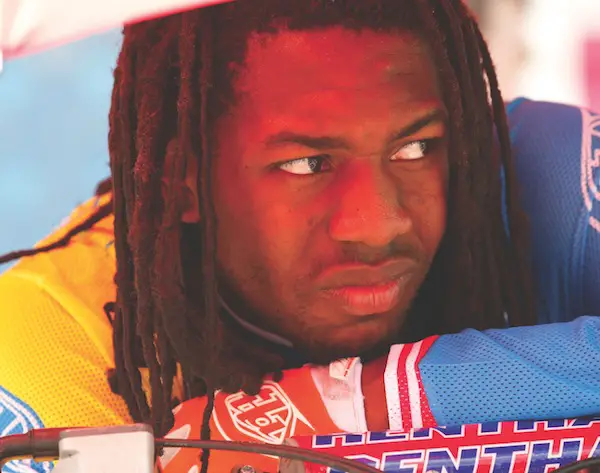 Oct. 27…Malcolm Stewart 1992
Oct. 27…Kenny Zahrt 1955
Oct. 27.. Jimmy Jarrett
Oct. 28…Alex Martin 1989
Oct. 29…Takeshi Kolkeda 1977
Nov. 1…Ryan Terlecki 1978

Nov. 2…Jordi Tixier 1992
Nov. 3…Ben Evans 1989
Nov. 3…John Tomac 1967
• JON ORTNER'S ZACA STATION RIDING SEMINAR
For more info contact Jon Ortner at (805) 895-5390 or email to [email protected]
• LAKE ELSINORE GRAND PRIX BACK FOR ANOTHER TRY: NOV. 12-13

For more info go to www.dirtseriesracing.com
• 16TH ANNUAL REM OCTOBERCROSS THIS SATURDAY OCT. 29

For more info go to www.remsatmx.co
• USED IT, ABUSED IT, TESTED IT: HONDA EU2000I GENERATOR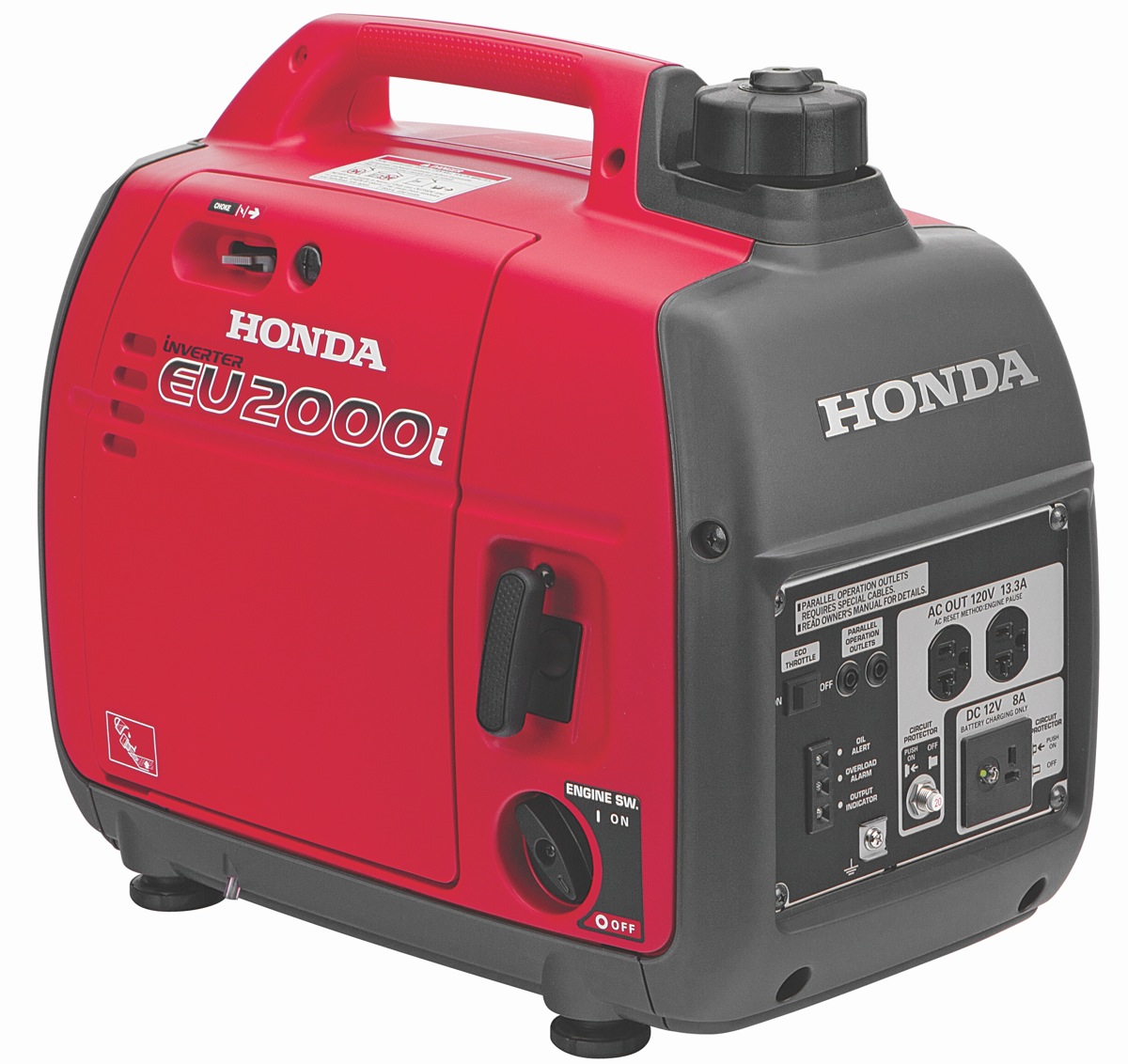 The Honda EU2000i generator can produce up to 120 volts, 2000 watts maximum (AC output) and 12 volts, 96 watts (DC output) of electricity. That's enough power to run a television, refrigerator, drill, compressor or any electrical appliance. And it can do it anywhere—even in a zombie apocalypse.
VERDICT: The 98.5cc engine in the EU2000i ran for nine hours on less than a gallon of gas. It has an Eco-Throttle switch to minimize fuel consumption, AC and DC circuit protectors for surge overload and built-in hour meter. Incredibly useful at home or away. $1149.95 — Your local Honda dealer or www.powerequipment.honda.com.
• WORLD VET MOTOCROSS CHAMPIONSHIP ON NOV. 5-6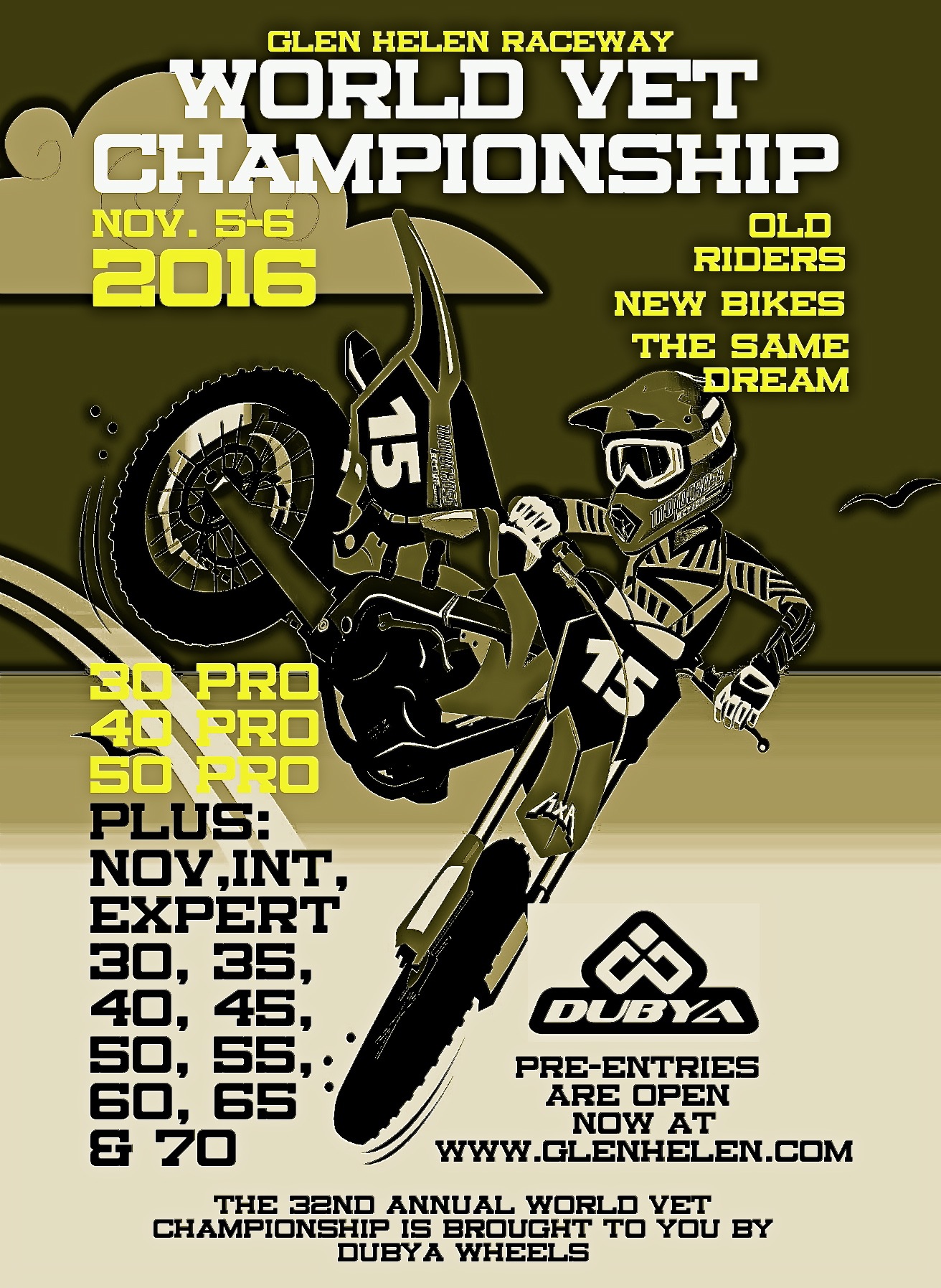 Now that the young guy's Championships are decided, all eyes will turn to the older set at the 2016 Dubya-sponsored World Vet Championships. There are Pro classes for the Over-30, Over-40 and Over-50 racers. Expect the competition to be intense. For more info go to www.glenhelen.com
• MECHANICAL MEMORIES: ONE STEP BEYOND UPSIDE-DOWN FORKS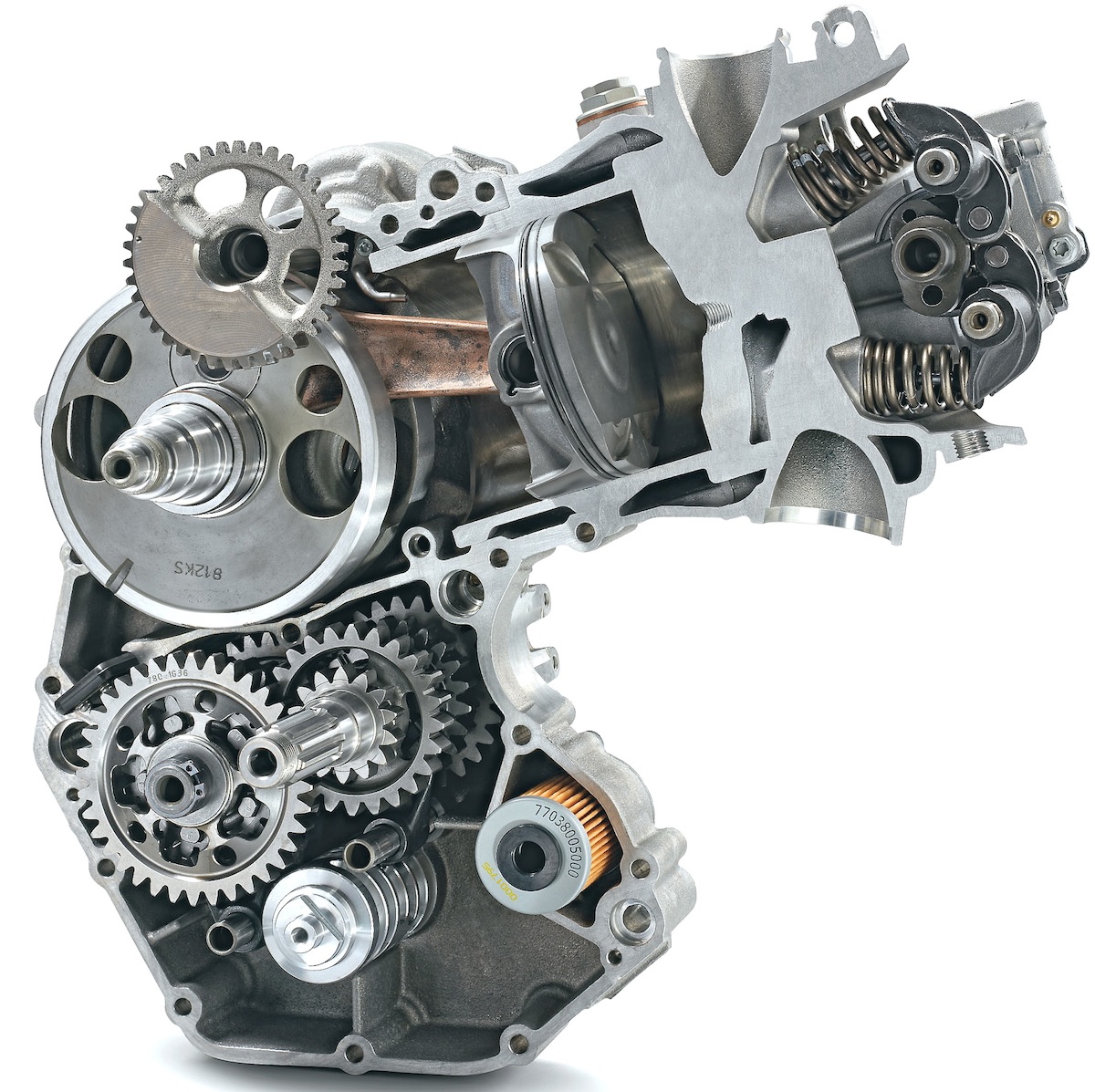 Husaberg's upside-down engine design was an attempt by Swedish designer Jens Elmwall to maximize centralization of mass. It could be considered a failure because it and Husaberg are gone now, but it turned the engine world on its head when first released in 2010.
• ROUTE 66 VINTAGE SCRAMBLES AT ROY ROGERS RANCH ON NOV. 20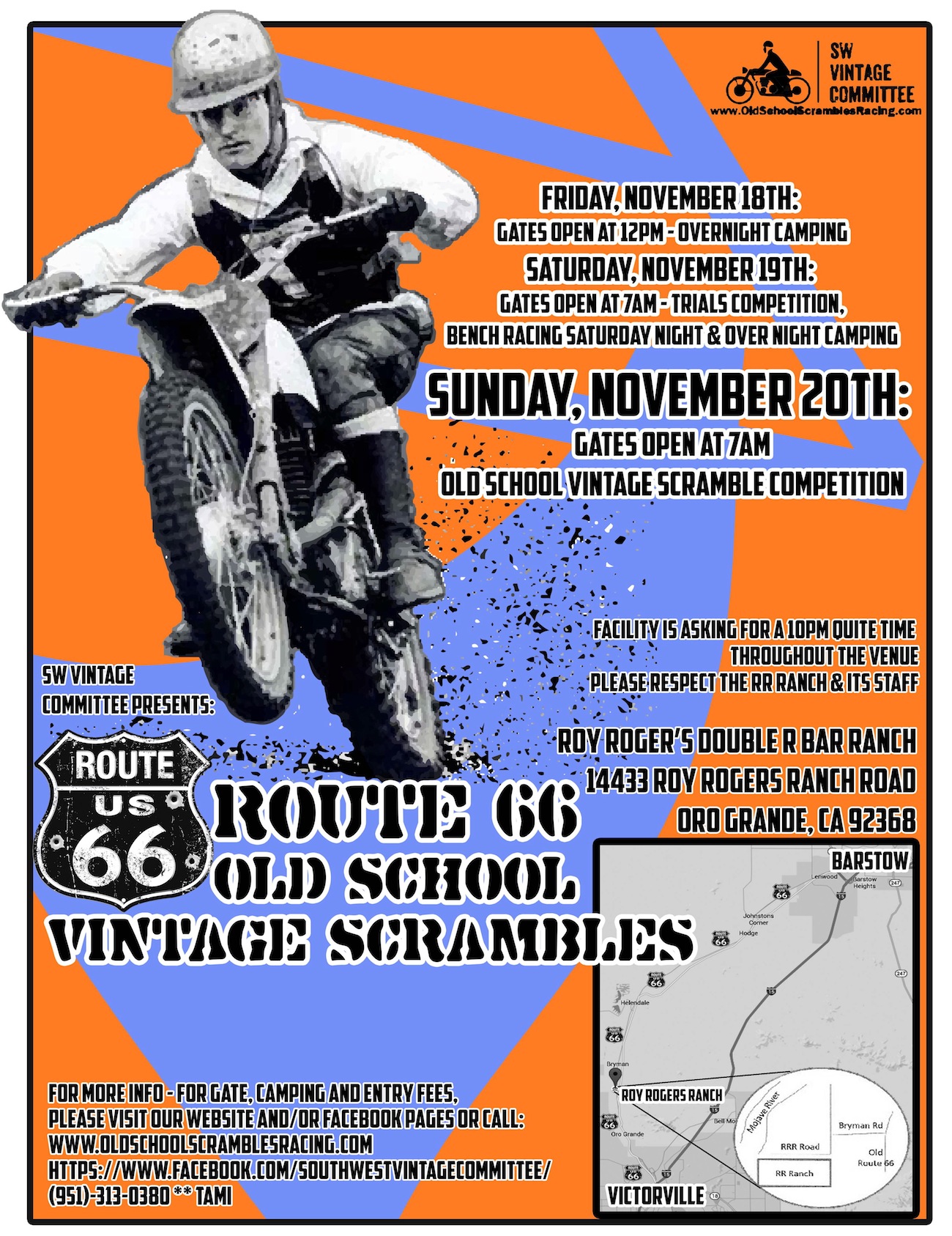 For more info click here.
• USED IT, ABUSED IT, TESTED IT: THOR SENTINEL XP
The Sentinel XP fills the gap between the full-protection Thor Quadrant and the minimalistic Thor Sentinel. The Sentinel XP can be used as a full body protector or as a front-only protector. It is is neck brace capable (thanks to removable panels)
VERDICT: The Sentinel XP is a jack of all trades. It can be worn as an over-protector, underprotector or as a roost guard. Thor's ratcheting latch system work just like a pair of riding pants. Equally important, unlatching the side straps is a breeze. We were pleased with the fit, finish and performance of the Sentinel XP. $99.95 — www.thormx.com or your local dealer.
• IF YOU'D LIKE TO GO TO THIS SERIES, YOU ARE 44 YEARS TOO LATE

The 1972 Inter-AMA series went to Boise, Olympia, L.A. Coliseum, Unadilla, Elkhorn and Lexington.
• WHAT'S LEFT OF THE 2016 RACE CALENDAR
2016 REM MOTOCROSS
Oct. 29………………………..Glen Helen, CA (Octobercross)
Nov 12…………………………Glen Helen, CA
Nov. 19………………………..Glen Helen, CA
Nov. 26……………………….No race (Day in the Dirt)
AUSTRALIAN SUPERCROSS
Oct. 29………………………….Wayville, South Australia
Nov. 5…………………………..Avalon, Victoria
Nov. 12-13…………………….Sydney, New South Wales
2016 GEICO ENDUROCROSS CHAMPIONSHIP
Nov. 5………………………….Boise, ID
Nov. 19………………………..Ontario, CA
2016 REM OCTOBERCROSS
Oct. 29…………………………..Glen Helen, CA
2016 DUBYA WORLD VET MOTOCROSS CHAMPIONSHIP
Nov. 5-6……………………….Glen Helen, CA
STUTTGART SUPERCROSS
Nov. 11-12…………………….Stuttgart, Germany
TAMPERE SUPERCROSS
Nov. 11-12……………………..Finland
PARIS/LILLE SUPERCROSS
Nov. 12-13…………………….Lille, France
MUNICH SUPERCROSS
Nov. 18-19……………………Munich, Germany
2016 THOR WINTER OLYMPICS
Nov. 21-26……………………Gatorback, FL
2016 DAY IN THE DIRT 19
Nov. 26-27………………….Glen Helen, CA
GENEVA SUPERCROSS
Dec. 2-3………………………Geneva, Switzerland
• 2017 MOTOCROSS SCHEDULES: WHERE TO BE & WHEN TO BE THERE

None of these schedules are set in stone, but you can count on the Supercross and Arenacross schedules to be accurate.
2017 AMA SUPERCROSS CHAMPIONSHIP
Jan. 7…………………………Anaheim, CA
Jan. 14………………………San Diego, CA
Jan. 21………………………Anaheim, CA
Jan. 28………………………Glendale, AZ
Feb. 4……………………….Oakland, CA
Feb. 11………………………Arlington, TX
Feb. 18………………………Minneapolis, MN
Feb. 25………………………Atlanta, GA
Mar. 4………………………Toronto, ON
Mar. 11………………………Daytona, FL
Mar. 18………………………Indianapolis, IN
Mar. 25………………………Detroit, MI
Apr. 1…………………………St. Louis, MO
Apr. 8………………………..Seattle, WA
Apr 22……………………….Salt Lake City, UT
2017 AMA NATIONAL CHAMPIONSHIP
May 20……………………Hangtown, CA
May 27.…………………..Glen Helen, CA
June 3..………………….Thunder Valley, CO
June 17..…………………Mt Morris, PA
June 24.………………….Muddy Creek, TN
July 1.…………………….Red Bud, MI
July 8..……………………Southwick, MA​
July 22.…………………..Millville, MN​
July 29.…………………..Washougal, WA
Aug. 12..………………….Unadilla, NY​
Aug. 19..………………….Budds Creek, MD​
Aug. 26.…………………..Crawfordsville, IN
2017 FIM MOTOCROSS WORLD CHAMPIONSHIP
Feb. 25…………………….Qatar (Saturday)
Mar. 5………………………Indonsia
Mar. 19…………………….Argentina
Apr. 2……………………….Mexico
Apr. 16………………………Italy
Apr. 23…………………….Holland
May 7………………………Latvia
May 21…………………….Germany
May 28…………………….France
June 11…………………….Russia
June 25……………………Italy
July 2……………………….Portugal
July 9……………………….San Marino
July 23……………………..Czech Republic
Aug. 6……………………….Belgium
Aug. 13…………………….Switzerland
Aug. 20…………………….Sweden
Sept. 3………………………USA (Monday)
Sept. 10……………………Holland
Sept. 17…………………….France
The 2017 Glen Helen Motocross des Nations will be held in England.
2017 MOTOCROSS DES NATIONS
October 1…………………..Matterley Basin, Great Britain
2017 SMX RIDERS & MANUFACTURERS CUP
October 7………………….Gelsenkirchen, Germany
2017 AMSOIL ARENACROSS CHAMPIONSHIP
Jan. 7-8…………………….Cincinnati, OH
Jan. 13-15…………………Grand Rapids, MI
Jan. 20-22…………………Baltimore, MD
Jan. 28-29…………………Nashville, TN.
Feb. 4-5…………………….Louisville, KY
Feb. 18-19…………………Kansas City, MO
Feb.y 25-26……………….Tampa, FL
Mar. 3-5…………………….Southaven, MS
Mar. 11-12…………………New Orleans, LA
Mar. 18-19…………………Portland, OR
Mar. 24-26…………………Reno, NV
April 1-2…………………….Sacramento, CA
April 21-23…………………Denver, CO
May 5-7…………………….Las Vegas, NV
2017 WORLD OFF ROAD CHAMPIONSHIP (WORCS)
Jan. 6-8…………………….Taft, CA
Jan. 27-29…………………Primm, NV
Feb. 17-19………………….TBA
Mar. 10-12…………………Lake Havasu, AZ
Apr. 1-2…………………….Las Vegas, NV
Apr. 21-23…………………Hurricane, UT
May. 19-21…………………Cedar City, UT
Jun. 9-11…………………..Adelanto, CA
Sept. 8-10…………………Glen Helen, CA
Oct 13-15…………………..TBA
2017 AUSTRALIAN NATIONAL CHAMPIONSHIP
April 2…………………….Victoria
April 23……………………New South Wales
May 7……………………..Queensland
May 21……………………Victoria
May 28……………………South Australia
July 2……………………..New South Wales
July 16……………………Victoria
July 30……………………New South Wales
Aug. 13…………………..Queensland
Aug. 19-20………………Queensland
• THE WAY WE WERE: THE FIRST MAN TO DO THUMPTHING IN SUPERCROSS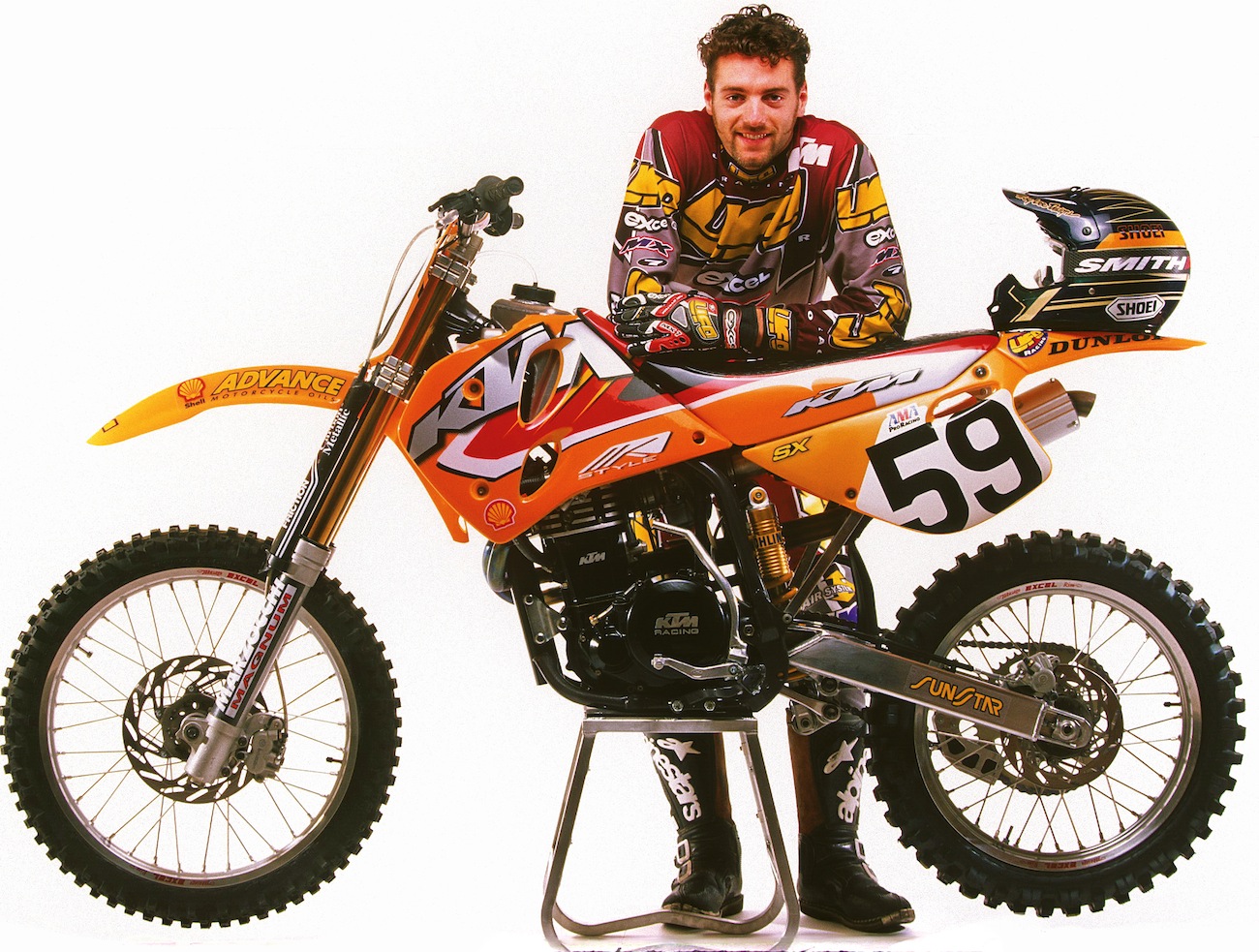 Lance Smail made motocross history, but it was forgotten 75 days later.
Everyone thinks that the Yamaha YZ400 was the first four-stroke to make an AMA Supercross. But, Yamaha wasn't first. While Doug Henry waited for the prototype YZ400 four-stroke to be finished, KTM's Lance Smail was the darling of the Supercross crowds on his Tom Moen-built KTM 540SX works four-stroke. History is a little confused on the issue, but Lance Smail was the first four-stroke rider to make the main event of a modern Supercross when he qualified third out of the semi at the March 8, 1997, Daytona Supercross. Henry would not ride the Yamaha four-stroke until the final round of the 1997 Supercross series in Las Vegas. Although Smail raced the first four-stroke to qualify for a Supercross main, Doug Henry overshadowed that by becoming the first four-stroke to a win an AMA Supercross on May 17th of the same year.
• MXA AD OF THE WEEK: A MOTCROSS BIKE WITH A SPEEDO AND TACH

The 19786 Yamaha was jam-packed full of feature, but the one it is remember for most is its  Kayaba air forks (note the air chambers on top of the forks tubes from whence they got the name as "Speedo and Tach Forks."
• HOW TO SUBSCRIBE & GET MXA FOR FREE: YOU WILL ACTUALLY MAKE MONEY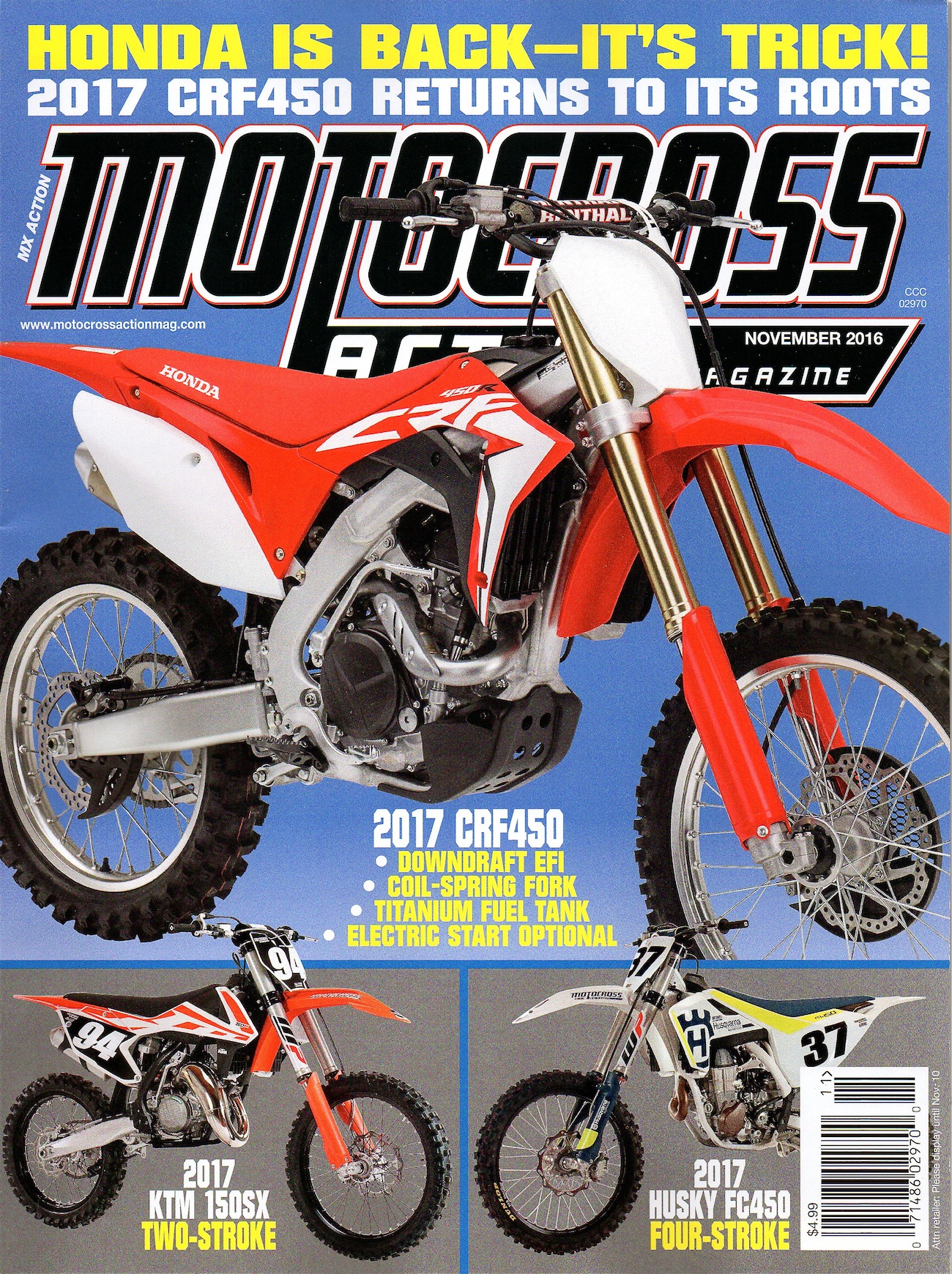 Interested in getting a new bike this year? The November 2016 issue of MXA will be on the news stands soon and has test of seven bikes that you could own—including the 2017 KTM 150SX, 2017 Suzuki RM-Z250, 2017 Yamaha YZ450F, 2017 Husqvarna FC450 and 2017 KTM 250SXF. Plus, if you subscribe now you get a $25 gift certificate from Rocky Mountain ATV/MC which more than pays for your subscription.
Do you subscribe to MXA? You should. We know that you think that print magazines are dead and that the internet will fill the void, but most of the stuff in the current issue of MXA won't appear on the web for several months, if at all. Luckily, you can get all of MXA on your iPhone, iPad, Kindle or Android by going to the Apple Store, Amazon or Google Play. Better yet get the Digital desktop version at https://hi-torque.com/product/motocross-action-digital-edition/ for $9.99 a year. The MXA test riders prefer the print version and not just because it is delivered by a uniformed employee of the U.S. Government, but because for only $19.99 you get 12 issues and a free $25 Gift Card from Rocky Mountain ATV/MC. That means that there is a profit to be made in this deal for you. For the Print magazine go to: http://hi-torque.com/product/subscribe-to-motocross-action-magazine/
• BMW SHOWCASES SELF-BALANCING MOTORCYCLE


BMW press release: The BMW Motorrad Vision Next 100 embodies the BMW Group's vision of biking in a connected world – an analogue experience in a digital age. Motorcycling is about escaping from the everyday: the moment you straddle your bike, you are absolutely free. Your bike is The Great Escape," says Edgar Heinrich, head of Design at BMW Motorrad, outlining the core principles underlying his brand's Vision Vehicle. In certain situations, the Vision Next 100's active assistance systems of the future will also enhance stability and safety by automatically balancing the motorcycle, both out on the road and when stationary. Novice riders will benefit from additional guidance in all riding situations and from a bike that will never tip over. The BMW Motorrad Vision Next 100 rights itself while even stationary, remaining upright when the rider has dismounted. The balancing systems also work out on the road to ensure a particularly agile and dynamic riding experience with even lighter handling, which seasoned riders will appreciate, and all the benefits of assistance systems to enhance their capabilities even further. The BMW Motorrad Vision Next 100 helps every biker become more proficient and enjoy an even more positive riding experience. Every trip becomes a journey of freedom, from beginning to end.
BMW VISION NEXT 100 CONCEPT VIDEO

• DO YOU REMEMBER THE LIT MOTORS C1? BMW DOES

BMW is not the first motorcycle manufacturer to build a self-balancing and self-righting motorcycle. It was done five years ago by a small start-up named Lit Motors. See the video below.
LIT MOTORS C1 SELF-RIGHTING MOTORCYCLE VIDEO

Photos: Cory Walters, Massimo Zanzani, Debbi Tamietti, Dan Alamangos,John Basher, Yamaha, MXA, Honda