MXA'S WEEKEND NEWS ROUND-UP: OUR THOUGHTS ARE WITH MICKY DYMOND
MICKY DYMOND SERIOUSLY INJURED IN BICYCLE CRASH ON THE SANTA ANA RIVER TRAIL
Micky Dymond—1986-87 AMA 125 National Champion.
Former two-time AMA 125 National Motocross Champion Micky Dymond was badly injured in a cycling accident on the Santa Ana River Trail Bike Path. Dymond, who has been racing bicycles over the last few years and had competed on an all-motorcycle racer team in the 2017 Race Across America, let go of his handlebars to reposition his hands and hit a rock. He lost control and fell. Micky was riding with David Bailey and Steve Weidler at the time. He suffered a closed-head injury, but shows signs of improvement. He faces a long recovery time. We're rooting for you Mick!
David Bailey, Micky Dymond (center), Doug Henry and Jeff Ward at the 2017 Race Across America. They finished in 7 days, 19 hours, 58 minutes. Photo: Jen Magnusson

Micky Dymond was the archetype of the 1980s motocross star. He rose to almost instant fame at Southern California's Saddleback Park, where the handsome, long-haired beach boy went from Novice to Pro in less than two years. He captured the attention of Maico, which (amazingly for a German company) kept its finger on the pulse of Saddleback because of its reputation for developing National stars. After some spectacular local races at Saddleback on Maicos and Yamahas, Dymond signed with Team Husqvarna to race the 250 and 500 classes (finishing seventh in the 1984 500 Nationals) before being gobbled up by Team Honda for the 1996 AMA 125 Nationals. Dymond inherited his Honda ride when 1985 125 Champion Ron Lechien left Honda for Kawasaki at the end of the season.
With Lechien gone, the 125 Nationals were wide open, with Dymond the underdog against established veterans like Erik Kehoe, George Holland, Keith Bowen, Guy Cooper, Larry Brooks, Jeff Leisk and Eddie Warren. Before the 11-race 1986 series was over, five of those riders would win 125 Nationals, but Dymond would win three and clinch his first-ever AMA 125 National Championship. The following year, Micky would win five of the 12 races to take the crown over Suzuki's George Holland.
In his first two seasons on a 125, Micky Dymond won two consecutive AMA 125 National Championships, but it was both a blessing and a curse. Under existing rules, Dymond had to move to the 250 class for 1988, but Team Honda had no faith in him, so they cut him loose (and hired Suzuki competitor George Holland to fill his shoes in the 125 class). Worse yet, as the AMA 125 Champion, he assumed he would be named to the 1987 Motocross des Nations team. It was not to be, as a lobbying move put Bob Hannah on the team for Unadilla and bumped Dymond off. Shockingly, the 125 National Champion was unemployed.
Luckily, Team Yamaha was rebuilding. Keith Bowen was leaving the team to ride for Kawasaki, and Jeff Leisk was moving to Team Honda, leaving only Jeff Stanton and an aging Broc Glover at Yamaha. Dymond was a gamble, but Yamaha had nothing to lose while they waited for up-and-comers Damon Bradshaw, Doug Dubach and Mike LaRocco to arrive on the scene.
Mickey on a CR250.
Amazingly, Micky instantly became the star of the Yamaha team. He showed unbelievable flair on the all-new, all-white 1988 Yamaha YZ250 (the one with the YZM500-style barn-door radiator wing). Unfortunately, Micky broke a knuckle in his hand at round two of the 1988 Supercross season and struggled for the rest of the year. His confidence was shattered at the least opportune moment. His 1989 season was also a wash. In his two years at Team Yamaha, Dymond finished eighth and ninth in the 250 Nationals and was out of the top 10 in both Supercross series.
The disappointment of being fired from Honda after handing them two Championships and the failure to transition to the 250 class at Team Yamaha put Micky under tremendous pressure. In response, he started to go a little Bohemian. He claimed that he wanted to be a poet and became somewhat removed from the racing scene. Oh, he plodded on, racing five times in 1992 (after going to Europe for a season) and trying his hand at the fledgling sports of freestyle and Supermoto, but he was basically off the radar.
In 2017, however, Micky was back in the public eye, teaming up with David Bailey, Doug Henry and Jeff Ward to compete in the 3070-mile-long Race Across America bicycle race.
In the end, Micky Dymond won seven AMA Nationals and scored 58 top-10 finishes, but motocross historians have always wondered what would have happened if he hadn't broken his hand at that crucial juncture in his Pro career. It was a very unpoetic end for an American motocross hero.
THE THIRD 2020 WORLD CHAMPIONSHIP GRAND PRIX SCHEDULE RELEASED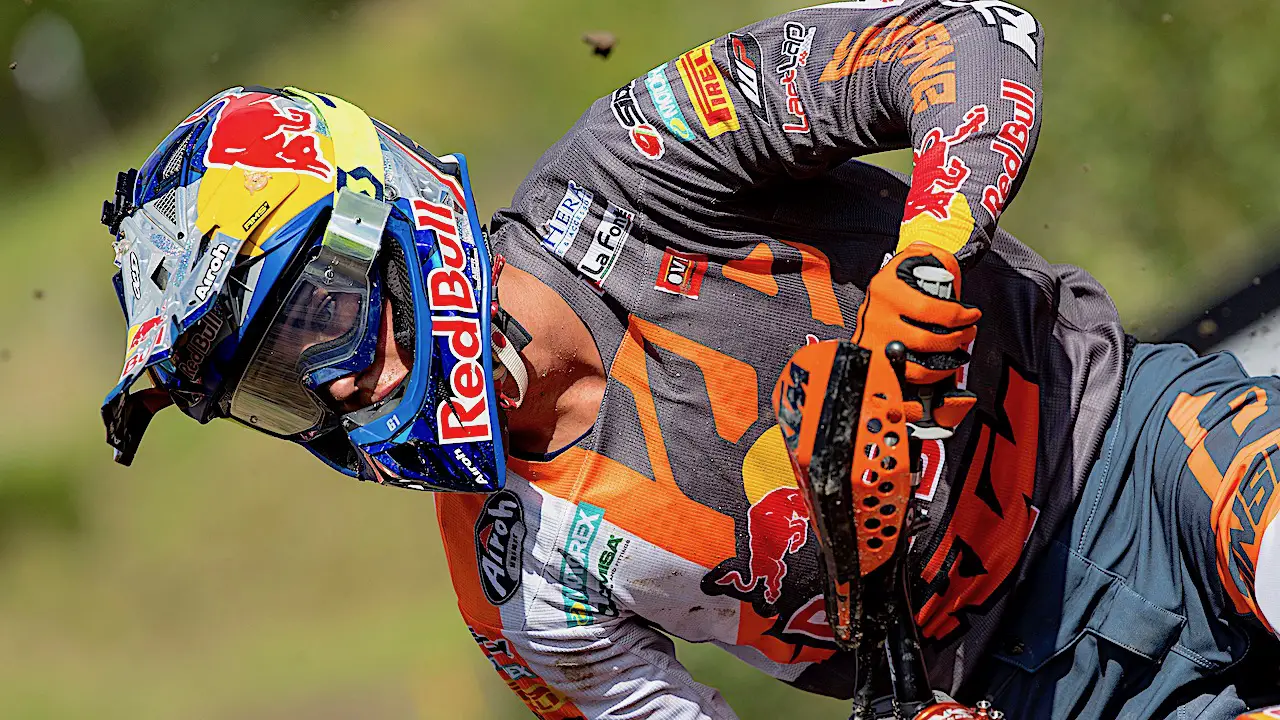 Jorge Prado will make his 450 Grand Prix debut on March 1, 2020, at Matterley Basin.
As predicted after the first MXGP schedule was released, it would not the last. In fact, Youthstream changed the date of one race a day after announcing the first schedule. This week they released the third MXGP race schedule. It will not be the last. In the latest 2020 MXGP schedule first race will be in England at  Matterley Basin (England was not on the first schedule). The second stop of the 20-race series will be the following weekend at Valkenswaard, Holland, on March 8, followed by the Argentinian GP on March 22.
There will be three GPs in Italy in 2020, the first at Pietramurata on April 5, the second at Maggiora on May17 and the third at Imola on September 20. Argentina is the first of four fly-away races with two rounds in Indonesia on back-to-back weekends on June 28 and July 5.
The final fly-away race is China in September 13. It is listed at a "To Be Announced" venue. Round 17 of the 2020 season will take place at the brand-new Kymi Ring circuit in Iitti, Finland, and afterwards MXGP will visit Turkey and China for rounds 18 and 19. The final round of the 2020 season is set to be held in Imola, Italy.
2020 FIM MOTOCROSS WORLD CHAMPIONSHIP
Mar. 1…Great Britain
Mar.8…Holland
Mar. 22…Argentina
Apr. 5…Italy #1
Apr. 19…Spain
Apr. 26…Portugal
May 10…France
May 17…Italy #2
May 24…Germany
June 7…Russia
June 14…Latvia
June 28…Jakarta, Indonesia
July 5…Palembang, Indonesia
July 26…Czech Republic
Aug. 2…Belgium
Aug. 16…Sweden
Aug. 23…Finland
Sept. 6.…Turkey
Sept. 13…China
Sept. 20…Italy #3

MXA PRODUCT SPOTLIGHT: DUBYA USA EDGE WHEELSETS
Orange Edge hubs, Bulldog spokes, nickel plated nipples and black Excel Notako rims.
Dubya USA, a provider of premium motorcycle wheel sets and components, is proud to announce the all-new Edge Wheel sets. These wheels are the perfect solution for riders who need quality and performance at an economical price point.
The Edge hubs are available in red, green blue or orange with black or silver rims at a very affordable price.
We're excited to add these new Edge wheel sets to the Dubya USA lineup," said Dubya co-founder Kristin White Anderson. "We strive to deliver the best products possible to our customers, but top-of-the-line wheels are not in everyone's budget. The Edge wheels are durable and reliable, and are affordable for virtually any rider looking to replace their old wheels or simply give their bike a more upgraded look."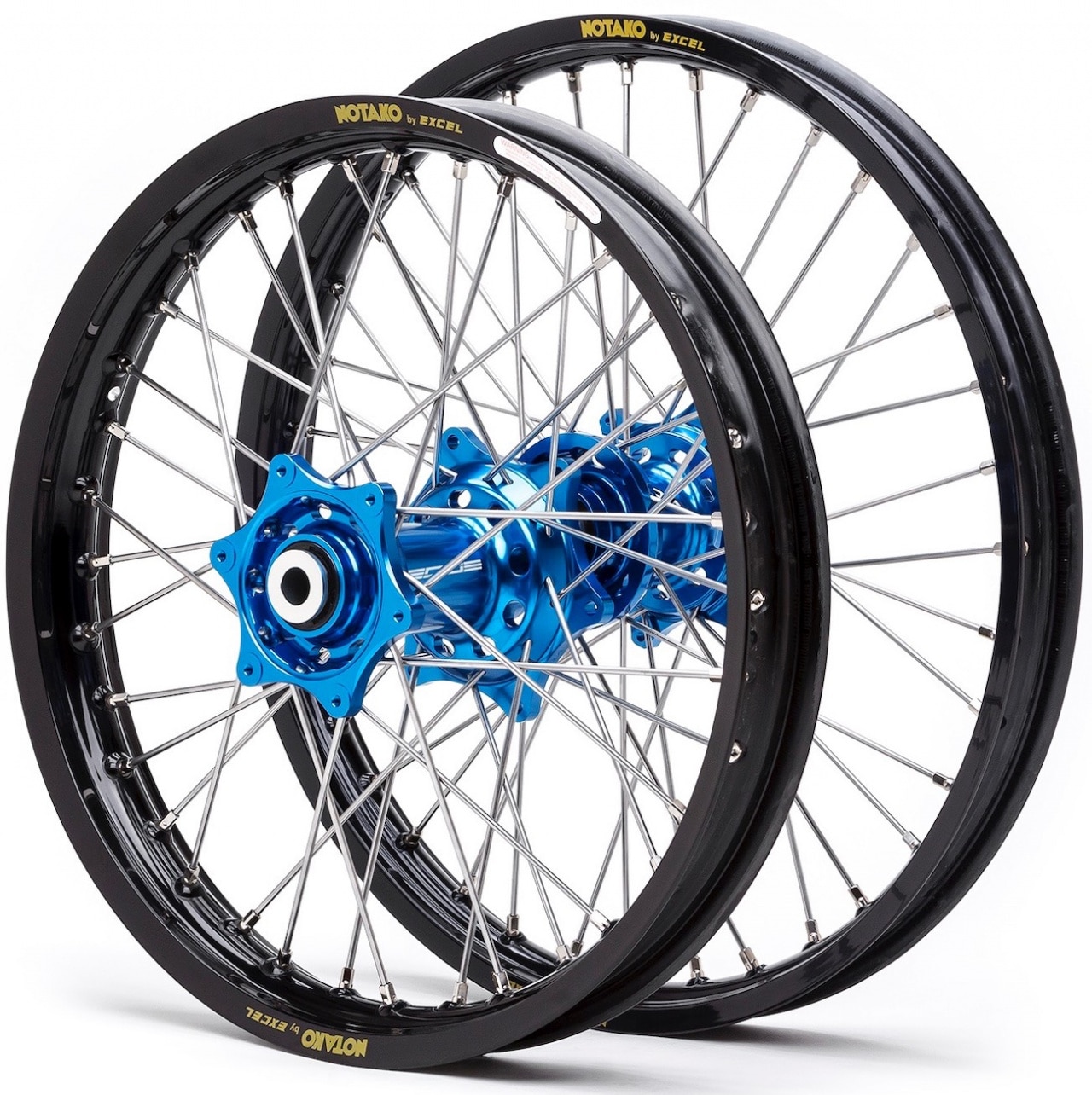 Blue Edge hubs, Bulldog spokes, nickel plated nipples and black Excel Notako rims. 
Edge wheel set centers around the highly durable forged aluminum Edge hub, which are offered in factory colors of blue, red, green, and orange. The hubs are laced to your choice of black or silver Excel Notako rims using stainless steel Bulldog spokes and nickel plated steel nipples. Each wheel is pre-assembled in Dubya USA's southern California facility by the same technicians who assemble all of Dubya's top professional rider and team wheels.
Edge wheel sets are priced at $639.00. Visit www.DubyaUSA.com for more details or call 714-279-0200 to speak to a wheel specialist.
ENDUROCROSS COMING TO DENVER ON OCT. 19
For more info go to www.endurocross.com
2020 MOTOCROSS ACTION 250 FOUR-STROKE SHOOTOUT
MXA COVER OF THE WEEK: THE STAPLE GUN NAILS ANOTHER COVER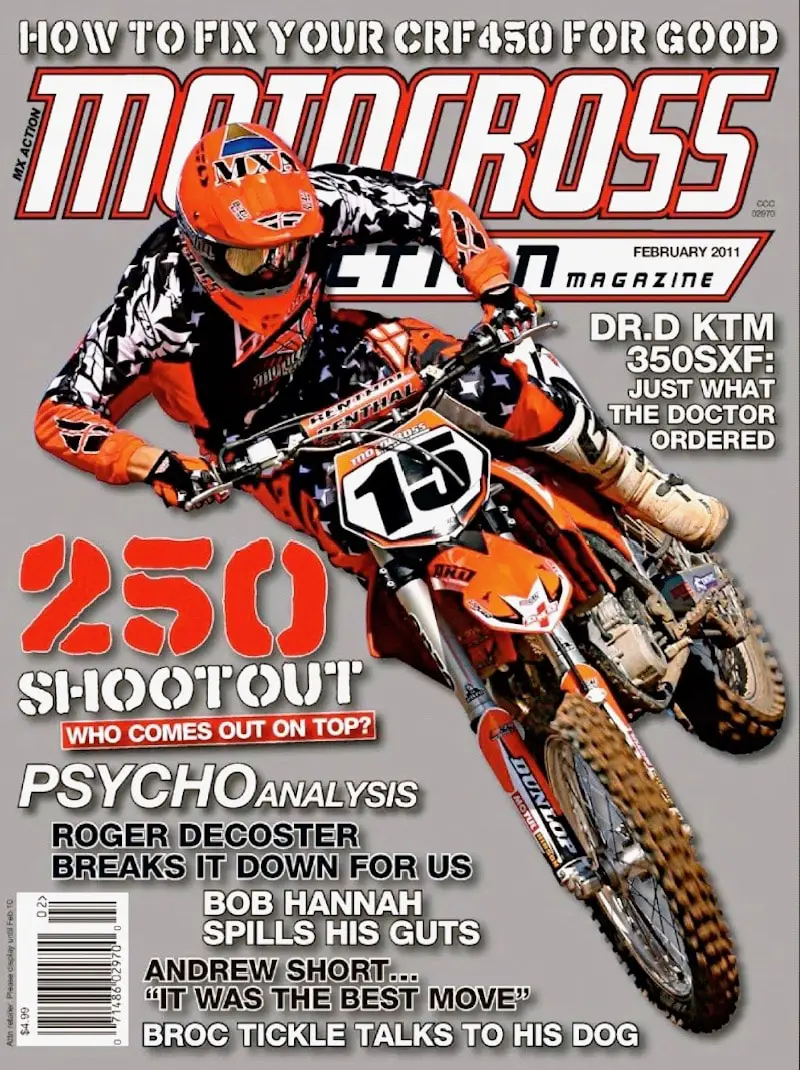 Dennis Stapleton pilots the DR.D 350SXF for the cover of the February 2011 issue. Note tongue in cheek headlines about Broc Tickle's dog and Andre Short on where he wants to live retire after his racing days are over. When we asked Bob Hannah if any current rider had a similar personality to his, he said, "Let's hope not." And Roger Decoster explained why he left Suzuki for KTM.
"BENNETT'S WAR" TO BE RELEASED ON DIGITAL ON NOV. 12
For those that missed it in the theaters, the motocross-based Hollywood movie will be available for home viewing. Mainstream Hollywood movies with motocross as their theme are few and far between. "Bennett's War" is the story of a young soldier, Marshall Bennett (Michael Roark), who is medically discharged from the Army after an IED explosion. After coming home to the family farm, he discovers that his dad (Trace Adkins) is behind on the mortgage and may lose the farm. Marshall Bennett vows to help his family by the returning to the sport he loves to save the farm. Against the wishes of his wife (Allison Paige) he goes into training to rehab his injured leg so he can try to earn as much money as possible by racing again.
The film stars Trace Adkins as the father, Michael Roark ("Magic Mike," "Beauty and the Beast") as Marshall Bennett, Allison Paige ("The Flash") as Marshall's wife, Ali Afshar, ("American Wrestler: The Wizard," "Born to Race") as Marshall's friend and mentor and features a standout performance by REM's Pasha Afshar as the bad guy.
"Bennett's War" will be available in high definition and standard definition from Amazon, FandangoNOW, iTunes, PlayStation, Vudu, Xbox , on Video On Demand services from cable, satellite providers, and select gaming consoles. on November 12. The DVD and Blu-ray will go on sale for $28.98 on December 3, 2019.
17TH ANNUAL CROW CANYON TURKEY RUN ON OCT.19-20
For more info go to www.crowcanyonmx.com
WHAT'S LEFT ON THE 2019 RACE CALENDAR
The 2019 Dubya Wheels-sponsored World Vet Motocross Champion is only 3 weeks away.
2019 AUSTRALIAN SUPERCROSS CHAMPIONSHIP
Oct. 19……………………………Port Adelaide, South Australia
Nov. 11…………………………..Wollogong, New South Wales
Nov. 16…………………………..Auckland, New Zealand
Nov. 30…………………………..Melbourne, Victoria
KTM MOTO TOUR TEST RIDE DATES
Oct. 19-20……………………..Crow Canyon MX, OH
Nov. 2……………………………..Rio Bravo, TX
Nov. 10…………………………..Highland Park, GA
2019 WORCS OFF-ROAD CHAMPIONSHIP
Nov. 22-24……………………….Primm, NV
2019 AMA ENDUROCROSS CHAMPIONSHIP
Oct. 19……………………………..Denver, CO
Oct. 26…………………………….Nampa, ID
2019 LAS VEGAS MONSTER CUP SUPERCROSS
Oct. 19……………………………..Las Vegas, NV
2016 REM OCTOBERCROSS
Oct. 29…………………………..Glen Helen, CA
MARTY TRIPES BIG-3 TWO-STROKE SERIES
Oct. 26…………………………..Cahuilla Creek, CA
Nov. 16…………………………..Glen Helen, CA
2019 DUBYA WORLD VET VINTAGE CHAMPIONSHIP
Nov. 1…………………………….Glen Helen, CA
2019 DUBYA WORLD VET CHAMPIONSHIP
Nov. 1-3…………………………Glen Helen, CA
2019 PARIS SUPERCROSS
Nov. 9-10……………………….Paris, France
2019 DAY IN THE DIRT 22
Nov. 28-Dec. 1……………..Glen Helen, CA 
7TH ANNUAL KURT CASELLI RIDE DAY
Dec. 14…………………………..Glen Helen, CA 
YOU DO THE MATH! SUBSCRIBE TO MXA & GET A $25 CHAPARRAL GIFT CARD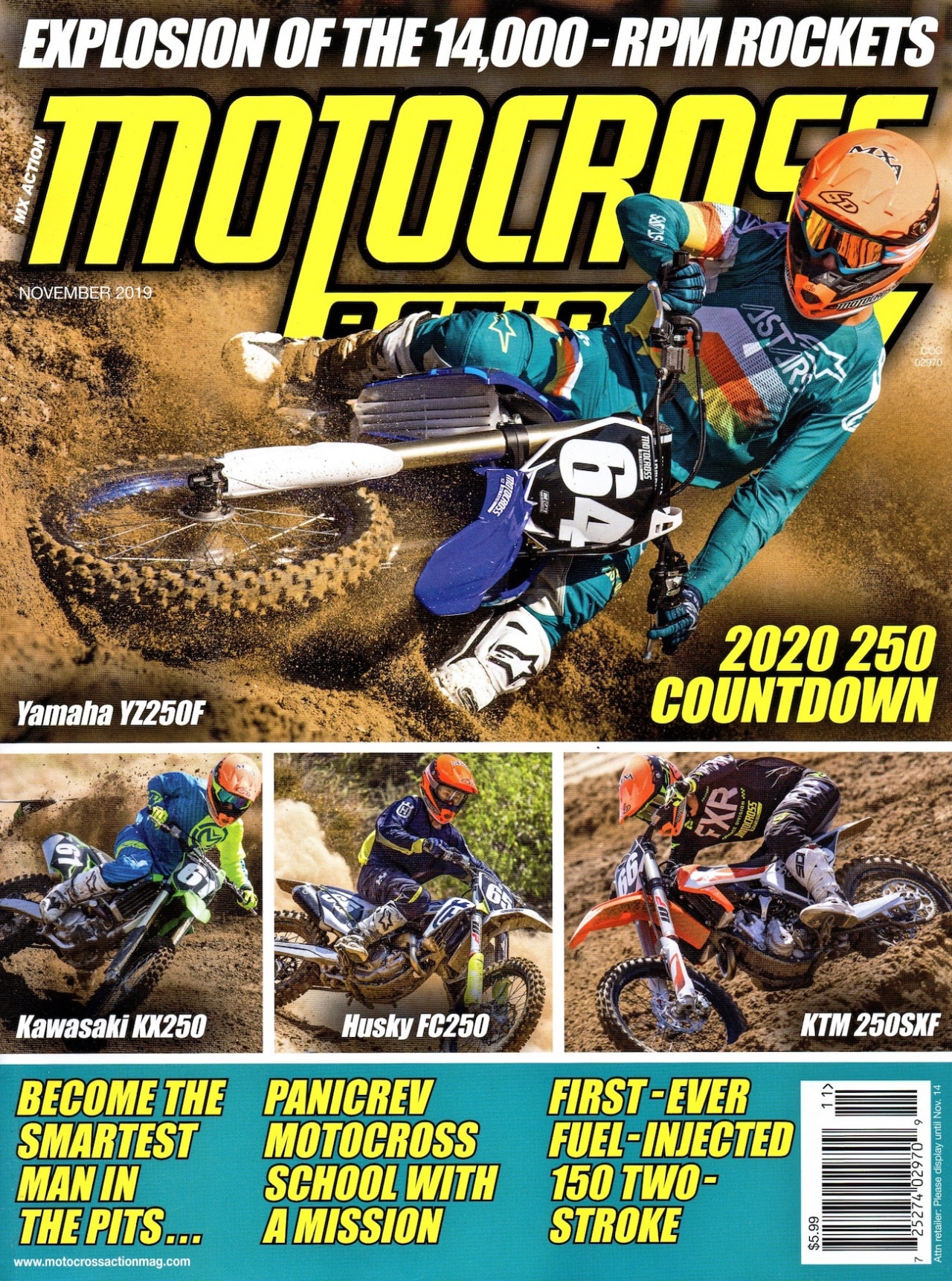 If you subscribed to Motocross Action,  you could be spending your gift money at Chaparral right now.
If you subscribe to MXA you can get the mag on your iPhone, iPad, Kindle or Android by going to the Apple Store, Amazon or Google Play or in a digital version. Even better you can subscribe to Motocross Action and get a $25 Chaparral gift card to spend on whatever motorcycle parts or products you need. And the awesome print edition will be delivered to your house by a uniformed employee of the U.S. Government. You can call (800) 767-0345 or Click Here (or on the box at the bottom of this page).
ARENACROSS SERIES GETS AMA NATIONAL CHAMPIONSHIP SANCTIONING FOR 2020


The 2020 Cycle City Promotions Arenacross Series, previously known as the Kicker Arenacross Series, will be an AMA sanctioned championship. The series started in 1995 and has consistently provided great tracks and venues for racers and exciting racing for fans. It has grown to attract 500 to 700 riders per event and now those riders following the series will be competing for AMA Championships. The series will also have national television coverage again for 2020 on Fox Sports 2 (FS2).
The 12-round series will visit 7 cities and have four double-header weekends. It series will kick off on the weekend of January 3-4, 2020 in Loveland, Colorado. There will be a total of seven tour stops and 12 events with the finals taking place on March 7, 2020, in Amarillo, Texas. For more information on the Arenacross and the 2020 Tour, please visit www.kickerarenacross.com.
2020 AMA ARENACROSS CHAMPIONSHIP
Jan. 3-4…Loveland, CO
Jan. 11…Hobbs, NM
Jan. 24-25…Oklahoma City, OK
Jan. 31-Feb. 1… Denver, CO
Feb. 7-8…Reno NV
Feb. 28-29…Salt Lake City, UT
Mar. 7… Amarillo, TX
MXA'S FIRST RIDE OF THE 2020 SUZUKI RM-Z450
WHAT YOU DON'T KNOW ABOUT THE 2019 WORLD VET MOTOCROSS CHAMPIONSHIP ON NOV. 1-3

The World Vet Championship celebrates its 35th year at Glen Helen Raceway on November 1-3, 2019. Founded by the late Tom White, who also sponsored it for the first 26 years this was the first race to honor Vet racers anywhere in the world. For 2019, Tom's daughter Kristin, is sponsoring the World Vet  for the fifth year (Dubya has been the title sponsor since 2014).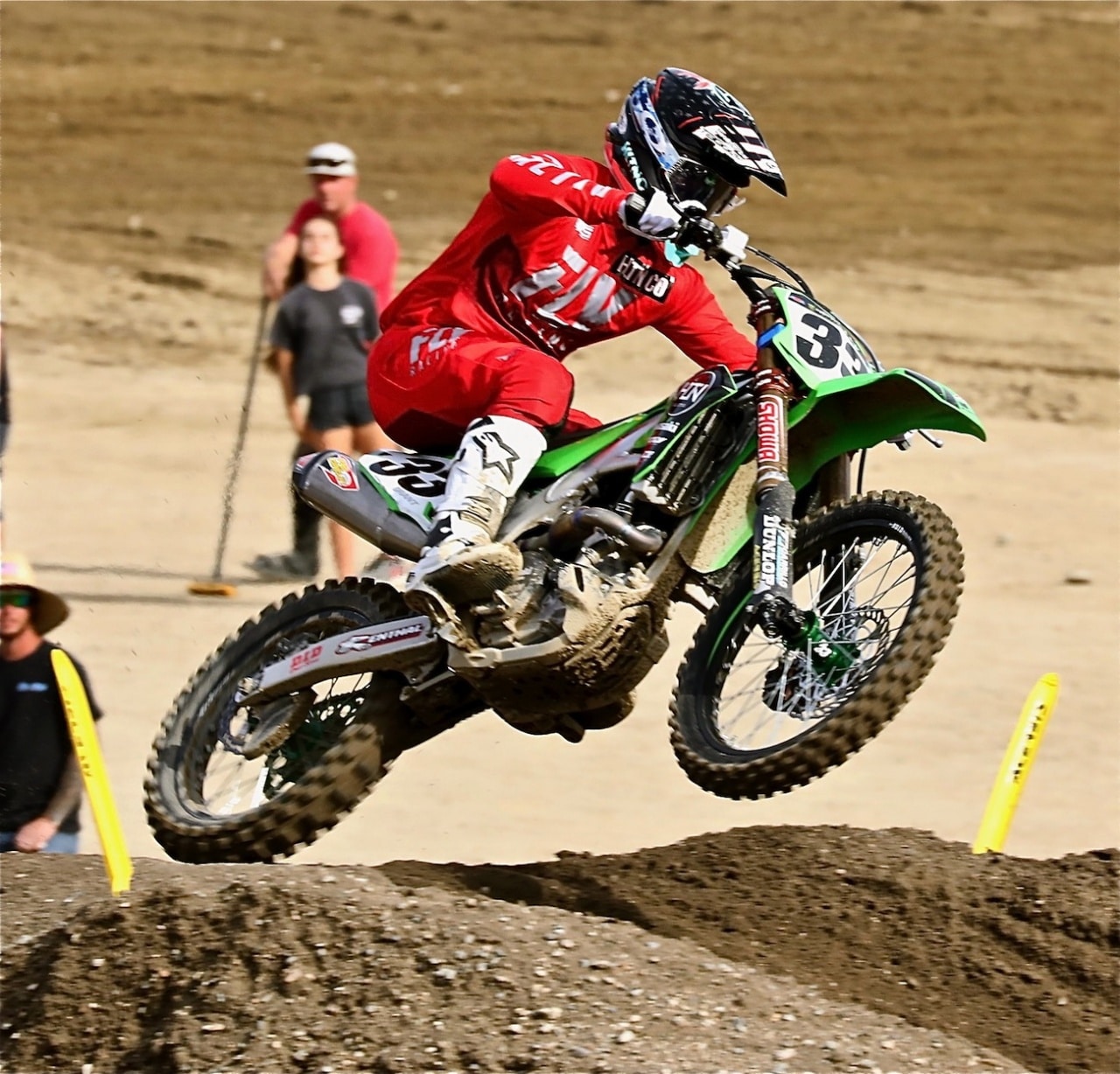 Josh Grant was untouchable in the Over-30 Pro class at the 2018 Dubya World Vet Motocross Championships. 
Here is the schedule of events for the most important Vet race in the world—start making plans now.
THURSDAY, OCTOBER 31, 2019
Thursday will feature an open practice from 8:00 a.m. to 2:00 p.m. Additionally, registration for the World Vet Championship will open at 2:00 p.m. to 5:00 p.m. The Dubya World Vet Motocross Championships will boast a National-caliber track using all of the famous Glen Helen landmarks such as Talledega, Mount St. Helen, Bud's Creek, Yamaha Hill and the Velodrome. Thursday is a chance for out-of-state and out-of-country riders to get adapted to the track—while riding with AMA National Pros and 16-year-old kids. It's a wild day.
FRIDAY, NOVEMBER 1, 2019
9:00 a.m. World Vet practice: Friday offers a special practice, limited to riders who have pre-entered into the 2019 Dubya World Vet Championship. This practice runs from 9:00 a.m. to 1:00 p.m. Also, On this day the vendors will be setting up shop.
1:00 p.m. World Vet sign-up: For riders who want to enter the World Vet early and avoid the race day crush, registration will be open from 1:00 p.m. to 5:00 p.m. at the Glen Helen National Tower.
FRIDAY PRACTICE TENTATIVE SCHEDULE
Practice sessions will be as follows:
+25-49 (all skill levels) 9:00 a.m. to 9:30 a.m.
+50-up (all skill levels) 9:30 a.m. to 10:00 a.m.
+25-49 (all skill levels) 10:00 a.m. to 10:30 a.m.
+50- up (all skill levels) 10:30 a.m. to 11:00 a.m.
+25-49 (all skill levels) 11:00 a.m. to 11:30 a.m.
+50-up (all skill levels) 11:30 a.m. to 12:00 p.m.
+25-49 (all skill levels) 12:00 p.m. to 12:30 p.m.
+50-up (all skill levels) 12:30 p.m. to 1:00 p.m.
DUBYA WORLD VET VINTAGE RACE SCHEDULE
On Friday there will be a vintage race on the REM track. Sign-up is open at the REM tower beginning at 6:30 a.m.
Practice: 9:00 a.m.
Racing: 10:30 a.m.
Vintage Bike show 10:00 a.m. to 3:00 p.m.
Pre-Entries are available at a discount price
Entry Fee: Pre-Entry $50/Second Class $30
Post Entry: $70/Second Class $50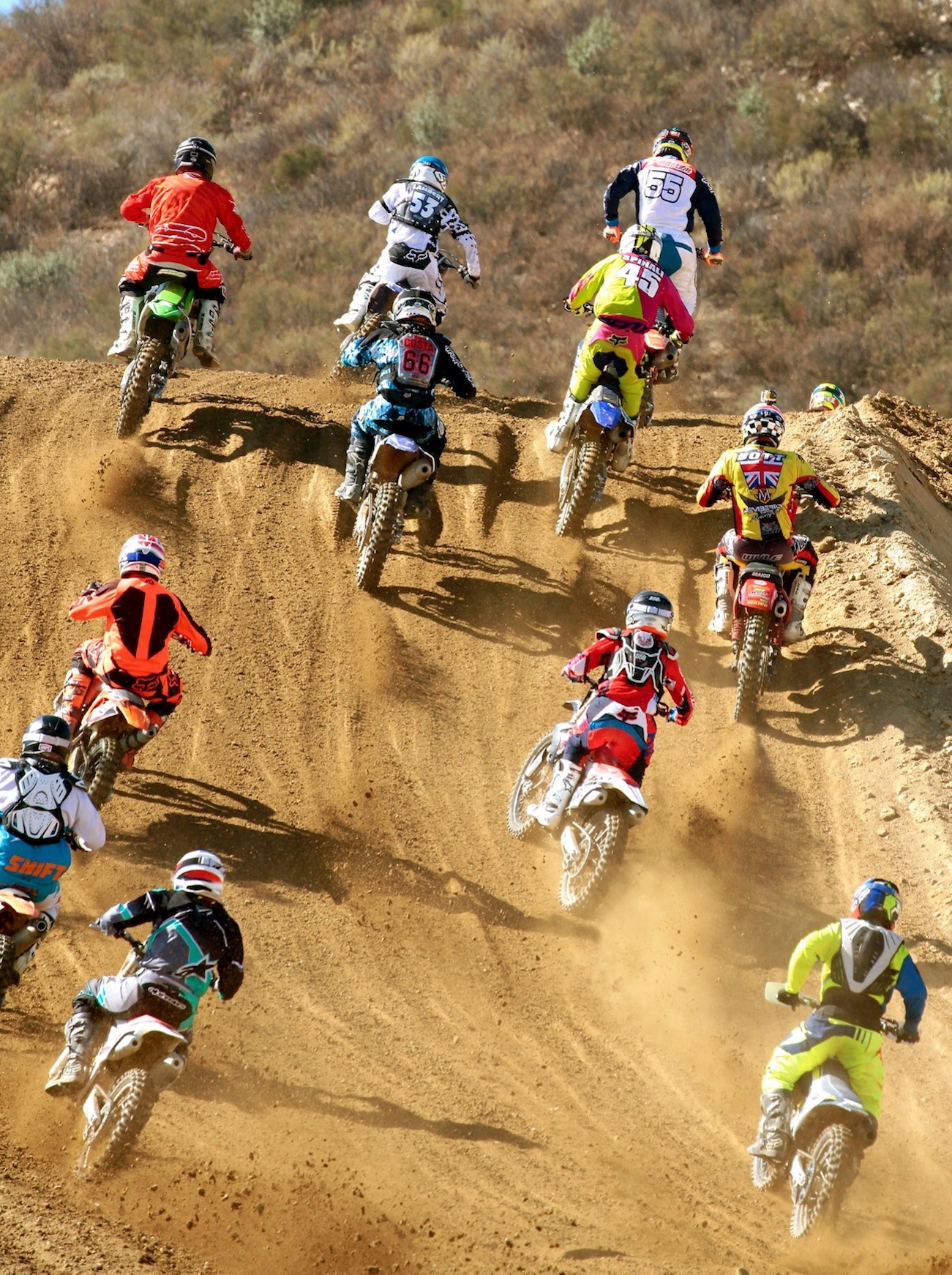 SATURDAY, NOVEMBER 2, 2019
6:00 a.m. World Vet registration: Riders can sign-up for Saturday or Sunday's World Vet races from 6:00 a.m. to 6:00 p.m.
8:00 a.m. World Vet Day One races: Saturday, November 2, 2019, is the the first day of racing. It includes all of the amateur classes for Novice, Intermediate and Expert racers in age groups 25, Women, 30, 35, 40, 45, 50, 55, 60 and Over-70.
10:00 am. Over-40 Pro class: The Over-40 Pro race will be held at approximately 10:00 a.m. with the second moto around 1:00 p.m.
11:00 a.m. Dubya World Vet Cup Moto 1: The first moto of the World Vet Cup of Nations will be held at 11:00 a.m. It is made up of three-man teams from around the global. Each nation is allowed to enter up to three teams, but each team must consist of an Over-30 Vet, Over-40 Vet and Over-50 Vet. The World Cup will run its first moto on Saturday and its second moto on Sunday at 1:00 p.m. The World Cup is holding one moto on Saturday and one on Sunday so that it will not interfere with rider's preparation for their regular World Vet classes (if both World Cup motos were on the same day, it could result in schedule conflicts with the riders other races).
12:00 p.m. Over-50 Pro Class:  The Over-50 Pro class will race its two motos on Saturday with the first moto at approximately 12:00 noon and their second moto at 2:00 p.m.
It should be noted that the Official "World Vet Championship classes" on Saturday are for the Over-40  and Over-50 Pros — for everyone else it is a chance to work out the kinks before the big day on Sunday.
Canada's Pete DeGraaf is a seven-time World Vet Champion with four in the Over-50 Pro class and three in the Over-60 class. Photo: Debbi Tamietti
SUNDAY, NOVEMBER 3, 2019
5:30 a.m. Glen Helen gates open: Riders who aren't camping can enter the track and pits starting at 5:30 a.m. Sunday is the official World Veteran Motocross Championships day. All the same classes that ran on Saturday will race on Sunday—(except for the Over-40 Pros and the Over-50 Pros who named their Champions on Saturday).
10: 30 a.m Over-30 Pro Class: Sunday's big race is are the Over-30 Pro class. It will be held at 10:30 a.m. (with the second moto at 2:00 p.m.
12:00 Noon Edison Dye Lifetime Achievement Award to Mitch Payton:  At 12:00 noon the racing will stop so that everyone can go to the Glen Helen Museum to see Pro Circuit's Mitch Payton receive his Edison Dye Lifetime Achievement Award. During this break the track crew will work on the big bumps.
1:00 p.m. Dubya World Vet Cup moto two: The first moto was held on Saturday and the second moto will be held on Sunday at 1:00 p.m.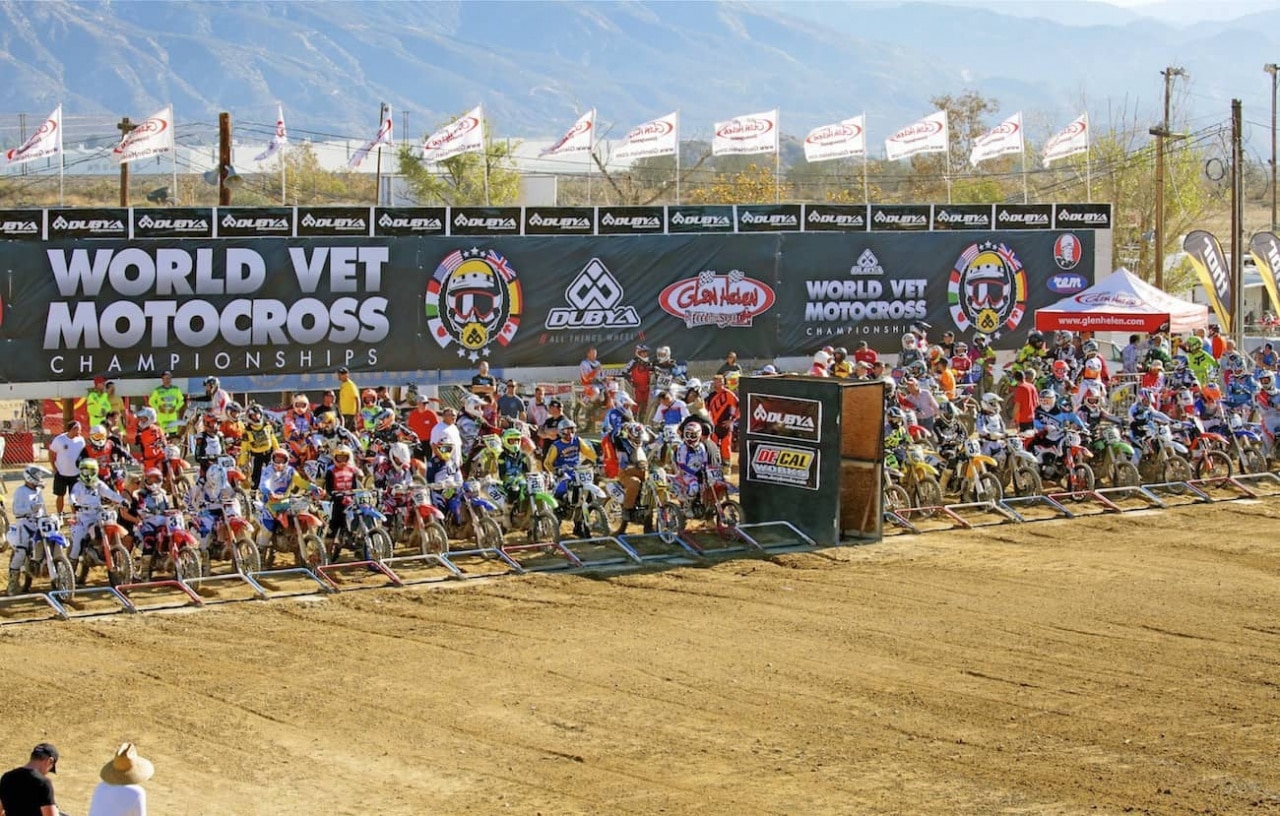 DUBYA WORLD VET SUNDAY SCHEDULE
Gates open: 5:30 a.m.
Sign-up: 6:00 a.m.-3:00 p.m.
Practice: 7:00 a.m.
Amateur Racing starts at 8:30 a.m.
Over-30 Pro First Moto: 10:30 a.m.
Edison Dye Lifetime Achievement Award (in Glen Helen Museum): 12:00 noon
Dubya World Cup of Nations Second Moto (first moto was held on Saturday): 1:00 p.m.
Over-30 Pro First Moto: 2:00 p.m.
EDISON DYE LIFETIME ACHIEVEMENT AWARD
Malcolm Smith (right) introduces Edison Dye to the crowd at his 1999 induction to the award named after him. Roger DeCoster and Feets Minert are behind Edison.
The Edison Dye Motocross Lifetime Achievement Award  is named after the man who brought motocross, motocross bikes and the Inter-Am race series to the United States back in 1967. The award has been received in the past by Edison Dye, Roger DeCoster, Jeff Ward, Joel Robert, Gary Jones, Torsten Hallman, Bruce Brown, John DeSoto and 25 other notables. This year the 2019 Edison Dye Motocross Lifetime Achievement Award will be presented to Pro Circuit's Mitch Payton —the winningest team owner, tuner and mentor in AMA history (with well over 200 AMA Pro victories).
The Glen Helen Museum is always packed with racers and luminaries for the Edison Dye Lifetime Achievement Award ceremony. Get there early for Sunday's presentation.
The noon presentation in the Glen Helen Museum has traditionally been used to honor motocross legends. Additionally, during this time, the track crew will smooth out as much of the downhills and jumps as time allows.

MXA's Jody Weisel won the Edison Dye Award last year and Mitch Payton made Jody's introductory speech.
EDISON DYE LIFETIME ACHIEVEMENT AWARD WINNERS (1997-2019)
1997 …Roger DeCoster
1998 …Rick Johnson
1999 …Edison Dye
2000 …Torsten Hallman
2001 …Bruce Brown
2002 …1981 MXDN Team (Sun, LaPorte, O'Mara, Hansen)
2003 …Gary Jones
2004 …Jeff Ward
2005 …Stu Peters
2006 …Joel Robert
2007 …Bob Hannah
2008 …Brad Lackey
2009 …Tony DiStefano
2010 …Broc Glover
2011 …David Bailey
2012 …Marty Smith
2013 …John DeSoto
2014 …Feets Minert
2015 …Dave McCoy
2016 …Lars Larsson
2017 …Malcolm Smith
2018 …Jody Weisel
2019 …Mitch Payton
DUBYA WORLD VET CUP OF NATIONS RULES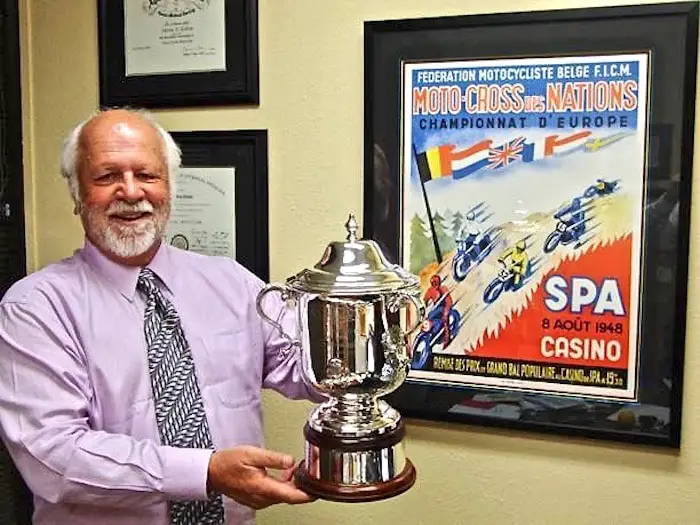 Glen Helen owner Bud Feldkamp holding the World Cup of Nations trophy.
Glen Helen Raceway and Dubya are proud to announce the 1st Annual World Vet Cup of Nations. It is a chance for Veteran riders to represent their countries as part of three-man national teams. Each country will be allowed up to 3 teams consisting of 3 members. Each team must have a 30+, 40+, and 50+ riders on the team. These 3 riders can be of any skill level. The event will be a two-moto format with the first moto on Saturday and the second moto on Sunday.
Holland's Ralf Schmidt  has a Dutch Team ready to go for the World Vet Cup.
The riders in the Cup of Nations will line up in three rows with the Over-30 riders on the first gate, Over-40 riders on the second gate and Over-50 riders on the third gate. Don't worry the track will be long enough to allow each gate a window of their own  to get sorted out.  Riders will all receive race bibs indicating the country they represent colored to indicate their age group. Each rider will be scored in his age group only. The results of each nation's three rider (times two motos) will be added together and the nation with the lowest score  over the two-moto format will be named the winning country.  With three riders racing on Saturday and three on Sunday, each nations will have 6 scores (all 6 scores count in the final results—the worst score will not be dropped). A perfect score would be 1-1-1/1-1-1=6
Jeff Loop went 3-2 for second overall in the Over-30 Pro class last year. He will try to win the Over-30 Pro class thisyear and lead Team USA #2 to the World Vet Cup.

Teams must apply and be accepted for each country. To represent your country, you must be a citizen of that country. The World Vet Cup of Nations Jury Committee will review all applications. If more than three teams are entered from the same nation, the World Cup Jury will choose the three teams that will be allowed to race.
For teams that are in flux, there will be a sign-up booth at the Glen Helen Tower each day just for the World Cup teams. Nation team can be formed leading up to the race (which have one moto on Saturday and one on Sunday). However, entering early ensures that your World Cup bib will have your countries flag on it. If you want to race the World Cup, but do not have enough riders to make up a team to represent your country, you can still apply and the committee will attempt to partner you with other individuals from the same country to make up a team—which is why Glen Helen encourages riders from different countries to come to sign-up and apply as individual—because it is possible that you could be paired with two other riders from your country to form a team on the spot.
Great Britain's Kurt Nicoll (2) has put together a powerhouse team for the World Vet Cup, but first he wants to nail down the Over-40 and Over-50 titles.
Although World Cup teams can be formed right up until Saturday's first moto, there are already 18 teams on the list and many more that are waiting to find their third rider. The powerhouse teams at the moment are Team USA #1 with Josh Grant, Mike Brown and Doug Dubach; Team Great Britain #1 team of with Kurt Nicoll, Brad Anderson and Brian Wheeler; Team Brazil #1 with Jean Ramos, Richard Berois and Fabio Dos Santos; Team USA #2 with Craig Davis, Kris Keefer and Jeff Loop; Team Ireland #1 with David O'Connor, Kenny Powers and Gary Sullivan; Team Spain #1 with Kim Sunol, Xavi Costa and Agusti Vall; Team Canada #1 with Alain Bourdeau, Tim Tremblay and Robert Martin; Team France #1 with Thierry Traccan, David Souza and Arnaud Demonmahou. Teams from Australia, Holland, New Zealand, Mexico and Sweden also on the list.
Doug Dubach has won more World Vet Pro Championships that any other rider. He will race for Team USA #1 in the World Vet Cup of Nations.
The official rules require each to have a 30+, 40+, and 50+ riders, but It is interesting to note that teams can be composed of all Over-40 and Over-50 riders without benefit of an Over-30 rider. Since rules require one 30-year-old, one 40-year-old and one 50-year-old, they can race with an older rider as a replacement for the 30-year old—as long as he is 40 or 50. That means that the rider designated to replace the Over-30 rider must start with the Over-30 riders from the other countries in the first gate.
Under no circumstances can a team have more than one Over-30 rider.
You can see the World Cup application and sign-up now by Clicking Here.

Team Mexico at last year's World Vet.
STUFF YOU NEED TO KNOW
PRE-ENTRIES SAVE MONEY: Pre-entries are open until October 30. The pre-entry cost is $90 to race on both days ($50 for a second class). Which makes the entry fee per-day $45 — if you sign-up for both Saturday and Sunday at the same time. Pre-entry for one day (either Saturday or Sunday) is $60 for the first class (and $40 a second class).
POST-ENTRY RATES Post-entry sign-up will begin on Friday, November 1, at the Glen Helen Tower. Post-entry for both days of racing (Saturday and Sunday) is $140 ($100 for a second class). Which makes the entry fee per-day $70 — if you sign-up for both Saturday and Sunday at the same time. Post-entry for one day (either Saturday or Sunday) is $80 for the first class (and $60 a second class).
TRANSPONDERS: There is no membership or racing license required to race the World Vet. The races will be scored by transponder. If you don't have one, you can borrow one from Glen Helen, but must leave a credit card, driver's license or passport to insure that you bring it back after the race is over. You'd be surprised to find out how many riders drive off with the transponder still on their bike.
All the Swedish riders at the World Vet lined up for a team photo and didn't notice that one Spanish rider (far right) had slipped into the line as a joke. They threw him out and re-shot the photo.
2019 RULE CHANGE: Riders can ride in their age appropriate class (and any class younger than their actual age), but starting in 2019 riders cannot drop a skill category when the ride in a younger class. That means that an Over-50 Expert cannot race the Over-40 Intermediate class. He must race at his skill level in every class he's in. Check at sign-up because some classes, like the Over-70 riders, may be allowed to drop a skill level when they drop to a 10-year younger class (for example an Over-70 Expert would be allowed to race in the Over-60 Intermediate class).
THE AGE RULE: The Over-30 class is for racers over 30 and it doesn't matter if you will be 30 in one month, one week or one day. If you aren't 30 (or 40, 50 , 60 or 70), you will not be allowed in those classes (and if you are caught cheating on the age rule, you may not be allowed to race the World Vet for several years as punishment). You must bring your driver's license to sign-up to prove that you are the right age before transponders will be handed out. No driver's license—no race. This goes for both pre-entered and post-entered riders, who must check in at the tower to tell the officials that they are actually there. For all info or to pre-enter go to www.glenhelen.com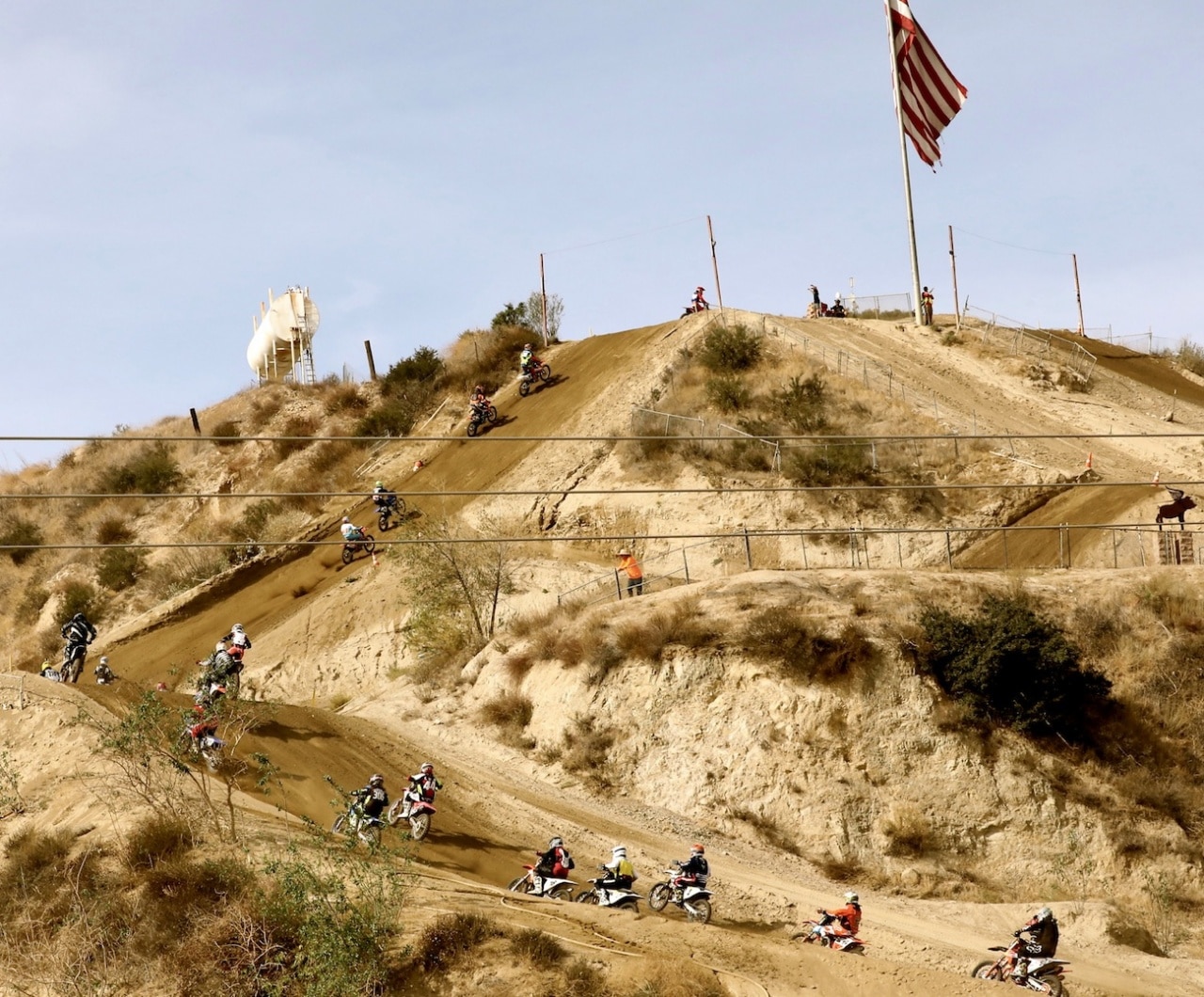 Glen Helen is hilly. The course rises and fall continuously. The lap times are over three-minutes for most of the riders. It is what a real motocross track should be—long, rough and challenging. But there are no big doubles.

JODY WEISEL'S 2018 EDISON DYE LIFETIME ACHIEVEMENT VIDEO
MXA PRODUCT SPOTLIGHT: ALL-NEW STI TECH 2 PRO D TIRES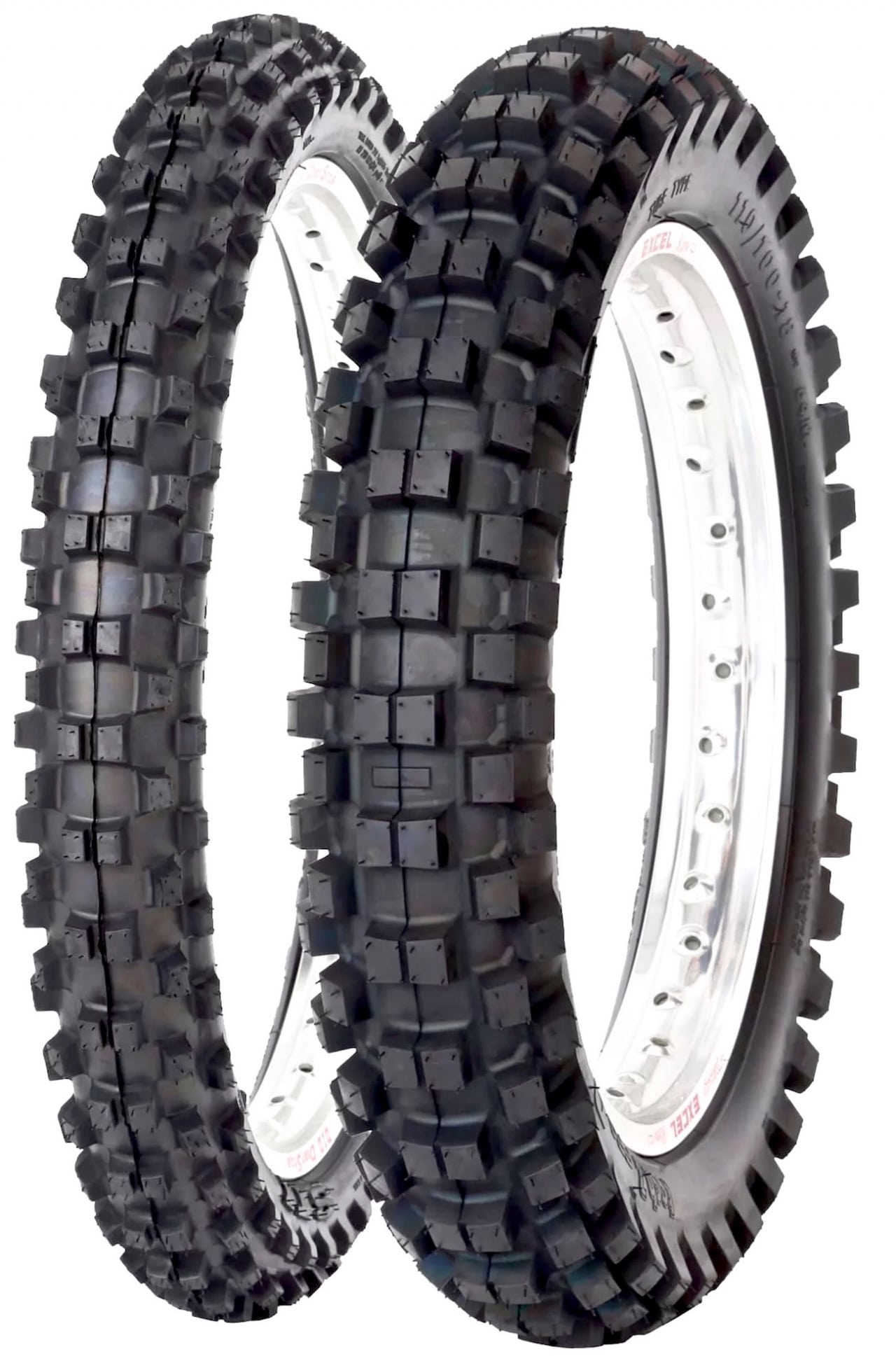 STI's the all-new Tech 2 PRO D tires are high-performance off-road tires that were tested and developed in the grueling conditions of Baja with the help of Team SLR Honda racers. Designed with the same race-winning mindset behind the Tech 2 PRO motocross tires, the off-road focused PRO D models feature a stronger and stiffer carcass, wider tread blocks, and tighter tread-block spacing. The result is exceptional off-road handling, improved performance on hardpack terrain and better high-speed stability.
The tire size offerings in the Tech 2 PRO D line fit the needs of today's performance-minded off-road, desert racing, and dual-sport enthusiasts. Thousands of miles of off-road and desert testing proved the DOT-marked Tech 2 PRO D tires are durable high-performance products designed for tough conditions. Retail prices range from $70 to $104.
STI designs and manufactures tires, wheels and tubes for owners of off-road motorcycles, UTVs and ATVs.  STI is lead by powersports industry veterans with a deep understanding of the needs of off-road enthusiasts. The company is focused on delivering excellent products backed by industry-leading customer service.  For more info Click Here.
YOU CAN MAKE YOUR SOCAL RACING VACATION A REALITY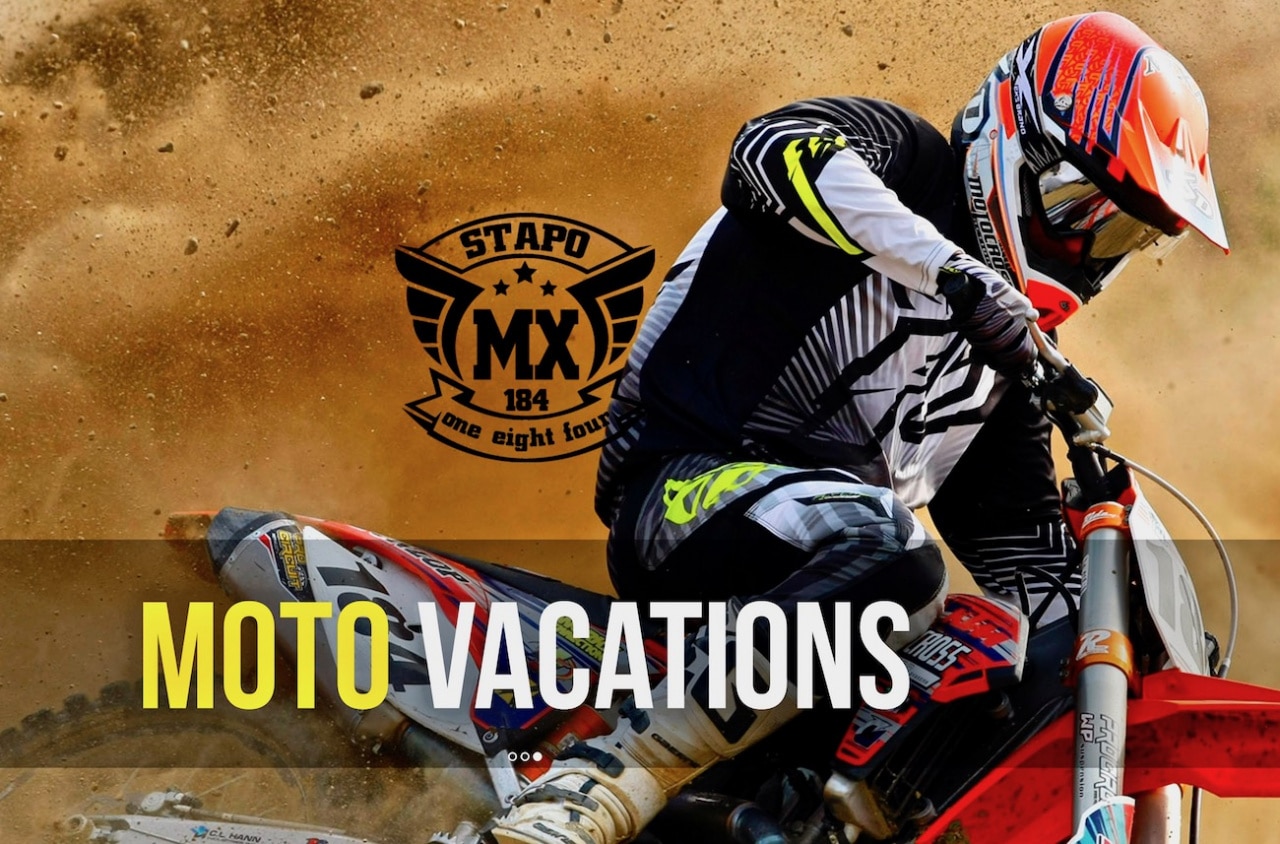 In his spare time, when he's not testing with MXA, racing in a foreign country, going to Japan or helping many of his motocross buddies, Dennis has the time to open up his house, garage, bikes and mechanics to help riders who would like to come to SoCal on a motocross vacation. He offers full service to all of the Southern California tracks for racers or for play riders.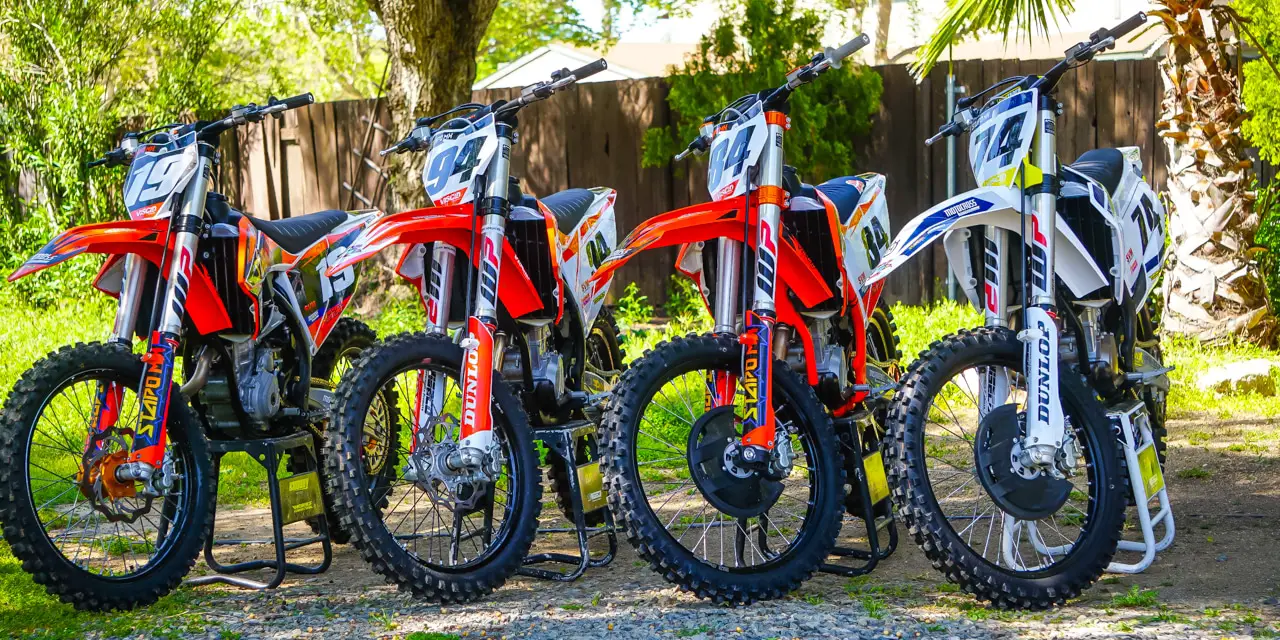 If you're coming out to Southern California and need a rental bike, check out KnobbyShop South/StapoMX for all your rental needs. They offer Motocross Vacations, bike rentals and motocross lessons. Just send them an email ([email protected]). If you'd like to live the SoCal lifestyle for a day, a weekend, a week, a month or three months visit Dennis' website at www.stapomx.com for more details!
GREAT PLAINS VINTAGE SERIES FINALE ON OCT. 20 AT THREE HILLS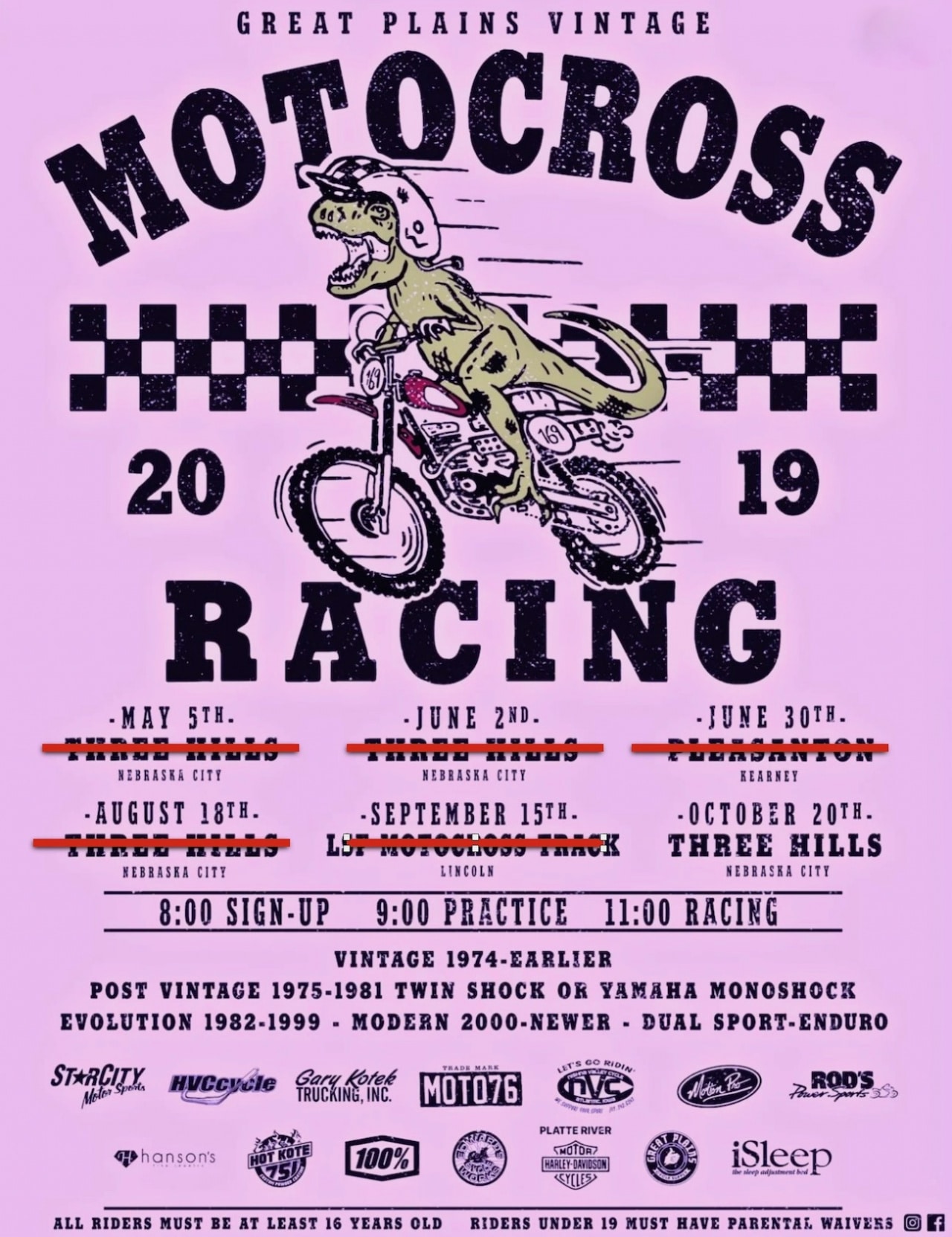 The final race of the Great Plains Vintage motocross series moves to Three Hills on October 20. For more info go to www.greatplainsvintagemx.org.
REM "OCTOBERCROSS" ON THE "WORLD VET TRACK" ON SATURDAY, OCTOBER 26
The only race to run the World Vet Track before the big race. For more info go to www.remsatmx.com
2019 MOTO BEACH CLASSIC AT BOLSA CHICA ON OCT. 26
The Moto Beach Classic short track and dirt track race returns to Bolsa Chica State Beach Saturday, October 26th for more Click Here.
2019 LAKE ELSINORE GRAND PRIX ON NOV. 8-10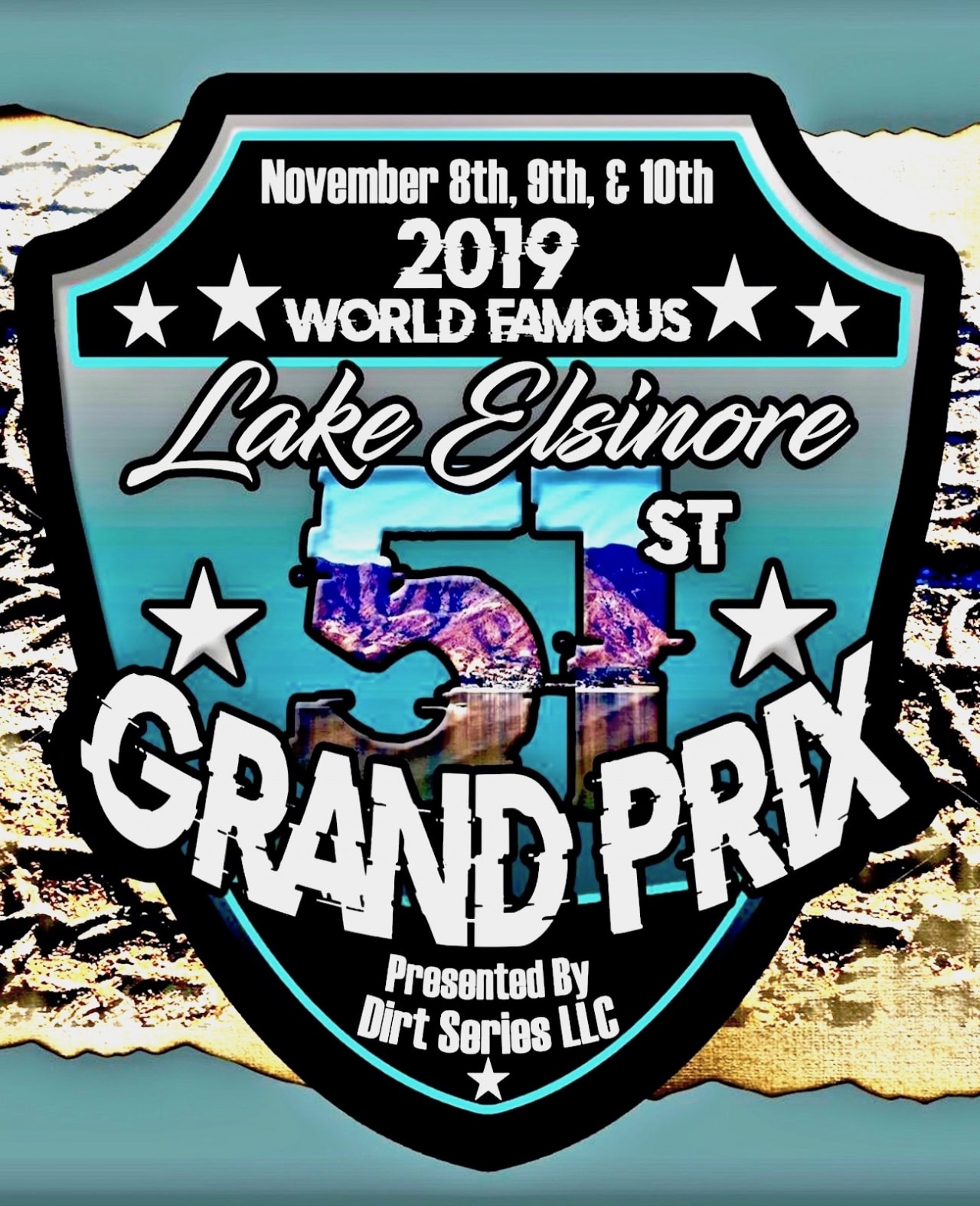 For more information go to www.elsinoregrandprix.com
CAMPREV WINTER EVENT AT FLORIDA'S DREAMLAND ON NOV. 20-22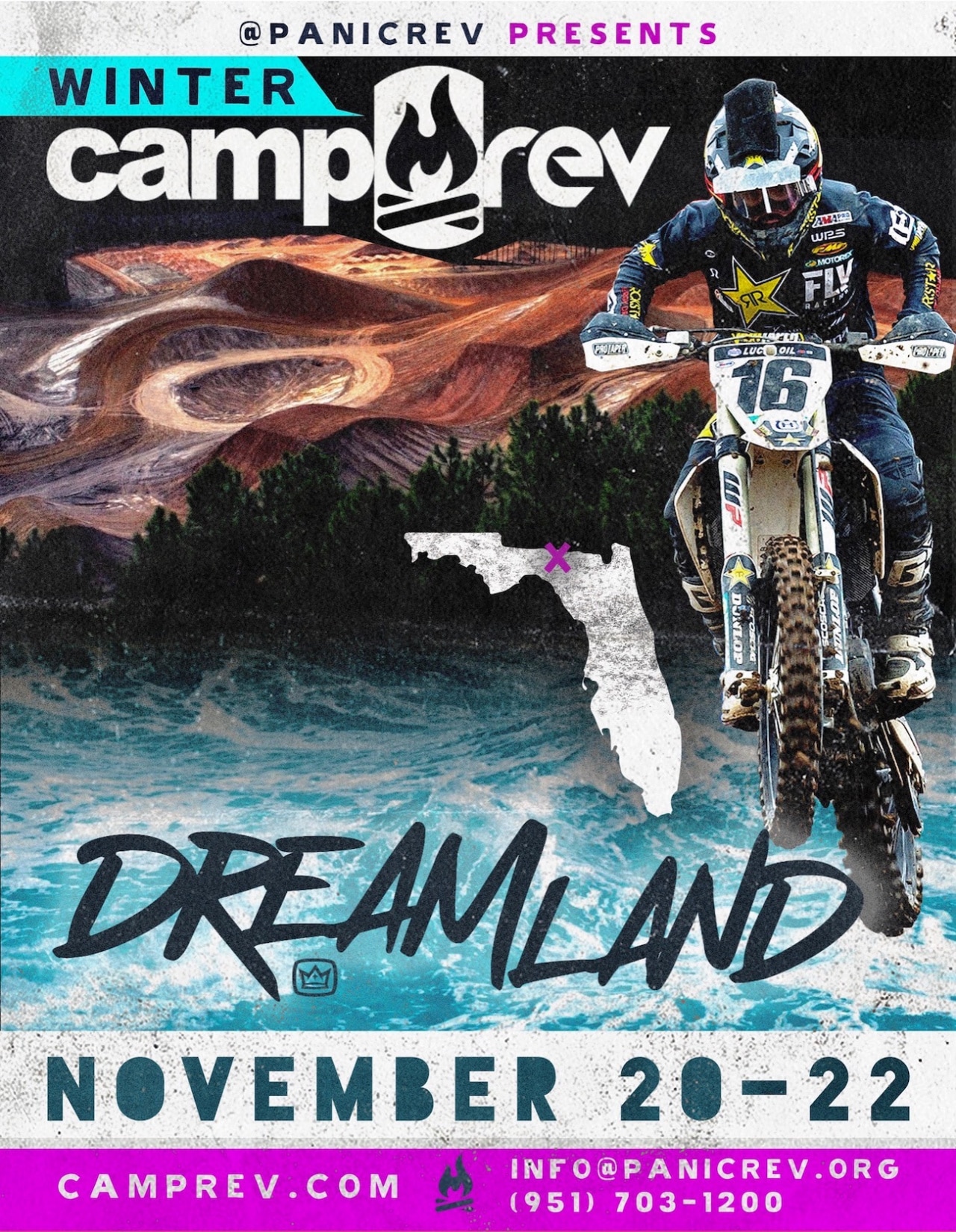 It is going to be a great great time in Florida at CampRev. For more info go to www.camprev.com.
"DAY IN THE DIRT" GRAND PRIX ON NOV. 29 – DEC. 1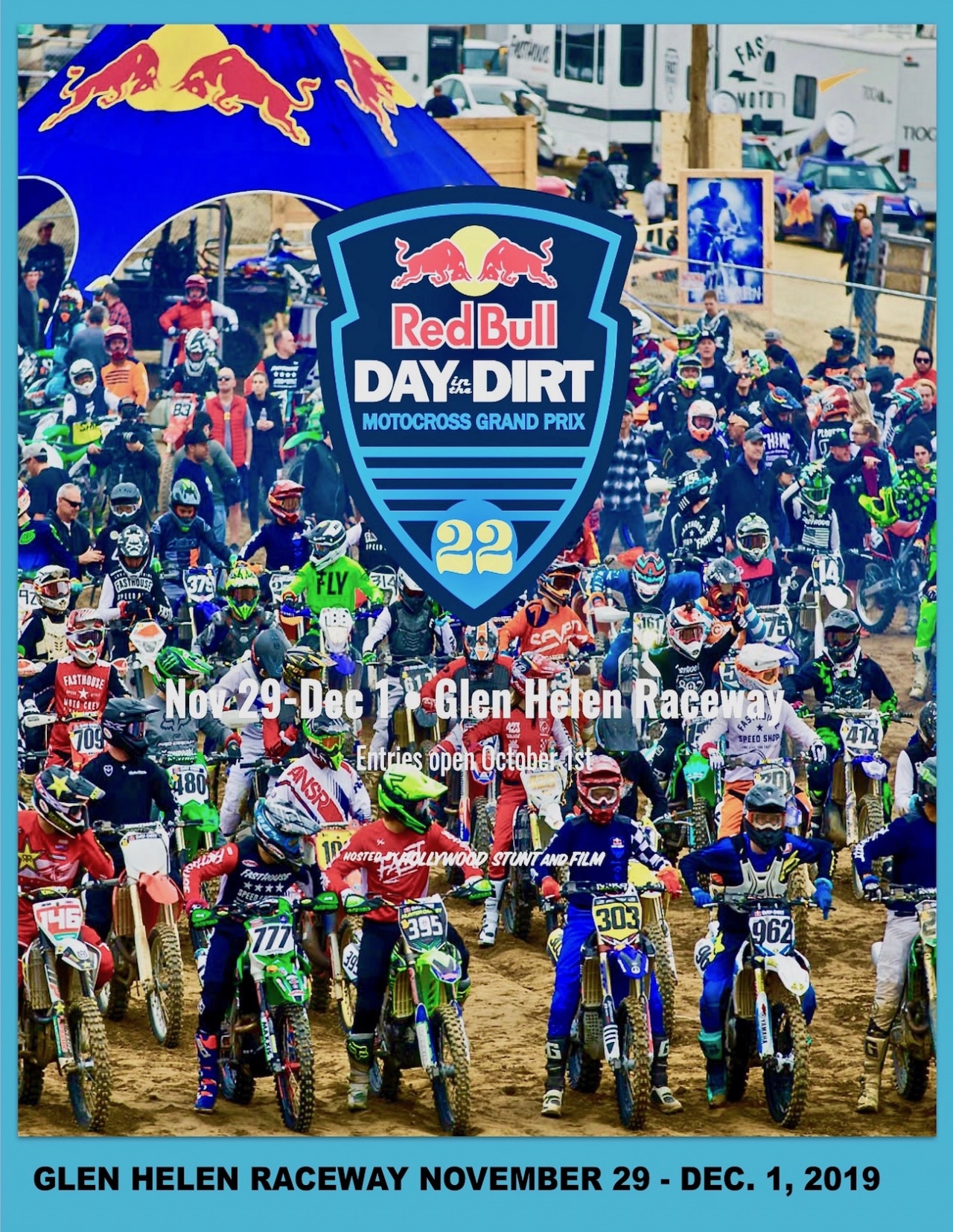 For more info go to www.adayinthedirt.com
7TH ANNUAL KURT CASELLI RIDE DAY AT PALA ON DEC. 14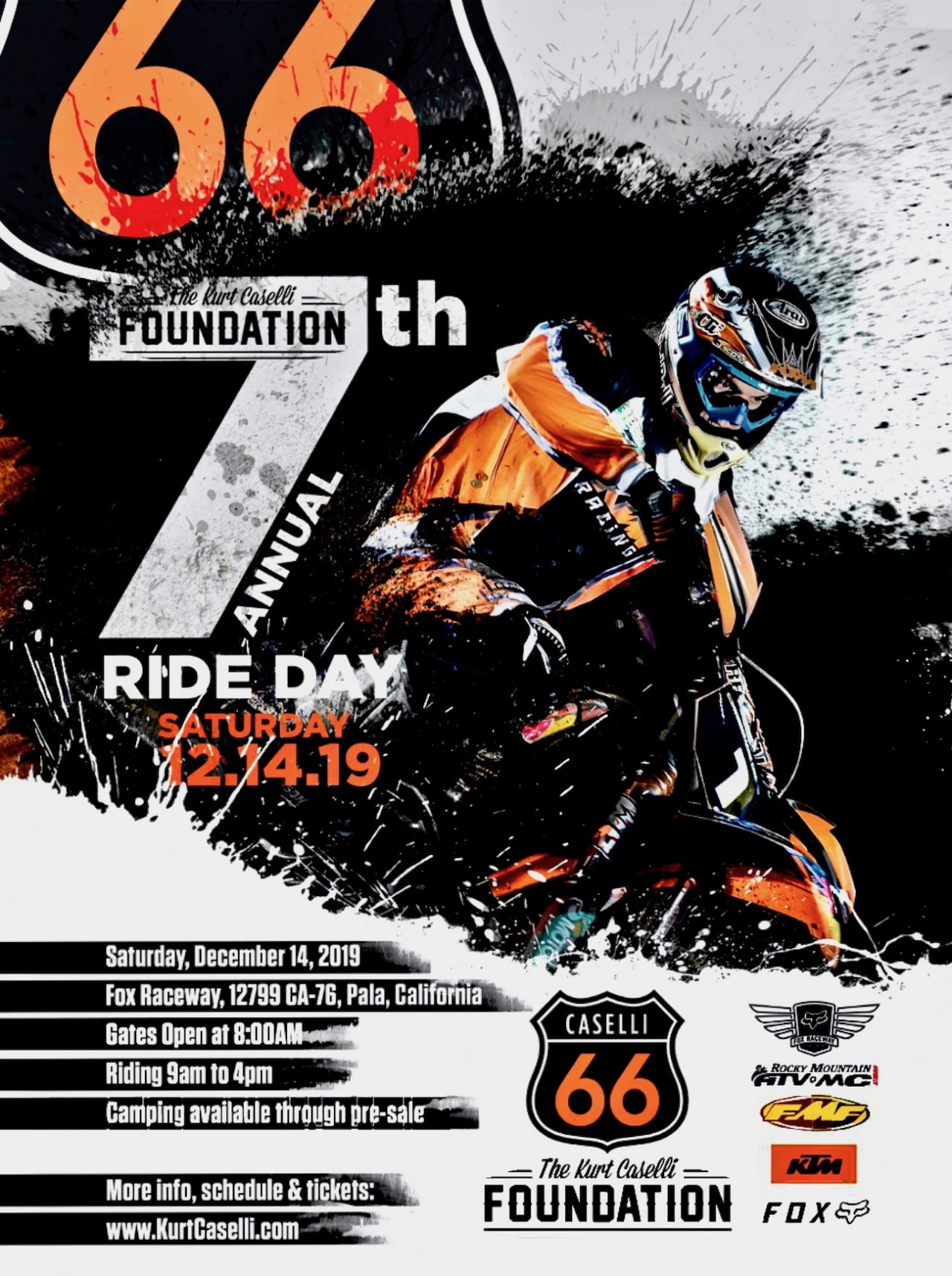 At Pala Raceway from 9:00 a.m. to 4:00 p.m. on December 14. For more info go to www.kurtcaselli.com
MXA'S FIRST RIDE OF THE 2020 KTM 450SXF
LOOKING AHEAD! THE 2020 RACE CALENDAR


2020 AMA SUPERCROSS
Jan. 4…Anaheim, CA
Jan. 11…St. Louis, MO
Jan. 18 …Anaheim, CA
Jan. 25…Glendale, AZ
Feb. 1…Oakland, CA
Feb. 8…San Diego, CA
Feb. 15…Tampa, FL
Feb. 22… Arlington, TX
Feb. 29… Atlanta, GA
Mar. 7…Daytona Beach, FL
Mar. 14…Indianapolis, IN
Mar. 21…Detroit, MI
Mar. 28…Seattle, WA
Apr. 4…Denver, CO
Apr. 18…Foxborough, MA
Apr. 25…Las Vegas, NV
May 2…Salt Lake City, UT
2020 AMA ARENACROSS CHAMPIONSHIP
Jan. 3-4…Loveland, CO
Jan. 11…Hobbs, NM
Jan. 24-25…Oklahoma City, OK
Jan. 31-Feb. 1… Denver, CO
Feb. 7-8…Reno NV
Feb. 28-29…Salt Lake City, UT
Mar. 7… Amarillo, TX
2020 AMA NATIONAL CHAMPIONSHIP
May 16…..Hangtown, CA
May 23…..Pala, CA
May 30….Thunder Valley, CO
Jun. 6……Jacksonville, FL
June 20…Mt. Morris, PA
June 27…Southwick, MA
July 4……Red Bud, MI
July 18….Millville, MN
July 25….Washougal, WA
Aug. 15…Unadilla, NY
Aug. 22…Budds Creek, MD
Aug. 29…Crawfordsville, IN
2020 FIM MOTOCROSS WORLD CHAMPIONSHIP
Mar. 1…Great Britain
Mar.8…Holland
Mar. 22…Argentina
Apr. 5…Italy #1
Apr. 19…Spain
Apr. 26…Portugal
May 10…France
May 17…Italy #2
May 24…Germany
June 7…Russia
June 14…Latvia
June 28…Jakarta, Indonesia
July 5…Palembang, Indonesia
July 26…Czech Republic
Aug. 2…Belgium
Aug. 16…Sweden
Aug. 23…Finland
Sept. 6.…Turkey
Sept. 13…China
Sept. 20…Italy #3
2020 FIM MOTOCROSS DES NATIONS
Sept. 13.…Ernee, France

2020 WORCS OFF-ROAD CHAMPIONSHIP
Jan. 12…Primm, NV
Feb. 23…Taft, CA
Mar. 22… Havasu, AZ
Apr. 19…Blythe, CA
May 3…Las Vegas, NV
May 30…Hurricane, UT
July 19…Prineville, OR
Sept. 20…Glen Helen, CA
Oct. 25…Cahuilla, CA
Nov. 15…Primm, NV
2020 WORCS SPRINT ENDURO
Feb. 25…Taft, CA
May 24… Mesquite, NV
July 25…Prineville, OR
Sept. 26…Glen Helen, CA
Oct. 31…Cahuilla, CA
MXA YOUTUBE CHANNEL | HIT THAT SUBSCRIBE BUTTON

The MXA wrecking crew is everything moto related. Check out our MXA YouTube channel for bike reviews, Supercross coverage, rider interviews and much more. And don't forgot to hit that subscribe button.
FOLLOW MXA ON TWITTER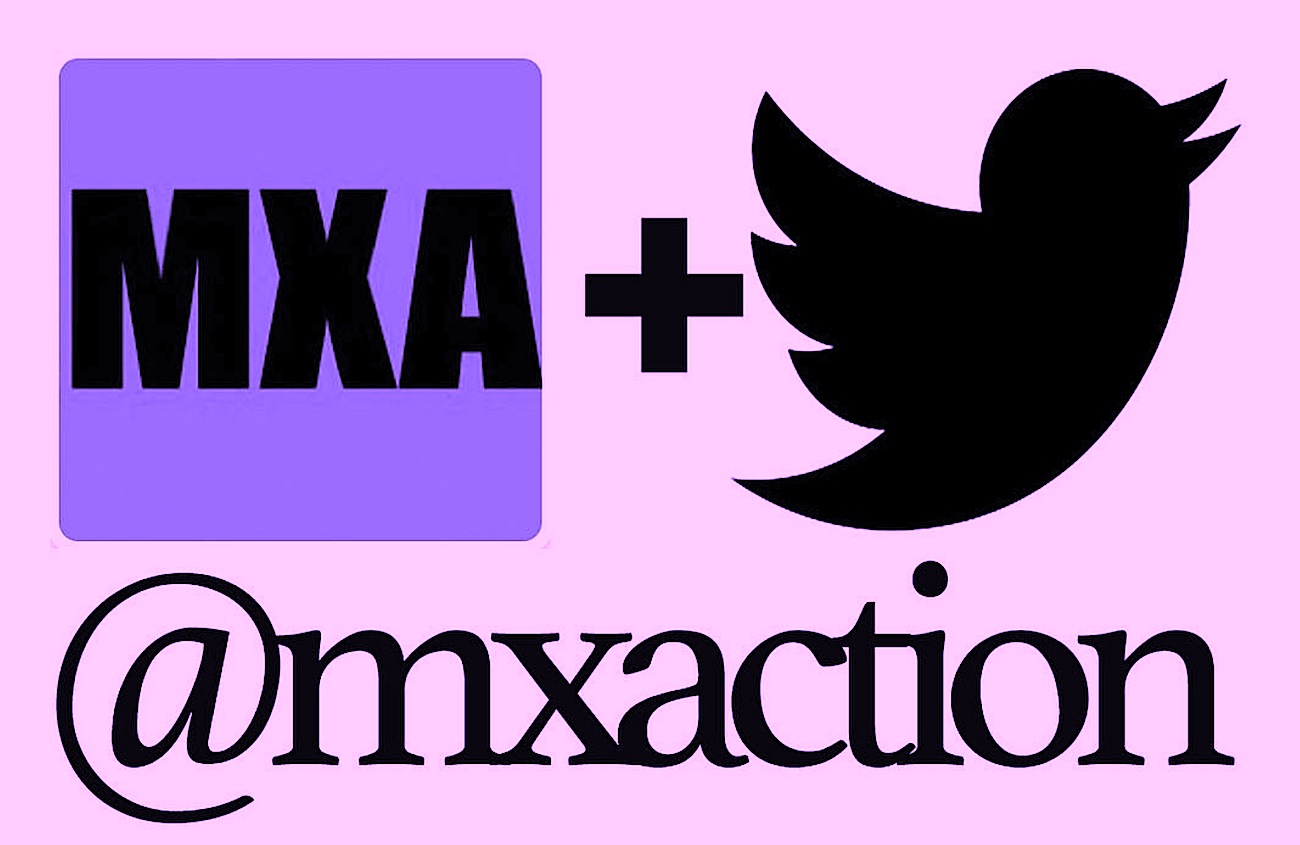 Follow us to see fresh content every day at www.twitter.com/MXAction or on twitter at "MXAction."
TALK MOTO WITH ON MXA'S FACEBOOK GROUP CHAT


We love everything moto and want to bring all moto junkies together into one place to share their two cents, ideas, photos, bike fixes, bike problems and much more. To check it out first you must need to or already have a Facebook account. If you don't, it isn't much work and you could even have an alias so nobody knows it is you. To join click HERE. After you request to join we will accept your request shortly after.
Photos: Brian Converse, Honda, Husqvarna, Daryl Ecklund, Jody Weisel MXA, KTM, Debbi Tamietti, Oset