MXA'S WEEKEND NEWS ROUND-UP: CORNERS ARE IMPORTANT

Click on images to enlarge
STRAIGHT RHYTHM RESULTS: STEWART & STEWART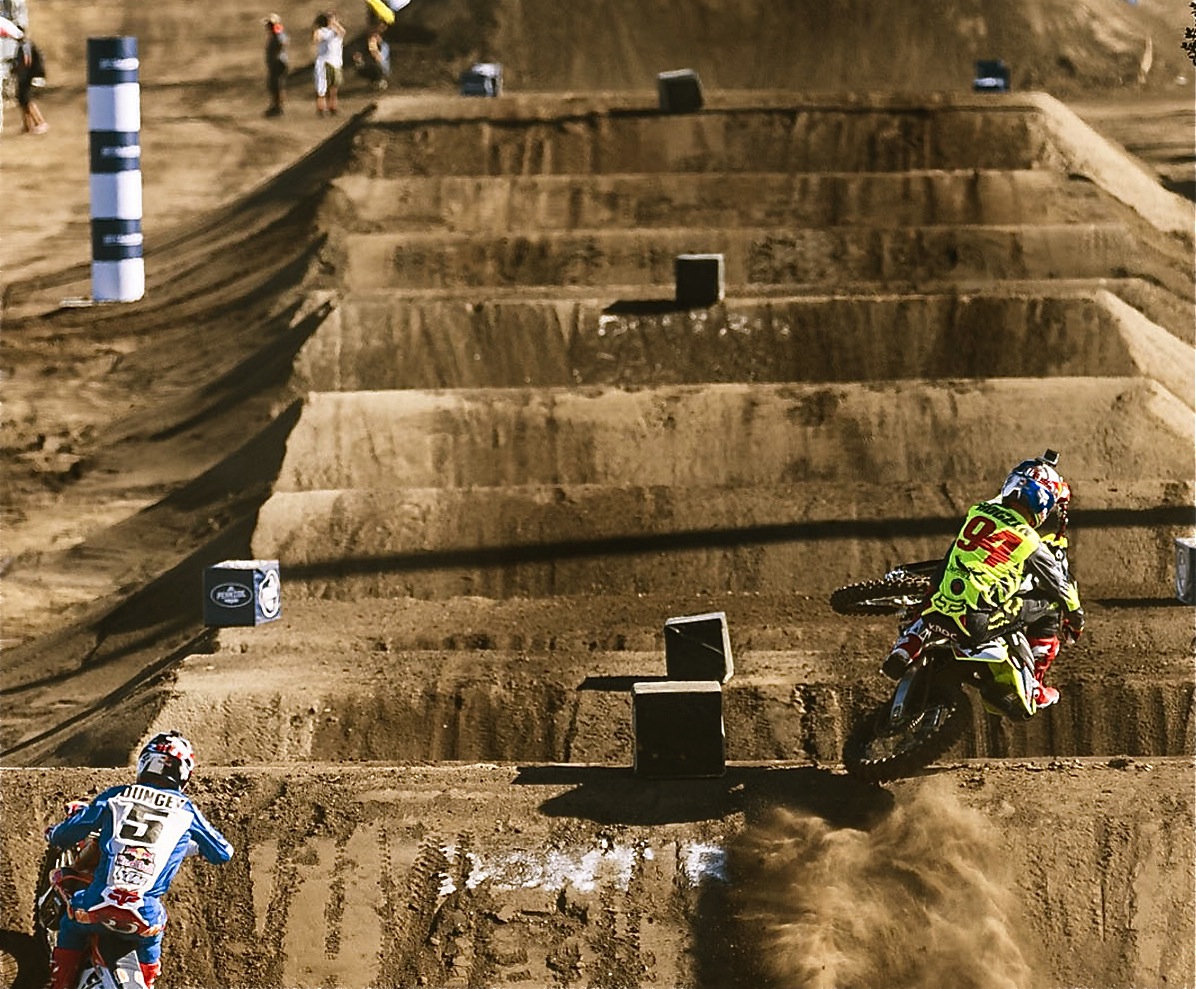 Ryan Dungey and Ken Roczen scrub for all they've got. The field was incredibly weak through the first rounds, but got tense for the final 42-second races. Photo: Garth Milan/Red Bull Content
450 class:
1. James Stewart..Suz
2. Ken Roczen…Suz
3. Ryan Dungey…KTM
4. Justin Brayton…KTM
250 Class
1. Malcolm Stewart…Hon
2. Shane McElrath…KTM
3. Jordon Smith…Hon
4. Jessy Nelson…KTM
THIS WEEK'S BIRTHDAY BOYS: THE AUSSIE & THE AFRICAN

Oct. 12…Dan Alamangos 1964
Oct. 12…Cody Cooper 1983

Oct. 13…Greg Albertyn 1972
Oct. 13…Mike Shield
Oct. 14…Todd Lentz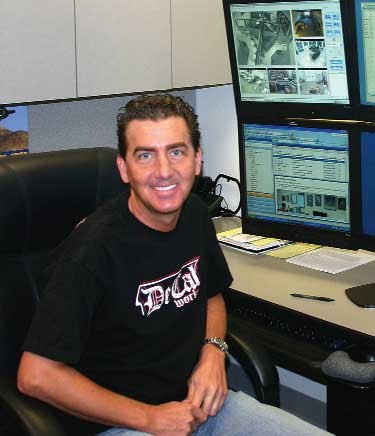 Oct. 14…Ron Joynt
Oct. 15…Matt Walker 1981
LAKE ELSINORE GRAND PRIX ONCE CANCELED, NOW BACK ON
Last month, organizers canceled the annual Elsinore Grand Prix because of the drought. Now, the race has been rescheduled for November 7-8 at the Lake Elsinore Motorsports Park. The course will not be as large as when it was based at the baseball stadium in order to be able to water it with reclaimed water. Entry is $90 before November 1 and $120 after. Go to www.lakeelsinoregp.com for info.
ENDUROCROSS COMES TO XFINITY ARENA ON OCT. 17
ROUND 2 OF AUSSIE SUPERCROSS AT JIMBOOMBA ON OCT. 17


2015 AUSTRALIAN SUPERCROSS CHAMPIONSHIP
Oct. 17…Jimboomba, QLD
Oct. 31…Wayville, SA
Nov. 21…Sunshine Coast, QLD
Nov. 28…Homebush, NSW
Dec. 5…Sunshine, Vic
DAY IN THE DIRT IS COMING TO GLEN HELEN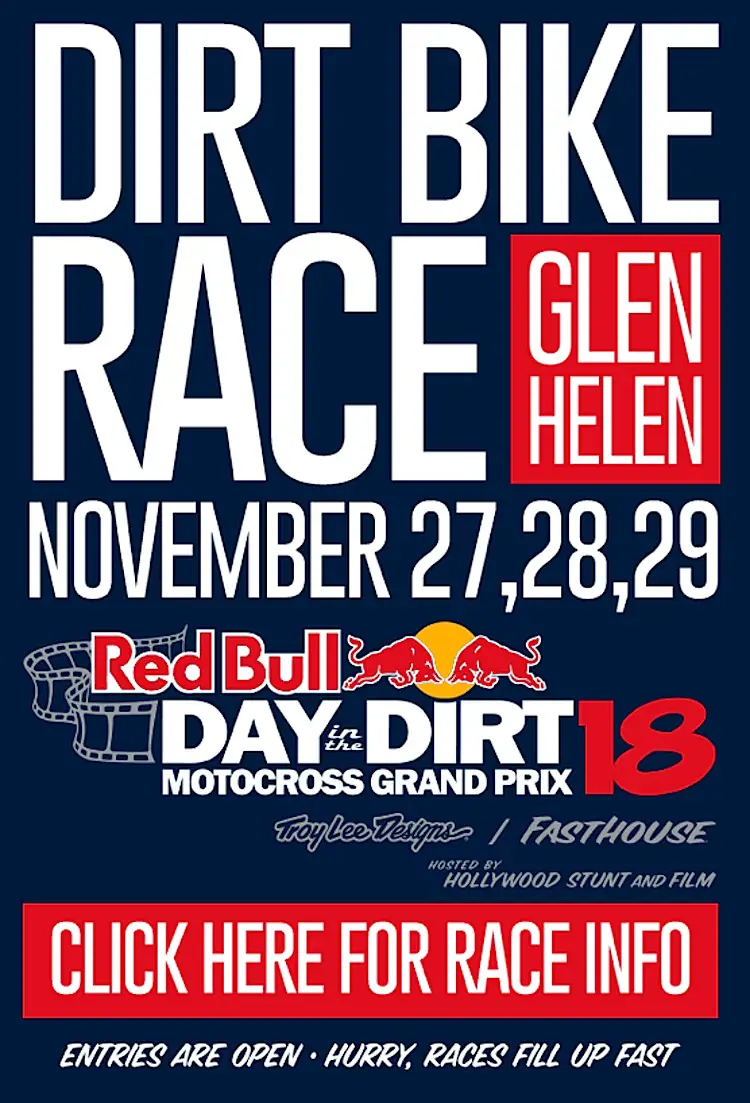 The 2015 Day in the dirt will be held at Glen Helen Raceway on November 27, 28 and 29. For more info go to www.dayinthedirt.com
AS IF VW DOESN'T HAVE ENOUGH PROBLEMS


Everyone has heard how Volkswagen falsified the emission reports on its diesel-powered automobiles and how it led to the resignation of their CEO (not to mention a drop in their stock price). But this hasn't been a good time for Volkswagen on the Suzuki front either. Volkswagen lost its long-fought battle with Suzuki over VW's ownership of 19.9% of Suzuki's stock. Suzuki and Volkswagen formed a joint partnership several years ago, but Suzuki got cold feet and dissolved the deal in 2011. Volkswagen refused to sell the stock back and the case ended up in the London Court of International Arbitration. The verdict? Volkswagen will have to sell its 19.9% stake back to Suzuki. The arbitration ruling allows Suzuki to buy its stock back from VW for roughly $3.8 billion. In what turns out to be not such a bad deal, VW only paid $1.9 billion for the stock. The court also ruled that Suzuki also violated its partnership agreement with Volkswagen, so they may face financial penalties in the future. Also in the future is the fate of the 1.5% of Volkswagen that Suzuki got in the original deal.
FROM TONY D'S BASEMENT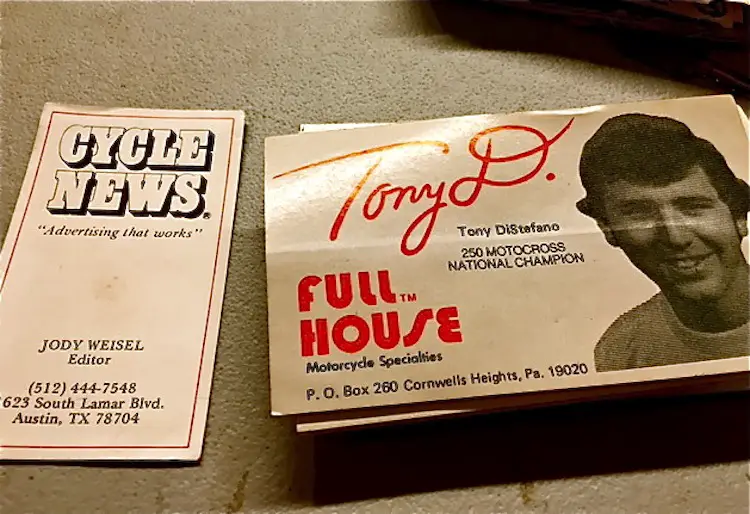 Three-time AMA 250 National Champion Tony D was cleaning out his basement this week and found these two old business cards from 1975. Tony and Jody traveled the AMA Nationals, Trans-AMAs and Supercrosses together in the 1970s, but in the era before cell phones and iPads they traded business cards to save phone numbers—which they stuck in Rolodex files. My how the times have changed.

SUZUKI TEAM TO FOLD IN AUSTRALIA: MATT MOSS AVAILABLE
Matt Moss delivered for Suzuki of Australia. Photo: Motul
At the end of the 2015 Australian Supercross Championship, Suzuki Australia will end its factory backed motocross racing effort with Team Motul Suzuki. Suzuki says that its strategic direction in th future is to increase the focus on customer-oriented marketing programs across the breadth of the motorcycle and ATV product range. Over the past 19 years the Suzuki team has won 4 Australian Motocross and 6 Supercross Championships. Current team riders Matt Moss and Kale Makeham will be supported through the Australian Supercross series.
ASK THE MXPERTS: WHO INVENTED THE HOLESHOT DEVICE?
Dear MXA,
    I saw a conversation on the web about holeshot devices and they had everyone from Alexander Graham Bell to Chad Reed inventing the holeshot device. Who really invented it?

YAMAHA'S PROTOTYPE 01GEN THREE-WHEEL LEANER
Yamaha's concept 01GEN has two wheels up front and a belt-driven, single, rear wheel. Yamaha calls it an "On & Off Crossover," because it can been ridden on both pavement and dirt.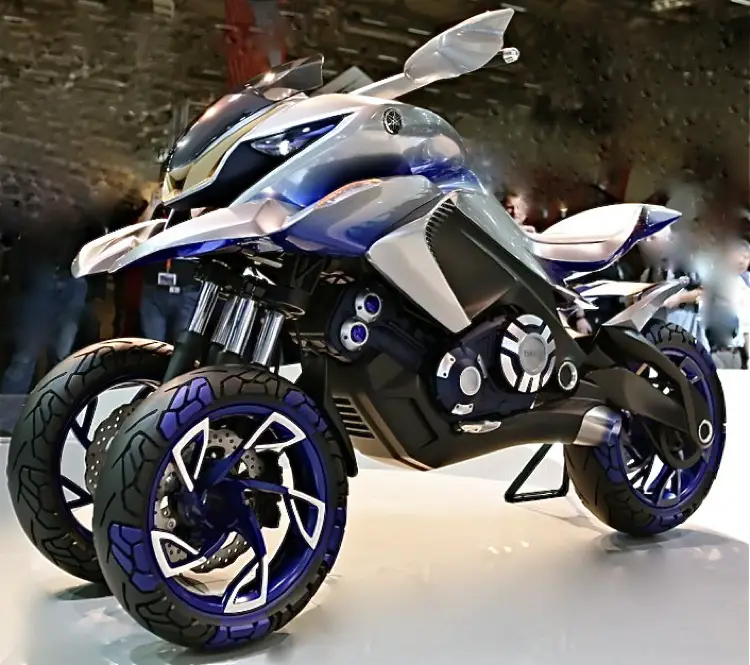 It is a leaner, in that each front wheel leans into the corners, supported by its own fork and covered by its weird, lobster-like, dual front fenders. Yamaha's design department is big on three-wheel leaners, as proven by last year's Tricity scooter.

CHRIS & DAN ALAMANGOS PHOTO OF THE WEEK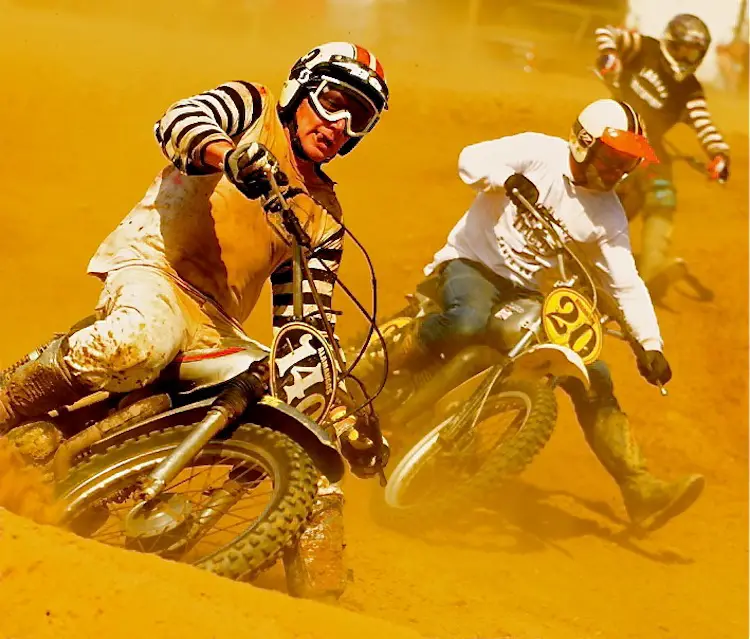 Last week's photo of Aussie Chris Alamangos broadsliding a Suzuki TM125 at a vintage race was such a rage, that we found this photo of Chris on a 1974 Yamaha. Note the tongue position, its one of Chris' speed secrets. Photo: Dan Alamangos
MXA TEST BIKE OF THE WEEK: MAKE THAT "BIKES"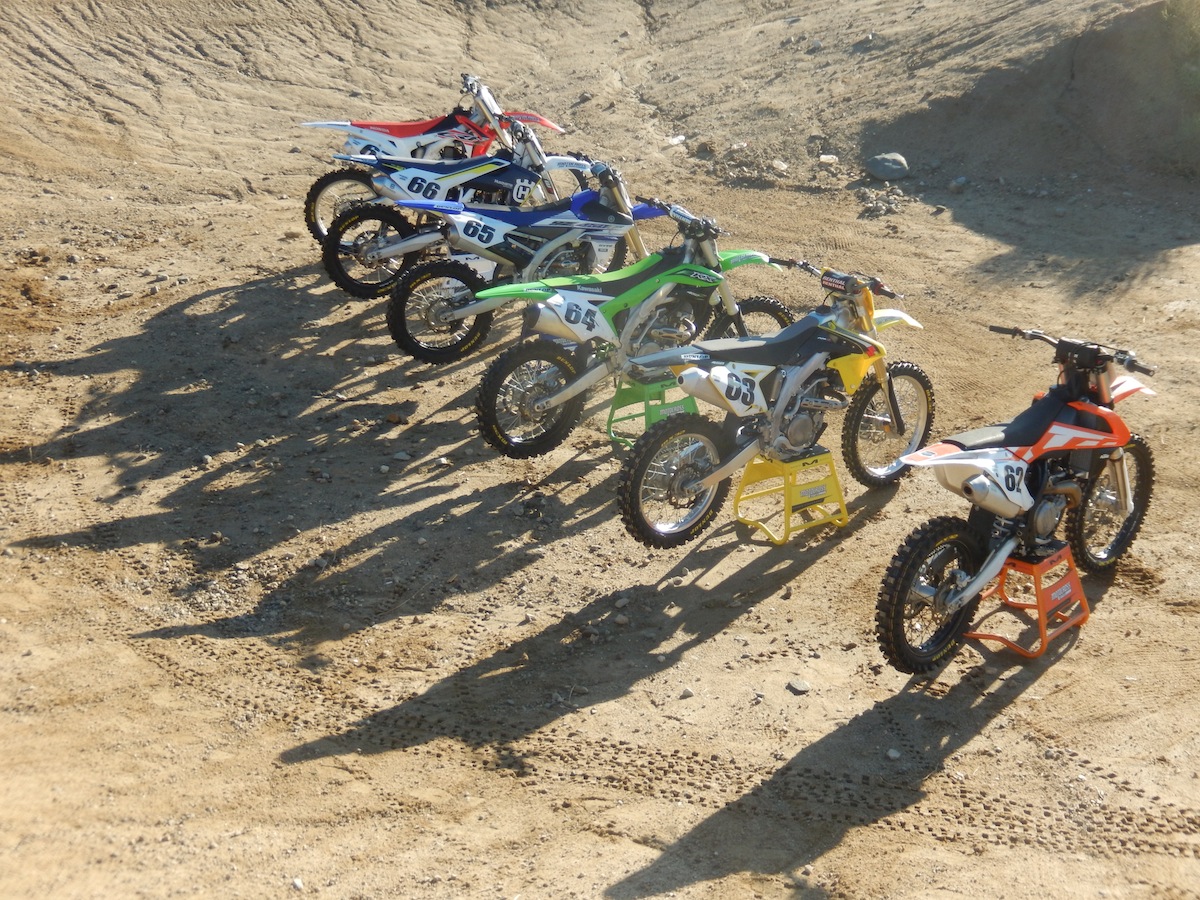 Casting long shadows in the morning sun, MXA's squadron of 450cc test bikes are lined up and waiting for the test riders. We have been testing these six bikes for months in preparation for the 2016 MXA 450 Shootout.
THE WAY WE WERE: IF YOU WERE AROUND IN 1980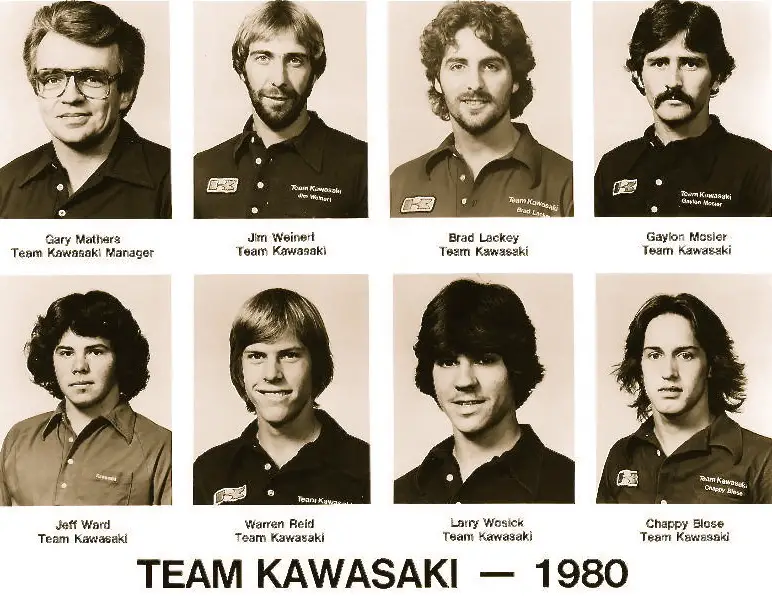 The 1980 Kawasaki team was made up of Jim Weinert, Brad Lackey, Gaylon Mosier, Jeff Ward, Warren Reid, Larry Wosick and Chappy Blose.
SUBSCRIBE TO MXA AND MAKE MONEY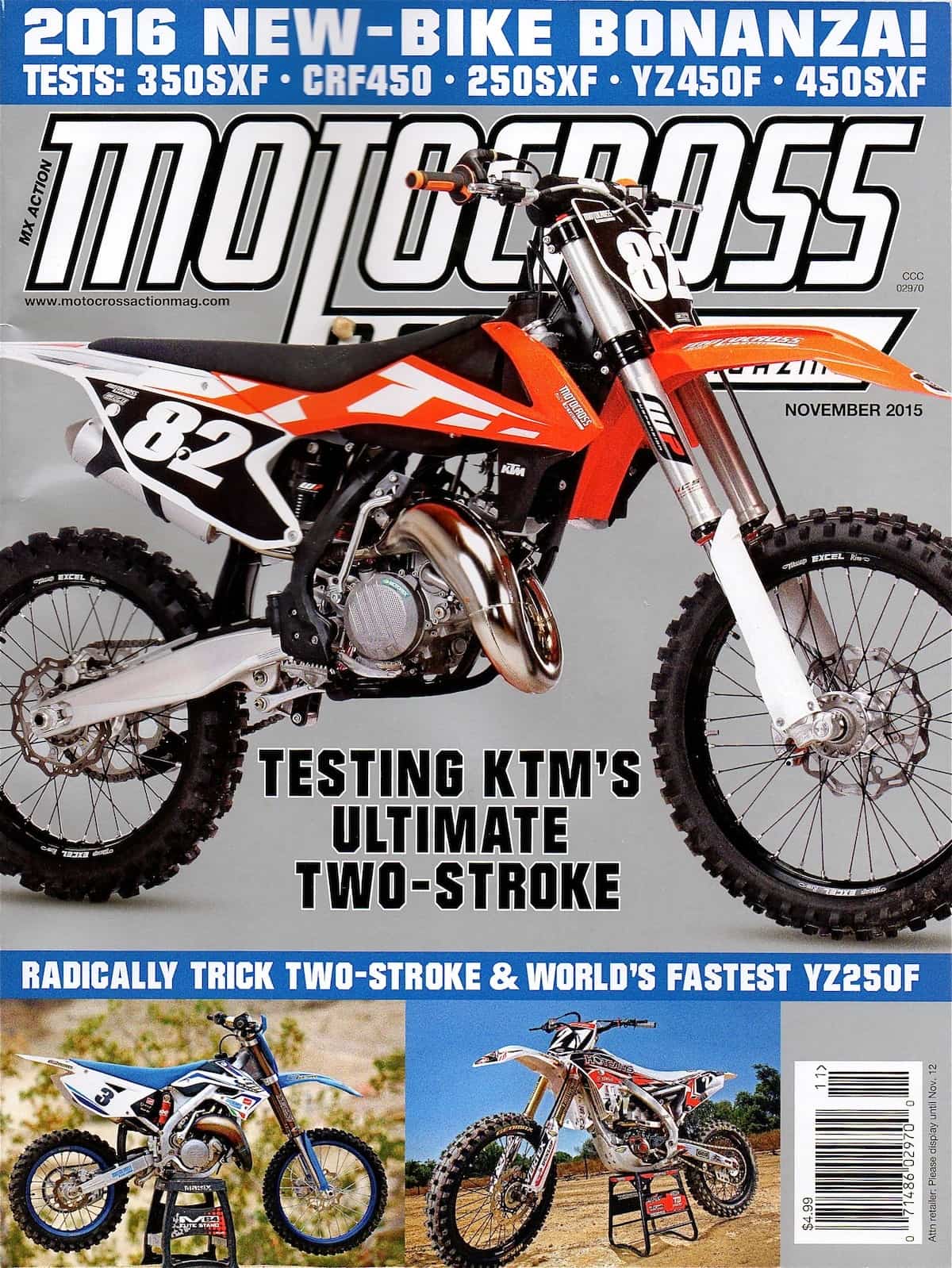 If you had subscribed to MXA, the November 2015 issue would be winging its way to your mailbox right now. It's chock full of good stuff.  Plus, subscribers get a $25 Rocky Mountain gift card that pays for their subscription and then some.

Do you subscribe to MXA? You should. We know that you think that print magazines are dead and that the internet will fill the void, but most of the stuff in the current issue of MXA won't appear on the web for several months, if at all. Luckily, you can get all of MXA on your iPhone, iPad, Kindle or Android by going to the Apple Store, Amazon or Google play, but better yet get the Digital desktop version at https://hi-torque.com/product/motocross-action-digital-edition/ or click on the link below to get the print version delivered to your door for only $15.99 (plus you get a free $25 Gift Card from Rocky Mountain ATV/MC just for subscribing). There is a profit to be made in this deal for you. For the Print magazine go to: http://hi-torque.com/product/subscribe-to-motocross-action-magazine/

CLEAR YOUR CALENDAR: WHERE TO BE & WHEN TO BE THERE

The REM Octobercross is one week before the 2015 World Veteran Championship.
2015 MONSTER ENERGY CUP
Oct. 17………………………..…Las Vegas, NV
2015 REM OCTOBERCROSS
Oct. 31………………………..…Glen Helen, CA
2015 RACE AROUND THE LAKE
Oct. 30-Nov. 2……………….Castaic Lake, CA
2015 GEICO ENDUROCROSS CHAMPIONSHIP
Oct. 17…………………Everett, WA
Nov. 7………………….Boise, ID
Nov. 20-21…………..Ontario, CA
2015 AUSTRALIAN SUPERCROSS CHAMPIONSHIP
Oct. 10…………………………..Bathurst, NSW
Oct. 17……………………………Jimboomba, QLD
Oct. 31……………………………Wayville, SA
Nov. 21…………………………..Sunshine Coast, QLD
Nov. 28…………………………..Homebush, NSW
Dec. 5……………………………..Sunshine, Vic
2015 WORLD VETERAN MOTOCROSS CHAMPIONSHIP
Nov. 7-8……………………….Glen Helen, CA
PARIS SUPERCROSS
Nov. 14-16…………………….Lille, FRA
THOR MINI OLYMPICS
Nov. 23-28…………………..Gainesville, FL
GENEVA SUPERCROSS
Dec. 4-5……………………….Geneva, SW
2016 AMA SUPERCROSS CHAMPIONSHIP SCHEDULE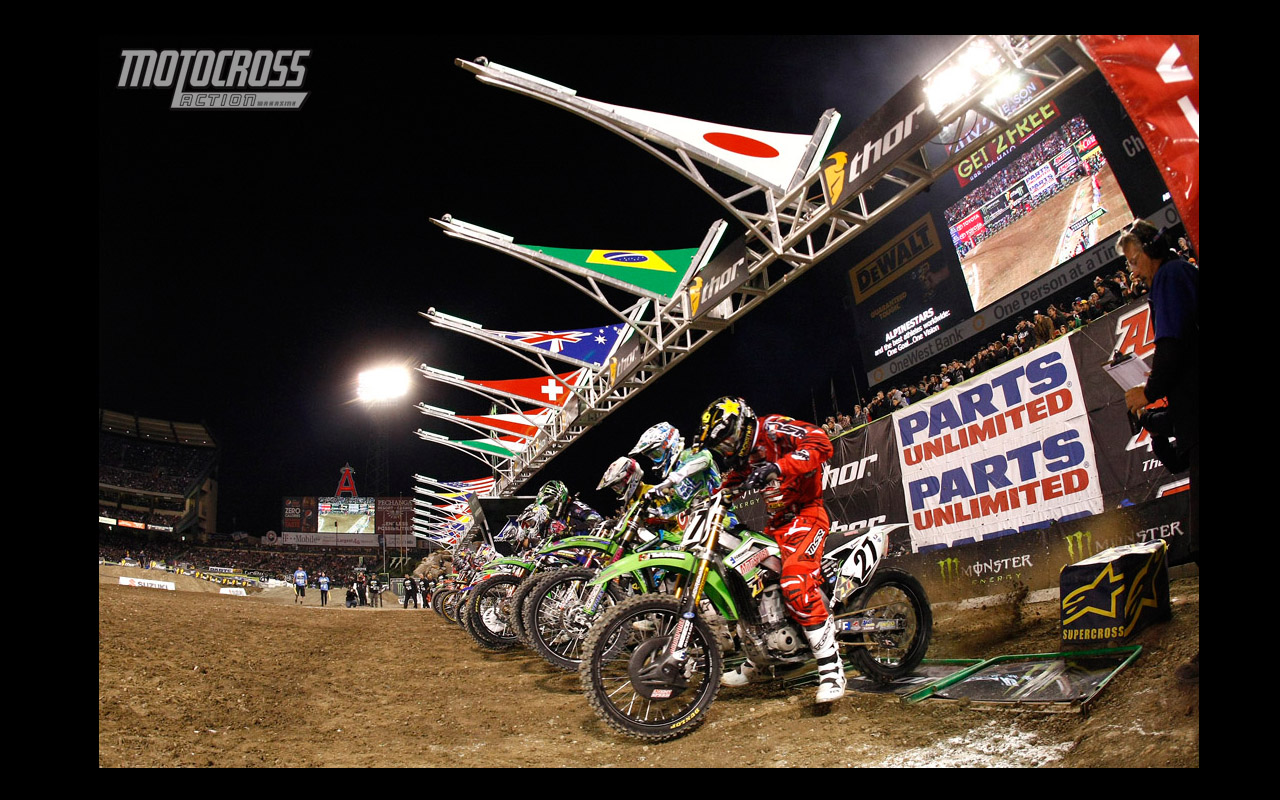 Next year, starting on January 9, 2016, there will be two Anaheims and two San Diegos, but only one Atlanta.

2016 AMA SUPERCROSS CHAMPIONSHIP
Jan. 9…………………….Anaheim, CA
Jan. 16………………….San Diego, CA
Jan. 23………………….Anaheim, CA
Jan. 30………………….Oakland, CA
Feb. 6……………………Glendale, AZ
Feb. 13………………….San Diego, CA
Feb. 20………………….Arlington, TX
Feb. 27………………….Atlanta, GA
March 5………………….Daytona, FL
March 12………………..Toronto, CAN
March 19………………..Detroit, MI
April 2………………..….Santa Clara, CA
April 9………………..….Indianapolis, IN
April 16………………….St. Louis, MO
April 23………………….Foxboro, MA
April 30………………….East Rutherford, NJ
May 7…………………….Las Vegas, NV
NEW! 2016 FIM WORLD MOTOCROSS CHAMPIONSHIP SCHEDULE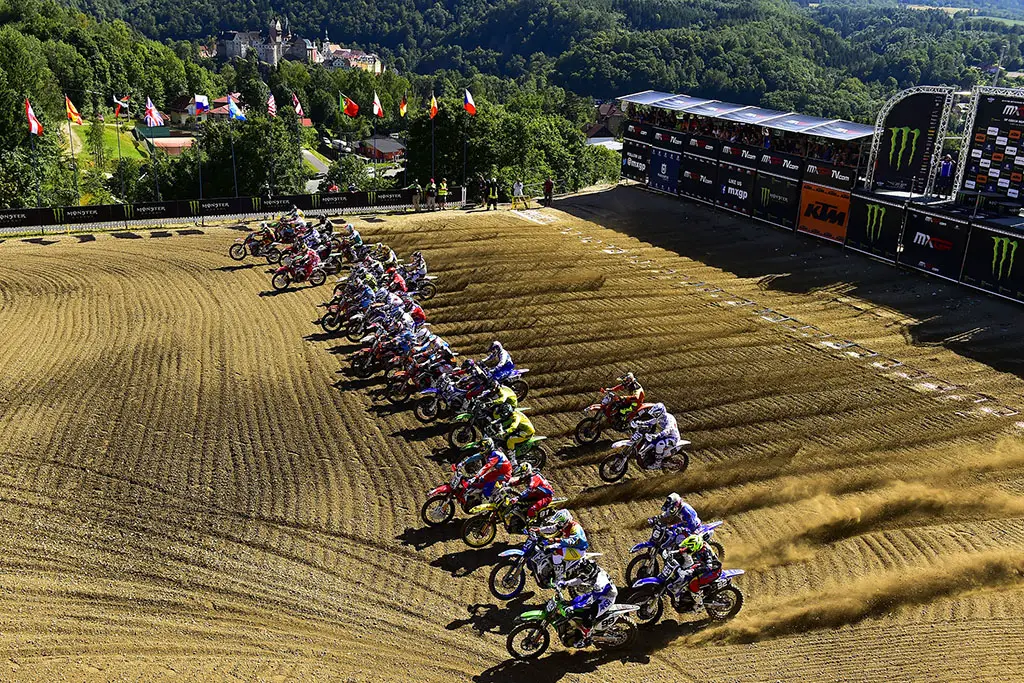 One thing we can promise for the 2016 GP season is that this race schedule will be changed a couple times. How do we know? Italy is only on there one time. The 2016 series starts in Qatar, goes to South Africa and then to Argentina. What? No moon?

NEW 2016 FIM MOTOCROSS WORLD CHAMPIONSHIP SCHEDULE
Feb. 27……………………..Losail, Qatar
Mar. 06……………………..Suphan Buri, Thailand
Mar. 13……………………..Sepang, Malaysia
Mar. 3……………………….Neuquen, Argentina
April 24……………………..Leon, Mexico
April 17…………………….Valkenswaard, Holland
May 1……………………….Kegums, Latvia
May 8……………………….Teutschenthal, Germany
May 15……………………..Pietramurata, Italy
May 29……………………..TBA
June 5………………………St Jean d'Angely, France
June 19…………………….Matterly Basin, Great Britain
June 26…………………….Mantova, Italy
July 24………………………Loket, Czech Republic
July 31………………………Lommel, Belgium
Aug. 7……………………….Frauenfeld, Switzerland
Aug. 28……………………..Assen, Holland
Sept. 3………………………Charlotte, USA
Sept.11……………………..Glen Helen, USA
LAST WEEK'S OLD 2016 FIM MOTOCROSS WORLD CHAMPIONSHIP SCHEDULE
Feb. 27……………………..Losail, Qatar
Mar. 20…………………….Johannesburg, South Africa
April 10…………………….Neuquen, Argentina
April 24…………………….TBA, Italy
May 1……………………….Valkenswaard, Holland
May 15…………………….Teutschenthal, Germany
May 22……………………..Matterly Basin, Great Britain
June 5………………………St Jean d'Angely, France
June 12…………………….Lommel, Belgium
June 26…………………….Kegums, Latvia
July 3……………………….Uddevalla, Sweden
July 10……………………..TBA
July 24………………………Loket, Czech Republic
Aug. 7……………………….Frauenfeld, Switzerland
Aug. 14……………………..Assen, Holland
Aug. 28……………………..TBA
Sept. 4……………………….Leon, Mexico
Sept.11………………………Glen Helen, USA
2016 AMA NATIONAL CHAMPIONSHIP SCHEDULE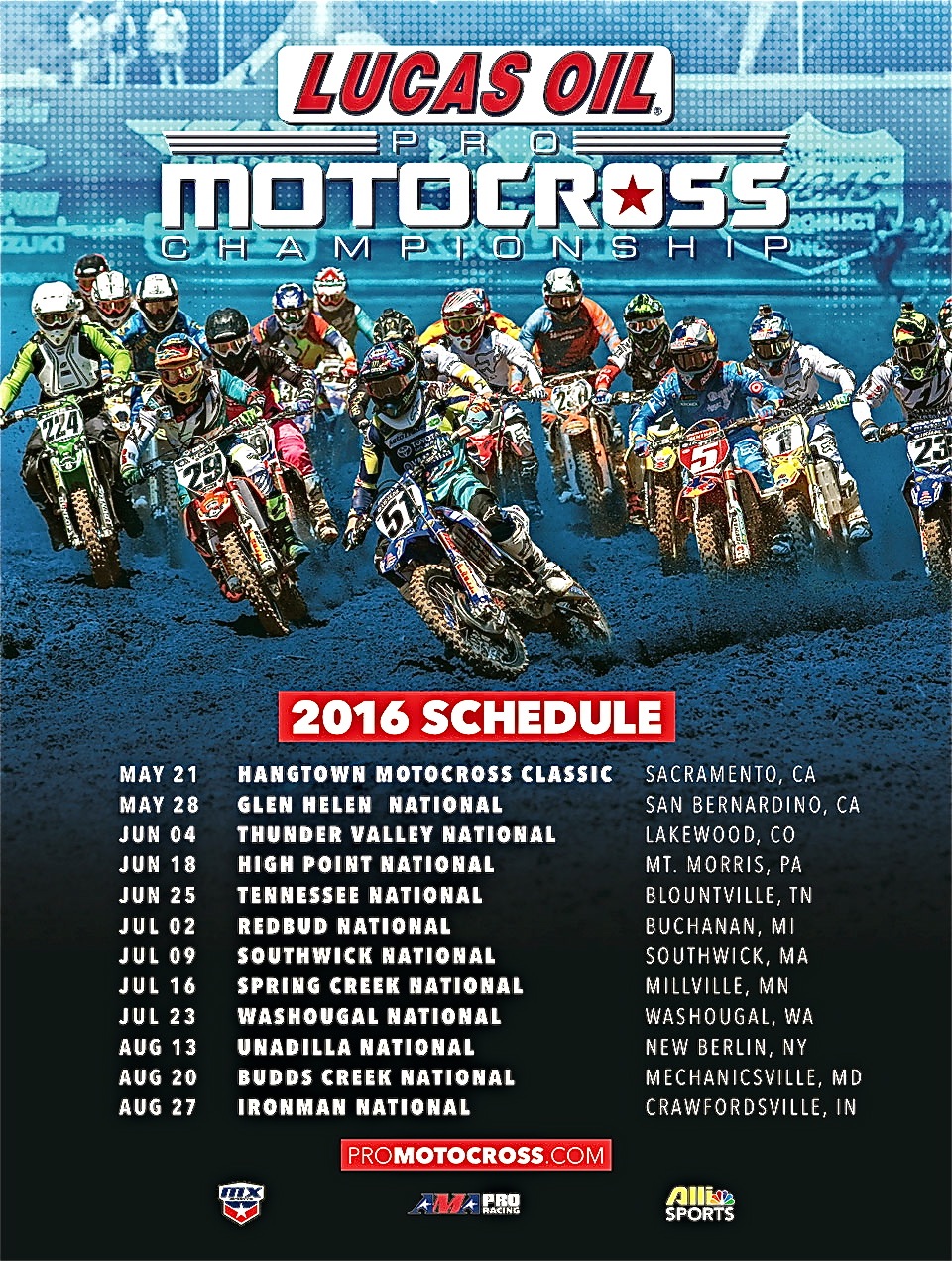 2016 AMA NATIONAL CHAMPIONSHIP
May 21……………………Hangtown, CA
May 28.…………………..Glen Helen, CA
June 4..………………….Thunder Valley, CO
June 18..…………………Mt Morris, PA
June 25.………………….Muddy Creek, TN
July 2.…………………….Red Bud, MI
July 9..……………………Southwick, MA​
July 16.…………………..Millville, MN​
July 23.…………………..Washougal, WA
Aug. 13..………………….Unadilla, NY​
Aug. 20..………………….Budds Creek, MD​
Aug. 27.…………………..Crawfordsville, IN​

Photos by Dan Alamangos,Debbi Tamietti, Mark Chilson, Massimo Zanzani, Pro Circuit, Ray Archer, Honda, Drew Ruiz, Endurocross,  John Basher, KTM, John Ker, Massimo Zanzani and MXA