MXA'S WEEKEND NEWS ROUND-UP: STUCK IN THE DOLDRUMS
34TH ANNUAL DUBYA WORLD VET MX CHAMPIONSHIP
The World Vet Starting gate beckons riders from around the world.
When the pre-entry date for the 2018 World Vet Championships opened up, foreign entries poured in with riders from England, Ireland, New Zealand, Spain, Australia, Brazil, Finland, Germany, Sweden, Japan, Philippines, Mexico, Canada, Italy, Holland, Germany, Guam, South Africa and the Bailiwick of Jersey (look it up). If you'd like to pre-enter, you can sign up at these two sites.To pre-enter for Saturday, November 3 CLICK HERE
To pre-enter for Sunday, November 4 CLICK HERE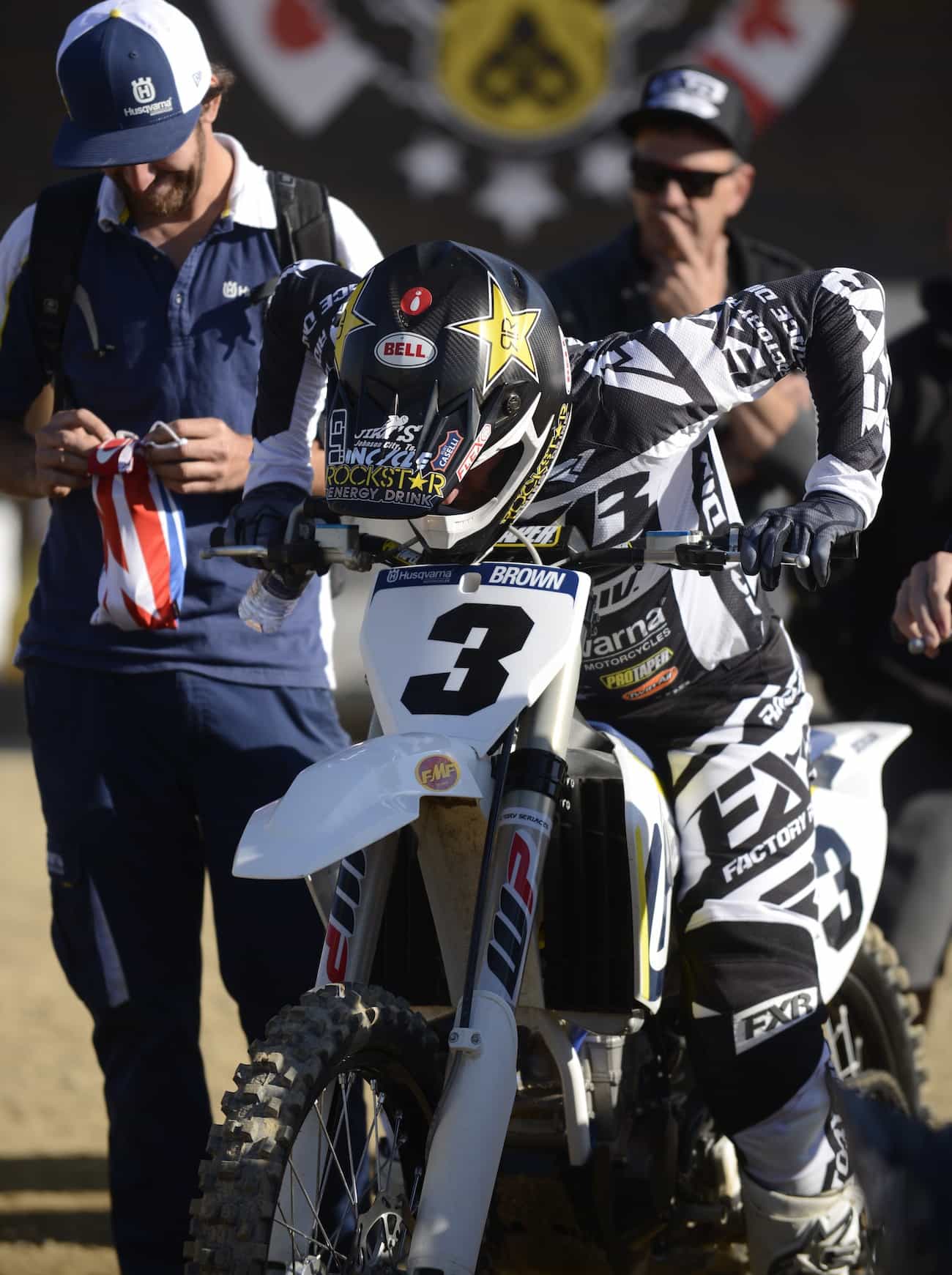 Mike Brown, the current Over-40 World Champion just won the Vet Motocross des Nations in England last weekend.
The 2018 World Vet consists of two days of practice (Thursday, November 1 and Friday, November 2) and two days of racing. Each race day (Saturday, November 3 and Sunday, November 4) are considered separate days of racing with Trophies and Prizes for each day. However, the actual World Vet Champion titles for each class must be won at the Sunday race—with the exception of the Over-40 Pro class (which is a Pro purse race). The rest of Saturday's races for Novice and Intermediates are for practice.
Why doesn't Saturday count as World Vet Championship day? Because about 20 years ago, foreign and out-of-state riders who had never ridden at Glen Helen before complained that the track favored the riders who raced there all the time. So, two things happened: (1) The actual World Vet track layout is not revealed until the Friday practice (which is open only to World Vet entrants) and (2) the Saturday race was added to give foreign and out-of-state riders a chance to get used to the unique Glen Helen course before Sunday's big day. The Over-40 Pro World Championship was moved to Saturday so that Sunday wouldn't be over-crowded. Sunday hosts the Over-30 Pro, Over-50 Pro, Over-60 Expert and Over-70 Expert classes (plus all the Novice and Intermediate class). The Over-30 Pro class purse is $6000, Over-40 Pro class purse is $2000 and Over-50 Pro class purse is $1500).
Kevin Foley and Keith Bowen battle in the Over-50 Pro class last year.
Thursday practice is open to riders of all ages and most serious World Vet contenders skip it—since it won't be using the exact World Vet course and is crowded—plus every 18-year-old hot-shot is anxious to beat whatever 50-year-old he can catch up to. Friday's practice does use the complete 2018 World Vet course and is only open to riders who are entered in Saturday and Sunday's races.
Lots of World Vet riders skip Thursday and Friday practice and race the Saturday races just to get in some practice for the Sunday race. Be forewarned that riding all four-days requires a level of physical fitness not often found in old guys.
Doug Dubach will be trying to win his 27th World Vet crown in 2018.
Scoring is by transponder (which are free, but you must leave a your driver's license as a deposit to insure that you return the transponder). You have to bring your driver's license to sign-up anyway (and even if you pre-enter you must come to sign-up) because rider's ages will be checked. For more information go to www.glenhelen.com or www.worldvetmx.com
THE FOUR-DAY WORLD VET PRACTICE SCHEDULE
Thursday, November 1, 2018…Practice…8:00 a.m. to 2:00 p.m….$30 per bike
Friday, November 2, 1018…Practice for World Vet entered riders only…9:00 a.m. to 2:00 p.m….$30 per bike
Saturday, November 3, 2018…Day One of the 34th Annual Dubya World Vet Championships…Gates open at 5:30 a.m., Sign-up from 6:00 a.m. to 5:00 p.m., Practice starts at 7:00 a.m.
Sunday, November 4, 2018…Day Two 34th Annual Dubya World Vet Championships…Gates open at 5:30 a.m., Sign-up opens at 6:00 a.m., Practice starts at 7:00 a.m.
MXA PRODUCT SPOTLIGHT: Z1R F.I. FLANK HELMET

Technologically advanced, high-performance motocross helmets come with a high price tag. That used to be the case. With its ground up, proprietary design, the brand-new F.I. Flank helmet from Z1R offers all the safety features of a high-end motocross helmet at an affordable price. The DOT/ECE certified F.I. Flank helmet features dual-density EPS with the revolutionary MIPS Brain Protection System. Staying cool is paramount when riding thirty-minute motos. Superior airflow is achieved in the F.I. Flank helmet with 9 intake, 3 exhaust vents, and deep EPS air channels for incredible cooling. Visit your local Parts Unlimited dealer to see what the buzz is about. Available in sizes XS – 3XL. Suggested retail: $159.95.
BIRTHDAYS OF THE WEEK: EDDIE MULDER 75, TREY CANARD 28 & THE BOMBER 58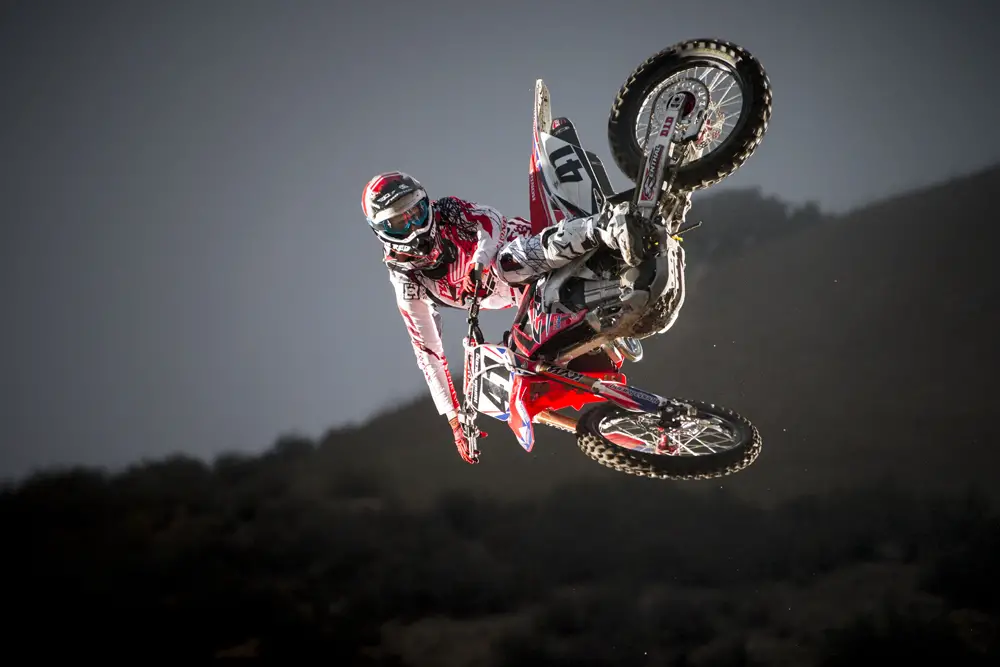 Sept. 17…Trey Canard 1990
Sept. 17…Danny Smith 1979
Sept. 17…Chad Johnson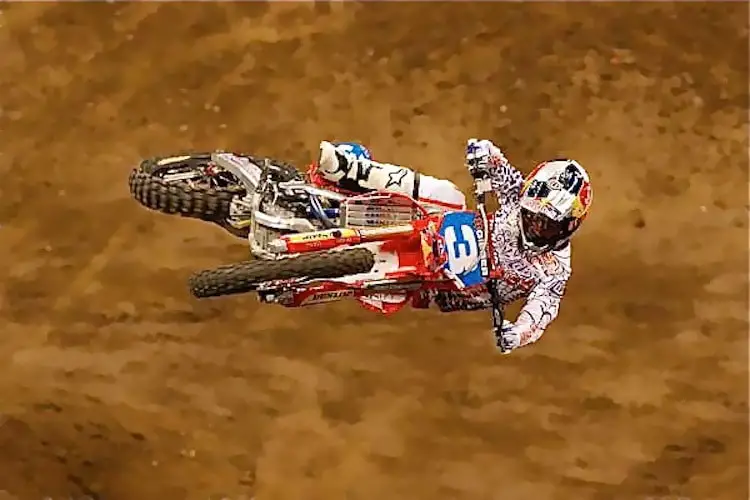 Sept. 18…Tarah Gieger 1985
Sept. 18…Juha Salminen
Sept. 19…Mike Taylor
Sept. 19…Brian Bogers 1996
Sept. 19…Billy Liles


Sept. 20…Eddie Mulder 1943
Sept. 20…Dillan Epstein 1994
2ND ANNUAL 32:1 PRE-MIX TWO-STROKE RACE ON SEPT. 15-16 IN HELENA, MONTANA

It will be held on Sept. 15-16 at Last Chance Raceway in Helena, Montana. For more info go to www.helenamx.com
MXA PRODUCT SPOTLIGHT: A'ME FULL-WAFFLE CLAMP-ON GRIPS

Clamp-on grips don't need to glue or wire to hold them in place. They can be installed in minutes without waiting for grip glue to dry. Available only in a full-waffle pattern, the A'ME grips are perfectly matched in size on the left and right sides. The come in gray, red, blue and white.

VERDICT: A'ME's clamp-on grip system comes with a special throttle tube and five different throttle cable cams that slip onto the throttle tube's notched wheel. These cams fit every brand, snap in place and are are interchangeable. The system is foolproof. One set of A'ME grips will fit virtually every bike and throttle design ever made.
DIGITS: $26.00—www.amegrips.com or (702) 835-0681.
MXA'S SNAP CHAT FEED
If you are a Snap Chat user then add us to your stories. Get sneak peaks of everything moto. Our Snap Chat name is motocrossaction. Or just take a Snap of the picture above and it will add MXA automatically to your feed.
MXA AD OF THE WEEK: "THE THING WITH TWO HEADS"

This schlock movie starred Ray Milland and Los Angeles Ram Rosey Grier.
2018 GRAND PRIX WINNERS AT A GLANCE: IT'S ALMOST OVER

Tony Cairoli is eliminated from the 450 title hopes yet, but he most likely will be after moto one in Assen.
Date            Venue                      450                              250
Mar. 4……..Argentina…………..Jeffrey Herlings………..Pauls Jonass
Mar. 18……Holland #1………….Jeffrey Herlings………..Pauls Jonass
Mar. 25……Spain………………….Tony Cairoli……………..Pauls Jonass
Apr. 8………Italy #1………………Jeffrey Herlings………..Jorge Prado
Apr. 15…….Portugal…………….Jeffrey Herlings……….Jorge Prado
May 1………Russia……………….Clement Desalle……….Pauls Jonass
May 13…….Latvia………………..Jeffrey Herlings………..Thomas Kjer Olsen
May 20…….Germany……………Jeffrey Herlings……….Jorge Prado
June 3………England……………Jeffrey Herlings……….Pauls Jonass
June 10…….France……………..Jeffrey Herlings……….Jorge Prado
June 17…….Italy #2……………..Tony Cairoli……………..Jorge Prado
July 1……….Indonesia #1…….Jeffrey Herlings………..Calvin Vlaanderen
July 8……….Indonesia #2…….Jeffrey Herlings………..Jorge Prado
July 22……..Czech Rep……….Jeffrey Herlings………..Jorge Prado
Aug. 5………Belgium……………Jeffrey Herlings………..Jorge Prado
Aug. 19…….Switzerland……….Jeffrey Herlings………..Jorge Prado
Aug. 26…….Bulgaria……………Jeffrey Herlings………..Jorge Prado
Sept. 2…….Turkey……………….Jeffrey Herlings…………Thomas Covington
Sept. 16……Holland #2
Sept. 30……Italy #3
450 Points leader…Jeffrey Herlings (KTM)
250 points leader…Jorge Prado (KTM)
FIM WORLD CHAMPIONSHIP POINTS WITH TWO RACES LEFT

Jorge Prado (61) has a 24 point lead over KTM teammate Pauls Jonass with Assen and Italy #3 yet to go.

CURRENT 2018 250 GRAND PRIX POINTS
(After 18 of 20 rounds)
1. Jorge Prado…773
2. Pauls Jonass…749
3. Thomas Kjer Olsen…593
4. Ben Watson…551
5. Thomas Covington…525
6. Calvin Vlaanderen….483
7. Jago Geerts…346
8. Michele Cervellin…337
9. Hunter Lawrence…305
10. Henry Jacobi…301
Roman Febvre (461) will miss this Saturday's Assen GP with an injury. He is fifth in 450 points and has a 30-point lead over Gautier Paulin. They could be battling tooth-and-nail for a top five overall finish in Italy in two weeks.

CURRENT 2018 450 GRAND PRIX POINTS
(After 18 of 20 rounds)
1. Jeffrey Herlings…833
2. Tony Cairoli…738
3. Clement Desalle…619
4. Tim Gajser…591
5. Romain Febvre…544
6. Gautier Paulin…514
7. Glenn Coldenhoff…475
8. Jeremy Seewer…423
9. Jeremy Van Horebeek…404
10. Max Anstie…328
2018 MONTREAL SUPERCROSS ON SEPT. 15, 2018

For more information go to www.supercrossmtl.com
FOLLOW MXA ON TWITTER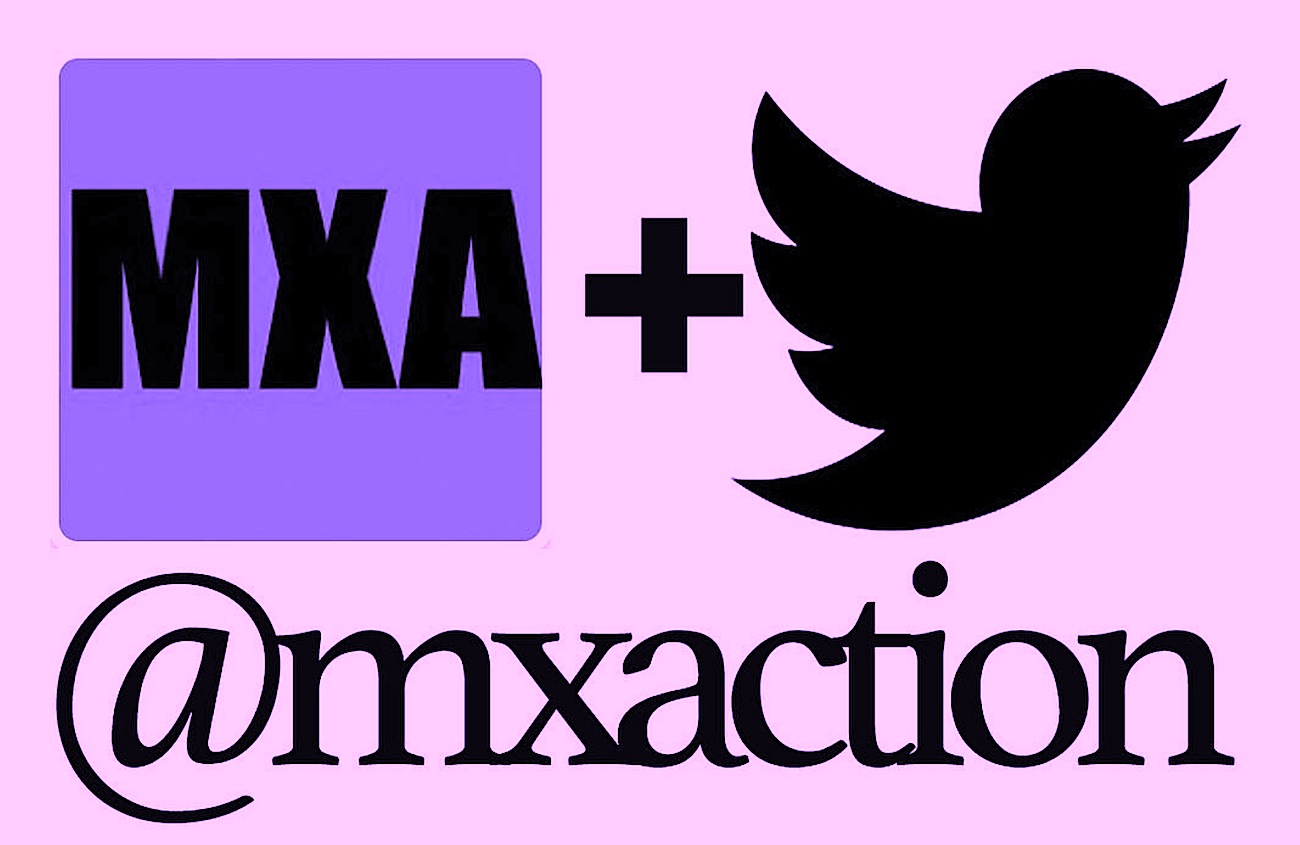 Follow us to see fresh content every day at www.twitter.com/MXAction or on twitter at "MXAction."
4TH ANNUAL OTHG 911 MEMORIAL RACE ON SEPT. 16
For more information go to www.othgmx.org
SLEEPY HOLLOW TWO-STROKE SHOOTOUT ON SEPT. 22-23

No four-strokes allowed. For more information go to www.sleepymx.com
2019 RACE SCHEDULE: FOR THOSE WHO CAN'T WAIT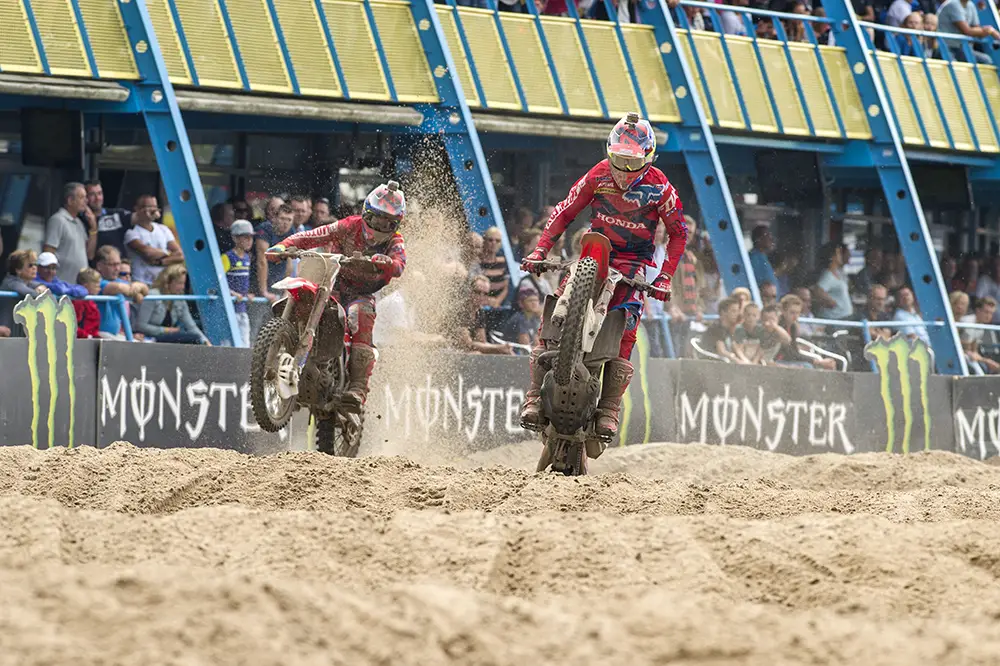 The 2019 Motocross des Nations will be held at the Assen road race circuit in Holland. It is a man-made sand track built on the front straight.
2019 FIM MOTOCROSS WORLD CHAMPIONSHIP
Feb. 28……………………………TBA
Mar. 10……………………………Argentina
Mar. 24……………………………England
Mar. 31……………………………Holland
Apr. 21……………………………Italy #1
Apr. 21……………………………Hong Kong
May 1……………………………..China
May 12……………………………Russia
May 26……………………………Latvia
June 2…………………………….Germany
June 16…………………………..France
June 23…………………………..Italy #2
July 7……………………………..Indonesia #1
July 14……………………………Indonesia #2
July 28……………………………Czech Republic
Aug. 4…………………………….Belgium
Aug. 18…………………………..Switzerland
Sept. 1……………………………TurkeyBulgaria
Sept. 15………………………….Portugal
Sept. 22………………………….Italy #3
2019 MOTOCROSS DES NATIONS
Sept. 29………………………….Assen, Holland 
REM GLEN HELEN RETURNS ON SEPTEMBER 29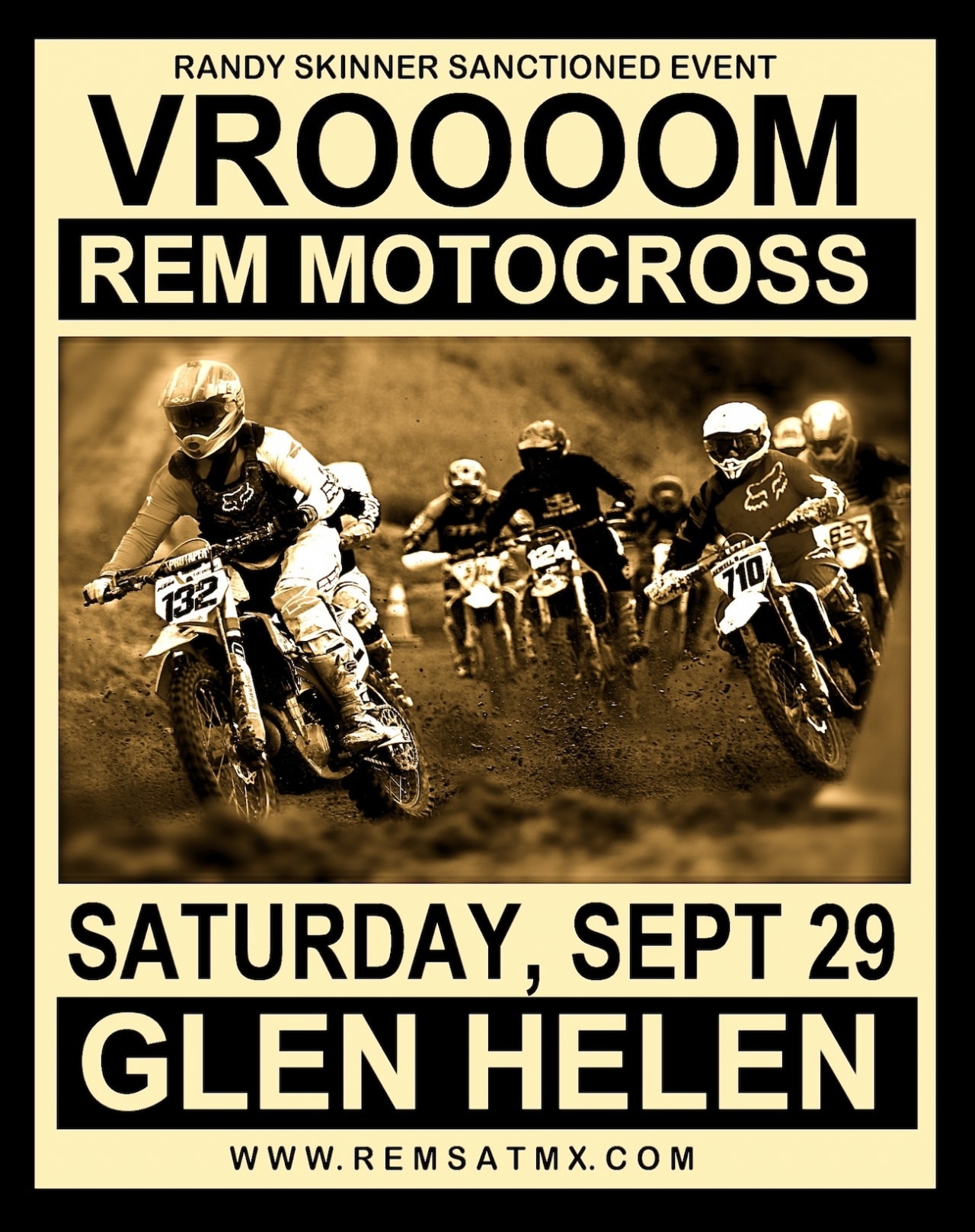 For more info go to www.remsatmx.com.
BOYESEN BUDDY BOOGIE SPEED FESTIVAL OCTOBER 5-7

Held on October 5-7, 2018, at the Pagoda Motorcycle Club in Birdsboro, PA. For more info go to www.pagodamc.org 
MXA PRODUCT SPOTLIGHT: FLY RACING HOSE BENDER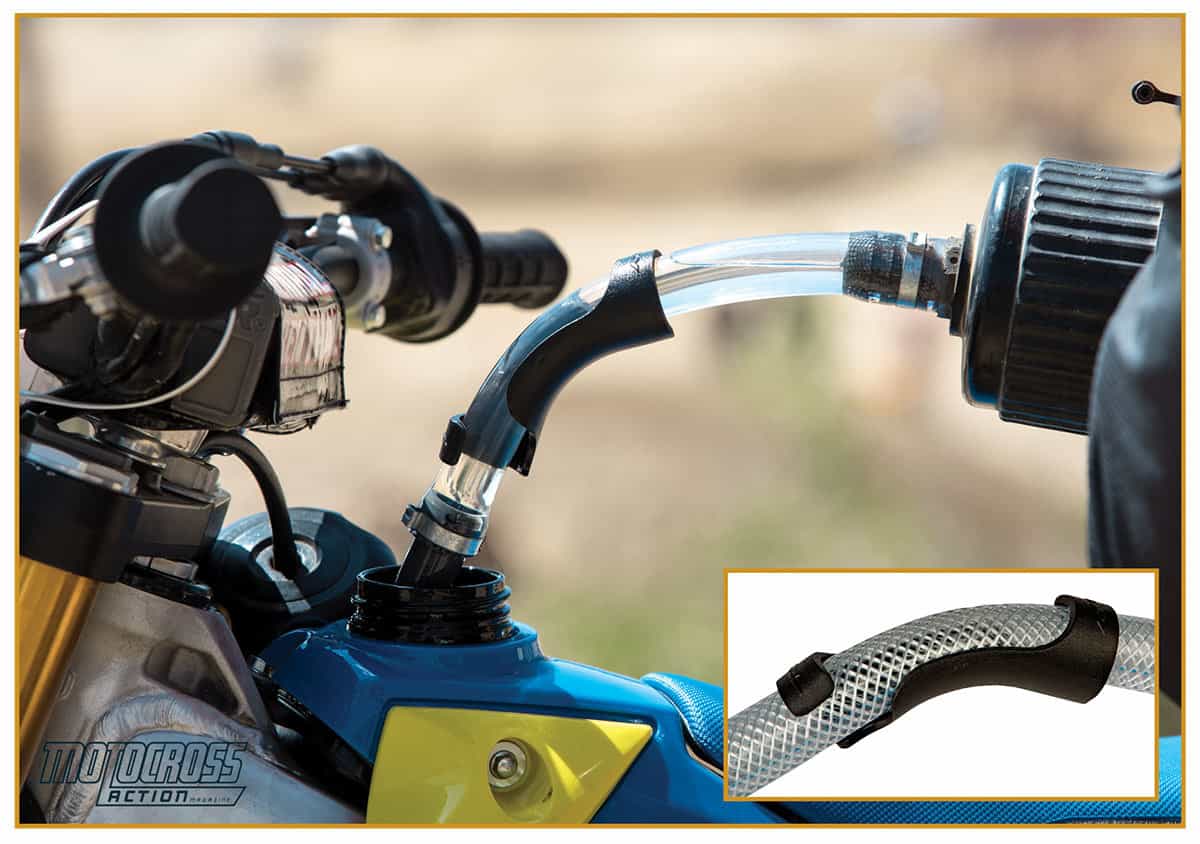 WHAT IS IT? The Fly Racing Hose Bender is designed to make filling the fuel tank of your bike easier, reduce spilling and angle the gas can hose towards the bike. This is such a simple idea that it's amazing no one thought of it 30 years ago. The Fly Racing Hose Bender is a thick ABS plastic hook that you clip onto the filler hose on your VP, Pit Posse, LC, KTM, Slasher or Matrix gas can. The plastic attachment forces the flexible filler hose to bend downward at a 30-degree angle.
When your motorcycle is on a 17-inch-tall bike stand, you have to lift a 5-gallon gas can almost 4 feet off the ground to pour gas into your bike's fuel tank. Worse yet, with the standard straight filler hose, you run the risk of spilling fuel while trying to get the end of the hose into the gas tank opening. A full 5-gallon gas can weighs 35 pounds, and when you add a 13-inch filler hose that doesn't want to go into the 3-inch opening in the tank, you have trouble on your hands. But, once you install the Fly Racing Hose Bender on the gas can's filler hose, you only have to lift the gas can to the height of the gas cap. Because the filler hose bends downward, you can easily slip the hose into the gas tank opening without straining. Plus, you can pour the fuel as fast or slow as you like, because the majority of the fuel in the gas can is being held level with the bike's fuel tank.
We love the Fly Racing Hose Bender, and we think that every motocross racer will love it too. Plus, at $5.95, it is the cheapest performance product that MXA has ever tested—and perhaps one of the most useful.
DIGITS? $5.95 —www.flyracing.com or (208) 319-3079.
MXA RATING: This is the greatest $5.95 you will ever spend. Every time you pour gas into your bike, you will appreciate the Fly Racing Hose Bender more and more.
2018 MOTOCROSS DES NATIONS AT RED BUD ON OCT. 6-7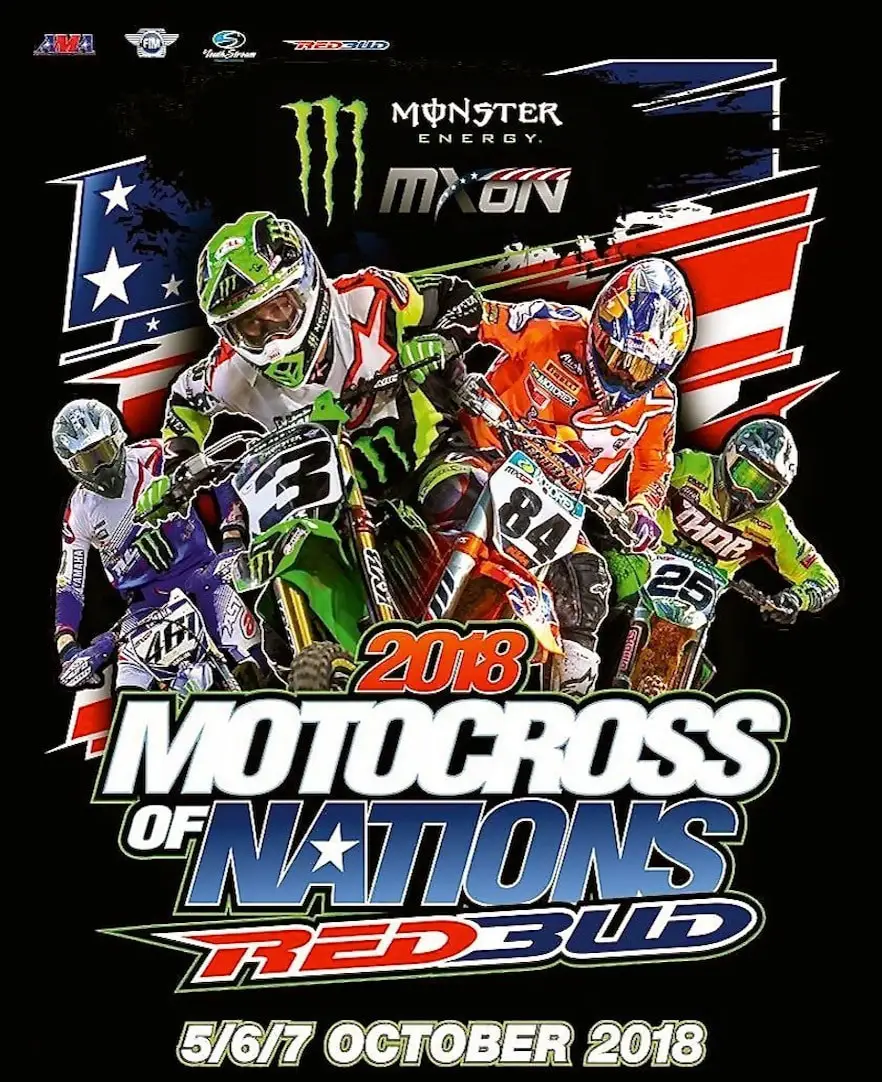 For more information go to www.redbudmxon.com
DAVI MILLSAPS "DIVISION 18" MOTO CAMP: OCT. 29-NOV. 1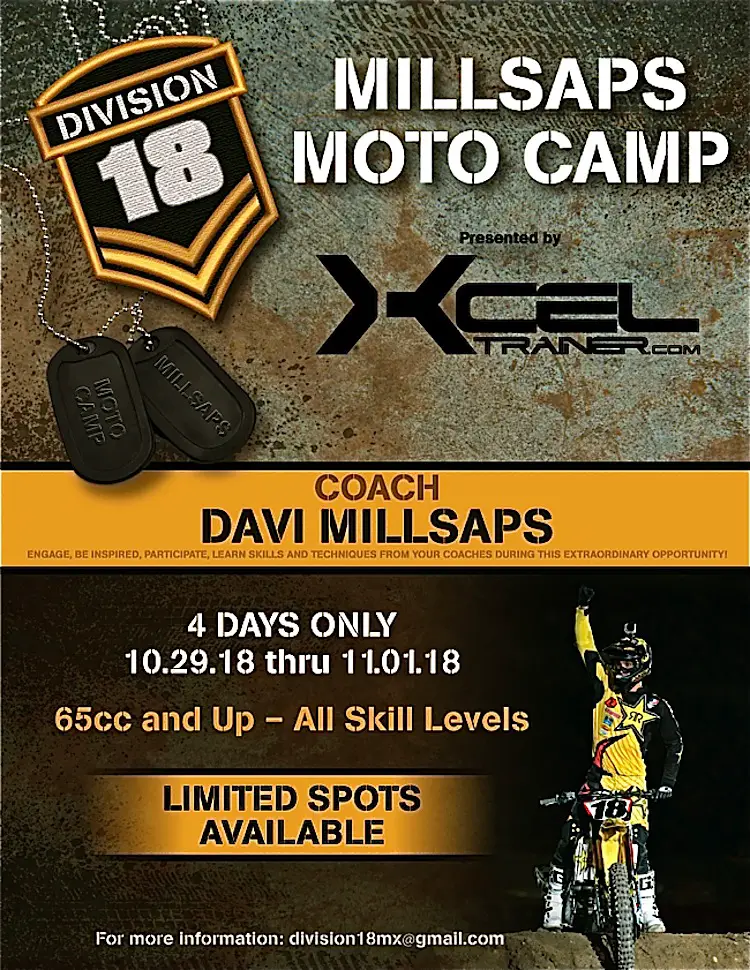 It will be held in Ft. Pierce, Florida, at the Xcel training compound.
SUBSCRIBE TO MXA & GET A $25 CHAPARRAL GIFT CARD—YOU MAKE A PROFIT BY READING MXA

If you had subscribed to Motocross Action, the October 2018 issue of MXA would be in your mailbox, computer or iPhone already. It has tests of the  2019 KTM 250SXF, 2019 Kawasaki KX450, 2019 Yamaha YZ450F, FMF's 45th Anniversary Husqvarna FC450, Retro-Test of Scott Sheak's 2001 Pano Honda CR125 and th cover bike—MX-Tech's KTM125SX two-stroke. Plus, a Justin Barcia interview where he tells what it was like to come back from the brink. And everything that you ever wanted to know about everything moto.

Do you subscribe to MXA? You should. We know that you think that print magazines are dead and that the internet will fill the void, but most of the stuff in the current issue of MXA won't appear on the web for several months, if at all. Luckily, you can get all of MXA on your iPhone, iPad, Kindle or Android by going to the Apple Store, Amazon or Google Play or in a digital version. Even better you can subscribe to Motocross Action and get a $25 Chaparral gift card to spend on whatever motorcycle parts or products you need. You can call (800) 767-0345 or www.hi-torque.com/product/motocross-action or click on the box at the bottom of this page.
TALK MOTO WITH ON MXA'S FACEBOOK GROUP CHAT


We love everything moto and want to bring all moto junkies together into one place to share their two cents, ideas, photos, bike fixes, bike problems and much more. To check it out first you must need to or already have a Facebook account. If you don't, it isn't much work and you could even have an alias so nobody knows it is you. To join click HERE. After you request to join we will accept your request shortly after.
AIM EXPO MOTORCYCLE SHOW IN LAS VEGAS ON OCT. 13-14

For more info go to www.aimexpousa.com
2018 MARSEILLE SUPERCROSS ON OCT 12-13

For more information go to www.supercrossinternationalmarseille.com
MXA PRODUCT SPOTLIGHT: ONE SHOT DEAL! SPECIAL RUN OF 1986 HONDA CR250 TWO-STROKE PIPES

This is a cool idea. Pro Circuit plans to built a special limited-edition run of 1986 Honda CR250 Works Pipe and 304 silencers for bike builder and vintage racers. Just like back in the day, Pro Circuit's Works Pipe increases horsepower and torque, while the unplated, oiled metal finish gives your bike that "works look." Completing the special throwback kit is
IDAHO "FREECROSS" ON OCTOBER 12-14 IN CASCADE
For more information go to www.imopromotions.com
JOIN MXA'S FLIPBOARD PAGE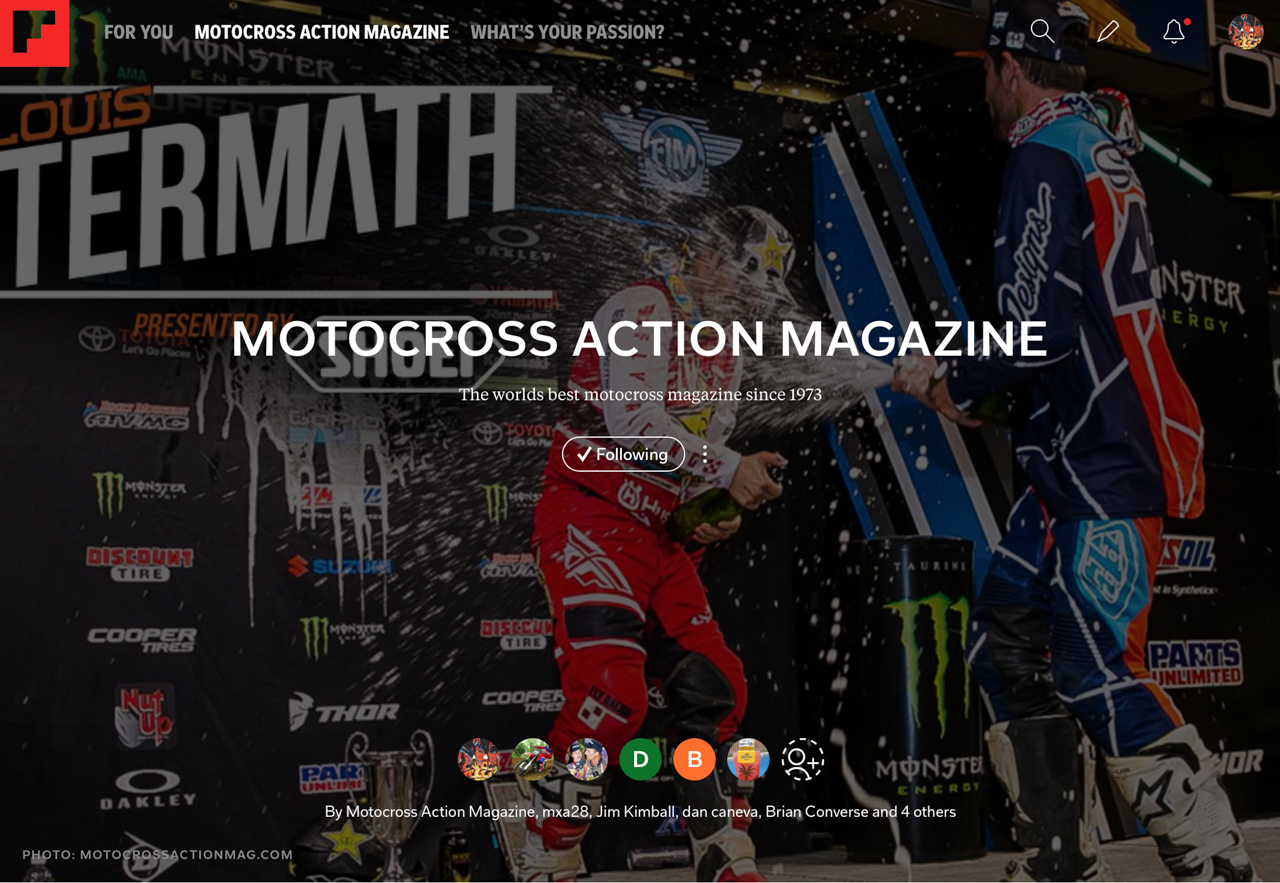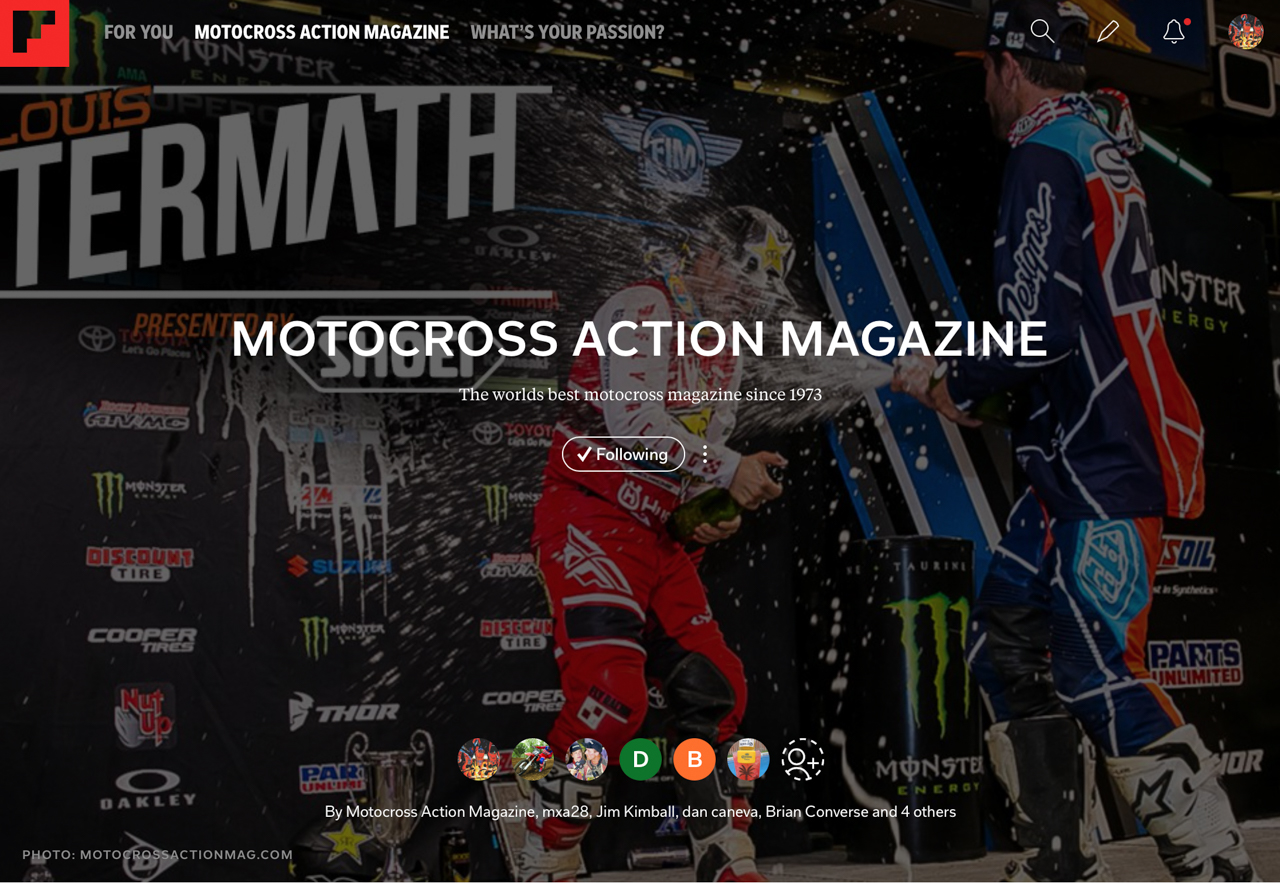 If you use Flipboard make sure to subscribe to the Motocross Action page for all the updates on our website. Click HERE to check out the page.
2018 DUBYA WORLD VETERAN MOTOCROSS CHAMPIONSHIP ON NOV. 3-4 AT GLEN HELEN

For more information go to www.worldvetmx.com
SAVE THE DATE! LISTS OF WHAT'S LEFT, WHAT'S DONE & WHAT'S TO COME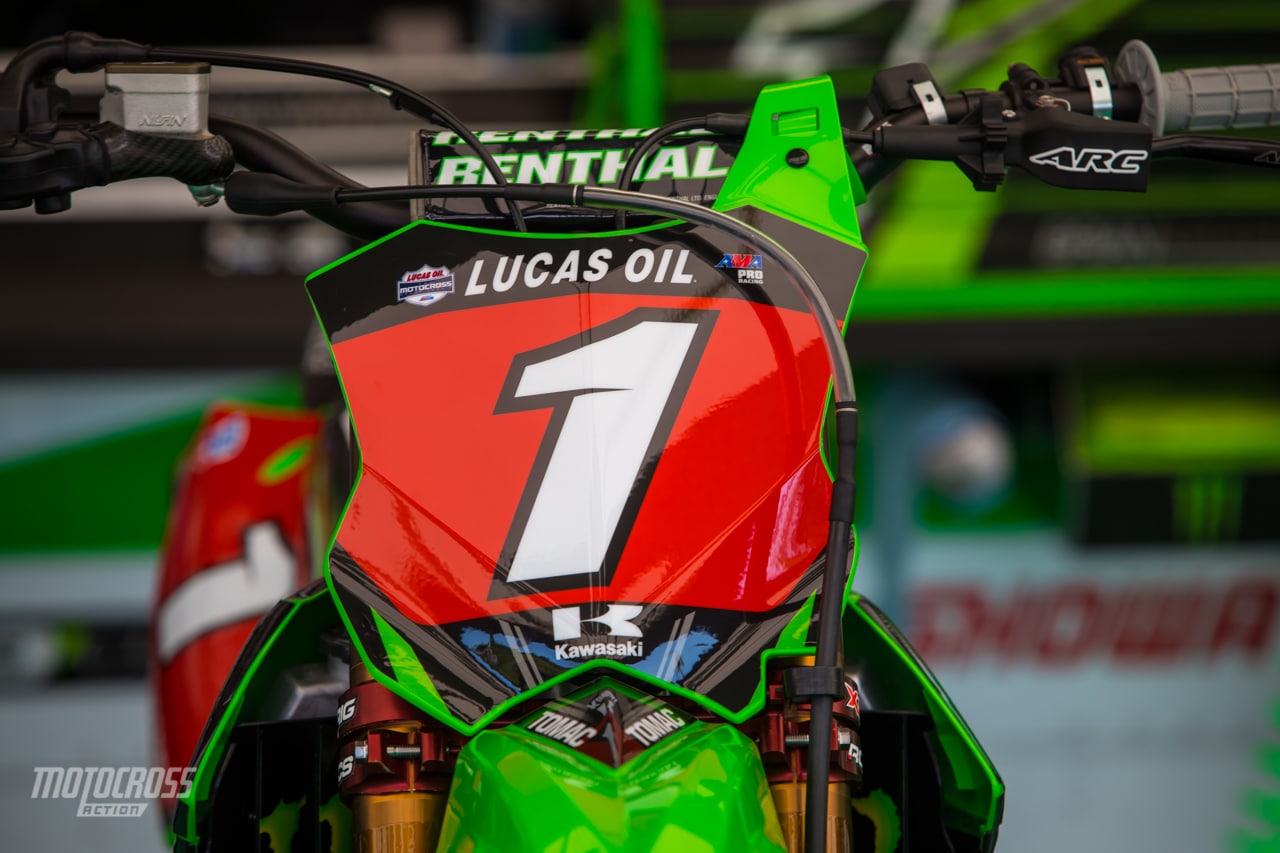 Eli Tomac will be running this number next year.
2018 FIM MOTOCROSS WORLD CHAMPIONSHIP
Mar. 4……………………..Argentina
Mar. 18…………………….Holland 1
Mar. 25…………………….Spain
Apr. 8……………………….Italy 1
Apr. 15……………………..Portugal
May 1……………………….Russia
May 13……………………..Latvia
May 20…………………….Germany
June 3………………………England
June 10…………………….France
June 17…………………….Italy 2
July 1……………………….Indonesia 1
July 8……………………….Indonesia 2
July 22……………………..Czech Republic
Aug. 5………………………Belgium
Aug. 12……………………..Sweden (Canceled)
Aug. 19……………………..Switzerland
Aug. 26……………………..Bulgaria
Sept. 2……………………….Turkey
Sept. 16………………………Holland 2
Sept. 30………………………Italy 3
2018 MONTREAL SUPERCROSS
Sept. 15……………………..Montreal, Canada
2018 NITRO WORLD GAMES
Sept. 22-23………………….Salt Lake City, UT
2018 MOTOCROSS DES NATIONS
Oct. 7………………………..Red Bud, MI
2018 BOYESEN BUDDY BOOGIE
Oct. 5-7……………………..Birdsboro, PA
2018 MONSTER ENERGY CUP
Oct. 13……………………Las Vegas, NV
2018 MARSEILLE SUPERCROSS
Oct. 12-13……………….Marseille, France
2018 RED BULL STRAIGHT RHYTHM
Oct. 20…………………….Pomona, CA
2018 REM OCTOBERCROSS
Oct. 27………………………..Glen Helen, CA
2018 DUBYA WORLD VET CHAMPIONSHIP
Nov. 3-4…………………..Glen Helen, CA
2018 PARIS SUPERCROSS
Nov. 17-18…………………….Paris, France
2018 THOR MINI OLYMPICS
Nov. 19-24…………..…….Gainesville, FL
2018 DAY IN THE DIRT
Nov. 24-26…………………….Glen Helen, CA
2018 ROBBY GORDON OFF-ROAD CHAMPIONSHIP
Dec.1-2………………………..Glen Helen, CA
2018 REM GLEN HELEN CHAMPIONSHIP
Jan. 13……………………Glen Helen, CA
Jan. 20……………………Glen Helen, CA
Jan. 27……………………Glen Helen, CA
Feb. 3……………………..Glen Helen, CA
Feb. 10…………………….Glen Helen, CA
Feb. 17…………………….Glen Helen, CA
Feb. 24…………………….Glen Helen, CA
Mar. 10…………………….Glen Helen, CA
Mar. 24…………………….Glen Helen, CA
April 7………………….…Spring Series #1
April 14……………….…..20th Anniversary #2
April 28……………….…..Spring Series #3
May 5………………….….Spring Series #4 (National track)
May 12……………………Spring Series #5
May 19……………………Spring Series #6
June 2…………………….Glen Helen, CA
June 16…………………..Glen Helen, CA
June 30…………………..Glen Helen, CA
July 14……………………Summer Series (Canceled)
July 21……………………Summer Series #1
July 28……………………Summer Series #2
Aug. 11……………………Summer Series #3
Aug. 25………..………….Summer Series #4
Sept. 1………………….…Summer Series #5
Sept. 29………………..…Summer Series #6
Oct. 6……………………..Glen Helen, CA
Oct. 20……………………Glen Helen, CA
Oct. 27……………………Glen Helen, CA (National track)
Nov. 17……………………Glen Helen, CA
Dec. 1……………………..Glen Helen, CA (Canceled)
Dec. 15……………………Glen Helen, CA
Dec. 22……………………Glen Helen, CA
Dec. 29…………..…….…Glen Helen, CA
2018 WORLD OFFROAD CHAMPIONSHIP (WORCS)
Feb. 2-4…………………..……Las Vegas, NV
Feb. 23-25……………….……Phoenix, AZ
Mar. 23-24……………….……Lake Havasu, AZ
Apr. 20-22……………….……Hurricane, UT
May 25-27……………………Cedar City, UT
Sept. 14-16……………………Glen Helen, CA
Oct. 19-21………………….…Adelanto, CA
Nov. 9-11………………….…..Primm, NV
2018 AMA SUPERMOTO CHAMPIONSHIP
April 14………………………….Boise, ID
May 13………………………….Tucson, AZ
June 8…………………………..Austin, TX
June 9…………………………..Austin, TX
Aug. 3-5………………………..Quebec, CN
Sept. 8………………………….Sturgis, SD
2018 OLD SCHOOL SCRAMBLES CHAMPIONSHIP
Feb. 11………………………Glen Helen, CA (canceled)
Mar. 24-25………………….Glen Helen, CA
June 17……………………..Glen Helen, CA
Aug. 19………………….…..Glen Helen, CA
Dec. 9………………………..Glen Helen, CA
2018 ENDUROCROSS CHAMPIONSHIP
Aug. 25………………………….Prescott, AZ
Sept. 15…………………………Costa Mesa, CA
Sept. 22…………………………Reno, NV
Oct. 20…………………………..Denver, CO
Oct. 27…………………………..Everett, WA
Nov. 3……………………………Boise, ID
2018 MAXXIS BRITISH NATIONAL CHAMPIONSHIP
Mar. 11…………………………..Lyng, England (canceled)
Apr. 1……………………………Culham, England
Apr. 22………………………….Canada Heights, England
May 6……………………………Blaxhall, England
June 24………………………..Desertmartin, Ireland
July 29………………………….Duns, England
Aug. 12…………………………Hawkstone, England
Sept. 23………………………..Foxhill, England
2018 JAPAN SUPERCROSS ON NOVEMBER 3

Dylan Ferrandis, Malcolm Stewart, Aaron Plessinger, Justin Brayton, Christian Craig, Jimmy Decotis and Weston Peick have signed on so far. For more info go to www.japansupercross.com
OLD SCHOOL SCRAMBLES AT GLEN HELEN, DECEMBER 9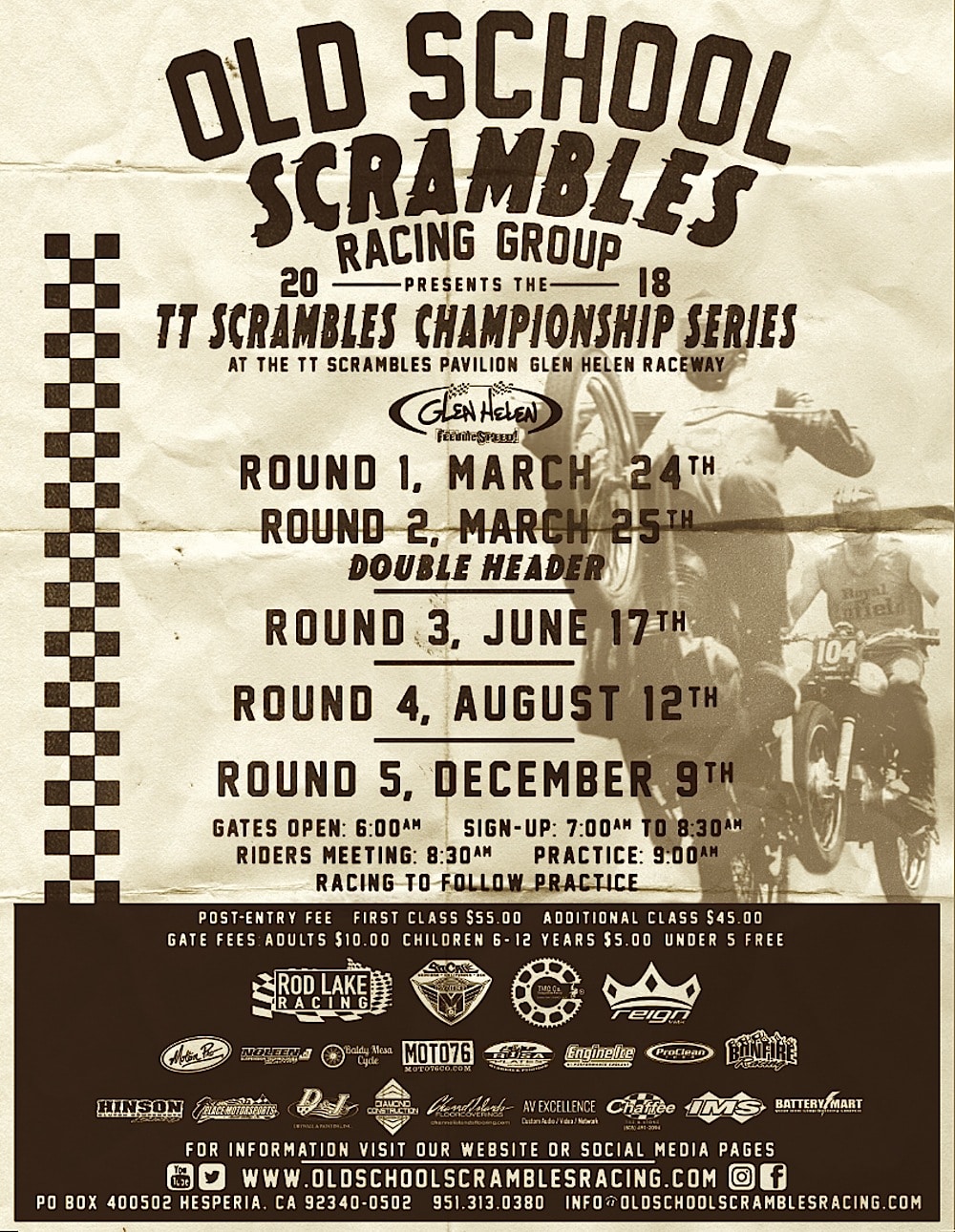 The final round four of the Old School Scrambles series will be held on December 9 on the Lucas Oil Offroad Truck Track at Glen Helen Raceway (on a track designed by Gary Jones). For more info go to www.oldschoolscramblesracing.com

MXA FIRST RIDE VIDEO | 2019 YAMAHA YZ450SXF
MXA FIRST RIDE VIDEO | 2019 KTM 450SXF

MXA FIRST RIDE VIDEO | 2019 HONDA CRF450 WORKS EDITION

MXA FIRST RIDE VIDEO | 2019 HUSQVARNA FC250

MXA FIRST RIDE VIDEO | 2019 KTM 250SXF

MXA FIRST RIDE VIDEO | 2019 YAMAHA YZ250F

MXA FIRST RIDE VIDEO | 2019 TM MX250-FI TWIN-PIPER

MXA FIRST RIDE VIDEO | 2019 HUSQVARNA FC450

MXA FIRST RIDE VIDEO | 2019 HONDA CRF450

MXA FIRST RIDE VIDEO | 2019 KTM 350SXF

MXA FIRST RIDE VIDEO | 2019 KAWASAKI KX450

MXA FIRST RIDE VIDEO | 2019 HUSQVARNA FC450

Quiz Answer: In the 1951 sci-fi film "The Day The Earth Stood Still" (the Michael Rennie and Billy Gray version, not the Keanu Reeves and Jennifer Connelly 2008 remake), the visitor from outer space brought a giant robot with him named Gort which obeyed the command, "Klaatu barada nikto."
Photos: Debbi Tamietti, Matk Chilson, Jon Ortner, Brian Converse, James Brenner, Justyn Norek, Jody Weisel, KTM, Kawasaki, Travis  Fant, Ray Archer, Daryl Ecklund, MXA, MXGP