MXA WEEKEND NEWS ROUND-UP: TALKIN' TURKEY
Click on images to enlarge
• TOM WHITE'S "EARLY YEARS OF MOTOCROSS MUSEUM" GETS FOUR CHAMPIONSHIP YAMAHAS

Lined up and ready to race! The Supercross winning Yamahas of Chad Reed, Jeremy McGrath and James Stewart have found a home at Tom White's museum.
Tom White said, "Is the YZ450F on the right James Stewart's 2017 Supercross Bike? No. This is James' 2009 AMA Supercross Championship bike. The bikes (from right to left) are Stewarts YZ450F, Jeremy McGrath's 1999 and 2001 Championship YZ250s and Chad Reed's 2004 Supercross Championship bike. These are 4 of the 11 bikes that Yamaha won the AMA Supercross Championship with. They are on loan to the "Early Years of Motocross Museum" thanks to Yamaha Race Director Keith McCarty."
YAMAHA SUPERCROSS CHAMPIONS THROUGH TIME
1974 …Pierre Karsmakers (Yam)
1977 …Bob Hannah (Yam)
1978 …Bob Hannah (Yam)
1979 …Bob Hannah (Yam)
1980 …Mike Bell (Yam)
1998 …Jeremy McGrath (Yam)
1999 …Jeremy McGrath (Yam)
2000 …Jeremy McGrath (Yam)
2004 …Chad Reed (Yam)
2008 …Chad Reed (Yam)
2009 …James Stewart (Yam)
• 2017 GRAND PRIX SCHEDULE CHANGE: SAN MARINO OUT
Charlotte is still on the MXGP schedule, but will be held on a Monday this year. Glen Helen is not on the 2017 schedule.
The San Marino GP previously scheduled on July 9, 2017, has been canceled — it could be reschedule in 2018. Additionally, the Italian GP in Trentino on April 16, 2017, will be moved to Maggiora's date (which was scheduled for June 25). Maggiora and Trentino will just switch dates—with Trentino moving to June 25th and Maggiora on April 16. Expect more changes.
REVISED 2017 FIM MOTOCROSS WORLD CHAMPIONSHIP
Feb. 25…………………….Qatar (Saturday)
Mar. 5………………………Indonesia
Mar. 19…………………….Argentina
Apr. 2………………………Mexico
Apr. 16……………………..Maggiora, Italy (Date change)
Apr. 23…………………….Holland
May 7………………………Latvia
May 21…………………….Germany
May 28…………………….France
June 11…………………….Russia
June 25……………………Trentino, Italy (Date change)
July 2……………………….Portugal
July 9……………………….San Marino (Cancelled)
July 23……………………..Czech Republic
Aug. 6……………………..Belgium
Aug. 13…………………….Switzerland
Aug. 20…………………….Sweden
Sept. 3………………………USA (Monday)
Sept. 10……………………Holland
Sept. 17…………………….France
• MXA'S KTM CRANK NUT WARNING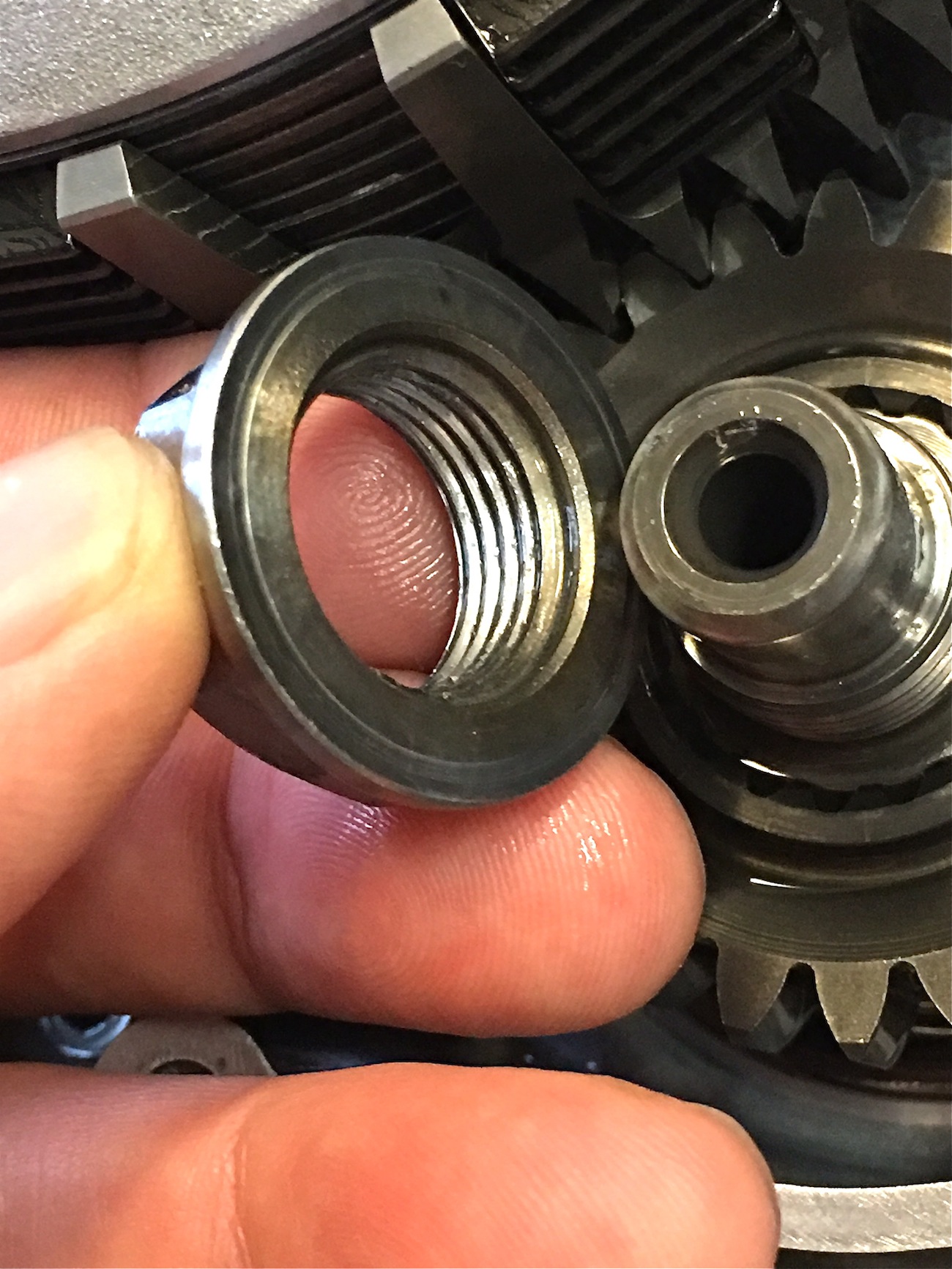 The offending nut.
Last weekend at the REM races, N2-Dirt's Brian Bolding found five KTM 350SXF's with loose crank nuts on the clutch side. This nut cannot fall off the end of the crank, but it can spin against the case, wear enough aluminum away to clog the oil lines and even allows the snap ring and crank seal to walk out. We recommend that you check the nut on the end of the your KTM 250 or 350 crank — it does require draining the water and removing the impeller to get to. The first signs are some strange engine noises, followed by the cam chain tensioner's hydraulic lines getting clogged and eventually a ton of aluminum in your oil filter (you may have to cut the oil filter open to see it). We talked to KTM and expect a KTM dealer bulletin to be sent out. This only affects KTM 250SXF and 350SXF engines and not the 450SXF.
• UPCOMING BIRTHDAY BOYS: BUTLER, BELL, BROWN & BONIFACE


Nov. 24…Gareth Swanepoel 1984
Nov. 24…Joel Albrecht 1972
Nov. 25…Michael LaPaglia

Nov. 25…Stefan Everts 1972
Nov. 25…Zach Bell 1994
Nov. 26…Travis Hodges 1971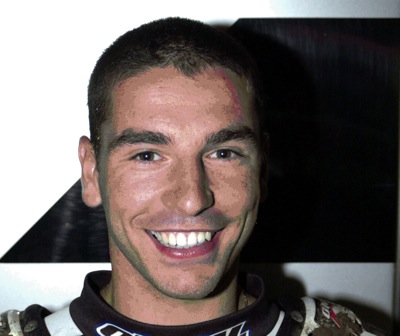 Nov. 26…Steve Boniface 1982
Nov. 26…Kyle Partridge 1986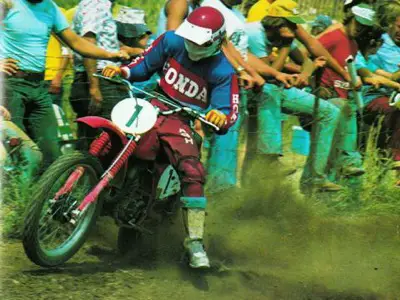 Nov. 26…Marty Smith 1956
Nov. 26…Travis Hodges 1971
Nov. 27…Karsten Butler

Nov. 27…Ricky Carmichael 1979
Nov. 27…Casey Lytle 1978
Nov. 27…Brent Brown

Nov. 28…Andrew Short 1982


Nov. 28…Jeremy van Horebeek 1989
Nov. 29…Brandon Butler


Nov. 29…John Rice
Nov. 30…Jacob Saylor
• MEMORIES OF THE WAY WE WERE: MAN AND WIFE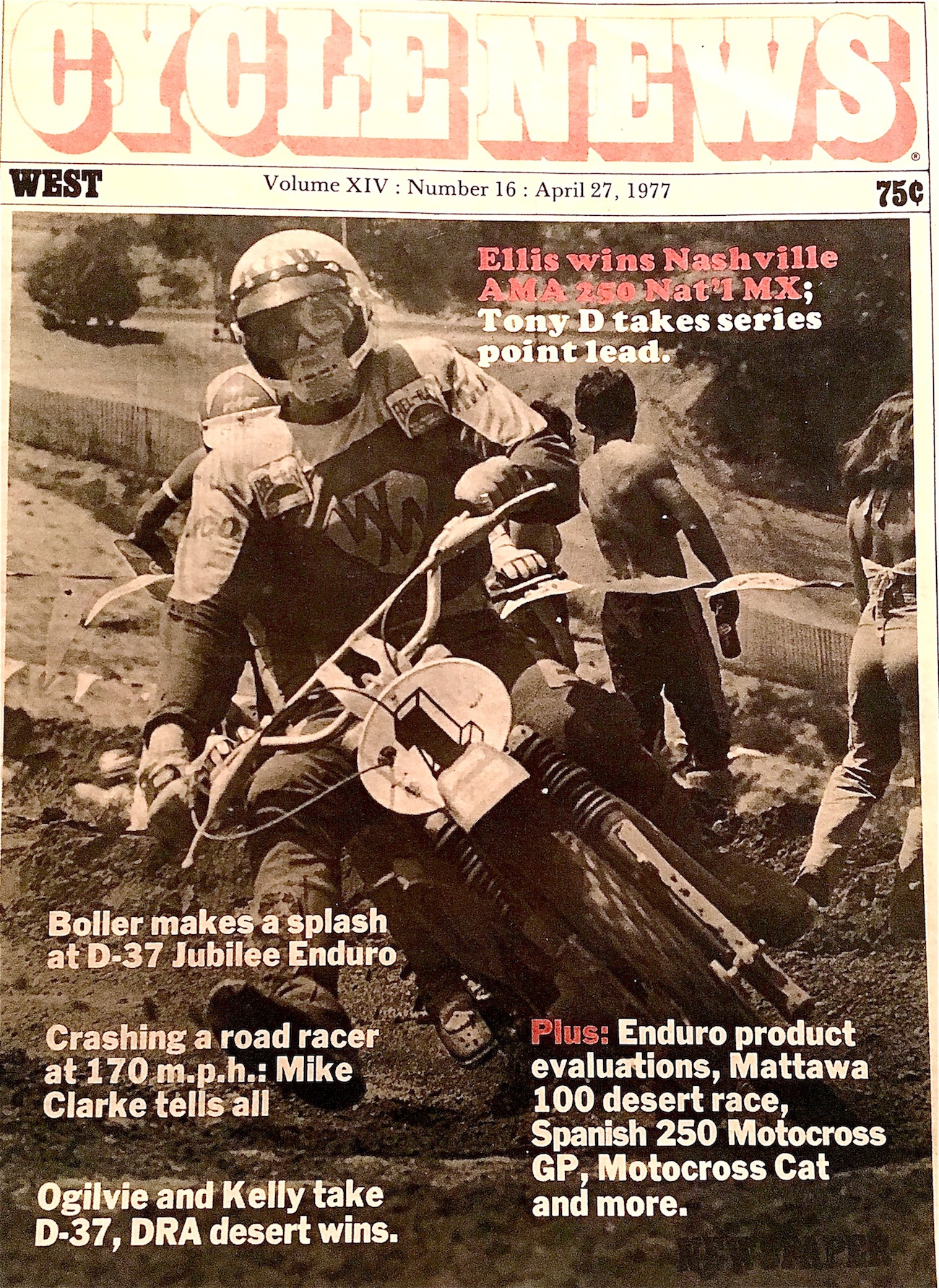 CMC number 1 Val Tamietti graced the cover of the April 27, 1977, issue of Cycle News. Val is still racing today, but most intriguing about this Cycle News cover is that to the right of Val, cropped off by the border, is Val's wife Debbi Tamietti. Today, Debbi is a famous moto-photo journalist, who this year alone shot AMA Nationals, Grands Prix and the Motocross des Nations in Maggiora.

• THE BLACK FRIDAY SALES STARTED ON FRIDAY, NOVEMBER 25
Free shipping on orders over $250 this Friday. For more info go to www.procircuit.com
Ride Engineering is offering 25% off through Monday, November 28, plus frees hipping on order s over $99. For more info go to www.ride-engineering.com
Order a set of custom Faster USA wheels on Blalck Friday and receive a free set of riding gear. Get more info at www.fasterusa.com.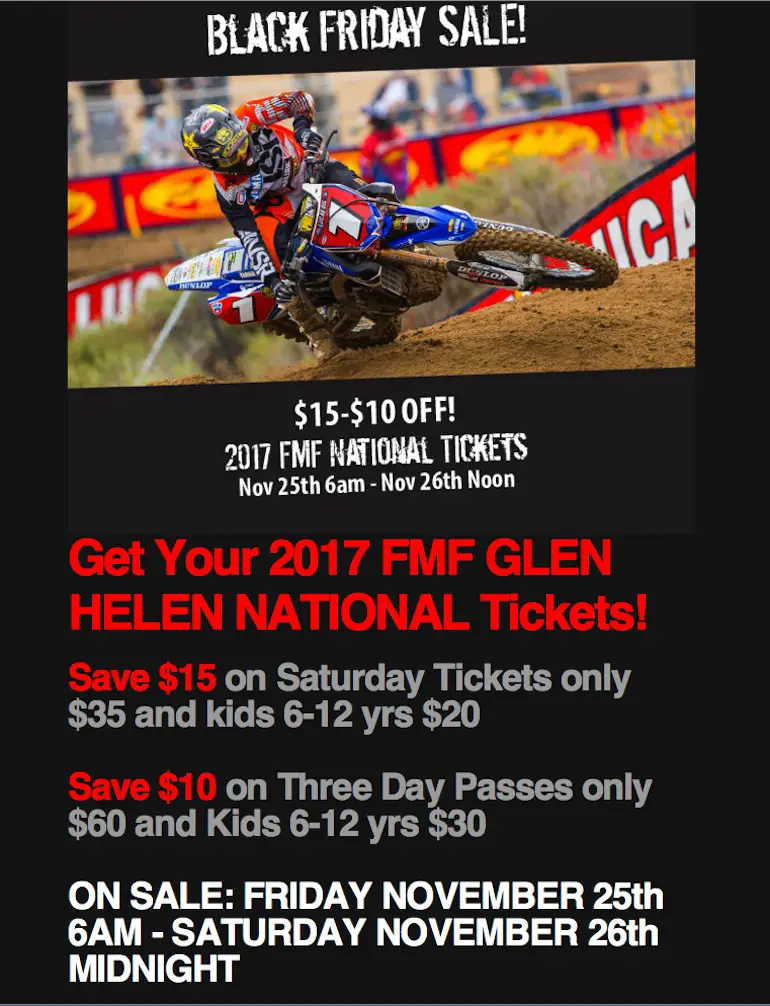 If you are going to the May 27, 2017, FMF-sponsored Glen Helen National, this is your chance to get your race tickets at a big discount. Only $35 for a Sunday adult ticket and $20 for kids from 6 to 12 years old. Hurry! This Black Friday sale is good only from Friday, November 25, through Saturday, November 26, of this weekend. For more info go to www.glenhelen.com
• MEMORIES OF THE WAY WE WERE: MXA COVER FROM 20 YEARS AGO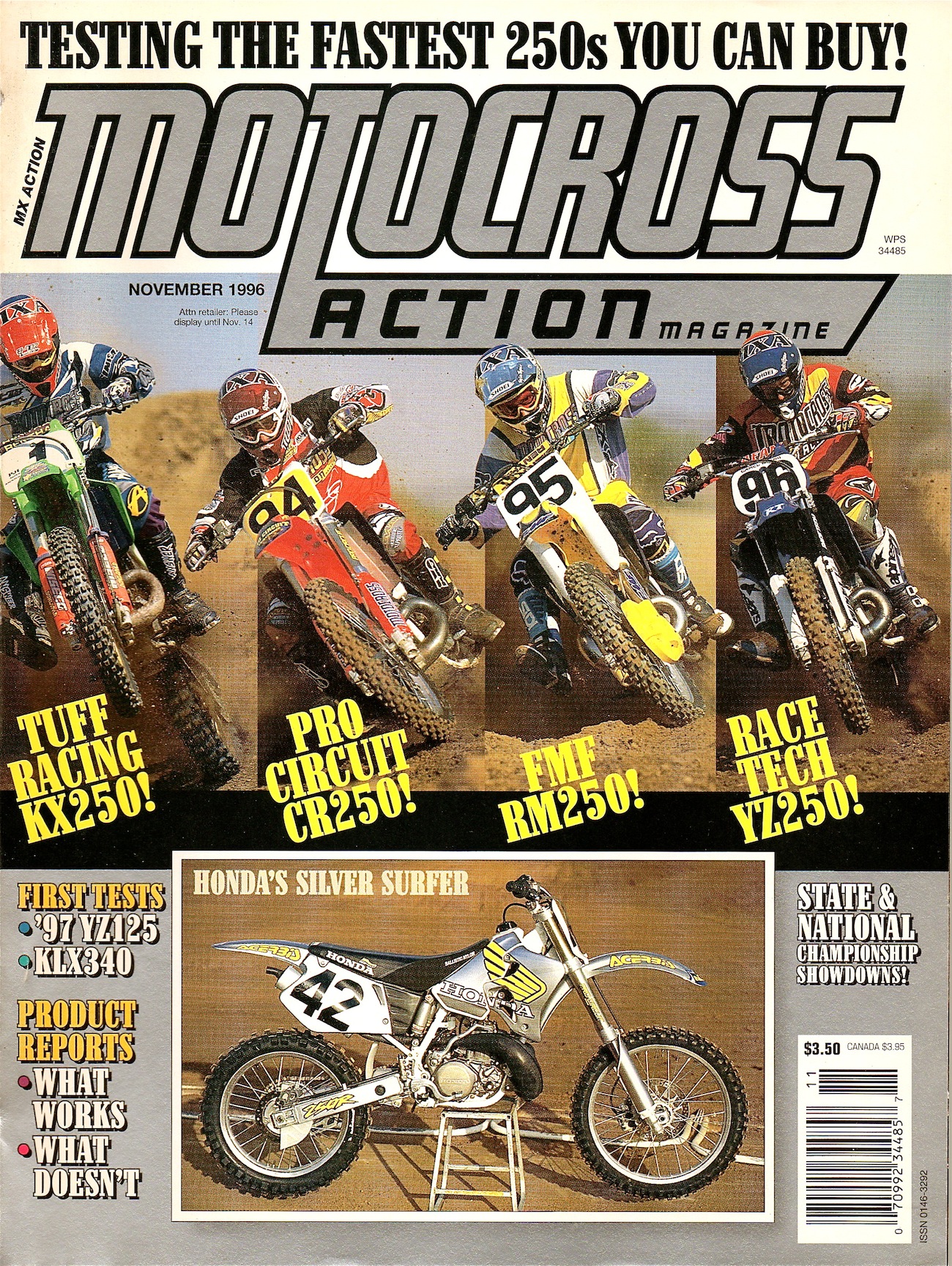 20 years ago the cover of the November 1996 issue featured four hopped-up 250 two-strokes from Tuff Racing, Pro Circuit, FMF and Race Tech. The four individual action photos have two unique facets to them; (1) In order to insure uniformity, MXA test rider Willy Musgrave had to change gear four times and hit the same berm. Yes, it would have been easier to have four test riders share the assignment, but Musgrave wanted to be the first rider to ever appear on a single cover four times. (2) MXA's trademark Troy Lee-designed orange helmet can be seen in the KX250 photo, but MXA also had identical red (CR250), chrome (RM250) and blue versions (YZ250).

• UPCOMING RACES: THE NUMBER SHRINKS AS THE YEAR WINDS DOWN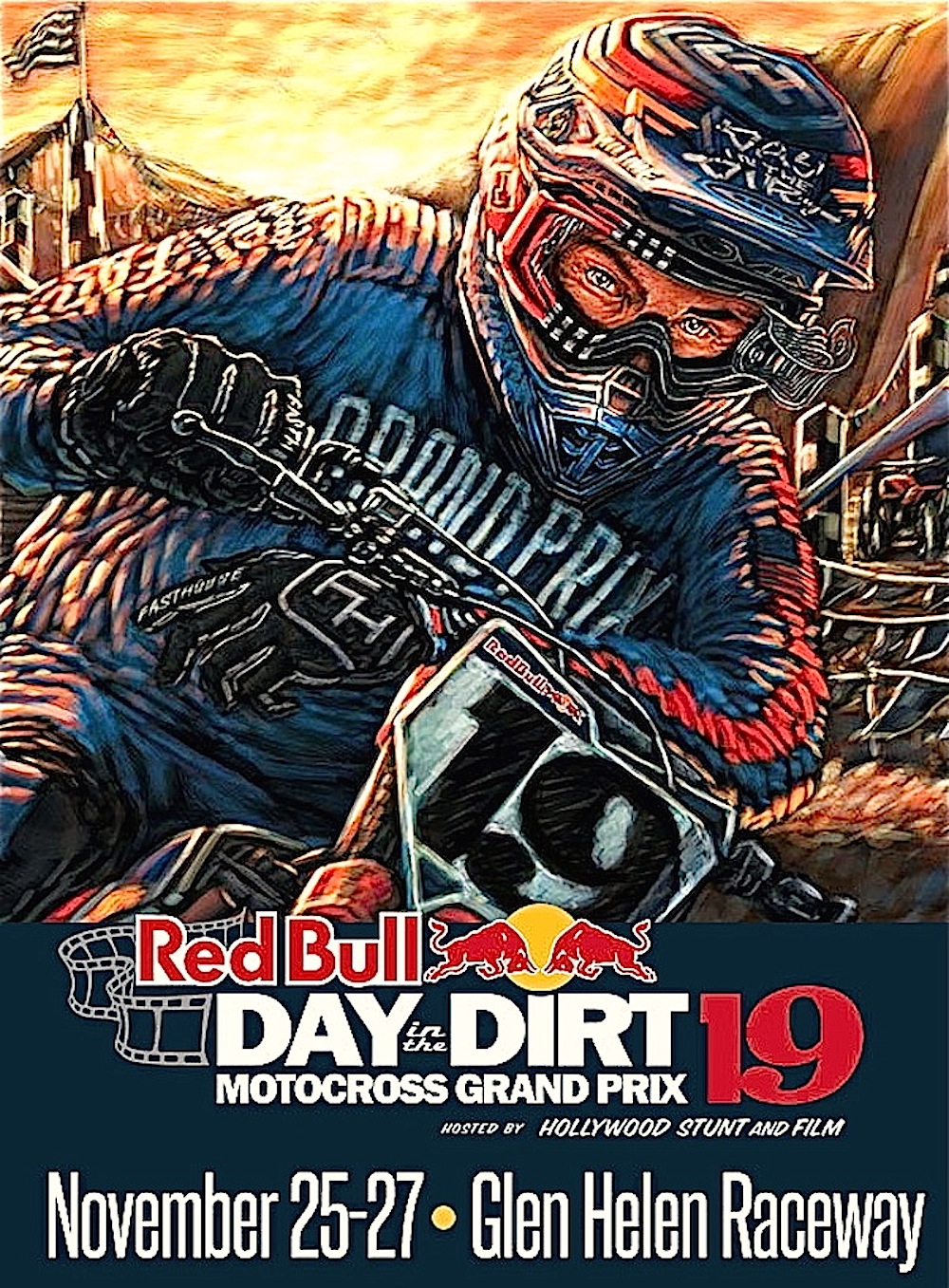 2016 DAY IN THE DIRT 19
Nov. 25-27………………….Glen Helen, CA
GENEVA SUPERCROSS
Dec. 2-3………………………Geneva, Switzerland
2016 REM MOTOCROSS
Dec. 3………………………….Glen Helen, CA
Dec. 10………………………..Glen Helen, CA
Dec. 17…………………………Glen Helen, CA
• MXA PHOTO OF THE WEEK: TAKING VINTAGE RACING TOO LITERALLY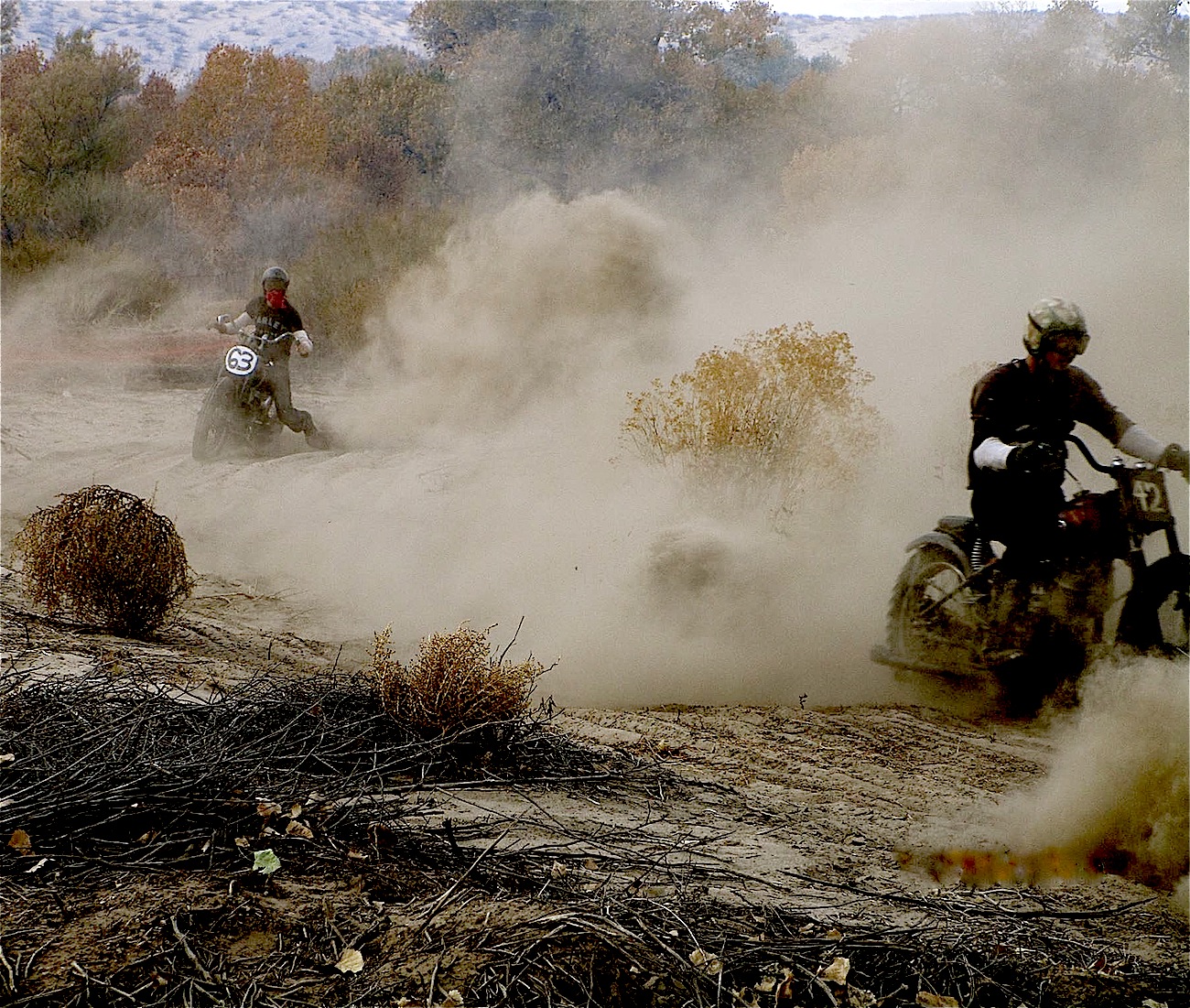 Vintage racers are passionate about preserving motocross history, but few of them are willing to relive the horrible tracks of the early 1970s. This past weekend's "Route 66 Scrambles Vintage Race" gave the assembled vintage racers the full 1970's treatment—a dust bowl of a track, a terrible layout and ineffective track prep. Nobody wants to relive the horrid parts of the past—just the good stuff.

• NICE TOUCH! A RARE POST-RACE THANK YOU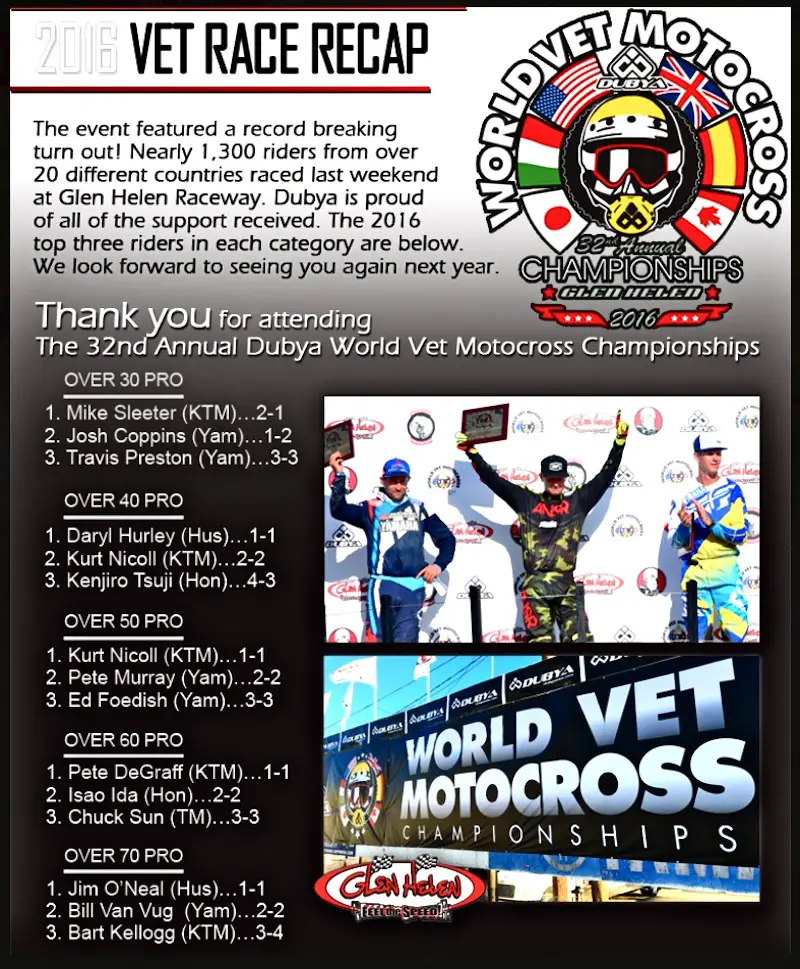 The 2016 Dubya World Vet Championship may be over, but its nice to see that the organizers took the time to thank the 1300 riders who showed up.

• LARS LARSSON'S LIFETIME ACHIEVEMENT AWARD VIDEO

• MXA PRODUCT SPOTLIGHT: HUSQVARNA WAVE SEAT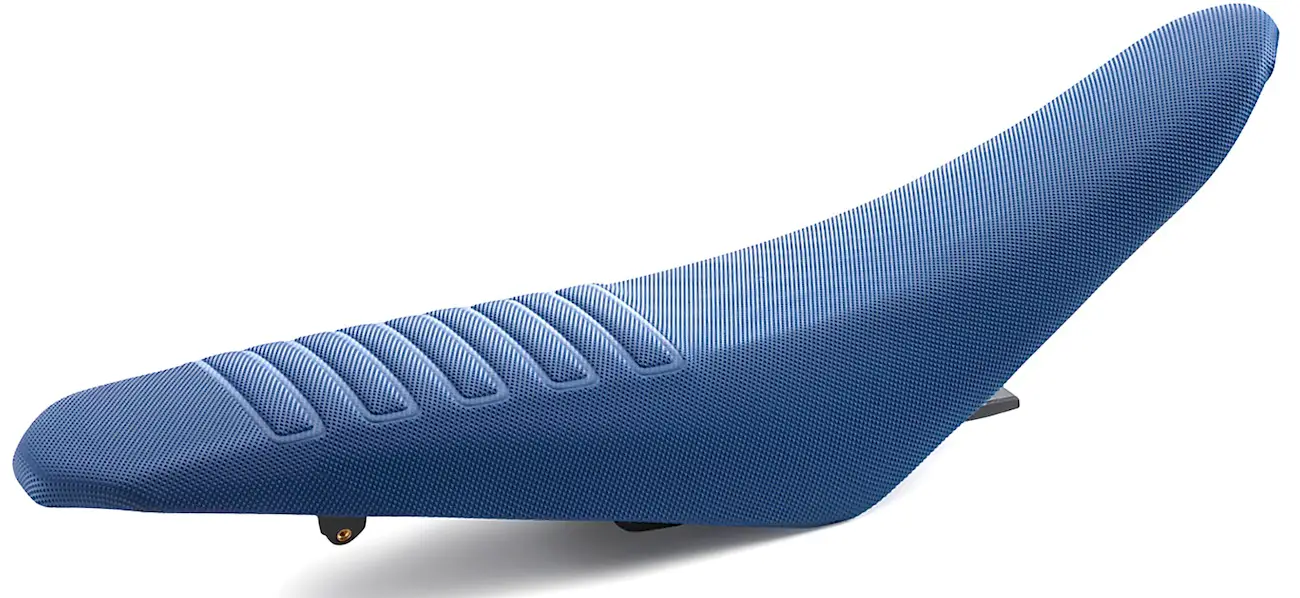 This specially designed 2016-17 Husqvarna Wave Seat provides great freedom of movement, but still offers a perfect hold. The "wave surface" acts as a step even though there isn't one. It is only offered in the standard seat height and is available for all 2016-17 model TC/FC/TX/FX/TE and FE models. The retails price is $124.99. For more info see your friendly local Husky dealer.
• REM GLEN HELEN COUNTDOWN: THREE TO GO IN 2016

The 2016 REM race series at Glen Helen is getting close to the end of its 40-race 2016 schedule. The final three races are on December 3, December 10 and December 17. For more info go to www.remsatmx.com.
• OVER-THE-HILL-GANG CHRISTMAS TOY DRIVE MOTOCROSS

For more info go to www.othgmx.org.
• 2017 HUSQVARNA WORLD CHAMPIONSHIP ON MARCH 4-5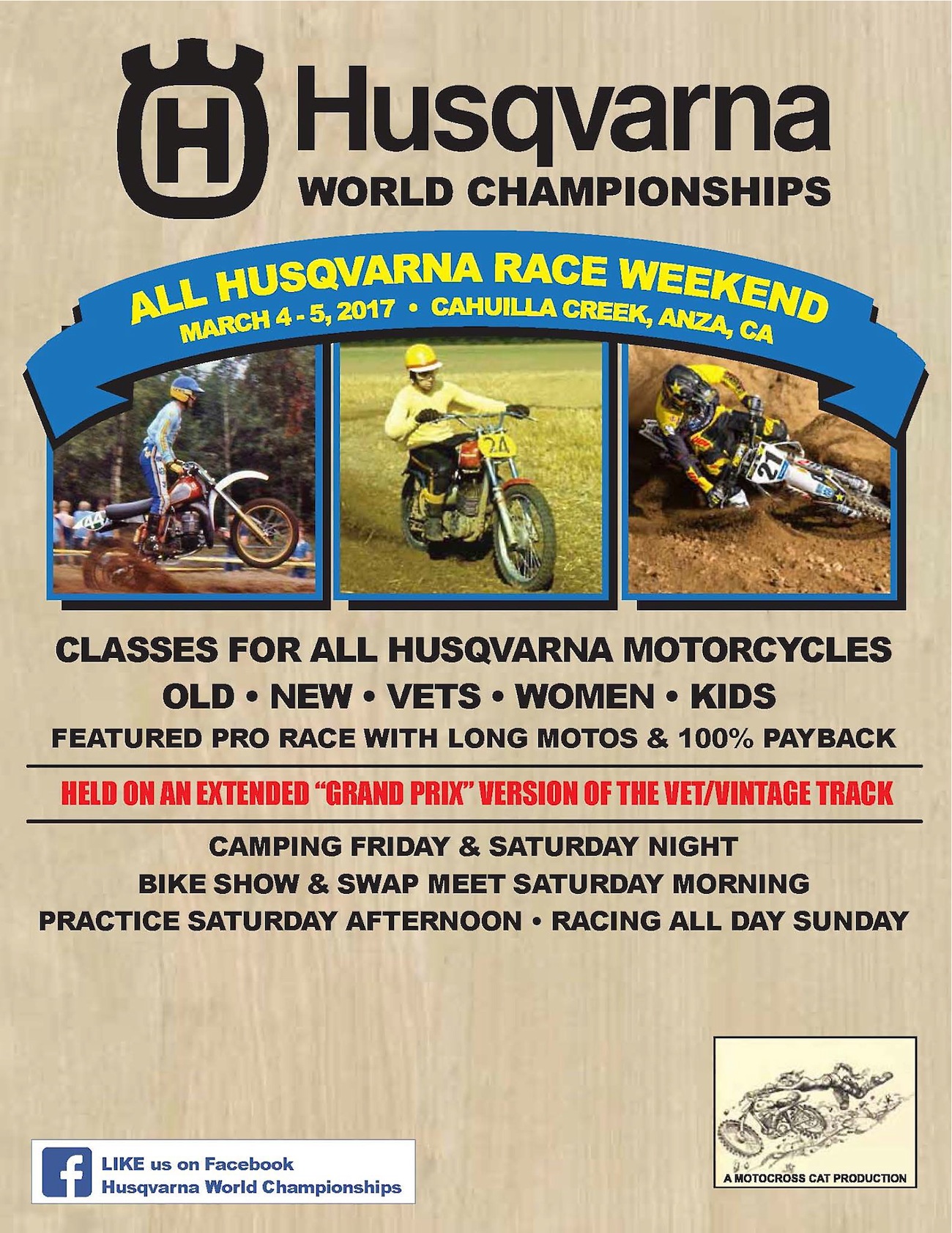 Classes for new Huskys, old Huskys, young Husky riders & old Husky riders at Cahuilla Creek in Anza, California.
• HOW TO SUBSCRIBE & GET MXA FOR FREE: YOU WILL ACTUALLY MAKE MONEY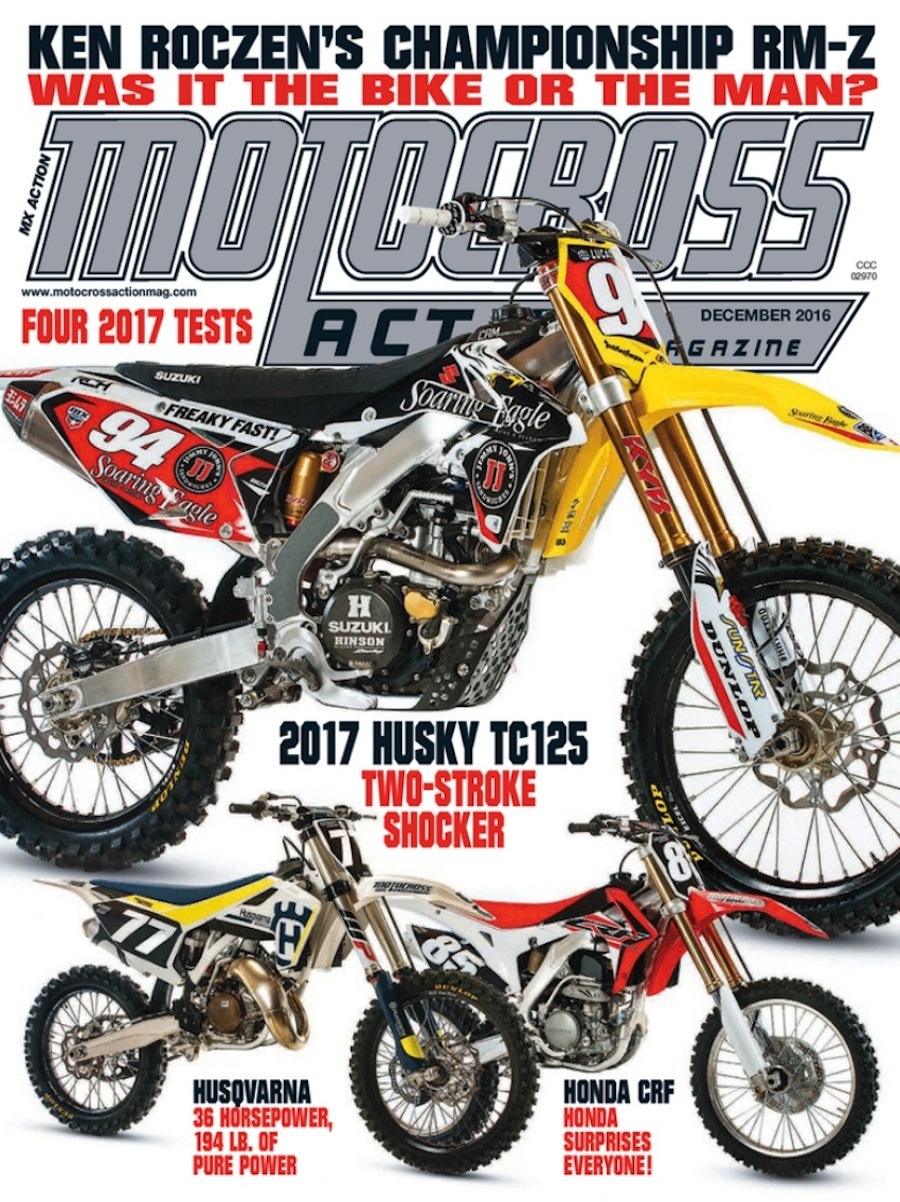 Interested in getting a new bike this year? The December 2016 issue of MXA is on the news stands now and has tests of four 2017 models and a special test of Ken Roczen's AMA 450 National Championship RM-Z450. You should be reading MXA, and if you subscribe now you get a $25 gift certificate from Rocky Mountain ATV/MC which more than pays for your subscription.
Do you subscribe to MXA? You should. We know that you think that print magazines are dead and that the internet will fill the void, but most of the stuff in the current issue of MXA won't appear on the web for several months, if at all. Luckily, you can get all of MXA on your iPhone, iPad, Kindle or Android by going to the Apple Store, Amazon or Google Play. Better yet get the Digital desktop version at https://hi-torque.com/product/motocross-action-digital-edition/ for $9.99 a year. The MXA test riders prefer the print version and not just because it is delivered by a uniformed employee of the U.S. Government, but because for only $19.99 you get 12 issues and a free $25 Gift Card from Rocky Mountain ATV/MC. That means that there is a profit to be made in this deal for you. For the Print magazine go to: http://hi-torque.com/product/subscribe-to-motocross-action-magazine/
• 2017 MOTOCROSS SCHEDULES: WHERE TO BE & WHEN TO BE THERE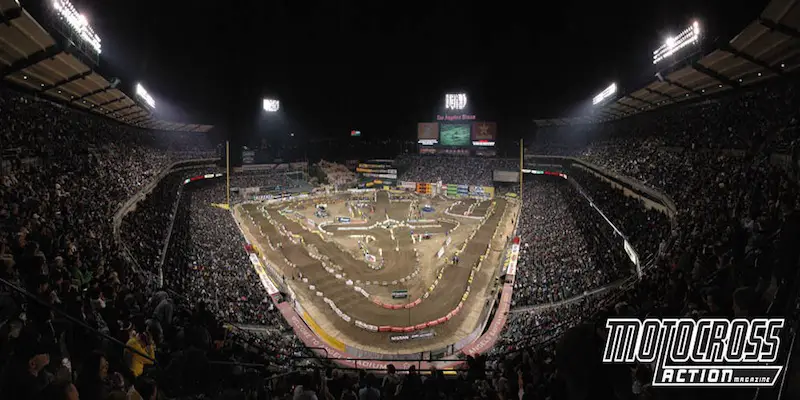 None of these schedules are set in stone, check before setting off on a journey.
2017 AMA SUPERCROSS CHAMPIONSHIP
Jan. 7…………………………Anaheim, CA
Jan. 14………………………San Diego, CA
Jan. 21………………………Anaheim, CA
Jan. 28………………………Glendale, AZ
Feb. 4……………………….Oakland, CA
Feb. 11………………………Arlington, TX
Feb. 18………………………Minneapolis, MN
Feb. 25………………………Atlanta, GA
Mar. 4………………………Toronto, ON
Mar. 11………………………Daytona, FL
Mar. 18………………………Indianapolis, IN
Mar. 25………………………Detroit, MI
Apr. 1…………………………St. Louis, MO
Apr. 8………………………..Seattle, WA
Apr 22……………………….Salt Lake City, UT
2017 AMA NATIONAL CHAMPIONSHIP
May 20……………………Hangtown, CA
May 27.…………………..Glen Helen, CA
June 3..………………….Thunder Valley, CO
June 17..…………………Mt Morris, PA
June 24.………………….Muddy Creek, TN
July 1.…………………….Red Bud, MI
July 8..……………………Southwick, MA​
July 22.…………………..Millville, MN​
July 29.…………………..Washougal, WA
Aug. 12..………………….Unadilla, NY​
Aug. 19..………………….Budds Creek, MD​
Aug. 26.…………………..Crawfordsville, IN
2017 FIM MOTOCROSS WORLD CHAMPIONSHIP
Feb. 25…………………….Qatar (Saturday)
Mar. 5………………………Indonesia
Mar. 19…………………….Argentina
Apr. 2………………………Mexico
Apr. 16……………………..Italy
Apr. 23…………………….Holland
May 7………………………Latvia
May 21…………………….Germany
May 28…………………….France
June 11…………………….Russia
June 25……………………Italy
July 2……………………….Portugal
July 9……………………….San Marino (Cancelled)
July 23……………………..Czech Republic
Aug. 6……………………..Belgium
Aug. 13…………………….Switzerland
Aug. 20…………………….Sweden
Sept. 3………………………USA (Monday)
Sept. 10……………………Holland
Sept. 17…………………….France
2017 MOTOCROSS DES NATIONS
October 1…………………..Matterley Basin, Great Britain
2017 SMX RIDERS & MANUFACTURERS CUP
October 7………………….Gelsenkirchen, Germany
2017 AMSOIL ARENACROSS CHAMPIONSHIP
Jan. 7-8…………………….Cincinnati, OH
Jan. 13-15…………………Grand Rapids, MI
Jan. 20-22…………………Baltimore, MD
Jan. 28-29…………………Nashville, TN.
Feb. 4-5…………………….Louisville, KY
Feb. 18-19…………………Kansas City, MO
Feb.y 25-26……………….Tampa, FL
Mar. 3-5…………………….Southaven, MS
Mar. 11-12…………………New Orleans, LA
Mar. 18-19…………………Portland, OR
Mar. 24-26…………………Reno, NV
April 1-2…………………….Sacramento, CA
April 21-23…………………Denver, CO
May 5-7…………………….Las Vegas, NV
2017 WORLD OFF ROAD CHAMPIONSHIP (WORCS)
Jan. 6-8…………………….Taft, CA
Jan. 27-29…………………Primm, NV
Feb. 17-19………………….TBA
Mar. 10-12…………………Lake Havasu, AZ
Apr. 1-2…………………….Las Vegas, NV
Apr. 21-23…………………Hurricane, UT
May. 19-21…………………Cedar City, UT
Jun. 9-11…………………..Adelanto, CA
Sept. 8-10…………………Glen Helen, CA
Oct 13-15…………………..TBA
2017 ITALIAN NATIONAL CHAMPIONSHIP
Jan. 29…………..………..Riola Sardo.
Feb. 5………………………Malagrotta.
Feb.12………………..……Ottobiano
2017 MAXXIS BRITISH NATIONAL CHAMPIONSHIP
Mar. 12……………………Culham
Apr. 9………………………Lyng
Apr. 30…………………….Canada Heights
May 14……………………Hawkstone Park
June 18……………………Desertmartin
July 16…………………….Blaxhall
July 30…………………….Preston Docks
Aug 27……………………..Foxhill
2017 DUTCH NATIONAL CHAMPIONSHIP
Mar. 26…………………..Oss
Apr. 9th…………………..Harfsen
May 14……………………Emmen
July15-16t………………..Lichtenvoorde
2017 ADAC GERMAN MASTERS CHAMPIONSHIP
Apr. 9……………………….Muhlberg
Apr. 30…………………….Jauer
May 14…………………….Molln
June 18……………………Bielstein
July 16…………………….Tensfeld
Aug. 27……………………Gaildorf
Sept. 24…………………..Holzgerlingen
2017 AUSTRALIAN NATIONAL CHAMPIONSHIP
April 1-2…………………….Wonthaggi, Victoria
April 23…………………..Appin, New South Wales
May 7……………………..Connondale, Queensland
May 21……………………Horsham, Victoria
May 28……………………Murray Bridge, South Australia
July 2……………………..Nowra, New South Wales
July 16……………………Shepparton, Victoria
July 30……………………Port Macquarie, New South Wales
Aug. 13…………………..TBA, Queensland
Aug. 19-20………………Coolum, Queensland
2017 AUSTRALIAN SUPERCROSS CHAMPIONSHIP
Sept. 9…………………..Queensland
Sept. 23…………………Queensland
Oct. 14…………………..TBA
Oct. 26…………………..South Australia
Nov. 4…………………….Victoria
Nov. 11-12……………..New South Wales
Photos: Daryl Ecklund, Brian Converse, Massimo Zanzani, Scott Malonee, Debbi Tamietti, Tom White, Dan Alamangos, John Basher, Yamaha, MXA, Honda