MXA'S WEEKEND NEWS ROUND-UP: THE AUSSIE WHO COULD GRAB THE GOLDEN RING THIS TIME AROUND
DEAN FERRIS TO FILL IN FOR YAMAHA'S AARON PLESSINGER IN THE 450 NATIONALS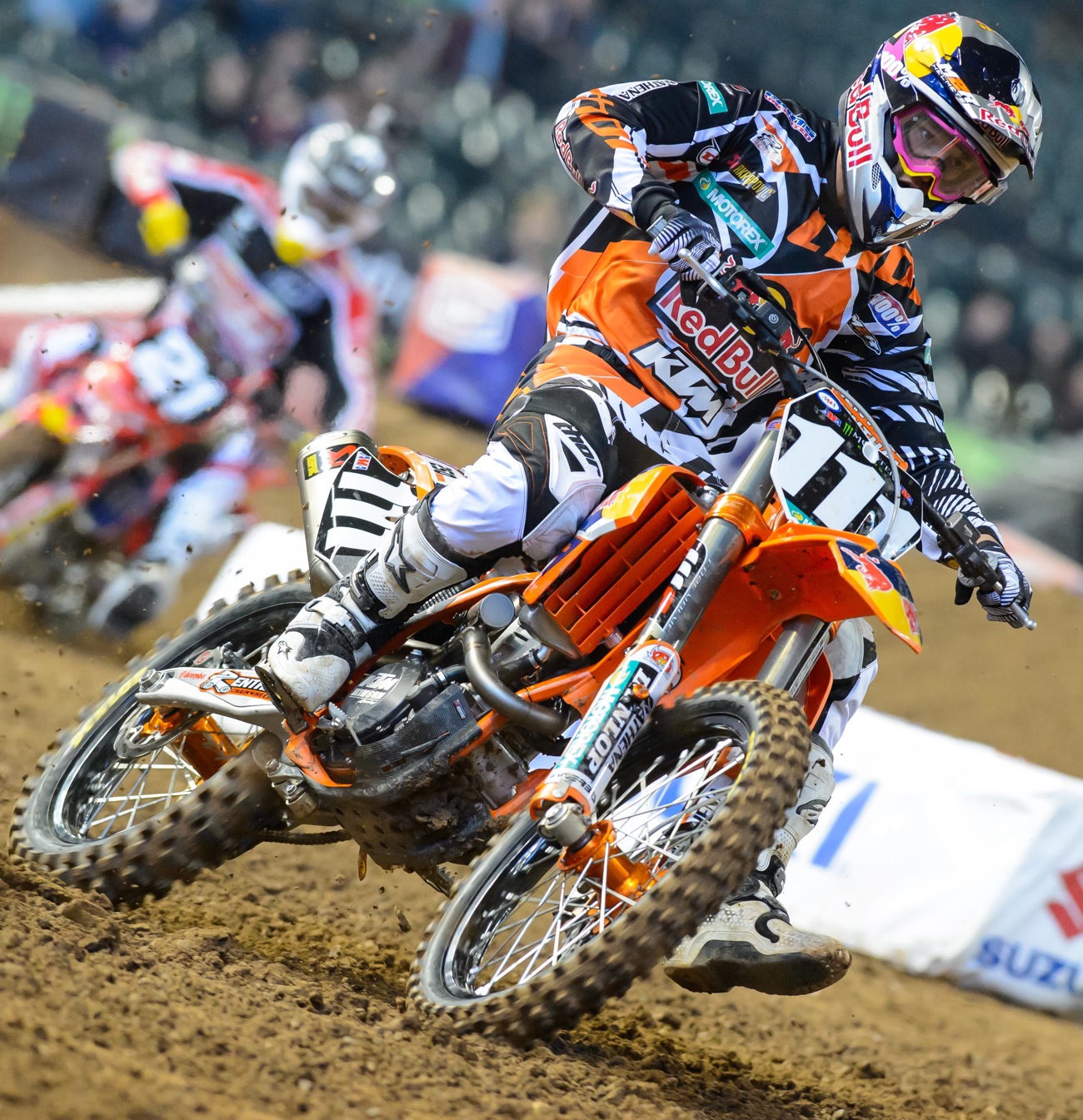 Dean Ferris back in 2014 when he raced for the factory KTM team in the AMA 250 West.
Yamaha has signed reigning Australian Motocross Champion Dean Ferris to take the place of the injured Aaron Plessinger (broken heel) starting at the opening round of the 2019 AMA 450 Motocross Championship at Hangtown next Saturday 18. Earlier this season, the 28-year-old Ferris filled in for the injured Romain Febvre in one round of the MXGP 450 World Championship. Ferris had two abbreviated ventures into AMA racing. In 2014 he was signed by KTM to race the 250 West Supercross series and the outdoor Nationals. He did six 250 West round finishing; 14th, 7th, 11th, 10th, 11th and 10th for 14th overall. Then, he broke his wrist and couldn't finish the 2014 series. In 2017 he raced the Mt. Morris National in the 450 class and finished a very impressive 2-14 for 7th overall.
Dean Ferris said, "I'm super excited about this opportunity to race with the Monster Energy Yamaha Factory Racing Team. I've won a lot of races on the YZ450F, so it's a perfect fit for me to start my campaign in America. I'm looking forward to getting the outdoor season rolling in Hangtown next weekend!"
MXA'S FIRST RIDE VIDEO: 2019 KTM 250SXF — A MOTOCROSS BIKE IN SHEEP'S CLOTHING
SOCAL VINTAGE MX CLASSIC 10 ON JUNE 15 AT GLEN HELEN
You can download the 8-page entry form and see all the classes by Clicking Here
CLASSIC MXA TEST RIDER PHOTO: JUST DOWN THE STREET
MXA test rider Mark Denning blasts out of a corner on MXA's 1982 Honda CR125 at the Country Village Road riding area in Jurupa Valley, California. MXA tested a lot at Country Village Road in the 1980s until development closed it down. Mark Denning lived nearby and would ride his bike down the irrigation canals to get there.
The red boot gaiters and solid red MXA jersey help pinpoint the year. As for the CR125, see the red "Pro Link" on the swingarm, black engine and solid rear brake anchor arm? Those reveal, even from this front view, that the CR125 is a 1982 model.
GREAT BRITAIN'S TAKE ON THE "WORLDS MOST FAMOUS LOCAL TRACK"
From www.motheadmag.com: "The Saturday morning REM races at Glen Helen, which run for up to 48 weeks of the year thanks to endless sunshine in the California desert near San Bernadino are just a few miles from America's mother road, historic Route 66 and right next to the famous Glen Helen National track. At REM there are no licenses or pre-entries and no complicated grading system – you just choose what class you want to be in. And choose another one if you want to pay more and race more. There are no technical controls, licenses or noise checks, no officials in blazers armed with rule books and the track doesn't have a complicated watering systems, just flag men with hose pipes. But that means the circuit can be altered from week to week.
"The track, based on the land used by the old Arroyo Cycle Park circuit from the 1970s, which held the first ever 125 US National, has big elevation changes, tricky soft sections and always gets very rough. It's a proper motocross track where you need serious skills to get round it at speed, rather than a flat-out Supercross-style circuit where the limiting factor seems to be how brave you are at hitting mega jumps. It's a tough track that pulls in real motocross riders rather than wannabe Supercross stars. Real riders who also want to show their stuff in front of team bosses and the industry, and claim the odd scalp of a National Pro who may have turned up for a bit of training. And that means everyone – from Jeremy McGrath to Dean Wilson to Eli Tomac to Adam Cianciarulo."
To read the complete motoheadmag.com story Click Here
RUSSIAN "MOTOCROSS THROUGH WHOLE LIFE" MOVIE TRAILER
USED IT, ABUSED IT, MISUSED IT: NITROMOUSSE

NITROMOUSSE ELASTOMER FOAM TUBES
The Nitromousse differs from the typical offroad mousse used by desert and Baja racers in that the Nitromousse's tube-shaped elastomer foam is charged with nitrogen instead of air. The nitrogen provides a livelier and more predictable feel than the typical mousse. Most important is that a Nitromousse can never go flat.
VERDICT: Compared to a conventional air-filled tube, the Nitromousse tubes were dead feeling. The tires would thud through braking and square-edged bumps and transmit that force to the rider's hands. But, they couldn't go flat, and the tires performed just as well as a conventional tube filled to 12 psi. We ran the Nitromousses on our motocross bikes before switching them over to a Husqvarna off-road bike. We logged 500 miles on it before we noticed that the Mousse was breaking down and getting softer.
DIGITS: $124.95—(800) 457-4233 or www.nitromousse.com.
2019 HAWAIIAN SUPERCROSS ON THIS WEEK ON OAHU

The Hawaiian Supercross is scheduled for one week after the 2019 AMA Supercross series ends.  Riders listed for the race are Ryan Sipes, Justin Brayton, Austin Politelli, Josh Hill, Ben Lamay, Tyler Bowers, Alex Ray, Mike Alessi, and Kyle Chisholm. For more information go to www.hawaiiansx.com
"SILENT RUNNING" VIDEO: RIDING THE OSET 24.0 ELECTRIC BIKE
AND THEN THERE WERE TEN: THE TOP TEN!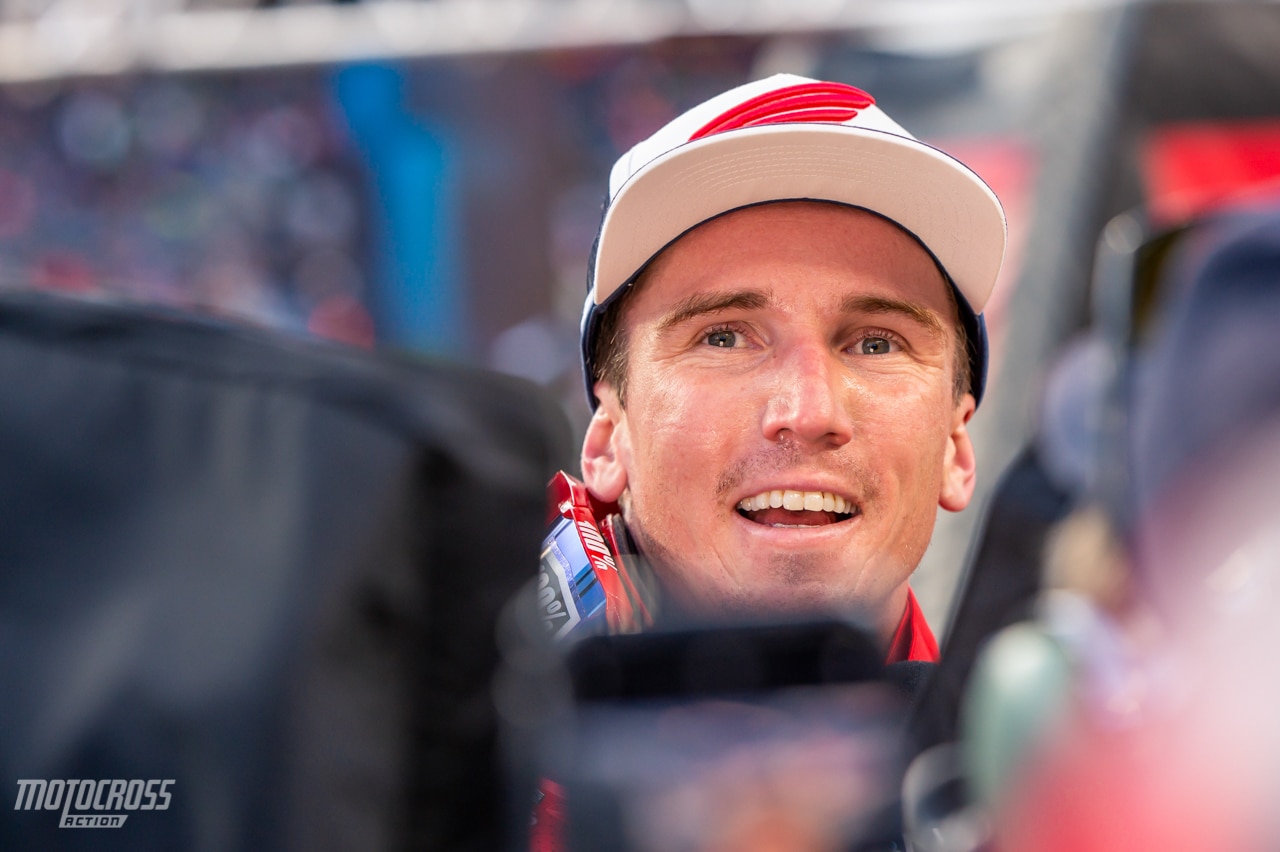 Cole Seely missed Detroit and only made the top five once, but still managed to make the top ten in the 450 class.

FINAL AMA 450 SUPERCROSS POINTS STANDINGS
(After 17 of 17 rounds)
1. Cooper Webb…379
2. Eli Tomac…361
3. Marvin Musquin…350
4. Ken Roczen…319
5. Blake Baggett…290
6. Dean Wilson…223
7. Cole Seely…211
8. Joey Savatgy…208
9. Justin Bogle…171
10. Justin Brayton…163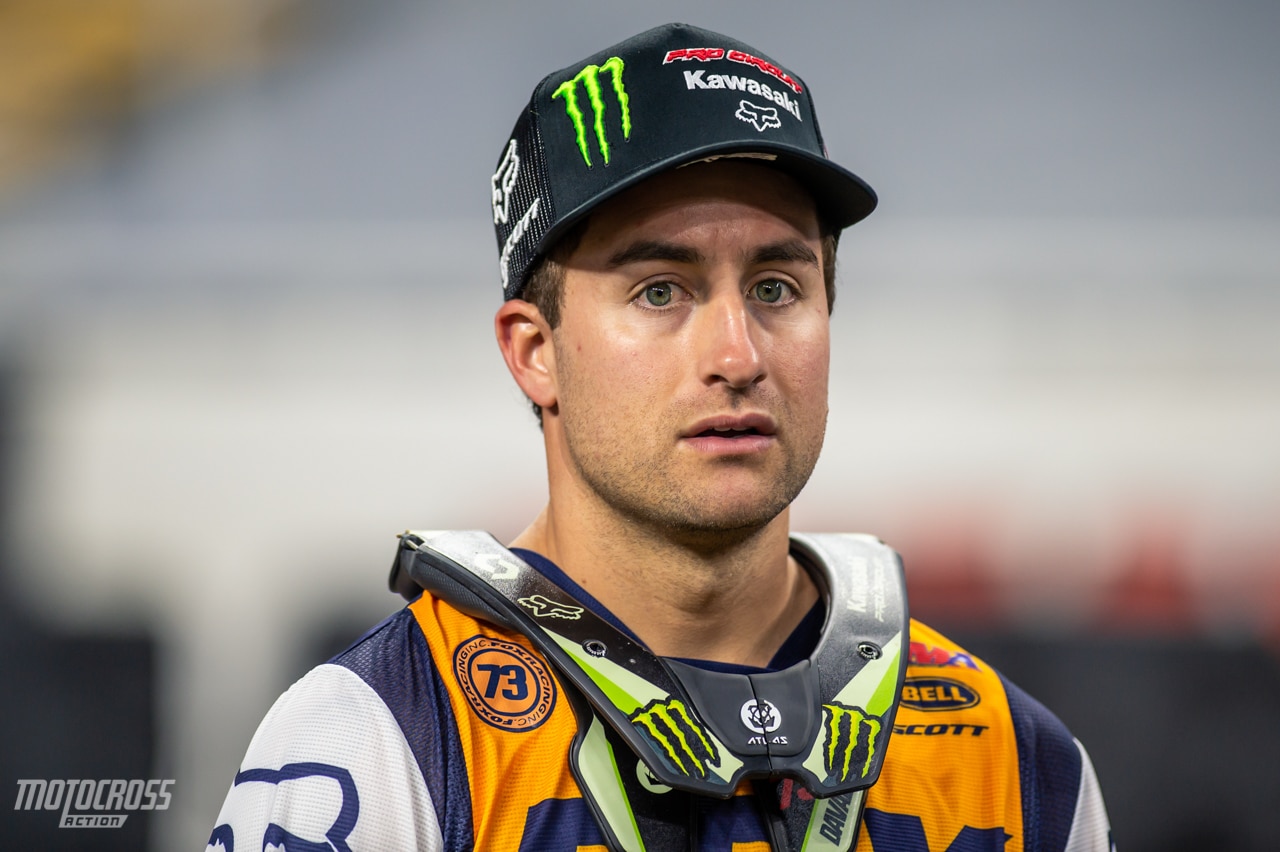 Martin Davalos raced 101 AMA 250 Supercross races in his career. He spent 13 years in what is a regional championship. But, at Las Vegas he earned the points that will finally move him up.
FINAL AMA 250 EAST SUPERCROSS POINTS STANDINGS
(After 10 of 10 rounds)
1. Chase Sexton…193
2. Justin Cooper…180
3. Austin Forkner…152
4. Martin Davalos…148
5. Alex Martin…139
6. Brandon Hartranft…130
7. Mitchell Oldenburg…128
8. Kyle Peters…126
9. Kyle Cunningham…110
10. Jordan Bailey…101
Shane McElrath missed the last four races—and it was a good thing for him because he was only 12 points short of pointing out of 250 Supercross. If he hadn't sand bagged, he'd be a 450 rider next year—with no ride.
FINAL AMA 250 WEST SUPERCROSS POINTS STANDINGS
(After 10 of 10 rounds)
1. Dylan Ferrandis…226
2. Adam Cianciarulo…211
3. Colt Nichols…180
4. R.J. Hampshire…168
5. Cameron McAdoo…149
6. Michael Mosiman…144
7. Jimmy Decotis…133
8. Shane McElrath…123
9. Chris Blose …120
10. Garrett Marchbanks…113
HOOLIGAN STADIUM STEEPLECHASE ON JUNE 2 ON LUCAS OIL TRUCK TRACK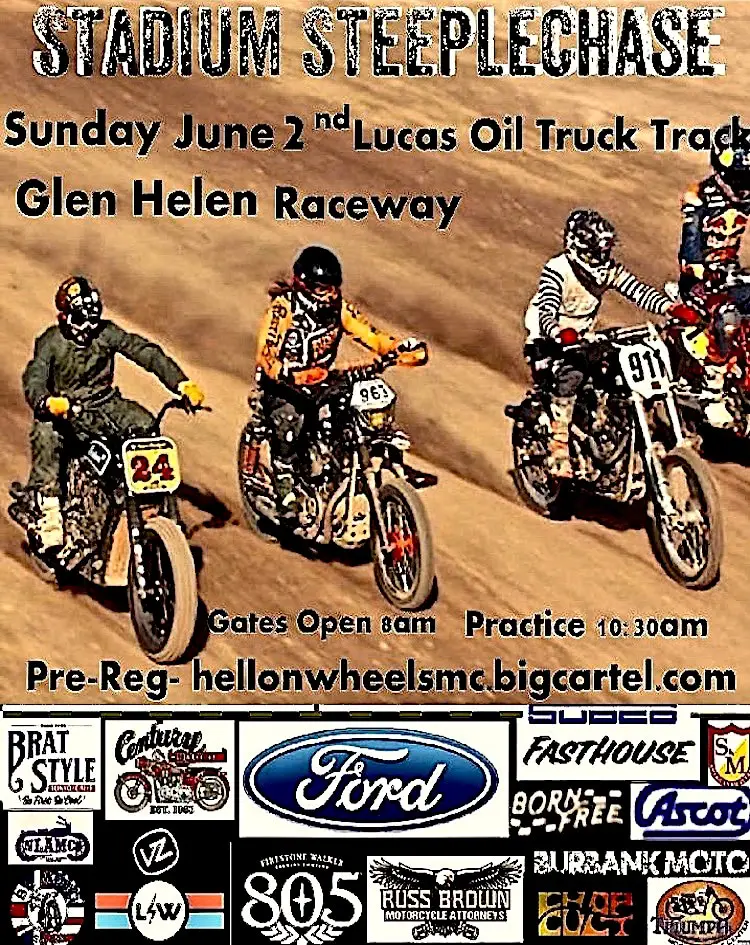 A TT-Style race on the Glen Helen Lucas Oil Truck Track. Gates open 8:00 a.m./practice 10:30 a.m. Classes for Minis, 100cc, 150cc, pre-74, pre-unit twins, 1975 to 1979 Bomber, Hooligans, tank shifters and modern support. For more info Click Here.
THIS WEEK'S BIRTHDAY BOYS: EDISON 101, BUD 89, BROC 59, CLEMENT 30 & JESSY 25
May 10…Bud Ekins 1930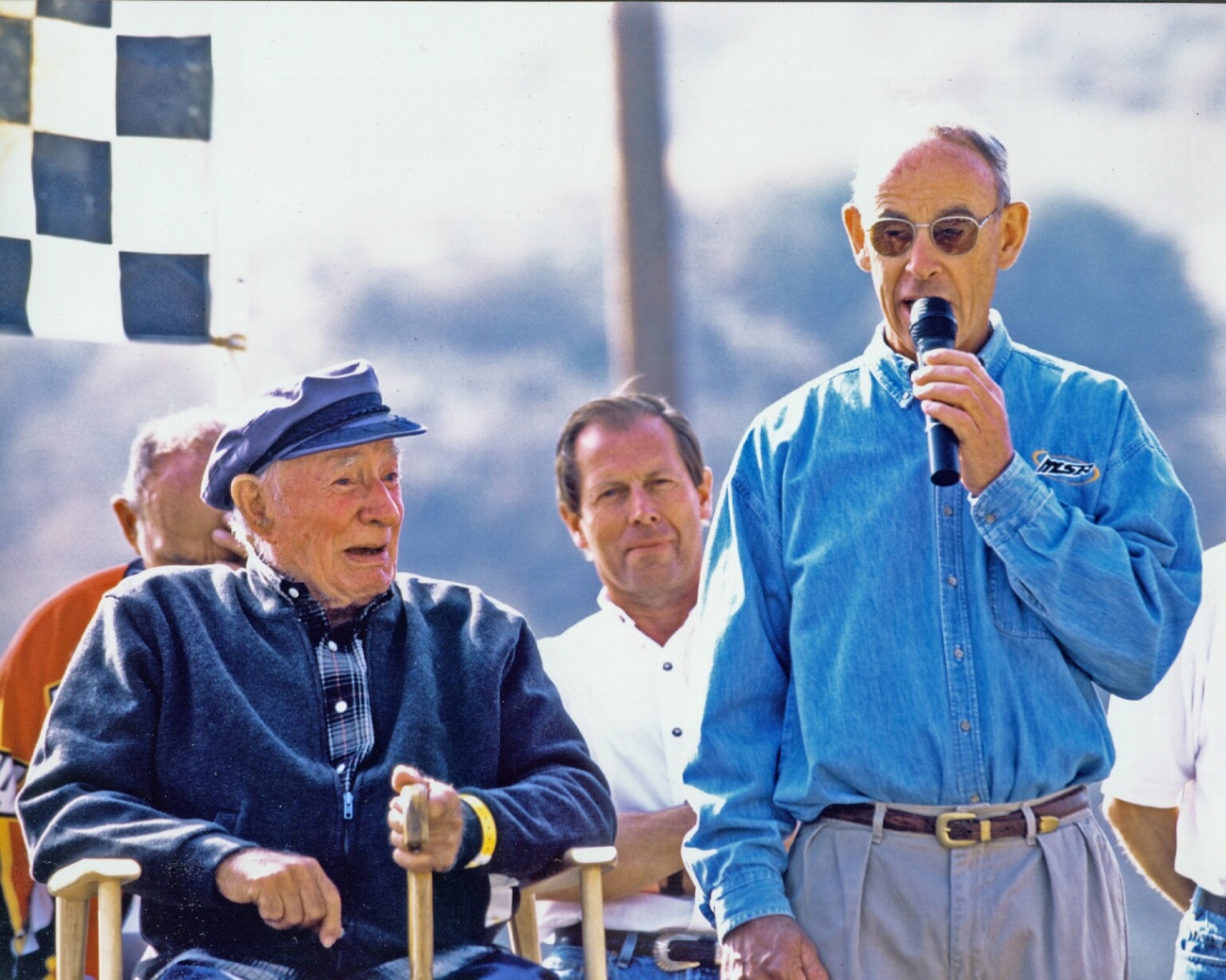 May 10…Edison Dye 1918
May 10…Jason McCormick 1975
May 10…Jessy Nelson 1994
May 11…John van den Berk 1967
May 11…Jeremy Martin 1993
May 12…Aaron Johnson 1983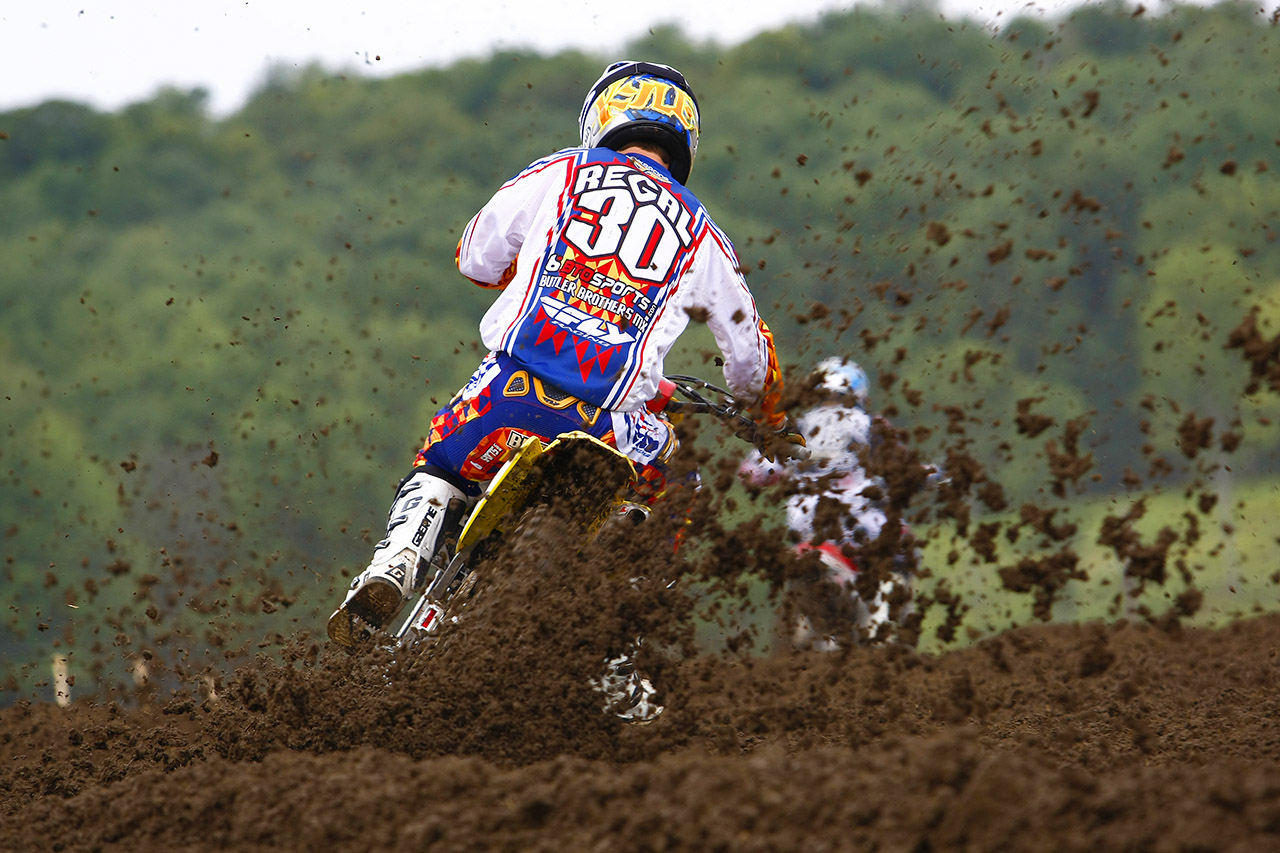 May 14…Kyle Regal 1991
May 15…Joe Oehlhof 1976
May 15…Jackson Esselman
May 15…Warren Johnson 1968
May 15…Kyle Loza 1986
May 15…Daniel McCoy 1984
May 16…Dustin Miller 1981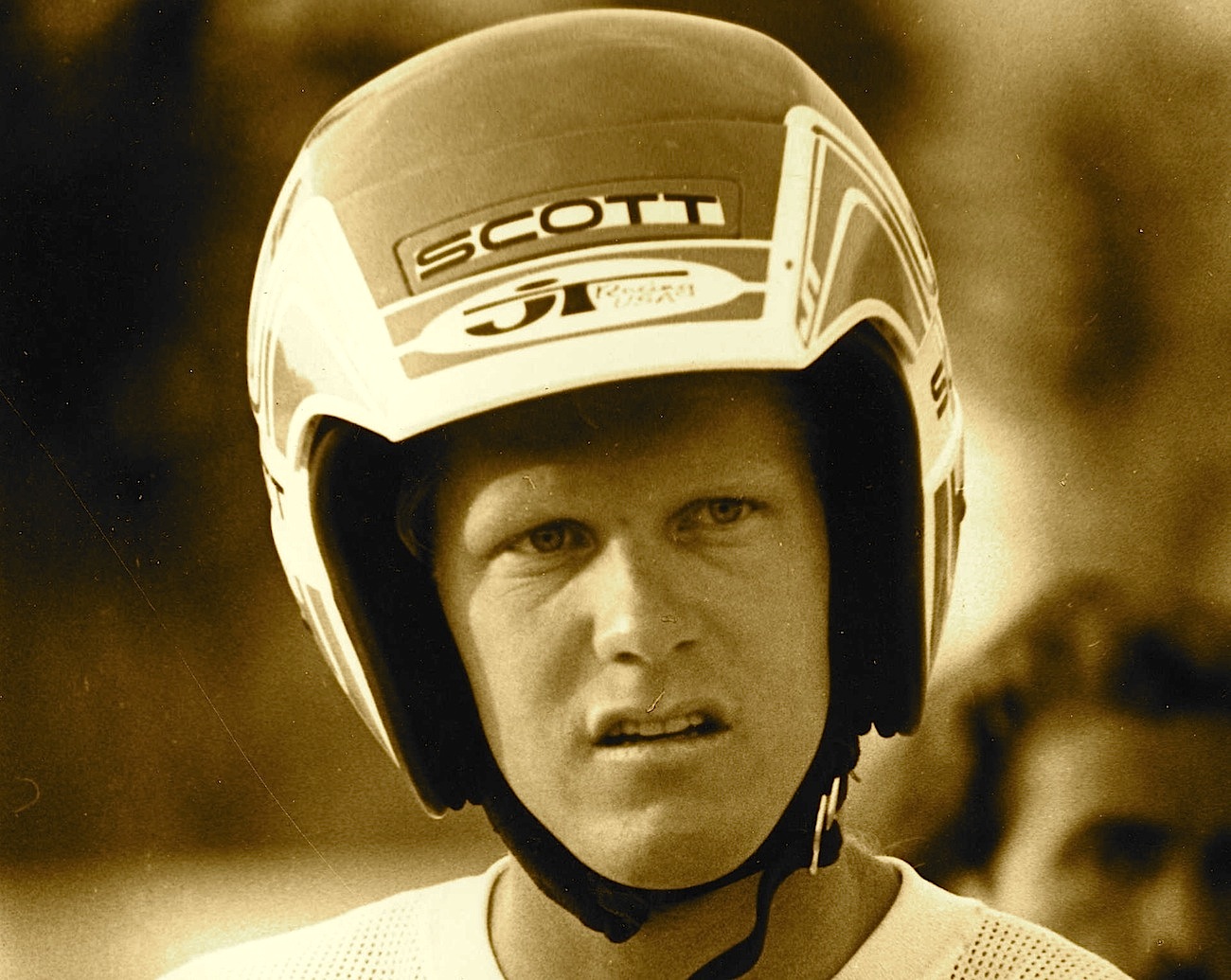 May 16…Broc Glover 1960 
May 16…Laurette Cushman
May 17…Darrin Sorenson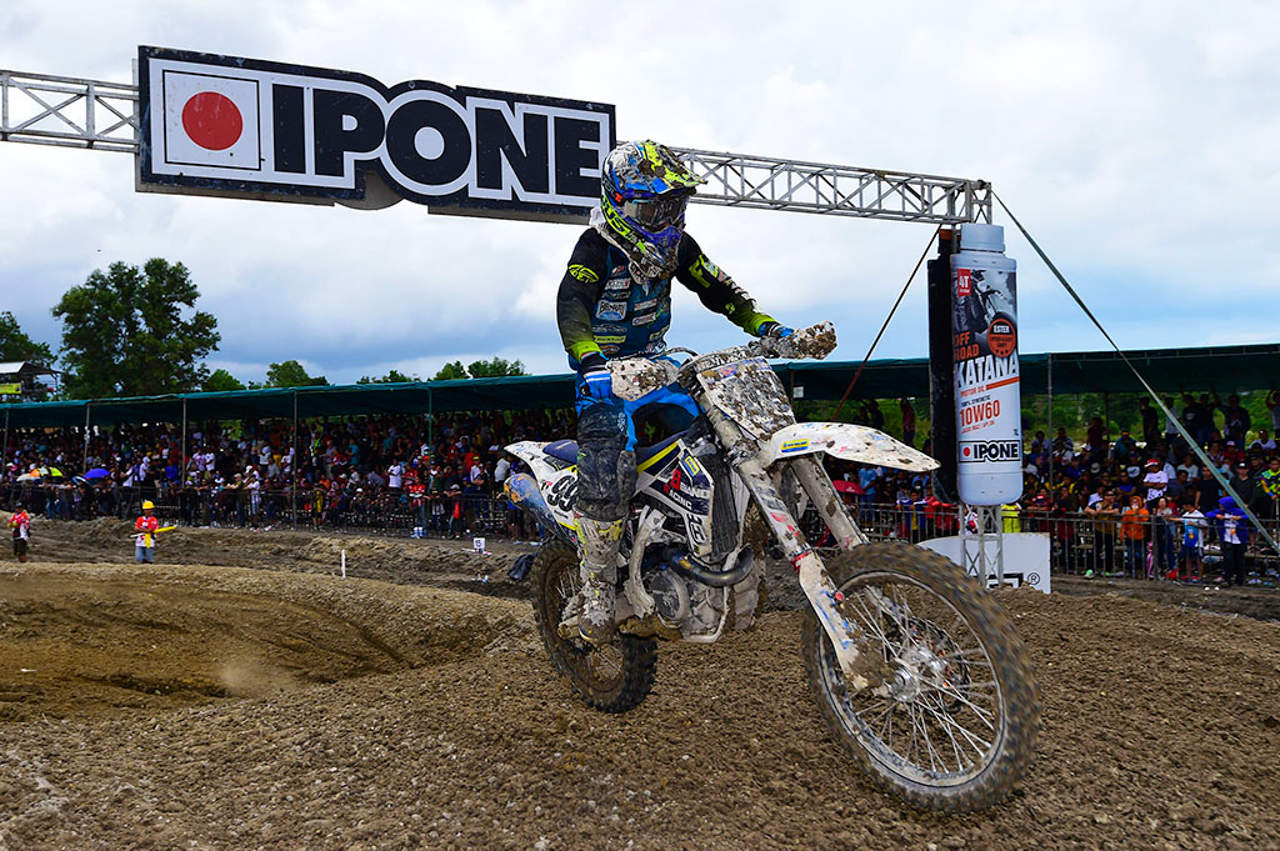 May 17…Rui Goncalves 1985
May 17…Ryan Abrigo
May 17…Paul Coates
May 18…John Anderson 1963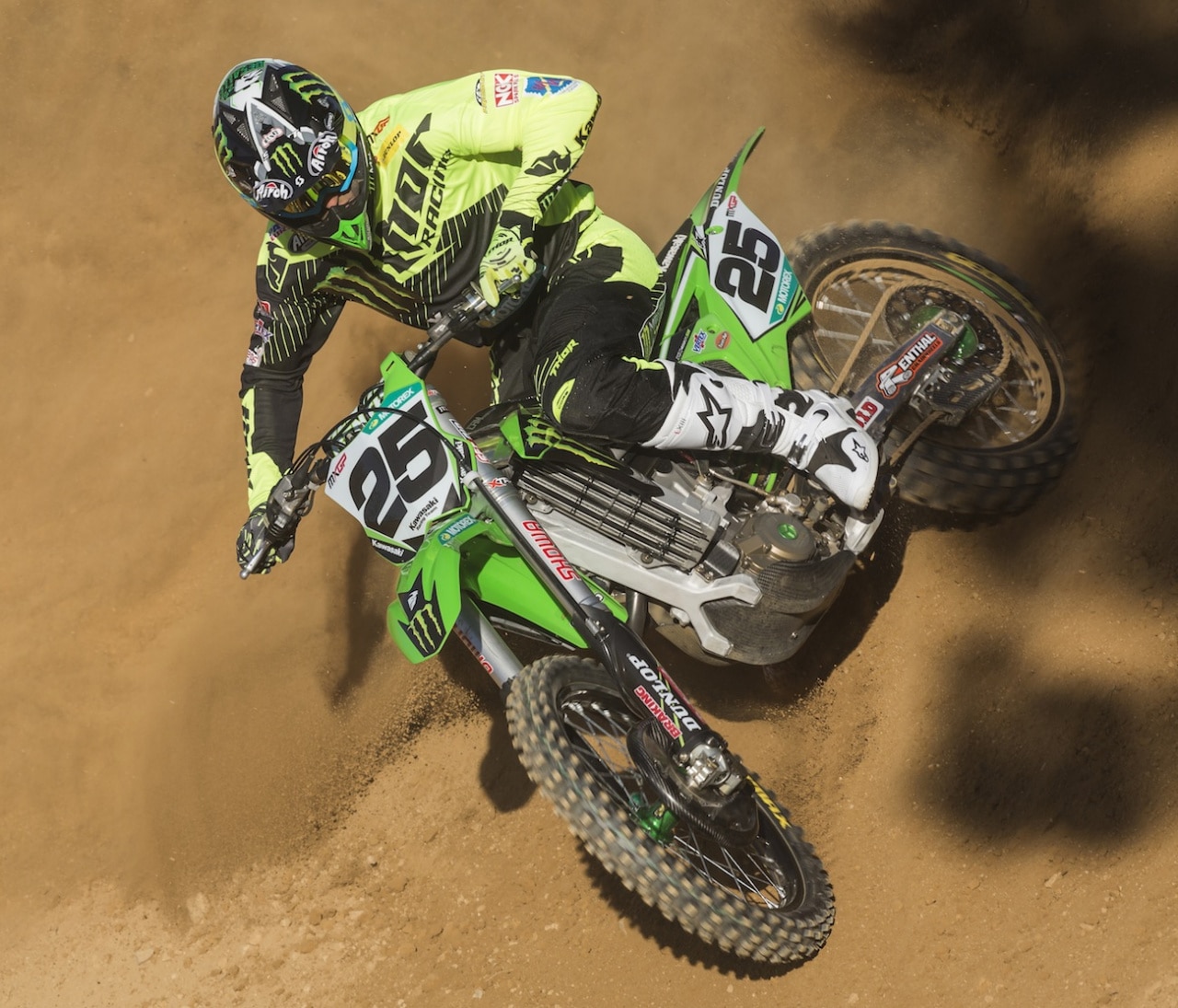 May 19…Clement Desalle 1989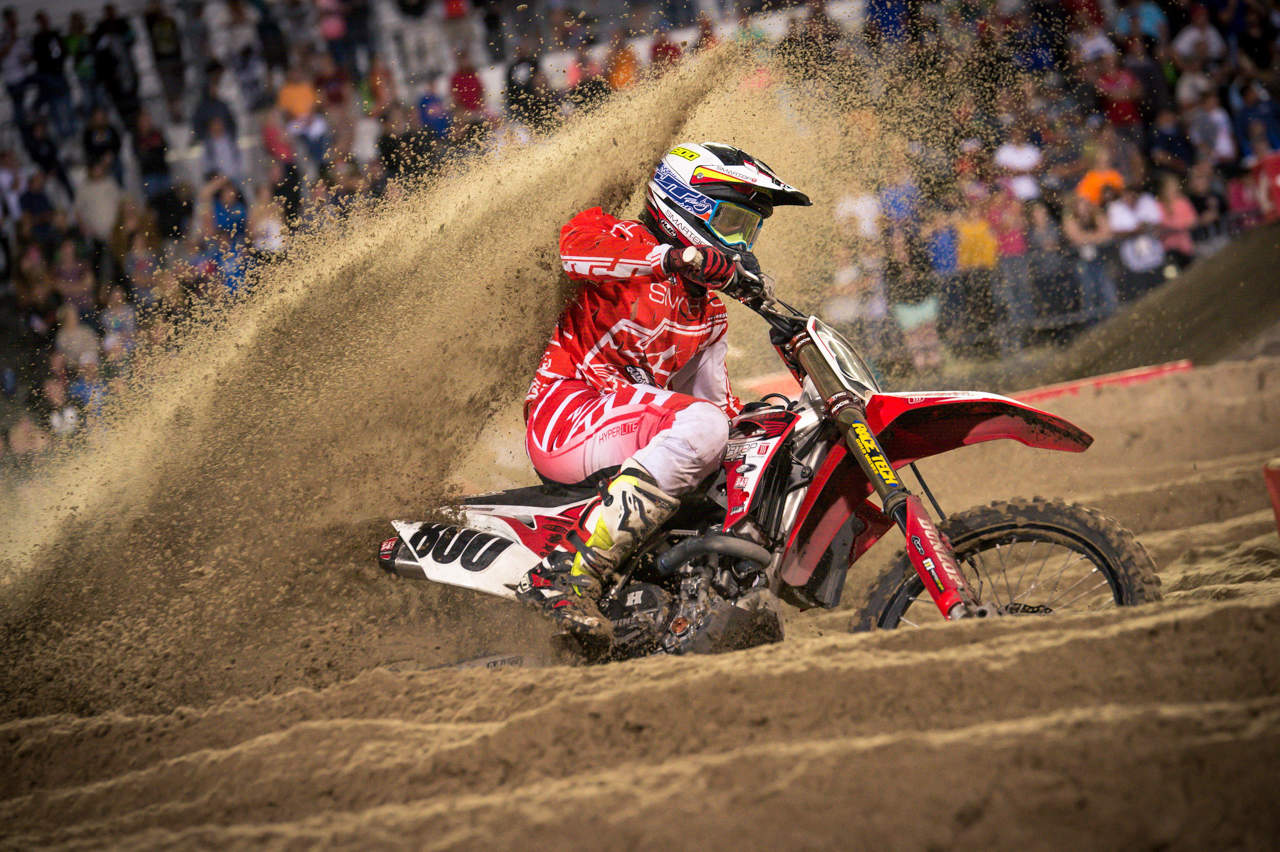 May 19…Mike Alessi 1988
HOW THEY RANK: MXA'S 2019 250 FOUR-STROKE SHOOTOUT
CLASSIC MOTOCROSS ADS: THE 1970 EL GATO 80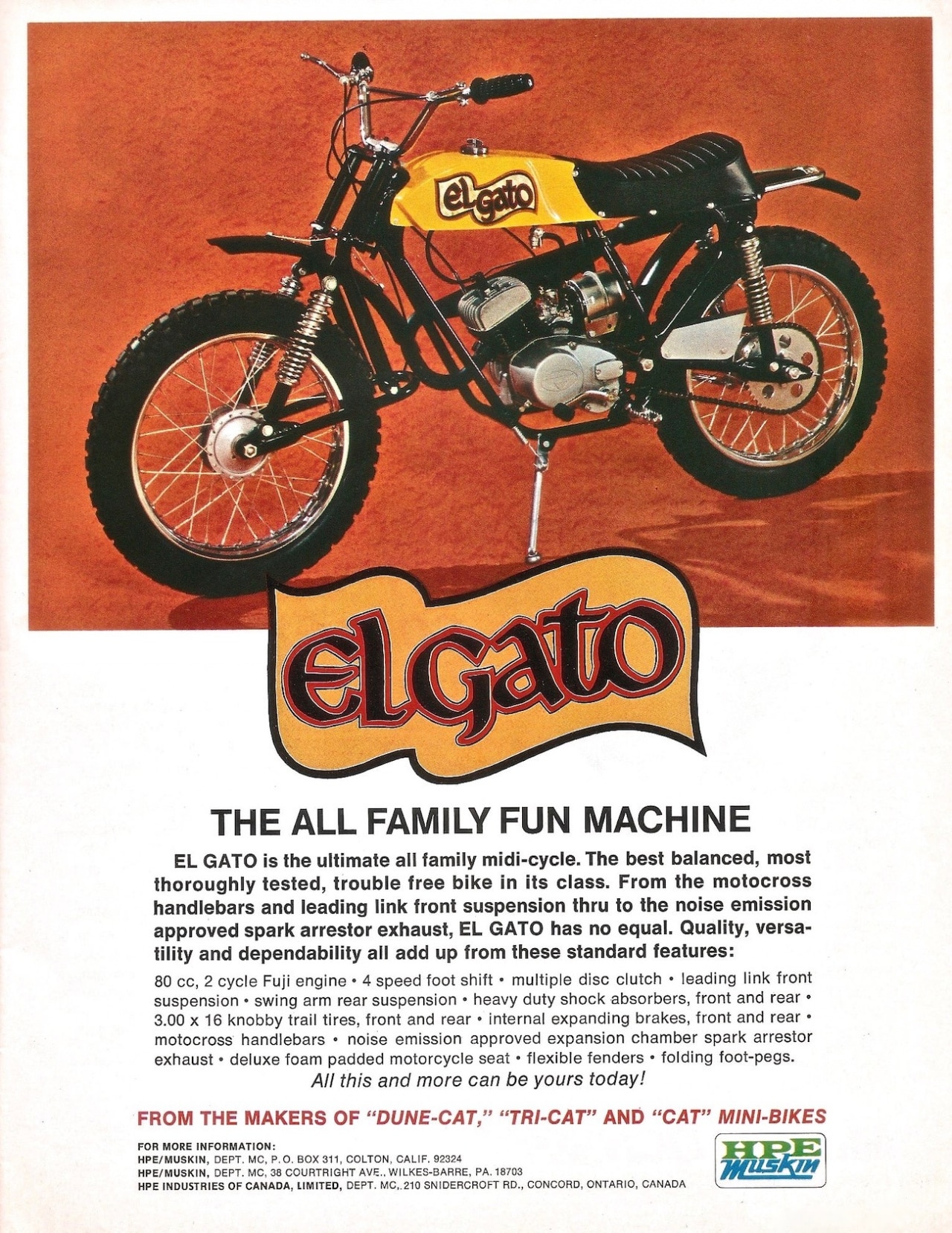 The 1970 El Gato was powered by a 80cc Fuji two-stroke engine that made 6.6 horsepower through a four-speed transmission. The engine made by the same company that made 100cc Hodaka engines. Because it was marketed with 16-inch wheels front and rear, El Gato didn't want to be called a minicycle, so they marketed it as "Midi-Cycle." It came with rudimentary leading link forks, plastic fenders, 27-inch seat height and a spark arrestor. It was sold through J.C. Pennys.
USED IT, ABUSED IT, MISUSED IT: ASTERISK CELL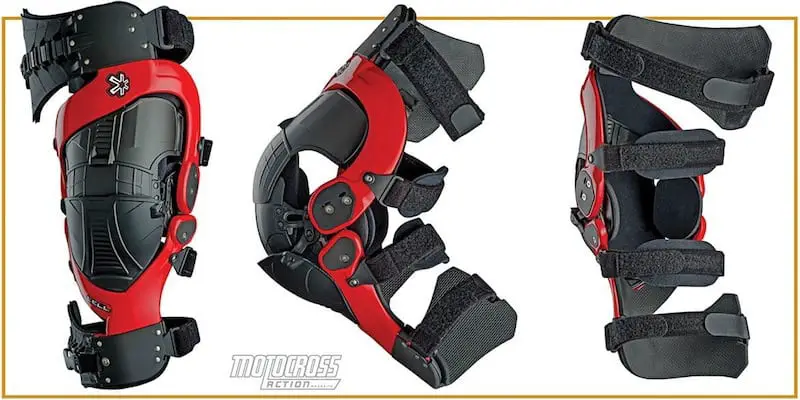 ASTERISK CELL KNEE BRACE
Asterisk is now run by former AMA Pro Mike Beier, who learned the knee brace trade at CTi. When Mike took over, he kept the Asterisk knee brace features that were solid, tossed out the problematic areas and redesigned the overall configuration.
VERDICT: This is not the Asterisk brace of the past. The Asterisk Cell knee brace is now a functional knee brace that is comfortable, has a custom feel, is durable and offers superior protection. This was the first set of Asterisk braces that we ever tested that had no issues with durability. Kudos to the new owners for taking a product with potential and making it into something great.
DIGITS: $699.00 (pair)—www.asterisk.com or (951) 268-6790.
2019 TEXAS NIGHT SERIES ON MAY 11, MAY 18 & JUNE 1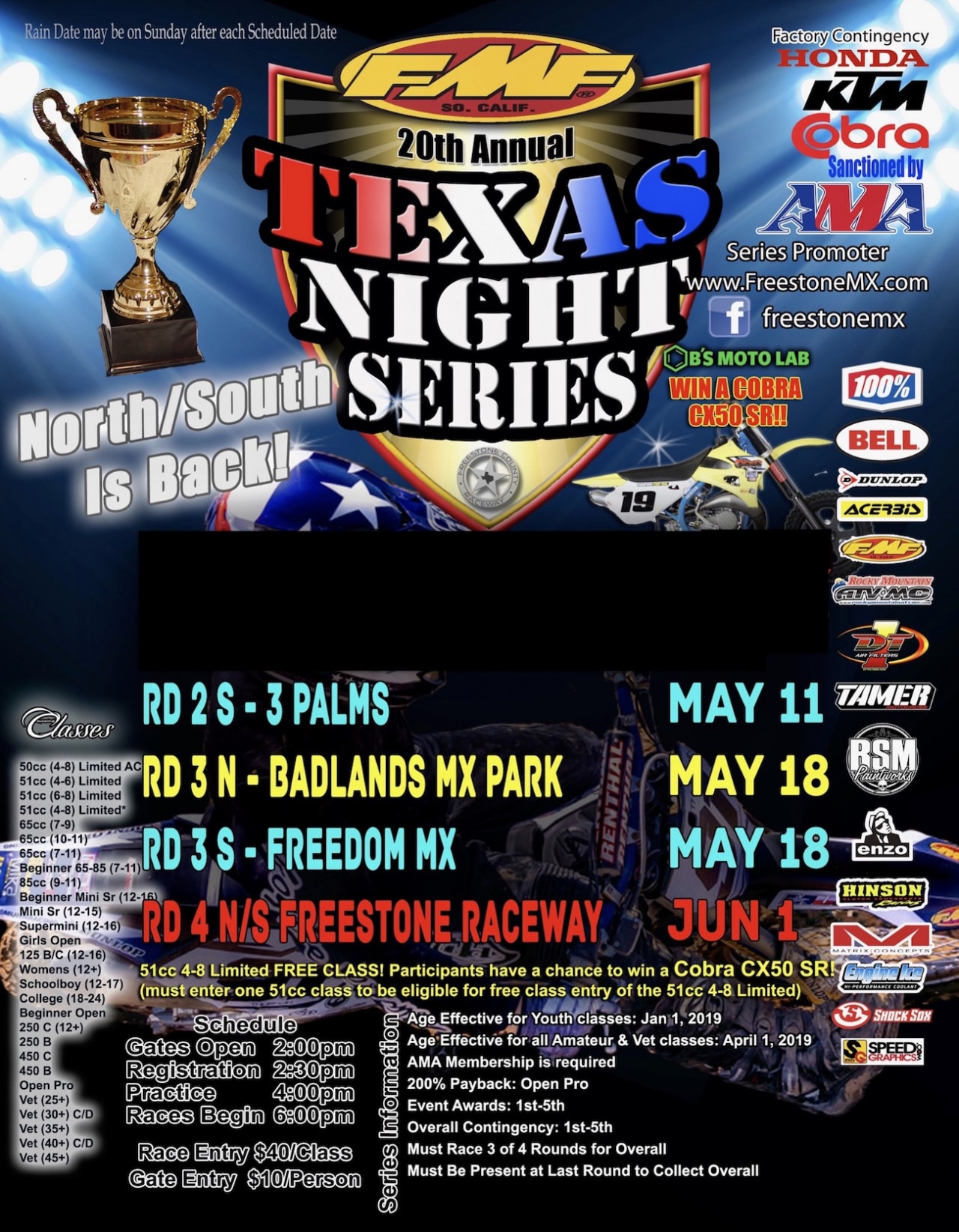 For more info go to www.freestonemx.com
COMMONLY ASKED QUESTIONS: IS THERE A LAST-MINUTE GRIP FIX?
Dear MXA,
At the track last week I tore my left grip. I had spare grips in my toolbox but no grip glue. The guy parked next to me was a contractor, and he said that he had spray paint and that it would work. I didn't believe him, so I safety-wired my torn grip up like a mummy and raced my second moto. My hands now look like a Guy Fieri hamburger. My question is, does spray paint work?
Yes. This is an old-school trick—but not the oldest. Of all the chemically dependent measures used to install grips, paint is the only method we would trust to use 30 minutes later. The best paint to use is clear Krylon. The enamel in Krylon dries instantly and is the least harsh on Kraton Polymer (the material that most grips are made of). Kraton Polymer is a faux rubber developed by the Shell Chemical Corporation. Kraton is the most commonly used thermal plastic rubber (TPR). A tacky Kraton rubber grip will never become hard and slick because it dries out with age as if it were made of real rubber. You must use enamel paint. Lightly spray the inside of the grip and the bar. Immediately slide the grip into position. The grip glues to the bar instantly as the paint dries. Using clear paint means no ugly over-spray.
A clamp-on grip can be used instantly. No glue needed.
In a pinch, you can mount grips on your bars by taking strips of cloth electrical tape and wrapping them around the bar in a spiral. Then, moisten your finger with mineral spirits, paint thinner or straight gas and wipe the inside of the grip. Slide the grip over the tape. The gasoline activates the glue embedded in the cloth tape, and the tolerance fit of sliding the grip over the cloth makes for a secure fit. Always use safety wire for security.
The smartest move is to carry a set of bolt-on grips, such as ODI, Torc1 or A'ME grips, in your toolbox. This eliminates the need to wait for glue to dry.
MOTOCROSS MOVIE FROM HOLLYWOOD: BENNETT'S WAR

Set to be released this Summer, "Bennett's War" is a full-blown Hollywood production. Yes, it has a plot, love interest and dialogue, but over 10,000,000 (10 million) people have looked at the the movie trailer in less than a week. You can look at the trailer too.
"BENNETT'S WAR" MOVIE TRAILER

USED IT, ABUSED IT, MISUSED IT: MAXIMA SC1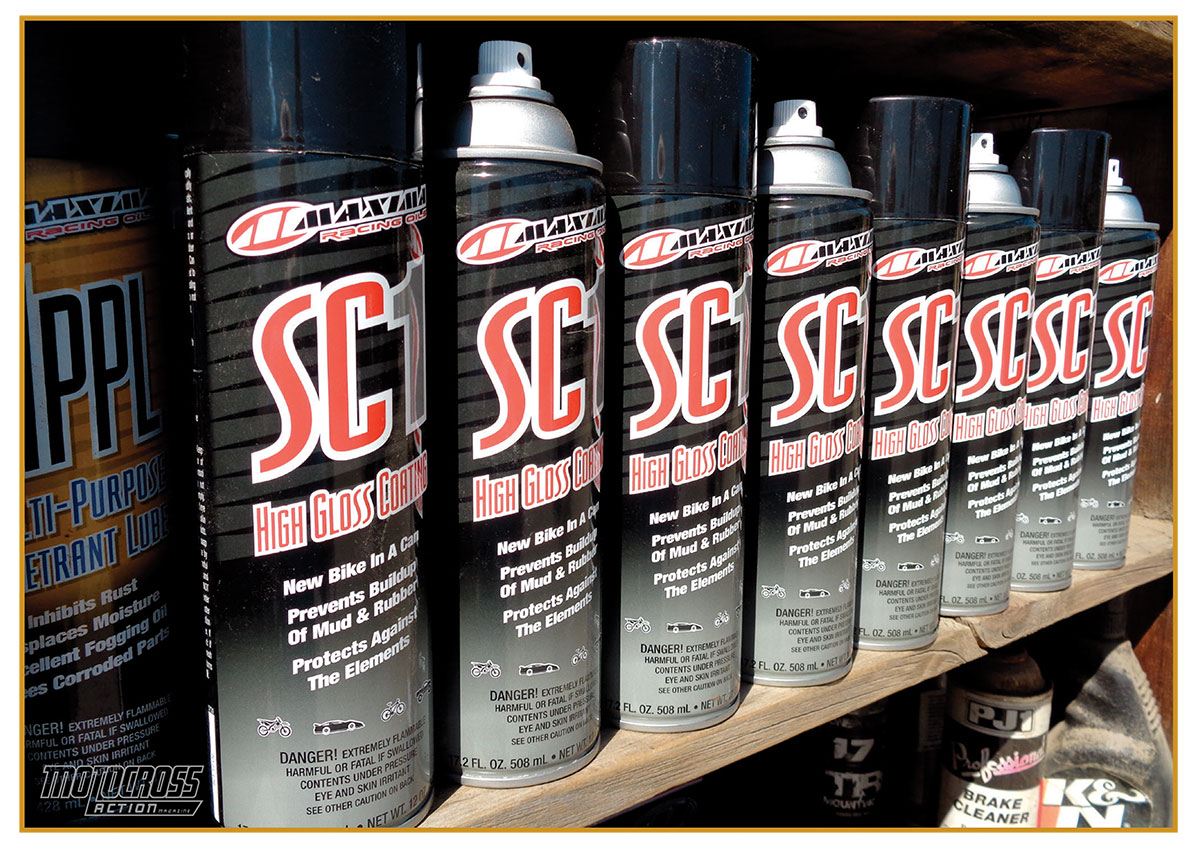 MAXIMA SC-1 SILICONE DETAILER
When your bike is new, every part sparkles and shines. Unfortunately, that new-bike look only lasts about 13 minutes into the first ride. Somewhere between starting it up and putting it back on the stand, the luster flies off. The plastic no longer twinkles. It is dull. The solution? Spray it with Maxima SC-1 Silicone Detailer.

VERDICT: MXA's test bikes can't look drab and dingy. Maxima SC-1 saves us time and money. It even works on the sidewalls of our tires. SC-1 sprays out in a fine mist that covers a large area, and one aerosol can will last for 10 or more washings. Our primary weapon in the war against lackluster plastic parts is Maxima SC-1.

DIGITS: $10.50 (12-ounce can)—www.maximausa.com or you local dealer.
NEXT OLD SCHOOL SCRAMBLES AT GLEN HELEN ON JUNE 30
For more information, please visit www.OldSchoolScramblesRacing.com
EVERY 2019 AMA SUPERCROSS WINNER
Dylan Ferrandis has to make up 8 points on Adam Cianciarulo to win the 250 West.

Date               Venue                                            450                                250
Jan. 5……..Anaheim, CA………………..Justin Barcia…………Colt Nichols
Jan. 12…..Glendale, AZ…………………Blake Baggett………Adam Cianciarulo
Jan. 19…..Anaheim, CA…………………Cooper Webb………Shane McElrath
Jan. 26…..Oakland, CA………………….Cooper Webb………Adam Cianciarulo
Feb. 2……San Diego, CA………………..Eli Tomac……………..Adam Cianciarulo
Feb. 9…….Minneapolis, MN………….Cooper Webb………Austin Forkner
Feb. 16…..Arlington, TX………………..Cooper Webb………Austin Forkner
Feb. 23….Detroit, MI…………………….Eli Tomac………………Austin Forkner
Mar. 2……Atlanta, GA……………………Cooper Webb………Adam Cianciarulo
Mar. 9……Daytona Beach, FL……….Eli Tomac………………Austin Forkner
Mar. 16…Indianapolis, IN…………….Marvin Musquin…..Austin Forkner
Mar. 23….Seattle, WA…………………..Marvin Musquin…..Dylan Ferrandis
Mar. 30…Houston, TX………………….Cooper Webb……….Dylan Ferrandis
Apr. 6…….Nashville, TN………………….Eli Tomac……………….Martin Davalos
Apr. 13….Denver, CO…………………..Eli Tomac………………Adam Cianciarulo
Apr. 27….East Rutherford, NJ…….Cooper Webb……….Chase Sexton
May 4……Las Vegas, NV……………..Eli Tomac………………..Dylan Ferrandis
450 CHAMPION……………………….Cooper Webb (KTM)
250 WEST CHAMPION……………Dylan Ferrandis (Yam)
250 EAST CHAMPION……………..Chase Sexton (Hon)
FINALLY THE 2019 FIM WORLD CHAMPIONSHIPS START AGAIN THIS WEEKEND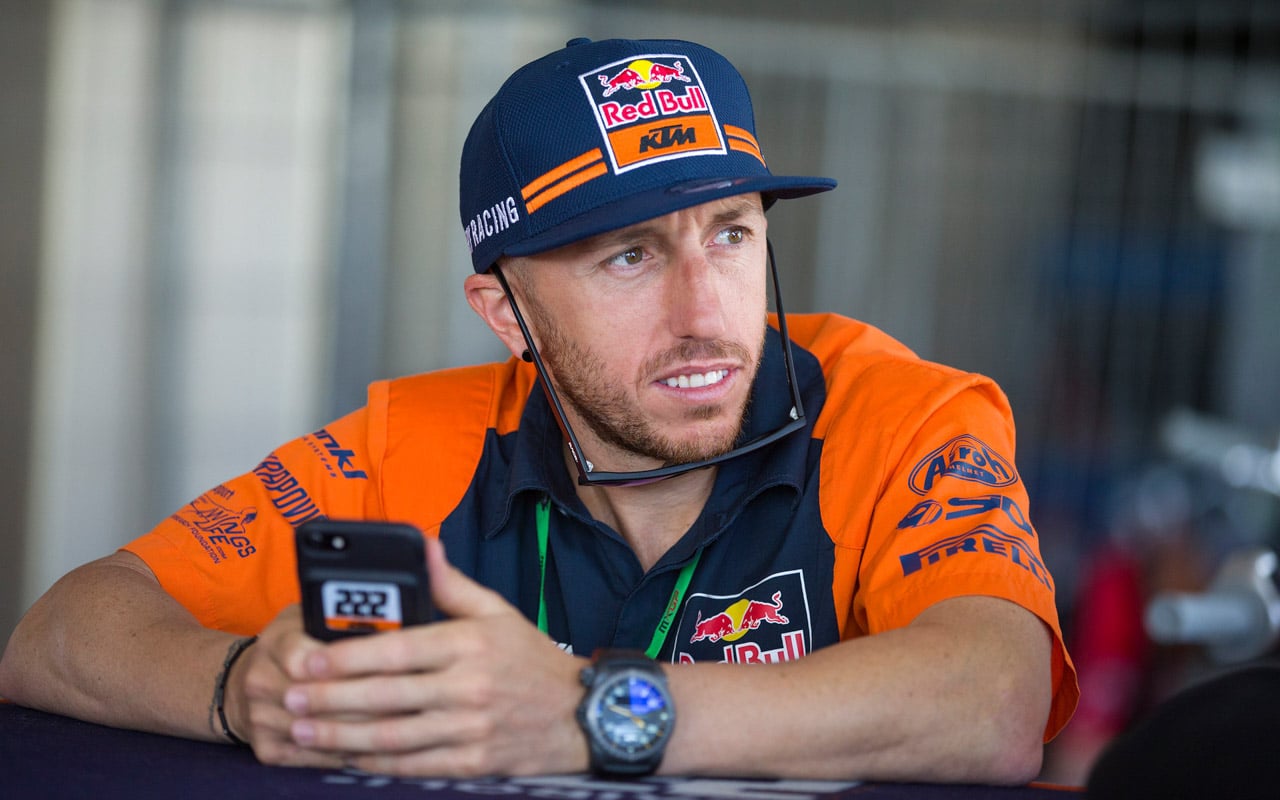 Thanks to a massive break in the 2019 Grand Prix schedule (from April 7 to May 12), Antonio Cairoli has been sitting on his 450 points leads for all of March and April. The GP don't start up again until March 12 in Italy.

Date               Venue                                            450                                250
Mar. 3……. Argentina……………………….Tony Cairoli…………Jorge Prado
Mar. 24……England………………………….Tony Cairoli…………Thomas Kjer Olsen
Mar. 31……Holland…………………………..Tony Cairoli………..Jorge Prado
Apr. 7……….Trentino, Italy………………..Tim Gajser………….Jorge Prado
May 12…….Lombardia, Italy
May 19……..Portugal
May 26…….France
June 9…..…Russia
June 16……Latvia
June 23……Germany
July 7………Palembang, Indo.
July 14……..Semarang, Indo
July 28….…Czech Republic
Aug. 4………Belgium
Aug. 18….…Imola, Italy
Aug. 25….…Sweden
Sept. 8……..Turkey
Sept. 15…..Shanghai, China
Sept. 22…..Hong Kong, China (Canceled)
450 points leader…………..Tony Cairoli (KTM)
250 points leader…………..Thomas Kjer Olsen (Hus)
FIM WORLD CHAMPIONSHIPS — HERE ARE THE POINTS AFTER 4 ROUNDS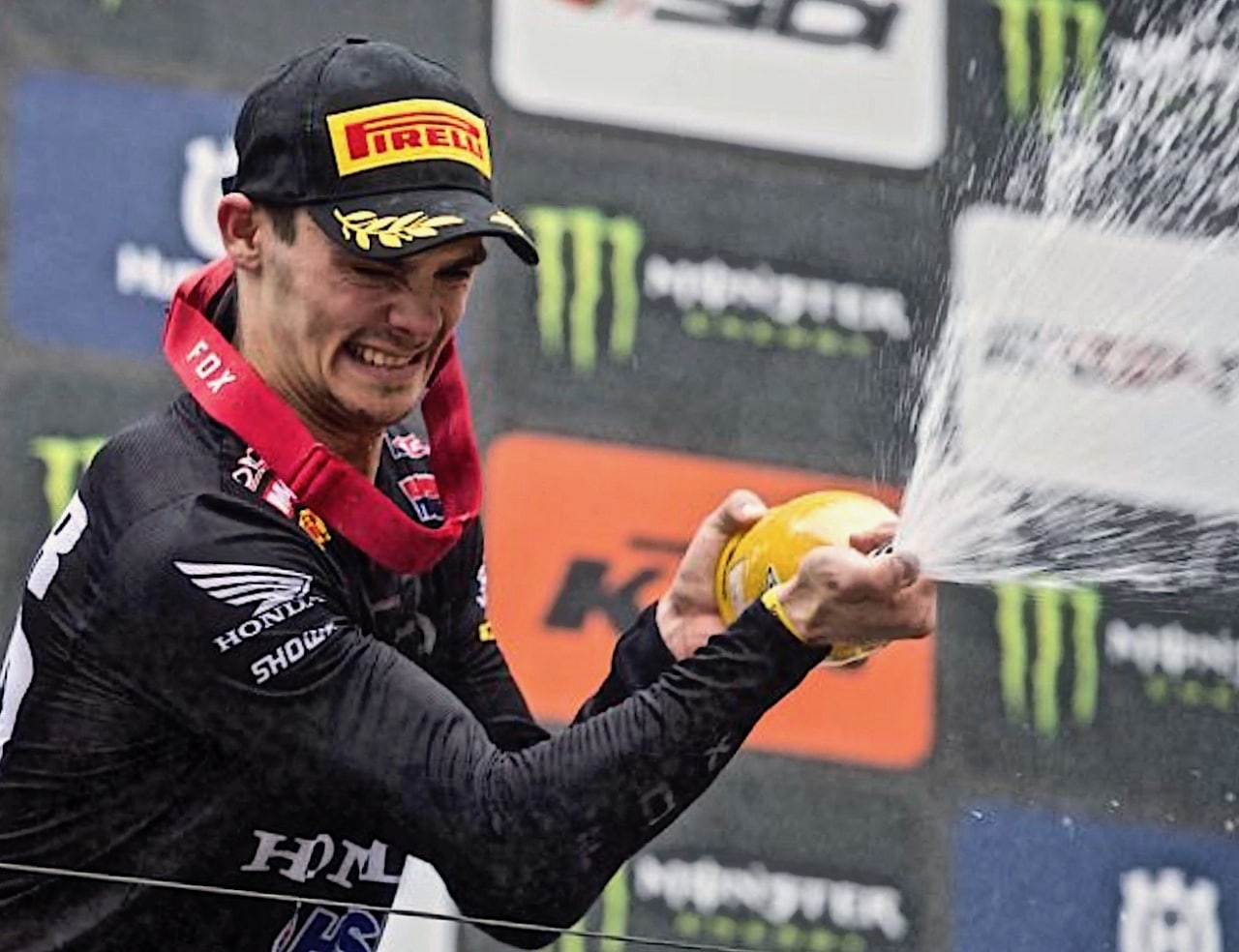 Tony Cairoli has a 191-point lead over arch-rival Jeffrey Herlings, but he may have to start worrying about Honda's Tim Gajser (above)—who went 1-1 in Trentino at the last GP. The next round is on May 12.

2019 FIM 450 WORLD MOTOCROSS CHAMPIONSHIP POINTS STANDINGS
(After 4 of 18 rounds)
1. Antonio Cairoli (KTM)…191
2. Tim Gajser (Hon)..175
3. Gautier Paulin (Yam)…142
4. Arminas Jasikonis (Hus)…120
5. Jeremy Van Horebeek (Hon)…113
6. Clement Desalle (Kaw)…112
7. Jeremy Seewer (Yam)…98
8. Shaun Simpson (KTM)…88
9. Julien Lieber (Kaw)…79
10. Arnaud Tonus (Yam)…71
Jorge Prado has won every moto of the 2019 FIM 250 World Championship that he has raced, but he missed the British GP. He has 6 wins out of 8 motos and has gotten to within 20 points of leader Thomas Kjer Olsen.
2019 FIM 250 WORLD MOTOCROSS CHAMPIONSHIP POINTS STANDINGS
(After 4 of 18 rounds)
1. Thomas Kjer Olsen (Hus)…170
2. Jorge Prado (KTM)…150
3. Henry Jacobi (Kaw)…147
4. Ben Watson (Yam)…129
5. Jago Geerts (Yam)…125
6. Tom Vialle (KTM)…121
7. Calvin Vlaanderen (Hon)…107
8. Mitch Evans (Hon)…89
9. Adam Sterry (Kaw)…89
10. Davy Pootjes (Hus)…76
BIG BIKE RATING: MXA'S 2019 450 FOUR-STROKE SHOOTOUT

YOU DO THE MATH! SUBSCRIBE TO MXA & GET A $25 CHAPARRAL GIFT CARD
If you subscribed to Motocross Action,  the June 2019 issue of MXA would be in the throne room right now.
If you subscribe to MXA you can get the mag on your iPhone, iPad, Kindle or Android by going to the Apple Store, Amazon or Google Play or in a digital version. Even better you can subscribe to Motocross Action and get a $25 Chaparral gift card to spend on whatever motorcycle parts or products you need. You can call (800) 767-0345 or CLICK HERE or click on the box at the bottom of this page.
GREAT PLAINS VINTAGE SERIES ON JUNE 2, JUNE 30, AUG. 18, SEPT. 15 & Oct. 20

The six-race Great Plains Vintage motocross series starts on May 5 at Three Hill Raceway in Nebraska City. For more info go to www.greatplainsvintagemx.org.
2019 RACE SCHEDULE: THE SEASON IS STILL YOUNG


Start planning now to join riders from over 20 different countries at the 2019 Dubya World Vet Championship on November 2-3. If you thought last week's World Two-Stroke Championship was big, wait until you see the World Vet.

2019 AMA SUPERCROSS SERIES
Jan. 5…………………………….Anaheim, CA
Jan. 12………………………….Glendale, AZ
Jan. 19………………………….Anaheim, CA (3-moto race)
Jan. 26………………………….Oakland, CA
Feb. 2……………………………San Diego, CA
Feb. 9…………………………..Minneapolis, MN
Feb. 16………………………….Arlington, TX
Feb. 23………………………….Detroit, MI (3-moto race)
Mar. 2……………………………Atlanta, GA (250 E/W Shootout)
Mar. 9……………………………Daytona Beach, FL
Mar. 16………………………….Indianapolis, IN
Mar. 23………………………….Seattle, WA
Mar. 30………………………….Houston, TX (3-moto race)
Apr. 6……………………………Nashville, TN
Apr. 13………………………….Denver, CO
Apr. 27………………………….East Rutherford, NJ
May 4……………………………Las Vegas, NV (250 E/W Shootout)
2019 FIM MOTOCROSS WORLD CHAMPIONSHIP
Mar. 3…………………………… Argentina
Mar. 24……………………………England
Mar. 31……………………………Holland
Apr. 7………………………………Trentino (Italy #1)
May 12…………………………….Lombardia (Italy #2)
May 19…………………….……..Portugal
May 26……………………………France
June 9…………………………….Russia
June 16…………………………..Latvia
June 23…………………………..Germany
July 7……………………………..Palembang (Indonesia #1)
July 14……………………………Semarang (Indonesia #2
July 28……………………………Czech Republic
Aug. 4…………………………….Belgium
Aug. 18…………………………..Imola (Italy #3)
Aug. 25…………………………..Sweden
Sept. 8……………………………Turkey
Sept. 15…………………………..Shanghai, China
Sept. 22…………………………..Hong Kong (Canceled)
2019 AMA NATIONAL CHAMPIONSHIP
May 18……………………Hangtown, CA
May 25.…………………..Pala, CA
June 1..……………….….Thunder Valley, CO
June 15..…………………Mt. Morris, PA
June 22.………………….Jacksonville. FL
June 29..…………………Southwick, MA
July 6.………………….….Red Bud, MI​
July 20.……………………Millville, MN​
July 27.……………………Washougal, WA
Aug. 10..………………….Unadilla, NY​
Aug. 17..………………….​Budds Creek, MD
Aug. 24.…………………..Crawfordsville, IN
2019 WORLD OFF-ROAD CHAMPIONSHIP (WORCS)
Jan. 18-20………………………..Primm, NV
Feb. 1-3……………………………Glen Helen, CA
Mar. 1-3……………………………Lake Havasu, AZ
Mar. 22-24……………………….Peoria, AZ
Apr. 12-14………………………..Las Vegas, NV
Apr. 26-28………………………..Taft, CA
May 24-26……………………….Mesquite, NV
July 30-Aug. 4…………………McCleary, WA
Sept. 13-15……………………..Glen Helen, CA
Oct. 4-6……………………………Milford, CA
Nov. 15-17……………………….Primm, NV
2019 WORLD TWO-STROKE CHAMPIONSHIP
April 20…………………………..Glen Helen
2019 HAWAIIAN SUPERCROSS CHAMPIONSHIP
May 4…………………………..Honolulu, HA
2019 MAMMOTH MOUNTAIN MOTOCROSS
June 21-30……………………….Mammoth Lakes, CA
2019 CANADIAN NATIONAL CHAMPIONSHIP
June 1………………………………Wild Rose, AB
June 8………………………………Blackwater, BC
June 15…………………………….McNabb Valley, MB
July 13……………………………..Gopher Dunes, ON
July 20……………………………..San Del Lee, ON
July 27……………………………..Riverglade, NB
Aug. 3………………………………Deschambault, QC
Aug. 17…………………………….Walton, ON
2019 AMA NATIONAL AMATEUR CHAMPIONSHIP
July 29-Aug. 3………………….Loretta Lynn, TN
2019 BRITISH ARENACROSS CHAMPIONSHIP
Jan. 18-19………………………….Belfast, Irl
Feb. 1-2……………………………..Birmingham, GB
Feb. 15-6…………………………..Sheffield, GB
2019 BRITISH NATIONAL CHAMPIONSHIP
Mar. 10……………………………..FatCat
Apr. 14………………………………Lyng
May 5……………………………….Canada Heights
June 2………………………………Blaxhall
June 30…………………………….Desertmartin
July 21……………………………..Hawkstone Park
Aug. 11……………………………..Foxhill
Sept. 15……………………………Landrake
2019 BRITISH APICO TWO-STROKE FESTIVAL
May 25-26……………………….Marshfield MX
Aug. 3-4……………………………Iron Works Moto
Sept. 21-22……………………..Sellindge MX
2019 GERMAN MX MASTERS CHAMPIONSHIP
April 14…………………………….Princely Drehna
June 2………………………………Moggers, Austria
June 30…………………………….Molln
July 21……………………………..Tens
Aug. 11…………………………….Gaildorf
Sept. 1……………………………..Biel
Sept. 15……………………………Wood Gerlingen
2019 AMA VINTAGE MOTORCYCLE DAYS
July 5-7…………………………….Lexington, Ohio
2019 AMA NATIONAL AMATEUR CHAMPIONSHIP
July 29-Aug. 3………………….Loretta Lynn, TN
2019 RYAN VILLOPOTO AMATEUR MOTOCROSS CUP
Aug. 22-25………………………..Grays Harbor, WA
2019 MOTOCROSS DES NATIONS
Sept. 29…………………………….Assen, Holland
2019 MONSTER ENERGY CUP
Oct. 21……………………………..Las Vegas, NV
2019 WORLD VET CHAMPIONSHIP
Nov. 2-3……………………………..Glen Helen, CA
MXA YOUTUBE CHANNEL | HIT THAT SUBSCRIBE BUTTON

The MXA wrecking crew is everything moto related. Check out our MXA YouTube channel for bike reviews, Supercross coverage, rider interviews and much more. And don't forgot to hit that subscribe button.
FOLLOW MXA ON TWITTER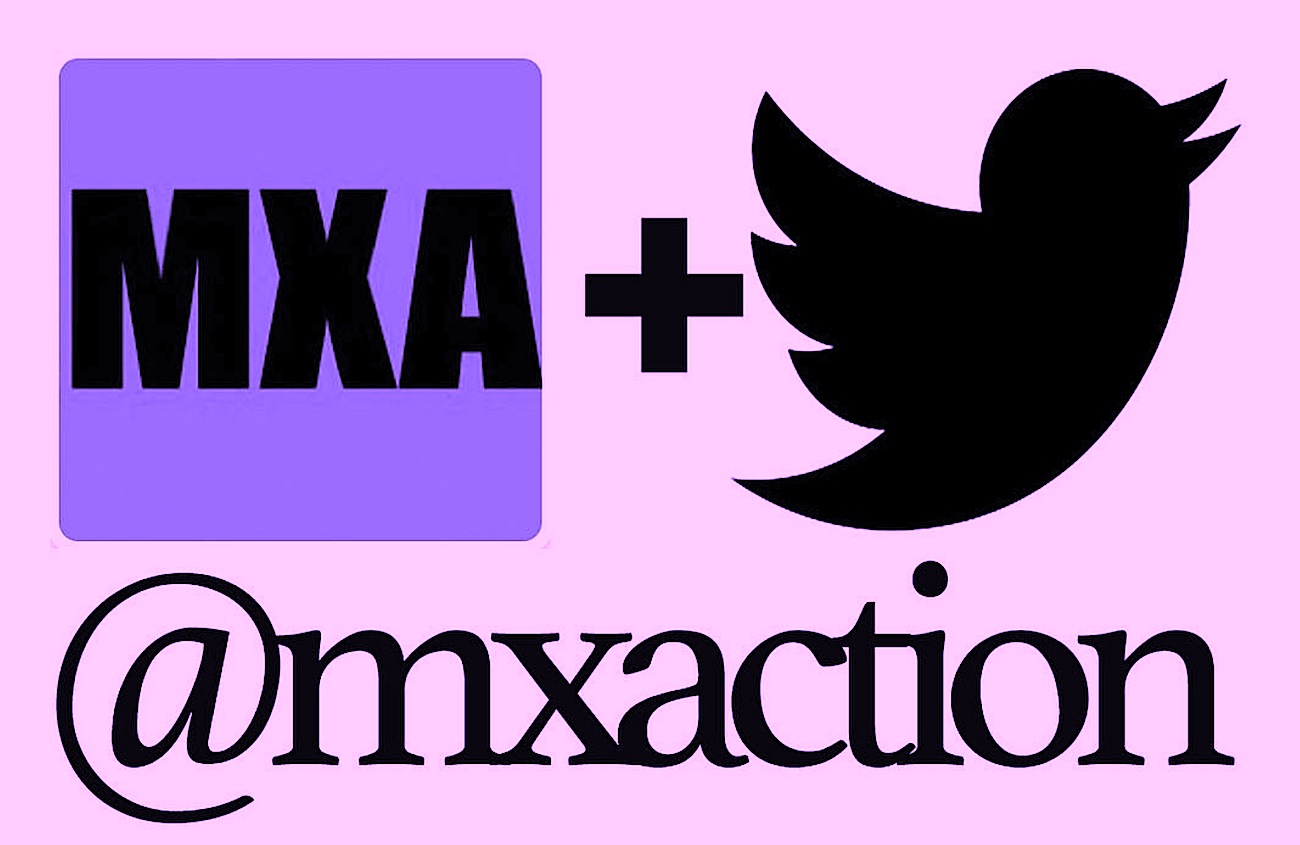 Follow us to see fresh content every day at www.twitter.com/MXAction or on twitter at "MXAction."
TALK MOTO WITH ON MXA'S FACEBOOK GROUP CHAT


We love everything moto and want to bring all moto junkies together into one place to share their two cents, ideas, photos, bike fixes, bike problems and much more. To check it out first you must need to or already have a Facebook account. If you don't, it isn't much work and you could even have an alias so nobody knows it is you. To join click HERE. After you request to join we will accept your request shortly after.
MXA'S SNAP CHAT FEED
If you are a Snap Chat user then add us to your stories. Get sneak peaks of everything moto. Our Snap Chat name is motocrossaction. Or just take a Snap of the picture above and it will add MXA automatically to your feed.
Photos: James Brammer, Dan Alamangos, Ray Archer, Brian Converse, Travis Fant, Daryl Ecklund, John Basher, Jody Weisel, Debbi Tamietti, MXA