MXA WEEKEND NEWS ROUND-UP: THE CLEAN SLATE IS "TABLA RASA" FOR SUPERCROSS
THE SUPERCROSS CHRISTMAS TRUCE IS OVER

Two of these four riders (Canard and Dungey) will not be lining up behind the starting gate in 2018, but Ken Roczen (94) and Eli Tomac (3) are a big part of a small handful of riders that will be title contenders in 2018. Photo: Red Bull Content Pool
Christmas and New Years are often a time when Pro riders take some time off from spinning mind numbing laps to spend time with their families. With just over a week to go until the gate falls on the 2018 Supercross season, here are few pertinent facts:
(1) "Perfect Storm." The 2018 season is not the proverbial "Perfect Storm" that pit pundits tout every year. With the current 450 Supercross Champion back home in Minnesota, the number to true potential winners by season's end is narrowed down to Marvin Musquin, Jason Anderson, Ken Roczen, Blake Baggett  and Eli Tomac. This is certainly not a gentle rain shower of a season, but hardly a hurricane of talent vying for every place in the top 20.
(2) Injured reserve. So far, fingers crossed, no major 450 players have been injured in the lead-up to the Anaheim 1 opener. This is a rarity in modern Supercross.
(3) New race format. The only victims of Feld's new race format are the fans, who will see two less races during a night of Supercross than they did before. The riders don't care about the format because the solid contenders will transfer out of their heats easily (because under the new format the top 9 go straight to the main). As for the three races that will have the revolutionary new three-moto system—this is not new. When Supercross started back in the 1970s every event had three motos. Then, a different marketing genius dropped the three motos for heat races, semis and last chances. Now, a newly minted marketing genius has dropped the heats, semis and last chances for three motos. They can change the system all they want, but it means nothing if the racing isn't any good. Let's hope for battles royale.
(4) Factory rides. Contrary to all the sturm und drang about riders being left out in the cold, most riders who deserved a ride on a high-profile factory-backed team got one for 2018. The exceptions are the Stewart brothers, but they haven't convince any team managers that they have the passion for racing anymore.
VIEW FROM THE COUCH! THE SUPERCROSS TV SCHEDULE

The majority of races will be sown on Fox Sports 1 (and thankfully, none will be shown on Fox Sports 2). Foxborough and Salt Lake City will be on the main Fox TV network, but these races will be daylight races (and shown as early as 12:00 noon on the west coast).

AMA RULE OF THE WEEK: THE GAS TANK BAMBOOZLE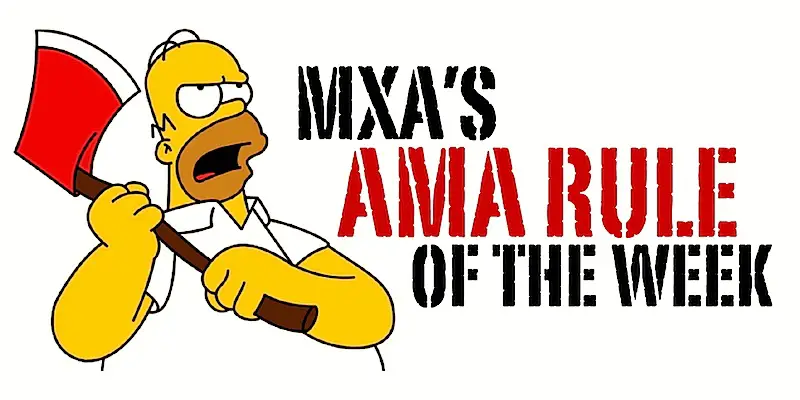 This rule seems simple, but it's not. It says that you can replace the stock fuel tank as long as the replacement doesn't weigh less or hold less fuel. Plus, carbon fiber fuel tanks are not allowed.
What makes this rule, as with many AMA rules, suspect is that when the rule was originally written, it expressly said that the stock fuel tank had to be used. The AMA production rule was written in 1985 to help level the playing field for privateers and to achieve that by making the manufacturers put more emphasis into making their stock production motorcycle more race-worthy (since factory team didn't race the stock production motorcycles, but instead had hand-built works bikes).  The idea was that the factory teams would have to race with a production bike and the manufacturers would make that production bike better to help their high-paid stars—and, in the process, help the privateers. However, in practice the squeaky wheel gets the grease. And since privateers aren't allowed the squeak, only the factory teams are heard.
When Kawasaki failed to make the gas tank big enough to go 45 minutes, this was Kawasaki's solution. It was an additional fuel tank that bolted on in place of the petcock.
When it turned out that some production fuel tanks might not make the 45-minute motos that were held back in the late 1980-early 90s, the factory teams wanted the rule changed so they could run bigger fuel tanks. The AMA initially refused to budge—evidenced by the fact that Pro Circuit's Peak Honda team had to paint their stock plastic fuel tanks blue every weekend—because the paint would chip off during the races. Mitch Payton asked the AMA if he could build identical aluminum tanks (no smaller, no lighter and no narrower) and submit the gas tanks to the AMA for approval. Not because he wanted a performance advantage, but because he didn't want to have to paint red gas tanks blue every Wednesday. The AMA said, "No." At the time the AMA felt that the rule was there to help fix the flaws of the production bikes by forcing them to build bikes of the equivalent layout of the factory's former works bikes.
Mechanics hold all sorts of trickS to make the stock gas tanks hold more fuel. The most common was to pour boiling water into the stock plastic tank to get it to swell up, while Kawasaki added auxiliary aluminum tanks under the stock fuel tank. The most common sights were mechanics topping off the riders gas tanks when they came back from the sighting lap.
When the factory teams came asking for the right to run bigger aluminum tanks, the AMA came up with the rule above (which you will note says nothing about maintaining the same width or fuel position (in relation to the tank it replaces). When the right people squeak, the rules get changed. It is all moot, because the motos were shortened to 30-minutes plus two laps.


MXA PRODUCT SPOTLIGHT: PRO CIRCUIT HONDA CRF450 HOSE KIT
Premium grade silicone materials are what make the Pro Circuit High-Performance Radiator Hose Kit for the 2017-2018 Honda CRF450 able to withstand higher temperatures and pressures than the OEM hoses. The Pro Circuit High-Performance Radiator Hose Kit comes in a non-fading bright blue color that adds a trick factory look to your new CRF450R. The Pro Circuit High-Performance Radiator Hose Kit is a must-have to keep your bike running cool and performing at its best. Retail price: $94.95. Please visit www.procircuit.com for more information on this and other Pro Circuit products.
BETTER SAFE THAN SORRY

You see some pretty odd things on the road and that includes the myriad ways that people carry their bikes. This is awesome. It may look like Christmas wrapping run amok, but it got there.

FINAL REM GLEN RACE OF 2017 THIS SATURDAY

For more info go to www.remsatmx.com

HOW IS YOUR TWITTER GAME GOING? UP IT BY FOLLOWING MXA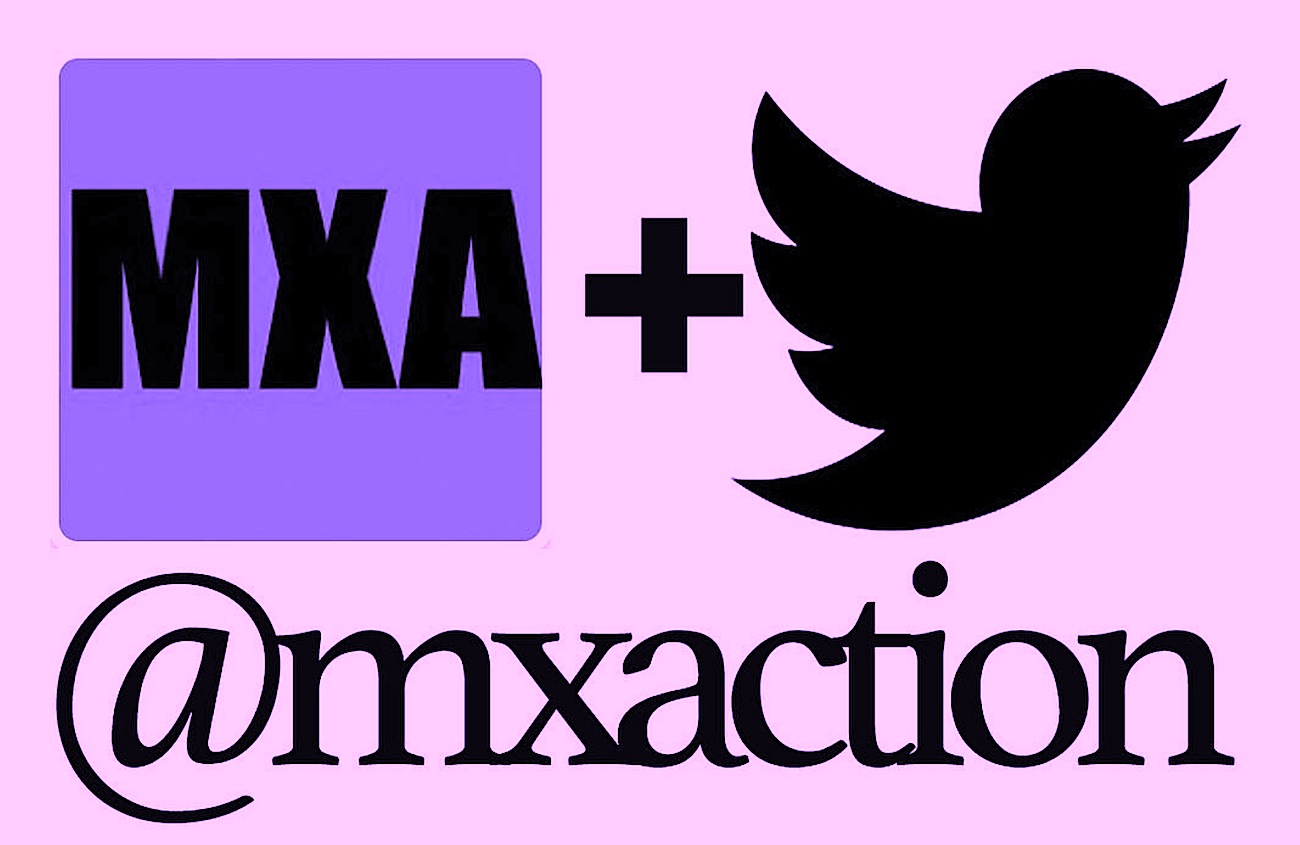 Follow us to see fresh content every day at www.twitter.com/MXAction or on twitter at "MXAction"
BIRTHDAYS OF THE STARS: DAVID BAILEY, LARRY BROOKS & STEVE RAMON

Dec. 29…Steve Ramon 1979
Dec. 30…Marvin Musquin 1989
Dec. 31…David Herbreteau 1997


Dec. 31…Rodrig Thain 1979
Dec. 31…Doug Domokos 1955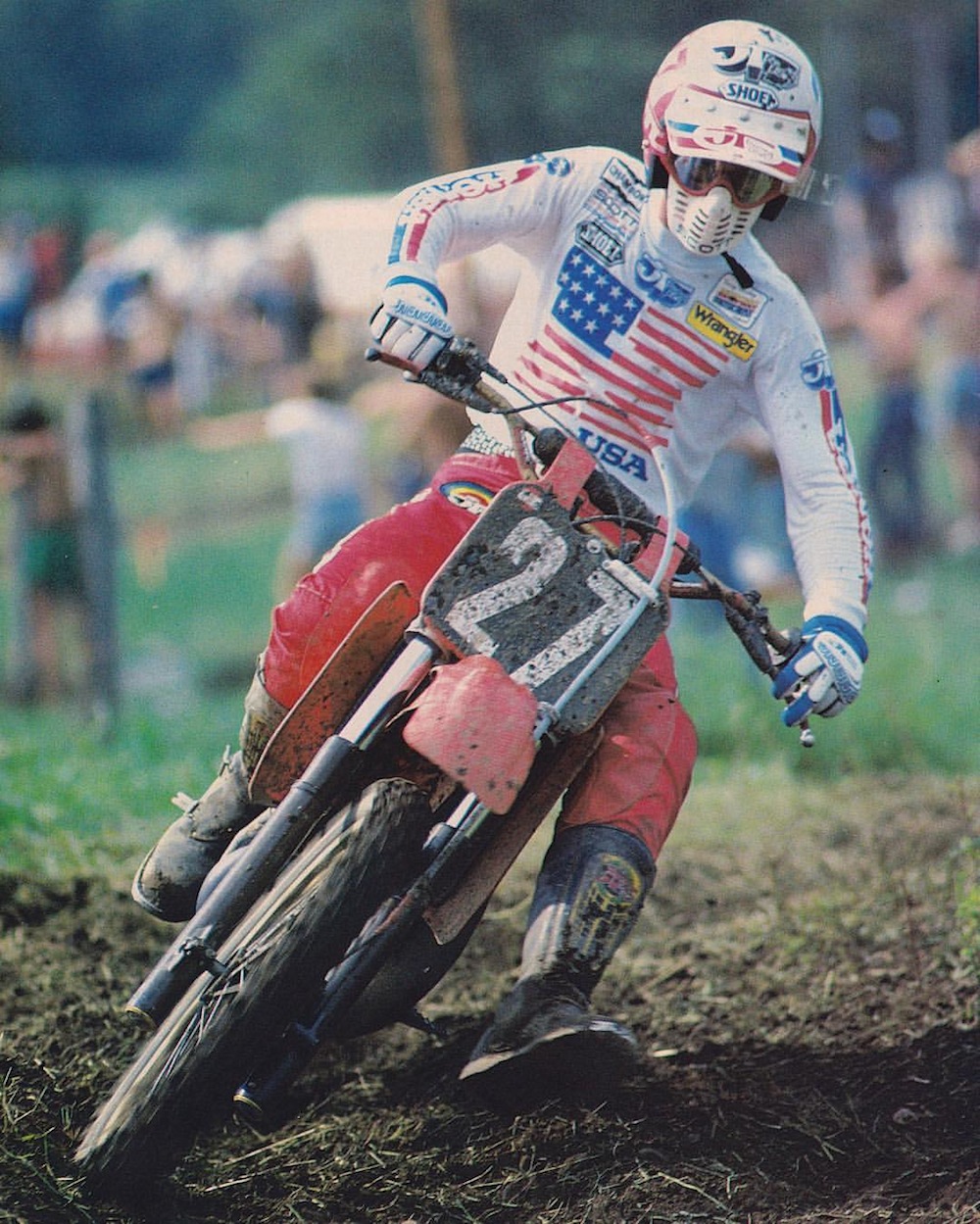 Dec. 31…David Bailey 1961
Dec. 31…Romain Febvre 1991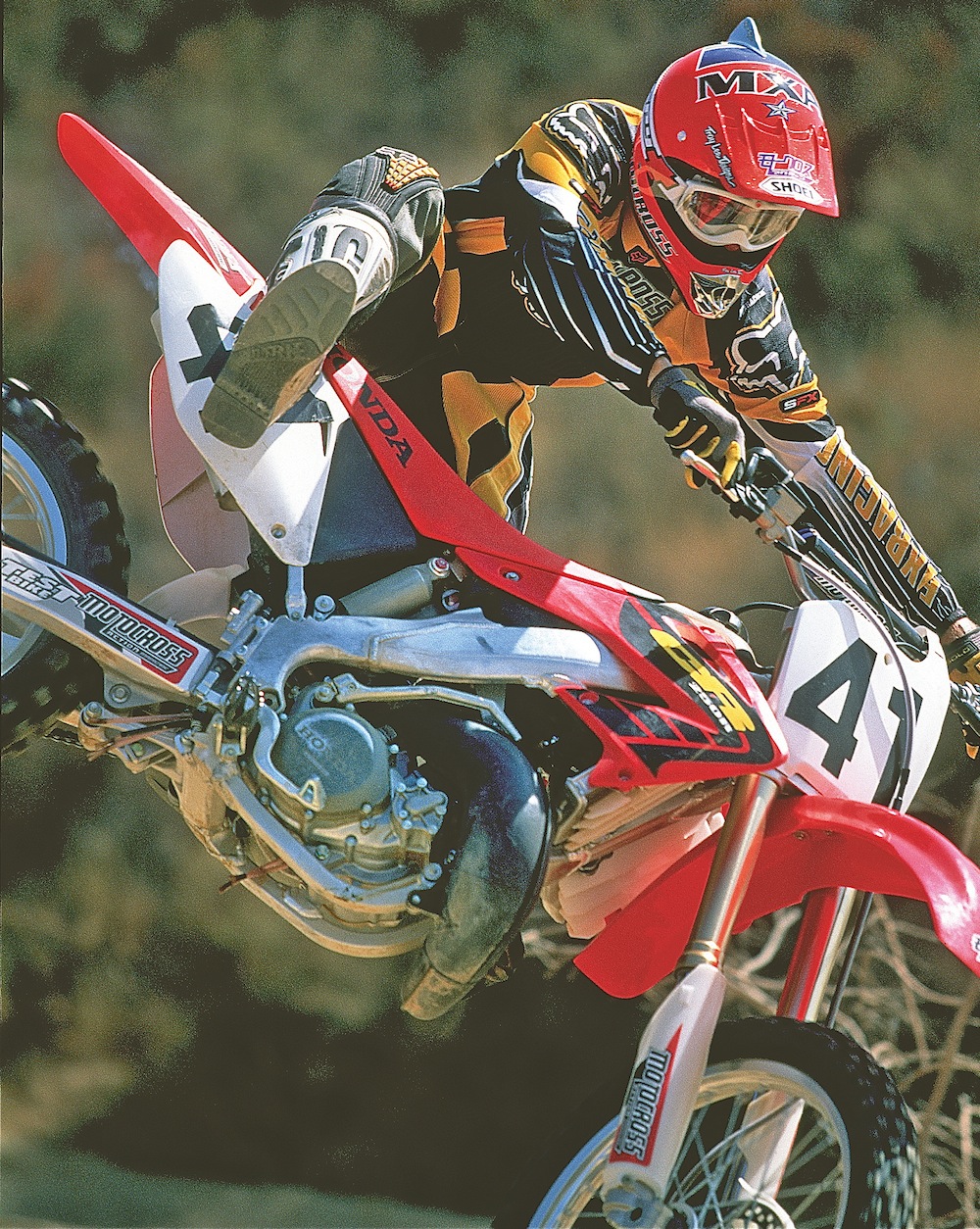 Jan. 1…Larry Brooks 1967
Jan. 2…James Dobb 1972
Jan. 2…Ron Hinson 1972
Jan. 3…Nathan Woods 1978
Jan. 4…Kelly Smith 1980
MXA PRODUCT SPOTLIGHT: TWIN AIR ICE FLOW COOLANT

Twin Air has added a high performance, biodegradable coolant to its product line of on and off road motorcycles and ATV/UTV's filtration products and accessories. IceFlow is a ready-to-use coolant formulated for long-lasting protection of all metals inside today's motorcycle cooling systems, without harming the water pump seals. "Our goal was to create the coolant of choice for extreme off-road conditions as well as on-road usage year-round, in all climates, and make it totally eco-friendly."
The new coolant offers the added assurance of an extreme freezing point (-26ºC / -14.8ºF). IceFlow is Mono Propylene Glycol-based, silicate-free and formulated with demineralized water and cutting edge nanotech and organic additive technology. It is non-toxic and biodegradable. Twin Air IceFlow High Performance Coolant is available in 2,2 liter (2,32 quart) bottles. For more info go to www.twinair.com
MXA TEAM TESTED: PRO TECH WRAP-AROUND KTM FORK GUARDS

ProTech fork guards directly replace the standard OEM guards on WP-equipped KTMs, Husqvarnas and Shercos. The ProTech guards offer much more protection from roost for the fork legs, and this vastly improves the chances of your fork seals lasting twice as long.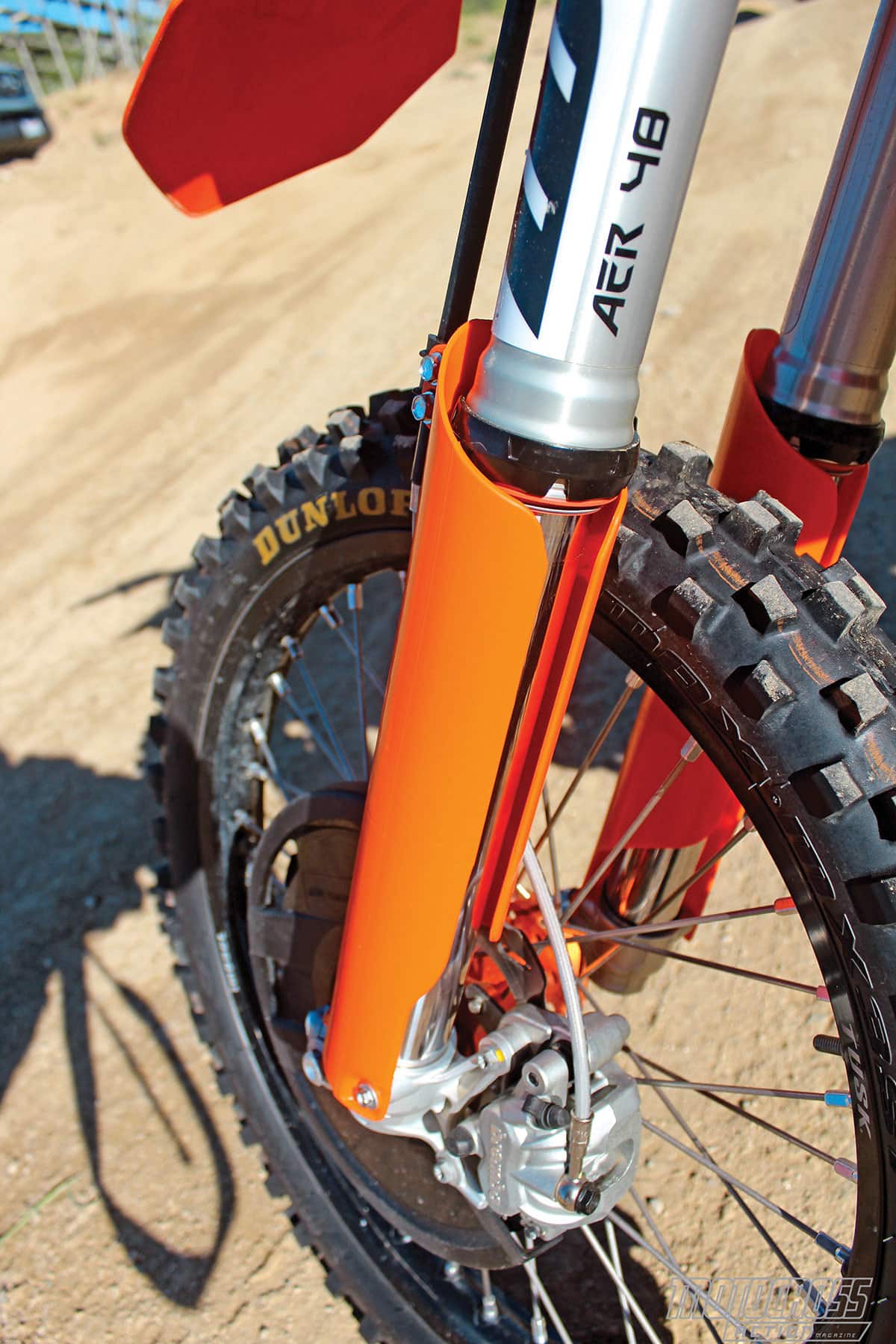 Prior to the 2015 models, KTMs and Husqvarnas came with full-wrap fork guards. This meant that instead of just protecting the chrome on your fork legs from rock damage from the front, they also guarded against rocks ricocheting off the frame and roost thrown off the trailing edge of your own front tire from the back. This wasgood because just one stone chip to a chrome fork leg is enough to take a divot out of the plating. The edge of that divot, which resembles a volcano under a microscope, can tear the fork seal as it passes by. Prior to 2015, the MXA wrecking crew rarely had to replace WP's SKF fork seals compared to how often we changed Showa or Kayaba seals. From 2015 on, WP forks came with the same-style fork guards as Japanese bikes,.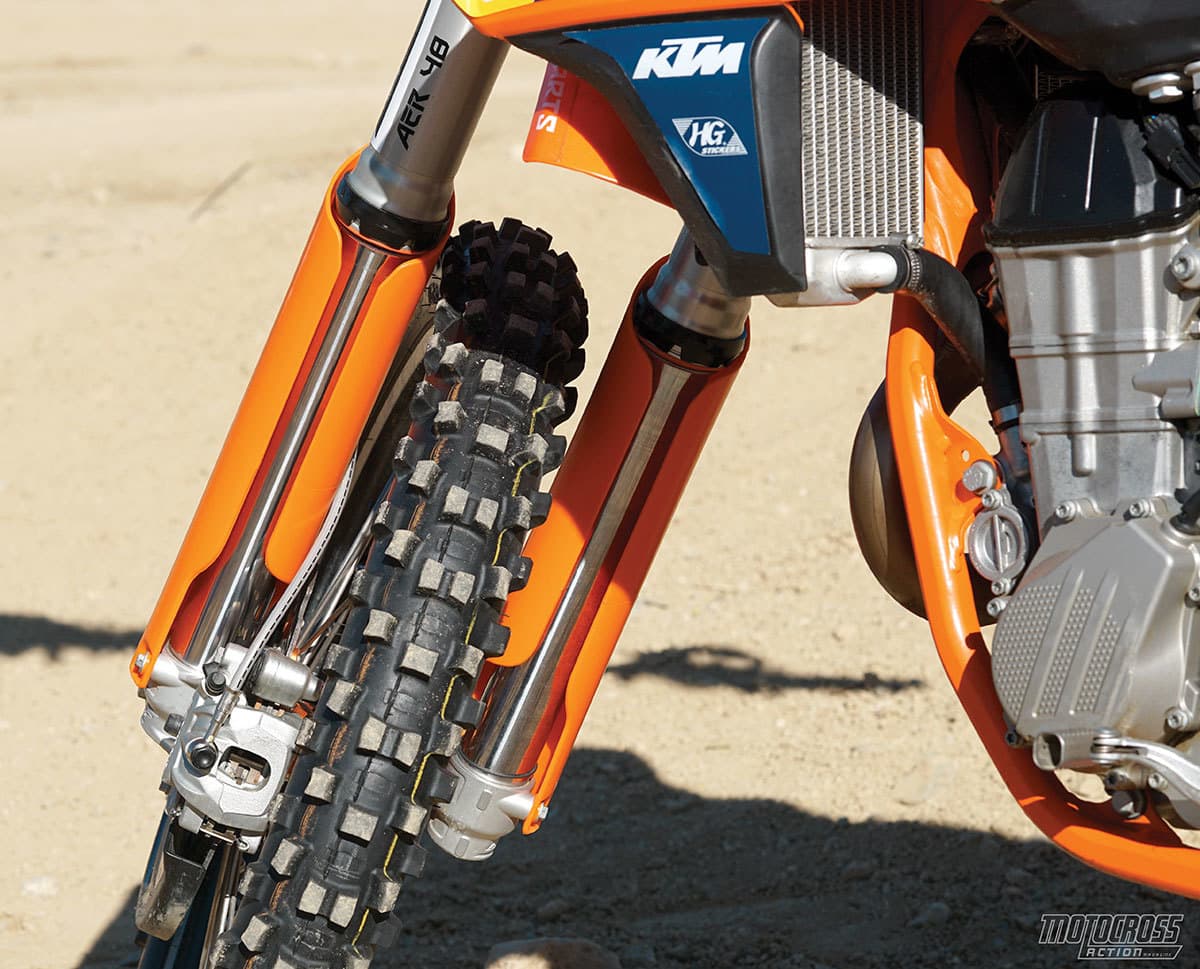 Luckily, a small British company understood the value of wrap around fork guards and went to the trouble to injection-mold full-wrap fork guards for 2015-and-up WP motocross forks. They are well made, strong and fit perfectly. It should be noted that the ultimate protection for your fork legs would be a plastic tube that completely covered the fork tube; however, a tube would be a hassle to install and remove. ProTech full-wrap fork guards are available for KTM, Husqvarna and Sherco motorcycles. They are offered in white, orange, blue and yellow.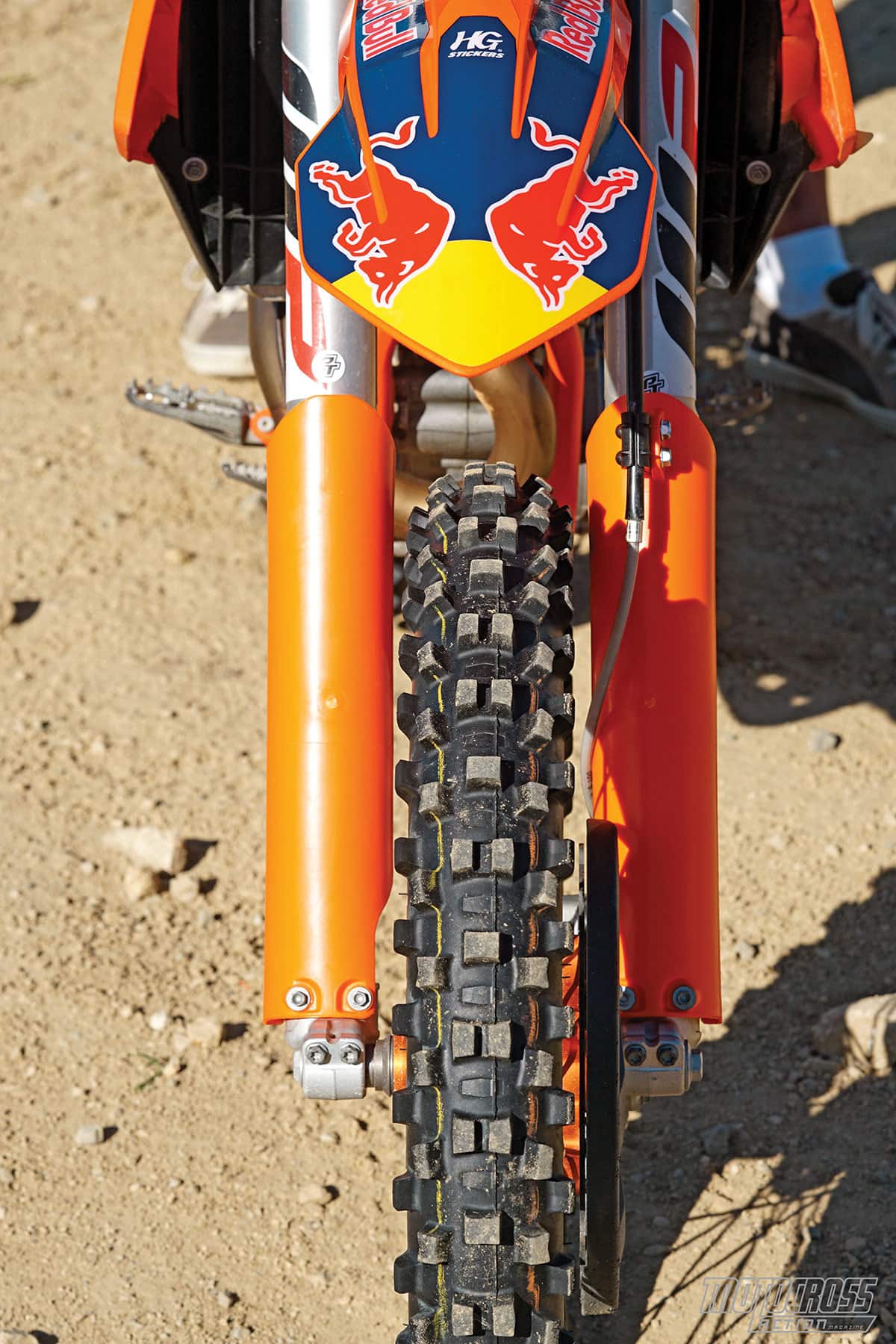 Sadly, ProTech does not have an American distributor, which means that you have to order the fork guards from England via the ProTech fork guard website. They cost $47.00 (plus shipping from England). You can learn more at www.protechguards.co.uk.
MXA PRODUCT SPOTLIGHT: DUNLOP AT81-EX ENDURO TIRE

Ever wonder how EnduroCross riders manage to find traction over the extreme terrain they compete on? Dunlop's D756EX has been a trade secret for years, winning numerous championships. Now that tire has been replaced with the all-new Geomax AT81-EX that features even greater grip and performance.
Available in 110/100-18 rear size, the AT81-EX is made for a wide variety of extreme conditions—not just EnduroCross—and was developed with the help of Cody Webb and Destry Abbott. For more in go to www.dunlopmotorycletires.com.
YOUR FUTURE! EVERY RACE THAT MATTERS IN 2018
The 2018 Supercross schedule starts on January 6, 2018, at Anaheim Stadium, before going to Houston on January 13. Check the complete schedule out below,
2018 AMA SUPERCROSS CHAMPIONSHIP
Jan. 6……………………..…Anaheim, CA
Jan. 13………………………Houston, TX
Jan. 20………………………Anaheim, CA
Jan. 27………………………Glendale, AZ
Feb. 3……………………..…Oakland, CA
Feb. 10………………………San Diego, CA
Feb. 17………………………Arlington, TX
Feb. 24………………………Tampa, FL
Mar. 3……………………..…Atlanta, GA
Mar. 10………………………Daytona, FL
Mar. 17………………………St. Louis, MO
Mar. 24………………………Indianapolis, IN
Apr. 7……………………..…Seattle, WA
Apr. 14………………………Minneapolis, MN
Apr. 21………………………Foxborough, MA
Apr. 28………………………Salt Lake City, UT
May 5…………………….…Las Vegas, NV
2018 AMA NATIONAL CHAMPIONSHIP
May 19……………………Hangtown, CA
May 26.…………………..Glen Helen, CA
June 2..………………….Thunder Valley, CO
June 16..…………………Mt Morris, PA
June 23.………………….Muddy Creek, TN
June 30.………………….Southwick, MA
July 7..……………………​Red Bud, MI
July 21.…………………..Millville, MN​
July 28.…………………..Washougal, WA
Aug. 11..………………….Unadilla, NY​
Aug. 18..………………….Budds Creek, MD​
Aug. 25.…………………..Crawfordsville, IN
2018 FIM MOTOCROSS WORLD CHAMPIONSHIP
Mar. 4……………………..Argentina
Mar. 18…………………….Holland 1
Mar. 25…………………….Spain
Apr. 8……………………….Italy 1
Apr. 15……………………..Portugal
May 1……………………….Russia
May 13……………………..Latvia
May 20…………………….Germany
June 3………………………England
June 10…………………….France
June 17…………………….Italy 2
July 1……………………….Indonesia 1
July 8……………………….Indonesia 2
July 22……………………..Czech Republic
Aug. 5………………………Belgium
Aug. 12……………………..Sweden
Aug. 19……………………..Switzerland
Sept. 2………………………Turkey
Sept. 16……………………..Holland 2
Sept. 30…………………….Italy 3
2018 MOTOCROSS DES NATIONS
Oct. 7………………………Red Bud, MI
2018 AMSOIL ARENACROSS CHAMPIONSHIP
Jan. 6-7………………………….Dayton, OH
Jan. 13-14………………………Worcester, MA
Jan. 20-21……………………….Wilkes Barre, PA
Jan. 27-28………………………Greensboro, NC
Feb. 10-11………………………Madison, WI
Feb. 17-18………………………Florence, SC
Mar. 17-18………………………Denver, CO
Mar. 24-25………………………Nampa, ID
Apr. 7-8………………………….Wichita, KS
Apr. 21-22………………………Portland, OR
Apr. 28-29………………………Reno, NV
May 4-6…………………………Las Vegas, NV
2018 OLD SCHOOL SCRAMBLES CHAMPIONSHIP
Feb. 11……………………..Glen Helen, CA
Mar. 25…………………….Glen Helen, CA
June 17………………..…..Glen Helen, CA
Aug. 19………………..…..Glen Helen, CA
Dec. 9………………………Glen Helen, CA
2018 BRITISH ARENACROSS CHAMPIONSHIP
Jan. 6…………………………..Manchester
Jan. 13………………………….Newcastle
Jan. 20…………………………Birmingham
Jan. 26-27…………………….Belfast
Feb. 10………………………….Sheffield
Feb. 17………………………….London
2018 WORLD OFFROAD CHAMPIONSHIP (WORCS)
Feb. 2-4…………………..……Las Vegas, NV
Feb. 23-25……………….…..Phoenix, AZ
Mar. 23-24……………….…..Lake Havasu, AZ
Apr. 20-22……………….…..Hurricane, UT
May 25-27……………………Cedar City, UT
Sept. 14-16……………………Glen Helen, CA
Oct. 19-21………………….…Adelanto, CA
Nov. 9-11……………………..Primm, NV
2018 MAXXIS BRITISH NATIONAL CHAMPIONSHIP
Mar.11…………………………..Lyng, England
Apr. 1……………………………Culham, England
Apr. 22………………………….Canada Heights, England
May 6…………………………..Blaxhall, England
June 24………………………..Desertmartin, Ireland
July 29………………………….Duns, England
Aug. 26…………………………Hawkstone, England
Sept. 23………………………..TBA, England
2018 MICHELIN BRITISH NATIONAL CHAMPIONSHIP
April 8………………….…..…Lyng, England
May 20……………..…………Preston Docks, England
May 27…………….………….Hawkstone Park, England
July 1………….…..…………..Sherwood, England
July 15………….…..……..….Canada Heights, England
Sept. 2…………….…..…..….Crookwood, England
2018 DUTCH MASTERS CHAMPIONSHIP
Mar.11…………………………..Markelo, Holland
Apr. 2……………………………Oldebrook, Holland
May 6…………………………..Mill, Holland
July 14-16…………………….Lichtenvoorde, Holland
2018 GERMAN ADAC MASTERS CHAMPIONSHIP
Apr. 22………………………….Drehna, Germany
May 27………………………….Molln, Germany
June 24…………………………Bielstein, Germany
May 6……………………………Blaxhall, Germany
July 15………………………….Moggers, Germany
July 29………………………….Tensfeld, Germany
Aug. 26…………………………Teutschthal, Germany
Sept. 9…………………………..Gaildorf, Germany
2018 HAWKSTONE INTERNATIONAL
Feb. 11………………………….Hawkstone, England
2018 RICKY CARMICHAEL AMATEUR SUPERCROSS
Mar. 11-12……………..…….Daytona, FL
2018 WORLD TWO-STROKE CHAMPIONSHIP
Apr. 14…………………….…..Glen Helen, CA
2018 LORETTA LYNN AMATEUR CHAMPIONSHIP
July 30-Aug. 4……………….Hurricane Mills, TN
2018 MONSTER ENERGY CUP
Oct. 13………………………….Las Vegas, NV
2018 REM OCTOBERCROSS
Oct. 27…………………………..Glen Helen, CA
2018 DUBYA WORLD VET CHAMPIONSHIP
Nov. 3-4…………………..…..Glen Helen, CA
2018 THOR MINI OLYMPICS
Nov. 19-24…………………….Gainesville, FL
2018 DAY IN THE DIRT
Nov. 23-25……………………..Glen Helen, CA

SUBSCRIBE TO MXA & GET THE 450 SHOOTOUT & A $25 ROCKY MOUNTAIN GIFT CARD
Do you subscribe to MXA? You should. We know that you think that print magazines are dead and that the internet will fill the void, but most of the stuff in the current issue of MXA won't appear on the web for several months, if at all. Luckily, you can get all of MXA on your iPhone, iPad, Kindle or Android by going to the Apple Store, Amazon or Google Play or in a digital version. Even better you can subscribe to Motocross Action and get a $25 Rocky Mountain ATV/MC gift card to spend on whatever motorcycle parts or products you need. You can call (800) 767-0345 or go to www.hi-torque.com/product/motocross-action-holiday/.
JOIN MXA'S FACEBOOK GROUP CHAT

We love everything moto and want to bring all moto junkies together into one place to share their two cents, ideas, photos, bike fixes, bike problems and much more. To check it out first you must need to or already have a Facebook account. If you don't, it isn't much work and you could even have an alias so nobody knows it is you.
Click in images to enlarge.
Photos: Brian Converse, Jody Weisel, Mark Chilson, Daryl Ecklund, MXA