MXA'S WEEKEND NEW ROUND-UP: THE COCK-EYED CARAVAN HEADS TO THE 2020 GLENDALE SUPERCROSS
MXA TECH SPEC: 2020 MXA 450 SHOOTOUT DYNO CHART

The yellow boxes correspond to the bike that makes the most horsepower at the given rpm. The red boxes indicate the bikes that produces the least horsepower at 1000 rpm increments from 6000 rpm to 11,000 rpm.
In the 2020 MXA 450 Shootout we were tempted to run the typical dyno chart with squiggly lines crossing over each other in barely discernible colors, when he realized that even we couldn't figure out which line was which (and we were there when each bike was run on the same dyno, with the same operator, on the same day.  It is hard to get the dyno curve lines of six bikes to show up clearly. We decided to change the MXA dyno chart so that the horsepower for each bike was easier to read and understand. The above dyno chart shows how each bike performed at 6000, 7000, 8000, 9000, 10,000 and11,000 rpm. Plus, we added peak horsepower and peak torque on the bottom line (neithe rof which always fall on even numbers). As you can see the Honda CRF450 made the most horsepower (59.74 horsepower), the Suzuki RM-Z450 made the least (54.42 horsepower), but the colored boxes reveal how each bike performs against its competition at the low-end, midrange and top-end.
All you have to do is run your finger across a given rpm line to see who does what. You can read a fuller description of how each bike runs on the track by clicking here.
BIKES YOU NEVER SEEN BEFORE: STEVE McQUEEN'S 1970 KAWASAKI CENTURIAN

This is Steve McQueen's Kawasaki Centurian 100—which was custom painted by Von Dutch.
This 1970 Kawasaki G31M Centurian 100 was is one of six given to Steve McQueen to use during the filming of the motion picture, "Le Mans." Steve only took five to the movie location and left one Centurian in his hangar at Santa Paula Airport. Later, Steve had Von Dutch paint the tank in orange, stripe it in gold and write "Ringadingdoo" on the gas tank. The name was a joke on the common slur on two-strokes back in the 1970s that referred to them as "ring-dings" (because of the sound from the engine). Steve used it to get around the airport. It sold at a Bonhams Auction in 2007 for $55,575.
MXA PRODUCT SPOTLIGHT: O'NEAL LIMITED EDITION PRODIGY GEAR
O'Neal Racing has introduced special run of Limited Edition tribute gear top celebrate their 50 years of product technology. The new Limited Edition Prodigy gear, in a special reflex black/neon red color combination combination all of most advanced features that a motocross racer would want.
The Limited Edition Prodigy jersey features ''4-Cell" Performance Fabric with 4-way stretch. The 4way stretch vented panel on the entire back to allow maximum movement for an athletic fit. Plus the proprietary "Infinity" cuff and collar are lined with stretch material for maximum comfort. The graphics are sublimated into the fabric so they will never fade and the Prodigy jersey weighs on 7 ounces.
As for the Limited Edition Prodigy pants, the feature a pre-curved leg design conforms to the ideal riding position, lightweight rubber patches at the knee (with integrated air-intakes for cooling), genuine Drum Dyed leather inner knee protection, a 900-denier rear saddle custom quilted cross-stitch for comfort and grip and laser cut perforation, with silicone-lined edges, to you you cool and dry. And, of course the Limited Edition Prodigy pant features O'Neal awesome 360-degree adjustable belt for the perfect fit that no ratchet closure can match.
The retail price for the Limited Edition Prodigy gear is $74.99 for the jersey and $219.99 for the pants. For more information Click Here.
DAN ALAMANGOS' PHOTO OF THE WEEK
There is nothing cuter than when Junior gets in the toolbox and start working on Dad's bike…except for the fact that this isn't Logan's dad's bike. Photo: Dan Alamangos

REM SAYS GOOD-BYE TO DARREN BERG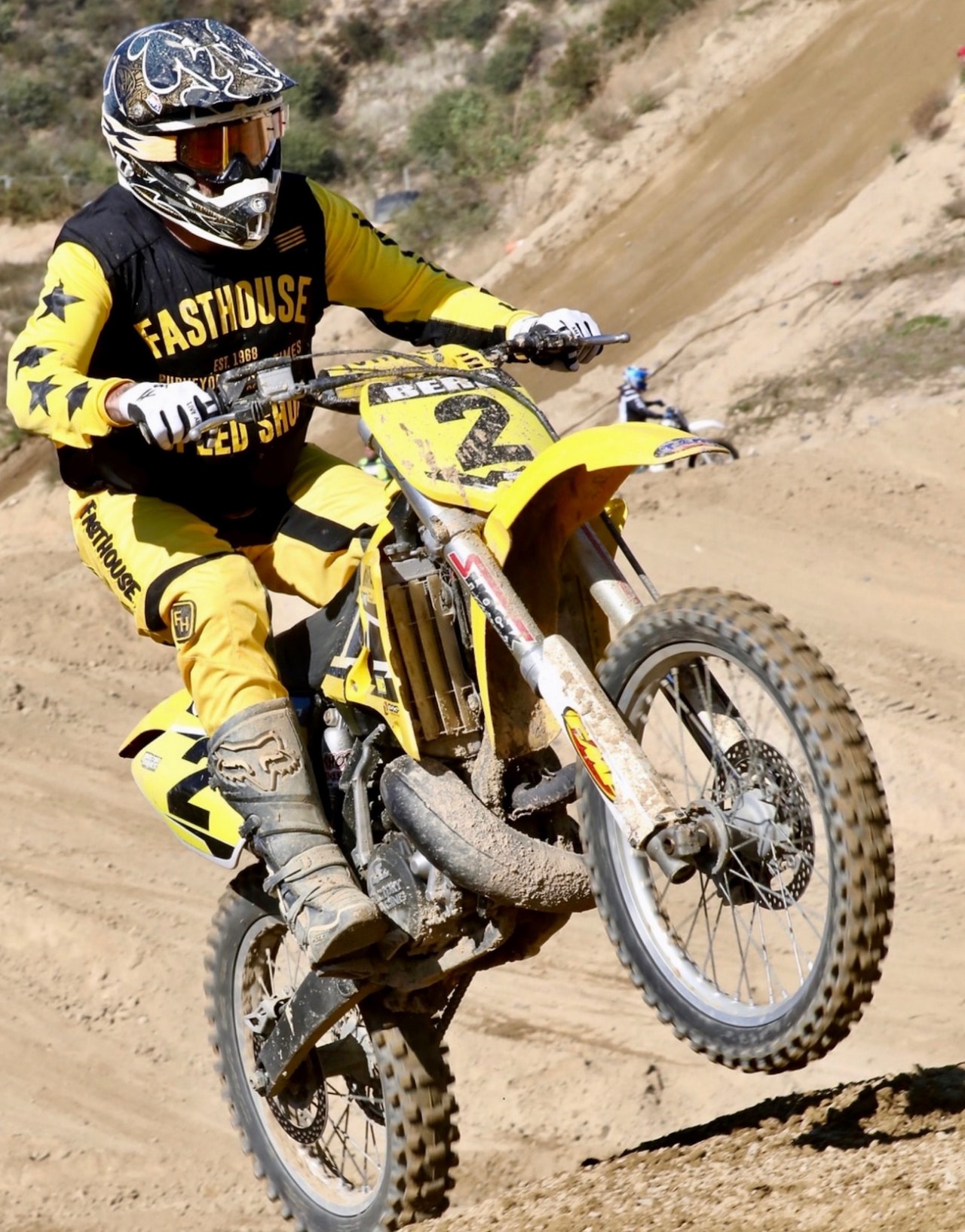 Darren Berg passed away suddenly this past week from an undisclosed illness. He and his brother Dan have been fixtures on the SoCal motocross scene for decades. REM promoter Frank Thomason posted a memorial to Darren on the REM Facebook page.


2020 AMA SUPERCROSS WINNERS AT A GLANCE
The booing was so loud when Dylan Ferrandis took the podium at Anaheim 2 that the crowd didn't hear a word he said. Let's hope that the booing doesn't follow him to every stadium like it did Ricky Carmichael (three times during his career) or Jean-Michel Bayle in 1992.

Venue                                        450                                    250
1. Anaheim 1………….Justin Barcia………..Justin Cooper
2. St. Louis………………Ken Roczen…………..Austin Forkner
3. Anaheim 2………….Eli Tomac………………Dylan Ferrandis
4. Glendale…………….
5. Oakland……………..
6. San Diego…………..
7. Tampa…………………
8. Arlington…………..
9. Atlanta………………
10. Daytona………….
11. Indianapolis……
12. Detroit…………….
13. Seattle…………….
14. Denver…………….
15. Foxborough……
16. Las Vegas………..
17. Salt Lake City….
450 Points leader…Ken Roczen
250 West Points leader…Justin Cooper
250 East points leader…?????
CLASSIC MXA TEST RIDER PHOTOS: "I RIDE WHAT THEY TELL ME TO RIDE"

MXA test riders don't get to pick what they ride. If they complain about the bike they are assigned to test, then they are assigned something a lot worse the next day. We don't know what Dennis Stapleton did, but we bet he won't complain again.
AMA SUPERCROSS STANDINGS HEADING TO THE 2020 GLENDALE SUPERCROSS (THAT'S PHOENIX TO MOST)

Justin Barcia Ken Roczen didn't win Anaheim2, but he led and when the night was over he was awarded the red plate.

AMA 450 SUPERCROSS STANDINGS
(After 3 of 17 rounds)
1. Ken Roczen (Hon)…66
2. Justin Barcia (Yam)…63
3. Eli Tomac (Kaw)…61
4. Jason Anderson (Hus)…57
5. Adam Cianciarulo (Kaw)…56
6. Cooper Webb (KTM)…53
7. Zach Osborne (Hus)…46
8. Malcolm Stewart (Hon)…46
9. Justin Brayton (Hon)…46
10. Blake Baggett (KTM)…42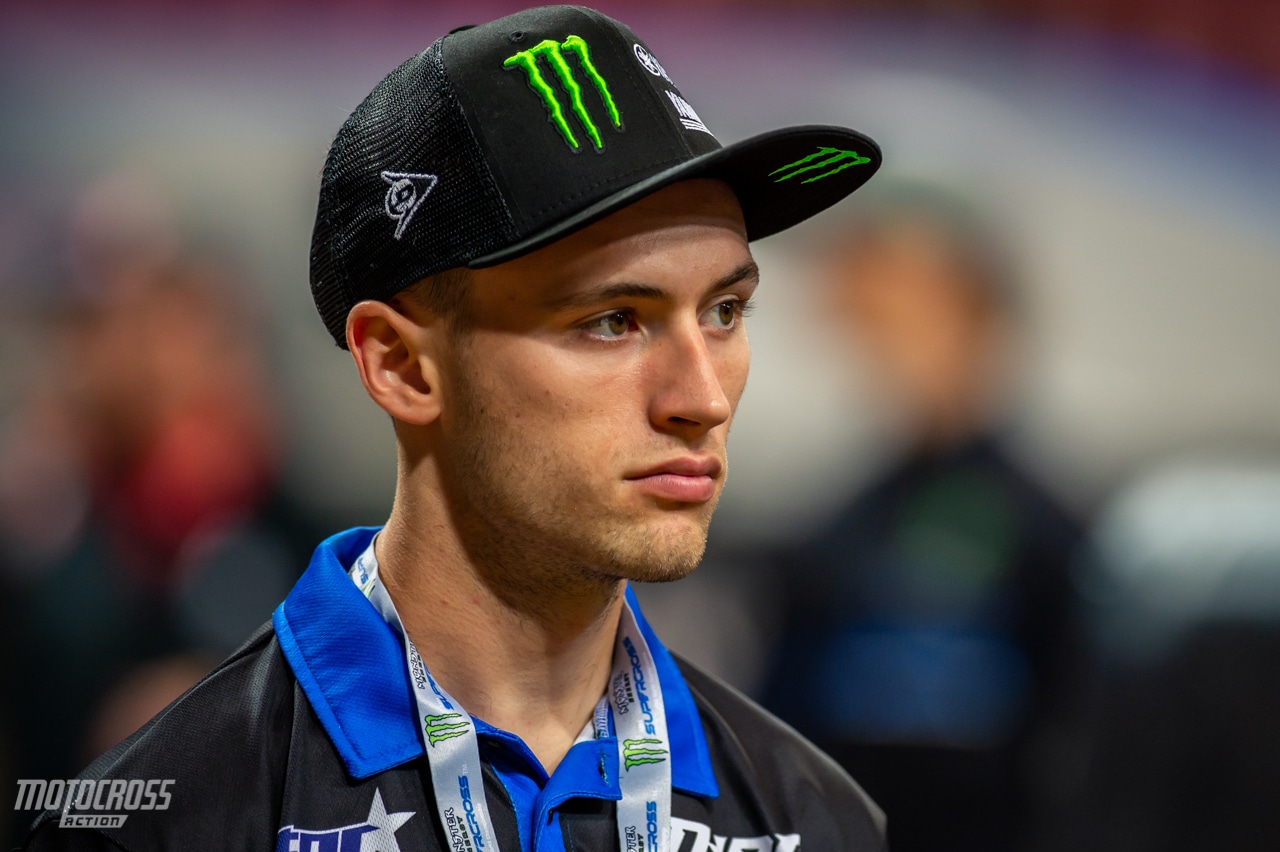 Justin Cooper didn't have any flow at Anaheim2, but he plugged away to get second at the flag and keep his 250 West red plate.

AMA 250 WEST SUPERCROSS STANDINGS
(After 3 of 10 rounds)
1. Justin Cooper (Yam)…72
2. Dylan Ferrandis (Yam)…60
3. Brandon Hartranft (KTM)…58
4. Austin Forkner (Kaw)…50
5. Alex Martin (Suz)…50
6. Jett Lawrence (Hon)…46
7. Jacob Hayes (Hus)…44
8. Michael Mosiman (Hus)…41
9. Mitchell Oldenburg (Hon)…38
10. Luke Clout (Hon)…35
THE AMA 250/450 NATIONALS RENEW ITS ANTI-DOPING PROGRAM WITH USADA FOR 2020
MX Sports Pro Racing has announced that it has renewed its previous agreement with the United States Anti-Doping Agency (USADA) to provide anti-doping testing and educational support services for the 2020 Lucas Oil Pro Motocross Championship or the 7th year. USADA will oversee the prohibited use of banned substances.a.
"Since 2014 we have worked in close partnership with USADA to develop a comprehensive and effective anti-doping program that maintains the competitive integrity of the world's most prestigious motocross championship," said Roy Janson, MX Sports Pro Racing Competition Director. "Over the past six years, this program has continued to evolve, with advances in technology and awareness of performance-enhancing substances. The new program will establish specific guidelines, regulations, and penalties that are relevant to the sport of motocross."
USADA also has a open forum that details the latest practices surrounding anti-doping control services. From the latest list of banned substances, to new testing procedures and recommended practices for athletes to protect themselves from potentially consuming a contaminated product, USADA takes a hands-on, full-service approach to its anti-doping program for Pro Motocross.
"We know that anti-doping is as important to our athletes and to the sport of motocross as any other major sport, and we've gone to great lengths to provide our riders and teams a program that addresses their needs," said Davey Coombs, President of MX Sports Pro Racing. "In working with USADA, we've been able to protect the sanctity of the sport, working in the best interest of our competitors, and continue to refine the anti-doping measures to ensure all races are conducted on an even playing field."
USADA is responsible for the testing and results management for athletes in the U.S. Olympic and Paralympic Movement. Information on the World Anti-Doping Agency Code or the U.S. Anti-Doping Agency is available at www.usada.org.
CLASSIC MXA COVERS: THE ALUMINUM WAKE-UP CALL


This July 1987 issue unveiled the Yamaha YZM500 to the American public.
VACATION IN SOCAL WITH DENNIS STAPLETON: RIDE GLEN HELEN, CAHUILLA CREEK, PALA, PERRIS & MORE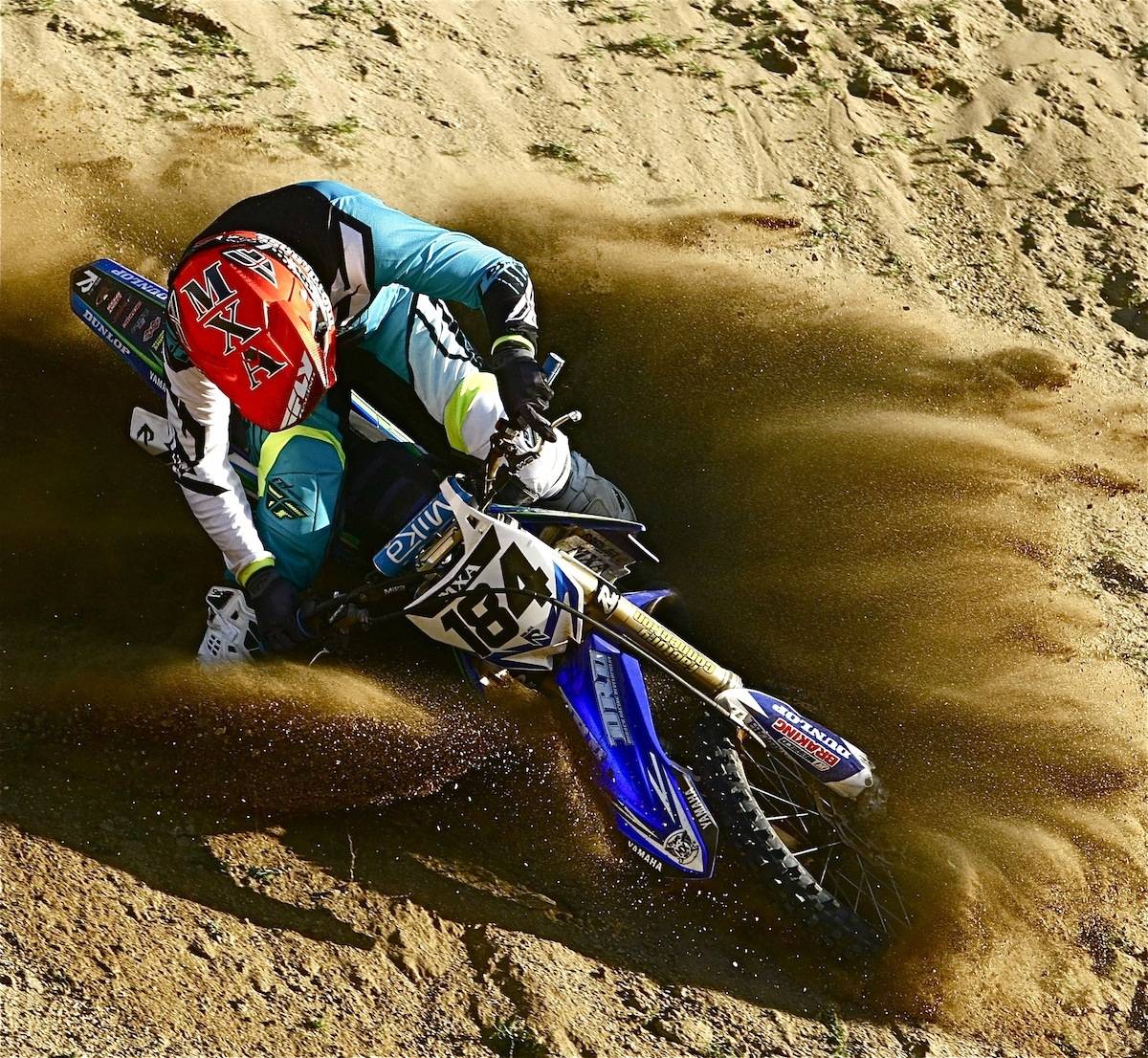 Dennis Stapleton doing what he does every day of the week — let him make your dreams come true.
In his spare time, when he's not testing with MXA, racing in a foreign country, going to Japan or helping many of his motocross buddies, MXA test rider opens up his house, garage, bikes and mechanics to help riders who would like to come to SoCal on a motocross vacation. He offers full service to all of the Southern California tracks for racers or for play riders. Whether you want to rent a bike, move in for a week, race at Glen Helen or take motocross lessons—this is one-stop shopping. If you're coming out to Southern California and need a rental bike, check out KnobbyShop South/StapoMX for all your rental needs. They offer Motocross Vacations, bike rentals and motocross lessons. Just send them an email ([email protected]). If you'd like to live the SoCal lifestyle for a day, a weekend, a week, a month or three months, visit Dennis Stapleton's' website at www.knobbyshopsouth.org for more details!
THE HANDY-DANDY TRACK MAPS OF ROUNDS 3 AND 4 — GLENDALE & OAKLAND

Round four of the 2020 AMA Supercross Champions will be held in State Farm Stadium in Glendale, Arizona, this Saturday night.
Round five of the 2020 AMA Supercross series will be held in Oakland's Ringcentral Coliseum on February 1.
MXA MOTO-QUIZ: WE WERE ALL YOUNG ONCE
This racer made the top ten 55 times in AMA races during a career that spanned 1998 to 2011. His three brothers, Todd, Caleb and Drew also raced the Nationals, but none of the brothers went to as many AMA races as their dad. The answer is on the bottom of this page.
THE NEW MXA IS HERE! IT IS JAM-PACKED FULL OF TWO-STROKES GALORE

See the "Man-Made Monster Face-Off " headline on the February 2020 cover, it refers to MXA's 500cc Two-Stroke Shootout.

If you subscribe to MXA you can get the mag on your iPhone, iPad, Kindle or Android by going to the Apple Store, Amazon or Google Play or in a digital version. Even better you can subscribe to Motocross Action and get the awesome print edition delivered to your house by a uniformed employee of the U.S. Government. You can call (800) 767-0345 or Click Here (or on the box at the bottom of this page) to subscribe.
WE RIDE COOPER WEBB'S KTM 250SX TWO-STROKE — IT'S A 300
MXA AD OF THE WEEK: MAKE THAT AN AUSSIE RACE POSTER
Mr. Motocross was the premier Australian motocross series of all-time. It ran from 1974 to 1990 with considerable corporate sponsorships—including Pepsi, Castrol, Carrera, Golden Breed, Travel Lodge and, most memorably, Go The Rat. It was the first Australian motocross series to get international coverage, thanks in large part to the rivalry between Suzuki's Anthony Gunter and Yamaha's Stephen Gall, and later by the rise of Jeff Leisk and Craig Dack. The creative race posters are often remembered.
MR. MOTOCROSS AUSTRALIA (1974-1990)
1974 …Trevor Flood (Yam)
1975 …Gary Flood (Bul)
1976 …Tony Gunter (Suz)
1977 …Tony Gunter (Suz)
1978 …Stephen Gall (Yam)
1979 …Tony Gunter (Suz)
1980 …Stephen Gall (Yam)
1981 …Stephen Gall (Yam)
1982 …Stephen Gall (Yam)
1983 …Ray Vandenberg (Suz)
1984 …Jeff Leisk (Hon)
1985 …Jeff Leisk (Hon)
1986 …Craig Dack (Hon)
1987 …Craig Dack (Hon)
1988 …Craig Dack (Yam)
1989 …No series
1990 …Craig Dack (Yam)
MXA VIDEO: FIRST RIDE OF THE 2020 YAMAHA YZ450F
MORE THAN YOU EVER THOUGHT YOU WOULD KNOW ABOUT A FACTORY HRC HONDA
BE THERE! REM MOTOCROSS AT GLEN HELEN ON JAN. 25, FEB. 1, FEB. 15 & FEB. 22

For more information go to www.remsatmx.com
29TH ANNUAL MECUM'S VINTAGE MOTORCYCLE AUCTION COMING ON JANUARY 21-26, 2020


For more info go to www.mecum.com.
2020 WORCS OFF-ROAD CHAMPIONSHIP SERIES STARTS ON JAN. 26 IN PRIMM, NEVADA

For more info go to www.worcsracing.com.
2020 KICKER ARENACROSS SERIES COMES TO OKLAHOMA ON JANUARY 24-25

For more info go to www.kickerarenacross.com
2020 ARIZONA STATE CHAMPIONSHIP SERIES RACES AGAIN ON FEB. 9

For more information go to www.canyonmx.com or www.amxracing.com
2020 SOBOBA TRAIL RIDE ON FEB. 23, 2020, ON THE SOBOBA INDIAN RESERVATION
For more information about the San Jacinto, California, trail ride go to www.sobobarides.biz
2020 OLD SCHOOL SCRAMBLES TT STARTS ON FEBRUARY 23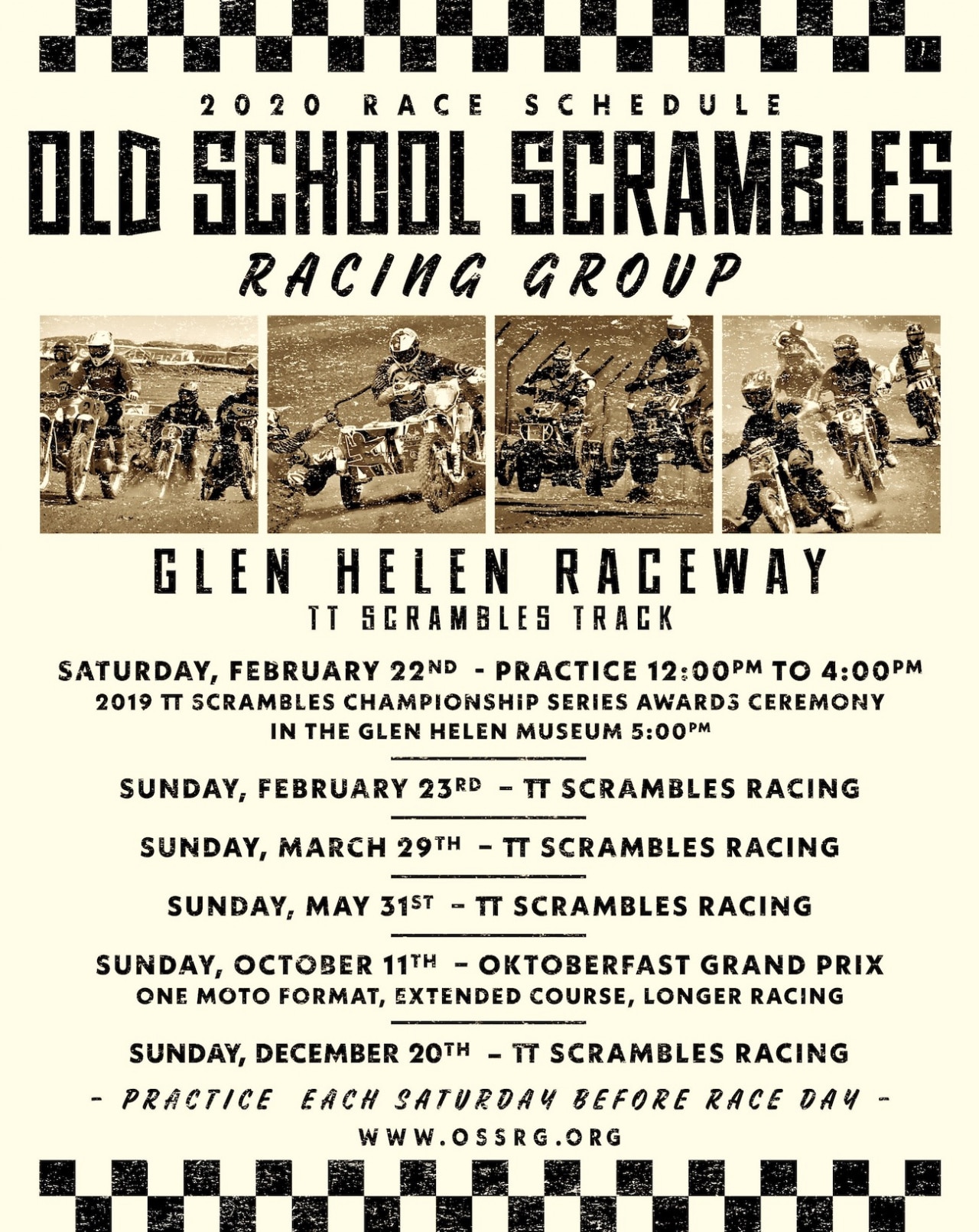 For more info go to www.ossrg.org
GLEN HELEN'S 6-HOUR, 12-HOUR & 24-HOUR ENDURANCE RACE SCHEDULE
The 6-Hour is on March 8, 12-Hour on June 14 and the 24-Hour starts on October 17 (and ends on the 18th). For more info go to www.glenhelen.com
6TH ANNUAL MOTO MASTERS VET SERIES STARTS ON MARCH 14 AT JOHNSVILLE MX FARM

For more info go to www.johnsonvillemxfarm.com
"EVENING WITH THE CHAMPIONS" AT THE INTERNATIONAL MOTOCROSS MUSEUM ON JULY 11, 2020, IN CHICAGO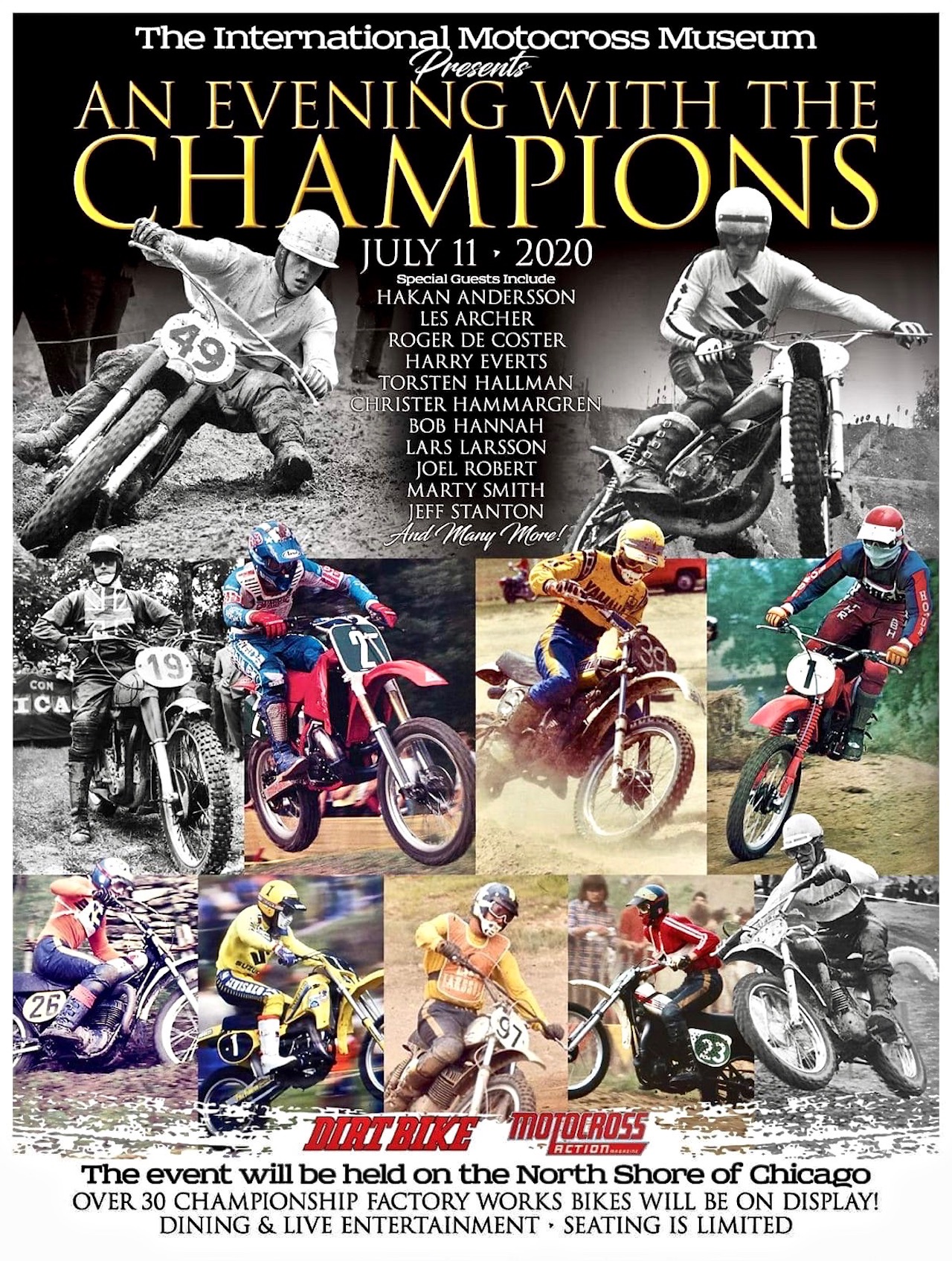 For more information go to www.mxworksbike.com
TALK MOTO WITH ON MXA'S FACEBOOK GROUP CHAT

We love everything moto and want to bring all moto junkies together into one place to share their two cents, ideas, photos, bike fixes, bike problems and much more. To check it out first you must need to or already have a Facebook account. If you don't, it isn't much work and you could even have an alias so nobody knows it is you. To join click HERE. After you request to join we will accept your request shortly after.
FOLLOW MXA ON TWITTER
Follow us to see fresh content every day at www.twitter.com/MXAction or on twitter at "MXAction."
MXA YOUTUBE CHANNEL | HIT THAT SUBSCRIBE BUTTON

The MXA wrecking crew is everything moto related. Check out our MXA YouTube channel for bike reviews, Supercross coverage, rider interviews and much more. And don't forgot to hit that subscribe button.
LOOKING AHEAD! THE 2020 RACE CALENDAR
2020 AMA SUPERCROSS CHAMPIONSHIP
Jan. 4…Anaheim, CA (West)
Jan. 11…St. Louis, MO (West)
Jan. 18 …Anaheim, CA (West)
Jan. 25…Glendale, AZ (3-Moto) (West)
Feb. 1…Oakland, CA (West)
Feb. 8…San Diego, CA (West)
Feb. 15…Tampa, FL (East)
Feb. 22… Arlington, TX (3-Moto) (East)
Feb. 29… Atlanta, GA (East)
Mar. 7…Daytona Beach, FL (East)
Mar. 14…Indianapolis, IN (East)
Mar. 21…Detroit, MI (East)
Mar. 28…Seattle, WA (West)
Apr. 4…Denver, CO (East/West)
Apr. 18…Foxborough, MA (East)
Apr. 25…Las Vegas, NV (3-Moto) (West)
May 2…Salt Lake City, UT (East/West)
2020 AMA ARENACROSS CHAMPIONSHIP
Jan. 3-4…Loveland, CO
Jan. 11…Hobbs, NM
Jan. 24-25…Oklahoma City, OK
Jan. 31-Feb. 1… Denver, CO
Feb. 7-8…Reno NV
Feb. 28-29…Salt Lake City, UT
Mar. 7… Amarillo, TX
2020 AMA NATIONAL CHAMPIONSHIP
May 16…..Hangtown, CA
May 23…..Pala, CA
May 30….Thunder Valley, CO
Jun. 6……Jacksonville, FL
June 20…Mt. Morris, PA
June 27…Southwick, MA
July 4……Red Bud, MI
July 18….Millville, MN
July 25….Washougal, WA
Aug. 15…Unadilla, NY
Aug. 22…Budds Creek, MD
Aug. 29…Crawfordsville, IN
2020 FIM MOTOCROSS WORLD CHAMPIONSHIP
Mar. 1…Great Britain
Mar. 8…Holland
Mar. 22…Argentina
Apr. 5…Italy #1
Apr. 19…Spain
Apr. 26…Portugal
May 10…France
May 17…Italy #2
May 24…Germany
June 7…Russia
June 14…Latvia
June 28…Jakarta, Indonesia
July 5…Palembang, Indonesia
July 26…Czech Republic
Aug. 2…Belgium
Aug. 16…Sweden
Aug. 23…Finland
Sept. 6.…Turkey
Sept. 13…China
Sept. 20…Italy #3
2020 FIM MOTOCROSS DES NATIONS
Sept. 27.…Ernee, France
2020 WORCS OFF-ROAD CHAMPIONSHIP
Jan. 26…Primm, NV
Feb. 23…Taft, CA
Mar. 22… Havasu, AZ
Apr. 19…Blythe, CA
May 3…Las Vegas, NV
May 31…Cahuilla Creek, CA
July 19…Prineville, OR
Sept. 20…Glen Helen, CA
Oct. 18…Mesquite, NV
Nov. 15…Primm, NV
2020 WORCS SPRINT ENDURO
Feb. 25…Taft, CA
May 24… Mesquite, NV
July 25…Prineville, OR
Sept. 26…Glen Helen, CA
Oct. 31…Cahuilla, CA
2020 CANADIAN NATIONAL CHAMPIONSHIP
May 31…Wild Rose, AB
June 7…Blackwater, BC
June 14…Dorva, AB
June 21…MotoVally, SK
July 12…Gopher Dunes, ON
July 19…San Del Lee, ON
July 26…Riverglade, NB
Aug. 2…Deschambault, QC
Aug. 16…Walton, ON
2020 MICHELIN BRITISH NATIONAL CHAMPIONSHIP
Mar. 22…Fatcat MotoParc
Apr. 19…Desertmartin, Ireland
Apr. 26…Hawkstone Park
July 5…Canada Heights
Aug. 9…Landrake
Sept. 6t…Cusses Gorse
2020 ACU BRITISH NATIONAL CHAMPIONSHIP
Apr. 12…Lyng
May 3…Foxhill
May 31…Blaxhall
June 21…Deertmartin, Ireland
July 12…Culham
Aug. 30…Landrake
2020 IRISH NATIONAL CHAMPIONSHIP
Apr. 4…Desertmartin
May 10…TBA
June 6…Claudy
July 19…TBA
Aug. 15…Tandragee
Sept. 13…TBA
2020 AUSTRALIAN NATIONAL CHAMPIONSHIP
April 4-5…Horsham, Victoria
May 3… Newry, Victoria
May 24…Queensland
June 28…Glympie, Queensland
July 25-26…Maitland, New South Wales
Aug. 22-23…Coolum, Queensland
2020 AUSTRALIAN SUPERCROSS CHAMPIONSHIP
Oct. 3 …Western Australia
Oct. 17… South Australia
Oct. 31…Queensland
Nov. 7 …New South Wales
Nov. 14…TBA
Nov. 28…Victoria
2020 ADAC GERMAN NATIONAL CHAMPIONSHIP
Apr. 13…Fürstlich Drehna
May 3…Mölln
May 31…Möggers, Austria
June 21…Aichwald
July 12…Holzgerlingen
July 19…Tensfeld
Aug. 30…Bielstein
Sept.13…Gaildorf
AMA NATIONAL AMATEUR CHAMPIONSHIP
Aug. 3-8….Hurricane Mills, TN
2020 FIM JUNIOR WORLD CHAMPIONSHIP
Aug. 8-9…Megalopolis, Greece
Answer: Chris Gosselaar finished second in the 2006 250 East, third in the 2003 125 East, fourth in the 2002 125 East and fifth in the w007 250 West. His dad was factory mechanic Mike Gossleaar.
Photos: Brian Converse, Josh Mosiman, Daryl Ecklund, MXA, KTM,