MXA'S WEEKEND NEWS ROUND-UP: THE INFAMOUS T-SHIRT & MUCH MORE
THE STORY BEHIND THE PCP SHIRT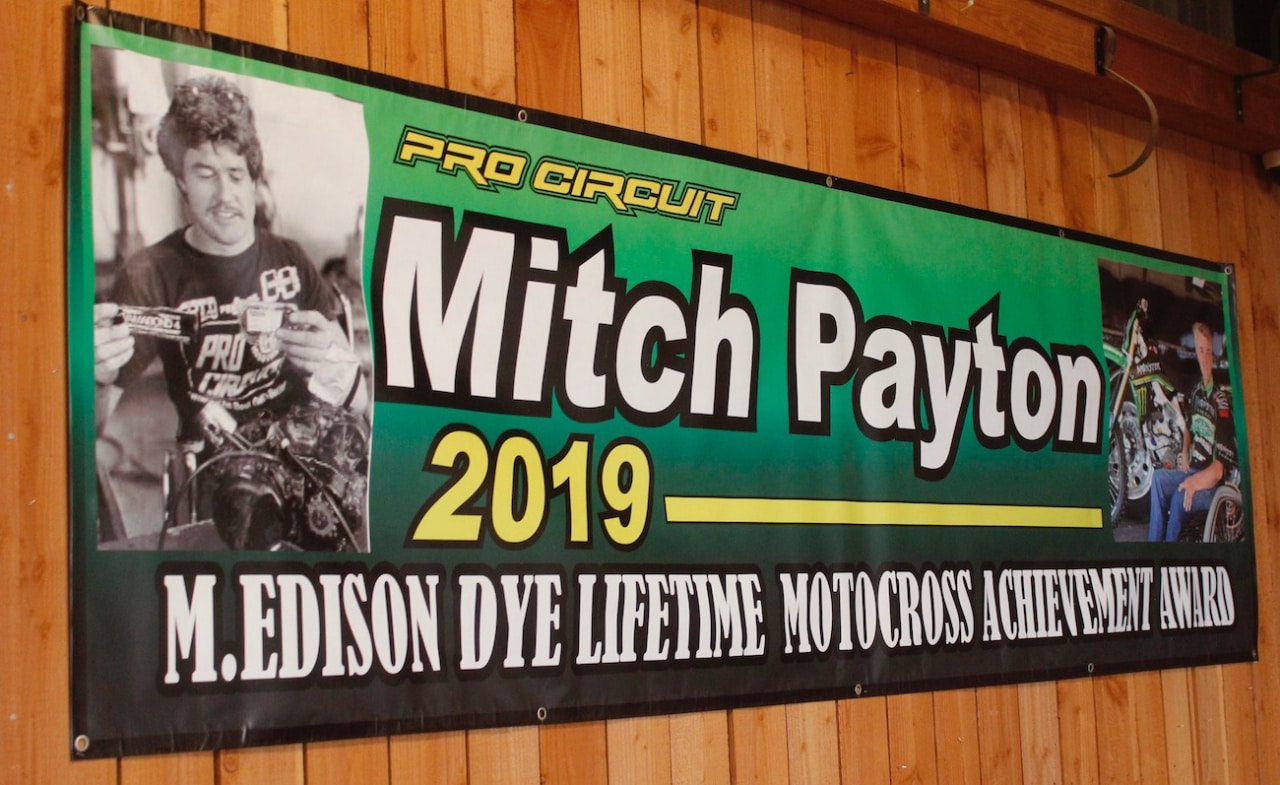 Back in 1979 Mitch Payton had just gotten out of rehab from his desert race crash and opened up a small Husqvarna shop name "Anaheim Husqvarna." The 18-year-old quickly developed a reputation as the man who could make Huskys fast. As his tuning fame spread, and he began to hop-up Japanese brands, he decided that he needed a more all-encompassing name than "Anaheim Husqvarna" if he wanted to sell products to Honda, Yamaha, Suzuki and Kawasaki riders, so he changed the name to Pro Circuit Products.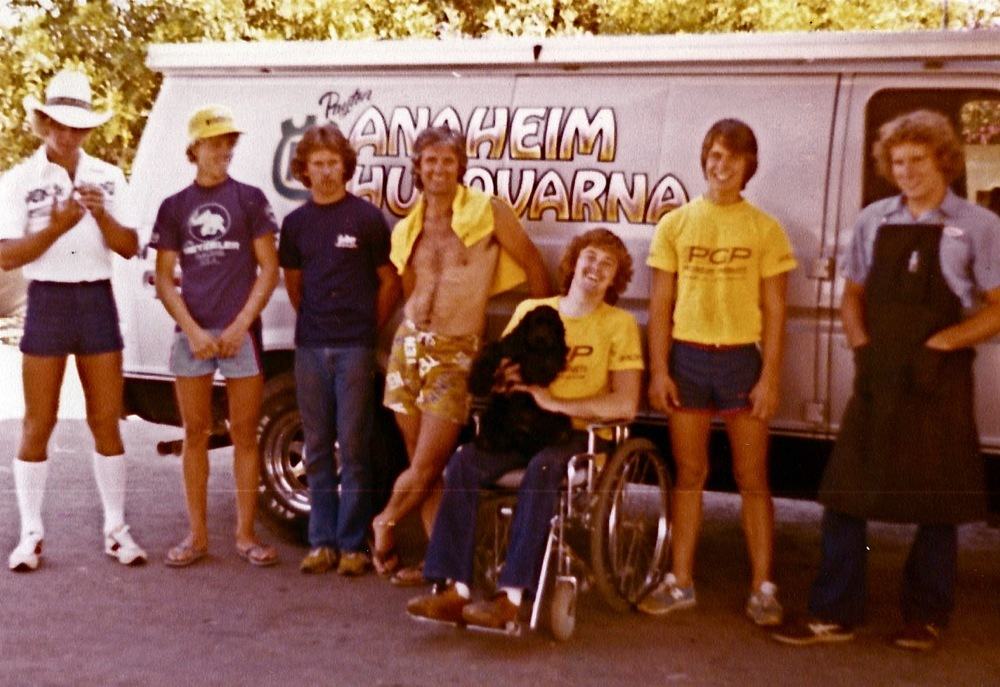 This photo was shot on the first day that Mitch debuted his PCP T-Shirts—which was 40 years ago. From left to right: Bill Keefe, Lance Sallis, Steve Wiseman, Jody Weisel, Mitch Payton, Mike Monaghan and Steve Balmer.
Motocross companies have always liked acronyms like FMF (Flying Machine Factory), CRF (Crotch Rocket Factory), DG (Doug & Gary),  JGR (Joe Gibbs Racing), DMC (Dave Miller Concepts), TM Racing (Tim McCool), TM Design Works (Tim McGarry) and TLD (Troy Lee Designs). One day in 1979 Mitch had a batch of bright yellow T-shirts made with PCP emblazoned across the chest. Mitch handed them out to his employees, all the shop rats, his sponsored riders, family and friends. He loved the new shorter way to say "Pro Circuit Products."
Roger DeCoster congratulating Mitch as the Lucite trophy reflects Mitch's PCP logo.
That's when MXA's Jody Weisel showed up and Mitch proudly handed him a PCP T-shirt (the photo above shows Jody, in the surf trunks, next to Mitch holding his dog). That's when Jody told Mitch that he couldn't name his company PCP. "Why not?" asked Mitch. "Because PCP is the acronym for Angel Dust, which is an illegal drug that is sweeping the nation. Your shirt will make it look like you are advertising a drug," said Jody.
For those who aren't old enough to remember PCP (Phencyclidine ). It was the 1980s version of crack. It caused hallucinations and was typically smoked, snorted or injected. Mitch had never heard of PCP, but he immediately pulled the shirts out of circulation (and none of today's Pro Circuit racers or mechanics ever knew there was a PCP shirt).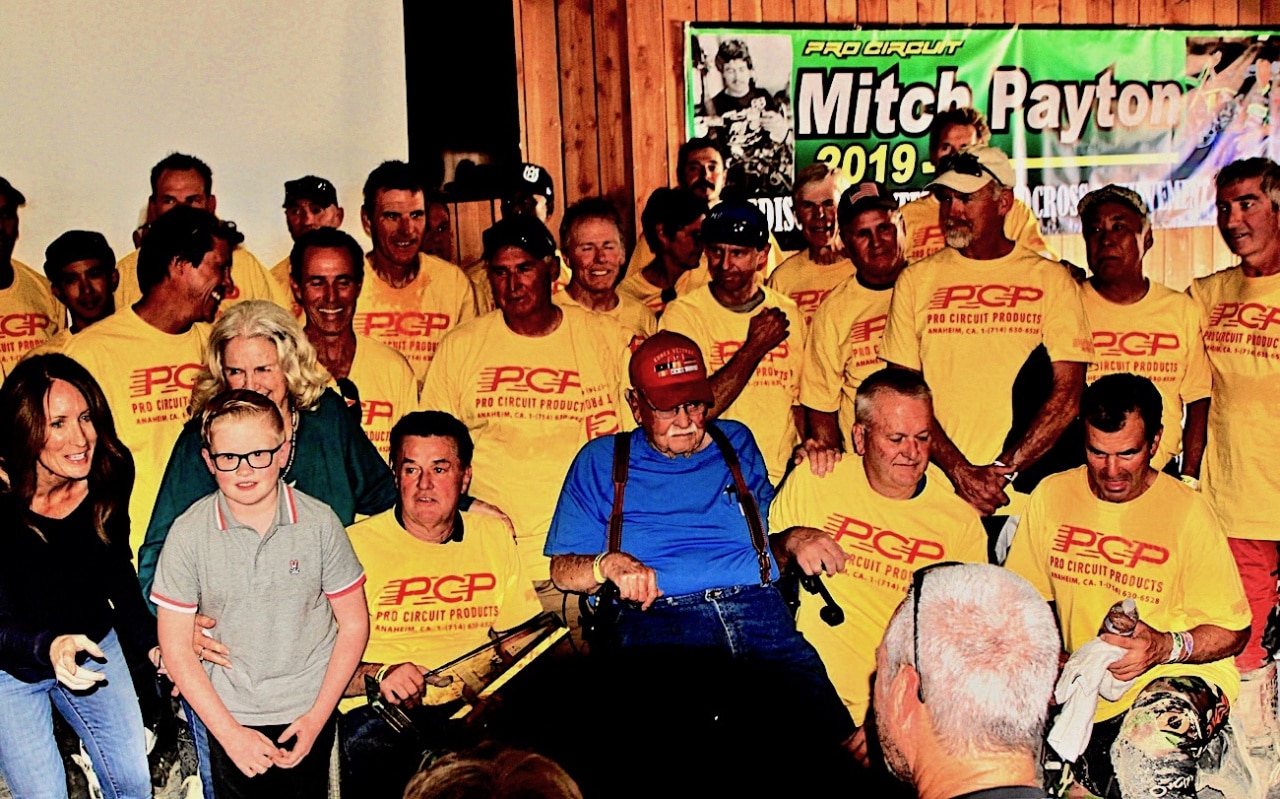 In the front row (from left to right) is Mitch's wife, son, mom, Mitch himself, dad and brother (plus Val Tamietti). Behind them is a small part of the friends wearing replicas PCP T-shirts as a joke.
But, at the 2019 Edison Dye Lifetime Achievement Awards ceremony, when Mitch came into the Glen Helen Museum, he was greeted by 100 people wearing exact replicas of the bright yellow PCP T-shirts as a joke. Mitch gleefully pulled one on and wore it the rest of the day.
MITCH PAYTON VIDEO: THE STARS TELL WHAT MITCH MEANT TO THEM
2019 LAKE ELSINORE GRAND PRIX ON NOV. 8-10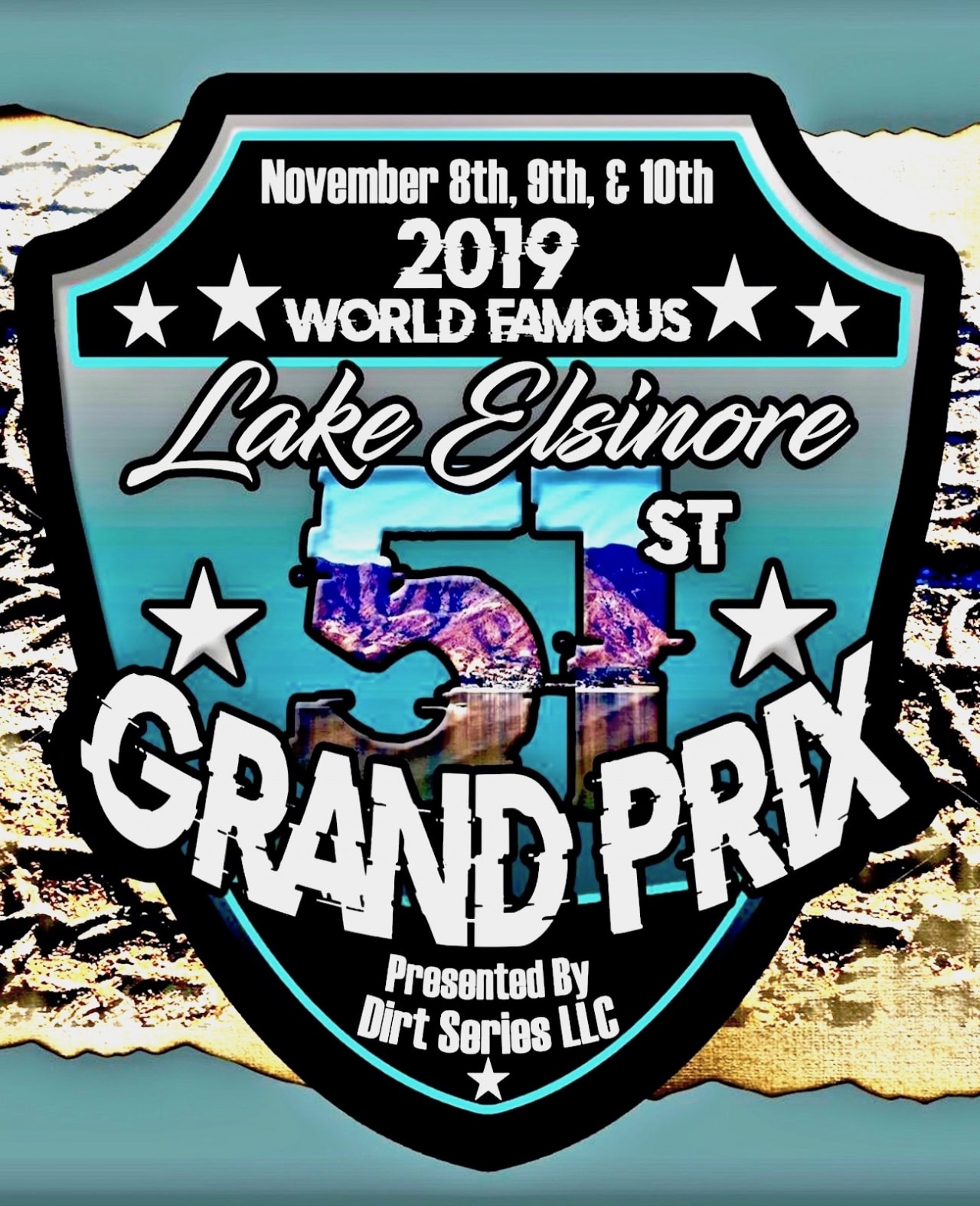 For more information go to www.elsinoregrandprix.com
MXA PRODUCT SPOTLIGHT: SIDI ATOJO SRS LIGHTWEIGHT BOOT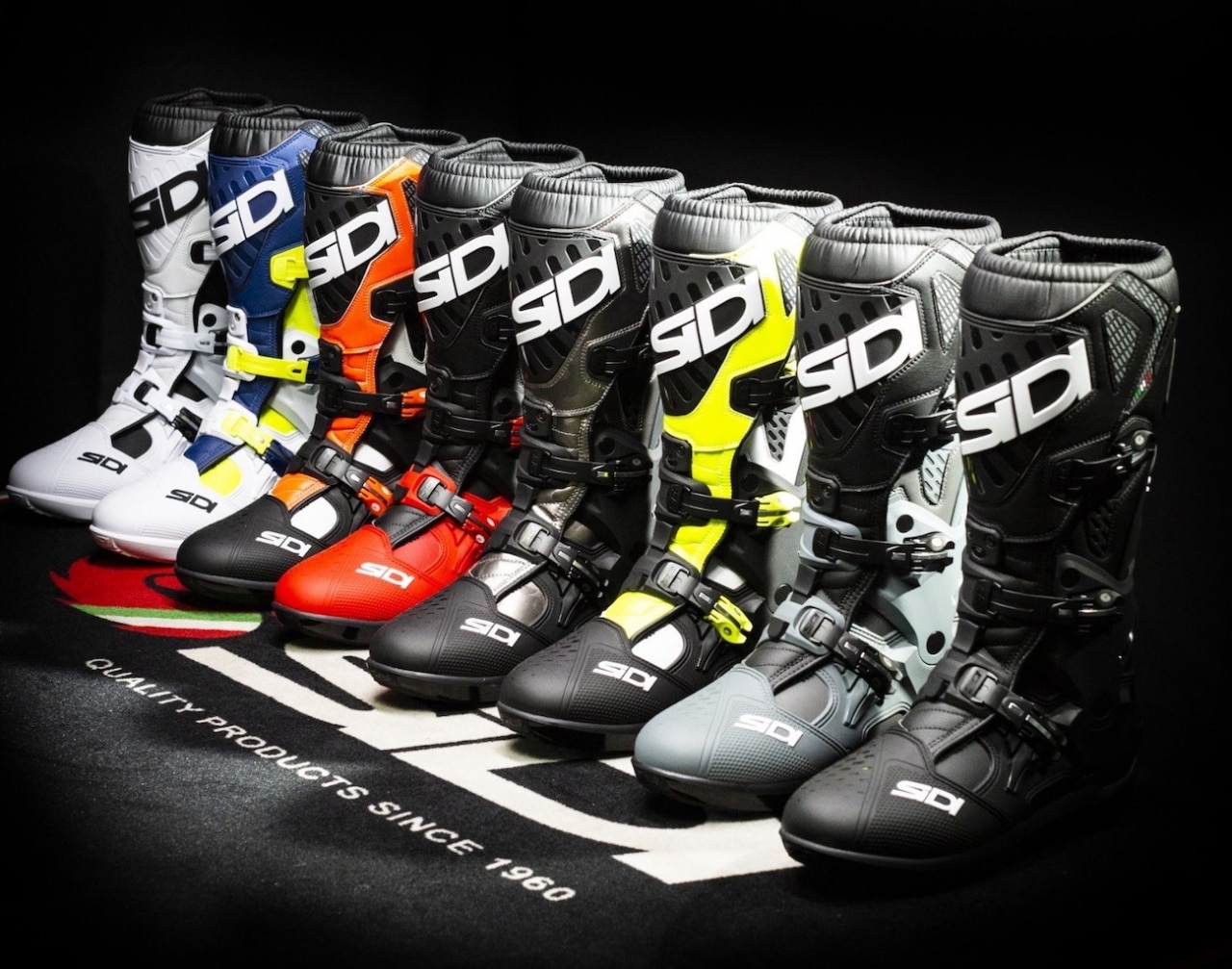 Developed with input from the team of Sidi champions, the newest Sidi new boot is even more lightweight and functional. Atojo SRS is the new motocross boot designed and developed by Sidi specifically to meet these requirements. This innovative boot contains all the essential features that a motocross boot must have. Furthermore, this boot weighs significantly less compared to previous models, yet hasn't compromised performance, comfort or protection. The height of the boot, as well as other details, fully reflect the demands of the professional athletes.
This boot has been forged based on the needs of champions. It was Sidi riders who contributed to creating and testing this model. Working alongside Sidi technicians, Alessandro Lupino contributed his significant experience to the development of this boot and each particular detail. The nine-time World Champion Tony Cairoli gave us valuable advice that helped our specialists perfect important features. Finally, after his success in the MX2 class, the young, up-and-coming phenomenon Jorge Prado can't wait to fly with this new boot on his motorbike in the MXGP. Coming soon.

SEE THE LIGHTWEIGHT SIDI ATOJO SRS BOOT
DUBYA-SPONSORED 2019 WORLD VET MOTOCROSS CHAMPIONSHIP THOUGHTS

People always talk about how big the hills are at Glen Helen, but from ground level you can't appreciate the 22-story tall hills. However, this view from halfway up Mt. Saint Helen, gives you a idea of how high above the ground the track climbs. Photo: Kyoshi Becker
With riders representing 25 countries and virtually every state in the union, the 35th Annual World Vet Championship fired off at Glen Helen Raceway this past weekend with the largest turnout of riders in it's history. It featured two days of racing for riders in the Over-30, Over-40, Over-50, Over-60, Over-70 and, for the first time ever, an Over-80 class. The original World Vet Championship only had Expert classes for Over-30 and Over-40 riders—won by Randy Rodriques (30) and Alan Olson (40). In 1988 the Over-50 class was added to the World Championship roster (it was won by Ron Way). It took another six years before the World Vet added an Over-60 Expert class in 1994 (it was won by Fred Sessions). Six years later, in 2001, the Over-70 class had grown big enough for Championship status (it's first winner was BSA legend Chuck "Feets" Minert) and, for the first time, there were two racers in the Over-80 class this year. Although a far cry from the full gates in the 50, 60 and 70 classes, it is a nice bookend to the World Vet Championship.
It's not that no one ever crashes in the steeply banked Talladega first turn, but it's width, banking and elliptical arc make it one of the safest first turns in the sport—albeit it among the fastest. Photo: Kyoshi Becker
The biggest complaint about the World Vet Motocross Championship from Europeans is, "How can it be called a World Vet Motocross Championship if it's not sanctioned by the FIM and in Europe?" The answer is simple, no one in Europe was interested in Vet riders 35 years ago, or 25 years ago, or 15 years ago. They didn't promote a Vet Pro series for older riders, find sponsors, get press coverage and grow it into a race that attracts over 1500 riders. America embraced Vet racing, claimed it as its own and nurtured it.
Plus, the Dubya USA World Vet Championship is open to riders from every country, proven by the fact that riders from 25 countries showed up to race, if you want to be the Vet World Champion you have to come to where the biggest, baddest and best Vet race is held (isn't that what Euro fans always claim about the MXGP series?).
This year's Over-40 Champion Mike Brown with Over-30 Champion Mike Alessi. Feel free to come next year and beat them. Photo: Josh Mosiman
The next time you hear someone say that they aren't interested in a race with a bunch of old guys riding around in slow motion, you will know they haven't seen a Vet race in years. Here is a list of famous riders who have won at the World Vet Motocross Championship: Gary Jones, Warren Reid, Rex Staten, Doug Dubach, Kent Howerton, Erik Kehoe, Radical Ron Turner, Rich Thorwaldson, Hideaki Suzuki, Jeff Ward, Lars Larsson, Andy Jefferson, Eyvind Boyesen, J.N. Roberts, Ryan Hughes, Brent Wallingsford, Casey Johnson, Toon Karsmakers, Thorlief Hanssen, Feets Minert, Travis Preston, Ryan Morais, Kurt Nicoll, Jim O'Neal, Brett Metcalfe, Mike Brown, Josh Grant, Daryl Hurley and Mike Alessi.
The 40-man starting gate doesn't have a bad starting spot on it—as you can tell in this photo by the number of riders coming from the far outside who are keeping Mike Brown (3) honest. Photo: Kyoshi Becker
World Vet Champions have come from Canada, Japan, Sweden, Holland, England, Australia and New Zealand. And in 2019 there were teams from Mexico, Brazil, Puerto Rico, Guam, Iceland, Ireland, Northern Ireland, Spain, France, Holland and Australia in the the Vet World Cup event. Additionally, there were lots of individual riders, not on the national teams, from Greece, Italy, Iran, South Africa, New Zealand and Ecuador. In truth, there are more Vet racers in America than there are in the rest of the world combined, with many specialized Vet races across the USA and classes divided by age and skill from 25 to 70. If you want to be the World Supercross Champion, you come to Anaheim Stadium in January. Guess what? If you want to be the World Vet Motocross Champion, you come to Glen Helen in November.
MXA PRODUCT SPOTLIGHT: YCF START W88 ELECTRIC PEE-WEE
Founded by Yannick Coquard, a National Pro Motocross racer who rode pit bikes to cross train in the winter; and Dimitri Bera, a high-level French technician who now lives in China overseeing all development. They joined forces in 2004. The YCF story started when Yannick decided to improve the quality and reliability of the pit bike he owned before starting YCF. Step by step he modified this bike and finally decided he would build his own bike. Taking advantage of his pit bike experience, he knew what it would take to create a bike that customers would expect when they buy a high quality machine. Features include a1000W/48V neodymium magnet dc engine, lithium battery, li-ion battery charger 110v/220v, 121-pound weight and a seat height of 28 inches.The retail price is $1999. For more information go to www,ycfusa.com
REM "VROOOOM CROSS" COMING ON SATURDAY, NOVEMBER 16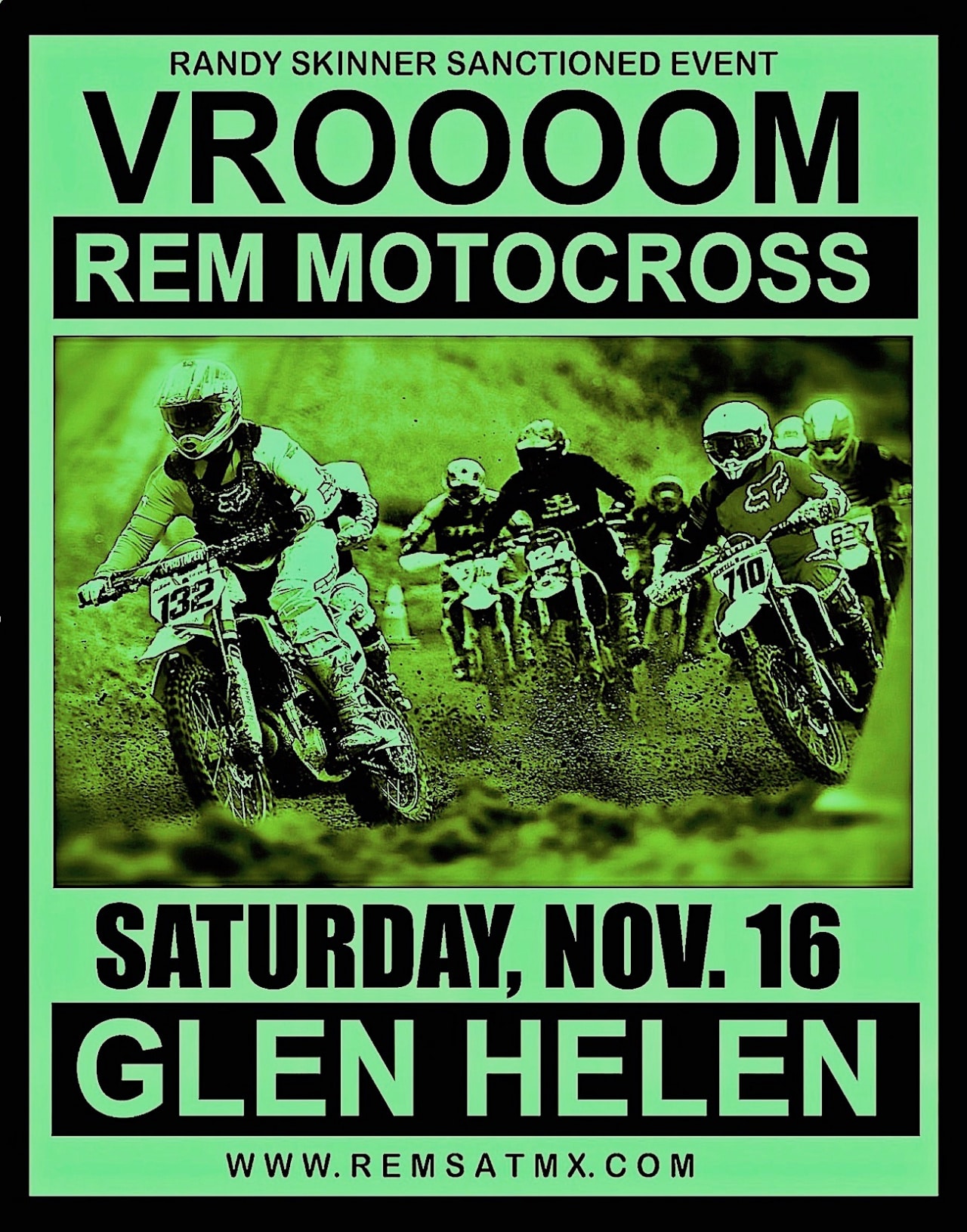 For more info go to www.remsatmx.com
2020 MOTOCROSS ACTION 450 FOUR-STROKE SHOOTOUT
SOCAL RACING VACATIONS WITH DENNIS STAPLETON: RIDE GLEN HELEN, CAHUILLA CREEK, PALA, PERRIS & MORE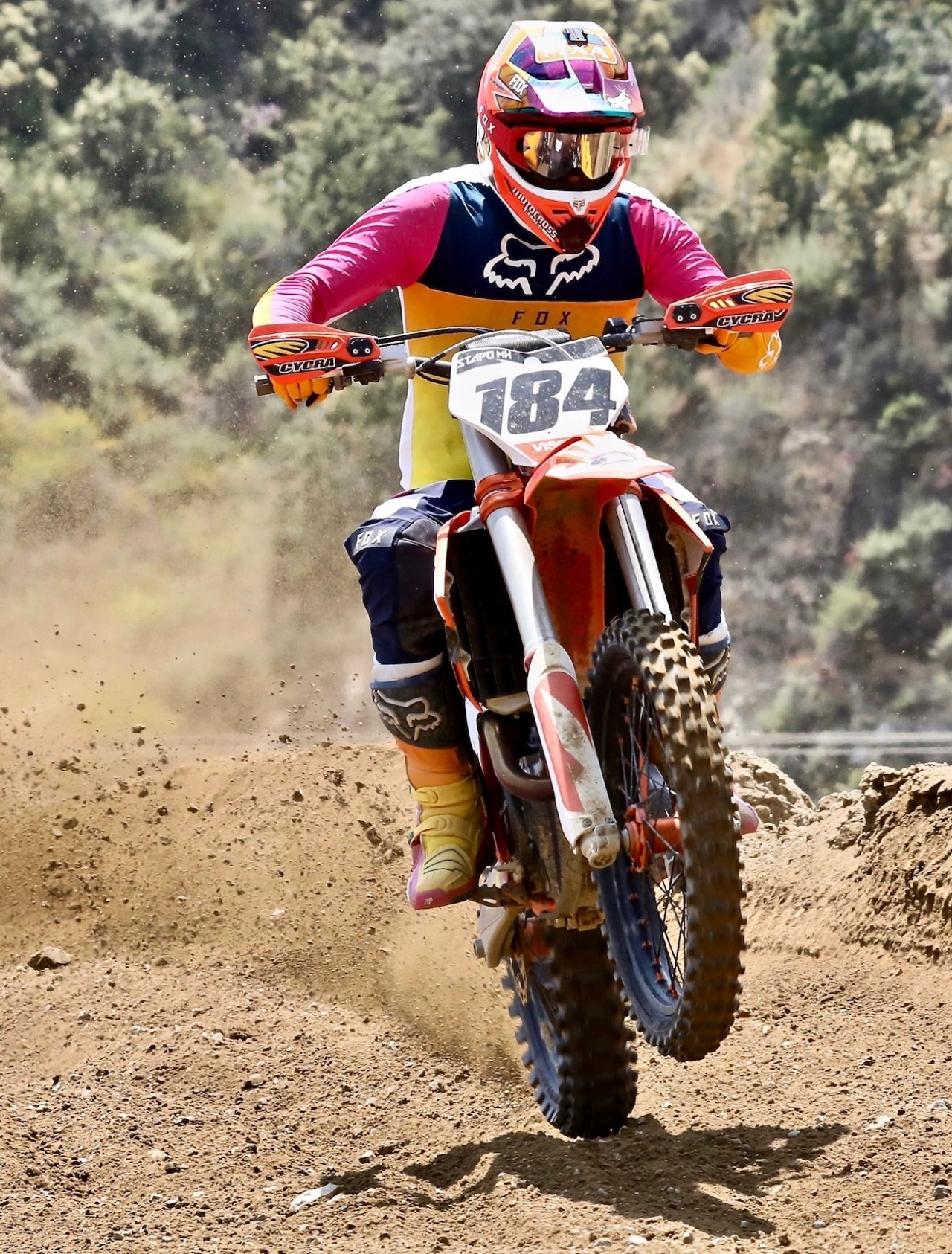 Dennis Stapleton doing what he does every day of the week — let him make your dreams come true.
In his spare time, when he's not testing with MXA, racing in a foreign country, going to Japan or helping many of his motocross buddies, Dennis has the time to open up his house, garage, bikes and mechanics to help riders who would like to come to SoCal on a motocross vacation. He offers full service to all of the Southern California tracks for racers or for play riders. Whether you want to rent a bike, move in for a week, race at Glen Helen or take motocross lessons—this is one-stop shopping.
If you're coming out to Southern California and need a rental bike, check out KnobbyShop South/StapoMX for all your rental needs. They offer Motocross Vacations, bike rentals and motocross lessons. Just send them an email ([email protected]). If you'd like to live the SoCal lifestyle for a day, a weekend, a week, a month or three months, visit Dennis' website at www.knobbyshopsouth.org for more details!
MXA PRODUCT SPOTLIGHT: MOTO STUFF WORKS EDITION BILLET ONE-PIECE BRAKE CALIPER

Moto Stuff, who makes the trickest stuff for the greatest dirt bikes on earth, is introducing their second generation Moto Stuff Works Edition billet one-piece brake caliper. The caliper is 20% lighter than the stock cast ​aluminum Nissin ​calipers​ found on Honda, Kawasaki, Suzuki and Yamaha motocross bikes. The new billet construction design is a replica of the Works Nissin part utilized by top factory team bikes like Ken Roczen's Honda CRF450 and Eli Tomac's KX450, all the Geico bikes, etc. The only difference is that the Moto Stuff design is compatible with stock caliper brackets and fork lug spacing.
KEY FEATURES AND BENEFITS:
(1) The world's only aftermarket differential bore caliper (2 different piston sizes) for modern motocross bikes. The differential bore design uses a 27mm piston on the leading edge and a larger 30mm piston on the trailing edge. This design eliminates the uneven pinching effect (uneven force distribution) that naturally occurs whenever you apply a clamping force to a rotating component. The balanced force dispersion provides lower operating temps, reduced brake fade, reduced wear and most importantly more controllable and consistent modulation and power. As the surface of the rotor heats up, the clamping force of the pistons has to be increased to avoid brake fade.
(2) Billet one-piece body with massive bridge structures reduces flex by 28%, which improves consistency and response at the lever. Providing more controllable stopping power with less effort and helps reduce arm pump and rider fatigue.
(3) Moto Stuff has incorporated a new piston seal design that provides a pull back feature which pulls the pistons .020″ – .030″ away from the pads slightly after each brake application, eliminating rotor drag.
(4) The Moto Stuff Billet one-piece caliper is available for most modern (2004-2020) Honda, Kawasaki, Suzuki and Yamaha motocross bikes (including two-strokes) and it is a great compliment to the Moto Stuff Blade Braking System. The Moto Stuff Works Edition caliper is ready to bolt on and equipped with premium components including stainless steel sliding pin, billet banjo bolt, billet bleeder cap, and AP Racing pads. A true Works level caliper at an affordable price! Made in the USA, the new caliper is available in burnt bronze Cerakote or natural machined finish, you can also choose between red or blue banjo bolts and bleeder caps. A 1-Year warranty on materials and workmanship is included with purchase. The retail price is $749.00 at www.motostuff.com.
CAMPREV WINTER EVENT AT FLORIDA'S DREAMLAND ON NOV. 20-22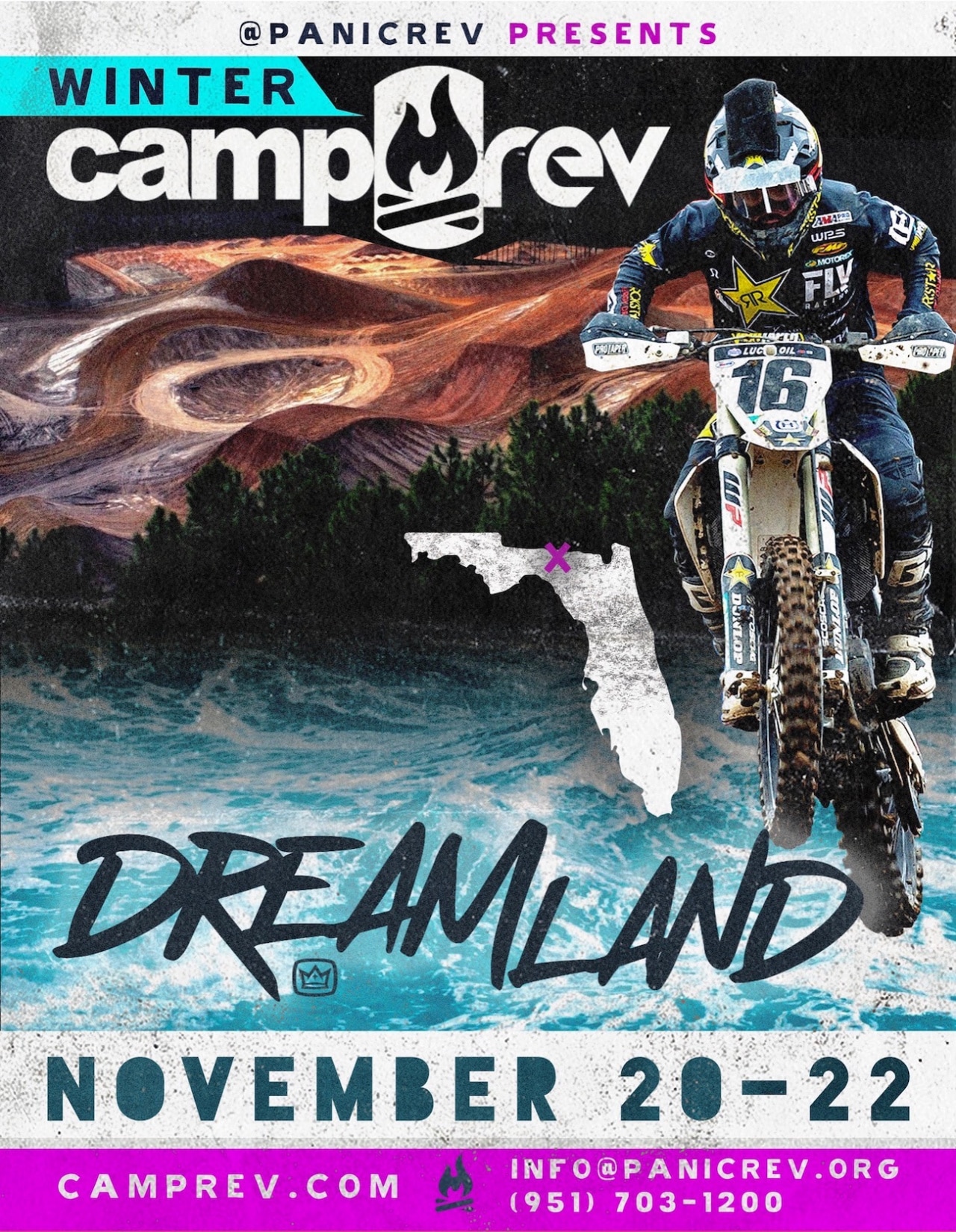 It is going to be a great great time in Florida at CampRev. For more info go to www.camprev.com.
2020 MOTOCROSS ACTION 250 FOUR-STROKE SHOOTOUT
PARIS SUPERCROSS THIS WEEKEND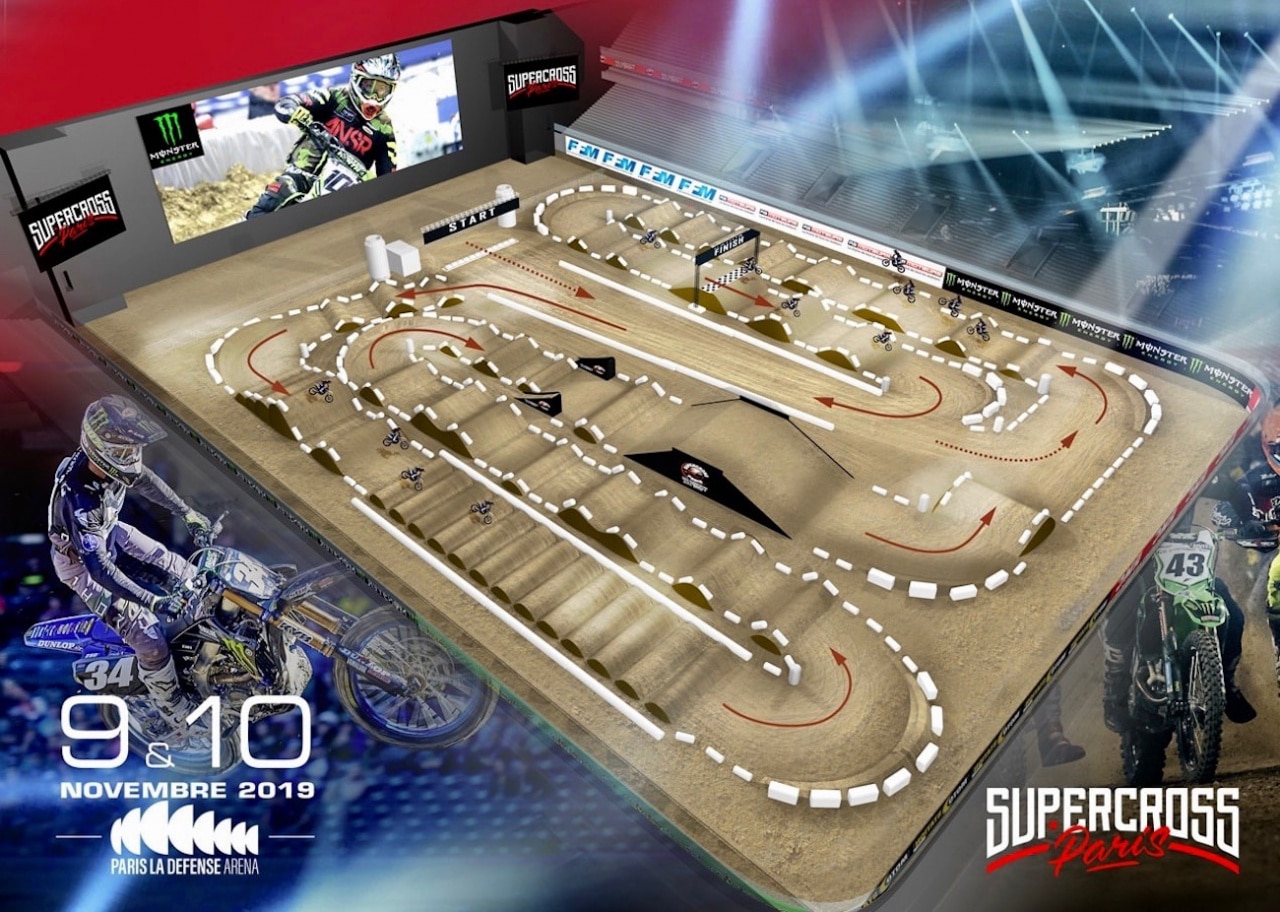 The Paris Supercross remains, more than thirty years after the first edition in Bercy, the most prestigious Supercross in Europe and this week a strong U.S. team again travels to the French capital to defend the American supremacy in Supercross. For its third edition in the brand-new Paris la Defense Arena the event seems more open than ever as there will be no single main favourite behind the gate. "Our goal is to offer to the public great stars but also very exciting racing and I think we never had so much suspense in the most recent editions as we have this year," enthused Sports Director Xavier Audouard. "Who will be the new King of Bercy? That's difficult to answer when you line up Chad Reed, Dylan Ferrandis, Justin Barcia, Malcom Stewart, Joey Savatgy and Jeremy Martin against the best Frenchies … and that's what we need for our public.
Having won 25 editions of the Paris SX the U.S. riders have only lost the trophy against riders who also raced the American series! Four of them were French and after Jean Michel Bayle, David Vuillemin, Christophe Pourcel and Marvin Musquin will Dylan Ferrandis add his name to the prestigious winner's list? The U.S. 250 Supercross champion will line up for the second consecutive year in the main class and, after a second place overall last year, he will for sure be the favourite of the crowd for his sole appearance in Europe this winter. Will Chad Reed be the cat-amongst-the-pigeons in the France-USA duel? The Australian legend, a multiple world- and US-champion in a professional career spanning 20 years, won the Paris Supercross in 2007 and for sure he will again be one of the main protagonists! Alongside the SX1 class Paris will once again host a round of the French SX2-Tour with the best French youngsters and several guests such as last year's winner Jace Owen, Darian Sanayei or German Brian Hsu.
7TH ANNUAL KURT CASELLI RIDE DAY AT PALA ON DEC. 14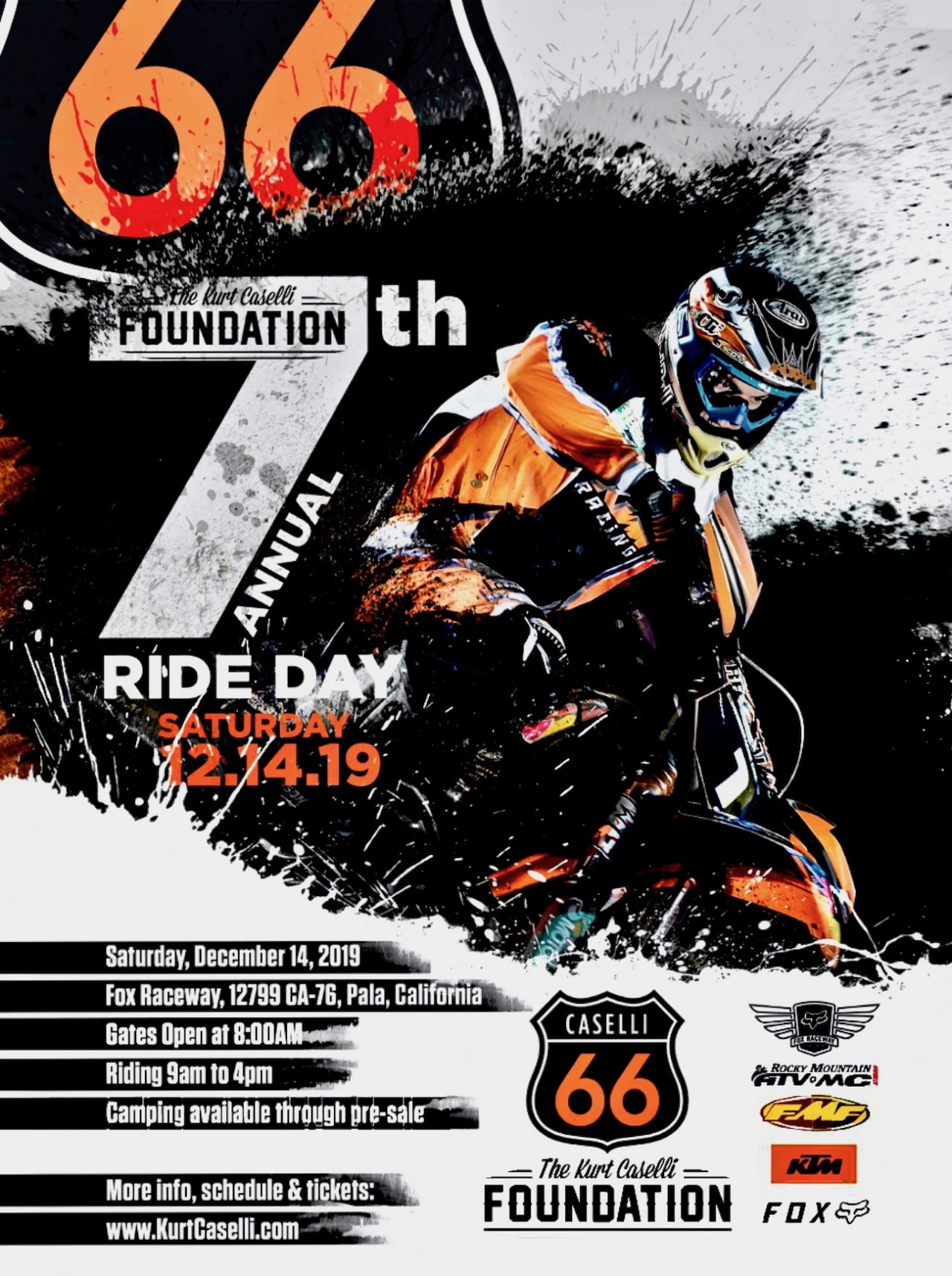 At Pala Raceway from 9:00 a.m. to 4:00 p.m. on December 14. For more info go to www.kurtcaselli.com
INSIDE KEN ROCZEN'S HONDA CR250 TWO-STROKE: THE PERK OF A FACTORY RIDER
YOU DO THE MATH! SUBSCRIBE TO MXA & GET A $25 CHAPARRAL GIFT CARD
If you subscribed to Motocross Action,  you could be spending your gift money at Chaparral right now.
If you subscribe to MXA you can get the mag on your iPhone, iPad, Kindle or Android by going to the Apple Store, Amazon or Google Play or in a digital version. Even better you can subscribe to Motocross Action and get a $25 Chaparral gift card to spend on whatever motorcycle parts or products you need. And the awesome print edition will be delivered to your house by a uniformed employee of the U.S. Government. You can call (800) 767-0345 or Click Here (or on the box at the bottom of this page).
WHAT'S LEFT ON THE 2019 RACE CALENDAR
2019 PARIS SUPERCROSS
Nov. 9-10…………………………….Paris, France
KTM MOTO TOUR TEST RIDE DATES
Nov. 10…………………………..Highland Park, GA
2019 AUSTRALIAN SUPERCROSS CHAMPIONSHIP
Nov. 11…………………………..Wollogong, New South Wales
Nov. 16…………………………..Auckland, New Zealand
Nov. 30…………………………..Melbourne, Victoria
MARTY TRIPES BIG-3 TWO-STROKE SERIES
Nov. 16…………………………..Glen Helen, CA
2019 WORCS OFF-ROAD CHAMPIONSHIP
Nov. 22-24……………………….Primm, NV
2019 DAY IN THE DIRT 22
Nov. 28-Dec. 1……………..Glen Helen, CA 
7TH ANNUAL KURT CASELLI RIDE DAY
Dec. 14…………………………..Glen Helen, CA 
MXA AD OF THE WEEK: DO YOU REMEMBER THE GOLDEN STATE SERIES?

The Golden State Series was a winter race series that the factory teams used for testing. It wasn't unusual for every factory team to be at these races—and if they won they ran ads touting their victory. Take this Jim Gibson add for his win in the 500 class—with Jeff Jennings and Donnie Hansen going one-two in the 250 class.
THIRD ANNUAL DISTRICT 37 REUNION (FROM HOPETOWN TO ASCOT) ON DECEMBER 15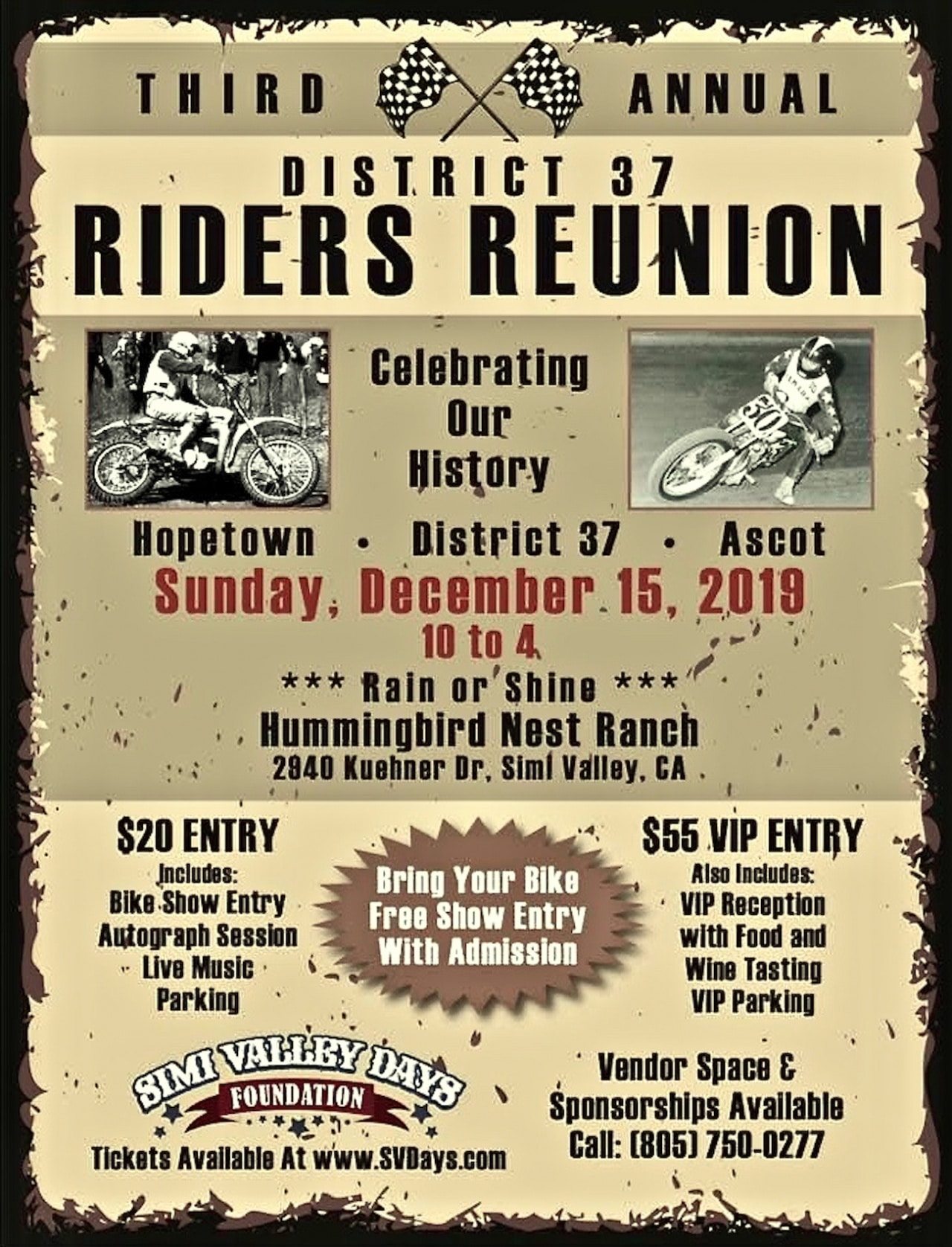 For more info go to www.SVDays.com.
LAST OLD SCHOOL SCRAMBLES OF 2019 ON DEC. 21-22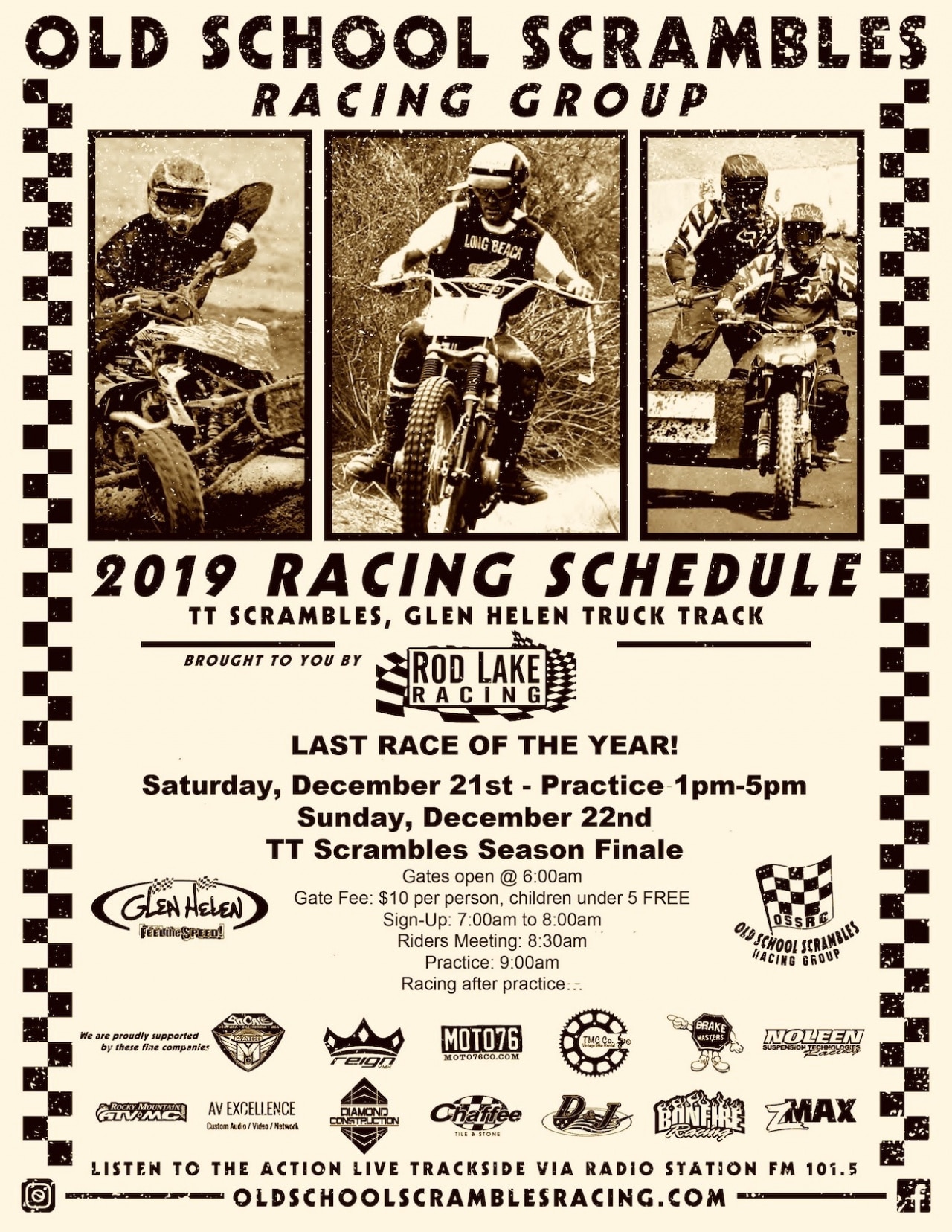 For more info go to www.oldschoolscramblesracing.com
MXA PRODUCT SPOTLIGHT: SLACKER V3 DIGITAL SUSPENSION TUNER

The new Slacker V3 is the ultimate suspension tool for your street, adventure or off-road bikes. The V3 is so much more than a sag scale that we are re-branding it as the Slacker Digital Suspension Tuner in recognition of it's true capabilities. We have beefed the Slacker up, trimmed some fat and given it a fresh new look and a two-year limited warranty. Motool's patented Slacker Digital Suspension Tuner makes it super fast and simple for anyone to quickly take measurements and make adjustments on the fly, all with absolutely no assistance required. Measurements are shown in real-time on both the main unit and the included remote LCD display. Check your race sag every ride and adjust your spring preload for different riding conditions and experience just how good your bike can be. Not only does it allow you to take your own measurements in real-time using the remote display, it is much faster, more precise and it eliminates the human factor. Whether you are a top pro or a weekend warrior, see what a perfect bike setup can do for you.
Updates on the V3 makes it perfect for dirt bikes, street bikes and adventure bike with no additional accessories needed. The street and Adventure bike attachments are included in the kit. The V3 has a 30-day money-back guarantee, two-year warranty, reduced the length of the magnet post and re-enforced with ribs. -Reduced length of universal clip.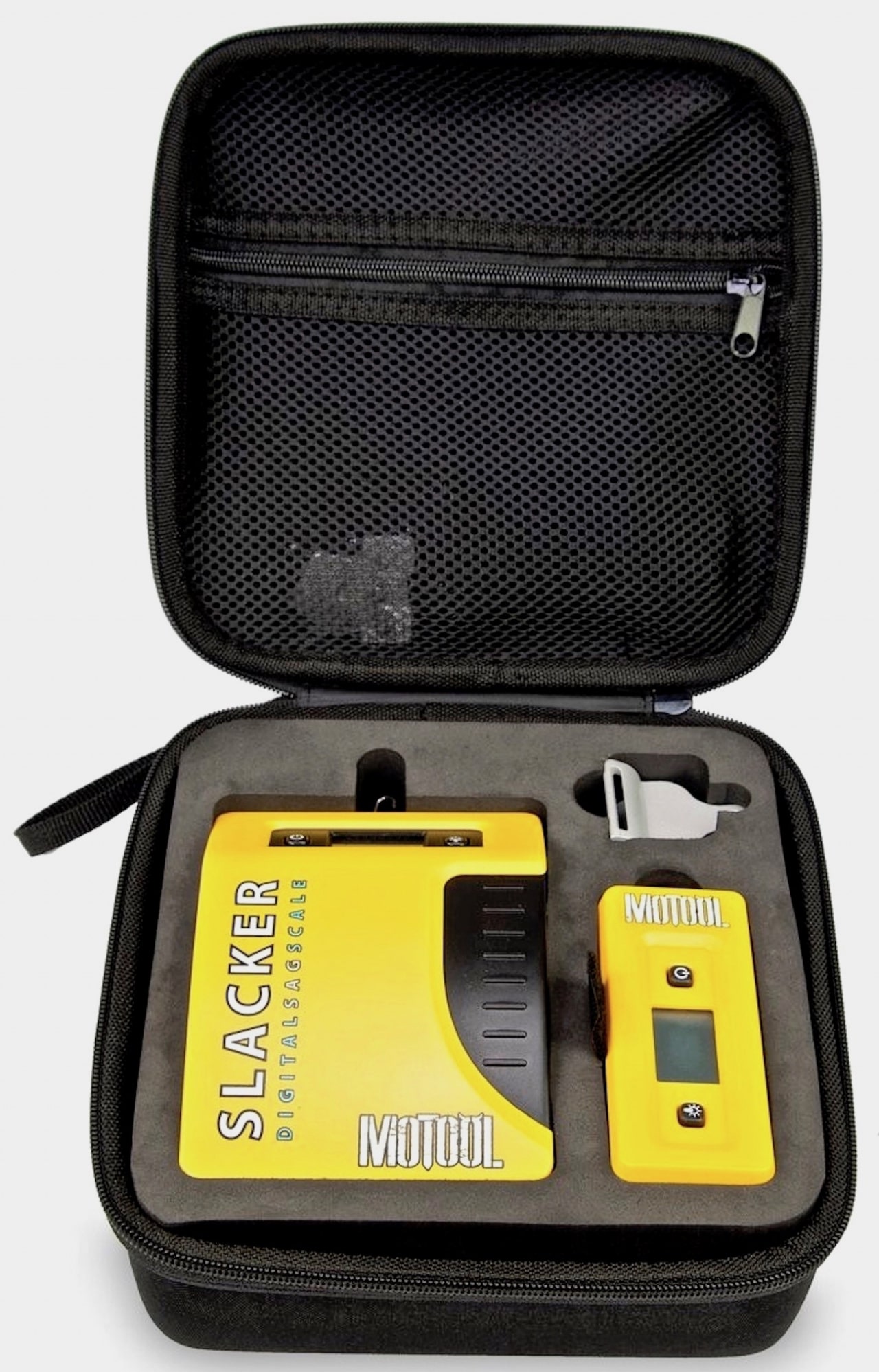 Keep your Slacker safe and sound in their super rugged, weather resistant ballistic nylon case. The $39.95 Slacker ballistic nylon case will all of the accessories in one handy place. It features a molded EVA ballistic nylon shell with CNC-machined EVA foam insert that cushions the Slacker V3 perfectly. The retail price is of the Slacker V3 is $179.95 at www.motool.co
MXA FIRST RIDE VIDEO: 2020 YAMAHA YZ250 TWO-STROKE
LOOKING AHEAD! THE 2020 RACE CALENDAR


2020 AMA SUPERCROSS
Jan. 4…Anaheim, CA
Jan. 11…St. Louis, MO
Jan. 18 …Anaheim, CA
Jan. 25…Glendale, AZ
Feb. 1…Oakland, CA
Feb. 8…San Diego, CA
Feb. 15…Tampa, FL
Feb. 22… Arlington, TX
Feb. 29… Atlanta, GA
Mar. 7…Daytona Beach, FL
Mar. 14…Indianapolis, IN
Mar. 21…Detroit, MI
Mar. 28…Seattle, WA
Apr. 4…Denver, CO
Apr. 18…Foxborough, MA
Apr. 25…Las Vegas, NV
May 2…Salt Lake City, UT
2020 AMA ARENACROSS CHAMPIONSHIP
Jan. 3-4…Loveland, CO
Jan. 11…Hobbs, NM
Jan. 24-25…Oklahoma City, OK
Jan. 31-Feb. 1… Denver, CO
Feb. 7-8…Reno NV
Feb. 28-29…Salt Lake City, UT
Mar. 7… Amarillo, TX
2020 AMA NATIONAL CHAMPIONSHIP
May 16…..Hangtown, CA
May 23…..Pala, CA
May 30….Thunder Valley, CO
Jun. 6……Jacksonville, FL
June 20…Mt. Morris, PA
June 27…Southwick, MA
July 4……Red Bud, MI
July 18….Millville, MN
July 25….Washougal, WA
Aug. 15…Unadilla, NY
Aug. 22…Budds Creek, MD
Aug. 29…Crawfordsville, IN
2020 FIM MOTOCROSS WORLD CHAMPIONSHIP
Mar. 1…Great Britain
Mar.8…Holland
Mar. 22…Argentina
Apr. 5…Italy #1
Apr. 19…Spain
Apr. 26…Portugal
May 10…France
May 17…Italy #2
May 24…Germany
June 7…Russia
June 14…Latvia
June 28…Jakarta, Indonesia
July 5…Palembang, Indonesia
July 26…Czech Republic
Aug. 2…Belgium
Aug. 16…Sweden
Aug. 23…Finland
Sept. 6.…Turkey
Sept. 13…China
Sept. 20…Italy #3
2020 FIM MOTOCROSS DES NATIONS
Sept. 13.…Ernee, France

2020 WORCS OFF-ROAD CHAMPIONSHIP
Jan. 12…Primm, NV
Feb. 23…Taft, CA
Mar. 22… Havasu, AZ
Apr. 19…Blythe, CA
May 3…Las Vegas, NV
May 30…Hurricane, UT
July 19…Prineville, OR
Sept. 20…Glen Helen, CA
Oct. 25…Cahuilla, CA
Nov. 15…Primm, NV
2020 WORCS SPRINT ENDURO
Feb. 25…Taft, CA
May 24… Mesquite, NV
July 25…Prineville, OR
Sept. 26…Glen Helen, CA
Oct. 31…Cahuilla, CA
2020 AUSTRALIAN NATIONAL CHAMPIONSHIP
Mar. 22…New South Wales
April 4-5…Victoria
May 3… Victoria
May 24…Queensland
June 28…Queensland
July 25-26…New South Wales
Aug. 22-23…Queensland
2020 AUSTRALIAN SUPERCROSS CHAMPIONSHIP
Oct. 3 …Western Australia
Oct. 17… South Australia
Oct. 31…Queensland
Nov. 7 …New South Wales
Nov. 14…TBA
Nov. 28…Victoria
2020 ADAC GERMAN NATIONAL CHAMPIONSHIP
Apr. 13…Fürstlich Drehna
May 3…Mölln
May 31…Möggers, Austria
June 21…Aichwald
July 12…Holzgerlingen
July 19…Tensfeld
Aug. 30…Bielstein
Sept.13…Gaildorf
2020 FIM JUNIOR WORLD CHAMPIONSHIP
Aug. 8-9…Megalopolis, Greece
MXA YOUTUBE CHANNEL | HIT THAT SUBSCRIBE BUTTON

The MXA wrecking crew is everything moto related. Check out our MXA YouTube channel for bike reviews, Supercross coverage, rider interviews and much more. And don't forgot to hit that subscribe button.
FOLLOW MXA ON TWITTER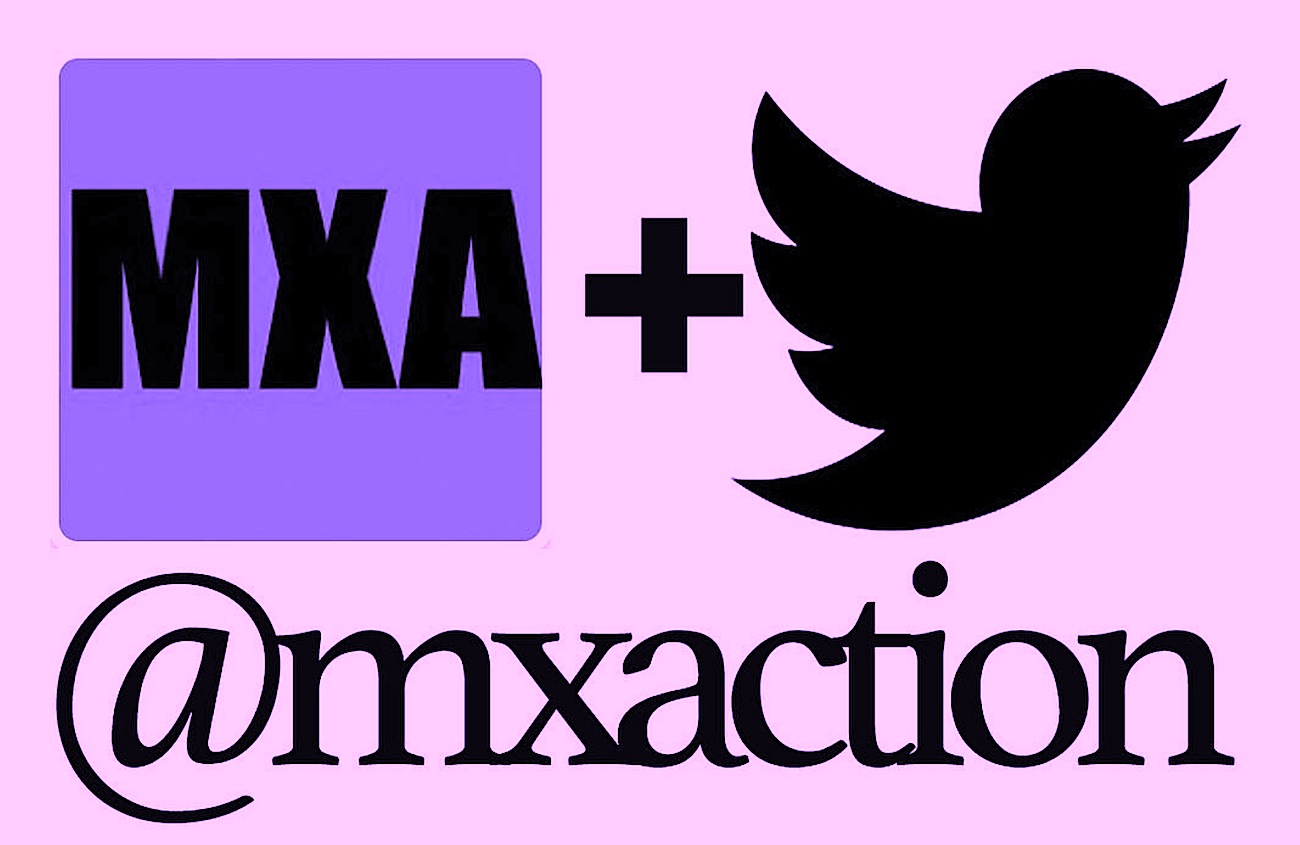 Follow us to see fresh content every day at www.twitter.com/MXAction or on twitter at "MXAction."
TALK MOTO WITH ON MXA'S FACEBOOK GROUP CHAT

We love everything moto and want to bring all moto junkies together into one place to share their two cents, ideas, photos, bike fixes, bike problems and much more. To check it out first you must need to or already have a Facebook account. If you don't, it isn't much work and you could even have an alias so nobody knows it is you. To join click HERE. After you request to join we will accept your request shortly after.
Photos: Brian Converse, Honda, Husqvarna, Daryl Ecklund, Jody Weisel MXA, KTM, Debbi Tamietti, Oset