MXA'S WEEKEND NEWS ROUND-UP: THE LONG ARM OF THE LAW
2019 HOUSTON SUPERCROSS ON NBC SPORTS AT 5:00 P.M. PACIFIC TIME (8:00 P.M.EASTERN) ON SATURDAY, MARCH 30

The 2019 Houston Supercross will be shown on Saturday, March 30, at 8:00 p.m. Eastern  time (5:00 p.m. Pacific time) on NBC Sports.  Click on image to enlarge.
2019 AMA SUPERCROSS WINNERS AT A GLANCE
Marvin Musquin got the win, but he paid a price for jumping on the red cross flag. With the 7-point penalty for the Red Cross violation, Musquin would have cut Cooper Webb's point lead in half (from 14 points to 7 points). After the penalty, he was still 14 points back.

Date               Venue                                            450                                250
Jan. 5……..Anaheim, CA………………..Justin Barcia…………Colt Nichols
Jan. 12…..Glendale, AZ…………………Blake Baggett………Adam Cianciarulo
Jan. 19…..Anaheim, CA…………………Cooper Webb………Shane McElrath
Jan. 26…..Oakland, CA………………….Cooper Webb………Adam Cianciarulo
Feb. 2……San Diego, CA………………..Eli Tomac……………..Adam Cianciarulo
Feb. 9…….Minneapolis, MN………….Cooper Webb………Austin Forkner
Feb. 16…..Arlington, TX………………..Cooper Webb………Austin Forkner
Feb. 23….Detroit, MI…………………….Eli Tomac………………Austin Forkner
Mar. 2……Atlanta, GA……………………Cooper Webb………Adam Cianciarulo
Mar. 9……Daytona Beach, FL……….Eli Tomac……………..Austin Forkner
Mar. 16…Indianapolis, IN…………….Marvin Musquin….Austin Forkner
Mar. 23….Seattle, WA…………………..Marvin Musquin….Dylan Ferrandis
Mar. 30…Houston, TX………………….Cooper Webb………Dylan Ferrandis
Apr. 6…….Nashville, TN……………….
Apr. 13….Denver, CO…………………
Apr. 27….East Rutherford, NJ…
May 4……Las Vegas, NV……………
450 Points leader……………Cooper Webb (KTM)
250 West points leader…Adam Cianciarulo (Kaw)
250 East points leader…..Austin Forkner (Kaw)
ZETA FRONT FORK REBOUND ADJUSTER DIAL
The Zeta Fork Bottom Adjuster allows a rider to adjust the clicker on the bottom of his forks without having to kneel down with a screwdriver. It replaces the screwdriver clicker with a dial that can be turned by hand. It clicks to allow for accurate adjustment—all you have to do is replace the OEM bolt with the Zeta kit bolt. Models are available for Kayaba, Showa and WP forks. www.zeta-racing.com
ZETA BOTTOM CLICKER DETAILS AND INSTALLATION

$10,000 WISECO WORLD TWO-STROKE CHAMPIONSHIP IS  THREE WEEKS AWAY — DUST OFF OLD BETSY

Dust off your two-stroke, 'cuz there's a class for everyone. For more info go to www.glenhelen.com
AMA RULE OF THE WEEK: THE RED CROSS FLAG RULE—THEN, NOW & HOW


The 2016 AMA Red Cross flag rule.
As many Supercross fans may remember, at the 2016 Detroit Supercross, which Ryan Dungey won, he was accused of jumping the Red Cross flag during the main event. A review of the video revealed that Ryan did jump the Red Cross flags, even though they were in a position that he had little chance of ever seeing until it was too late. Under the 2016 Red Cross flag rule, the AMA took the Detroit win away from Dungey, moved him back to third place and gave the win to Jason Anderson (even though video evidence revealed that Jason jumped the Red Cross flag also).

The 2019 AMA Red Cross flag rule.
This past weekend at the 2019 Seattle Supercross, Marvin Musquin jumped the Red Cross flag, while leading, and went on the win the event. After the race, Musquin was penalized the purse money and AMA points for two positions (which meant that he kept the win, but lost the difference between 26 points for winning and 21 points for third). Then, he was penalized an additional 2 points (mostly likely because he was French). The result was that Musquin lost 7 points from his season total.
It should be noted, that if penalties are going to be handed out, the AMA needs to penalize themselves because under the Red Cross flag rule, the Red Cross flag must be "at the beginning of a triple jump or a series of jumps." That means on the take-off ramp of the first jump of the series of jumps. The Red Cross flag that Musquin missed seeing was displayed on the landing ramp of the first jump—not the take-off.
The 2016 Detroit Supercross 450 podium (Anderson, Dungey & Musquin)…well, not according to the AMA.

The AMA always points the finger at the rider, Ryan Dungey in Detroit or Marvin Musquin in Seattle, but does not accept any fault on their own part for why the rider jumped the Red Cross flag. It is a given that both riders jumped the jumps, but why did they jump? The official Red Cross flaggers, in both cases, were poorly position. In Dungey's case the flagger ran across the track to wave a flag for a downed rider (Jake Weimer) who was already off the track and hardly in need to a Red Cross flag in the first place. The next Detroit flagger was  out of the line of sight of riders who coming out of a banked bowl turn only 20 feet from the first jump. In Musquin's case the flagger was not in the proper position on the first jump, but on the landing ramp of the next jump.
Worse yet,  Dungey was punished after the fact, without a formal protest for an infraction the AMA had not seen. Then, when the AMA heard that Dungey might have jumped the Red Cross flag, they watched a replay to see if Dungey did indeed do what they hadn't seen. Even stranger, they ignored video evidence of other riders who obviously committed the exact same infraction—and didn't give them the same penalty as Ryan Dungey. Watching video after the race, in an effort to catch a rider breaking a rule, is a can of worms that the AMA should not engage in.  Imagine if the NFL officials watched a post-game video in search of a lineman holding an opposing player—then reversed the play, canceled the touchdown and the win went to the other team. Football fans would revolt (as they did this past season). As in football, the Supercross fans in the stands and those at home watching on TV want to know that what they paid for or spent their time watching is, in fact, as it appeared.
This is not a new incident of AMA Red Cross flag incompetence—at the 2009 Hangtown National seven riders were penalized for ignoring what was then the "red-and-yellow flag"—waved by a flagger who was on the wrong side of the track and about 50 feet away from the drop-off that the riders couldn't afford to take their eyes off of.  And, guess what? Those seven riders were penalized one position—not the two that the rule required. The AMA needs to fix their flaggers and their obviously flawed system before acting so righteousness in the future.

MXA BIRTHDAYS BOYS: JMB IS FIVE-OH, SHAE BENTLEY IS FOUR-OH & WE MISS BRUCE OGILVIE (66)
April 1…Jean-Michel Bayle 1969
April 1…Tyson Vohland 1969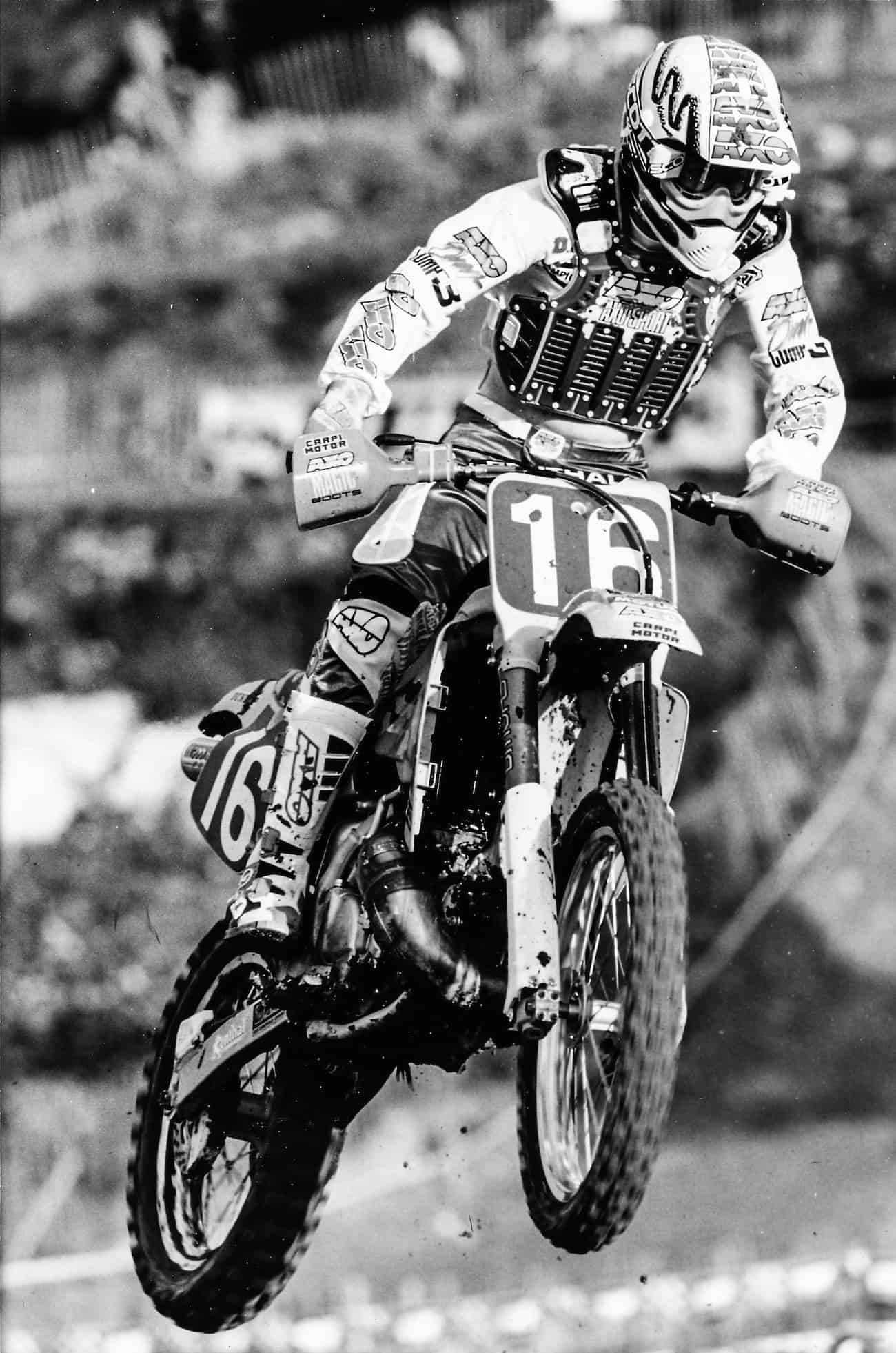 April 2…Tallon Vohland 1972
April 3…Phil Lawrence 1971
April 3…Brock Sellards 1978

April 4…Derrick Shae Bentley 1979
April 4…Jake Nicholls 1990
April 4…Blake Williams 1985
CLASSIC MOTOCROSS ADS: DO YOU REMEMBER THE SAFETY CEET?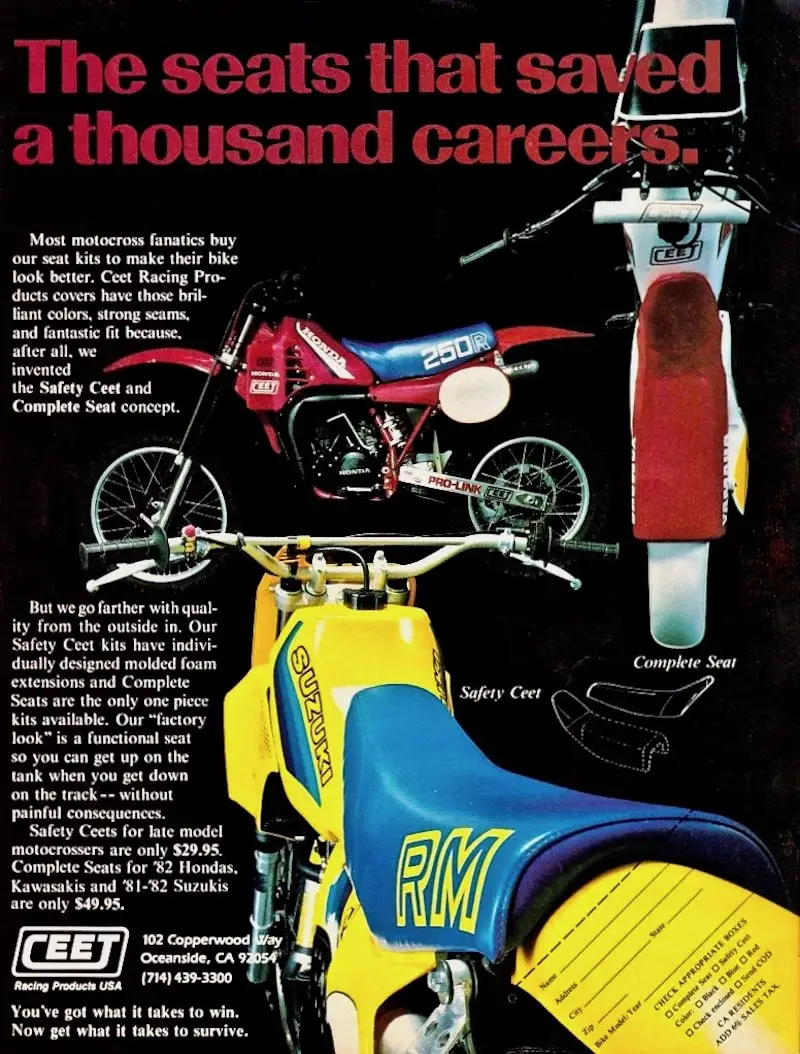 Ceet Racing dominated the aftermarket seat business in the early 1980s with their Safety Cee . It was an extended seat that went up onto the gas tank, ostensibly to allow the rider to move farther forwards, but we all know what it was really for. It retailed for $29.95.
TAKE A LAP OF SATURDAY'S 2019 HOUSTON SUPERCROSS TRACK
ROUND THREE OF THE OLD SCHOOL SCRAMBLES SERIES ON MAY 5


TT Scrambles is coming up to Glen Helen on Sunday, May 5th. For more info go to www.oldschoolscramblesracing.com
CLASSIC MXA TEST RIDER PHOTO: CALIFORNIANS THINK THAT THE BEST USE OF ICE IS IN COCKTAILS

MXA takes an active approach to expanding our motorcycle horizons. We will try anything with two wheels and an engine. We've raced road race, Supermoto, GNCC, WORCS, Dutch beach races, European Supercross and Endurocross. We've also ridden Speedway, flat track, snowmobiles, sno-bikes and rally bikes. We enjoy taking a dive into unfamiliar waters. This is MXA's Daryl Ecklund at the Annual Steel Shoe Fund three-hour endurance ice race on Kettle Moraine Lake in Campbellsport, Wisconsin. Yes, it was cold.
YOU DO THE MATH! SUBSCRIBE TO MXA & GET A $25 CHAPARRAL GIFT CARD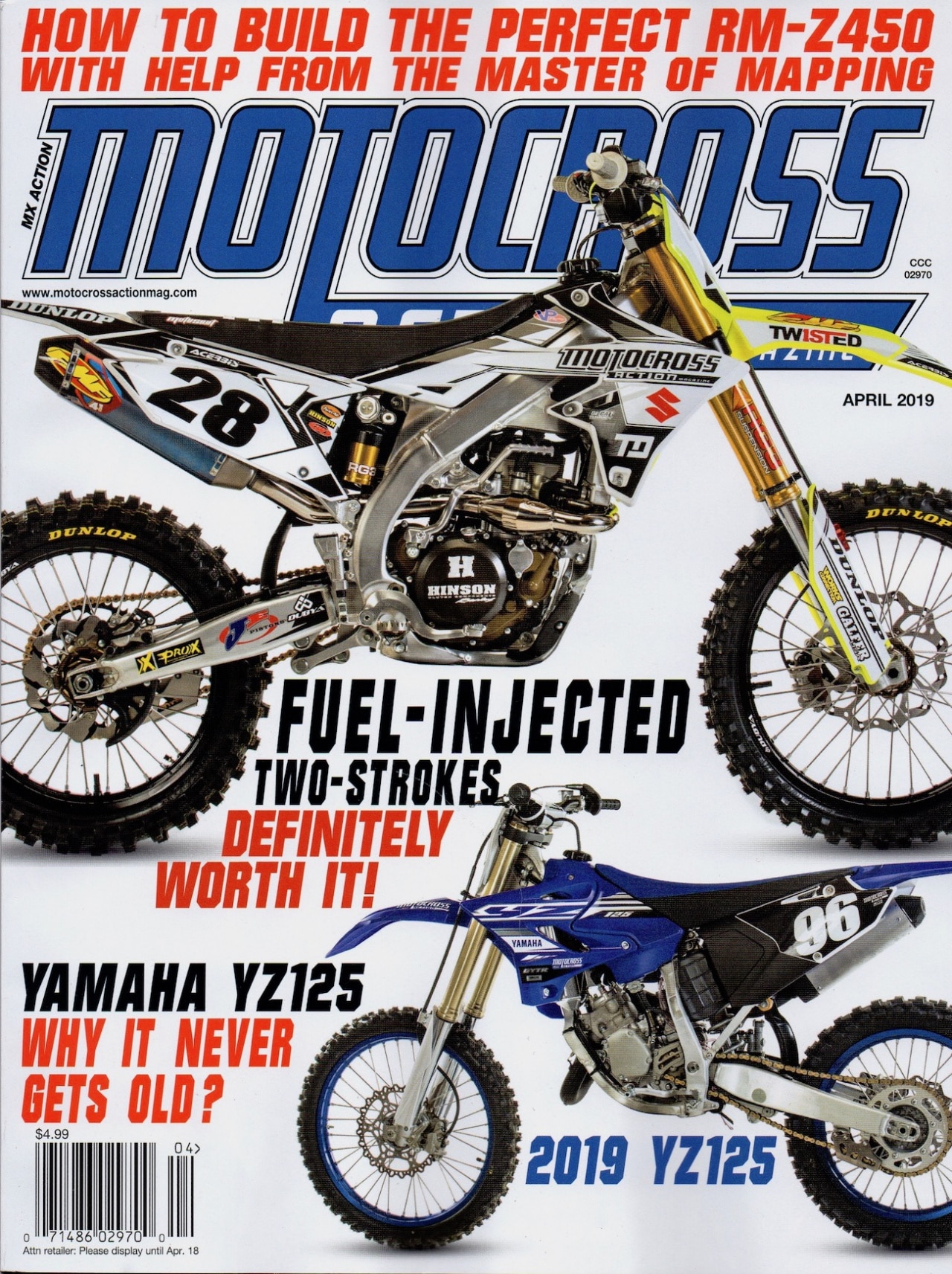 If you subscribed to Motocross Action,  the April 2019 issue of MXA would be in the throne room right now.
The April issue of MXA  is filled with bike tests—including the 2019 KTM Husqvarna TE300i fuel-injected two-stroke, 2019 Yamaha YZ125, 2019 Husqvarna TC250 two-stroke, 2019 Suzuki RM-Z250, Twisted Development's full-race Suzuki RM-Z450 and a retro test of Chad Reed's 2009 Suzuki RM-Z450.  Plus, a revealing interview with Doug Henry, a Moto-Physics  article on how handlebars are made and Boyesen's three best products.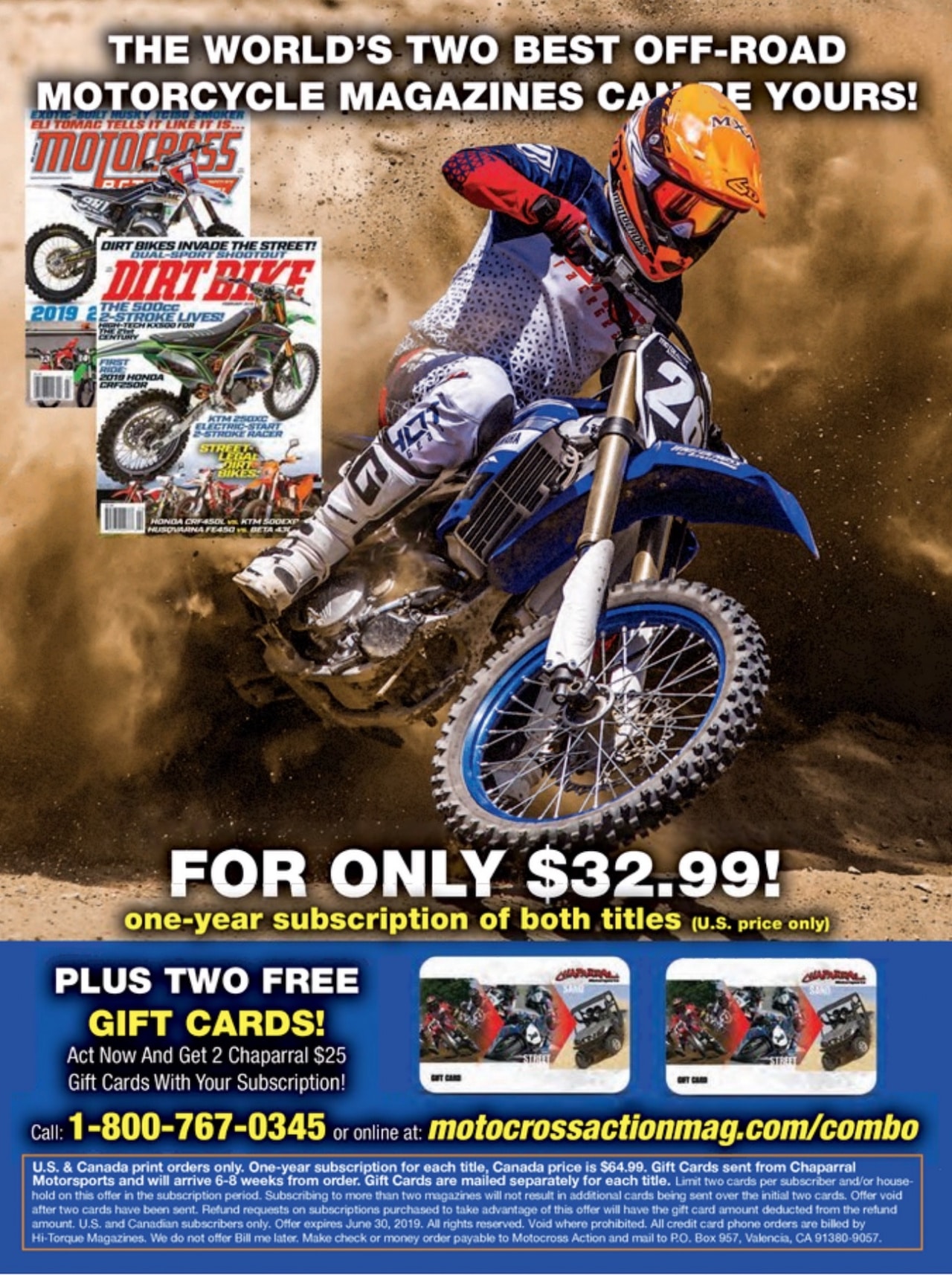 Or you could subscribe to MXA and Dirt Bike Magazine for only $32.99 for both and get $50 in Chaparral Gift Cards in the process.
If you subscribe to MXA you can get the mag on your iPhone, iPad, Kindle or Android by going to the Apple Store, Amazon or Google Play or in a digital version. Even better you can subscribe to Motocross Action and get a $25 Chaparral gift card to spend on whatever motorcycle parts or products you need. You can call (800) 767-0345 or CLICK HERE or click on the box at the bottom of this page.
MXA TEAM TESTED: VP RACING T2 PRE-MIXED TWO-STROKE GAS

T2 is a two-stroke racing fuel that is already pre-mixed with oil. It requires no mixing; just pour and go. T2 is a leaded fuel with a 105-octane rating (R+M/2). This is more than sufficient to provide all modern two-strokes with protection against detonation. T2 vaporizes better, burns cleaner, contains no ethanol and remains stable in a sealed container for up to two years. It should be noted that VP Racing's T2 is formulated for modern water-cooled two-strokes. If you own an air-cooled two-stroke, please stick with VP's C12 two-stroke fuel. C12 has a 113-octane rating and is recommended for compression ratios as high as 15:1. It is the go-to gas for ported, milled and air-cooled engines. Best of all, T2 is pre-mixed at a 40:1 ratio with a top-quality, JASO FD-rated, certified premium two-stroke oil. Although VP does not say what two-stroke oil it uses in the T2 mixture, we would bet the pre-mix oil is Maxima and the fuel is VP Racing's VPR fuel.
Thanks to its oxygen content and high octane rating, T2 produced more power in our KTM 250SX, Husky TC250 and Yamaha YZ250. Although the gains were modest across the board, the engine ran crisper. Pinging under a load was totally eliminated, and throttle response was better. The T2 offered a degree of consistency that pump gas can never guarantee. Consistent performance is especially important for riders on the road to far-away race events where they have to buy gas from strange stations. Although we didn't have to re-jet for our mildly modified engine, it would be a good idea to carry a one-size-larger main and pilot with you to the track to deal with changing temperature and humidity conditions.
DIGITS $73.00 in 5-gallon containers—www.vpracingfuels.com or (210) 635-7799.
MXA RATING: The decision to buy race gas for your smoker should be based on whether you want the power increase more than you want the money.
MXA'S FIRST RIDE: FUEL-INJECTED 2019 HUSQVARNA TE300i TWO-STROKE PROJECT BIKE
2019 HAWAIIAN SUPERCROSS ON MAY 11 AT ALOHA STADIUM
Scheduled for one week after the AMA Supercross series ends, they may be able to get some star power on Oahu. For more information go to www.hawaiiansx.com
WHO'S WHO IN AMA SUPERCROSS POINTS AFTER 12 of 17 ROUNDS
Joey Savatgy just keeps chipping away. He started the season in trouble and has worked his way up to 7th place.

CURRENT AMA 450 SUPERCROSS POINTS STANDINGS
(After 12 of 17 rounds)
1. Cooper Webb (KTM)…262
2. Marvin Musquin (KTM)…248
3. Eli Tomac (Kaw)…243
4. Ken Roczen (Hon)…239
5. Blake Baggett (KTM)…200
6. Dean Wilson (Hus)…180
7. Joey Savatgy (Kaw)…159
8. Chad Reed (Suz)…151
9. Justin Barcia (Yam)…144
10. Cole Seely (Hon)…142
CURRENT AMA 250 EAST SUPERCROSS POINTS STANDINGS
(After 6 of 10 rounds)
1. Austin Forkner (Kaw)…151
2. Chase Sexton (Hon)…125
3. Justin Cooper (Yam)…123
4. Alex Martin (Suz)…92
5. Martin Davalos (Kaw)…89
6. Mitchell Oldenburg (Yam)…88
7. Brandon Hartranft (Yam)…82
8. Kyle Cunningham (Hon)…81
9. Kyle Peters (Suz)…79
10. Jordon Smith (KTM)…70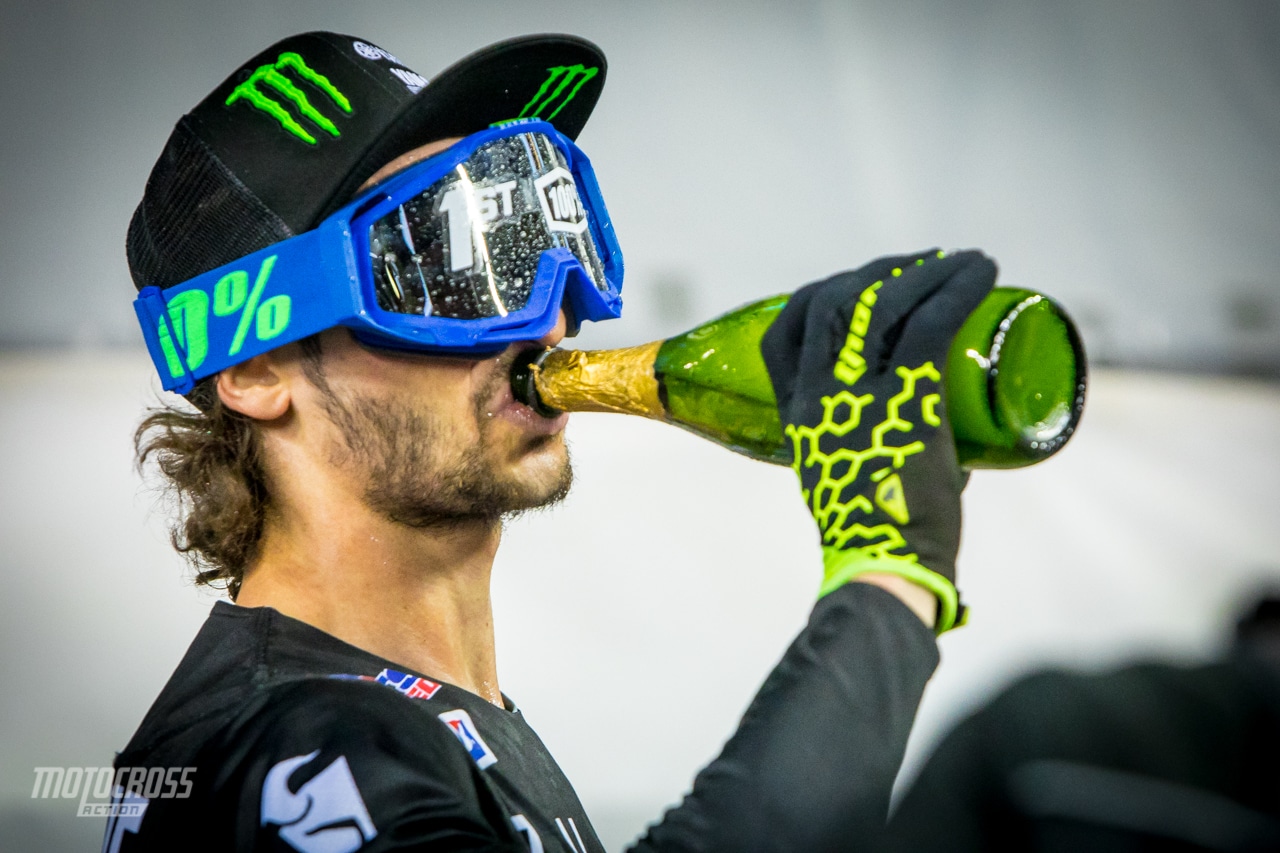 Star Yamaha's Dylan Ferrandis finally won a race in the USA (and he did it on the same night that fellow Frenchman Marvin Musquin won the 450 class).

CURRENT AMA 250 WEST SUPERCROSS POINTS STANDINGS
(After 7 of 10 rounds)
1. Adam Cianciarulo (Kaw)…163
2. Dylan Ferrandis (Yam)…151
3. Shane McElrath (KTM)…123
4. Colt Nichols (Yam)…121
5. R.J. Hampshire (Hon)…103
6. Michael Mosiman (Hus)…99
7. Chris Blose (Hus)…98
8. Jimmy Decotis (Suz)…94
9. Cameron McAdoo (Yam)…94
10. Garrett Marchbanks (Kaw)…85
H.O.W. HOOLIGAN/MINI/VINTAGE "WHISKEY CHALLENGE" ON APRIL 7
The Whiskey Challenge race will be held at Milestone on Sunday, April 7. For more info go to www.helonwheelsmc.bigcartel.com
WHO'S WHO IN FIM WORLD CHAMPIONSHIP POINTS AFTER 2 OF 19 ROUNDS
Tony Cairoli (222) expected the 450 class to be easy pickins with Jeffrey Herlings on the sidelines. In England Tim Gajser gave him all he could ask for. Tony has a 8-point lead over Gajser and a 97-point lead over 450 World Champion Jeffrey Herlings.

2019 FIM 450 WORLD MOTOCROSS CHAMPIONSHIP POINTS STANDINGS
(After 2 of 19 rounds)
1. Antonio Cairoli (KTM)…97
2. Tim Gajser (Hon)…89
3. Gautier Paulin (Yam)…74
4. Jeremy Van Horebeek (Hon)…66
5. Clement Desalle (Kaw)…65
6. Arminas Jasikonis (Hus)…56
7. Jeremy Seewer (Yam)…50
8. Max Anstie (KTM)…39
9. Shaun Simpson (KTM)…39
10. Tommy Searle (Kaw)…38
With Jorge Prado on the sidelines, Thomas Kjer Olsen (19) took over the 250 World Championship points lead by 16 points over second place and 44 points over World Champion Prado.
2019 FIM 250 WORLD MOTOCROSS CHAMPIONSHIP POINTS STANDINGS
(After 2 of 19 rounds)
1. Thomas Kjer Olsen (Hus)…94
2. Henry Jacobi (Kaw)…78
3. Calvin Vlaanderen (Hon)…71
4. Tom Vialle (KTM)…65
5. Ben Watson (Yam)…63
6. Jorge Prado (KTM)…50
7. Davy Pootjes (Hus)…50
8. Mitch Evans (Hon)…49
9. Jago Geerts (Yam)…45
10. Michele Cervallin (Hon)…41
MOTOLOANS SUPERCROSS SUNDAY AT PALA ON MARCH 31
For more information go to www.gomotoloans.com
WHERE YOU'LL BE IN THE FUTURE: 2019 RACE SCHEDULE

You won't be seeing Chad Reed again in the 2019 AMA Supercross or 2019 AMA National series. Will he return for 2020? He says he will.

2019 AMA SUPERCROSS SERIES
Jan. 5…………………………….Anaheim, CA
Jan. 12………………………….Glendale, AZ
Jan. 19………………………….Anaheim, CA (3-moto race)
Jan. 26………………………….Oakland, CA
Feb. 2……………………………San Diego, CA
Feb. 9…………………………..Minneapolis, MN
Feb. 16………………………….Arlington, TX
Feb. 23………………………….Detroit, MI (3-moto race)
Mar. 2……………………………Atlanta, GA (250 E/W Shootout)
Mar. 9……………………………Daytona Beach, FL
Mar. 16………………………….Indianapolis, IN
Mar. 23………………………….Seattle, WA
Mar. 30………………………….Houston, TX (3-moto race)
Apr. 6……………………………Nashville, TN
Apr. 13………………………….Denver, CO
Apr. 27………………………….East Rutherford, NJ
May 4……………………………Las Vegas, NV (250 E/W Shootout)
2019 FIM MOTOCROSS WORLD CHAMPIONSHIP
Mar. 3…………………………… Argentina
Mar. 24……………………………England
Mar. 31……………………………Holland
Apr. 7………………………………Trentino (Italy #1)
May 12…………………………….Lombardia (Italy #2)
May 19…………………….……..Portugal
May 26……………………………France
June 9…………………………….Russia
June 16…………………………..Latvia
June 23…………………………..Germany
July 7……………………………..Palembang (Indonesia #1)
July 14……………………………Semarang (Indonesia #2
July 28……………………………Czech Republic
Aug. 4…………………………….Belgium
Aug. 18…………………………..Imola (Italy #3)
Aug. 25…………………………..Sweden
Sept. 8……………………………Turkey
Sept. 15…………………………..Shanghai (China #1)
Sept. 22…………………………..Hong Kong (China #2)
2019 AMA NATIONAL CHAMPIONSHIP
May 18……………………Hangtown, CA
May 25.…………………..Pala, CA
June 1..……………….….Thunder Valley, CO
June 15..…………………Mt. Morris, PA
June 22.………………….Jacksonville. FL
June 29..…………………Southwick, MA
July 6.………………….….Red Bud, MI​
July 20.……………………Millville, MN​
July 27.……………………Washougal, WA
Aug. 10..………………….Unadilla, NY​
Aug. 17..………………….​Budds Creek, MD
Aug. 24.…………………..Crawfordsville, IN
2019 WORLD OFF-ROAD CHAMPIONSHIP (WORCS)
Jan. 18-20………………………..Primm, NV
Feb. 1-3……………………………Glen Helen, CA
Mar. 1-3……………………………Lake Havasu, AZ
Mar. 22-24……………………….Peoria, AZ
Apr. 12-14………………………..Las Vegas, NV
Apr. 26-28………………………..Taft, CA
May 24-26……………………….Mesquite, NV
July 30-Aug. 4…………………McCleary, WA
Sept. 13-15……………………..Glen Helen, CA
Oct. 4-6……………………………Milford, CA
Nov. 15-17……………………….Primm, NV
2019 WORLD TWO-STROKE CHAMPIONSHIP
April 20…………………………..Glen Helen
2019 MAMMOTH MOUNTAIN MOTOCROSS
June 21-30……………………….Mammoth Lakes, CA
2019 CANADIAN NATIONAL CHAMPIONSHIP
June 1………………………………Wild Rose, AB
June 8………………………………Blackwater, BC
June 15…………………………….McNabb Valley, MB
July 13……………………………..Gopher Dunes, ON
July 20……………………………..San Del Lee, ON
July 27……………………………..Riverglade, NB
Aug. 3………………………………Deschambault, QC
Aug. 17…………………………….Walton, ON
2019 AMA NATIONAL AMATEUR CHAMPIONSHIP
July 29-Aug. 3………………….Loretta Lynn, TN
2019 BRITISH ARENACROSS CHAMPIONSHIP
Jan. 18-19………………………….Belfast, Irl
Feb. 1-2……………………………..Birmingham, GB
Feb. 15-6…………………………..Sheffield, GB
2019 BRITISH NATIONAL CHAMPIONSHIP
Mar. 10……………………………..FatCat
Apr. 14………………………………Lyng
May 5……………………………….Canada Heights
June 2………………………………Blaxhall
June 30…………………………….Desertmartin
July 21……………………………..Hawkstone Park
Aug. 11……………………………..Foxhill
Sept. 15……………………………Landrake
2019 BRITISH APICO TWO-STROKE FESTIVAL
May 25-26……………………….Marshfield MX
Aug. 3-4……………………………Iron Works Moto
Sept. 21-22……………………..Sellindge MX
2019 GERMAN MX MASTERS CHAMPIONSHIP
April 14…………………………….Princely Drehna
June 2………………………………Moggers, Austria
June 30…………………………….Molln
July 21……………………………..Tens
Aug. 11…………………………….Gaildorf
Sept. 1……………………………..Biel
Sept. 15……………………………Wood Gerlingen
2019 AMA VINTAGE MOTORCYCLE DAYS
July 5-7…………………………….Lexington, Ohio
2019 AMA NATIONAL AMATEUR CHAMPIONSHIP
July 29-Aug. 3………………….Loretta Lynn, TN
2019 RYAN VILLOPOTO AMATEUR MOTOCROSS CUP
Aug. 22-25………………………..Grays Harbor, WA
2019 MOTOCROSS DES NATIONS
Sept. 29…………………………….Assen, Holland
2019 MONSTER ENERGY CUP
Oct. 21……………………………..Las Vegas, NV
2019 WORLD VET CHAMPIONSHIP
Nov. 2-3……………………………..Glen Helen, CA
COMPLETE 2019 GLEN HELEN RACEWAY SCHEDULE: WEEK BY WEEK
For more info go to www.glenhelen.com (click on images to enlarge)
2019 SOCAL OLD TIMERS MX RACE SCHEDULE: NEXT RACE AT SUNRISE ON APRIL 7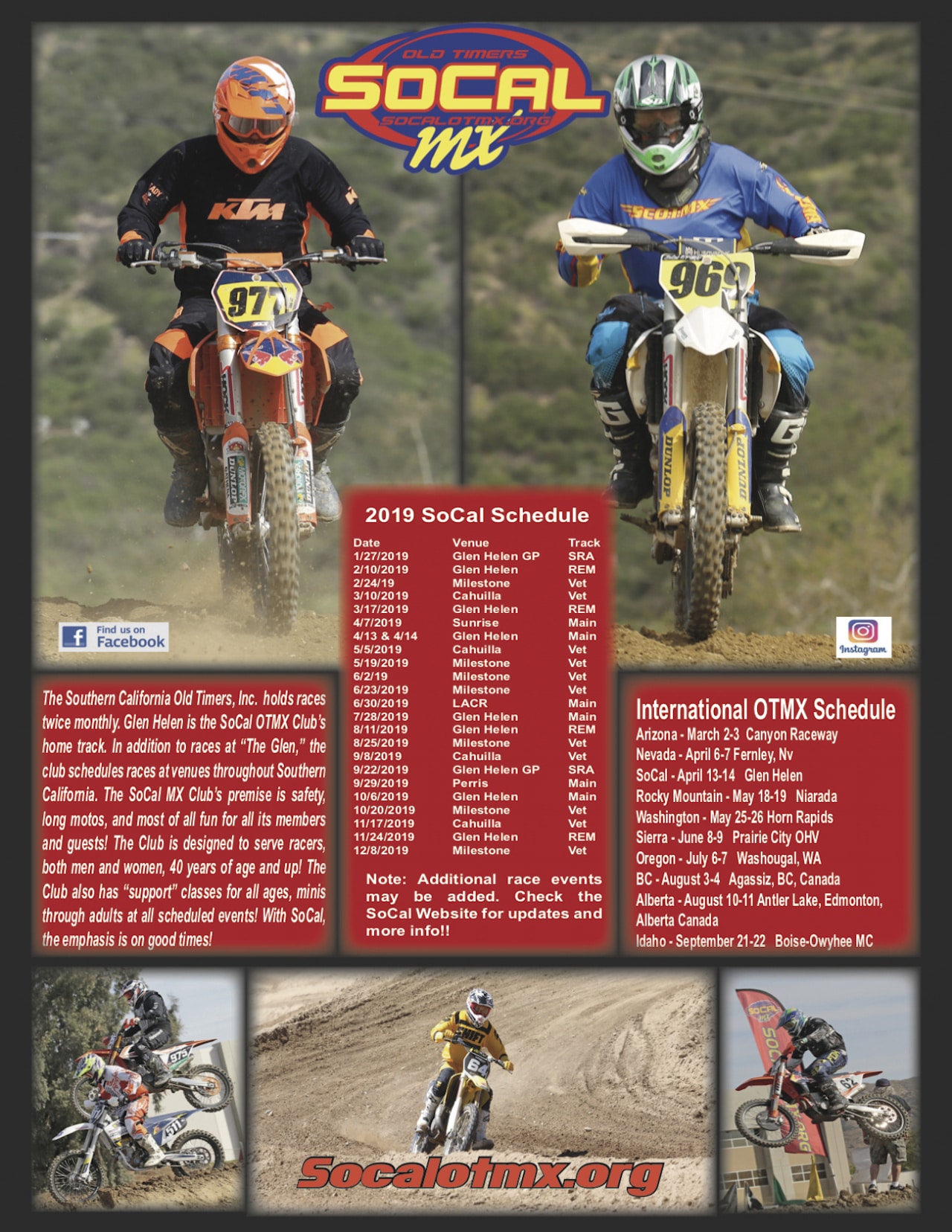 For more info go to www.socalotmx.org
2019 SRA GRAND PRIX RACE DATES: NEXT RACE MARCH 31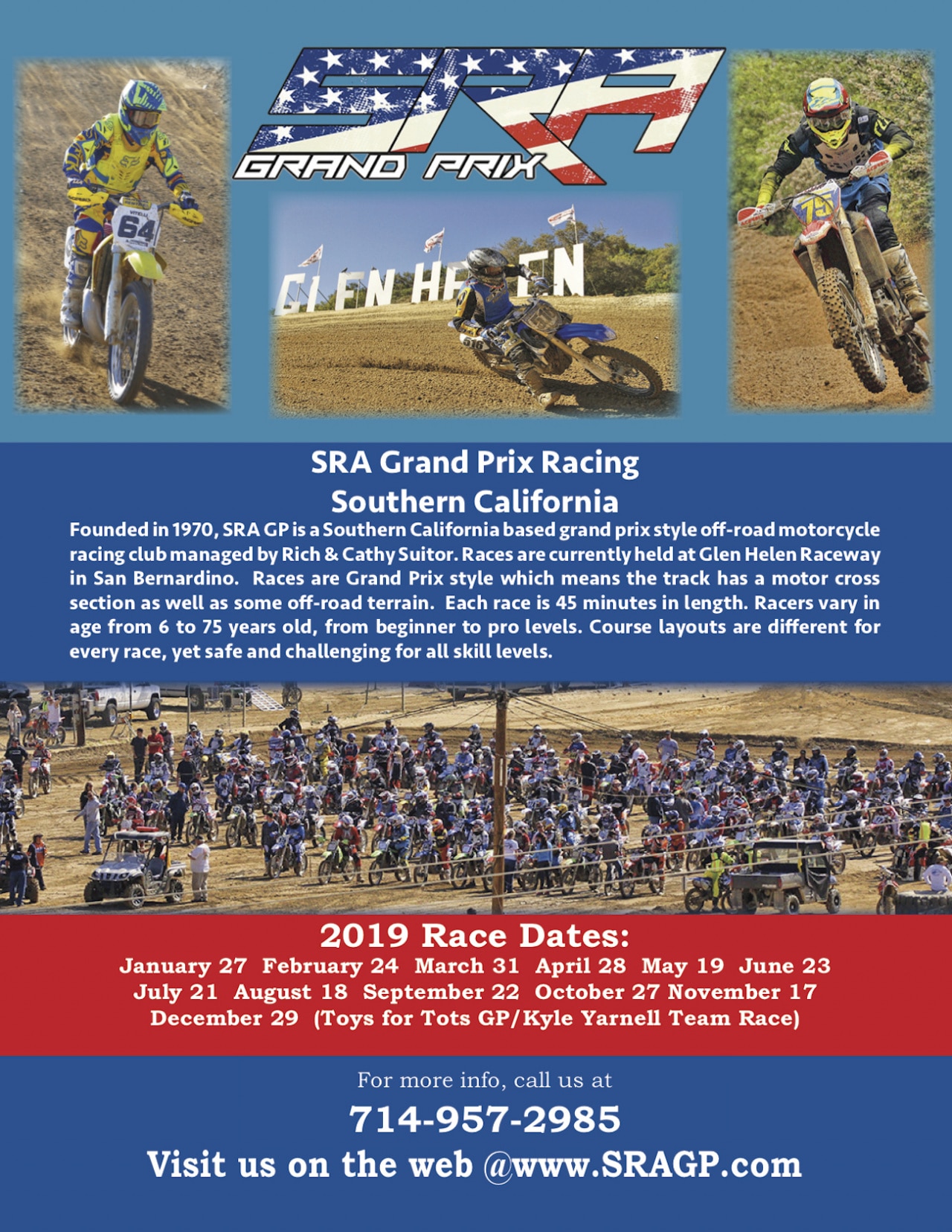 For more info go to www.sragp.com
2019 WORCS RACE SCHEDULE: NEXT RACE IN LAS VEGAS ON APRIL 14


For more info go to www.worcsracing.com
2019 REM MOTOCROSS RACE DATES: NEXT RACE AT CAHUILLA CREEK ON APRIL 6


For more info go to www.remsatmx.com
3-BROS 10-HOUR & 24-HOUR DATES: NEXT RACE IS THE 10-HOUR ON JUNE 10


For more info go to www.glenhelen.com
MXA YOUTUBE CHANNEL | HIT THAT SUBSCRIBE BUTTON

The MXA wrecking crew is everything moto related. Check out our MXA YouTube channel for bike reviews, Supercross coverage, rider interviews and much more. And don't forgot to hit that subscribe button.
FOLLOW MXA ON TWITTER
Follow us to see fresh content every day at www.twitter.com/MXAction or on twitter at "MXAction."
TALK MOTO WITH ON MXA'S FACEBOOK GROUP CHAT

We love everything moto and want to bring all moto junkies together into one place to share their two cents, ideas, photos, bike fixes, bike problems and much more. To check it out first you must need to or already have a Facebook account. If you don't, it isn't much work and you could even have an alias so nobody knows it is you. To join click HERE. After you request to join we will accept your request shortly after.
MXA'S SNAP CHAT FEED
If you are a Snap Chat user then add us to your stories. Get sneak peaks of everything moto. Our Snap Chat name is motocrossaction. Or just take a Snap of the picture above and it will add MXA automatically to your feed.
Photos: Brian Converse, Travis Fant, Juan Acevedo, Daryl Ecklund, John Basher, Jody Weisel, Ray Archer, Debbi Tamietti, MXA