MXA'S WEEKEND NEWS ROUND-UP: THE MORE THINGS CHANGE, THE MORE THEY CHANGE
THREE-MOTO SUPERCROSS FORMAT AUTOPSY


We know that Fed Entertainment is tying to spice up the Supercross format to avoid the slide that several high-profile sports have suffered as of late. But, before the Supercross promoters hold another three-moto format Supercross race, they need to figure out what they could do better before they do it again. Here's a quick list of what happened at Anaheim II and how to fix it before Atlanta on March 3 and Minneapolis on April 14.
(1) Dead time. For a sport that is based on fast-paced action, high flying motorcycles and excited fans, the first three-moto race in 43 years was a slow moving, sleep inducing non-spectacle. The event organisers need to make the entertainment happen quicker. The common concensus from Anaheim II, was that casual fans don't want to sit in front of dead-air-time TV or on a cold stadium seat while nothing worthwhile happens n the track.
(2) The weakest show on Earth. The Supercross promoters come from a circus background and should know something about entertaining people, but the Anaheim II Supercross was a stinker of an event. Oh, don't get us wrong the racing was great (and the fans got to see all of the big players on the same stage three times). The riders did their part. However, everyone associated with organizing this particular race should hang their heads in shame. A Supercross race should never have 30 minutes between races—down time is dead time.
(3) Pee-Wee glory. The only good thing about A2's intermission entertainment was the KTM Pee-Wee race, but did you know that Feld charges KTM big bucks to have the Pee-Wees on the track. In truth, Feld should be paying KTM. As for the rest of the half-time entertainment. It's weak. Please Feld, don't try to spice up the down time with your typical lame half-time shows—tire rolls, disc jockey races or anything involving Toyota trucks. That's not entertainment worthy of the race.
(4) Short motos, short change. The three motos should be at least 12-minutes each, not some revolving door of short, medium-length and semi-long motos. Three equal-length motos would actually add up to less riding time than last year's heat, semi, LCQ and main event track time.
(5) Ready-made half-time shows. With only 22 riders actually racing in the night program and many more sitting in the pits with bikes, gear and time on their hands, why not hold "Stars of Tomorrow," "Up-and-Comers" or "Leader of the Duds" races during the massive amounts of dead air time. The AMA already has riders who have ridden practice sessions and are ready to go. They are being wasted in the pits. Take the fastest 22 riders, from those who didn't make the three-moto night show, and let them race in a 250 and 450 race (with a catchy name). It would give aspiring Supercross racers a chance to hone their skills for the future, entertain the fans (many of whom are relatives and friends of the riders who are sitting in the pits twiddling their thumbs) and it would help support the sport. Yes, we know that Feld is worried about having to pay them, but they came to race—they will take any crumbs that Feld can give them just for time on the track.
(5) Mr. Fix-it. Reinventing the wheel requires that the amazing new invention actually roll. Feld's three-moto format has a flat tire. It can be fixed.
CURRENT AMA SUPERCROSS POINTS STANDINGS HEADING TO OAKLAND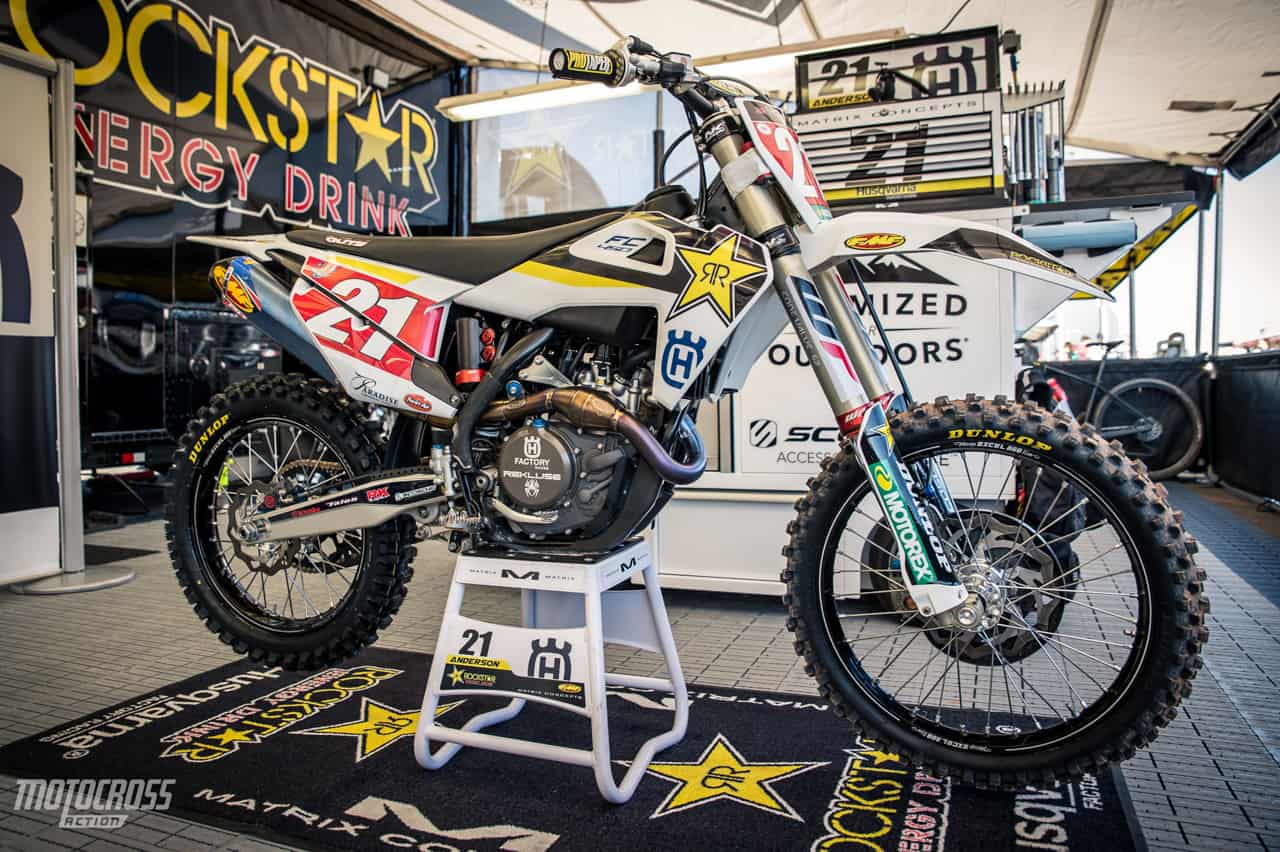 Jason Anderson recovered from what was looking like a bad night in Phoenix to rally back to 4th place. He leads the 450 Championship by 9 points over Justin Barcia.
2018 AMA 450 SUPERCROSS POINTS
(After 4 of 17 rounds)
1. Jason Anderson…89
2. Justin Barcia…80
3. Ken Roczen…77
4. Weston Peick…71
5. Cole Seely…70
6. Justin Brayton…68
7. Josh Grant…58
8. Blake Baggett…57
9. Marvin Musquin…54
10. Eli Tomac…53
Other notables: 11. Cooper Webb (52); 12. Broc Tickle (49); 15. Malcolm Stewart (34); 16. Chad Reed (28).
Aaron Plessinger (23) has a 1-point lead over Shane McElrath in the 250 West after Phoenix.
2018 AMA 250 WEST SUPERCROSS POINTS
(After 4 of 9 rounds)
1. Aaron Plessinger…92
2. Shane McElrath…91
3. Joey Savatgy…87
4. Adam Cianciarulo…77
5. Christian Craig…70
6. Chase Sexton…69
7. Mitchell Oldenburg…58
8. Justin Hill…58
9. Kyle Chisholm…53
10. Bradley Taft…51
Other notables: 11. Mitchell Harrison (44); 12. Hayden Mellross (43); 13. Phil Nicoletti (38); 15. Dakota Alex (26).
2018 SUPERCROSS WINNERS AT A GLANCE AFTER 4 RACES

Eli Tomac won rounds 3 and 4, but is still 36 points out of the 450 lead. But that is 7 points closer than one week ago.
Date           Venue                         450                           250
Jan. 6….…Anaheim, CA……..Marvin Musquin……Shane McElrath
Jan. 13…..Houston, TX……….Jason Anderson…..Aaron Plessinger
Jan. 20…..Anaheim, CA………Eli Tomac…………….Joey Savatgy
Jan. 27…..Phoenix, AZ ………Eli Tomac……………..Aaron Plessinger
Feb. 3…….Oakland, CA……….
Feb. 10…..San Diego, CA…….
Feb. 17……Arlington, TX………
Feb. 24……Tampa, FL………….
Mar. 3……..Atlanta, GA…………
Mar. 10……Daytona, FL………..
Mar. 17……St. Louis, MO………
Mar. 24……Indianapolis, IN……
Apr. 7………Seattle, WA ………..
Apr. 14…….Minneapolis, MN….
Apr. 21….…Foxborough, MA…..
Apr. 28…….Salt Lake City, UT…
May 5………Las Vegas, NV…….
450 Points leader...Jason Anderson (Hus)
250 West points leader…Aaron Plessinger (tie)

TV SCHEDULE: OAKLAND SUPERCROSS 7:00 P.M. (EASTERN) SATURDAY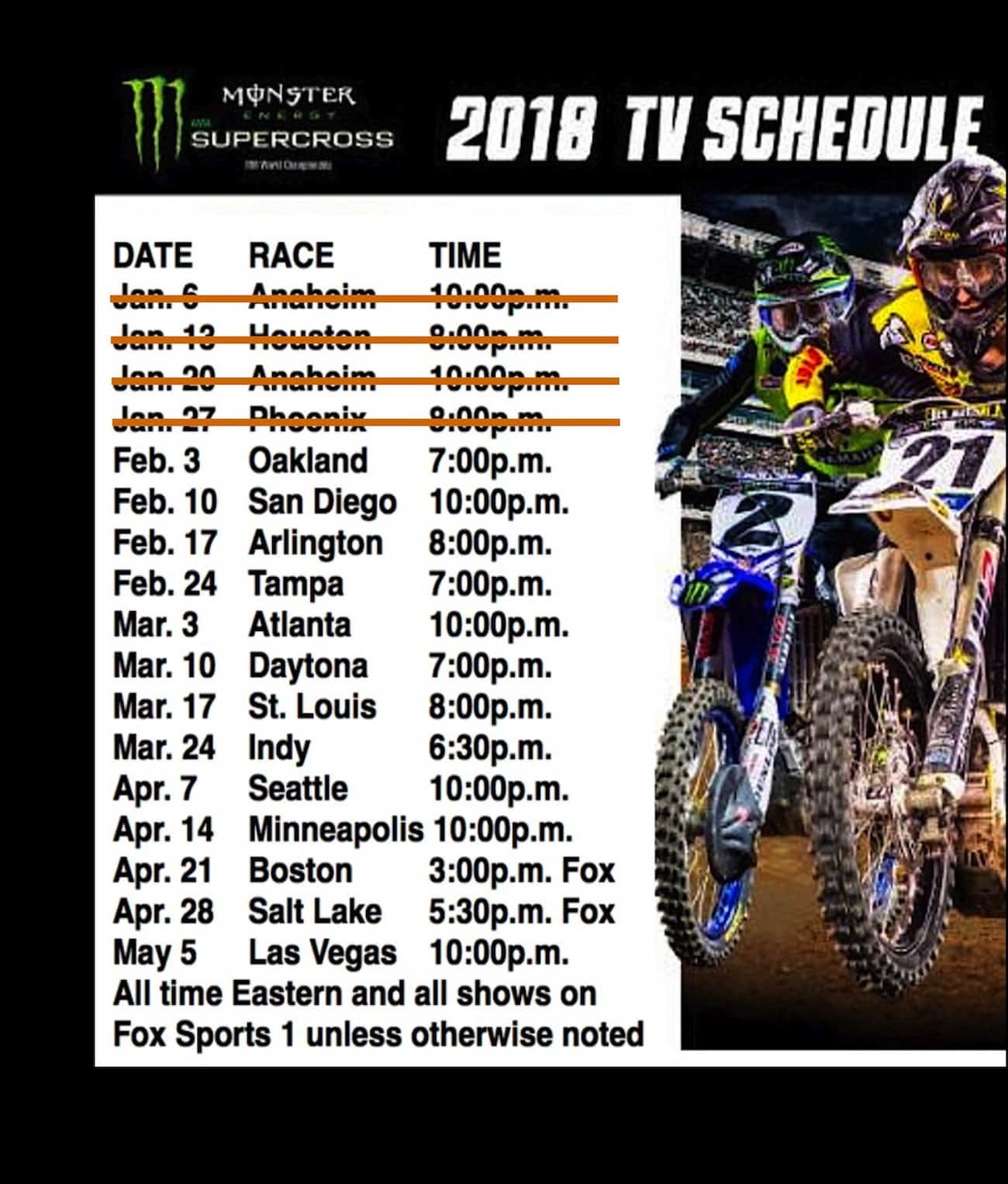 The majority of races will be shown on Fox Sports 1 (and thankfully, none will be shown on Fox Sports 2). Boston and Salt Lake City will be on the main Fox TV network, but these races will be daylight races (and shown as early as 12:00 noon on the west coast). Oakland is another early starting race. It will be on West Coast TV starting at 4:00 p.m.
MXA PHOTO OF THE WEEK: WHO'S A SQUID?
The next time somebody calls you a "Squid," tell him you're not a squid because you know that guy personally.
MXA PRODUCT SPOTLIGHT: DINGO TRANSPONDER MOUNT
The Dingo transponder mount eliminates the need to use zip-ties or duct tape to keep your transponder from slipping, spinning or falling off. Plus, since it just clips on to your fork leg, you can move it from bike to bike or put it on either fork leg. The Dingo's Velcro mounting strap is a very secure way to mount a MyLaps MX Flex transponder (the orange one). The Dingo transponder holder is designed using solid modeling and made from extruded ABS plastic (Acrylonitrile butadiene styrene). It combines strength and rigidity for a long life.
The extruded tube is ribbed for added grip on the fork leg and padded with a soft mat to keep your fork leg in perfect condition. An aluminum post is securely mounted and a cotter-style hair pin is included to keep your transponder in place. To install it, you simply pop the extruded tube over the fork leg, slip the transponder onto the post and wrap the Velcro strap around the transponder and fork leg. The retail price is $39.95 (half the price of a carbon fiber snap on transponder holder). It is available for both the Flex and X2 model transponders. For more info go to www.DingoRacingProducts.com

FLASHBACK VIDEO: THE RAW SOUND FROM OUR 2015 KTM125SX & 150SX SHOOT
BIRTHDAYS OF THE STARS: GUENNADY MOISSEV WOULD HAVE BEEN 70

Feb. 1…Gaston Rahier 1947
Feb. 2…Matt Buyten 1980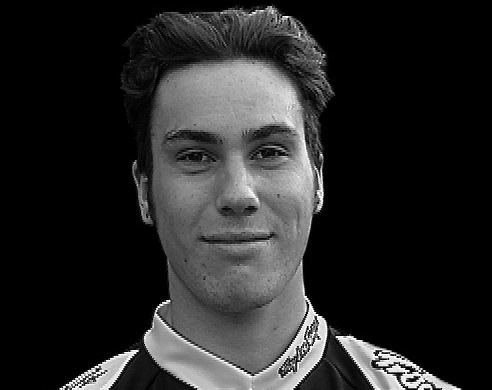 Feb. 2…Tyler Evans 1980

Feb. 2…Selvaraj Narayana
Feb. 2…Erv Braun

Feb. 3…Guennady Moissev 1948
Feb. 3…Jake Windham

Feb. 5…Julien Bill 1983
Feb. 5…Bryan Johnson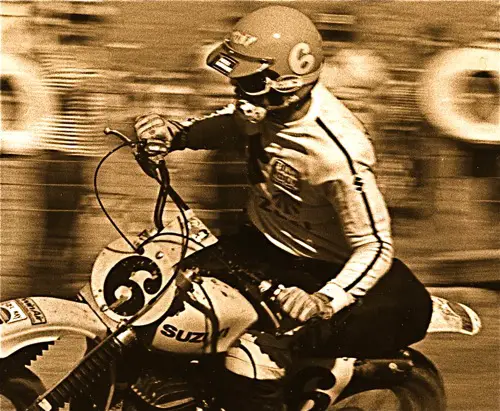 Feb. 6…Tony DiStefano 1957
Feb. 5…Jimmy Lamastus 1979
Feb. 5…Emily Orr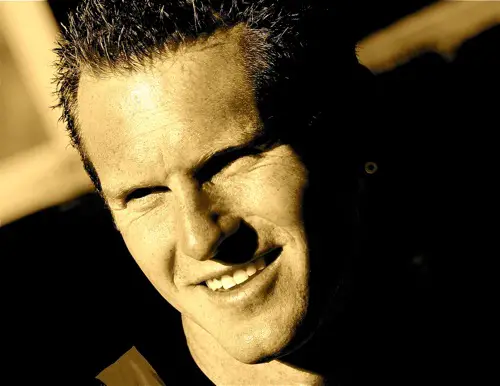 Feb. 6…Travis Preston 1978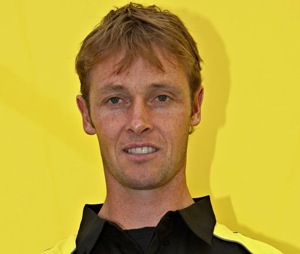 Feb. 8…Daryl Hurley 1976
Feb. 8…Rich Taylor 1968

Feb. 8…Dusty Klatt 1985

Feb. 9…Jaime Lilly
Feb. 10…Russell Bobbitt

Feb. 10…Dave Feeney
Feb. 10…Evan Laughridge
Feb. 10…Jeremy Chaussee 1977

Feb. 10…Rodney Smith
Feb. 11…Geoff Fox

Feb. 11…Livia Lancelot 1988

Feb. 11…Sebastien Pourcel 1985
Feb. 11…Kristin White Anderson
REM GLEN HELEN MOTOCROSS ON FEBRUARY 3, 10, 17 & 24

REM will be at Glen Helen every Saturday in February. That is former Baja 500 and Baja 1000 Champion Bob Rutten hanging it out last Saturday.  For info go to www.remsatmx.com
REM KIDS TRACK OPEN FOR RACING

Ryder Friday won last week's 50cc Pee-Wee race at Glen Helen's new 65cc-and-under race track. There is a Pee-Wee race this Saturday too.
REM's regular program is racing every Saturday in February on the REM track. Plus they have added an all-new REM Kids track. Any parent who is racing at REM can have their son or daughter race on the REM Kids track for a special entry fee of $15. The regular entry fee for the mini racers is $25 unless one of the parents is racing the big race. REM plan to offer this discount at all REM races.
When the Kids racing is done for the day, the Kids track will be open for practice for Pee Wee, 50cc and 65cc racers (no big bikes and no 85cc bikes are allowed). The permanent fencing that separates the Kids track from the big REM track allows the Kids racing to take place at the same time as the regular races. With the Kids track  located within the confines of the REM track, the Kids track is easily visible from the pits. It is located exactly where the old Glen Helen Pee Wee track used to be, but is twice as big.
AMA RULE OF THE WEEK: LINE UP BY HEIGHT FOR ROLL CALL


Riders have been skipping riders meeting since motocross was invented. No big deal. What could they tell that you don't already know—except maybe that he first turn was changed from a left to a right-hand turn. To stop thse kind of surprises in AMA Pro racing, if you miss an AMA riders meeting you will be fined (if they realize that you aren't there). And they know who to look for, evidenced by the fact that they always caught Christophe Pourcel.
SOCAL OLD TIMER'S 2018 RACE SCHEDULE

For more info go to www.socalotmx.org
MXA PRODUCT SPOTLIGHT: PRO CIRCUIT TEAM SNAPBACK HATS


Recently arriving at the Pro Circuit headquarter's doorstep, two brand new snapback hats that will be sure to add a little bit of flashiness and style to one's image. The Eglin and Tech snapback hats are the result of a Pro Circuit and Fox collaboration that will be sure to please the hardcore moto fan. Both hats feature iconic Monster Energy, Pro Circuit, Kawasaki and Fox logo graphics as well as snap-closure systems in the back for a perfect fit.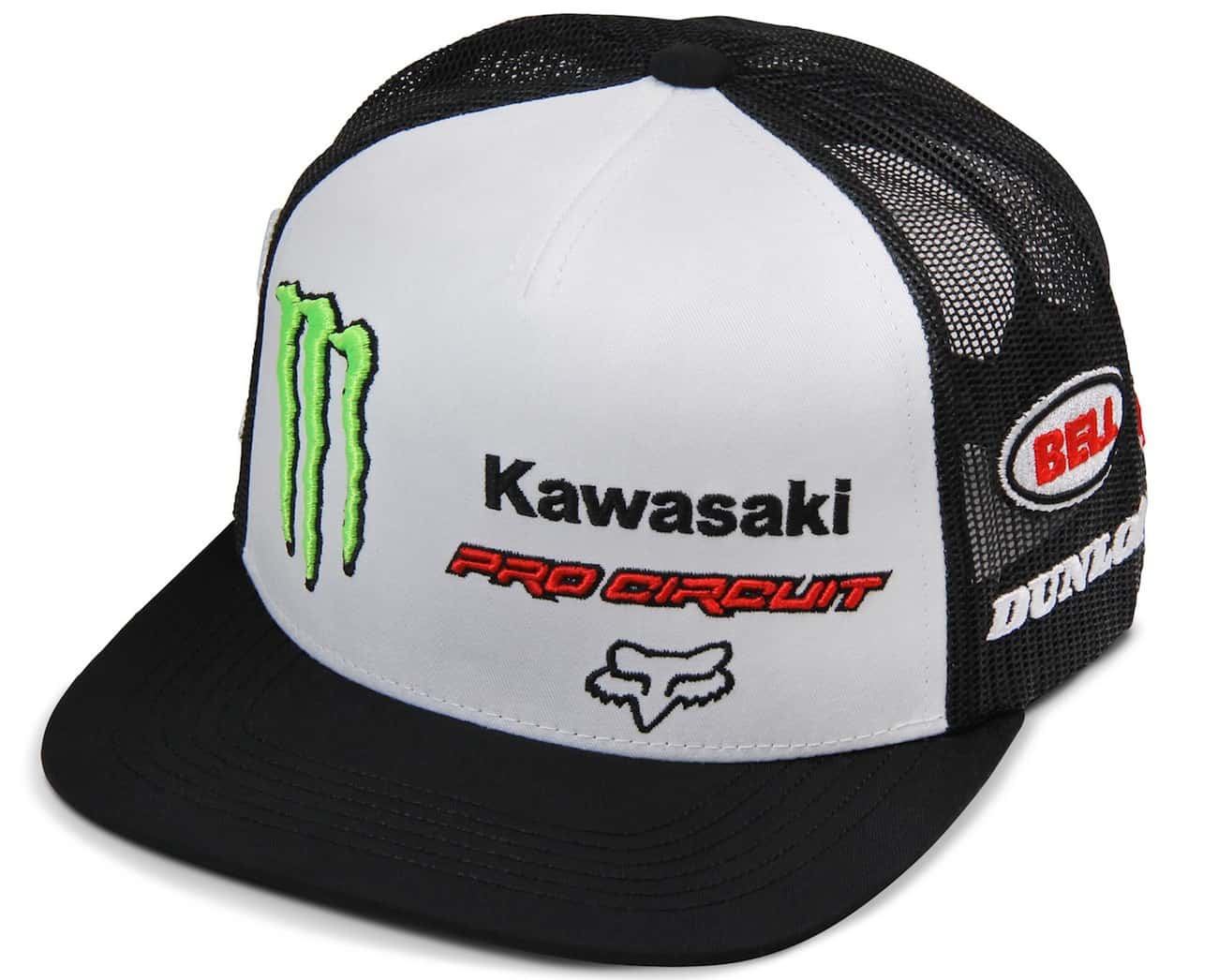 The mesh paneled Eglin features team sponsor graphics on the front, sides and back, very much like the hat worn by the Monster Energy/Pro Circuit/Kawasaki riders on the podium.
The Tech snapback features TruDri fabric to keep you sweat-free and perforated panels to help keep you cool. The retail price is $29.95. For more info go to www.procircuit.com.
2018 MAXXIS BRITISH CHAMPIONSHIP STARTS ON MARCH 11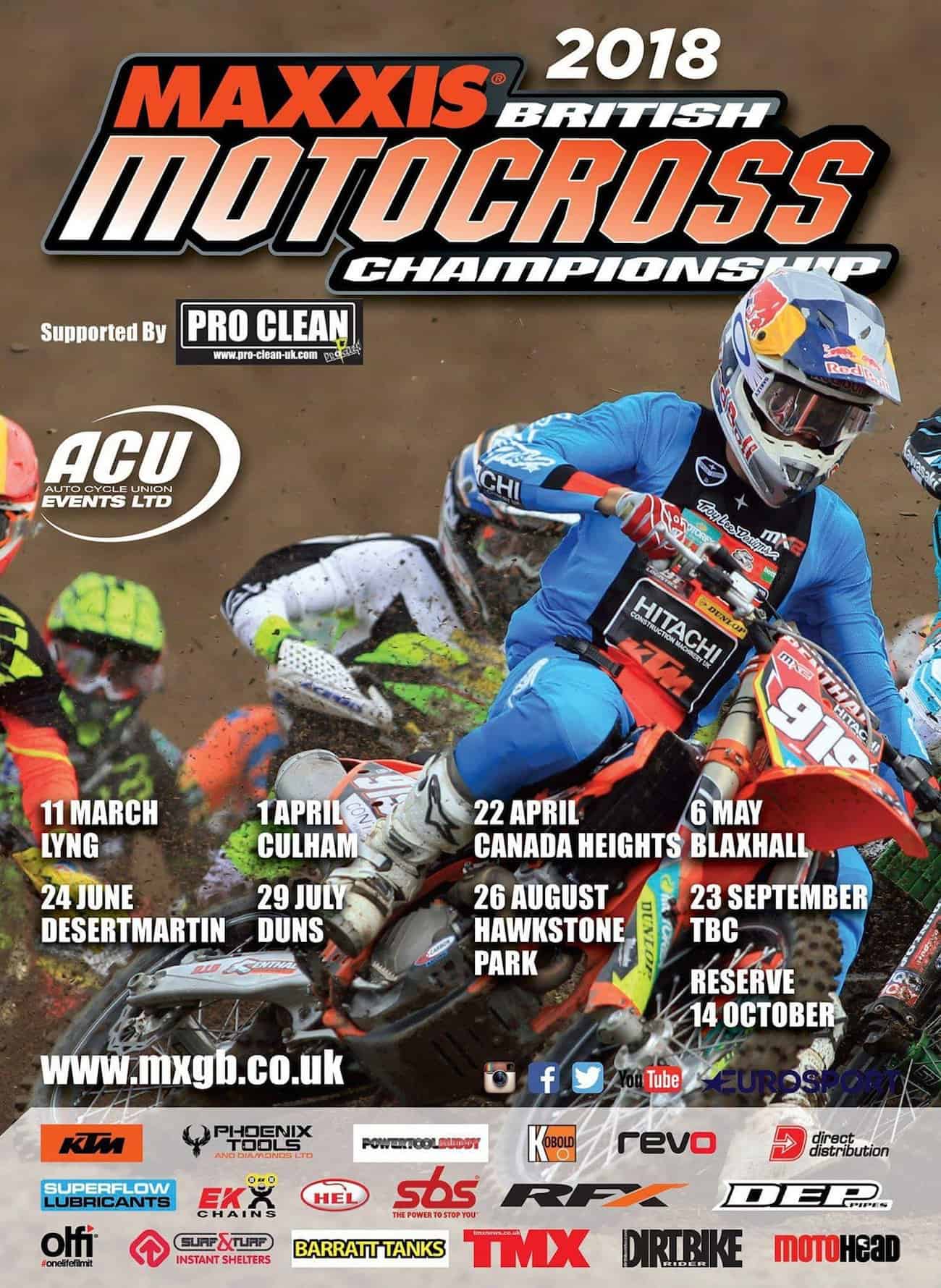 For more info go to www.mxgb.co.uk
SUBSCRIBE TO MXA & GET A $25 ROCKY MOUNTAIN GIFT CARD—YOU MAKE A PROFIT BY READING MXA

The March 2018 issue of MXA will be on the news stands, in the mail, on your computer or in your phone in one week. It is filled with three 125 two-stroke tests, a 2018 KTM 250SX test and a 2018-1/2 Husky Rockstar Edition test.

Do you subscribe to MXA? You should. We know that you think that print magazines are dead and that the internet will fill the void, but most of the stuff in the current issue of MXA won't appear on the web for several months, if at all. Luckily, you can get all of MXA on your iPhone, iPad, Kindle or Android by going to the Apple Store, Amazon or Google Play or in a digital version. Even better you can subscribe to Motocross Action and get a $25 Rocky Mountain ATV/MC gift card to spend on whatever motorcycle parts or products you need. You can call (800) 767-0345 or go to www.hi-torque.com/product/motocross-action-holiday/.
HOW IS YOUR TWITTER GAME GOING? UP IT BY FOLLOWING MXA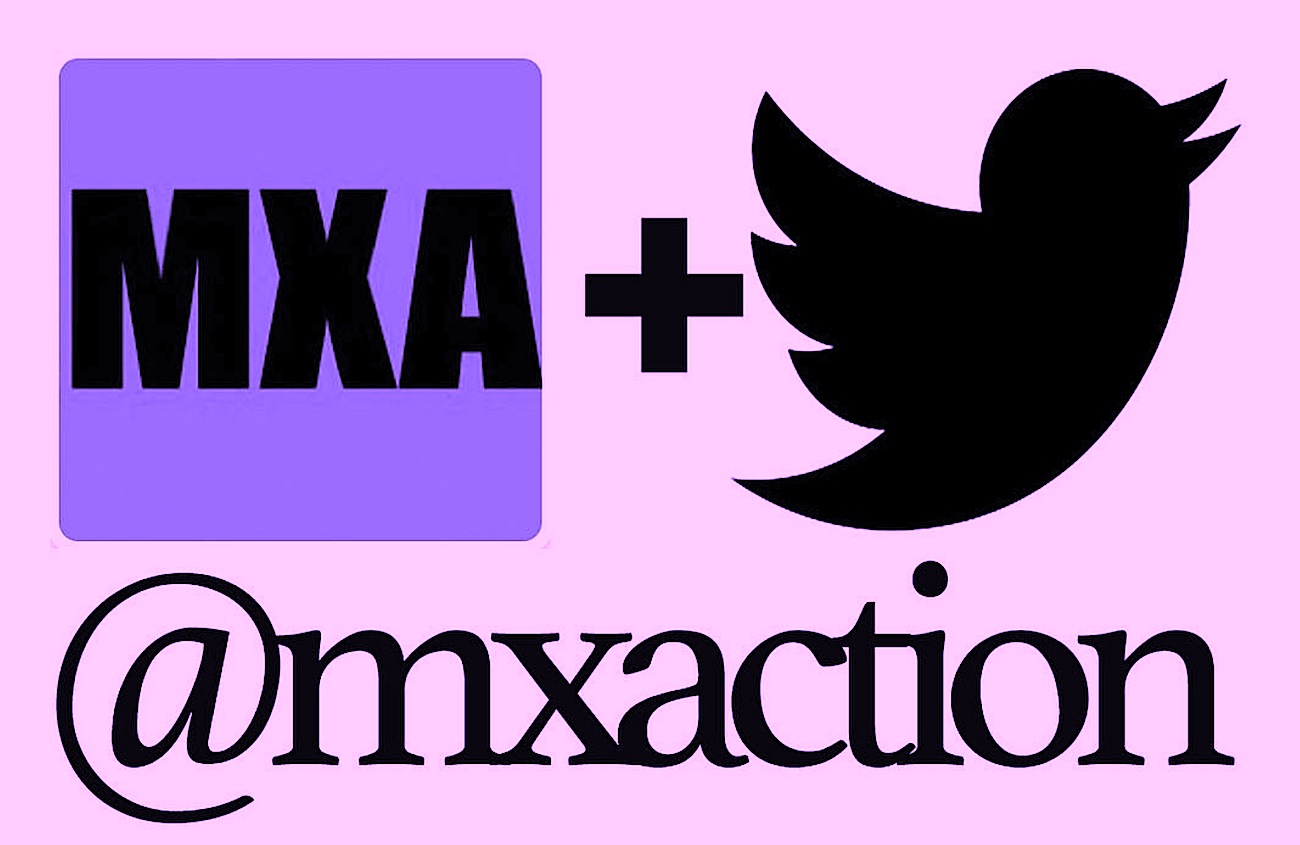 Follow us to see fresh content every day at www.twitter.com/MXAction or on twitter at "MXAction"
JOIN MXA'S FACEBOOK GROUP CHAT

We love everything moto and want to bring all moto junkies together into one place to share their two cents, ideas, photos, bike fixes, bike problems and much more. To check it out first you must need to or already have a Facebook account. If you don't, it isn't much work and you could even have an alias so nobody knows it is you. You can go to MXA's Facebook page by clicking here.
EVERY REM NUMBER ONE RIDER OVER THE LAST 29 YEARS (1989-2017)


REM Motocross has been holding season-long points series since 1989. They started at Carlsbad Raceway and moved to Glen Helen in 1998. In those 29 years there have only been 19 Champions (who won their number one plates by racing as many as 40 races a year). The late Dennis Boulware won 4 times, George Kohler was champion 3 times and Jon Ortner 3 times. Alan Olson, Robert Failing and Randy Skinner each won twice. Amazingly, 7 of the REM 19 number ones are still racing, including the original number one from 1989—Curtis Jablonski.
REM GLEN HELEN NUMBER ONE RIDERS (1989-2017)
1989 …Curtis Jablonski
1990 …Robert Failing
1991 …Robert Failing
1992 …Jeff Van Camp
1993 …Todd McKay

1994 …George Kohler (1994, 1996, 2003)
1995 …Alan Olson
1996 …George Kohler

1997 …Alan Olson (1995, 1997)



1998 …Jody Weisel (1998)
1999 …Dennis Boulware

2000 …Rich Eierstedt (2000)
2001 …Randy Skinner

2002 …Bengt Johansson (2002)
2003 …George Kohler

2006 …Tim Murphy (2006)
2007 …Dennis McAdam

2008 …Dennis Boulware (1999, 2008, 2009, 2010)
2009 …Dennis Boulware
2010 …Dennis Boulware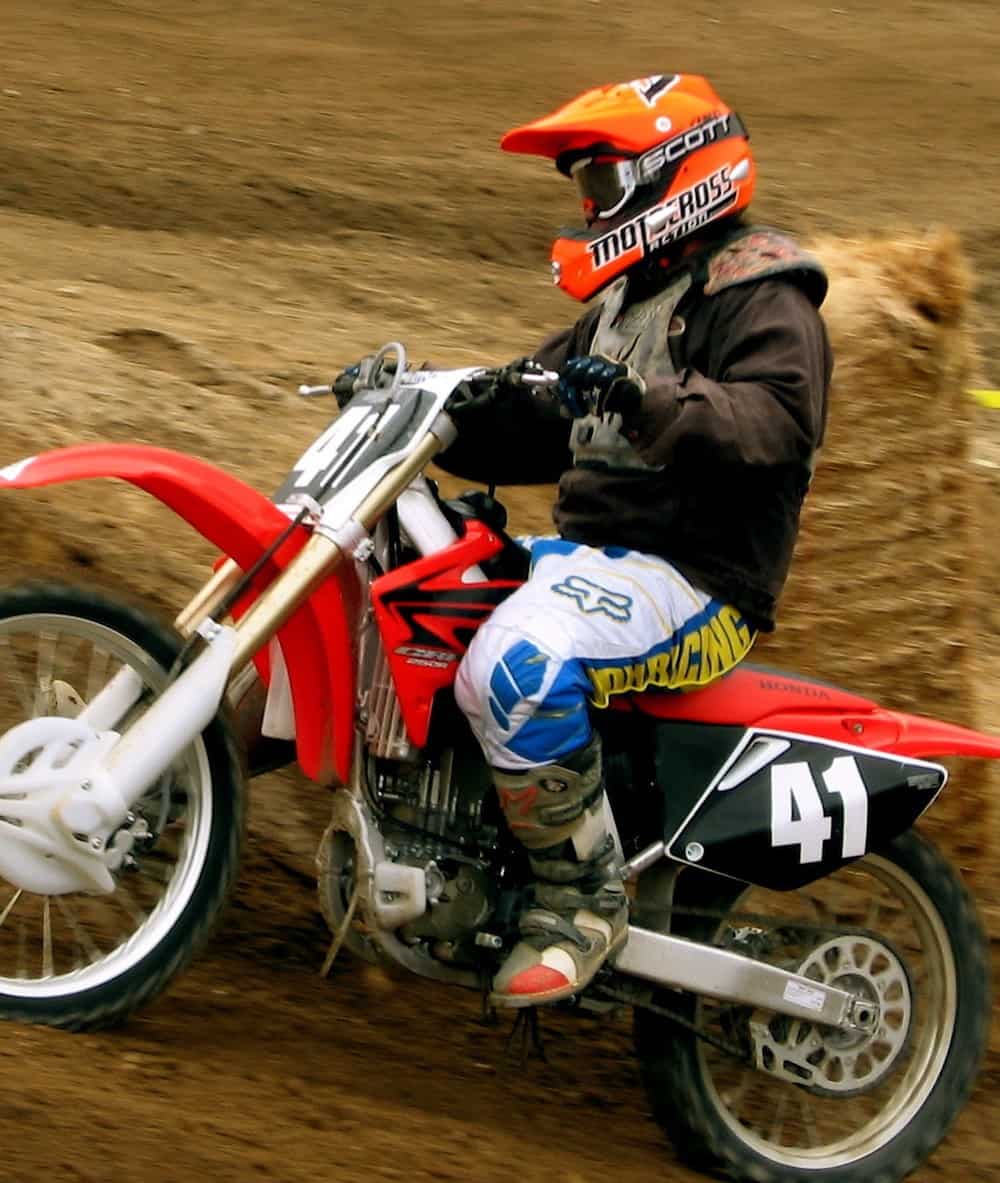 2011 …Ray Pisarski (2011)



2012 …Randy Skinner (2001, 2012)


2013 …Jon Ortner (2013, 2014, 2015)
2014 …Jon Ortner
2015 …Jon Ortner
SAVE THE DATE! EVERY RACE THAT MATTERS IN 2018
The 2018 Supercross series heads to Oakland this weekend. Check the complete schedule below,
2018 AMA SUPERCROSS CHAMPIONSHIP
Jan. 6……………………..…Anaheim, CA
Jan. 13………………………Houston, TX
Jan. 20………………………Anaheim, CA
Jan. 27………………………Phoenix, AZ
Feb. 3……………………..…Oakland, CA
Feb. 10………………………San Diego, CA
Feb. 17………………………Arlington, TX
Feb. 24………………………Tampa, FL
Mar. 3……………………..…Atlanta, GA
Mar. 10………………………Daytona, FL
Mar. 17………………………St. Louis, MO
Mar. 24………………………Indianapolis, IN
Apr. 7……………………..…Seattle, WA
Apr. 14………………………Minneapolis, MN
Apr. 21………………………Foxborough, MA
Apr. 28………………………Salt Lake City, UT
May 5…………………….…Las Vegas, NV
2018 AMSOIL ARENACROSS CHAMPIONSHIP
Jan. 6-7………………………….Dayton, OH
Jan. 13-14………………………Worcester, MA
Jan. 20-21……………………….Wilkes Barre, PA
Jan. 27-28………………………Greensboro, NC
Feb. 10-11………………………Madison, WI
Feb. 17-18………………………Florence, SC
Mar. 17-18………………………Denver, CO
Mar. 24-25………………………Nampa, ID
Apr. 7-8………………………….Wichita, KS
Apr. 21-22………………………Portland, OR
Apr. 28-29………………………Reno, NV
May 4-6…………………………Las Vegas, NV
2018 BRITISH ARENACROSS CHAMPIONSHIP
Jan. 6…………………………..Manchester
Jan. 13………………………….Newcastle
Jan. 20…………………………Birmingham
Jan. 26-27…………………….Belfast
Feb. 10………………………….Sheffield
Feb. 17………………………….London
2018 AMA NATIONAL CHAMPIONSHIP
May 19……………………Hangtown, CA
May 26.…………………..Glen Helen, CA
June 2..………………….Thunder Valley, CO
June 16..…………………Mt Morris, PA
June 23.………………….Muddy Creek, TN
June 30.………………….Southwick, MA
July 7..……………………​Red Bud, MI
July 21.…………………..Millville, MN​
July 28.…………………..Washougal, WA
Aug. 11..………………….Unadilla, NY​
Aug. 18..………………….Budds Creek, MD​
Aug. 25.…………………..Crawfordsville, IN
2018 FIM MOTOCROSS WORLD CHAMPIONSHIP
Mar. 4……………………..Argentina
Mar. 18…………………….Holland 1
Mar. 25…………………….Spain
Apr. 8……………………….Italy 1
Apr. 15……………………..Portugal
May 1……………………….Russia
May 13……………………..Latvia
May 20…………………….Germany
June 3………………………England
June 10…………………….France
June 17…………………….Italy 2
July 1……………………….Indonesia 1
July 8……………………….Indonesia 2
July 22……………………..Czech Republic
Aug. 5………………………Belgium
Aug. 12……………………..Sweden (Canceled)
Aug. 19……………………..Switzerland
Sept. 2………………………Turkey
Sept. 16……………………..Holland 2
Sept. 30…………………….Italy 3
2018 MOTOCROSS DES NATIONS
Oct. 7………………………Red Bud, MI
2018 WORLD OFFROAD CHAMPIONSHIP (WORCS)
Feb. 2-4…………………..……Las Vegas, NV
Feb. 23-25……………….…..Phoenix, AZ
Mar. 23-24……………….…..Lake Havasu, AZ
Apr. 20-22……………….…..Hurricane, UT
May 25-27……………………Cedar City, UT
Sept. 14-16……………………Glen Helen, CA
Oct. 19-21………………….…Adelanto, CA
Nov. 9-11……………………..Primm, NV
2018 AMA SUPERMOTO CHAMPIONSHIP
April 14………………………….Boise, ID
May 13………………………….Tucson, AZ
June 8…………………………..Austin, TX
June 9…………………………..Austin, TX
Aug. 3-5………………………..Quebec, CN
Sept. 8………………………….Sturgis, SD
2018 OLD SCHOOL SCRAMBLES CHAMPIONSHIP
Feb. 11……………………..Glen Helen, CA
Mar. 25…………………….Glen Helen, CA
June 17………………..…..Glen Helen, CA
Aug. 19………………..…..Glen Helen, CA
Dec. 9………………………Glen Helen, CA
2018 MAXXIS BRITISH NATIONAL CHAMPIONSHIP
Mar.11…………………………..Lyng, England
Apr. 1……………………………Culham, England
Apr. 22………………………….Canada Heights, England
May 6…………………………..Blaxhall, England
June 24………………………..Desertmartin, Ireland
July 29………………………….Duns, England
Aug. 26…………………………Hawkstone, England
Sept. 23………………………..TBA, England
2018 MICHELIN BRITISH NATIONAL CHAMPIONSHIP
April 8………………….…..…Lyng, England
May 20……………..…………Preston Docks, England
May 27…………….………….Hawkstone Park, England
July 1………….…..…………..Sherwood, England
July 15………….…..……..….Canada Heights, England
Sept. 2…………….…..…..….Crookwood, England
2018 DUTCH MASTERS CHAMPIONSHIP
Mar.11…………………………..Markelo, Holland
Apr. 2……………………………Oldebrook, Holland
May 6…………………………..Mill, Holland
July 14-16…………………….Lichtenvoorde, Holland
2018 GERMAN ADAC MASTERS CHAMPIONSHIP
Apr. 22………………………….Drehna, Germany
May 27………………………….Molln, Germany
June 24…………………………Bielstein, Germany
May 6……………………………Blaxhall, Germany
July 15………………………….Moggers, Germany
July 29………………………….Tensfeld, Germany
Aug. 26…………………………Teutschthal, Germany
Sept. 9…………………………..Gaildorf, Germany
2018 HAWKSTONE INTERNATIONAL
Feb. 11………………………….Hawkstone, England
2018 RICKY CARMICHAEL AMATEUR SUPERCROSS
Mar. 11-12……………..…….Daytona, FL
2018 WORLD TWO-STROKE CHAMPIONSHIP
Mar. 31…………………..…..Glen Helen, CA
2018 LORETTA LYNN AMATEUR CHAMPIONSHIP
July 30-Aug. 4…………………Hurricane Mills, TN
2018 MONSTER ENERGY CUP
Oct. 13………………………….Las Vegas, NV
2018 REM OCTOBERCROSS
Oct. 27……………………………Glen Helen, CA
2018 DUBYA WORLD VET CHAMPIONSHIP
Nov. 3-4…………………..…..Glen Helen, CA
2018 THOR MINI OLYMPICS
Nov. 19-24…………………….Gainesville, FL
2018 DAY IN THE DIRT
Nov. 23-25………………………..Glen Helen, CA

Click in images to enlarge.
Photos: Brian Converse, Spencer Owen, Jody Weisel, Debbi Tamietti, Dan Alamangos, Daryl Ecklund, MXA