MXA'S WEEKEND NEWS ROUND-UP: THE MXA TEST RIDERS PLIGHT—WHAT TO RIDE NEXT?
WHAT THE MXA WRECKING CREW IS UP TO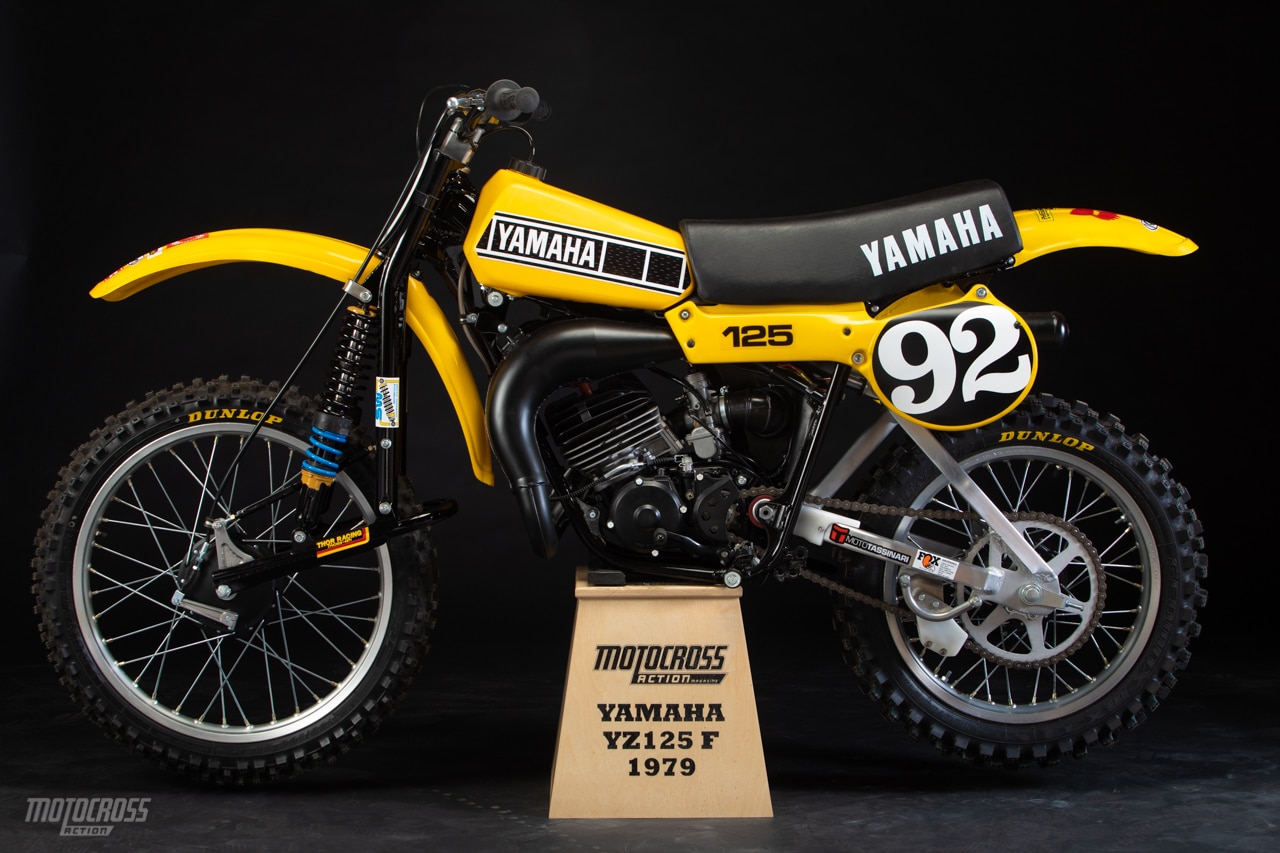 The MXA wrecking crew has a lot of irons in the fire, but this particular 1979 Yamaha YZ125 project has been in the works for 41 years. It was forgotten in a barn until it was dragged out earlier this year and given a lavish restoration—from its Thorks all the way to its Fox Mono Air Shock.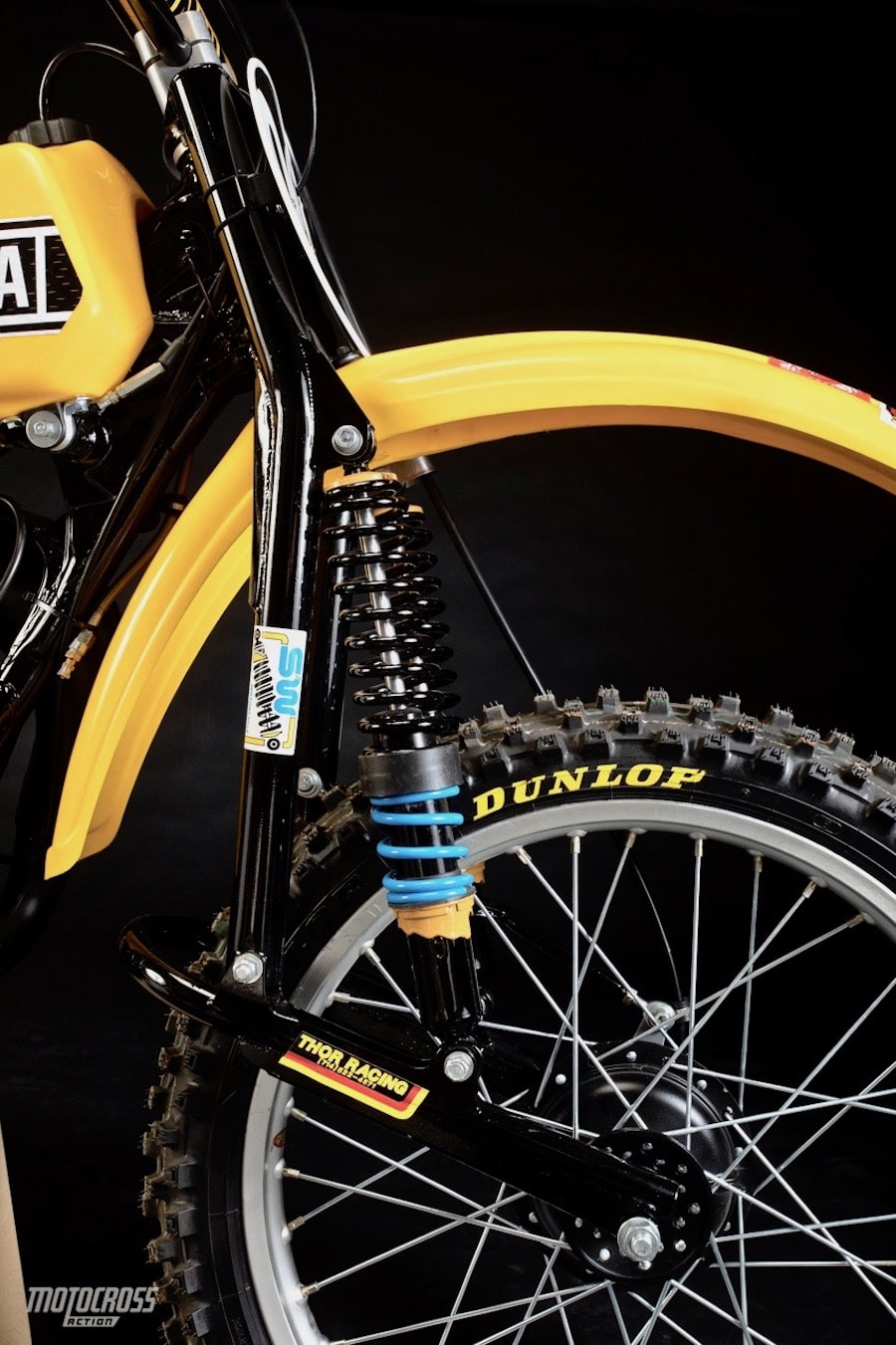 The Thork forks may look heavy, but they are basically two hollow steel tubes and two S&W shocks. They weigh three pounds less than a conventional 1979 forks, which are full of oil and springs.
Kawasaki has been nibbling away at building a world-beater KX250 for the last few years, but for 2021 they threw some serious R&D money at it. It has a new engine, new frame, electric starter and hydraulic clutch. We are getting anxious to ride ours.
For the last two months we have put a series of different test riders on our 2020 YZ250F with a Rekluse CX automatic clutch. Starting next week we are switching the YZ250F to a Rekluse Core Manual TorqDrive clutch for a comparison.
In our never-ending series of "How The Other Half Lives" we took the World Supermoto Champion's TM 450SMX-FI out for a little footpeg dragging—and the occasional elbow dragging too. Last month it was a Gas Gas trials bike, this month it's a pavement muncher.
You would think that restoring a 1994 Honda CR125 would be a lot easier than a 1979 Yamaha YZ125, but you would be wrong. This was the most frustrating  project bike we ever built.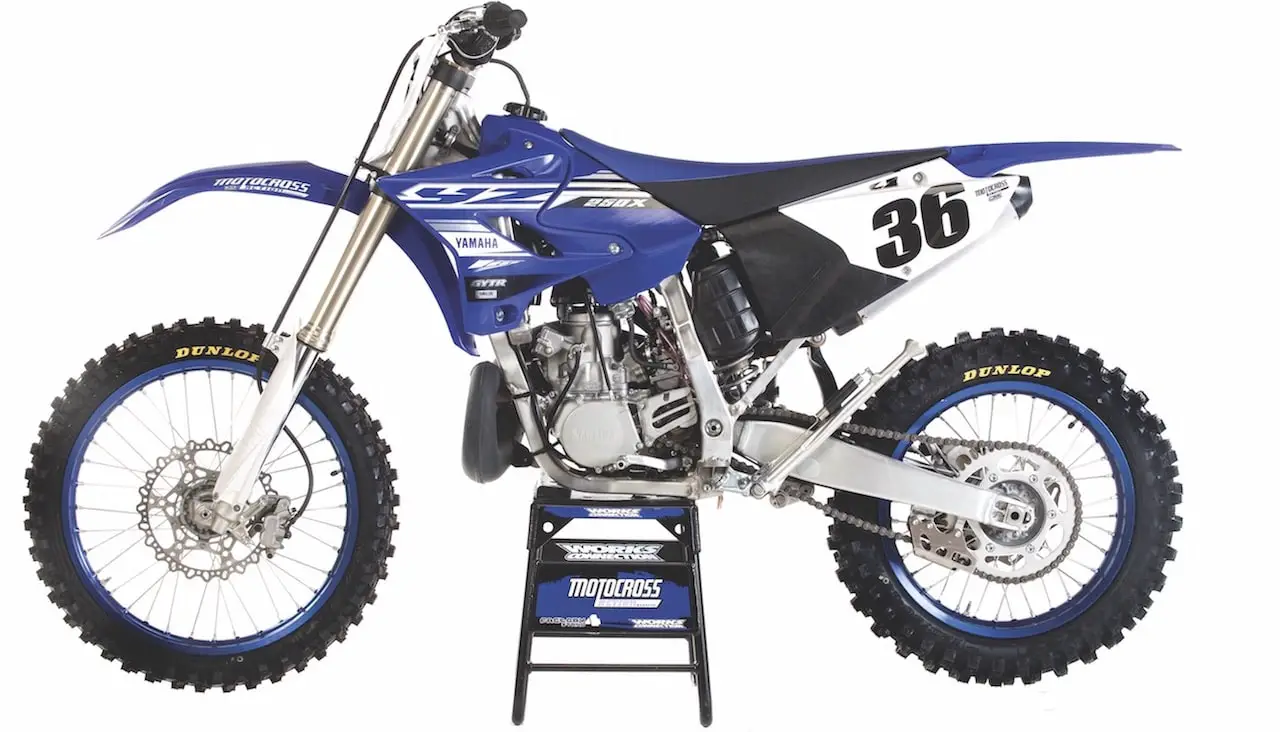 We love the 2020 Yamaha YZ250X. It is one-half motocross bike, one-half off-road bike and one-third conundrum. All we cared about was racing motocross on it, which it is not bad at. It's not a Pro bike, but neither are YZ250 two-stroke buyers.
You would think we would get tired of turning 2020 KTM 250SXs into KTM 300SXs, but we never will. Why not? Because KTM doesn't build a motocross version of their 300—that makes it a challenge to build our own.
MXA test riders were happy with the 2020 KX450 with just some stiffer fork springs, clutch mods, lower chain roller and rear brake fixes, but we got curious about how good it could be if we went all-out on it —so we did.
A FLASHBACK TO OUR 1979 YAMAHA YZ125 BACK IN 1979
This is Jody at Saddleback Park on the box stock 1979 YZ125. This is the exact same bike as shown above. It was bought by an editor after the test and endED up as a trail bike until the editor moved back East. He left it behind and told Jody to do whatever he wanted with it. Jody stored it in his barn for 41 years and never rode it again.

It's moment of glory, up until it got restored, was to make the cover of the January 1979 issue of MXA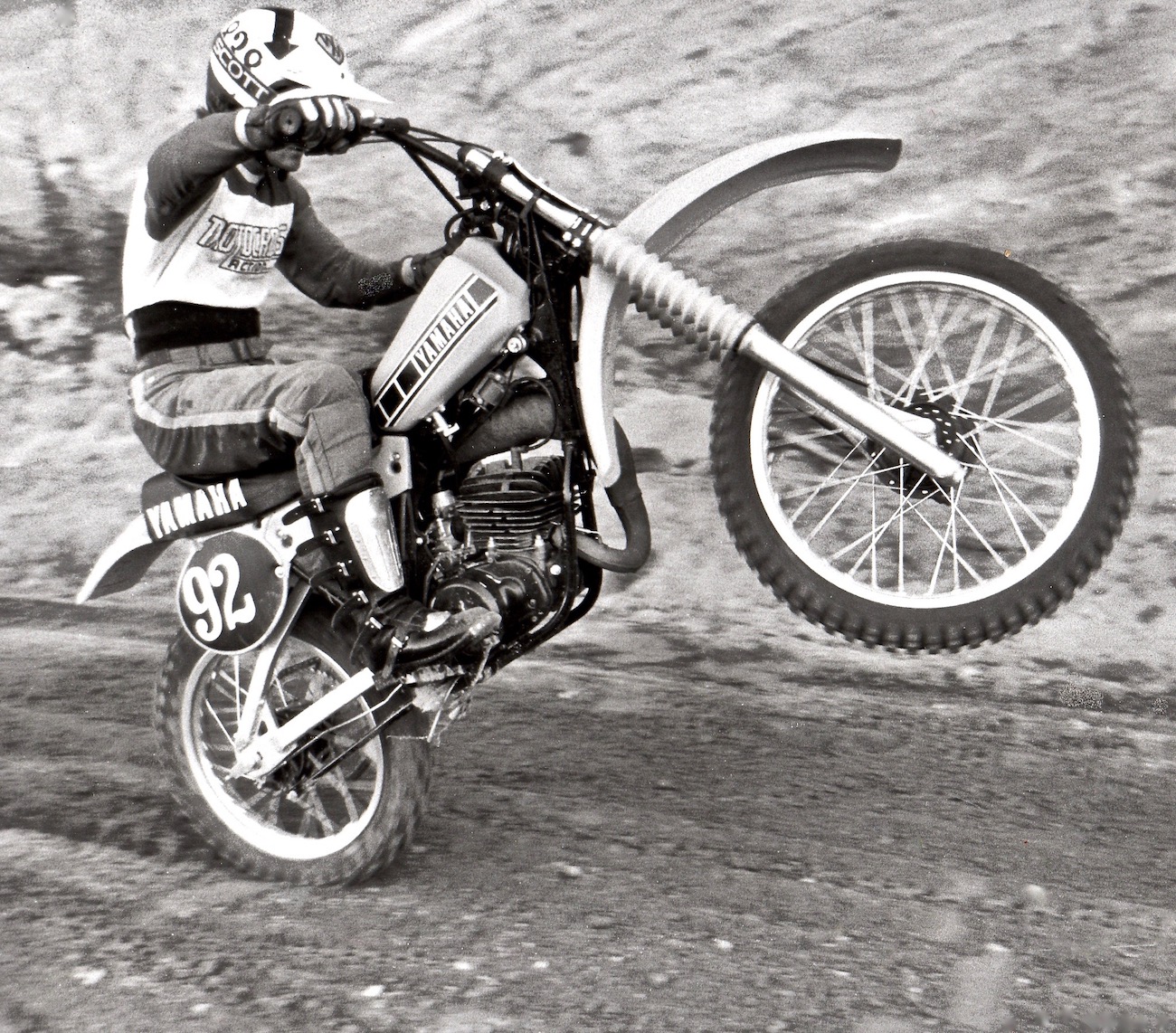 When it was new, MXA used the YZ125 as a test bike, shootout bike (it didn't win) and test bed for aftermarket products, which not coincidentally included Rich Thorwaldson-designed Thork forks and a Bob Fox-designed Fox Mono Air Shock.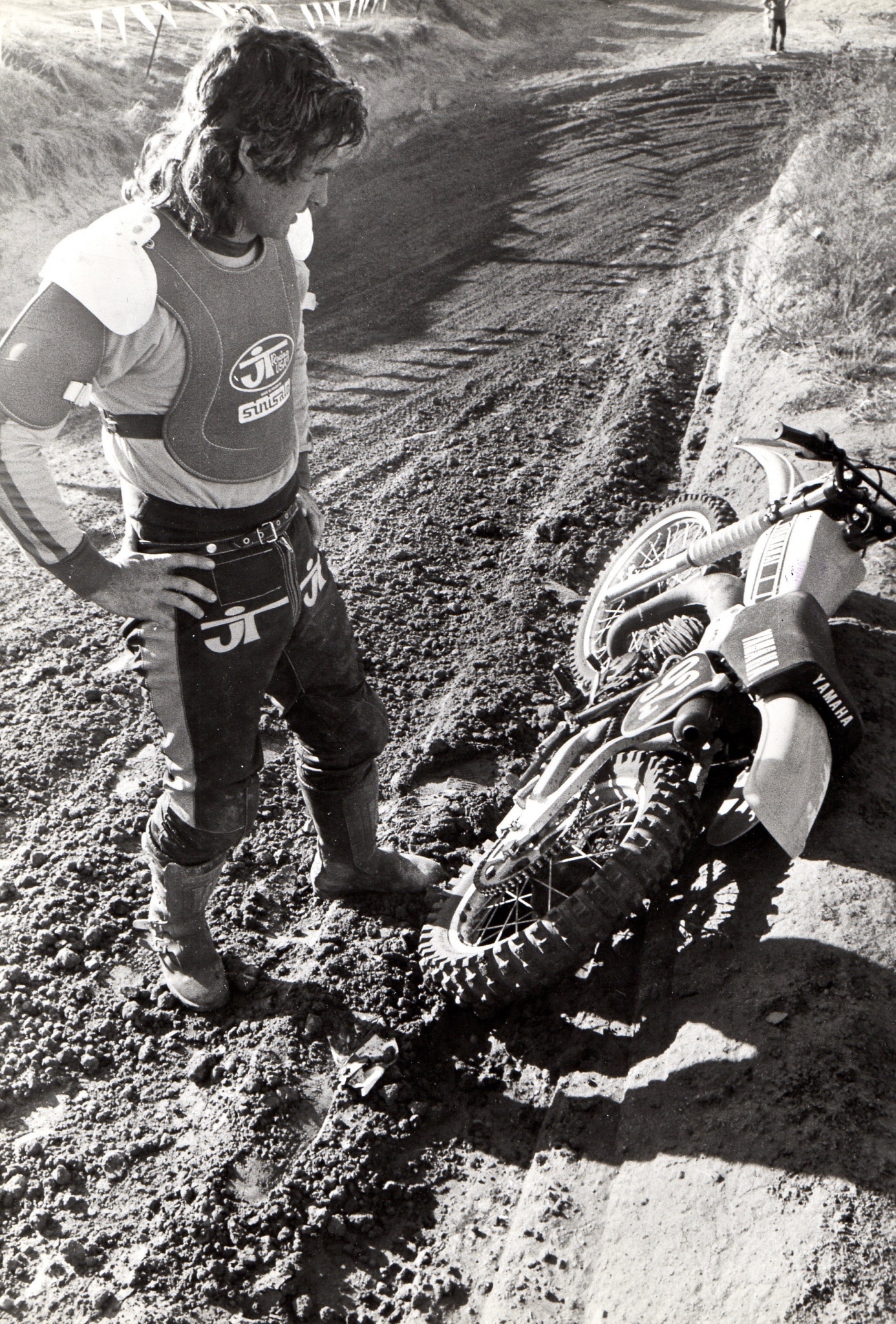 Jody contemplates shooting it after it spun the right side main bearing and skidded to a stop going the wrong way right before the finish line at Saddleback Park in October of 1979. Yamaha's Ed Scheidler fixed it and MXA was racing it again a week later.
YAMAHA'S NEW PEDAL-ASSIST ELECTRIC CIVANTE ROAD BIKE
The Yamaha Civante will retail for #399 and any color as long as it's white.
Yamaha Bicycles is launching the new Civante Class 3 electric pedal-assist bicycle this summer, expanding its lineup of fitness-focused road bikes. The Civante's stylish drop bar design and exceptional handling offer another level of performance in Yamaha's proven e-Bike lineup by providing smooth, natural and powerful assist up to 28 mph.
Yamaha launched the world's first electrically power assisted bicycle back in 1993, and is the only manufacturer with 27-years of experience designing complete e-Bikes from frame to motor. The Civante is Yamaha's first U.S. model offered in the Class 3 category.
The Civante gets its power assist from Yamaha's PWSeries SE motor, which delivers the purest, smoothest and most natural e-Bike assist feeling thanks to Yamaha's Triple Sensor System. Utilizing frictionless sensors, the system measures pedal-torque, bicycle speed and crank arm cadence, and then delivers just the right amount of assist based on changing terrain and riding situations. The lLong-lasting 500-watt-hour Lithium-ion battery pack with versatile charging options (on or off the bicycle) with Yamaha's high-speed charger (charges from 0-80 percent in approximately one hour).

The new Yamaha Civante will be available this summer in a crisp Polar White color scheme with an MSRP of $3399. The Civante will feature a three-year warranty on the drive unit, 500-watt-hour battery, controller, display and frame.
CHRISTINI AWD LAUNCHES TWO-WHEEL DRIVE ELECTRIC MOUNTAIN BIKES
Christini's front wheel drive system.
Christini, who made its name building two-wheel drive off-road motrocycles is now launching a new generation of All-Wheel Drive bicycles utilizing the same revolutionary two-wheel-drive technology that has been used by off-road riders for years. Christini's remarkable pedal-driven machines will have a high-powered electric mid-drive motor to launch them over slippery rocks and wet roots like no rear-wheel drive bicycle ever could. Christini AWD Bicycles are equipped with a mid-drive Bafang 1500W motor with torque sensing pedal-assist capabilities. Available in a 27.5" hardtail and several Fat-tired models, these pedal-assist mountain bicycles can dramatically extend ride length and climbing capabilities. Customers will be able to ride miles further and climb hills never before summited!
The Christini AWD electric pedal-assist mountain bike.
Inventorr, Steve Christini said, "E-bikes are taking over the world because they provide an off-road riding experience to a wider demographic than ever before. With All-Wheel-Drive (AWD) added to that mix, riders will gain a go-anywhere level of confidence never available until now." The Christin AWD mountain bike retails for $5595. For more information go to www.christinibicycles.com
HAVE YOU SEEN THE AUGUST 2020 ISSUE OF MXA? SUBSCRIBING IS THE BEST DEAL IN  MOTOCROSS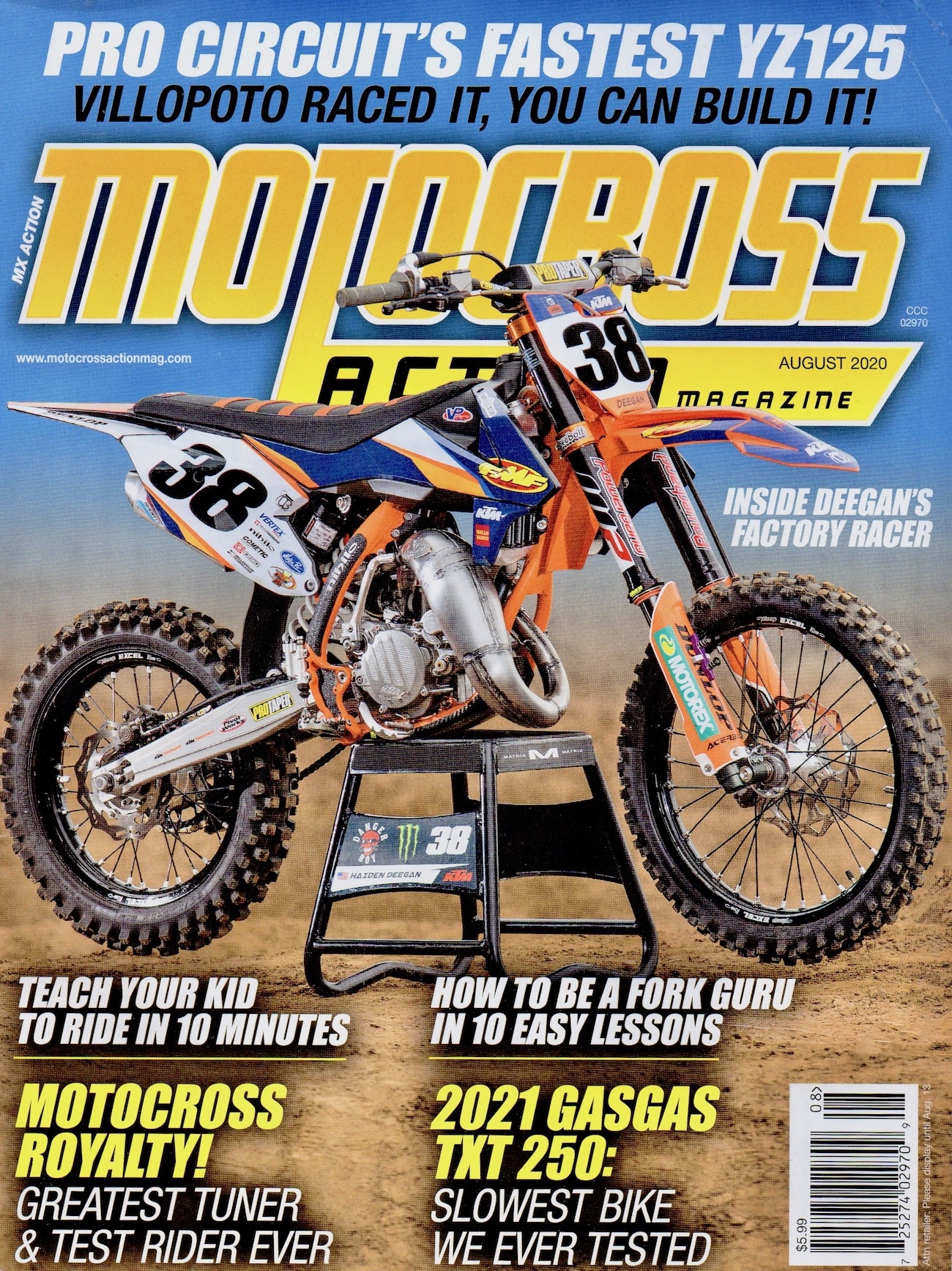 In this issue, out this week, we test a full race Pro Circuit Yamaha YZ125 that we built for the World Two-Stroke Championships. We also had Doug Dubach shepherd our GYTR-kitted YZ450F through its hop-up phase. Unwilling to leave well enough alone we herded up a bunch of kids to help us test a Stacyc electric balance bike, ask a kid to let us ride his full-race Supermini and not only resurrected a 2005 Honda CR125, but blew it up, while we were at it. If that wasn't enough we interview Rocket Rex Staten to prove that we weren't afraid of him.
HOW TO SUBSCRIBE TO MXA SO THAT YOU NEVER MISS ANOTHER ISSUE OR SPEND A PENNY
If you subscribe to MXA you can get the mag on your iPhone, iPad, Kindle or Android by going to the Apple Store, Amazon or Google Play or in a digital version. Even better you can subscribe to Motocross Action and get the awesome print edition delivered to your house by a uniformed employee of the U.S. Government. You can call (800) 767-0345 or Click Here (or on the box at the bottom of this page) to subscribe.
GLEN HELEN'S 10-HOUR & 24-HOUR ENDURANCE RACES ANNOUNCED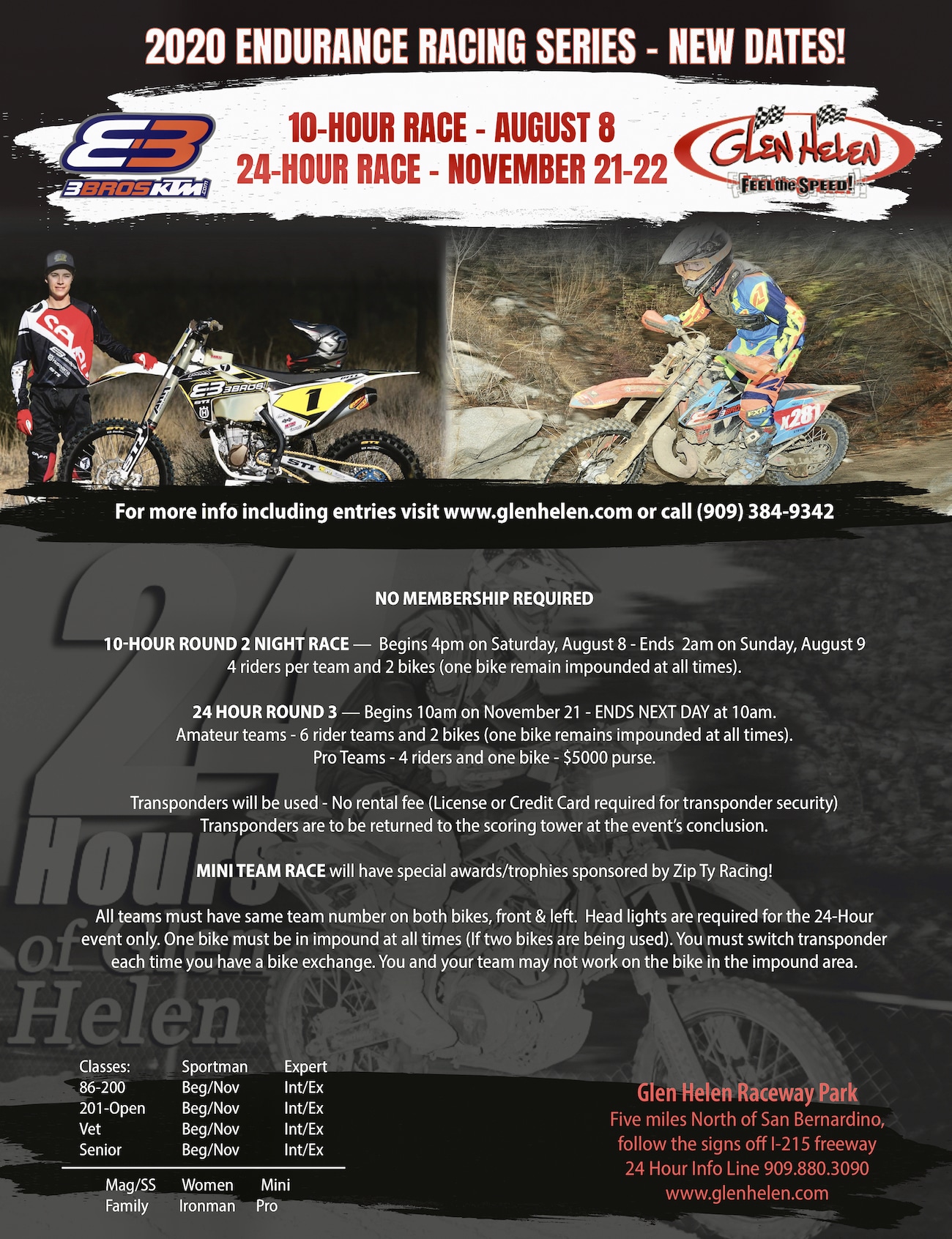 Glen Helen's 3Bros-sponsored 10-Hour and 24-Hour off-road race have been scheduled for August 8 and November 21-22. This year the 10-Hour race will start at 4:00 p.m. Saturday and end at 2:00 a.m.Sunday morning. It is open to 4 riders per team and two bikes. The 25-Hour of Glen Helen will begin on November 21 and 10:00 a.m. and end on Sunday, November 22 at 10:00 a.m. The amateur teams can have 6 riders and two bikes, but the Pro teams can only have 4 riders and must finish the 24 hours on the one bike. Headlights are required for the 24-hour only, but recommended for the 10-Hour. For more info go to www.glenhelen.com.
MXA AD OF THE WEEK: 1968 MONTESA CAPPRA 360GP

The 1969 Cappra 360 GP had a displacement of 351.2cc, a four-speed gearbox, 19-inch front  wheel (but there was a 21-inch option)and a choice to motocross or off-road gas tank and a double leading-shoe front brake.
EVERY 2020 AMA SUPERCROSS WINNER AT A GLANCE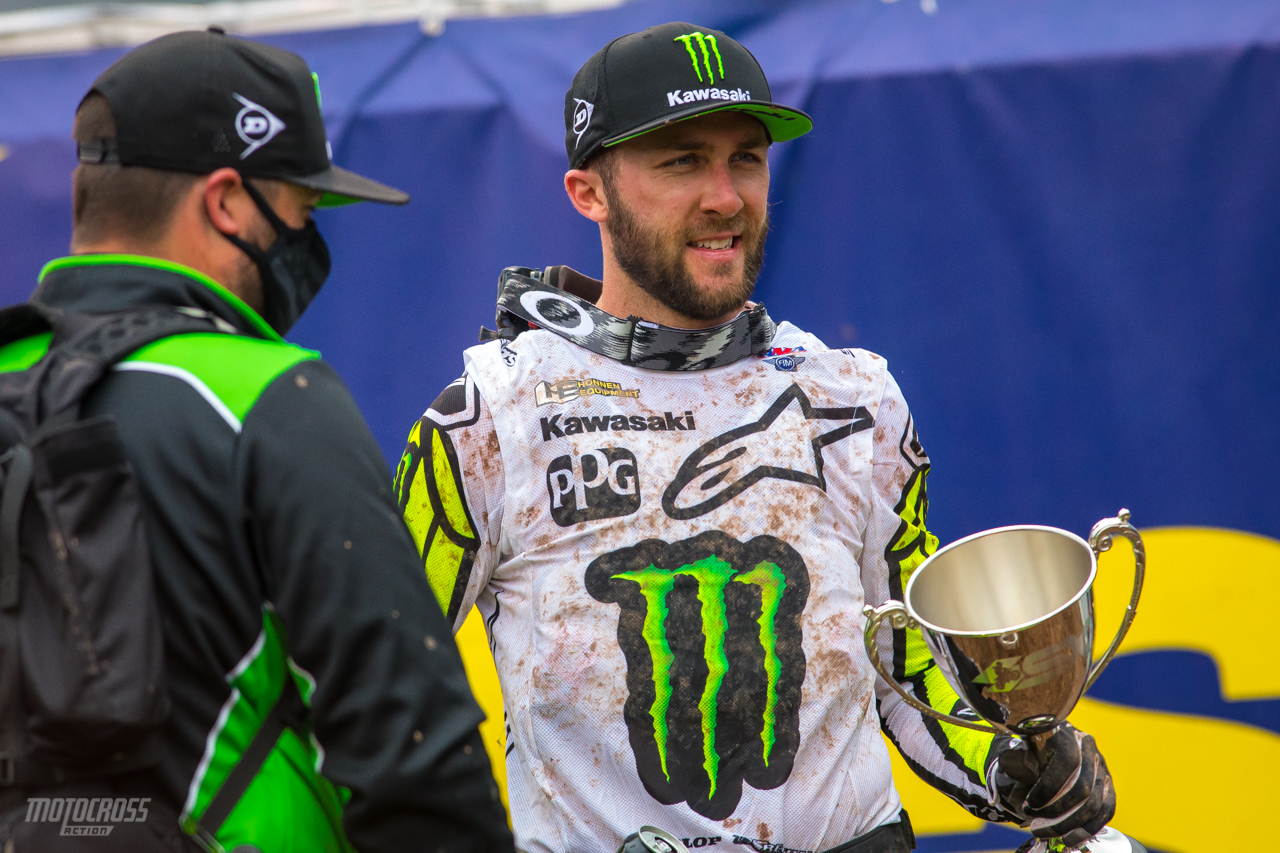 Eli Tomac got the Cup, the million dollar bonus and the monkey off his back by winning in his 7th try.
Venue                                         450                             250
1. Anaheim 1…………………Justin Barcia………..Justin Cooper (West)
2. St. Louis…………………….Ken Roczen…………..Austin Forkner (West)
3. Anaheim 2………………..Eli Tomac………………Dylan Ferrandis (West)
4. Glendale…………………..Ken Roczen…………..Austin Forkner (West)
5. Oakland……………………Eli Tomac……………….Dylan Ferrandis (West)
6. San Diego…………………Cooper Webb……….Dylan Ferrandis (West)
7. Tampa……………………….Eli Tomac……………….Shane McElrath (East)
8. Arlington………………….Eli Tomac……………….Chase Sexton (East)
9. Atlanta……………………..Ken Roczen…………….Chase Sexton (East)
10. Daytona…………………Eli Tomac………………..Garrett Marchbanks (East)
11. Salt Lake City #1……Eli Tomac………………..Shane McElrath (East)
12. Salt Lake City #2……Cooper Webb…………Shane McElrath (East)
13. Salt Lake City #3…….Eli Tomac………………Chase Sexton (East)
14. Salt Lake City #4...…..Eli Tomac……………….Austin Forkner (West)
15. Salt Lake City #5…….Ken Roczen…………….Austin Forkner (West)
16. Salt Lake City #6……..Cooper Webb……….Chase Sexton (East)
17. Salt Lake City #7……..Zach Osborne………Chase Sexton (East)
450 Supercross Champion…Eli Tomac
250 West Champion…Dylan Ferrandis
250 EastChampion…Chase Sexton
TAKE THE MXA 2020 READER SURVEY & HAVE A CHANCE TO WIN FREE THOR GEAR!

Score free head-to-toe Thor gear now! Complete our reader survey we'll take your input to help improve future web and monthly print content of Motocross Action. One lucky winner will be chosen at random to receive a free gear ensemble from Thor (style and/or color may vary). This year's Thor (www.thormx.com) gear giveaway includes the following: Prime Pro jersey and pants, Sector Split with MIPS helmet, Radial boots, Sniper Pro goggles, and Agile gloves. That's $750 worth of products, so don't miss this opportunity to win all this stylish gear for free! Fill out the entire survey!
MXA PRODUCT SPOTLIGHT: 2020.5 FXR PODIUM LE PATRIOT GEAR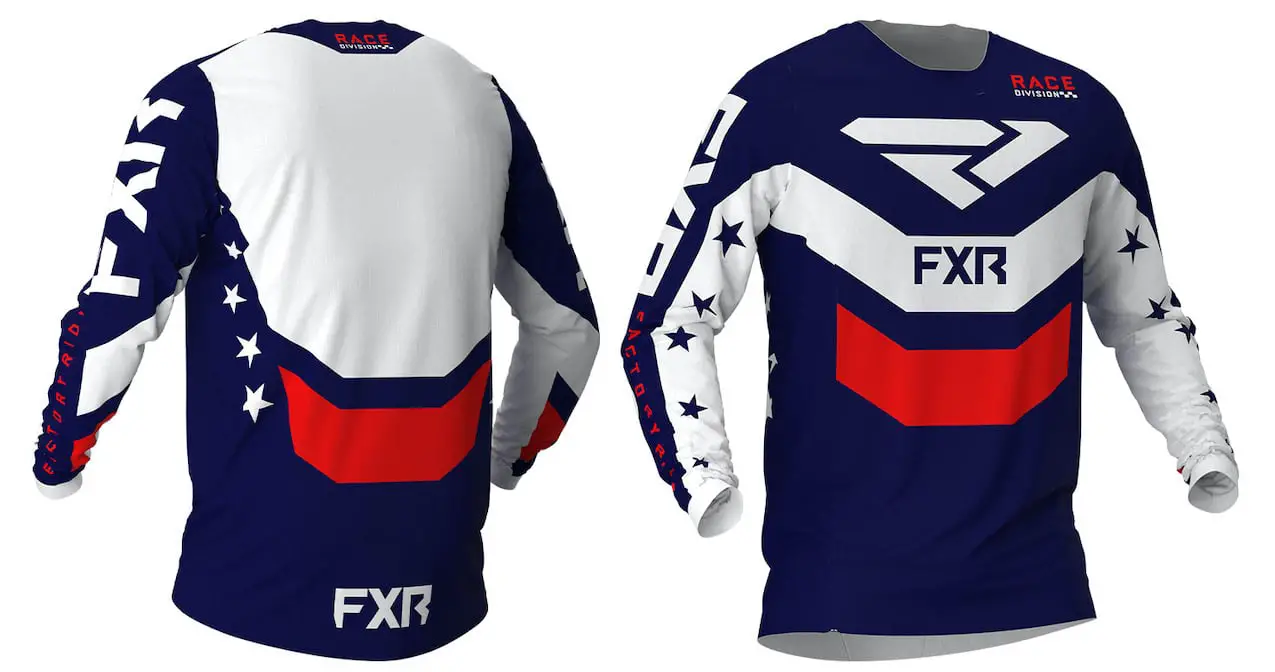 Jersey: The FXR Patriot jersey is made from a lightweight polyester-spandex mesh combined with high-performance polyester knit. It features an athletic, moisture wicking yarns, shaped collar, tapered cuffs, air flow in the shoulder and arms and fade free sublimation printing. The retail price is $79.00.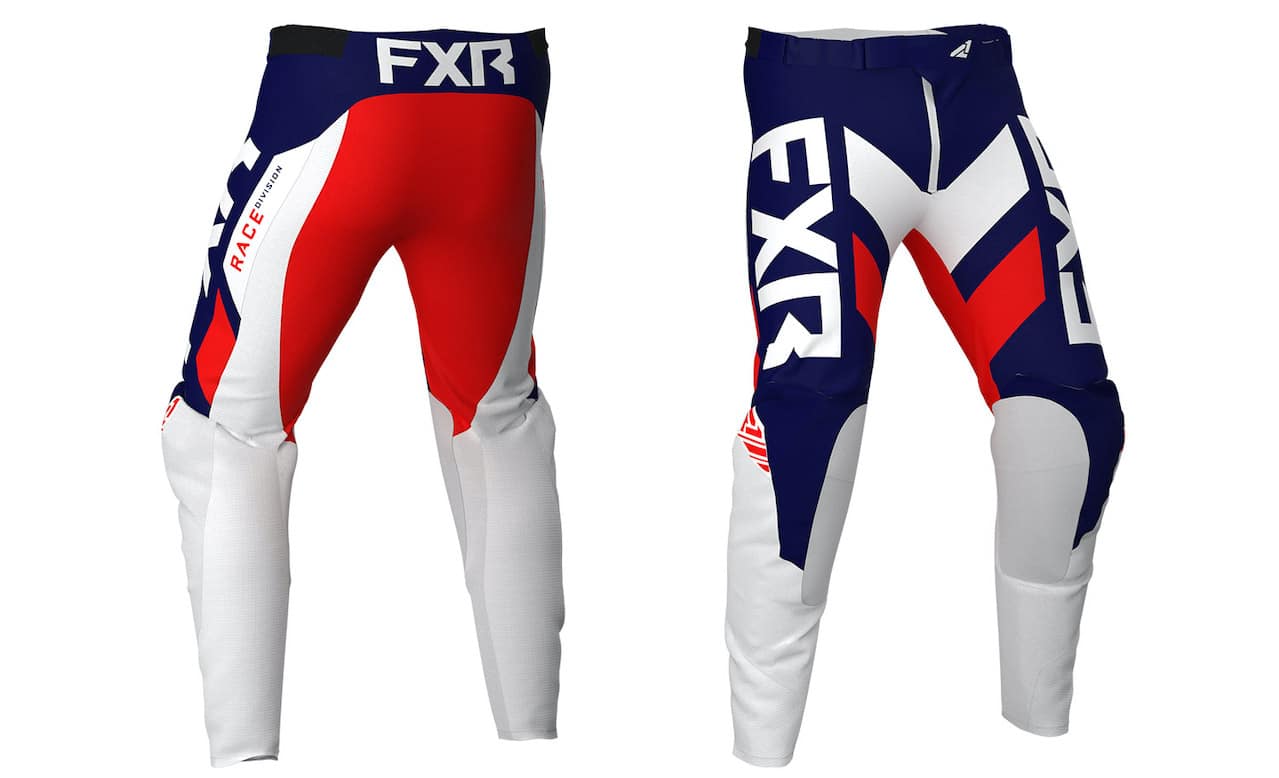 Pant: The FXR 2020.5 Patriot pants are built on the M-2 chassis to offer maximum mobility. The main shell is made from lightweight, perforated, four-way stretch fabric with high levels of flexibility, strength and ventilation. The benefits from FXR's new Slim Fit knee design with added pre-curve provides less restriction and positive contact area. Plus, the knee has full grain lather heat guards. The waist comes with an updated yoke panel in the back and hook and loop adjustment for a tight fit. There is triple top-stitching in critical areas for extra strength and durability. The retail price is $199.00.
FXR 6D Patriot helmet: Using the original ODS technology platform, 6D raised the bar of their award winning technology to introduce the new proprietary FXR ATR-2 Race Division helmet. It has the most effective energy management system of any helmet ever manufactured for off-road motorcycle riding. There are bold FXR graphics, a removable and washable comfort liner, emergency Quick-Release Cheek Pads, shear-away visor screws, titanium D-Rings and exceeds DOT, ECE, ACU and ASTM Standards. The retatil price is $695.00 at www.fxrracing.com.
MXA PRODUCT SPOTLIGHT: TWIN AIR'S RADIATOR TRICKS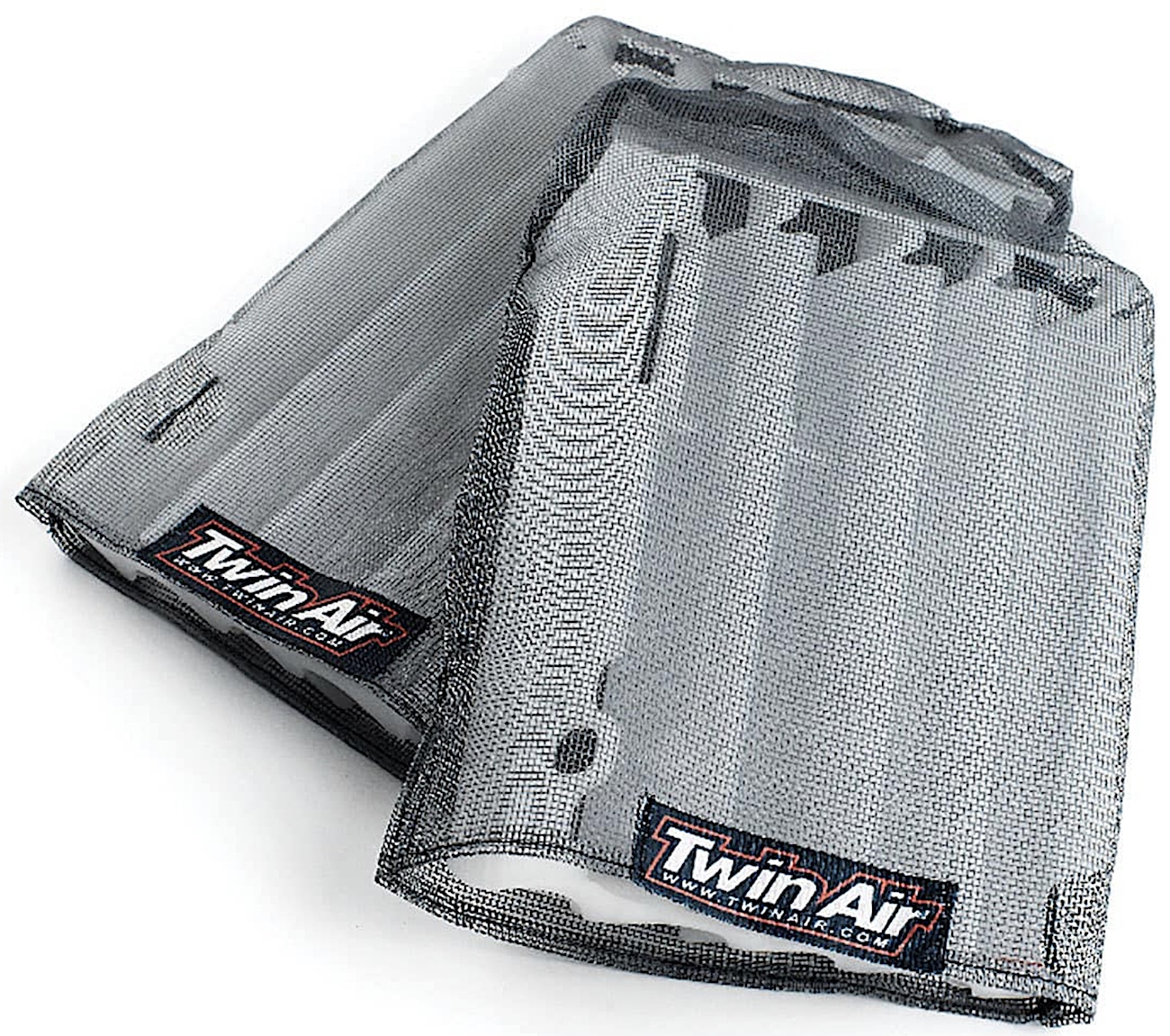 TWIN AIR RADIATOR SLEEVES
Twin Air radiator sleeves are used to keep mud and debris from blocking much-needed air to your bike's radiators. Back in the golden oldie days, when two-strokes roamed the earth at will, savvy two-stroke riders would attach a section of wire mesh across the down tubes of their bikes to knock down mud before it could clog the fins of their air-cooled engines. The mud would stick to the wire mesh and then vibrate off. Twin Air obviously has some old moto soldiers in its design department, because that is exactly what Twin Air radiator sleeves do—except for radiators instead of cylinder fins. The Twin Air radiator sleeves are made from a nylon-coated, glass yarn designed to shed mud and dirt before it builds up. The retail price is $44.95. For more info go to www.twinair.com or call (800) 749-2890.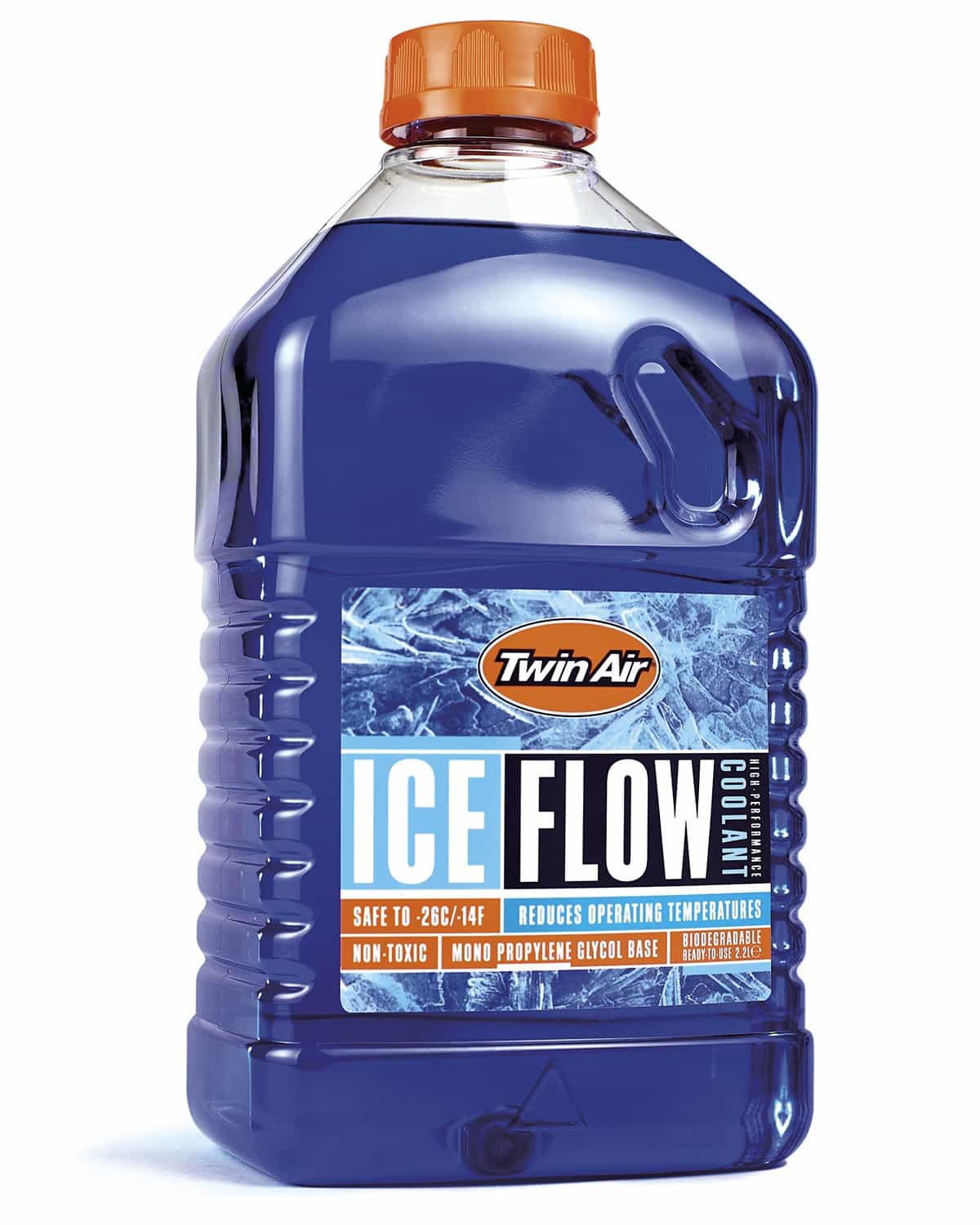 TWIN AIR ICE FLOW COOLANT
Twin Air's high-performance, biodegradable, IceFlow coolant is a ready-to-use coolant formulated for long-lasting protection of all metals inside today's motorcycle cooling systems, without harming the water pump seals. IceFlow coolant offers the added assurance of an extreme freezing point (-26ºC / -14.8ºF and is a Mono Propylene Glycol-based, silicate-free and formulated with demineralized water and cutting edge nanotech and organic additive technology. It is non-toxic and biodegradable. The retail price is $19.95 in in 2.2 liter (2. 32 quart) bottles.

TWIN AIR ICE FLOW HIGH-PRESSURE RADIATOR CAPS
Twin Air's Ice Flow radiator cap increases the boiling point of the water in your bike's radiator by increasing the amount of pressure inside the radiator. The difference between a stock radiator cap and a high-pressure one is dramatic. Without any pressure on it, water will boil at 212 degrees Fahrenheit (at standard temperature and barometric pressure); however, a cooling system that is under 15 pounds of pressure will allow straight water to reach 250 degrees before it boils. For every pound of pressure exerted on the coolant, the static boiling point is raised by 3 degrees. Twin Air offers 1.8 radiator caps to replace the stock 1.1 caps on Hondas, Yamahas, Kawasakis and Suzukis. For KTMs and Husqvarnas, which come stock with 1.8 caps, they have a 2.0 cap. The retail price iis $24.95.  For more information on Twin Air products go to (800) 749-2890 or www.twinair.com.
MXA PRODUCT SPOTLIGHT: MOOSE RACING AGROID F.I. HELMETS

F.I. Agroid blue helmet.
Protect your noggin without breaking the bank in the new Moose Racing F.I. Agroid helmet. DOT and ECE certified, the F.I. Agroid helmet features a multi-density EPS liner and MIPS brain protection system for impact absorption from all angles. There are 9 intake vents feed cool air into the deep internal air channels and 3 exhaust vents to expel warm air. An extra-large eye port provides a large field of vision and the friction hinge visor allows for on-the-fly visor adjustment.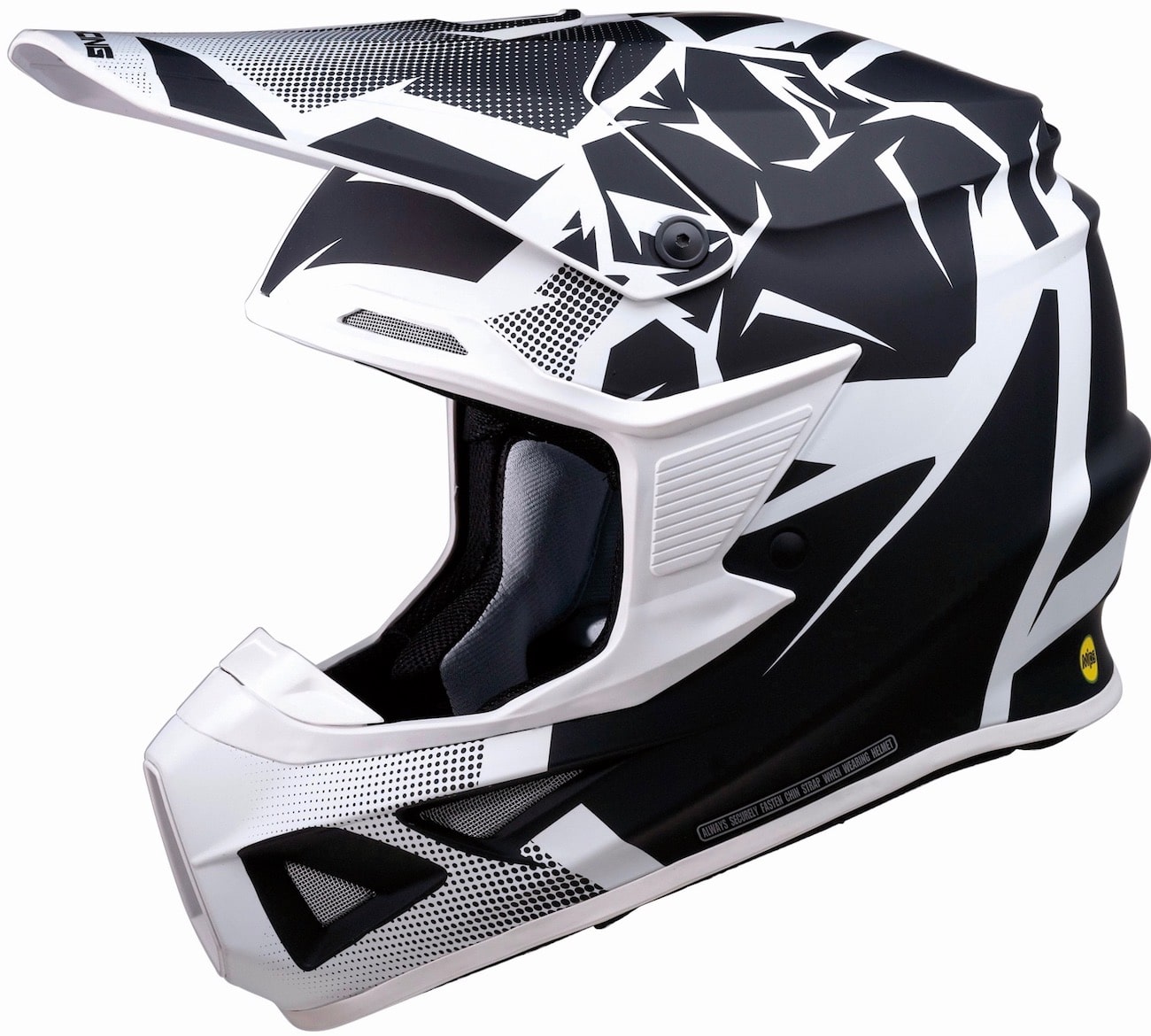 F.I. Agroid white helmet.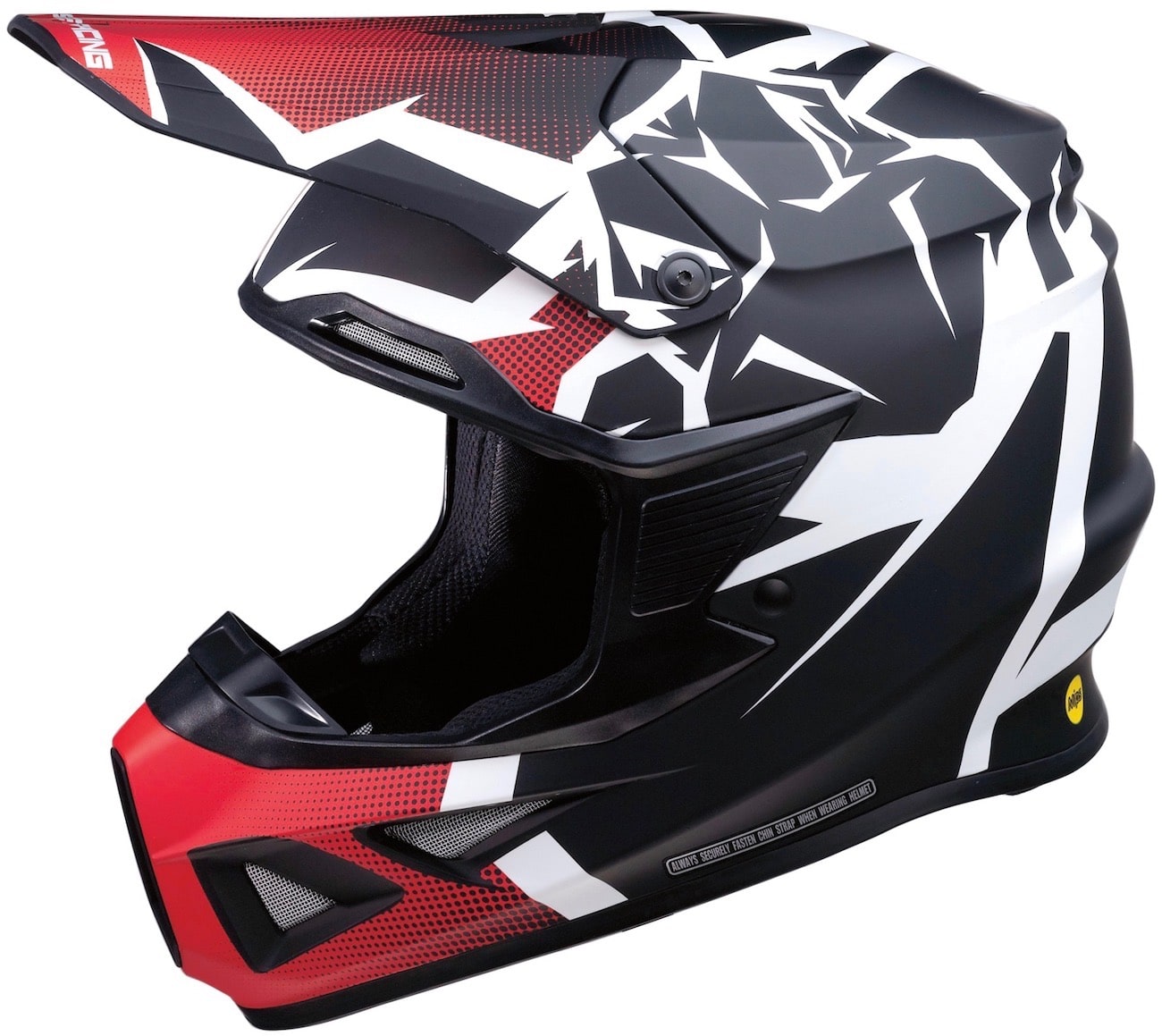 F.I. Agroid red helmet.
F.I. Agroid iridescent helmet.
It is offered in sizes from XS-3XL. Suggested retail $149.95. For more information go to www.mooseracing.com
MXA PRODUCT SPOTLIGHT: ASTERISK CELL KNEE BRACE LINE
ASTERISK ULTRA CELL 3.0 KNEE BRACE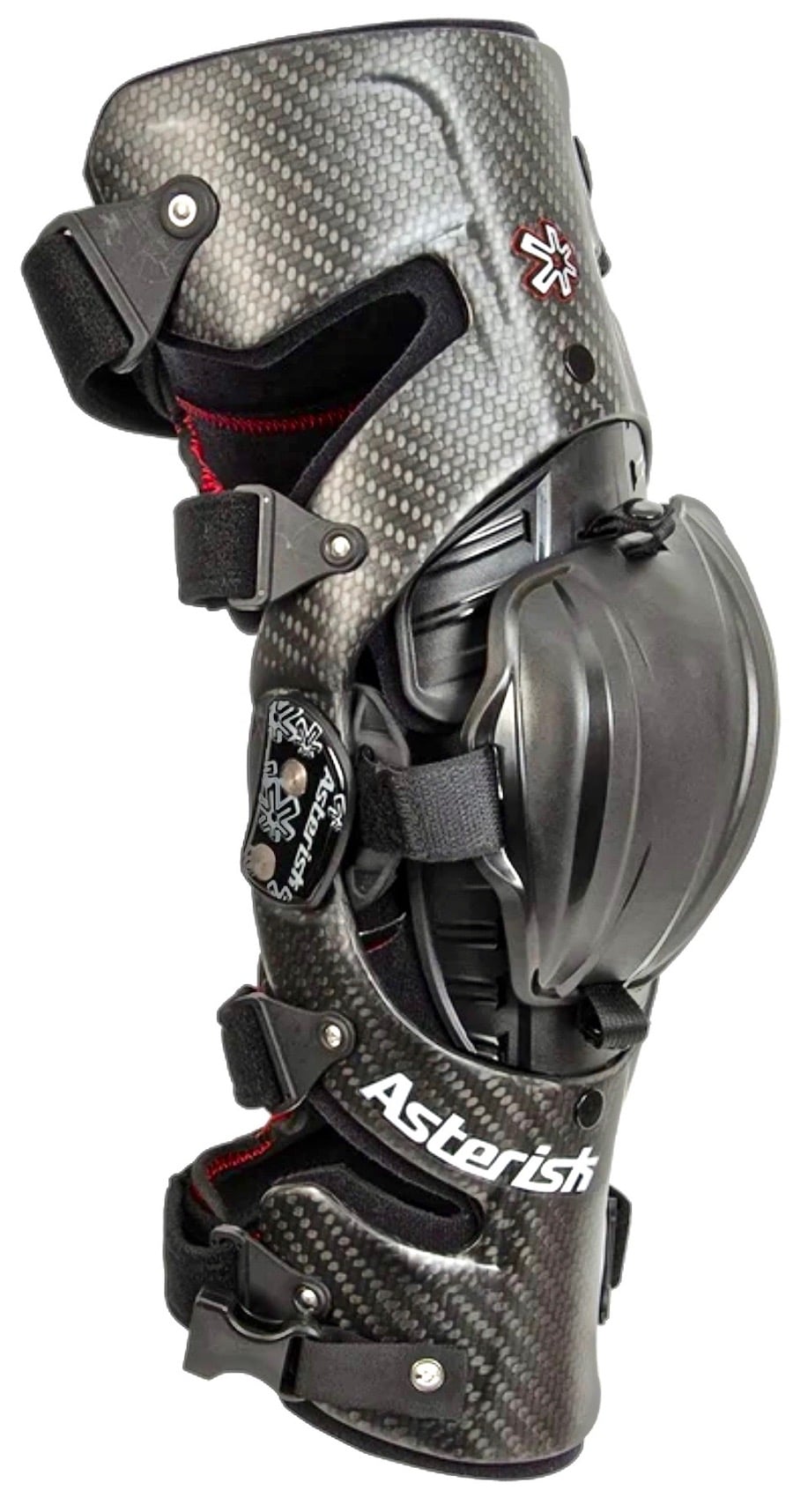 Asterisk's all-new Carbon Cell 1 (CC1) is an example of our dedication to making the finest quality, fitting and performing knee braces in the world. The CC1 is manufactured from Military Spec and Aerospace grade carbon fiber pre-preg that is made in America, the finest in the world. Retail price $679.15 (pair).
ASTERISK CELL KNEE BRACE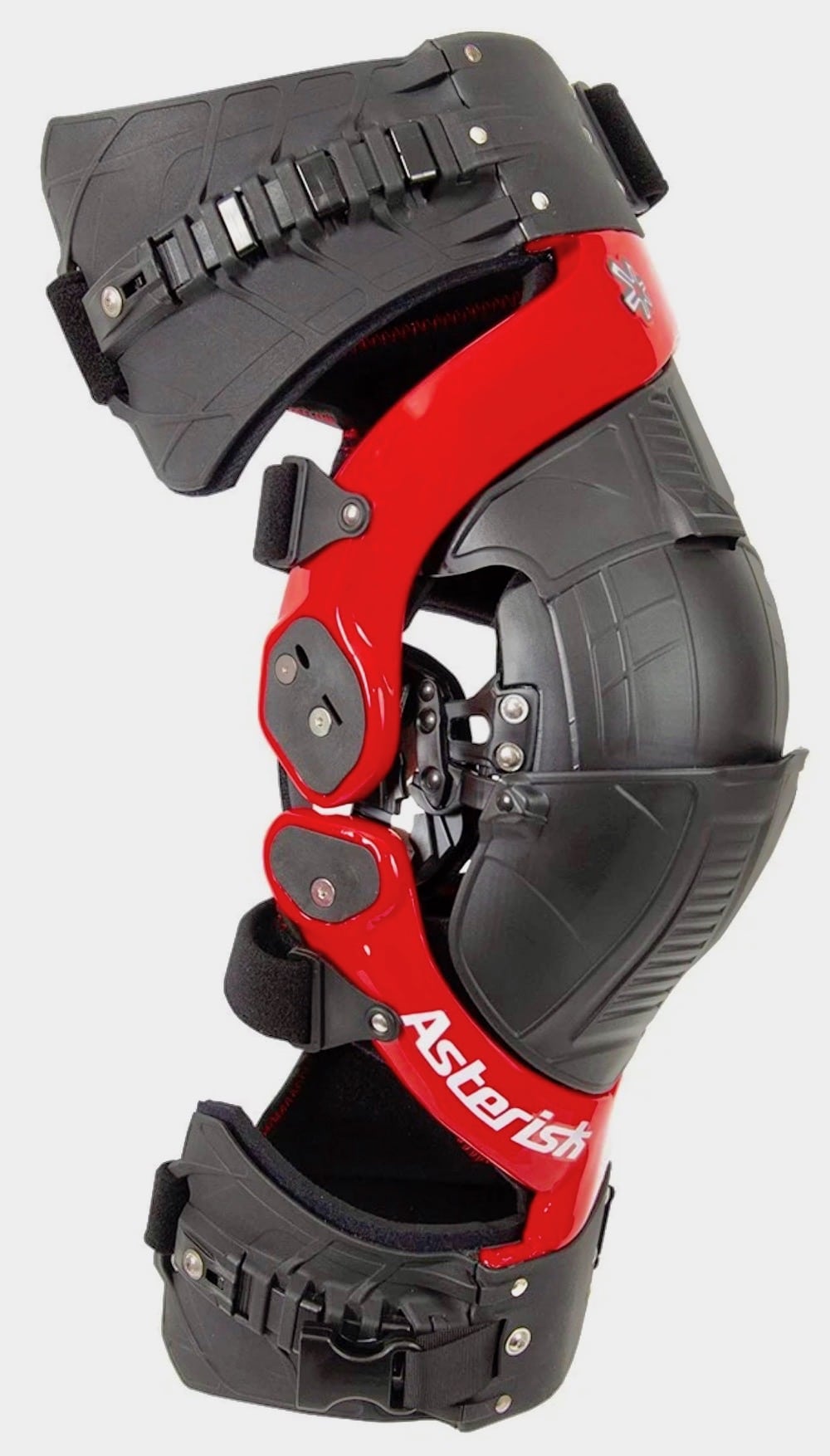 .With continued support of the current Ultra Cell, we have trimmed down the profile of the cuffs and liners on the Ultra Cell 3.0 to allow independent adjustment for the best comfort and support. Although many of our customers have been extremely satisfied with the Ultra Cell with the BOA system, we felt it necessary to focus on a lower profile model. Retail price $619.15 (pair).
ASTERISK CELL KNEE BRACE
The Asterisk Cell Knee is built on more than 10 plus years of time-tested and proven designs. Several patented design concepts come together in unison to create the Cell knee system: the adjustable A.R.C. Cuff has the ability to be totally adjustable, yet remain rigid; simple and low profile. The rolling-gliding hinge follows the natural movement of the knee, while the tibia plateau-capturing frame design provides strong, yet lightweight protection. A brace-to-boot tether attachment helps prevent lower leg rotation. Retail price $594.15 (pair).
ASTERISK JUNIOR CELL KNEE BRACE
Riding and racing motorcycles is serious business – even for the kids. There is no doubt their growing knees need and deserve protection, and the Asterisk Junior Cell Protection System is ready to do the job. Revolutionary design meets simple, stress-free fastening to create a comfortable and user-friendly brace for the Pros of tomorrow. Sometimes the bike needs protection too so we've added a special guard to the hinge area—your riding pants and tank graphics will thank you. Retail price $296.65 (pair).
ASTERISK MICRO CELL KNEE BRACE
The Micro Cell is designed for young rider between 5 to 10 years old, depending on size and weight. This is the first of Asterisk's "Slim Line" of carbon knee braces. The Micro Cell has an epoxy pre-preg carbon frame, made in our factory in Corona, California, with a full coverage patella cup and hyperextension stops ranging from 0 to 30-degrees (similar to the Junior Cell brace). It is also equipped with a true motion hinge. This brace offers rigid lateral arms for the best support and lowest profile. Retail price $296.65 (pair). For more information go to www.asterisk.com
HIS WEEK'S BIRTHDAY BOYS: CAN YOU BLOW OUT THE CANDLES WITH A MASK ON?

July 11…Kent Howerton 1954
July 11…Todd DeHoop 1968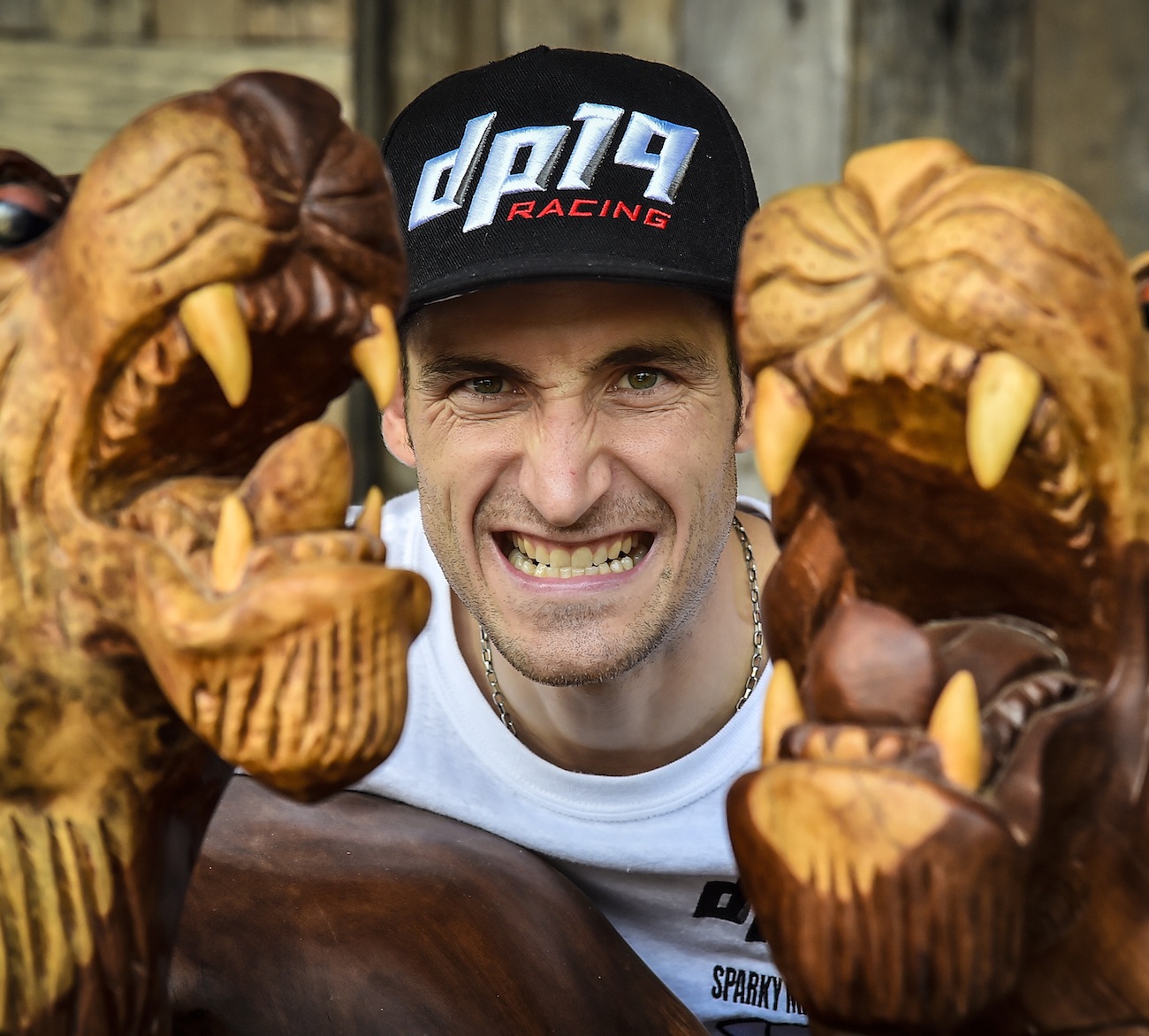 July 12…David Philippaerts 1983

July 12…Anthony Rodriguez 1995
July 12…Benoit Paturel 1994
July 13…Destry Abbott 1972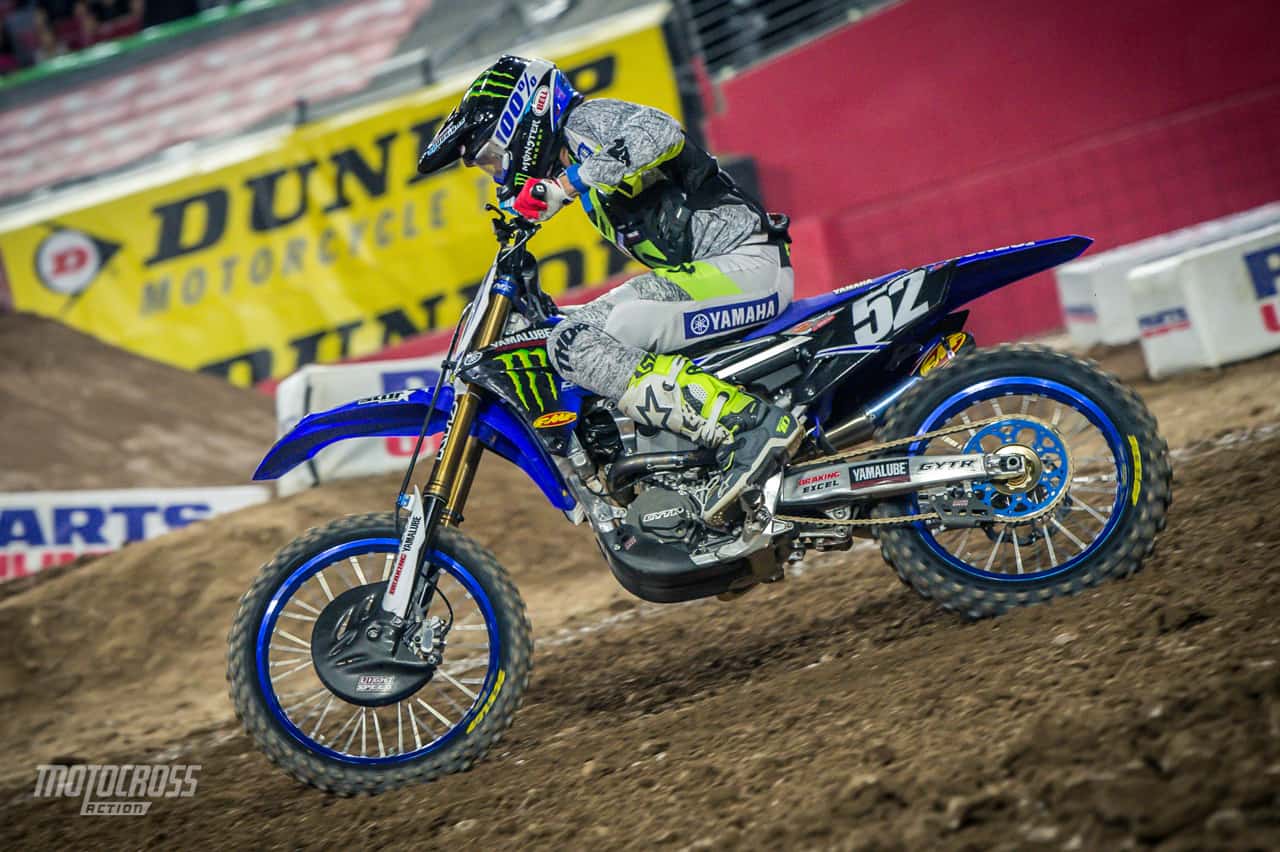 July 13…Mitch Oldenburg 1994
July 14…Robbie Maddison 1981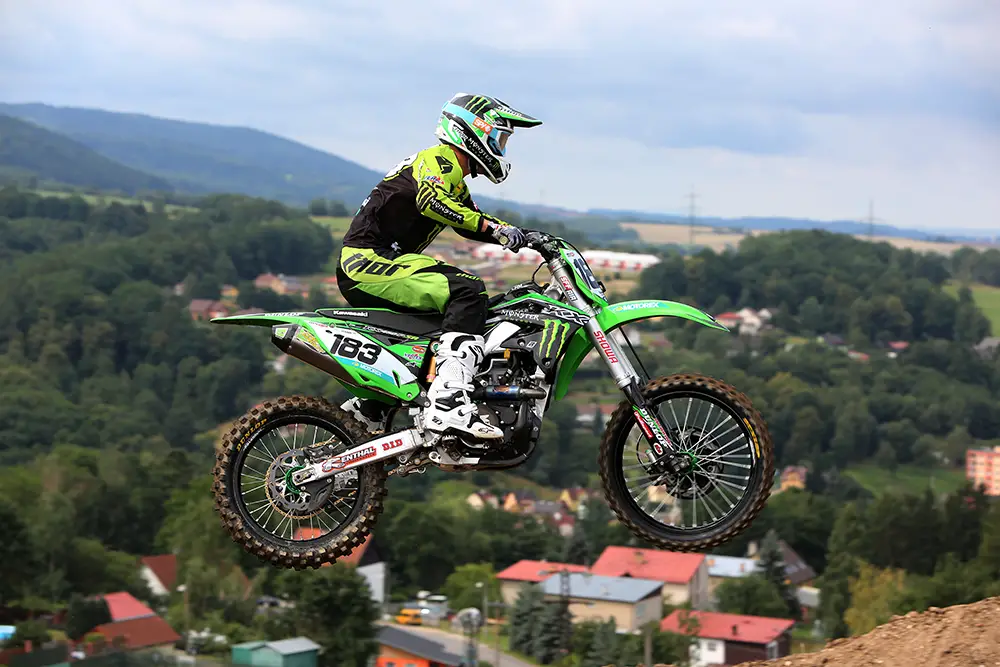 July 15…Steven Frossard 1987
July 15…Lori Wilson 1962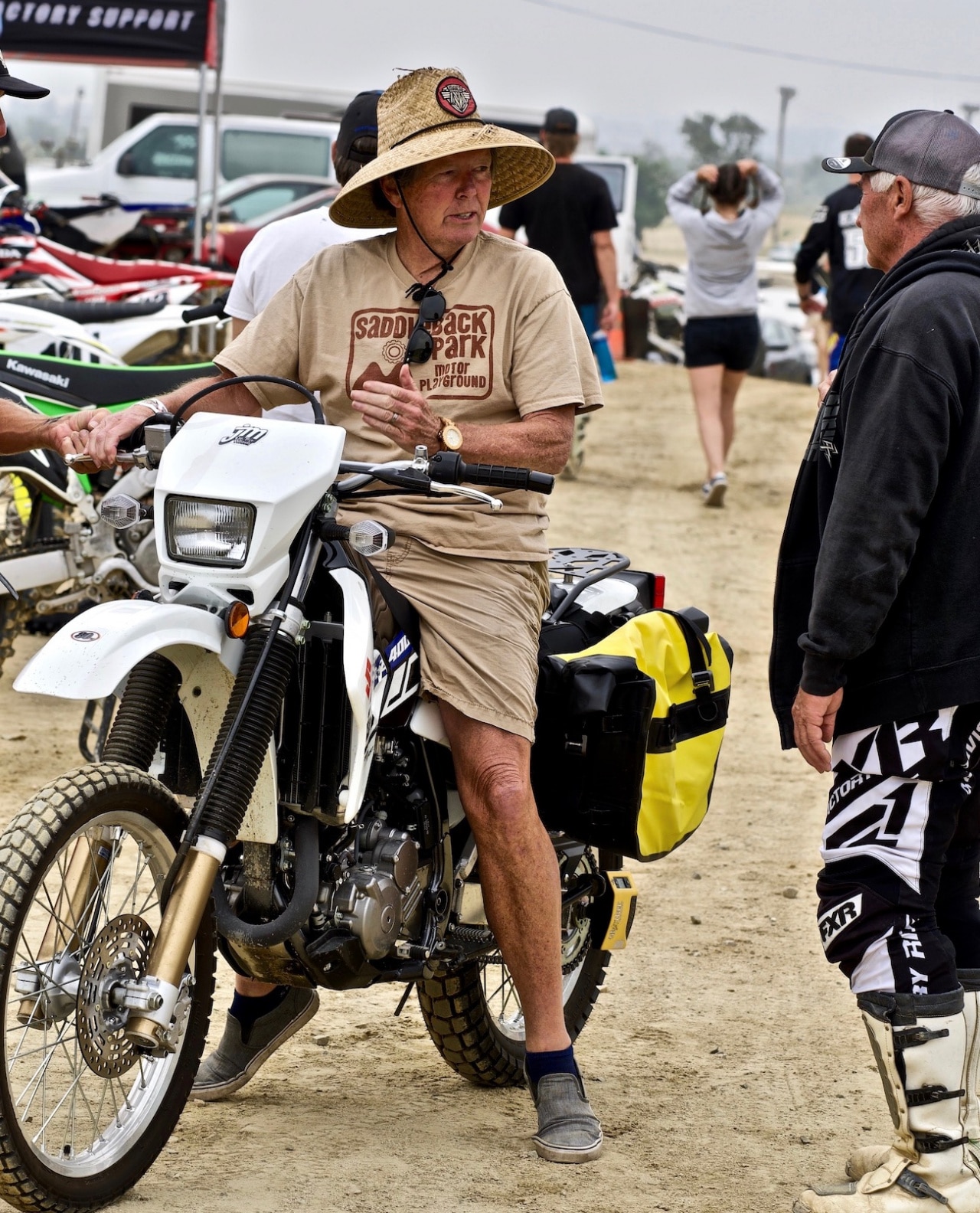 July 15…Jimmy Mac 1953
July 16…Josh Summey 1983
2020 GREAT PLAINS VINTAGE MOTOCROSS SERIES: JULY 19, AUG. 9 & OCT. 11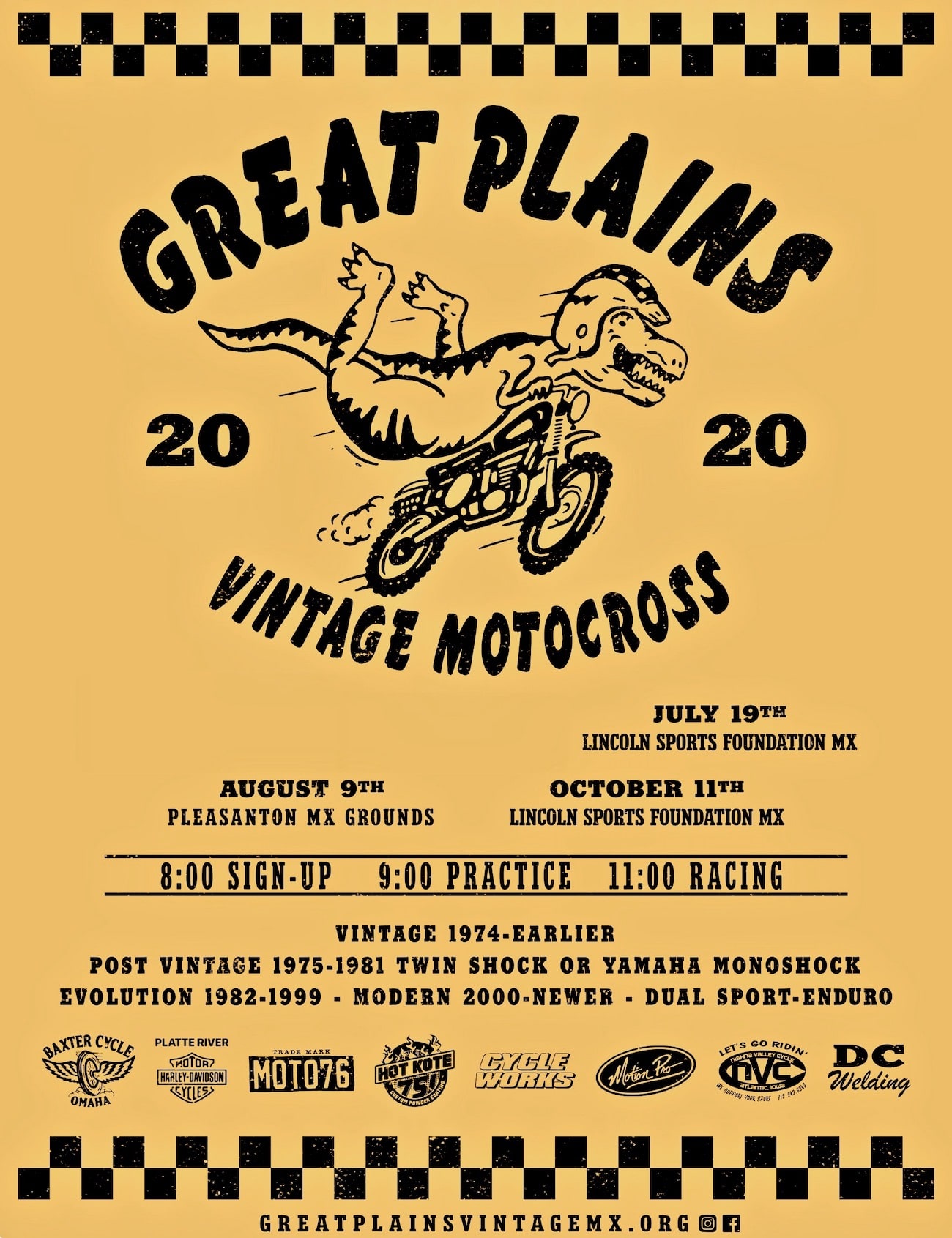 For more information about the Great Plains Vintage Series go to www.greatplainsvintagemx.org
THE 32:1 PREMIX CLASSIC COMING TO LAST CHANCE RACEWAY ON SEPT. 11-13
For more information about the September 11-13 race in Montana go to www.lastchancemx.com.
2020 WISECO WORLD TWO-STROKE MOTOCROSS CHAMPIONSHIP WILL BE HELD ON OCTOBER 3, 2020
For more information go to www.glenhelen.com
40TH ANNUAL CZ WORLD CHAMPIONSHIP RESCHEDULED FOR OCTOBER 9-10 AT MARYSVILLE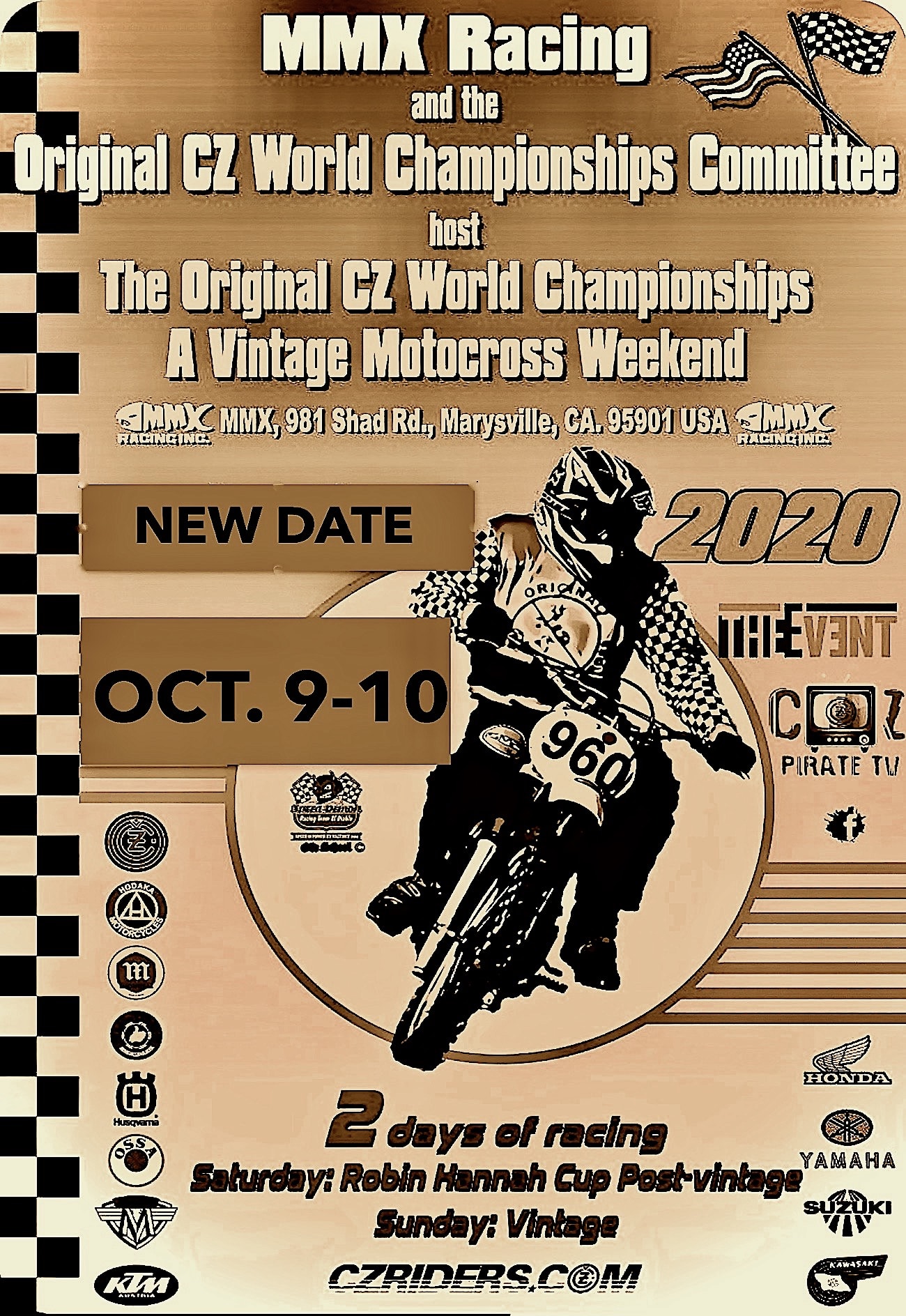 Dating back to 1980 when MXA's Jody Weisel, Ketchup Cox and Pete Maly talked Saddleback Saturday promoter Jim Beltnick into holding a CZ race, the CZ World Championship is now on its 40th anniversary in 2020. For more information go to www.czriders.com
36TH ANNUAL WORLD VET MOTOCROSS CHAMPIONSHIP ON NOVEMBER 6-8: START PLANNING NOW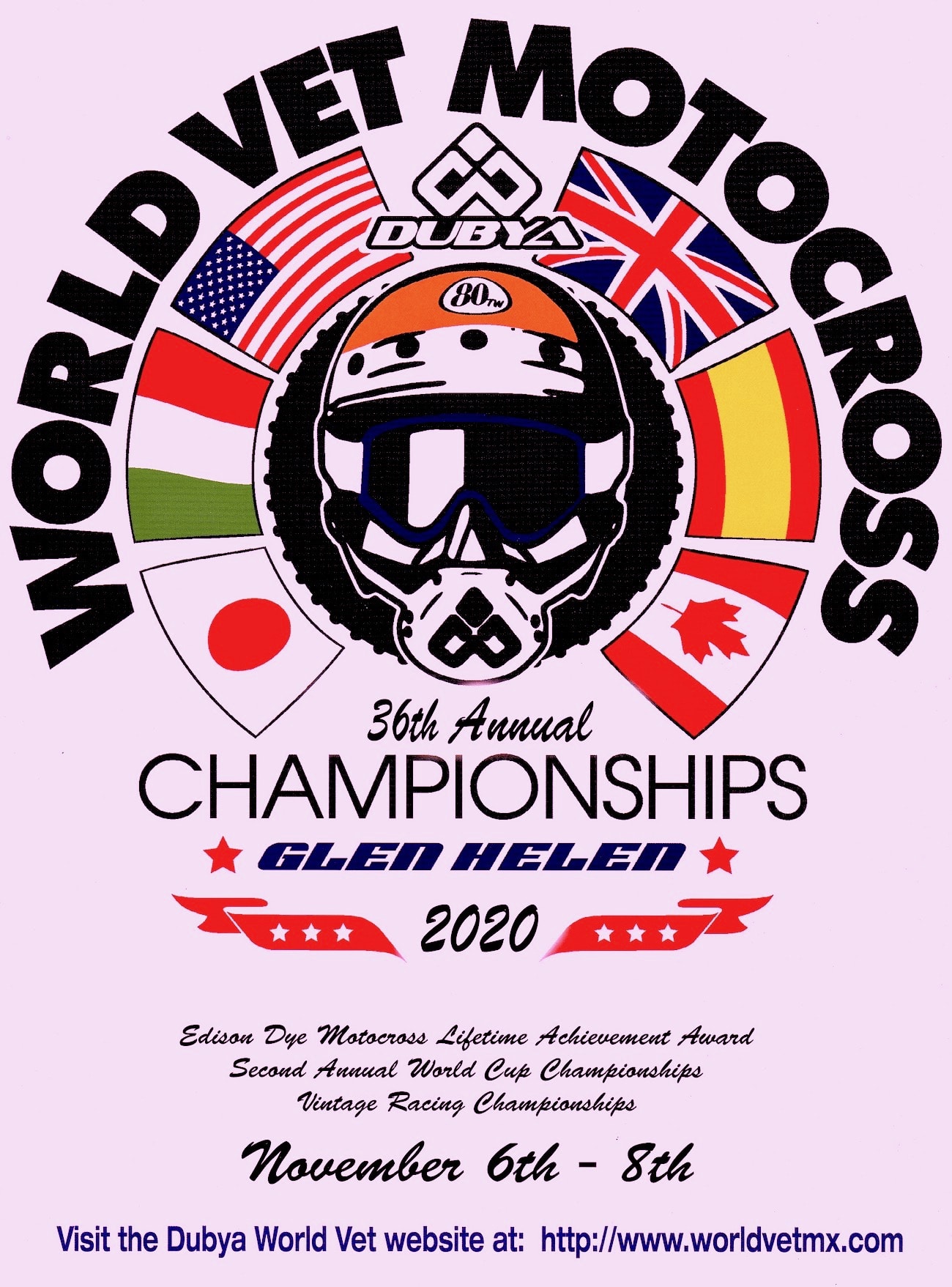 For more information go to www.worldvetmx.com
AIM EXPO CHANGES ITS DEALER SHOW FROM OCTOBER TO JANUARY, 2021, IN COLUMBUS, OHIO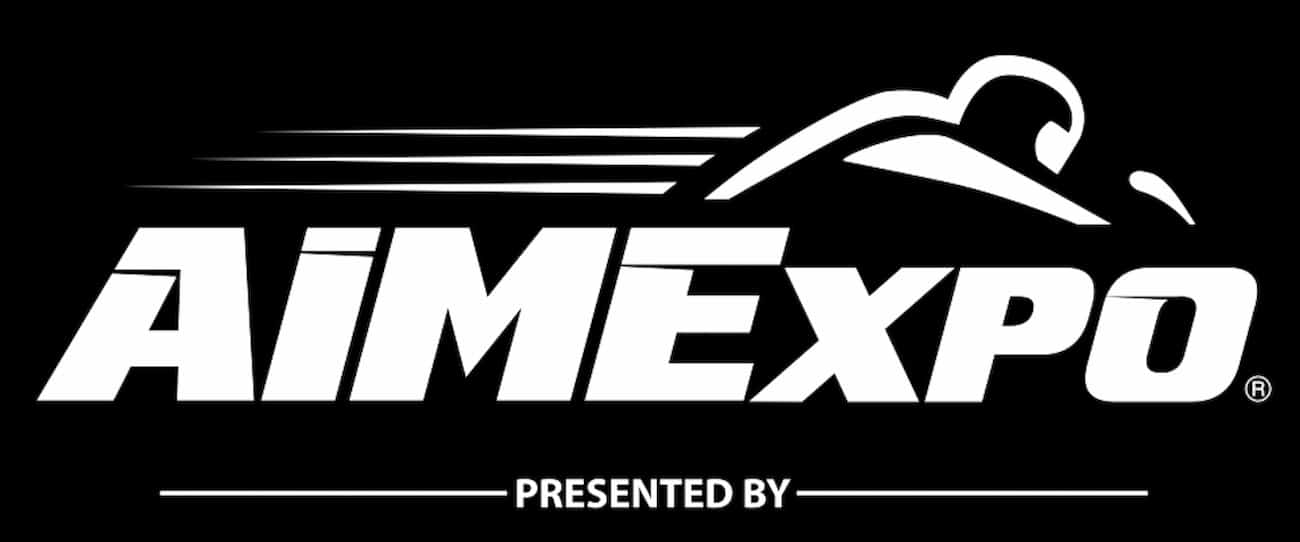 The American International Motorcycle Expo (AIMExpo) will change the date of the 2020 motorcycle show from October 2020 to Jan. 21-23, 2021. It will be held at the Greater Columbus Convention Center in Columbus, Ohio. The 2021 show will now focus on retailers over three days instead of four. For 2021, AIMExpo will become a trade-only event. The transition to trade-only will bring more focus on industry needs and education. AIMExpo hope to educate dealers on improving efficiency, staying competitive and enhancing the bottom line.
BORED AT HOME? TRY FREE ACCESS TO MXA DIGITAL EDITIONS FOR FREE, FREE FREE, FREE FREE FREE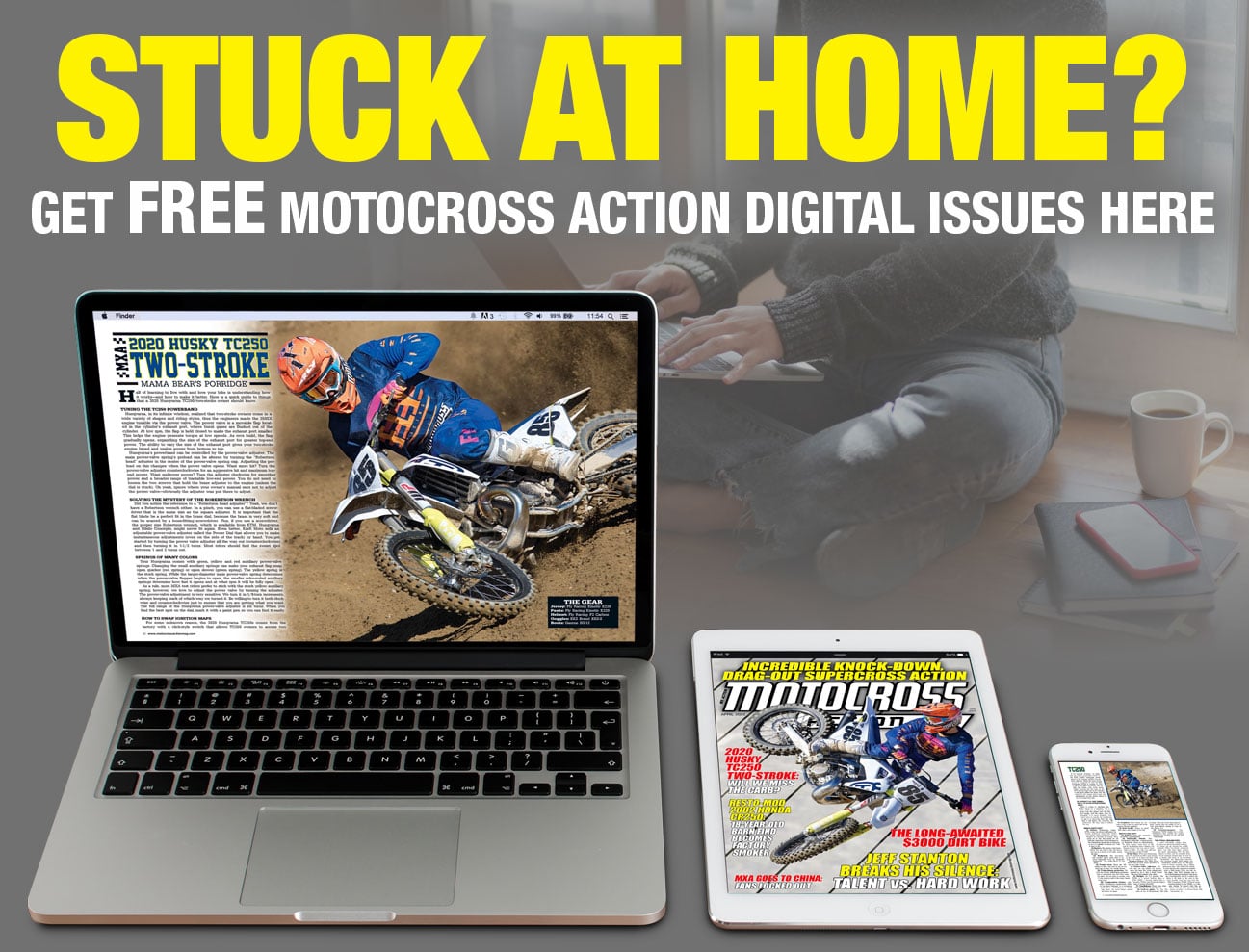 Click here or on the above photo to get your free digital issues.
THE EVER CHANGING 2020 RACE SCHEDULES

The AMA National Motocross Championship got to within 18 days of holding its first race in Crawfordsville, Indiana, before that plan fell through. It looks like the first AMA National will start some time in August.

TENTATIVE AMA NATIONAL  MOTOCROSS CHAMPIONSHIP
TBA…Crawfordsville, IN
TBA..Jacksonville, FL
TBA…Washougal, WA
TBA…Mt. Morris, PA
TBA…Southwick, MA
TBA…Red Bud, MI
TBA…Lakewood, CO
TBA…Unadilla, NY
TBA…Hurricane Mills, TN
TBA…Millville, MN
TBA…Budds Creek, MD
TBA…Pala, CA
REVISED 2020 FIM MOTOCROSS WORLD CHAMPIONSHIP
Mar. 1…Matterley, Great Britain (Held)
Mar. 8…Valkenswaard, Holland (Held)
Aug. 9…Kegums, Latvia
Aug. 12…Kegums, Latvia
Aug. 16…Kegums, Latvia
Sept. 6.…Afyonkarahisar, Turkey
Sept. 16…Faenza, Italy
Sept. 20…Faenza, Italy
Sept. 27…MXDN, Matterley, Great Britain
Oct. 4…Mantova, Italy
Oct. 11..Arroyomolinos, Spain
Oct. 18…Lommel, Belgium
Oct. 21…Lommel, Belgium
Oct. 25…Lommel, Belgium
Nov. 1…Trentino, Italy
Nov. 8…TBA, Indonesia
Nov. 22…Neuquen, Argentina
2020 FIM MOTOCROSS DES NATIONS
Sept. 27.…Matterley Basin,Great Britain
REVISED 2020 CANADIAN NATIONAL CHAMPIONSHIP
July 25-26…Courtland, ON
Aug…1-2…Chatsworth, ON
Aug. 15-16…Walton, ON
Aug. 29-30…Sand Del Lee, ON
Sept. 5-6….Deschambault, QC
REVISED 2020 AUSTRALIAN NATIONAL MOTOCROSS CHAMPIONSHIP
Aug. 9…Connondale. QLD
Aug. 6…Maitland, NSW
Sept. 16…Newry, VIC
Sept. 12…Horsham, VIC
Oct. 4…Gympie, QLD
Oct. 11…Coolum, QLD
2020 AMA NATIONAL AMATEUR CHAMPIONSHIP
Aug. 3-8….Hurricane Mills, TN
2020 WISECO WORLD TWO-STROKE CHAMPIONSHIP
Oct. 3…Glen Helen, CA
2020 MONSTER ENERGY CUP
Oct. 10…Carson, CA
REM OCTOBERCROSS
Oct. 31…Glen Helen, CA
2020 DUBYA WORLD VET MOTOCROSS CHAMPIONSHIP
Nov. 6-8…Glen Helen , CA
JOIN MXA'S FLIPBOARD PAGE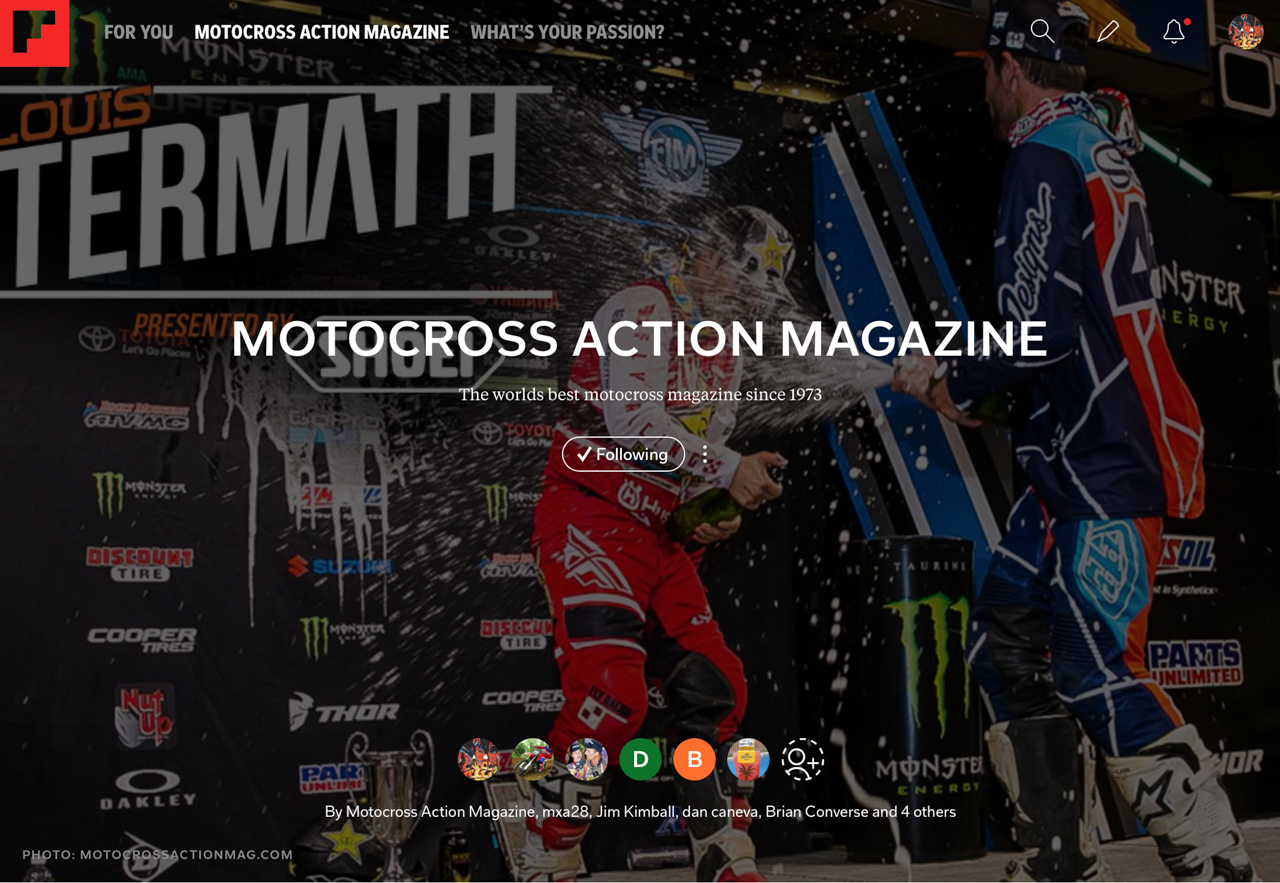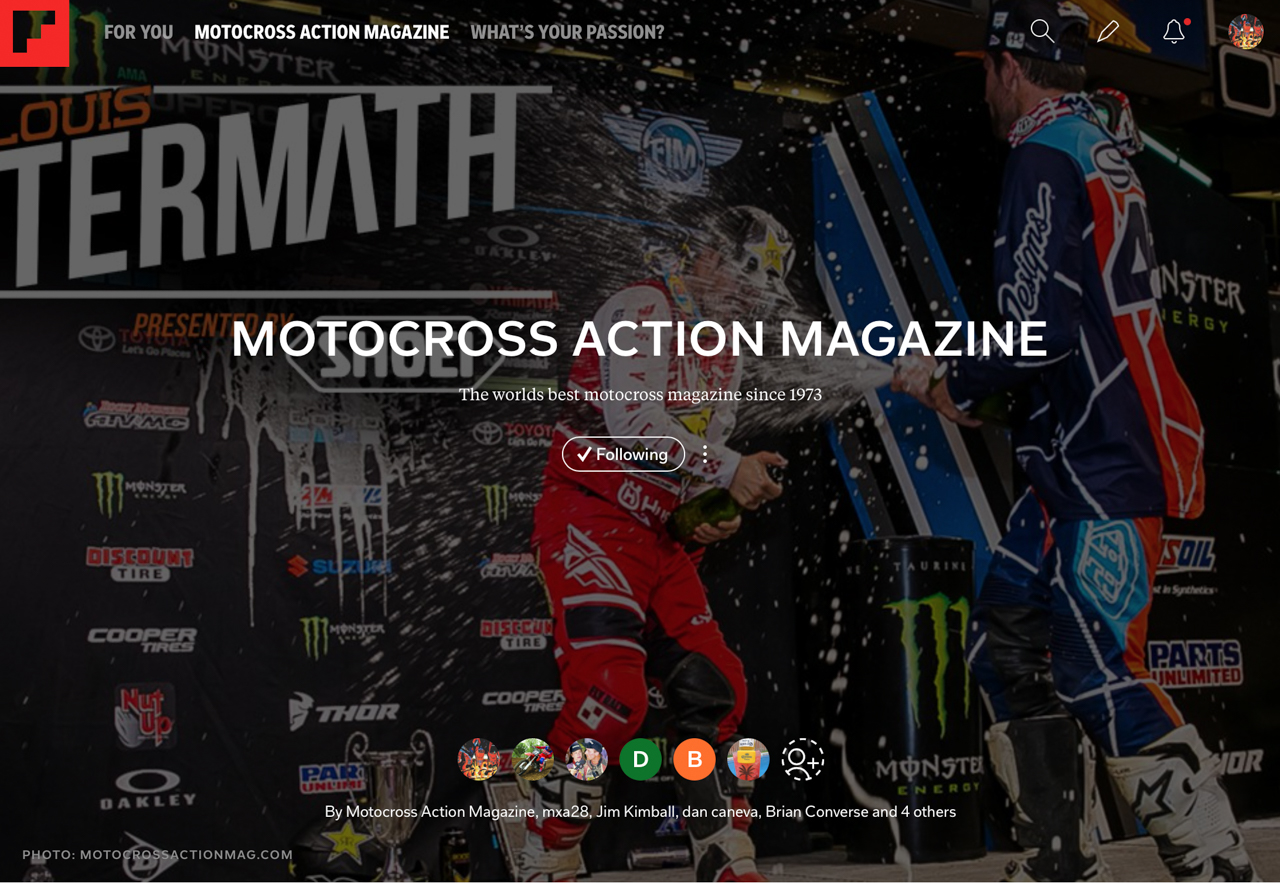 If you use Flipboard make sure to subscribe to the Motocross Action page for all the updates on our website. Click HERE to check out the page.