MXA'S WEEKEND NEWS ROUND-UP: THE REAL MEANING OF THE NUMBER 26
2020 AMA SUPERCROSS WINNERS AT A GLANCE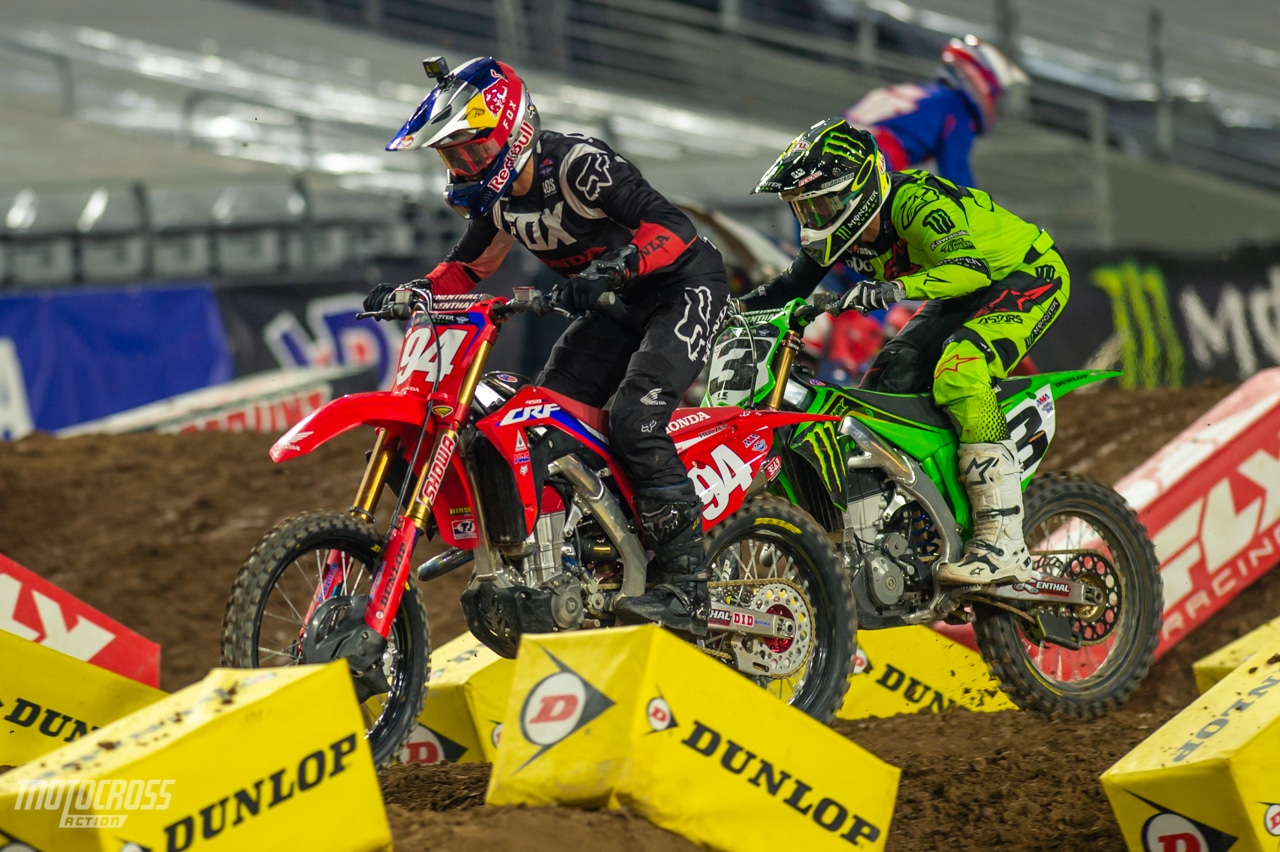 Eli Tomac (3) was with Ken Roczen (94) in Phoenix, but never when it counted..
Venue                                        450                                    250
1. Anaheim 1………….Justin Barcia………..Justin Cooper
2. St. Louis………………Ken Roczen…………..Austin Forkner
3. Anaheim 2………….Eli Tomac………………Dylan Ferrandis
4. Glendale…………….Ken Roczen…………..Austin Forkner
5. Oakland……………..
6. San Diego…………..
7. Tampa…………………
8. Arlington…………..
9. Atlanta………………
10. Daytona………….
11. Indianapolis……
12. Detroit…………….
13. Seattle…………….
14. Denver…………….
15. Foxborough……
16. Las Vegas………..
17. Salt Lake City….
450 Points leader…Ken Roczen
250 West Points leader…Justin Cooper
250 East points leader…?????
REKLUSE CLUTCHES TO BE DISTRIBUTED BY PARTS UNLIMITED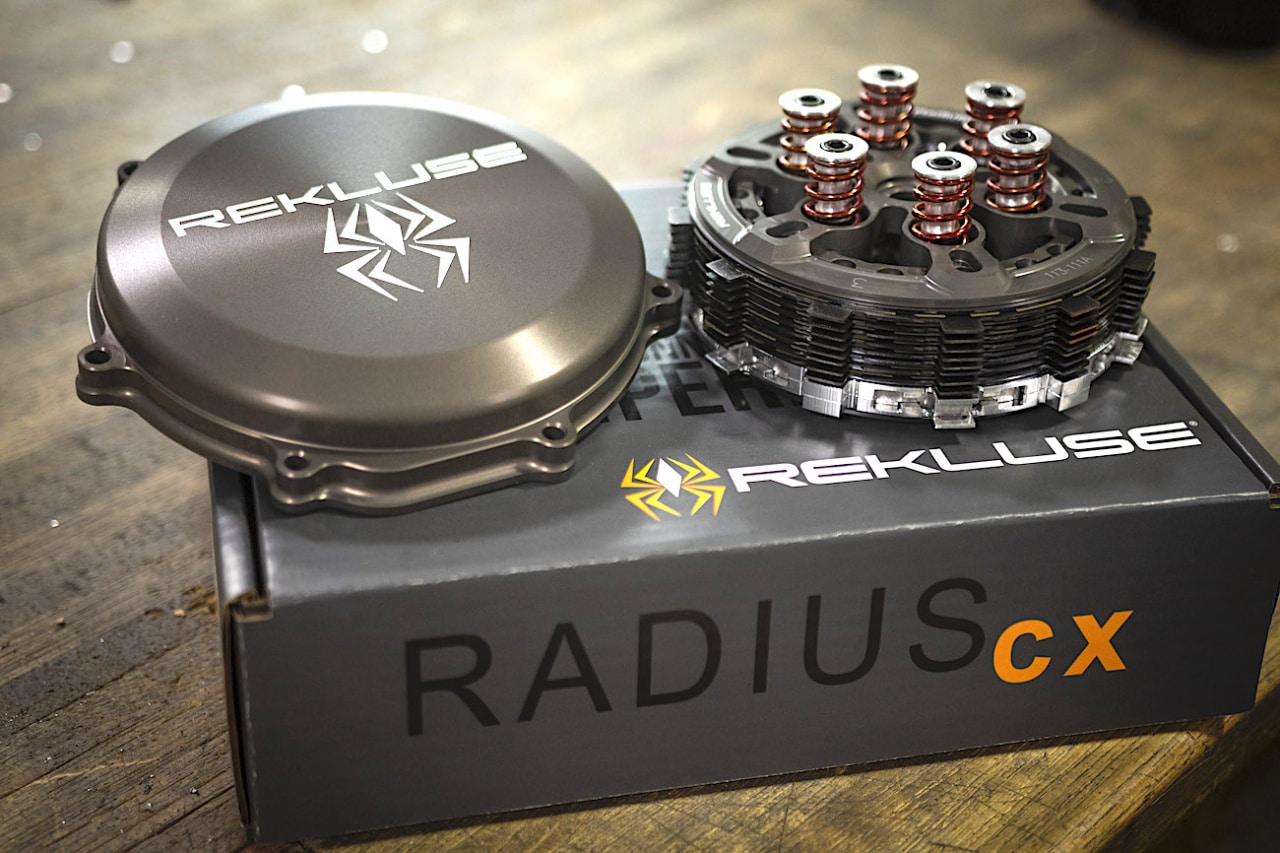 Rekluse clutches are going to be available at all Parts Unlimited dealerships..
Parts Unlimited will now be distributing Rekluse RadiusX and RadiusCX clutches. The RadiusX delivers a high-performance, stall-preventing, auto-clutch with just a clutch pack swap. Offered at a great value, RadiusX combines TorqDrive friction disk technology with the innovative EXP auto-clutch disk, all within an OEM clutch footprint.
RadiusCX is the next evolution in stall-preventing auto-clutch technology. This top of the line product brings together the latest innovations in one package: the EXP auto clutch disk, billet aluminum Core components, and TorqDrive friction disk technology. Not only do these products prevent engine stalls and increase power transfer over OEM, they are externally adjustable and allow standard clutch lever function with full override capability.
Sean Brown, President of Rekluse said; "We are pleased to be expanding the Rekluse product offering available through Parts Unlimited, bringing additional awareness and access to our premier auto clutch product lines. Together we look forward to continuing to build momentum for the Rekluse brand. With the impressive network Parts Unlimited has built and their talented sales force, we'll be able to better serve the market and reach more riders all over the country." For more info go to www.Rekluse.com
BIKES YOU'VE NEVER SEEN BEFORE: 1966 SUZUKI ROTARY-VALVE 125 PROTOTYPE

This 1966 Suzuki RA125 two-stroke appeared suddenly after 52 years in storage. It was scheduled to make an appearance at the Mecum Auction last weekend in Las Vegas, but no one saw it in the hall until it was rolled up on the auction block (as reported in our Mecums Auction coverage). It sold for $27,500.
This rare 1966 model is a Suzuki factory 125cc motocross race bike that was raced in 1967 and 1968 1968 All Japan Championship event in the amateur class by Isamu Hori. It features a 125cc two-stroke rotary-valve single-cylinder engine on a modified 1965 Suzuki S10 bottom end, The bore and stroke is 54mm X 54mm with an aluminum cylinder and head. The four-speed transmission has neutral on the top and fourth gear on the bottom. This blue and gray 1966 Suzuki RA125 factory racer was unrestored and unseen since it last race in 1968.
AMA SUPERCROSS STANDINGS HEADING TO THE 2020 OAKLAND SUPERCROSS

Zach had a miserable time in Phoenix—even though he did get to lead for a little while. He dropped from 7th in the 450 standings to 10th.

AMA 450 SUPERCROSS STANDINGS
(After 4 of 17 rounds)
1. Ken Roczen (Hon)…92
2. Eli Tomac (Kaw)…84
3. Justin Barcia (Yam)…81
4. Jason Anderson (Hus)…78
5. Cooper Webb (KTM)…72
6. Adam Cianciarulo (Kaw)…71
7. Justin Brayton (Hon)…63
8. Malcolm Stewart (Hon)…62
9. Blake Baggett (KTM)…55
10. Zach Osborne (Hus)…53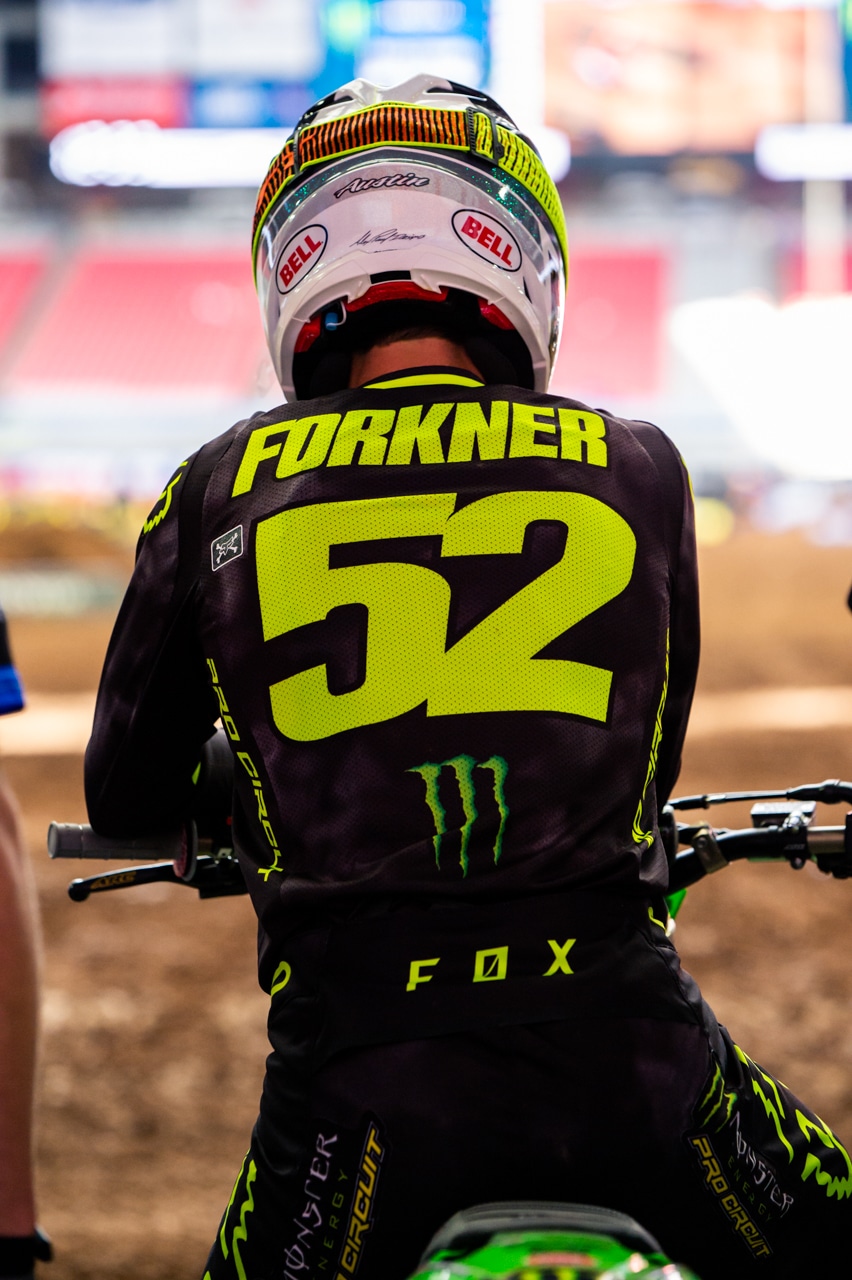 Austin Forkner was 20 points behind points leader Justin Cooper after Anaheim 2. However, after Phoenix he had cut that down to 10 points adrift.

AMA 250 WEST SUPERCROSS STANDINGS
(After 4 of 10 rounds)
1. Justin Cooper (Yam)…86
2. Dylan Ferrandis (Yam)…83
3. Brandon Hartranft (KTM)…77
4. Austin Forkner (Kaw)…76
5. Alex Martin (Suz)…66
6. Michael Mosiman (Hus)…62
7. Jacob Hayes (Hus)…62
8. Mitchell Oldenburg (Hon)…55
9. Derek Drake (JTM)…48
10. Luke Clout (Hon)…48
MXA MOTO-QUIZ: WE WERE ALL YOUNG ONCE
We are going to give you Chad Reed, but can you name his mechanic. Don't let the white hair fool you, not only was this the AMA Supercross Mechanic of the Year when he was with Chad, but he could race a motorcycle (and not just in his younger days). The answer is on the bottom of this page.
2020 SUPERCROSS CHAMPIONSHIP HOPES & WOES: YOU DO THE MATH
Chad Reed was never racing for the 2020 Supercross title; he wanted to get his 250th main event start (which he did at A1) and perhaps win a 450 event to regain the record for being the oldest rider to win an AMA Supercros main event back from Justin Brayton.

Winning an AMA Supercross pays 26 points, second gets 23 and third gets 21 and so one until 22nd place gets 1 points. Thus, if a rider who has hopes of being the 2019 AMA Supercross Championships falls more than 26 points behind the leader, he is one full Supercross race behind the leader. You might be surprised to learn that after only 4 of 17 AMA 450 Supercross events there are only six riders still racing on the same event—everyone else, from 7th place on back, are more that 26 points behind the leader. That list includes Justin Brayton, Malcolm Stewart, Blake Baggett, Zach Osborne, Aaron Plessinger, Justin Hill, Vince Friese and Dean Wilson.
It could be worse. Every current rider outside of the top 14, is two full races behind Ken Roczen (two wins 26 x 2= 52) and since Ken Roczen has 92 points, if you subtract 52 from 92, you get 40. Any rider with less that 40 points is automatically two events behind the leader. That list includes Martin Davalos, Justin Bogle, Tyler Bowers, Alex Ray, Ryan Breece and Chad Reed.
Of course when you are counting points across 17 races, anything can happen. The flu, a broken collarbone or a mechanical can easily cost a rider15, 20 or 26 points in a flash—and it is possible for almost every rider to have at least one bad night. Given that the 450 class has to be healthy, with the turnouts just barely covering the minimum number of riders needed to fill two heat races, the competition at the back of the pack will get weaker and the points spread between the fast guys will get narrower. In short, as the season progresses the best way to gain spots is for someone to get hurt, because the front runners will take all the good spots.
Justin Hill (46) has the speed to run in the top ten, but he's always being drawn into bad positions on the track. If there is a crash, Justin will be caught up in it.

WHO HAS NOT FALLEN MORE THAN 26 POINTS BEHIND IN THE 450 STANDINGS 
(26 points back after four races)
1. Ken Roczen..-0
2. Eli Tomac…-8
3. Justin Barcia…-11
4. Jason Anderson…-14
5. Cooper Webb…-20
6. Adam Cianciarulo…-21
(Everyone else is more than 26 points back of points leader Ken Roczen.)
MXA PRODUCT SPOTLIGHT: FACTORY EFFEX 2020 BEANIE COLLECTION WITH & WITHOUT POMS

POM BEANIES
Yamaha pom beanie·$24.95.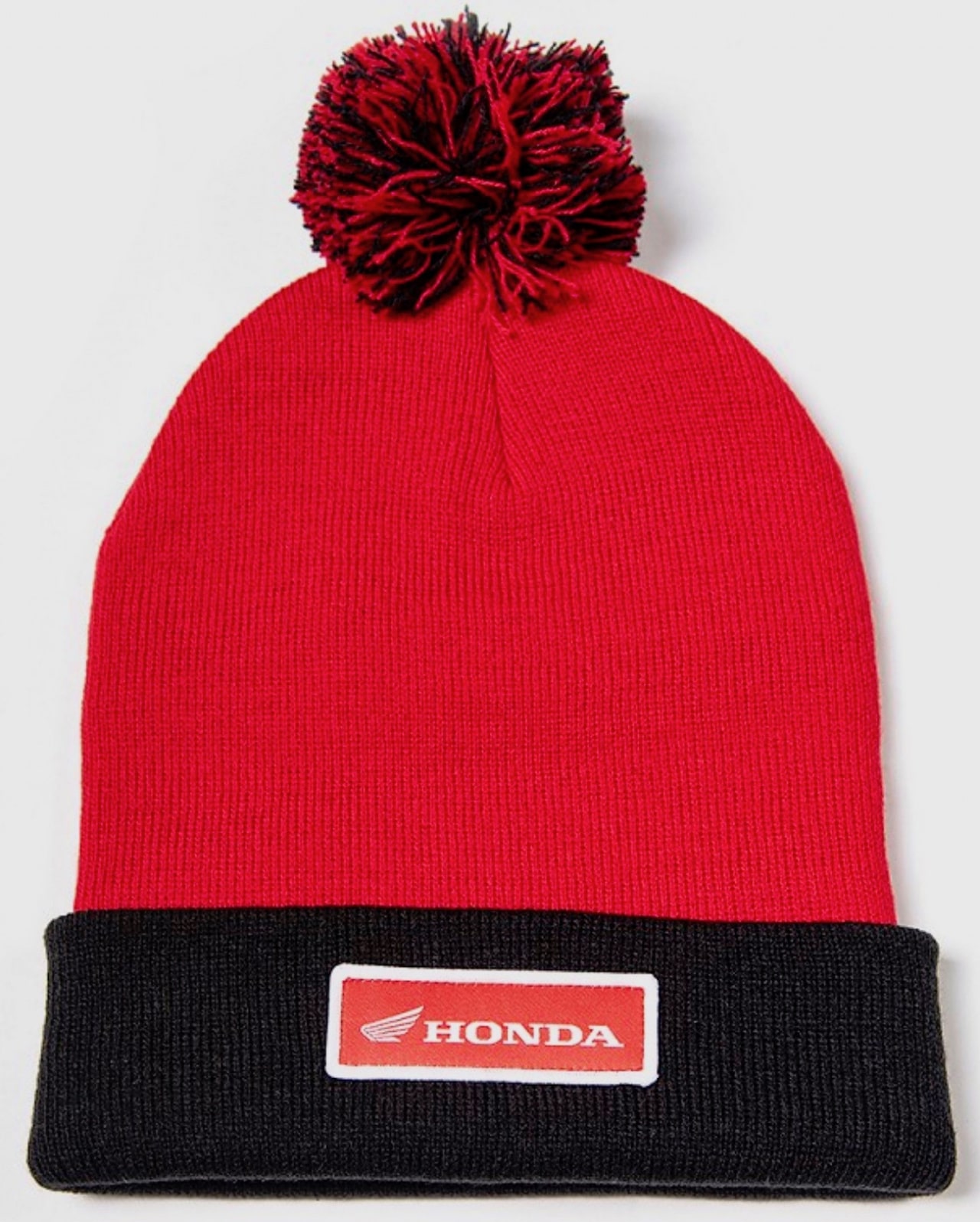 Honda pom beanie·$24.95.
Kawasaki pom beanie·$24.95.
Suzuki pom beanie·$24.95.
REGULAR BEANIES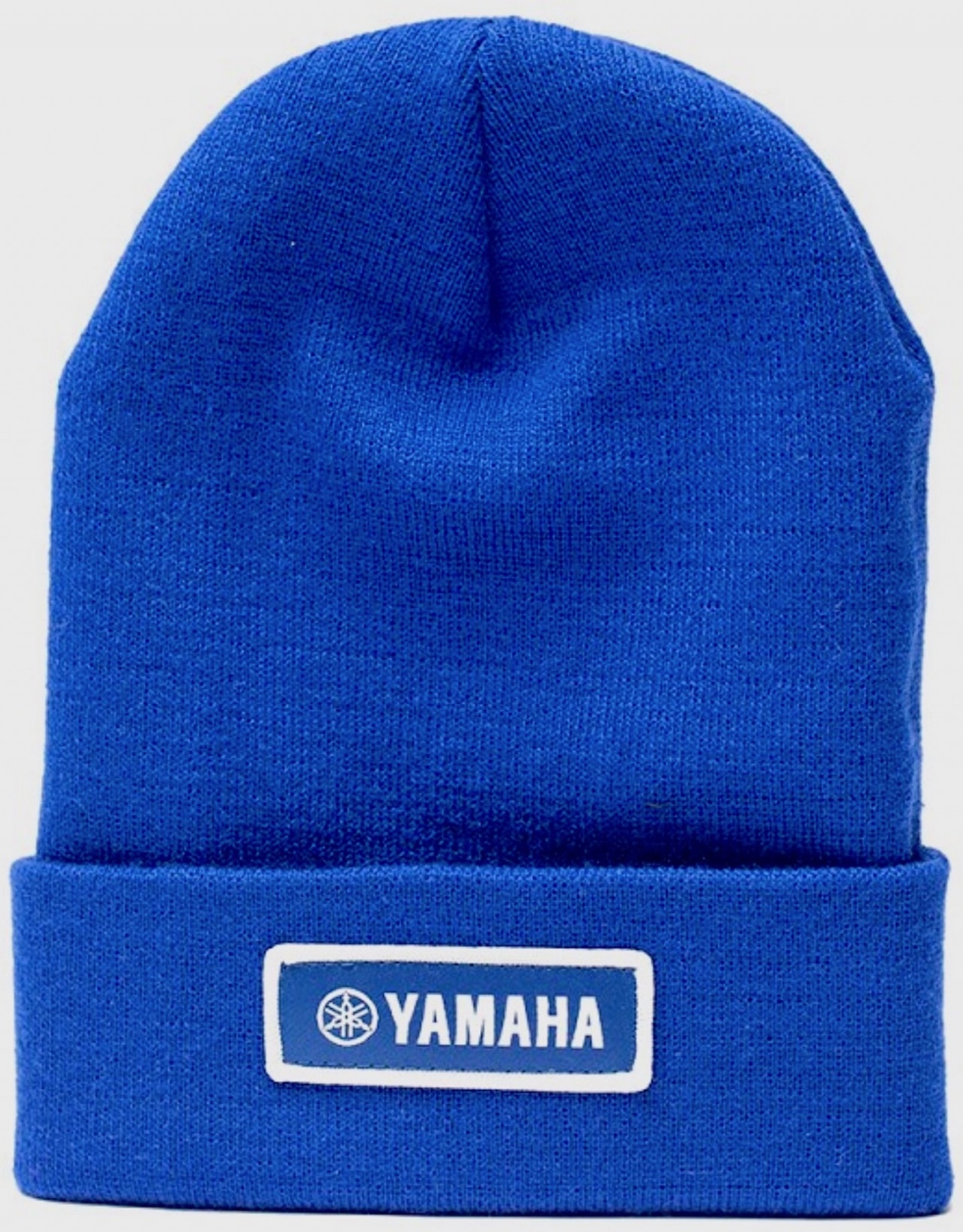 Yamaha – $24.99.
Honda – $24.99.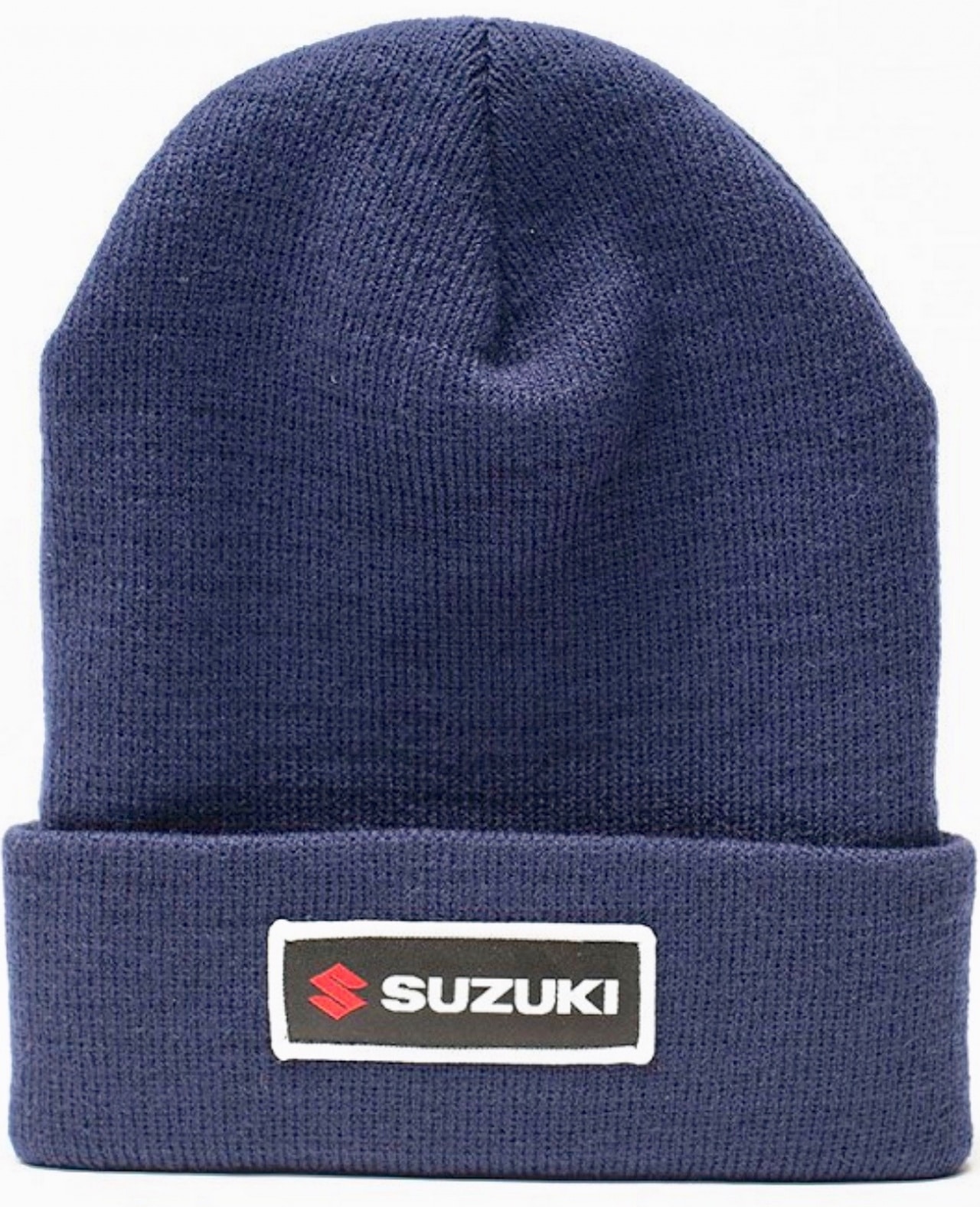 Suzuki – $24.99.
Kawasaki – $24.99.
Looking for a way to keep your lid warm during the upcoming winter and spring racing season. Look no further than Factory Effex beanies. For more information go to www.factoryeffex.com.
MXA PHOTO OF THE WEEK: THE SBACH 342 THUNDERBOLT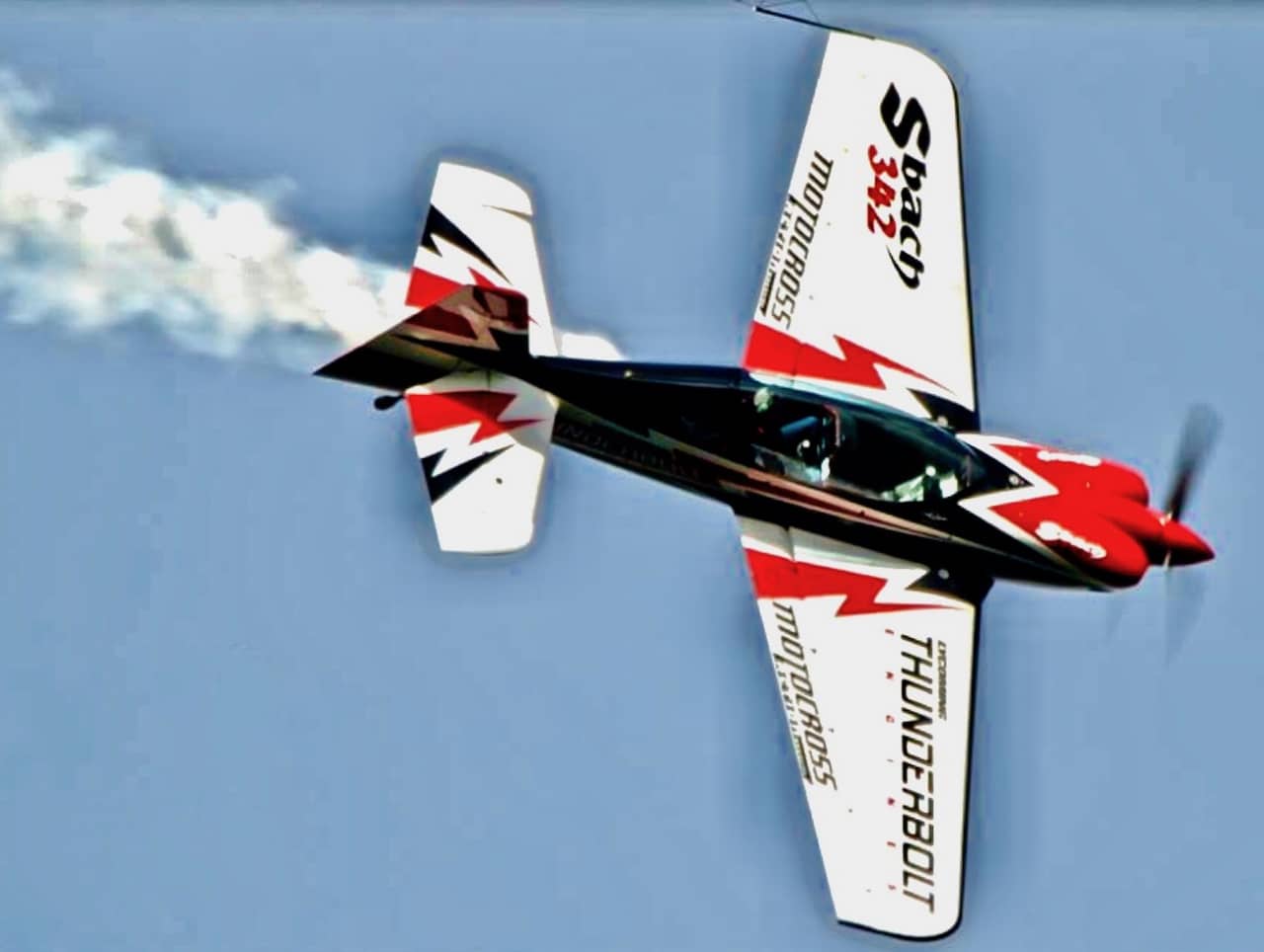 MXA is probably the only motocross company to have its name on the wings of an airshow aerobatic plane.
MXA test riders Jody Weisel and the late Feets Minert both flew aerobatic planes and were friends with air show pilot Doug Jardine (above), who raced at Glen Helen and did the airshows at the AMA Glen Helen National, USGPs and World Two-Stroke Championships. Doug was gracious enough to fly the air show circuit with "Motocross Action" on each aileron.
CLASSIC MXA TEST RIDER PHOTOS: "GETTING THERE IS ALL THAT MATTERS"

John Perry has been an MXA guy since the Saddleback days.
John Perry once owned ProTrac trailers and his brother, Jim, is the Yamaha team manager, but John moved to Durango, Colorado, a couple years ago. He doesn't get to see the MXA gang as often as he'd like. But, when he wants to race, getting to SoCal is all that matters. So, he pulls the front wheel and forks off his Yamaha YZ250 sticks it in the back of whatever he is driving at the time. It takes less than 30 minutes to put it back together before practice.
CLASSIC MXA TEST RIDER PHOTOS: THEY DON'T ALWAYS MAKE IT THROUGH EVERY CORNER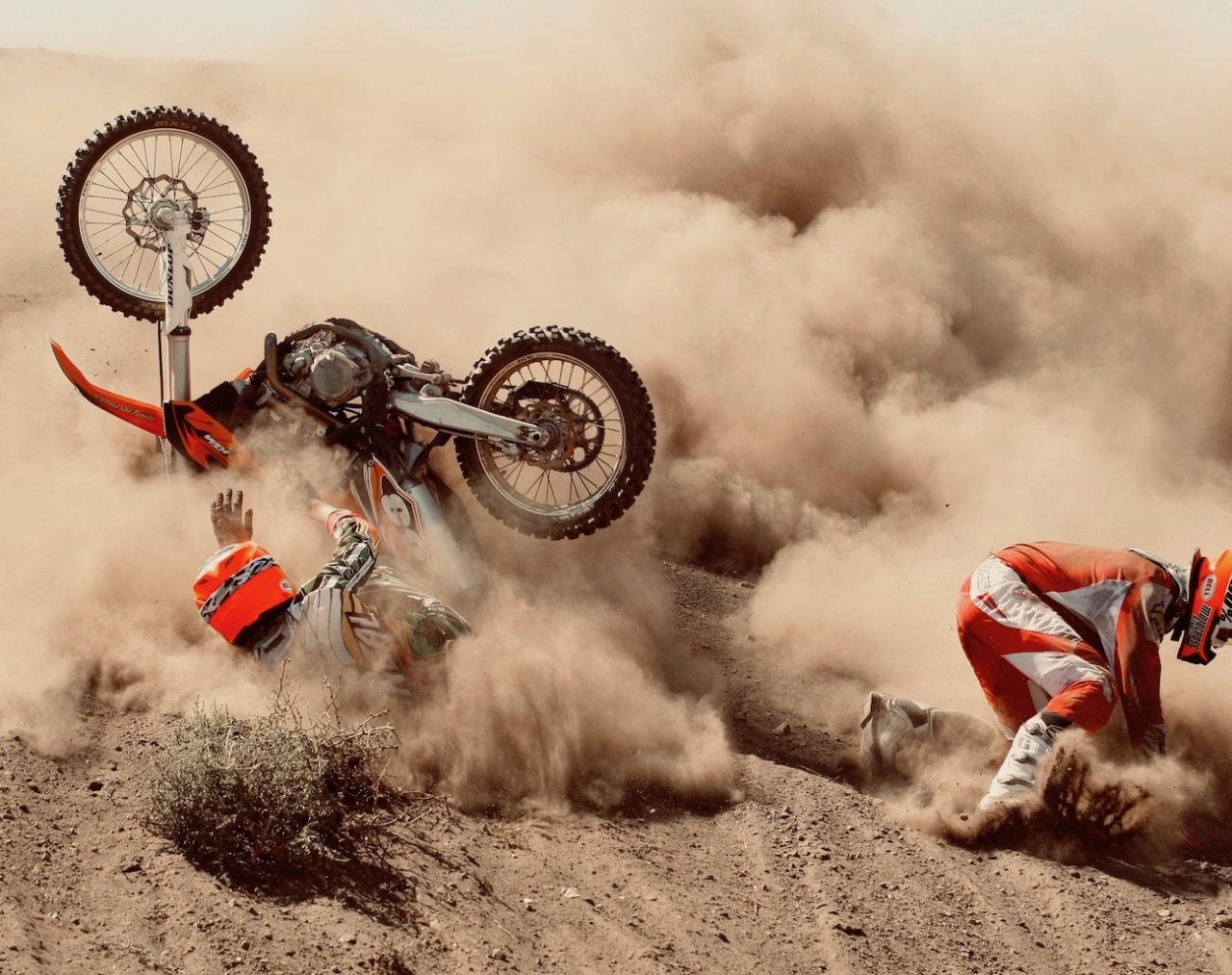 MXA test riders may look perfect in most magazine photos, but don't believe that they don't take risks trying to get the best shot.
CLASSIC MXA COVERS: RARELY OUT OF SHAPE


Ricky Carmichael hated it when MXA ran of photo of him crashing, but it was rare to catch Ricky making a mistake—and rarely did they result in him losing a race. And he didn't lose the 2001 Daytona Supercross because this Mike Basher photo was shot in practice.
VACATION IN SOCAL WITH DENNIS STAPLETON: RIDE GLEN HELEN, CAHUILLA CREEK, PALA, PERRIS & MORE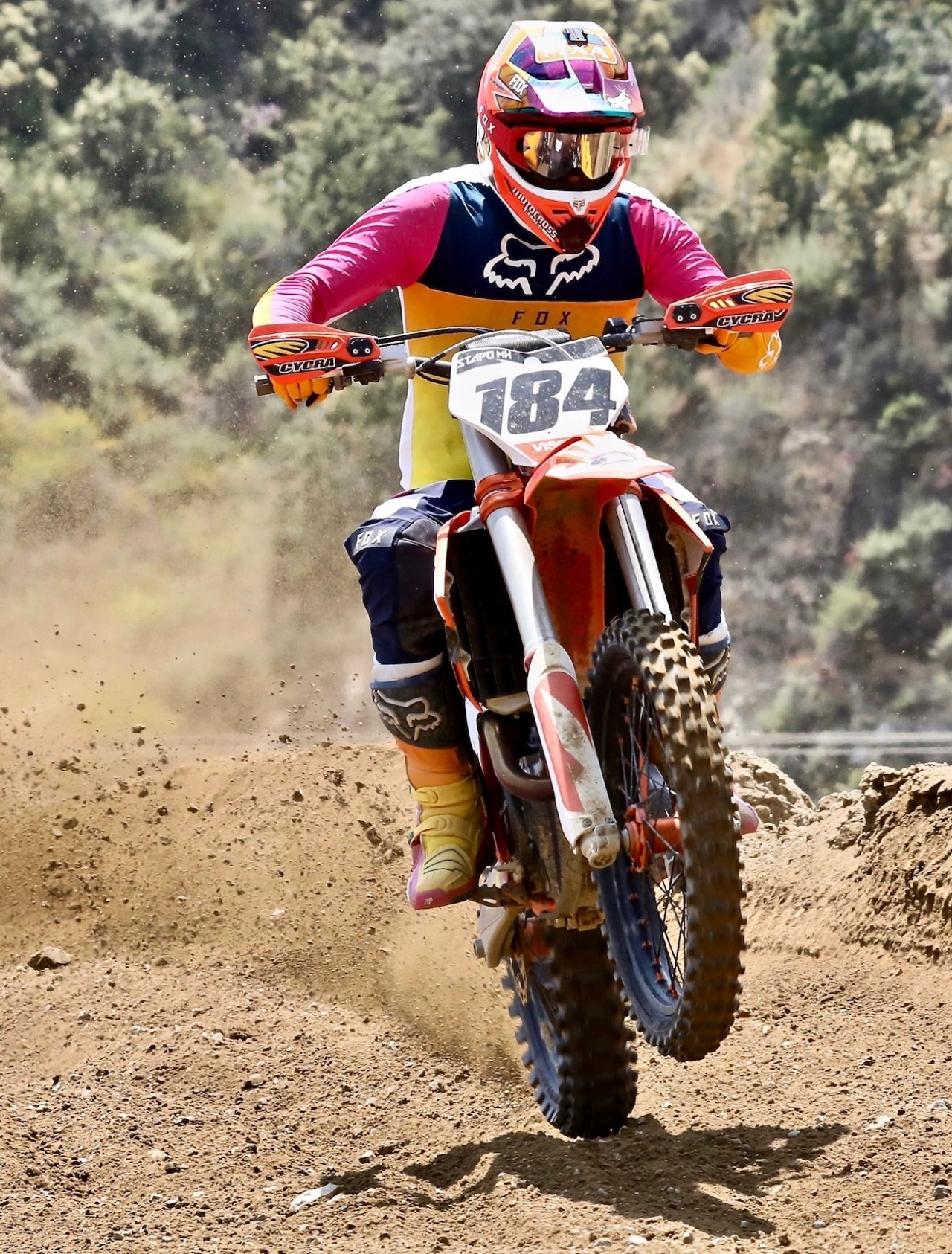 Dennis Stapleton doing what he does every day of the week — let him make your dreams come true.
In his spare time, when he's not testing with MXA, racing in a foreign country, going to Japan or helping many of his motocross buddies, MXA test rider opens up his house, garage, bikes and mechanics to help riders who would like to come to SoCal on a motocross vacation. He offers full service to all of the Southern California tracks for racers or for play riders. Whether you want to rent a bike, move in for a week, race at Glen Helen or take motocross lessons—this is one-stop shopping. If you're coming out to Southern California and need a rental bike, check out KnobbyShop South/StapoMX for all your rental needs. They offer Motocross Vacations, bike rentals and motocross lessons. Just send them an email ([email protected]). If you'd like to live the SoCal lifestyle for a day, a weekend, a week, a month or three months, visit Dennis Stapleton's' website at www.knobbyshopsouth.org for more details!
MXA VIDEO: FIRST RIDE OF THE 2020 YAMAHA YZ450F
THE HANDY-DANDY TRACK MAPS OF ROUNDS 5 AND 6 — OAKLAND & SAN DIEGO

Round five of the 2020 AMA Supercross series will be held in Oakland's Ringcentral Coliseum on February 1.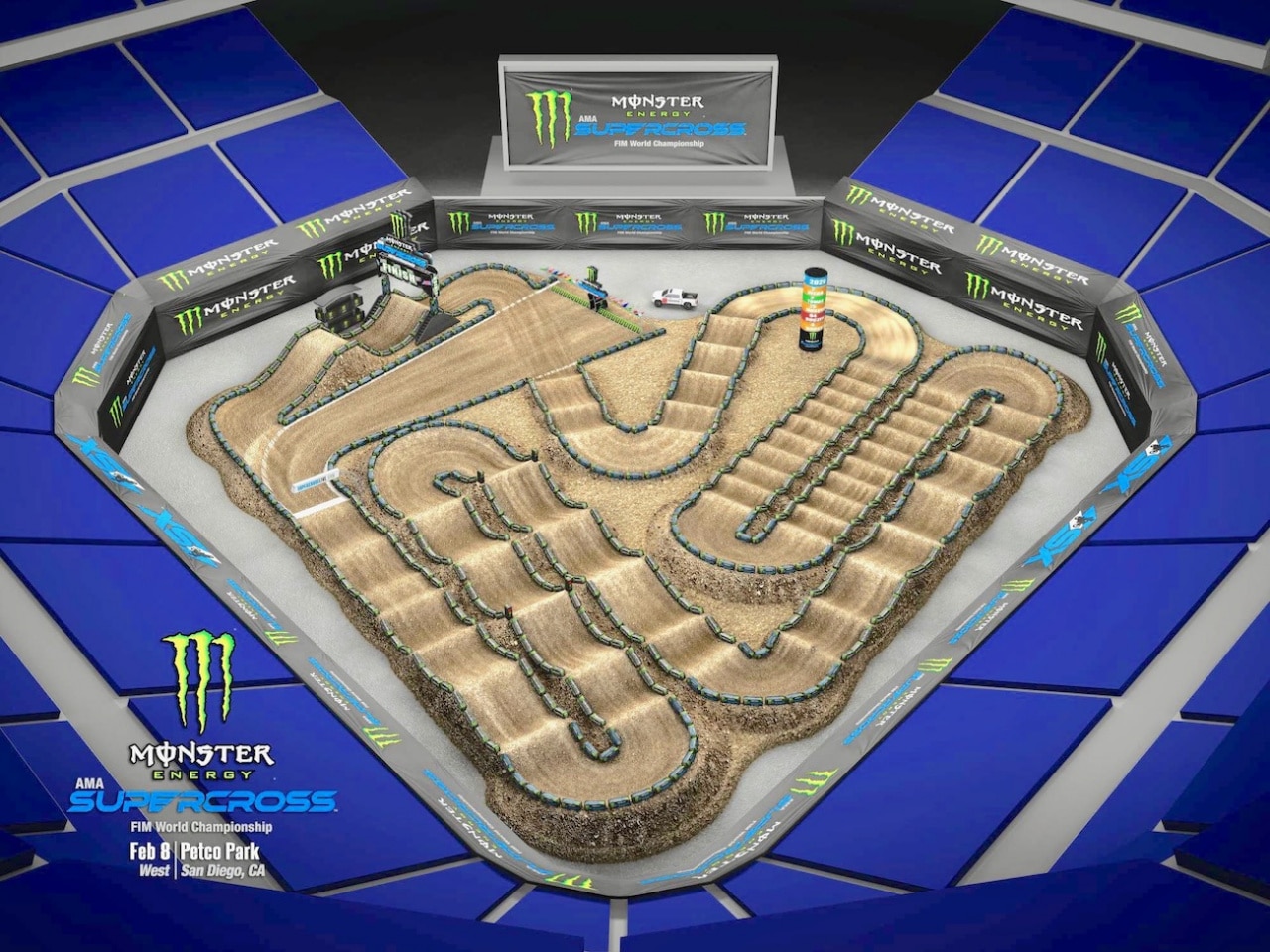 The West Coast rounds of the 2020 Supercross series will end on February 8 in San Diego's Petco Park.
THE NEW MXA IS HERE! IT IS JAM-PACKED FULL OF TWO-STROKES GALORE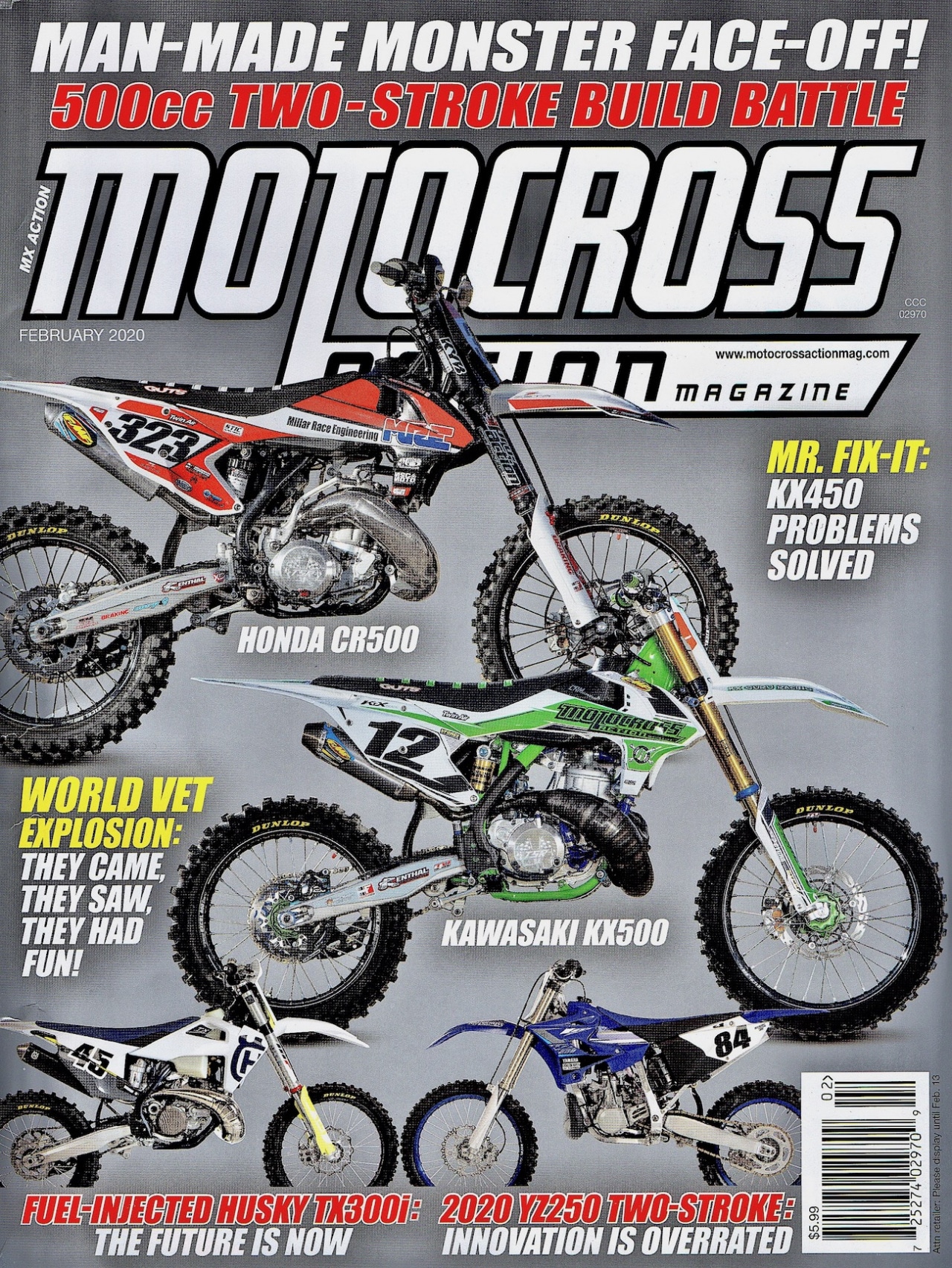 See the "Man-Made Monster Face-Off " headline on the February 2020 cover, it refers to MXA's 500cc Two-Stroke Shootout.

If you subscribe to MXA you can get the mag on your iPhone, iPad, Kindle or Android by going to the Apple Store, Amazon or Google Play or in a digital version. Even better you can subscribe to Motocross Action and get the awesome print edition delivered to your house by a uniformed employee of the U.S. Government. You can call (800) 767-0345 or Click Here (or on the box at the bottom of this page) to subscribe.
WE RIDE COOPER WEBB'S KTM 250SX TWO-STROKE — IT'S A 300
MXA AD OF THE WEEK: READ THE FINE PRINT ON YOUR 85 CONTRACT

Troy Blake won the 2981 Yamaha Race of Champions. This was a creative idea where the best minicycle racers in the country, along with mini racers from Australian, Canada and England were invited to race against each othe ron idenctially prepared Yamaha YZ80s. Well, it was a good idea until the corporation stepped in a told their riders that they couldn't race a Yamaha YZ80 without violating their Honda, Suzuki, or Kawasaki contracts. Some riders ignored the factory orders and raced anyways, but as the money got bigger the Race of Champions switched from Yamaha to Kawasaki for four years and ten close down in 1988. It had a good 14 year run, but big business killed the idea.
MORE THAN YOU EVER THOUGHT YOU WOULD KNOW ABOUT A FACTORY HRC HONDA
BE THERE! REM MOTOCROSS AT GLEN HELEN ON SATURDAY FEBRUARY 1…THAT'S IN TWO DAYS

For more information go to www.remsatmx.com
2020 KICKER ARENACROSS SERIES COMES TO DENVER ON FEBRUARY 1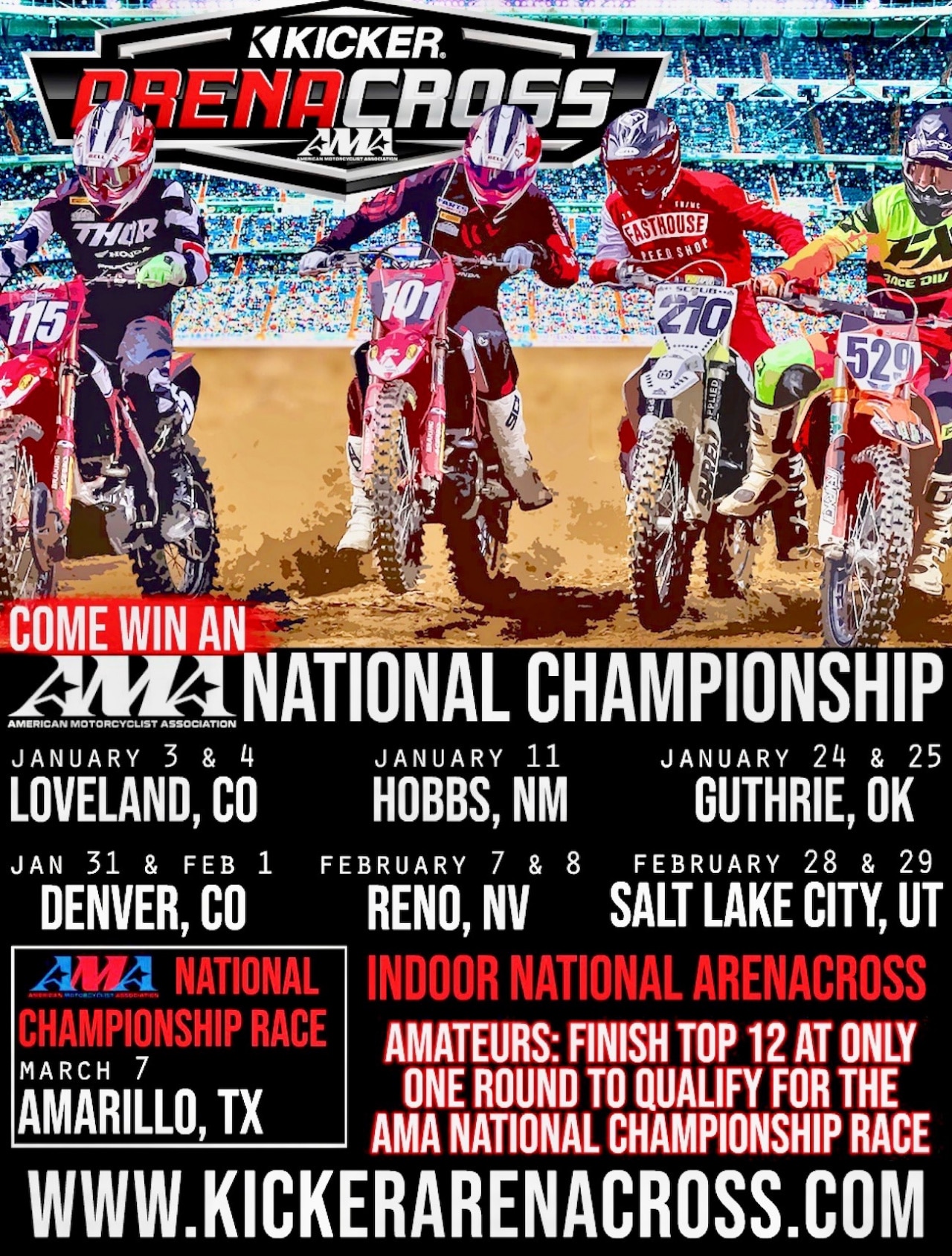 For more info go to www.kickerarenacross.com
2020 ARIZONA STATE CHAMPIONSHIP SERIES RACES AGAIN ON FEB. 9

For more information go to www.canyonmx.com or www.amxracing.com
2020 SOBOBA TRAIL RIDE ON FEB. 23, 2020, ON THE SOBOBA INDIAN RESERVATION
For more information about the San Jacinto, California, trail ride go to www.sobobarides.biz
2020 OLD SCHOOL SCRAMBLES TT STARTS ON FEBRUARY 23
For more info go to www.ossrg.org
6TH ANNUAL VINTAGE "MOTOCROSS DES STATES" ON FEB. 29 AT WALDO MOTORSPORT PARK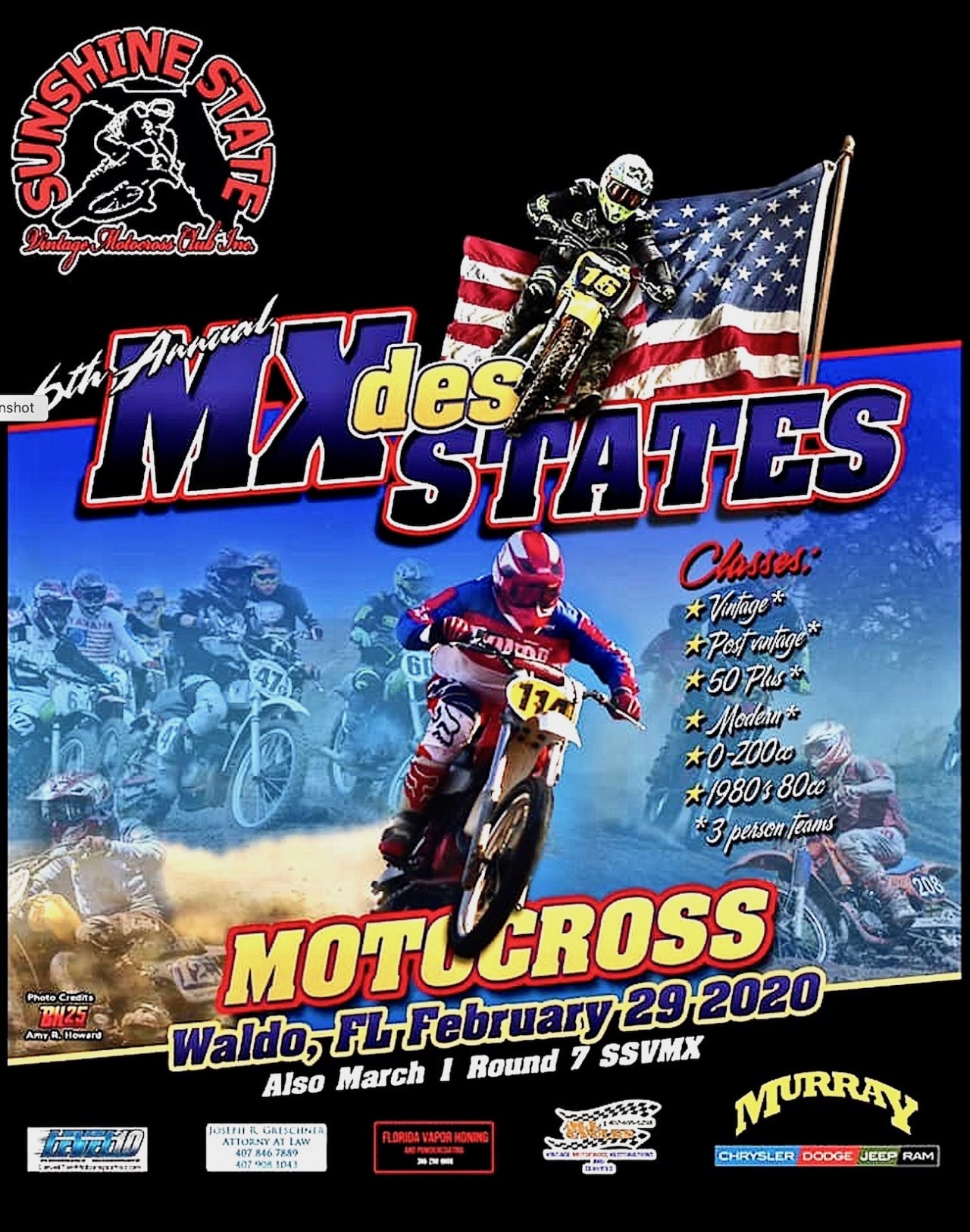 This is a three-day event, with practice on Friday, February 28, the Motocross des States on Saturday, February 29 and Round 7 of the Sunshine State Vintage Motocross series on Sunday, March 1. For more info go to www.waldomx.com
GLEN HELEN'S 6-HOUR, 12-HOUR & 24-HOUR ENDURANCE RACE SERIES STARTS ON MARCH 8 WITH THE SIX-HOUR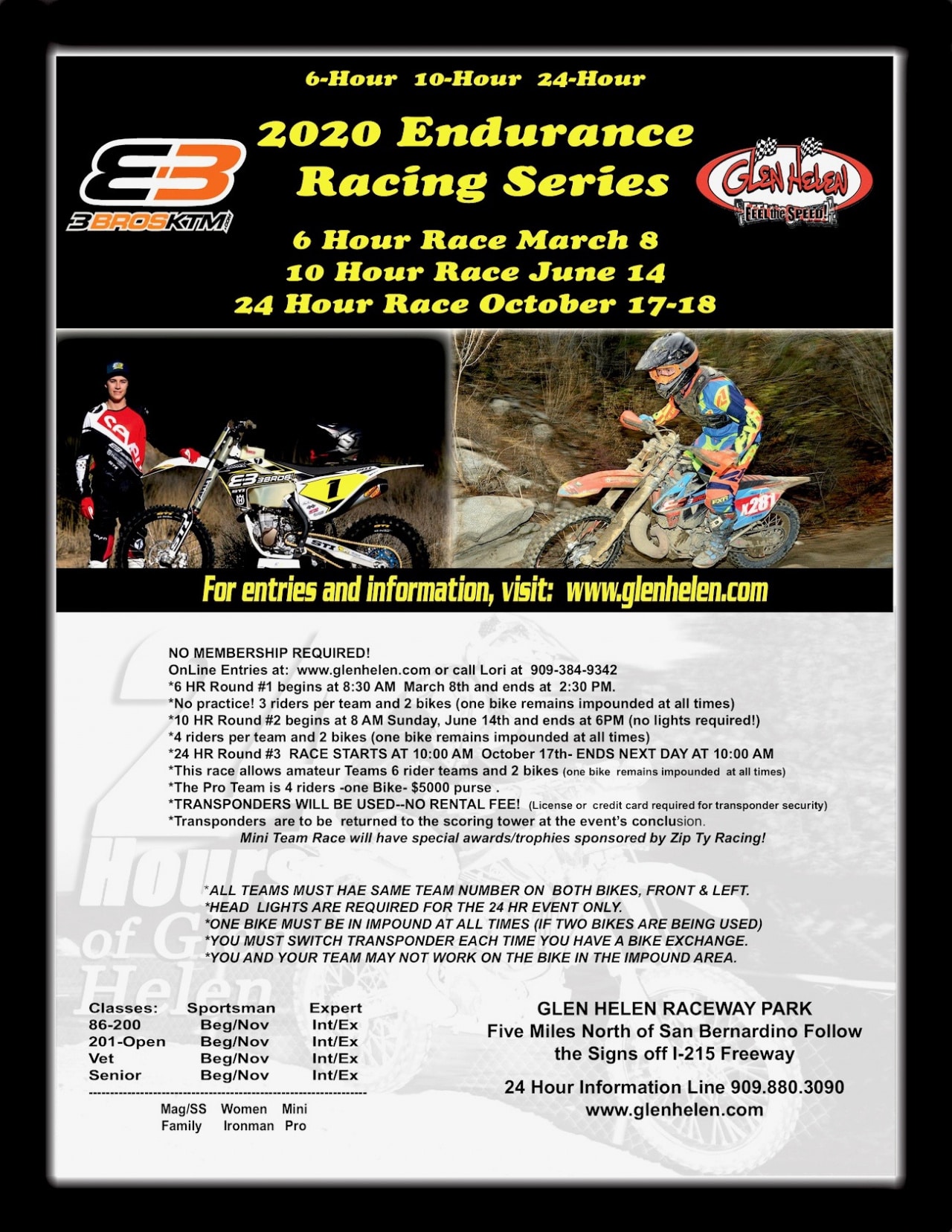 The 6-Hour is on March 8, 12-Hour on June 14 and the 24-Hour starts on October 17 (and ends on the 18th). For more info go to www.glenhelen.com
6TH ANNUAL MOTO MASTERS VET SERIES STARTS ON MARCH 14 AT JOHNSVILLE MX FARM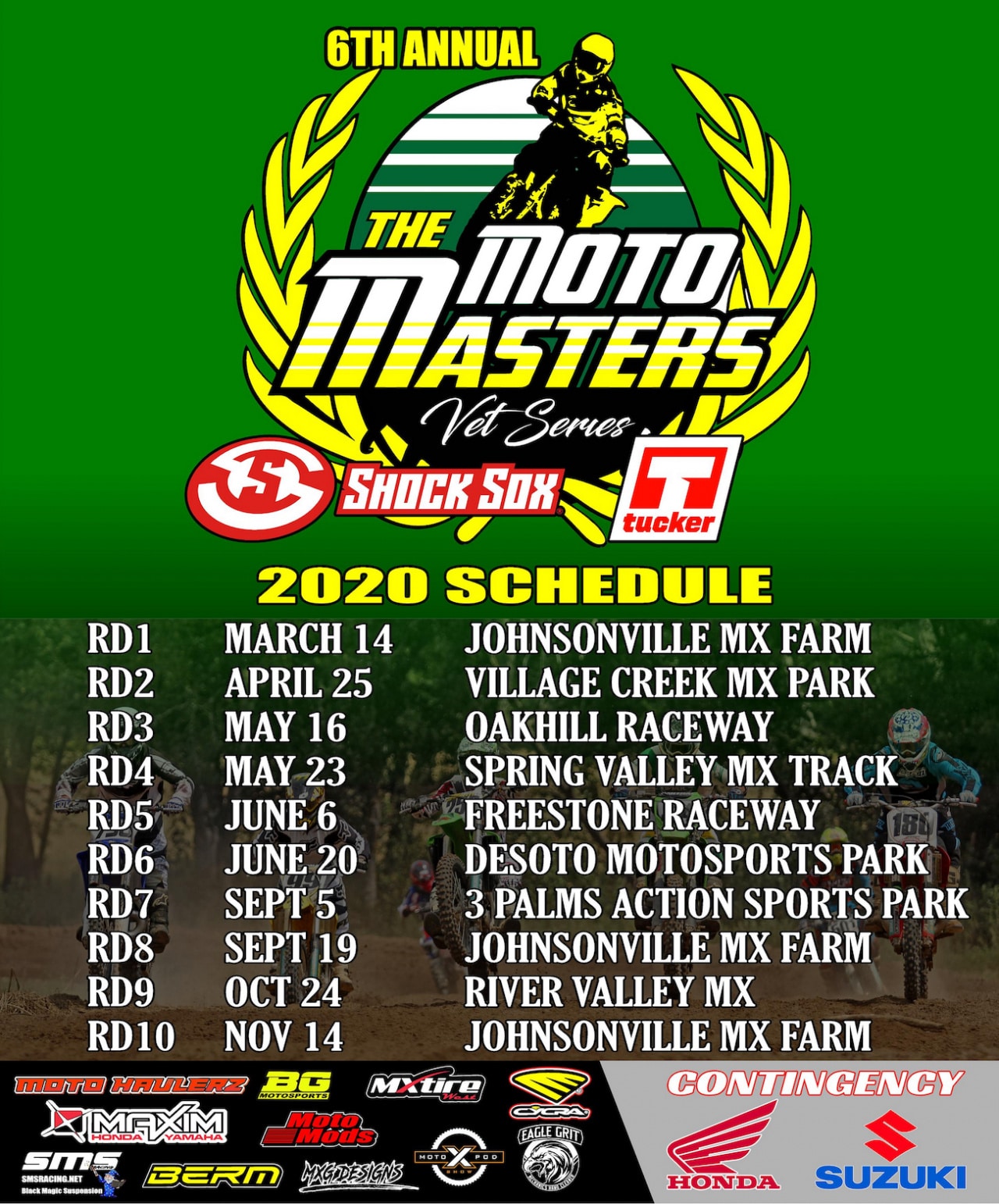 For more info go to www.johnsonvillemxfarm.com
2020 WISECO/FASTHOUSE WORLD TWO-STROKE CHAMPIONSHIP COMING ON APRIL 10-11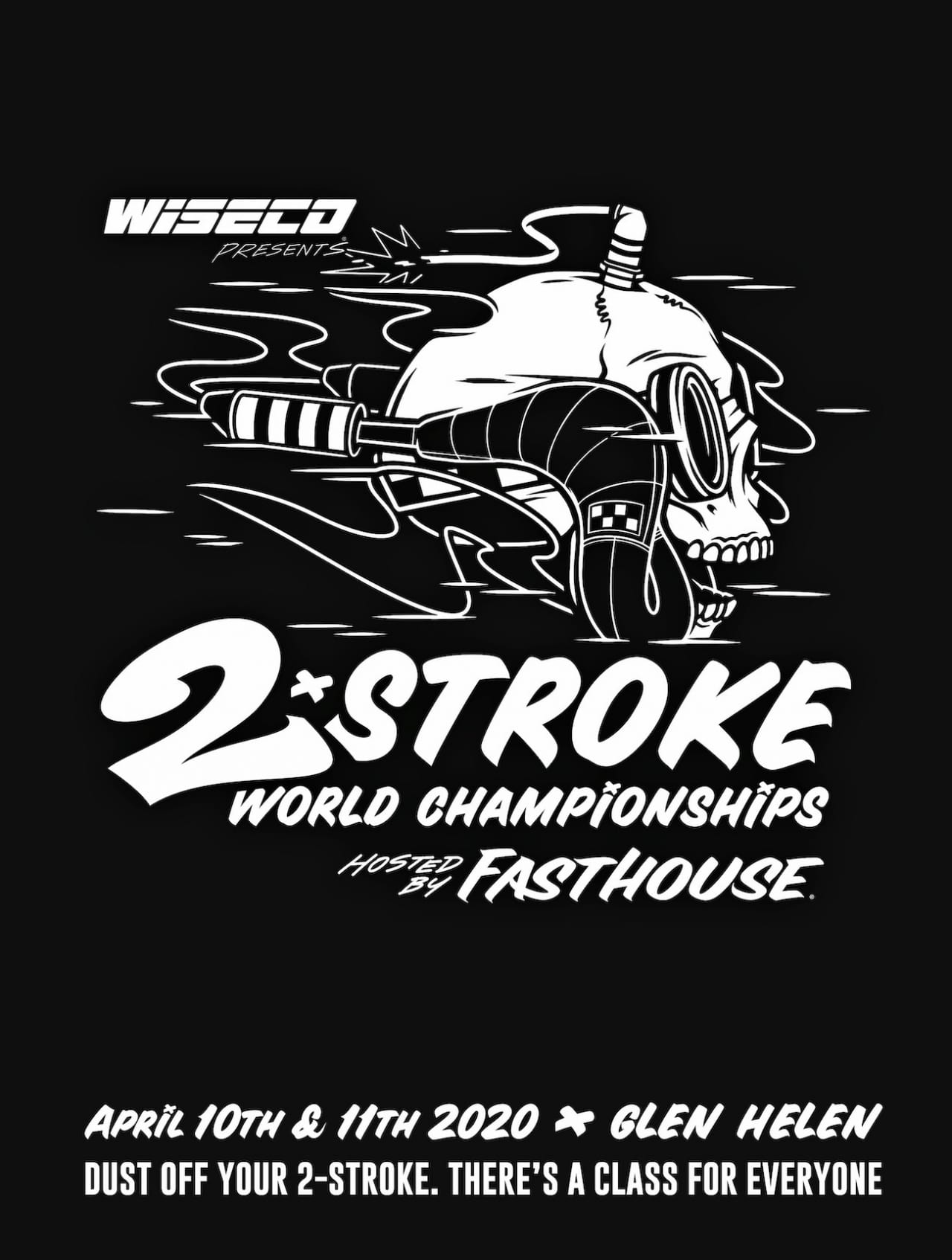 Pre-Entries go online on February 1, 2020. To pre-enter Click Here
"EVENING WITH THE CHAMPIONS" AT THE INTERNATIONAL MOTOCROSS MUSEUM ON JULY 11, 2020, IN CHICAGO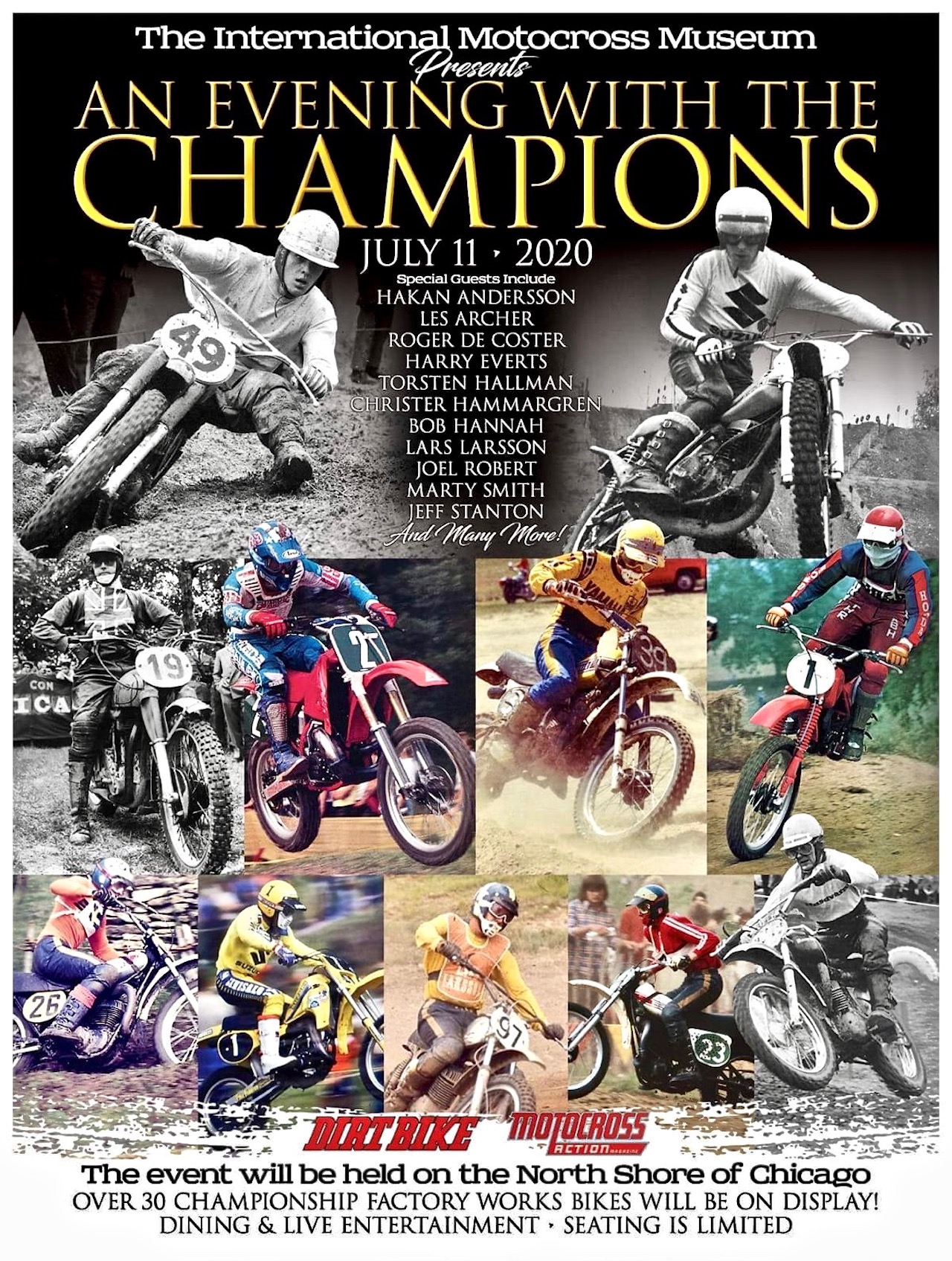 For more information go to www.mxworksbike.com
TALK MOTO WITH ON MXA'S FACEBOOK GROUP CHAT


We love everything moto and want to bring all moto junkies together into one place to share their two cents, ideas, photos, bike fixes, bike problems and much more. To check it out first you must need to or already have a Facebook account. If you don't, it isn't much work and you could even have an alias so nobody knows it is you. To join click HERE. After you request to join we will accept your request shortly after.
FOLLOW MXA ON TWITTER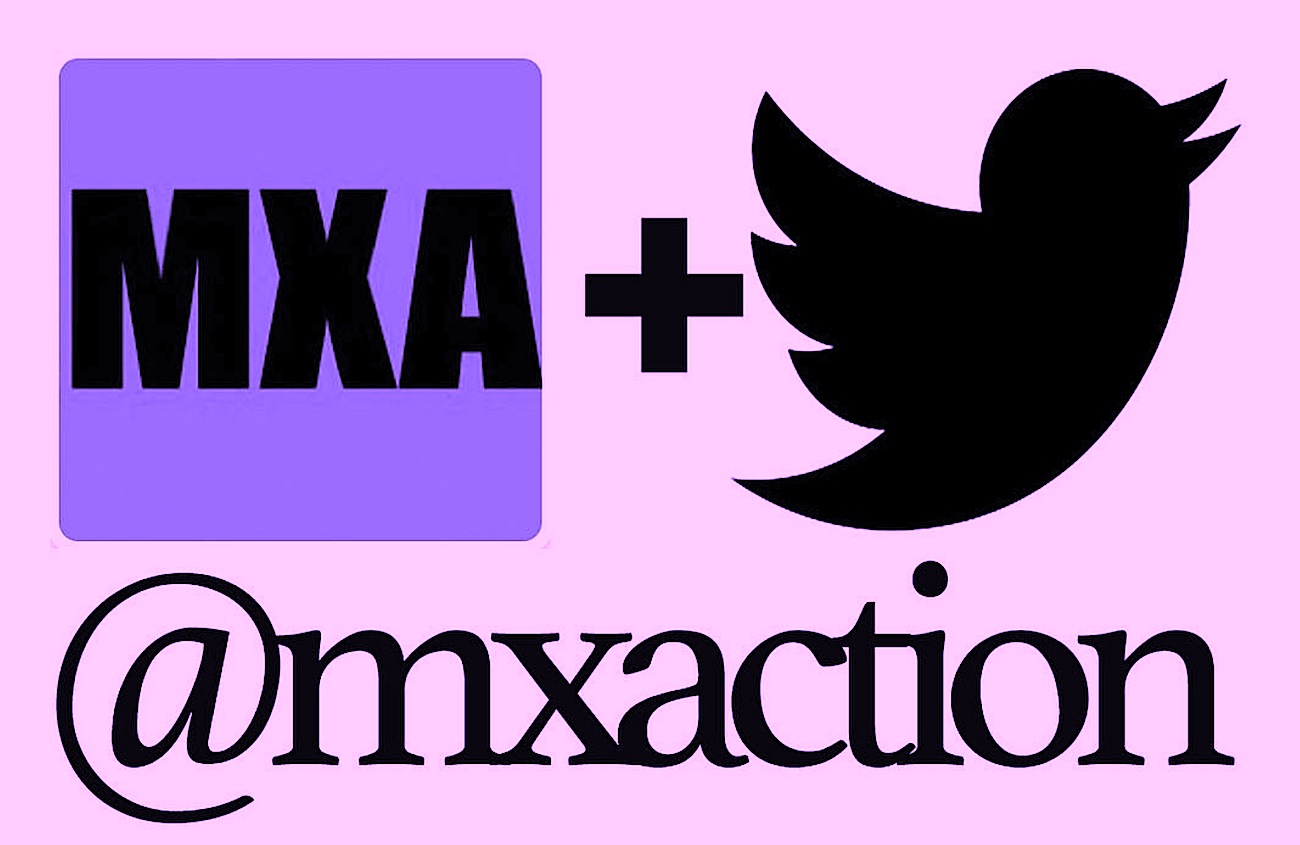 Follow us to see fresh content every day at www.twitter.com/MXAction or on twitter at "MXAction."
MXA YOUTUBE CHANNEL | HIT THAT SUBSCRIBE BUTTON

The MXA wrecking crew is everything moto related. Check out our MXA YouTube channel for bike reviews, Supercross coverage, rider interviews and much more. And don't forgot to hit that subscribe button.
LOOKING AHEAD! THE 2020 RACE CALENDAR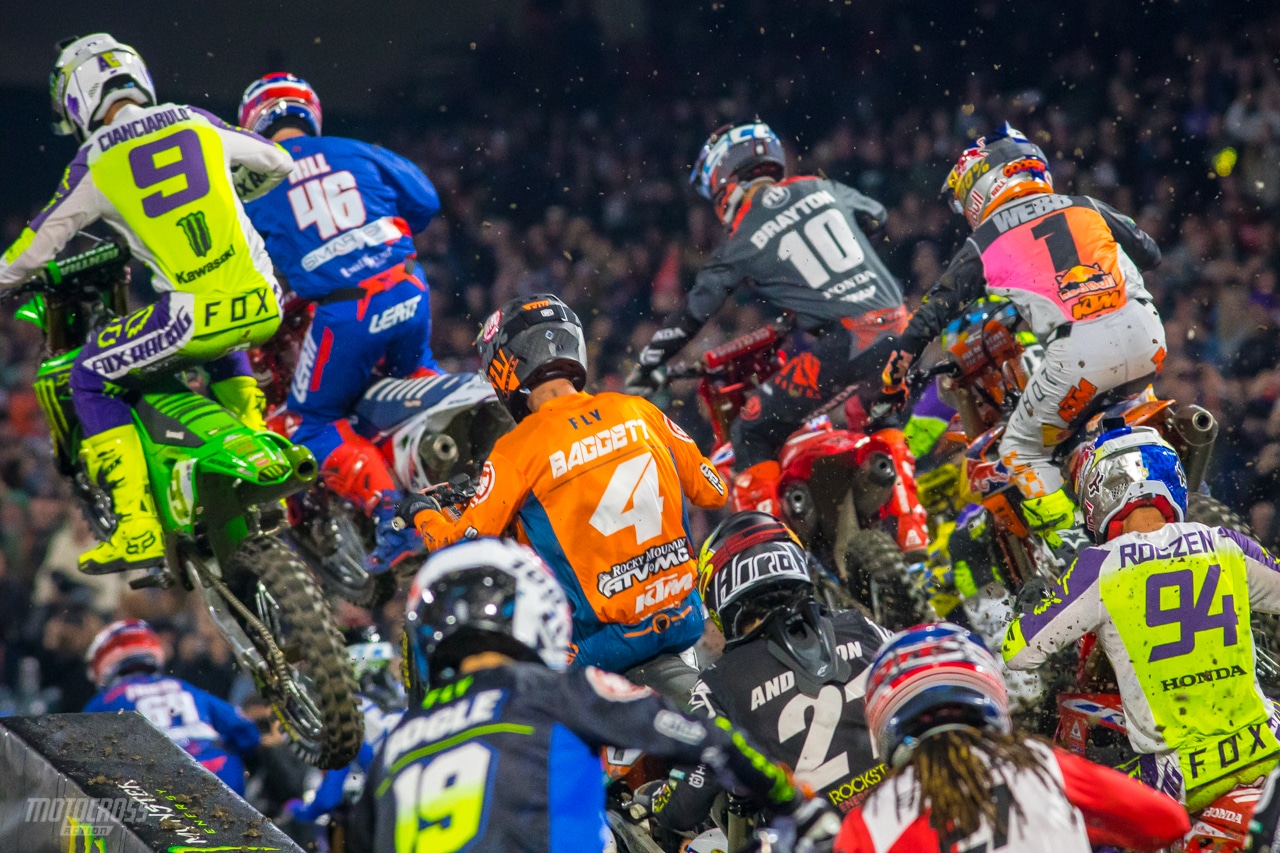 2020 AMA SUPERCROSS CHAMPIONSHIP
Jan. 4…Anaheim, CA (West)
Jan. 11…St. Louis, MO (West)
Jan. 18 …Anaheim, CA (West)
Jan. 25…Glendale, AZ (3-Moto) (West)
Feb. 1…Oakland, CA (West)
Feb. 8…San Diego, CA (West)
Feb. 15…Tampa, FL (East)
Feb. 22… Arlington, TX (3-Moto) (East)
Feb. 29… Atlanta, GA (East)
Mar. 7…Daytona Beach, FL (East)
Mar. 14…Indianapolis, IN (East)
Mar. 21…Detroit, MI (East)
Mar. 28…Seattle, WA (West)
Apr. 4…Denver, CO (East/West)
Apr. 18…Foxborough, MA (East)
Apr. 25…Las Vegas, NV (3-Moto) (West)
May 2…Salt Lake City, UT (East/West)
2020 AMA ARENACROSS CHAMPIONSHIP
Jan. 3-4…Loveland, CO
Jan. 11…Hobbs, NM
Jan. 24-25…Oklahoma City, OK
Jan. 31-Feb. 1… Denver, CO
Feb. 7-8…Reno NV
Feb. 28-29…Salt Lake City, UT
Mar. 7… Amarillo, TX
2020 AMA NATIONAL CHAMPIONSHIP
May 16…..Hangtown, CA
May 23…..Pala, CA
May 30….Thunder Valley, CO
Jun. 6……Jacksonville, FL
June 20…Mt. Morris, PA
June 27…Southwick, MA
July 4……Red Bud, MI
July 18….Millville, MN
July 25….Washougal, WA
Aug. 15…Unadilla, NY
Aug. 22…Budds Creek, MD
Aug. 29…Crawfordsville, IN
2020 FIM MOTOCROSS WORLD CHAMPIONSHIP
Mar. 1…Great Britain
Mar. 8…Holland
Mar. 22…Argentina
Apr. 5…Italy #1
Apr. 19…Spain
Apr. 26…Portugal
May 10…France
May 17…Italy #2
May 24…Germany
June 7…Russia
June 14…Latvia
June 28…Jakarta, Indonesia
July 5…Palembang, Indonesia
July 26…Czech Republic
Aug. 2…Belgium
Aug. 16…Sweden
Aug. 23…Finland
Sept. 6.…Turkey
Sept. 13…China
Sept. 20…Italy #3
2020 FIM MOTOCROSS DES NATIONS
Sept. 27.…Ernee, France
2020 WORCS OFF-ROAD CHAMPIONSHIP
Jan. 26…Primm, NV
Feb. 23…Taft, CA
Mar. 22… Havasu, AZ
Apr. 19…Blythe, CA
May 3…Las Vegas, NV
May 31…Cahuilla Creek, CA
July 19…Prineville, OR
Sept. 20…Glen Helen, CA
Oct. 18…Mesquite, NV
Nov. 15…Primm, NV
2020 WORCS SPRINT ENDURO
Feb. 25…Taft, CA
May 24… Mesquite, NV
July 25…Prineville, OR
Sept. 26…Glen Helen, CA
Oct. 31…Cahuilla, CA
2020 CANADIAN NATIONAL CHAMPIONSHIP
May 31…Wild Rose, AB
June 7…Blackwater, BC
June 14…Dorva, AB
June 21…MotoVally, SK
July 12…Gopher Dunes, ON
July 19…San Del Lee, ON
July 26…Riverglade, NB
Aug. 2…Deschambault, QC
Aug. 16…Walton, ON
2020 MICHELIN BRITISH NATIONAL CHAMPIONSHIP
Mar. 22…Fatcat MotoParc
Apr. 19…Desertmartin, Ireland
Apr. 26…Hawkstone Park
July 5…Canada Heights
Aug. 9…Landrake
Sept. 6t…Cusses Gorse
2020 ACU BRITISH NATIONAL CHAMPIONSHIP
Apr. 12…Lyng
May 3…Foxhill
May 31…Blaxhall
June 21…Deertmartin, Ireland
July 12…Culham
Aug. 30…Landrake
2020 IRISH NATIONAL CHAMPIONSHIP
Apr. 4…Desertmartin
May 10…TBA
June 6…Claudy
July 19…TBA
Aug. 15…Tandragee
Sept. 13…TBA
2020 AUSTRALIAN NATIONAL CHAMPIONSHIP
April 4-5…Horsham, Victoria
May 3… Newry, Victoria
May 24…Queensland
June 28…Glympie, Queensland
July 25-26…Maitland, New South Wales
Aug. 22-23…Coolum, Queensland
2020 AUSTRALIAN SUPERCROSS CHAMPIONSHIP
Oct. 3 …Western Australia
Oct. 17… South Australia
Oct. 31…Queensland
Nov. 7 …New South Wales
Nov. 14…TBA
Nov. 28…Victoria
2020 ADAC GERMAN NATIONAL CHAMPIONSHIP
Apr. 13…Fürstlich Drehna
May 3…Mölln
May 31…Möggers, Austria
June 21…Aichwald
July 12…Holzgerlingen
July 19…Tensfeld
Aug. 30…Bielstein
Sept.13…Gaildorf
AMA NATIONAL AMATEUR CHAMPIONSHIP
Aug. 3-8….Hurricane Mills, TN
2020 FIM JUNIOR WORLD CHAMPIONSHIP
Aug. 8-9…Megalopolis, Greece
MXA MOTO-QUIZ ANSWER
Answer: Alan Olson wasn't even a Team Yamaha mechanic when Team Yamaha asked him to step in when Chad's regular mechanic, Darrin Sorenson, got hurt before the season started. Alan had previously wrenched for Doug Dubach, Paul Carpenter, Steve Lamson, Juss Laansoo and Craig Anderson (Chad's cousin). Alan was named the 2006 AMA Mechanic of the year at the age of 61. Alan Olson is also a nine-time World Vet Champion—winning the Over-40 Championship in 1986, 1987, 1988, 1989 and 1991. The Over-50 Championship in 1994, 1995, 1997 and Over-60 Championship in 2005.
Photos: Brian Converse, John Basher, Jody Weisel, Josh Mosiman, Debbi Tamietti, Daryl Ecklund, MXA, KTM