MXA WEEKEND NEWS ROUND-UP: THE WHOLE WORLD'S WATCHING
Click on images to enlarge

• ALL HAIL THE FIRST FILL-IN RIDER OF 2017
Jake Weimer grabbed the golden ring for 2017.
There should have been an office pool about who would be the first unsigned rider to get a fill-in spot at an established team. You don't need a college degree to know that there were only three available riders for this spot at JGR  Suzuki. They were Dean Wilson, Malcolm Stewart and Jake Weimer. James Stewart was unlikely to be considered for any spot at JGR. Thus, when JGR Suzuki's Justin Barcia was forced to take time off to heal his injured wrist the golden ring went to Jake Weimer. Why Weimer? (1) JGR had a very, very, bad experience with James Stewart when he quit their team in mid-season, but word on the street is that they offered the ride to his brother Malcolm, but the deal would only last until Barcia was ready to race again—and Malcolm turned it down because he is rumored to be close to a deal that will see him back on the track in a couple of races. (2) Dean Wilson appears to be on a fast track to eventually landed on the Yamaha team as an AMA 450 National replacement for Chad Reed—who is not racing the Nationals. Thus, Dean didn't want to squelch the Yamaha deal, just to race four or five races for JGR. (3) Jake Weimer has RCH Suzuki RM-Z450 experience and was a fill-in at the RCH team. It was that simple.
• 10 TRIVIAL THINGS YOU NEED TO KNOW ABOUT ANAHEIM 1
1. The Anaheim Supercross dates back to 1976 (although it wasn't always an AMA sanctioned race and was held in December originally).
2. The 2017 race will be the 69th race held inside Angel Stadium (Anaheim has hosted more Supercross races than any other venue and has been the opening round for 27 seasons).
3. Of the 43 years of Supercross history, Anaheim has played a role in 37 of them.
4. Anaheim is the only venue in Supercross history that all six competing manufacturers have won at.
5. Of the 18 different Anaheim opener winners in history, only seven were able to ultimately win the series championship.
6. Although they share 8 AMA Supercross Championship neithers Ryan Dungey nor Ricky Carmichael have ever won a season opening race.
7. Jason Anderson's win at Anaheim in 2016 was the first-ever Supercross victory for Husqvarna.
8. Chad Reed and James Stewart as the only three-time Anaheim opener winners. David Bailey, Jeremy McGrath, Ryan Villopoto and Ken Roczen have 2 each.
9. Yamaha riders have the most Anaheim opener wins of any brand with nine. Honda has 7, Kawasaki 5, Suzuki three and Husky and KTM 1 each.
10. AMA 250 West winners at the Anaheim I season opener (not Anaheim !! and Anaheim III events) include: Jeff Matiasevich 2, Travis Preston 2, Jake Weimer 2, Jason Anderson, Michael Craig, Ryan Dungey, Ernesto Fonseca, Josh Hansen, Casey Johnson, Jessy Nelson, Nathan Ramsey, Cole Seely, Andrew Short, Ivan Tedesco, Eli Tomac, Ryan Villopoto and Tyson Vohland.
• SATURDAY NIGHT'S ANAHEIM 1 TRACK MAP
• WHOEVER WINS A1 WILL HAVE A PERFECT SEASON STARTED…HOW LONG WILL IT LAST?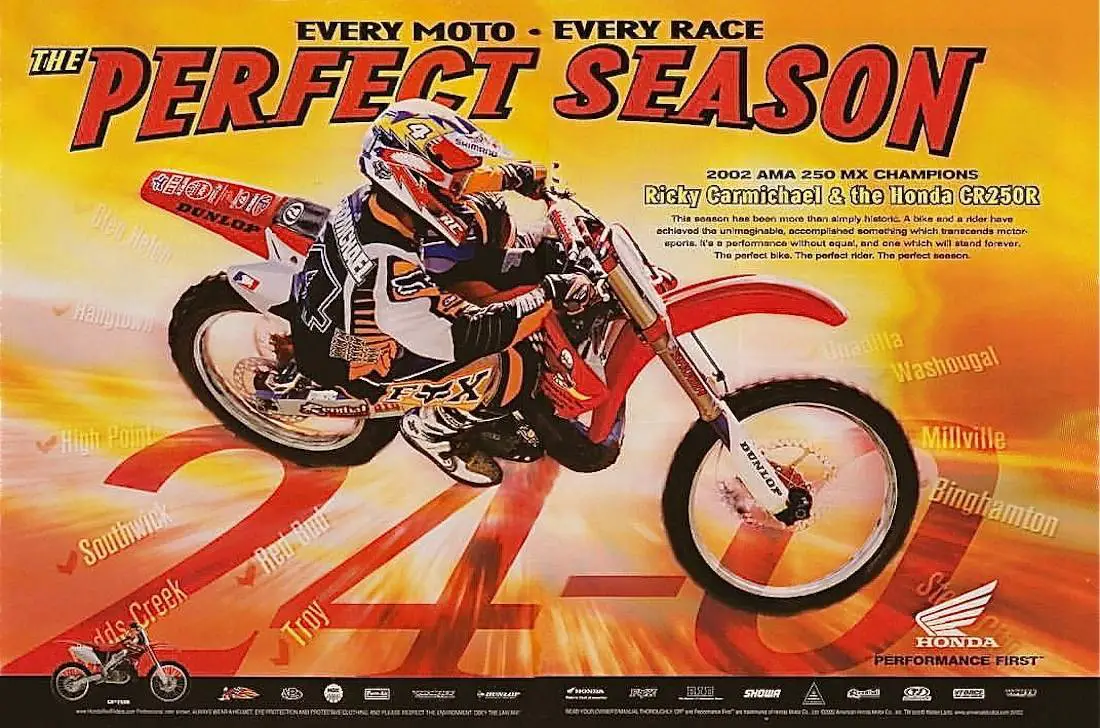 This was Honda's ad touting Ricky Carmichael's  24 for 24 moto wins in the 2002 AMA 250 Nationals. Could Honda be buying an ad for Ken Roczen in 18 weeks?
• MUST-SEE TV STARTS ON SATURDAY, JANUARY 7, 2017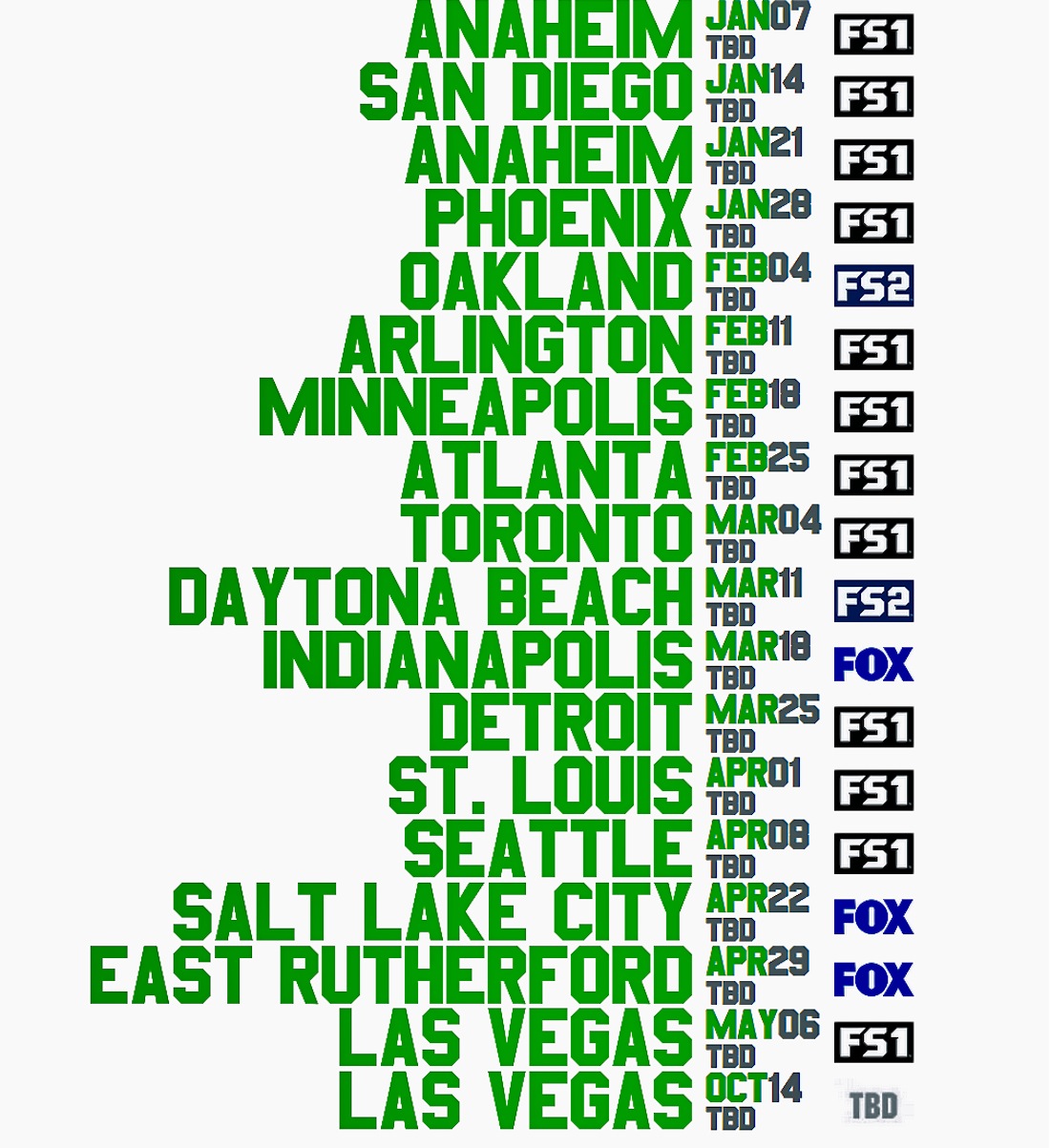 Check you local listing for times in your region.
• EVERY AMA SUPERCROSS CHAMPION EVER: THERE ARE ONLY 20 OF THEM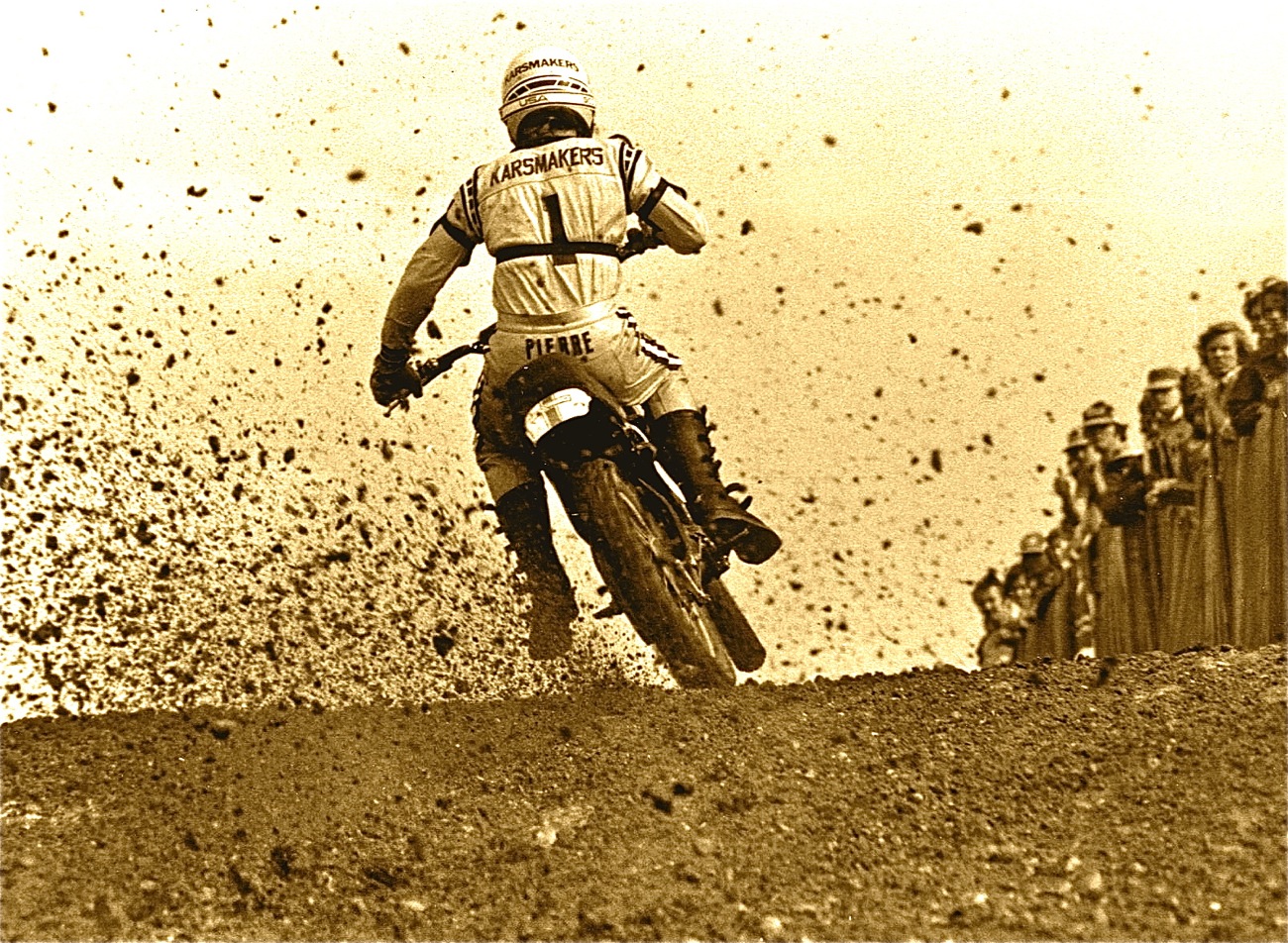 It may be hard to believe but in the 42 years of the AMA Supercross Championship only 20 men have won the crown. The discrepancy is caused by Jeremy McGrath's 7 Championship, Ricky Carmichael's 5 titles, Ryan Villopoto's 4, Bob Hannah's 3, Jeff Stanton's 3 and Ryan Dungey's 3 (plus double wins by Jeff Ward, Ricky Johnson, Chad Reed and James Stewart). Here is the complete list — starting with Pierre Karsmakers in 1974.
250/450 SUPERCROSS CHAMPIONS (1974-2016)
1974 …Pierre Karsmakers (Yam)
1975 …Jimmy Ellis (Can)
1976 …Jimmy Weinert (Kaw)

1977 …Bob Hannah (Yam)
1978 …Bob Hannah (Yam)
1979 …Bob Hannah (Yam)
1980 …Mike Bell (Yam)
1981 …Mark Barnett (Suz)
1982 …Donnie Hansen (Hon)

1983 …David Bailey (Hon)
1984 …Johnny O'Mara (Hon)
1985 …Jeff Ward (Kaw)
1986 …Rick Johnson (Hon)
1987 …Jeff Ward (Kaw)
1988 …Rick Johnson (Hon)


1989 …Jeff Stanton (Hon)
1990 …Jeff Stanton (Hon)
1991 …Jean-Michel Bayle (Hon)
1992 …Jeff Stanton (Hon)

1993 …Jeremy McGrath (Hon)
1994 …Jeremy McGrath (Hon)
1995 …Jeremy McGrath (Hon)
1996 …Jeremy McGrath (Hon)
1997 …Jeff Emig (Kaw)
1998 …Jeremy McGrath (Yam)
1999 …Jeremy McGrath (Yam)
2000 …Jeremy McGrath (Yam)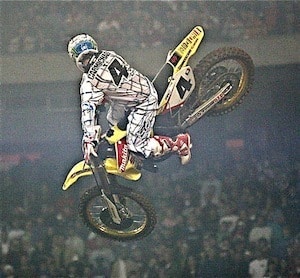 2001 …Ricky Carmichael (Kaw)
2002 …Ricky Carmichael (Hon)
2003 …Ricky Carmichael (Hon)
2004 …Chad Reed (Yam)
2005 …Ricky Carmichael (Suz)
2006 …Ricky Carmichael (Suz)

2007 …James Stewart (Kaw)
2008 …Chad Reed (Yam)
2009 …James Stewart (Yam)
2010 …Ryan Dungey (Suz)

2011 …Ryan Villopoto (Kaw)
2012 …Ryan Villopoto (Kaw)
2013 …Ryan Villopoto (Kaw)
2014 …Ryan Villopoto (Kaw)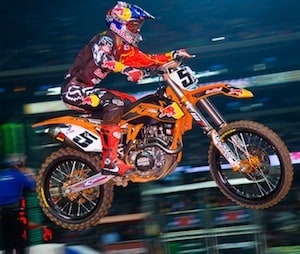 2015 …Ryan Dungey (KTM)
2016 …Ryan Dungey (KTM)
2017 …To Be Decided
• BIRTHDAYS OF THE STARS: 3 BRITS, 2 AUSSIES & A BELGIAN


Jan. 5…Eric Cheney 1924



Jan. 5…Willy Simons, Sr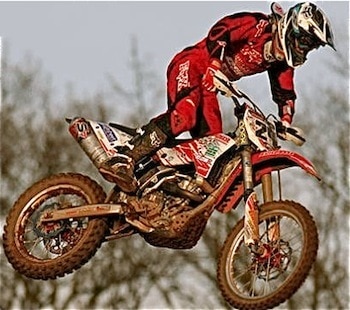 Jan. 5…Tom Church 1982



Jan. 6…Georges Jobe 1961
Jan. 6…Jake Moss 1988

Jan. 6…Matt Moss 1988
Jan. 8…Mike Craig 1969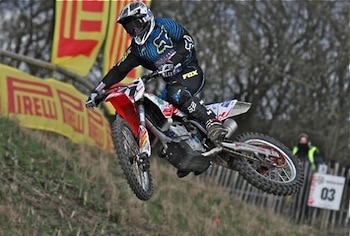 Jan. 10…Stephen Sword 1980
• CLASSIC MXA TEST RIDER CRASHES
This may look like a simple freestyle trick, but look again. There is a large branch stuck in the shift lever of the Mugen ME360 that Clark Jones was testing for the March 1980 issue of MXA. When the stick lodged in the shifter the bike hit neutral on the face of the jump. Yes, he did crash hard, but luckily he was wearing MXA's famous open-face KISS helmet. Clark would go on to open Noleen Racing, which he still runs today at shop.noleenj6.com.
• WEDNESDAY AT MILESTONE MX PARK
SoCal has been hit by a series of rain storms rolling in off the Pacific Ocean for the last three weeks. With rain forecast for Thursday, Friday and Saturday, we knew that lots of the local tracks would be closed this weekend—so we took our full-race Pro Circuit "Joey Savatgy Replica" and 2017 Honda CRF450 out for a couple hours of hard laps before the rain hit.
The MXA guys split up on Wednesday with Daryl Ecklund going to the 2017 Fox intro event, while Jody and Dennis went to Milestone Raceway to get in as many laps as possible on our Pro Circuit KX250F test bike. It is the full-race customer version, with some added touches that we asked Pro Circuit to try—including lightened crank halves, different air boots and three different mufflers to go along with their full-race engine mods. On our 2017 Honda CRF450, now that our engine problems seem to be mysteriously behind us, we have returned to stock suspension components before starting on the next round of revalved forks and shocks. We had our best luck so far with a stiffer shock spring to calm the rear end down. We alway keep the stock suspension to use as a control to test against.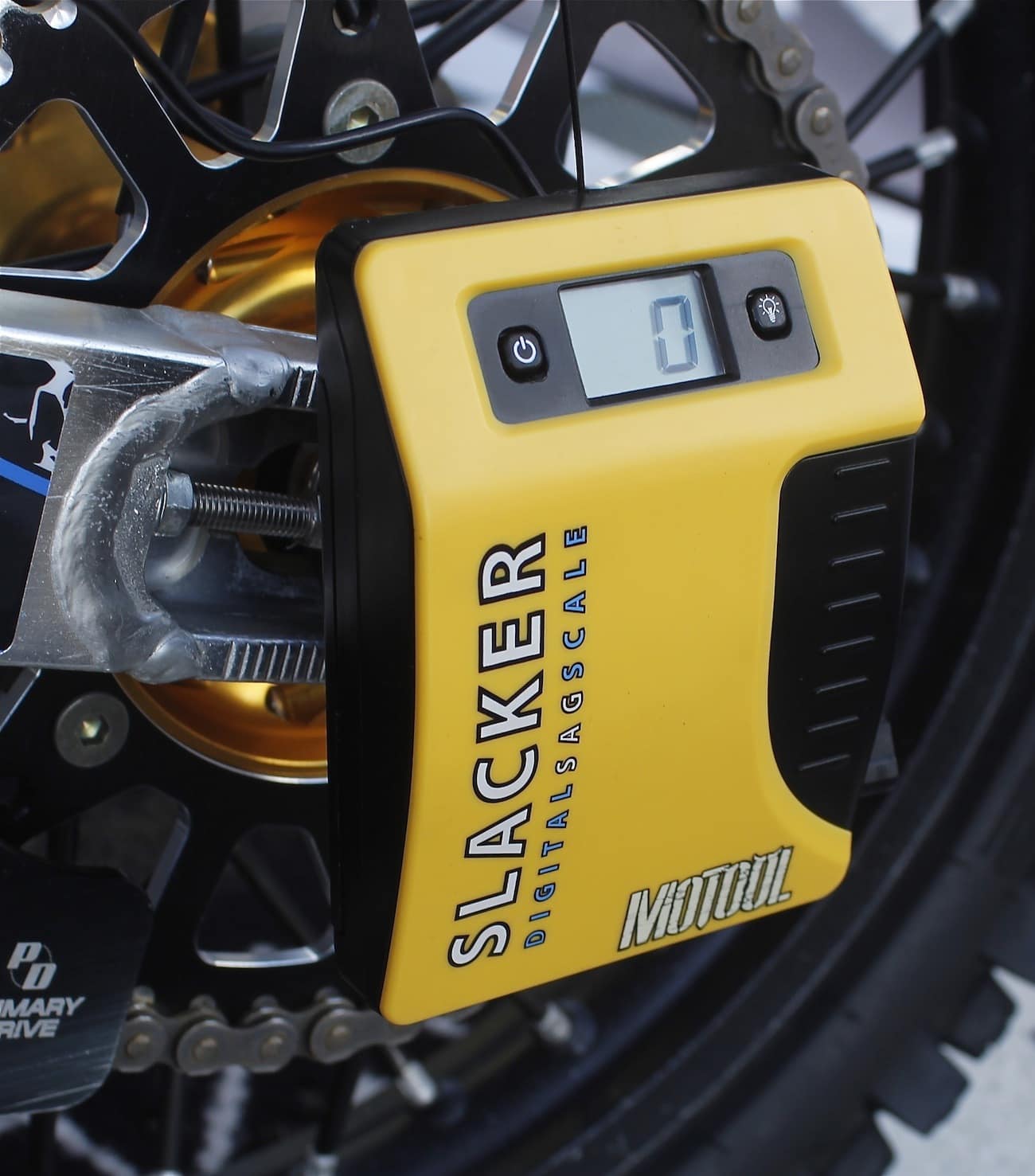 The Slacker V2 feature improved electronics, new cable, redesigned graphics and the unique "Auto Zero" feature.
While we were at Milestone we spent some time with John Casebeer from Motools so he could show us the latest version of the Slacker digital sag scale. The new Slacker V2 feature "Auto Zero," which allows it to learn where the zero point is without the rider having to put his bike on a stand. All you do is hold the backlight button for 3 seconds to place it in Auto Zero mode, then lift the bike to unload the suspension and it automatically marks the zero point so you are ready to take measurements. Since MXA races up to ten 2017 bikes every weekend, we spend a lot of time adjusting sag as test riders switch back and forth. The Slacker is a life saver (helped by the fact that we drill a small pilot hole in our rear fenders to speed up the process of hooking the cable up). You can learn more about the Slacker V2 at www.motool.com.
• DAKAR UPDATE: THE LEAD CHANGES EVERY DAY IN SOUTH AMERICA


DAKAR STANDINGS (AFTER STAGE ONE)
1. Xavier De Soultrait…Yamaha….00:28:20
2. Juan Perdo Garcia….Sherco…00:28:22
3. Ricky Brabec…Honda…00:28:3
DAKAR STANDINGS (AFTER STAGE TWO)
1. Toby Price…KTM…02:37:32
2. Matthias Walkner…KTM…02:40:54
3. Paulo Goncalves…Honda…02:41:23
DAKAR STANDINGS (AFTER STAGE THREE)
1. Joan Barreda…Honda…7:36'30
2. Sam Sunderland…KTM…+10m20s
3. Paulo Goncalves…Honda…+13m42s
REVISED DAKAR STANDINGS (AFTER STAGE 4)
1. Pablo Quintanilla…Husqvarna…12h54m02s
2. Matthias Walkner…KTM…+2m07s
3. Stefan Svitko…KTM…+5m52s
DAKAR STANDINGS (AFTER STAGE 5)
1. Sam Sunderland…KTM…15h22m05s
2. Pablo Quintanilla…Husqvarna…+12m00s
3. Adrian van Beveren…Yamaha…+16m07s
DAKAR STANDINGS (AFTER STAGE 5)
Stage 6 was canceled due to inclement weather


• HOW TO SUBSCRIBE & GET MXA FOR FREE: ACTUALLY, WE PAY YOU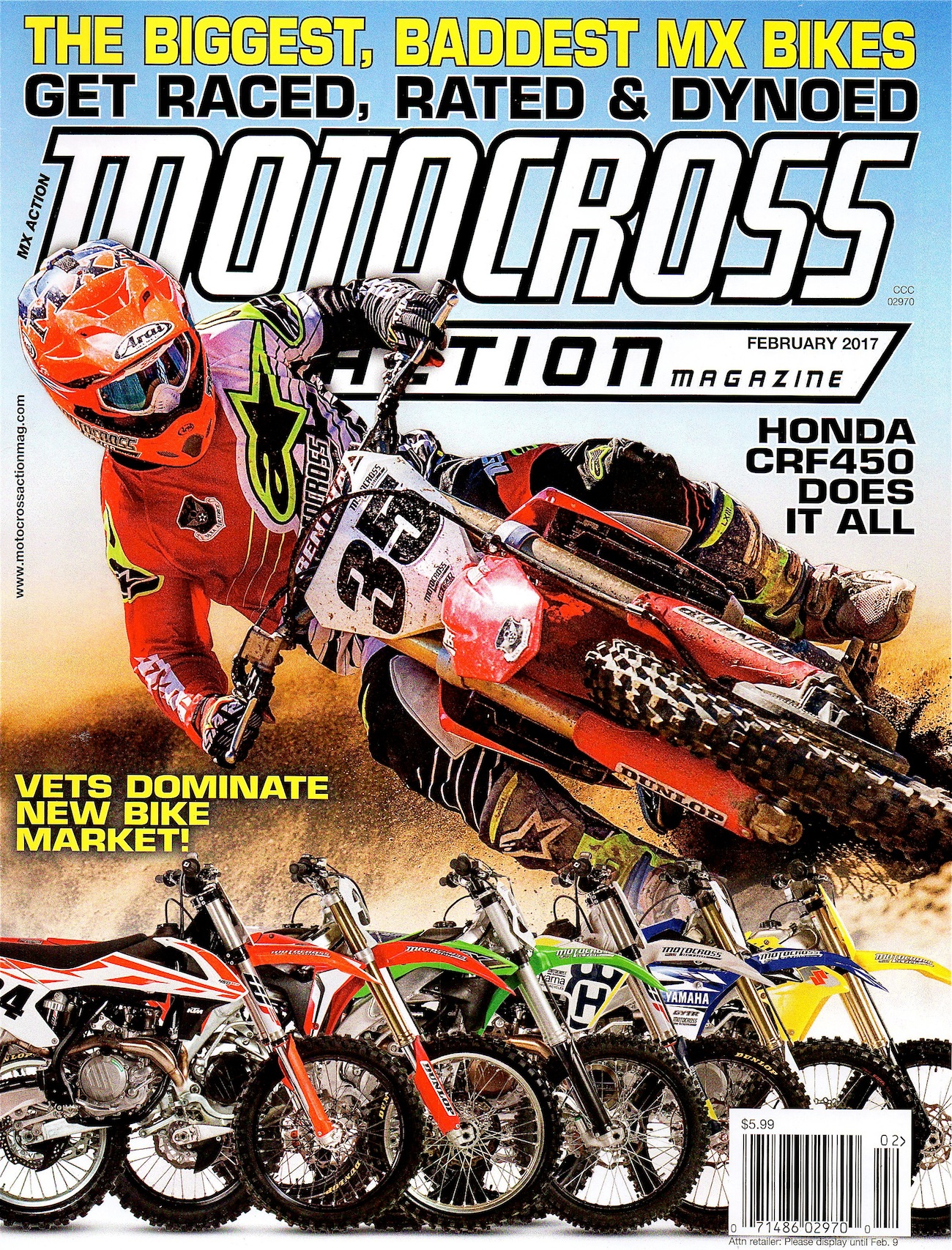 Interested in getting a new bike this year? The Febuary 2017 issue of MXA is on the news stands now and includes the long-awaited 2017 MXA 450 Shootout. You should be reading MXA, and if you subscribe now you get a $25 gift certificate from Rocky Mountain ATV/MC which more than pays for your subscription.
Do you subscribe to MXA? You should. We know that you think that print magazines are dead and that the internet will fill the void, but most of the stuff in the current issue of MXA won't appear on the web for several months, if at all. Luckily, you can get all of MXA on your iPhone, iPad, Kindle or Android by going to the Apple Store, Amazon or Google Play. Better yet get the Digital desktop version at https://hi-torque.com/product/motocross-action-digital-edition/ for $9.99 a year.
The MXA test riders prefer the print version and not just because it is delivered by a uniformed employee of the U.S. Government, but because right now you can get 12 issues for $15.95 and a free $25 Gift Card from Rocky Mountain ATV/MC. That means that there is a profit to be made in this deal for you. For the Print magazine go to: https://hi-torque.com/product/motocross-action/
• MXA MOTO-PHOTO: WE WERE ALL YOUNG ONCE
Any hardcore moto fan should be able to recognize this 12-year-old racer—largely because he was 12 years old about 13 years ago. This photo was shot at Wild Rose MX Park (that's a clue). He will be on the starting line at Anaheim 1. The answer is on the bottom of this page.. Photo: David Pinkman
• AMERICAN HISTORY: BRAD LACKEY'S 1972 TEAM KAWASAKI CONTRACT

Page 1.
Page 2.
Page 3.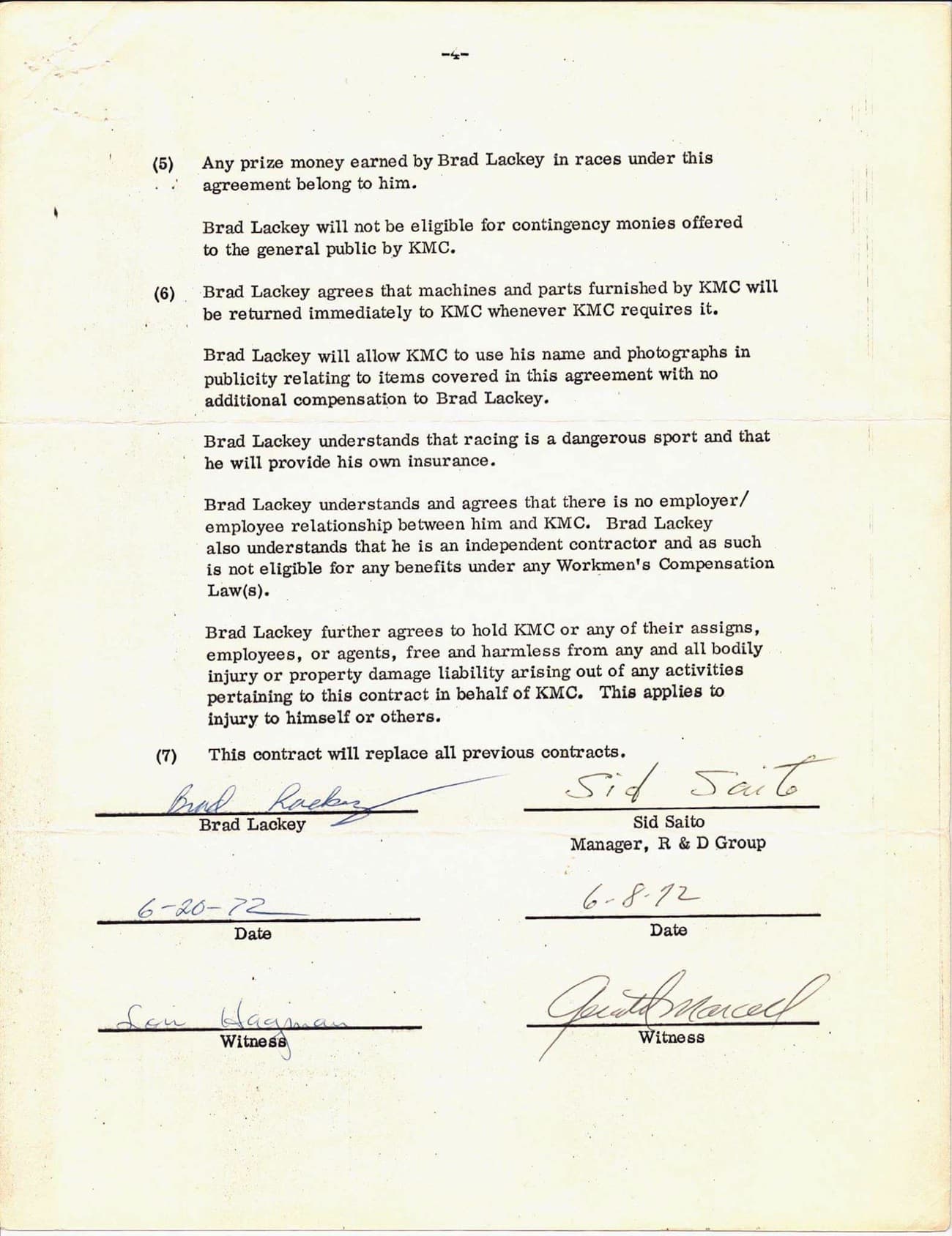 Page 4.
• 2017 AMSOIL ARENACROSS SERIES STARTS NOW!

• HOW IS YOUR TWITTER GAME GOING? UP IT BY FOLLOWING MXA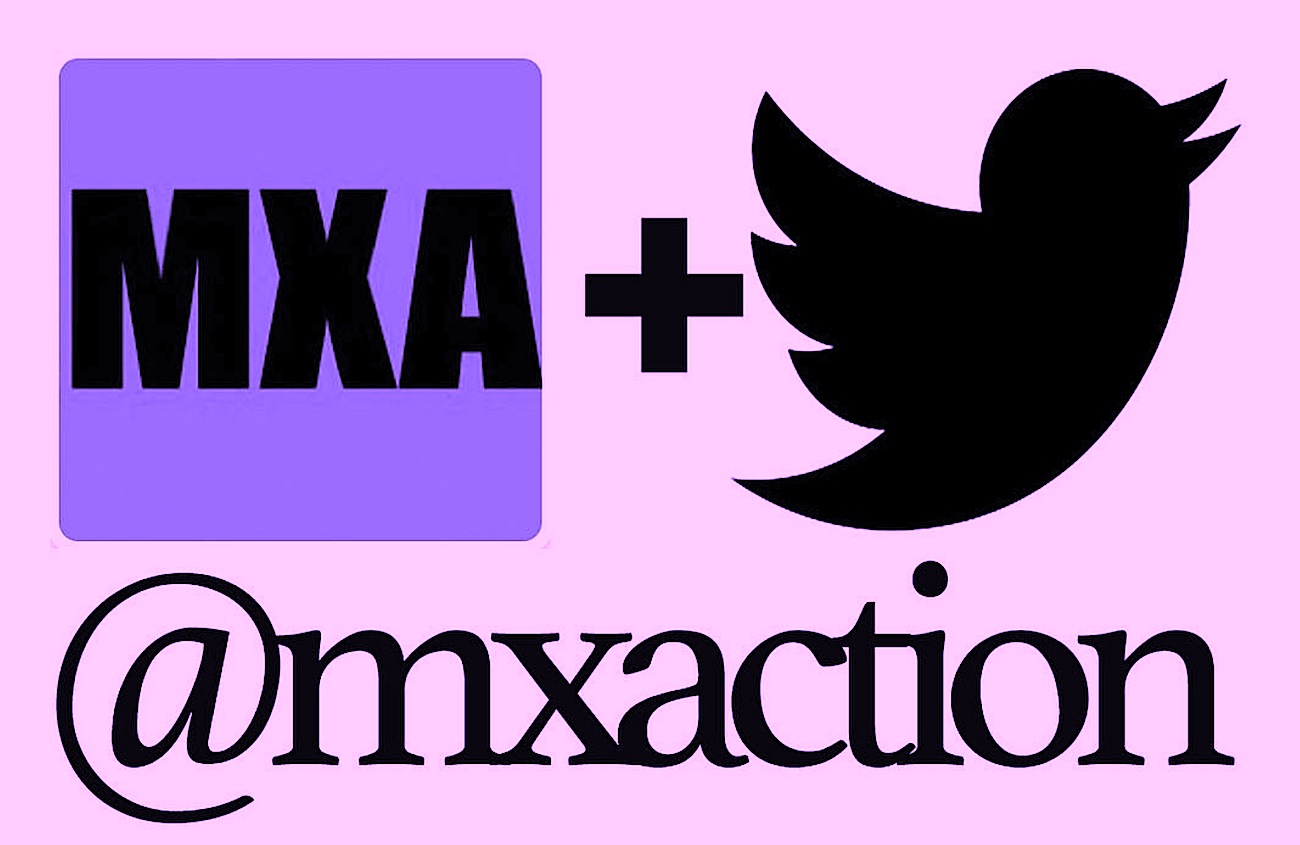 Follow us to see fresh content every day at www.twitter.com/MXAction or on twitter at "MXAction"
• SPECIAL EVENTS YOU DON'T WANT TO MISS

The "Day After The Night Before" race is a special Sunday event on the morning after the Anaheim Supercross. It will be held on the Glen Helen USGP track on January 8, 2017. For more info go to www.remsatmx.com.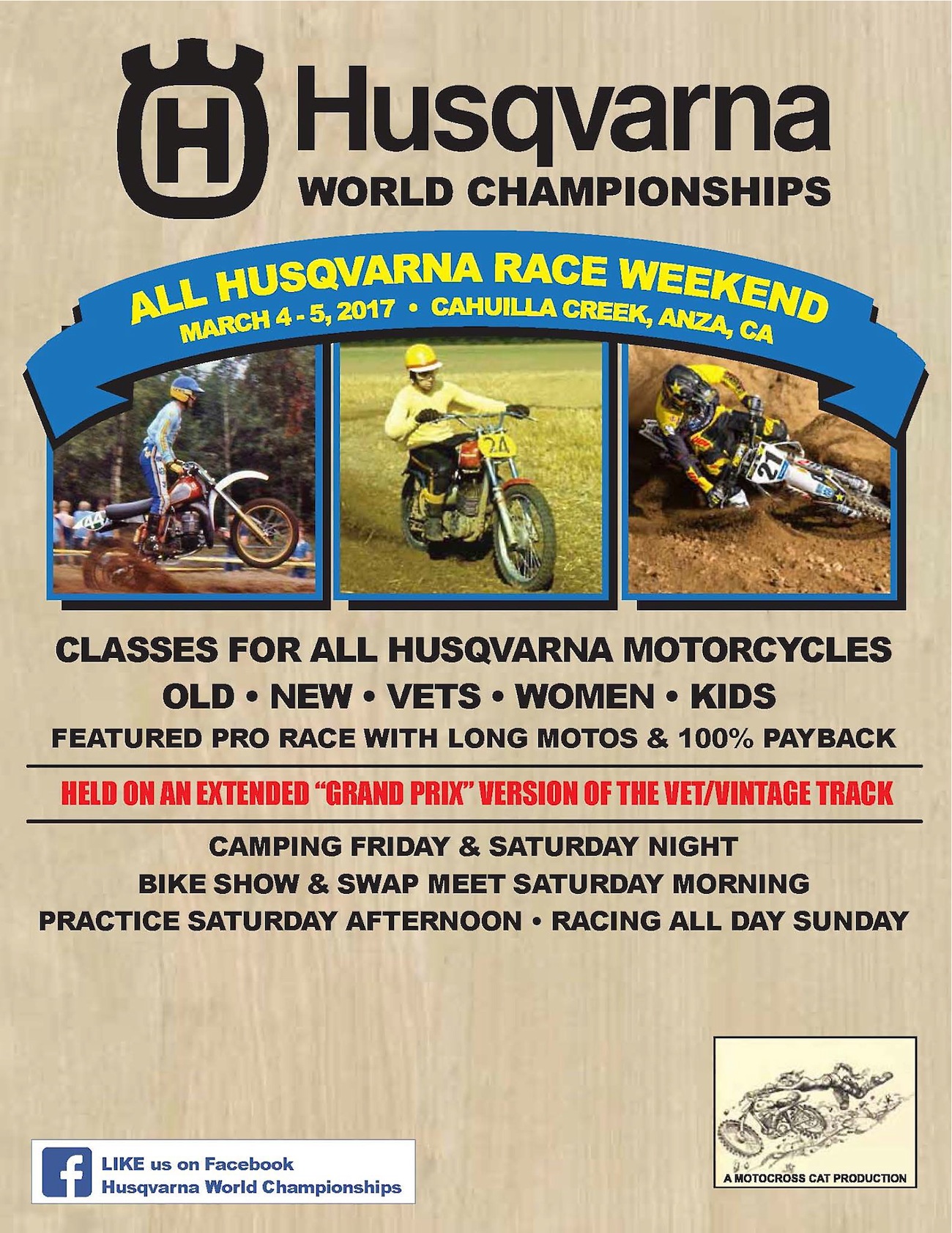 This news probably doesn't effect you unless you own a Husqvarna (and we aren't talking about just vintage Huskys, but new ones, old ones and pitiful ones. The race will be held at SoCal's Cahuilla Creek track on March 5-6.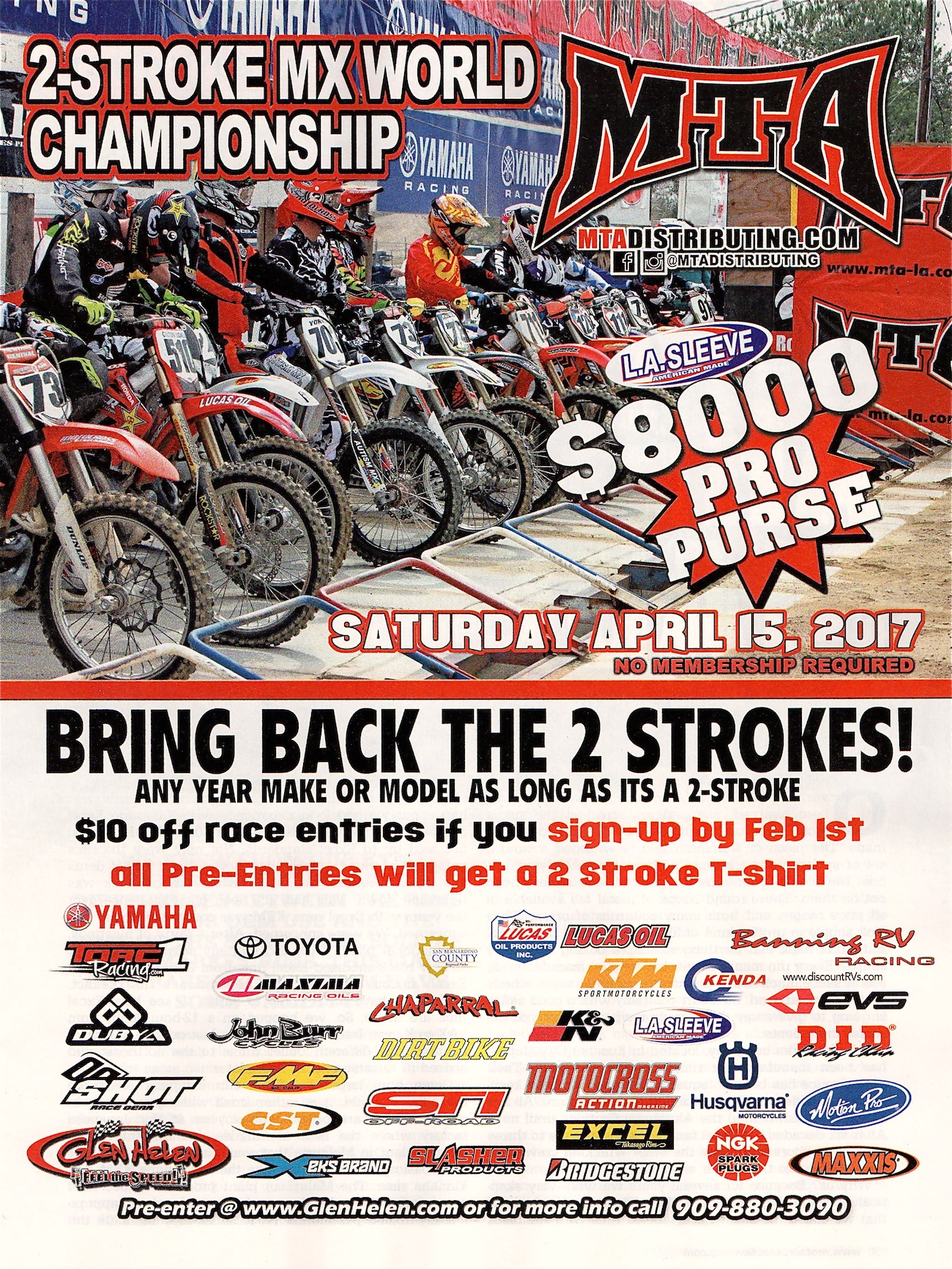 Just in case you need a little extra time to get your trusty, but rusty, two-stroke ready to race, the 2017 MTA World Two-Stroke Championship is a little over three months away. It will be held on Saturday, April 15, 2017, at Glen Helen Raceway.
v
• 2017 MOTOCROSS SCHEDULES: WHERE TO BE & WHEN TO BE THERE


2017 AMA SUPERCROSS CHAMPIONSHIP
Jan. 7…………………………Anaheim, CA
Jan. 14………………………San Diego, CA
Jan. 21………………………Anaheim, CA
Jan. 28………………………Glendale, AZ
Feb. 4……………………….Oakland, CA
Feb. 11………………………Arlington, TX
Feb. 18………………………Minneapolis, MN
Feb. 25………………………Atlanta, GA
Mar. 4………………………Toronto, ON
Mar. 11………………………Daytona, FL
Mar. 18………………………Indianapolis, IN
Mar. 25………………………Detroit, MI
Apr. 1…………………………St. Louis, MO
Apr. 8………………………..Seattle, WA
Apr 22……………………….Salt Lake City, UT
2017 AMA NATIONAL CHAMPIONSHIP
May 20……………………Hangtown, CA
May 27.…………………..Glen Helen, CA
June 3..………………….Thunder Valley, CO
June 17..…………………Mt Morris, PA
June 24.………………….Muddy Creek, TN
July 1.…………………….Red Bud, MI
July 8..……………………Southwick, MA​
July 22.…………………..Millville, MN​
July 29.…………………..Washougal, WA
Aug. 12..………………….Unadilla, NY​
Aug. 19..………………….Budds Creek, MD​
Aug. 26.…………………..Crawfordsville, IN
2017 FIM MOTOCROSS WORLD CHAMPIONSHIP
Feb. 25…………………….Qatar (Saturday)
Mar. 5………………………Indonesia
Mar. 19…………………….Argentina
Apr. 2………………………Mexico
Apr. 16……………………..Italy
Apr. 23…………………….Holland
May 7………………………Latvia
May 21…………………….Germany
May 28…………………….France
June 11…………………….Russia
June 25……………………Italy
July 2……………………….Portugal
July 9……………………….San Marino (Cancelled)
July 23……………………..Czech Republic
Aug. 6……………………..Belgium
Aug. 13…………………….Switzerland
Aug. 20…………………….Sweden
Sept. 3………………………USA (Monday)
Sept. 10……………………Holland
Sept. 17…………………….France
2017 MOTOCROSS DES NATIONS
October 1…………………..Matterley Basin, Great Britain
2017 SMX RIDERS & MANUFACTURERS CUP
October 7………………….Gelsenkirchen, Germany
2017 AMSOIL ARENACROSS CHAMPIONSHIP
Jan. 7-8…………………….Cincinnati, OH
Jan. 13-15…………………Grand Rapids, MI
Jan. 20-22…………………Baltimore, MD
Jan. 28-29…………………Nashville, TN.
Feb. 4-5…………………….Louisville, KY
Feb. 18-19…………………Kansas City, MO
Feb.y 25-26……………….Tampa, FL
Mar. 3-5…………………….Southaven, MS
Mar. 11-12…………………New Orleans, LA
Mar. 18-19…………………Portland, OR
Mar. 24-26…………………Reno, NV
April 1-2…………………….Sacramento, CA
April 21-23…………………Denver, CO
May 5-7…………………….Las Vegas, NV
2017 WORLD OFF ROAD CHAMPIONSHIP (WORCS)
Jan. 6-8…………………….Taft, CA
Jan. 27-29…………………Primm, NV
Feb. 17-19………………….TBA
Mar. 10-12…………………Lake Havasu, AZ
Apr. 1-2…………………….Las Vegas, NV
Apr. 21-23…………………Hurricane, UT
May. 19-21…………………Cedar City, UT
Jun. 9-11…………………..Adelanto, CA
Sept. 8-10…………………Glen Helen, CA
Oct 13-15…………………..TBA
2017 ITALIAN NATIONAL CHAMPIONSHIP
Jan. 29…………..………..Riola Sardo.
Feb. 5………………………Malagrotta.
Feb.12………………..……Ottobiano
2017 MAXXIS BRITISH NATIONAL CHAMPIONSHIP
Mar. 12……………………Culham
Apr. 9………………………Lyng
Apr. 30…………………….Canada Heights
May 14……………………Hawkstone Park
June 18……………………Desertmartin
July 16…………………….Blaxhall
July 30…………………….Preston Docks
Aug 27……………………..Foxhill
2017 BELGIAN NATIONAL CHAMPIONSHIP
Mar. 12……………………Moerbeke-Waas
Mar. 26……………………Kruishoutem
Apr. 2……………………..Genk
Apr 10…………………….Mons
Apr. 18……………………Axel
Apr. 30……………………Wuustwezel
June 11…………………..Comines
June 18………………….Genk
July 22……………………Axel
July 23…………………..Hasselt
July 30…………………..Gooik
Aug. 15…………………..Balen
Aug. 20………………….Wachtebeke
Aug. 27………………….Orp le Grand
2017 CANADIAN NATIONAL CHAMPIONSHIP
June 4……………………Whispering Pines, BC
June 11………………….Blackwater, BC
June 18………………….Wild Rose, AB
June 25………………….Moto Valley, SK
July 9…………………….Gopher Dunes, ON
July 16…………………..Ulverton, QC
July 23…………………..Pleasant Valley, NS
July 30…………………..Riverglade, NB
Aug. 6…………………….Deschambault, QC
Aug. 13………………….RJ Motosport, ON
2017 DUTCH NATIONAL CHAMPIONSHIP
Mar. 26…………………..Oss
Apr. 9th…………………..Harfsen
May 14……………………Emmen
July15-16t………………..Lichtenvoorde
2017 ADAC GERMAN MASTERS CHAMPIONSHIP
Apr. 9……………………….Muhlberg
Apr. 30…………………….Jauer
May 14…………………….Molln
June 18……………………Bielstein
July 16…………………….Tensfeld
Aug. 27……………………Gaildorf
Sept. 24…………………..Holzgerlingen
2017 AUSTRALIAN NATIONAL CHAMPIONSHIP
April 1-2…………………..Wonthaggi, Victoria
April 23…………………..Appin, New South Wales
May 7……………………..Connondale, Queensland
May 21……………………Horsham, Victoria
May 28……………………Murray Bridge, South Australia
July 2……………………..Nowra, New South Wales
July 16……………………Shepparton, Victoria
July 30……………………Port Macquarie, New South Wales
Aug. 13…………………..Toowooba, Queensland
Aug. 19-20………………Coolum, Queensland
2017 AUSTRALIAN SUPERCROSS CHAMPIONSHIP
Sept. 9…………………..Queensland
Sept. 23…………………Queensland
Oct. 14…………………..TBA
Oct. 26…………………..South Australia
Nov. 4…………………….Victoria
Nov. 11-12……………..New South Wales
Photos: Daryl Ecklund, Brian Converse, Massimo Zanzani, Scott Malonee, Debbi Tamietti, Tom White, Dan Alamangos, John Basher, Yamaha, MXA, KTM, Husqvarna, Honda.
ANSWER: Dean Wilson. Dean is from Scotland, but emigrated to Canada (where Wild Rose MX Park is located) and then moved to the USA to purse his motocross career. Dean won the 2011 AMA 250 National Championship.