MXA'S WEEKEND NEW ROUND-UP: THERE IS A SIX-PACK LEFT — ON THE TRACK AND ON THE COUCH
2019 SEATTLE SUPERCROSS ON NBC SPORTS AT 10:00 P.M. EASTERN TIME (7:00 P.M.PACIFIC) ON SATURDAY, MARCH 23

The 2019 Seattle Supercross will be shown on Saturday, March 23, at 10:00 p.m. Eastern  time (8:00 p.m. Pacific time).  Click on image to enlarge.
2019 AMA SUPERCROSS WINNERS AT A GLANCE
Marvin Musquin made up for the win he had in the bag at Daytona, by easily winning in Indy.

Date               Venue                                            450                                250
Jan. 5……..Anaheim, CA………………..Justin Barcia…………Colt Nichols
Jan. 12…..Glendale, AZ…………………Blake Baggett………Adam Cianciarulo
Jan. 19…..Anaheim, CA…………………Cooper Webb………Shane McElrath
Jan. 26…..Oakland, CA………………….Cooper Webb………Adam Cianciarulo
Feb. 2……San Diego, CA………………..Eli Tomac……………..Adam Cianciarulo
Feb. 9…….Minneapolis, MN………….Cooper Webb………Austin Forkner
Feb. 16…..Arlington, TX………………..Cooper Webb………Austin Forkner
Feb. 23….Detroit, MI…………………….Eli Tomac………………Austin Forkner
Mar. 2……Atlanta, GA……………………Cooper Webb………Adam Cianciarulo
Mar. 9……Daytona Beach, FL……….Eli Tomac……………..Austin Forkner
Mar. 16…Indianapolis, IN…………….Marvin Musquin….Austin Forkner
Mar. 23….Seattle, WA…………………..
Mar. 30…Houston, TX………………
Apr. 6…….Nashville, TN……………….
Apr. 13….Denver, CO…………………
Apr. 27….East Rutherford, NJ…
May 4……Las Vegas, NV……………
450 Points leader……………Cooper Webb (KTM)
250 West points leader…Adam Cianciarulo (Kaw)
250 East points leader…..Austin Forkner (Kaw)
AMA RULE OF THE WEEK: WHICH BIKES ARE LEGAL AND WHICH AREN'T
  In order for a bike to be legal to be raced in AMA Supercross or the AMA Nationals, the bike must be homologated—which means that the manufacturers have to submit proof that the bike is produced in sufficient numbers (400) along with a selection of production parts (to be used to compare to any part pulled from a race bike in a teardown). Not that an illegal bike would ever get torn down—unless the rider was a privateer or French. Oh yeah, the manufacturers also have to send a check to the AMA for several thousand dollars to get a bike on the list. Once on the list, a bike is good for five years before it has to be homologated again. Additionally, no bike older than 5 years old is allowed to race an AMA Pro race (which means that a 2014 model is illegal during the 2019 season).
Where the list gets tricky is when a manufacturer has to pony up for a bike that might not be raced by anyone—or typically by only one rider. For example, the Husqvarna TC125 two-stroke has been paid for and homologated so that Gared Steinke could race it in the 2016 Nationals. Note that Yamaha has not homologated any of their two-strokes, while Husky and KTM have paid for both of their 125 and 250 two-strokes.
If you are wondering where TM is, they don't import 400 of any given model—thus they do not meet the AMA requirements.
We are kind of confused as to why any 250cc bikes are legal in the 450 class in Supercross. The last bike that Cooper Webb would want to come up to lap over a triple is a guy on a bike with 20% less power. This must be one of the AMA's infamous "Good Buddy Rules" that the AMA wrote for the Supercross promoters as a hedge against not enough 450s showing up at a given race (and then they could throw a couple 250 guys in to make the gates look full)—or it is for the privateer who doesn't have a 450 to race. The 250s should not be allowed in the 450 Supercross class—for safety reasons.
2019 HAWAIIAN SUPERCROSS ON MAY 11 AT ALOHA STADIUM
Scheduled for one week after the AMA Supercross series ends, they may be able to get some star power on Oahu. For more information go to www.hawaiiansx.com

CLASSIC MOTOCROSS ADS: CAN YOU AFFORD A NORSTAR AMERICAN PRO BOOT?
It may be hard to believe but there was a time when an Italian-made, all-,leather, sevn-buckle motocross boot only cost $69.50 .

FANTIC BICYCLES: THE ITALIAN E-BIKE BRAND WITH DEEP ROOTS IN THE MOTORCYCLE INDUSTRY
2019 Fantic Integra 160 e-bike.
Stefy Bau, CEO of Fantic, is a three-time Women's World Champion. She has led the Fantic USA team since 2016. The Fantic XF1 Integra Carbon160 features 160 mm travel with Rock Shox Yari fork, Guide RE disc brakes and configured with a 29-inch front wheel and 27.5 rear. The 630 wh batterydrives the 36 volt, 250 watt, Brose S-drive motor—with maximum torque of 90 Nm. 
1975 Fantic Caballero 125.
The retail price $8999 (Integra 160 carbon frame ), $7999 (Integra 160 aluminum frame). For more info go to www.fantic-bikes.com/us
TAKE A LAP OF SATURDAY'S 2019 SEATTLE SUPERCROSS TRACK
MXA TEAM TESTED: TWIN AIR ICE FLOW RADIATOR CAP
Twin Air's Ice Flow radiator cap increases the boiling point of the water in your bike's radiator by increasing the amount of pressure inside the radiator. The difference between a stock radiator cap and a high-pressure one is dramatic. A motorcycle's radiator cap is similar to the safety valve found on a chef's pressure cooker. Since the boiling point of water increases when the water is placed under pressure, a radiator cap has a coil spring situated between two rubber seals. The stiffness of the spring determines how much pressure the water is under. As the water heats up, it expands. This expansion puts pressure on the radiator cap's spring. When the radiator's internal pressure exceeds the spring rate of the radiator cap, the hot coolant escapes and overflows between the two rubber seals. But, until the spring's tension is overcome, the water will not boil.
Without any pressure on it, water will boil at 212 degrees Fahrenheit (at standard temperature and barometric pressure); however, a cooling system that is under 15 pounds of pressure will allow straight water to reach 250 degrees before it boils. For every pound of pressure exerted on the coolant, the static boiling point is raised by 3 degrees.(3) Measurement. There are many measurements of pressure. Most radiators use kilograms per centimeter squared (kg/cm2). American cars use pounds per square inch (psi). Scientists use kilopascals (kPa) and Europeans use barometric pressure (bar).
Most Japanese bikes come with 1.1 kg/mm2 radiator caps, while KTMs and Huskys come with 1.8 kg/mm2 caps. A 1.1 kg/mm2 cap can handle 14.22 psi before the coolant pushes the valve open and steam comes out the overflow. By increasing the radiator cap to 1.8 kg/mm2, the radiator can handle 25.6 psi, while a 2.0 kg/mm2 cap ups the ante to 28.45 pounds. The higher the pressure, the longer the water in your radiator will resist boiling.
Twin Air offers 1.8 radiator caps to replace the stock 1.1 caps on Hondas, Yamahas, Kawasakis and Suzukis. For KTMs and Husqvarnas, which come stock with 1.8 caps, they have a 2.0 cap, which is 176 kPa, 1.96 bar and 28.45 psi.
DIGITS: $24.95— www.twinair.com or your local dealer.
MXA RATING: Water cools the delicate internals of your expensive engine. If the water boils, you will have an expensive aluminum doorstop on your hands. Luckily, there are simple spring-loaded devices that can stop your bike from puking.
MXA'S FIRST RIDE: FUEL-INJECTED 2019 HUSQVARNA TE300i TWO-STROKE PROJECT BIK
$10,000 PRO PURSE AT THE WISECO WORLD TWO-STROKE CHAMPIONSHIP HOSTED BY FASTHOUSE ON APRIL 20
Dust off your two-stroke, 'cuz there's a class for everyone. For more info go to www.glenhelen.com
MXA BIRTHDAYS BOYS: THE KING OF COOL WOULD HAVE BEEN 89 ON SUNDAY

Mar. 21…Paul Friedrichs 1940
Mar. 21…Bruce Hendel
Mar. 21…Andre Malherbe 1956
Mar. 22…Colt Nichols 1994


Mar. 23…Justin Bogle 1993
Mar. 23…Fredrik Noren 1992
Mar. 24…Steve Lamson 1971

Mar. 24…Steve McQueen 1930
Mar. 24…Davide Guarneri 1985
Mar. 25…Johnny O'Mara 1961
Mar. 25…Justin Barcia 1992
Mar. 25…Dave Osterman
Mar. 26…Dr. John Bodnar
Mar. 26…Gautier Paulin 1990
Mar. 27…Jimmy Gaddis
Mar. 27…Jeff Alessi 1989
Mar. 28…Mike Jones 1966
Mar. 29…Tyler Bowers 1991
Mar. 29…Nate Adams 1984
MXA PRODUCT SPOTLIGHT: PRO CIRCUIT'S THROWBACK TEAM PEAK HONDA T-SHIRT

The Pro Circuit/Peak/Honda T-shirt is one of the old favorites that moto fans have asked to be released again. This refreshed design is screen printed on a quality garment, but still holds true to the '90s feel that Pro Circuit fans remember so much. The Pro Circuit/Peak/Honda T-shirt also come with smaller left chest print on the front. These shirts are proof that classics never go out of style, so here is your chance to pick up some apparel that will help relive the good ol' days of moto. Retail Price $27.95 at www.procircuit.com
THE FIM WORLD CHAMPIONSHIPS GOES TO ENGLAND THIS WEEKEND

Former FIM 250 World Champion Pauls Jonass moved to the 450 class for 2019. He was tenth in Argentina in his first big bike race.

2019 FIM 450 WORLD MOTOCROSS CHAMPIONSHIP POINTS STANDINGS
(After 1 of 19 rounds)
1. Antonio Cairoli (KTM)…50
2. Tim Gajser (Hon)…44
3. Jeremy Van Horebeek (Hon)…35
4. Clement Desalle (Kaw)…33
5. Gautier Paulin (Yam)…32
6. Arminas Jasikonis (Hus)…26
7. Tommy Searle (Kaw)…22
8. Shaun Simpson (KTM)…22
9. Jeremy Seewer (Yam)…21
10. Pauls Jonass (Hus)…21
Thomas Kjer Olsen finished second in both motos in Argentina to stay with 6 points of defending World Champion Jorge Prado.
2019 FIM 250 WORLD MOTOCROSS CHAMPIONSHIP POINTS STANDINGS
(After 1 of 19 rounds)
1. Jorge Prado (KTM)…50
2. Thomas Kjer Olsen (Hus)…44
3. Mitch Evans (Hon)…36
4. Calvin Vlaanderen (Hon)…36
5. Henry Jacobi (Kaw)…36
6. Ben Watson (Yam)…29
7. Tom Vialle (KTM)…27
8. Jago Geerts (Yam)…25
9. Adam Sterry (Kaw)…25
10. Davy Pootjes (Hus)…22
WHO'S WHO IN AMA SUPERCROSS POINTS AFTER 11 of 17 ROUNDS
Marvin Musquin is the fifth different winner in the 450 class in 2019. He's 14 points behind KTM teammate Cooper Webb in the title chase with six races (and 156 points) still to go.

CURRENT AMA 450 SUPERCROSS POINTS STANDINGS
(After 11 of 17 rounds)
1. Cooper Webb (KTM)…243
2. Marvin Musquin (KTM)…229
3. Eli Tomac (Kaw)…222
4. Ken Roczen (Hon)…2Q6
5. Blake Baggett (KTM)…184
6. Dean Wilson (Hus)…163
7. Chad Reed (Suz)…149
8. Joey Savatgy (Kaw)…141
9. Justin Brayton (Hon)…140
10. Justin Barcia (Yam)…138
CURRENT AMA 250 EAST SUPERCROSS POINTS STANDINGS
(After 6 of 10 rounds)
1. Austin Forkner (Kaw)…151
2. Chase Sexton (Hon)…125
3. Justin Cooper (Yam)…123
4. Alex Martin (Suz)…92
5. Martin Davalos (Kaw)…89
6. Mitchell Oldenburg (Yam)…88
7. Brandon Hartranft (Yam)…82
8. Kyle Cunningham (Hon)…81
9. Kyle Peters (Suz)…79
10. Jordon Smith (KTM)…70
The 250 West starts up again this weekend in Seattle—will Adam Cianciarulo pick up where he left off.
CURRENT AMA 250 WEST SUPERCROSS POINTS STANDINGS
(After 6 of 10 rounds)
1. Adam Cianciarulo (Kaw)…140
2. Dylan Ferrandis (Yam)…125
3. Shane McElrath (KTM)…123
4. Colt Nichols (Yam)…120
5. R.J. Hampshire (Hon)…86
6. Michael Mosiman (Hus)…80
7. Chris Blose (Hus)…80
8. Cameron McAdoo (Yam)…79
9. Jacob Hayes (Yam)…77
10. Garrett Marchbanks (Kaw)..74
ROUND TWO OF OLD SCHOOL SCRAMBLES ON MARCH 24


TT Scrambles is coming up to Glen Helen on Sunday, March 24th and there will be practice on Saturday, March 23rd from 2:00 p.m. to 6:00 p.m. For more info go to www.oldschoolscramblesracing.com
CLASSIC MXA TEST RIDER PHOTOS: IT'S THANKLESS JOB, BUT EVERYONE WANTS IT

MXA'S Josh Fout racing in the Endurocross series. Logs are for fire places. Photo: Rachel Billard

Josh Fout is one of MXA's seven endurance test riders. His job is to race MXA test bikes to provide feedback—and break things that the main MXA test riders don't have time to destroy. Sometimes Josh takes it to the extreme. If there is crazy event on the schedule, like King of the Motos, Endurocross, 100-mile offroad races or just spending a day at the snow line, Josh is our man
YOU DO THE MATH! SUBSCRIBE TO MXA & GET A $25 CHAPARRAL GIFT CARD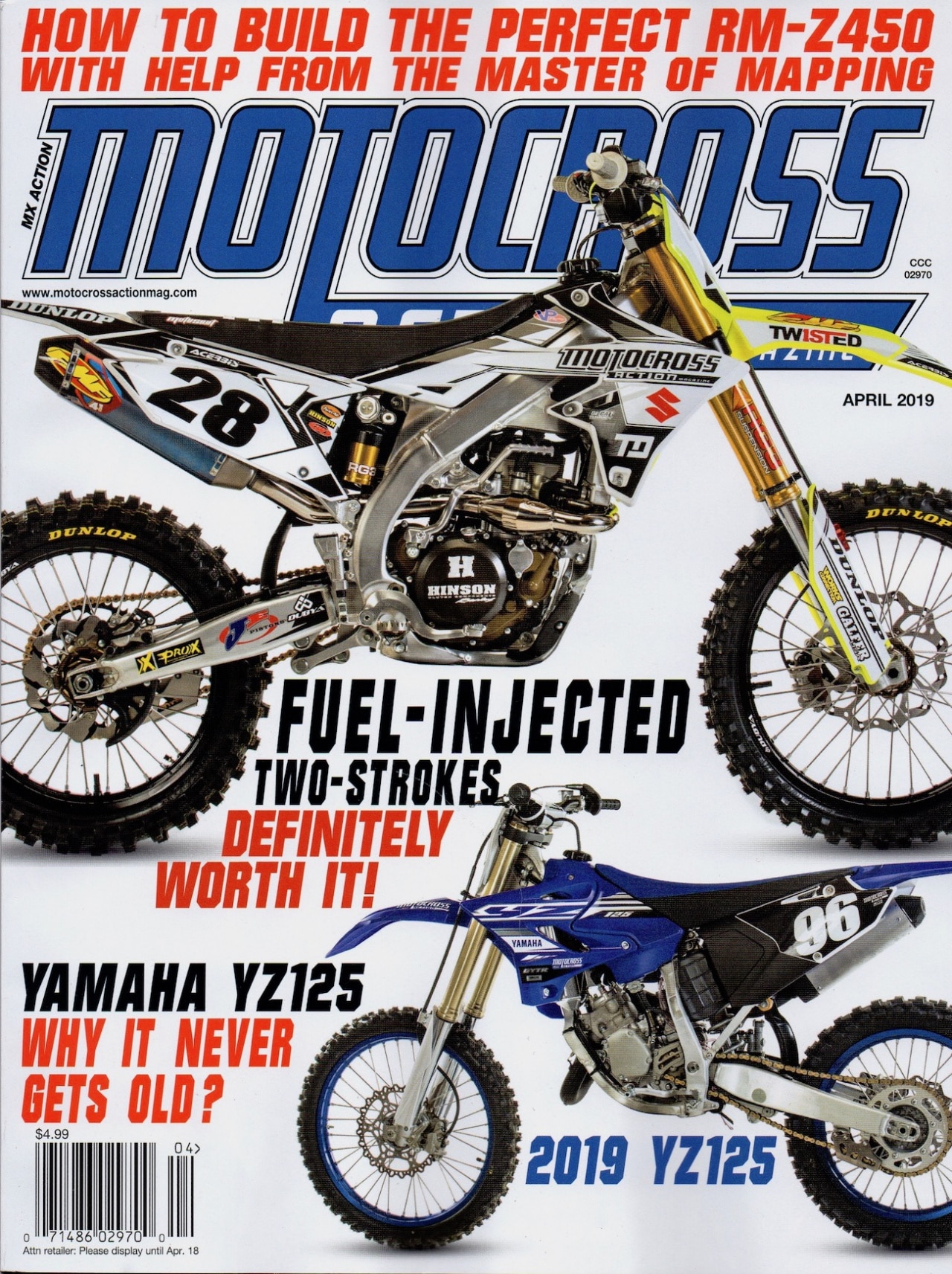 If you subscribed to Motocross Action,  the April 2019 issue of MXA would be winging its way to you right now.
The April issue of MXA  is filled with bike tests—including the 2019 KTM Husqvarna TE300i fuel-injected two-stroke, 2019 Yamaha YZ125, 2019 Husqvarna TC250 two-stroke, 2019 Suzuki RM-Z250, Twisted Development's full-race Suzuki RM-Z450 and a retro test of Chad Reed's 2009 Suzuki RM-Z450.  Plus, a revealing interview with Doug Henry, a Moto-Physics  article on how handlebars are made and Boyesen's three best products.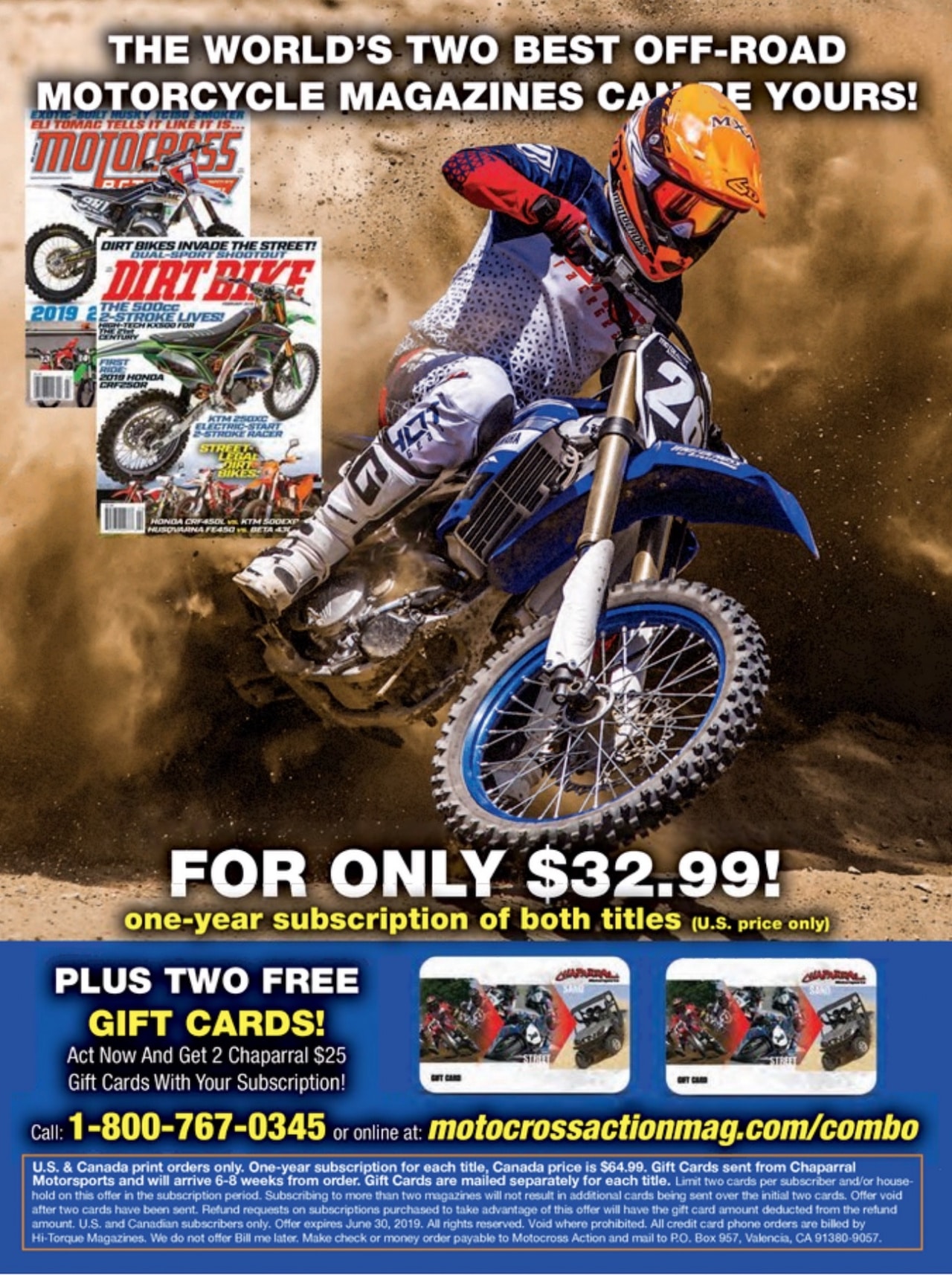 Or you could subscribe to MXA and Dirt Bike Magazine for only $32.99 for both and get $50 in Chaparral Gift Cards in the process.
If you subscribe to MXA you can get the mag on your iPhone, iPad, Kindle or Android by going to the Apple Store, Amazon or Google Play or in a digital version. Even better you can subscribe to Motocross Action and get a $25 Chaparral gift card to spend on whatever motorcycle parts or products you need. You can call (800) 767-0345 or CLICK HERE or click on the box at the bottom of this page.
MOTOLOANS SUPERCROSS SUNDAY'S AT PALA ON MARCH 31
For more information go to www.gomotoloans.com
WHERE YOU'LL BE IN THE FUTURE: 2019 RACE SCHEDULE

Zach Bell is the current World Two-Stroke Champion. That title is up for grabs again at Glen Helen on April 20.

2019 AMA SUPERCROSS SERIES
Jan. 5…………………………….Anaheim, CA
Jan. 12………………………….Glendale, AZ
Jan. 19………………………….Anaheim, CA (3-moto race)
Jan. 26………………………….Oakland, CA
Feb. 2……………………………San Diego, CA
Feb. 9…………………………..Minneapolis, MN
Feb. 16………………………….Arlington, TX
Feb. 23………………………….Detroit, MI (3-moto race)
Mar. 2……………………………Atlanta, GA (250 E/W Shootout)
Mar. 9……………………………Daytona Beach, FL
Mar. 16………………………….Indianapolis, IN
Mar. 23………………………….Seattle, WA
Mar. 30………………………….Houston, TX (3-moto race)
Apr. 6……………………………Nashville, TN
Apr. 13………………………….Denver, CO
Apr. 27………………………….East Rutherford, NJ
May 4……………………………Las Vegas, NV (250 E/W Shootout)
2019 FIM MOTOCROSS WORLD CHAMPIONSHIP
Mar. 3…………………………… Argentina
Mar. 24……………………………England
Mar. 31……………………………Holland
Apr. 7………………………………Trentino (Italy #1)
May 12…………………………….Lombardia (Italy #2)
May 19…………………….……..Portugal
May 26……………………………France
June 9…………………………….Russia
June 16…………………………..Latvia
June 23…………………………..Germany
July 7……………………………..Palembang (Indonesia #1)
July 14……………………………Semarang (Indonesia #2
July 28……………………………Czech Republic
Aug. 4…………………………….Belgium
Aug. 18…………………………..Imola (Italy #3)
Aug. 25…………………………..Sweden
Sept. 8……………………………Turkey
Sept. 15…………………………..Shanghai (China #1)
Sept. 22…………………………..Hong Kong (China #2)
2019 AMA NATIONAL CHAMPIONSHIP
May 18……………………Hangtown, CA
May 25.…………………..Pala, CA
June 1..……………….….Thunder Valley, CO
June 15..…………………Mt. Morris, PA
June 22.………………….Jacksonville. FL
June 29..…………………Southwick, MA
July 6.………………….….Red Bud, MI​
July 20.……………………Millville, MN​
July 27.……………………Washougal, WA
Aug. 10..………………….Unadilla, NY​
Aug. 17..………………….​Budds Creek, MD
Aug. 24.…………………..Crawfordsville, IN
2019 WORLD OFF-ROAD CHAMPIONSHIP (WORCS)
Jan. 18-20………………………..Primm, NV
Feb. 1-3……………………………Glen Helen, CA
Mar. 1-3……………………………Lake Havasu, AZ
Mar. 22-24……………………….Peoria, AZ
Apr. 12-14………………………..Las Vegas, NV
Apr. 26-28………………………..Taft, CA
May 24-26……………………….Mesquite, NV
July 30-Aug. 4…………………McCleary, WA
Sept. 13-15……………………..Glen Helen, CA
Oct. 4-6……………………………Milford, CA
Nov. 15-17……………………….Primm, NV
2019 WORLD TWO-STROKE CHAMPIONSHIP
April 20…………………………..Glen Helen
2019 MAMMOTH MOUNTAIN MOTOCROSS
June 21-30……………………….Mammoth Lakes, CA
2019 CANADIAN NATIONAL CHAMPIONSHIP
June 1………………………………Wild Rose, AB
June 8………………………………Blackwater, BC
June 15…………………………….McNabb Valley, MB
July 13……………………………..Gopher Dunes, ON
July 20……………………………..San Del Lee, ON
July 27……………………………..Riverglade, NB
Aug. 3………………………………Deschambault, QC
Aug. 17…………………………….Walton, ON
2019 AMA NATIONAL AMATEUR CHAMPIONSHIP
July 29-Aug. 3………………….Loretta Lynn, TN
2019 BRITISH ARENACROSS CHAMPIONSHIP
Jan. 18-19………………………….Belfast, Irl
Feb. 1-2……………………………..Birmingham, GB
Feb. 15-6…………………………..Sheffield, GB
2019 BRITISH NATIONAL CHAMPIONSHIP
Mar. 10……………………………..FatCat
Apr. 14………………………………Lyng
May 5……………………………….Canada Heights
June 2………………………………Blaxhall
June 30…………………………….Desertmartin
July 21……………………………..Hawkstone Park
Aug. 11……………………………..Foxhill
Sept. 15……………………………Landrake
2019 BRITISH APICO TWO-STROKE FESTIVAL
May 25-26……………………….Marshfield MX
Aug. 3-4……………………………Iron Works Moto
Sept. 21-22……………………..Sellindge MX
2019 GERMAN MX MASTERS CHAMPIONSHIP
April 14…………………………….Princely Drehna
June 2………………………………Moggers, Austria
June 30…………………………….Molln
July 21……………………………..Tens
Aug. 11…………………………….Gaildorf
Sept. 1……………………………..Biel
Sept. 15……………………………Wood Gerlingen
2019 AMA VINTAGE MOTORCYCLE DAYS
July 5-7…………………………….Lexington, Ohio
2019 AMA NATIONAL AMATEUR CHAMPIONSHIP
July 29-Aug. 3………………….Loretta Lynn, TN
2019 RYAN VILLOPOTO AMATEUR MOTOCROSS CUP
Aug. 22-25………………………..Grays Harbor, WA
2019 MOTOCROSS DES NATIONS
Sept. 29…………………………….Assen, Holland
2019 MONSTER ENERGY CUP
Oct. 21……………………………..Las Vegas, NV
2019 WORLD VET CHAMPIONSHIP
Nov. 2-3……………………………..Glen Helen, CA
COMPLETE 2019 GLEN HELEN RACEWAY SCHEDULE: WEEK BY WEEK
For more info go to www.glenhelen.com (click on images to enlarge)
2019 SOCAL OLD TIMERS MX RACE SCHEDULE: NEXT RACE AT SUNRISE ON APRIL 7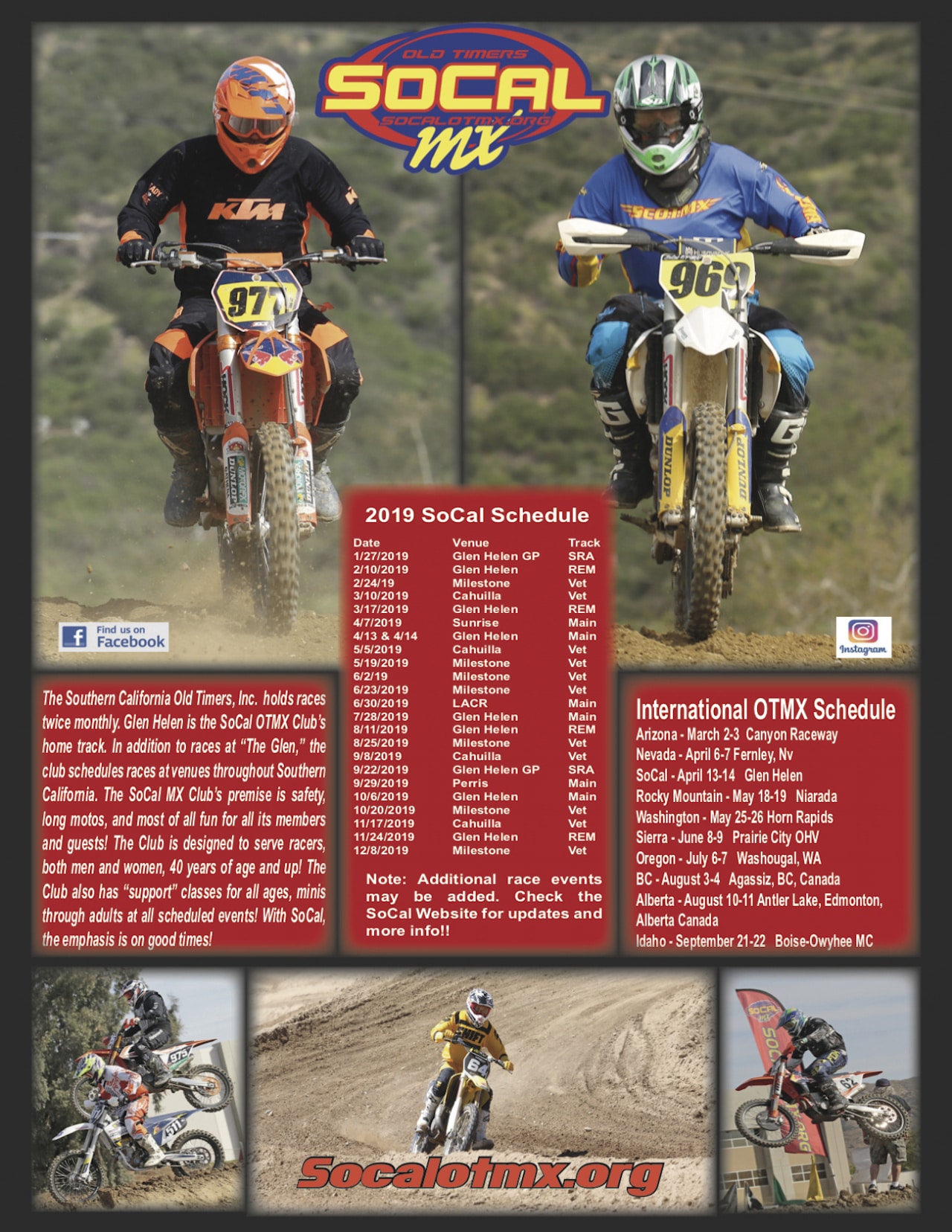 For more info go to www.socalotmx.org
2019 SRA GRAND PRIX RACE DATES: NEXT RACE MARCH 31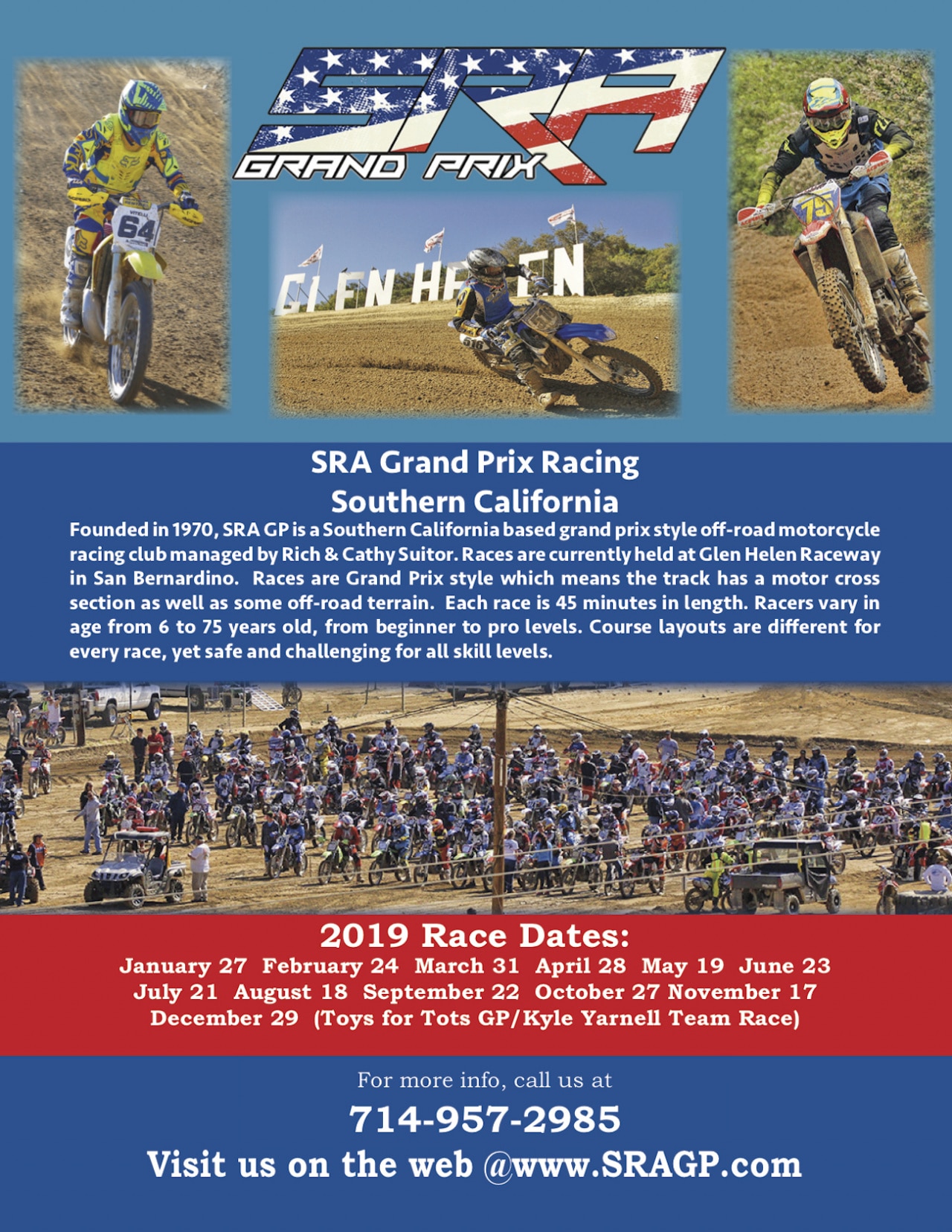 For more info go to www.sragp.com
2019 WORCS RACE SCHEDULE: NEXT RACE AT CANYON MX IN ARIZONA ON MARCH 23-24


For more info go to www.worcsracing.com
3-BROS 10-HOUR & 24-HOUR DATES: NEXT RACE IS THE 10-HOUR ON JUNE 10


For more info go to www.glenhelen.com
MXA YOUTUBE CHANNEL | HIT THAT SUBSCRIBE BUTTON

The MXA wrecking crew is everything moto related. Check out our MXA YouTube channel for bike reviews, Supercross coverage, rider interviews and much more. And don't forgot to hit that subscribe button.
FOLLOW MXA ON TWITTER
Follow us to see fresh content every day at www.twitter.com/MXAction or on twitter at "MXAction."
TALK MOTO WITH ON MXA'S FACEBOOK GROUP CHAT

We love everything moto and want to bring all moto junkies together into one place to share their two cents, ideas, photos, bike fixes, bike problems and much more. To check it out first you must need to or already have a Facebook account. If you don't, it isn't much work and you could even have an alias so nobody knows it is you. To join click HERE. After you request to join we will accept your request shortly after.
MXA'S SNAP CHAT FEED
If you are a Snap Chat user then add us to your stories. Get sneak peaks of everything moto. Our Snap Chat name is motocrossaction. Or just take a Snap of the picture above and it will add MXA automatically to your feed.
Photos: Brian Converse, Travis Fant, Daryl Ecklund, John Ker, Jody Weisel, Ray Archer, Debbi Tamietti, MXA