MXA'S WEEKEND NEWS ROUND-UP: THERE WILL BE NO OFF-SEASON THIS OFF-SEASON
2020 FIM 250/450 GRAND PRIX WINNERS AT A GLANCE
After the third and final round in the sand at Lommel (above) on Sunday, the GP circuit will travel to Trentino, Italy, for three races to wrap up the 2020 World Championship on November 8.

Date                       Venue                                                      450………………… 250
1. Mar. 1…Matterley, Great Britain …..Jeffrey Herlings……….Tom Vialle
2. Mar. 8…Valkenswaard, Holland…….Jeffrey Herlings……….Jago Geerts
3. Aug. 9…Kegums, Latvia…………………..Glenn Coldenhoff……….Tom Vialle
4. Aug. 12…Kegums, Latvia………………..Tony Cairoli……….Jago Geerts
5. Aug. 16…Kegums, Latvia………………..Jeffrey Herlings……….Jago Geerts
6. Sept. 6…Faenza, Italy……………………..Jeffrey Herlings……….Maxime Renaux
7. Sept. 9…Faenza, Italy………………………Jorge Prado……….Tom Vialle
8. Sept. 13…Faenza, Italy…………………….Tony Cairoli……….Tom Vialle
9. Sept. 27…Mantova, Italy…………………Jeremy Seewer……….Thomas Kjer Olsen
10. Sept. 30…Mantova, Italy……………….Romain Febvre……….Thomas Kjer Olsen
11. Oct. 4…Mantova, Italy…………………..Tim Gajser……….Jago Geerts
12. Oct. 11..Arroyomolinos, Spain……..Jorge Prado……….Tom Vialle
13. Oct. 18…Lommel, Belgium……………Tim Gajser……,….Tom Vialle
14. Oct. 21…Lommel, Belgium……………Tim Gajser……….Tom Vialle
15. Oct. 25…Lommel, Belgium………….Tim Gajser…,,,…….Ben Watson
16. Nov. 1…Trentino, Italy
17. Nov. 4…Trentino, Italy
18. Nov. 8…Trentino, Italy
450 Points leader…Tim Gajser
250 points leader…Tom Vialle
CURRENT 2020 FIM WORLD CHAMPIONSHIP POINTS STANDINGS AFTER 15 OF 18 ROUNDS

GasGas hero Glenn Coldenhoff was injured last week at Lommel and will miss the rest of the 2020 season.

2020 FIM 450 GRAND PRIX POINTS STANDINGS
(After 15 of 18 rounds)
1. Tim Gajser (Hon)…583
2. Tony Cairoli (KTM)…509
3. Jeremy Seewer (Yam)…499
4. Jorge Prado (KTM)…476
5. Romain Febvre (Kaw)…465
6. Gautier Paulin (Yam)…403
7. Glenn Coldenhoff (Gas)…375
8. Clement Desalle (Yam)…362
9. Jeremy Van Horebeek (Hon)…289
10. Jeffrey Herlings (KTM)…263
Thomas Kjer Olsen is fifth in 250 GP points.

2020 FIM 250 GRAND PRIX POINTS STANDINGS
(After 15 of 18 rounds)
1. Tom Vialle (KTM)…651
2. Jago Geerts (Yam)…577
3. Maxime Renaux (Yam)…476
4. Jed Beaton (Hus)…456
5. Thomas Kjer Olsen (Hus)…446
6. Ben Watson (Yam)…440
7. Roan Van De Moosdijk (Kaw)…417
8. Conrad Mewse (KTM)…307
9. Ruben Fernandez (Yam)…279
10. Mathys Boisrame (Kaw)…234
WHAT HAPPENED IN LOMMEL LAST SUNDAY: SEE IT HERE
MXA PRODUCT SPOTLIGHT: ETHOS VISION HOLESHOT GOGGLES
"Ethos was created with the vision of quality and affordability as the new standard. The Holeshot goggles were designed with an injection-molded frame, upgraded triple-layer foam, 45mm embroidered strap, outriggers, a silver-mirrored precurved lens and a removable nose piece. It also includes a flat clear lens, microfiber bag and five tear-offs in the package. Our goggles offer a wide field of view, allowing the rider to see more of what's ahead. The upgraded foam allows for maximum sweat absorption without sacrificing comfort." —Ethos Vision's owner Brian Aiello.
$55.00—www.ethos-vision.com or [email protected]
WHATS INCLUDED:
Injection molded frame
Outriggers – for better fitment inside your helmet
45mm woven strap with 3d embroidered logo and silicone non-slip band
Triple layer foam with upgraded fleece
Removable nose guard
Scratch resistant pre-curved silver mirror lens
Spare flat clear lens
Micro fiber bag
Five tearoffs
HOW TO CHANGE YOUR ETHOS VISION LENSES
MXA AD OF THE WEEK: DID YOU OWN ONE? THE 1982 HONDA CR480 FOUR-SPEED

Four-speed gearbox, drum brakes, 43mm air/spring  forks (with three compression clicks and a 492cc two-stroke engine.
MXA FIRST RIDE VIDEO: 2021 YAMAHA YZ250 TWO-STROKE

2020 AMA ENDUROCROSS CHAMPIONSHIP TO START AT GLEN HELEN ON FRIDAY OCT. 23
The first four rounds of the 2020 AMA EnduroCross Championship Series will be held at Glen Helen Raceway in San Bernardino, California on Friday, October 23rd (Round One), Saturday, October 24th (Round Two), Thursday, October 29th (Round Three) and Friday, October 30th (Round Four). The final two AMA EnduroCross races Championship races will still take place in Nampa, Idaho, at the Ford Idaho Center on Friday, Nov. 6 and Saturday, Nov. 7.
The races will be held on a custom-built Endurocross track inside Glen Helen's Stadiumcross track. Spectators will be allowed at all six events in the 2020 AMA EnduroCross series (see below for more details). The Pro (Super EnduroX) class will use a three-moto format similar to the FIM SuperEnduro World Championship with a double row start and 16 riders. The first moto will be lined up based on afternoon hot-lap results. The riders will be inverted from the race one results for the second of the three motos. The final moto will be lined up based on the race two results so the top riders will race three times per event and at least one of those races will require a second-row starting position. Olympic style scoring will combine the results for all three motos to determine the overall event results. Tickets are on now sale for Rounds 1-4 of the 2020 EnduroCross Series at Glen Helen Raceway.
You can purchase tickets online by Clicking Here. If tickets do not sell out, you will also have the ability to buy tickets at the gate on event day.  One race ticket — $20;  Two race ticket — $35 (applicable for Oct. 23 & 24 or Oct. 29 & 30); Four race ticket — $70 (applicable for Oct. 23, Oct. 24, Oct. 29 & Oct. 30); Children 5 years old and under are free; Camping is $10 per night.
MXA FIRST RIDE VIDEO: 2021 KTM 450SXF
REM TO RACE ON THEIR CLASSIC TRACK ON SATURDAY, OCTOBER 24

There are the remaining four races on the 2020 REM schedule, the next one is this Saturday, October 24. The last one is on  December 19. For more info go to www.remsatmx.com
MXA FIRST RIDE VIDEO: 2021 KAWASAKI KX450
RIO BRAVO OLD SCHOOL REUNION ON SUNDAY, OCTOBER 25 AT, WHERE ELSE, RIO BRAVO

For more information go to www.riobravomx.com
MXA FIRST RIDE VIDEO: 2021 HUSQVARNA FC450
2020 RED BULL DAY IN THE DIRT GRAND PRIX ON NOV. 27-29 AT GLEN HELEN RACEWAY
For more information go www.dayinthedirt.com
MXA FIRST RIDE VIDEO: 2021 YAMAHA YZ450F
36TH ANNUAL WORLD VET MOTOCROSS CHAMPIONSHIP ON NOVEMBER 6-8: PRE-ENTRY OPEN NOW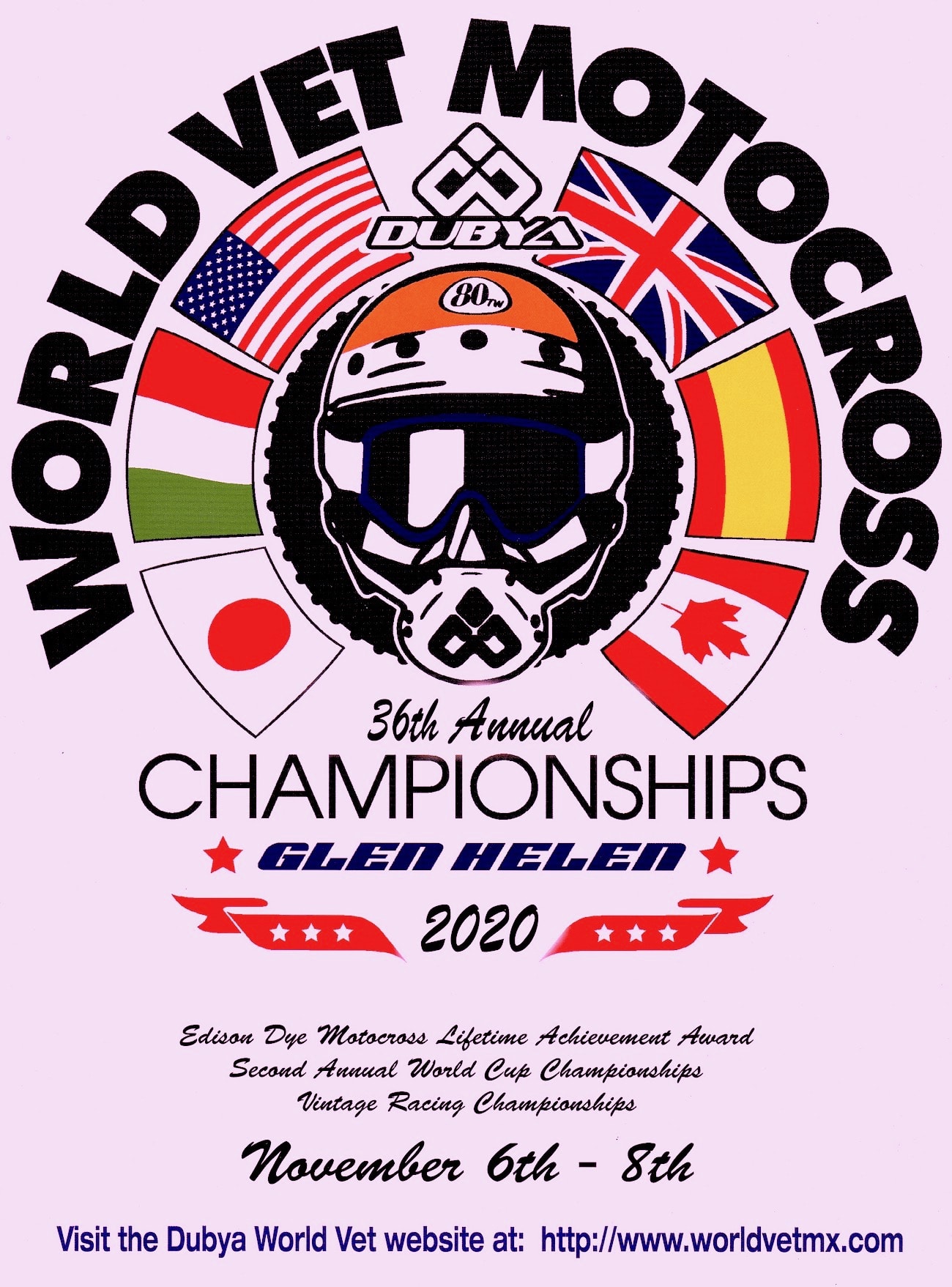 Save money and time by submitting your online pre-entries now. The Dubya World Vet MX Championships takes place on Saturday and Sunday, with Sunday being the World Vet Motocross Championship Day. For additional savings riders have the option to sign-up for both Saturday and Sunday!
MXA'S FIRST RIDE VIDEO: 2021 HONDA CRF450
BIG NEWS! WORLD VET MOTOCROSS CHAMPIONSHIP GETS TWO NEW CLASSES—OVER-30 125 PRO & OVER-50 125 PRO

Hollywood actor Pasha Afshar is putting his money into two special 125 two-stroke races at the 2020 World Vet Championship on November 7-8. Each class has a $2000 purse, with the winner get $1000.

The plan is for the two Pasha 125 classes to be "Over-30 125 Pro" and "Over-50 125 Pro." It is open to any rider who is from 30 to 49 years of age for the Over-30 125 Pro class and any rider over the age of 50 in the Over-50 125 Pro classes. There are no skill divisions and displacements of up to 150cc are legal. The current plan is to run the "Pasha Over-30 125 Pro" class on Saturday and the "Pasha Over-50 125 Pro" class on Sunday.
These will be the only two-strokes classes at the 2020 World Vet Motocross Championship and although they pay a $2000 purse in each class they are really just fun races for riders who love to race their 125s. First place pays $1000, second place $600 and third place $400. For more info or to sign-up go to www.glenhelen.com.
MXA FIRST RIDE VIDEO: 2021 KAWASAKI KX250
24-HOURS OF GLEN HELEN ENDURANCE RACE SCHEDULED FOR NOVEMBER 21-22

Glen Helen's 3Bros-sponsored 24-Hour off-road endurance race is scheduled for November 21-22.The 24-Hour of Glen Helen will begin on November 21 at 10:00 a.m. and end on Sunday, November 22 at 10:00 a.m. The amateur teams can have 6 riders and two bikes, but the Pro teams can only have 4 riders and must finish the 24 hours on the one bike. Headlights are required for the 24-hour. For more info go to www.glenhelen.com.
MXA FIRST RIDE VIDEO: 2021 HONDA CRF250
8TH ANNUAL KURT CASELLI RIDE DAY ON SATURDAY, DEC. 5 AT PALA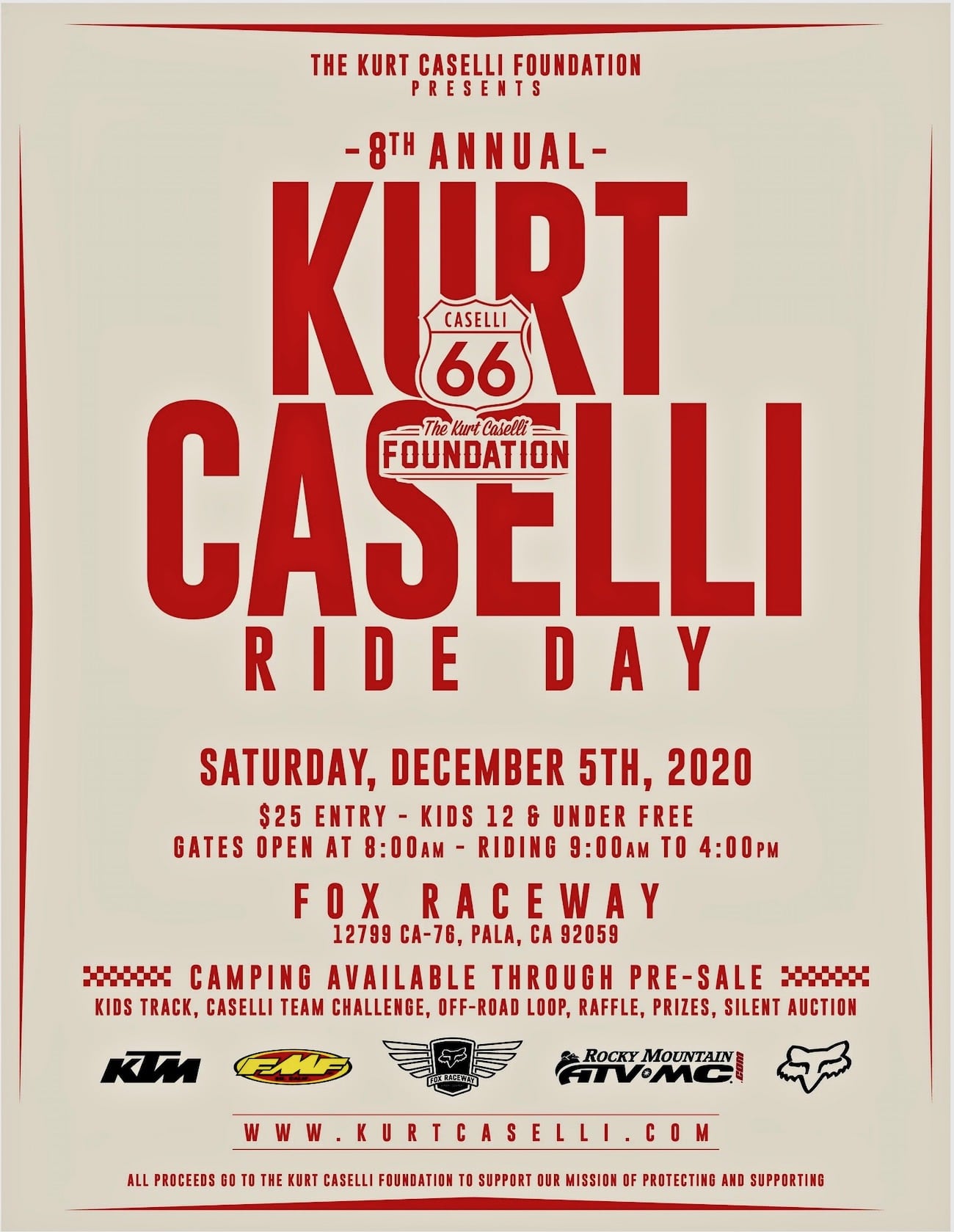 For more information go to www.kurtcaselli.com.
MXA FIRST RIDE VIDEO: 2021 KAWASAKI KX450X OFF-ROAD BIKE
BUILDBASE HONDA SUFFERS THE SAME FATE IN ENGLAND AS GEICO HONDA IN THE USA
Tommy Searle (100) won the 2020 450 British National Championship for Buildbase Honda only to learned that Buildbase dropped the sponsorahip.
After nine years building up the best team in British motocross, Buildbase ended its run as main sponsor of the Buildbase Honda team and they did it with Tommy Searle winning the 2020 British MX National 450 Championship. The Buildbase and Honda partnerhip has been much like that of Geico and Honda's USA relationship—so it is sad, but perhaps fitting, that they both end on the same note. Geico will no longer sponsor a USA team and Buildbase will no longer sponsor a United Kingdom team.
Buildbase Honda team manager is three-time 500 World Motocross Champion Dave Thorpe. Dave said, "Together with Buildbase, we have built the team into the envy of the whole paddock with a truly professional set-up, dedicated riders and technicians and the best bikes on the track. We are all sad to wave goodbye to our partners and friends at Buildbase and I would like to thank everyone involved there for the incredible support they have given us since we launched in 2012."
Buildbase's Managing Director Paul Roche said: "I am delighted with the success that as a team we have enjoyed over the last nine years. I am proud of the role that we have played, but now is the right time for us to move on to new projects and new challenges. I would like to thank and congratulate Dave Thorpe on building the very best team in British motocross!"
Buildbase is much like Lowes or Home Depot in the US. The team they sponsored fielded some of the world's best riders including former 450 World Champion Steve Ramon, Stephen Sword, Brad Anderson, Kristian Whatley, Elliott Banks-Browne, Graeme Irwin, Jake Nicholls, Martin Barr and Adam Chatfield. The Honda team will continue to compete in 2021, whle they look fo a new sponsor..
MXA FIRST RIDE VIDEO: 2021 KTM 350SXF
WHAT'S INSIDE THE NOVEMBER 2020 ISSUE OF MXA?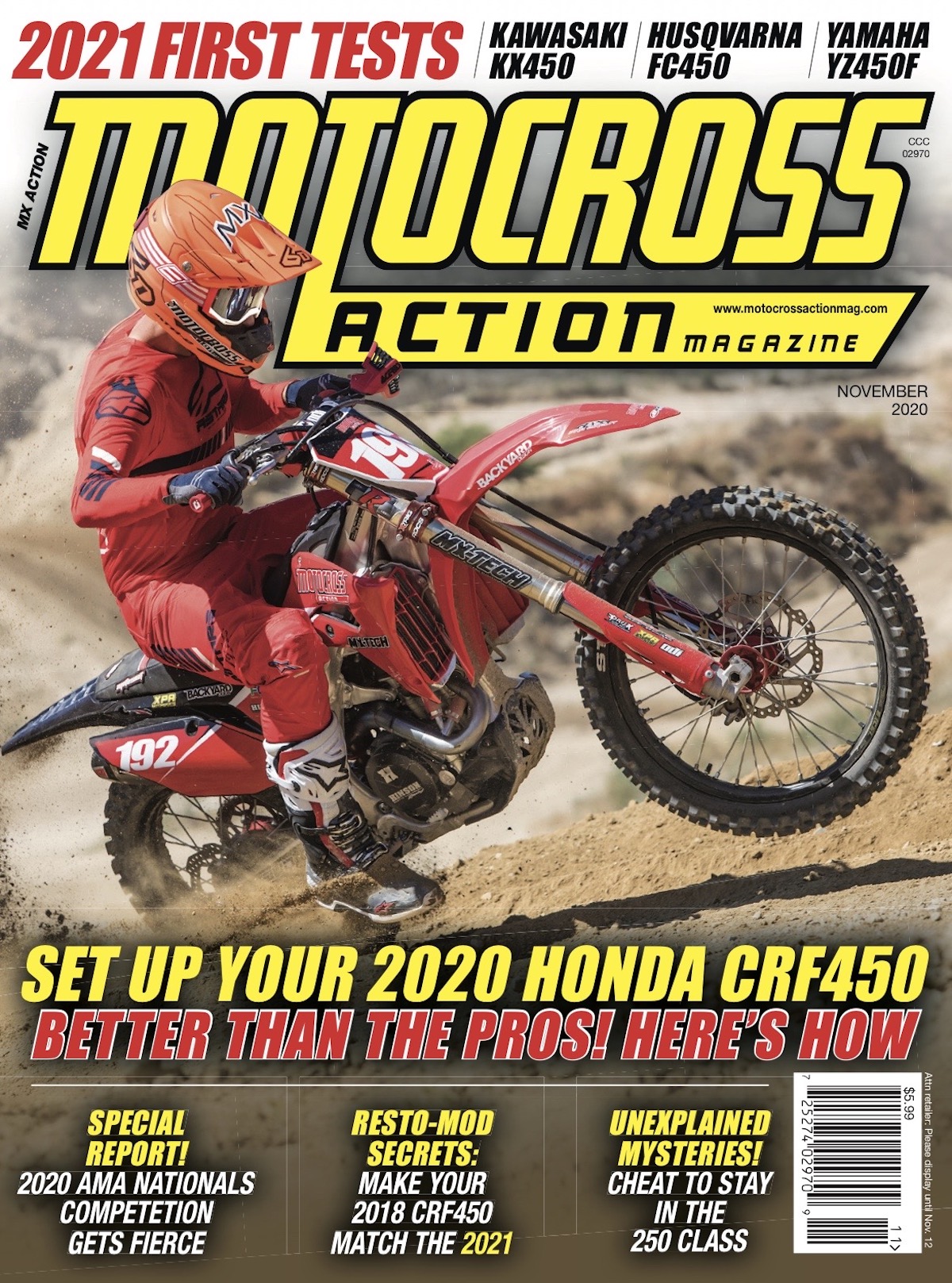 The November 2020 issue of MXA has full tests on the 2021 Husqvarna FC450, 2021 Kawasaki KX450 and 2021 Yamaha YZ450F.
Plus, a tech story on how to build the perfect Honda CRF450, a giant interview with Husqvarna's Andy Jefferson and a retro test on Justin Barcia's 2012 Geico Honda CRF250. Plus, Jody's surfing saga, KTM's best week ever and the Bridgestone SR175 that was tearing up the scrambles, dirt track, drag racing and road races tracks in 1967. It didn't make a dent in motocross though, because there was no motocross in 1967.
HOW TO SUBSCRIBE TO MXA SO THAT YOU NEVER MISS ANOTHER ISSUE, PLUS GET A $25 ROCKY MOUNTAIN GIFT CARD TO COVER YOUR COSTS
If you subscribe to MXA you can get the mag on your iPhone, iPad, Kindle or Android by going to the Apple Store, Amazon or Google Play or in a digital version. Even better you can subscribe to Motocross Action and get the awesome print edition delivered to your house by a uniformed employee of the U.S. Government. Did we mention the $25 gift card for any part you want from Rocky Mountain ATV/MX? You can call (800) 767-0345 or Click Here (or on the box at the bottom of this page) to subscribe.
MXA TEAM TESTED: JUST1 RACING J-FLEX GEAR
WHAT IS IT? Just1 Racing began in 2011 as a helmet manufacturer based in Pistoia, Italy. Motocross helmets were the company's sole focus, but for 2020-'21 Just1 Racing has jumped into the gear market with Joey Savatgy as its star rider in the States. Just1 has two lines of motocross gear available, with J-Flex being its top-of-the-line high-tech racing apparel.
WHAT'S IT COST? $69.99 (jersey), $199.99 (pants)— www.just1racing.com or your local dealer.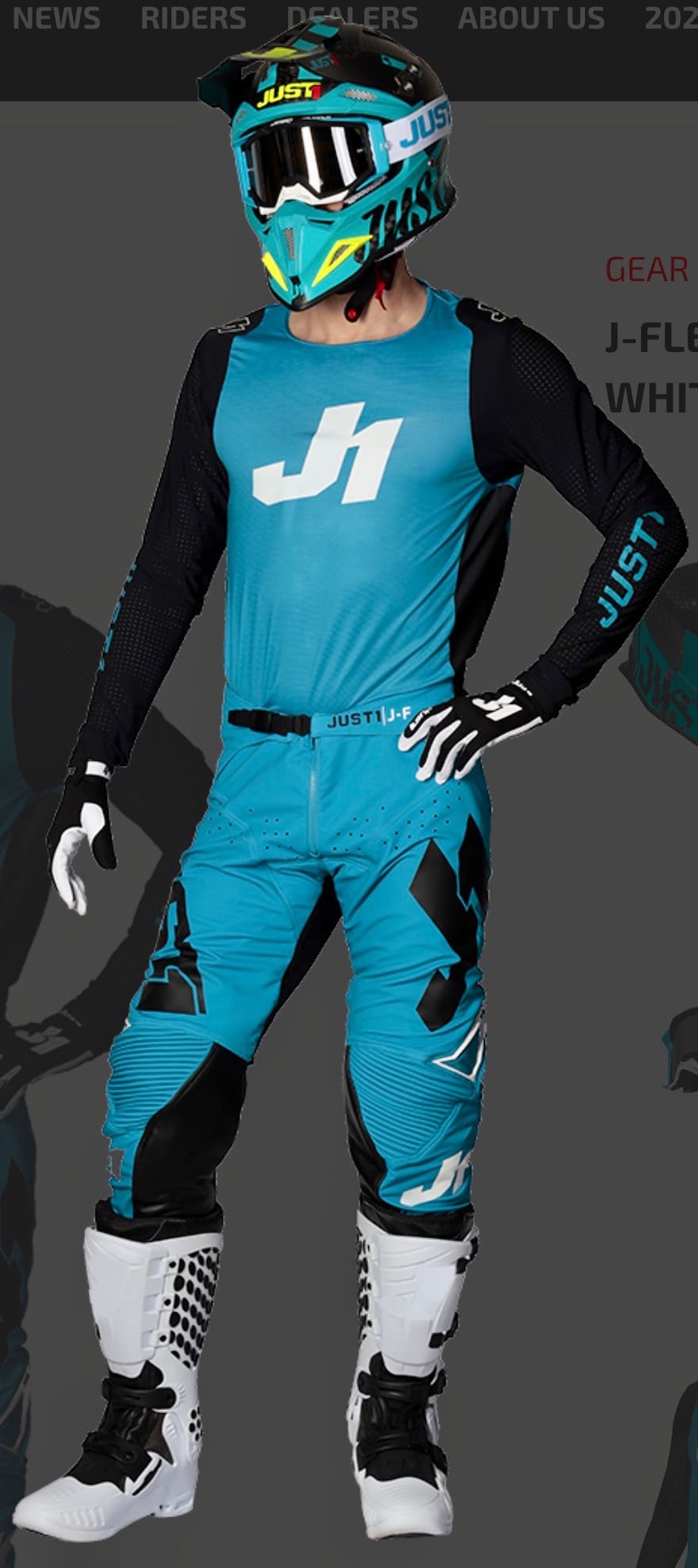 WHAT STANDS OUT? Here's a list of things that stand out with the Just1 Racing J-Flex gear.
(1) Jersey. The Just1 Racing J-Flex gear was designed to be lightweight and flexible for freedom of movement. The sleeves are close-fitting and stretchable, with perforation down their entire length to enhance breathability. Instead of using sublimated graphics like most brands, the J-Flex gear uses a simplistic yet bold design with heat-transferred logos. The tail of the jersey extends 1 inch longer than the front and features a silicone J-Flex logo that bonds with the pants' silicone waistband to keep the jersey tucked in.
(2) Pants. The Just1 Racing J-Flex pants feature a four-way stretch main body for ease of movement on the bike. The back panels are built with durable Cordura fabric to combat wear and tear. For airflow, there are laser-cut holes in multiple areas behind the legs. Like the jersey, the pants use heat-transfer logos instead of sublimation. Rubber air vents increase airflow and abrasion protection for the knees. The full-grain leather knee panels are 9 inches long and 5 inches wide, and are designed to act as a barrier against exhaust-pipe heat while improving grip on the bike.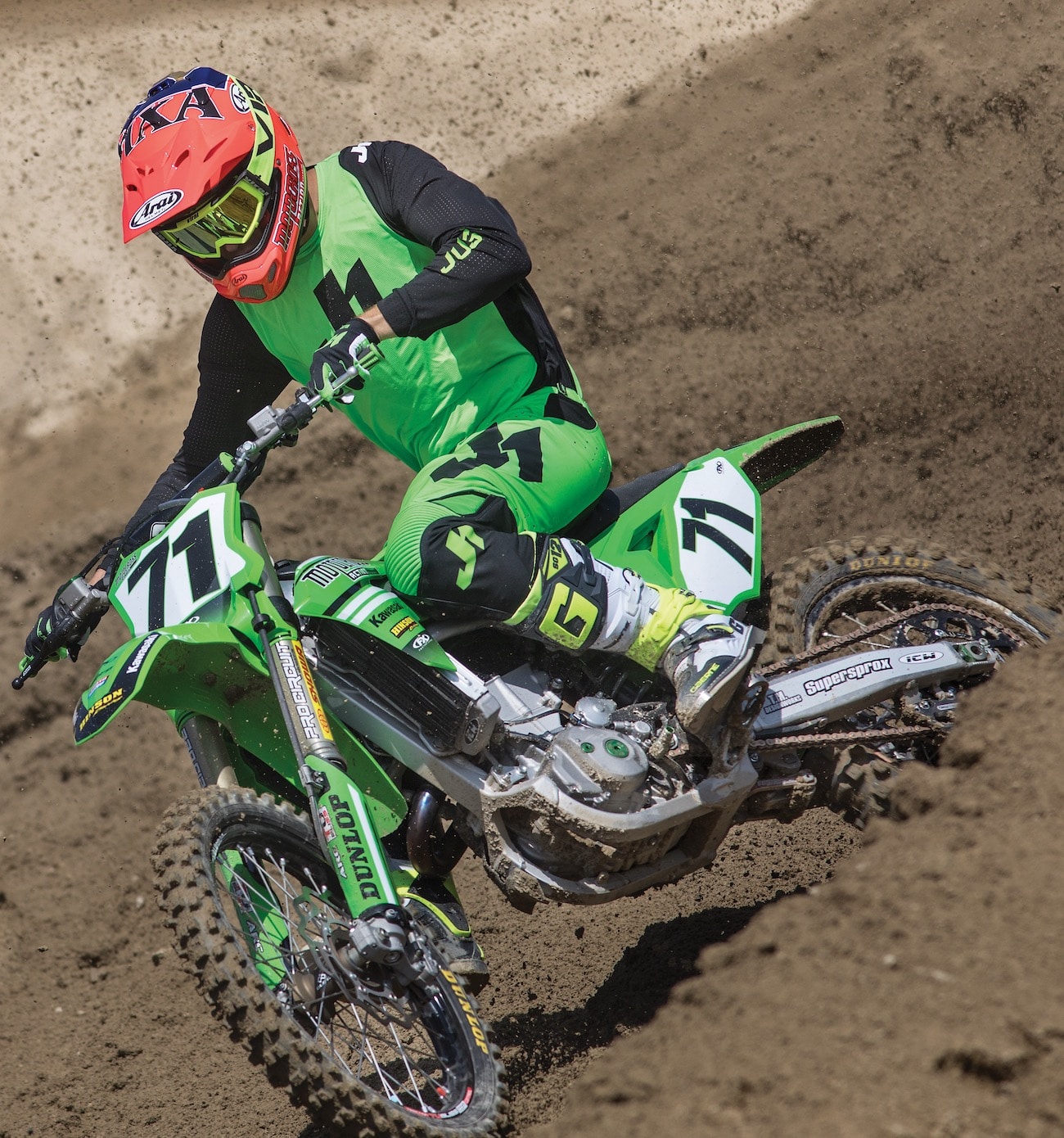 (3) Fit. The Just1 Racing J-Flex gear has an athletic fit, which is another way of saying it's "form-fitting." The jersey sleeves are tight, but the material is flexible, which makes it nonrestrictive. Both the pant and jersey sizing are on the small side. Our testers who normally wear large jerseys and 32-waist pants went to an extra-large jersey and  34-waist pants. The two sans-a-belt Velcro side adjusters allowed for an extra 3 inches of slack to be taken up in the waistband, which is less than other brands that have much more wiggle room to play with; however, once we had the correct-size pants on, the Velcro straps did help keep them in position. Just1 is Italian, which means low-waist, short-zipper tailoring on an Italian-cut chassis. True to form, our test riders found the fit from the waistband and the front rise to be on the short side. If you're used to Italian-cut gear, you'll feel right at home; everybody else will find it too snug.
(4) Durability. This J-Flex gear test was our first experience wearing Just1, and its durability surprised us. Lightweight, breathable and athletic fitting are usually key words that hint that the gear will have a short lifespan. The J-Flex gear, however, held its own against gripper seats, knee braces and many cycles through the washing machine. We did find the heat-transferred logos on the elbows peeled off after only a handful of rides, and the mesh net material on the back of the knees developed multiple tears.
(5) Options. The Just1 Racing J-Flex gear comes in a variety of sizes. The jersey is available in sizes from extra small to double-extra large, and the J-Flex pants are available with 26- to 40-inch waists.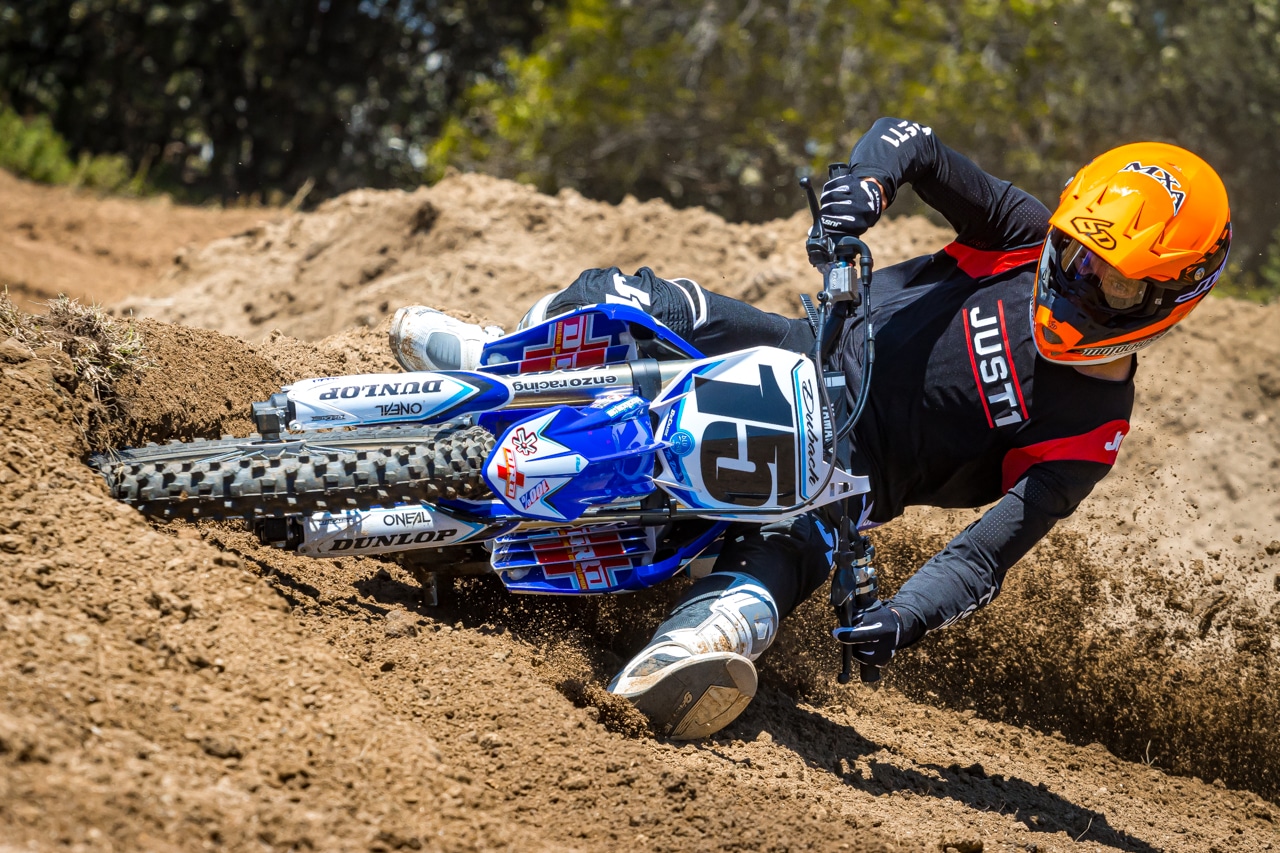 WHAT'S THE SQUAWK? We suggest going up a size for both the jersey and the pants. Better yet, go try them on at a dealership near you to make sure your normal size isn't too tight.
MXA RATING: We were impressed with the comfort, materials and mobility while racing in the J-Flex gear; however, bigger, heavier and taller riders had issues with the Italian-cut chassis, and even smaller, thinner and lighter riders had to think about dieting to avoid jumping up a pant size.
KEEPING TRACK OF THE 2020 RACE SCHEDULES
Clement DeSalle will hang up his boots at the end of the 2020 MXGP season.
REVISED 2020 FIM MOTOCROSS WORLD CHAMPIONSHIP
Mar. 1…Matterley, Great Britain
Mar. 8…Valkenswaard, Holland
Aug. 9…Kegums, Latvia
Aug. 12…Kegums, Latvia
Aug. 16…Kegums, Latvia
Sept. 6…Faenza, Italy
Sept. 9…Faenza, Italy
Sept. 13…Faenza, Italy
Sept. 27…Mantova, Italy
Sept. 30…Mantova, Italy
Oct. 4…Mantova, Italy
Oct. 11..Arroyomolinos, Spain
Oct. 18…(Sunday) Lommel, Belgium
Oct. 21…(Wednesday) Lommel, Belgium
Oct. 25…(Sunday) Lommel, Belgium
Nov. 1…(Sunday) Trentino, Italy
Nov. 4…(Wednesday) Trentino, Italy
Nov. 8…(Sunday) Trentino, Italy
2020 DUBYA WORLD VET MOTOCROSS CHAMPIONSHIP
Nov. 6-8…Glen Helen , CA
2020 FIM MOTOCROSS DES NATIONS
CANCELED
JOIN MXA'S FLIPBOARD PAGE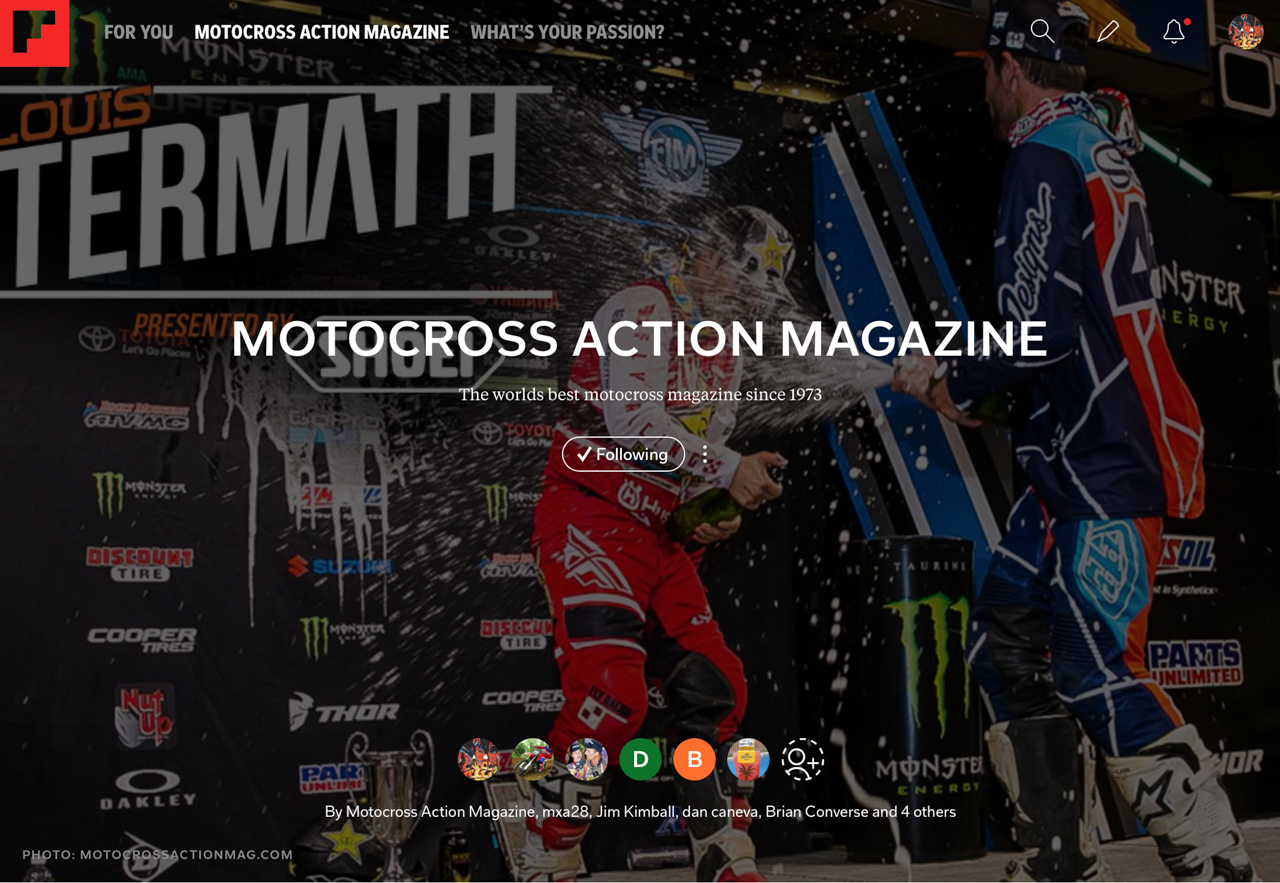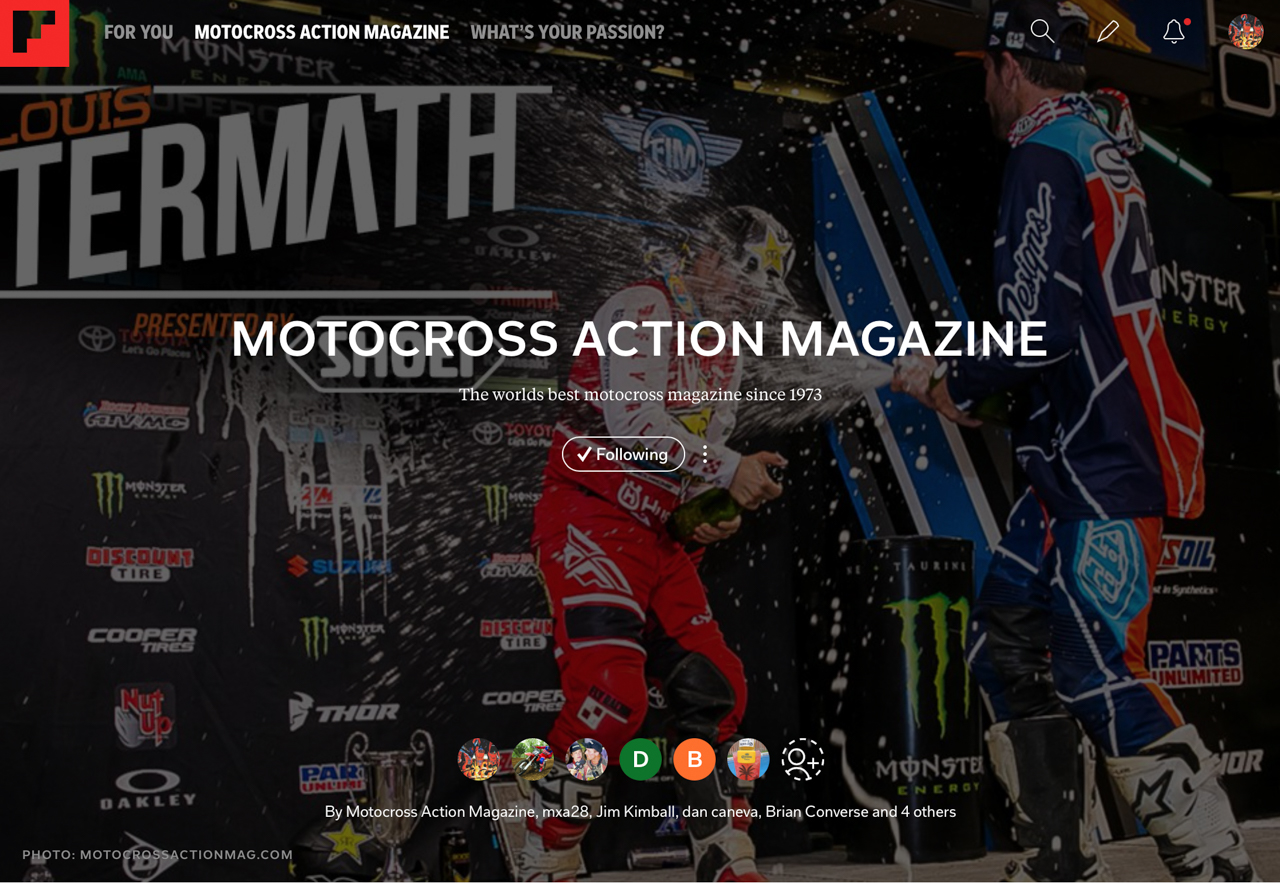 If you use Flipboard make sure to subscribe to the Motocross Action page for all the updates on our website. Click HERE to check out the page.