MXA WEEKEND NEWS ROUND-UP: SAND IS THE EQUALIZER
OAKLEY TIGHTENS ITS BELT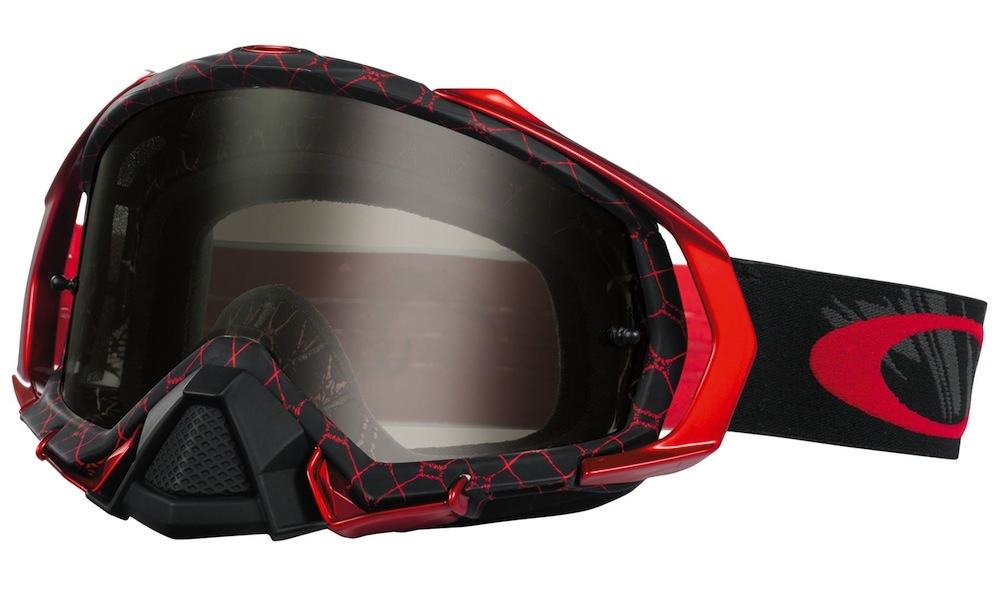 Oakley is downsizing its SoCal roots base, with a reduction of about 170 of its staff. The 41-year old company, named after owner Jim Jannard's dog, has been steadily shrinking over the past year. Luxottica, based in Milan, bought Oakley for $2.1 billion in 2007. They plan to move the operation to that hotbed of hipness, Mason, Ohio, by the end of the year. Oakley's research and development will remain in Foothill Ranch, California. Oakley ales have been struggling in the first half of 2016  compared with the same period a year ago. Oakley says that it might give up its shoe and footwear projects.
A BIKE THAT WE DIDN'T GET
Honda had lots of plans for the Grom when it was first introduced—including this cool scrambler concept bike. It turns out that Grom owners don't need Honda to fulfill their vision, they have plenty of hop-up ideas of their own.
HONDA'S KUMAMOTO FACTORY STILL DAMAGED
Honda had lots of plans for theHonda motorcycle factory that was damaged in the April earthquake in Kumamoto Prefecture, but it is not expected to be fully operational until the end of August or beginning of September. That means that many of Honda's premier bikes, including the 2017 Africa Twin and CRF450 motocrosser will be delayed in making it to the showrooms. The earthquake was centered one mile from the factory, luckily no one at the factory was injured. The machining and die casting areas of the factory were hit particularly hard. Most of Honda's 600cc and larger road bikes are made at Kumamoto along with the CRF250 and CRF450. Kunamotos is the only Honda factory making motorcycles in Japan. Small displacement bike production is centered around Southeast Asia.

SUNDAY'S BELGIAN GRAND PRIX RESULTS

Max Anstie won in the sand at Lommel, which actually helped the absent Jeffrey Herlings because Max kept Jeremy Seewer from getting maximum points.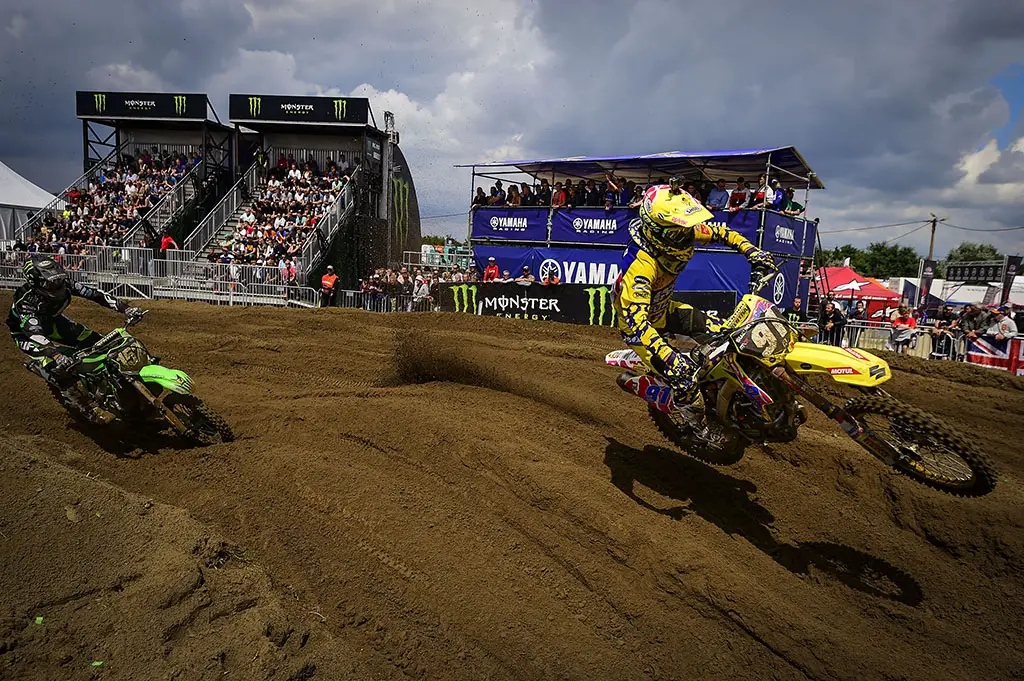 Jeffrey Herlings may skip the Swiss GP next weekend before making his return at Assen on August 28, which means that Jeremy Seewer (91) has one more chance to gain big points before Herlings returns.
BELGIUM GRAND PRIX RESULTS: 250 CLASS
1. Max Anstie…50
2. Jeremy Seewer…40
3. Petar Petrov…37
4. Brian Bogers…34
5. Benoit Paturel…34
6. Calvin Vlaanderen…30
7. Michele Cervellin…23
8. Lars Van Berkel…21
9. Dylan Ferrandis…20
10. Alvin Östlund…19
11. Ivo Monticelli…18
12. Conrad Mewse…16
13. Iker Larranaga Olano…15
14. Samuele Bernardini…15
15. Davy Pootjes…15
Sand is the great equalizer and Kevin Strijbos used local knowledge to win the 450 GP at Lommel. The win edged Strijbos into the top ten in 450 points.
Tim Gajser (243) was a front runner all day, and won the second moto outright, but multiple crashes in moto one left him 5th overall.
Max Nagl (12) was on his way to the 450 victory at Lommel when he flopped over in a sand berm and let Kevin Strijbos by for the win. The German is 14 points behind Tony Cairoli for second in points.

Tony Cairoli was third in the sand, but only gained 6 points on Tim Gajser in the title chance. Over 100 points behind Gajser with four races to go, Tony has almost no chance to getting his 9th World Championship.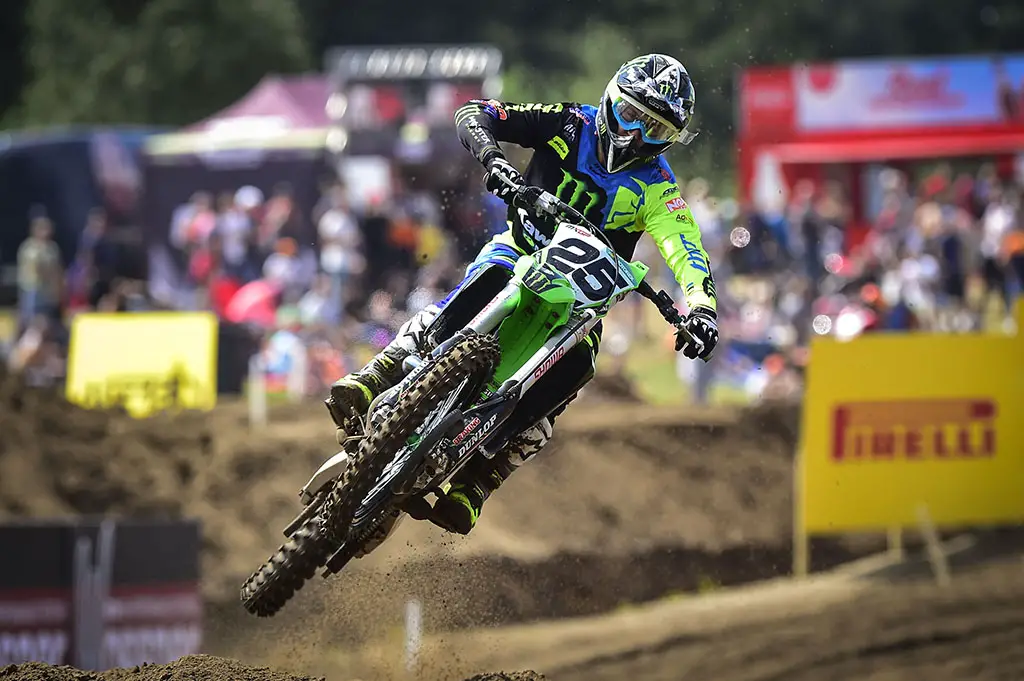 Clement Desalle (25) started the year with a broken arm and has struggled ever since. He is 334 points behind Tim Gajser with only 200 points left in the season.
BELGIUM GRAND PRIX RESULTS: 450 CLASS
1. Kevin Strijbos…40
2. Max Nagl…39
3. Tony Cairoli…37
4. Jeremy Van Horebeek…32
5. Tim Gajser…31
6. Shaun Simpson…31
7. Glenn Coldenhoff…29
8. Clement Desalle …29
9. Evgeny Bobryshev…26
10. Tanel Leok…22
11. Arminas Jasikonis…18
12. Jens Getteman…17
13. Romain Febvre…16
14. Jake Nicholls…15
15. Tommy Searle…12

WHERE THEY STAND NOW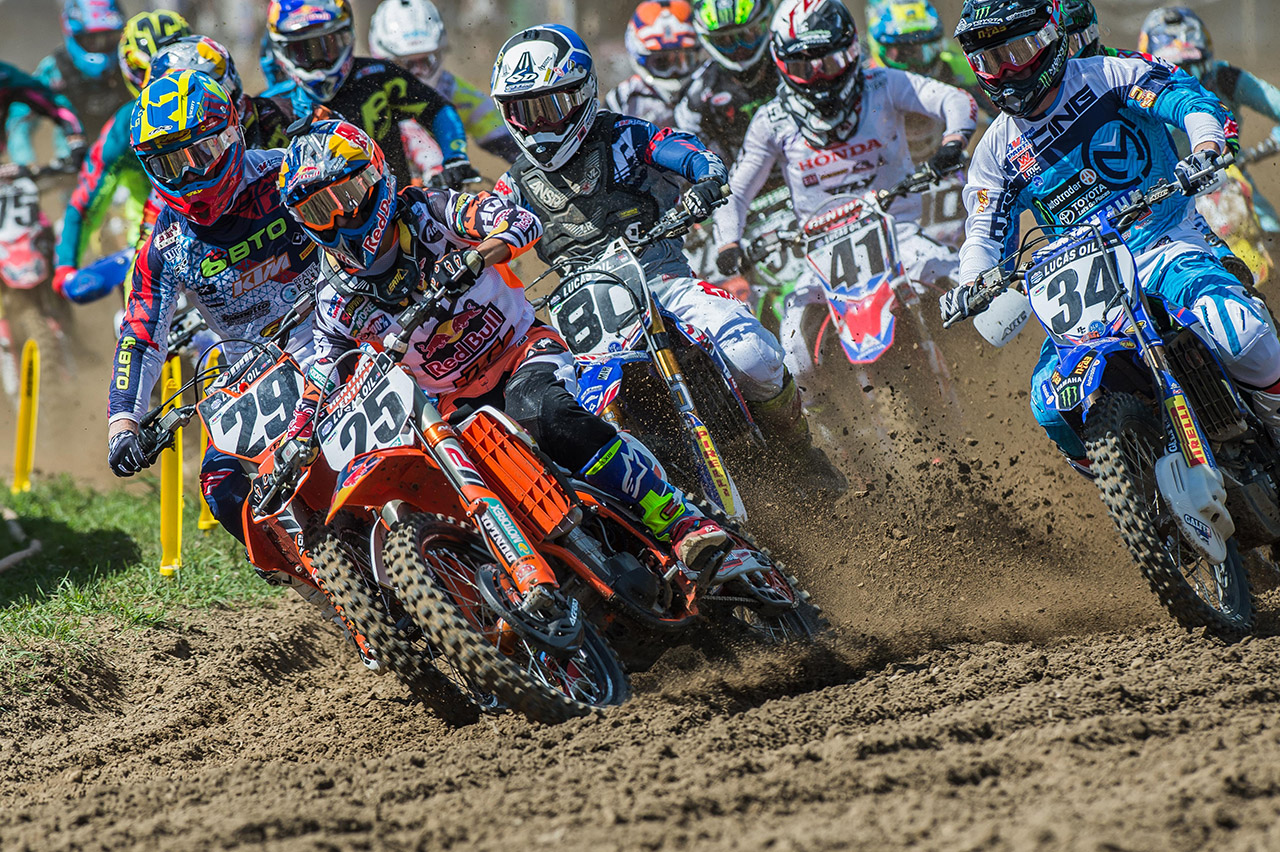 The 450 class looked good on paper, but it went south at round three when Ryan Dungey got hurt. The 250s lasted longer, but then Savatgy got the dropsies and the Martins' bikes blew up.
Barring a catastrophy the 250 Nationals, 250 GPs, 450 Nationals and 450 GPs are done deals. The motocross points chases have fizzled out and, except for the possibility of a "Thrilla at the 'Dilla" between Joey Savatgy and Cooper Webb, about all we have to look forward for the next three AMA Nationals and four Grands Prix is the motocross version of the end of the series doldrums.
Oh, somebody else might win a race, Cooper Webb might say something stupid, Jeffrey Herlings could break something and Tony C could get hot, but really nothing of importance is going to happen in the respective motocross points battles.
AMA 250 NATIONAL MOTOCROSS CHAMPIONSHIP
Cooper Webb has a 51-point lead over Jeremy Martin with three races to go. That is a one-race head start in a three-race battle.
AMA 450 NATIONAL MOTOCROSS CHAMPIONSHIP
How Ken Roczen can win 6 of the last 9 races and only have a 55-point lead is a mystery. No matter, Ken Roczen has this title in a bag.

FIM 250 WORLD MOTOCROSS CHAMPIONSHIP
With 4 GPs to go (and two of those are in the USA), Jeffrey Herlings has a 87-point lead over second place. That is over 3 motos ahead of Jeremy Seewer with 8 motos to go. Herlings has proved in the past that he can lose a one-man race, but this time we think he will play it safe and return when he is healthy.
FIM 450 WORLD MOTOCROSS CHAMPIONSHIP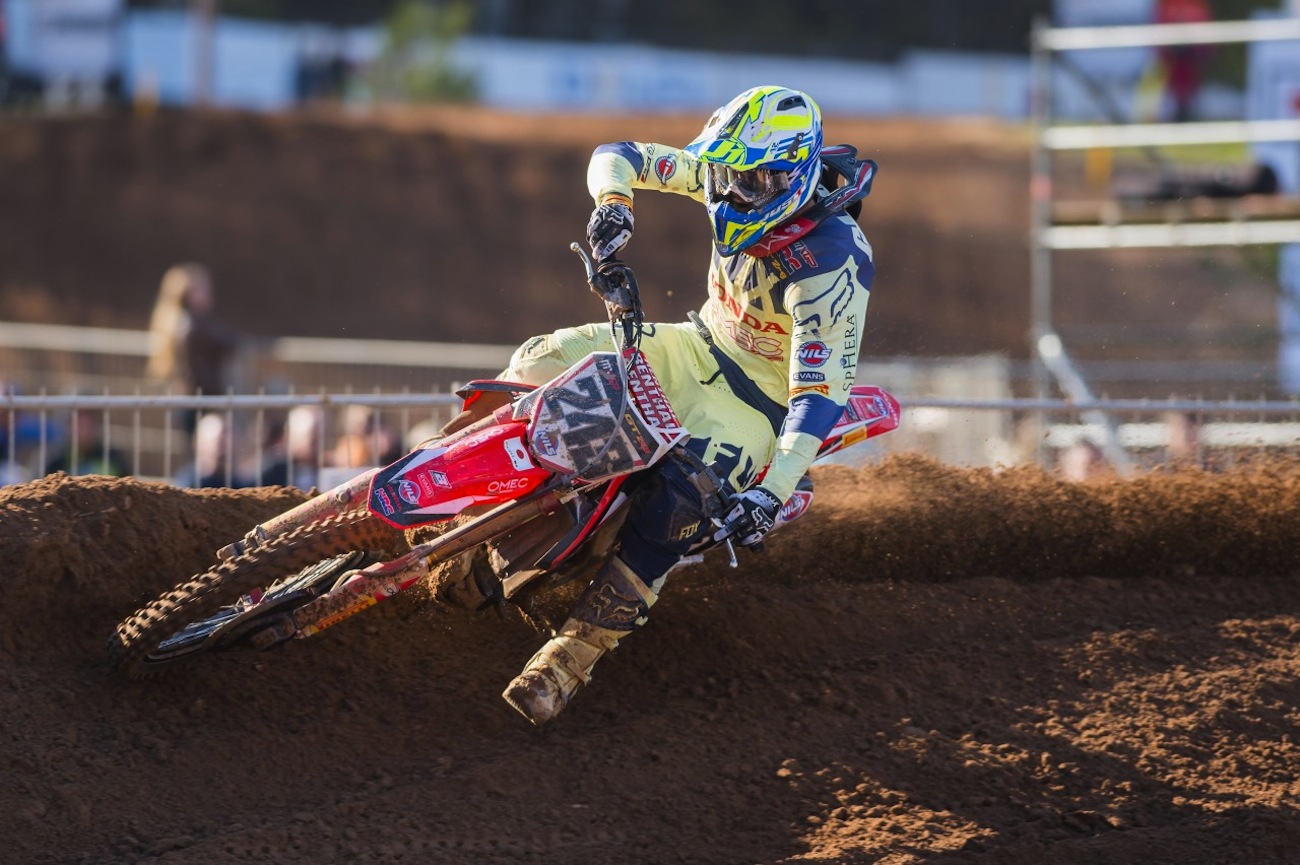 It might have been a different story if Romain Febvre hadn't been knocked out in Great Britain and forced to miss a couple races, but of all intents and purposes Tim Gajser (243) has the 2016 450 World Championship in his hands. Tim has a 103-point lead over Tony Cairoli.
2016 GRAND PRIX WINNERS AT A GLANCE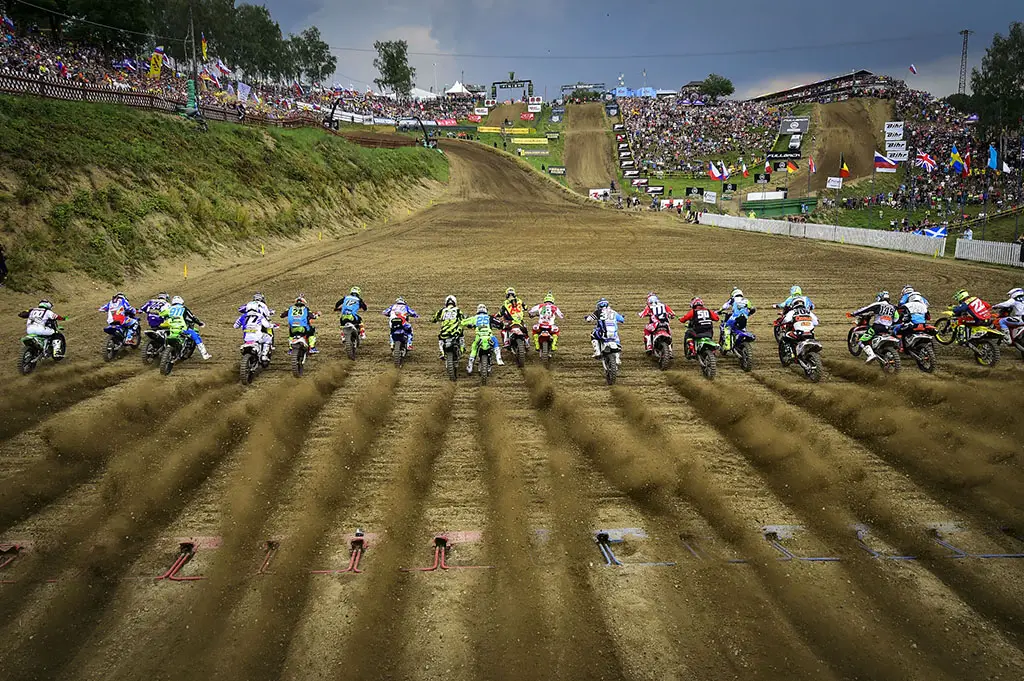 The Grand Prix circuit moves to Switzerland this coming Sunday.

Date           Venue                                450                                250
Feb. 27…. Qatar…………………..Tim Gajser………….Jeffrey Herlings
Mar. 6…..Thailand……………….Romain Febvre…….Jeffrey Herlings
Mar. 28…Holland………………..Romain Febvre…….Jeffrey Herlings
April 10….Argentina…………….Tim Gajser…………..Jeffrey Herlings
April 17….Mexico………………..Tim Gajser……………Jeffrey Herlings
May 1…… Latvia………………….Tim Gajser……………Jeffrey Herlings
May 8……Germany………………Tony Cairoli………….Jeffrey Herlings
May 15….Italy……………………..Tony Cairoli………….Jeffrey Herlings
May 29….Spain……………………Tim Gajser……………Jeffrey Herlings
June 5……France…………………Romain Febvre………Jeffrey Herlings
June 19….Great Britain…………Tim Gajser……………Jeffrey Herlings
June 26….Italy…………………….Tim Gajser……………Jeffrey Herlings
July 24…….Czech Republic…….Max Nagl……………..Dylan Ferrandis
July 31…….Belgium………………Kevin Strijbos……….Max Anstie
Aug. 7……..Switzerland………………
Aug. 14……No race
Aug. 21……No race
Aug. 28…..Holland………………
Sept. 3…..Charlotte, USA………………
Sept. 11….Glen Helen, USA………………
450 Points leader…Tim Gajser (Hon)
250 West points leader…Jeffrey Herlings (KTM)
CURRENT FIM GRAND PRIX POINTS AFTER LOMMEL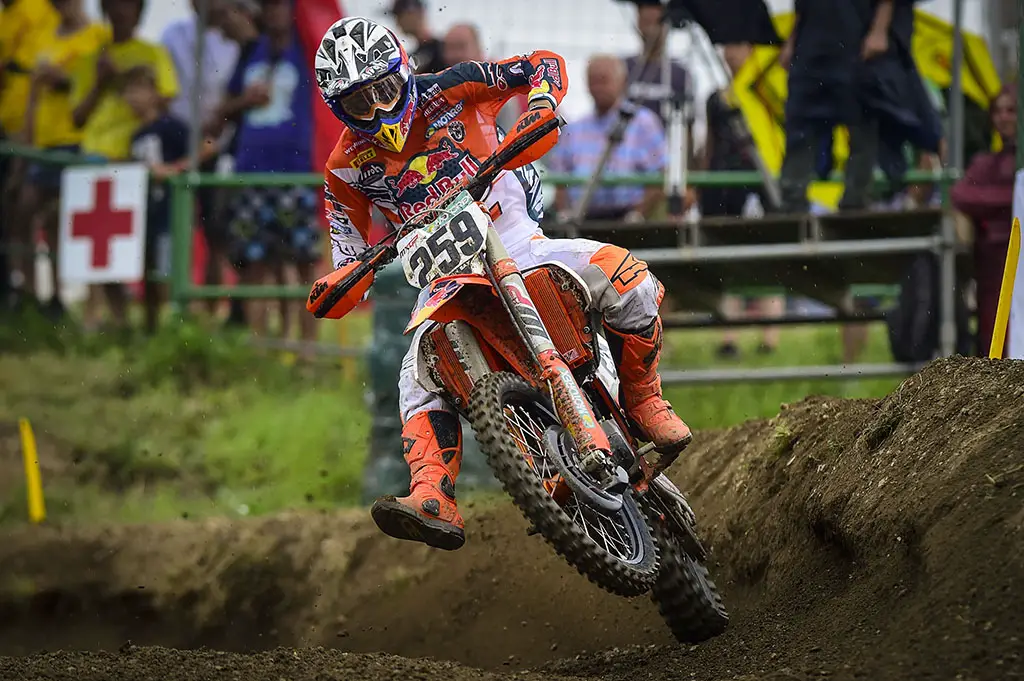 Glenn Coldenhoff hasn't had an stellar season and thanks to his sand skills he moved closer to 7th in points.

450 WORLD CHAMPIONSHIP POINTS
(After 14 of 18 races)
1. Tim Gajser…607
2. Antonio Cairoli…504
3. Maximilian Nagl…490
4. Romain Febvre …464
5. Evgeny Bobryshev…445
6. Jeremy Van Horebeek…417
7. Valentin Guillod…292
8. Glenn Coldenhoff…277
9. Clement Desalle…273
10. Kevin Strijbos…264
11. Shaun Simpson…256
12. Tommy Searle…225
13. Christophe Charlier…198
14. Gautier Paulin…193
15. Jose Butron…178
With Jeffrey Herlings missing the Czech Republic and Lommel his massive 250 points lead has been cut in half over the last two races. But, he's still safe with four GPs to go.

250 WORLD CHAMPIONSHIP POINTS
(After 14 of 18 races)
1. Jeffrey Herlings…597
2. Jeremy Seewer…510
3. Pauls Jonass…403
4. Benoit Paturel…393
5. Dylan Ferrandis…378
6. Max Anstie…366
7. Aleksandr Tonkov…320
8. Petar Petrov…319
9. Samuele Bernardini…294
10. Brian Bogers…280
11. Vsevolod Brylyakov…219
12. Alvin Östlund…185
13. Thomas Covington…171
14. Brent Van Doninck…145
15. Michele Cervellin…140
REMEMBER WHEN THIS WAS COOL?

Do you remember when KTM Factory Editions came with special numbered badges that told you exactly what number your bike was. This 2014 badge indicates that this was the 11th bike down the assembly line of a run of 699 KTM 450SXF Factory Editions.
AT A GLANCE: 2016 AMA NATIONAL CHAMPIONSHIPS
Jeremy Martin won in Millville, but suffered a blown engine at Mt. Morris and was cleaned out by the Webb/Savatgy hijinks at Washougal. He's got to win from here on out to even have a slim chance of defending his number one plate.

Date             Venue                                        450                                      250
May 21…Hangtown, CA………..Ken Roczen……………Joey Savatgy
May 28…Glen Helen, CA………Ryan Dungey………….Alex Martin
June 4…Thunder Valley, CO….Ken Roczen……………Joey Savatgy
June 18..…Mt Morris, PA………Ken Roczen……………Joey Savatgy
June 25..…Muddy Creek, TN….Ken Roczen……………Cooper Webb
July 2.…….Red Bud, MI…………Ken Roczen……………Cooper Webb
July 9..…….Southwick, MA​……Eli Tomac……………….Cooper Webb
July 16….…Millville, MN​………..Ken Roczen……………Jeremy Martin
July 23.…..Washougal, WA…….Eli Tomac………………Alex Martin
Aug. 13..….Unadilla, NY…………​
Aug. 20..…Budds Creek, MD….​
Aug. 27.….Crawfordsville, IN…
450 Points Leader…Ken Roczen (Suz)
250 Points Leaders…Cooper Webb (Yam)
THE TOP 15 IN AMA NATIONAL POINTS

James Stewart is 29th in the 450 standings and has scored points in only two motos so far this season. Even if he swept the next three 450 Nationals he wouldn't make the top five in points (and probably could not get into the top ten).

There will be a three-week break in the AMA Nationals because MX Sports doesn't have enough manpower to run both the AMA Nationals and Loretta Lynn's at the same time. This is a chance for riders racing with a nagging injuries to heal up and for returning riders, like Trey Canard, Dean Wilson and James Stewart, to settle in for the final three rounds. Currently there are 150 points left to win (50 points per race). Ken Roczen has a 55-point lead over Eli Tomac, which means that he can throw away one round and still lead Tomac by 5 points. Already mathematically eliminated from the title are every 450 riders save for Eli Tomac. That means that Marvin Musquin, Justin Brayton, Christophe Pourcel Broc Tickle, Cole Seely, Justin Brayton, Justin Bogle, Ryan Dungey, Trey Canard, Andrew Short, Jason Anderson and James Stewart are locked out of the title. Here are the current points standings with three races to go. 

AMA 250 NATIONAL POINTS STANDINGS
(After 9 of 12 rounds)
1. Cooper Webb…372
2. Jeremy Martin…321
3. Joey Savatgy…319
4. Alex Martin…317
5. Austin Forkner…257
6. Zach Osborne…253
7. Aaron Plessinger…245
8. Arnaud Tonus…190
9. Adam Cianciarulo…179
10. Mitchell Oldenburg…169
11. RJ Hampshire…163
12. Martin Davalos…144
13. Shane McElrath…132
14. Mitchell Harrison…121
15. Jordan Smith…100
AMA 450 NATIONAL POINTS STANDINGS
(After 9 of 12 rounds)
1. Ken Roczen…434
2. Eli Tomac…379
3. Marvin Musquin…283
4. Justin Barcia…244
5. Christophe Pourcel …217
6. Broc Tickle…171
7. Andrew Short…155
8. Justin Brayton…152
9. Cole Seely…151
10. Benny Bloss…151
11. Phil Nicoletti…142
12. Justin Bogle…136
13.  Ryan Dungey…131
14. Weston Peick…129
15. Trey Canard…127
POINTS STANDINGS FOR THE REST OF THE ENGLISH SPEAKING WORLD


CANADIAN NATIONAL 450 POINTS STANDINGS
(With two rounds left)
1. Davi Millsaps…439
2. Matt Goerke…388
3. Brett Metcalfe…387
4. Mike Alessi…364
5. Kaven Benoit…319
6. Tyler Medaglia…303
7. Cade Clason…300
8. Colton Facciotti…297
9. Keylan Meston….251
10. Morgan Burger…241
CANADIAN NATIONAL 250 POINTS STANDINGS
(With two rounds left)
1. Cole Thompson…453
2. Shawn Maffenbeier…374
3. Dylan Wright…342
4. Brad Nauditt…304
5. Mark Worth…287
6. Jesse Pettis…279
7. Ryeley Gallup…224
8. Hayden Halstead…213
9. Dakota Alix…201
10. Davey Fraser…182
AUSTRALIAN NATIONAL 250 POINTS STANDINGS
(With two rounds left)
1. Jed Beaton…507
2. Nathan Crawford…507
3. Caleb Ward…492
4. Jayden Rykers…449
5. Wilson Todd…412
6. Dylan Wills…381
7. Hamish Harwood…353
8. Joel Wightman…341
9. Wade Hubter…324
10. Kyle Webster…296
AUSTRALIAN NATIONAL 450 POINTS STANDINGS
(With two rounds left)
1. Kirk Gibbs…538
2. Dean Ferris…529
3. Todd Waters…522
4. Kade Mosig…437
5. Matt Moss…381
6. Dylan Long…359
7. Jacob Wright…340
8. Jay Wilson…320
9. Michael Menchi…301
10. Daniel Banks…299
BRITISH NATIONAL 450 POINTS STANDINGS
(With two rounds left)
1. Tommy Searle…231
2. Shaun Simpson…217
3. Jake Nicholls…202
4. Graeme Irwin…183
5. Kristian Whatley…177
6. Brad Anderson…163
7. Tanel Leok…132
8. Gert Krestinov…124
9. Steven Lenoir…101
10. Jake Shipton…86
BRITISH NATIONAL 250 POINTS STANDINGS
(With two rounds left)
1. Steven Clarke…221
2. Bryan Mackenzie…217
3. Adam Sterry…214
4. Martin Barr…194
5. Liam Knight…156
6. Brad Todd…142
7. Jake Millward…132
8. Jordan Booker…108
9. Lewis Tombs…97
10. Todd Kellett…94
THIS WEEK'S BIRTHDAY BOYS: BROC HEPLER IS A VET
Aug. 1…Broc Hepler 1986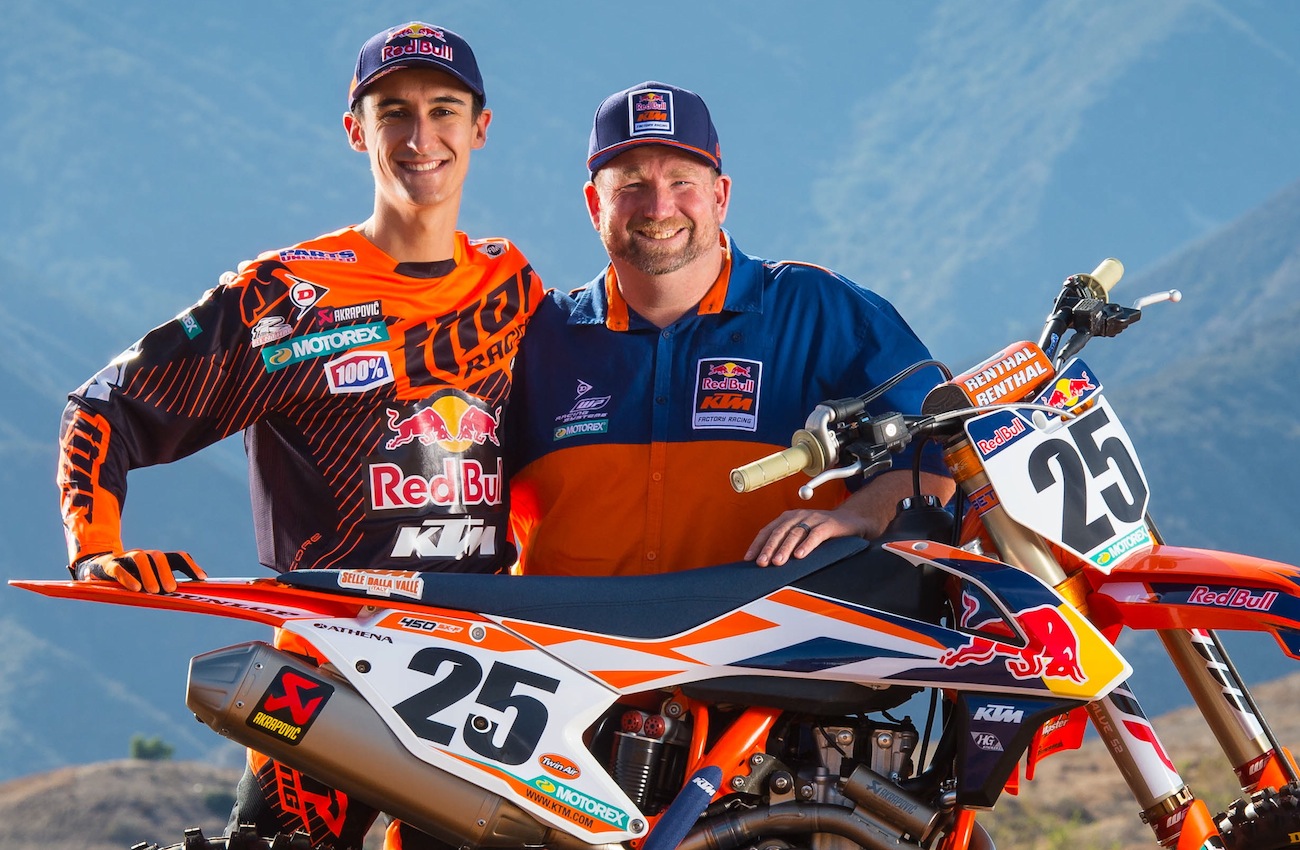 Aug. 1…Frankie Latham
Aug. 1…Monte McCoy 1957


Aug. 1…Samuele Bernardini 1995
Aug. 1…Vince Arimitsu
THE CURRENT 2016 RACE CALENDAR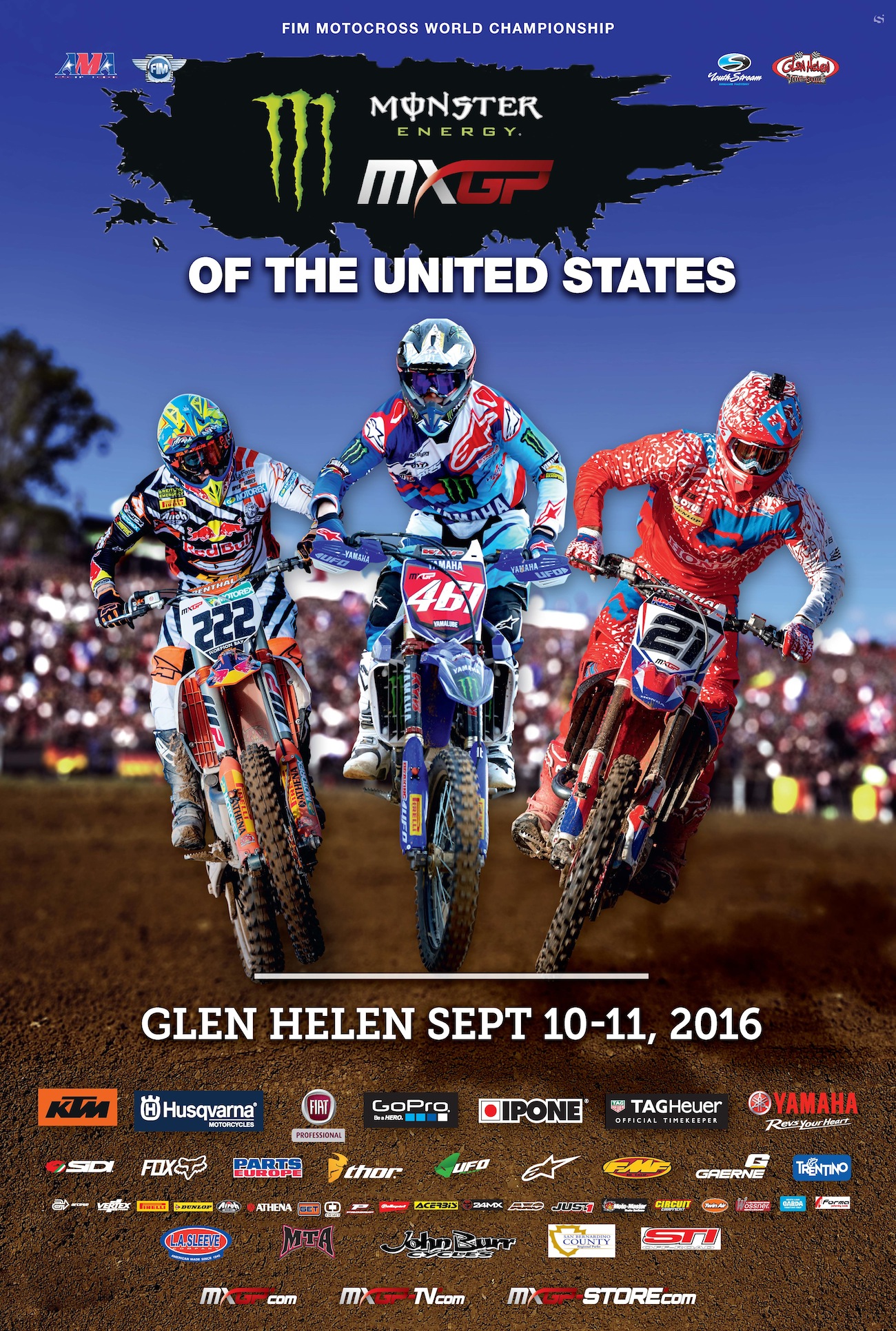 2016 AMA NATIONAL CHAMPIONSHIP
Aug. 13..………………….….Unadilla, NY​
Aug. 20..………………….….Budds Creek, MD​
Aug. 27.………………………Crawfordsville, IN (Final)
2016 FIM MOTOCROSS WORLD CHAMPIONSHIP
Aug. 7……………………..…..Frauenfeld, Switzerland
Aug. 28………………………..Assen, Holland
Sept. 3…………………………Charlotte, USA (Saturday)
Sept.11………………………..Glen Helen, USA (Final)

2016 REM MOTOCROSS
Aug. 6………………………….Glen Helen, CA
Aug. 27………………………..Glen Helen, CA
Sept. 3………………………….Glen Helen, CA
2016 AUSTRALIAN NATIONAL CHAMPIONSHIP
Aug. 21………………………..Toowoomba, QLD
Aug. 28………………………..Coolum, QLD (Final)
2016 CANADIAN NATIONAL CHAMPIONSHIP
Aug. 7…………………………Deschambault, QC
Aug. 14………………………..Barrie, ON (Final)
2016 BRITISH MAXXIS NATIONAL CHAMPIONSHIP
Aug. 21…………………………Preston Docks
Sept. 18………………………..Foxhill (Final)
2016 SPANISH NATIONAL CHAMPIONSHIP
Oct. 2…………………………..Calataya, Zaragoza (Final)
2016 AMA NATIONAL AMATEUR CHAMPIONSHIP
Aug. 1-6…………………………Loretta Lynn, TN
UNITED STATES GRANDS PRIX
Sept. 3……………………………Charlotte, USA (Saturday)
Sept. 11……………….………….Glen Helen, USA
2016 MOTOCROSS DES NATIONS
Sept. 25…………………………Maggiora, Italy
2016 MONSTER CUP
Oct. 15…………………………..Las Vegas, NV
2016 REM OCTOBERCROSS
Oct. 29…………………………..Glen Helen, CA
2016 DUBYA WORLD VET CHAMPIONSHIP
Nov. 5-6…………………………Glen Helen, CA
MXA PHOTO OF THE WEEK: AND NOW FOR SOMETHING…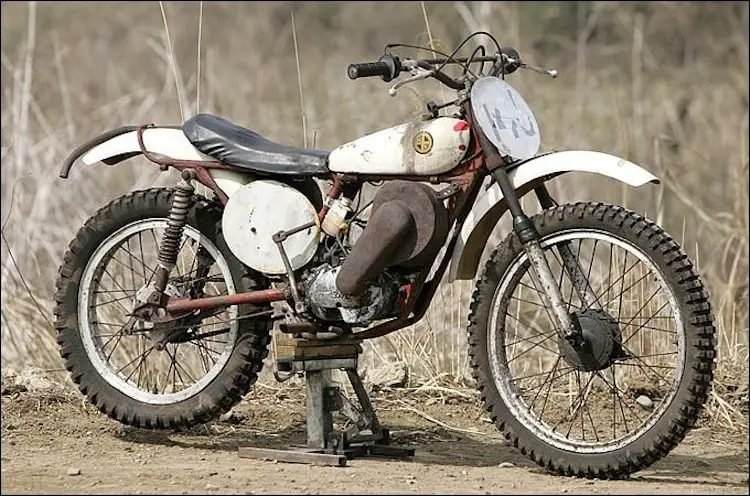 This unrestored early 1960s Kawasaki 250, most likely a 238, is a rare find. Note the rotary valve engine with it's black plastic airbox mounted on the right side of the bike. Looking for the exhaust pipe? Since a rotary valve cylinder does not have an intake port, the pipe exits out of the rear of the cylinder. You can see the stinger wrapped over the top of the rear fender.
The prototype above would eventually morph into the 1968 Kawasaki F21M Bushwhacker.
OVER-THE-HILL-GANG 9-11 MEMORIAL MOTOCROSS (ON SEPTEMBER 18 AT LACR)
For more info go to www.othgmx.org
CENTRAL VALLEY MX SERIES STARTS SEPTEMBER 11, 2016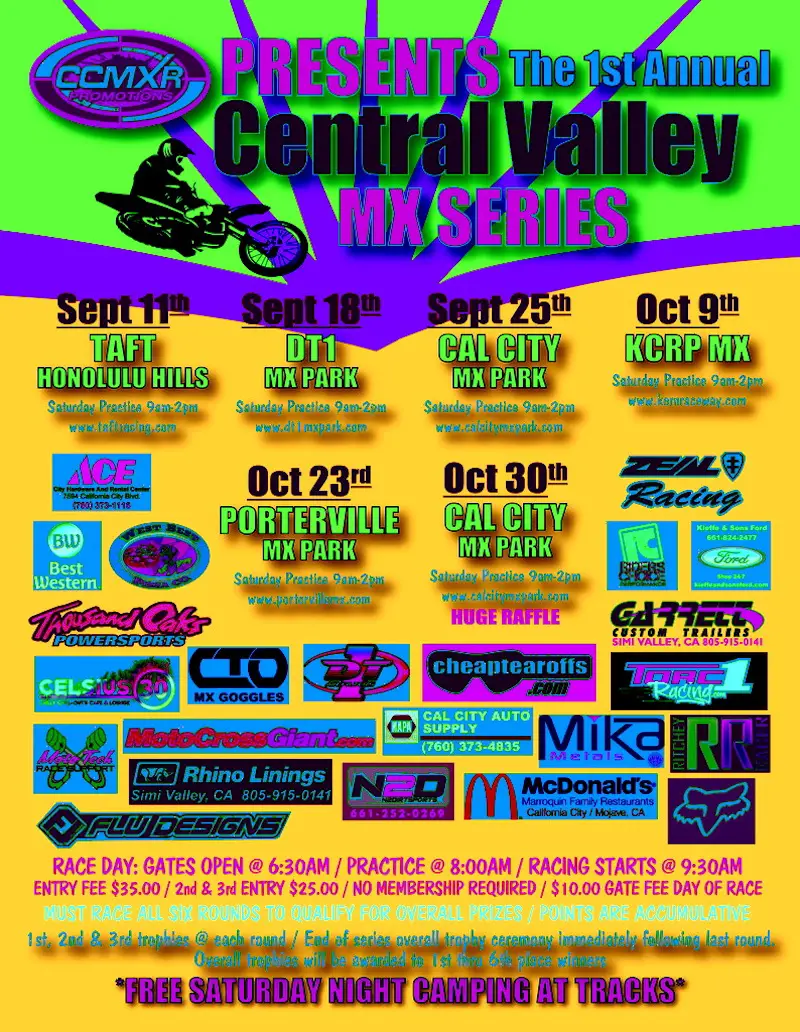 For more info go to www.taftracing.com.
ROUTE 66 VINTAGE SCRAMBLES AT ROY ROGERS RANCH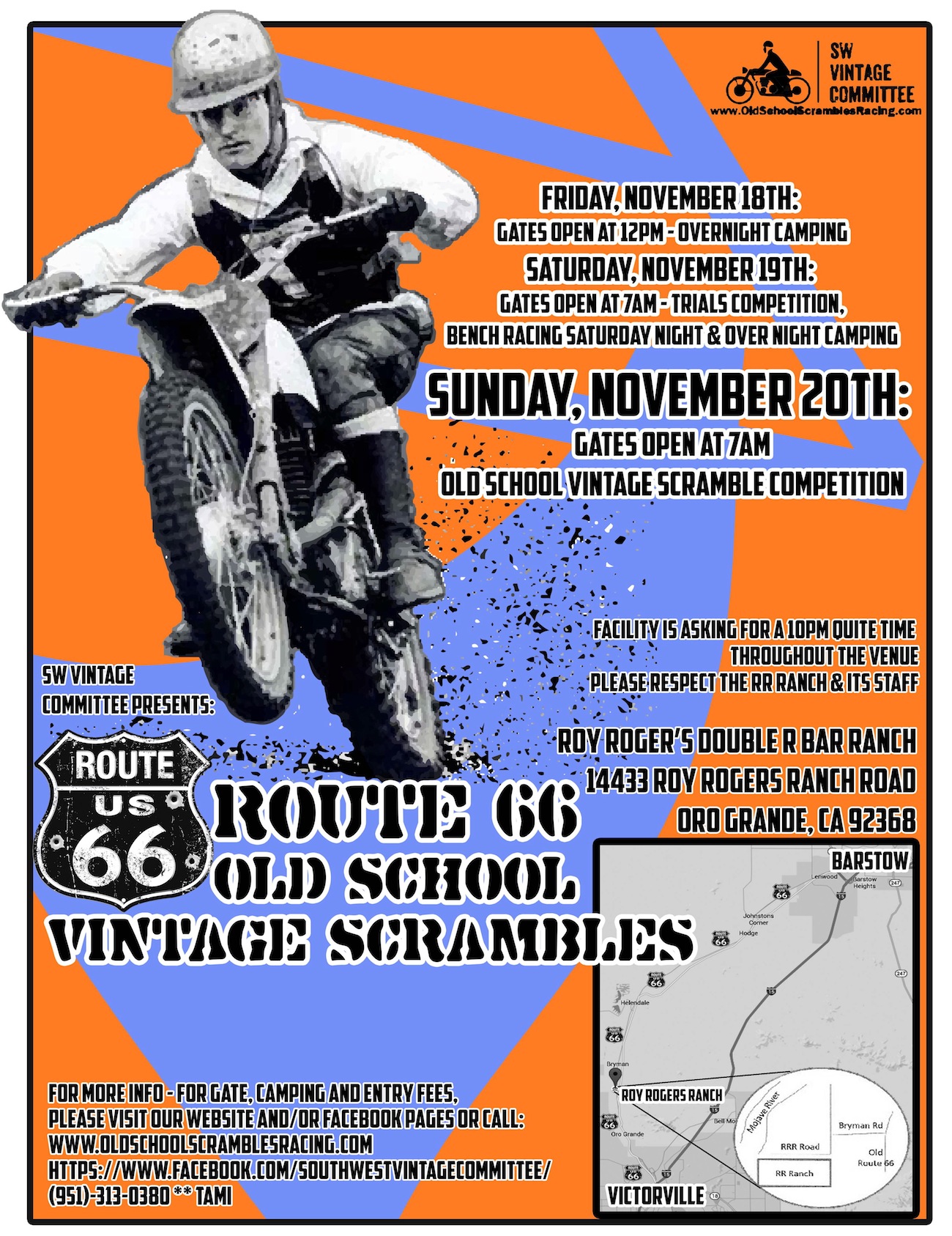 The race will be held on November 19-20, 2016 at the Roy Roger's Double R Bar Ranch. For more info click here.
GRAN FONDO SANTA CLARITA: 20, 60 & 100 MILE LOOPS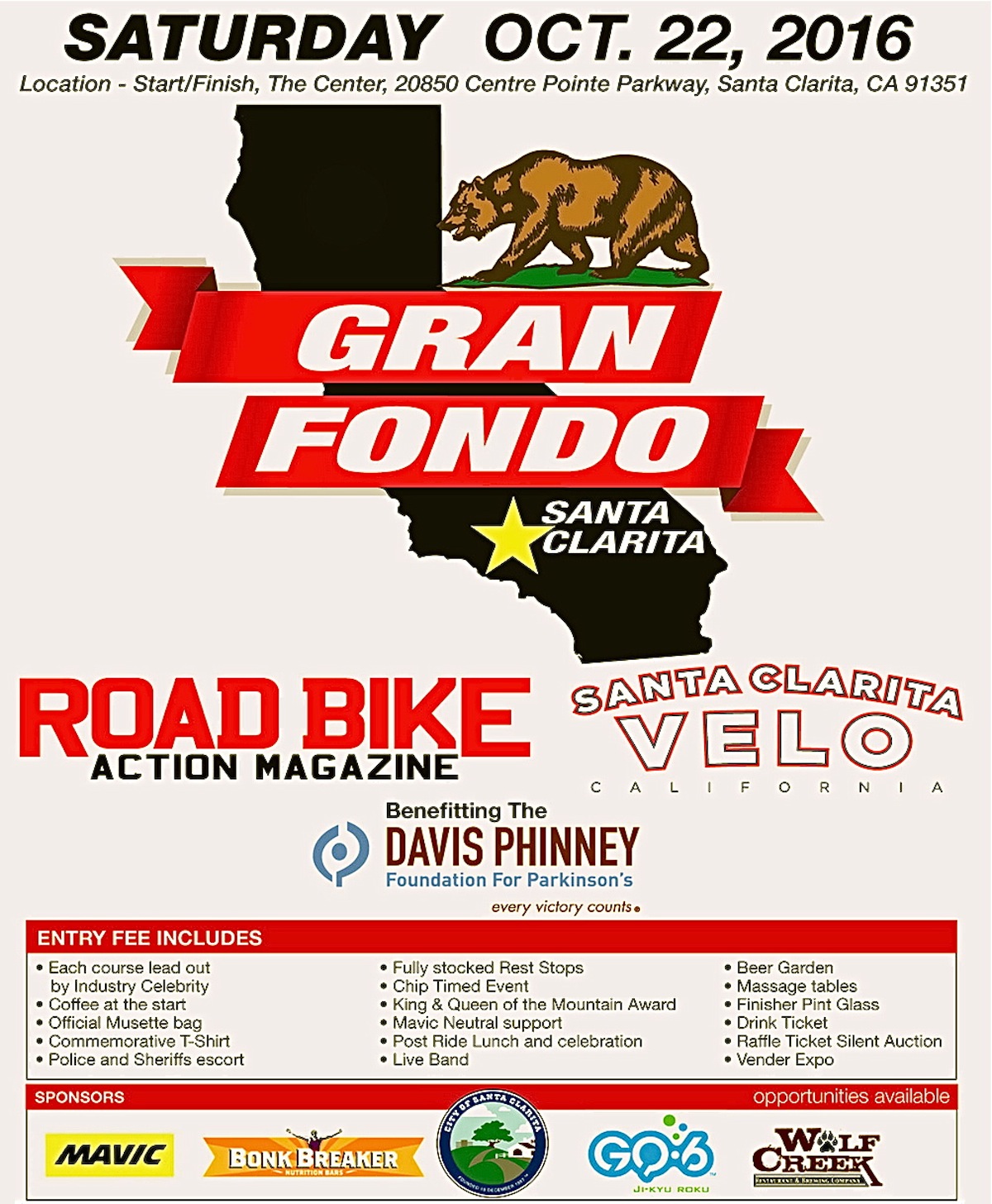 This October 22, 2016, ride will be big. For more info go to www.granfondosantaclarita.com
WATCH MOTOCROSSERS DROWN ON AUG. 1& 2

MOTORCYCLE AD OF THE WEEK: MXL GOGGLES



Tony DiStefano was ahead of his time back in 1977. He had his own signature gear line and lucrative deals with Bell Helmets, MXL Goggles and Preston Petty Fender. He was the first rider to hire an agent to negotiate his contracts.
MXA MOTO-CHALLENGE: CAN YOU NAME THIS RACER?

This rider won three FIM 125 World Championships, but more significantly his name appears in the motocross record books more times than any other rider in history. Can you name him?. Answer at the bottom of the page.
HOW TO SUBSCRIBE TO MXA AND MAKE MONEY
The August 2016 issue of MXA is on the news stands now, but if you subscribed you would get a $25 gift certificate from Rocky Mountain ATV/MC.
Do you subscribe to MXA? You should. We know that you think that print magazines are dead and that the internet will fill the void, but most of the stuff in the current issue of MXA won't appear on the web for several months, if at all. Luckily, you can get all of MXA on your iPhone, iPad, Kindle or Android by going to the Apple Store, Amazon or Google Play. Better yet get the Digital desktop version at https://hi-torque.com/product/motocross-action-digital-edition/ for $9.99 a year. The MXA test riders prefer the print version and not just because it is delivered by a uniformed employee of the U.S. Government, but because for only $19.99 you get 12 issues and a free $25 Gift Card from Rocky Mountain ATV/MC. That means that there is a profit to be made in this deal for you. For the Print magazine go to: http://hi-torque.com/product/subscribe-to-motocross-action-magazine/
MXA PRODUCT SPOTLIGHT: SLACKER DIGITAL SAG SCALE
The MXA wrecking crew races 7 bikes every weekend and tests a couple days a week. When you are running that many bikes with that many different test riders, you spend a lot of time setting the sag for each and every rider. When we discovered the Slacker Digital Sag Scale our lives became infinitely easier. It allows us to check race sag and free sag in seconds—without the need for any math. It doesn't matter who measures the sag, the outcome is plain as day on the digital readout.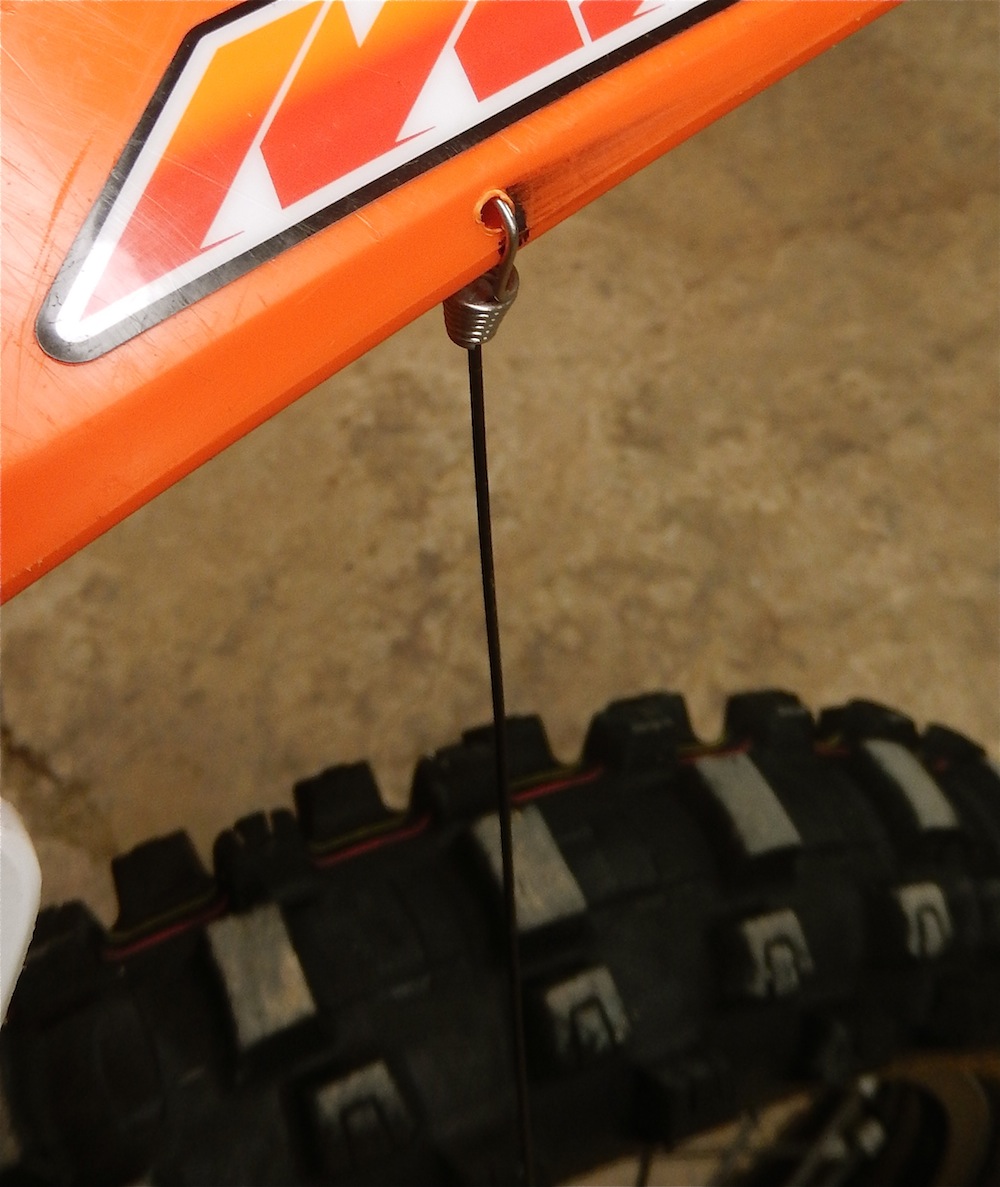 To make the Slacker Sag Scale even easier to use, MXA drills a small pilot hole in the rear fender of every test bike. This allows us to hook and unhook the cable in seconds.
There is even a remote unit that allows you to set the sag by yourself. You can read the sag numbers while sitting on the bike. Pretty sweet. For more info go to www.motool.com or (800) 741-7702.
MEMORIES OF THE WAY WE WERE: JOEL ROBERT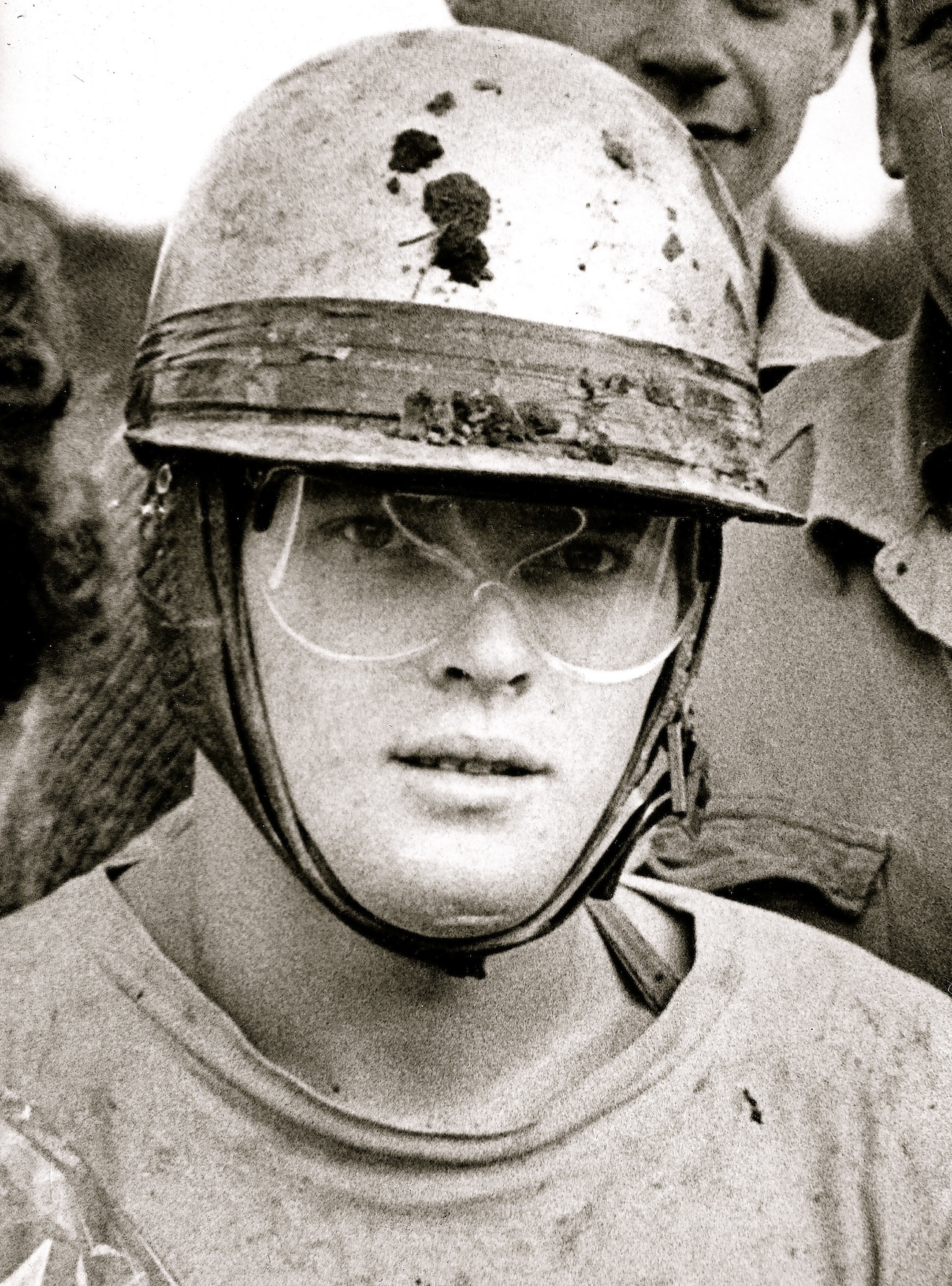 The romance of motocross racing in the early days was enhanced by the fact that you could see the riders at work. Not just hanging off the bike and racing it around the track, but the fans could see the expressions on their faces. This is the face of six-time 250 World Champion Joel Robert (pronounced Row-Bear).
2017 AMA SUPERCROSS CHAMPIONSHIP SCHEDULE
2017 AMA SUPERCROSS CHAMPIONSHIP
Jan. 7…………………………Anaheim, CA
Jan. 14………………………San Diego, CA
Jan. 21………………………Anaheim, CA
Jan. 28………………………Glendale, AZ
Feb. 4……………………….Oakland, CA
Feb. 11………………………Arlington, TX
Feb. 18………………………Minneapolis, MN
Feb. 25………………………Atlanta, GA
Mar. 4………………………Toronto, ON
Mar. 11………………………Daytona, FL
Mar. 18………………………Indianapolis, IN
Mar. 25………………………Detroit, MI
Apr. 1…………………………St. Louis, MO
Apr. 8………………………..Seattle, WA
Apr 22……………………….Salt Lake City, UT
Apr. 28………………………East Rutherford, NJ
May. 6………………………..Las Vegas, NV
MXA MOTO-CHALLENGE ANSWER
Harry Everts won the 125 World Championships in 1979, 1980 and 1981. Harry put the Everts name into the record books three times, but his son Stefan Everts added 10 more World Championships to the Everts' mantle from 1991 to 2002.

Photos: Brian Converse, Daryl Ecklund, Massimo Zanzani, Scott Mallonee, Kyoshi Becker, Ray Archer,  Jody Weisel, Debbi Tamietti, Dan Alamangos, John Basher, Yamaha, Suzuki, MXGP, MXA