MXA'S WEEKEND NEWS ROUND-UP: WORKING CLASS GUYS & THE BIKES THEY ARE FORCED TO RIDE
WORKING CLASS HEROES: WHAT THE MXA WRECKING CREW HAS BEEN TESTING LATELY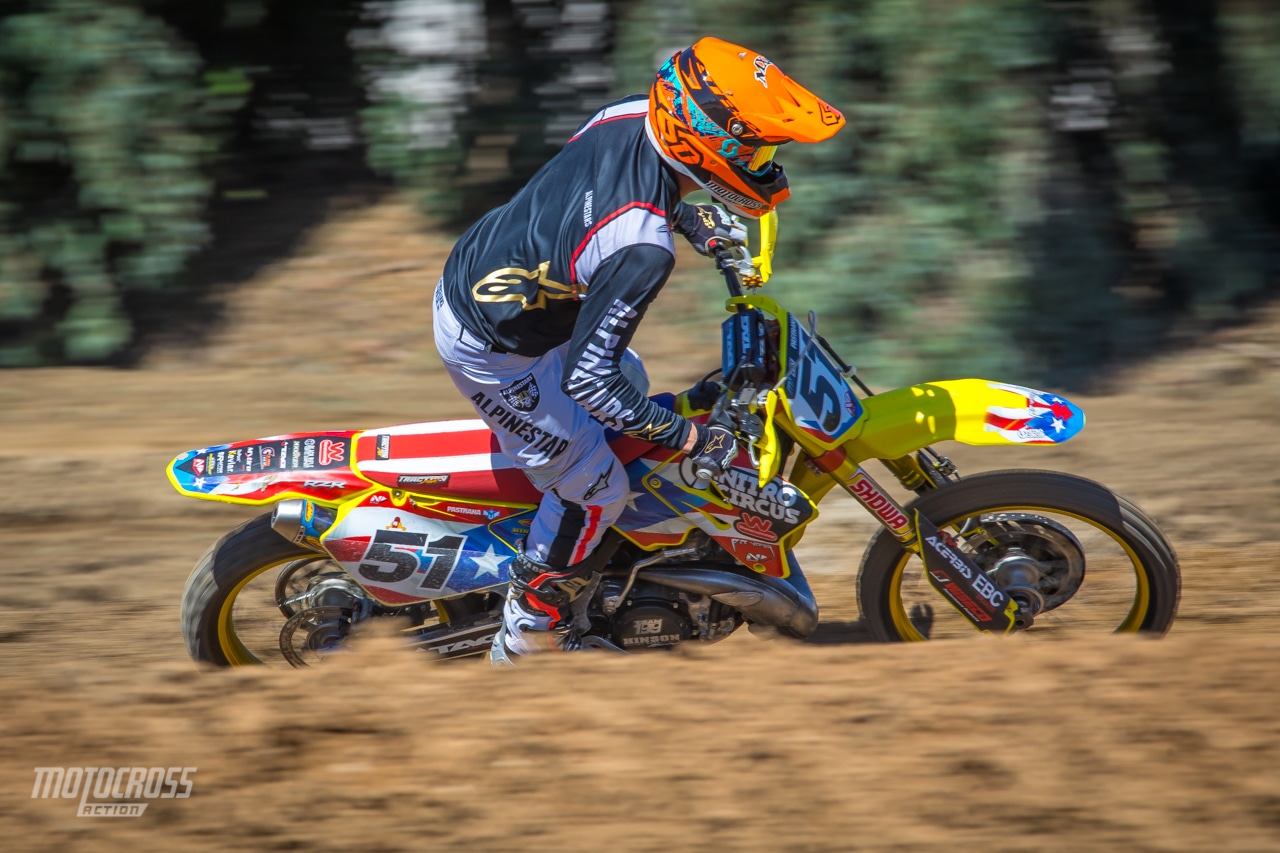 Being an MXA test rider means testing whatever is put on your plate. In this case it was Travis Pastrana's Team Puerto Rico Motocross des Nation Suzuki RM250.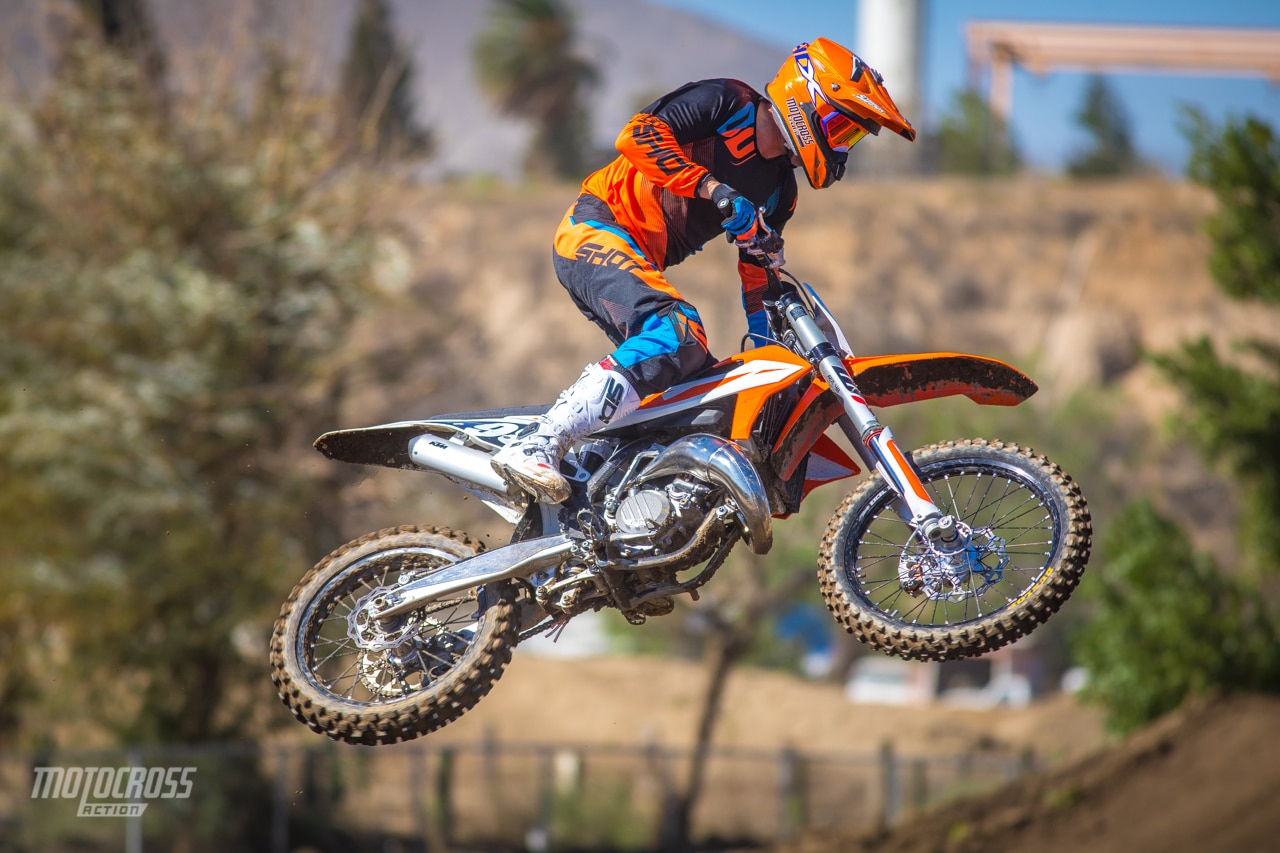 All of the bikes that MXA has been testing for the last month are destined for a future magazine. The 2019 KTM 125SX two-stroke is a prime example.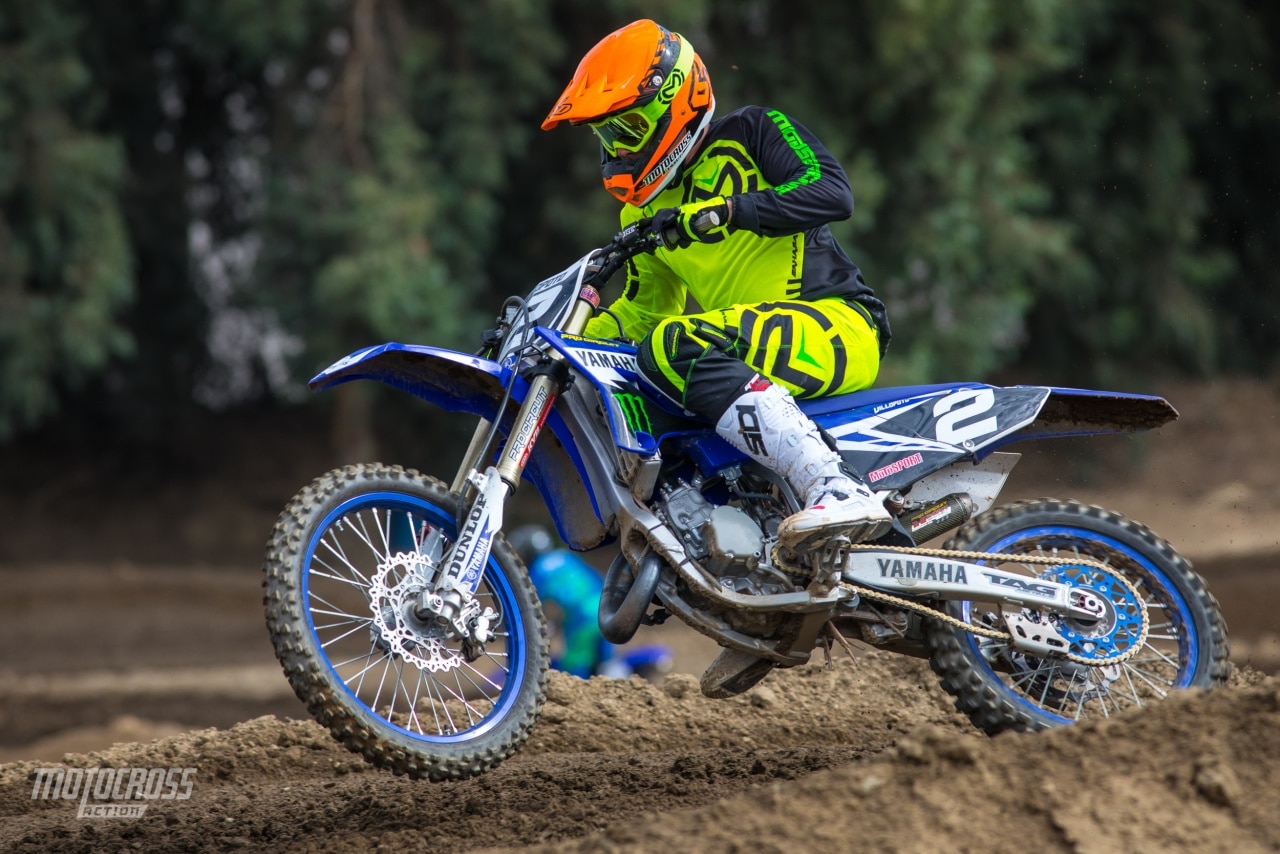 We raced Ryan Villopoto's Washougal 125 All-Star race winning Yamaha YZ125.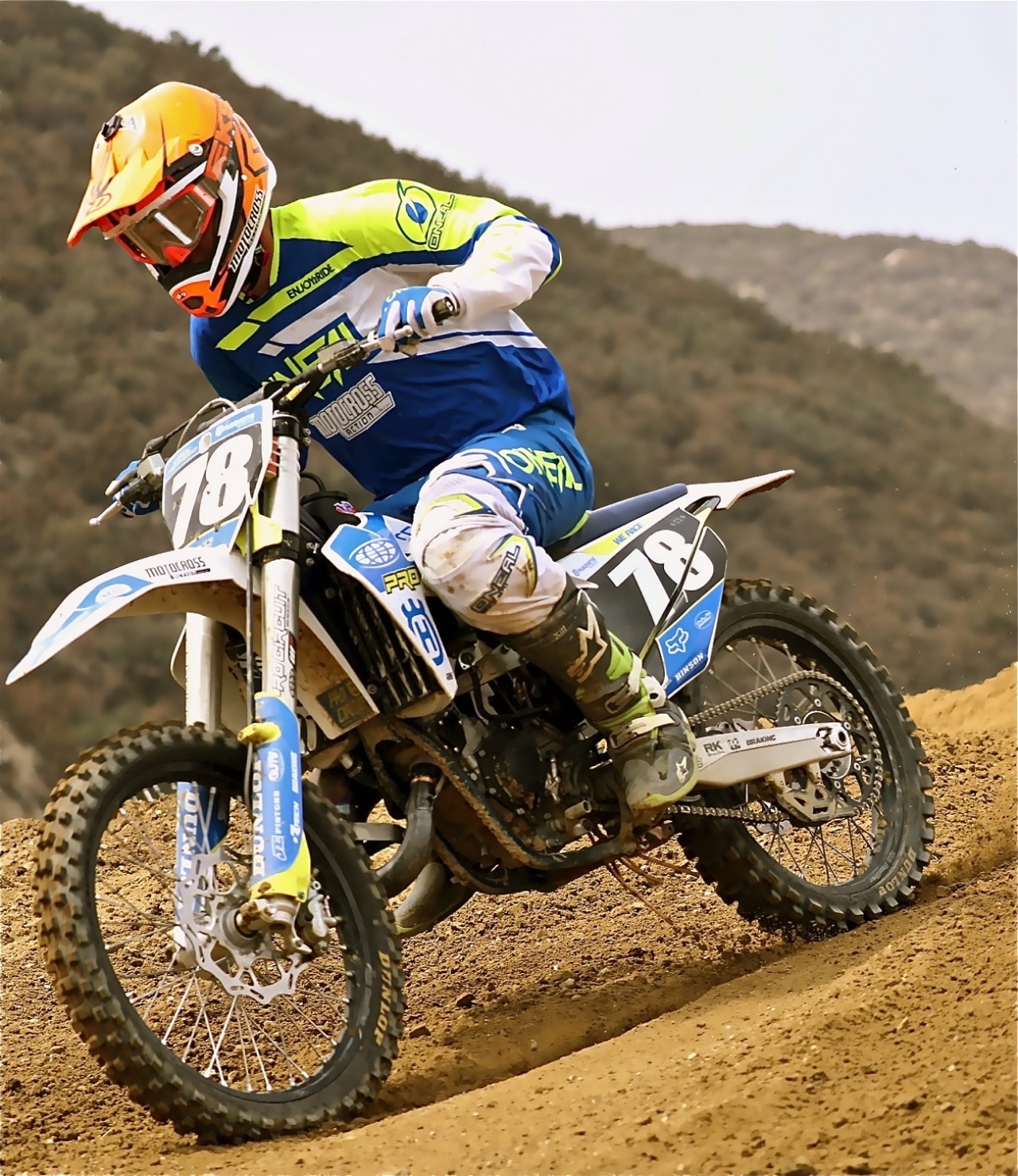 The 42-horsepower 2019 Husqvarna TC125 that Pro Circuit built for Ivan Tedesco actually ended up in MXA's hands before Ivan ever saw it.

The MX1 Suspension/Dicks Racing/ Rocky Mountain Kawasaki KX450 project bike had extensive modifications.

This is Twisted Development's Suzuki RM-Z450 that Josh Grant might race in the 2019 Supercross series—so we invited Josh out to do the photo session with us.

Damon Bradshaw's one-off GasGas XC300 motocross bike is a unique machine.

Jason Anderson's Rockstar Husqvarna TC250 two-stroke was built with every part from his factory FC450 that would fit.
WORLD VET CHAMPIONSHIP IS TWO WEEKS AWAY: ARE YOU READY?

The World Vet Motocross Championship celebrates its 34th year at Glen Helen Raceway on November 3-4, but it is really a four-day festival of speed—because there are two days of practice before the weekend races.
There is a big story behind Dubya's sponsorship of the World Vet Motocross Championship. Tom White, who owned White Brothers back in the day, sponsored the first World Vet in 1984. Tom actually founded the event and sponsored it for the first 26 years. After selling the White Brothers, the new owners gave up the sponsorship of the race, but Tom wanted to keep the race moving forward, so he had his daughter and son-in-law's company, Dubya USA wheels, become the title sponsor in 2014. And they are for still sponsoring it for 2018 (which is the 31st year of the White family's involvement — Even though Tom White passed away a year ago).
Here is the schedule of events for the most important Vet race in the world—start making plans now.
THURSDAY, NOVEMBER 1: Thursday will feature an open practice. The cost is $30 per bike. The 2018 Dubya World Vet Motocross Championship wants to give out-of-state and out-of-country riders as many chances as possible to adapt to the track — while riding on Thursday with AMA National Pros and 16-year-old kids. It's a wild day. Smart World Vet racers skip riding on Thursday and stand back and watch the mayhem. Many long-time World Vet racers skip both Thursday and Friday practices to save themselves for the actual races. Thursday Open Practice: 8:00 a.m. to 1:00 p.m. ($25 per bike).
The Glen Helen National track is always mellowed out for the World Vet, per orders from founder Tom White, but don't think for a minute that the lack of big doubles makes it an easy track. No one will see the full 2018 World Vet layout until the REM Octobercross the weekend before the big race.
FRIDAY, NOVEMBER 2: Friday offers a special practice, limited to riders who have pre-entered the 2018 Dubya World Vet Championship. This practice costs $30 per bike. On this day the vendors will be setting up shop and the Glen Helen/Troy Lee Museum will be open in the afternoon. Sign-up for the weekend is open from Noon to 5:00 p.m.
SATURDAY, NOVEMBER 3: Saturday, November 3, is essentially a warm-up race to lessen the advantage that Glen Helen locals have. It is no surprise that foreign and out-of-state riders need time to get used to the roughness, elevation and size of Glen Helen—it is a tough track that gets rougher with each lap and each day. Only the Over-40 Pros are racing for a World Vet Championship crown on Saturday, November 4th. Gates open: 5:30 a.m., Practice: 7:00 a.m., Racing: 8:30 a.m., All Classes +25 and up, Feature Purse Race: Over-40 Pro.
SUNDAY, NOVEMBER 4: Sunday, November 4, 2018, is the official World Veteran Motocross Championships day. All the same classes that ran on Saturday will race again on Sunday — only this time it is for all the marbles. The exception is the Over-40 Pro class (who named their Champion on Saturday, but still have a class on Sunday). The big classes on Sunday are the Over-30 Pros and Over-50 Pros. Gates open 5:30 a.m., Practice: 7:00 a.m., Racing: 8:30 a.m..Feature Purse Race: +30 Pro, Edison Dye Lifetime Achievement Award: 12:30 p.m. (in museum)
SUNDAY AT NOON: THE EDISON DYE MOTOCROSS LIFETIME ACHIEVEMENT AWARD: On Sunday at noon the Edison Dye Motocross Lifetime Achievement Award will be presented for the 21st time. Initiated to honor individuals who have made a positive contribution to our sport, the award has been received by Edison Dye, Roger DeCoster, Jeff Ward, Joel Robert, Torsten Hallman, Bruce Brown, Feets Minert, John DeSoto, Lars Larsson and many others. Each inducted rider gets a marker on the Glen Helen Walk of Fame (see Bob Hannah's below).
Bob Hannah received the Edison Dye Lifetime Achievement Award 11 years ago from World Vet founder Tom White.

THE RULES: CLASS JUMPING & MOVING DOWN AGE GROUPS: Riders can ride in their age appropriate class and are then eligible to move down one skill level for every ten years (for example, an Over-50 Expert can race the Over-40 Intermediate class). Old riders can ride in younger classes, but young riders cannot ride in older age groups. This system works like this: An Over-60 Expert can also race the Over-50 Intermediates and the Over-40 Novices—he could also ride the Over-30 Novices and Over-25 Novices.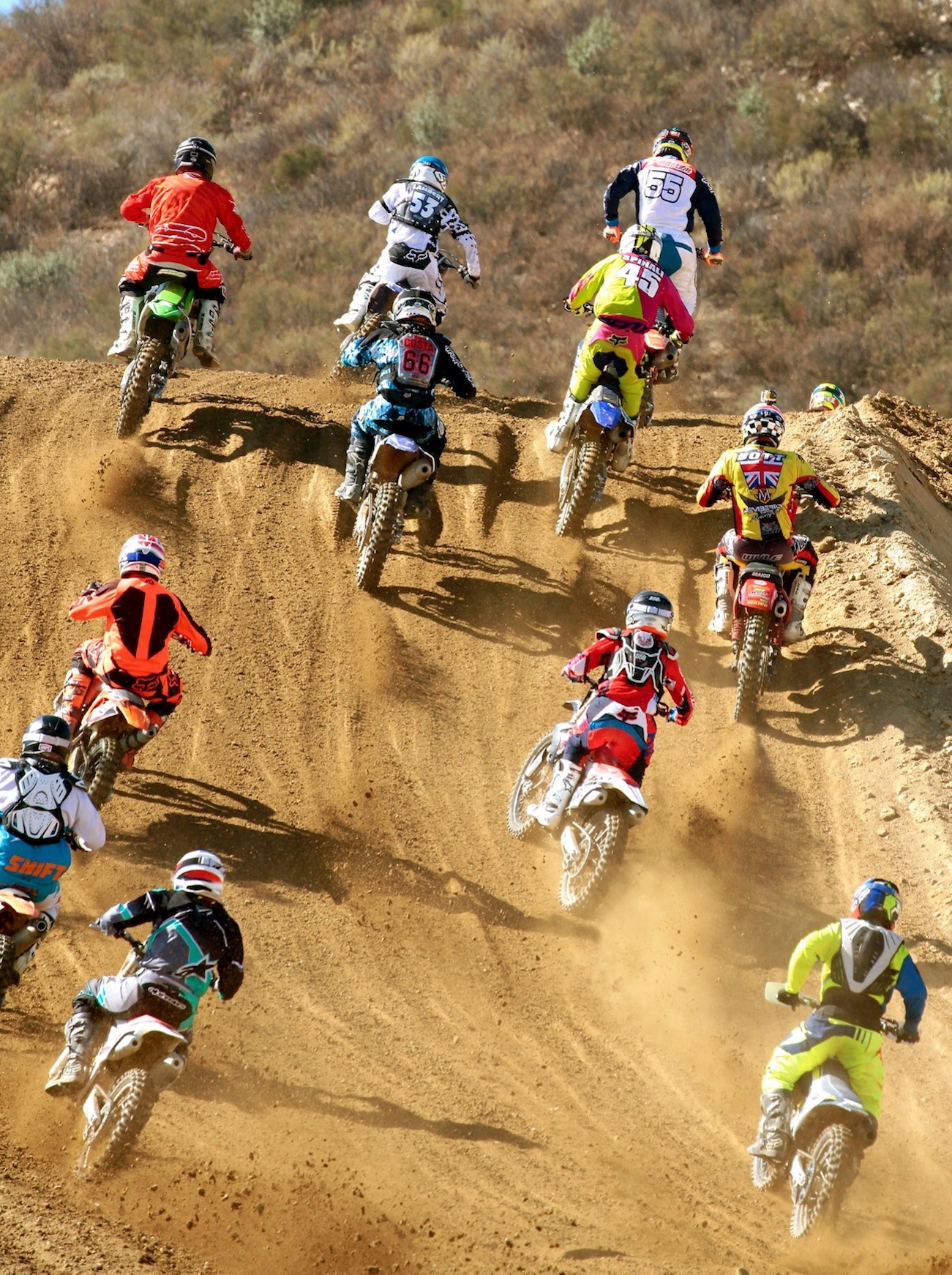 Foreign entrants come from over 20 different countries. To ride the World Vet Motocross Championship is a bucket list event.
FREE TRANSPONDER SCORING: Scoring will be by transponder and you must bring your driver's license to sign-up to prove that you are the right age before transponders will be handed out. No driver's license—no race. There is no charge for the transponders, but you must leave a form of identification (driver's license or credit card) to insure that you bring the transponder back at the end of the day. Pre-entered riders must check-in along with post-entry riders. For more info on all the available classes or to pre-enter go to www.glenhelen.com
THE HARD AND FAST AGE RULES: It doesn't matter if you will be 40 the next day, you cannot race in the 40 class until you are 40 years old. Cheaters are frowned on—especially in the Pro classes (where true ages are easily verified). No exceptions. No cheating. Bring your driver's license to sign-up when you check in (and you must check in regardless of whether you pre-entered or not). No driver's license — no race for you.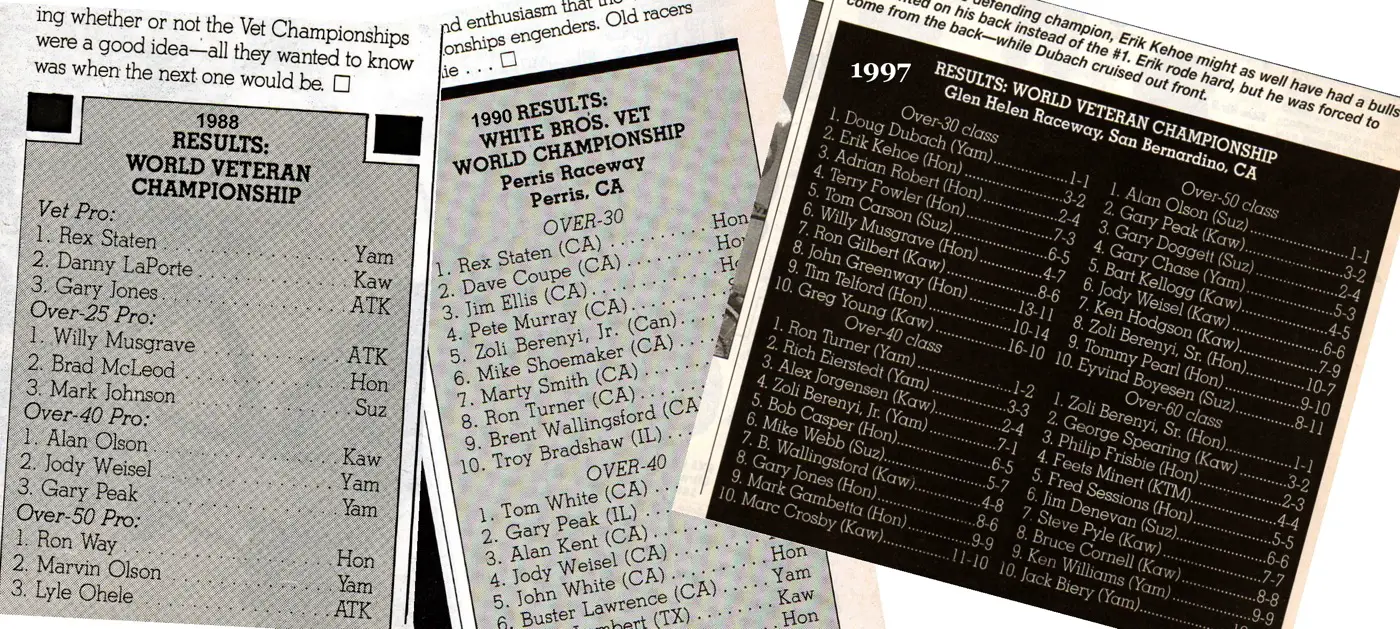 The World Vet results from 30 years ago, 28 years ago and 21 years ago. How old would these guys be today?
WHO CAN RACE THE WORLD VET CHAMPIONSHIP? The 2018 World Vet Championship does not require membership, licenses or special paperwork. If you show up, you will be allowed to race. Racers come from 20 different countries to race all the classes. It is the original and number one Vet race and titles have been won by many famous motocross racers — including Gary Jones, Rex Staten, Jeff Ward, Erik Kehoe, Warren Reid, Kent Howerton, Thorlief Hanssen, Alan Olson, Rich Thorwaldson, Ron Turner, Feets Minert, Kyle Lewis, Casey Johnson, J.N. Roberts, Lars Larsson, Eyvind Boyesen, Pete Murray, Andy Jefferson, Zoli Berenyi, Ryan Hughes, Pete DeGraaf, Kurt Nicoll, Travis Preston and Doug Dubach.
WORLD VET CHAMPIONSHIP TITLES: Any rider who wins his class on Sunday—regardless of the skill level can claim to be a World Vet Champion (with the caveat that they are the "Over-40 Novice Champion," etc). However. The true World Vet Champions, the ones that will be recognized for posterity, are the Over-30 Pro, Over-40 Pro, Over-50 Pro, Over-60 Experts and Over-70 class.
You can sign up at www.glenhelen.com or just show up on race day and enter. Pre-entries will be accepted up until November 2.
THE WAY WE WERE: BACK WHEN VAL WAS THE MOST FAMOUS TAMIETTI


Back in 1976 20-year-old Val Tamietti was the CMC number 1 rider. Today, he is the REM Glen Helen number 1 rider. Back then, his bride of three months, Debbi, was his "main wrench and support crew." Today, she is the "most famous Tamietti" having shot AMA Nationals, MXGPs, Motocross des Nations and her photos have been seen around the world. No matter, Val is still faster than Debbi, unless we are talking about F-stops.
THIS WEEK'S BIRTHDAY BOYS: ADAM, MALCOLM & THE DART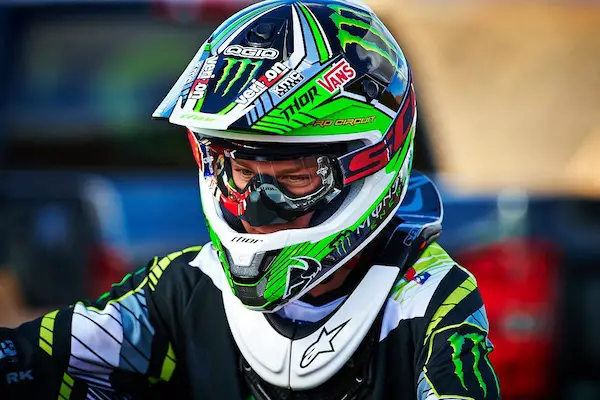 Oct. 20…Adam Cianciarulo 1996
Oct. 21…Terren O'Dell 1991
Oct. 21…Matiss Karro 1991

Oct. 22…Ashley Fiolek 1990
Oct. 22…Michael Brandes 1975
Oct. 24…Teddy Parks 1989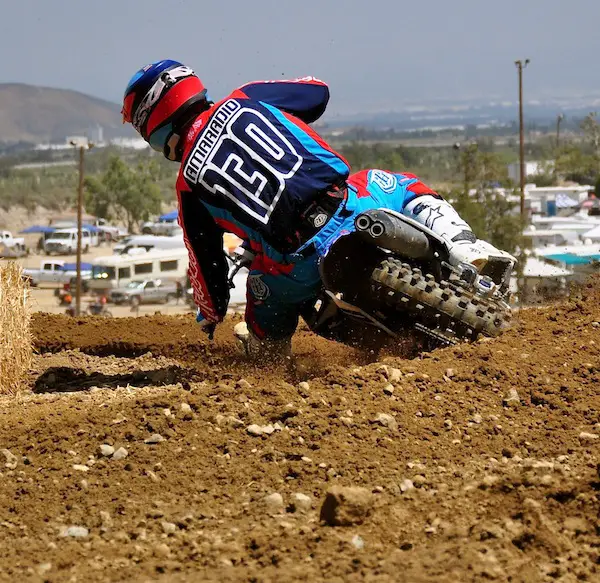 Oct. 25…Tony Amaradio 1973
Oct. 25…Mike Lafferty
Oct. 26…Garrett Marchbanks 2001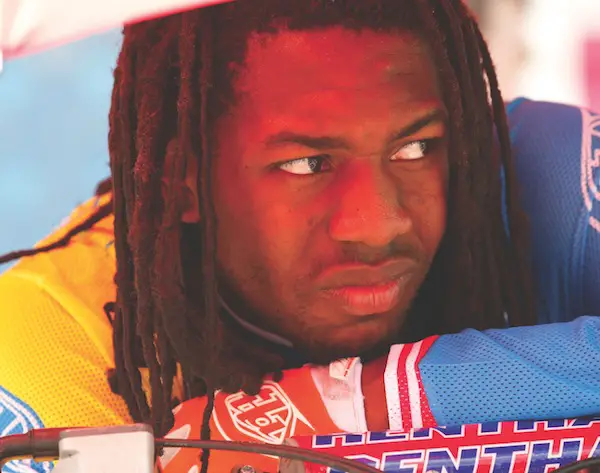 Oct. 27…Malcolm Stewart 1992
Oct. 27…Kenny Zahrt 1955
Oct. 27.. Jimmy Jarrett 
EVERY MONSTER CUP WINNER—ALL 8 OF THEM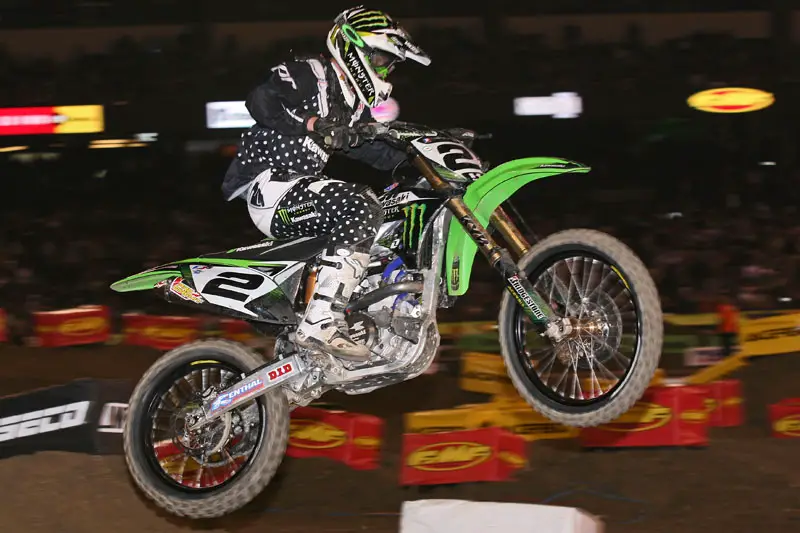 MONSTER CUP WINNERS
2011…Ryan Villopoto
2012…Justin Barcia
2013…James Stewart
2014…Davi Millsaps
2015…Ken Roczen
2016…Eli Tomac
2017…Marvin Musquin
2018…Eli Tomac
MXA PRODUCT SPOTLIGHT: "BUDDY THE MOTOCROSS BIKE" BOOK
"It's the big race, and Buddy the Motocross Bike is nervous to tread on the dirt for the very first time. Having to break away from what the other bikes may think of him, Buddy learns that the most important part about racing is to have fun!"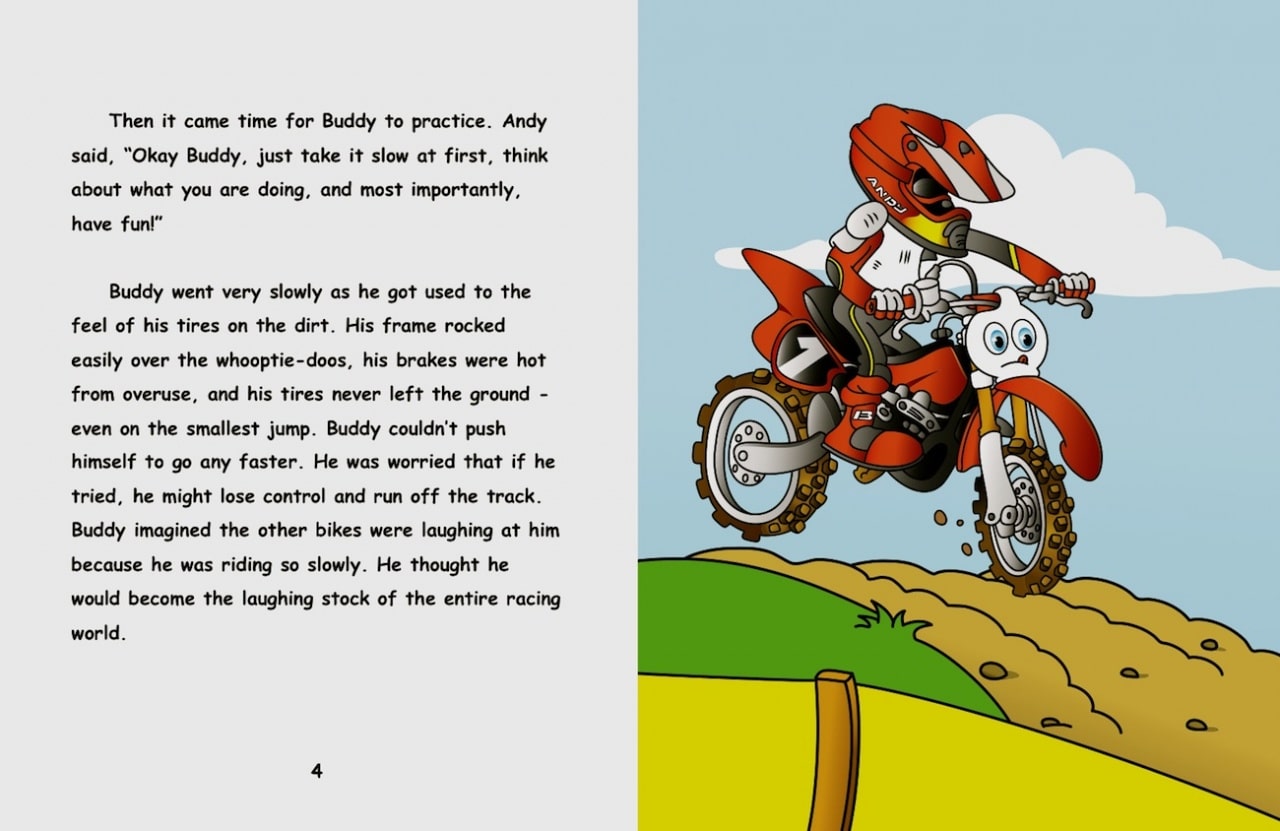 The Buddy the Motocross Bike books are a great way to give your young ones a chance to live the motocross life before they are old enough to ride themselves. The books are available on Amazon or at www.buddymx.com/the-adventures-of-buddy-books.
MXA AD OF THE WEEK: GET ON YOUR HOG & HEAD TO STURGIS THIS WEEK
When Harley-Davidson realized that Hodaka was selling 10,000 bikes a year, they jumped into the 100cc trail bike market in 1971 with an Italian-built Aermacchi dirt bike. Raced by Bruce Ogilvie, Terry Clark, Earl Roeseler, Larry Roeseler and Mitch Mayes it won a lot of desert races, but customers weren't buying what the Harley team was racing.
2019 FIM MXGP WORLD MOTOCROSS CHAMPIONSHIP SCHEDULE

Nothing is a temporary as a Grand Prix schedule. Below is the second 2019 GP schedule with the changes noted next tot he date..
2019 FIM MOTOCROSS WORLD CHAMPIONSHIP
Mar. 10……………………………TBA (was Argentina)
Mar. 24……………………………England
Mar. 31……………………………Holland
Apr. 7……………………………..Italy #1
Apr. 21……………………………Hong Kong (was Italy #1)
May 1……………………………..Shanghai
May 12……………………………Italy #2 (was Russia)
May 26……………………………France (was Latvia)
June 9…………………………….Russia
June 16…………………………..Latvia (was France)
June 23…………………………..Germany (was Italy #2)
July 7……………………………..Indonesia #1
July 14……………………………Indonesia #2
July 28……………………………Czech Republic
Aug. 4…………………………….Belgium
Aug. 18…………………………..Switzerland
Aug. 25…………………………..Sweden
Sept. 8……………………………Turkey
Sept. 22………………………….Italy #3 (was Portugal)
Sept. 29……………………….…MXDN, Holland
MXA TEAM TESTED: DUBYA CERAKOTE SERVICE AND CERAKOTED WHEELS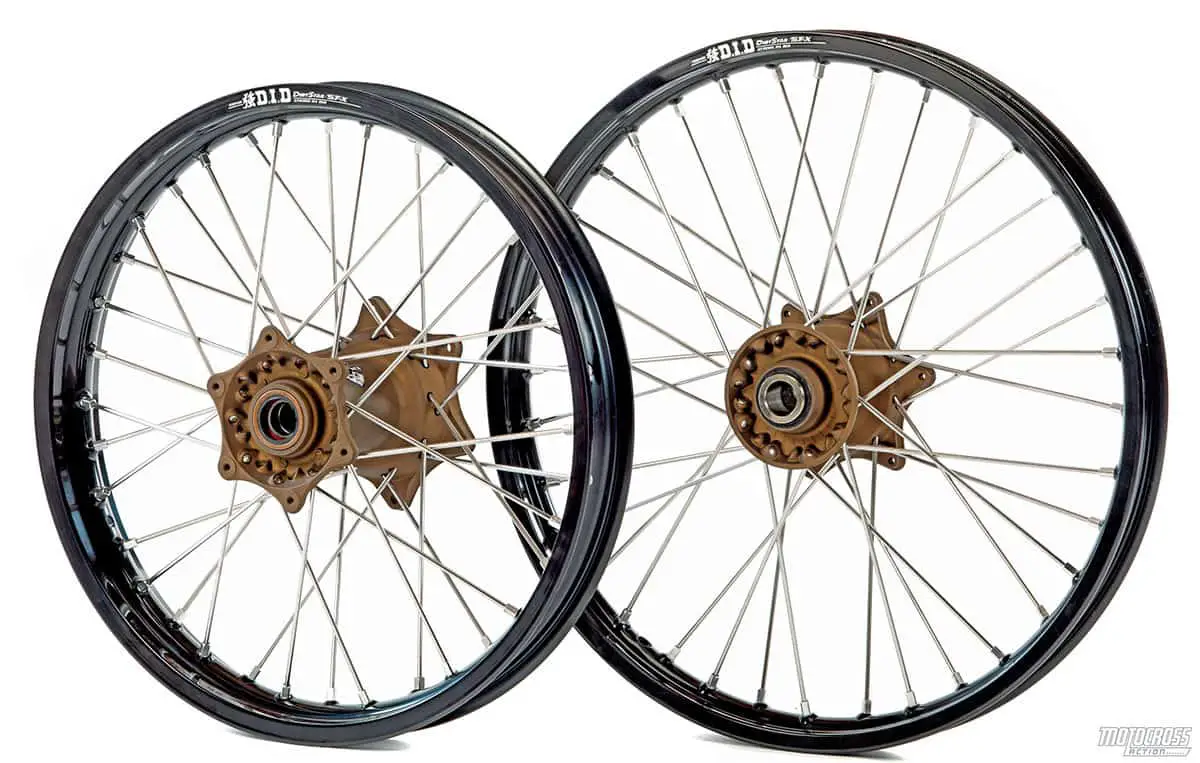 Cerakote is a way to make your bike's hubs stand out from the crowd via a durable, corrosion-resistant coating that comes in four colors. Dubya USA can Cerakote your bike's hubs to suit your particular tastes or needs. Cerakote offers some of the visual effects of anodizing without the .002 build-up of material.
What is Cerakote? Cerakote is a polymer-ceramic composite coating that can be applied to metals, plastics, polymers and wood. The coating enhances abrasion resistance, corrosion resistance, chemical resistance, impact strength and hardness. It is a spray-on compound that is applied in a sterile environment and baked in an oven between 250 and 300 degrees. There are two types of Cerakoting—H-grade and C-grade. Dubya uses H-grade, which is the most popular coating for firearms, knives, and other such items that require hardness and corrosion resistance. C-grade is generally used for high-heat applications. Cerakote creates a thinner layer than anodizing or powdercoating, which means that it doesn't change the tolerances of the bearing pockets; however, Dubya bead-blasts the hubs, removes the bearings and seals, and tapes off the hub's interior surfaces before applying the Cerakote. Additionally, unlike anodizing, which produces mixed results on cast aluminum compared to billet aluminum, Cerakote delivers a clean finish on cast hubs. It should be noted that Cerakote doesn't have the bright-dip look of shiny anodizing. The colors are more muted.
Dubya can take your stock hubs and Cerakote them in magnesium, white, charcoal, titanium or desert sand colors. There are actually 90 different Cerakote color options, but Dubya specializes in the four that most racers request. Dubya USA offers Takasago Excel rims in black, silver, blue, yellow and gold, or D.I.D rims in black or silver. The MXA wrecking crew selected D.I.D ST-X rims in black. This is D.I.D's strongest rim. Dubya can build up your wheels in whatever combination of spokes, rims and nipples you choose. The Cerakoting is a service that is applied to your stock or aftermarket hubs to change their color.
DIGITS: $200.00 (Cerakote two hubs), $428.00 (two D.I.D. ST-X rims), $99.00/$95.00 (silver Bulldog spokes with spline drive or OEM aluminum nipples), $80.00 (lacing and truing).— www.dubyausa.com or (714) 279-0200.
MXA RATING: Cerakoting your front and rear hubs is several hundred dollars cheaper than buying Talon or Kite hubs, but when you are done getting your hubs coated, rimmed, laced and spoked, what you have in the end is a fancy stock hub.
MXA RACE POSTER UPDATE: WHAT'S ON DECK IN MX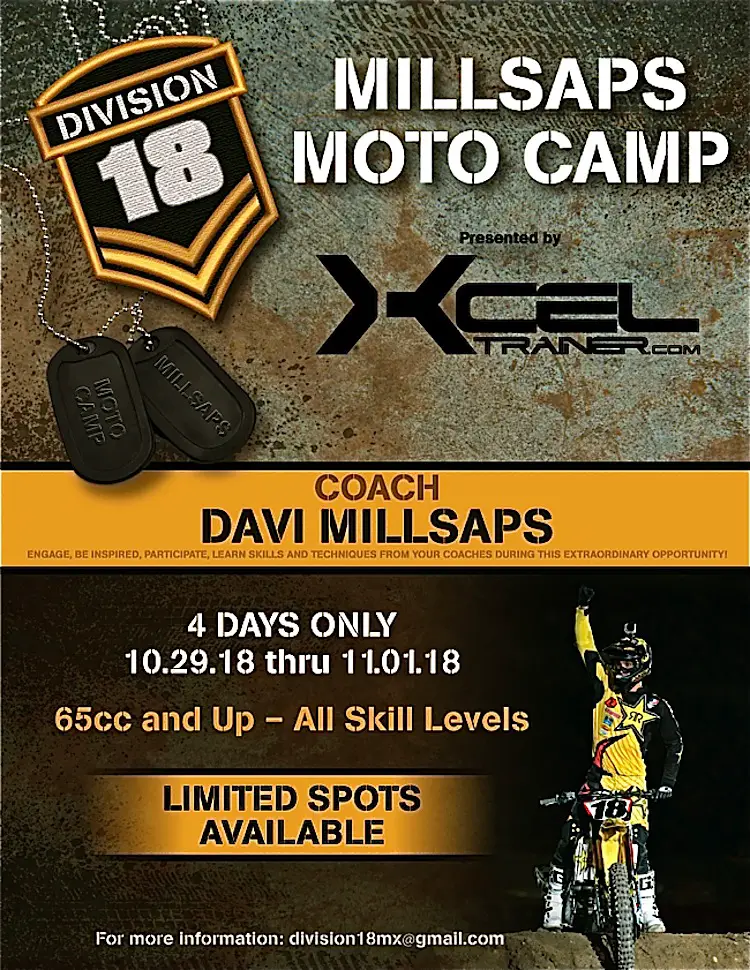 DAVI MILLSAPS "DIVISION 18" MOTO CAMP: OCT. 29 – NOV. 1
It will be held in Ft. Pierce, Florida, at the Xcel training compound. For more info email to [email protected]
REM OCTOBERCROSS (FORMERLY THE COMMOTION-BY-THE-OCEAN) ON OCT. 27
For more info go to www.remsatmx.com

2018 JAPAN SUPERCROSS ON NOVEMBER 3
Dylan Ferrandis, Malcolm Stewart, Aaron Plessinger, Justin Brayton, Christian Craig, Jimmy Decotis and Weston Peick have signed on so far. For more info go to www.japansupercross.com
2018 DUBYA WORLD VETERAN MOTOCROSS CHAMPIONSHIP ON NOV. 3-4 AT GLEN HELEN
For more information go to www.worldvetmx.com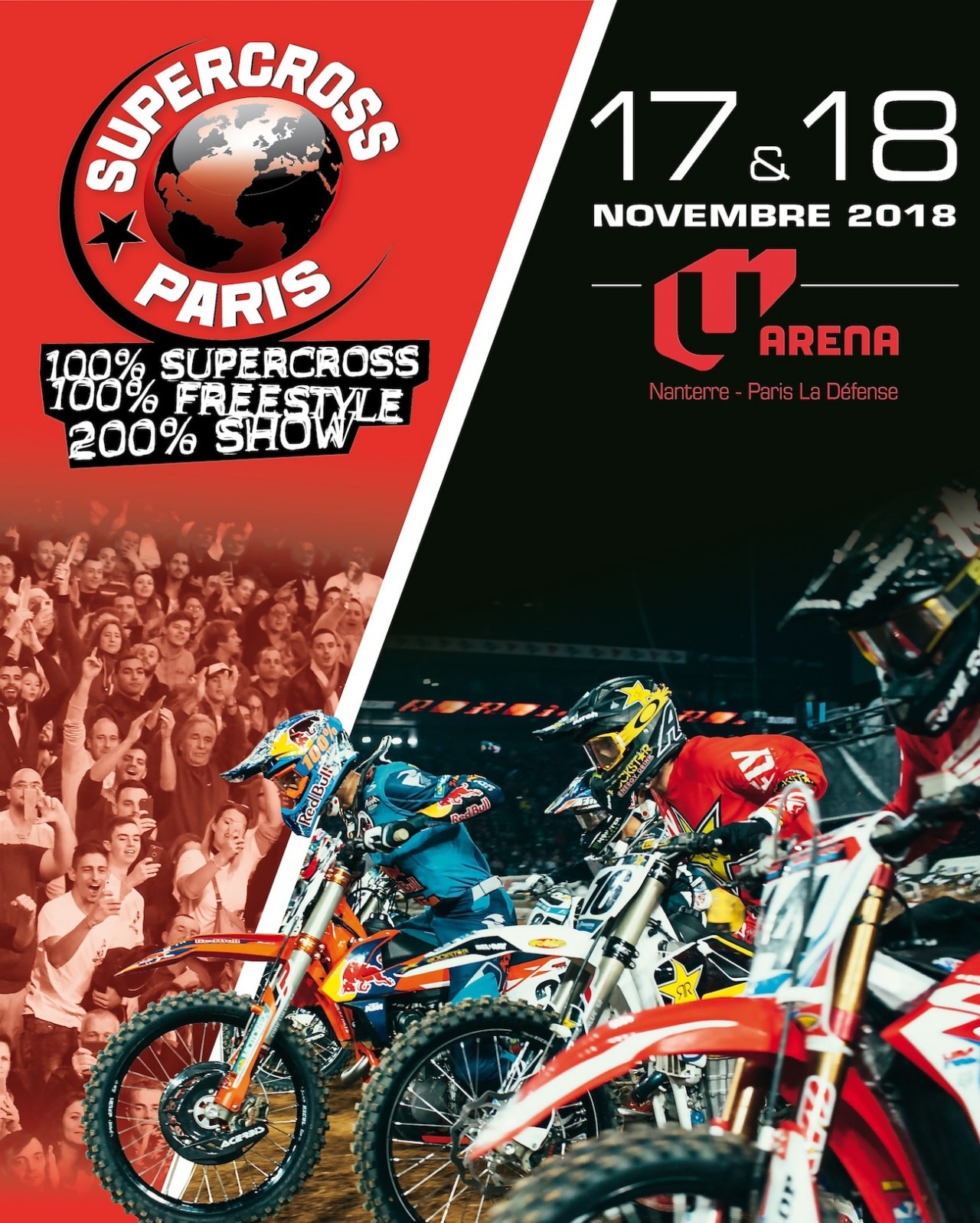 2018 PARIS SUPERCROSS ON NOVEMBER 17-18
For more info, brush up on your high school French and then go to www.supercrossparis.com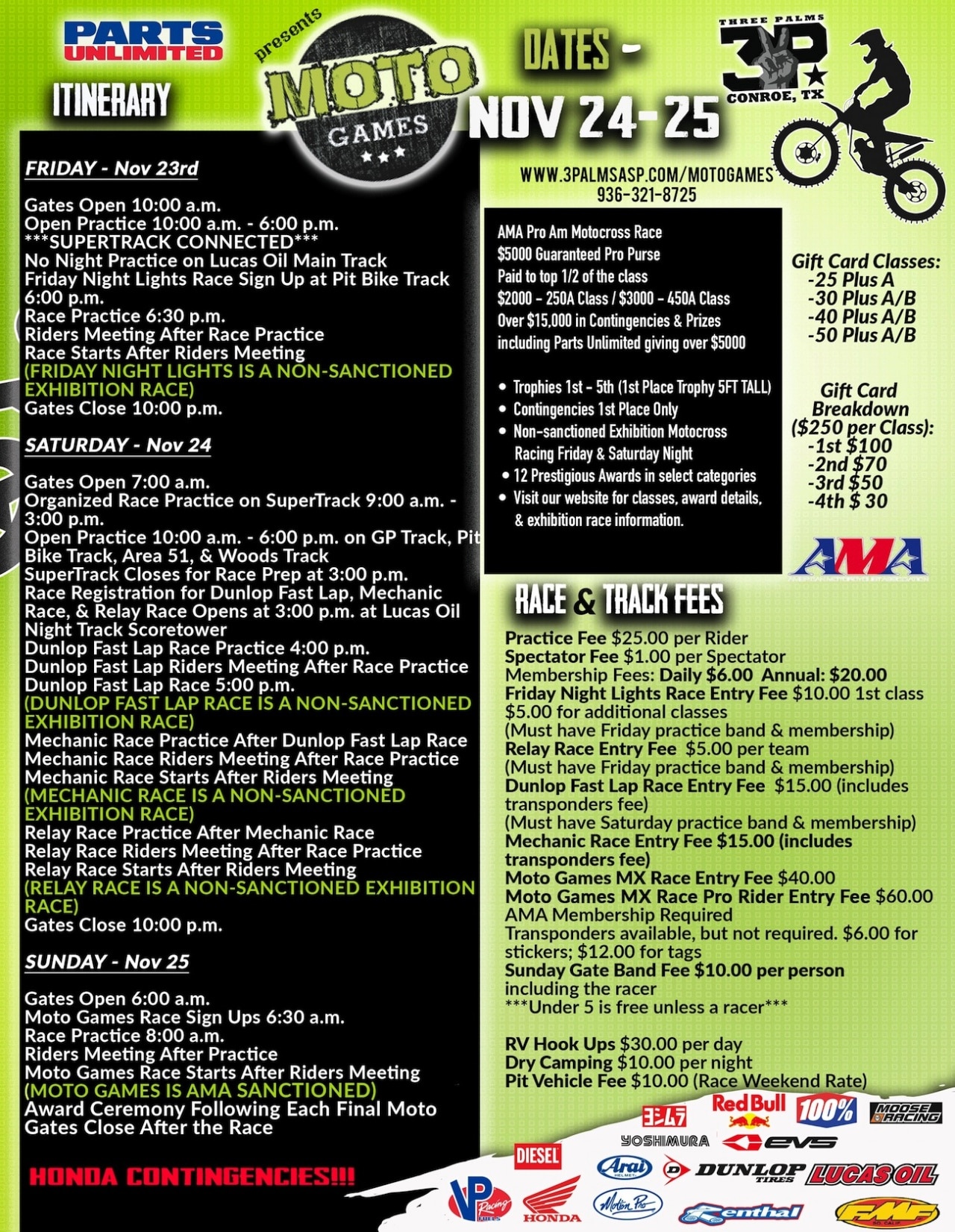 THREE PALMS "MOTO GAMES" ON NOV. 24-25
For more information (although they seemed to have squeezed everything short of "War and Peace" into their poster) go to www.3palmsasp.com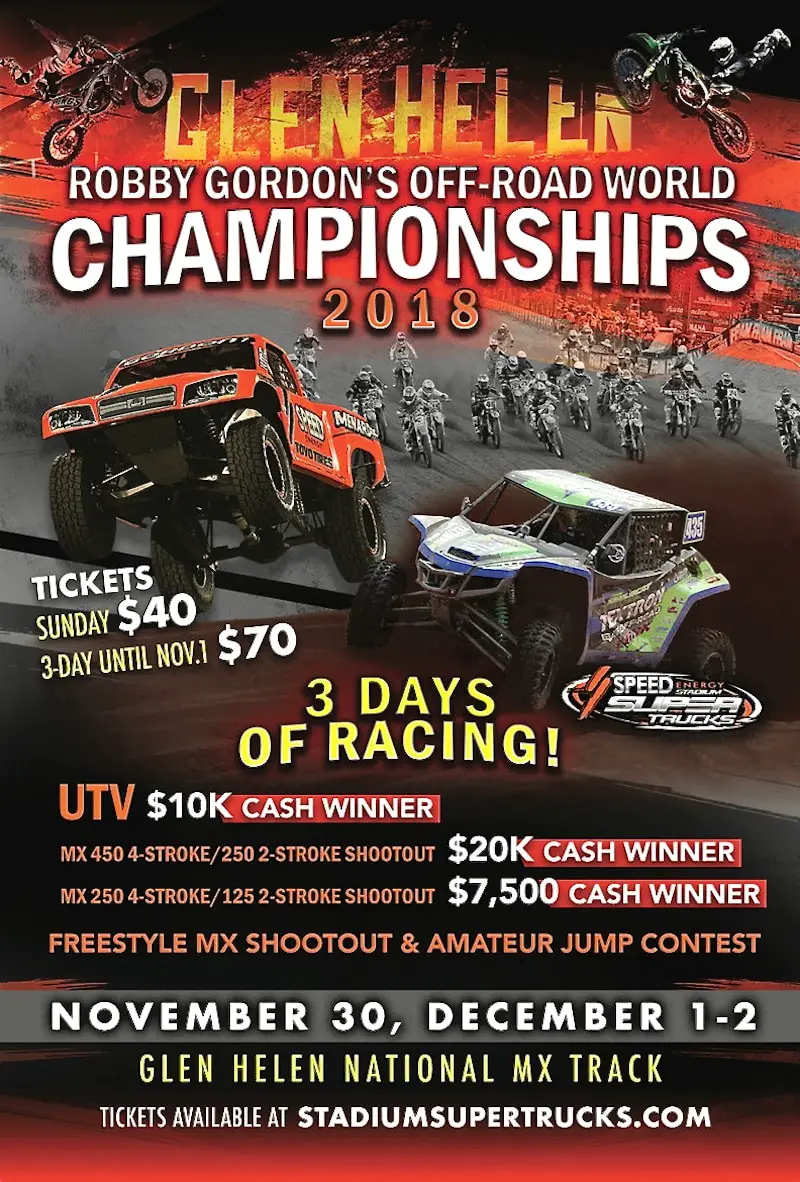 2018 ROBBIE GORDON OFFROAD WORLD CHAMPIONSHIPS ON NOV. 30—DEC. 1
$20,000 to the winner of the 450 class and $7500 to the winner of the 250 class. For more info go to www.stadiumsupertrucks.com
MXA COVER OF THE WEEK: WHEN JEREMY McGRATH WAS AN MXA TEST RIDER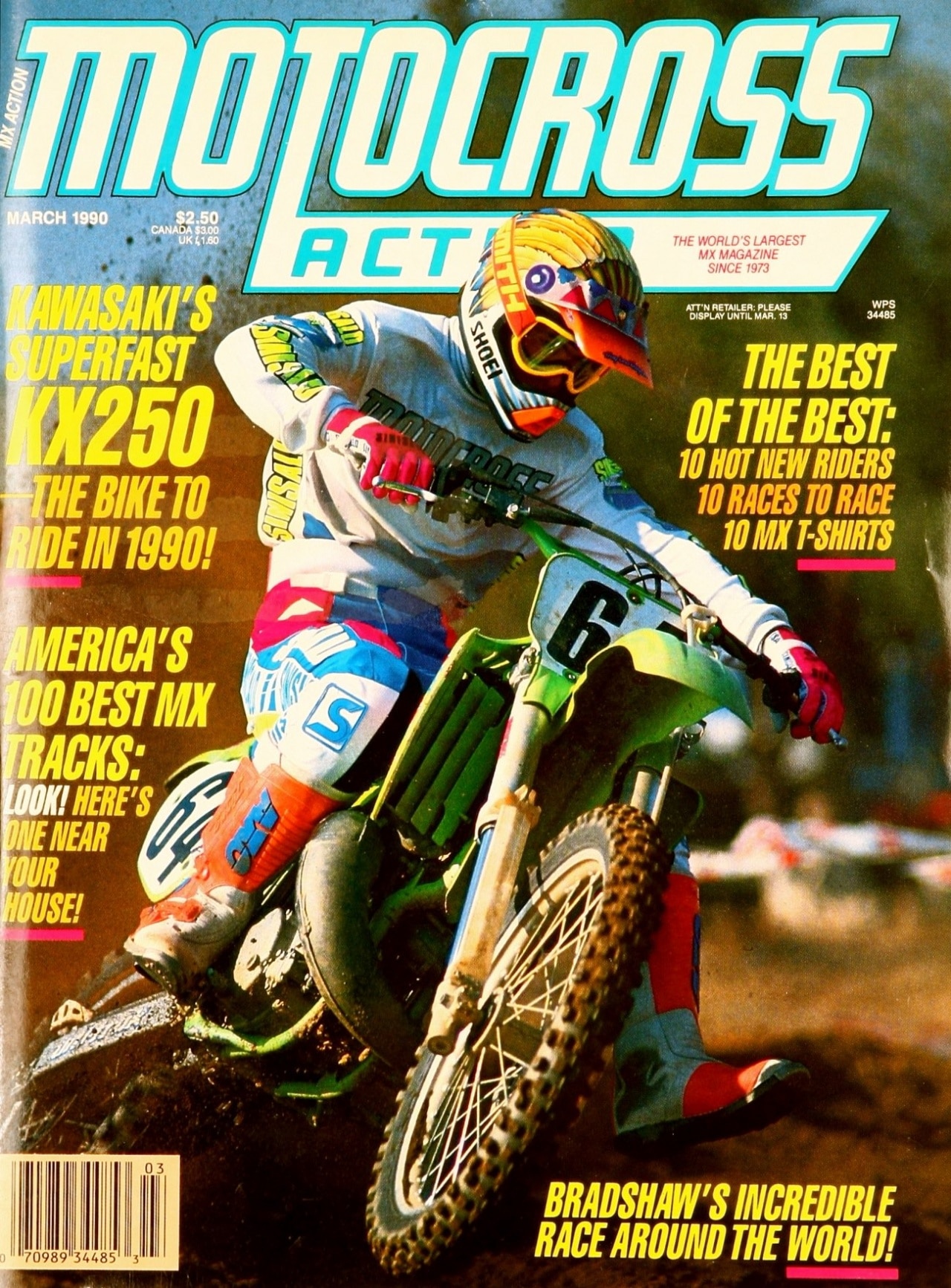 That's 7-time AMA Supercross Champion Jeremy McGrath wearing MXA's famous Indian Headdress helmet when testing the 1990 Kawasaki KX250 on the March 1990 issue.
2019 MOTOCROSS ACTION 450 SHOOTOUT VIDEO
2019 RACE SCHEDULE: FOR THOSE WHO CAN'T WAIT UNTIL JANUARY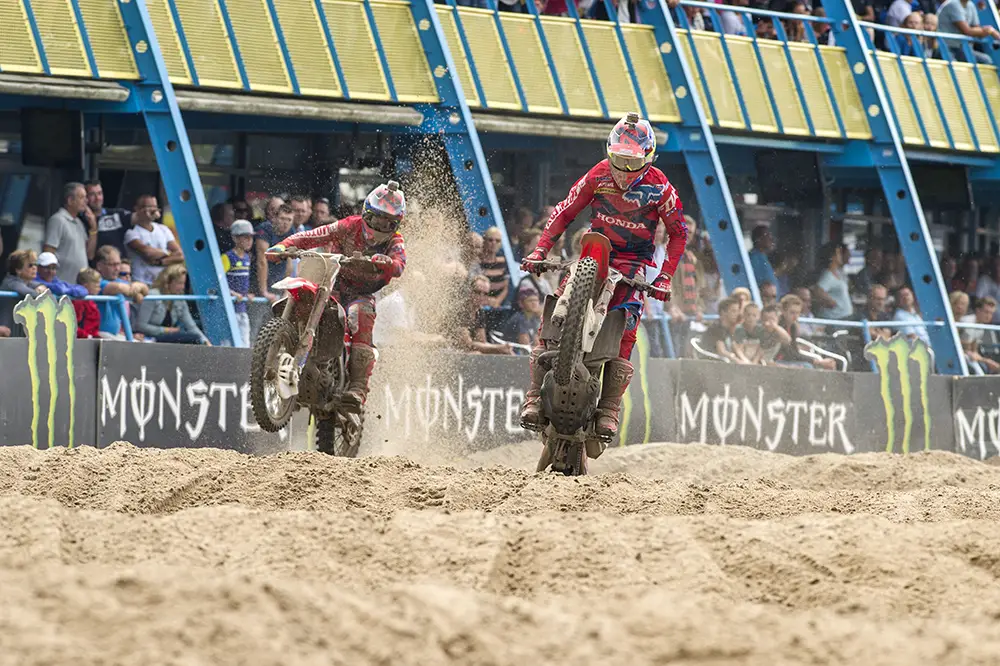 The 2019 Motocross des Nations will be held at the Assen road race circuit in Holland. It is a man-made sand track built especially for Jeffrey Herlings.
2019 AMA SUPERCROSS SERIES
Jan. 5…………………………….Anaheim, CA
Jan. 12………………………….Glendale, AZ
Jan. 19………………………….Anaheim, CA
Jan. 26………………………….Oakland, CA
Feb. 2……………………………San Diego, CA
Feb. 9…………………………..Minneapolis, MN
Feb. 16………………………….Arlington, TX
Feb. 23………………………….Detroit, MI
Mar. 2……………………………Atlanta, GA
Mar. 9……………………………Daytona Beach, FL
Mar. 16………………………….Indianapolis, IN
Mar. 23………………………….Seattle, WA
Mar. 30………………………….Houston, TX
Apr. 6……………………………Nashville, TN
Apr. 13………………………….Denver, CO
Apr. 27………………………….East Rutherford, NJ
May 4……………………………Las Vegas, NV
2019 AMA NATIONAL CHAMPIONSHIP
May 18……………………Hangtown, CA
May 25.…………………..Glen Helen, CA
June 1..………………….Thunder Valley, CO
June 15..…………………Mt. Morris, PA
June 22.………………….Jacksonville. FL
June 29..…………………Southwick, MA
July 6.…………………….Red Bud, MI​
July 20.…………………..Millville, MN​
July 27.…………………..Washougal, WA
Aug. 10..………………….Unadilla, NY​
Aug. 17..………………….​Budds Creek, MD
Aug. 24.…………………..Crawfordsville, IN
2019 FIM MOTOCROSS WORLD CHAMPIONSHIP
Feb. 28……………………………TBA
Mar. 10……………………………Argentina
Mar. 24……………………………England
Mar. 31……………………………Holland
Apr. 21……………………………Italy #1
Apr. 21……………………………Hong Kong
May 1……………………………..China
May 12……………………………Russia
May 26……………………………Latvia
June 2…………………………….Germany
June 16…………………………..France
June 23…………………………..Italy #2
July 7……………………………..Indonesia #1
July 14……………………………Indonesia #2
July 28……………………………Czech Republic
Aug. 4…………………………….Belgium
Aug. 18…………………………..Switzerland
Sept. 1……………………………TurkeyBulgaria
Sept. 15………………………….Portugal
Sept. 22………………………….Italy #3
2019 MOTOCROSS DES NATIONS
Sept. 29………………………….Assen, Holland 
SUBSCRIBE TO MXA & GET A $25 CHAPARRAL GIFT CARD—YOU MAKE A PROFIT BY READING MXA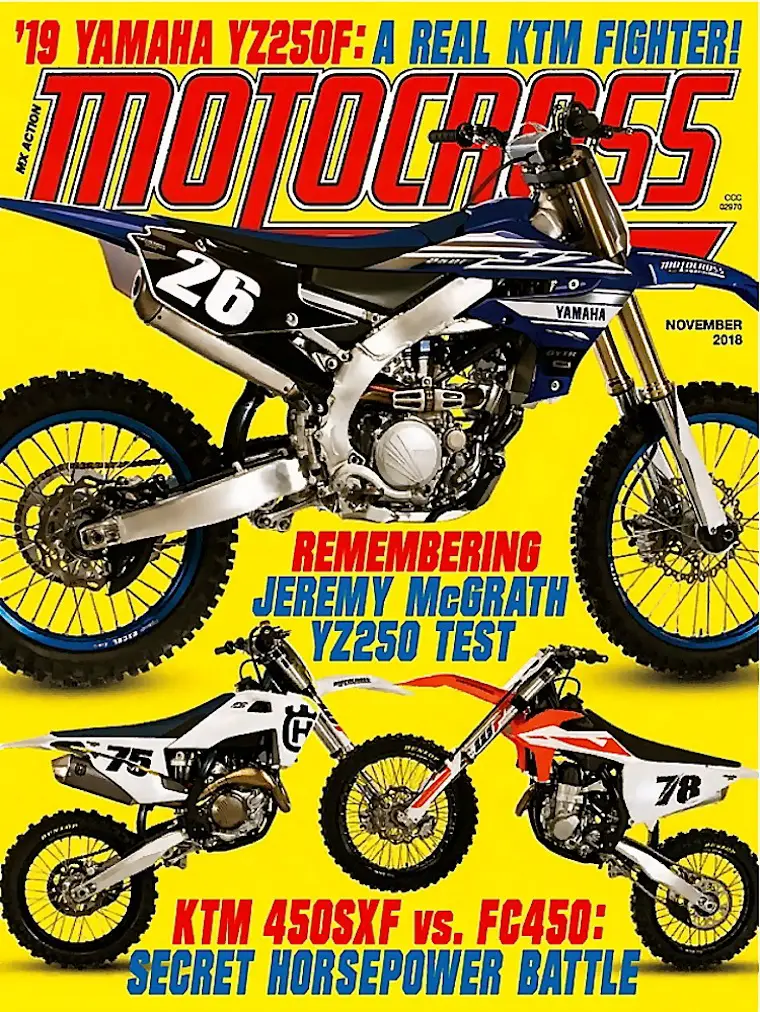 If you had subscribed to Motocross Action, the November 2018 issue of MXA would be in your mailbox, computer or iPhone already. It has tests of the  2019 KTM 450SXF, 2019 Husqvarna FC450, 2019 Yamaha YZ250F, Retro-Test of Jeremy McGrath's 1999 Yamaha YZ250 and a special ClubMX KTM 150SX. Plus, a Ken Roczen interview where he tells the world that he will give up his German citizenship and become an American. All that and everything that you ever wanted to know about moto.

Do you subscribe to MXA? You should. We know that you think that print magazines are dead and that the internet will fill the void, but most of the stuff in the current issue of MXA won't appear on the web for several months, if at all. Luckily, you can get all of MXA on your iPhone, iPad, Kindle or Android by going to the Apple Store, Amazon or Google Play or in a digital version. Even better you can subscribe to Motocross Action and get a $25 Chaparral gift card to spend on whatever motorcycle parts or products you need. You can call (800) 767-0345 or www.hi-torque.com/product/motocross-action or click on the box at the bottom of this page.
JOIN MXA'S FLIPBOARD PAGE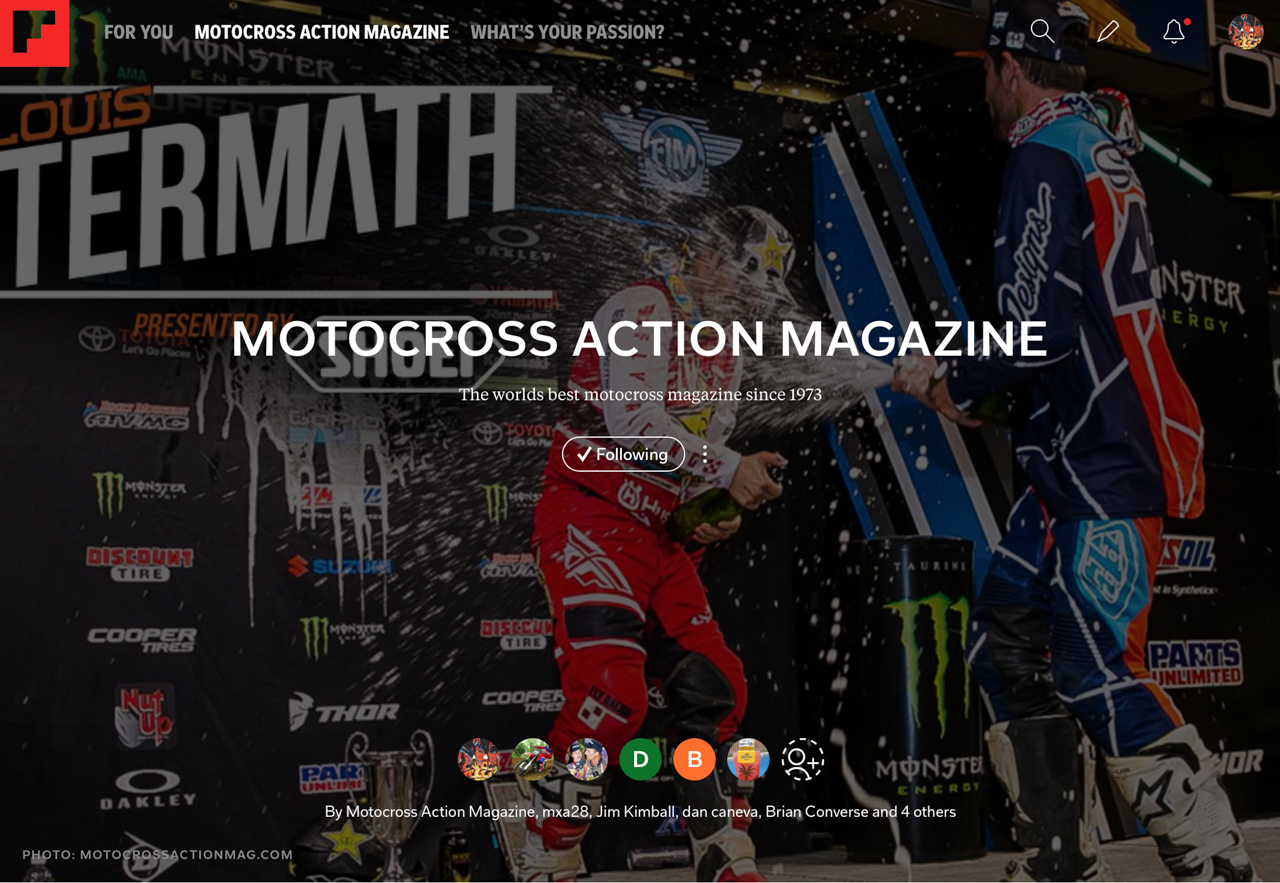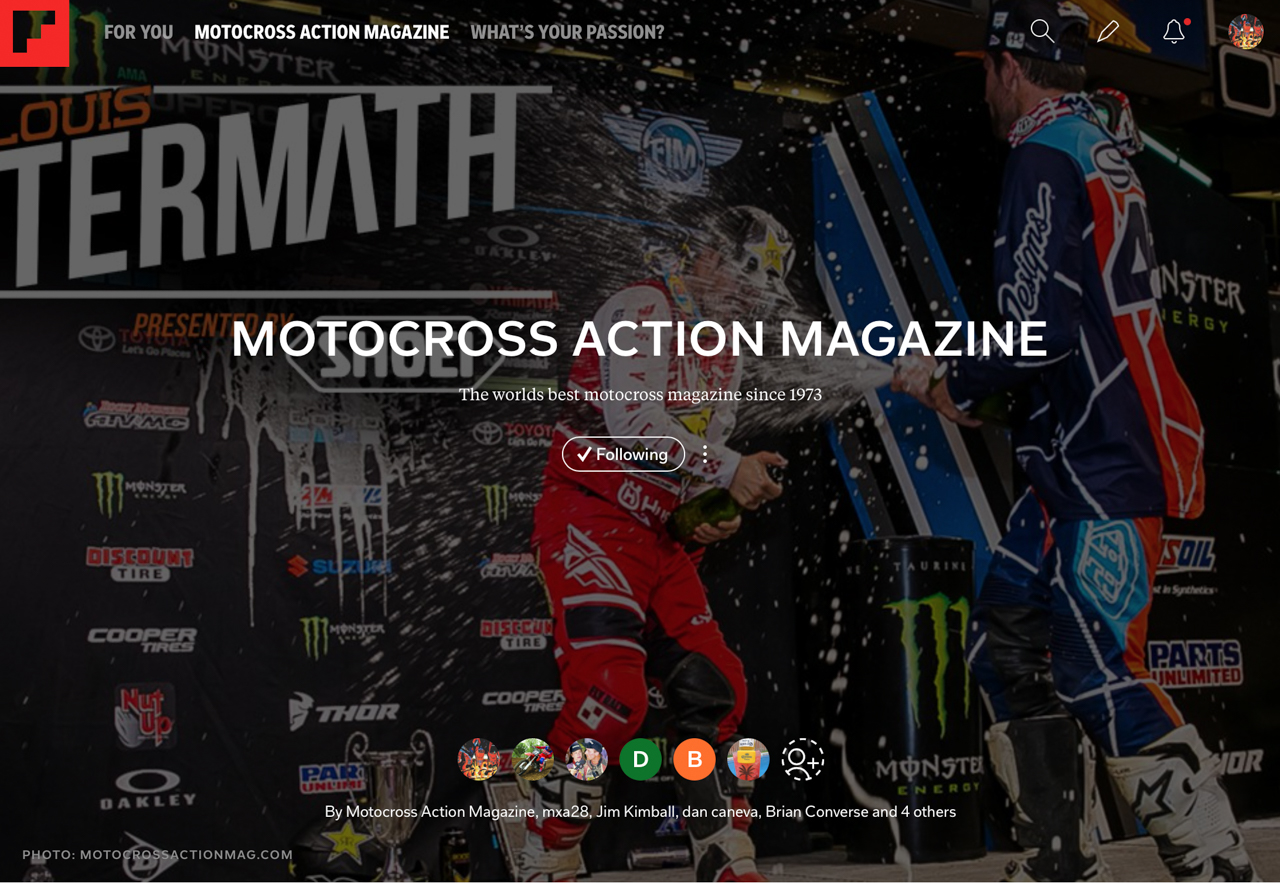 If you use Flipboard make sure to subscribe to the Motocross Action page for all the updates on our website. Click HERE to check out the page.
TALK MOTO WITH ON MXA'S FACEBOOK GROUP CHAT


We love everything moto and want to bring all moto junkies together into one place to share their two cents, ideas, photos, bike fixes, bike problems and much more. To check it out first you must need to or already have a Facebook account. If you don't, it isn't much work and you could even have an alias so nobody knows it is you. To join click HERE. After you request to join we will accept your request shortly after.
MXA'S SNAP CHAT FEED
If you are a Snap Chat user then add us to your stories. Get sneak peaks of everything moto. Our Snap Chat name is motocrossaction. Or just take a Snap of the picture above and it will add MXA automatically to your feed.
FOLLOW MXA ON TWITTER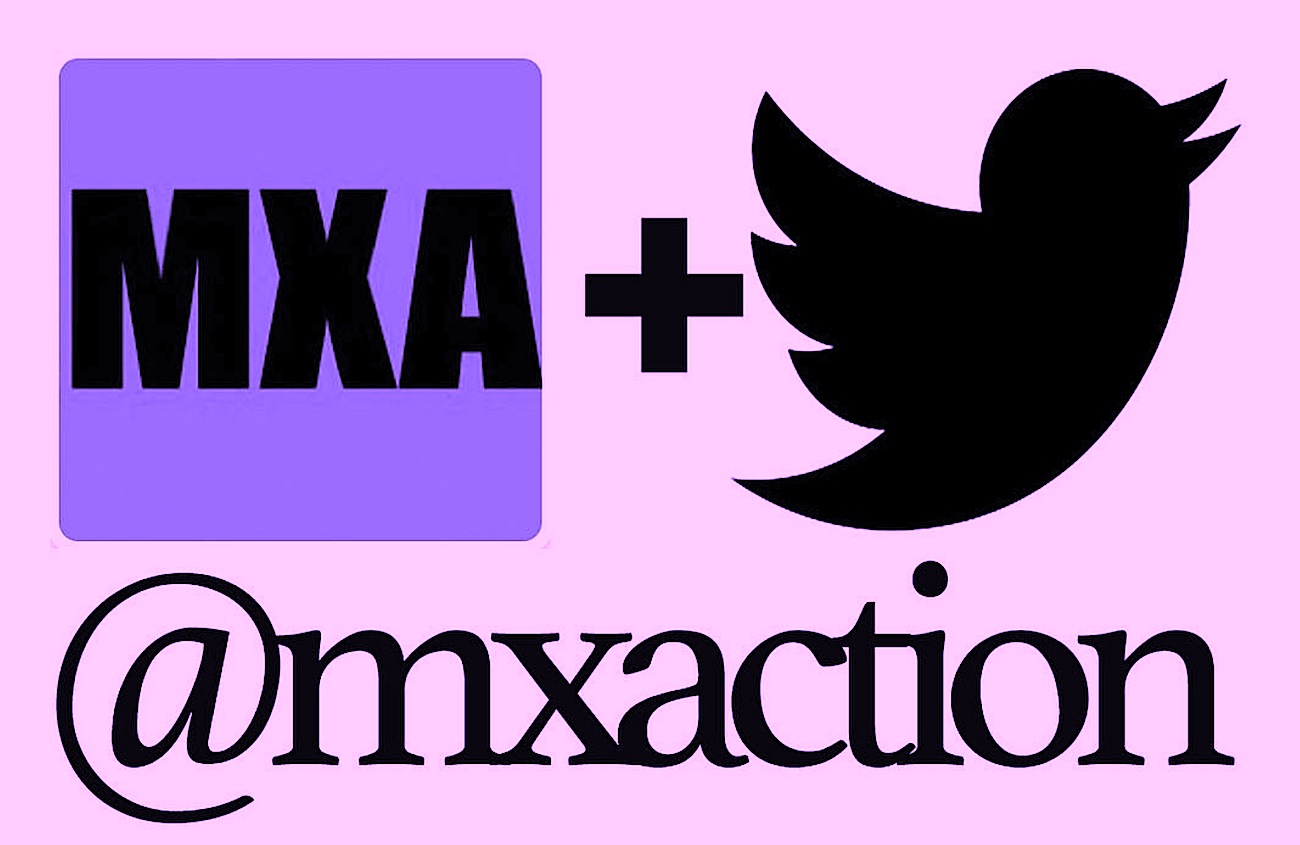 Follow us to see fresh content every day at www.twitter.com/MXAction or on twitter at "MXAction."
SAVE THE DATE! THE LAST RACES OF THE 2018 MOTOCROSS SEASON

2018 RED BULL STRAIGHT RHYTHM
Oct. 20…………………….Pomona, CA
2018 REM OCTOBERCROSS
Oct. 27………………………..Glen Helen, CA
2018 DUBYA WORLD VET CHAMPIONSHIP
Nov. 3-4…………………..Glen Helen, CA
2018 PARIS SUPERCROSS
Nov. 17-18…………………….Paris, France
2018 THOR MINI OLYMPICS
Nov. 19-24…………..…….Gainesville, FL
2018 DAY IN THE DIRT
Nov. 24-26…………………….Glen Helen, CA
2018 ROBBY GORDON OFF-ROAD CHAMPIONSHIP
Dec.1-2………………………..Glen Helen, CA
2018 REM GLEN HELEN CHAMPIONSHIP
Oct. 27……………………Glen Helen, CA (National track)
Nov. 17……………………Glen Helen, CA
Dec. 15……………………Glen Helen, CA
Dec. 22……………………Glen Helen, CA
Dec. 29…………..…….…Glen Helen, CA
2018 WORLD OFFROAD CHAMPIONSHIP (WORCS)
Oct. 19-21………………….…Adelanto, CA
Nov. 9-11………………….…..Primm, NV
2018 OLD SCHOOL SCRAMBLES CHAMPIONSHIP
Dec. 9………………………..Glen Helen, CA
2018 ENDUROCROSS CHAMPIONSHIP
Oct. 20…………………………..Denver, CO
Oct. 27…………………………..Everett, WA
Nov. 3……………………………Boise, ID
Photos: Debbi Tamietti, Jon Ortner. Brian Converse, Jody Weisel, Travis Fant, Daryl Ecklund, MXA, MXGP