MXA'S WEEKEND NEWS ROUND-UP: YOU DON'T KNOW WHAT YOU WANT UNTIL YOU SEE
MXA PRODUCT SPOTLIGHT: ALL-NEW NEXT GENERATION STI TECH 2 TUBES
STI has launched its its next-generation Tech 2 off-road motorcycle tube line. Made from high-quality butyl rubber, the new tubes are more flexible which means less abrasion so the tubes run cooler and last longer. The tubes feature reinforced valve stem construction, and improved extrusion controls provide consistent material thickness.
Best of all, the Tech 2 tube line comes in three thickness options. The Heavy-Duty STI tube is twice as thick as standard and original-equipment tubes at 2mm thick. The Extreme-Duty tube is 30-percent thicker than most heavy-duty inner tubes at 3mm thick. The Ultra-Duty tubes are designed for the most severe riding conditions, like a loaded adventure bike or long distance rally bike. With 19 different tube sizes available, the Next Generation of Tech 2 tubes will appeal to a wide range of off-road and MX enthusiasts. The new tubes deliver higher-quality features and unbeatable value. The suggested retail prices range from $6.95 to $31.95. For example, a 80-100/21 Heavy-Duty front STI tube is only $12.95, while a 110-90/19 Heavy-Duty rear turbe is $16.95 See you local dealer (he can get them from Parts Unlimited) to find out more.
WELLS FARGO TO SPONSOR THE KTM JUNIOR SUPERCROSS SERIES ON ELECTRIC SX E5 PEE-WEE'S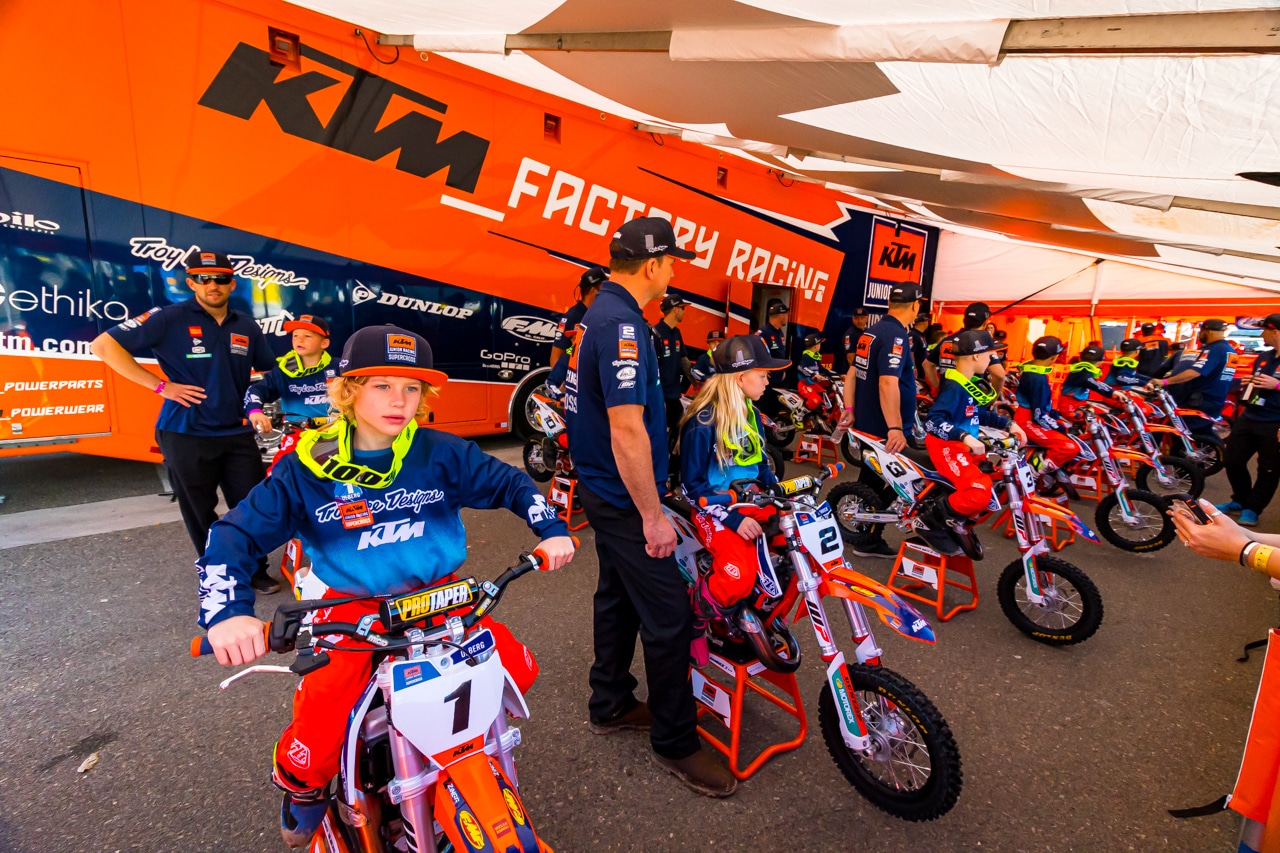 KTM's Junior Supercross program is good for the sport and good for Supercross, so it's hard to believe that Feld makes KTM pay hundreds of thousands of dollars to hold the half-time show. Feld should be paying KTM.
KTM's popular Supercross Pee-Wee half-time show will be sponsored by Wells Fargo when the AMA Supercross Championship begin on January 16 in Houston. The big news is that instead of being on KTM 50SX two-stroke, the riders will be on KTM's all-new electric Pee-Wee – the SX E-5.
The 2021 KTM SX E-5 electric Pee-Wee will be the bike of choice in the 2021 Junior Supercross series.
KTM's Junior Supercross series is in its 22nd year and has showcased over 3000 young riders in stadiums across the country. For the riders it is a thrill to be racing on the same track and in front of the same crowd as their factory heroes.KTM North America CEO John Hinz said, "The KTM Junior Racing program is a unique opportunity for young racers to enjoy the excitement of Supercross as a fun and rewarding experience with their families. We are proud to celebrate 20 years of valued relationship with Wells Fargo and we look forward to their continued support in helping to develop the next generation of riders with our brandnew SX E-5 electric minicycle."
BUILDBASE HONDA REFORMS AS THE CRENDON FASTRACK TEAM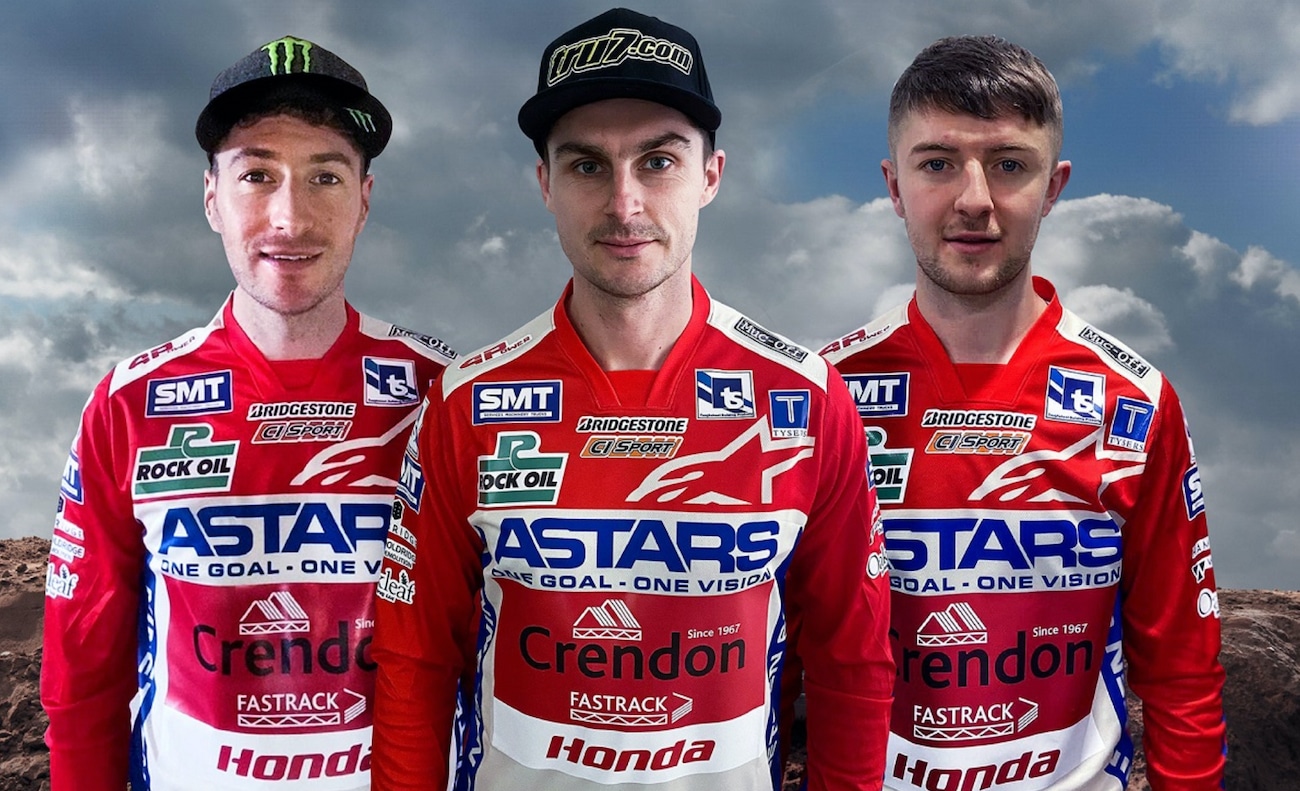 When Britain's most powerful team, Buildbase Honda, lost their sponsor, Tommy Searle, Jake Nicholls and Jay Hague thought they'd have to find new rides. Instead, Dave Thorpe found a new sponsor and kept the old gang together.
Much like the Geico Honda and JGR Suzuki teams in the USA, the powerful Buildbase Honda team in England also lost their major sponsor at the end of the 2020 season when home construction company Buildbase pulled out of racing. The Dave Thorpe-run team was in trouble, but they are back in British Motocross Championship action thanks to a brand-new title sponsor. They will now be called the "Crendon Fastrack Honda" team. Crendon is a British-based lumber company that provides roofing and flooring solutions across England and Wales. The Crendon Fastrack team will consist of British champion Tommy Searle, Jake Nicholls and Jay Hague.
Tommy Searle, won the 2020 British MX National Championship for Buildbase, and 2021 will be his fourth year on the team. Jake Nicholls is another high-caliber rider with both British Championship and MXGP experience. The two will be joined by former British youth champion Jay Hague, another Buildbase Honda alumni who will be competing the 250 class.
Dave Thorpe was a three-time 500 World Motocross Champion.
Three-time 500 World Motocross Champion Dave Thorpe, "Our goal is to be the dominant team in British championship racing and we have everything in place to achieve that. After personally testing the brand-new Honda CRF450, I know we have the best machinery. And with Tommy Searle and Jake Nicholls, we have not only the fastest but also two of the most experienced and professional riders in the 450 class. And with Jay Hague in the 250 class, it's a real opportunity for him to really shine. It's great to have the full backing of Crendon. And of course we still have backing from many of our long-time partners who make it possible for the team to operate at such a high level."
MXA FIRST RIDE VIDEO: 2021 YAMAHA YZF50F VS 2021 KAWASAKI KX450 SHOOTOUT
MXA AD OF THE WEEK: 1982 HONDA CR480
The 1982 Honda CR480 got Honda back on the proper track after the disaster of the 1981 CRF450. The four-speed, 472cc, air-fooled, reed valved, two-stroke was a joy to ride.

MXA FIRST RIDE VIDEO: 2021 YAMAHA YZ250F
MXA "MAIL ENTRIES"—READERS WRITE & WE RESPOND
Willy Bauer was a Maico and Suzuki factory rider.
THE REAL CHAMP ARGUMENT
Dear MXA,
All these years, no one has talked about the story behind the 1973 500 World Championship and how Roger DeCoster got his third title. I think that 47 years later, it is time to remember the great Willi Bauer and tell how he won seven GPs and lost the title to Roger DeCoster in the FIM jury room after the season was finished. Willi Bauer dominated DeCoster in 1973.
What Ralf is talking about is that in the 1973 500 Grand Prix season the riders originally, it was thought that there were only 18 motos in the season, and Bauer led DeCoster by four points if they only counted 18 motos; however, at the end of the series, the FIM jury met and elected to count the Sittendorf Grand Prix in Austria, making the series a total of 20 motos. The confusion over the Sittendorf GP was that it had snowed that weekend, and the riders didn't want to race. But, since it was a live television event, the promoters decided to hold the race anyway but not pay GP points. Neither Bauer nor DeCoster elected to race, because without points it didn't matter to them. So, it was assumed that since neither Bauer nor DeCoster raced or earned any points in Sittendorf that its two motos wouldn't be added to their other 18 motos. The FIM Congress voted a month after the series ended that Sittendorf was still an official GP and that it had to be counted. It was won by Jiri Stodulka. This raised the number of motos to 20 instead of 18. When the riders were allowed to drop their worst scores, DeCoster's consistency and Bauer's DNFs meant that the two extra motos swung the Championship back to DeCoster by two points.
Whether or not Bauer dominated DeCoster in 1973 is a matter of opinion. Bauer did win seven GP motos, but when he wasn't winning, he wasn't scoring very many points. Bauer only had one second-place moto, one third-place moto and two fourth-place motos. Roger won five GP motos in 1973 and finished second five times, third once and fourth twice. And in truth, Bauer lost the World Championship at the final Grand Prix in Holland when he DNF'd both motos and DeCoster earned 16 points.
Five years later at the 1978 British Grand Prix in Kilmartin, Scotland, Bauer crashed in practice and suffered a spinal-cord injury that left him paralyzed.
WEIGHT FOR IT
Weight is not the most important issues when jumping, except for how heavy you are on the throttle.
Dear MXA,
I have a question about weight, speed and distance. My son thinks that because I am 40 pounds heavier than he is that I have an advantage when it comes to jumping farther. Since I know you guys know everything about everything, I figured you would have an opinion.
Take your son out to the backyard and have him throw a 10-pound rock as far as possible. Then, have him throw a 5-pound rock as far as possible. The answer will be plainly demonstrated.
THE WORLD IS FULL OF THIEVES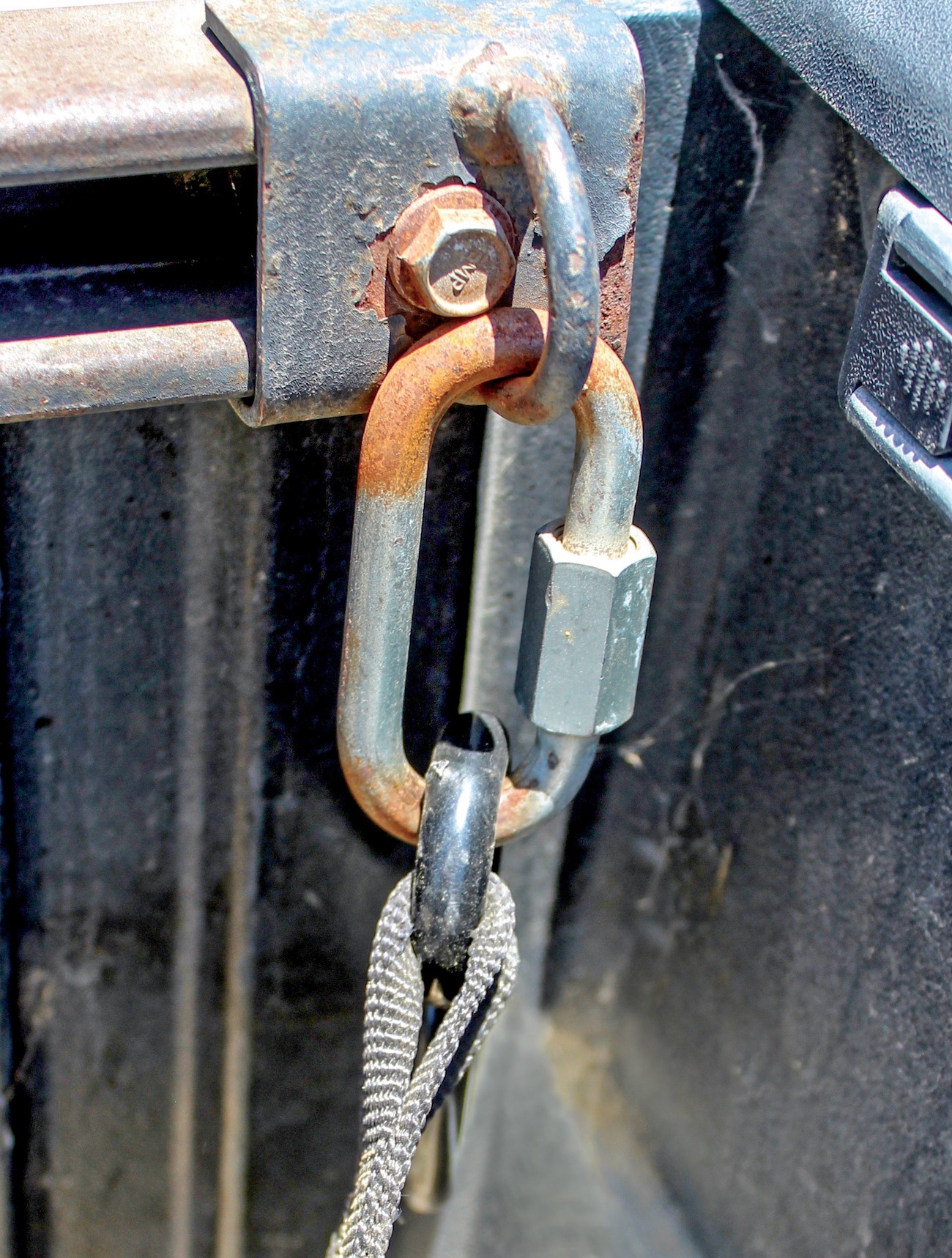 Hook the Quick Links to the permanent hooks in your truck bed and then through the closed loop on your tie-downs. It will deter causal thieves and slow down determined ones.
Dear MXperts,
I always leave my tie-downs in the bed of my truck and have for years. Last weekend, I took my wife to the grocery store, and when we came out someone had stolen my tie-downs. I swear the world is full of thieves.
We have two options for you. The first are Lockstraps. They are tiedowns with a combination lock on the carabiner hooks. They also have a 3mm stainless-steel braided cable woven into the nylon strap so they can't be cut by thieves trying to steal your bike. One combination side of the tie-down clips onto the loops in your truck, and the other locking carabiner hooks onto your bike. It can't be lifted off by anyone who doesn't have the combination. They retail for under $40 at www.rockymountainatvmc.com.
The second option is much cheaper. Go to your local hardware or feed store and buy two 1/2-inch threaded quick links. They look like jumbo-sized links from a chain, but one side has a threaded section that closes the quick link into a complete circle. They are most commonly used to attach chains to trailers or tractors. They come in sizes from 1/4-inch to 1/2-inch and cost anywhere from $3 to $10. You attach one end of the quick link to your truck's hook and slip the other end of the link through the closed end of your tie-down carabiner hook. Then, you close the threaded end of the quick link tight enough that it would take a wrench to unthread it. Now, the only thieves who can steal your tie-downs are ones who carry a wrench with them to the grocery store.
DOWNSIZING MY LIFE
When you are done riding, the standup trailer can be configured to take up the minimum of room in your garage.
Dear MXperts,
I'm not looking for pity, but during the lockdown for the coronavirus I lost my job and had to downsize. I sold my house and moved into an apartment (at least I was smart enough to get one with a garage). But, I was not smart enough to measure the garage door to see if my Sprinter would fit inside. It wouldn't. My wife wants me to sell the Sprinter and get an SUV. I told her I would, based on the fact that I could go to the track in the SUV towing a trailer. But, this time I measured the garage and it's not big enough for the SUV and a two-rail trailer. What do you suggest?
We suggest that you get a Standup trailer. We noticed on your e-mail that you are from Temecula, California and, just your luck, there is a trailer company in Menifee, not far from your house, that makes one-, two- and three-rail motorcycle trailers that stand on end so they can easily fit in a standard garage or be rolled into place behind a gate or the side of the house. They are priced from $1199.99 to $1899.99. You can learn more at www.standuptrailer.com or by calling them at (855) 478-6387.
You can send email or Ask the MXperts questions to [email protected].
HAVE YOU SEEN THE JANUARY 2021 ISSUE OF MXA YET?
What's in the newest issue of MXA? How about full tests on the 2021Husqvarna FC250, 2021 Honda CRF450,  2021 Yamaha YZ125, 2021 Kawasaki KX250 and Mike Alessi's World Two-Stroke Championship winning ESR Yamaha YZ325.
HOW TO SUBSCRIBE TO MXA SO THAT YOU NEVER MISS ANOTHER ISSUE, PLUS GET A $25 ROCKY MOUNTAIN GIFT CARD TO COVER YOUR COSTS
If you subscribe to MXA you can get the mag on your iPhone, iPad, Kindle or Android by going to the Apple Store, Amazon or Google Play or in a digital version. Even better you can subscribe to Motocross Action and get the awesome print edition delivered to your house by a uniformed employee of the U.S. Government. Did we mention the $25 gift card for any part you want from Rocky Mountain ATV/MX? You can call (800) 767-0345 or Click Here (or on the box at the bottom of this page) to subscribe.
PERFECT CHRISTMAS GIFT FOR REM RACERS AROUND THE GLOBE: REM MOTOCROSS APPAREL

SATURDAY MX FLATBILL SNAPBACK—$27.00
This hat is structured with a classic fit, flat brim, and full buckram. The adjustable snap closure makes it a comfortable, one-size-fits-most hat. It is 80% acrylic and 20% The green camp version is 60% cotton, 40% polyester. It is available in seven colors.
REMINGTON SNAPBACK—$27.00
The REMington is structured and high-profile hat with with a flat visor and a subtle grey under visor. It is 85% acrylic and 15% wool. The design is a
6-panel construction. It is available in seven colors.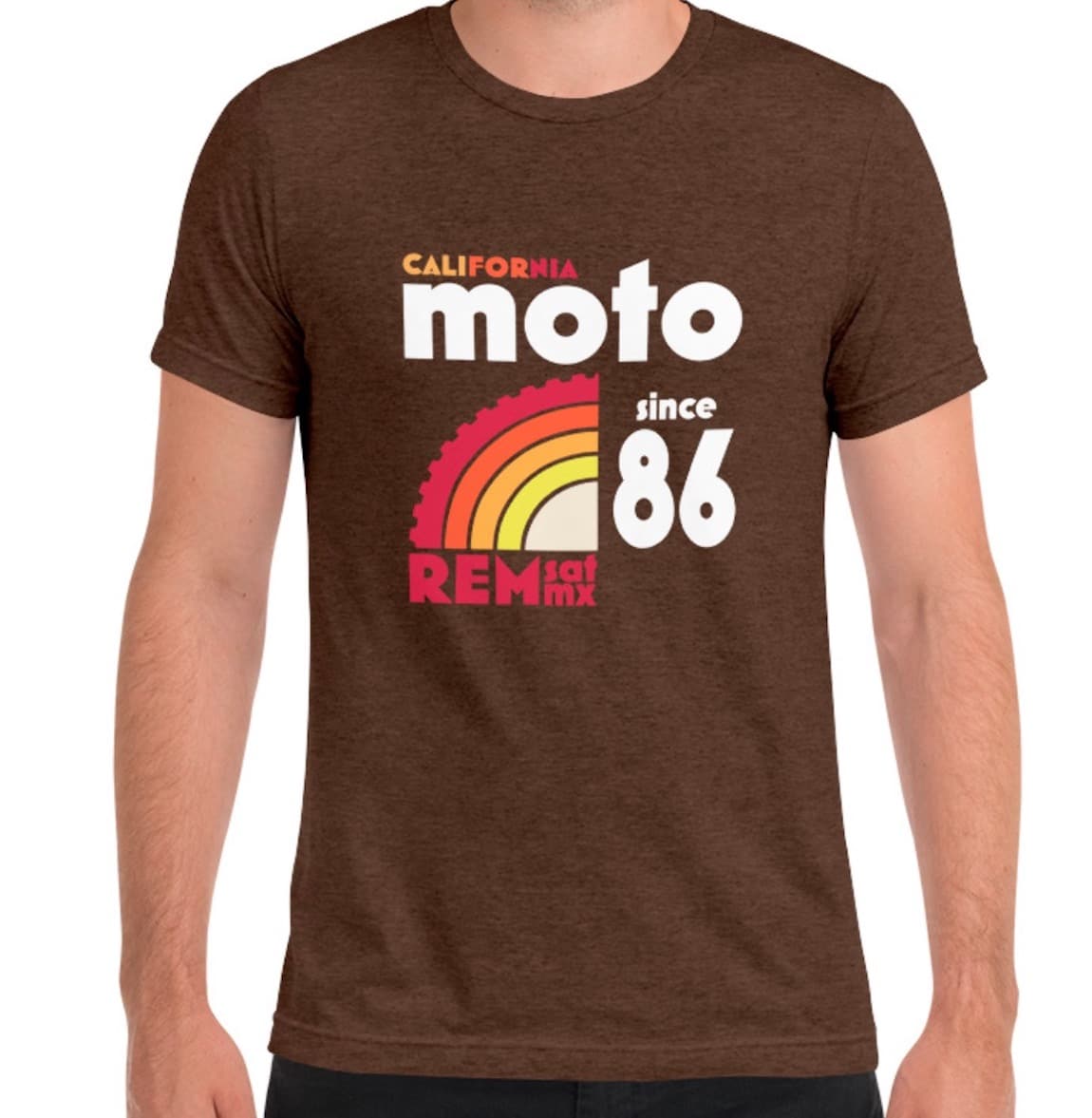 REM MOTOCROSS SINCE 1986 T-SHIRT—$27.00
Celebrating REM's involvement with Motocross since 1986, the tri-blend fabric creates a vintage, fitted look. Extreme durability makes this t-shirt withstand repeated washings and still remain comfortable thanks to its Tri-blend construction (50% polyester/25% combed ring-spun cotton/25% rayon).
REM CLASSIC CHECKERED FLAG T-SHIRT
The REM Classic Checkered Flag now available online in more sizes and eight colors! This is a classic fitting T-shirt with thick cotton fabric.Made from 100% cotton, the fabric is a solid 6 ounce material that has been pre-shrunk.
For more info or to order your REM apparel Click Here.
PERFECT CHRISTMAS GIFT FOR A RIDER NEEDS VARIETY: O'NEAL SPEEDMETAL, THREAT & DIRT JERSEYS
O'NEAL SPEEDMETAL JERSEY—$39.99
Designed to be mixed and matched with O'Neal Hardwear, Mayhem or Element pants.
O'NEAL THREAT JERSEY—$39.95
Looks great with O'Neal Hardwear, Mayhem or Element pants.
O'NEAL DIRT JERSEY—$39.95
Can be mixed and matched with O'Neal Hardwear, Mayhem or Element pants.
For more information go to www.oneal.com
PERFECT CHRISTMAS GIFTS FOR HARD CHARGERS: LEATT PROTECTIVE GEAR
LEATT MOTO 8.5 HELMET—$449.99
Leatt has introduced completely redesigned 9.5 Carbon and 8.5 Composite helmets for 2021. With four densities of impact foam in five locations, as well as a Pro-Fit comfort liner and large ventilation channels, the Leatt 8.5 helmet applies science to helmet design.

LEATT X-FRAME HYBRID KNEE BRACE—$449.99 (PAIR)
Manufactured from Injected Carbon Composite, the Leatt X-Frame Hybrid has a much thinner feel around the geared hinge. It uses a separate CE-certified impact protector to allows for freer knee movement. Different-sized Condial pads are included to ensure a perfect fit and the X-Frame Hybrid knee brace is CE-certified as a medical device.

LEATT GPX 5.5 FLEXLOCK BOOTS—$389.99
The innovative Leatt GPX 5.5 Flexlock design was built to reduce forces to the knee and ankle. The GPX 5.5 Flexlock boot encourages the ankle to move naturally on impact to dissipate energy. The straps feature Slide-Locks to allow them to open and close without readjusting the straps every time. Leatt GPX 5.5 Flexlock boots come in sizes 7 to 13 and three colors: black/white, red/blue and all black.
For more info or to order your Leatt gear go to www.leatt.com.
PERFECT CHRISTMAS GIFT FOR HEAVY BRAKERS: FASST COMPANY KTM/HUSKY REAR BRAKE SPRING KIT
Fasst Company's rear brake spring kit creates a more a tunable rear brake resistance and improved feel.
The pedal resistance can be adjusted by how much preload is placed on the spring. No more on-and-off. Eliminates broke OEM brake springs.
The return spring kit also minimizes debris from jamming the master cylinder.
Fasst's rear brake pedal return spring kit consists of spring, spring bucket and nut. Retail price $19.95 at www.fasstco.com
PERFECT CHRISTMAS GIFT FOR TOOL COLLECTORS: MOTION PRO GASKET SCRAPER

When performing engine maintenance, replacing gaskets is required. Aged gasket material or adhesives can be stubborn and hard to remove without potential damage to the mating engine component surfaces. The Gasket Scraper is equipped to handle this task with ease, the ergonomic billet aluminum handle paired with precision slant cut blades provides users a comfortable approach for removing gasket material.  The included brass blade helps eliminate gouging or cutting into precision engine surfaces. Brass is softer than aluminum, eliminating the concern of potential component damage. The Gasket scraper also includes a slant cut steel blade for tougher jobs and material, the steel blade is secured in the storage slot of the Gasket Scraper handle. To swap out the blades, grab a 2mm hex wrench and simply select the blade needed.The retail price is $29.99 at  www.motionpro.com or (650) 594-9600.
PERFECT CHRISTMAS GIFT FOR BIKES THAT NEED NEW WHEELS: DUBYA USA EDGE WHEELSETS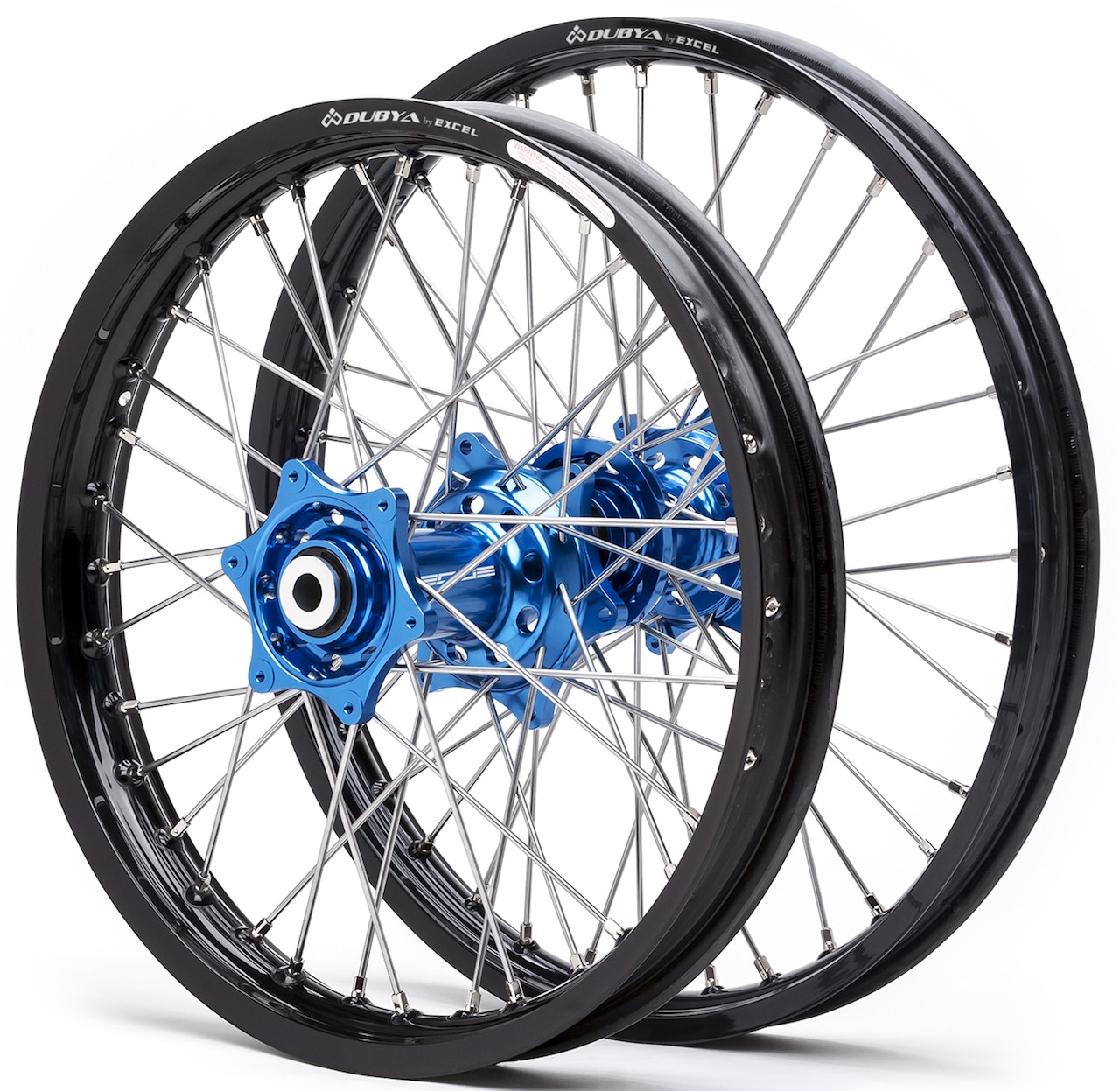 Blue Edge hubs, Bulldog spokes, nickel plated nipples and black Excel Notako rims.
Dubya USA, a provider of premium motorcycle wheel sets and components, is proud to announce the all-new Edge Wheel sets. These wheels are the perfect solution for riders who need quality and performance at an economical price point.
The Edge hubs are available in red, green blue or orange with black or silver rims at a very affordable price.
We're excited to add these new Edge wheel sets to the Dubya USA lineup," said Dubya co-founder Kristin White Anderson. "We strive to deliver the best products possible to our customers, but top-of-the-line wheels are not in everyone's budget. The Edge wheels are durable and reliable, and are affordable for virtually any rider looking to replace their old wheels or simply give their bike a more upgraded look."
Red Edge hubs, Bulldog spokes, nickel plated nipples and black Excel Notako rims. 
Edge wheel set centers around the highly durable forged aluminum Edge hub, which are offered in factory colors of blue, red, green, and orange. The hubs are laced to your choice of black or silver Dubya by Excel rims using stainless steel Bulldog spokes and nickel plated steel nipples. Each wheel is pre-assembled in Dubya USA's southern California facility by the same technicians who assemble all of Dubya's top professional rider and team wheels.
Edge wheel sets are priced at $639.00. Visit www.DubyaUSA.com for more details or call 714-279-0200 to speak to a wheel specialist.
PERFECT CHRISTMAS GIFTS FOR KTM RACERS: KTM POWERPARTS ACCESSORIES

KTM 60-PIECE 3/8″ TOOL BOX KIT
The most commonly used Torx, Allen, socket, screwdriver blades, adaptors, ratchet, extensions and breaker bar in a form-fitting case. It is design to make working on almost every KTM nut or bolt from 50cc to 505cc. Retail price—$145.99.

KTM 300CC FACTORY ENGINE KIT
All the parts needed to turn your 250SX into a 300SX (including cylinder, gaskets, piston, rings, cylinder head, black box, wrist pin, circlips and power valve). It is a bolt-on engine kit that boosts  power by 4.25 horsepower more than the stock 250SX engine. Retail price—$956.99.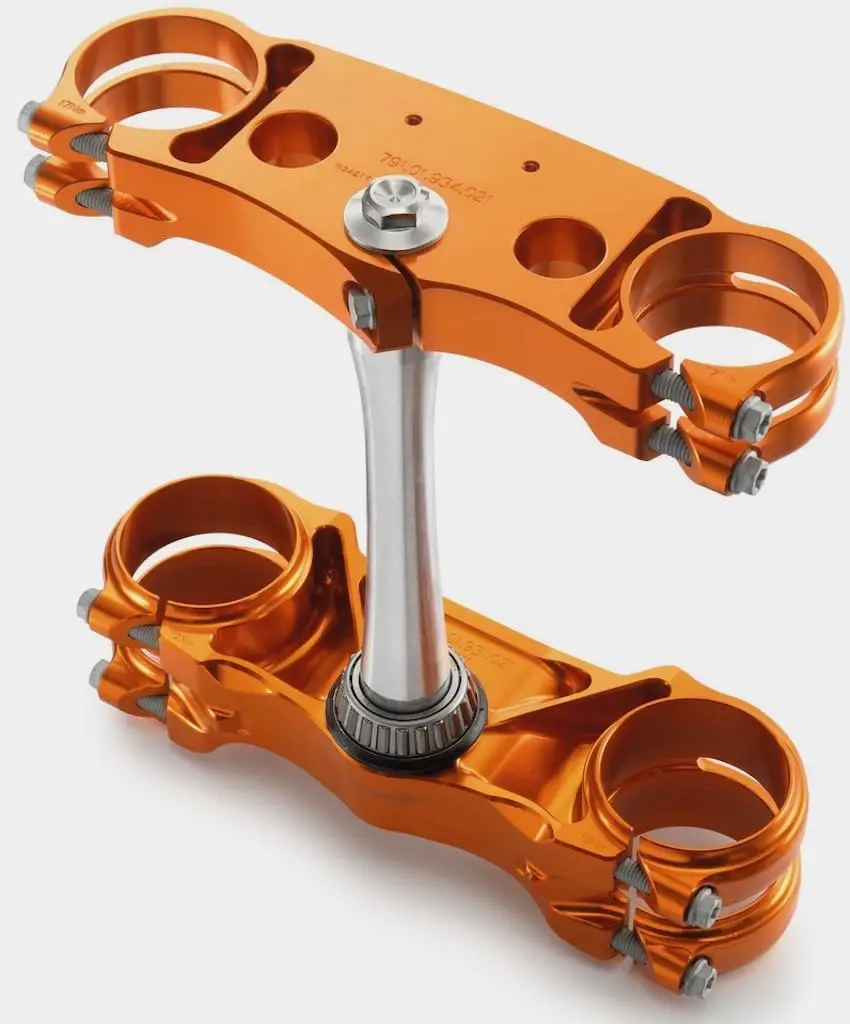 FACTORY TRIPLE CLAMPS
This orange anodized triple clamp includes the steering stem with the bottom bearing already pressed on. It features adjustable offset (20mm or 22mm) and a special split clamp design to optimize perfect grip on the fork tubes. Identical to the 2020-1/2 KTM FC450 Factory Edition triple clamps. Retail price—$623.99.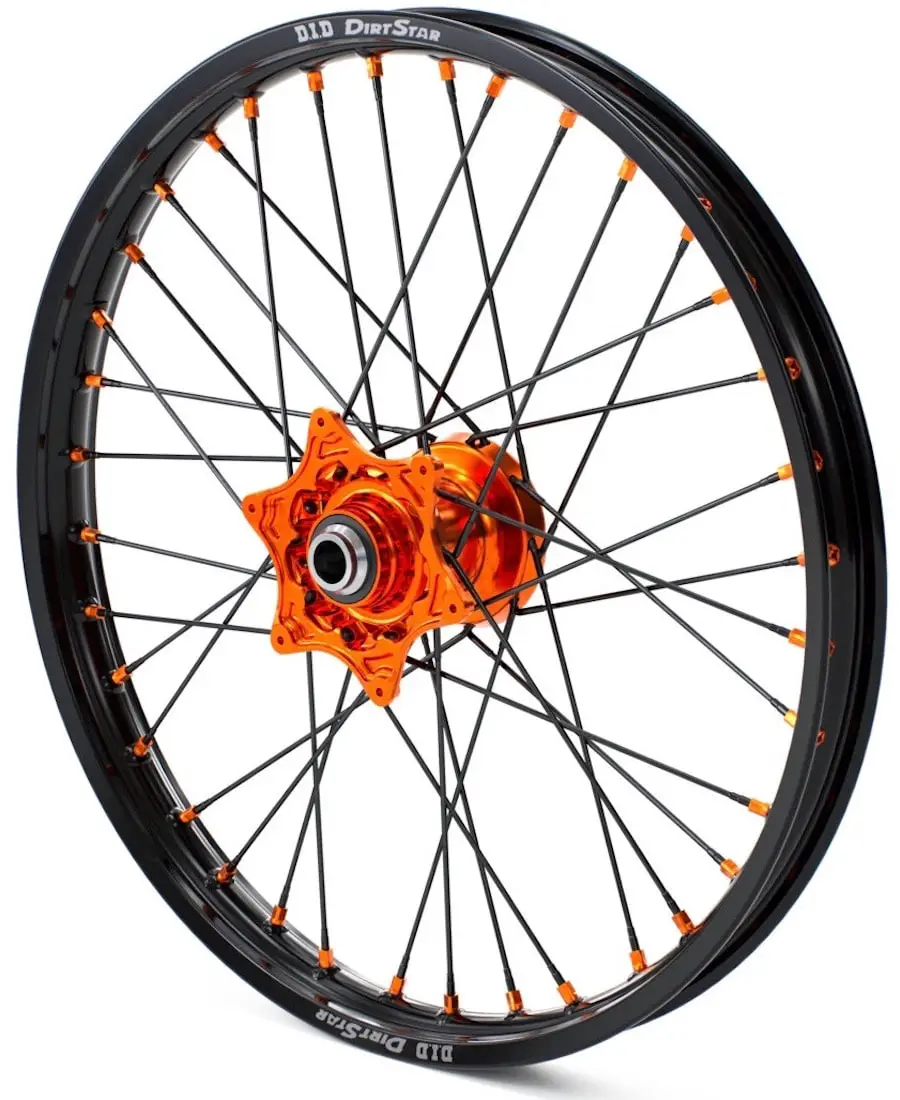 FACTORY WHEELS
The  orange anodized CNC-machined hubs are laced to D.I.D DirtStars rims with orange anodized aluminum spoke nipples with 36 black anodized spokes. The rear wheel comes in either 18-inch or 19-inch diameters on 2.15-inch DID DirtStar rims. Retail price—$424.99 (front), $499.99 (Rear).
KTM Power Powerparts are available at your friendly local KTM dealer. to find a KTM dealer near you Click Here.
PERFECT CHRISTMAS GIFT FOR FASHIONISTAS: MOOSE AGROID GEAR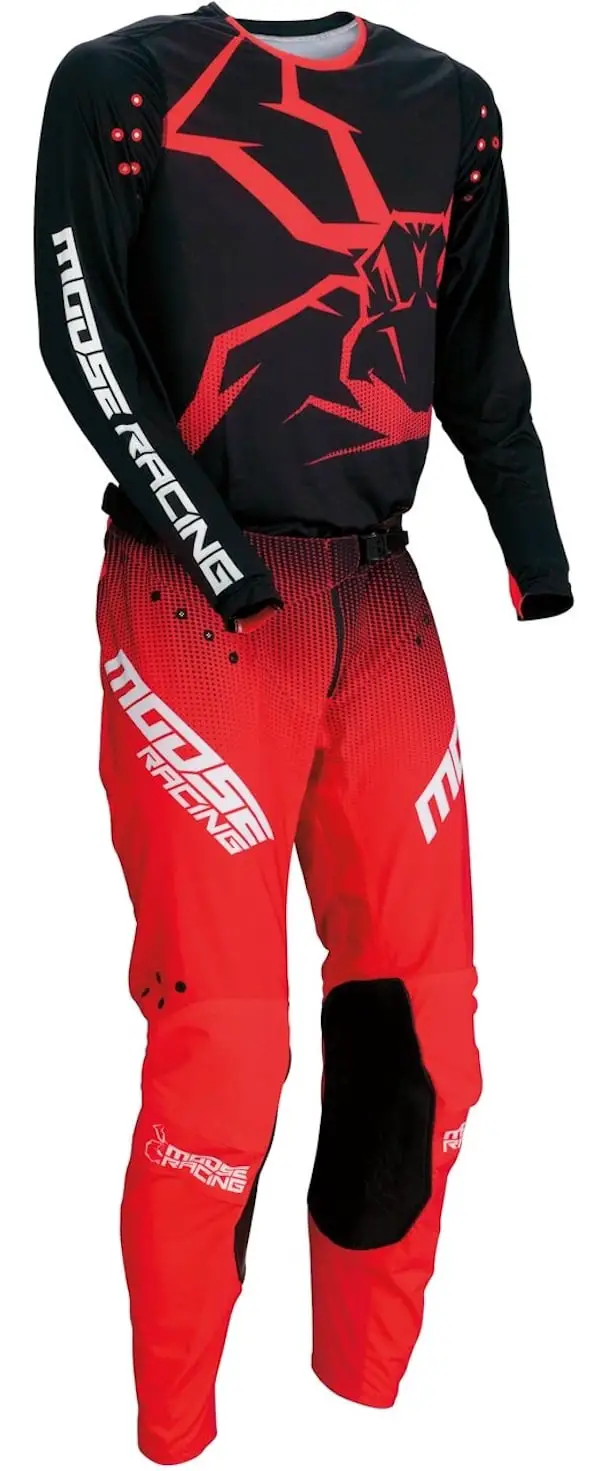 Unlike last year's Moose M1 Agroid line, which was built on the M1 racewear chassis with Agroid graphics, the all-new Agroid racewear line is brand-new from the ground up. Maximum comfort and mobility are achieved with the Agroid jersey and pant by using the latest stretch polyester materials and laser-cut vent holes. Moose Agroid gear is offered in four different color combinations and there is nothing stopping you from running the mint-highlighted jersey with the orange-accented pants or vice versa.
2020 Moose Agroid jersey: The Agroid jersey retails for $49.95 in aqua green, red, navy white and black grey. 2020 Moose Agroid pants: Available in sizes 28" to 42". The pants retail for $139.95 in in aqua green, red, navy white and black grey. For more information go to www.mooseracing.com.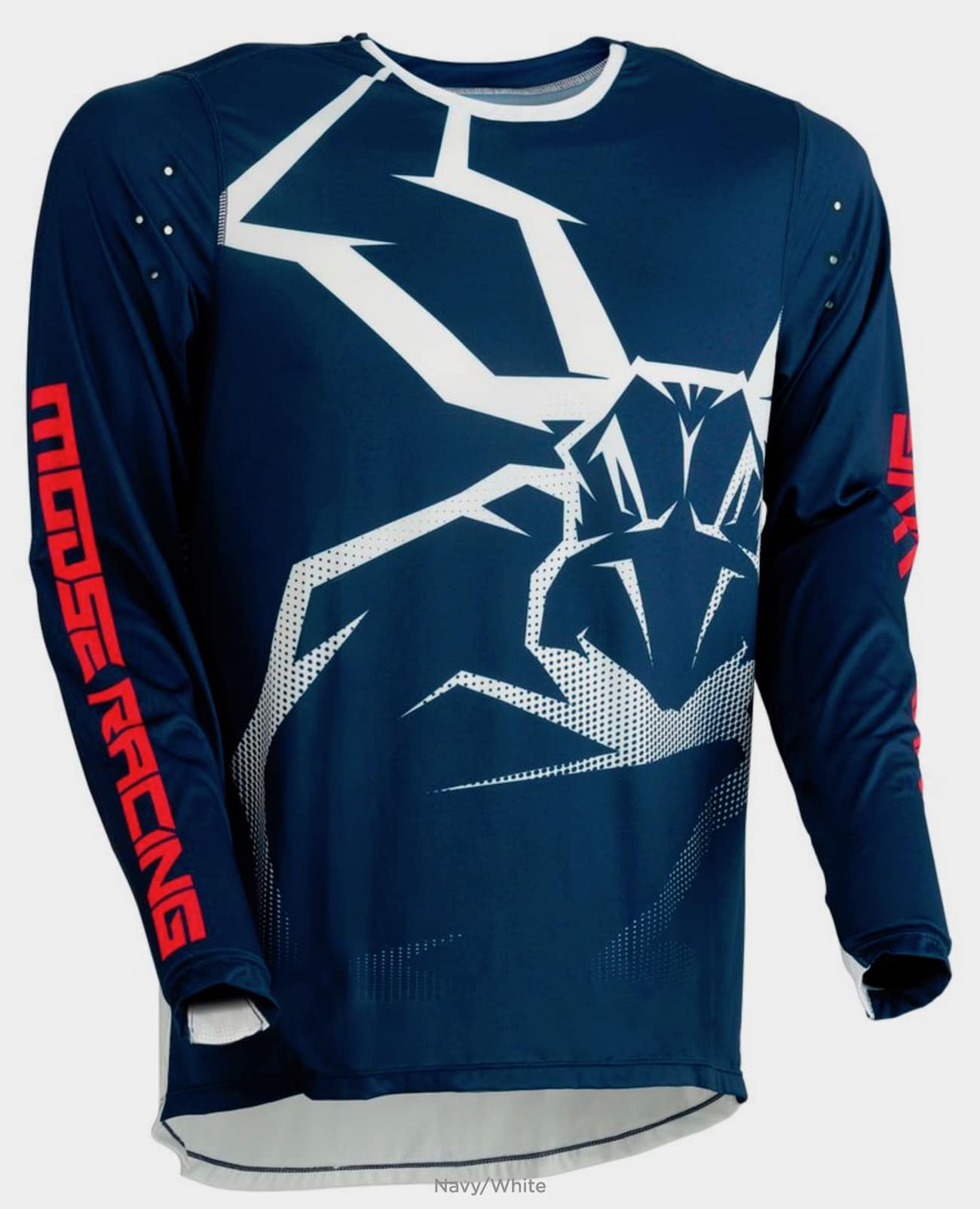 THE PERFECT CHRISTMAS GIFT FOR GUYS WHO LOSE BOLTS: BOLT BRAND-SPECIFIC BOLT KITS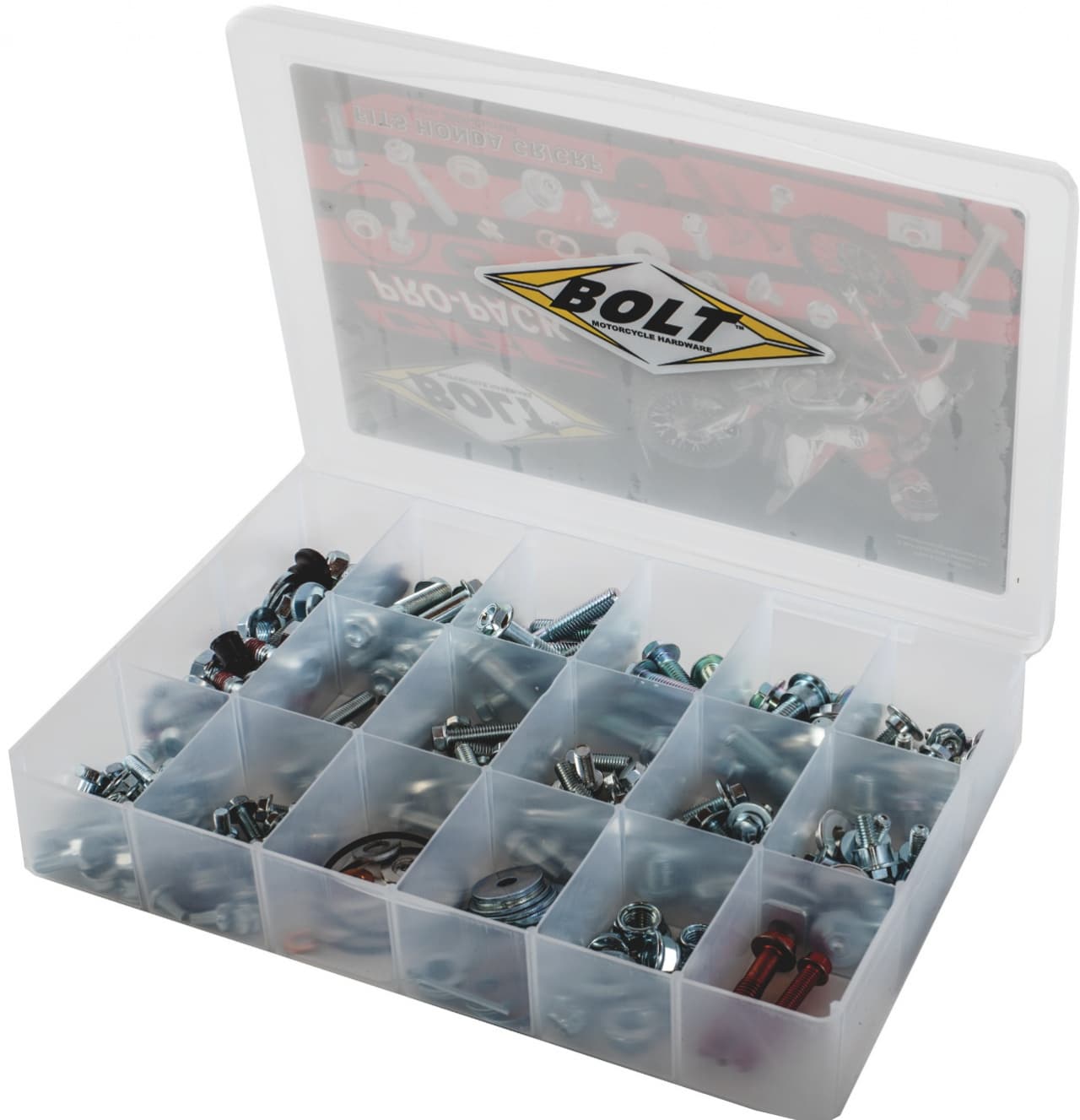 Bolt offers a self-contained kit that stockpiles the most commonly used bolts for Honda, Yamaha, Suzuki, Kawasaki, Husqvarna and KTM offroad bikes (and vintage bikes). Each kit is specially designed to include special bolts for each brand. Every Bolt kit comes in an 18-compartment plastic box, which slips easily under the front seat of a truck. What can we say about the performance of a bolt kit. It works. The retail price is $54.95-$64.95 (Pro Packs), $19.95 (56-piece Track Packs) and $15.99 (bodywork only). For more info go to www.boltmotorcyclehardware.com
THE PERFECT CHRISTMAS GIFT FOR YZ125 RACERS: PRO CIRCUIT'S RYAN VILLOPOTO REPLICA RV WORKS PIPE & RV T2 SILENCER
Ryan Villopoto on his Pro Circuit-tuned YZ125.
Pro Circuit is excited to introduce the Ryan Villopoto-spec Works Pipe and Ti-2 Carbon Kevlar titanium silencer. this is the set-up that the multi-time champion used on his Yamaha YZ125 at the National 125 All-Star races. The RV Works Pipe is available for 2005 to 2021 YZ125 models and is designed to be stronger from bottom to mid of the YZ125 powerband. The added power is extremely beneficial off the start or on tighter, softer tracks where acceleration out of corners is key.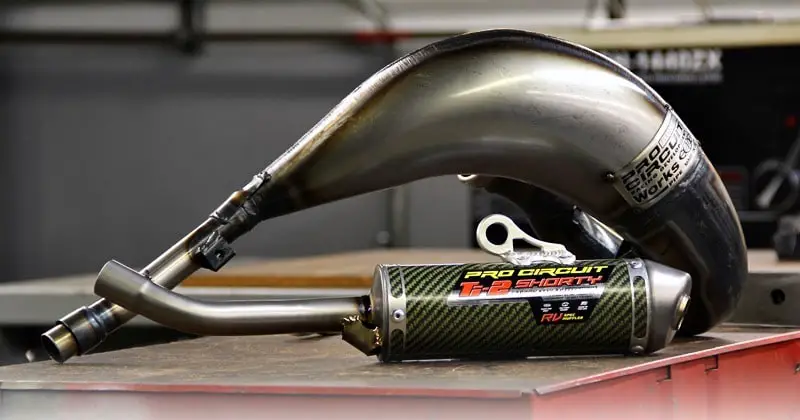 The RV Ti-2 silencer is available for 2002-2021 YZ125 models and offers a professional look and a factory sound. When compared to a stock silencer, the RV Ti-2 version increases power on the bottom-end.
It's not every day that riders get to bolt on a professional setup like this, so if you're in the market for an YZ125 exhaust that will help pull you out of corners a little quicker or if you're a professional looking for a better jump out of the gate, look no further.
The RV Works Pipe and Ti-2 silencer is the perfect option for YZ125 riders looking to increase performance. Retail price $265.00 (RV Works pipe), $329.95 (RV Ti-2 silencer). For more info go to www.procircuit.com
PERFECT CHRISTMAS GIFT FOR YOUR SENSE OF STYLE: FXR'S REVO GEAR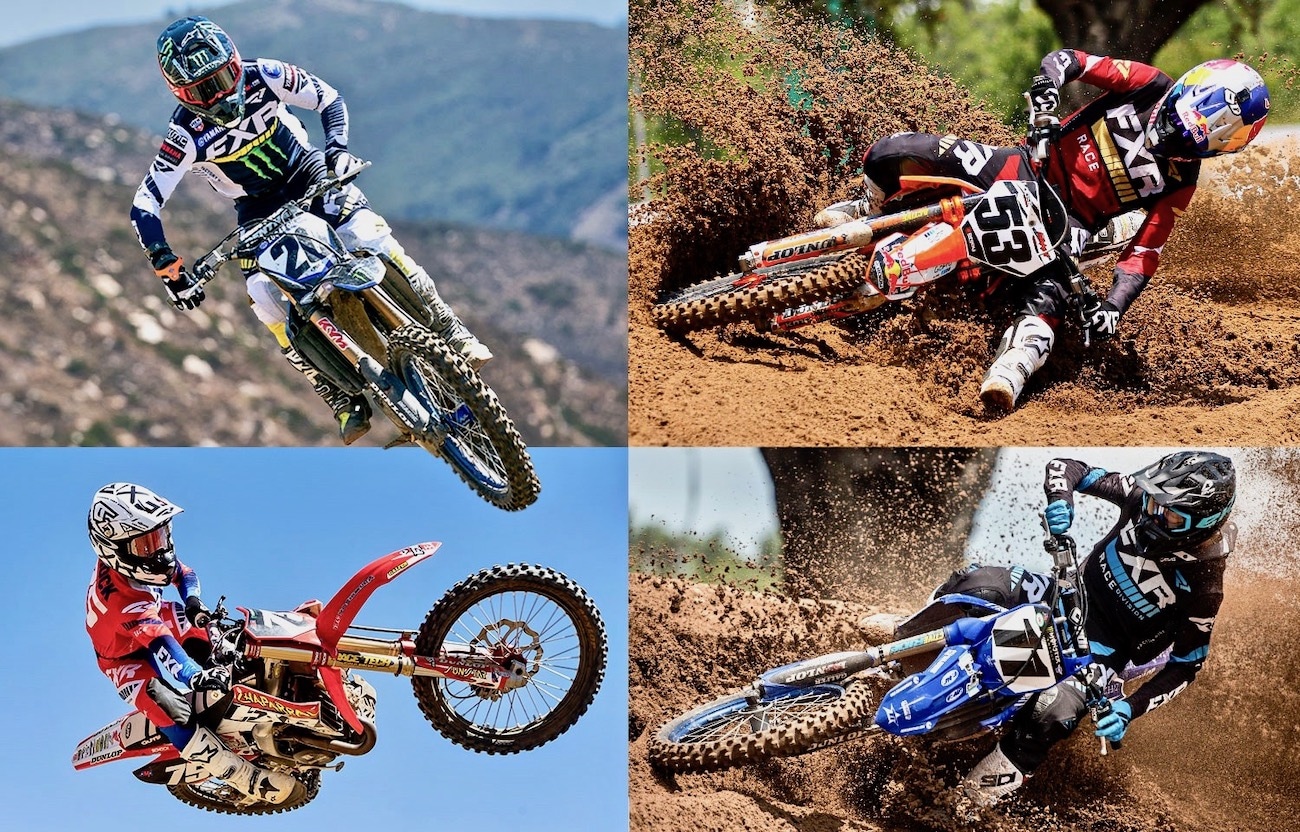 Known for its industry-leading comfort, FXR's team of professional athletes across the globe wear off-the-shelf Revo gear because it fits and flows with the shape and movements of the next level motocross athlete. The road to the Pro ranks is long and difficult, so Revo gear is also tough, not a tear-off. You won't find a better set of gear that fits and moves your body while you ride – no restrictions, no distractions, pure focus. Through testing and continuous refinement, FXR has made numerous improvements to the Revo chassis, setting a higher standard for FXR's already industry leading fit, finish, durability, and performance.
2021 REVO JERSEY—$69.99

The Omni-Stretch material in FXR's Revo jersey was developed to give riders the ultimate combination of 4-way stretch with the right amount of air flow.  The Revo jersey's hybrid vented material is constructed in a performance fit pattern that allows the jersey to flex and move without restriction, while helping riders maintain a lower core temperature.
2021 REVO PANT—$199.99
For 2021, FXR has refined and improved the fit and performance of the M-2 Motion Pant chassis, dialing in the right amount of stretch to have positive fit, feel, and contact with the bike without restricting mobility. An all-new industry first Auto-Buckle front closure system works with our fool-proof Hook & Loop side hip adjusters to further secure the waist closure and provide a positive feeling under hard acceleration or seat bouncing scenarios. For more info go to www.fxrracing.com.
PERFECT CHRISTMAS GIFTS FOR TWIN AIR USERS

TWIN AIR DUAL-STAGE FILTER
Twin Air's industry-leading, dual-stage, flame-laminated, open-pore foam has set the standard in air filtration and performance for motocross. The outer layer of open-pore foam and the fine inner foam work together to trap the smallest particles of dirt while allowing maximum airflow. For just $32.95, the new, rounder design also boosts airflow by minimizing glue seams thanks to a revolutionary micro-gluing process; shorter seams equals more foam and more airflow.
TWIN AIR BIO FACTORY PRE-OILED, DUAL-STAGE FILTER
Twin Air's pre-oiled filters start with our Dual-Stage Filter being placed in our state-of-the-art, automated oiling machine, which carefully submerges the filter in Bio Liquid Power Oil. The filter is then placed on a conveyer belt that evenly massages the filter oil throughout the foam pores. This is the exact same oil and oiling process that is used for the filters of the factory race teams . At only $35.95, you get the highest quality filter pre-oiled and ready to install; it's performance right out of the bag!
TWIN AIR ICEFLOW COOLANT
Twin Air's commitment to overall performance and protection has spilled over to IceFlow Coolant. Twin Air IceFlow Coolant focuses on increasing heat dissipation to prevent overheating while also maintaining consistent operating temperatures for maximum cooling system efficiency. This product is ideal for all liquid-cooled systems, not just off-road motorcycles and ATVs. Biodegradable and ready to use, IceFlow comes in a 2-liter bottle for just $19.95.

TWIN AIR ICEFLOW RADIATOR CAPS
Twin Air's high-pressure radiator caps replace the OEM radiator caps and reduces loss of coolant due to overheating. Twin Air has two applications available, 1.8 bar for the Honda, Kawasaki, Yamaha and Suzuki models, 2.0 bar for the KTM and Husqvarna models. Twin Air's IceFlow radiator caps increases the boiling point of the water in your bike's radiator by increasing the amount of pressure inside the radiator. The difference between a stock radiator cap and a high-pressure one is dramatic for just $24.95.
CONTACT? www.twinair.com or your local dealer.
THE PERFECT CHRISTMAS GIFT FOR A RACER WHO KNOWS HOW TO READ: ROB ANDREWS "THE INSIDE LINE"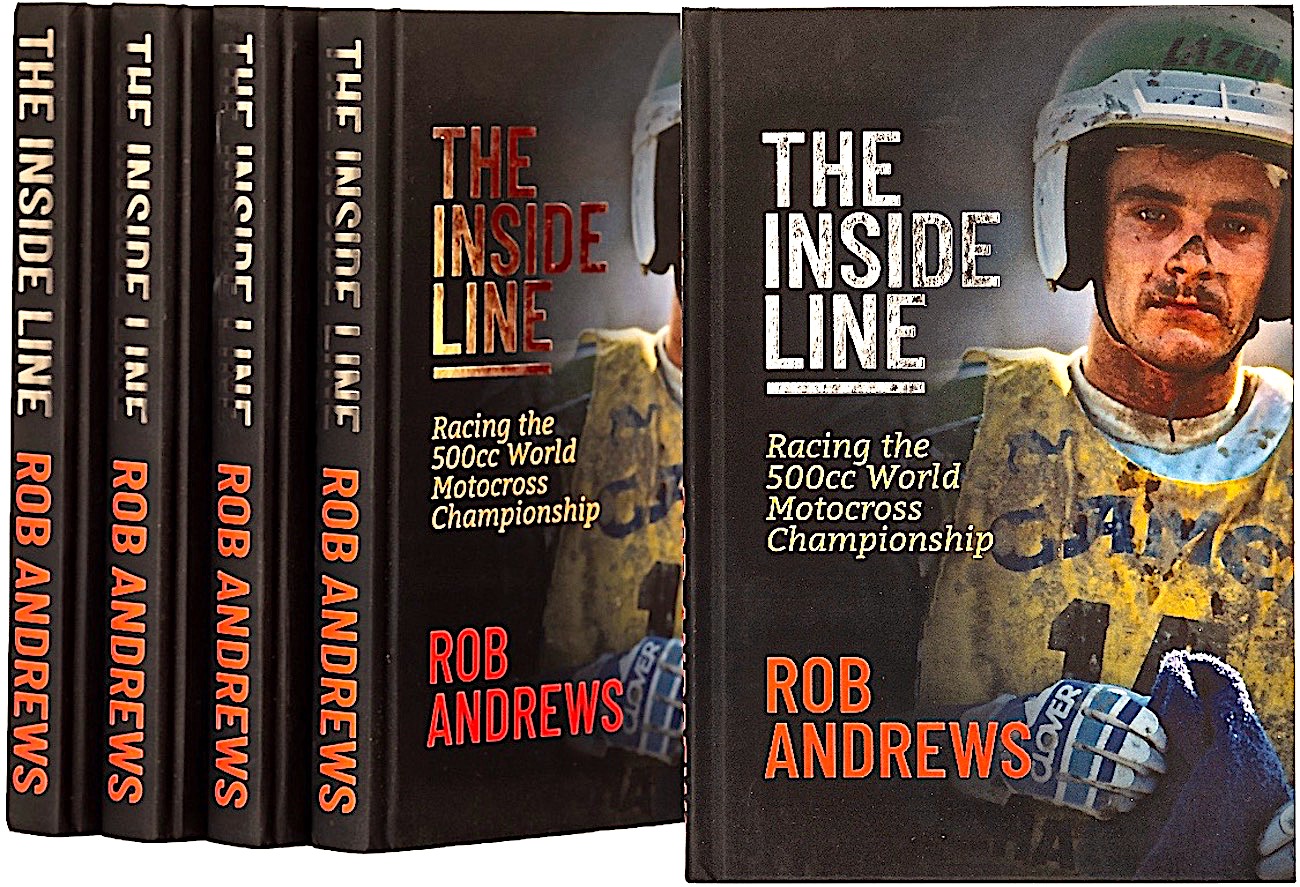 Rob Andrews' eagerly awaited new book, "The Inside Line: Racing the 500cc World Motocross Championship" is now available at www.theinsidelinebook.com.
The critically acclaimed book, "The Inside Line: Racing the 500cc World Motocross Championship" (Second Edition) is back on sale at www.insidelinebook.com. After receiving rave reviews from press and public alike, "The Inside Line" first press run sold out in three weeks. Now back in print "The Inside Line" offers a detailed, first-hand account of the life of a professional GP racer competing in the heydays of the 1980s. There are facts that will surprise you, anecdotes that will make you laugh, and brutally honest, never-before-published information.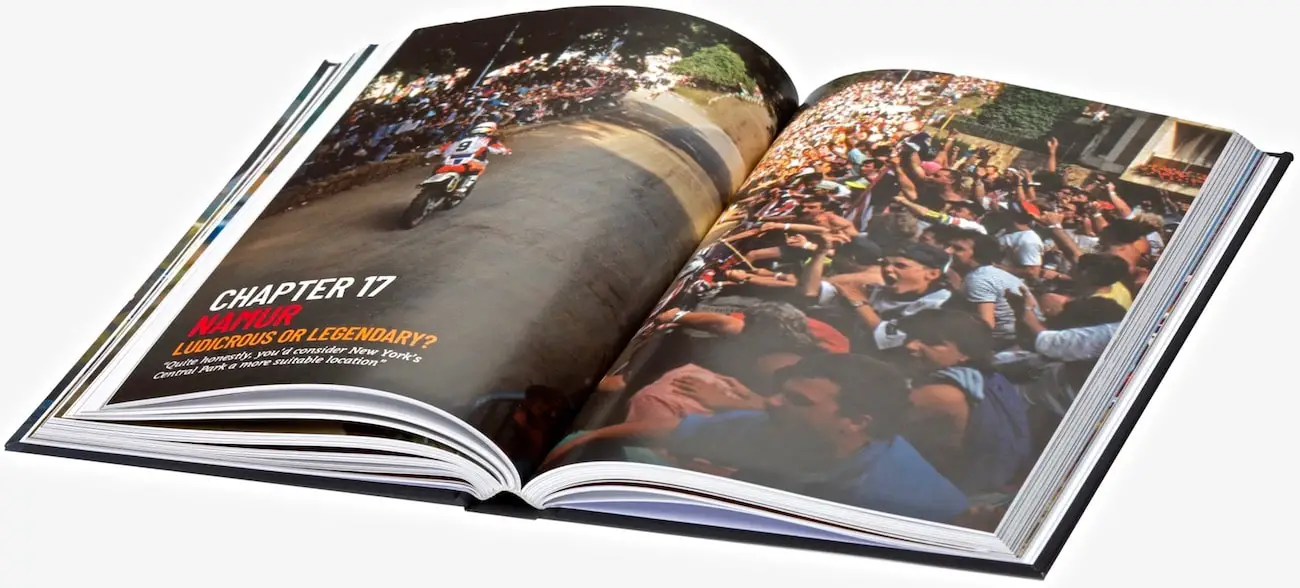 Tracing the journey of the British former 500 GP star, from unremarkable amateur through to factory Kawasaki rider, GP contender, and member of Great Britain's 1985 Motocross des Nations team, "The Inside Line" is a unique, comprehensive, and fascinating first-hand account of what it was really like to race in the 500cc World Motocross Championship during the 1980s."Inside Line, litho printed on the finest silk art paper, is a mammoth, heavyweight, 416-page hardback book of uncompromising quality. It has over 400 photographs from the sport's most acclaimed photographers. Available for world-wide shipping, the book can be ordered at www.theinsidelinebook.com
PERFECT CHRISTMAS GIFT FOR YOUR CHAIN: MOOSE MR-1 ALUMINUM CHAIN GUIDES
Moose's new MR-1 colored aluminum chain guides.
Durability and strength have met their match in the new MR-1 chain guide. It is constructed from high-quality T6 aluminum for added strength and durability. The chain block is made from high-density TPU material for guaranteed high-wear abrasion and impact resistance. A unique 3D design helps prevent mud and debris from building up and causing chain derailment. Durability and strength are not all, there is a high-quality anodized coating to prevent fade and gives you the choice of five colors. All mounting hardware is included. MSRP is $56.95. Head over to your local dealership or got to www.mooseracing.com to check out the MR-1 colored chain guides.
PERFECT CHRISTMAS GIFT FOR A NIGHT AT THE OPERA: FACTORY EFFEX T-SHIRT COLLECTION
Factory Effex Racewear collection is available online at www.factoryeffex.com and there you'll also find officially licensed Honda, Kawasaki, Yamaha, Suzuki, Rockstar Energy and Factory Effex products as well. Check them out online or at authorized dealer near you.
SUZUKI THROWBACK T-SHIRT—$26.95
SUZUKI SUN T-SHIRT—$26.95
FACTORY EFFEX BILLBOARD T-SHIRT — $24.95
FACTORY EFFEX LIT T-SHIRT — $24.95
HONDA SPROCKET T-SHIRT — $26.95
HONDA HRC T-SHIRT — $26.95
YAMAHA WHIP T-SHIRT — $24.95
YAMAHA SCRIPT T-SHIRT — $26.95
KAWASAKI VERTICAL T-SHIRT — $26.95
KAWASAKI STRIPE T-SHIRT — $26.95
For more info or to order go to store.factoryeffex.com
PERFECT CHRISTMAS GIFT FOR YOUR BODY: 2021 THOR MX COLLECTION
2021 REFLEX HELMET
After years of research and development, Thor's brand-new Reflex helmet embodies the infusion of style and technology. Available with carbon fiber or fiberglass composite shell, the Reflex offers Koroyd technology integrated into a premium dual-density EPS liner in conjunction with MIPS Brain Protection System. This unique combination of multiple technologies in a single helmet is what truly sets the Reflex apart from the competition.
THOR PRIME PRO GEAR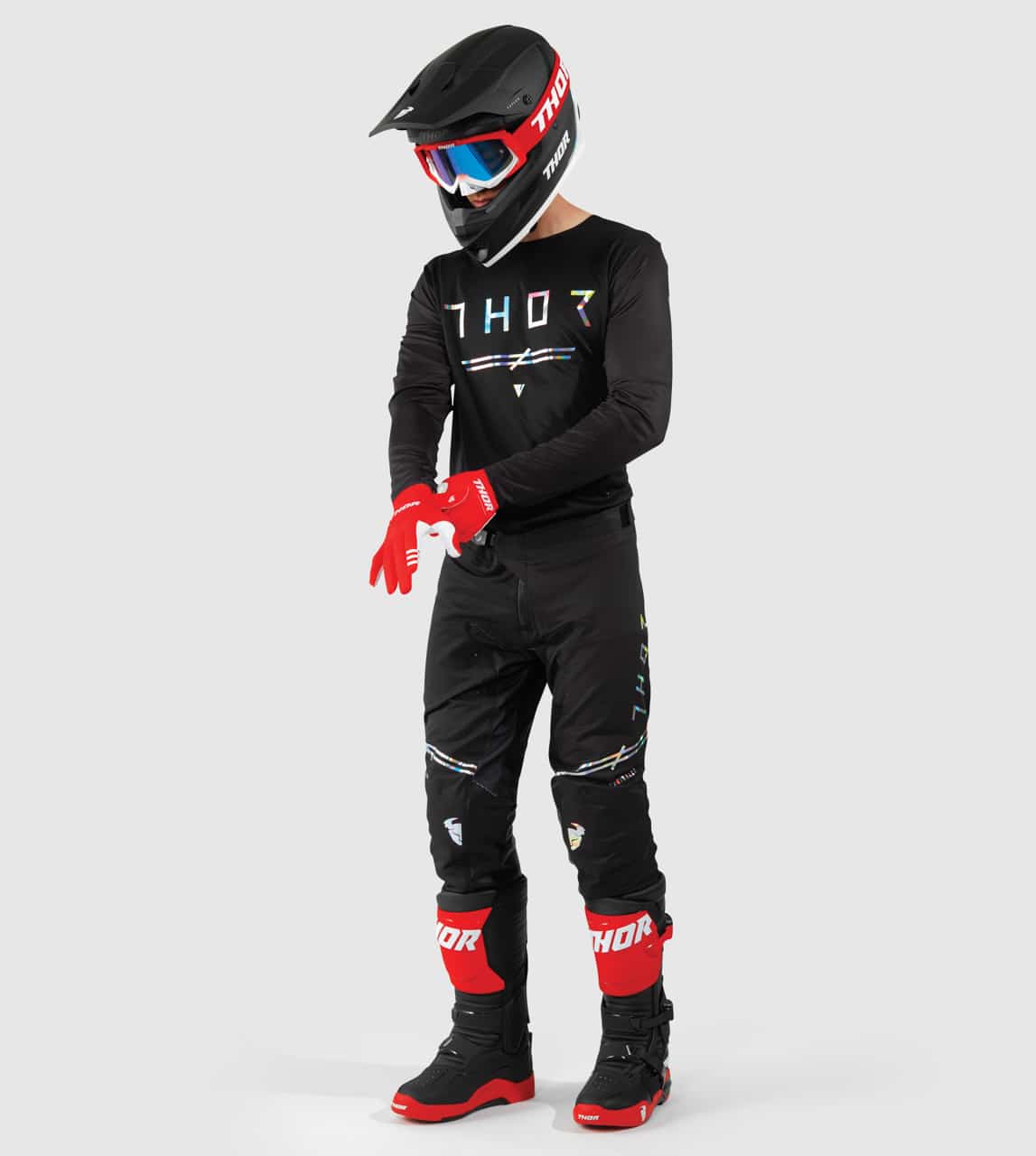 Factory Red Bull KTM ace Cooper Webb has preferred the Prime Pro chassis since it was launched in 2019. It was throughout Cooper's championship-winning season and strong 2020 series follow up that THOR gathered vital race day knowledge to enhance the Prime Pro for 2021. Featuring new lay-flat, inboard side cinches, amplified density In-Motion main chassis fabric and upgraded stretch mesh panels in critical areas, the revamped Prime Pro pant is ready to continue its winning ways.
THOR PULSE GEAR


Taking critical material and fit cues from Prime Pro, the all-new Pulse chassis continues a legacy rooted in materials designed for better abrasion resistance and extended wear, with focused integration of In-Motion materials at key locations to reduce weight and increase flexibility. No other gear on the market offers this level of tech and performance fit, at such a reasonable price.
THOR PULSE AIR GEAR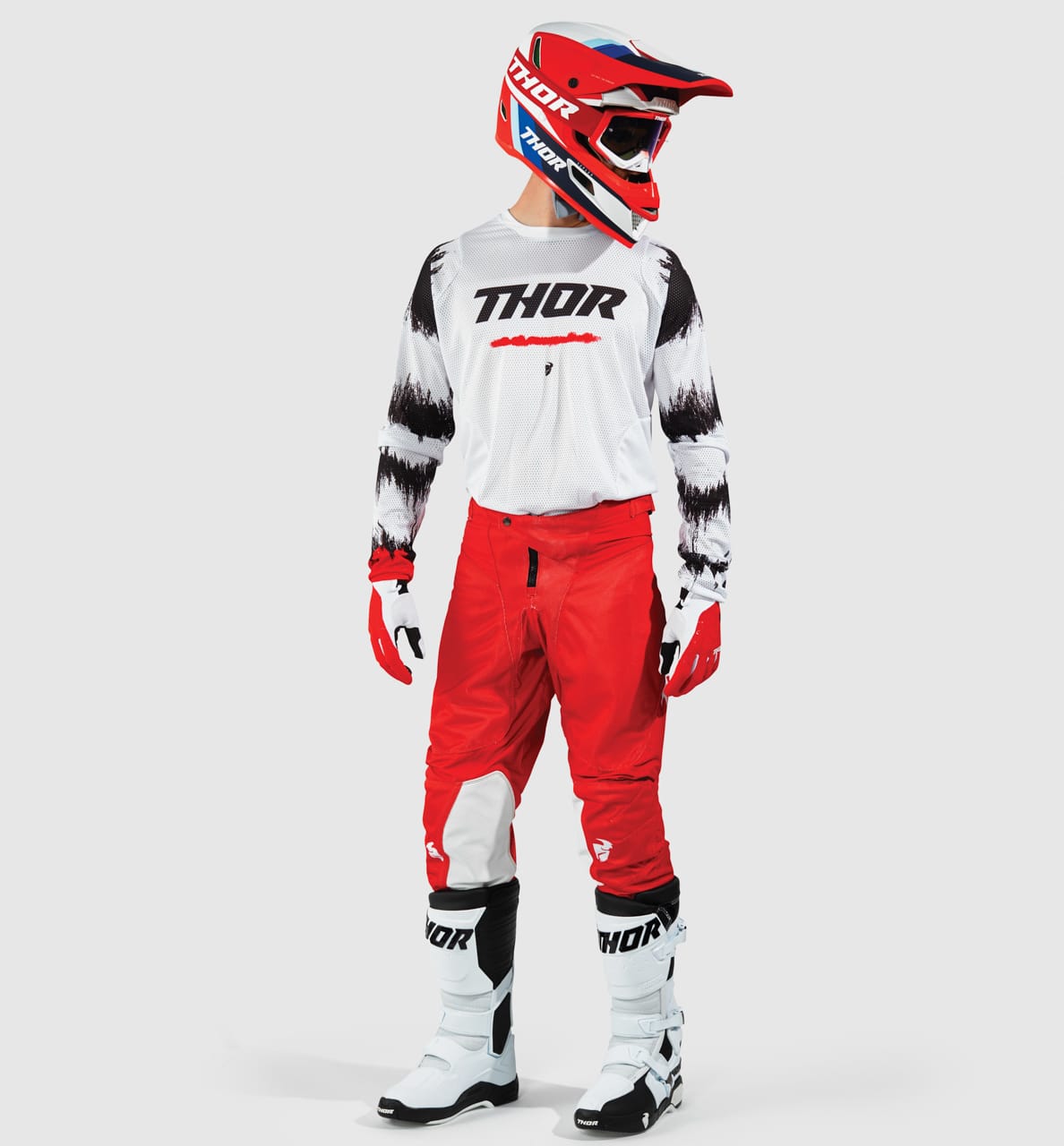 The all-new Pulse Air is purpose-built to combat troublesome heat with maximum airflow and elite functionality. The jersey offers a full mesh main chassis and engineered mesh panels strategically placed to enhance airflow and comfort. The pant boasts durable, fully breathable, "power mesh" panels incorporated with In-Motion materials to amplify performance. For more details on the entire 2021 collection, head to www.THORMX.com or visit your local Parts Unlimited dealer.
PERFECT CHRISTMAS FOR YOUR VINTAGE BIKE: VINTCO VINTAGE MOTOCROSS PARTS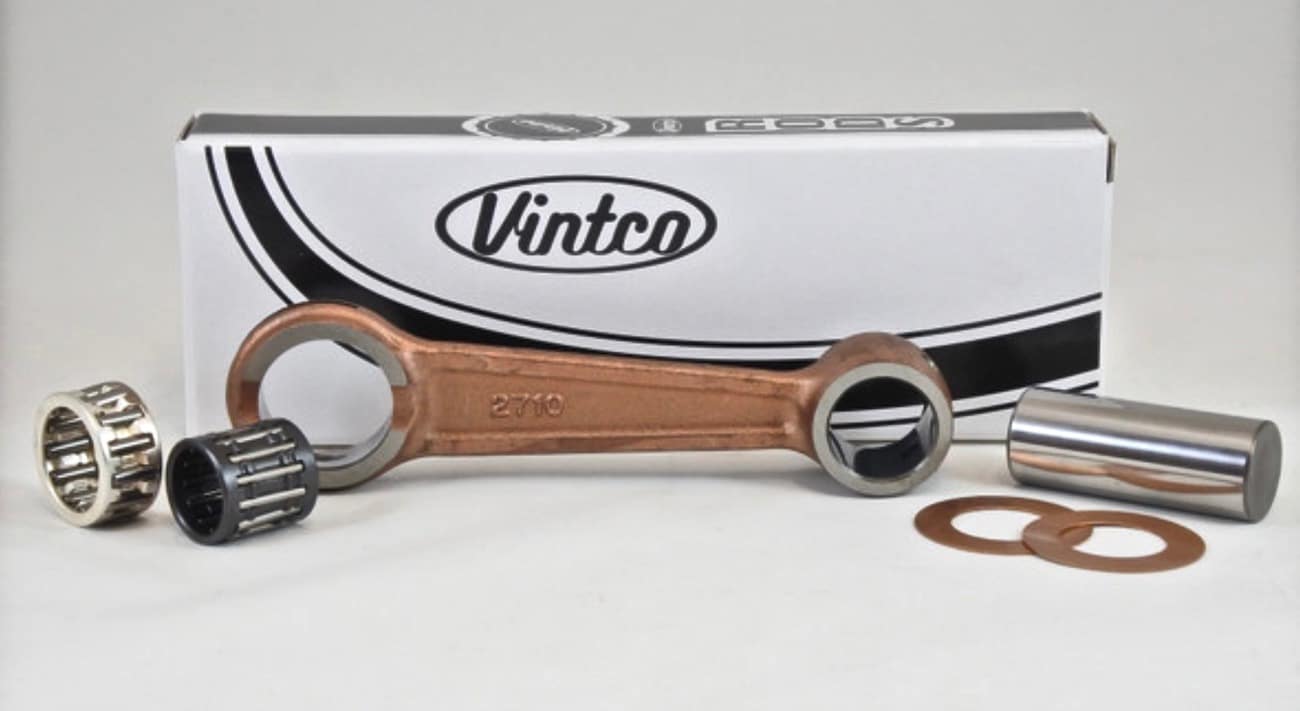 1972-73 HODAKA WOMBAT, 1973 COMBAT WOMBAT & 1974 SUPER RAT CONNECTING ROD KIT
VintCo has all new heavy-duty Connecting Rod kits for your early 70's Hodaka 125cc machines. These Connecting Rod kits will save you money over a new crankshaft. Their Connecting Rod kit fits 1972-73 Hodaka Wombats, 1973 Combat Wombats and 1974 Super Combats. VintCo rods kits are manufactured with heavy-duty forged steel and made with modern materials and manufacturing techniques to ensure an as good or better than OEM fitment and performance. Kit includes a rod, crank pin, big end bearing, wrist pin bearing, and two thrust washers. This newly manufactured connecting rod kit from VintCo will help you keep the ride going! Retail price: $159.95
1974-1978 HONDA CR125 PISTON KIT
This 1974-1978 Honda CR125 Piston kit includes rings, pin and clips. The piston is forged, made in Germany, Mos2 coated for break-in and available in standard and over-sizes. The wrist pin bearing sold is sold separately. Retail price: $119.95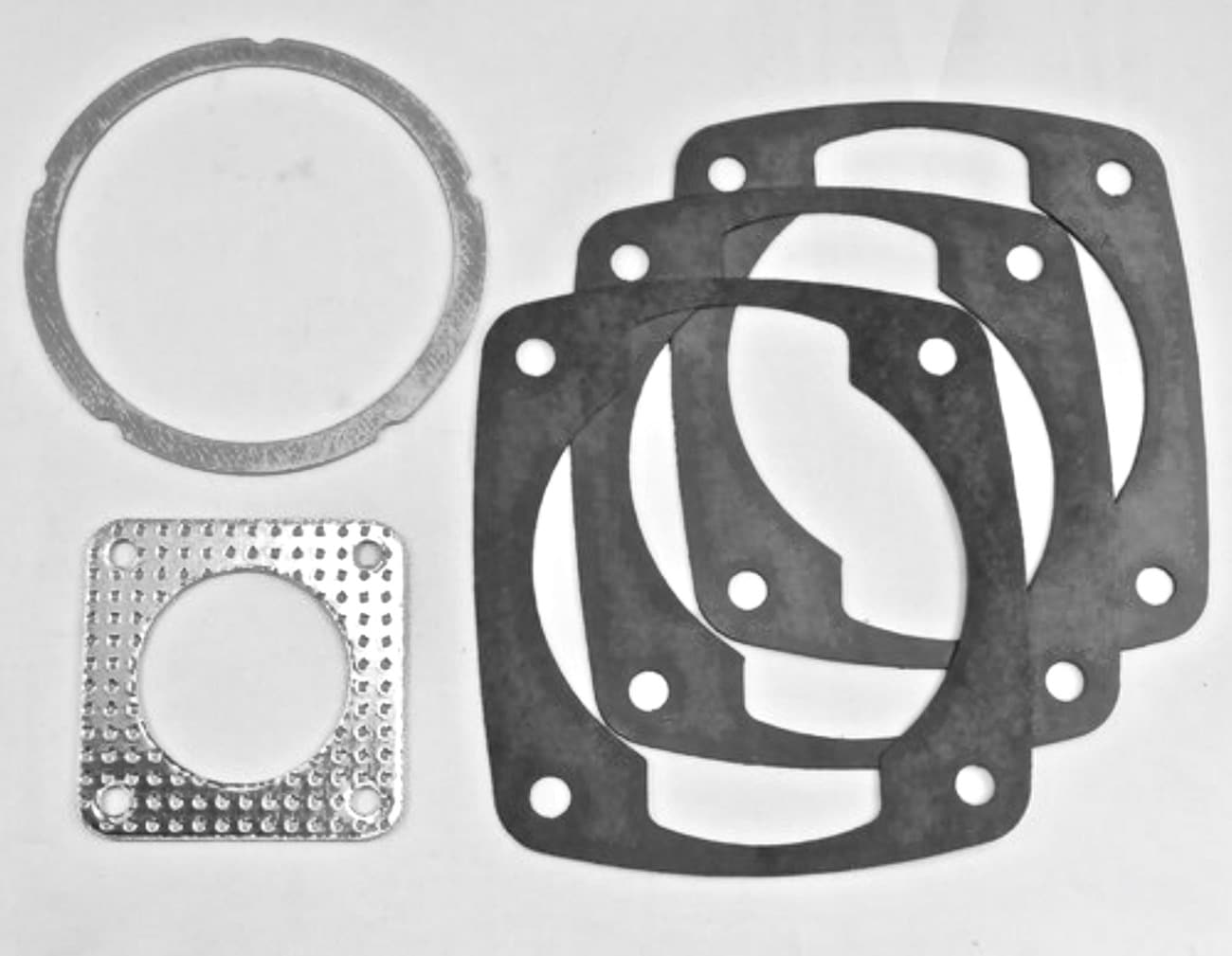 1981 MAICO 490 TOP END GASKET KIT
New quality gaskets are critical to any engine rebuild and VintCo has high-quality, top-end gasket kits to get your Maico back on the track. These gaskets are made with modern materials and manufacturing techniques to ensure an as good or better than OEM fitment and performance. This standard bore 86.5mm 1981 Maico 490 top-end gasket kit includes the head, base (three options) and exhaust gaskets to complete your build with ease. The OEM part numbers are provided to ensure an exact fitment as well. Retail price: $39.95.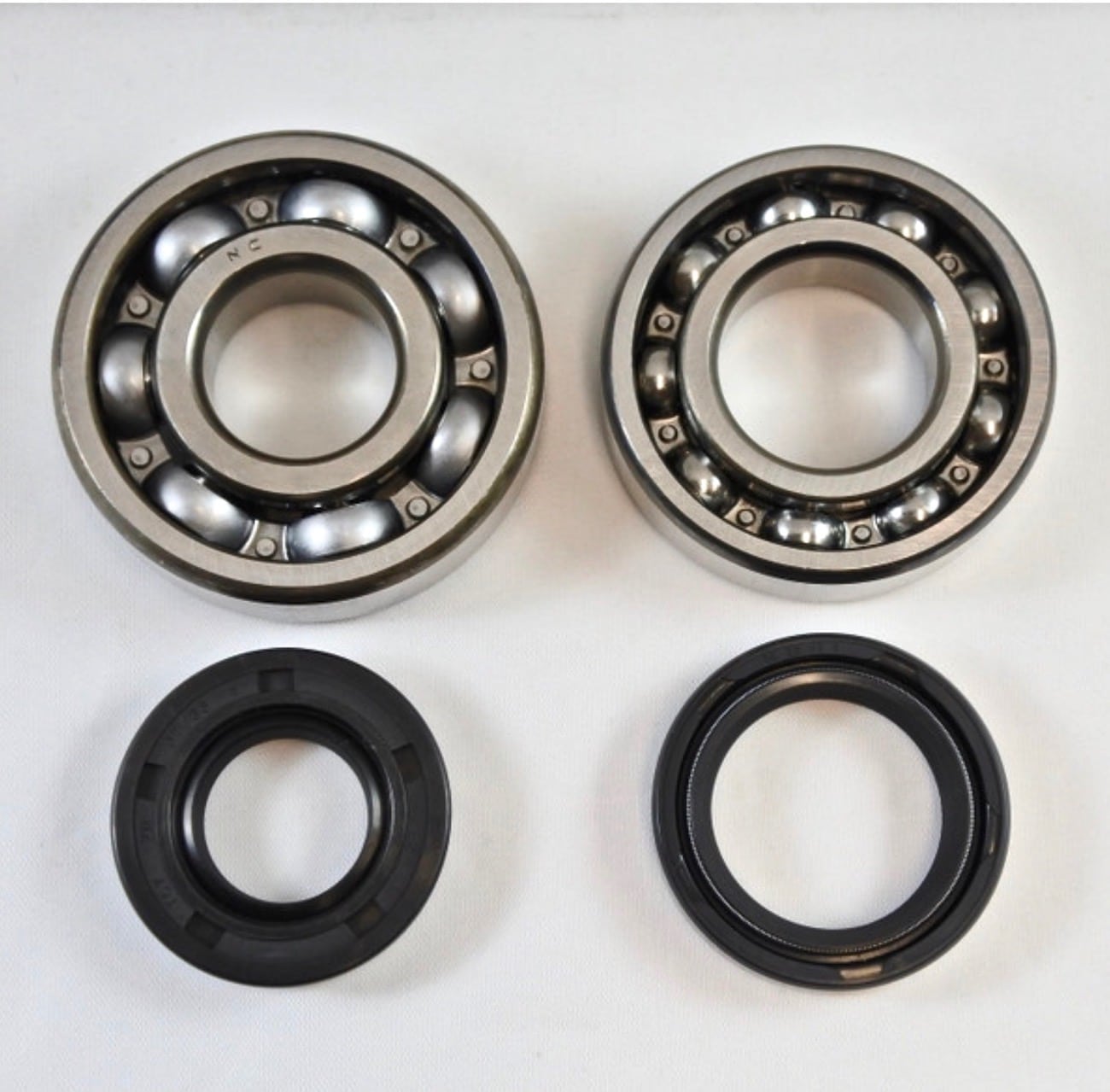 1981 SUZUKI RM125 MAIN BEARING KIT
Having new main bearings with new main seals is a must and VintCo has the solution. These engine main bearing kits are made with modern materials and manufacturing techniques. The high-quality main bearings are made in Japan. This kit includes the two main bearings and two oil seals to complete your build with ease. This main bearing kit will fit the 1981 Suzuki RM125s. Retail price: $24.95.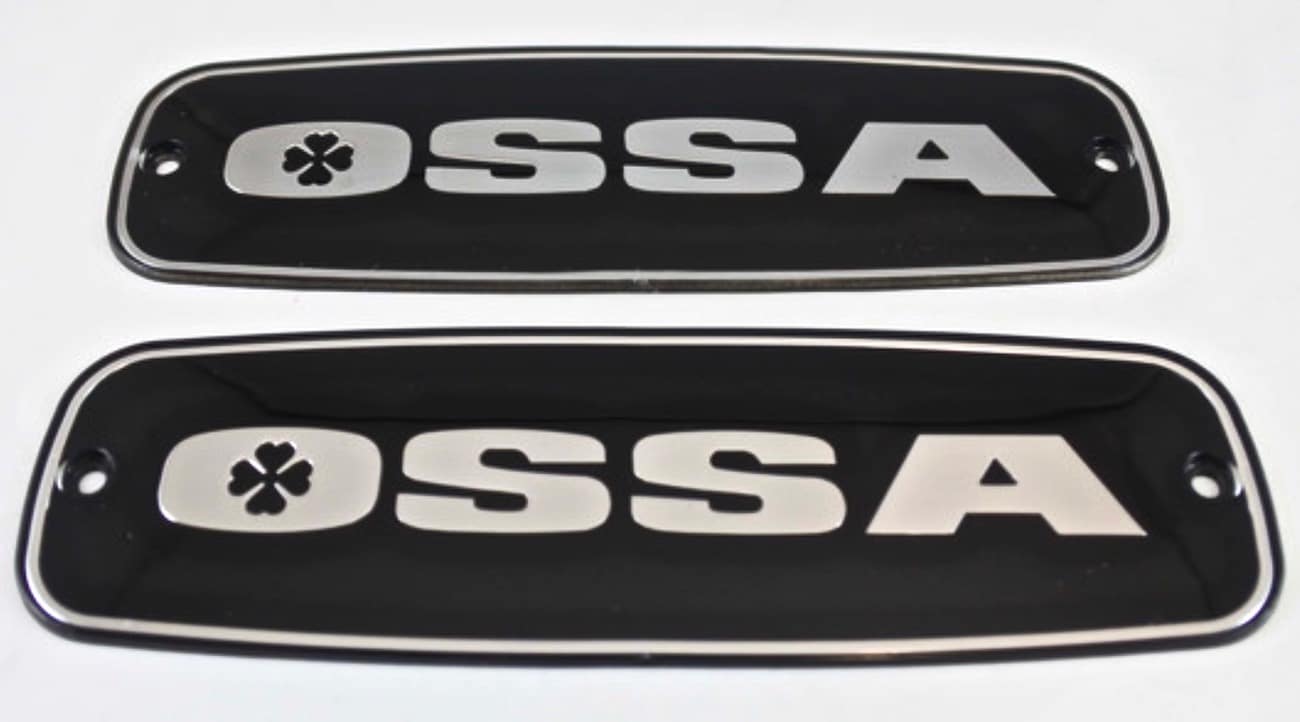 1970-1978 OSSA STILETTO, PIONEER & PHANTOM TANK BADGES
These are exact reproductions of the original Ossa tank badges. They are made of the correct plastic and chrome backing. You cannot tell them apart from OEM. Two per package. Fits Stilletto, Pioneer, Mick Andrews Replica, SDR, Phantom & Explorer. Retail price: $34.95.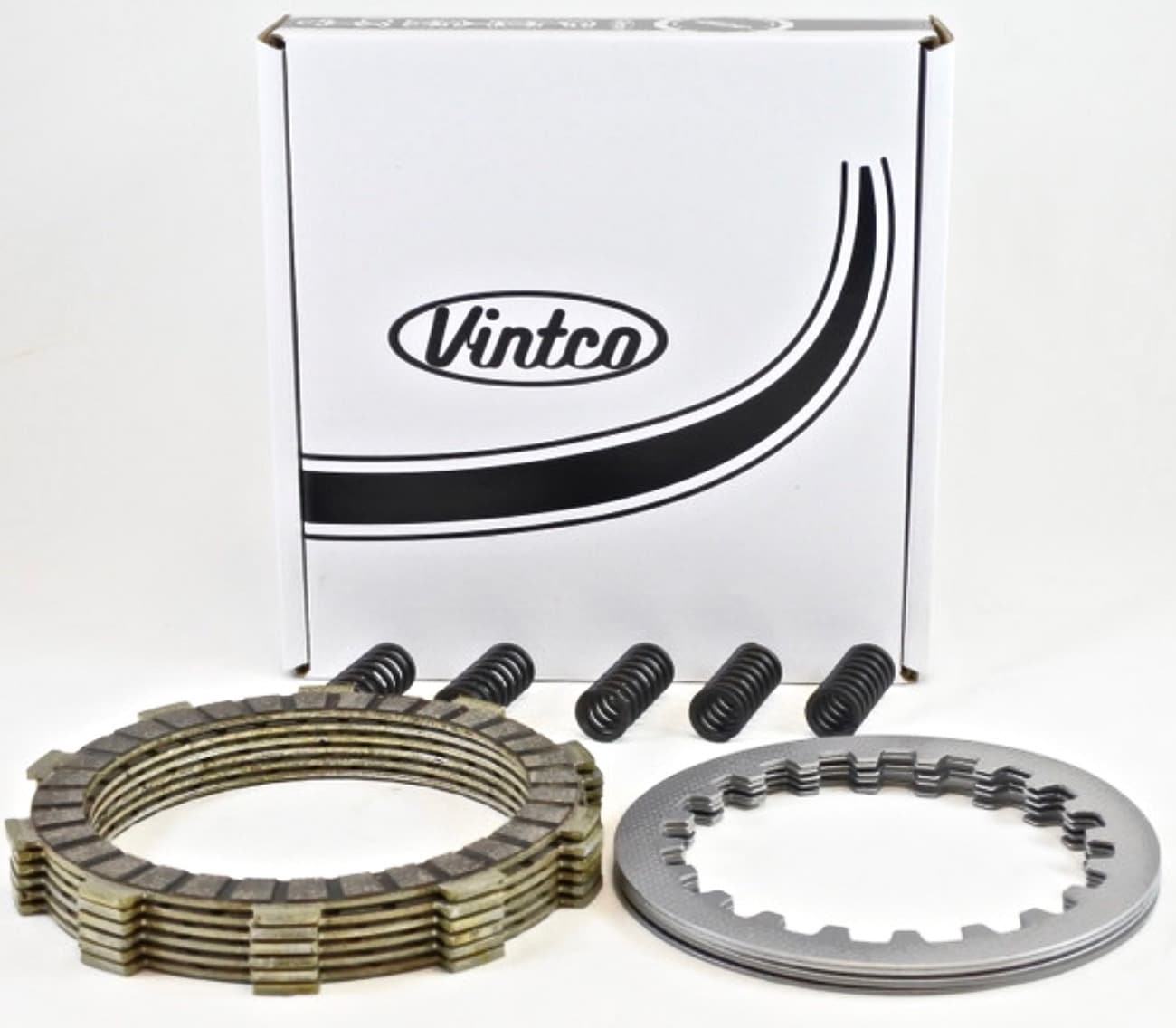 1976-1980 YAMAHA YZ125 CLUTCH KIT
VintCo has all new clutch plate kits for your Vintage Yamaha. These Clutch kits will save you time and money as they come complete with steel and friction plates as well as the springs to complete the job. Our clutch cork friction plates are infused with aluminum particles designed to ensure smooth power delivery and fade-free performance. VintCo steel clutch plates won't expand and do not fade like aluminum clutch plates. The clutch springs are heat treated for maximum life. This is an OEM-quality drop-in clutch plate kit that fits 1976 to 1980 Yamaha YZ125S. Retail price: $59.95.
PERFECT CHRISTMAS FOR YOUR KNEES: POD K8 CARBON KNEE BRACES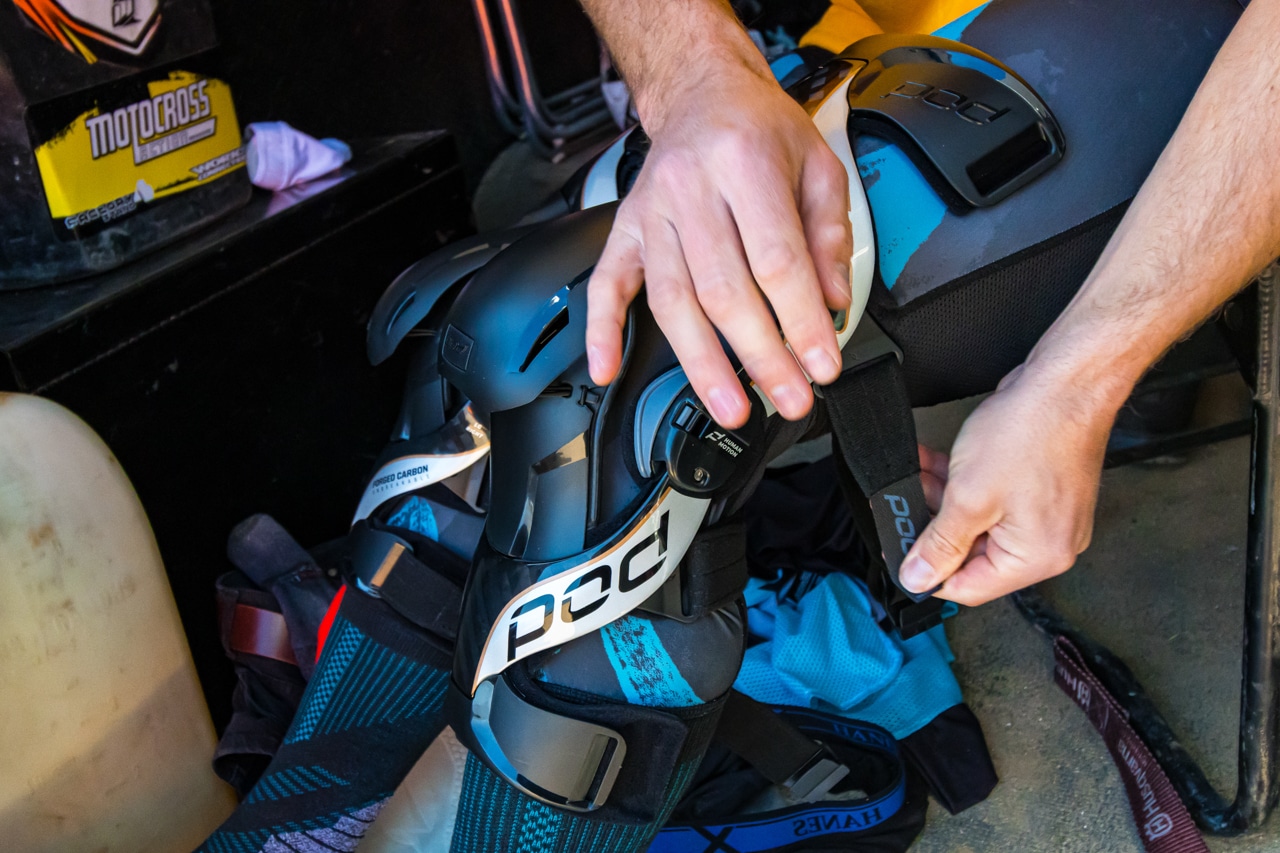 Not only are the POD K8 Carbon knee braces cool looking and lightweight, but they're also certified as a medical device and that makes them even better. The knee is one of the largest and most complex joints in the body, with three large bones held together by ligaments that are vital for joint stability and function.
POD developed their own Synthetic Ligaments to reduce the strain on the ligaments in your knee in the event of a crash. Inspired by the human body, POD's patented Human Motion technology uses the Synthetic Ligaments engineered from Vectran Fibres (which are five times stronger than steel) to provide progressive, multidirectional motion control. The new POD Hinge Housing provides smooth contact surface against your knee avoiding abrasion against your gear while delivering new levels of comfort, performance & reliability.
The new CE impact tested & certified Full Coverage guards protect against impacts, handlebar strikes, plus enhance comfort when kneeling. The adaptive top and bottom cuffs were designed to conform to various leg shapes, while adapting to muscle movement while you're. They accommodate muscle motion, increase comfort and disperse load reducing the risk of skeletal fractures. For more info go to www.podactive.com.
PERFECT CHRISTMAS GIFT FOR YOUR FORKS: PROTECH FORK GUARDS
The first time the MXA wrecking crew saw the British-made ProTech fork guards, we knew they were something every motocross racer needed. The ProTech guards offer 350 degrees of protection from roost for your bike's fork legs. They vastly improve the chances of your fork seals lasting twice as long. The ProTech guards directly replace the standard OEM guards on KTMs, Husqvarnas, Hondas, Yamahas, Gas Gas bikes and Shercos.
Modern fork guards protect your fork legs from rock damage from the front but do nothing to keep the chrome from being damaged by dirt, debris and rocks ricocheting off the frame or roost thrown off the trailing edge of your own front tire. Just one stone chip to a chrome fork leg is enough to cause a fork seal leak.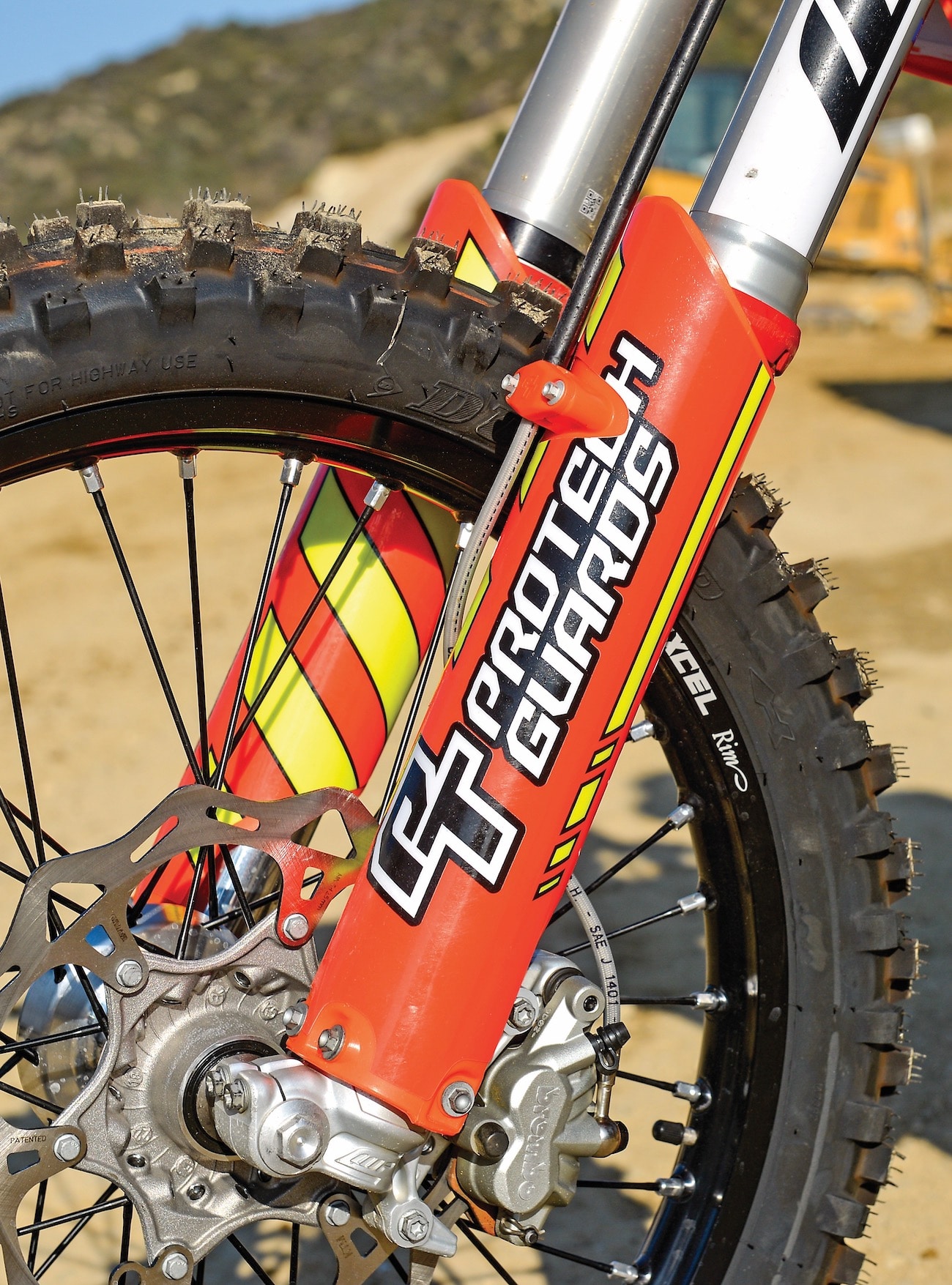 Luckily, ProTech, a small British company, understood the problem and injection-molded wraparound fork guards that completely cover the fork tube, save for a small 1-inch opening up the back that allows the plastic guard to be flexed wide enough to pop over the fork leg. The small gap isn't optimal, but the protection is much better than with stock fork guards.
With ProTech wraparound fork guards the plastic will not crack when roosted, plus the fork guard comes up higher to protect more of the fork's stanchion and the KTM, Husky, Sherco and Gas Gas guards will accept a speedo hose along with the front brake line. This was a big plus for off-road and enduro riders.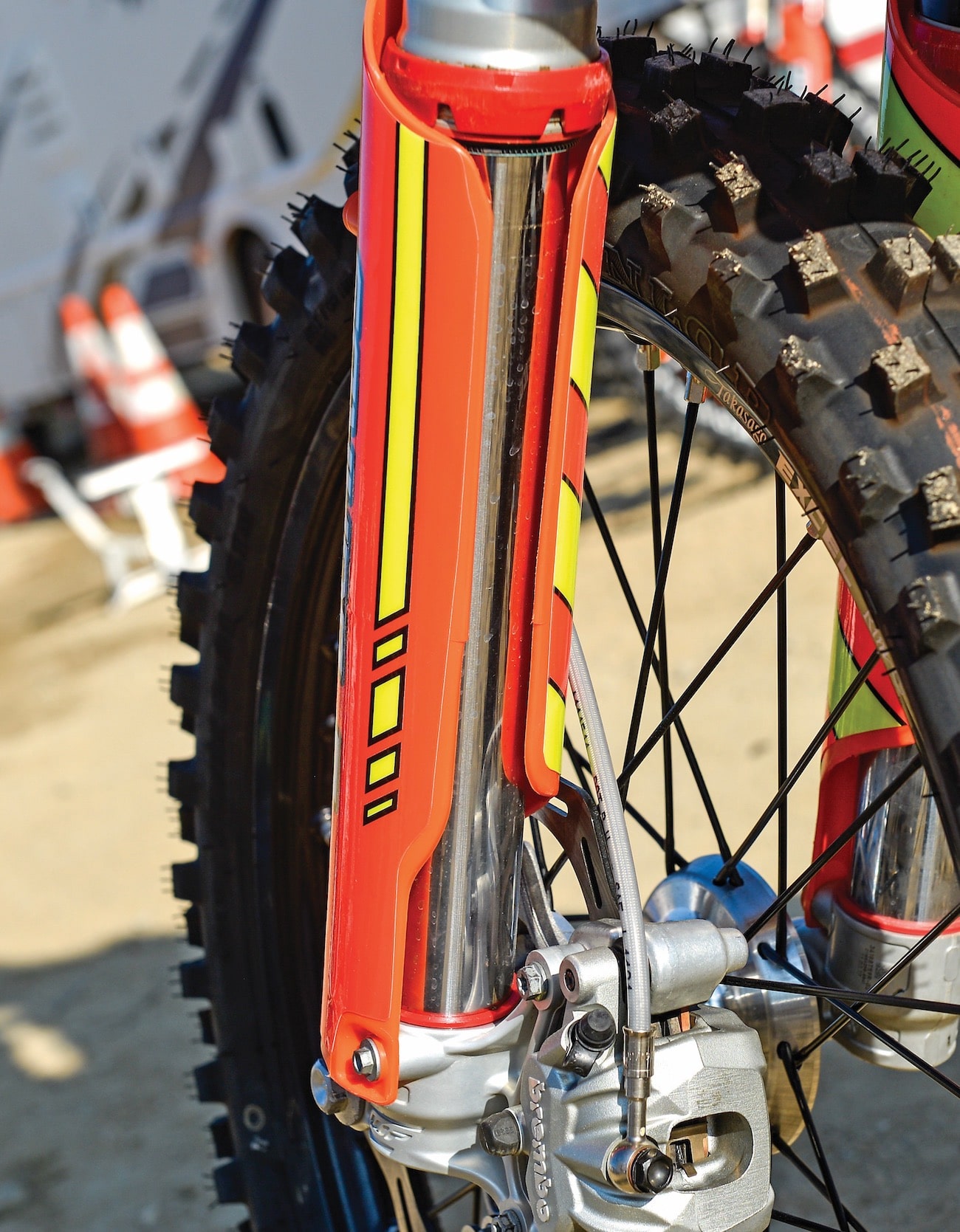 The retail price is $60.00 from www.protechguards.co.uk. If you are in a rush, there is a good chance that you could order the ProTech guards from www.n2dirt.netin Southern Cailfornia.
KEEPING TRACK OF THE 2021 RACE SCHEDULES
Supercross is coming back in 2021, but it isn't necessarily coming to a stadium near you, but if it does, it will be there three times.
2021 AMA KICKER ARENACROSS CHAMPIONSHIP
Jan. 8…….Starkville, MS
Jan. 9…….Starkville, MS
Jan. 15…….Lubbock, TX
Jan. 16…….Lubbock, TV
Jan. 22…….Guthrie, OK
Jan. 23…….Guthrie, OK
Jan. 29…….Denver, CO
Jan. 30…….Denver, CO
Feb. 5…….Reno, NV
Feb. 6…….Reno, NV
Mar. 5…….Amarillo, TX
Mar. 6…….Amarillo, TX
REVISED 2021 AMA SUPERCROSS CHAMPIONSHIP (UPDATED)
Jan. 16 (Saturday)…Houston, TX (250 East)
Jan. 19 (Tuesday)….Houston, TX (250 East)
Jan. 23 (Saturday)…Houston, TX (250 East)
Jan 30 (Saturday)…Indianapolis, IN (250 East)
Feb. 2 (Tuesday)….Indianapolis, IN (250 East)
Feb. 6 (Saturday)…Indianapolis, IN (250 East)
Feb. 20 (Saturday)…Glendale, AZ (250 West)
Feb. 23 (Saturday)…Glendale, AZ (250 West)
Feb. 27 (Saturday)…Glendale, AZ (250 West)
Mar. 6 (Saturday)…Daytona Beach, FL (250 East)
Mar. 20 (Saturday)…Arlington, TX (250 West)
Mar. 23 (Tuesday)… Arlington, TX (250 West)
Mar. 27 (Saturday)…Arlington, TX (250 West)
TBA……………………………………………
TBA…………………………………………….
May 1 (Saturday)…Salt Lake City
2021 PROVISIONAL GRAND PRIX SCHEDULE (UPDATED)
Apr. 3…Muscat, Oman
Apr. 25…TBA, Italy
May 16…Agueda, Portugal
May 23…Oss, Holland,
May 30…Teutschenthal, Germany
Jun. 13…Orlyonok, Russia
Jun. 20…Kegums, Latvia
Jul. 4…Jakarta, Indonesia
Jul. 11…Semarang, Indonesia
Jul. 25…Locket, Czech Republic
Aug. 1…Lommel, Belgium
Aug 8…Uddevall, Sweden
Aug. 22…KimiRing, Finland
Aug. 29…Igora, Russia
Sep. 12…Afyonkarahisar, Turkey
Sep. 19…TBA, China
Oct. 10…St, Jean d'Angely, France
Oct. 17…Intu Xanadu, Spain
Oct. 31…TBA
Nov. 14…Neuquen, Argentina
2021 AUSTRALIAN NATIONAL CHAMPIONSHIP
Apr. 11…Wonthaggi, VIC
May 2 …Canberra, ACT
May 30…Gillman, SA
Jun. 27…Maitland, NSW
Jul. 25…Wodonga, VIC
Aug. 9…TBA, QLD
Aug. 14….Coolum, QLD
Aug. 14….Coolum, QLD
2021 ADAC GERMAN NATIONAL CHAMPIONSHIP
Apr.18…Dreetz
May 16…Moggers
Jun. 6…Reutlingen
Jul. 3…Bielstein
Jul. 18…Tensfeld
Sep. 5…Princely Drehna
Sep. 9…Gaildorf
2021 MOTOCROSS DES NATIONS
Sep. 26…Imola, Italy
JOIN MXA'S FLIPBOARD PAGE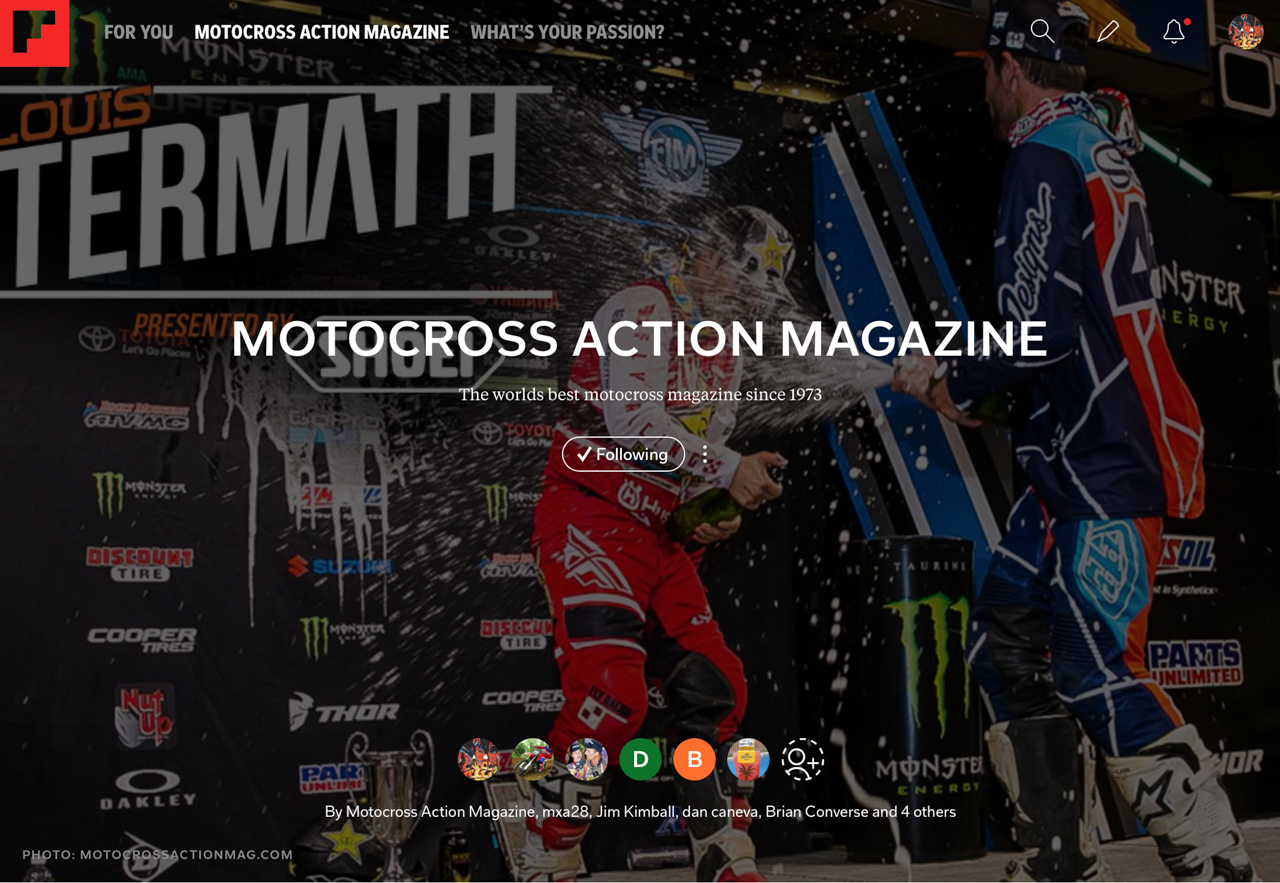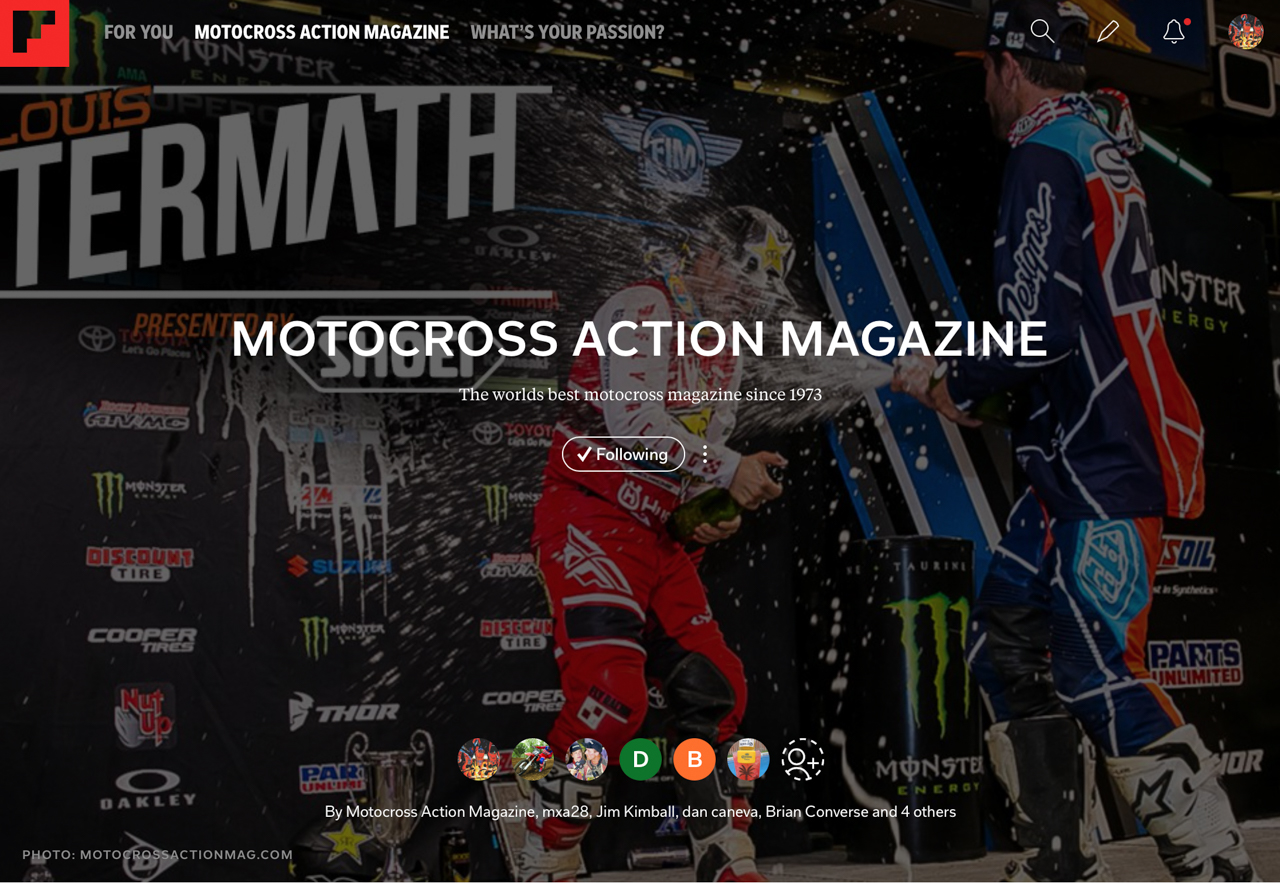 If you use Flipboard make sure to subscribe to the Motocross Action page for all the updates on our website. Click HERE to check out the page.