MXA'S WEEKEND NEWS ROUND-UP: YOU GOTTA LOVE THE DOLDRUMS
MXA PHOTO OF THE WEEK: AL BAKER ON THE 1976 RM370
The coolest thing about this photo isn't the 1976 Suzuki RM370, the fact that it was on the cover of the December 1975 issue or that it was shot at Carlsbad Raceway (as you can tell by the cross-over bridge in the background). So what's so cool? That's MXA's Al Baker at the controls. The multi-time Baja Champion was a full-time test rider for MXA and the wrote the 1970's version of "Ask The MXperts" (called "Wingnut" back then). Al was a great rider, a master mechanic, Baja Champion,  Mugen importer, Johnny O'Mara's manager, Kawasaki team manager and a true friend. Note Al's Checkers Motorcycle Club helmet, Hallman leather, Full-bore boots and retro MXA red,white & blue jersey. Sadly, Al was killed in an airplane crash in 1992.
2019 RACE SCHEDULE: FOR THOSE WHO CAN'T WAIT THREE MORE WEEKS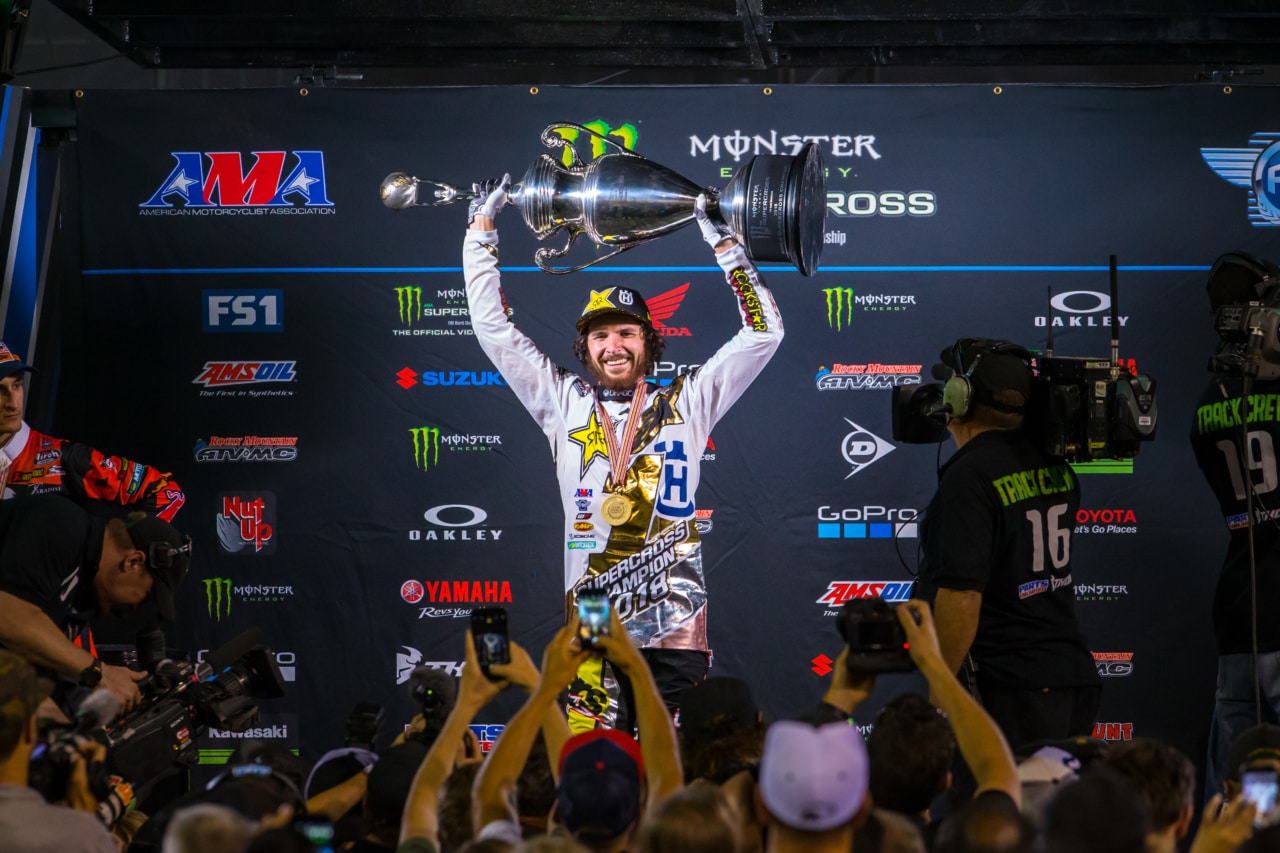 Jason Anderson will be at Anaheim Stadium on January 5, 2019, to start his Supercross title defense.

2019 AMA SUPERCROSS SERIES
Jan. 5…………………………….Anaheim, CA
Jan. 12………………………….Glendale, AZ
Jan. 19………………………….Anaheim, CA (3-moto race)
Jan. 26………………………….Oakland, CA
Feb. 2……………………………San Diego, CA
Feb. 9…………………………..Minneapolis, MN
Feb. 16………………………….Arlington, TX
Feb. 23………………………….Detroit, MI (3-moto race)
Mar. 2……………………………Atlanta, GA (250 E/W Shootout)
Mar. 9……………………………Daytona Beach, FL
Mar. 16………………………….Indianapolis, IN
Mar. 23………………………….Seattle, WA
Mar. 30………………………….Houston, TX (3-moto race)
Apr. 6……………………………Nashville, TN
Apr. 13………………………….Denver, CO
Apr. 27………………………….East Rutherford, NJ
May 4……………………………Las Vegas, NV (250 E/W Shootout)
2019 AMA NATIONAL CHAMPIONSHIP
May 18……………………Hangtown, CA
May 25.…………………..TBA
June 1..……………….….Thunder Valley, CO
June 15..…………………Mt. Morris, PA
June 22.………………….Jacksonville. FL
June 29..…………………Southwick, MA
July 6.………………….….Red Bud, MI​
July 20.……………………Millville, MN​
July 27.……………………Washougal, WA
Aug. 10..………………….Unadilla, NY​
Aug. 17..………………….​Budds Creek, MD
Aug. 24.…………………..Crawfordsville, IN
2019 FIM MOTOCROSS WORLD CHAMPIONSHIP
Mar. 10……………………………Argentina
Mar. 24……………………………England
Mar. 31……………………………Holland
Apr. 7……………………………..Italy #1
Apr. 21……………………………Hong Kong
May 1……………………………..Shanghai
May 12……………………………Italy #2
May 26……………………………France
June 9…………………………….Russia
June 16…………………………..Latvia
June 23…………………………..Germany
July 7……………………………..Indonesia #1
July 14……………………………Indonesia #2
July 28……………………………Czech Republic
Aug. 4…………………………….Belgium
Aug. 18………………………….Switzerland
Aug. 25…………………………..Sweden
Sept. 8……………………………Turkey
Sept. 22………………………….Italy #3
2019 MOTOCROSS DES NATIONS
Sept. 29…………………………….Assen, Holland
2019 WORLD OFF-ROAD CHAMPIONSHIP (WORCS)
Jan. 18-20……………………….Primm, NV
Feb. 1-3……………………………Glen Helen, CA
Mar. 1-3…………………………..Lake Havasu, AZ
Mar. 22-24………………………Peoria, AZ
Apr. 12-14……………………….Las Vegas, NV
May 24-26………………………Mesquite, NV
Aug. 2-4…………………………..McCleary, WA
Sept. 13-15…………………….Glen Helen, CA
Oct. 4-5…………………………..Milford, CA
Nov. 15-17………………………Las Vegas, NV
2019 AMA NATIONAL AMATEUR CHAMPIONSHIP
July 29-Aug. 3………………….Loretta Lynn, TN
2019 BRITISH ARENACROSS CHAMPIONSHIP
Jan. 18-19………………………….Belfast, Irl
Feb. 1-2……………………………..Birmingham, GB
Feb. 15-6…………………………..Sheffield, GB
2019 BRITISH NATIONAL CHAMPIONSHIP
Mar. 3……………………………..FatCat
Apr. 14…………………………….Lyng
May 5……………………………..Canada Heights
June 2…………………………….Blaxhall
June 30…………………………..Desertmartin
July 21……………………………Hawkstone Park
Aug. 11……………………………Foxhill
Sept. 15………………………….Landrake
2019 AMA VINTAGE MOTORCYCLE DAYS
July 5-7…………………………….Lexington, Ohio
2019 AMA NATIONAL AMATEUR CHAMPIONSHIP
July 29-Aug. 3………………….Loretta Lynn, TN
2019 RYAN VILLOPOTO AMATEUR MOTOCROSS CUP
Aug. 22-25………………………..Grays Harbor, WA
2019 GERMAN MX MASTERS CHAMPIONSHIP
April 14…………………………….Princely Drehna
June 2………………………………Moggers, Austria
June 30…………………………….Molln
July 21……………………………..Tens
Aug. 11…………………………….Gaildorf
Sept. 1……………………………..Biel
Sept. 15……………………………Wood Gerlingen
2019 MONSTER ENERGY CUP
Oct. 21……………………………..Las Vegas, NV
MXA PRODUCT SPOTLIGHT: REM MX T-SHIRTS, HATS & CASUAL WEAR
REM Checkered Flag shirt—$26.95
REM On Any Saturday Shirt—$26.95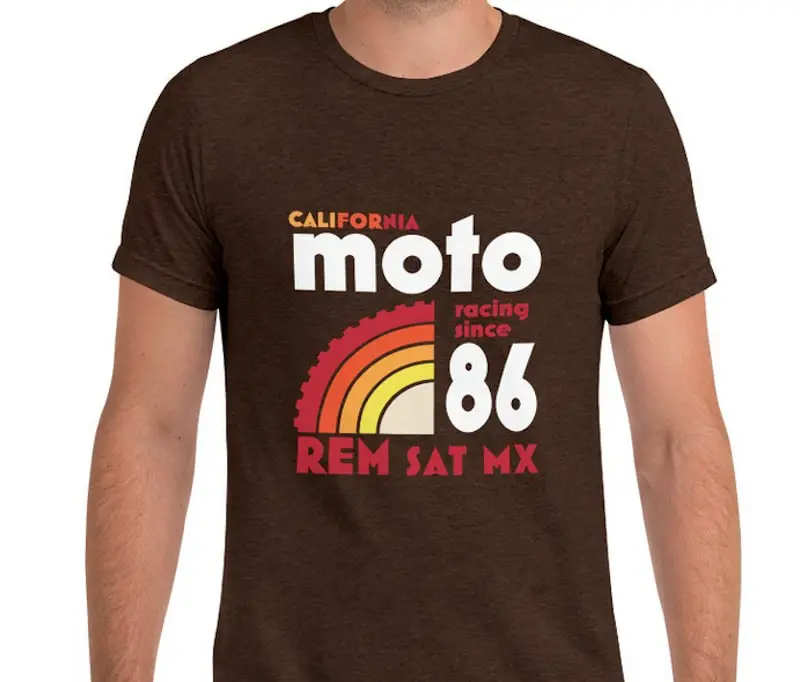 REM Moto Since '86 shirt—$26.95
All REM T-shirts are made from a tri-blend fabric (50% polyester/25% combed ring-spun cotton/25% rayon) creates a vintage, fitted look. Extreme durability makes this T-shirt withstand repeated washings and still remain super comfortable. The 40 singles thread weight, comfortable fit and wash and wear durability come with a contemporary fit in a variety of colors.

REM Remington hat—$30
The REM Remington Snapback has a high-profile, flat visor and a subtle grey under visor. It features a plastic snap closure and comes in a variety of colors.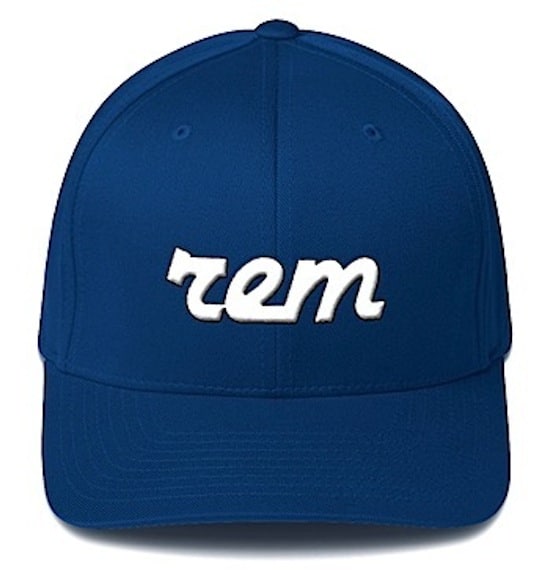 REM Classic hat—$30
The REM Classic hat features flat embroidery and 3D puff on the most trusted Flexfit hat! Available in two sizes, variety of colors and several embroidery options! The structured, 6-panel, mid-profile hat has an athletic shape with a curved visor for those non flat-billers!
REM MX Polo shirt—$39.95
This 100% cotton polo shirt features detailed embroidery that is a great conversation starter, and thanks to the pre-shrunk his 100% cotton polo shirt! The detailed embroidery is a great conversation starter, and thanks to the pre-shrunk ringspun cotton pique fabric, the shirt will maintain its shape after washing. There is a double needle bottom hem and three woodtone buttons on a sleek fit. The detailed left chest embroidery reads "REM MX." For more information go to www.remsatmx.com/shop/
JOEL ON A PUCH?
Everybody remembers Joel Robert as a Suzuki factory rider (teamed with Sylvain Geboers, Roger DeCoster and Harry Everts). A smaller number remember that Joel made his name and won his first couple 250 World Championships riding Czech CZs. But, few remember that Joel raced a Puch after leaving Suzuki.
MXA'S HOLIDAY SUBSCRIPTION DEAL: ONLY $16.95 (AND WE GIVE YOU A $25 CHRISTMAS GIFT)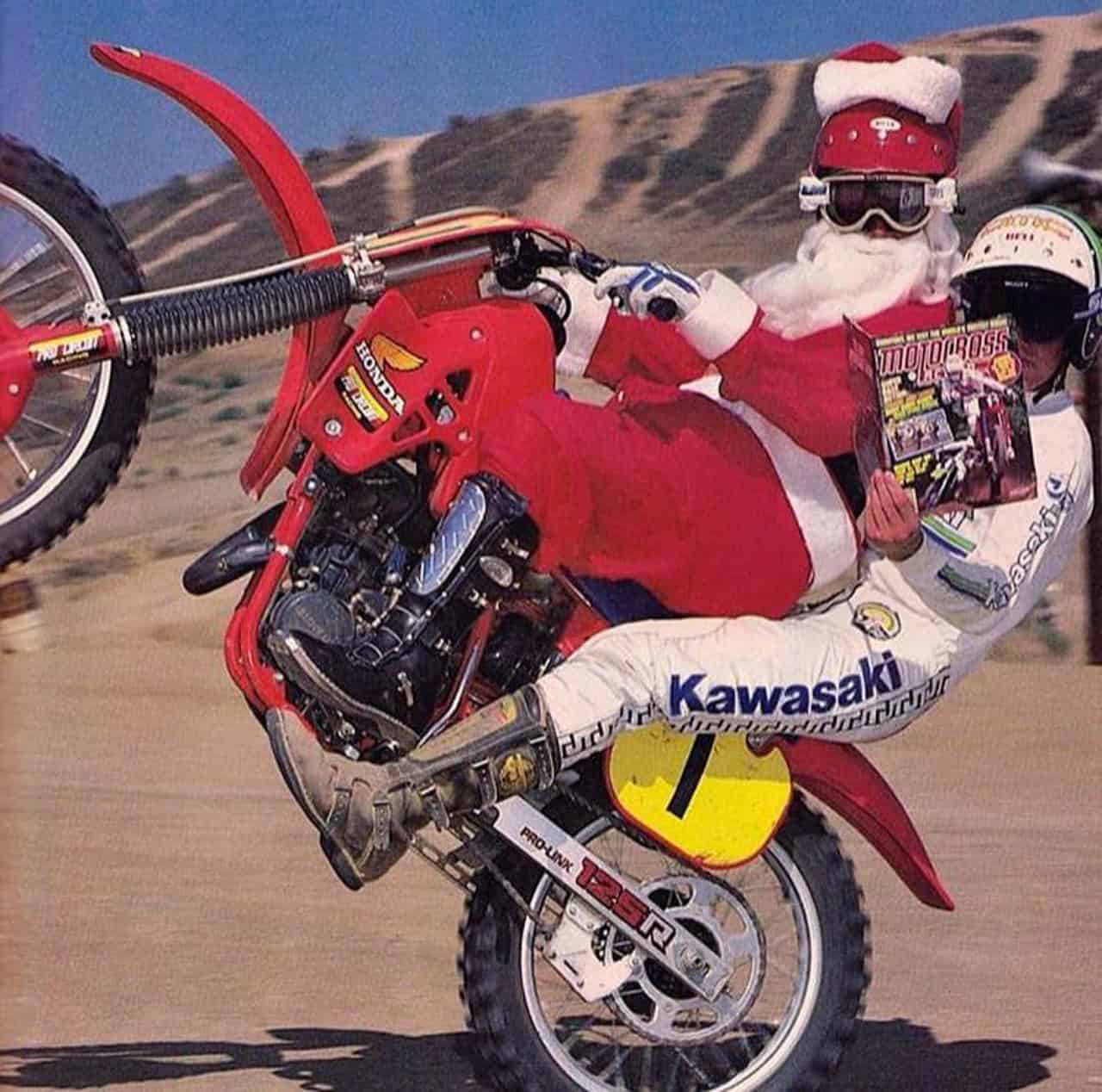 This year let Santa wheelie into your home with a subscription to the world's leading motocross magazine.
Right now, a subscription to Motocross Action Magazine is on sale for $16.99 just in time for the holidays. With that subscription you will receive a $25 Chaparral Gift Card to spend on whatever motorcycle parts or products you need. This is a deal that you will make money on. This is the lowest price for 12 issues of MXA. Don't miss it.
You can get  MXA on your iPhone, iPad, Kindle or Android by going to the Apple Store, Amazon or Google Play or in a digital version. Or,  you can call (800) 767-0345 or go to www.hi-torque.com/product/motocross-action-holiday or click on the box at the bottom of this page to subscribe.
GONE BUT NOT FORGOTTEN: OSSA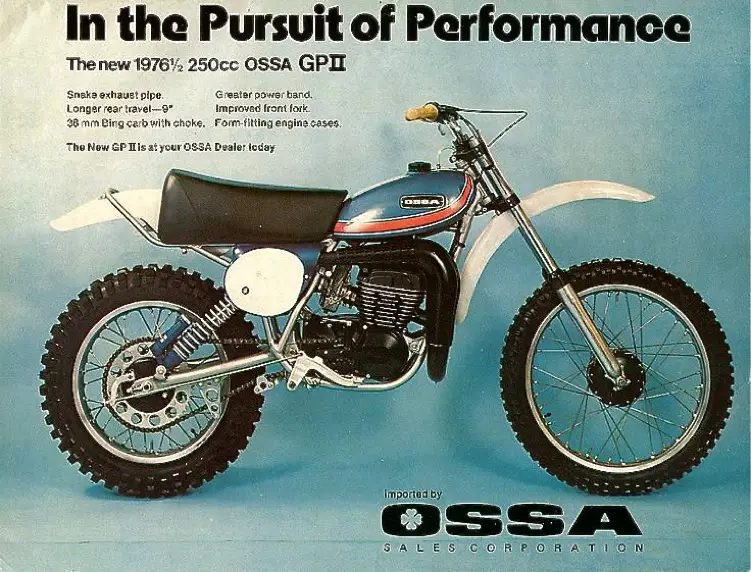 The 1976-1/2 Ossa 250 GP II.
When bankrupt Spanish brand Gas Gas found a sugar daddy buyer to save them from dissolution, no one asked about Osaa. Back in 2014 Ossa was on the road to revival when Gas Gas stepped in to form a manufacturing partnership and a merger that saw both companies combining their engineering, operations, and human resource operations under one roof. It was said that the two Catalan brands would remain distinct in their products, but the economy of scale was of no benefit for either brand — as big brother Gas Gas crashed into receivership.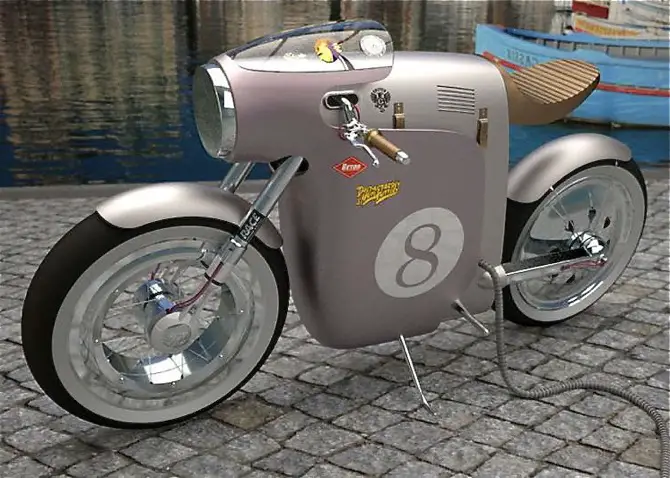 The Ossa Monocasco concept bike. And electric bike replica of a classic Ossa road racer.
Luckily for Gas Gas, they were saved from bankruptcy court when the Torrot Group acquired ownership of the brand and put them right back into production for the 2017 model year.  Torrot's buy-out didn't do much to help Ossa—Buying Gas Tag gave Torrot the rights to own the Ossa brand name as well, but over the last two years there have been no plans revive  Ossa. This could be the end of Ossa—until the next revival attempt.

The actual, true-to-life, Ossa Monocasco road racer. Do they look anything alike?
The bike that Ossa thought would put them on a map — a fuel-injected, backwards-cylinder, two stroke offroad bike.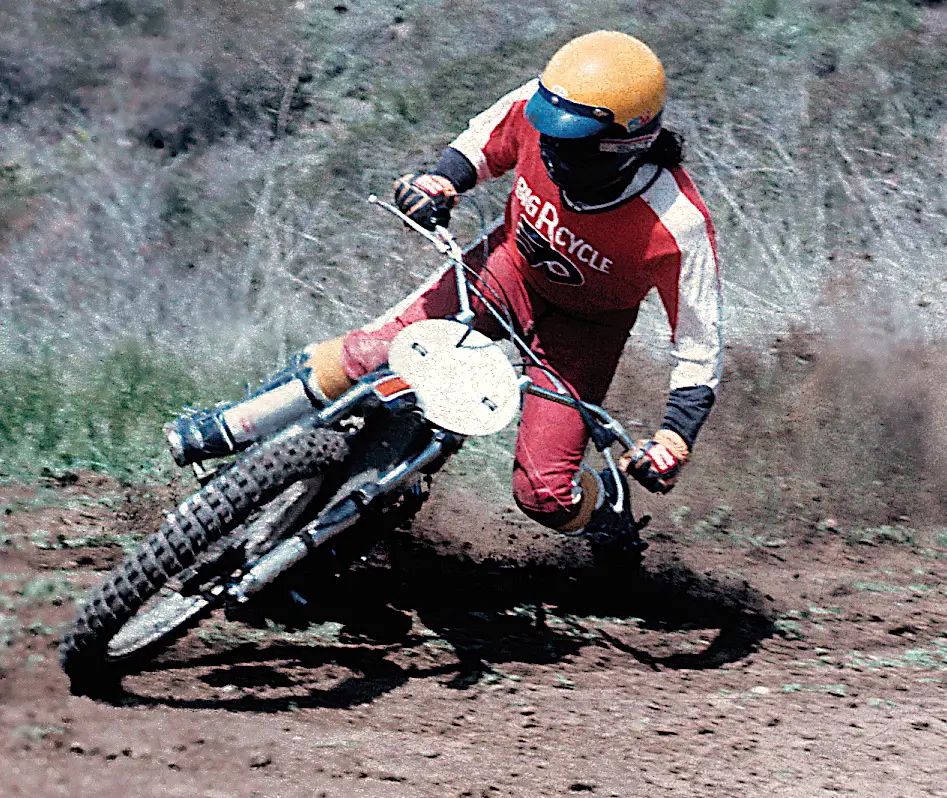 Jody Weisel on an Ossa GPII at the old Escape Country track in Trabuco Canyon in 1976.

Twin-cylinder Yankee Z 500 used two Ossa top-ends bolted to a single crankcase.
This may be the only Ossa you'll be able to buy in the future.
MXA TEAM TESTED: ALPINESTARS A1 ROOST PROTECTOR

Many riders want to wear a plastic roost guard under their jerseys but find them too bulky. To avoid the Bulgarian weightlifter look, riders resort to fabric under-protectors, wear no roost guard or wear a guard on the outside. The market has responded by making slimmer, all-plastic roost guards that can be worn under a jersey, such as the Thor Sentinel, Fly Revel and Fox ProFrame, but Alpinestars went all out to make a sleek design that doesn't add any bulk.
If you are just interested in knocking down roost, an under-protector will do the job just fine, but if you want plastic impact protection (front and rear), you have to accept some added girth. Of all of the roost guards we have tested, the Alpinestars A1 is the thinnest and least obtrusive. It can be found under the jerseys of  many factory riders.
It goes without saying that riders with an added dose of natural padding don't look good wearing their roost guards under their jerseys. Thus, if you are over 200 pounds, the Alpinestars A1 will not be your cup of tea. Additionally, if you intend to wear your roost guard over your jersey, there are competing roost guards that feature thicker plastic, more coverage and increased structural strength over the A1. That doesn't mean that the A1 is limited to the role of an under-protector, just that it works best in that mode
DIGITS? $99.95 (one size fits all)—www.alpinestars.com or (800) 409-0903.
MXA RATING: There are always riders who live in the nether regions of motocross protection. They know that a polyester jersey is no protection at all but don't want the bulk of a full-size chest protector. They live in a world of compromise between reality and hope. They know they will crash but hope they won't. The Alpinestars A1 roost guard is for the dreamers among us. It is the minimum of what a rider can wear and still believe he is wearing protection.
THIS WEEK'S BIRTHDAY BOYS: THE DOGGER TURNS 7-1/2 DOG YEARS (52 in HUMAN YEARS)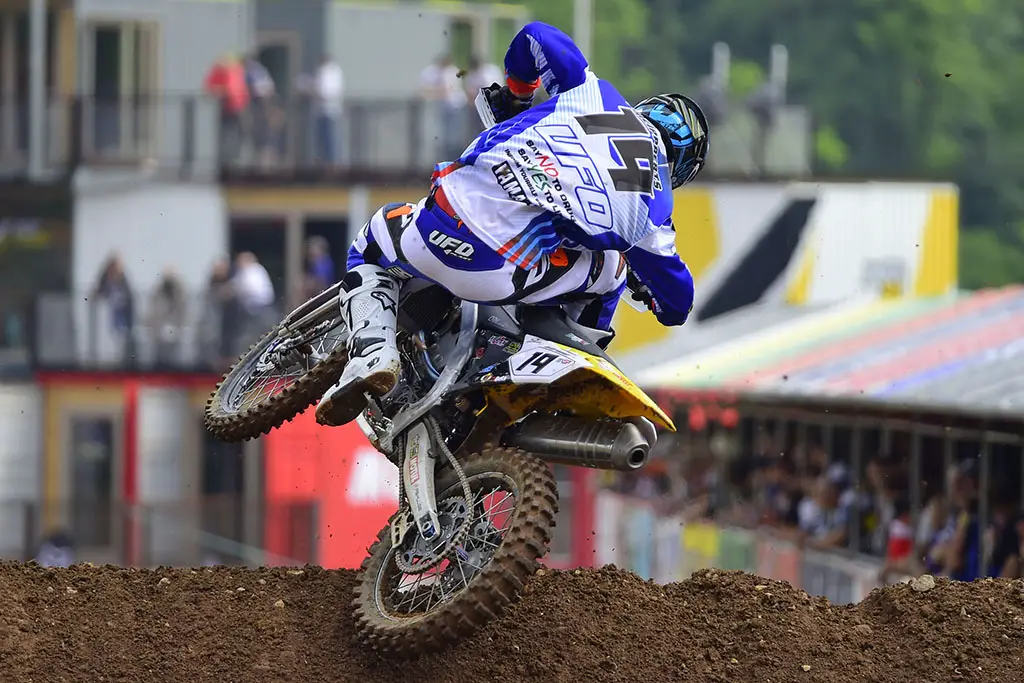 Dec. 7…David Philippaerts 1983
Dec. 7…Bob Morales 1963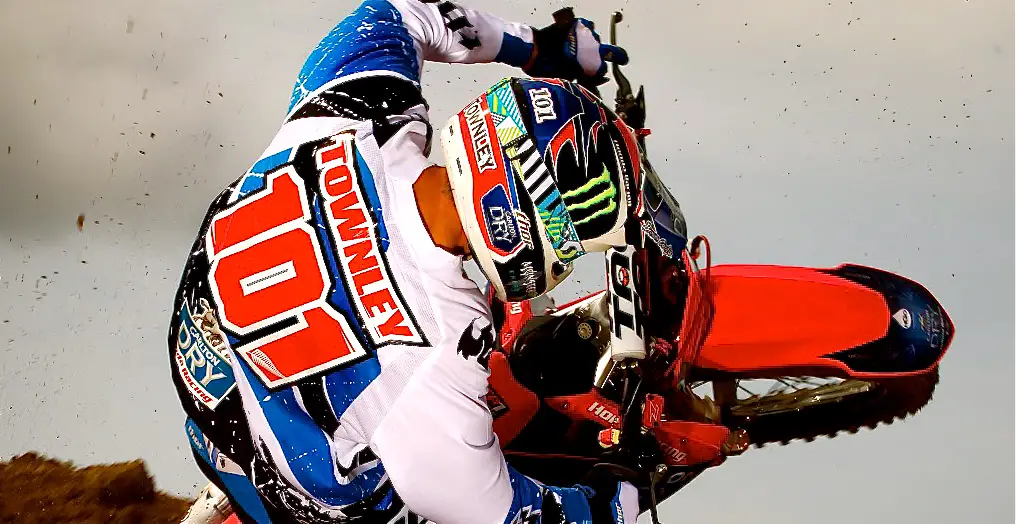 Dec. 9…Ben Townley 1984
Dec. 10…Earl May
Dec. 11…Darrell Shultz
Dec. 11…Lance Smail 1970
Dec. 11…Keith S. Johnson 1970
Dec. 11…Wally Deicken 1937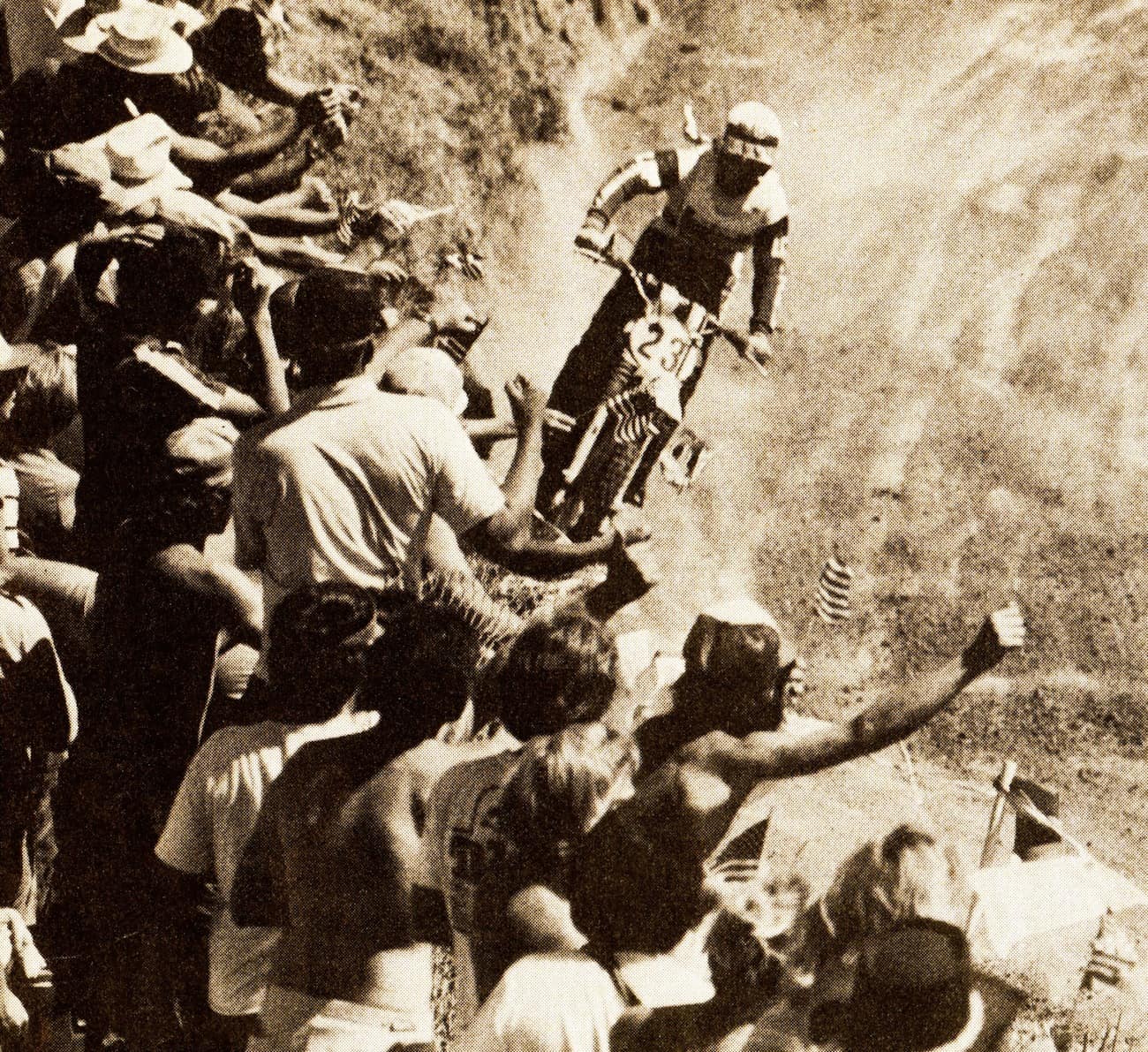 Dec. 12…Marty Moates 1956
Dec. 13…Ron Lechien 1966
Dec. 13…Brian Fleck
Dec. 13…Mike Buckley

Dec. 13…Chris Blose 1987
Dec. 14…Bill Butcher
Dec. 15…Doug DeHaan
THE WAY WE WORE: WHAT THE HECK IS A HECKEL?
Long before anyone thought of using plastic on a boot, let alone making a hinged boot, the Heckle boot had already come and gone.
KTM ENGINES THAT WILL NOT BE IN THE 2019-1/2 FACTORY EDITION WHEN IT IS ANNOUNCED IN 10 DAYS

KTM's four-cylinder MotoGP engine.


KTM's 250cc, single-cylinder Moto3 road race engine.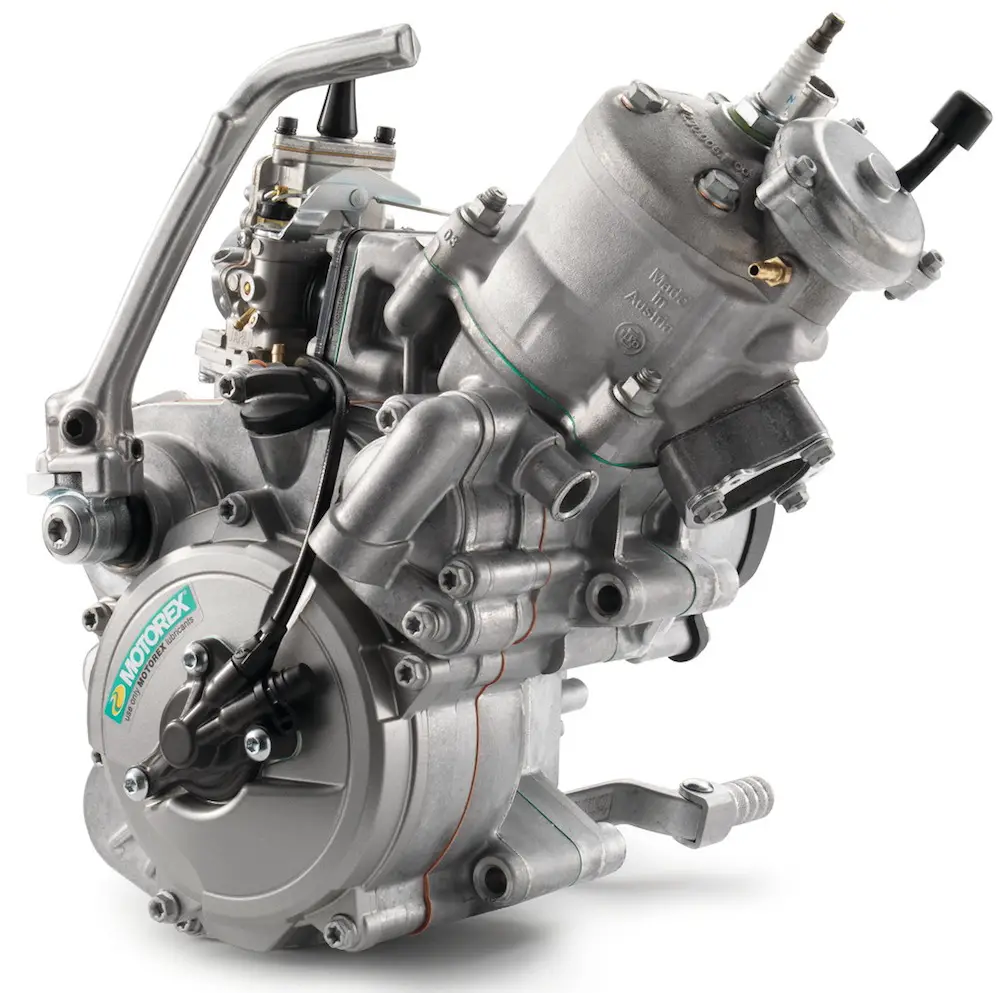 KTM's 65cc two-stroke engine from the 2016 KTM 65SX. It bears a resemblance to the Moto3 engine—except in displacement, size, type, use, horsepower and cost.
KTM's single-cylinder 450cc Rally engine with air intake attached.
KTM's V-twin, 1190cc Supermoto engine.
REM CLOSES OUT 2018 MOTOCROSS SEASON WITH FOUR STRAIGHT STARTING ON DECEMBER 8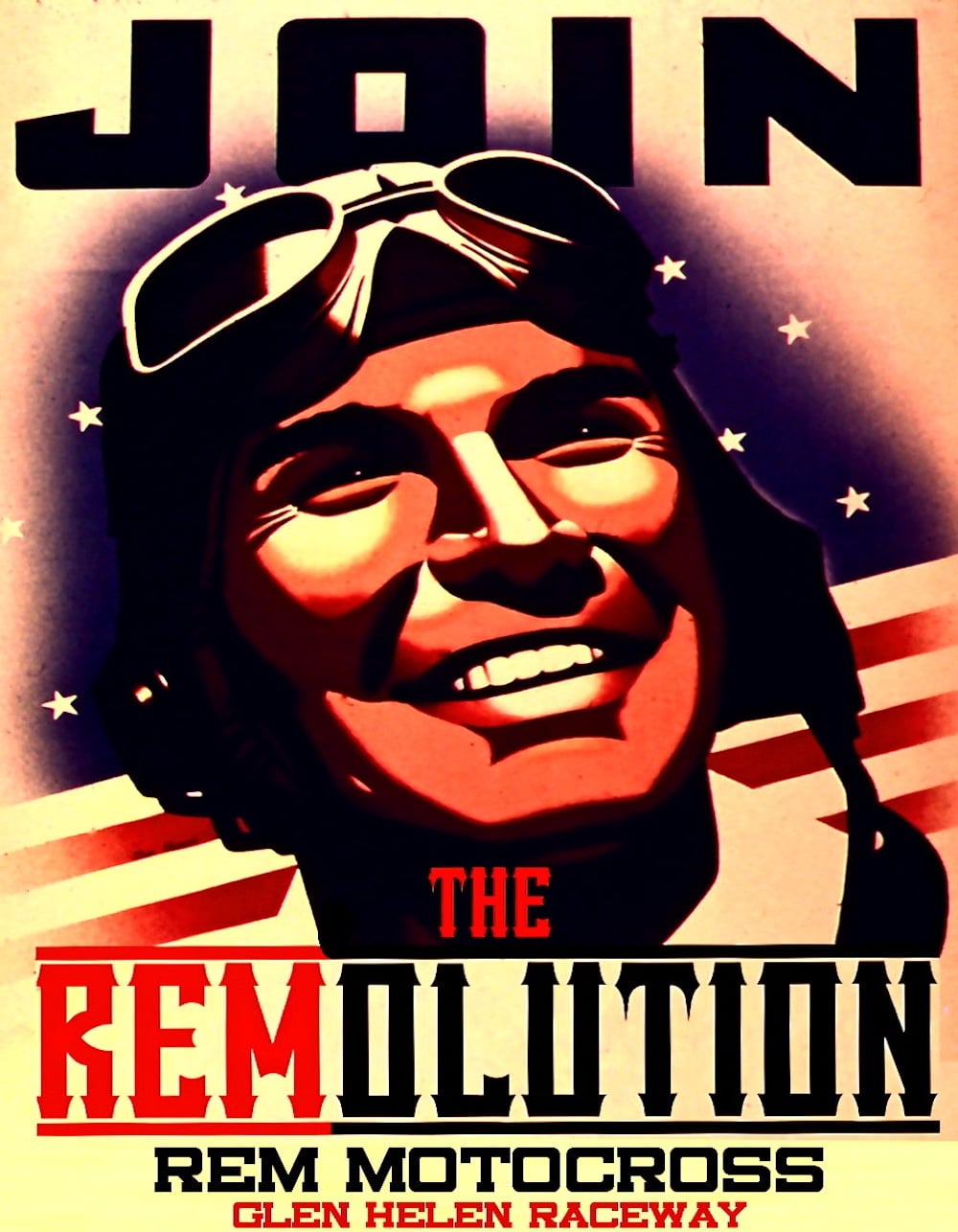 REM will hold four straight races in December starting on December 8 and running through Dec. 15, Dec. 22 and ending on December 29. For more info go to www.remsatmx.com.
FINAL ROUND OF THE OLD SCHOOL SCRAMBLES SERIES ON DEC. 9 AT GLEN HELEN

For more information go to www.oldschoolscramblesracing.com
FIRE & POLICE MOTOCROSS AT GLEN HELEN ON TUESDAY, DEC. 11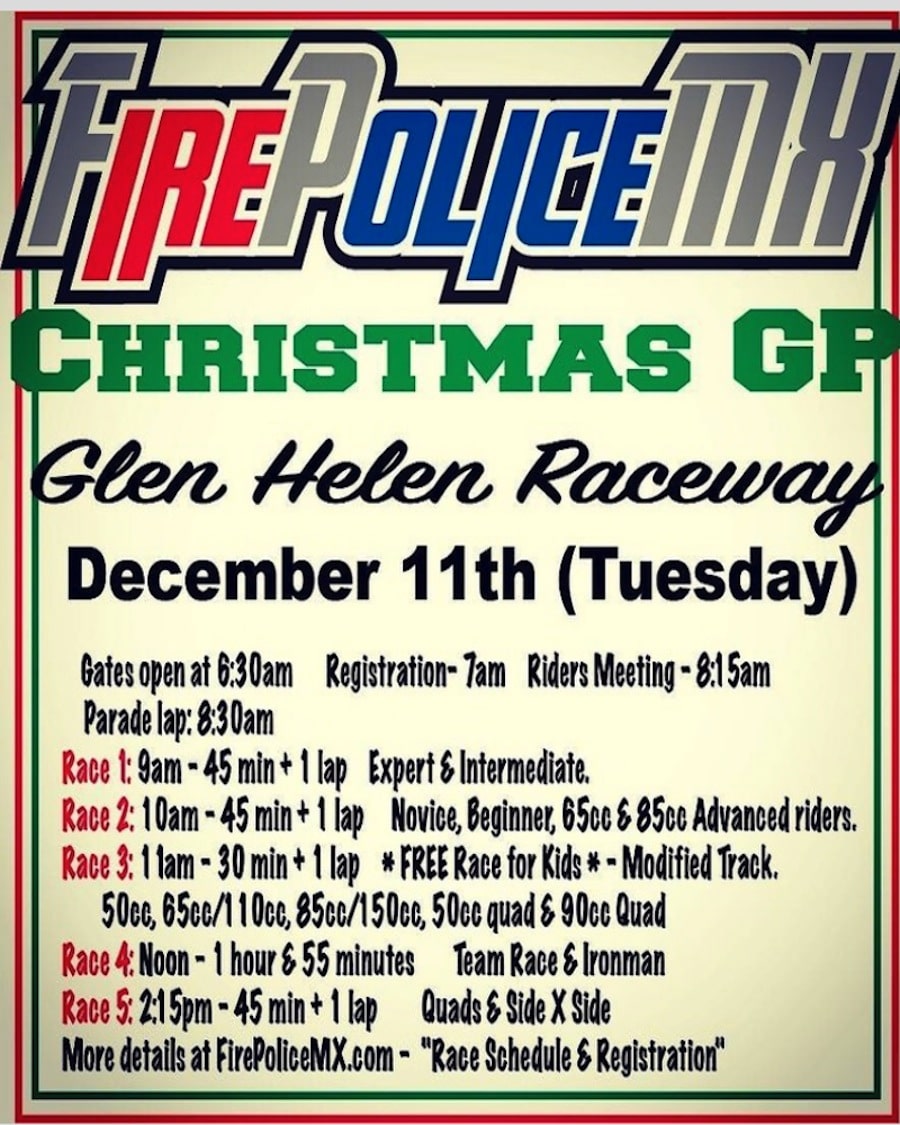 Yes, you read that right — Tuesday, December 11. More details and registration at www.firepolicemx.com
KYLE YARNELL MEMORIAL TEAM RACE AT GLEN HELEN ON DEC. 16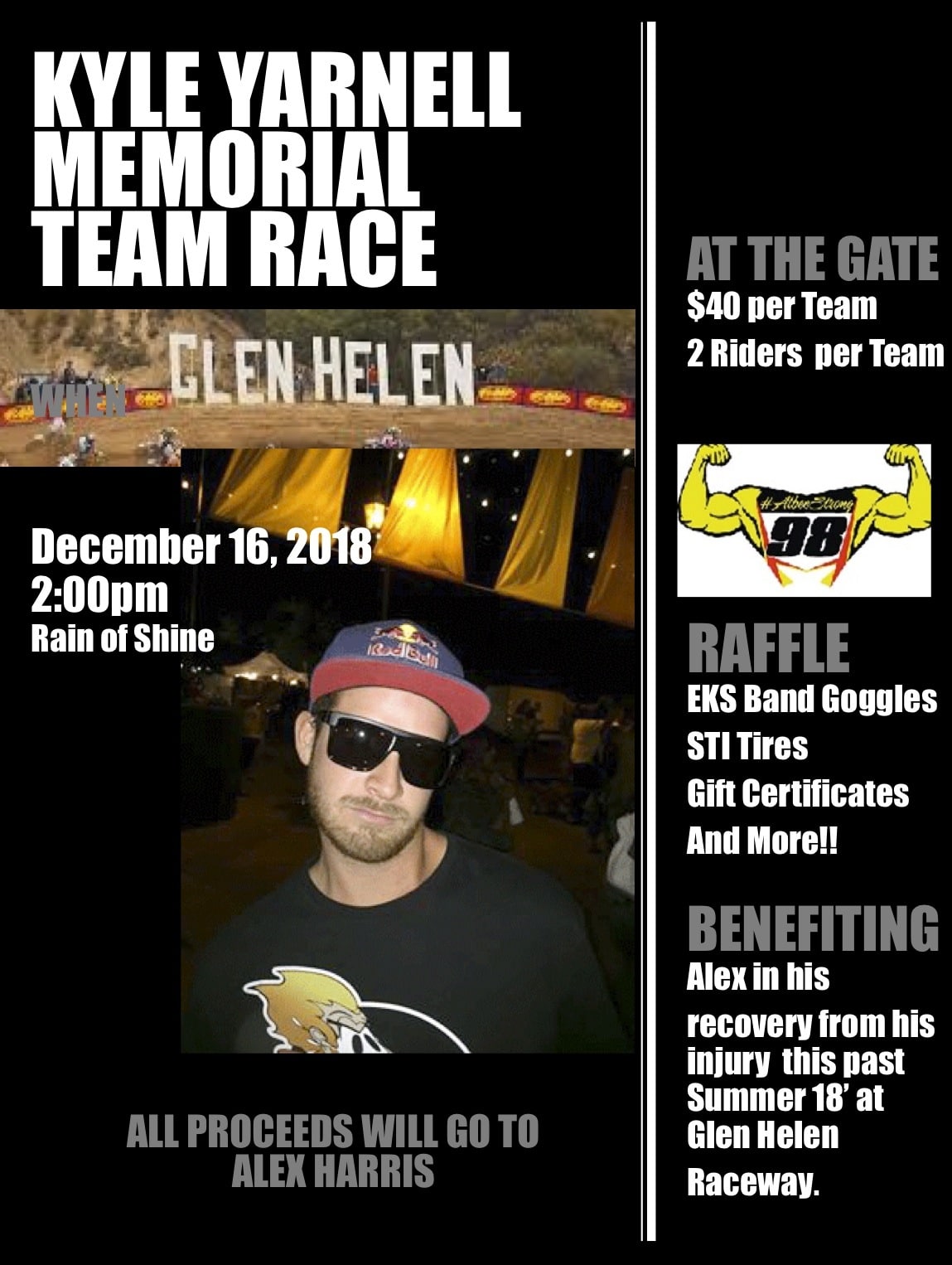 In memeory of Kyle Yarnell a special Team Race will be held at 2:00 p.m. on December 16, 2018, to benefit the recovery of a rider injured at Glen Helen this summer. For more info go to www.glenhelen.com.
SRA SPARKS OF LOVE CHARITY RACE AND TOY DRIVE ON DEC. 16 AT GLEN HELEN

For more info go www.sragp.com
MALCOLM SMITH'S "NO WIMPS IN BAJA" TOUR — JAN. 27- FEB. 1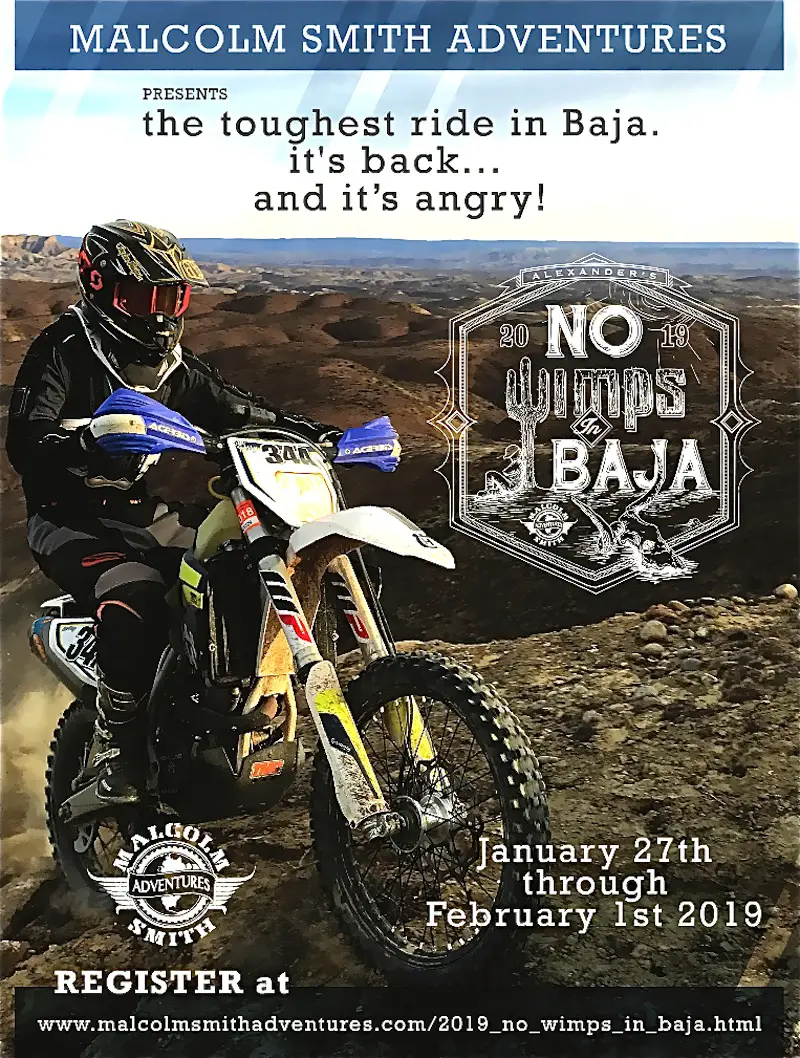 To register or get more info go to www.malcolmsmithadventures.com
28TH ANNUAL MECUMS VINTAGE MOTORCYCLE AUCTION IN LAS VEGAS ON JAN. 22-27, 2019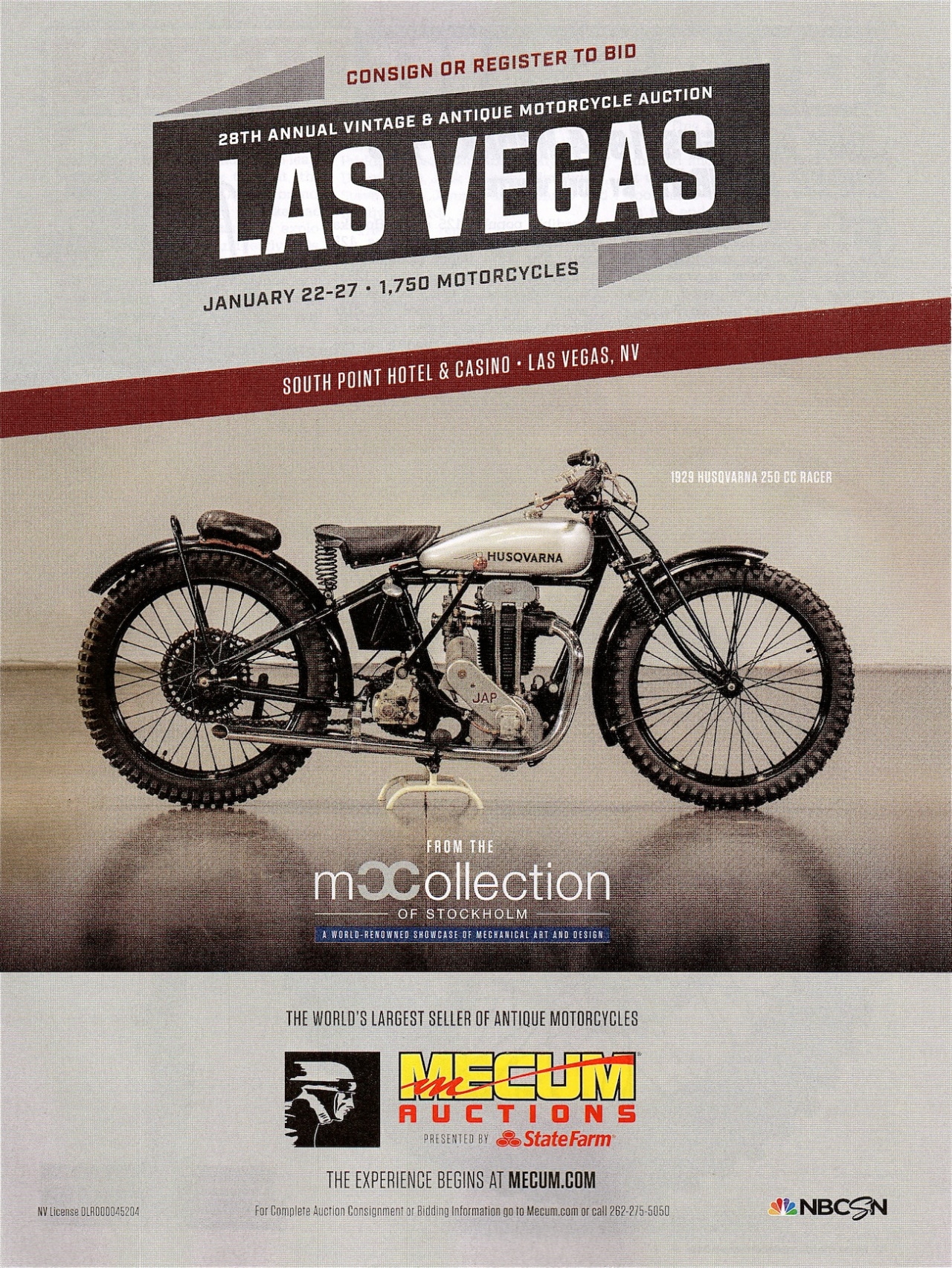 For more information go to www.mecum.com
JOIN MXA'S FLIPBOARD PAGE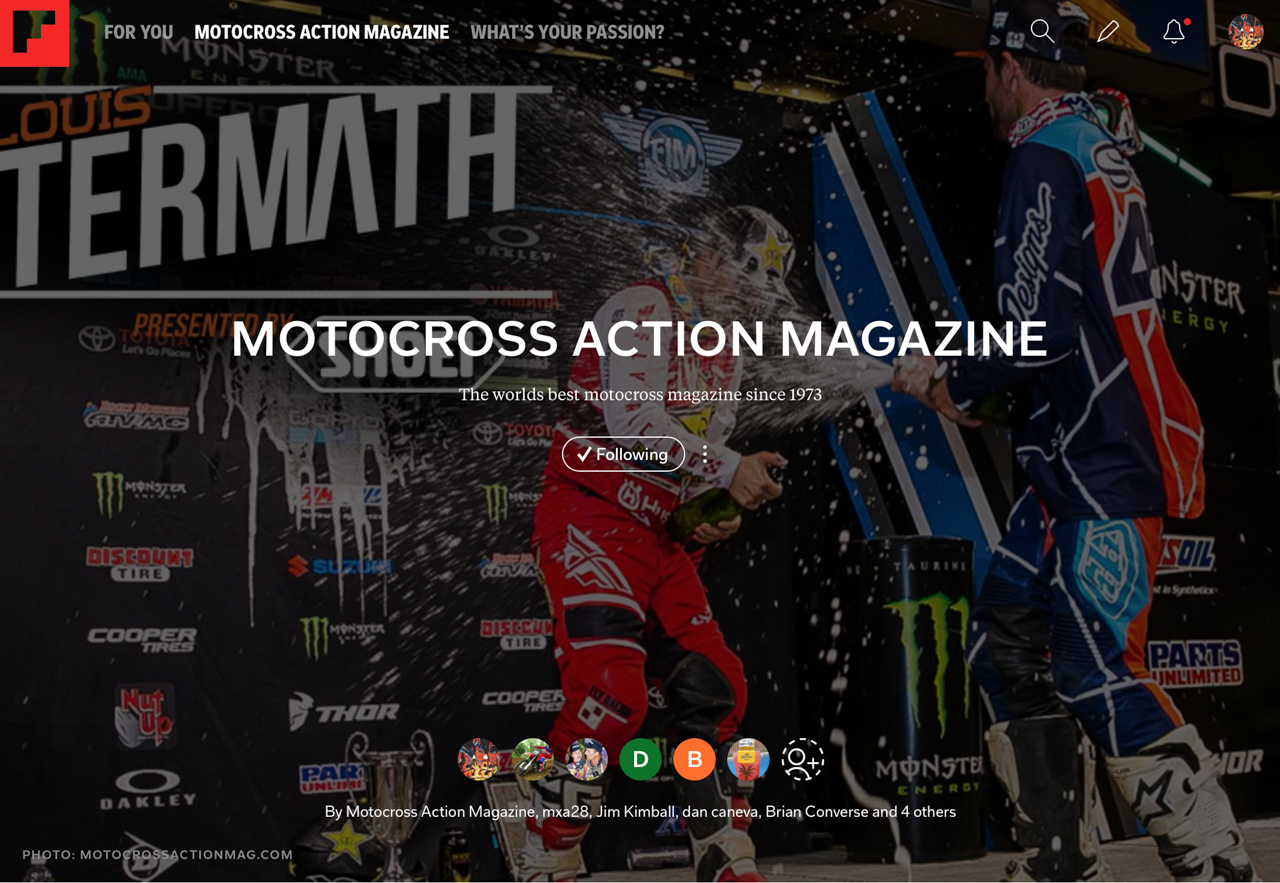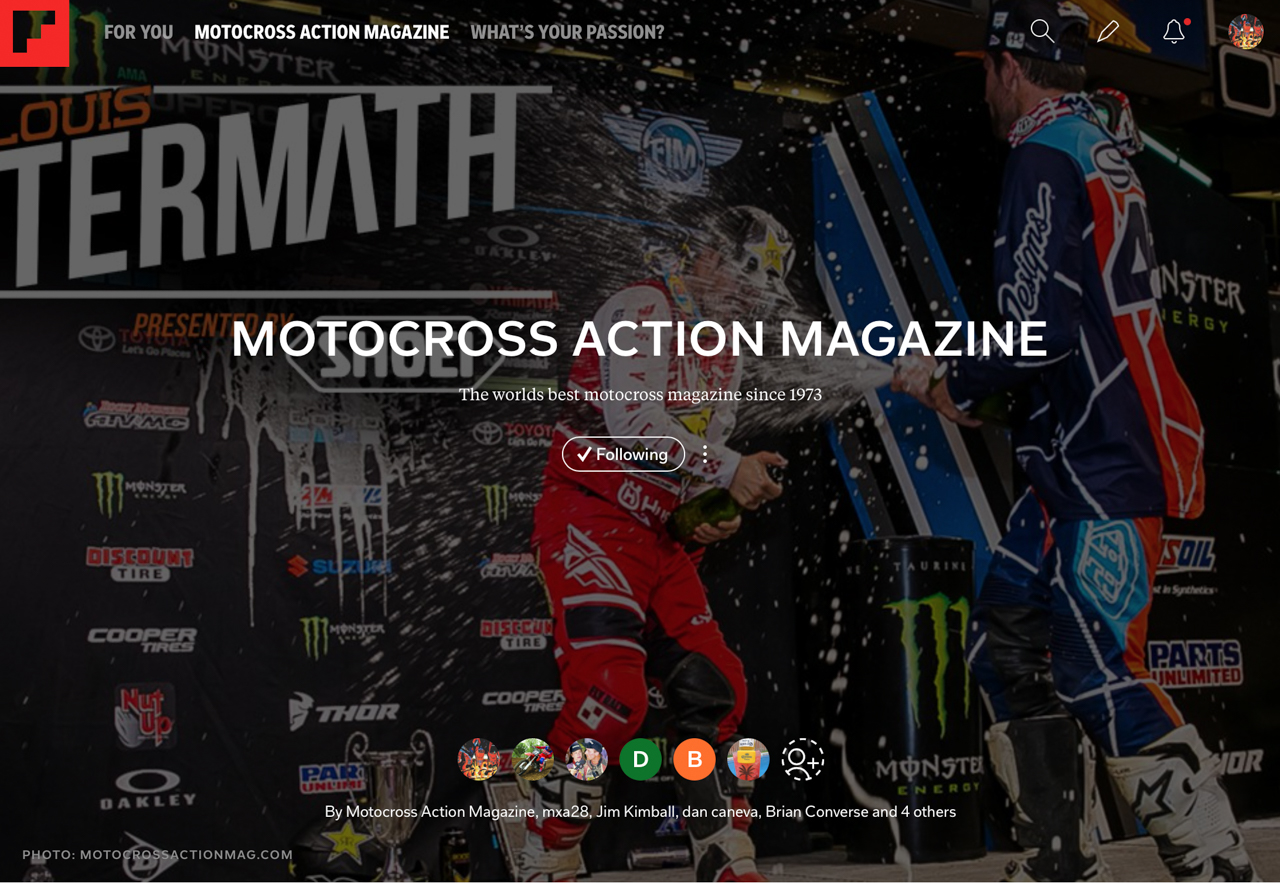 If you use Flipboard make sure to subscribe to the Motocross Action page for all the updates on our website. Click HERE to check out the page.
FOLLOW MXA ON TWITTER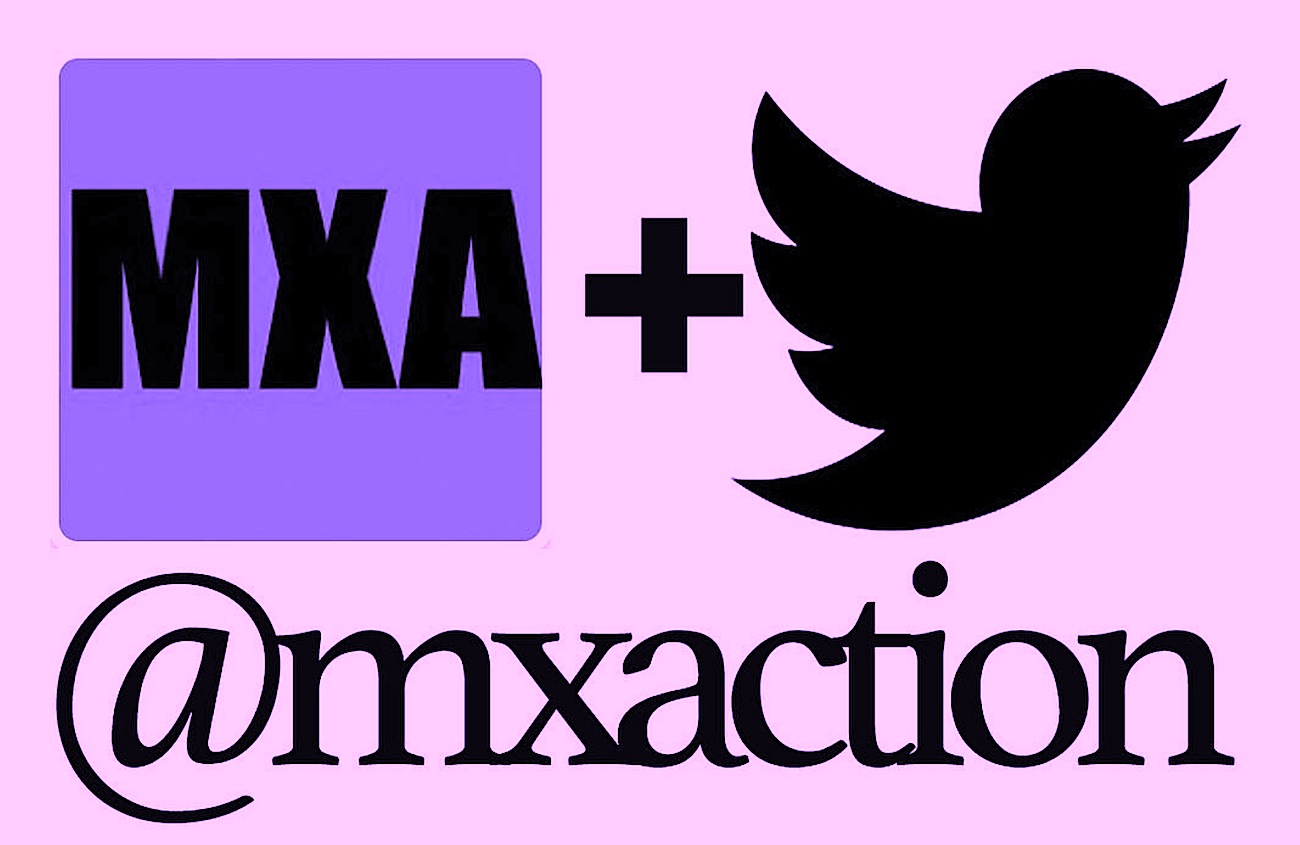 Follow us to see fresh content every day at www.twitter.com/MXAction or on twitter at "MXAction."
TALK MOTO WITH ON MXA'S FACEBOOK GROUP CHAT


We love everything moto and want to bring all moto junkies together into one place to share their two cents, ideas, photos, bike fixes, bike problems and much more. To check it out first you must need to or already have a Facebook account. If you don't, it isn't much work and you could even have an alias so nobody knows it is you. To join click HERE. After you request to join we will accept your request shortly after.
SUBSCRIBE TO MXA & GET A $25 CHAPARRAL GIFT CARD—YOU MAKE A PROFIT BY READING MXA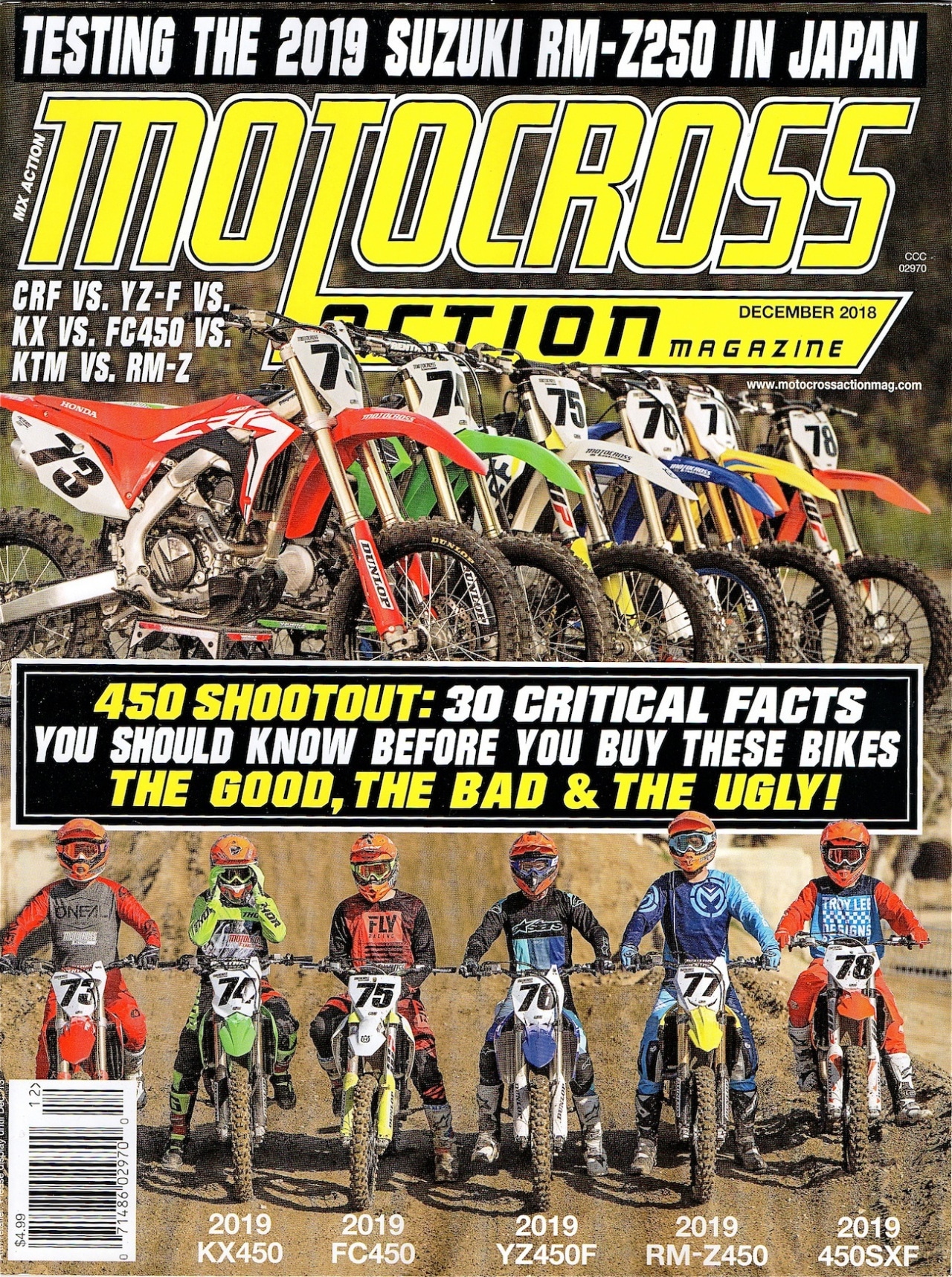 If you had subscribed to Motocross Action, the December 2018 issue of MXA have been in your mailbox, computer or iPhone for quite some time already. This is the 2019 MXA 450 Shootout issue. It is jam-packed with facts and data that will allow you to choose which bike is best for you — and if your confused, we tell you which bike was the best for us. Plus, we test the 2019 Kawasaki KX250, 2019 KTM 250SX two-stroke and fly to Japan to ride the 2019 Suzuki RM-Z250. Plus much, much more.

Do you subscribe to MXA? You should. Especially during our Holiday susbscription sale. We know that you think that print magazines are dead and that the internet will fill the void, but most of the stuff in the current issue of MXA won't appear on the web for several months, if at all. Luckily, you can get all of MXA on your iPhone, iPad, Kindle or Android by going to the Apple Store, Amazon or Google Play or in a digital version. Even better you can subscribe to Motocross Action and get a $25 Chaparral gift card to spend on whatever motorcycle parts or products you need. You can call (800) 767-0345 or go to www.hi-torque.com/product/motocross-action-holiday or click on the box at the bottom of this page.
MXA AD OF THE WEEK: THE FIRST RAT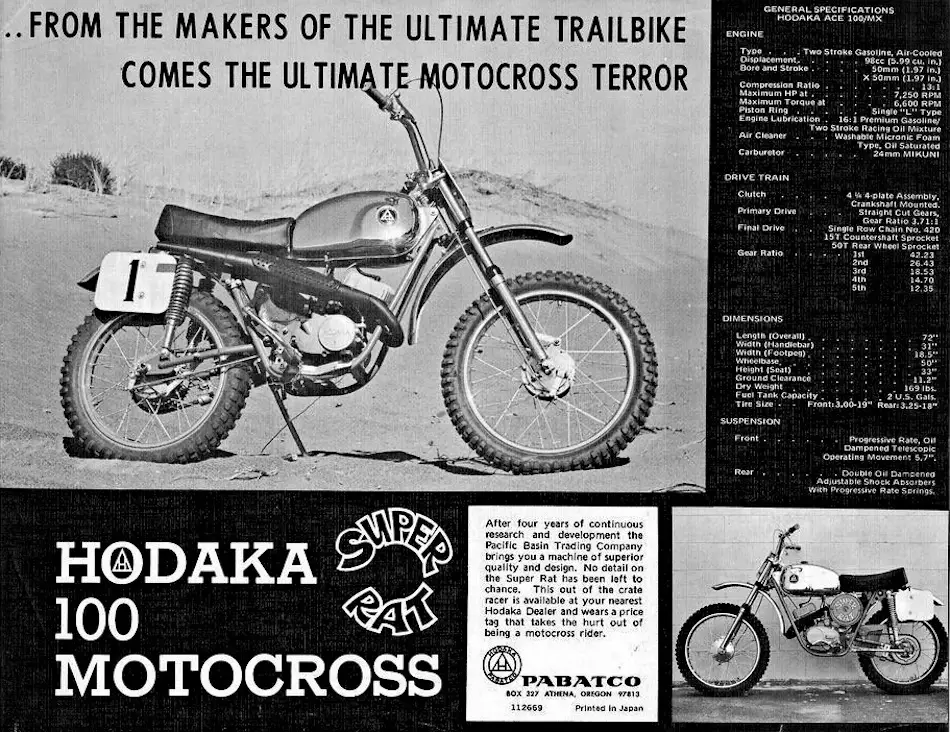 No motocross bike is as famous as the Hodaka 100.
The first Hodaka motocross bike, as opposed to trail bike, came out in 1969 as the Model 93 Ace 100 MX, but was best known as the "Super Rat." It was a 98cc, 50mm x 50m bore and stroke, five-speed trail bike. It weighed 169 pounds and came with a 19-inch front wheel. The wheelbase was 50 inches. It sold in droves with a price tag of under $500. This was the bike that a generation of motocross racers learn to race on.
MXA'S SNAP CHAT FEED
If you are a Snap Chat user then add us to your stories. Get sneak peaks of everything moto. Our Snap Chat name is motocrossaction. Or just take a Snap of the picture above and it will add MXA automatically to your feed.
SAVE THE DATES! THE LAST 4 REM RACES OF 2018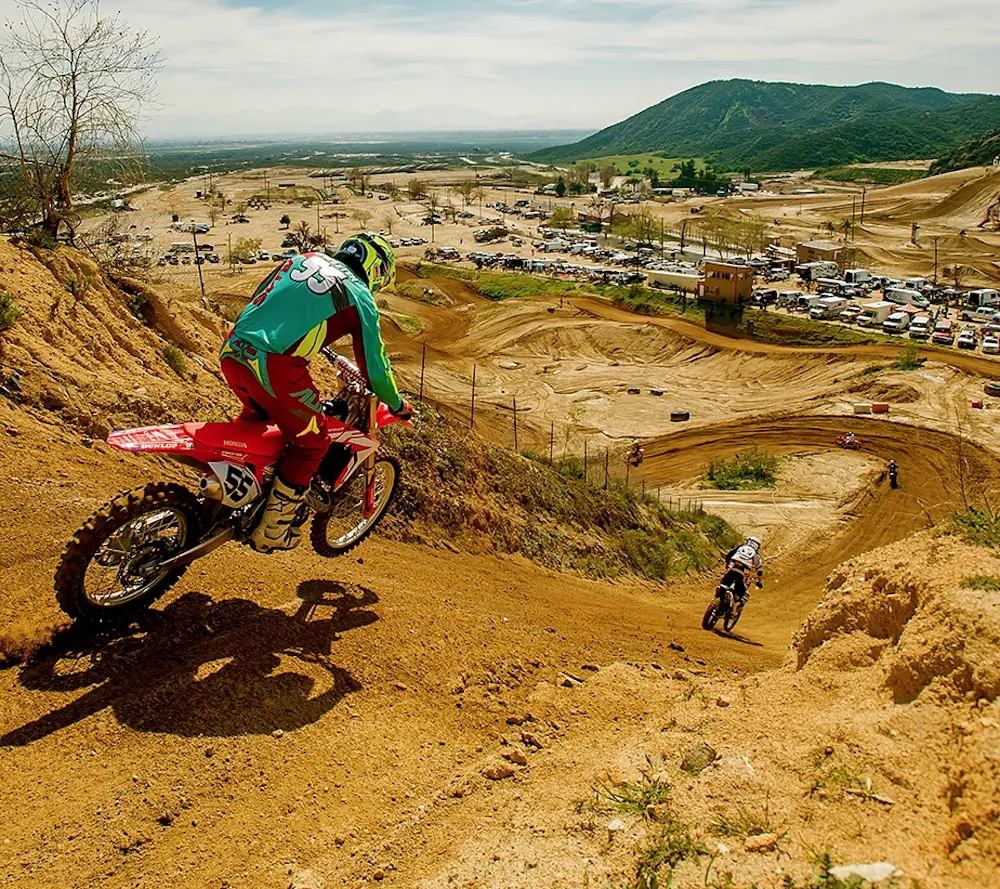 The REM racetrack is situated in an amphitheater with  a ridge of big hills on one side and the cliff-like REM pits on the other. Across the pits and down another cliff is the Glen Helen USGP track. In the upper center, the bleachers for the Lucas Oil Offroad Truck track are visible, while in the upper right, beyond the USGP track, are Pro Circuit's two Supercross test tracks.
2018 REM GLEN HELEN CHAMPIONSHIP
Dec. 8……………….……Glen Helen, CA
Dec. 15……………………Glen Helen, CA
Dec. 22……………………Glen Helen, CA
Dec. 29…………..…….…Glen Helen, CA
For more info go to www.remsatmx.com
MXA'S FIRST RIDE VIDEO: 2019 YAMAHA YZ250 TWO-STROKE
IN THE KNOW: 2019 MXA 450 SHOOTOUT VIDEO
Photos: Debbi Tamietti, Jon Ortner, Ketchup Cox, Brian Converse, Jody Weisel, Travis Fant, Daryl Ecklund, MXA, MXGP