MXA'S WEEKEND NEWS ROUND-UP: STEWART'S PUZZLE TAKES ANOTHER TURN
WESTON PEICK NAMED "KING OF LILLE" WITH A 1-2 WEEKEND

Weston Peick cashed in on the best of the winter Supercross races with a 1-2 victory. Photos by Pascal Haudiquert/Larivière Organisation
Although the Paris Supercross has moved to the city of Lille's Pierre Mauroy Stadium, the race still maintains its status as the closest the European winter races can get to American Supercross. This year in Paris the American riders were James Stewart, Cooper Webb, Weston Peick and Malcolm Stewart. The French forces were led by Christophe Pourcel and Romain Febvre, who were backed up by Dylan Ferrandis, Fabien Izoird, Cedric Soubeyras, Valentin Teillet, Christophe Martin, Thomas Ramette and Cyril Coulon. The two odd ducks out where Swiss rider Valentin Guillod and Brit Shaun Simpson.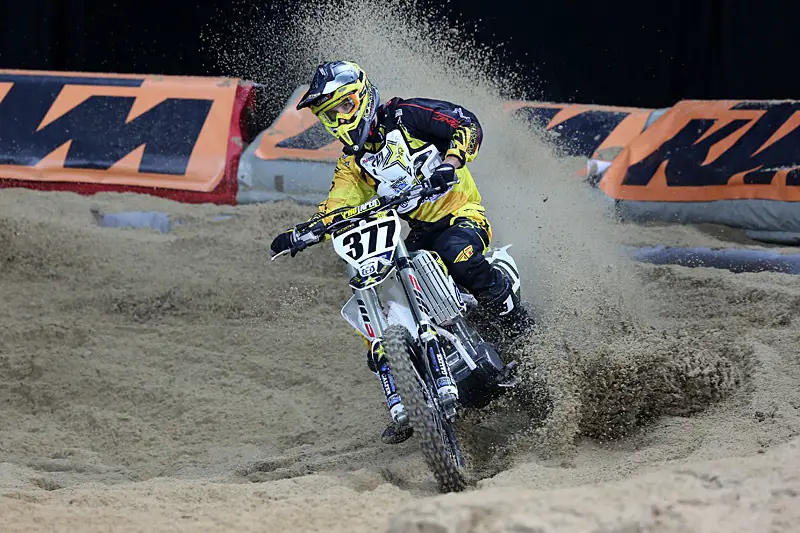 Christophe Pourcel (377) had a solid shot at the King of Lille title after Cooper Webb wnet down in the whoops (see below).
With two nights of racing, the overall winner would be determined by the combined two-race score. After night one, where the top five was Peick, Webb, Pourcel, Guillod and Soubeyras, the die was cast—one of these men would be the overall Champ. It however would not be James Stewart. Who dropped the front of his Suzuki over a small jump and endoed—only to be hit by his brother Malcolm. Stewart injured his ankle and couldn't continue. He had to be helped off the track. James was done for the weekend, and we are positive that he won't have to go to Australia now that he has been injured. It also wouldn't be 450 World Champion Romain Febvre. He was 6th on Saturday and 7th on Sunday.
With Bubba gone early in the weekend, the two fastest guys were Cooper Webb (17) and Weston Peick (28).
On the second day of racing, Christophe Pourcel got the holeshot and set off on one of his typical no-rush riding clinics. Cooper Webb rocketed from 7th off the start to right behind Pourcel only to crash in the whoops. Cooper remounted to finish 5th. Then, Malcolm Stewart got up to Pourcel, but he did an 360-degree front flip and ended up 11th. In the end, Weston Peick came out of the pack to catch Pourcel as the race wound down. Weston caught him, but he couldn't put the move together to get by the Florida rider.
James Stewart (7) pushes Valentin Guillod (92) to the left to inadvertently open a door for Cooper Webb.
Weston's first night win, combined with his 2nd on Sunday, gave him the overall win. Pourcel's 3-1 put him in second overall. Cooper Webb was third with a 2-5. From 4th to 8th it was European riders (Febvre was 7th and there was no talk of a Febvre/Webb showdown  like at Glen Helen, japan or the MXDN — as Supercross isn't Febvre's strong point at this stage in his career). In 9th was the 12-11 of Malcolm Stewart and 10th was the 9-14 of Shaun Simpson.
2015 PARIS/LILLE COMBINED SUPERCROSS RESULTS
COOPER WEBB'S PARIS/LILLE CRASH
WHERE TO BE, WHEN TO BE THERE & WHAT TO WEAR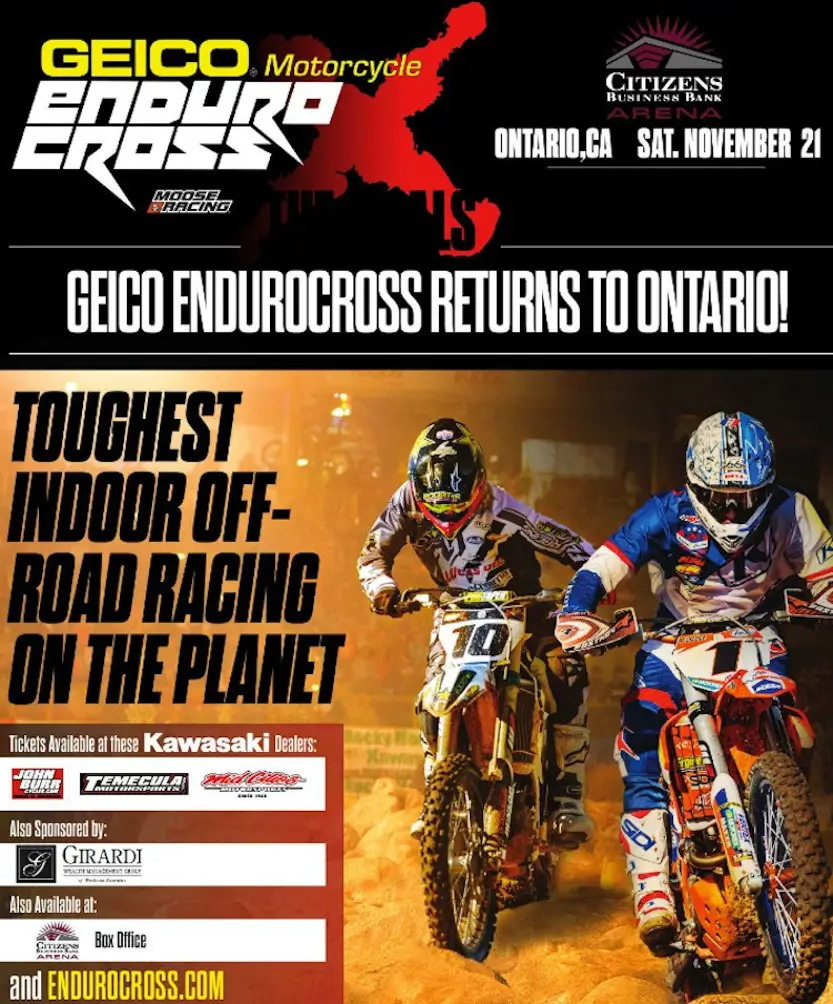 2015 GEICO ENDUROCROSS CHAMPIONSHIP
Nov. 20-21………………….…….Ontario, CA
2015 THOR MINI OLYMPICS
Nov. 23-28………………………Gainesville, FL
2015 DAY IN THE DIRT
Nov. 27-29………………………Glen Helen, CA
2015 AUSTRALIAN SUPERCROSS CHAMPIONSHIP
Nov. 21……………………………Jimboomba, Qld
Nov. 28…………………………..Sydney, NSW
Dec. 5……………………………..Melbourne, Vic
2015 GENEVA SUPERCROSS
Dec. 4-5………………………….Geneva, Swis

MEMORIES OF THE WAY WE WERE: REMEMBERING BIMBO

In honor of Jim Pomeroy's birthday on Monday we elected to show one of his autograph cards from his Bultaco days.
MXA PRODUCT SPOTLIGHT: PRO CIRCUIT COVERT HOODED ZIP-UP

Press release: Fall is finally here and that means cold days and nights at the race track. Lucky for you, Pro Circuit has a brand-new line of stylish jackets and sweatshirts all decked out with the iconic Pro Circuit and Monster Energy logos. Unique trim details give our new cold weather gear the cutting-edge style that will make you the envy of everyone on race day or any day. The Covert hooded zip-up fleece is made from 60% cotton and 40% polyester. It has embroidered left front chest logos and a two-tone black/heather gray design. It retails for $59.95 and www.procircuit.com
YOU ARE EXPENDABLE! WHO? YOU OR MOTOBOT?

ALL THE MOTOCROSS NEWS THAT FITS
James Stewart first report: James Stewart has decided not to race the November 28 round of the Australian Supercross Championship, but will race the November 14-15 Paris Supercross in Lille, France. James said, "I'm bummed for all my fans in Australia. But I have to look at the big picture and we're two months from A1 and I need to show up there healthy and prepared. The wrist is fine, at least as good as it can be. I just need to rest it a bit more before getting back at it." Obviously, France is a more wrist friendly country than Australia.

Is the Sydney Supercross promoter thinking breach of contract?
James Stewart second report: The Aussie Supercross promoter is not happy with Stewie's decision. How unhappy? "Management of the AUS-X Open are hugely disappointed with James Stewart's announcement to pull out of the 2015 AUS-X Open event this morning. Stewart was contracted to race both November 28 and 29 events and we are shocked to hear from his management this morning, he is no longer racing. AUS-X Open management will fly to the US this morning to resolve this situation and will continue to update fans attending the event with any progress that is made."
James Stewart third report: Whatever the reason, James Stewart will now live up to his contractual obligations to race in Oz. "I was pretty devastated to see the response after I announced I couldn't make it to Australia," said James Stewart. "The fans have always been one of the best things about racing to me and after seeing their reactions, both good and bad, I knew I had to figure out a way to get down there. I spoke to the team and we worked out a couple things that can make it work. I've always wanted to head down there and race. There's a lot of serious motorcycle fans in Australia and it will be good to get to Sydney and give them the show they deserve."

Stewart not headed Down Under?
James Stewart fourth report: At the Paris-Lille Supercross James Stewart crashed in the first night's main event and hurt his ankle. As strange as it may seem, James is now free to skip Australia after all. Whatever contractual power the Aussie promoter had over him, James will have an injury clause that frees him of his Down Under responsibilities—unless a video of him riding surfaces  before this coming weekend.
Jimmy D fills-in before the season starts: The first fill-in rider of the 2016 AMA Supercross season is Jimmy Decotis. Jimmy, currently leading the Australian 250 Supercross Championship, has signed on to fill-in at Geico Honda for R.J. Hampshire, who was injured in the Straight Rhythm race in October. Hampshire suffered a severe concussion and while he is not officially out, the Geico team wants to be prepared. The Geico team is currently Malcolm Stewart, Christian Craig, R.J. Hampshire, Jordon Smith and Justin Bogle (450). This is the second time that Decotis has filled-in at Geico Honda. He replaced Wil Hahn in 2011. Jimmy said, "I'm absolutely stoked. I feel like it's come at a perfect time in my career. I had a really good season last year in Supercross, and although I didn't get any podiums, I always had the speed for it. I feel like with another year of building, it's all falling into place for me."
Matt Bisceglia to new Suzuki 250 team: Former Geico Honda protege Matt Bisceglia has signed to race the 2016 AMA 250 West on the Dirt Candy Suzuki RM-Z250. Daniel Baker will join him on the RM-Z250's, with Baker racing the 250 East. Sebastien Tortelli has been hired to train and tutor the two riders. Bisceglia was at Geico Honda for 4 years as an Amateur and Pro and scored podium finishes in both the 250 East and 250 West. The team has suggested that Matt will race the the 250 East/West for two years before moving to the 450 class in 2018.
Max's new teammates: Frenchman rider Christophe Charlier has signed with the Red Bull Ice One Husqvarna Factory Team for 2016. Christophe Charlier missed several rounds, but finished in 16th in the 2015 450 World Championship standings. He will join Max Nagl on the FC450. Max Anstie will be the second Max at Husky and will be in the 250 class along with Thomas Covington. Anstie will move to the 450 class in 2017 because he will turn 23 in 2016.
Max's old teammates: With Husqvarna announcing its 2016 team, last year's Aussie duo, Dean Ferris and Todd Waters, are no longer on the roster. Ferris has returned to Australia to race the Aussie Nationals for Yamaha. Todd Waters will also return to Australia and race for Wilson Suzuki in the Aussie Nationals in 2016.
Ben is back: It is with more than a little trepidation that we announce that Ben Townley will return to the Grand Prix fold as Kevin Strijbos' teammate at the Suzuki GP team. Townley will replace Clement Desalle, who jumped to the Kawasaki team for 2016. There is little doubt that Townley is a mega-talent, but he has been so injury-prone over his career that he decided to retire three years ago. Obviously, money talks, even when retirement calls—as we saw with Ryan Villopoto last year. Best of luck to Ben.
Zach Bell gets a deal: Zach Bell, who has been out of action for several month following several concussions, has signed with 51Fifty Energy Drink Yamaha. Zach will join Australian Hayden Mellross on the team, which will compete in the AMA West 250. Zach Bell said, "I'm fired up to be part of the 51Fifty team. The program is strong and from the first day I rode the practice bike, I adapted right away to the YZ250F. As a team we have the same realistic goals and, personally, it's great having confidence in the bike, team staff, and total program. I feel this can be a break-out year for me and just ready to keep moving forward." Let's pray that his contract requires him to wear a 6D helmet.
Shane McElrath is a late starter: After injuring his wrist, which could take as many as 6 weeks to recover from, Shane McElrath will now most likely move to the 250 East. He's lucky that the Troy Lee Designs team is doing the 250 East in 2016, because they never have before.
Latvian signs with 24MX Honda: Latvia's Matiss Karro will return to the 450 GPs this year on the 24MX Honda CRF450. Ken De Dycker will be his teammate. Matiss said, "I really missed racing at the highest level this past season,  so it's great to be returning to MXGP. My feeling with the CRF450 is great and I really look forward to start working with the 24MX Honda Racing team. The last two seasons taught me lot, so now my challenge is to build on that and show what I can do against the best riders in the world."
Will Wilvo Forkrent be Wilvo Forkrent? The big news last week was that Shaun Simpson had signed with the Wilvo Forkrent KTM team, with full factory backing from KTM. What wasn't mentioned was that Jake Nicholls was bumped from the team by Simpson, nor that Jake's father is the Wilvo Forkrent sponsor. So, while Simpson is going to Wilvo Forkrent, it is not clear whether Wilvo Forkrent will be there if Jake isn't.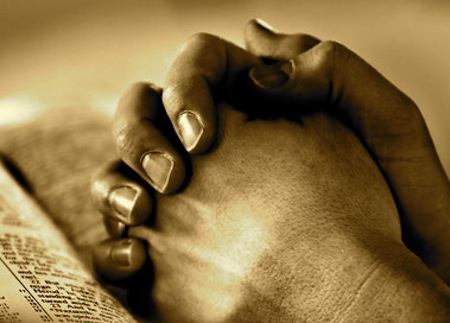 Our thoughts are with the Goldie family.
Godspeed Kirk Goldie: Saddleback racer Kirk Goldie (a staple of the famous track along with his brother Ken) passed away recently. There will be a memorial service on November 28 at the Zimmerman MX Museum from 11:00 a.m. to 3:00 p.m. for Kirk. The Zimmerman MX Museum is located in Simi Valley at 2674 West Hills Court just off the 118 Freeway. Ken Goldie can be reached at [email protected]

THIS WEEK'S BIRTHDAY BOYS: BIMBO, STAPO & SUPERMAC


Nov. 15…Frank Thomason
Nov. 15…Kurt Nicoll 1964

Nov. 15…Dennis Stapleton 1981
Nov. 16…P.J. Larsen 1990

Nov. 16…Jim Pomeroy 1952
Nov. 17…Arne Kring
Nov. 18…Chris Taylor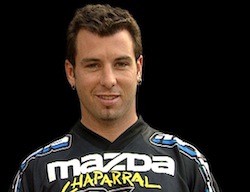 Nov. 19…Jeremy McGrath 1971
Nov. 19…Mike Metzger 1975
KAWASAKI TO MOVE FOUR MILES TO NEW BUILDING
Kawasaki's new address will be 26972 Burbank St., Foothill Ranch.
Kawasaki has announced the location of its new North American corporate headquarters. They will move to 26972 Burbank St., Foothill Ranch, California. They signed a 15-year lease on the new 200,000 square-foot building just four miles from their current Irvine location current location in Irvine. Kawasaki's current building  on Jeronimo Road sold for $44 million ($168 per square foot) and at 262,000 square feet it was bigger than Kawasaki's new building. Kawasaki will celebrate its 50th Anniversary in the United States in March, 2016, and will move into the fully-renovated complex in the summer of 2016. H. Hendy Architects will handle the internal design that will include all new finishes, modifications to allow more natural light, second floor offices, an expansive ground floor and a host of environmentally-friendly additions. The building will feature a mix of corporate offices, research and development facilities, racing and technical workshops, warehouse space and parking. The new building is  also the current home of women's fashion retailer Wet Seal.
MARK CHILSON'S WORLD VET PHOTO OF THE WEEK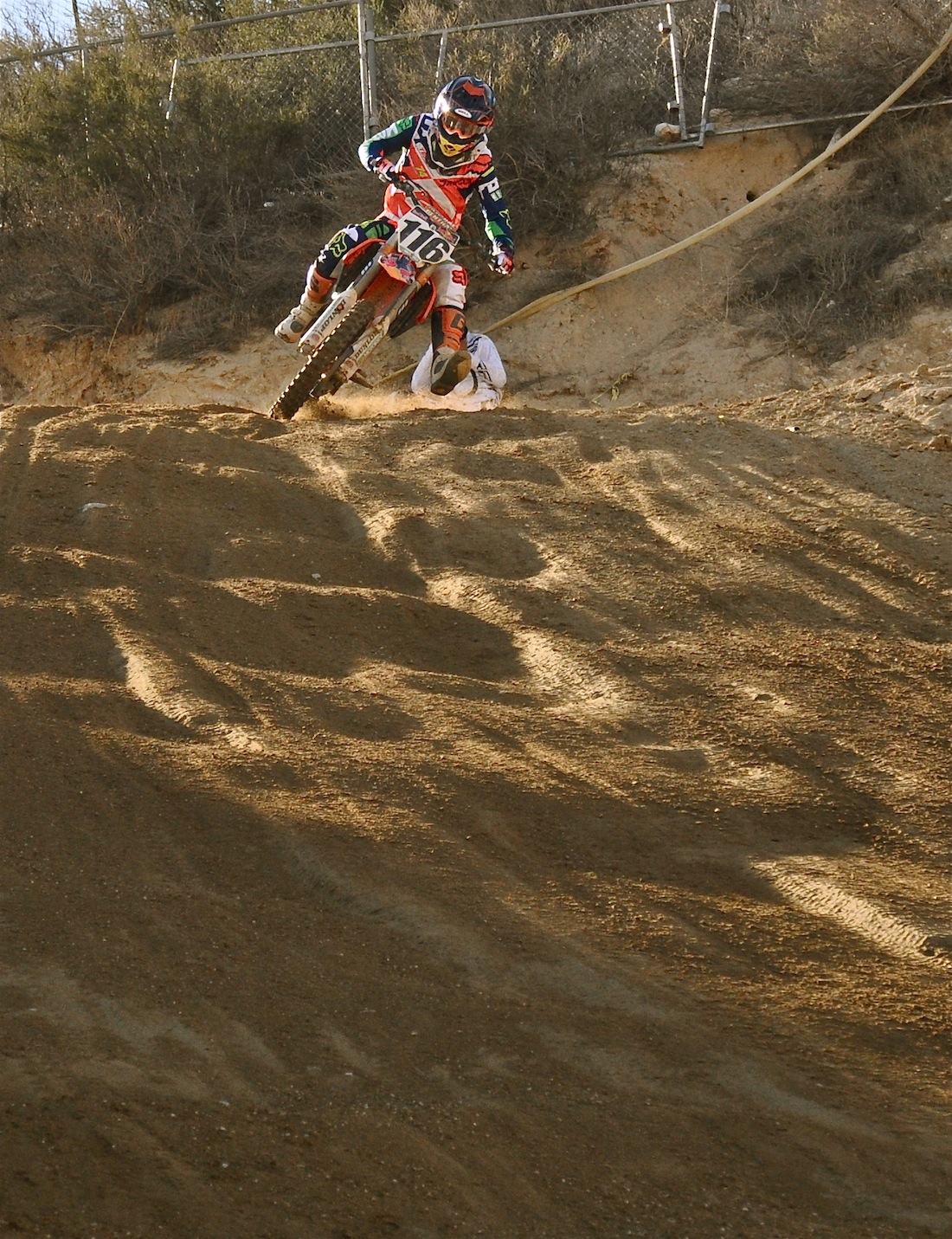 The smooth line is on the left. But is it on your left or Ryan Morais' left?
DAN ALAMANGOS' WORLD VET PHOTO OF THE WEEK

"The first turn is too tight" is not something you ever hear at Glen Helen.
DEBBI TAMIETTI'S WORLD VET PHOTO OF THE WEEK

The yellow flag is never far away, except during the big riff on Iron Butterfly's "In-A-Gadda-Da-Vida."

IN-A-GADDA-DA-VIDEO: THE SHORT VERSION
2015 FARLEIGH CASTLE VETERAN MOTOCROSS DES NATIONS VIDEO

2016 ARENACROSS SCHEDULE


2016 AMSOIL ARENACROSS CHAMPIONSHIP
Jan. 9-10………………….Cincinnati,OH
Jan. 15-17………………..Baltimore, MD
Jan. 22-24………………..Allentown, PA
Jan. 30-31………………..Greensboro, NC
Feb. 4-7…………………..Colorado Springs, CO
Feb. 13-14………………..Omaha, NB
Feb. 20-21………………..Tampa, FL
Feb. 27-28………………..Birmingham, AL
Mar. 12-13………………..Lafayette, LA
April 2-3…………………..Ontario, CA
April 9-10…………………Salinas, CA
April 16-17………………..Tacoma, WA.
April 22-24………………..Nampa, ID
May 6-8…………………..Las Vegas, NV
2016 AMA SUPERCROSS SCHEDULE


2016 AMA SUPERCROSS CHAMPIONSHIP
Jan. 9…………………….Anaheim, CA
Jan. 16………………….San Diego, CA
Jan. 23………………….Anaheim, CA
Jan. 30………………….Oakland, CA
Feb. 6……………………Glendale, AZ
Feb. 13………………….San Diego, CA
Feb. 20………………….Arlington, TX
Feb. 27………………….Atlanta, GA
March 5………………….Daytona, FL
March 12…………………Toronto, CAN
March 19………………..Detroit, MI
April 2………………..….Santa Clara, CA
April 9………………..….Indianapolis, IN
April 16………………….St. Louis, MO
April 23………………….Foxboro, MA
April 30………………….East Rutherford, NJ
May 7…………………….Las Vegas, NV
2016 AMA NATIONAL CHAMPIONSHIP SCHEDULE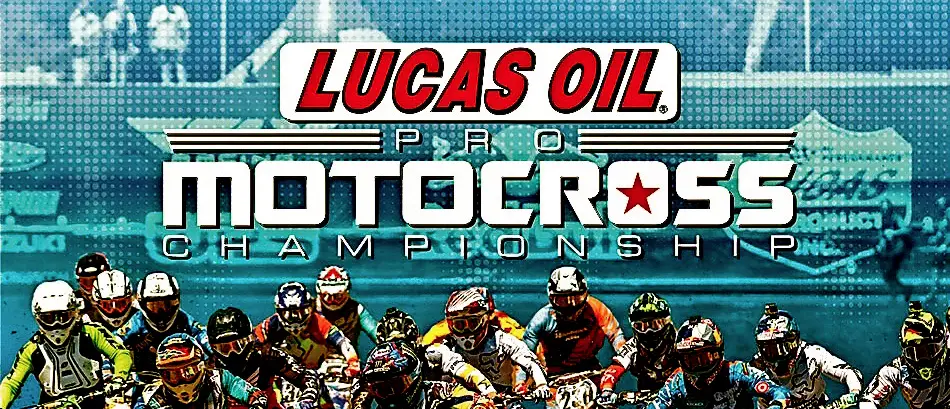 2016 AMA NATIONAL CHAMPIONSHIP
May 21……………………Hangtown, CA
May 28.…………………..Glen Helen, CA
June 4..……………….….Thunder Valley, CO
June 18..…………………Mt Morris, PA
June 25.………………….Muddy Creek, TN
July 2.…………………….Red Bud, MI
July 9..……………………Southwick, MA​
July 16.…………………..Millville, MN​
July 23.…………………..Washougal, WA
Aug. 13..………………….Unadilla, NY​
Aug. 20..………………….Budds Creek, MD​
Aug. 27.…………………..Crawfordsville, IN​
2016 KTM JUNIOR SUPERCROSS CHALLENGE SCHEDULE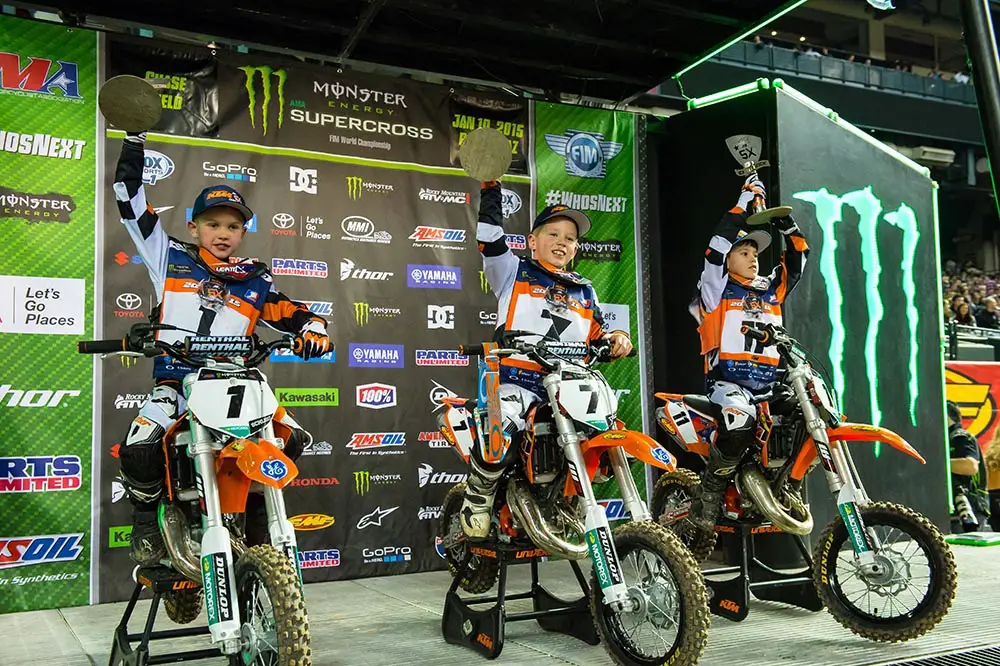 2016 KTM JUNIOR SUPERCROSS CHALLENGE
Jan. 16……………………..San Diego
Jan. 23……………………..Anaheim II
Feb. 6……………………….Phoenix
Feb. 20……………………..Dallas
Feb. 27……………………. Atlanta
Mar. 12…………………….Toronto
Mar. 19…………………….Detroit
April 9………………………Indianapolis
April 16……………………..St. Louis
May 7……………………….Las Vegas
2016 FIM GRAND PRIX SCHEDULE
2016 FIM MOTOCROSS WORLD CHAMPIONSHIP SCHEDULE
Feb. 27………………………Losail, Qatar (Saturday)
Mar. 06……………………..Suphan Buri, Thailand
Mar. 13……………………..Sepang, Malaysia
Mar. 28……………………..Valkenswaard, Holland (Monday)
April 10……………………..Neuquen, Argentina
April 17……………………..Leon, Mexico
May 1……………………….Kegums, Latvia
May 8……………………….Teutschenthal, Germany
May 15……………………..Pietramurata, Italy
May 29……………………..TBA
June 5………………………St Jean d'Angely, France
June 19…………………….Matterly Basin, Great Britain
June 26…………………….Mantova, Italy
July 24………………………Loket, Czech Republic
July 31………………………Lommel, Belgium
Aug. 7……………………….Frauenfeld, Switzerland
Aug. 28……………………..Assen, Holland
Sept. 3………………………Charlotte, USA (Saturday)
Sept.11……………………..Glen Helen, USA
KTM'S MOTOGP ROAD RACER IS ON THE TRACK
In preparation for their entry into MotoGP next year or the year after, KTM had their V4 RC16 out at the Spielberg circuit for a shakedown cruise. Photo: Philip Platzer
KTM has begun testing and developing its prototype RC16 MotoGP. The bike will not be ready to race until late in the 2016 MotoGP season, but rumors state that 100 versions of the race bike could be build and sold to privateers and collectors for around $250,000 each. The current test version of the RC16 uses a steel trellis frame design, WP suspension and lots of carbon fiber.
The exhaust is elegant looking. Photo: Philip Platzer
There is a chance that KTM will use the V4 RC16 as a replacement for the RC8 superbike—although it would have to overcome potential EU Commission restrictions on street bike horsepower (which could limit the RC16 to a "track only" customer bike in Europe).
VISITING THE PAST: GET STARTED FOR UNDER $120

The fuel-injected model with air forks, five-speed tranny and 11 inches of travel costs $9000 more.
Photos: Pascal Haudiquert, Monster Energy, Geico Honda, Mark Chilson, Dan Alamangos, Debbi Tamietti, Ray Archer, John Basher, Dean Ferris, 51Fifty, Massimo Zanzani, Troy Lee Designs, KTM, Honda, John Ker and MXA