SALT LAKE CITY SUPERCROSS ROUND 17 | THE AFTERMATH: CHAMPIONS CROWNED
2020 SALT LAKE CITY SUPERCROSS ROUND 17 | THE AFTERMATH: CHAMPIONS CROWNED
Coming into the 2020 Salt Lake City Supercross Round 17 season finnale, we knew it was going to be an exciting 250 race with two-championships on the line and only a handful of points separating the top two riders in each class. But we weren't guaranteed a great race in the 450 class. Many people expected to see Cooper Webb and Ken Roczen battling up front, but instead they found themselves battling for a top ten position. Believing that Jason Anderson or Zach Osborne would be on the podium would've been a fair and safe prediction, but having those two Rockstar Husqvarna riders plus their teammate Dean Wilson on the podium with them, now that was not predicted! The 2020 Supercross season finale was a wild one and MXA's Travis Fant was there to cover all that was happening.
Photos by Travis Fant
Words by Josh Mosiman 
450SX CLASS: ELI TOMAC'S FIRST 450SX CHAMPIONSHIP
Eli Tomac hoisting his 450SX Championship trophy high above his head.
Eli Tomac fought through seven years of racing in the 450 class and finally achieved his goal of becoming a 450 Supercross Champion. At 27-years-old, Eli became the oldest rider to win his first 450SX Championship and he also had the amount of wins out of any other Champion prior to his title. His results at Round 17 in Salt Lake City consisted of tying Cooper Webb for the fastest lap time in timed qualifying, finishing third in his Heat race and placing fifth in the Main Event. With a treacherous track, a big points lead and his only title competitor, Cooper Webb, behind him, Eli decided to play it safe and ride to a top-five finish.
Cooper Webb secured second in the Championship standings with Ken Roczen third. 
Eli's girlfriend, daughter and family joined him on the track for their post race photos.  
The Kawasaki team joined him for a picture too.
CHAD REED'S ONE LAST RIDE 

Chad Reed spent the final Main Event of his career battling with Cooper Webb and Ken Roczen in the Main Event. Chad was behind Cooper Webb and Ken Roczen for the first part of the race until lap 13 when both Ken and Cooper passed Justin Hill and he stayed between them. Ken Roczen finished seventh, Cooper Webb eighth, Justin Hill ninth and Chad Reed tenth.
When Chad was asked about his feelings of retiring after the race he said: "Man, it's so hard to put it into feelings. The whole last couple of days have been steam rolling you know. When you start getting text messages and social media stuff it starts to hit home and when you start off a day when the track is muddy and nasty, this may be the last one. I don't enjoy practice to the Main Event anymore. I just love racing Main Events. That's when it's real. The track was brutal. When you see the Champ in front of me and Ken Roczen, struggling. I was just ticking away, putting laps together. It was probably my best ride of the season, and it's on Father's Day. Now it's time to go be a good Dad."
Chad went on to say:"Honestly, congrats to the Champions today, it was a great series to be apart of. I don't know if I'll be back or not, but this is a good one to end it if this is it. And thanks to the fans as well, you guys were missed at these last seven races. I appreciate your love and support on social."
Chad Reed and Cooper Webb midrace. 
COOPER WEBB & KEN ROCZEN STRUGGLE AT THE FINALE
Cooper Webb finished 8th in the Main Event.
Ken Roczen beat Cooper by placing 7th, but it wasn't enough to get second in the overall season point standings.

ROCKSTAR HUSQVARNA'S 450SX PODIUM SWEEP
Zach Osborne was third early in the race and he passed his teammate Dean Wilson to get into the second place. Then, he caught up to his other teammate, Jason Anderson, but he wasn't able to pass him. Finally, on lap 23 of 25, Zach got around Jason for the win. All three of the Rockstar Husqvarna riders spoke briefly about Husqvarna employee Scott Burtness on the podium. Scott passed away unexpectedly on Saturday, the day before the race. After his win, Zach Osborne said:"we lost a really valued coworker at Husky yesterday and this one is for him."
Jason Anderson led for the majority of the Main Event, but when his seat fell off, he wasn't able to maintain the same pace and Osborne was able to get around him. Although he hasn't won a Supercross since 2018, Jason was still classy on the podium and maintained his light hearted personality.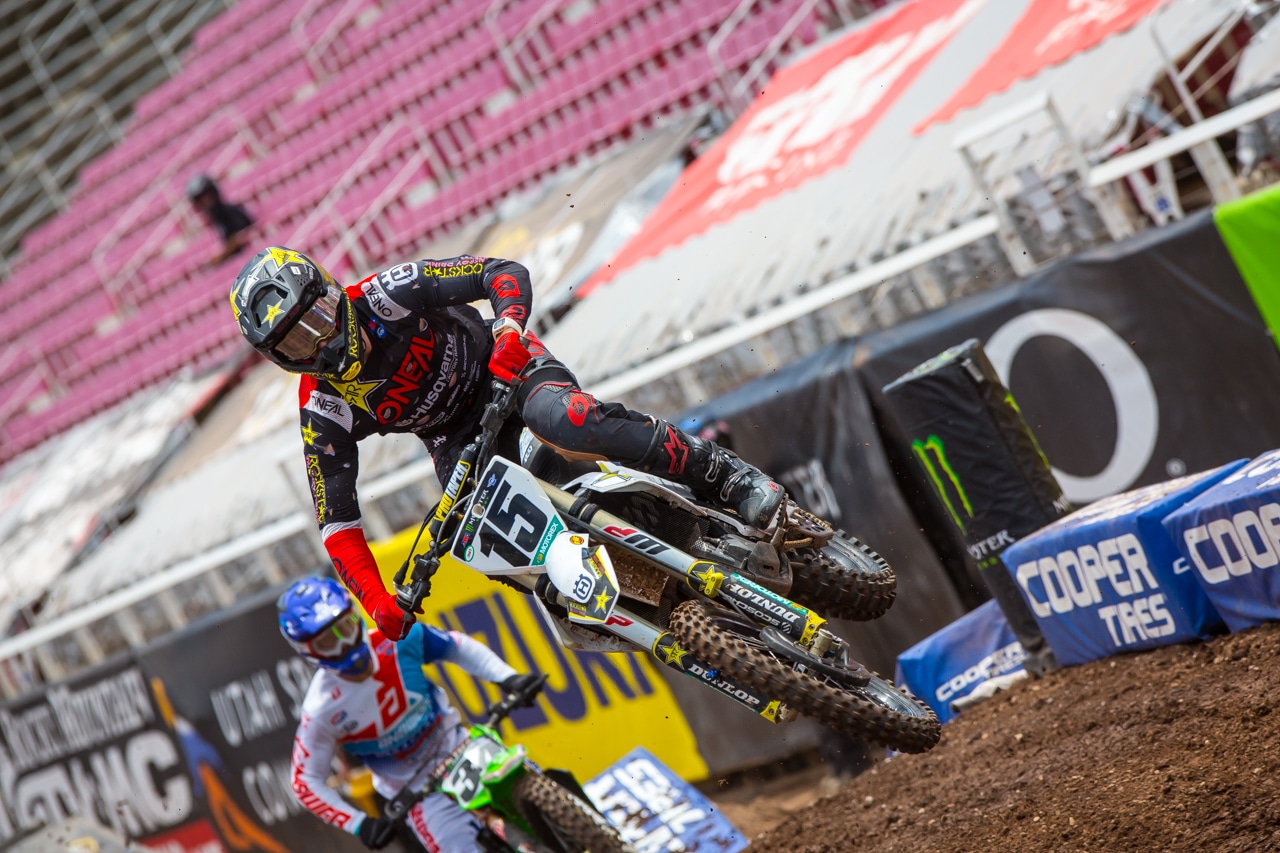 Dean Wilson's podium finish was a bigger surprise. Dean has been riding well this season, but his starts hindered him from getting on the podium. He was emotional on the podium and explained that he wanted to win, but also that he was happy to be on the podium and to gain experience leading laps. 
MALCOLM STEWART'S BEST 450SX MAIN EVENT FINISH: 4TH
Malcolm Stewart excelled in Salt Lake City. He earned his career best 450SX finish by placing fifth, he then backed it up with another fifth and then, at the season finale, he earned a personal best fourth place finish.  
BROC TICKLE'S EXCEPTIONAL DAY: 6TH
Broc Tickle grabbing the holeshot in 450 Heat race number one. 
Not only did Broc Tickle grab the holeshot in his Heat race, but he also rode well in the Main Event and finished sixth. He was only 5-seconds behind Eli Tomac at the finish and he beat Roczen and Webb. Broc had a tough time coming back from his suspension and getting injured, but he definitely finished strong at the 2020 Supercross season finale.
Broc out front in the Heat.
450 OVERALL POINT STANDINGS
Cooper Webb scored second in the 450SX Championship.
| | | | |
| --- | --- | --- | --- |
| POS. | # | NAME | POINTS |
| 1 | 3 | Eli Tomac | 384 |
| 2 | 1 | Cooper Webb | 359 |
| 3 | 94 | Ken Roczen | 354 |
| 4 | 21 | Jason Anderson | 287 |
| 5 | 51 | Justin Barcia | 272 |
| 6 | 16 | Zach Osborne | 252 |
| 7 | 27 | Malcolm Stewart | 252 |
| 8 | 15 | Dean Wilson | 239 |
| 9 | 10 | Justin Brayton | 227 |
| 10 | 46 | Justin Hill | 213 |
250SX EAST/WEST SHOOTOUT: CHASE SEXTON DOMINATES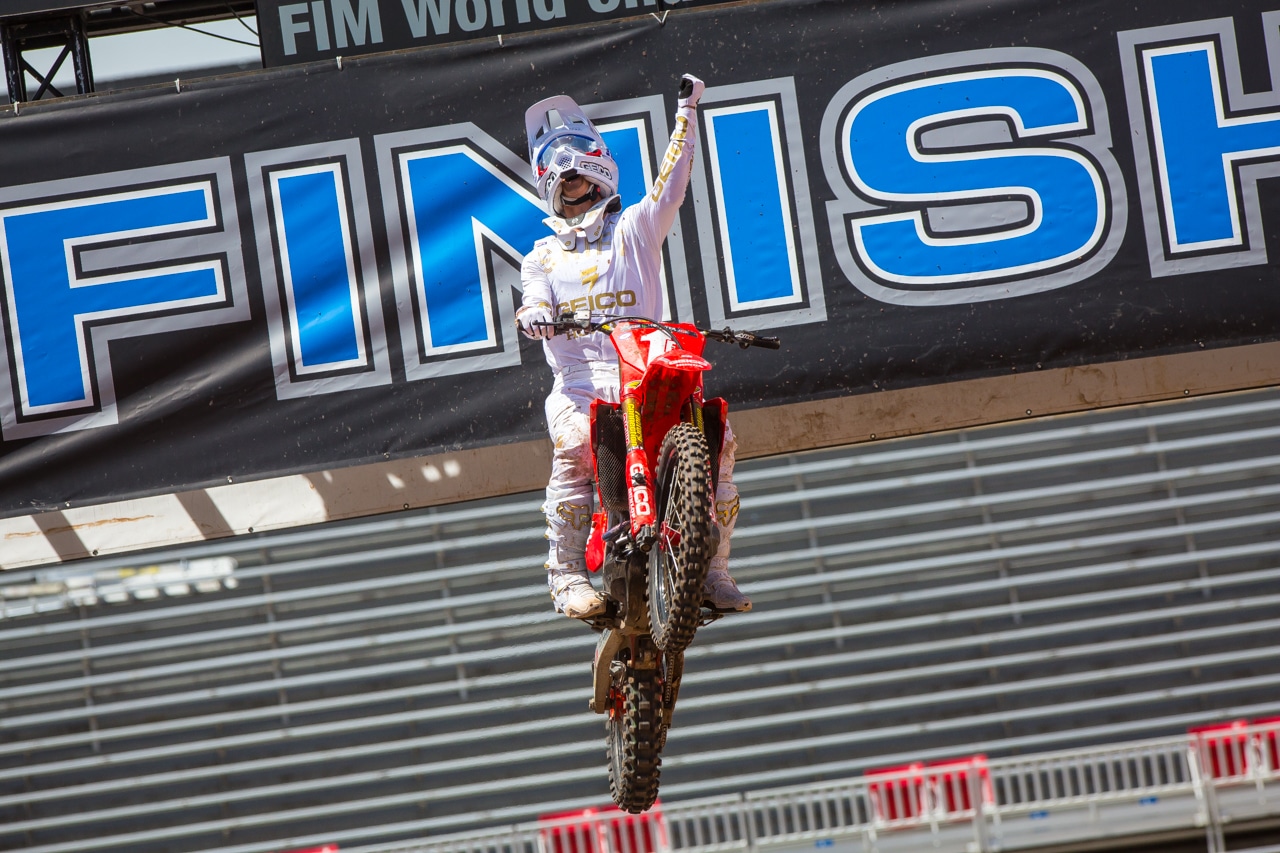 Chase Sexton won the 250 East/West Shootout and became a two-time 250SX Champion.
Chase Sexton had a 6-point lead on McElrath coming into the 250 East/West Shootout and he needed to finish 3rd or better if Shane McElrath won to snag the title and become a two-time Champion. When the 250 Main Event gate dropped, Shane McElrath found himself in the lead with Forkner second and Sexton in seventh. After only 2-laps of racing, Austin Forkner went down hard over the dragons back obstacle. Because Austin was laying in the middle of the track and not getting up immediately, the race directors decided to red flag the race to get him off the track safely. Luckily, Austin was able to walk off the track with help from the Alpinestars medical crew. With less than 3-laps completed, the race had to be completely restarted with out any time being removed from the duration of the race. Once again, Shane McElrath was up front on the start in second place, but this time Chase was right behind him in third. Chase Sexton's teammate, Jett Lawrence was leading and when Shane McElrath tried to pass him, Jett block passed him hard and this allowed Chase Sexton to get by him. Shane stayed with Chase for a few laps and then Chase decided to let Shane pass him, thinking that Shane would win the race and Chase would finish second behind him safely, without having to worry about Shane taking him down. Shane led briefly before he decided to let Chase get back into the lead. It was an odd move, but maybe Shane thought he could force Sexton into a mistake or he could take him out and make him finish outside of the top three which would allow Shane to win the Championship. After Shane let him by, Chase Sexton was done with the games and he put his head down, and pulled away from Shane to win the race and the title. It was an impressive feat by Sexton to earn his second Championship in his final 250 race. Now, Chase is headed to the 450 class as Ken Roczen's teammate on an HRC Honda.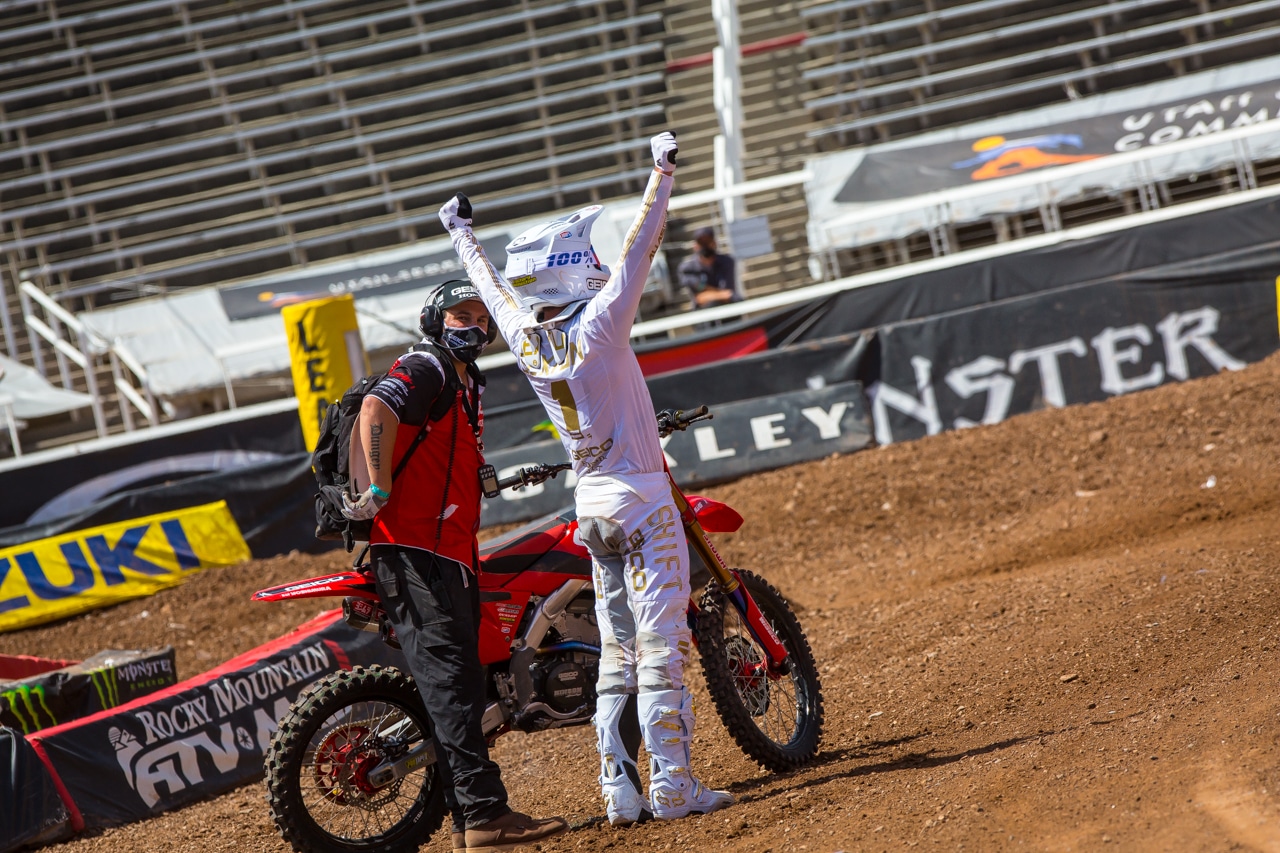 Chase Sexton celebrating his 250SX East Coast Championship.
Chase Sexton and his mechanic Jade Dungey (Ryan Dungey's older brother) after the race.
DYLAN FERRANDIS TWO-TIME CHAMPION 250 WEST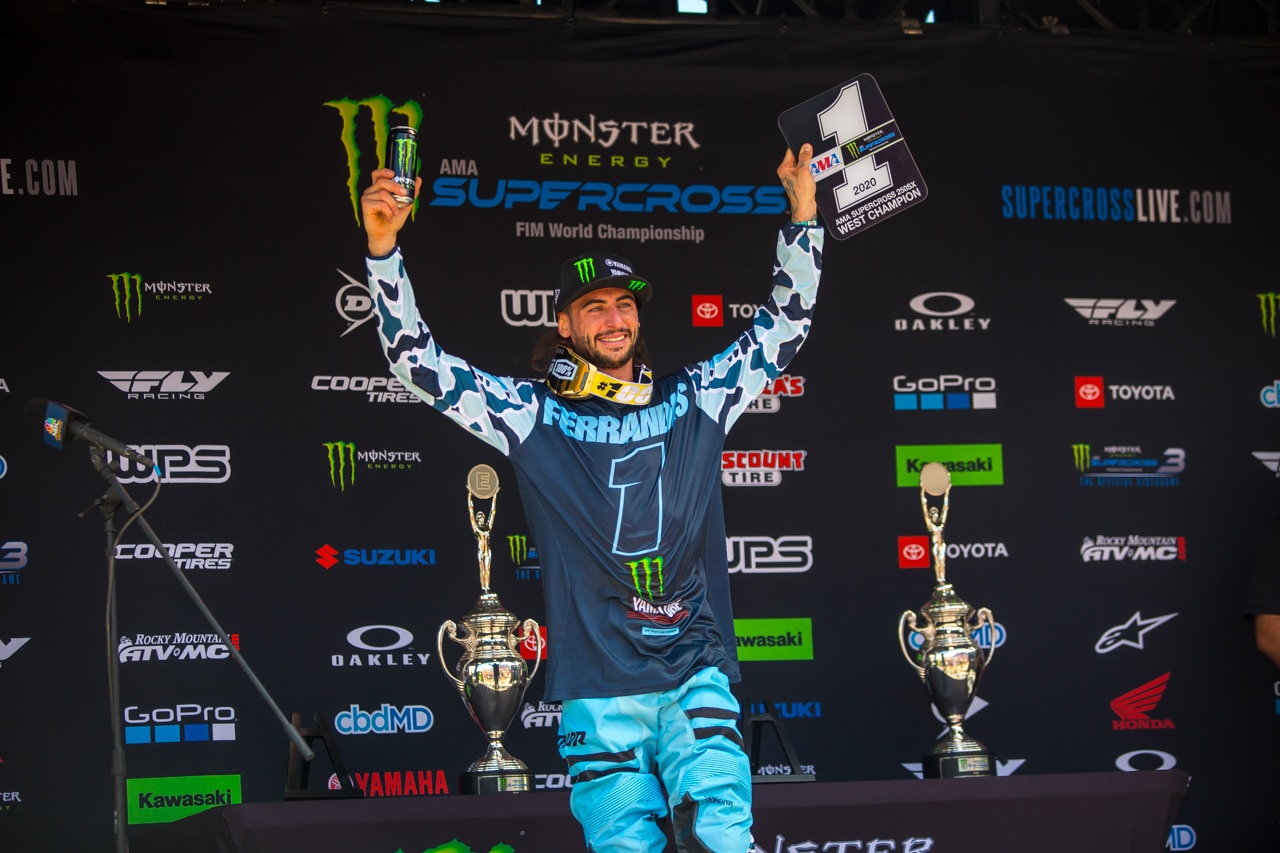 Dylan Ferrandis holding up his second AMA number one place.
Dylan Ferrandis was the most emotional rider on the podium out of the three Supercross Champions. It's special for the fans to see riders emotional on the podium because it shows us that they're human and it displays their passion for the sport. Dylan's 2019 title was different, he came into the final round 8-points behind Adam Cianciarulo in the standings. It would've been tough for Dylan to make up the points in one race, but Adam Cianciarulo crashed hard, mangled his bike and allowed Dylan to win the title. This year, the roles reversed and instead of Cianciarulo ahead of Ferrandis, it was another Pro Circuit Kawasaki rider, Austin Forkner who was 7-points behind Dylan. Unfortunately, Austin Forkner had a big crash early in the Main Event that caused a red flag and the race to be restarted. Austin got up and walked off the track with help from the Alpinestars medical crew, but he didn't rejoin the race. From there, Dylan only had to worry about his teammate Justin Cooper who was 17-points behind in the standings. Dylan rode smooth to finish fourth and earn his second title in a row.
Dylan Ferrandis will make the jump to the 450 class for 2021, but it isn't confirmed if he will ride for Yamaha or another team.
SHANE MCELRATH: 2ND PLACE
Shane McElrath rode well, he won the 250 East Heat race and led laps in the East/West Shootout but after the red flag came out while he was leading and the race was restarted, Shane wasn't able to execute the race like he did before and he finished second to Chase Sexton in the race which gave him second in the Championship.
MICHAEL MOSIMAN ON THE PODIUM: 3RD PLACE
Michael Mosiman scored his second 250SX podium finish at the season finale on Sunday. 
The Rockstar Husqvarna team not only swept the 450SX Main Event podium, but they also earned a podium finish in the 250 East/West Shootout with Michael Mosiman scoring third. Michael had to overcome some adversity to get there and like Shane McElrath who finished second, he didn't get an interview or a podium photo, but he crossed the line in third nonetheless. In the Heat race, Austin Forkner actually took out Michael Mosiman in the midst of a wild situation. On the last lap, Christian Craig was second, Forkner third and Mosiman fourth. Both Christian and Austin were battling in the corner before the triple and they had to double it, while Michael, a few bike lengths behind, went for the triple. Michael landed in between the two of them while Christian Craig was actually slowing down on the landing of the jump and turning left to try and brake check Austin Forkner and maintain. Christian didn't consider another rider being behind them and Michael Mosiman actually landed on the back edge of Craig and amazingly neither of them went down. Then, in the corner, Austin Forkner dove to the inside and took Mosiman out. While going down, Michael's arm was hit by Austin's rear wheel and he said that his hand went almost completely numb. Michael picked his bike up and grabbed the throttle, but he could only feel his thumb and pointer finger. He thought the rest of his throttle tube had been cut off the bike, but he looked down and saw the tube right there, only he couldn't feel the the other three fingers on his hand. He then got on the gas, skimmed the whoops and crossed the finish line in seventh after being passed by two riders.
AUSTIN FORKNER GOES DOWN: 21ST
We were glad to see Austin Forkner moving right away after his crash which meant that he wasn't knocked out and he walked off the track with help. The dragons back that Austin crashed on was tough for everyone and many riders were getting kicked forward on it. 
250 EAST COAST OVERALL POINT STANDINGS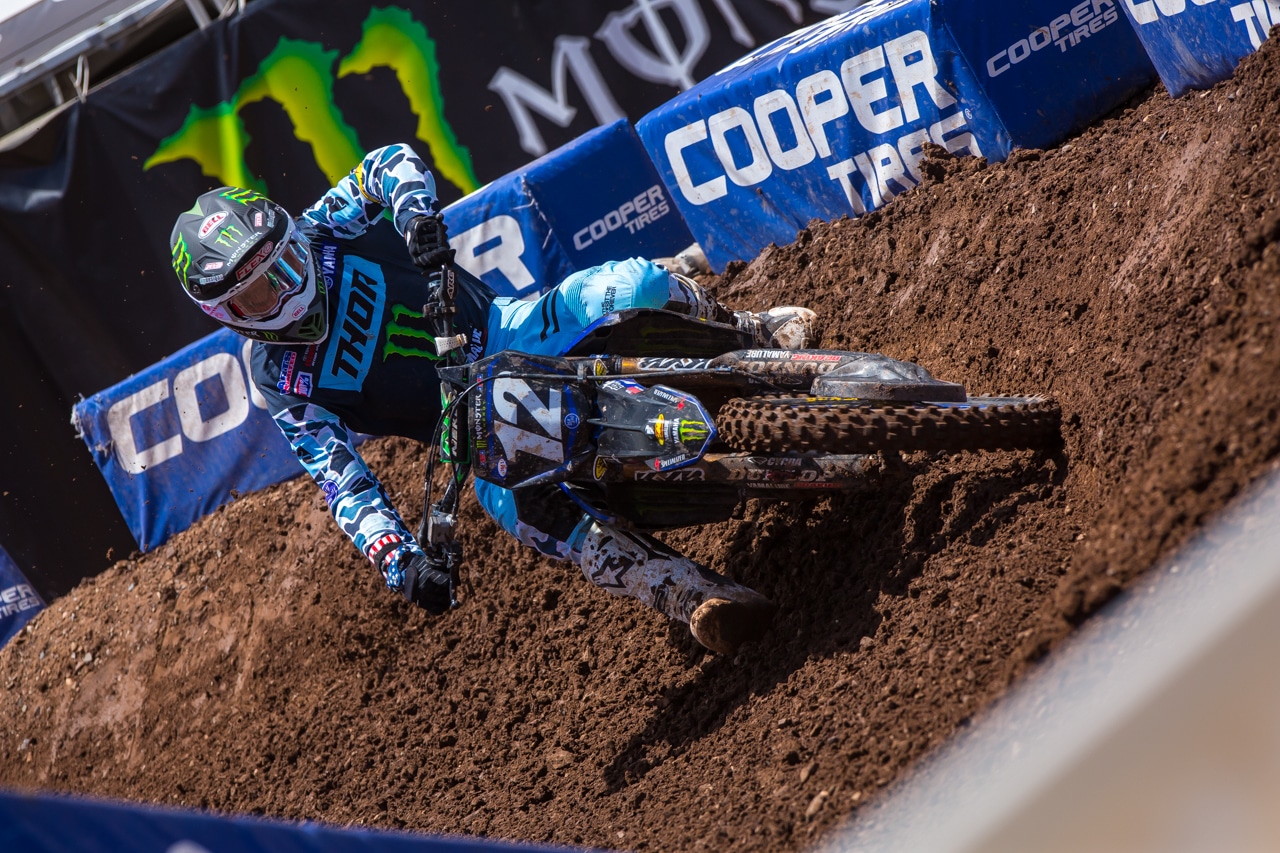 Shane McElrath finished runner up in the 250 East division.
| | | | |
| --- | --- | --- | --- |
| POS. | # | NAME | POINTS |
| 1 | 1E | Chase Sexton | 218 |
| 2 | 12 | Shane Mcelrath | 209 |
| 3 | 84 | Jo Shimoda | 122 |
| 4 | 36 | Garrett Marchbanks | 119 |
| 5 | 66 | Enzo Lopes | 107 |
| 6 | 6 | Jeremy Martin | 105 |
| 7 | 352 | Jalek Swoll | 104 |
| 8 | 38 | Kyle Peters | 94 |
| 9 | 163 | Pierce Brown | 92 |
| 10 | 24 | Rj Hampshire | 80 |
250 WEST COAST OVERALL POINT STANDING 
Austin Forkner finished second overall in the 250 West Point standings.
| | | | |
| --- | --- | --- | --- |
| POS. | # | NAME | POINTS |
| 1 | 1W | Dylan Ferrandis | 200 |
| 2 | 32 | Justin Cooper | 180 |
| 3 | 52 | Austin Forkner | 176 |
| 4 | 30 | Brandon Hartranft | 158 |
| 5 | 28 | Michael Mosiman | 139 |
| 6 | 26 | Alex Martin | 124 |
| 7 | 57 | Derek Drake | 120 |
| 8 | 40 | Mitchell Oldenburg | 109 |
| 9 | 101 | Luke Clout | 106 |
| 10 | 83 | Jett Lawrence | 97 |