"SATURDAY AT THE GLEN" MOTOCROSS CANCELLED, BUT WE HAVE A NEW PHOTO OF THE SNOW
This "Saturday at the Glen" race has been rescheduled to Saturday, March 11 on the National track. There is a 90% chance of rain today and a 100 % chance of heavy rains and thunderstorms on Saturday. The high temperature is predicted to be 49 degrees with wind gusts at 30 mph. Rainfall amounts for Saturday are for one inch of rain. This much rain means the road into Glen Helen will be flooded where the river crosses it and if that happens the county will close it.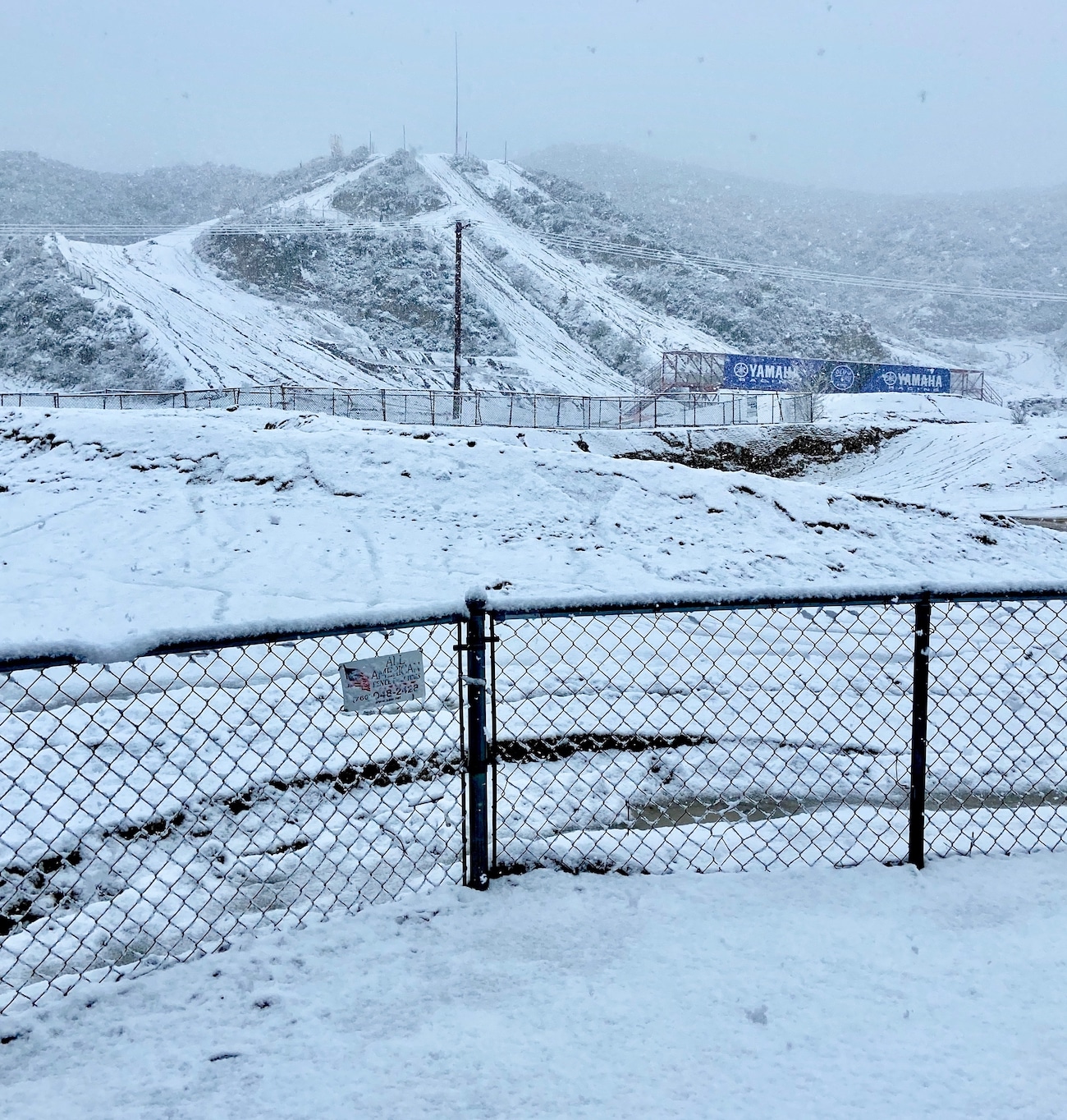 This photo was shot on Saturday morning—right before practice would have started for "Saturday at the Glen," but no riders where there because most of the freeways leading to Glen Helen were closed or jammed. 
"Saturday at the Glen" races year around. The race series starts in January and ends in December. Within hours, Glen Helen announced the make-up date to keep the 25-race series intact.
2023 "SATURDAY AT THE GLEN" SCHEDULE
(Dates in blue have been completed, and Races in red have been moved to new dates)
Jan. 14…Winter Series #1 (Arroyo Vet track)
Jan. 21…Winter Series #2 (Arroyo Vet track)
Feb. 4…Winter Series #3 (Arroyo Vet track)
Feb. 11…Winter Series #4 (Arroyo Vet track)
Feb. 25…Winter Series #5 (Cancelled and rescheduled to March 11)
Mar. 11…Winter Series #5 (National track)
Mar. 18…Spring Series #1 & Pasha 125 Open (National track)
Mar. 25…Spring Series #2 (Arroyo Vet track)
Apr. 8… World Two-Stroke Championship (National track)
Apr. 15…Spring Series #3 (Arroyo Vet track)
Apr. 22…Spring Series #4 (Arroyo Vet track)
May 13…Spring Series #5 (National track)
June 3…Summer Series #1 (Arroyo Vet track)
June 17…Summer Series #2 (Arroyo Vet track)
June 24…Summer Series #3 (Arroyo Vet track)
July 15…Summer Series #4 (Arroyo Vet track)
July 29….Summer Series #5 (National track)
Aug. 19…Fall Series #1 (Arroyo Vet track)
Aug. 26…Fall Series #2 (Arroyo Vet track)
Sept. 16…Fall Series #3 (Arroyo Vet track)
Sept. 23…Fall Series #4 (Arroyo Vet track)
Sept. 30…Fall Series #5 (National track)
Oct. 21…Winter Series #1 (Arroyo Vet track)
Oct. 28…Winter Series #2 (National track)
Nov. 3-5…World Vet Championship (National track)
Nov. 18…Winter Series #3 (Arroyo Vet track)
Dec. 9…Winter Series #4 (Arroyo Vet track)
Dec. 16…Winter Series #5 (National track)
\