"SATURDAY AT THE GLEN" MOTOCROSS: THE RAIN DANCE WORKED
Preston Tilford, on his Reed/Harper-sponsored KTM 450SXF, was the class of the field in the 450 Pros.
PHOTOS BY DEBBI TAMIETTI
Everyone in SoCal wants it to rain—because it hasn't rain at this year. However, one specific group wanted it to rain just as much as everyone else, but they had stricter demands. They wanted it to rain Friday night, but not Saturday. As amazing as it sounds—they got their wish. While the TV weathermen were predicting 50 mph winds, buckets of rain and localized flooding, the "Saturday at the Glen" motocross racers were doing a rain dance. In one of those freakish weather things, motocross won out. It rained enough on Friday night that the ground at Glen Helen was soaked, but there were no puddles or standing water. It was 20 degrees cooler and 40% more humid than the day before, but Saturday was perfect racing weather.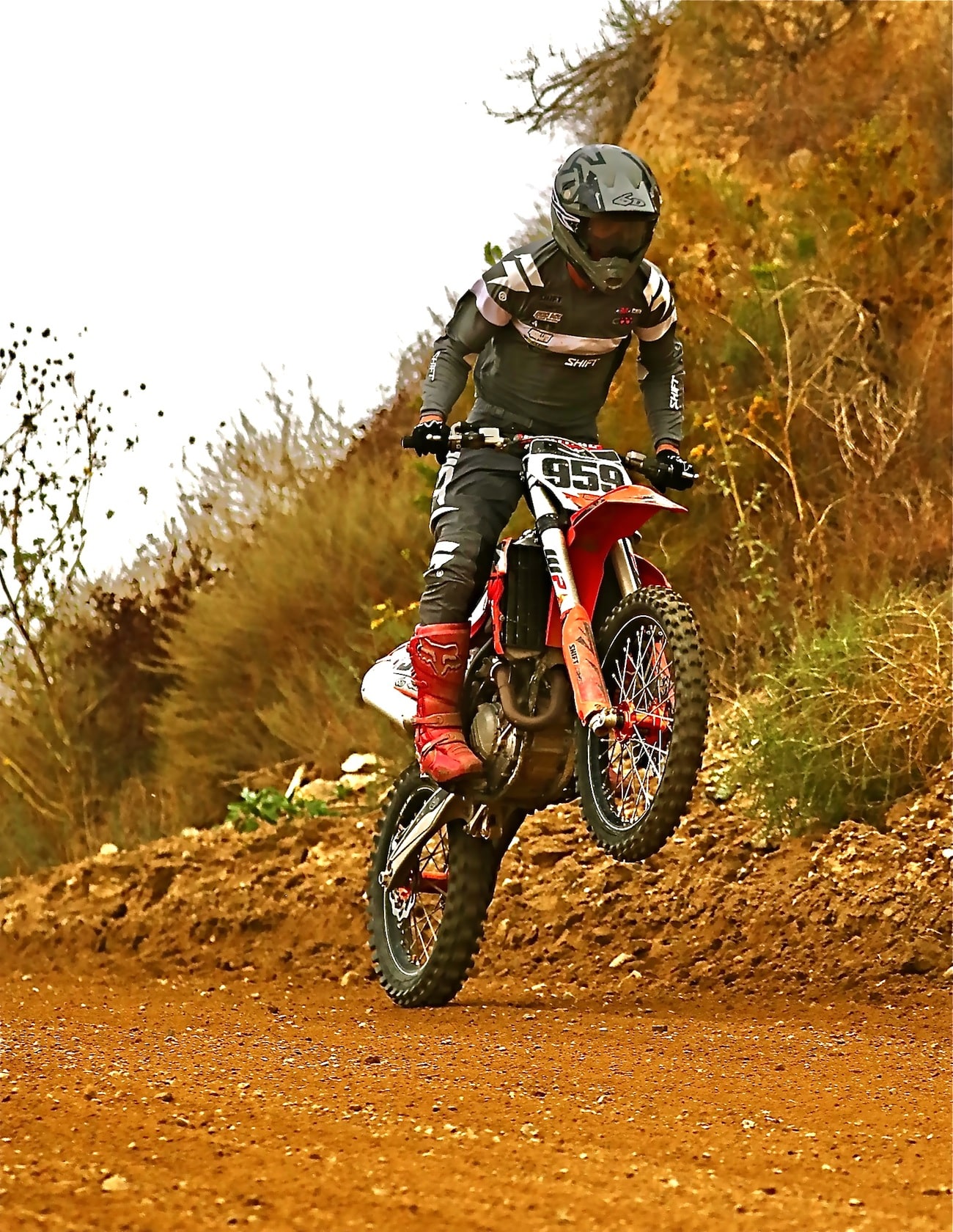 Max Groom (959) went 2-2 behind Tilford.
But the TV weather reporters had done damage with their gloom and doom forecast for Saturday and lots of rider, who would normally be at "Saturday at the Glen," didn't show up out of weather anxiety. But, the hard-core regulars were jammed into the pits as soon as the sun came out, which it did above a layer of nice cooling gray clouds. Over 150 riders braved the predicted torrential rain, gusty winds and flooded creeks (none of which appeared on Saturday to get to ride on an almost perfect track).
We can't really tell if 250 Pro winner Tyler Belknap (4) is annoyed that Over-40 Intermediate winner Adrian Spiker (66) is putting a move on him or if Belknap is just making sure to clear Spiker's front wheel in this berm.
Glen Helen's track crew gave the upper track "rain prep." Which means that instead of ripping the dirt heavily, which turns into tapioca if it rains, they bladed it and concentrated on another revised layout. The light rain on Friday night only soaked the ground, so Glen Helen's John Allen went out early on Saturday morning and ripped a few sections, but left most of the hilly track alone. It was a great set-up. The dirt was tacky because of the rain underneath the surface and traction was excellent. And, thanks to the cloud cover and high humidity, the dirt stayed moist the whole day. The race program at Saturday at the Glen is organized to get everybody long motos, but thanks to multiple gates and intelligent class organization, it is always finished by 2:00 p.m. So far in 2022, they have not had a race program run long.
Jason Klements (911) took the Over-40 Expert win with a 2-1 over regular Over-40 Expert winner Shawn Bushnell's 1-2.
What follows is Debbi Tamietti's photos the notable riders at this past weekend's "Saturday at the Glen" motocross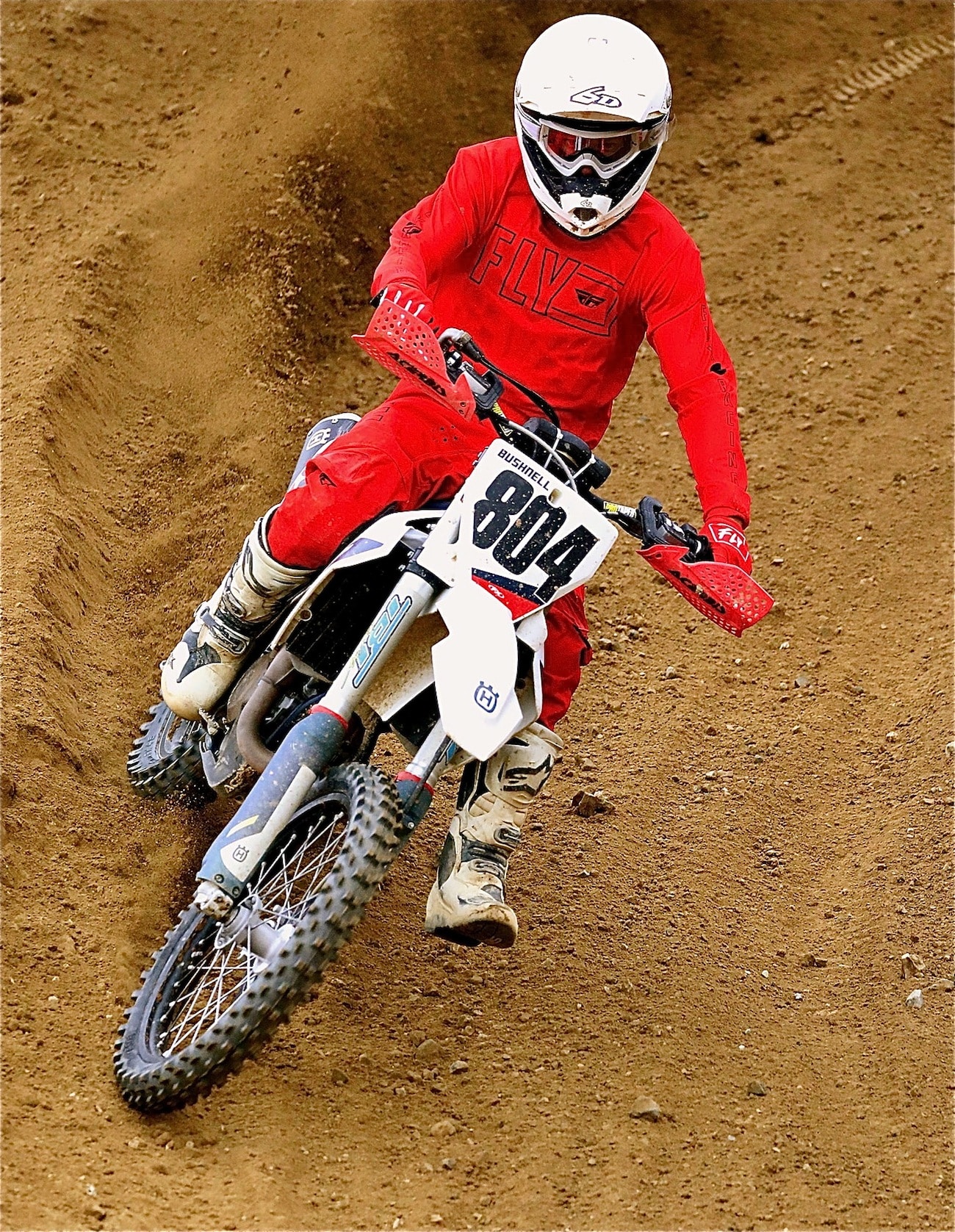 Without the predicted downpour and only "rain prep" on the track, the dirt was tacky and dust-free all day. Shawn Bushnell (804) demonstrates.
Stephen Moore (45) finished second in the Over-40-Intermediates. Here, he is pressured by Over-40 Expert runner-up Shawn Bushnell (804) late in the moto.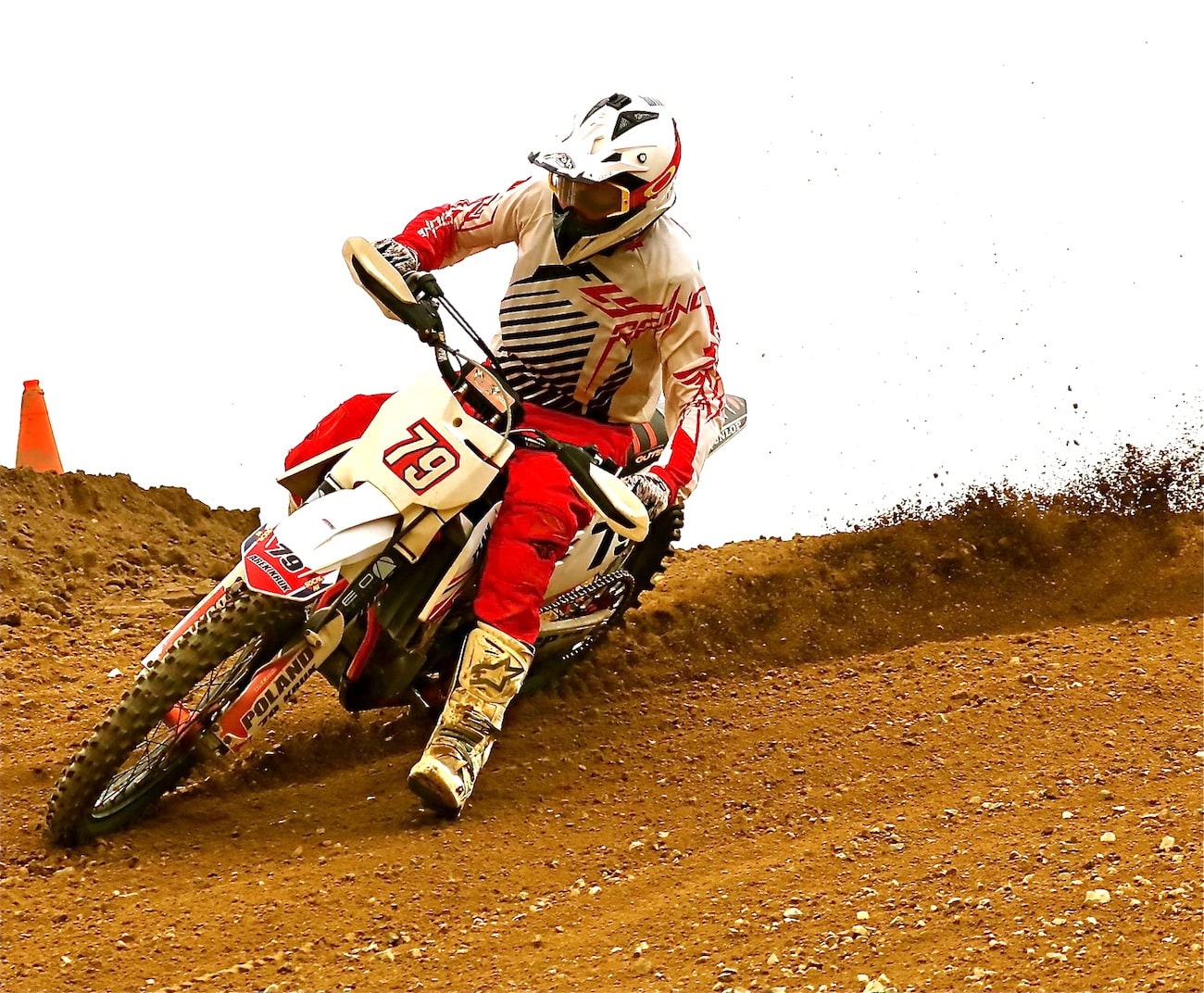 Polish racer Arek Kruk (79) took the Over-50 Expert win with a 1-2 day—aided by a Luther French crash in the first moto. The tip-over sent Luther back to third in the moto for a 3-1 day.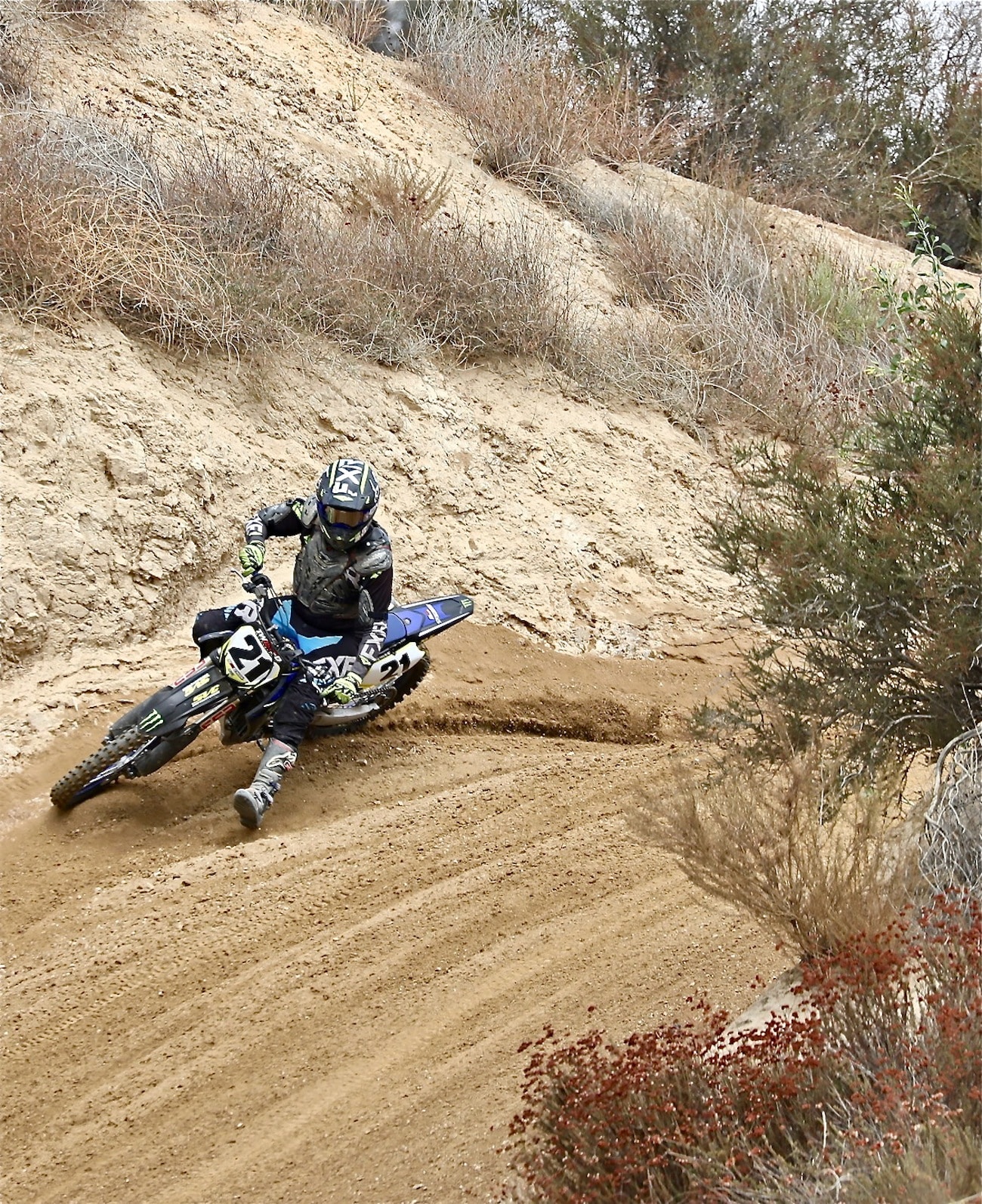 Luther French (21) uses the outside wall at the top of the hill. The downhill in front of Luther has three drop-offs, is radically off-camber and crosses a paved road before plunging downward one more time into the sand section. It was tough.
Kevin Barda (852) was back after a lay-off. Kevin two-smoked it to third overall behind Kruk and French in the Over-50 Experts. Here, Kevin is chased by Phil Dowell (23)..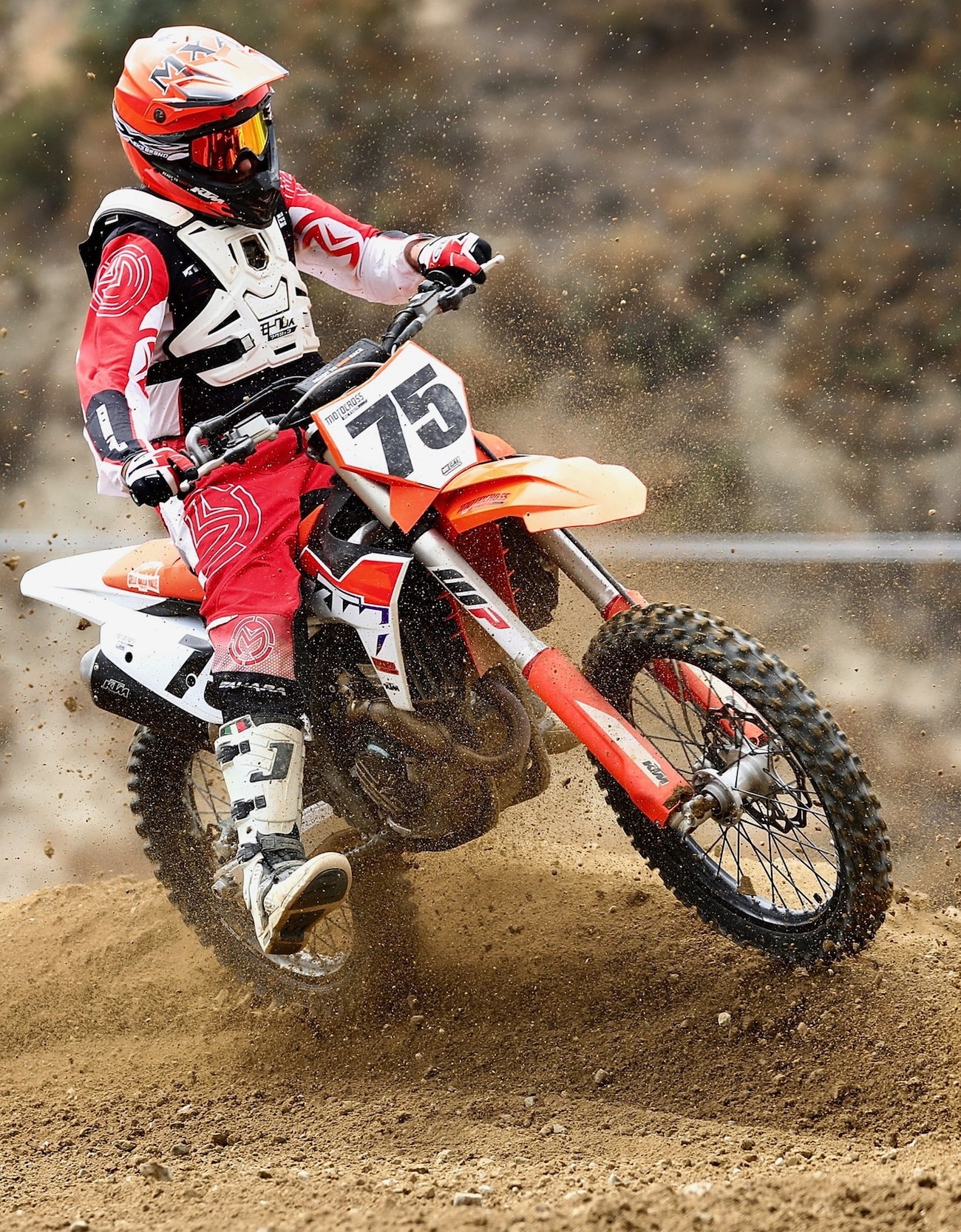 This looks like Dan Alamangos (75) is about to pay the price for getting into this uphill sweeper too fast. Luckily, Dan's leg gyrations kept his front wheel from going over the berm in the Over-50 Expert class.
The first turn on the "Saturday at the Glen" track is a steeply banked 180-degree bend. Plenty of room for all. Over 60 Expert Robert Reisinger (96) goes low, Ed Guajardo (27) goes wide and Kirk Waymire (721) and Luc De Ley (82) go high.
Headed into the 90-degree right-handed second corner, Robert Reisinger (96) leads with Guajardo on his tail and Dave Eropkin (811) securing third over Bruce Ashmore (111).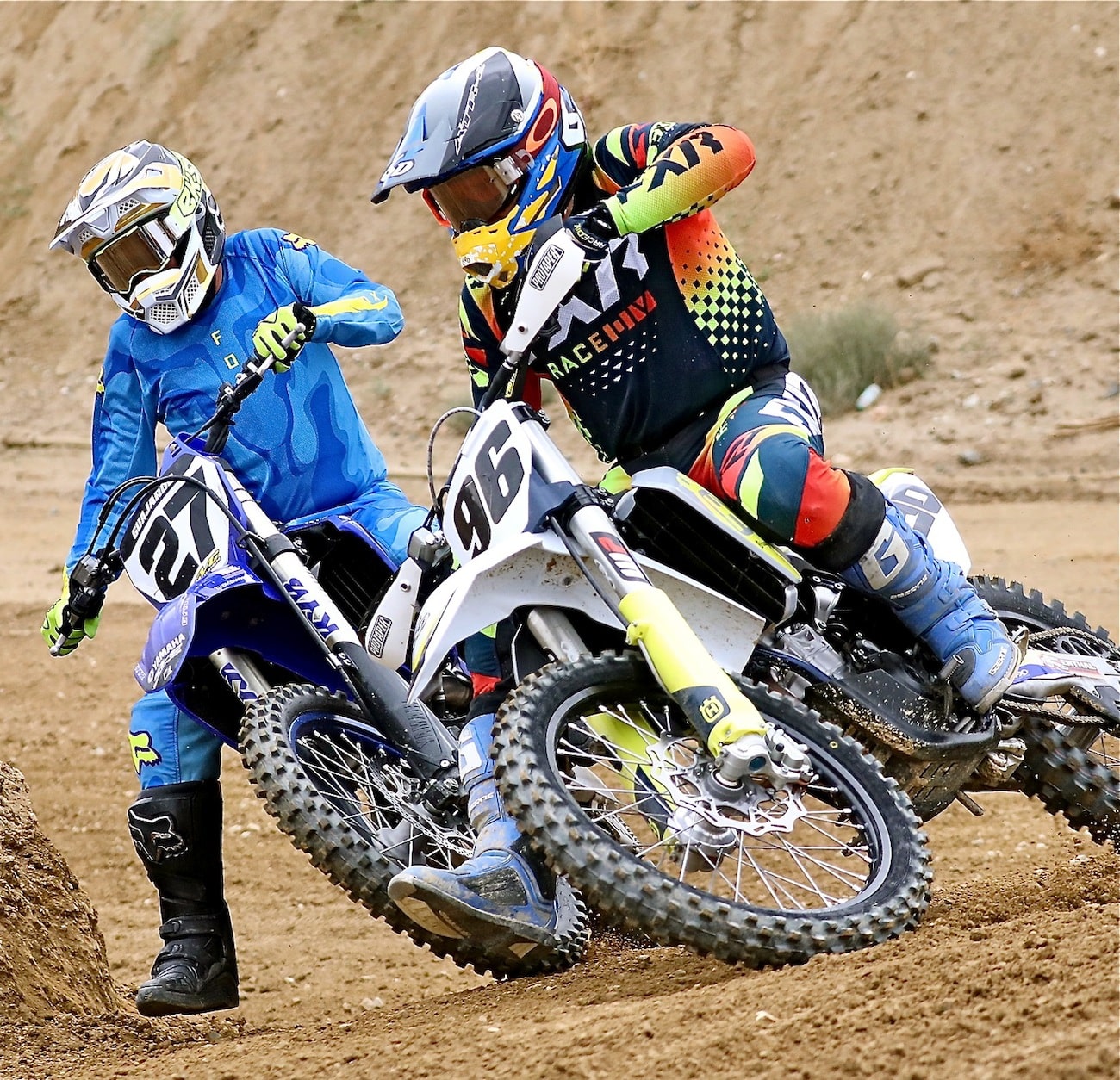 Near the end of the first lap, Reisinger (86) and Guajardo (27) are still at war. Gujardo's 2-1 would take the win over Reisinger's 1-2.
A little farther back, Luc DeLey (82) has pushed his GasGas MC125 to the front of the chasers—which include Kirk Waymire (721), Ray Poltack (223) and Randy Skinner (72). DeLey would end up fourth overall behind Guajardo (2-1), Reisinger (1-2) and Eropkin (3-3)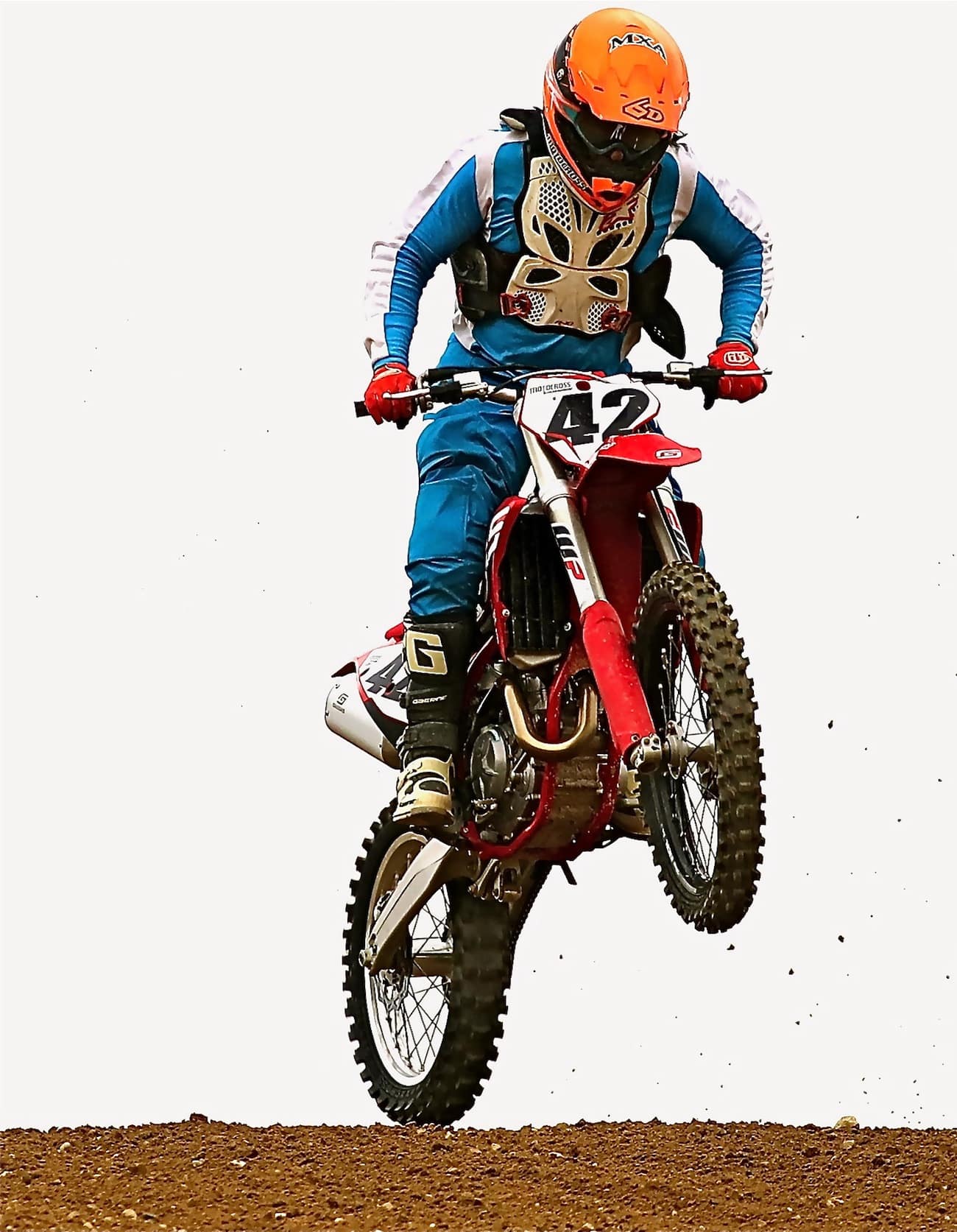 Marc Crosby (42) was back after a month off with an injury. He rode a safe and sane race to go 8-7 for eighth overall in the Over-60 Intermediates.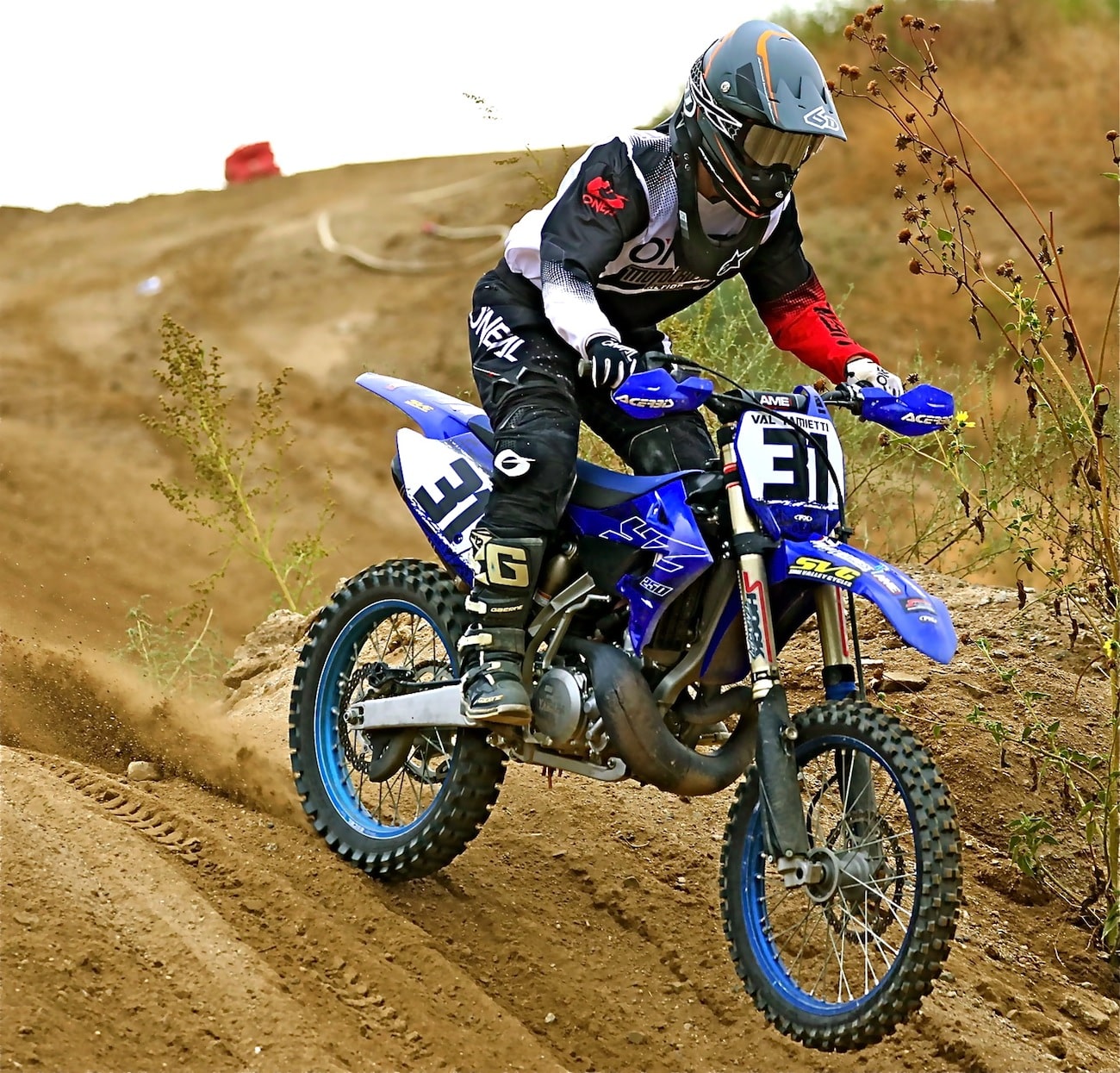 Val Tamietti (31) won the Over-65 Expert classes with a 1-1 over Bob Rutten's 2-2.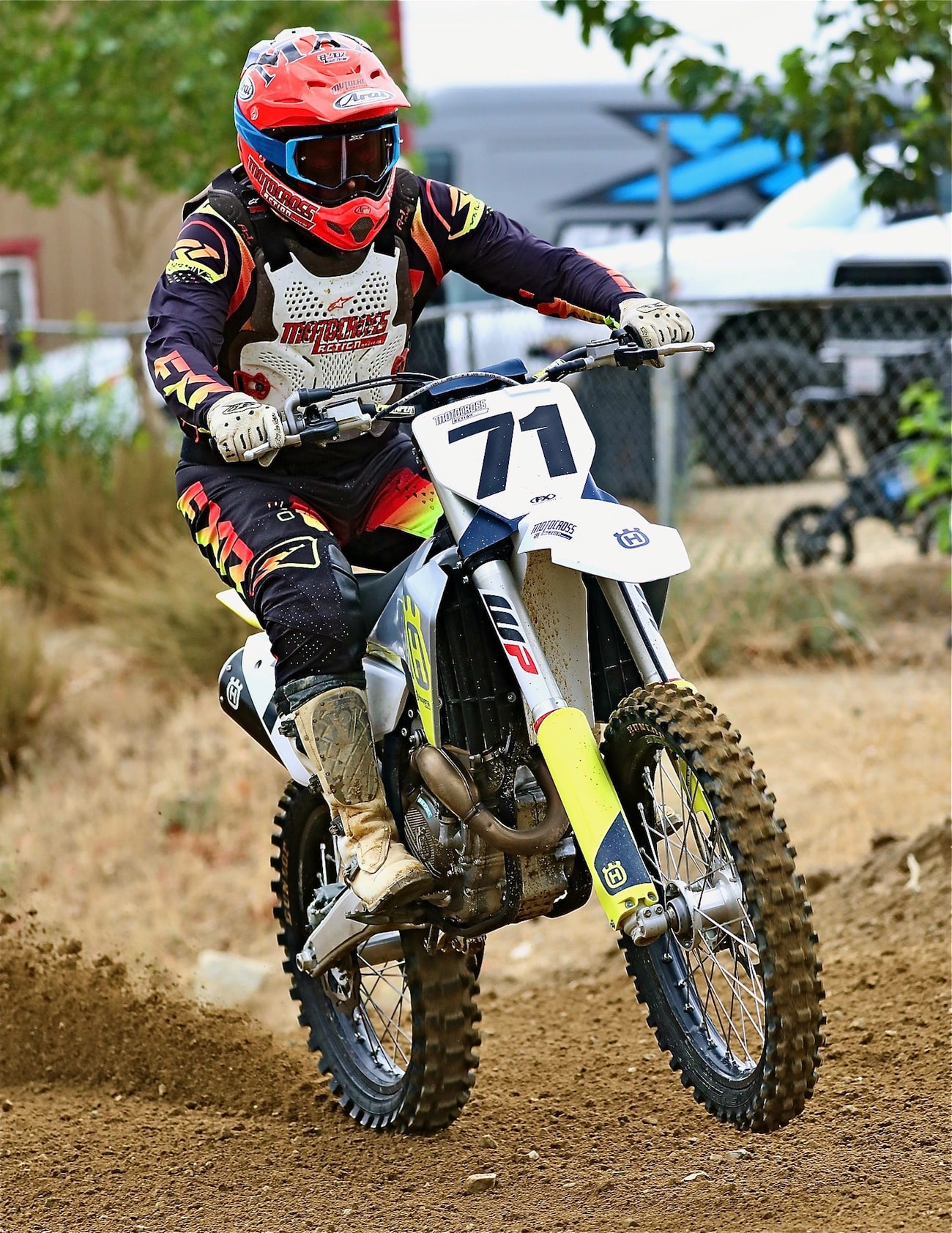 Tamietti's victory was assured when Jody Weisel (71) knocked Bob Rutten down in a tight uphill corner. In his defense, Jody said, "Never heard him, never felt him and never touched him."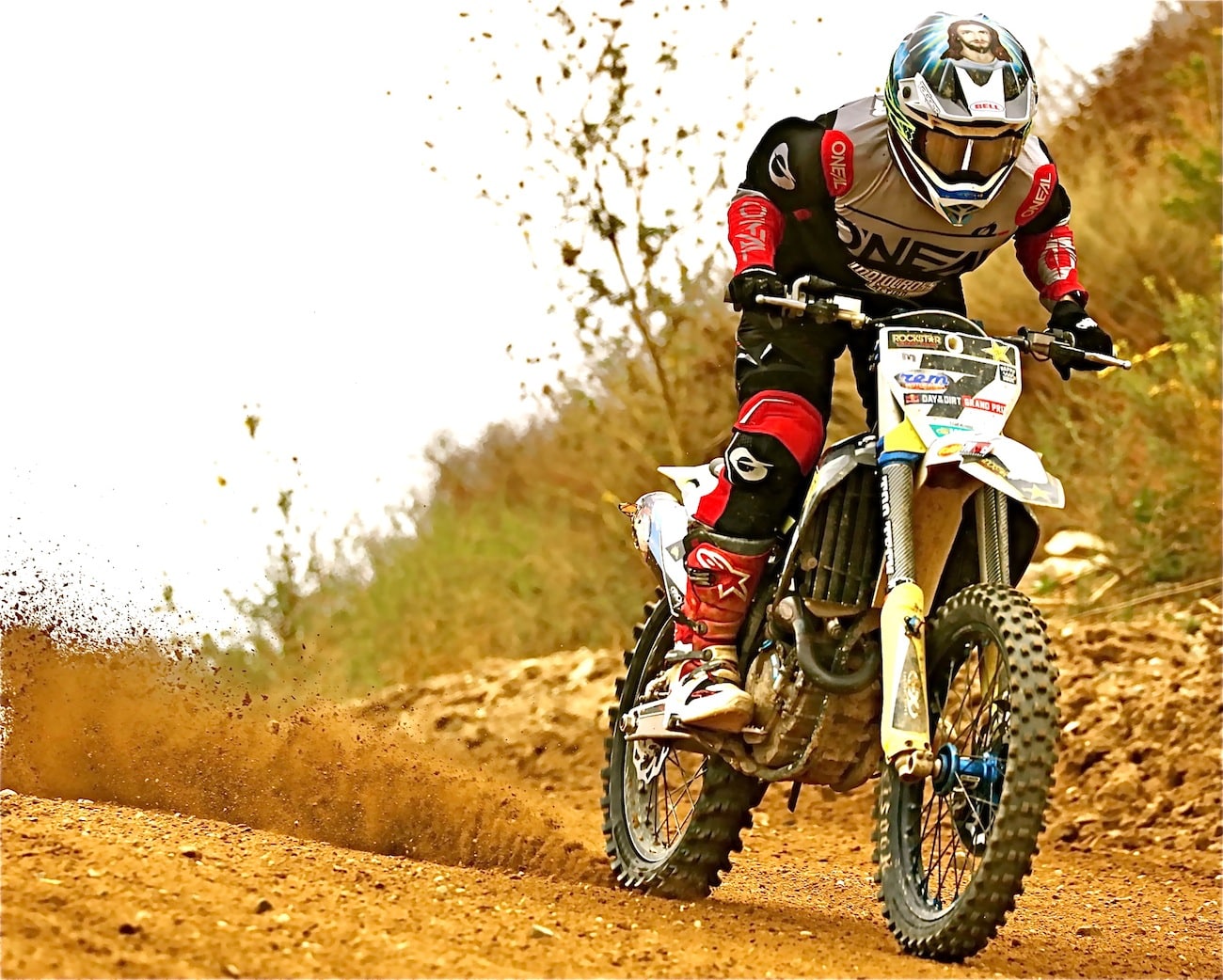 Will Harper (7) was third in both Over-65 Expert motos.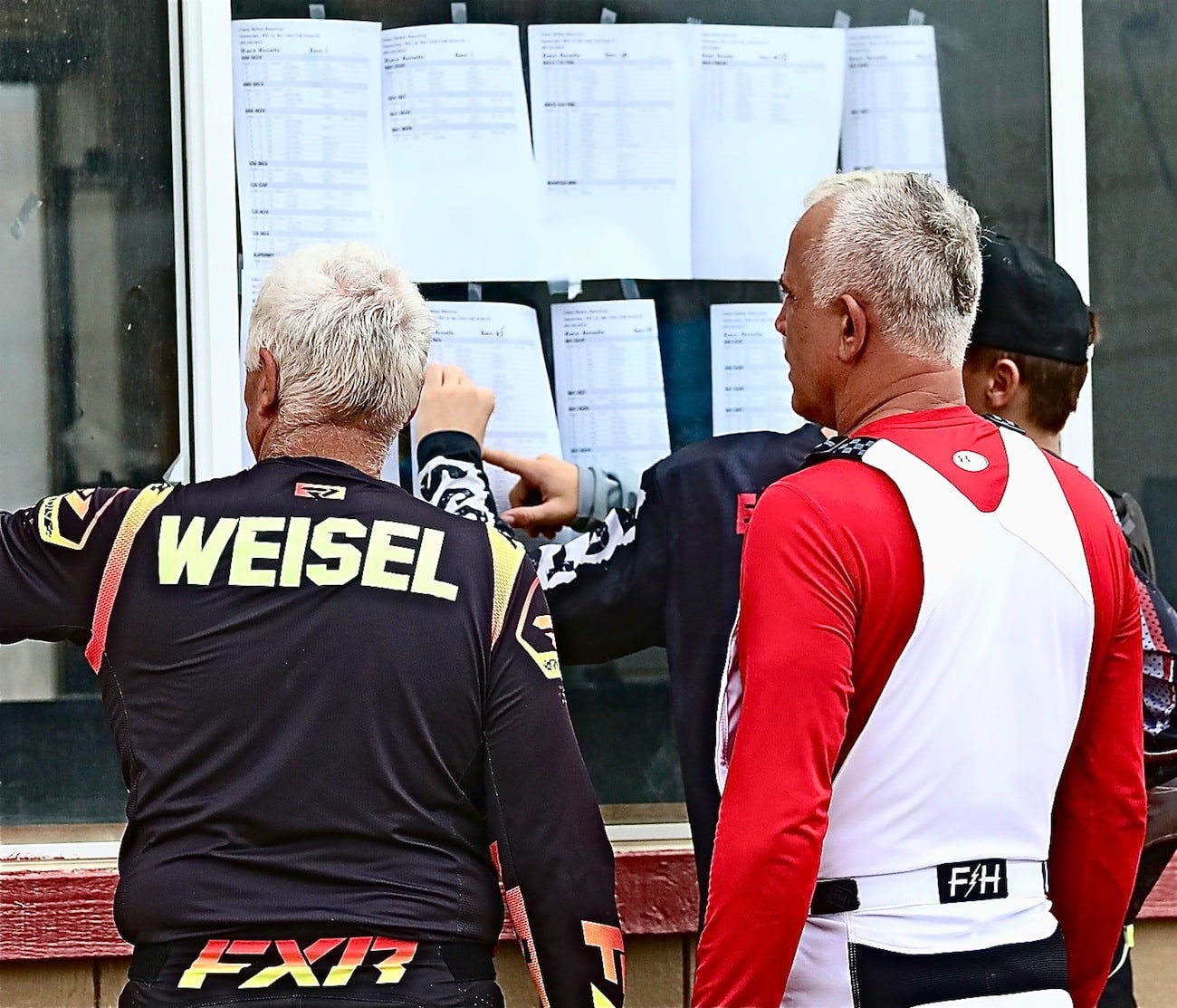 This photo is of no importance. However, the two reasons that we are running it are to show you Pasha Afshar's strange Fasthouse coverall-style riding gear and to point out that, as Jody Weisel and Pasha check the day's race schedule, Pasha's first moto is already starting their second lap. Oops!
Scalvini importer Pete Vetrano (37) took his GasGas MC125 to 3-4 finishes in the Over-40 Novices, with Vet Novice Frank Blanks (8) sneaking up on him on the a no-noise electric KTM.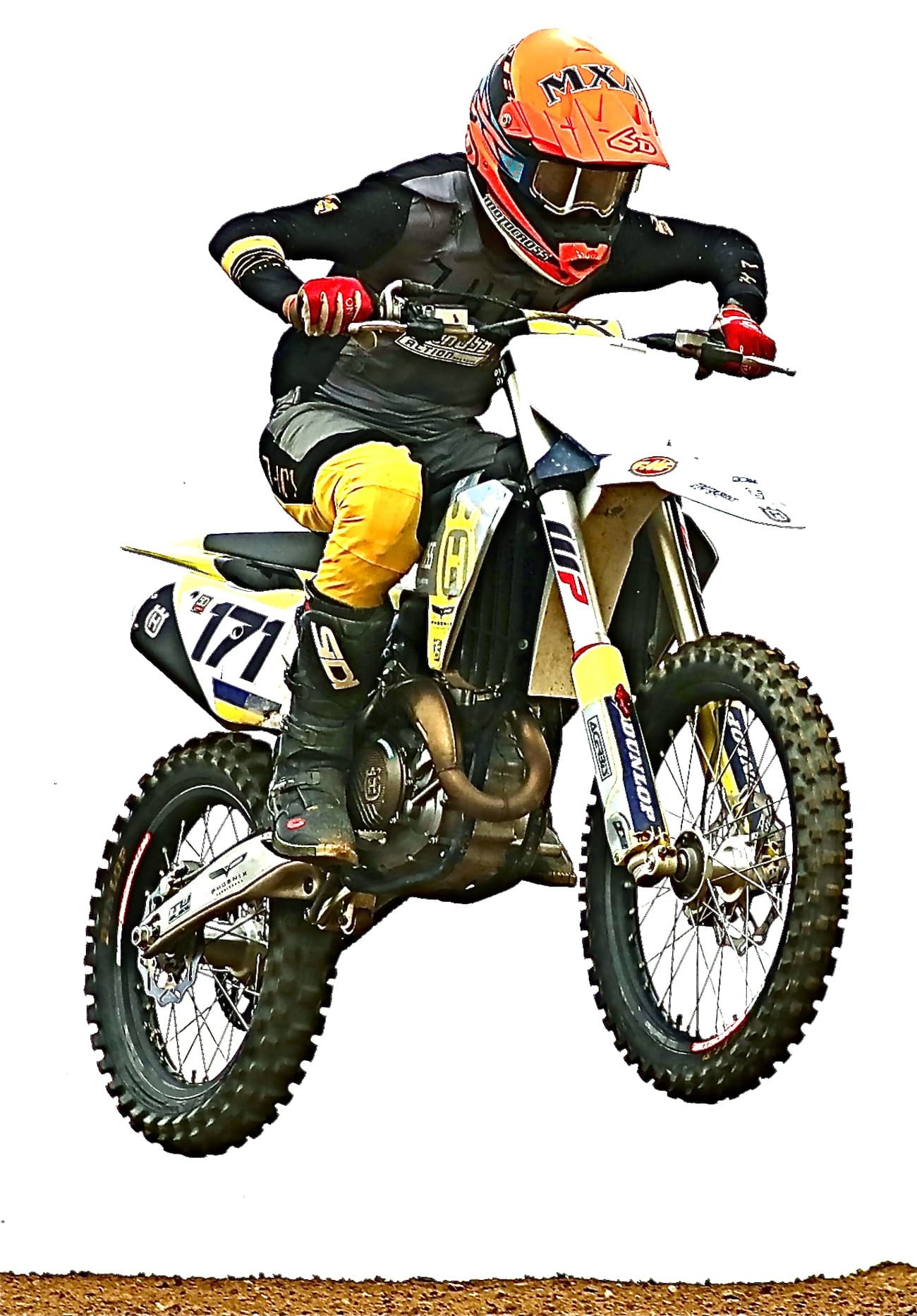 One benefit of being an MXA test rider is that when the big-name editors are done testing a bike, they let everyone else ride it. This is Randel Fout (171) on the Husqvarna FC450 that Josh Mosiman raced at the Washougal National.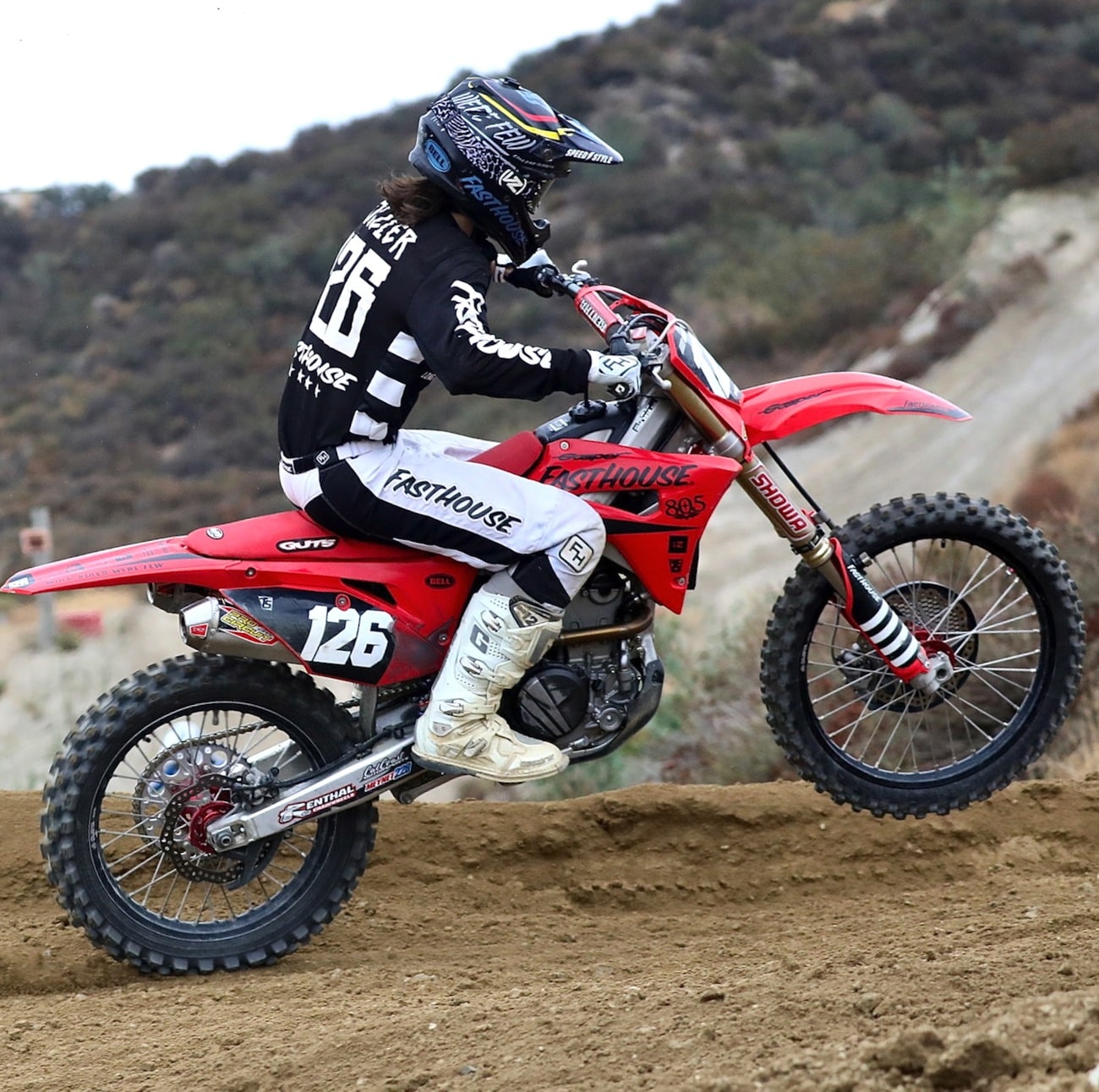 Damian Collier (126) is the son of Sean Collier. Damian's Fasthouse sponsored Honda CRF250 is a clean machine on its way to a 6-6 day in the 250 Novice class.
Hunter Reaves (12) styles a little above the pay grade of the typical 250 Beginner.
Aussie Dan Alamangos seeks high ground just in case the TV weather reporters were right about the flooding. They were wrong.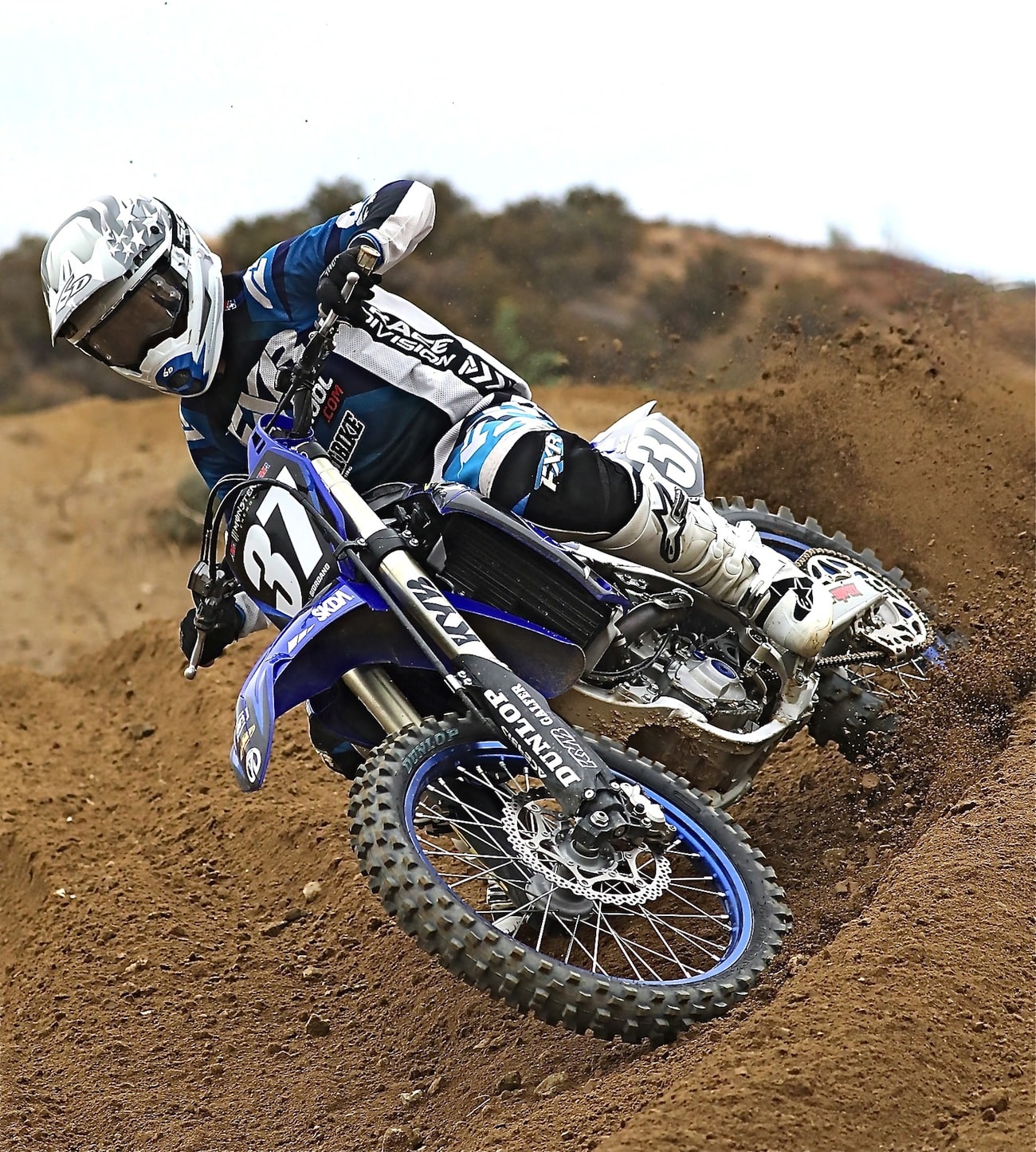 Justin Giordano (37) swept both motos of the 250 Novice class.
Nigel Crosby (85) went 2-3 in the 250 Novice class, but ended up third overall when Gavin Sorenson (19) went 3-2.
Talon Rogers (31) came over from Arizona to win the 4-to-6 year old PeeWee class and came back three races later to sweep the 65cc Beginner class.
The Yamaha YZinger's were out in force in the PW/XR class. Jagger Anderson (16) styles for awhile on his way to a 6-5 day.
Bob De La Paz (22) tries to learn lines from Bobby Steffan (825) in the Pee-Wee class.
Dillon Chipman (556) flew to sixth in the 4-to-6 year old Pee-Wee class with a 7-6 day.
Christian Daly (123) blazes a path for Lance Pierce (82), Cannon Bogh (16) and Bobby Steffan (825) in the Pee-Wee's.
THIS WEEK'S SELECTED WINNERS
450 Experts…Preston Tilford (KTM)
250 Experts…Tyler Belknap (Yam)
Over-40 Experts: Jason Klements (Yam)
Over-50 Experts: Arek Kruk (KTM)
Over-60 Experts: Ed Guajardo (Ya)
Over-65 Experts: Val Tamietti (Yam)
450 Intermediates: Ralph Ramento (Hon)
Over-30 Intermediates: Joel Licon (Yam)
Over-40 Intermediates: Adrian Spiker (KTM)
Over-50 Intermediates: Morgan Pierce (Yam)
Over-60 Intermediates: Randy Skinner (Gas)
Over-65 Intermediates: Phil Cruz (Hus)
Over-30 Novices: Frank Blanks (KTM)
Over-40 Novices: Chad Tewksbury (Yam)
Over-50 Novices: Joe Wilson (KTM)
Over-60 Novices: Owin Wright (Hon)
450 Novice…Casey Cromer (Yam)
250 Novices: Justin Giordano (Yam)
250 Beginner: Hunter Reaves (KTM)
450 Beginner…Chris Hand (Kaw)
125 Expert…Tim Beatty (Yam)
125 Novice…Traison Payne (Hus)
125 Beginner…Angel Vargas (KTM)
Women… Adrianne Spiker (KTM)
85 Beginner: Adrian Spiker (KTM)
85 Class: Jack Aaron (KTM)
Supermini…Rusty Cobb (Kaw)
65 Class: Kasey Shelton (KTM)
65 Beginner: Talon Rogers (Cob)
Pee-Wee (4 to 6)…Talon Rogers (Cob)
Pee-Wee (7-to-8)…Bryson Rowney (KTM)
Pee-Wee (PW/XR)…Ezra Armbruster (Yam)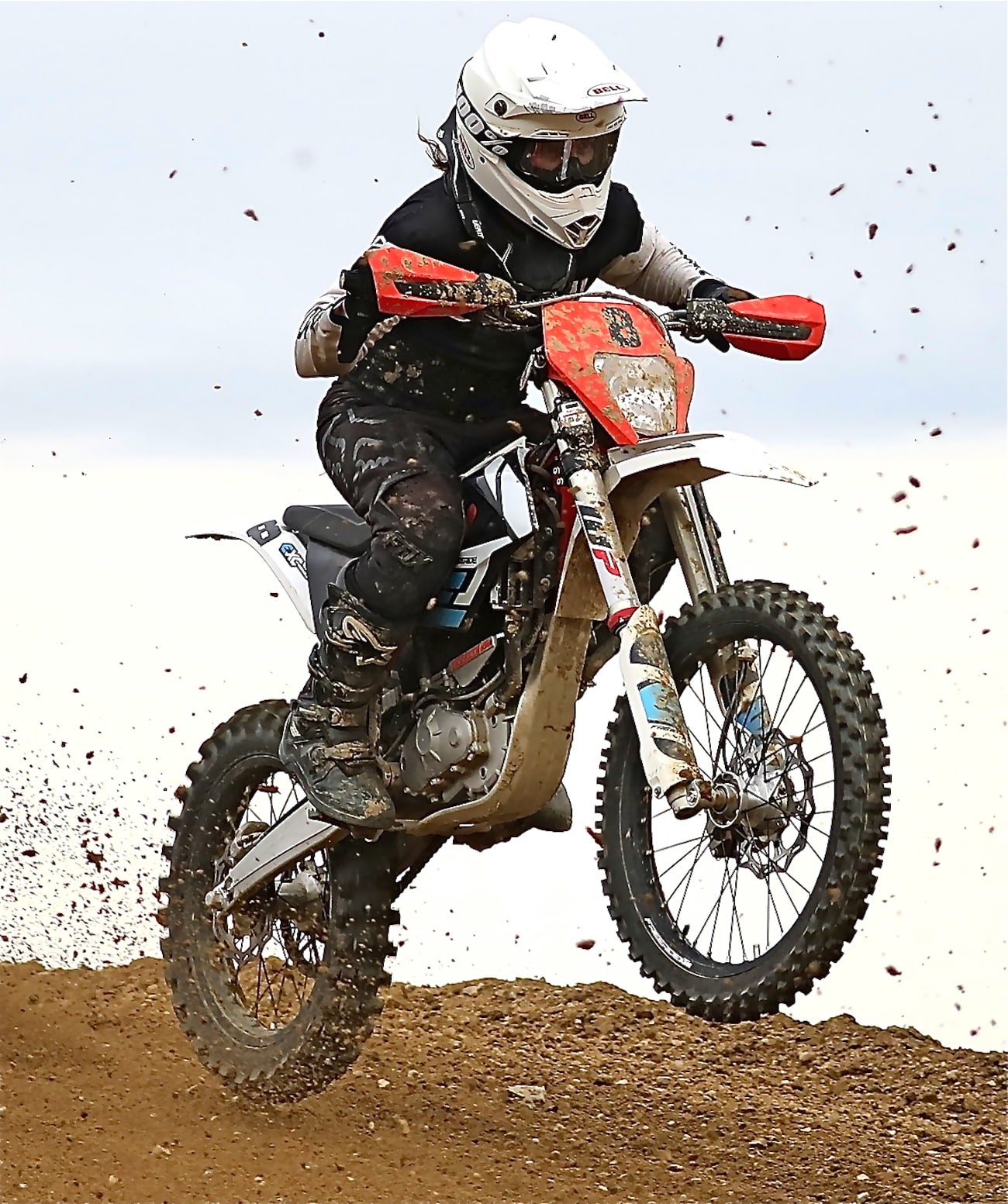 Frank Blanks (8) was very competitive on his electric KTM Freeride. Frank is a Vet Novice, but held his own against the Over-40 Novices who were combined with his regular class.
"Saturday at the Glen" motocross will race again on September 17, October 1, October 15, October 22, October 29, November 12, November 19, December 3 and December 10. Pre-entry is only $30 ($25 for minis). Post entry is $40 ($30 for minis) on the day of the race. The Gate fee is $10 (per person). You can sign up for the next "Saturday at the Glen" motocross as late as the Friday before the next race. For more info go to www.glenhelen.com
"SATURDAY AT THE GLEN" MOTOCROSS NEXT SATURDAY SEPT. 17