"SATURDAY AT THE GLEN" MOTOCROSS THIS SATURDAY AT GLEN HELEN RACEWAY
The "Saturday at the Glen" motocross will return to Glen Helen's upper track, formerly known as the REM track, on Saturday, May 7, as part of two weekends in a row with the next race on May 14. Practice starts at 8:00 a.m. and it is only $30 to race if you pre-enter. To pre-enter CLICK HERE .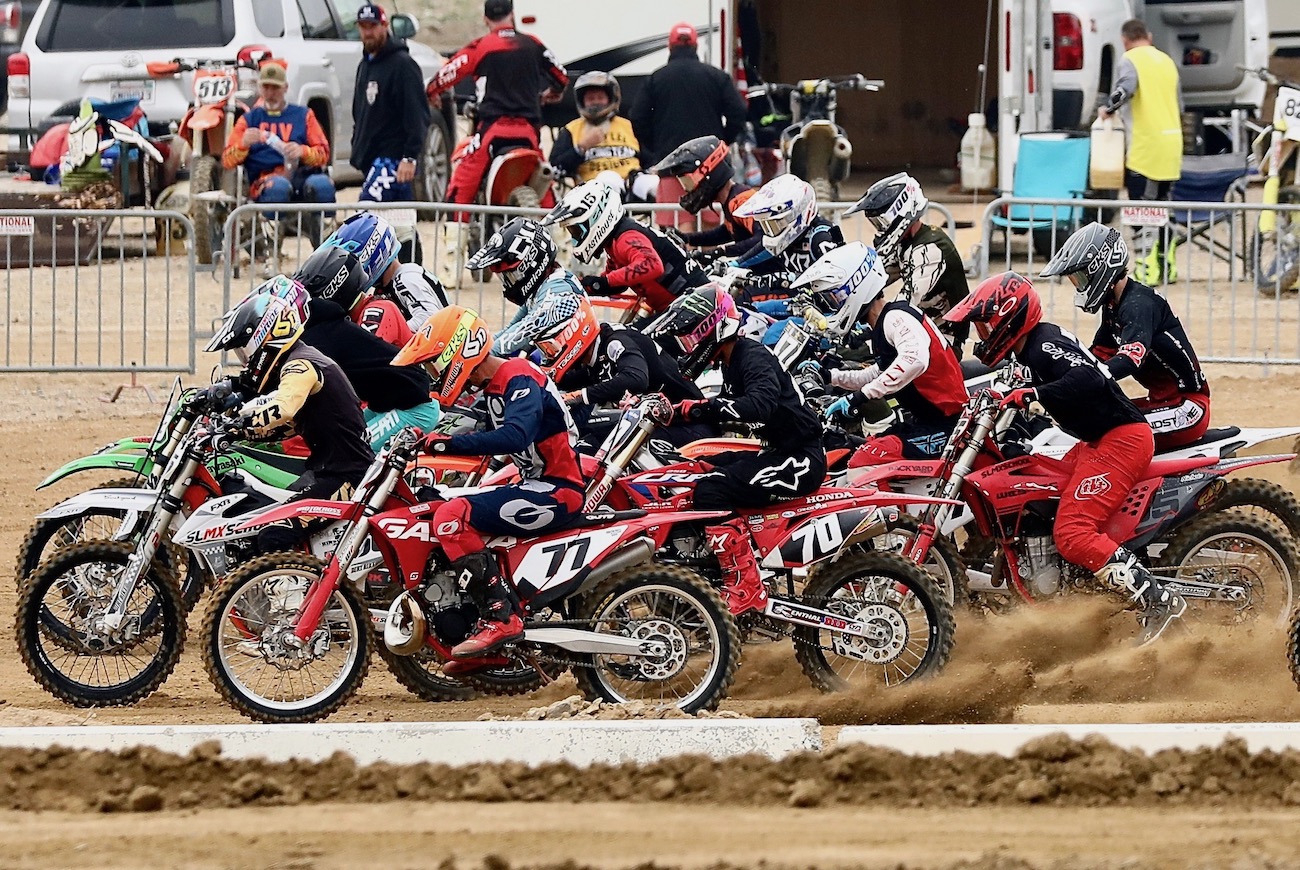 The Pros and Intermediates blast off of the newly designed starting line.
Glen Helen sweetened the pot for their loyal Saturday racers, by lowering the gate fees from the previous $30 per bike to $10 per person. They also dropped the entry fee from REM's $50 to $30 for riders who pre-entered ($40 for post entry). For a weekly Saturday racer that could add up to a $40 savings.
2022 SATURDAY AT THE GLEN RACE SCHEDULE
Apr. 2…Spring Series #1
Apr. 23…Spring Series #2
Apr. 30…Spring Series #3
May 7…Spring Series #4
May 14…Spring Series #5
June 11…Summer Series #1
June 25…Summer Series #2
July 9…Summer Series #3
July 30…Summer Series #4
Aug. 13…Summer Series #4 (National Track)
Sept. 10…Fall Series #1
Sept. 17…Fall Series #2
Oct. 1…Fall Series #3 (National Track)
Oct. 15…Fall Series #4
Oct. 22…Fall Series #5
Nov.r 12..Winter Series #1
Nov. 19…Winter Series #2
Dec. 3…Winter Series #3
Dec. 10…Winter Series #4 (National Track)
Zaca Station's Ed Guajardio (27) lead Dave Erokin (811) and 6D Helmet's Robert Reisinger (96).
Additionally, Glen Helen fixed the PA system, painted the scoring tower and made several changes to the race program that riders had asked for after the first race—most significantly an Open practice at the beginning of the practice schedule to help break-in the racetrack faster and no more parade laps before each moto. Additionally, Pee-Wee, 65cc and 85cc classes were added to the program for the first time in several years
Round four of Saturday MX at the Glen will be held on May 7th and OTHG will be included in this race. Gates will open at 6:00 a.m. with a $10 charge per person. Practice will begin at 8:00 a.m. and the first race will start at 9:00 a.m. Pre-entry fees are $30 per class and post-entry fees are $40 per class. Save some money and register for round four now! Register now by Clicking Here
SATURDAY AT THE GLEN RACE SCHEDULE
Race 1…OTHG Master/Expert—Gate 2 OTHG 30, 38, 45, 52 58 Int
Race 2…85cc— Gate 2 65cc
Race 3…Over-65 Exp—Gate 2 Over-60 Novice/ Over 65+ Novice
Race 4…450cc Nov/Beg—Gate 2 250 Beg/Nov & all 125cc
Race 5…Over-60 Exp—Gate 2 Over-60 Int
Race 6…50cc Age—Gate 2 50cc PW
Race 7…Over-50 Exp/Int —Gate 2 Over-30, 40, 50 Novices
Race 8…OTHG 30+ 38+ 45+ 52+ Novice—Gate 2 58, 65, Novice & 65 Int/All/ Beg
Race 9…450cc/250cc Exp/Int—Gate 2 Over-30 & Over-40+ Exp/Int
Photos by Debbi Tamietti