"SATURDAY AT THE GLEN" WORLD VET WARM-UP: BIG HILLS, BIG THRILLS & LONG LAP TIMES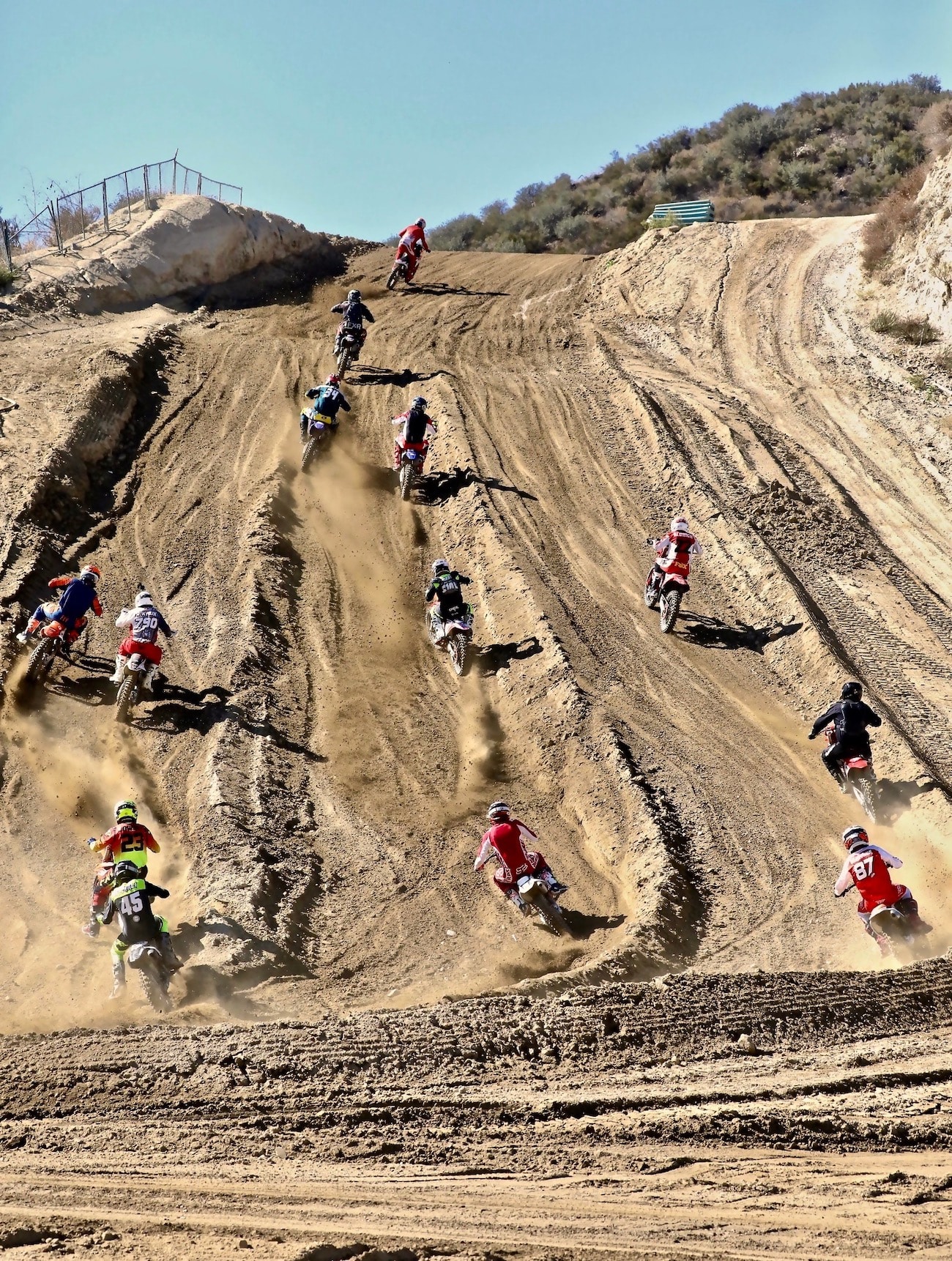 In order to reduced second turn congestion on the start, Glen Helen has three separate lanes up the first big hill. That way if there is a pile-up, the riders can split around them. These are the Over-50 Experts, with Kurt Nicoll at the top, Luther French in second, Richard Ellis third and Pete Murray fourth. 
PHOTOS BY DEBBI TAMIETTI
(Click on any image to enlarge)
Glen Helen wanted this year's 2022 Dubya World Vet Motocross Championship track to be reminiscent of the great Glen Helen AMA National tracks of the past, so they had MXA's Jody Weisel, who designed the Glen Helen National tracks from 1997 on, build a Vet friendly version of a true-to-life National track that incorporated the Talladega first turn, staggering heights of Mount Saint Helen, a second climb up almost to the top of Mt. St. Helen, followed by a loop through the Canyon (including the "Saddleback Humps") and then a trip over a mellowed-out Triple Step-Up jump before going onto the REM track and up yet another hill (and tabletopping down from the REM side to on the return to the front track). Lap times for all of the Novice classes and slower Vet classes were over three minutes, while the Pros and Intermediate could do a lap in the 2:50 range. If it seems long, that's because it is long, but by next Saturday and Sunday the lap times will drop when all the contenders are on the track.
The 2022 Dubya World Vet Championship original track map.
Sean Lipanovich (505) won the 450 Pro class and will defend Guam's World Cup of Nations title at the World Vet. Sean was also on Team Guam at the 2022 Motocross des Nations at Red Bud.
To test the World Vet track layout, Glen Helen decided to hold a "Saturday at the Glen" race exactly one week before the World Vet starts on November 5.  The hitch was that Travis Pastrana's Nitro  Rallycross series had rented the truck track and needed the rest of Glen Helen Raceway for parking. To accommodate the two-day Rallycross series, Glen Helen canceled all of its races on the National Track, Saturday track (formerly the REM track), Stacyc track, Pee-Wee track and Stadiumcross track. Then, Glen Helen's Lori Wilson ask the Rallycross people, if she could hold one, and only one, race on Saturday morning — promising to get everyone in and out before the Rallycross program started at 2:30 p.m.
Obviously, with the Rallcross race program run by a former AMA 125 National Champion, the answer was, "Yes."
Dennis Stapleton (184) took the Vet Pro win and appears to be adapting to his new 2023 GasGas MC450F.
Glen Helen asked to run the "Saturday at the Glen" race because it was the best chance to test the full layout of the track, with full race prep and lots of former World Vet Champions there to try it out. It was a big success. Now the track crew will work on the dirt before they run one final test practice session on Friday, November 4. It was eery to be a race track that is famous for holding five or six different races every weekend when there was only one race taking place. It was also strange to see the pits incrementally filling up with Rallycross spectator's cars that were getting closer to where the "Saturday at the Glen" racers were parked—but at 2:00 p.m. the races were over and the riders had loaded up and gone. Travis was happy and the World Vet riders were happy to have gotten a preview of what they will face next Saturday and Sunday.
Current Over-50 World Vet Champion Kurt Nicoll (2) is schedule for hip surgery after the World Vet, but had no trouble running away with the Over-50 Expert class at "Saturday at the Glen" warm-up race.
And, as always, Debbi Tamietti was there to chronicle all the action with her camera. Enjoy the photos as we head into World Vet week with its Friday practice (for entered riders only), Saturday races, Saturday afternoon Jeremy McGrath Happy Hour and Edison Dye Lifetime Achievement Award presentation, along with a Travis Fant movie about Jeremy, followed by Sunday's races.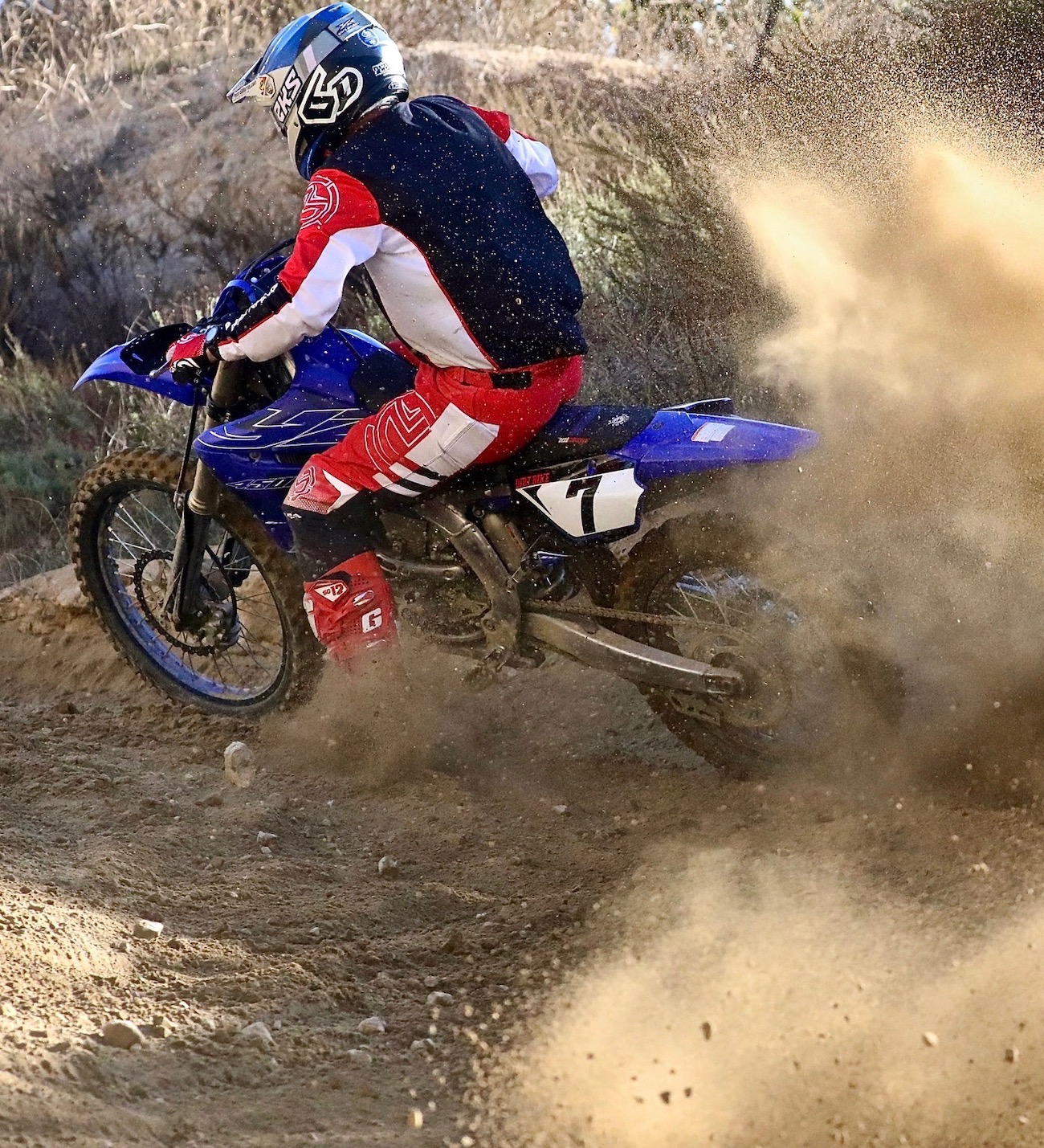 Current Over-60 World Vet Champion Pete Murray won the Over-60 Expert class with a 1-1 score.
Oklahoman Trey Jorski, now lives in Phoenix, and made the drive over to win both motos of the Over-65 Expert class over 1970's Baja star Bob Rutten (2-3) and former CMC number one Val Tamietti (4-2).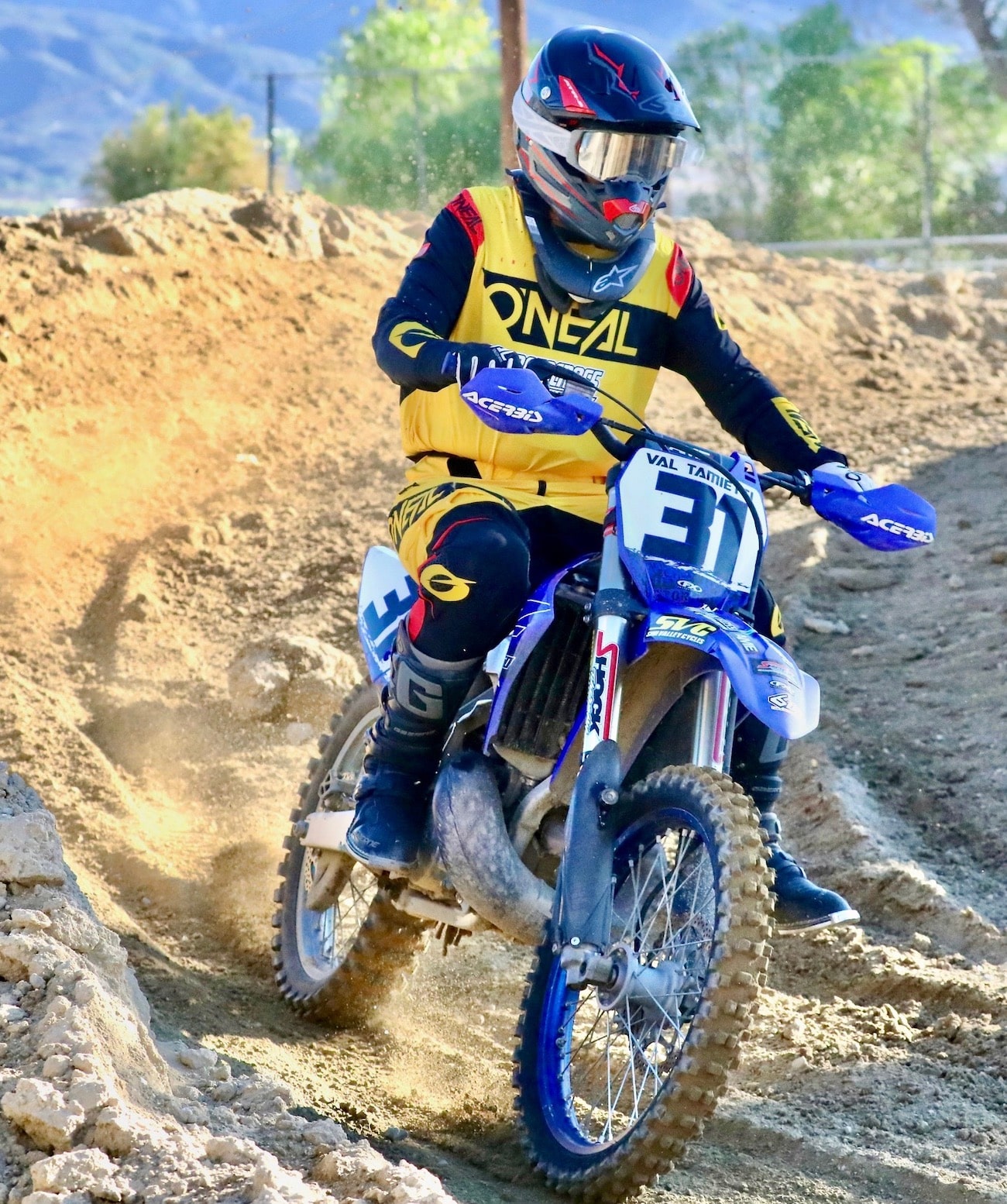 Most famous as a Maico rider,Val Tamietti, the former Saddleback Specialist took many years off after his Pro days ended, but finally returned to the sport he loved and has been dedicated ever since. He is a YZ25o two-stroke fan.
Michael McGowen (337) was the Over-65 Intermediate winner in front of Jim Hanson (2-3) and "Dentist to the Stars" Marc Crosby (4-2).
Michael Hibner (26) led a KTM sweep of the Over-50 Intermediate class in front of the KTMs former Suzuki Amateur team coordinator Cole Gress and Alaska's Aaron Athanas.

Wayne Ashby (193) tried to break the KTM stranglehold on the Over-50 Intermediates with his Husqvarna, but his 3-6 left him in fourth. This is as close as Jason McCormick (129) ever got to Wayne. You can watch Wayne's GoPro video below if you'd like to see what the track looked like at speed.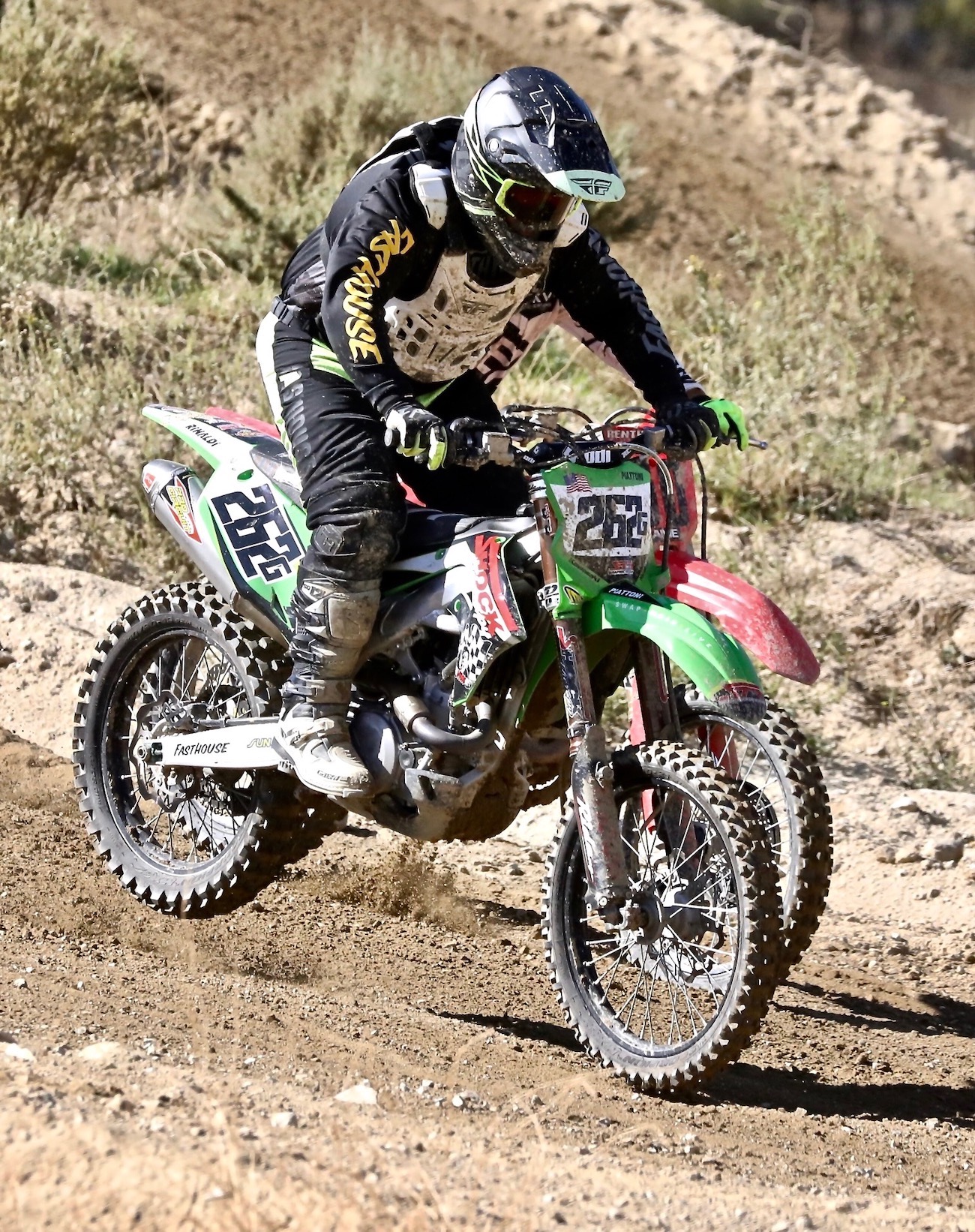 Shock Therapy's Steve Piattoni's 2-1 edged out Dave Fontes' 1-3 in the Over-60 Intermediate class.  
Aryton Ward (797), son of Jeff Ward, took the 250 Pro victory with a 1-1 over buddy Max Lee, son of TroyLee. These two have been racing against other since they were little kids.
Four-time World Vet Champion and current Over-80 World Vet Champion, Lars Larsson also has an Over-60 title (2001) and two Over-70 crowns (2011-2012). He wants to defend his 2021 Over-80 Championship next week at the age of 82.
Behind this wall of roost is 250 Intermediate winner Enzo Temmerman.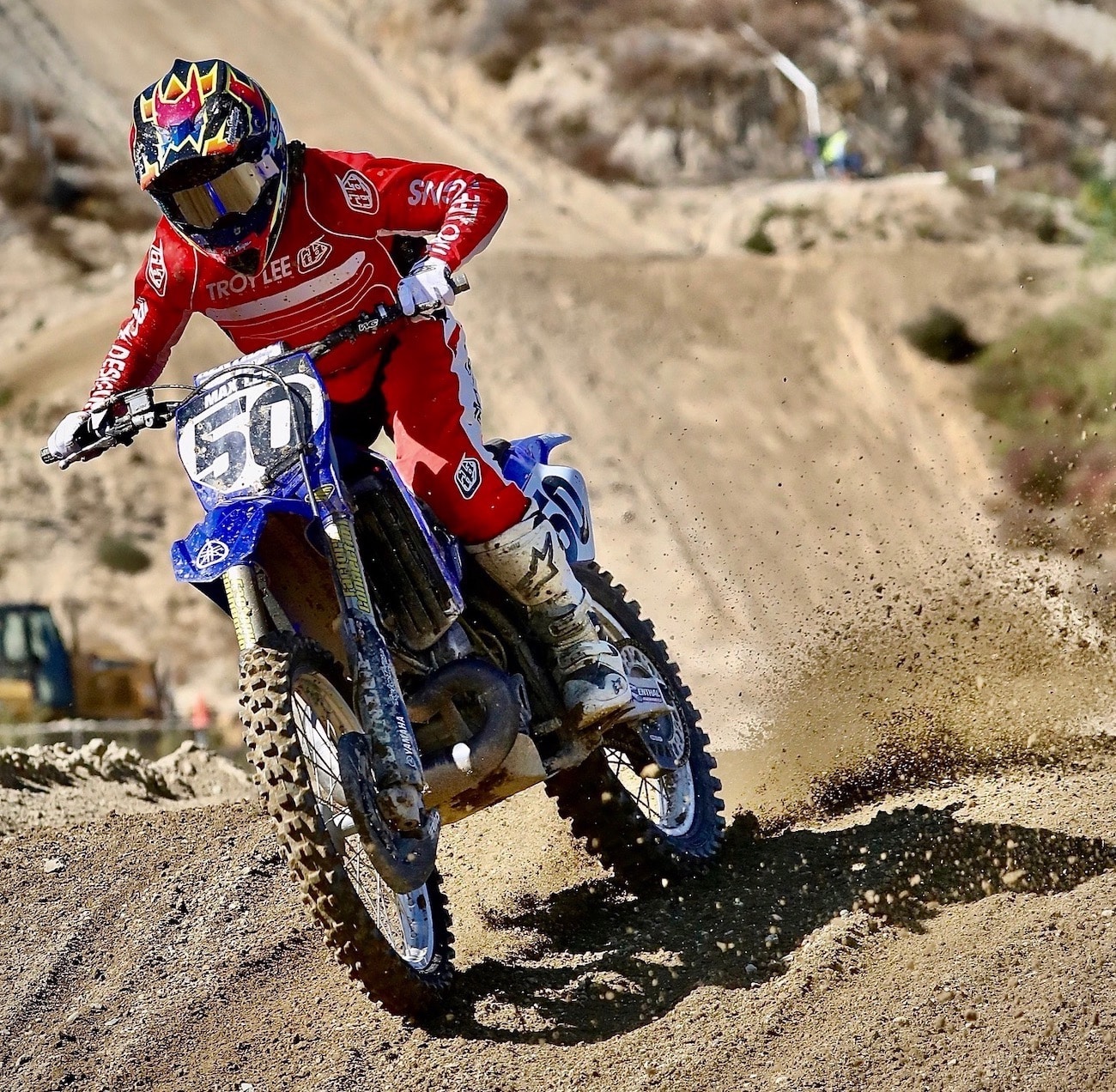 Max Lee (50) raced a Yamaha YZ250 two-stroke to second in the 250 Pro class. Of course, we expected him on a GasGas, given that his dad runs GasGas's factory team.
Straight out of Barcelona, Spain, Kim Sunol (71) forces his Husky past John Murray's (47) Husky on his way to a 4-4 day in the Over-60 Intermediates. Kim will anchor Team Spain in the World Cup of Nations next weekend.
Those crazy Fouts, Randel and Josh, played a game of high-speed tag in every moto they were in. Both are recovering from injuries, so they were content to race with each other.
Will Harper (7) showed up nursing a shoulder injury, but after the first Over-65 Expert moto it got worse and he elected to rest it for next week's race.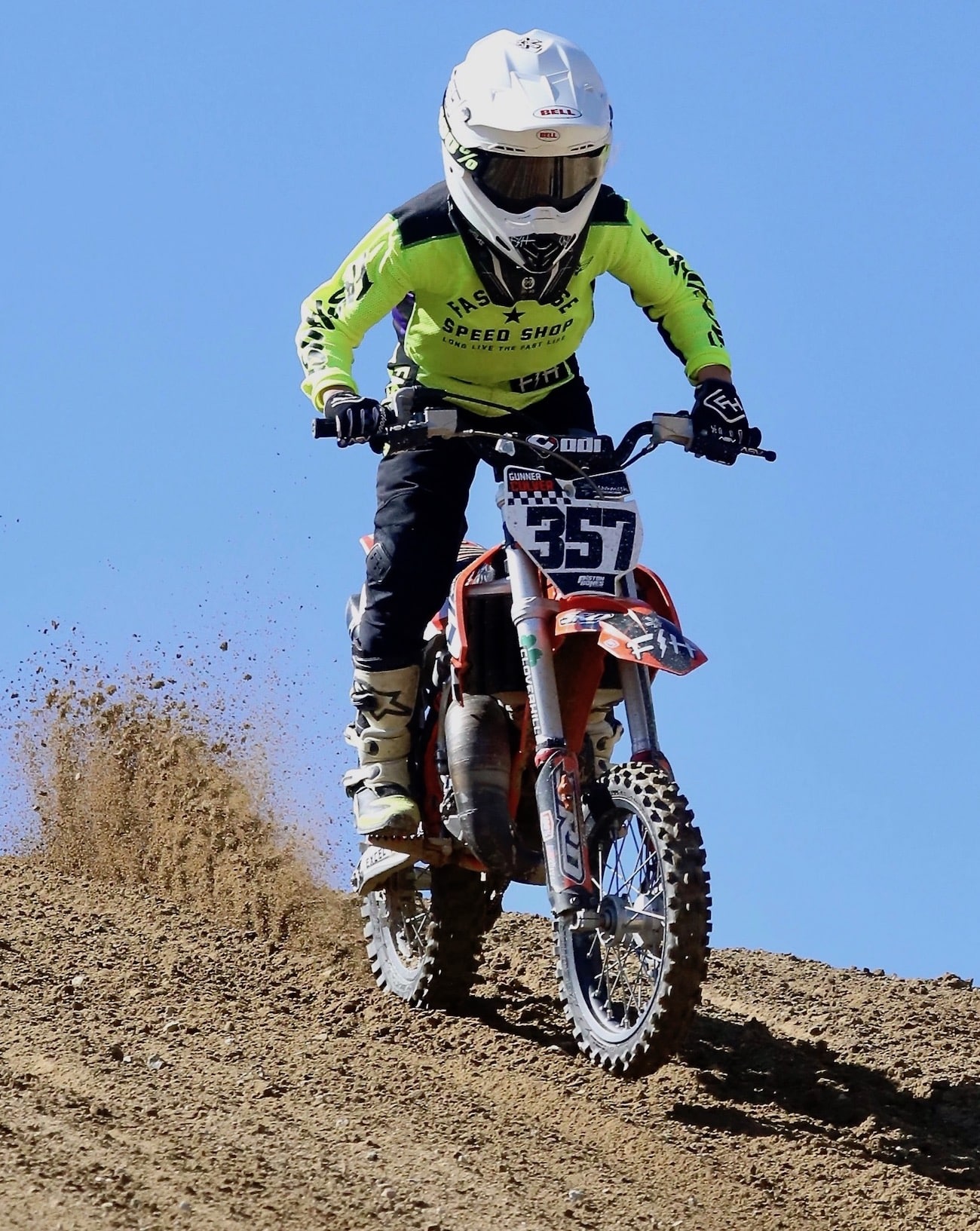 Gunner Culver wasn't warming up for next week's World Vet Championship—which he won't be eligible to race for a decade or two, but he looked capable on his way to a 1-1 sweep of the 65cc class.
Mason Hibner (15) was flying in the 85 class.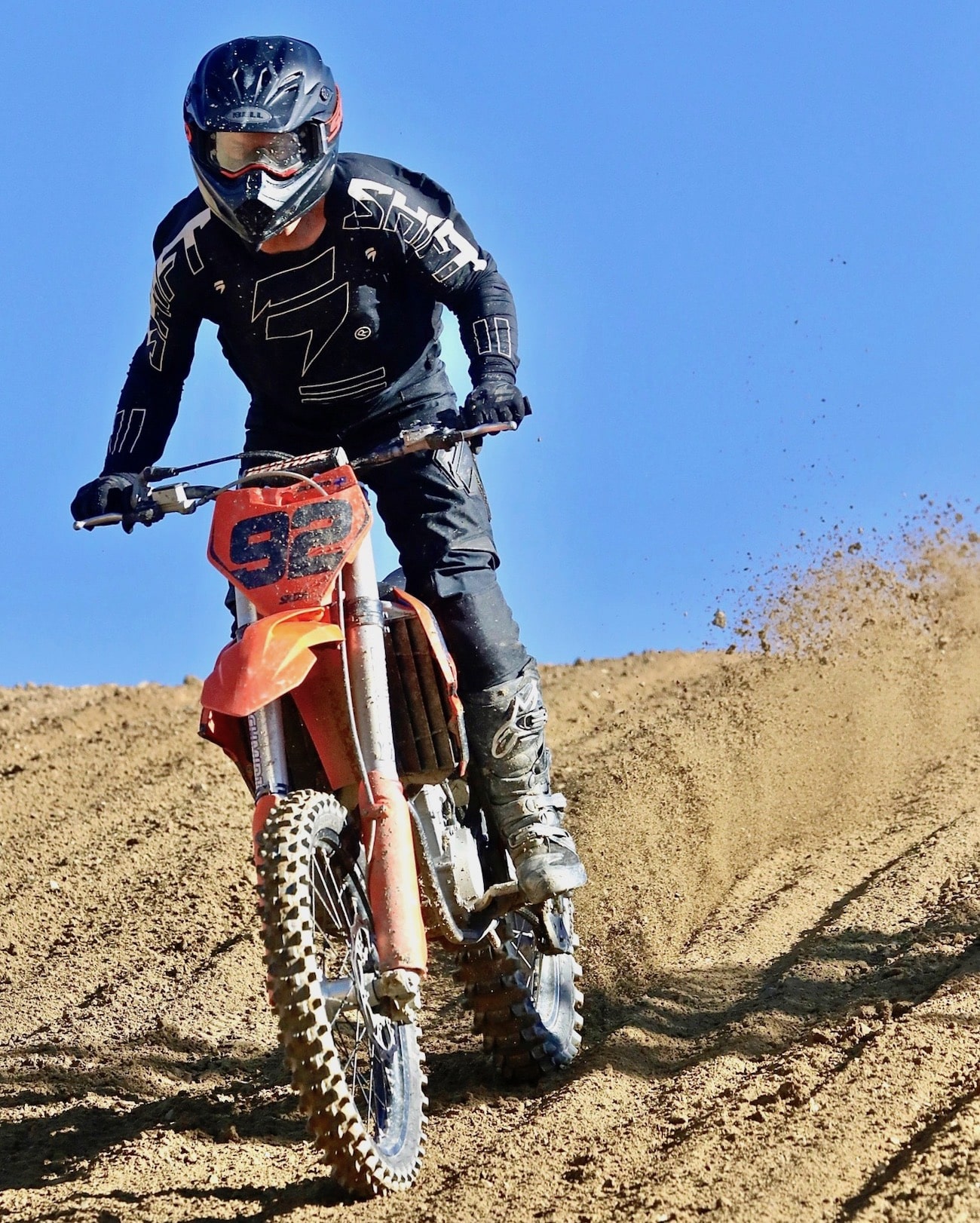 Dressed in traditional New Zealand all-black Kiwi Mark Buxeda (92) flew to USA two weeks early to get adapted to American race tracks—Glen Helen may have been more than he was used to, but Mark went 3-2 for third in the Over-60 Intermediates.
Chuck Peterson (157) got into this corner a little hot and lost the rear end.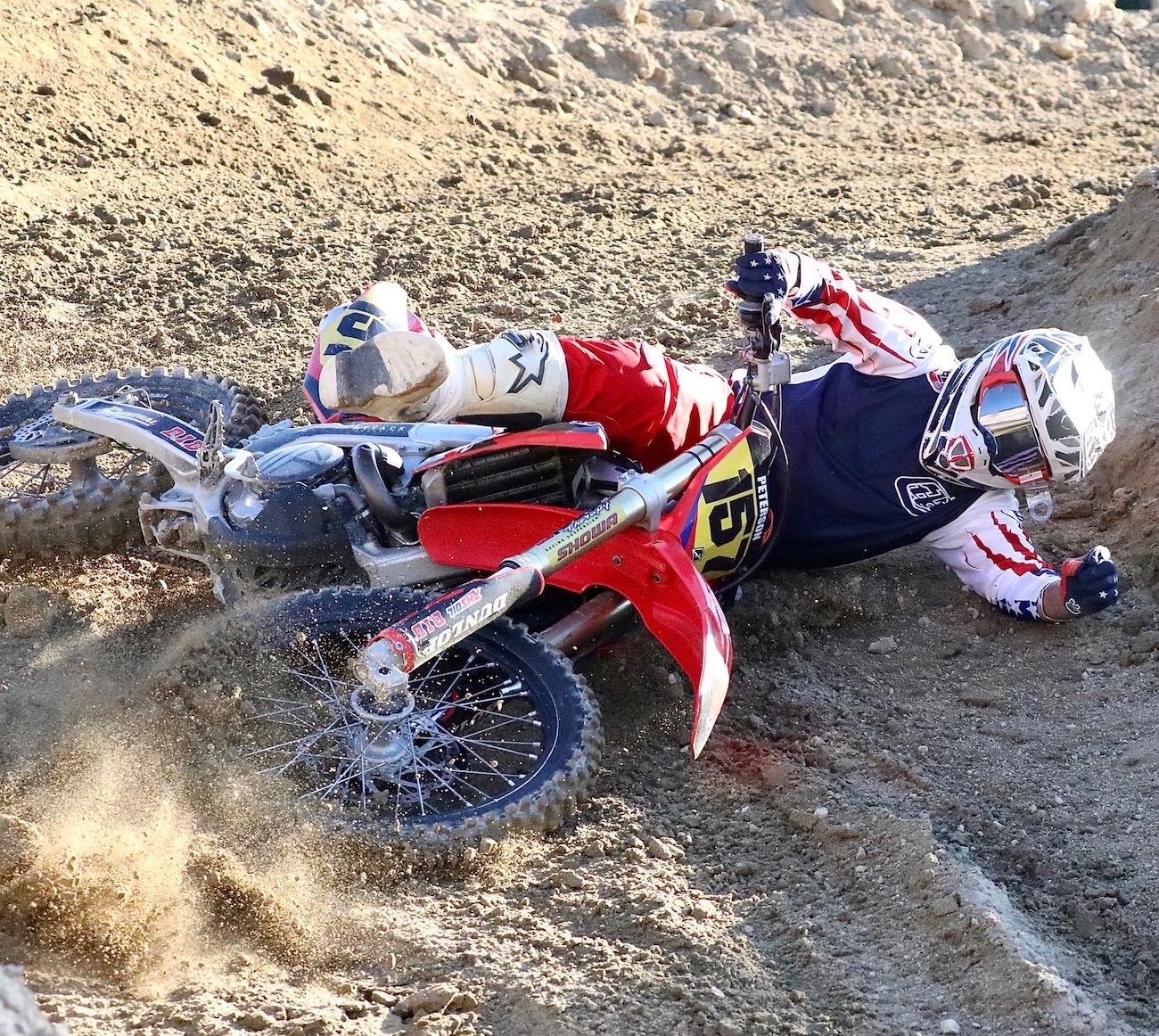 Chuck laid it down, but forgot to get his left leg out of the way of the falling bike. No sweat! Chuck still went 2-2 in the Over-60 Novices.
Bill Sauro (311) opened some eyes when he finished second behind Kurt Nicoll in the Over-50 Experts and ahead of Pete Murray, South African Alan Jullien and Poland's Arek Kruk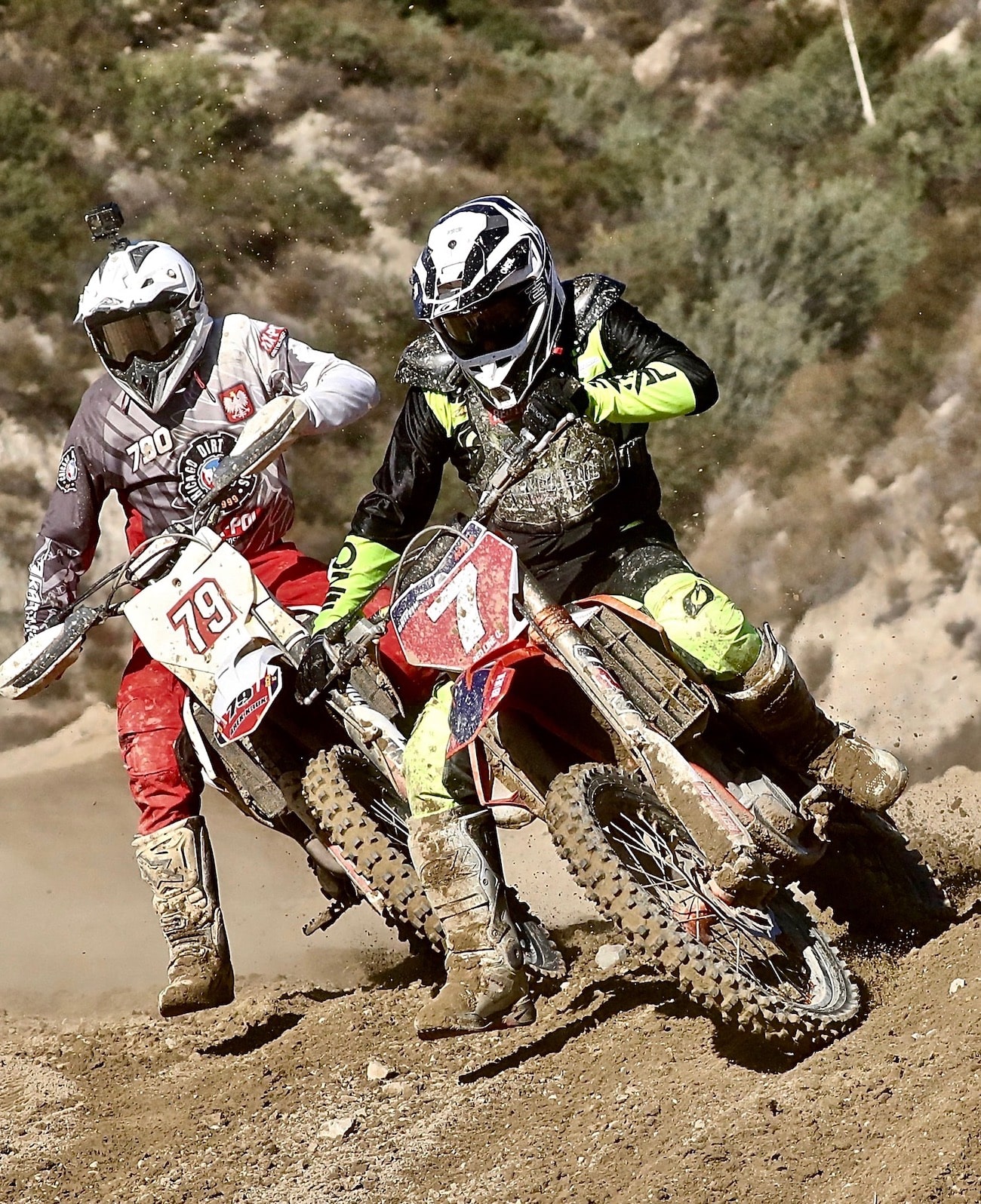 John Griffin (7) couldn't hold off Arek Kruk (79) in the Over-50 Experts, but managed a solid top ten finish with an 8-8 day.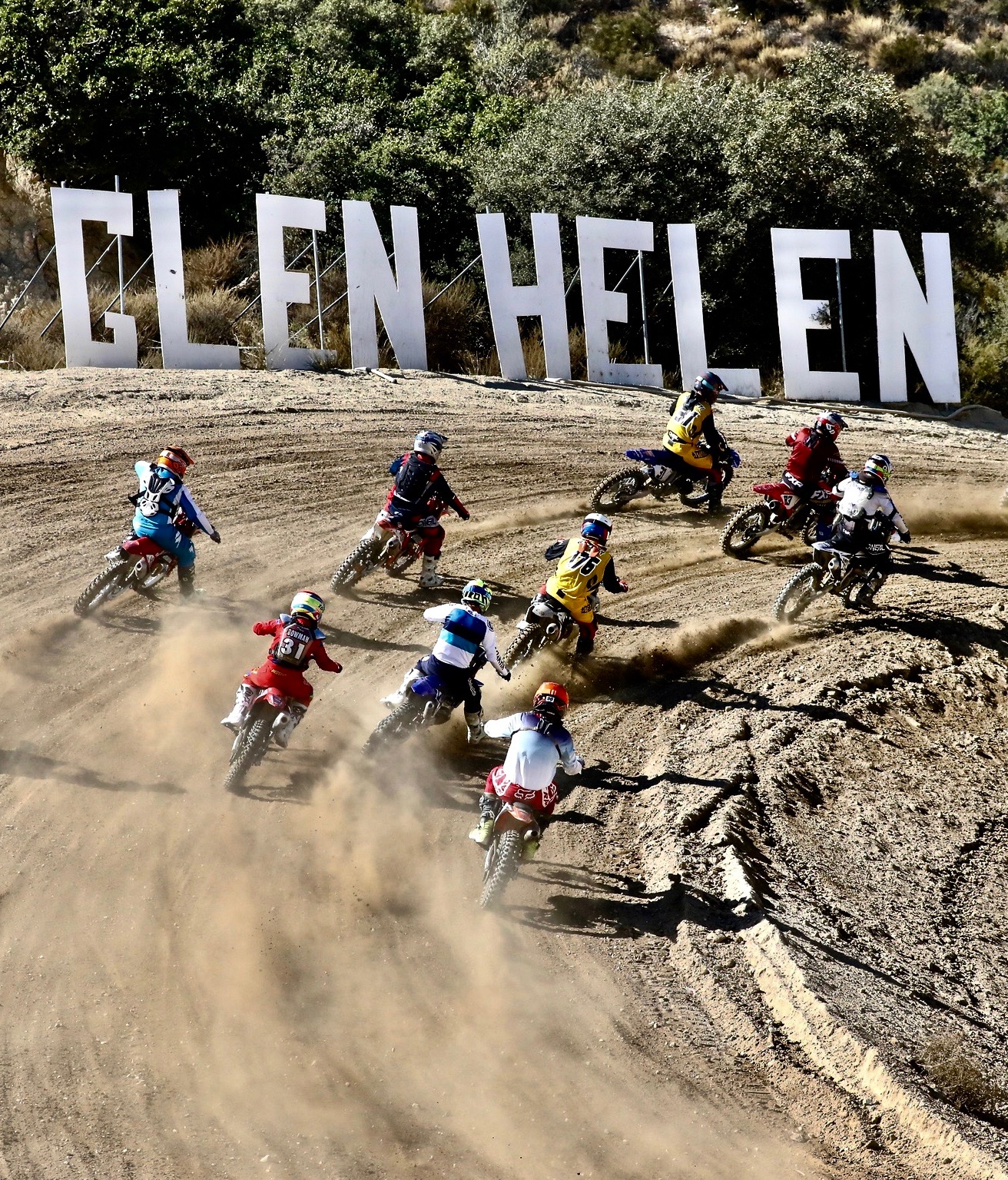 This is the back half of the Over-65 Intermediates entering Glen Helen's steeply banked Talladgea first turn. Expected it to be steeper and wider next weekend.
Pete Murray (7) won the Over-60 Experts and decided to try his hand in the Over-50 Experts, but his 4-3 left him third overall. Luther French (21) ran up front for a fourth in moto two, but nothing could salvage his tenth in moto one.
Preston Tilford (17) chased Sean Lipanovich in the 450 Pro class, but had to settle for a 2-2 day.
Pasha Afshar took the Over-40 Expert win on one of his many KTM 150SX two-strokes, but went 13-13 in the Over-50 Experts. Pasha is putting up $13,000 in purse money for next weekend's Over-30 125 Pro and Over-50 125 Pro classes. 
Former New Zealand National Champion and MXDN team member Tony Cooksley went 3-4 for fourth in the Over-65 Expert class.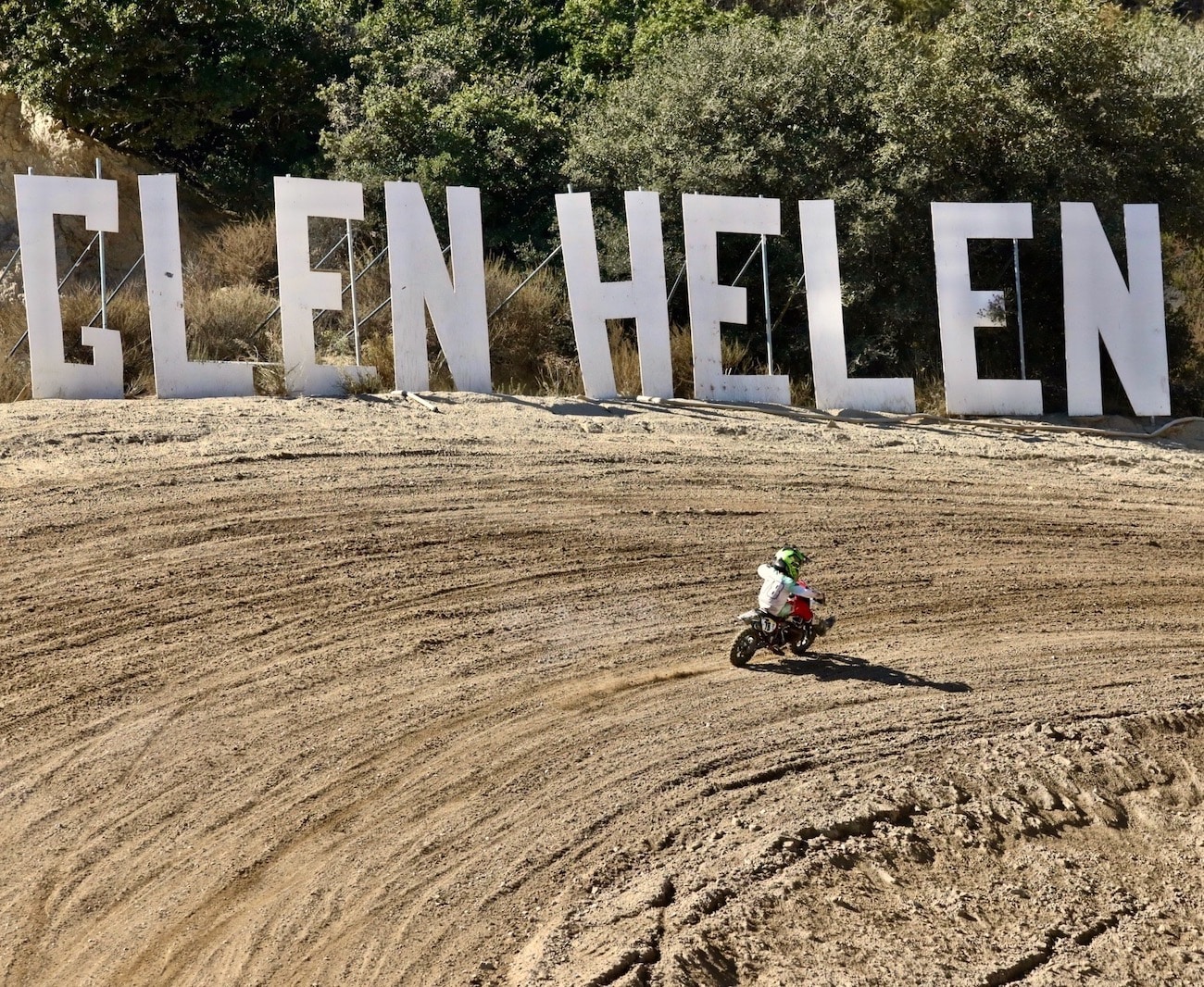 Benjamin Bojorquez (18) and his Cobra Pee-Wee are dwarfed by the Glen Helen sign in the first turn.
RESULTS FROM SELECTED CLASSES
450 EXPERT
1. Sean Lipanovich (KTM)…1-1
250 EXPERT
1. Aryton Ward (KTM)…1-1
OVER-30 EXPERT
1. Dennis Stapleton (Gas)…1-1
OVER-40 EXPERT
1. Pasha Afshar (KTM)…1-1
OVER-50 EXPERT
1. Kurt Nicoll (KTM)…1-1
OVER-60 EXPERT
1. Pete Murray (Yam)…1-1
OVER-65 EXPERT
1. Trey Jorski (KTM)…1-1
OVER-40 INTERMEDIATE
1. Adam Morrow (Gas)…1-1
OVER-50 INTERMEDIATE
1. Michael Hibner (KTM)…2-1
OVER-60 INTERMEDIATE
1. Steve Piattoni (Kaw)…2-1
OVER-65 INTERMEDIATE
1. Michael McGowen (KTM)…1-1
OVER-30 NOVICE
1. Casey Cromer (Yam)…3-1
OVER-40 NOVICE
1. Mike Morales (Hon)…4-4
OVER-50 NOVICE
1. Joel Tokarsky (KTM)…2-1
OVER-60 NOVICE
1. Daniel Woodman (KTM)…1-2
OVER-65 NOVICE
1. Willian Bandy (KTM)…1-1
125 EXPERT
1. Mason Sweeden (Yam)…1-1
125 NOVICE
1. Mason Hibner (KTM)…1-1
125 BEGINNER
1. Ryan Norton (Hus)…1-1
4-TO-6 YEAR OLD PEE-WEE
1. Carter Stevenson (Hus)…1-1
7-TO-8 YEAR OLD PEE-WEE
1. Logan Vorhauer (Cob)…1-1
PW50 PEE-WEE
1. Augustin Canela (Yam)…2-1
65cc BEGINNER
1. Gunner Culver (KTM)…1-1
85 BEGINNER
Patrick Miranda (Hus)…1-1
85cc CLASS
1. Mason Hibner (KTM)…1-1
A TALLADEGA FIRST TURN TRAFFIC JAM  & CRASH
Aaron Athanas (79) and Greg Anderson (55) sandwich Jason McCormick (129) in the first turn of the Over-50 Intermediate race. Note that McCormick's front wheel is aimed at Athanas' front wheel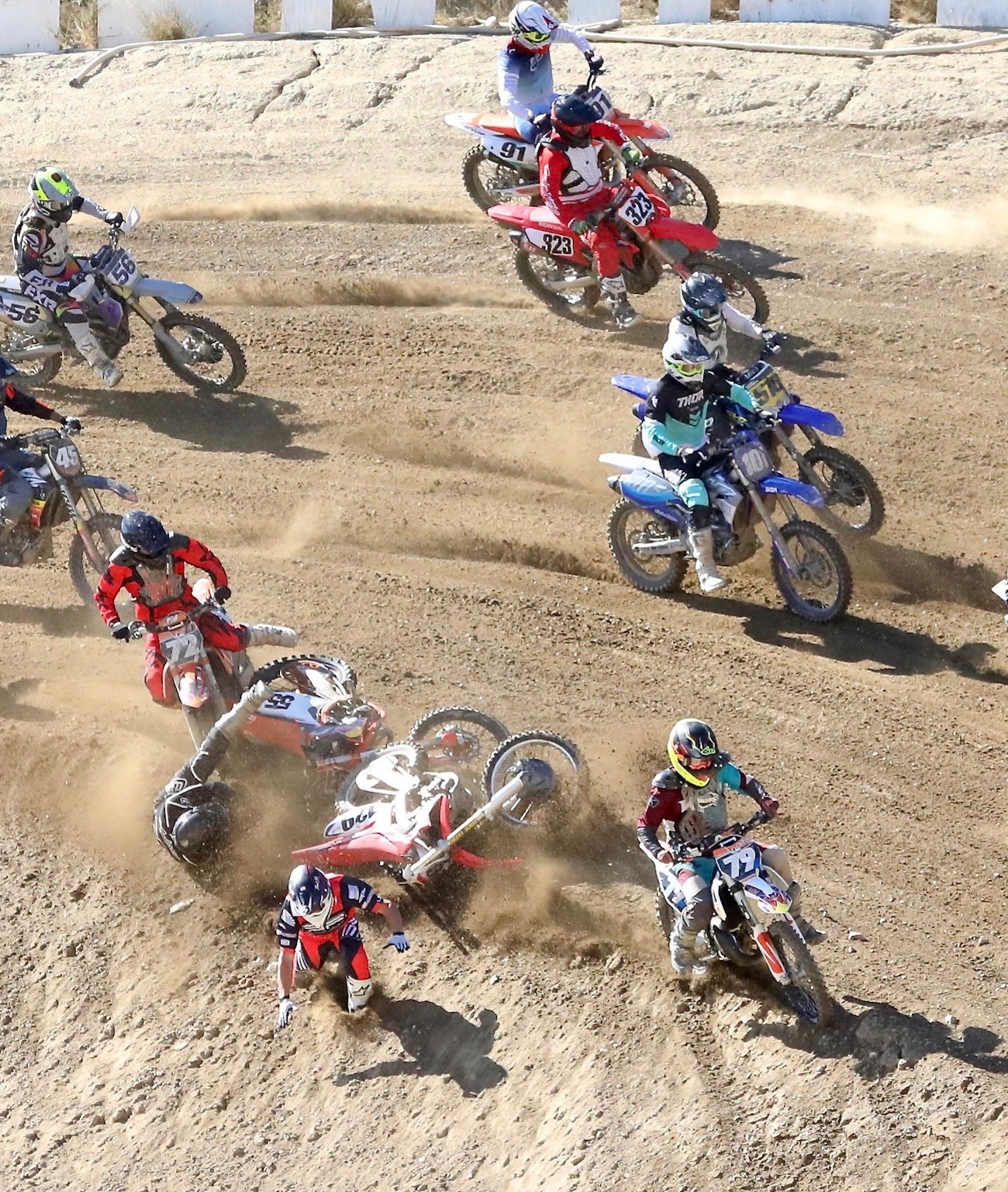 McCormick's front tire hits the back of Athanas' front wheel and McCormick's bike high sides when his bike was lifted up by Athanas' spinning front wheel. McCormick and Greg Anderson, who's bike was knocked down, both fell into a soft dirt on the side of the track, while Bob Ziegler (72) had no where to go.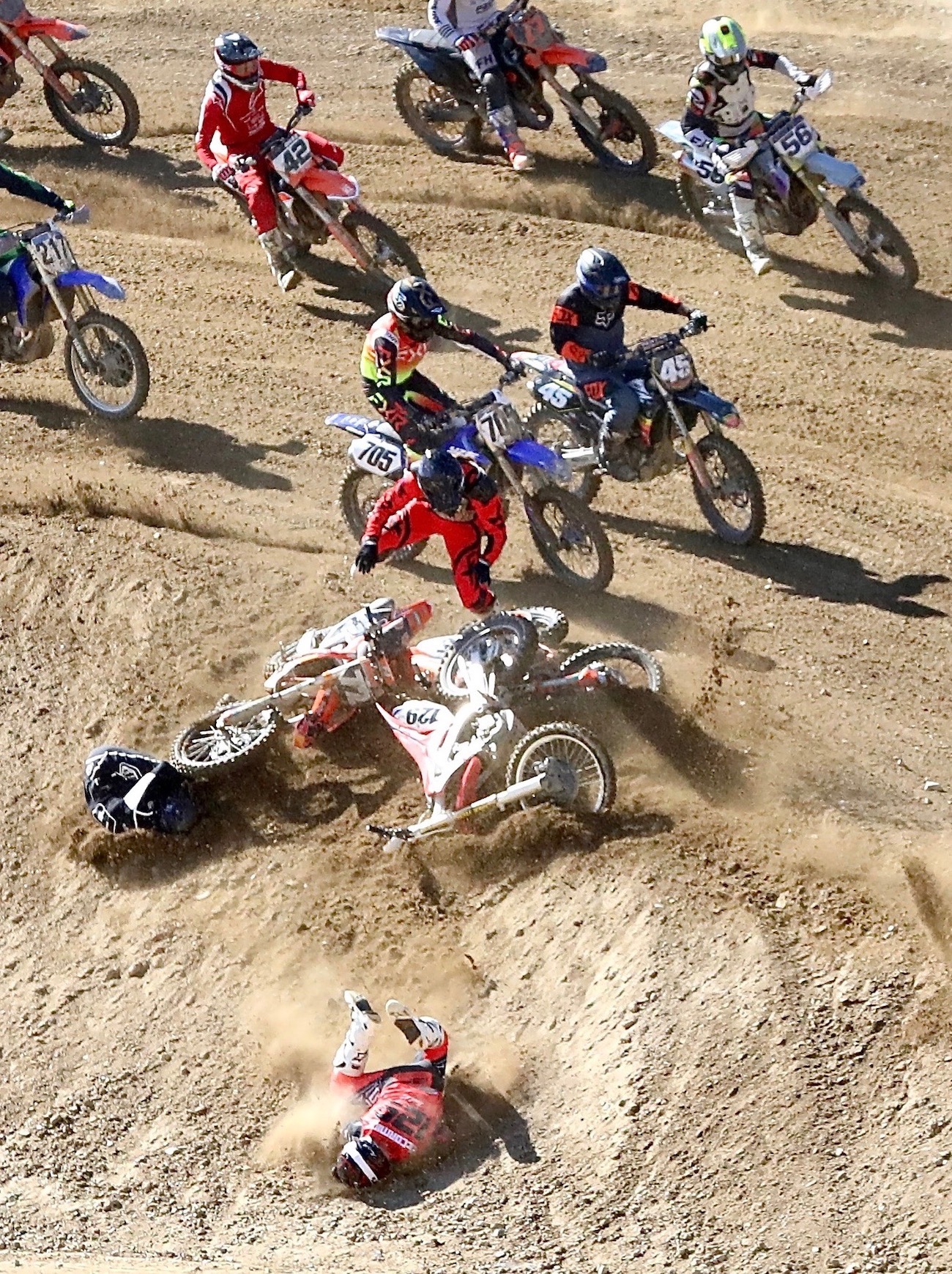 As Aaron Athanas (79) rides away, Bob Ziegler (72) is thrown up and over the pile of bikes, while his bike falls Greg Anderson.
Amazingly, thanks to the soft dirt on the lower bank of the Talladega turn, all three riders scrambled back to their bikes. Anderson, who won the first moto of the Over-50 Intermediates pulled into the pits, while Athanas got a 3rd in the moto, Ziegler a 7th and McCormick a 14th.
"Saturday at the Glen" motocross will not race next weekend because all of their racers will be at the 2022 Dubya World Vet Motocross Champion, but they will race a couple more times in November and December. For more info go to www.glenhelen.com
WANT TO SEE THE 2022 WORLD VET TRACK FROM BEHIND THE BARS? WATCH WAYNE ASHBY'S VIDEO