"SATURDAY AT THE GLEN" RACE REPORT: MOTOCROSS FOR THE YOUNG, OLD AND UNSURE OF THEIR AGE
Dan Alamangos (92) pitches his KTM 250SXF underneath Ron Shuler's KTM 450SXF (33), while Cole Gress (19) decides to get out of the way.

BY ERNIE BECKER — PHOTOS BY DEBBI TAMIETTI & DAN ALAMANGOS

Round 4 of the "Saturday at Glen" Spring series races kicked off with nice cool temperatures in the morning and upper 70's by the time the second motos rolled around. The sun was out, the track was full of riders and Spring was ending and Summer beginning. A full schedule of races filled the day, with lot of new riders joining the Glen Helen regulars that race no matter what, plus there was a new crop of mini racers and an appearance by the Over the Hill Gang.
Randy Skinner (62) holeshot the Over-60 Intermediates and went on to win the first moto, but decided that he didn't want to win the second moto. And was content to go 1-16.

Glen Helen pulled out the stops and used many different sections that combined uphills, downhills, sand sections, long straights, tabletop jumps, hard-pack terrain and the new Mini-Talladega bowl start. It was all laid-out on natural terrain. The track was rough, challenging and full of tricky on- and off-camber turns.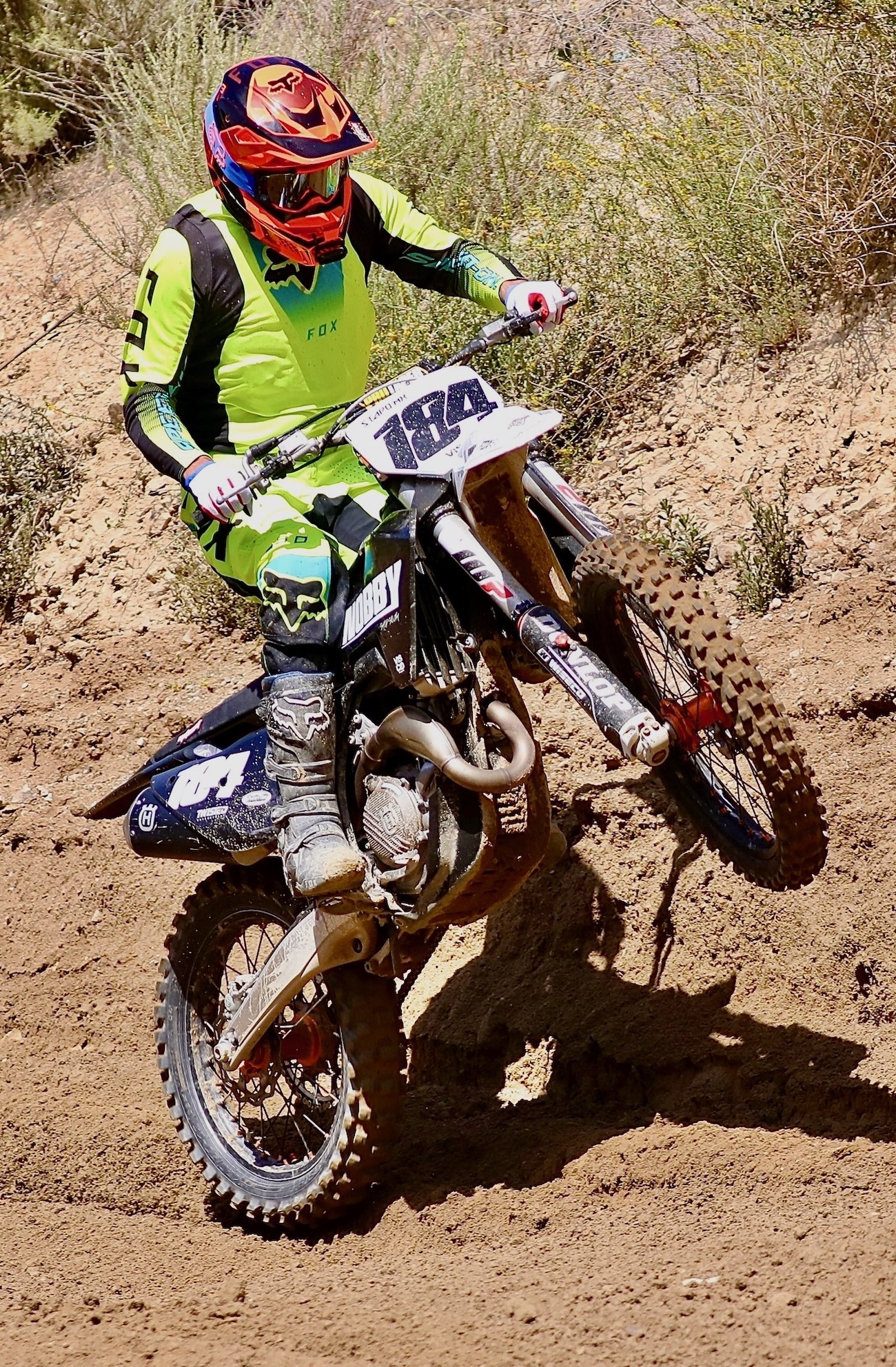 Dennis Stapleton (184) double classed it, winning both the Vet Pros and the Open Experts on his all-black 2022-1/2 Husqvarna FC450 Rockstar Edition.
Sign-up for "Saturday at Glen" is smooth and easy. The riders can sign-up on-line for only $30 or pay $40 at the sign-up booth on Saturday morning. Practice started at 8:00 a.m.sharp with the first moto hitting the starting line at 9:00 a.m. All of the day's motos were done by 2:30 p.m. As Larry Huffman once said, "For the Champagne, Glory and Gold…" pretty much summed up the day at Glen Helen. Here is a quick recap of few different races and lots of Debbi Tamiettti and Dan Alamangos photos:
Tim Hoole (40) signed-up on a Suzuki, but somehow it turned into a GasGas between sign-up and the checkered flag. Hoole has always been a Suzuki loyalist.

OTHG Experts: Ireland's David O'Connor had a perfect day with a 1-1 score with Wayne Ashby going 2-2 for second overall on his Husqvarna. But the rest of the field had a different idea on who would finish third. Suzuki mounted Steve Piattoni's 4-3 score beat out Yamaha rider Jeffery Pennington's 3-4 for third overall. Piattoni took the final podium spot with his third place finish the second moto.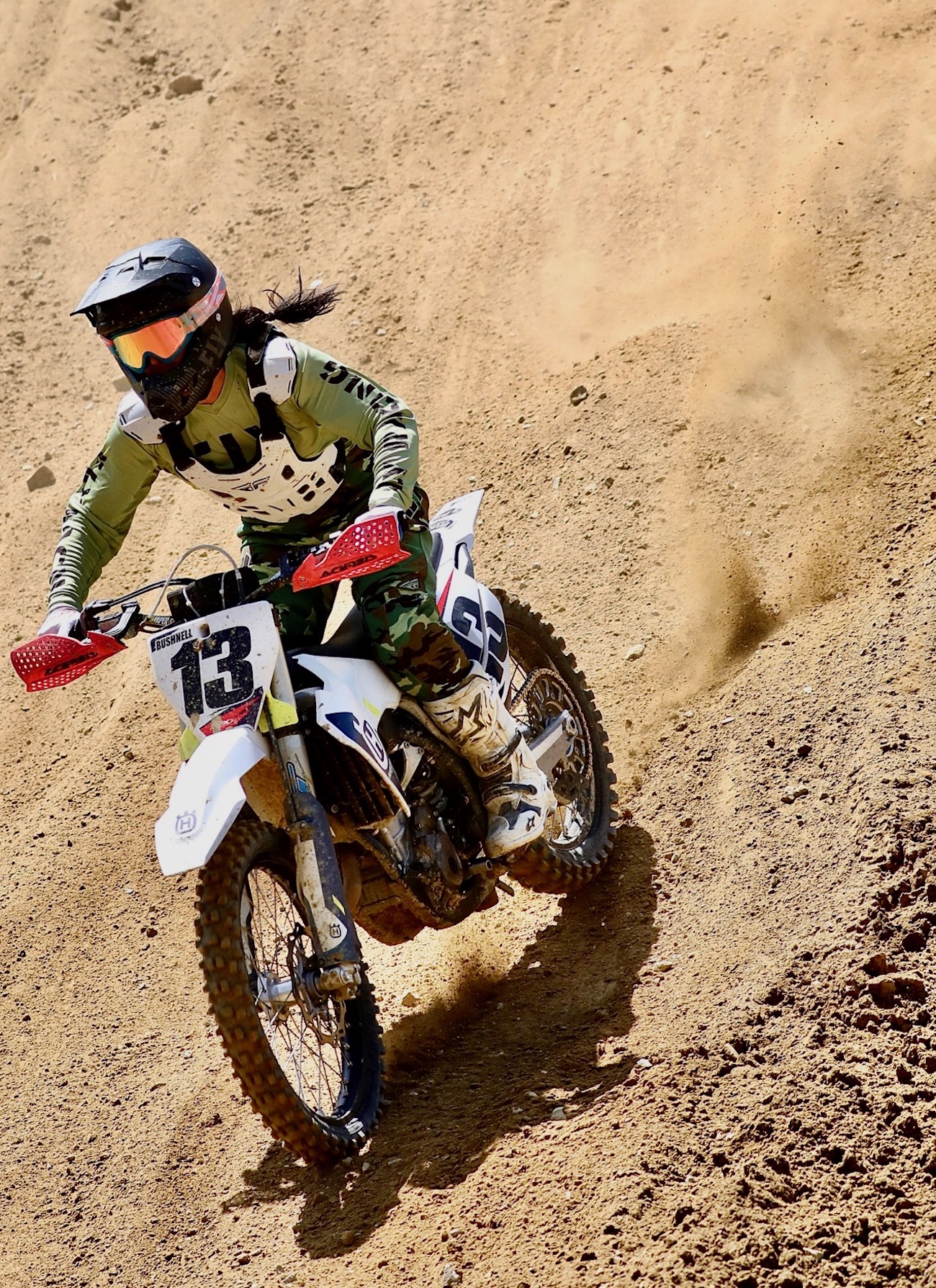 Alison Bushnell (13) won the Over-40 Intermediates last week, but had to settle for second this week behind Stephen Moore, but ahead of Kevin Weston.
85cc Beginner: In the 85 Beginner class it was a battle of the brothers for the top spot. Bode Bushnell had a 2-1 score while brother Jet Bushnell had a 1-2 score. KTM rider Stanley Cook was the final rider on the podium with a 3-4 score.
50cc 7-8 year-old: Tanner Loughran put his Husky Pee-Wee on the top of the box with a 2-1. In the 50cc PW/XR race Benjamin Bojorquez won with a 1-1 over Alexxan Rosas's 2-2.
Bruce Ashmore (111) went 6-5 in the Over-60 Intermediates and doubled classed it in the OTHG Expert class.

Over-65 Experts: YZ250 two-stroke-mounted Val Tamietti went 1-1 over Pete Vetrano's Husqvarna in the Over-65 Expert class. In the Over-65 Intermediate class, Tim Hoole went 1-1 on a GasGas, while TM-mounted John Lupear was a steady 2-2 for second overall. Michael Bierman rounded out the podium on a Honda CR125 with a 4-3 score in front of Phil Cruz (3-5), Donnie Quanstrom (5-4), Bill Seifert (6-6) and Rollie Rodriquez (who might still be out of the track somewhere).
Luther French (2) and Arek Kruk (790) had good first motos in the OTHG Master class, but both DNF'ed moto two.
Over-60 Experts: Ed Guajardo and Robert Reisinger resumed their weekly battles, that belies the fact that they are over 60-years-old, for the lead in both motos. Guajardo took both motos with some late lap come-from-behind charges. The top five was Guajardo (1-1), Reisinger (2-2), former CMC #1 racer Val Tamietti (4-3), 1970's SoCal 125cc teen sensation Dave Eropkin (3-4) and 1984 CMC Golden State Champion Luc De Ley (5-5).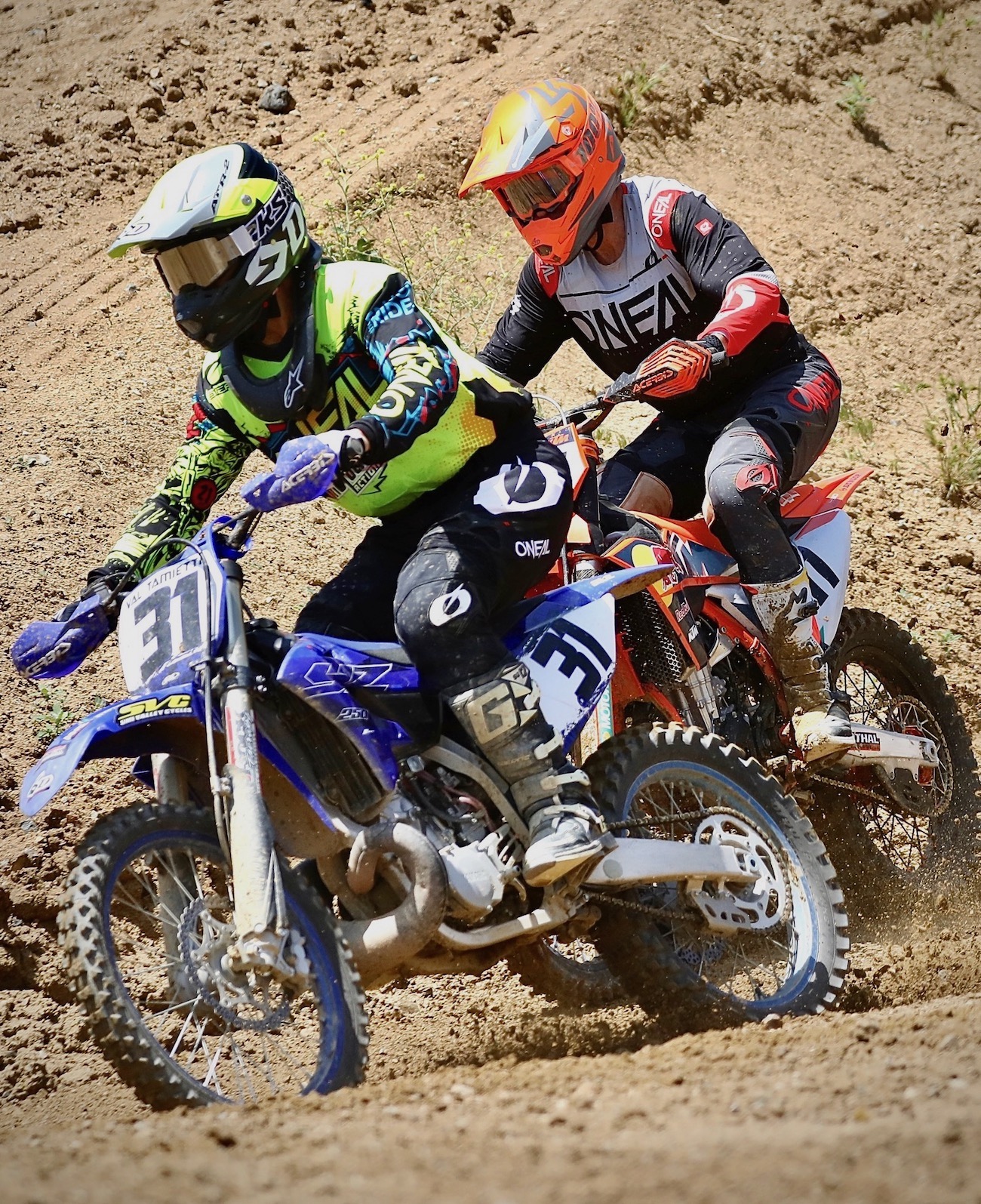 These two guys must get sick of looking at each other in every Over-60 Expert race. Val Tamietti (31) went 4-3 for third and Dave Eropkin went 3-4 for 4th. Val double classed it to win the Over-65 Expert class.


Robert Reisinger (96) and Ed Guajardo (27) dueled like this is both motos of the Over-60 Expert class. The only difference is that Ed found a way past Robert in both motos of the take the win. John Caper (44) of AXO and Mechnixwear fame is right behind them.
Over-60 Intermediates: This is the biggest class of the day almost every weekend. There were three-times as many Over-60 Intermediates as Over-60 Experts and twice as many Over-60 Intermediates as Over-50 Experts. It is hard to say if the faster Intermediates are refusing to move up to Expert or the Over-60 Experts are moving down to Intermediate. Steve Piattoni double-classed in the OTHG Experts and "Saturday at the Glen" Over-60 Intermediates. He was third in the OTHG and first in the Over-60 Intermediates. Steve beat out a top five made up of Kirk Waymire (3-2), Arnie David (2-3), Bruce Ashmore (6-5) and Steve Watson (9-4).The most striking score was Speedway racer Randy Skinner who won the first moto with ease on MXA's 2022-1/4 KTM 450SXF Factory Edition, but just waved everyone by in the second moto to finish 1-16.
Preston Tilford (75) raced MXA's 2022 Suzuki RM-Z250.

TM-mounted Ty Cullins (766) won the 450 Expert class with a 3-1 on a TM four-stroke.
Over-50 Experts: Eddie Davis swept both motos ahead of Rick Ellis (2-2) Robert Kuhry (3-3), Nick Water (4-4), Ron Shuler (7-5), Dan Alamangos (6-6), Pasha Afshar (5-8), Robert Pocius (87-7 and Arek Kruk (9-9). Cole Gress won the Over-50 Intermediates again, with Pete Anagnos second, Ernie Becker third, Rocky Hash fourth and Gary Harada fifth. Scott Murphy used a 2-2 to take the Over-50 Novice victory when first moto winner John Cardilini DNF'ed the second moto and second moto winner Robby Mueller had a fourth in moto one.
Michael Oetzell (406) won the Vet Novice class and got third overall in the 450 Novices.
Vet Novices: Michael Oetzell went 1-1 on his KTM to beat out Yamaha YZ25o racer Mark Taylor for the top spot. Taylor went 2-2 for the second spot with Kevin Weston third. Weston double-classed it and also scored a third in the Over-40 Intermediates behind Steve Moore (1-1) and Alison Bushnell (3-2).
Tate and Ashby were all business.

"Hey guys! I know a shortcut." Ryan Kiven (17) won the 250 Novice class, but couldn't convince 450 Novices Ezra Tate (504) and Junior Ashby (93) to follow him.
450 Novices: Ezra Tate used a 2-1 to good effect to hold off Junior Ashby's 1-3 and Michael Oetzell's 3-2 (Yes, the same Michael Oetzell who won the Vet Novices)
Michael Bierman (111) raced his vintage Honda CR125 to third in the Over-65 Intermediate class. He was one of three riders racing with number 111. Transponder make that possible.

One final note. Today, the Mini parents were a great example of the love of the sport of motocross. Not only did the parents cheer on their own kids each lap, but they showed great sportsmanship by cheering on the competition. It didn't matter who the mini riders was, they were there showing support to each other on and off the track. Hats off to the future of the sport… they deserve a round of applause.
Ernie Becker (53) has a busy life as a sport's car racer, driving instructor and SCCA employee, but when he has a week off  from cars, he races motocross. Ernie went 4-3 for third in the Over-50 Intermediates on MXA's 2022-1/2 Husky FC250 Rockstar Edition.
Gary Chapman (155) styled to a 1-1 victory in the Over-60 Novice class. Chapman led a top five of Dennis Osmer (2-3), Chuck Cook (4-2), Bill Egan (3-4) and Ron Boozell (5-5).  
Steep downhills are just like flat straights, if you keep your knees locked against the gas tank. Dave Eropkin (811) demonstrates.
Irishman David O'Connor (30) wanted to race his regular Over-40 Intermediate class, but it was the last race on the schedule, so he moved to the earlier starting OTHG Expert class. It turned out great as David went 1-1 and was on his merry way home by noon.
ESR's Ron Shuler (33) leads Pasha Afshar (L7) into the sand section going up the canyon.

Tallon Lafountaine (259) won the first 450 Expert moto, but DNF'ed moto two.
Here they come! Arnie Davis (119), Bill Reimer (71), Steve Piattoni (148), Kirk Waymire (712) and Bruce Ashmore (111) battle for position in the Over-60 Intermediates.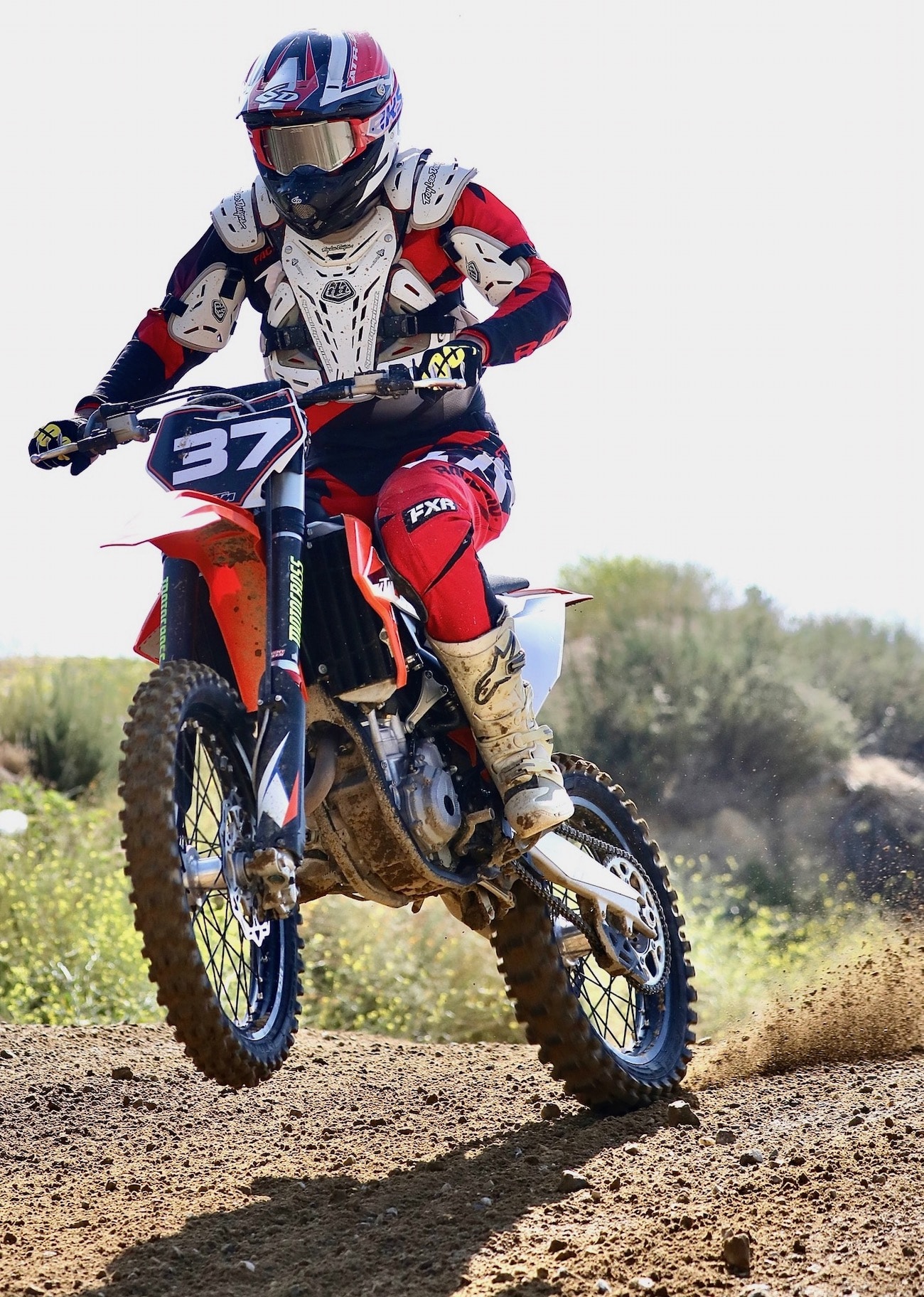 Bill Seifert (37) went 6-6 in the Over-65 Intermediate class. It should be noted that half of the Over-65 class is over the age of 70, but there is not an Over-70 class, so they all move down to the Over-65 Intermediates.

Dominic Desimone (565) navigates through a debris screen of flying rocks, dirt and sand.

Greg Groom (859) normally races a Suzuki RM-Z450, but this week he was a on a KTM. Greg went 8-15 for 12th in the Over-60 Intermediates.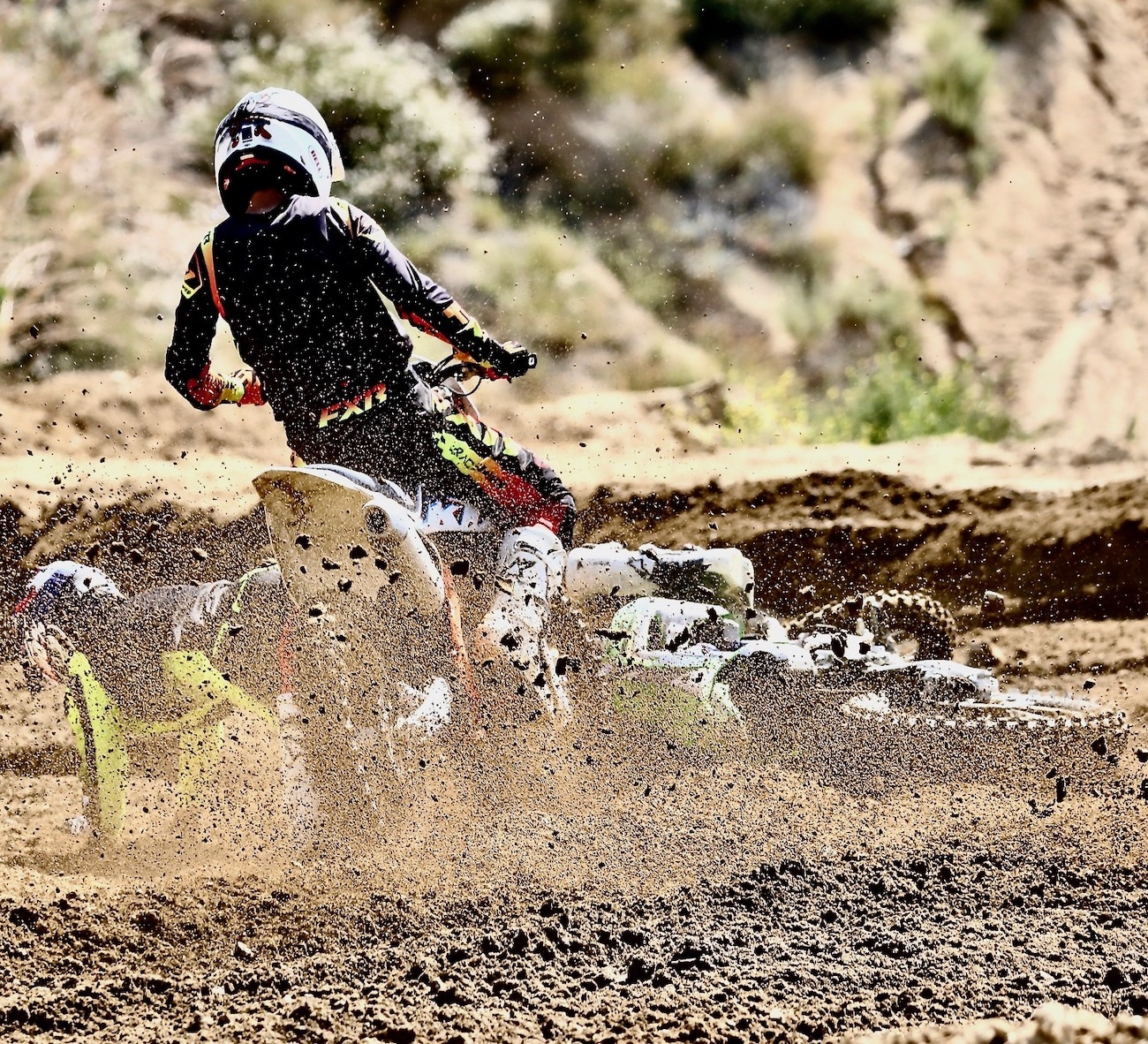 Road closed. Time to lock it up because the bridge is out, the water is rising and this rider has two seconds to make the right decision.
Maddie Laney and Alek Wilson tied with 1-2 and 2-1 scores in the 250 Beginner class, with Maddie getting the win on her Beta two-stroke.
Tanner Loughran (914) went 2-1 to win the 7-to-8 year old 50cc class. Here, Tanner and Logan Fout (601) enjoy some side-by-side racing.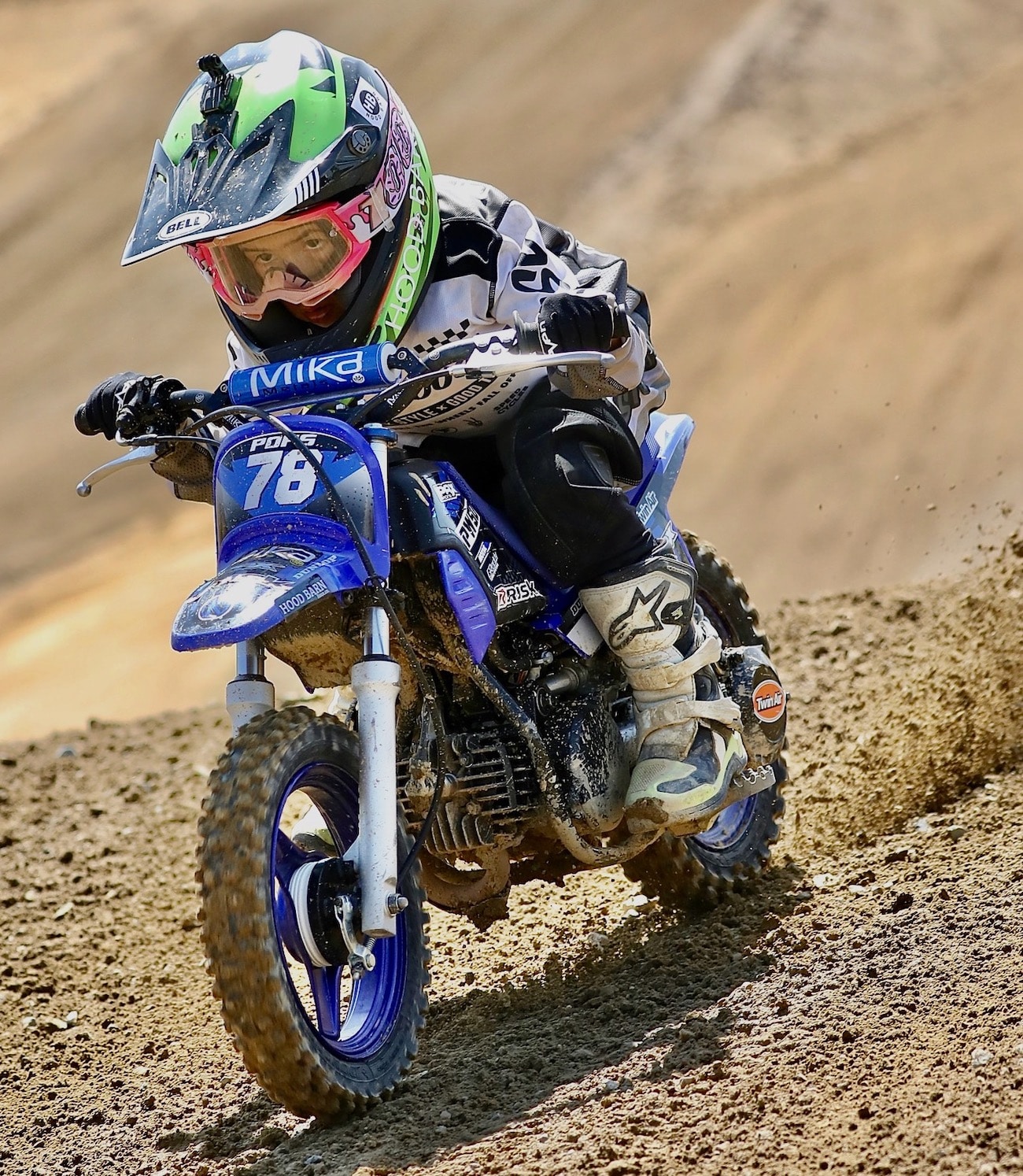 Benjamin Bojorquez (78) displays the the lazer focus it takes to win an AMA National…in a few years. He gives his Yamaha PW50 full throttle.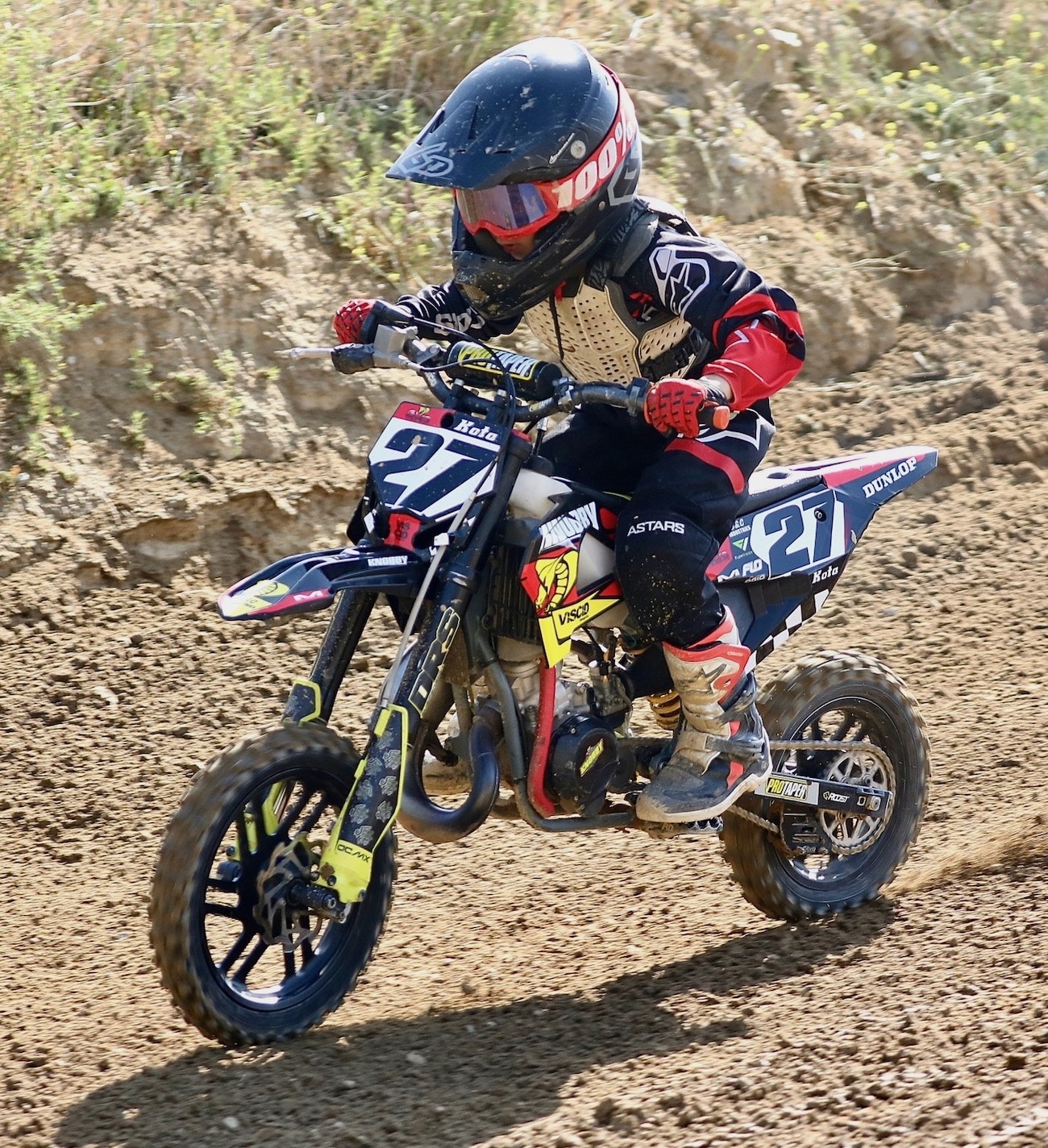 Dakota Ramos (27) styles on his Knobby Shop Cobra in the 7-to-8 year old 50cc class.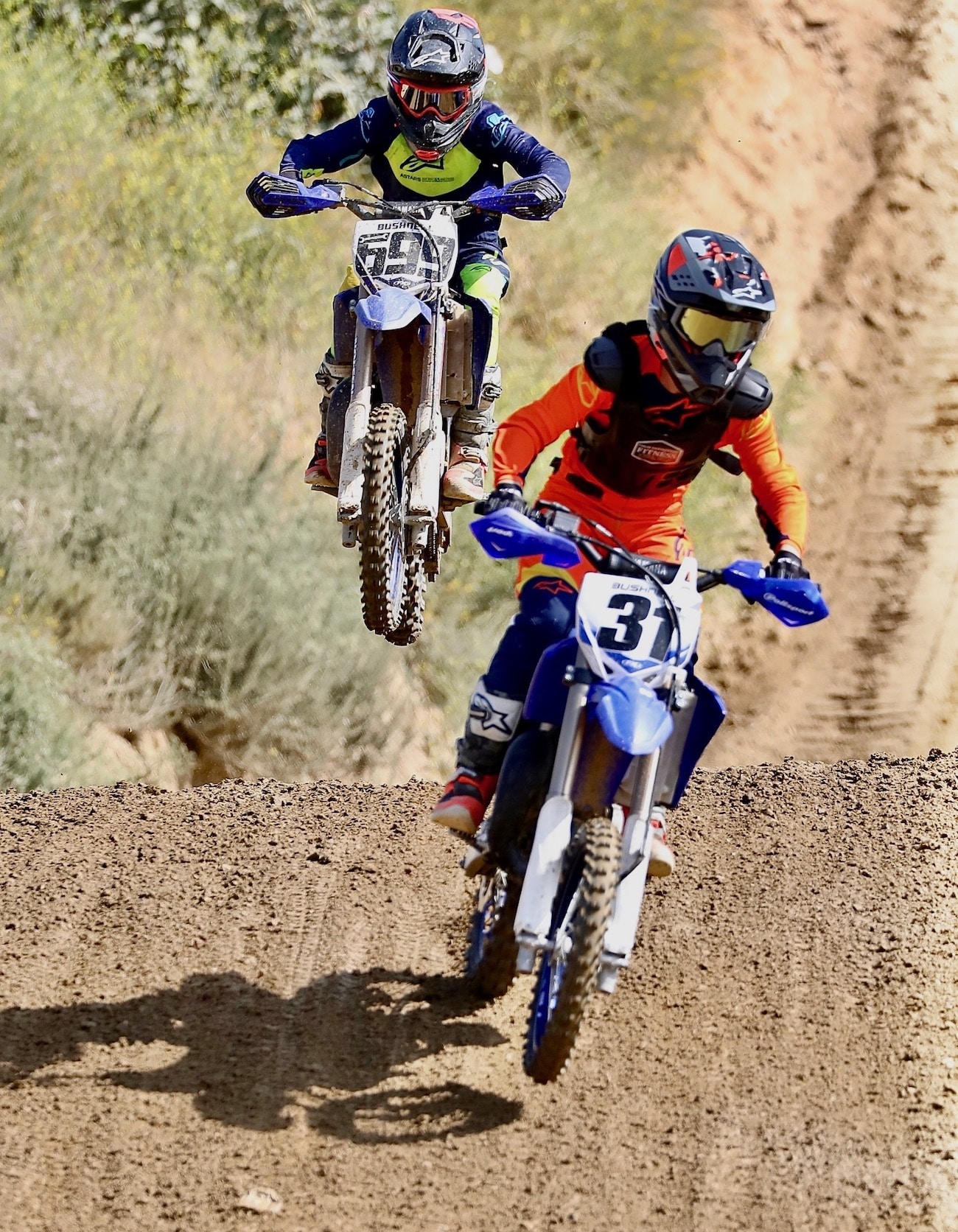 The Bushnell brothers, Bode (699) and Jet (31), traded wins and seconds in the 85 Beginner class with Bode having the better second moto.

Jet Bushnell (31), Kai Lopez (10) and Stanley Cook (11) don't want to give an inch in this drag race down a short straight.
"Saturday at the Glen" motocross will be racing next Saturday, May 14. To pre-enter for any "Saturday at the Glen" Click Here to see the pre-entry sign-up system. Pre-entry is only $30, post entry is $40 on the day of the race. You can sign up for the next "Saturday at the Glen" motocross on as late as the Thursday before. For more info go to www.glenhelen.com.