"SATURDAY AT THE GLEN" RACE REPORT: MOTOCROSS SEASON WINDS DOWN
Preston Tilford (17) won the 450 Pro class, but he had nothing but troubles all day long.
PHOTOS BY DEBBI TAMIETTI & JON ORTNER 
For the second week in a row th "Saturday at the Glen" motocross races were threatened by forecasts of rain and for the second week in a row the rain held off until every rider had pulled out of the pits—except for those who were going to camp and race the SRA Grand Prix on Sunday—except it got rained out. These week's racetrack was a copy of the layout used for the MXA Ride Day on Wednesday, which was a shortened replica of the 2022 World Vet track, which Jody Weisel built as a conglomerate of past AMA National tracks. Whatever its source or inspiration, this track design was a winner at the World Vet, a winner at the MXA Ride Day and a winner for this week's Saturday at the Glen race.
This Saturday's race was the final race of the year and every rider was in a happy mood to have dodged two rain storms and got to race twice when it seemed unlikely on both days before.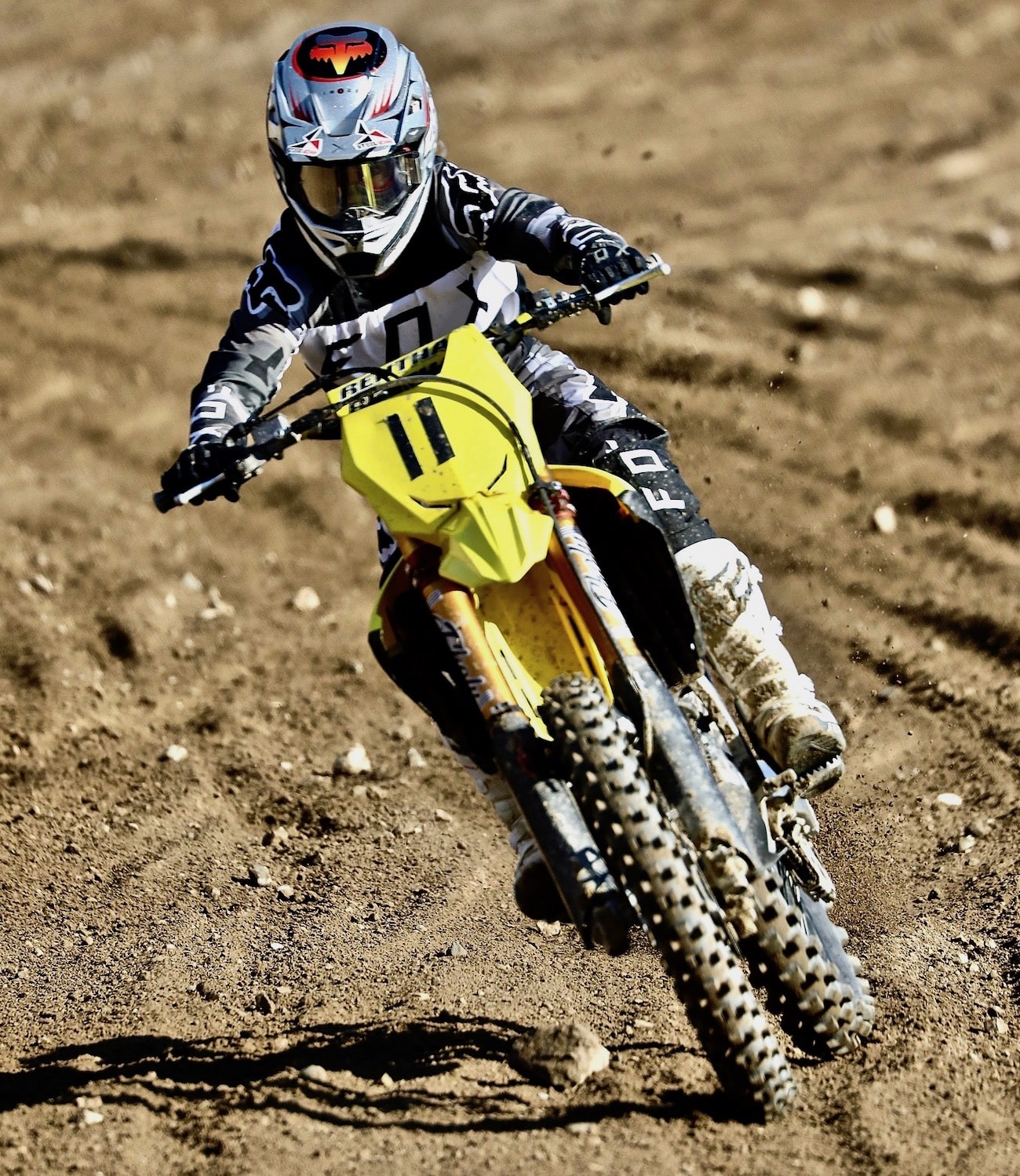 250 Pro winner Brian Medeiros had his bike stolen a week ago, but thanks to a network of friends who tracked his RM-Z250 down and to the CHP who arrested the thief, he got his bike back. But he didn't have time to get new graphics made (the crook had peeled them off).
EXPERT CLASS RESULTS
450 EXPERT CLASS
1. Preston Tilford (Gas)…1-1
250 EXPERT CLASS
1. Brian Medeiros (Gas)…1-1
OVER-65 EXPERT CLASS
1. Bob Casper (Suz)…1-1
OVER-60 EXPERT CLASS
1. Pete Murray (KTM)…1-1
OVER-50 EXPERT CLASS
1. Pete Murray (KTM)…1-1
OVER-40 EXPERT CLASS
1. Shawn Bushnell (Hus)…2-1
125 EXPERT CLASS
1. Brett Stralo (KTM)…1-1
Casey Casper (280) won the Vet Pro class with a 1-1.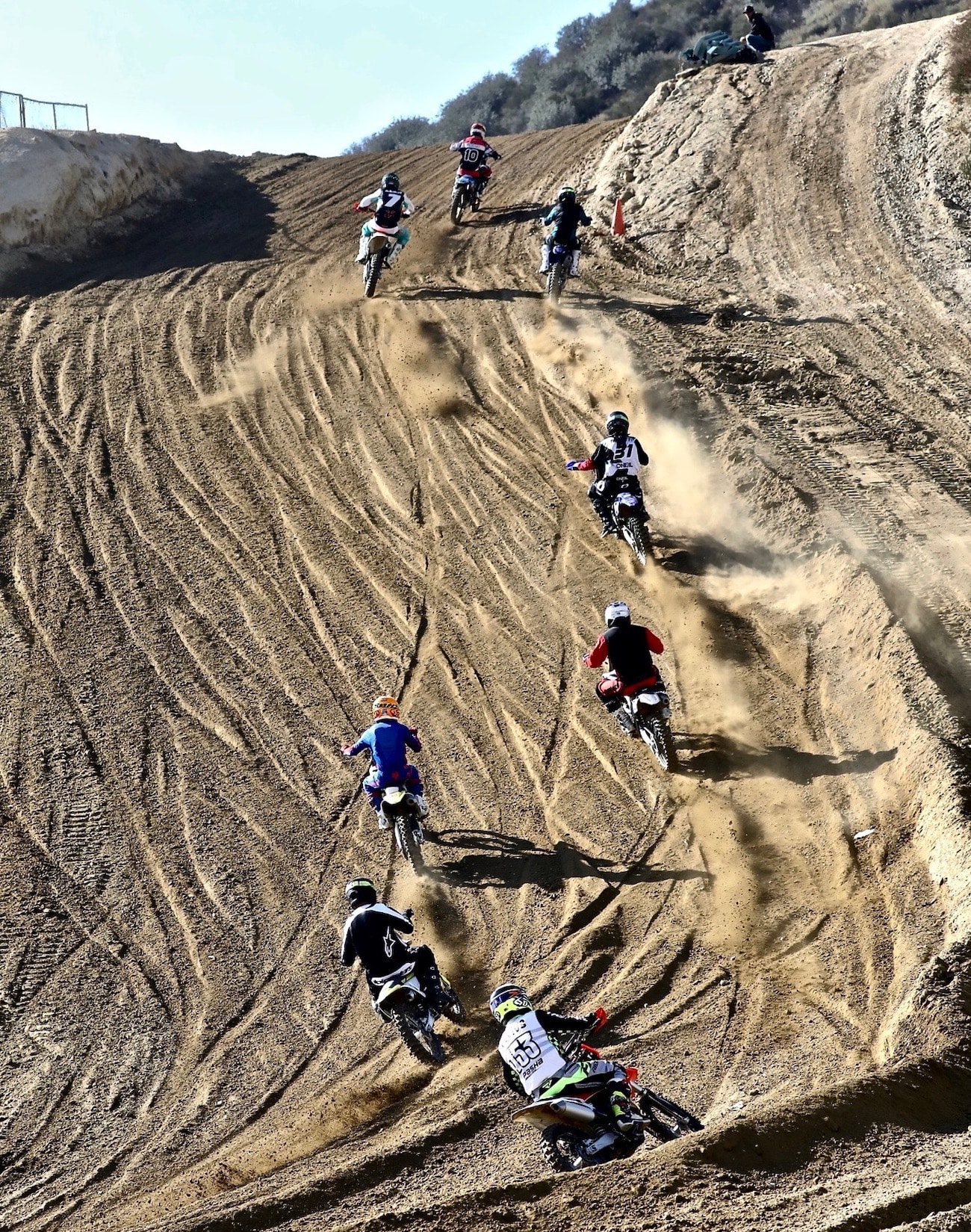 This is the start of the Over-60 Expert class just as they start the climb to the to0p of Mount Saint Helen. Jon Ortner (10) leads Pete Murray (7) and Ed Guajardo is third.
Randel Fout (44) killed the 2023 YZ450F engine when the gate fell, but recovered and came through the pack, here passing Will Harper (7).
Jon Ortner (14) and Pete Murray (25) have gone one-two in the Over-60 class at the World Vet for the last couple years (with Murray winning every time). At this week's "Saturday at the Glen" Murray won the Over-50 Expert class and the Over-60 Experts. Ortner was second in the Over-60s and went 6-6 in the Over-50s behind Murray, Kevin Barda, Arek Krul, Richard Ellis and Jonathan Rhodes. 
Ed Guajardo (27) went 3-3 behind Murray and Ortner in the Over-60 Expert class.
Kevin Barda (852) put his unfamiliar Kawasaki KX450 into the lead of the first Over-50 Expert moto, but eventually got run down by Pete Murray late in the moto, Murray went 1-1, Barda 3-2, Arek Kruk 2-5 and Richard Ellis 4-4.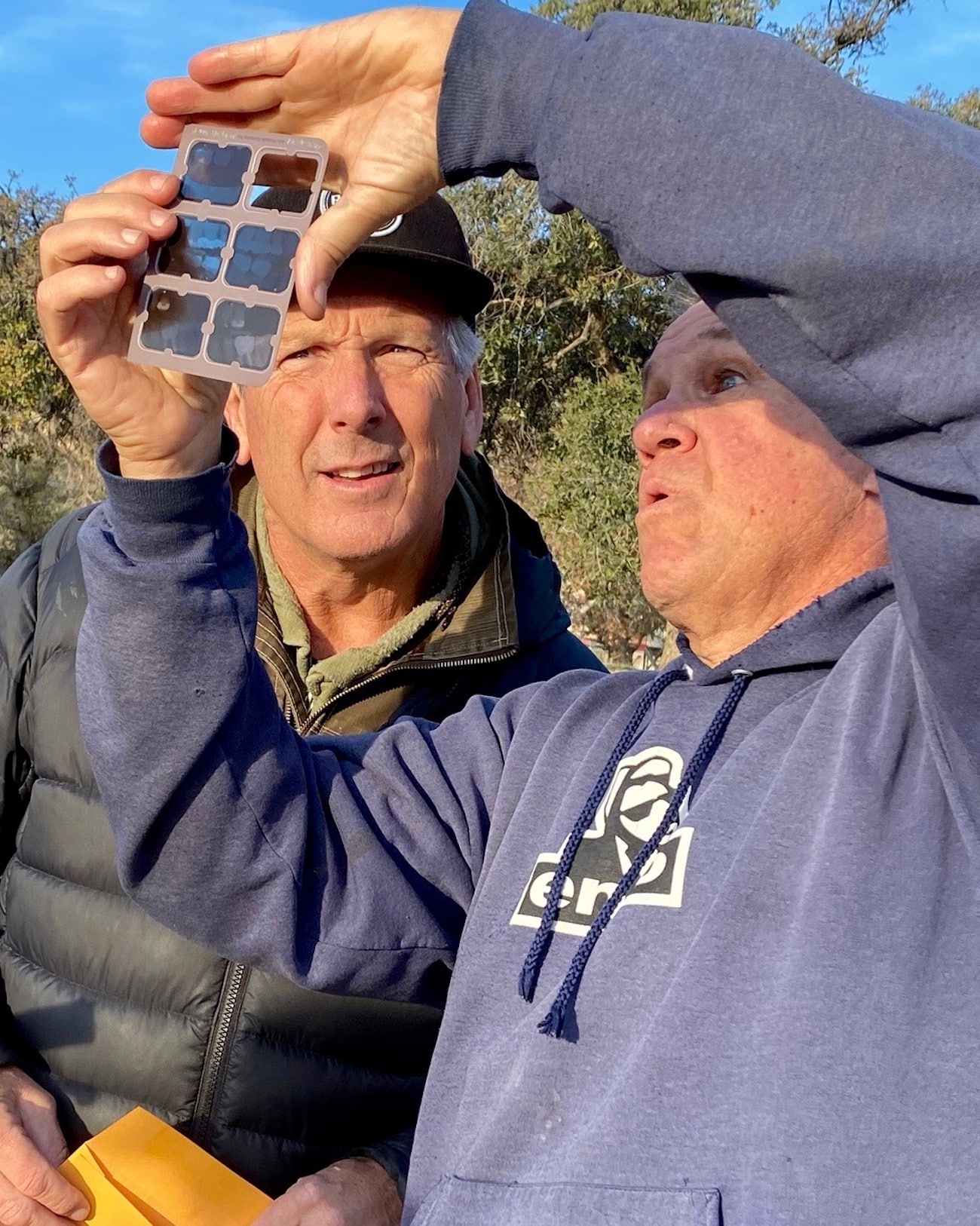 Between motos Jon Ortner had the "Dentist of the Stars," Marc Crosby, look at some dental X-Rays Jon had shot the day before. You can tell by the look on Marc's face that Jon is in for some major work.
INTERMEDIATE CLASS RESULTS
450 INTERMEDIATE CLASS
1. Trey Daughtrey (Yam)…1-1
OVER-40 INTERMEDIATE CLASS
1. Wayne Ashby (KTM)…1-1
OVER-50 INTERMEDIATE CLASS
1. Wayne Ashby (KTM)…1-1
OVER-60 INTERMEDIATE CLASS
1. Robot Rodgers (Hus)…1-1
OVER-65 INTERMEDIATE CLASS
1. Mark Crosby (Gas)…1-1
125 INTERMEDIATE CLASS
1. Brennen Watson (KTM)…1-1
Caleb Clevenger (32) moves some dirt on his way to the Open Novice victory. Caleb also finished fourth in the 250 Novices.

Nigel Crosby took a box-stock Suzuki to fifth in the 250 Novices.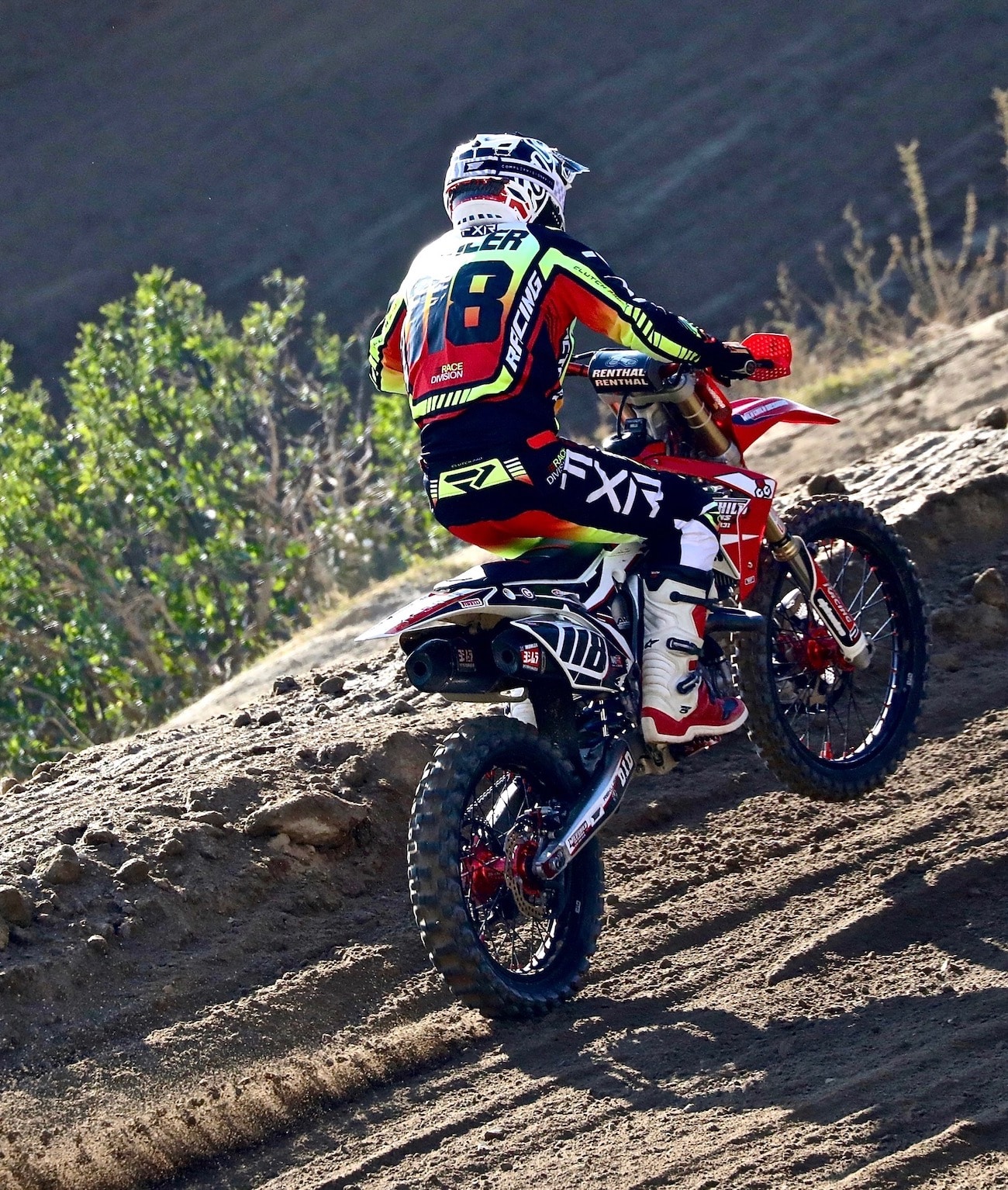 Michael Mohler (118) climbs one of Glen Helen's many hills on his way to a 2-4 day in the 450 Novice class behind Trenton Geigand's 1-1.
NOVICE CLASS RESULTS
250 NOVICE CLASS
1. Gavin Sorenson (Hon)…2-1
450 NOVICE CLASS
1. Trenton Geigand (Yam)…1-
125 NOVICE CLASS
1. Ryan McGee (Yam)…1-1
OVER-30 NOVICE CLASS
1. Derek Smith (Hon)…1-1
OVER-40 NOVICE CLASS
1. J. Yoder (KTM)…1-1
OVER-50 NOVICE CLASS
1. Scott McKey (Kaw)…1-1
OVER-60 NOVICE CLASS
1. Scott Hyde (Hon)…1-1
OVER-65 NOVICE CLASS
1. Denny Ryan (Yam)…1-1
Josh Fout went 2-2 in the Vet Pro class. He planned to race at Sunday's SRA Grand Prix util a rain storm made the trails impassable.
Ernie Becker took advantage of a break in the Trans-Am sports car's winter test sessions to race MXA's 2023 Honda CRF250 to a 3-2 in the Over-50 intermediates.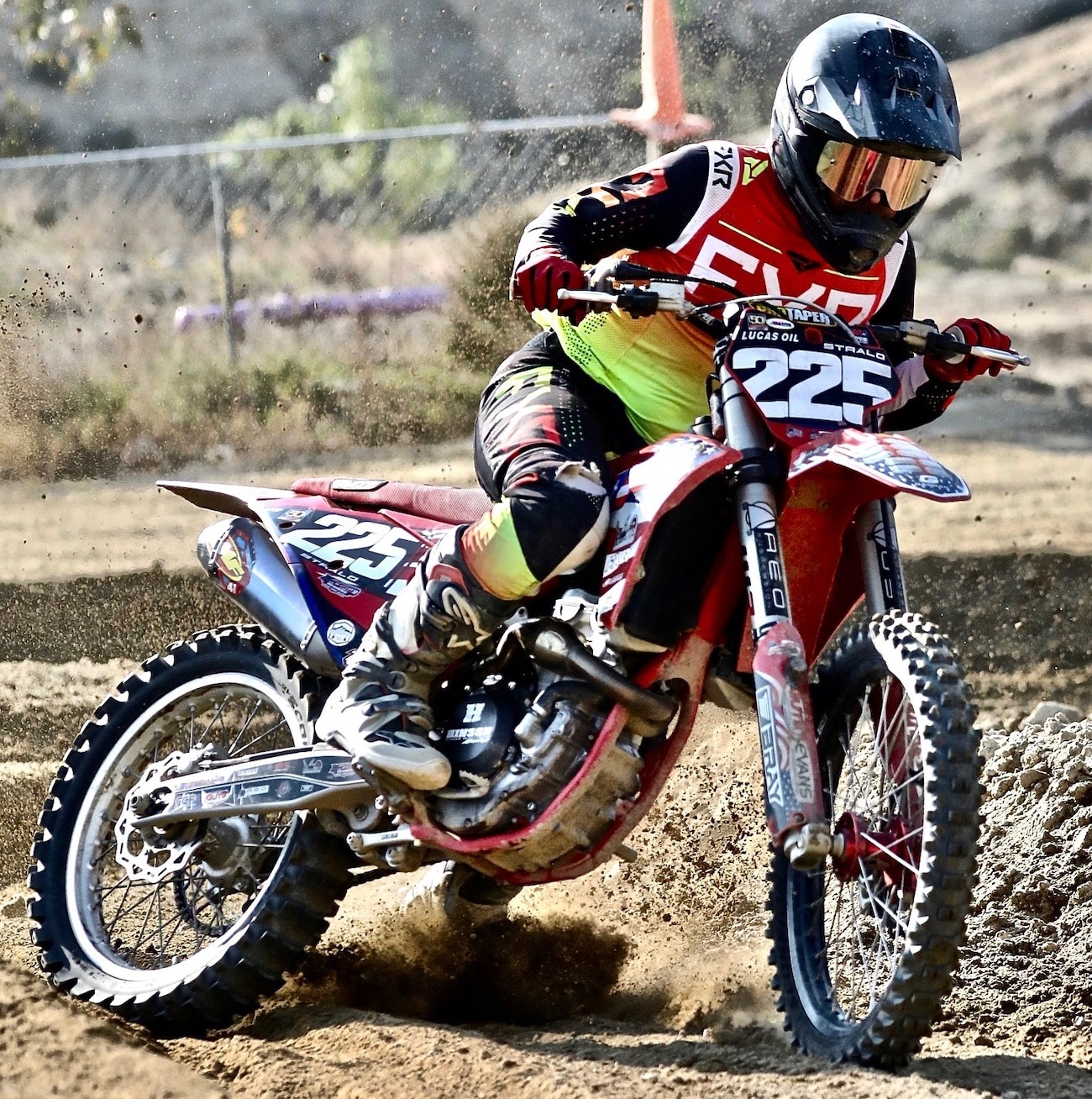 Brett Stalo (225) was second in the 250 Pro class and first in the 125 Experts.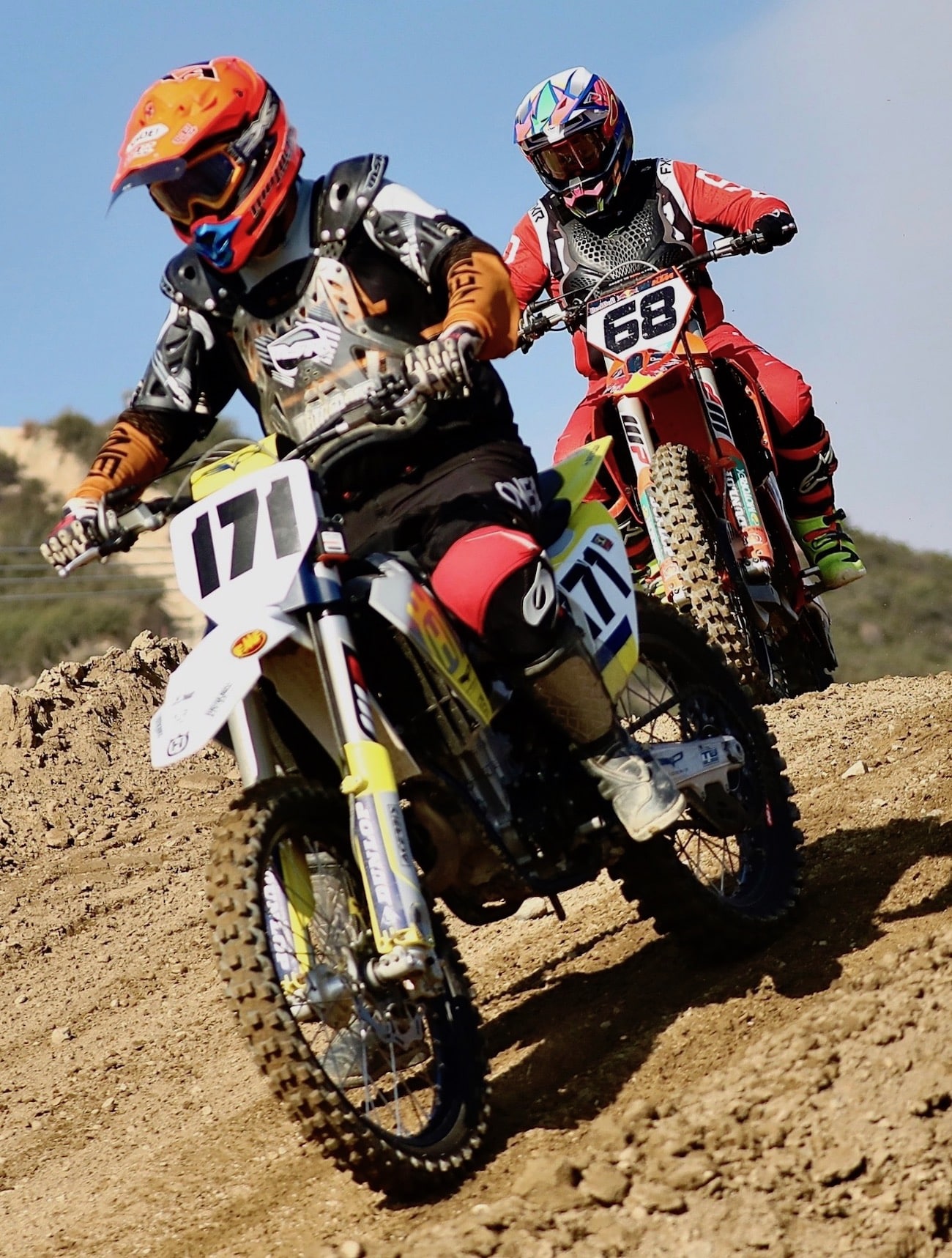 This is a Sweden-versus-England battle in the Over-65 class with 81-year-old Swede Lars Larsson (171) and Brit Tony Parsons (68) trading places in a race where they never got farther apart than this. Sweden got the win.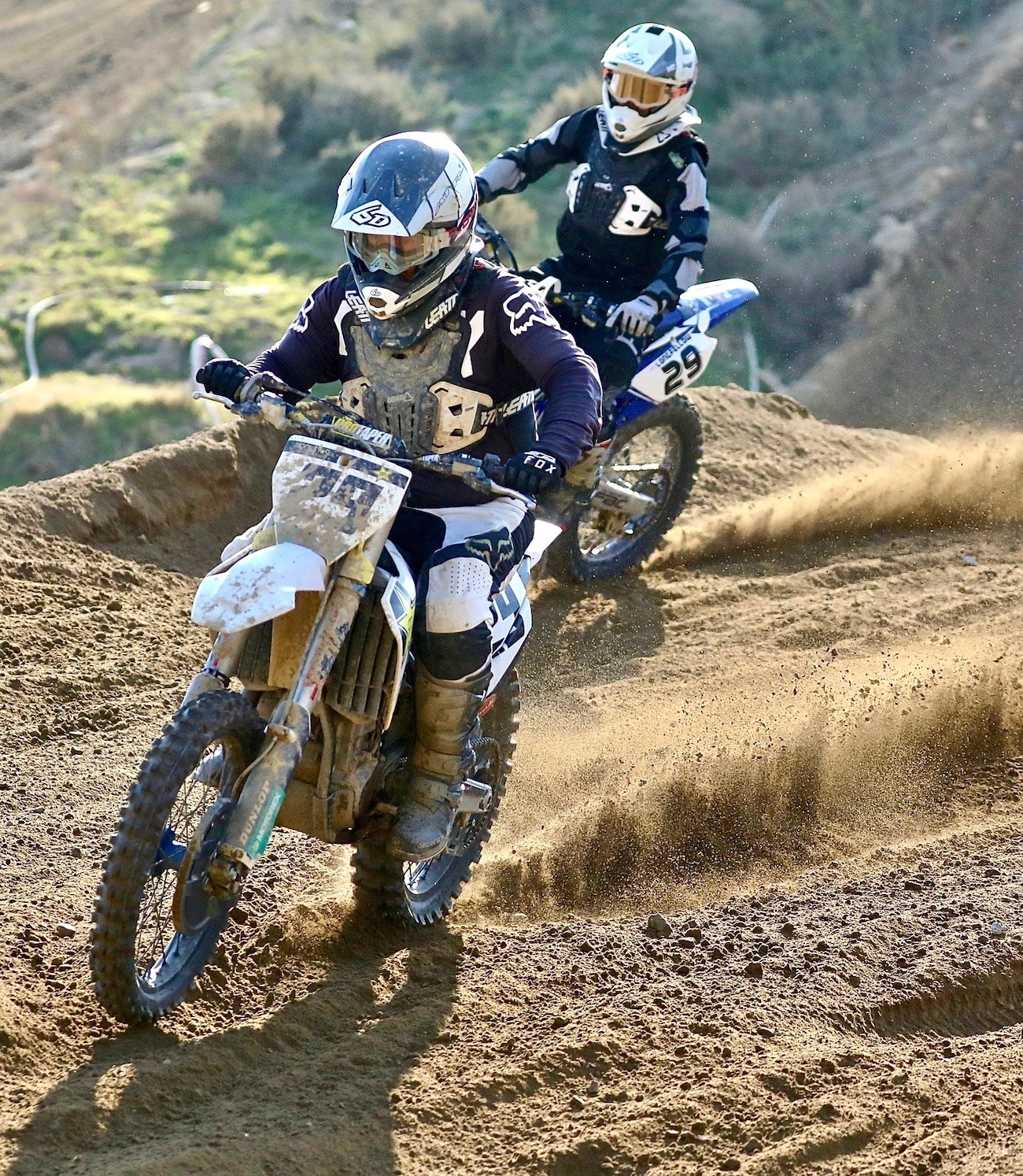 If you were a betting man, it would be a good idea to put your money on number 29—which one is up to you. Pete Anagnos (29), racing in the Over-60 Intermediates, leads Chad Longfellow (29) racing in the Over-50 Novices. They both finished fourth.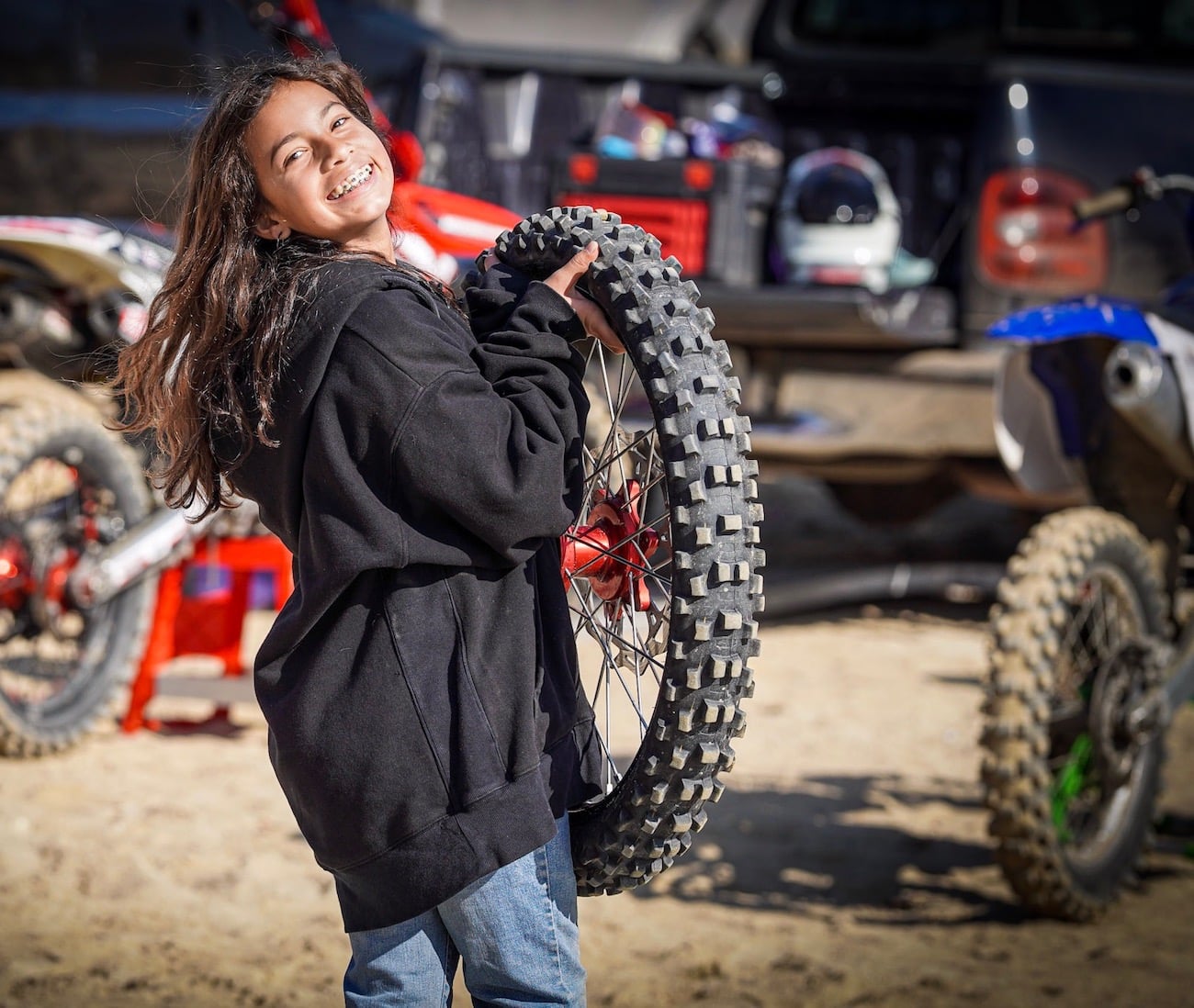 When Preston Tilford realized that he had a flat front tire on the starting line, the TBT Racing team jumped in to fix it and Pasha Afshar sent his daughter Chloe down with a new wheel borrowed from Will Harper. Preston made the start with the help of a village.
BEGINNER CLASS RESULTS
450 BEGINNER CLASS
1. John Bulaich (Kaw)…1-2
250 BEGINNER CLASS
1. Mason McHenry (Hon)…1-1
125 BEGINNER CLASS
1. Trevor Strothers (Gas)…1-1
This is the Bushnell Bunch (from left to right). Dad Shawn (first in the Over-40 Experts), Jet (third in 125 Beginner), Mom Alison (third in the Over-40 Intermediates) and Bode (fifth in the 85 class).
Alison Bushnell (13) is a force to be reckoned with in the Over-40 Intermediates. She went 3-3 on the National track.
Shawn Bushnell (804) used a 2-1 to take the overall in the Over-40 Expert class in front of Jason Clements 3-2.
Bode Bushnell (699) went 4-5 for fifth in the 85cc class—actually he tied for fourth, but Cohen Spana's 5-4 got the spot because of his better second moto.
Jet Bushnell (31) finished third in the 125 Beginner class on his Husky TC125.
John Caper of O'Neal, AXO, Sinisalo and Mechanixwear fame had his Honda CRF450 refuse to start for his second Over-65 Intermediate moto. MXA lent his a 2023 Honda CRF250 for the second moto.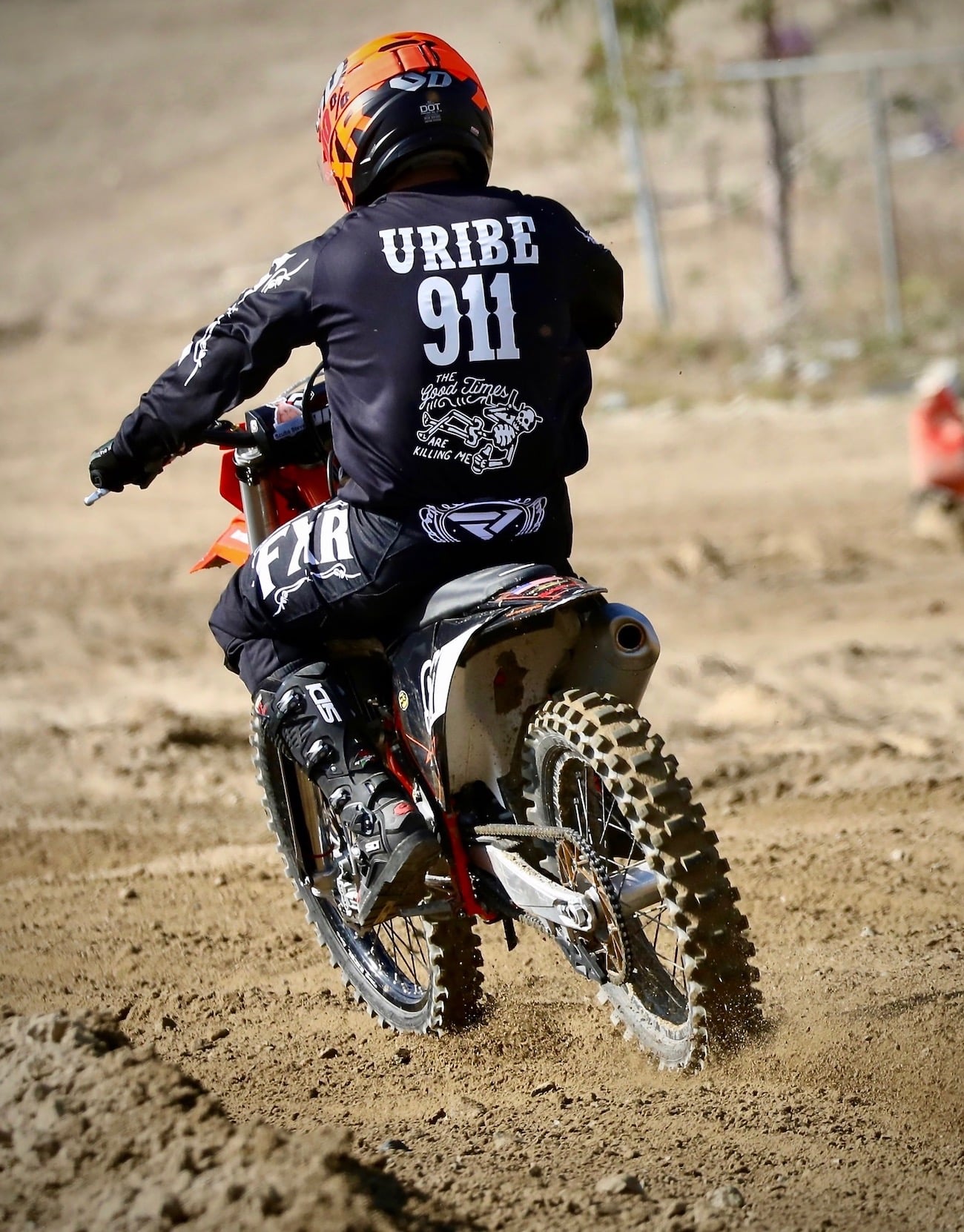 Isaac Uribe came over from Las Vegas to go 5-5 in the 450 Beginner class.
In one of the closest races of the day, Jim Hanson (83), Marc Crosby (42) and Pete Vetrano (37) traded the lead in the Over-65 Intermediate class several times every lap. Late in the second moto, Marc Crosby broke away to go 1-1 to Vetrano's 3-2 and Hanson's 2-5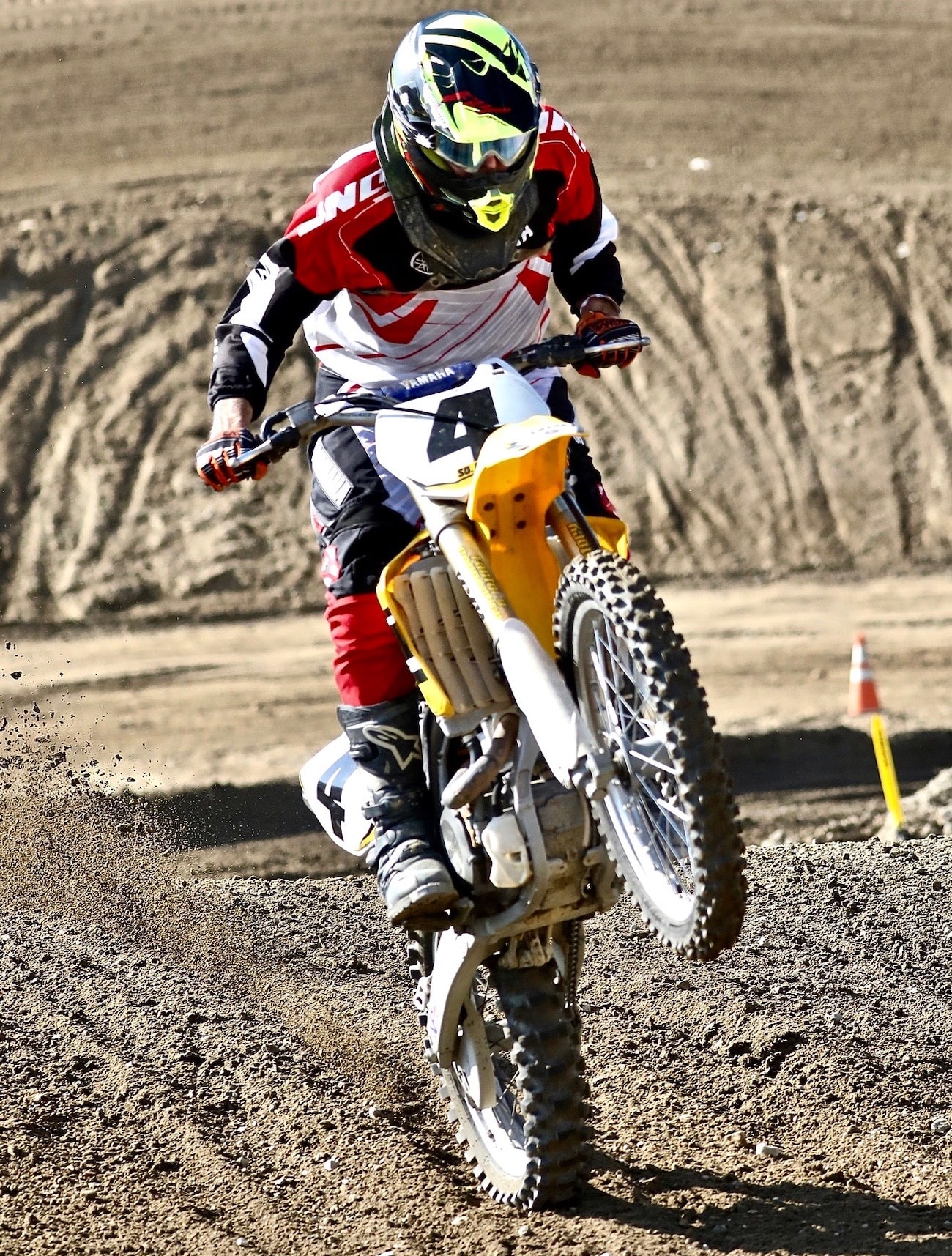 Denny Ryan (4) won the Over-65 Novice class. 
50/65/85 CLASS RESULT
85cc CLASS
1. Brennen Watson (KTM)…1-1
85 BEGINNER
1. Tanner Morris (Kaw)…1-1
65cc BEGINNER CLASS
1. Jaiven Martin (KTM)…1-1
4-TO-6 YEAR OLD PEE-WEE CLASS
1. Dillon Chipman (KTM)…1-1
7-TO-8 YEAR OLD PEE-WEE CLASS
1. Christian Daley (Cob))..1-1
PW50 PEE-WEE CLASS
1. Nixon Galloway (Yam)…1-1
MODIFIED MINI CLASS
1. Dylan Strothers (KTM)…1-1
SUPERMINI CLASS
1. Patrick Miranda (Hus)…1-1
Brennen Watson (318) to the gold in the 85cc class with a 1-1.
Parker Trunnell (388) is about to be passed by 4-to-6 year old 50cc winner Dillon Chipman (556) 
Camden Licon (814) was second overall in the 4-to-6 year old 50cc class.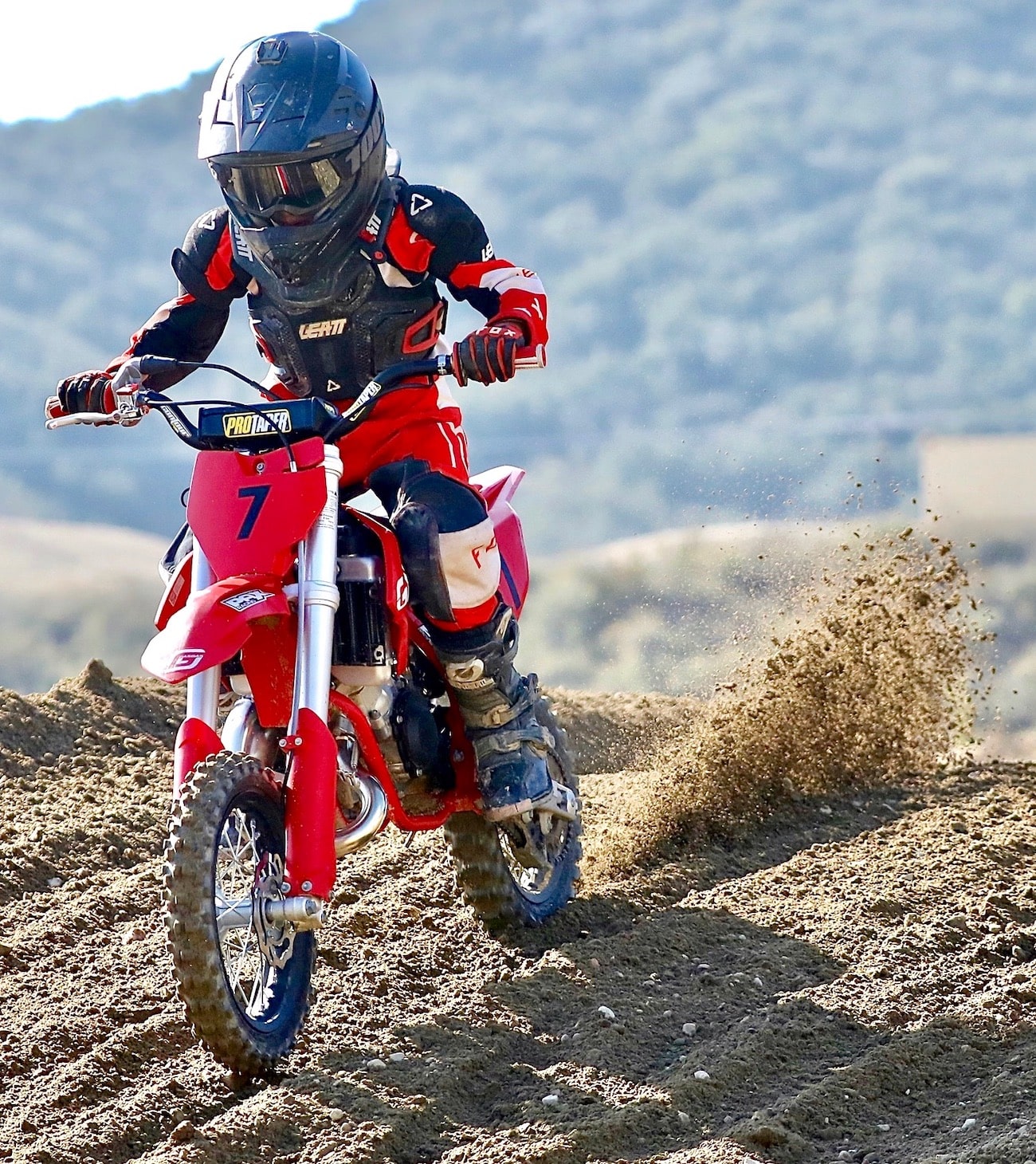 Camdyn Hazard (7) was sixth in the 7-to-8 year old 50cc Pee-Wee class.
Cohen Spana (125) went 5-4 in the 85cc class.
2023 "SATURDAY AT THE GLEN" SCHEDULE
Jan. 14…Winter Series #1 (Saturday track)
Jan.. 21…Winter Series #2 (National track)
Feb. 3…Winter Series #3 (Saturday track)
Feb. 11…Winter Series #4 (Saturday track)
Feb. 25…Winter Series #5 (National track)
Mar. 11…Spring Series #1 (Saturday track)
Mar. 25…Spring Series #2 (Saturday track)
Apr. 15…Spring Series #3 (Saturday track)
Apr. 22…Spring Series #4 (Saturday track)
May 13…Spring Series #5 (National track)
June 1…Summer Series #1 (Saturday track)
June 17…Summer Series #2 (Saturday track)
June 29…Summer Series #3 (National track)
July 15…Summer Series #4 (Saturday track)
July 29…Summer Series #5 (National track)
Aug.19…Fall Series #1 (Saturday track)
Aug. 26…Fall Series #2 (Saturday track)
Sept. 16…Fall Series #3 (Saturday track)
Sept. 23…Fall Series #4 (Saturday track)
Sept. 30…Fall Series #5 (National track)
Oct. 24…Winter Series #1 (Saturday track)
Oct. 28…Winter Series #2 (National track)
Nov.3-5…World Vet Championship (National track)
Nov. 19…Winter Series #3 (Saturday track)
Dec. 2…Winter Series #4 (Saturday track)
Dec. 9…Winter Series #5 (National track)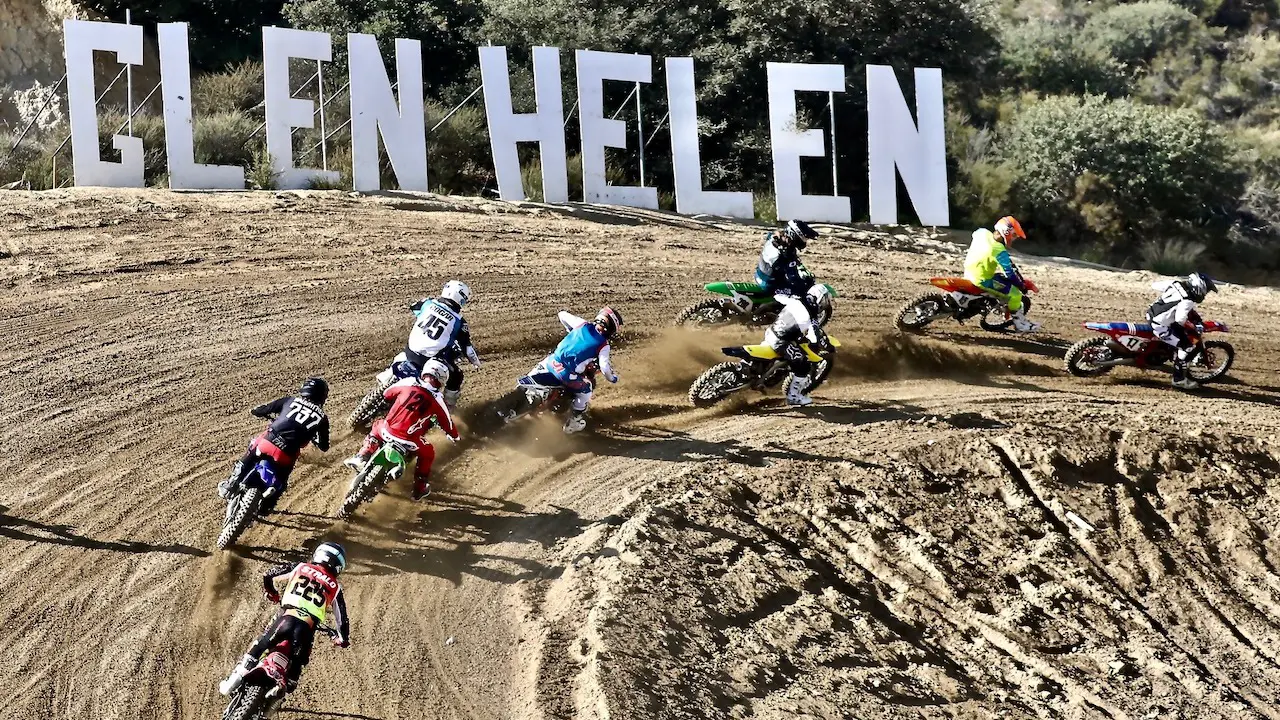 "Saturday at the Glen" motocross will race again until January 14 as the take a few weeks off for Christmas, New Years and Anaheim 1. When the return the Pre-entry will still be only $30 ($25 for minis). Post entry is $40 ($30 for minis) on the day of the race. The Gate fee is $10 (per person). You can sign up for the next "Saturday at the Glen" motocross as late as the Friday before the next race. For more info go to www.glenhelen.com